This website is made possible by readers. I may earn a small commission when you buy through the links in this article at no extra cost to you. Learn more.
Alright, time to really dive into the topics that matter. When I started this website, it was with the goal of providing insights so others don't end up with subpar products that just don't feel right. The idea is that when you want to find just one pair of pants for the rest of your life, you could do it with the articles I write.
I've gotten a lot of questions asking me which are the "best travel pants", so I decided to write a guide on picking pants. First world problems, yeah I know…
Wait, wait, why should I trust you?
Sure, I'm just some guy on the internet trying to pass of as a travel pants expert, so I wouldn't blame you for being apprehensive. But when I was researching for this article, I did search for similar articles. Light, unsubstantial, "best of" lists where the 5-cent-per-word ghostwriter from India (Disclaimer before "you racist!": Indian writers are awesome, but just not as good as I am ?) clearly did not have first-hand experience with the products. Buddy, I'm the best you've got.
I've been reviewing products for a while now. What makes me different from all the other reviewers out there is that
I personally try each product myself.
I test them over a long period of time to see how they stand up to actual wear and tear.
I believe being a traveler doesn't mean you can't look good. I place an importance on the comfort and style of the things I own.
I believe that a product worth a place in my minimalist wardrobe should possess the 3Bs: beautiful, black and badass.
So, once again, I'm probably the best you got, so you don't have much of a choice if you want travel pants that will rock your socks off.
"Best" is in the loins of the beholder.
So, I know there are all these bunch of "best of" lists on the internet, showing you like twenty over "best" pants. Best implies only one, the one at the top. So, instead of just dumping you with a list of pants and calling a day, I'm going to help you navigate through the trenches of pants-shopping and get that perfect pants for you.
So, one has to understand that there isn't a holy grail of pants for every traveler. What I might think is the absolute best, might be the absolute worst for someone else, with obviously much poorer taste than me.
The basic steps are to finding what works for you are
Decide on fabric weight
Decide which features are important to you (water-resistant, stretch, etc) and eliminate accordingly.
Read the product description and reviews and choose the one that feels "right".
How do I pick the best travel pants for me?
Yep, I think you are beginning to understand what I'm trying to get at here. You need to think about what you need when you travel. Where you travel, how you travel, what you do on your travels and a few other factors would significantly influence the decision.
Where you travel
Aren't all the travel pants supposed to work everywhere? Not really. I mean, a pair of pants that gives you the perfect amount of warmth in a Russian Winter, would absolutely be a sweat fest in your pants in the Sahara.
But no one likes ads, so I got rid of them. If my articles helped you, I ask for your support so I can continue to provide unbiased reviews and recommendations. Every cent donated through Patreon will go into improving the quality of this site.
If you often travel to either colder or hotter countries, then I've got my work cut out for me. Pants with a lighter fabric weight will do better in hotter climates, while heavier fabrics will do better in colder temperates. It's not exactly rocket science.
Some of us get greedy and say we want a pair of pants that works everywhere. There are pants that have the fabric weight to technically work everywhere, but they will still be too hot or too cold at times. In this case, you must decide that you are willing to compromise in extremes.
So, to summarize this, lighter weight fabric is great for hotter climates, heavier weight fabric is great for colder climates. Middleweight fabric will technically work everywhere if you can withstand a bit of warmth or chill.
How you travel
Are you a luxury traveler that can afford spa treatments from their hotel room, or do you brave it out survival-style in a tent in the middle of nowhere?
As you can imagine, the way you are traveling affects the decision when choosing a pair of pants. It mainly comes down to the durability of the pants. The more you abuse your pants in harsh conditions, the more durable a pair of pants you need.
Durability usually comes down to the type of fabric and the fabric weight. If you just go for the most durable one without matching it to how you will use it, it'll likely be too heavyweight and expensive for your needs.
In short, durability depends on fabric weight and type of fabric, and you should get what's "just enough".
What you do while traveling
Are you cautious around your clothes? Or do you spill wine like your pants is your best drinking buddy? Do you have no problem sitting on the pavement or do you need to lay out a TOM BIHN Utility Wool Cloth on a nice bench before you'll sit your royal ass down?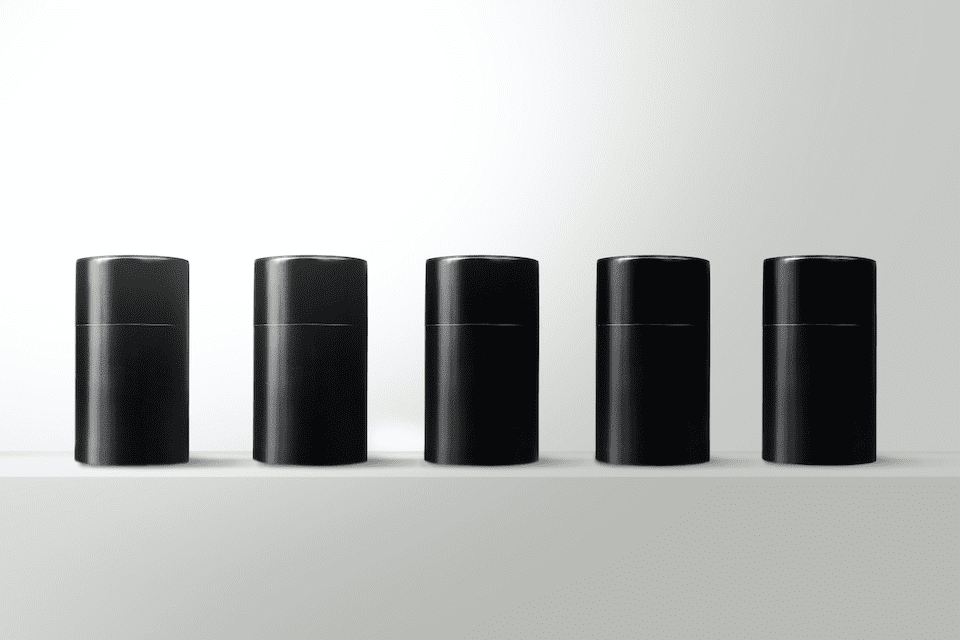 I found a 100 year old company that would create these heirloom quality canisters for me. They are handmade and will keep your tea leaves, coffee beans or anything that you need dry for years to come.
or read review
How you treat your pair of pants determine how long they'll last. They also increase or decrease the frequency of washing. As mentions in my guide about making your clothes last, washing your clothes more often will wear it down.
If you the kind that enjoys parkouring while you travel, you can also look for pants with a two or four-way stretch.
Your frequency of washing will wear your pants down. If you are a dirty person, water and odor resistant pants are your best friend.
Synergy with your packing list
The last factor you should think about is how you pack. Do you bring along your UNIQLO Heattech tights or are you an ultra-minimalist traveler that can fit an indefinite trip into a 25-liters bag? Maybe you usually do without a pair of shorts and just roll up your pants when you need to show some skin?
Thinking of how your pants would work with your style of packing will help you pick the right one.
List of Best Travel Pants
I hope you got those previous points organized in your head because otherwise, this will just be another list of travel pants that you would have no idea how to filter down.
Most of these pants I've personally tested and reviewed (with a review link), but for the sake of options, I'll include those that I haven't tried but look way too good to leave out.
As mentioned, the fabric weight would probably one of the biggest factors that you can filter this list down, so this will be how they are divided. But apart from the fabric weight, all the travel pants I am recommending are best in category on the following (relative to their fabric weight)
Durable They should take care of you, not the other way around.
Comfortable Duh.
Stretch Like doing drunk cartwheels?
Water-Resistant Wine is only fun if it goes down your mouth.
Style You should be able to go straight from the trail to a dinner date, basically, it should be versatile.
Travel-friendly pockets Shouldn't be a day out for pickpockets.
Heavyweight
Let's start with the one that I like talking about the most since these are the ones that have the best chance for a permanent place in your minimal wardrobe. This is for you if you are:
Constantly engaging in hardcore activities, like some good old train-hopping, that will cause abrasion to your pants
Often visit countries that will involve you freezing your ass off
Looking for a pair of pants that will last you as long as possible
Generally okay with paying more for better quality
Sounds like you? In many cases, this weight is best for denim enthusiasts looking for an upgrade from the traditional denim to something more suitable for travel.
Outlier Strong Dungarees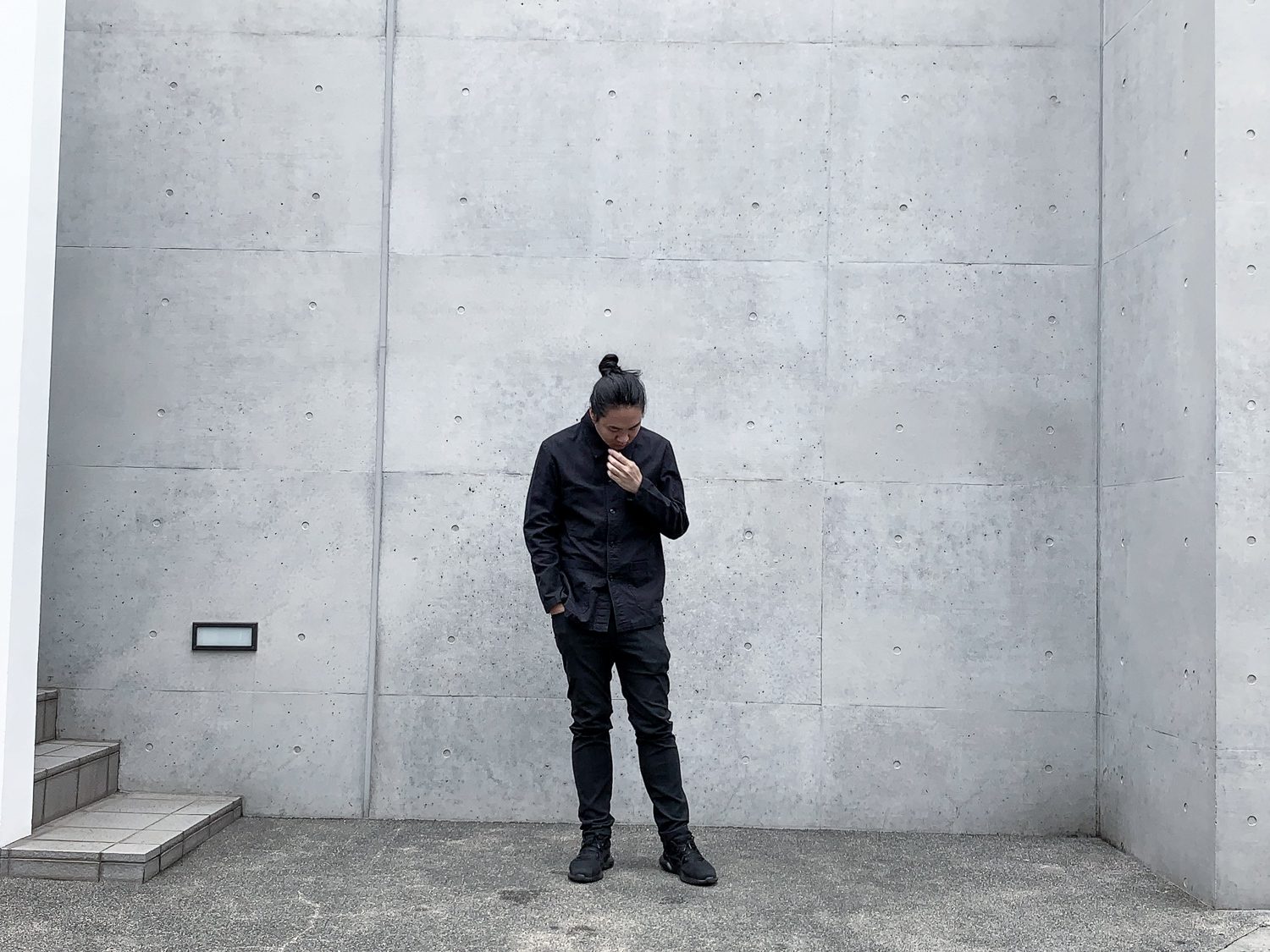 If you've been to this website, you'll see a pattern. That's my complete and devout allegiance to the cult that is Outlier. For good reasons too. The Outlier Strong Dungarees are the strongest pants they have for travel. They do have stronger pants, like the Duckworks or End of Worlds, but the Strong Dungarees are the ones with stretch and water-resistant and most of all, insane durability.
With a 300 gsm fabric weight, this is denim-like sturdiness, with travel-ready performance. This is the pair of pants I default to all winter long.
See full review or buy now.
Western Rise AT Slims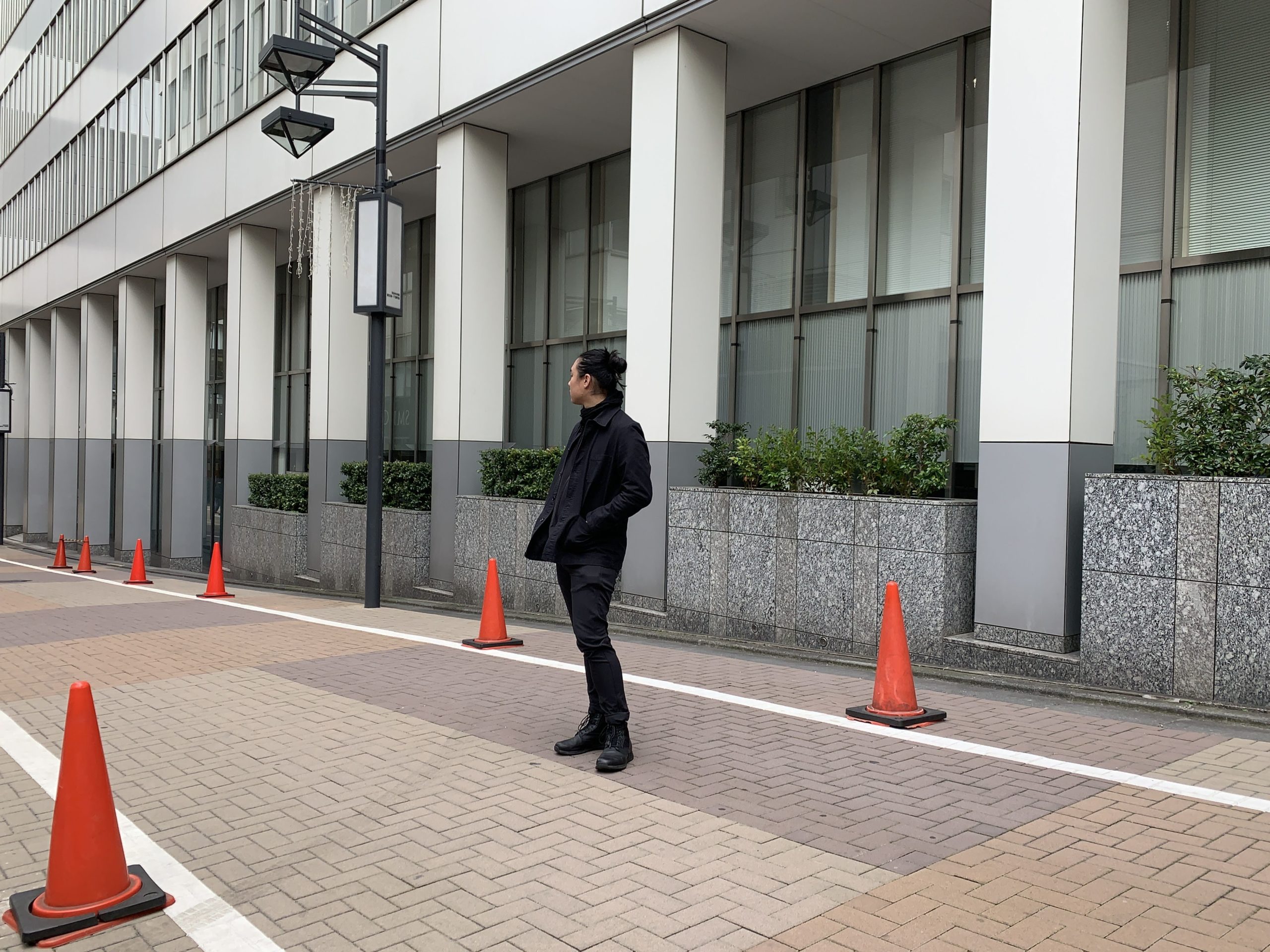 I often regard this as the alternative to Outlier Strong Dungarees, because they share so many of the same properties and style. At 280gsm fabric weight, it's just a wee bit lighter but equally indestructible.
I've been wearing this and the Outlier Strong Dungarees all winter long, and I could hardly feel a difference. Yet, the AT Slims are $70 cheaper. Definitely worth checking out if you don't have Outlier money to throw.
See full review or buy now.
Midweight
This range is all about versatility. It's for those who are brave enough to pare down their list of pants to a grand number of just one. This is the weight for pants that will see you through. Not too warm for summer, but just enough for winter, these are the best option for those who are willing to sacrifice a little comfort to minimize their belongings.
This is for you if you are
A minimalist that wants one pair of pants to do everything
Am willing to take discomfort in extreme temperatures to reduce the amount of things to pack
Outlier Slim Dungarees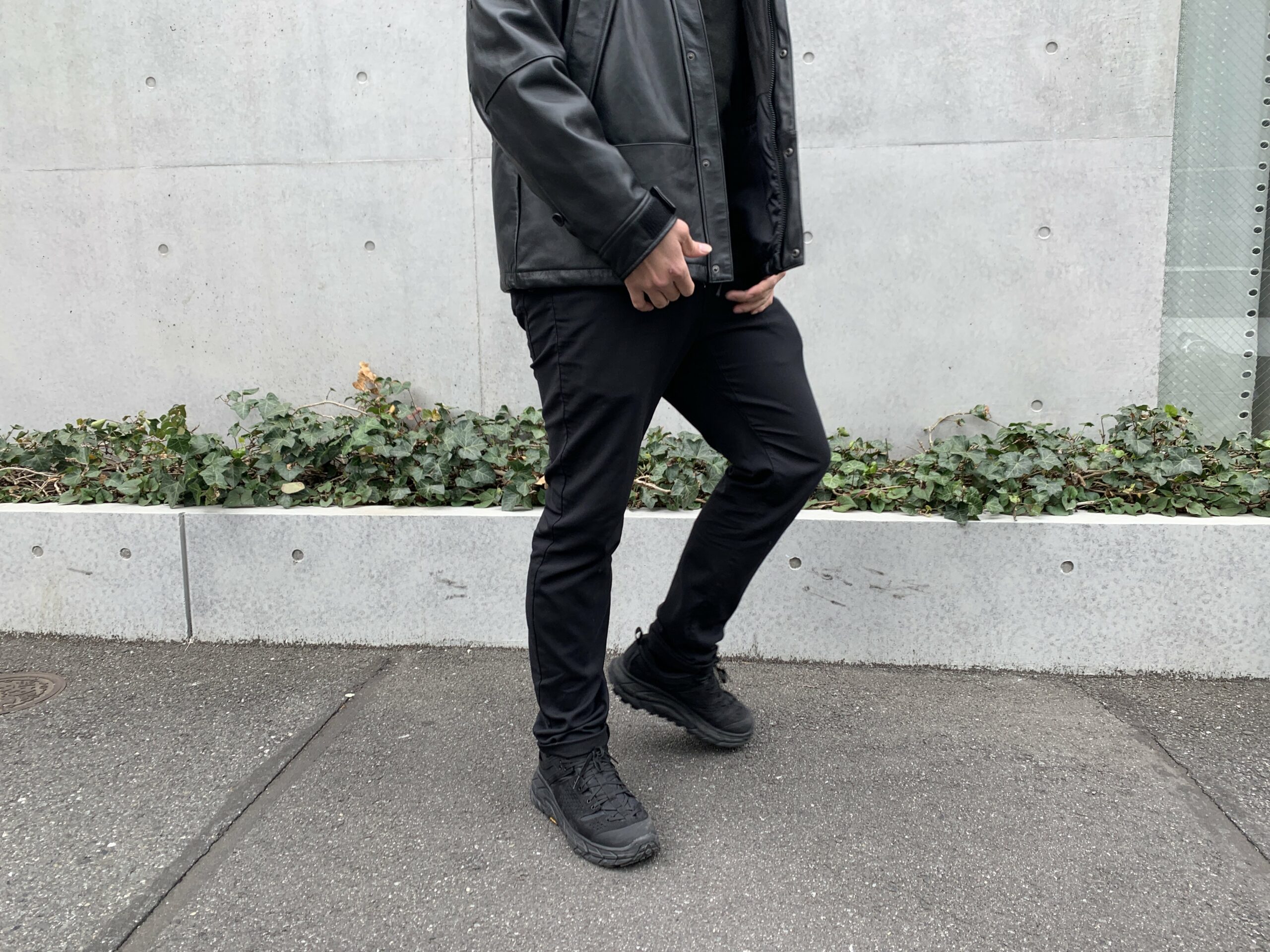 If you've done a bit of searching before you stumbled onto this article, then you would have definitely come across the Slim Dungarees. These are a legendary pair of pants for travel, considered by many to be the most versatile pants for travel. Even at 275gsm, it feels light enough to wear during summer and substantial enough to wear during winter.
For many, myself included, if I could ever own one pair of pants, this would probably be it.
See full review or buy now.
SEAGALE Performance Chinos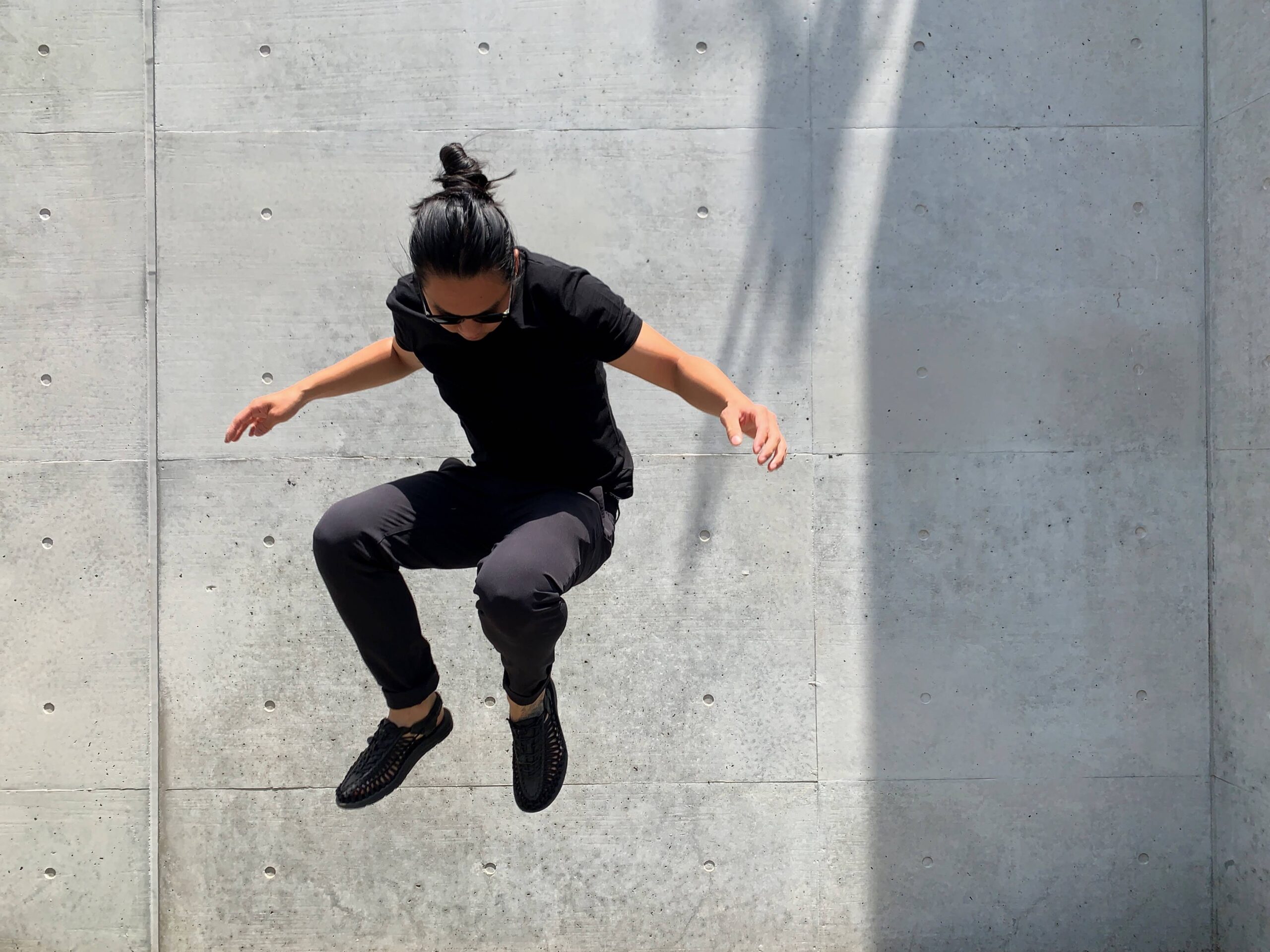 If you are the kind that gets pretty active, then the Performance Chinos from French brand SEAGALE might be for you. It works well from doing your desk job to your nightly parkour run. The four-way stretch on these is incredible that they would work just fine as yoga pants. At 270gsm, these are perfect as an all-season pants.
See full review or buy now.
Lightweight
Before we begin, let me start by saying there is a reason to not consider lightweight pants at all. When I travel in tropical countries, I tend to default to shorts like the Outlier New Way Shorts. So, while I have plenty of lightweight pants as a product reviewer, I can arguably do without them.
But, when I was living in Singapore, I could definitely use these pairs of pants. Being in shorts all the time is certainly not a presentable way to go about your life, traveler or not.
This weight is for you if you are
Someone living in a tropical country
An ultralight packer who is anal about saving every single ounce
Someone who layers under your pants
Olivers Passage Pants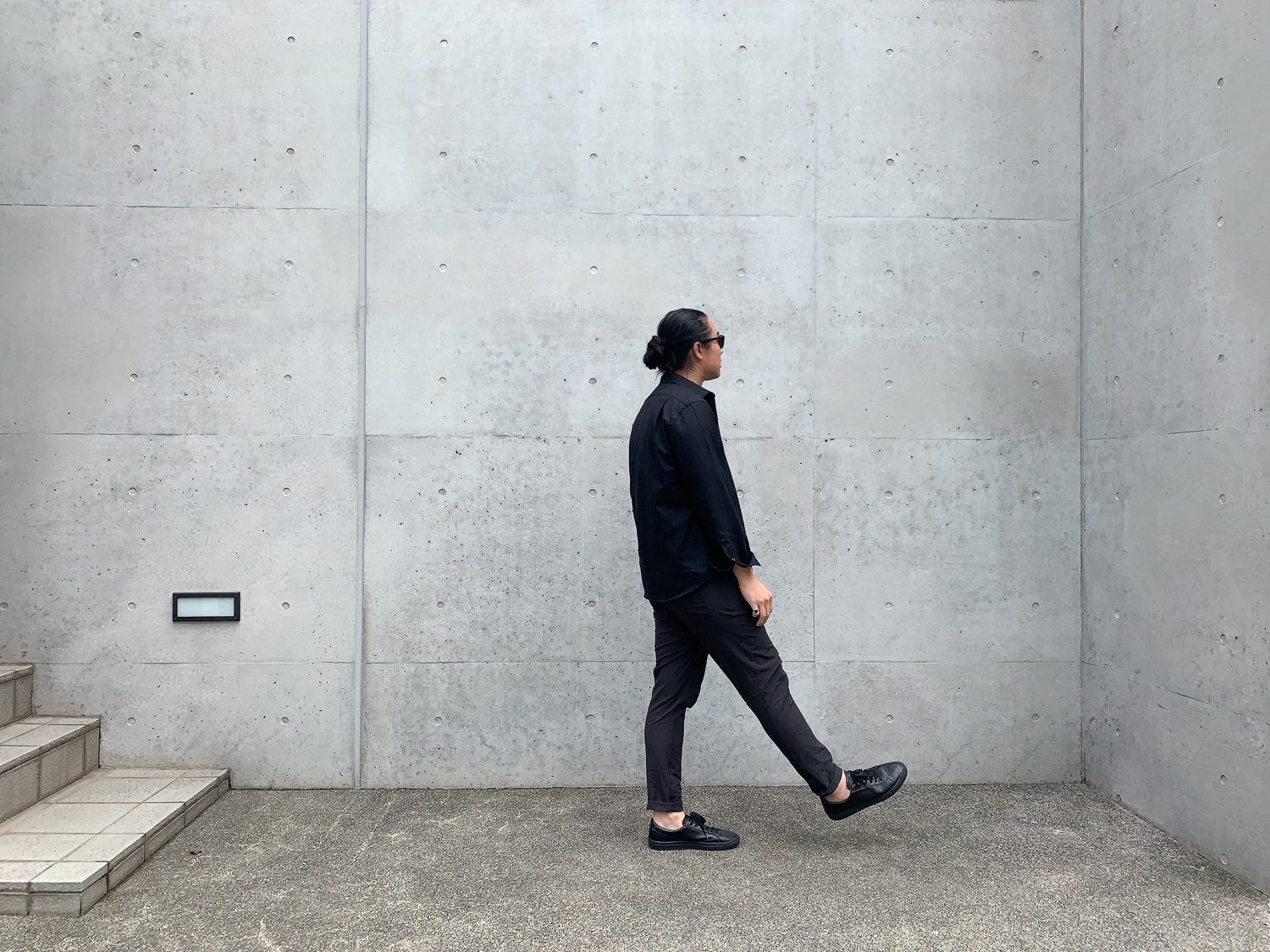 While the fabric weight is not specifically stated, the Olivers Passage Pants are lightweight and comes in a four-way stretch. As if that isn't enough, they use the world-famous Cordura threads to make the pants tough as nails.
Light, stretchy and durable. What more could you ask for?
See full review or buy now.
Western Rise Evolution Pants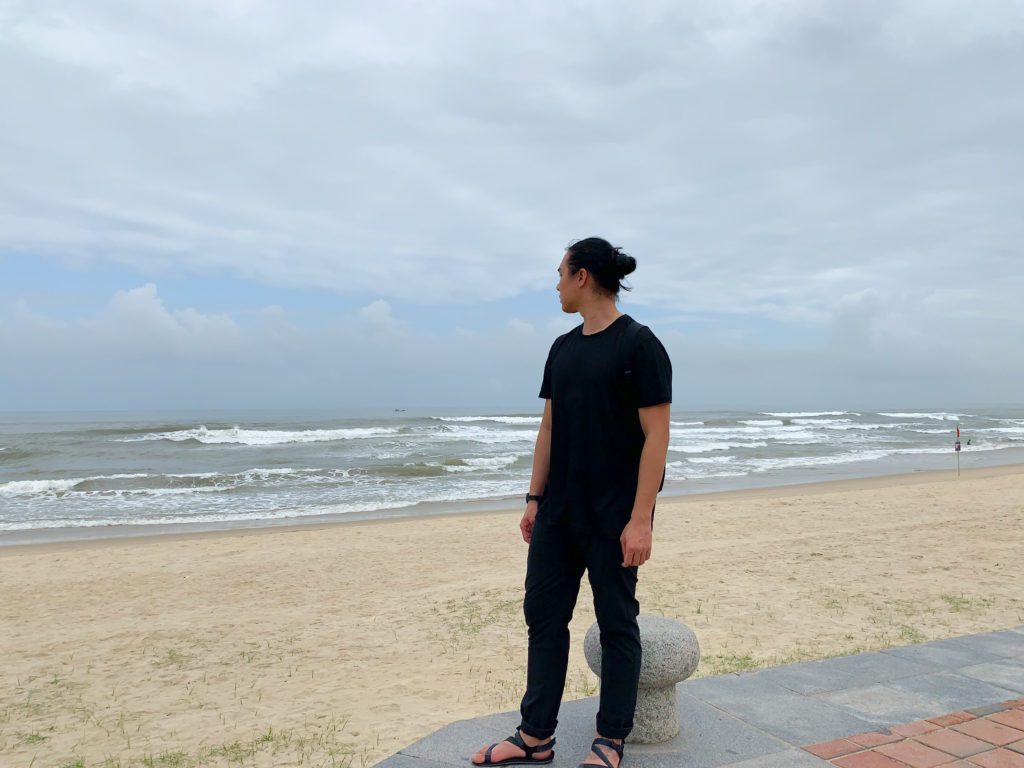 At 173gsm, the Evolution Pants are as light as you want to go or providing the required level of durability for travel can be a challenge.
The Evolution Pants are two-way stretch pants made to be ultra-light and ultra-packable, for the ultimate traveler. These are always my preferred pair when I go somewhere with a warmer climate.
See full review or buy now.
Outlier Futureworks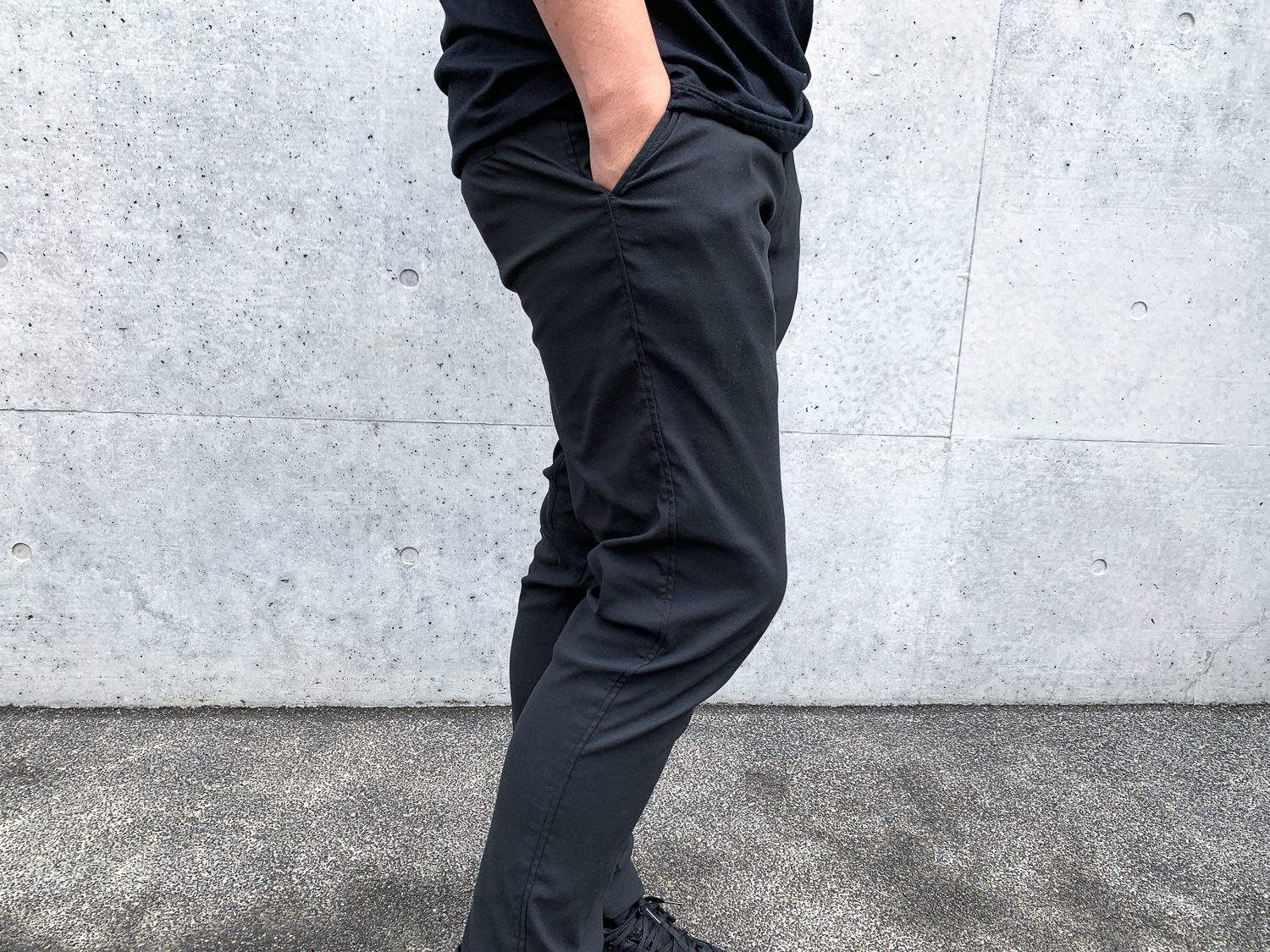 Last but not least, another one from Outlier, the Futureworks. These are at 200gsm, so while they are not the lightest pair you can find, they are definitely the most sophisticated looking. You can wear these to work, travel or travel for work.
See full review or buy now.
Why is _______ not on the list?
Alright, alright, calm your tits. As this website is a collection of my recommendations and my opinions, I deliberately left out a bunch since I want this to be a focused list. But, for the sake of the naysayers, here are what I considered but ultimately decided to leave out.
Prana Stretch Zion Pants
I actually owned these. The style is… let's just say, not optimal. These are definitely not going to work without a good tailor. Just seems unnecessary given the options out there.
Prana Brion Pants
See above
Lululemon ABC Pants
I've gone as far as to try these out in a fitting room. They seem pretty mediocre to me despite all the talk about them.
Got some in mind? Let me know in the comments below and I'll try to write a review and compare.
Did you find what you needed?
There you go, this is my first attempt at a guide to help you find the perfect pair of pants for you.
I intend for my guides to be ever-improving, so if this guide doesn't help you find what you need, be sure to leave a comment so I know what else needs to be added.
If you are still lost, consider being a Patreon and you get personalized advice and recommendations when choosing the right piece gear.
Tagged onebag travel pant