This website is made possible by readers. I may earn a small commission when you buy through the links in this article at no extra cost to you. Learn more.
Details
Price $245 on normaltimepieces.com
Dimensions Ø38 x 8.5 mm / Ø1.5" x 0.33"
Weight 50 g / 1.76 oz. with Leather band
Water Resistance 3 ATM / 100"
Overview
Normal Timepieces began as a way for the designer, Ross McBride to express his own aesthetics and view on design.
With a design sense in the cross-section between pioneering mid-century American design and Japanese minimalism and craftsmanship, Ross perfected the union of both as someone who was raised in the United States and living his entire adult life in Japan.
The Normal Timepieces' office is actually just a bicycle ride away from where I live, so I had a chance to drop by and speak to Ross about the watch directly.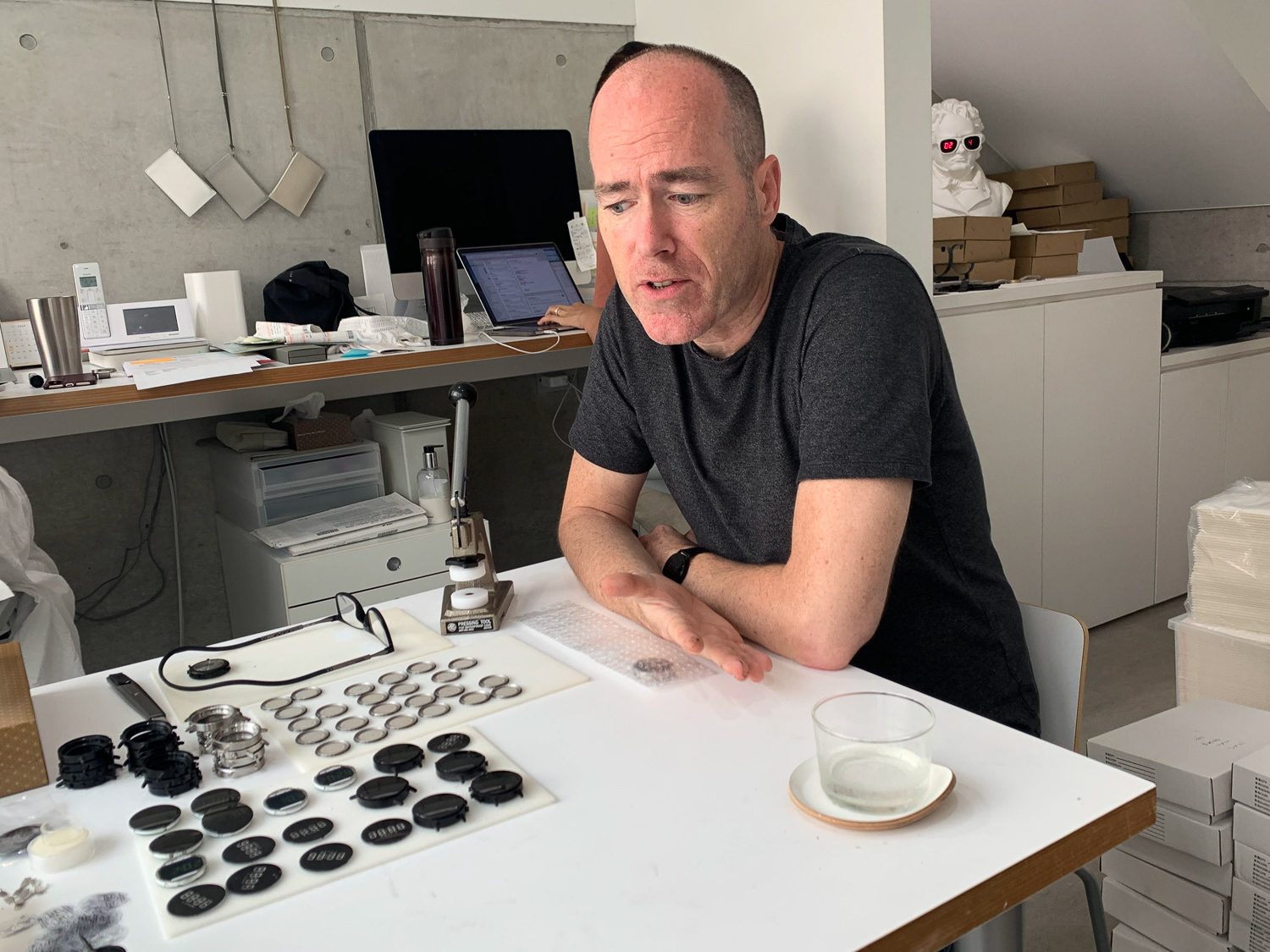 Like me, he believes that products should add to our persona and experiences, not distract from them. As such, there is never any sort of branding on the face of the watch. If you have read my other reviews, you'll know how much I can appreciate this quiet confidence in their own design sensibilities.
I'm reviewing their new Tokiji Watch which released recently after a successful Kickstarter campaign.
Style
The word Tokiji translates to "numerals that represent time", which is presented here as a digital time in an analog body. The analog body is represented by the design modeled after a traditional chronograph with a crown and two pushers, except that all three on the Tokiji are pushers.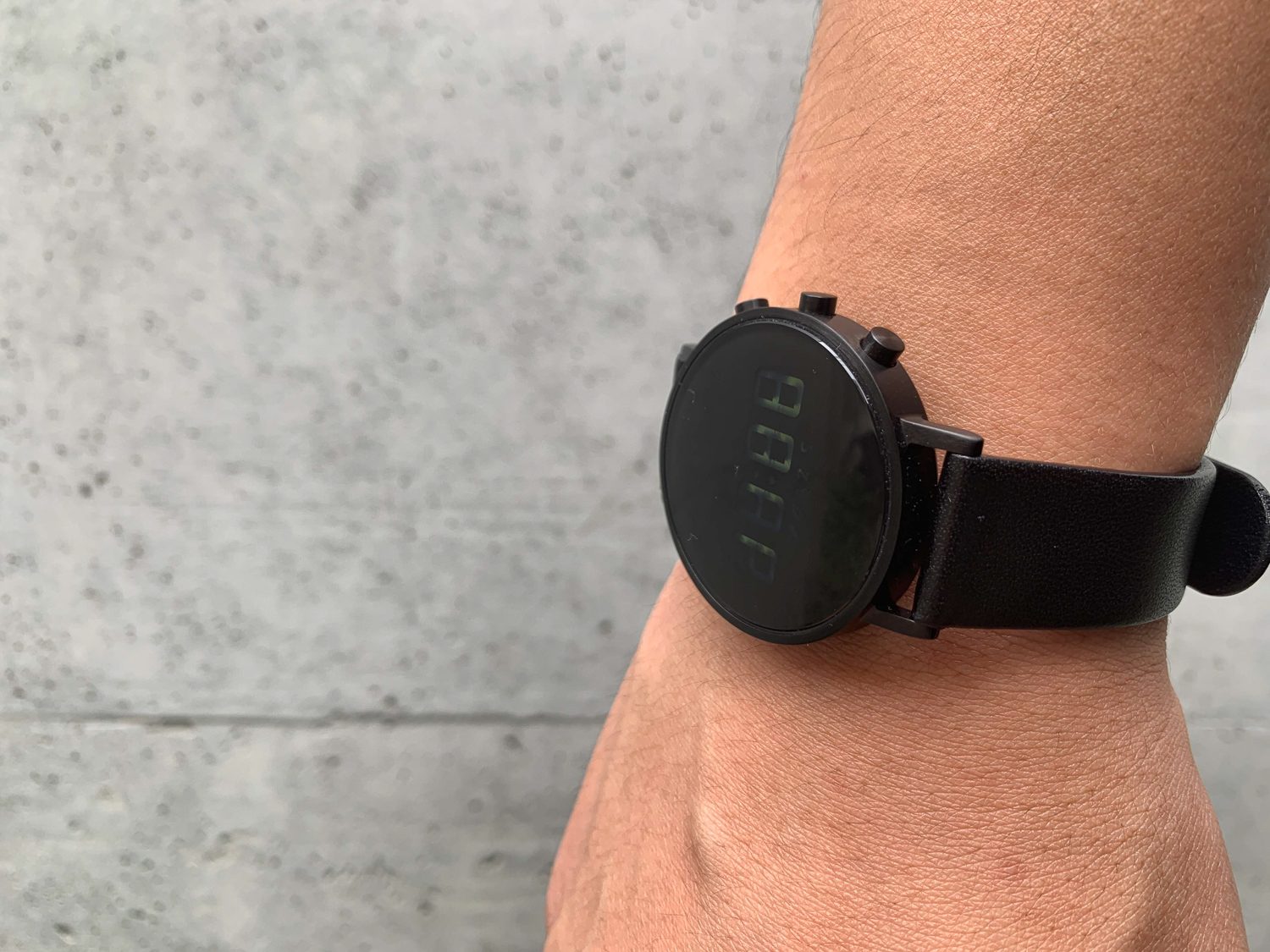 As promised, the Tokiji Watch delivers a minimalist aesthetics. It's completely black, down to the straps and the two pushers. I'm actually pretty impressed how consistent the color is throughout the watch. The numbers are vivid, contrasted on that dark background.
Below the digits are some icons indicating the mode that you are in.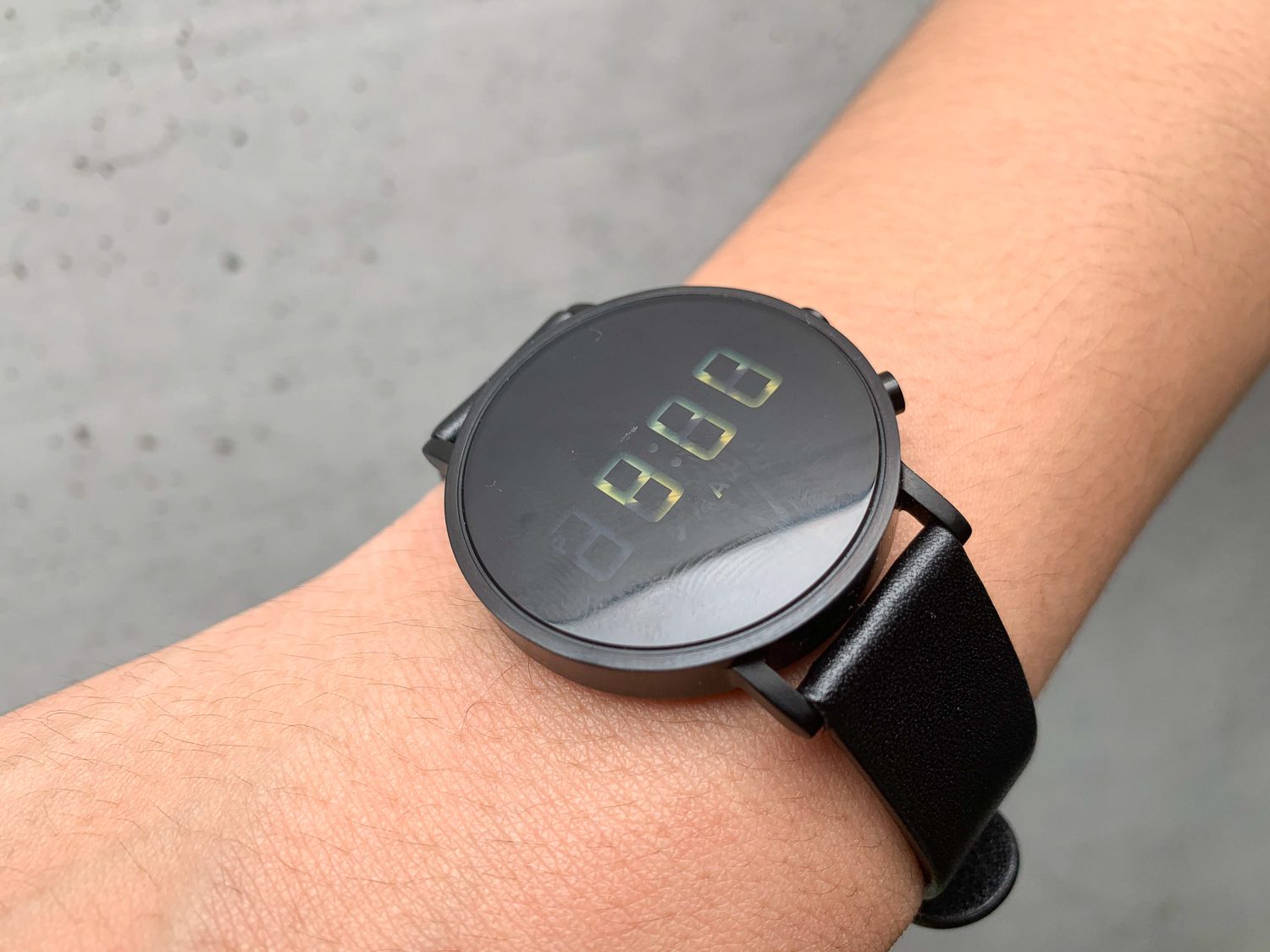 While most watches hide the frame of their liquid display by overlapping with a sort of mask, and in doing so the difference between the mask and LCD is obvious when light is refracted even though they are both black.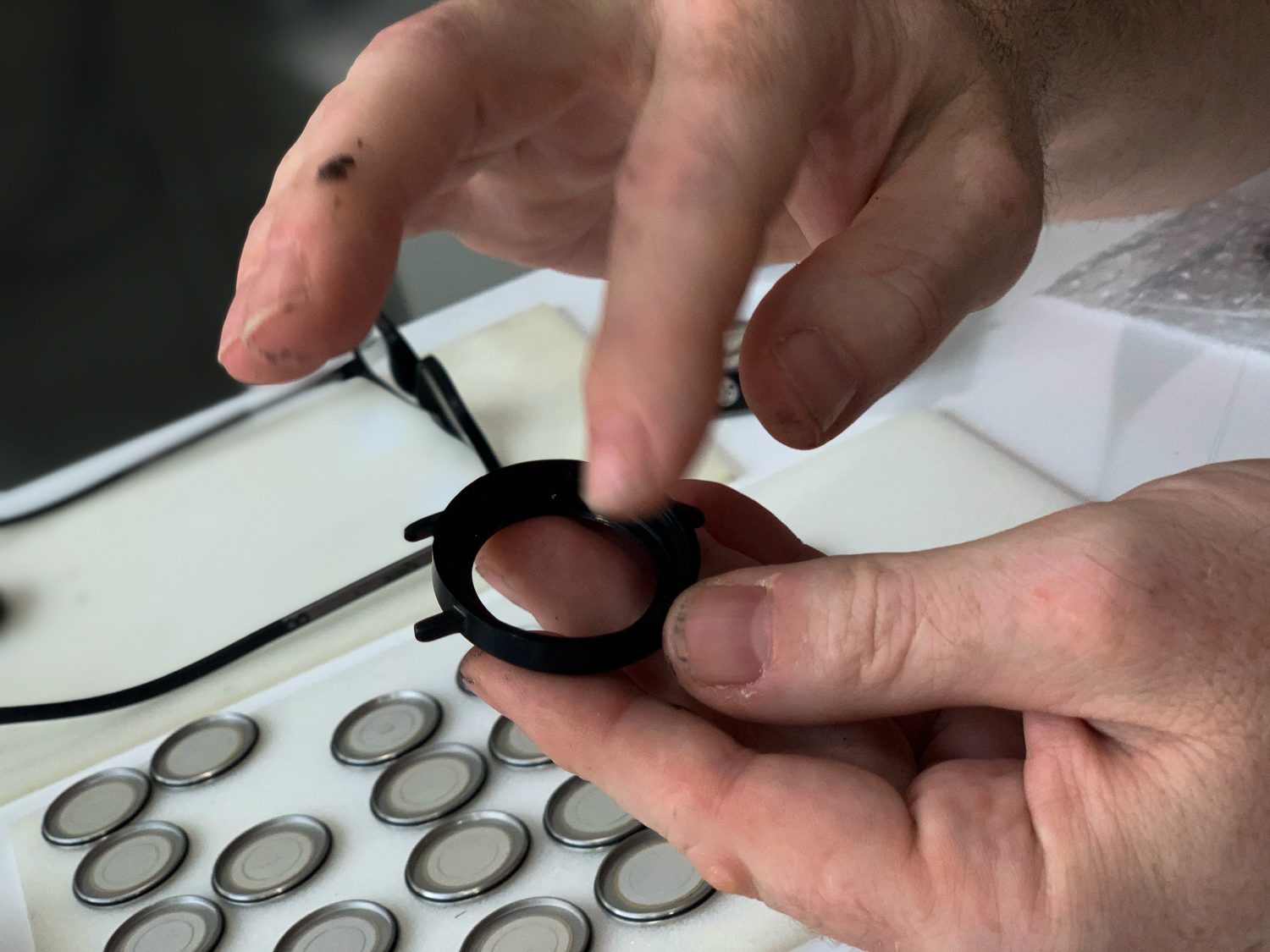 Normal Timepieces actually managed to develop a way to remove all of the air between the LCD and lens so that light can past straight through and the mask can fit the graphics of the watch exactly.
But no one likes ads, so I got rid of them. If my articles helped you, I ask for your support so I can continue to provide unbiased reviews and recommendations. Every cent donated through Patreon will go into improving the quality of this site.
I have both the stainless mesh band and premium calfskin leather band, but I personally prefer the leather band.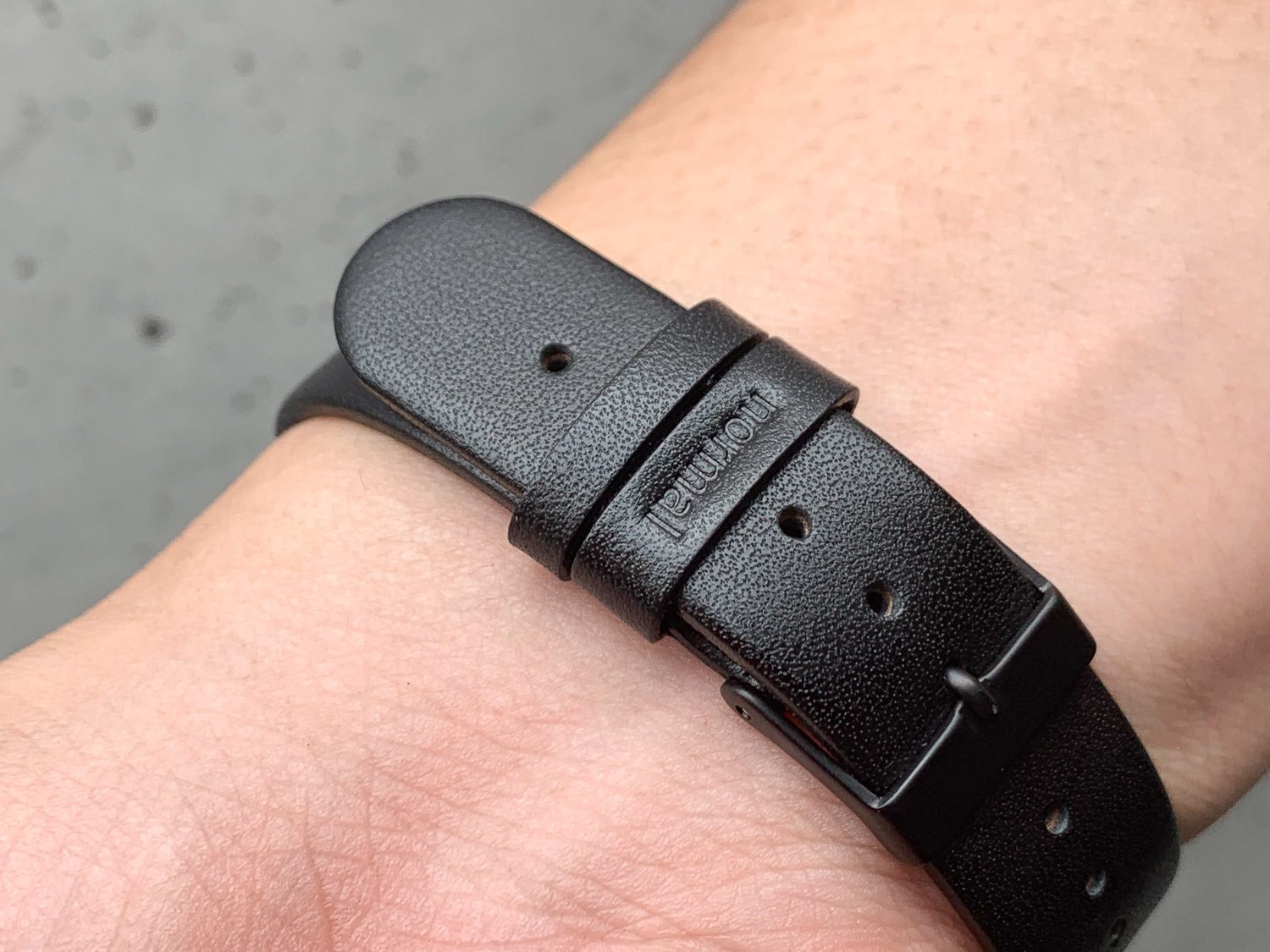 While there are no branding or label on the watch face, there is some subtle branding on the straps.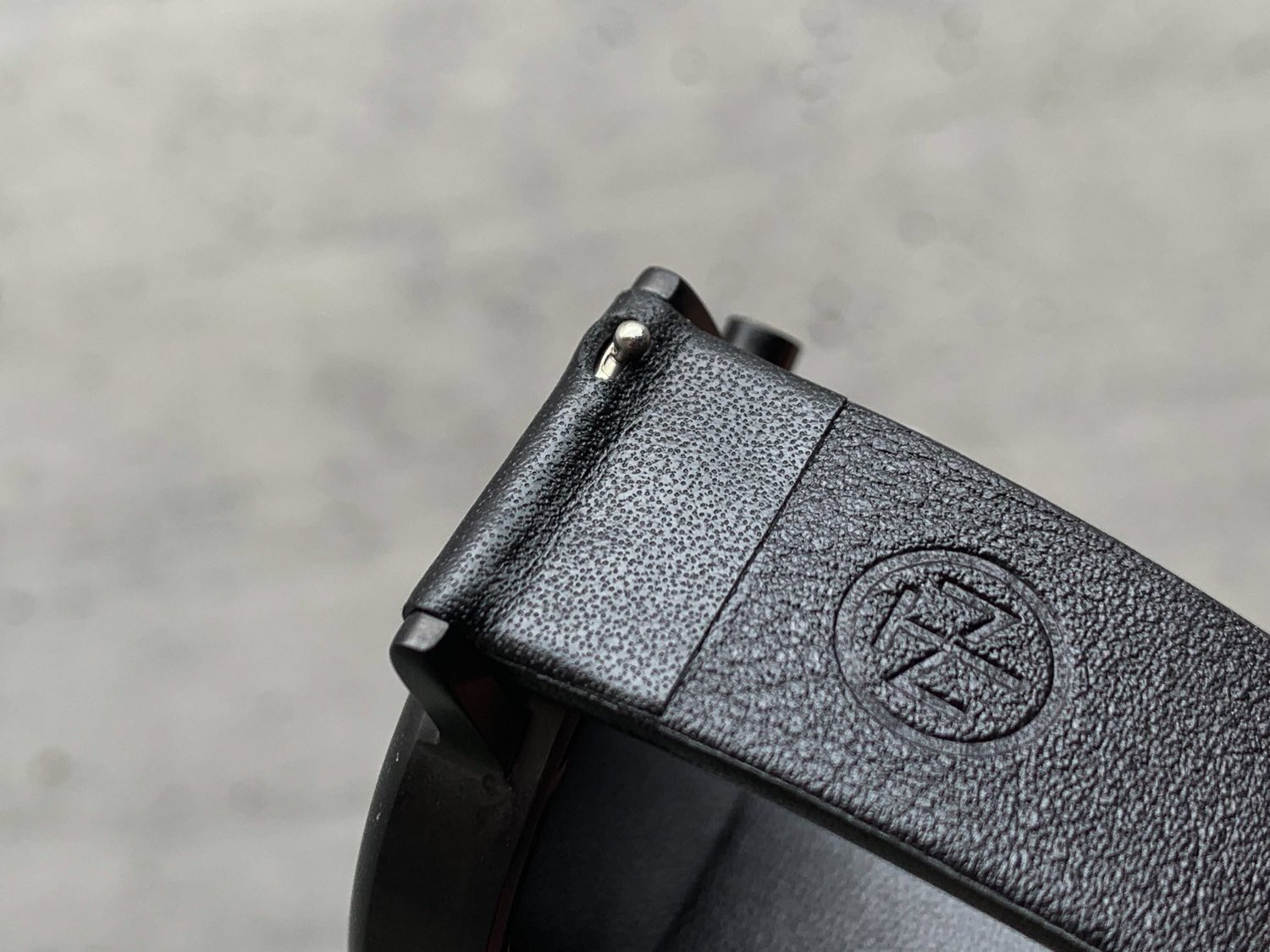 The size of the watch is the perfect size for both men and women, being in the just-right range, but I personally prefer if there was a larger face option.
Material
The digital module on the watch face is custom made, with a hardened mineral glass covering it. While sapphire glass is used for high-end watches, a hardened mineral glass is really all you need and appropriate for the price range. Even with all that glass, it doesn't scratch easily.
Powering that are two silver oxide V371 batteries, instead of the usual lithium batteries.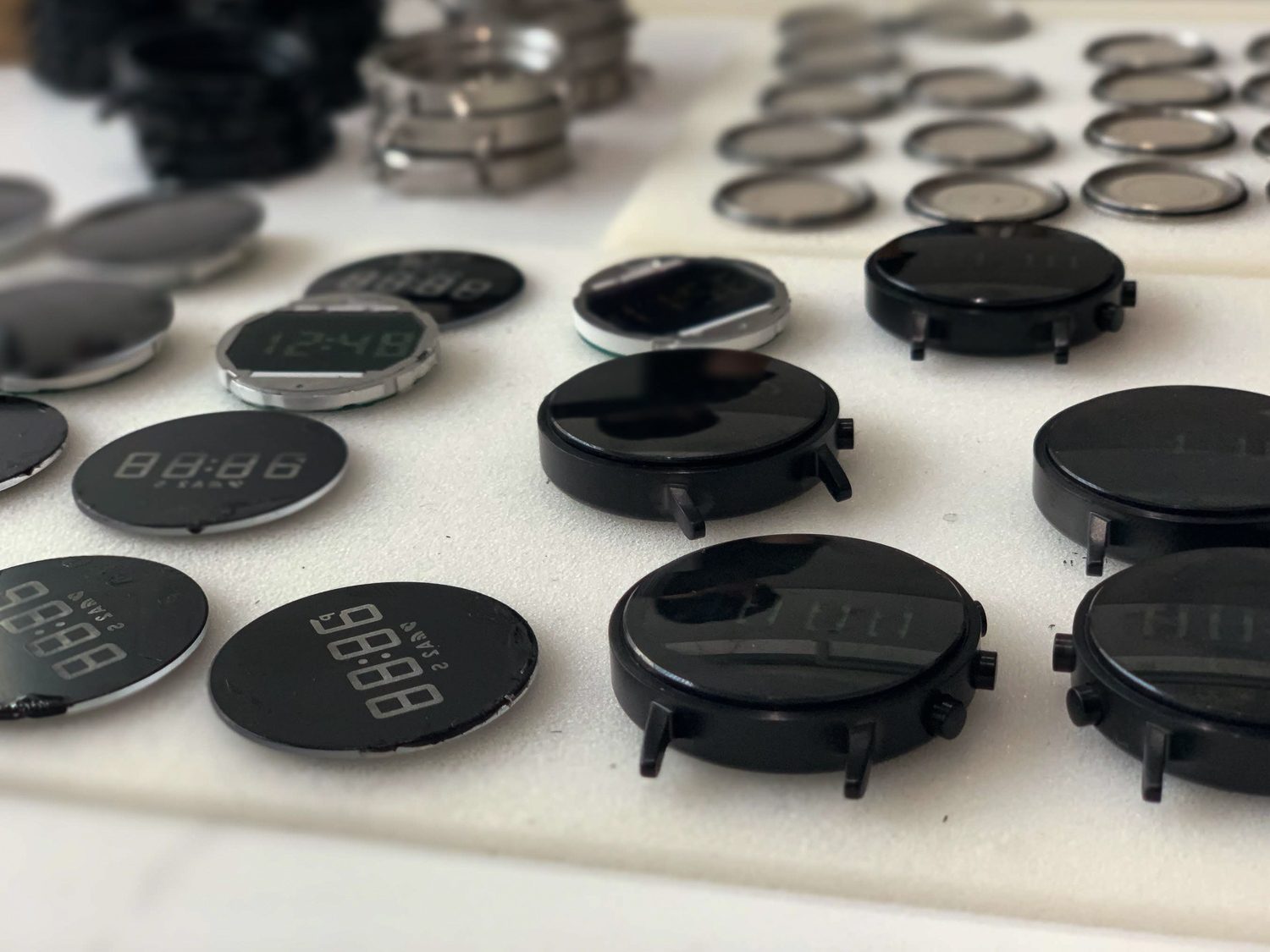 The case carries a smooth matte surface because of the crushed IP black 304 stainless steel material. I thought that this and the careful selection of materials really brings the entire design together.
Usage
The watch is a joy to use. It looks so simple, yet classy on my wrist and goes well with a lot of my outfits. Although I would say that this isn't hard to do considering all I wear is black.
One thing I noticed immediately was that it's hard to see the digits when looking at an angle. This was because the mask was cut to fit the digits exactly so a parallax error would cause you to not see the full digits.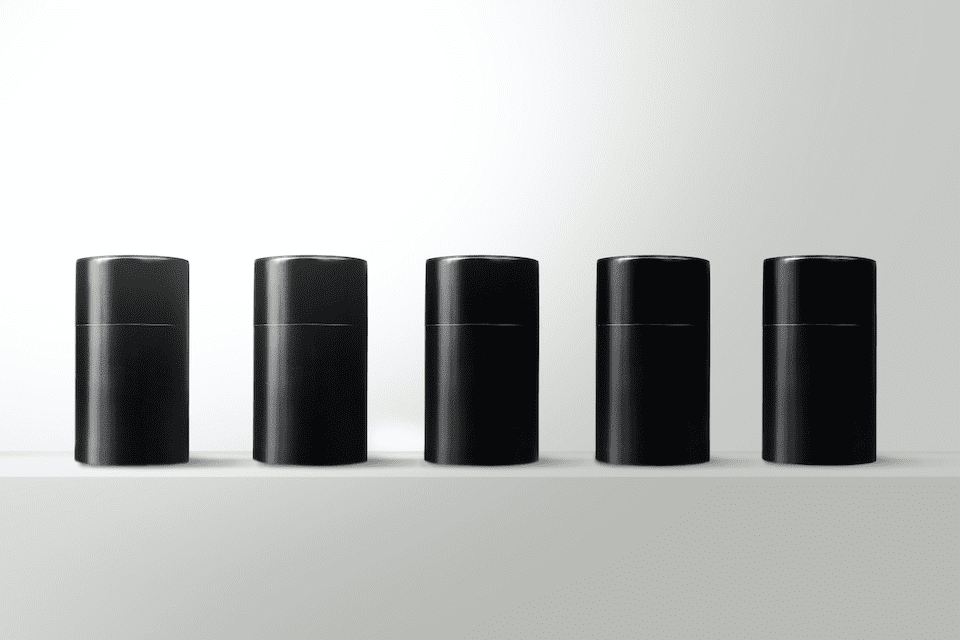 I found a 100 year old company that would create these heirloom quality canisters for me. They are handmade and will keep your tea leaves, coffee beans or anything that you need dry for years to come.
or read review
At first, I was a little bothered by it, but it was something you kinda get used to and looking at the time straight on just becomes a habit.
While the Tokiji Watch has all the functions you would expect from a digital watch, a time, date, alarm, 2nd timezone, stopwatch, and backlight, I felt that I didn't really need any of the features besides the time, and perhaps the date and stopwatch if I wanted to ask for more.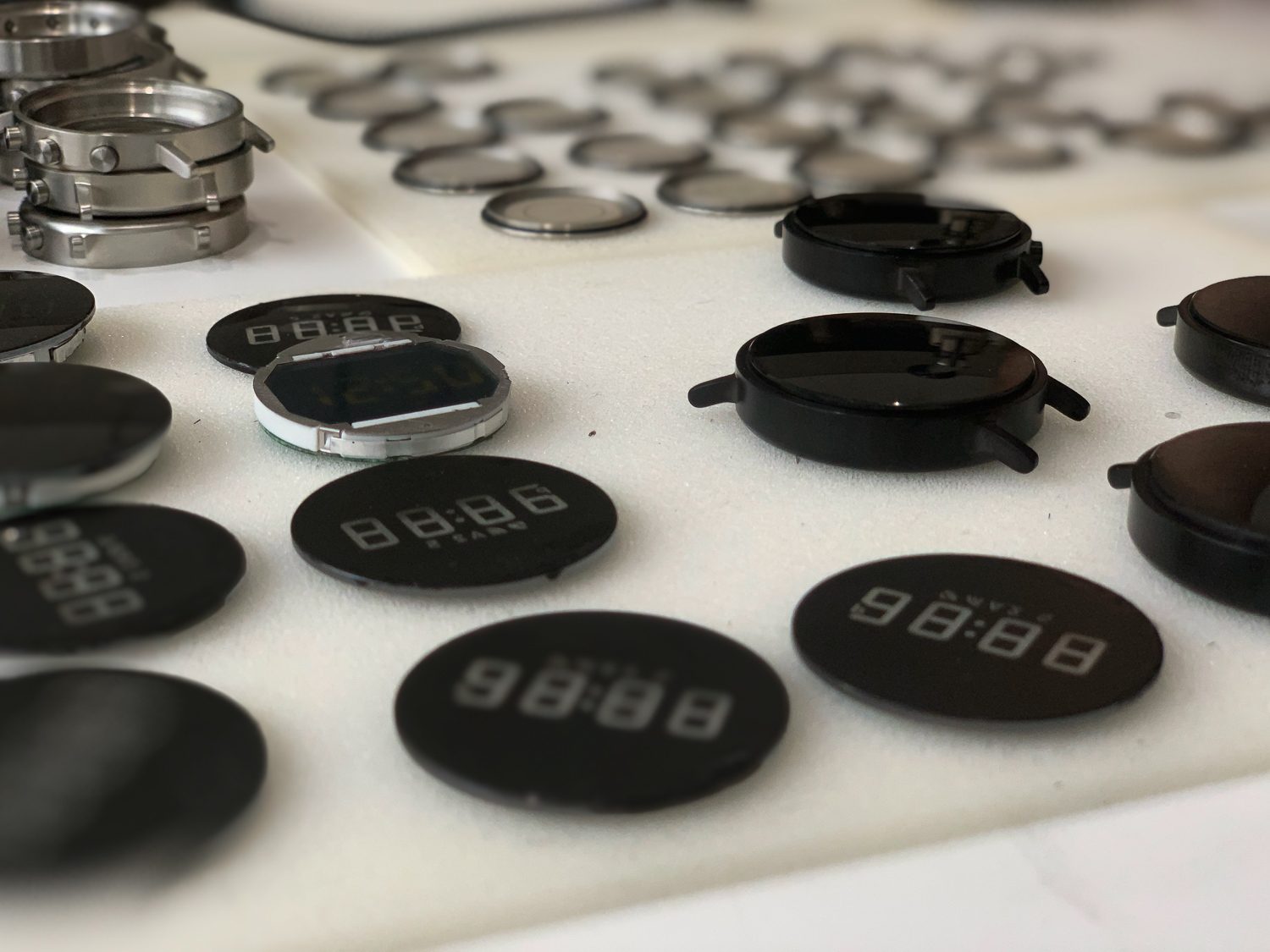 Because I leave my watch on the valet tray by the entrance when I come home, using it as an alarm isn't for me, since using my smartphone would be infinitely easier.
I also don't wear my watch in the dark often, so I don't really have much chance to use the backlight, although it doesn't hurt to have it.
Another thing that I thought could be improved was the brightness of the LCDs. Even with the backlight on, while visible, the digits still look kinda dim. I highlighted this to Ross and apparently watches with lithium batteries tend to encounter issues with shipping and logistics which is why the silver oxide batteries were used, which resulted in the dimness.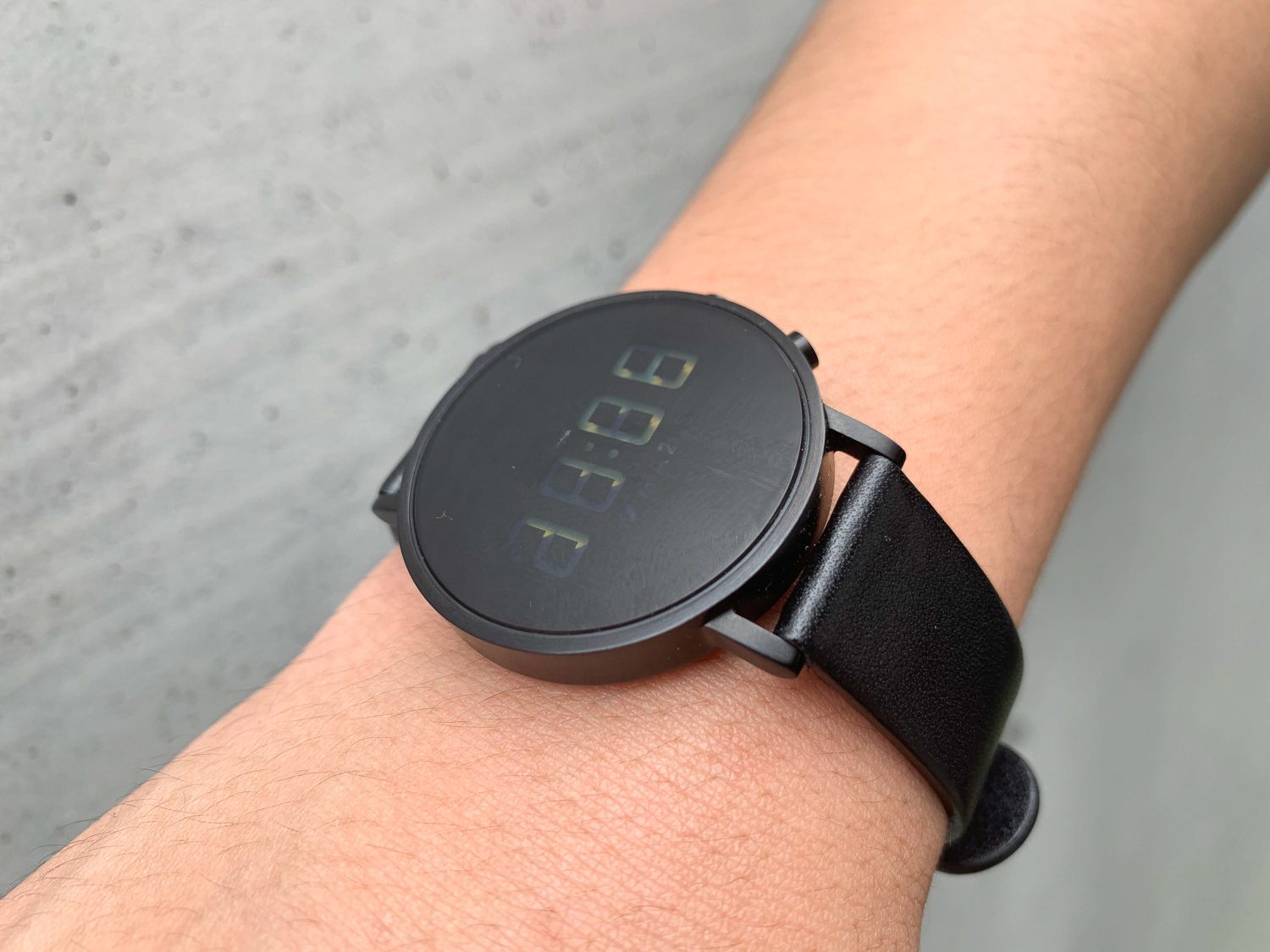 As a user experience designer, this is perhaps asking for too much, but one usability issue I encountered was that when you turn the backlight on, it would be crazy intuitive if the backlight could stay on when you are still pressing the pushers. I guess I'm too used to such interfaces in this age of touchscreen phones that I forget that this isn't a given.
Another small usability issue I had is that the mode doesn't turn back to the time mode after periods of inactivity. Since the modes look pretty similar to each other visually, you have to evaluate the mode you are in and switch it to the time if that's what you want to check.
All those details aside, I found this watch a pleasure to use. Comfortable on my wrist and does just enough for what I expect of a watch. And of course, the phenomenal design is the real show-stealer for me.
Update: Less than 3 months with this watch
One night, with my watch just sitting on my valet tray, the alarm went off. Strange, I didn't think I set an alarm. I saw that the display is showing 1646 but with the last 6 showing only half the digit.
Trying an array of button press wouldn't turn off the beeping nor could I find a way to hard reset the watch. I thought maybe I could take out the battery to reset it, but of course, special tools I didn't have were required to do so. It was late and I was tired, so I stuffed it between some towels to mute the sound and called it a night. The next morning, it was still beeping.
I am reaching out to Normal Timepieces and will update this post as I find or not find a solution. I hope this is a one-off occurrence, and while they have a warranty, this might be a deal-breaking problem since I don't think I can continue my travels with a beeping watch that can't be turned off.
Update 2
Unfortunately, I couldn't remedy the situation on my own and it continued to beep until the battery ran out. Thankfully, Normal Timepieces fixed the watch and sent it back to me at no charge. I'll be updating this post again if something else happens with it. Fingers crossed.
Conclusion
The design of this watch is a level above the rest. While there were some compromises made in usability, it was so that there would be no compromises when it comes to the design, just the way I like it.
I would recommend this watch to anyone who want a simple but beautiful, minimal timepiece that's just a joy to not only wear, but look at everytime.
Like this review? See all of my in-depth reviews.
Also, consider supporting me by being a Patreon. Every cent given will go back into improving the content of this website.
Tagged accessory normal timepieces review watch