This website is made possible by readers. I may earn a small commission when you buy through the links in this article at no extra cost to you. Learn more.
Details
Price 120,00 € on seagale.com
(Sign up for an account first and use hello@alexkwa.com as the "sponsor email" to get us both 10 € off)
Sizing 6ft and 187lbs, usually a size 33. I am reviewing a size L.
Overview
Seagale, pronounced Sea-gal, is sometimes referred to as the Outlier of France, but unlike the moody, muted style of the Outlier's lookbook, Seagale's style is bright and upbeat looking. Seagale is actually french for cicada, which is the symbol used in their logo.
Seagale was started by best friends Bertrand and Matthieu who love swimming but were not satisfied with the scratchy, irritating feeling you get from the mesh linings of swim shorts, which resulted in the Seagale Swim Shorts.
Fast forward from the shorts which received a wave of popularity, they have now created an entire line of techwear, perfect for the fashionable traveler.
I had a chance to review their Performance Chinos recently, and while I own a few two-way stretch pants, this is my first experience with four-way stretch pants.
While I don't know much about this French techwear brand before this review, I know a lot about Outlier, so I'll be making some comparisons between the two.
Style
Since they don't offer specific sizes to choose from, I chose a size L (for those with a waist size 34 according to their sizing chart) even though I've been wearing a size 32 for Outlier's pants like their Slim Dungarees as I've gained a bit of weight recently.
Following in the style of their Action Merino t-shirt, the pants are slim and elegant. I could actually feel the design style consistency between the two products.
At a size L, the waist felt a wee bit loose for me the first time I put it on, mainly because of the four-way stretch, but nothing that can't be remedied with a belt, I thought. Although it felt loose, it didn't feel like it was going to drop at all. On my second day wearing it, however, the waistband stretched to a point where it began slipping down to my hip as I walked around in it.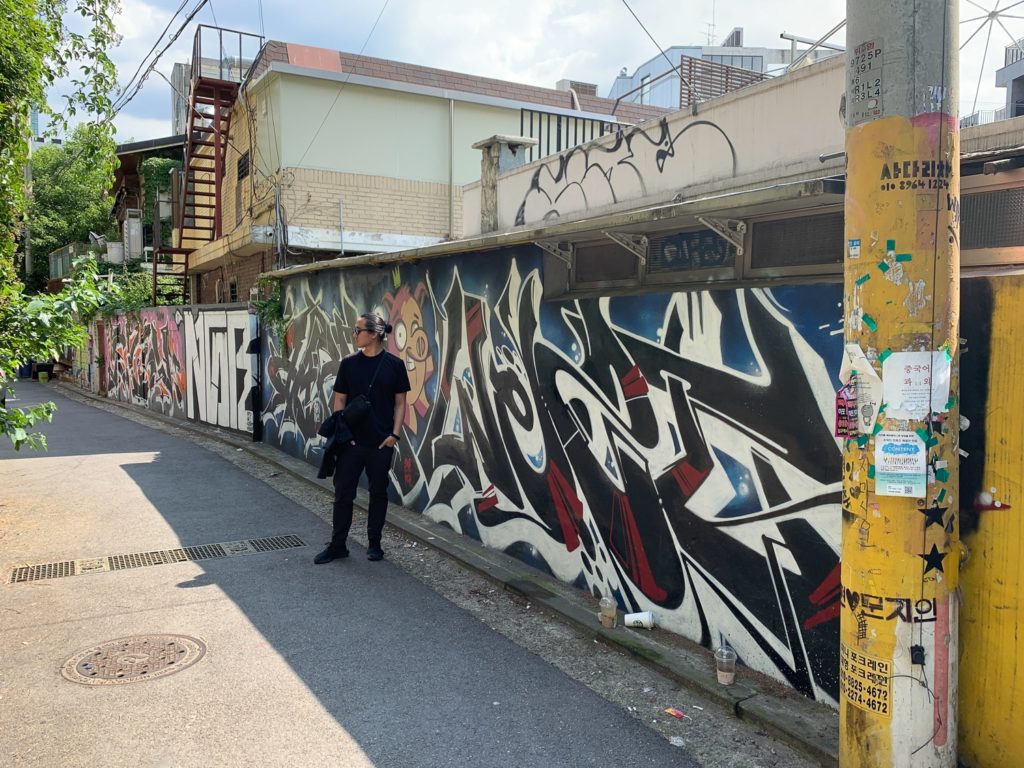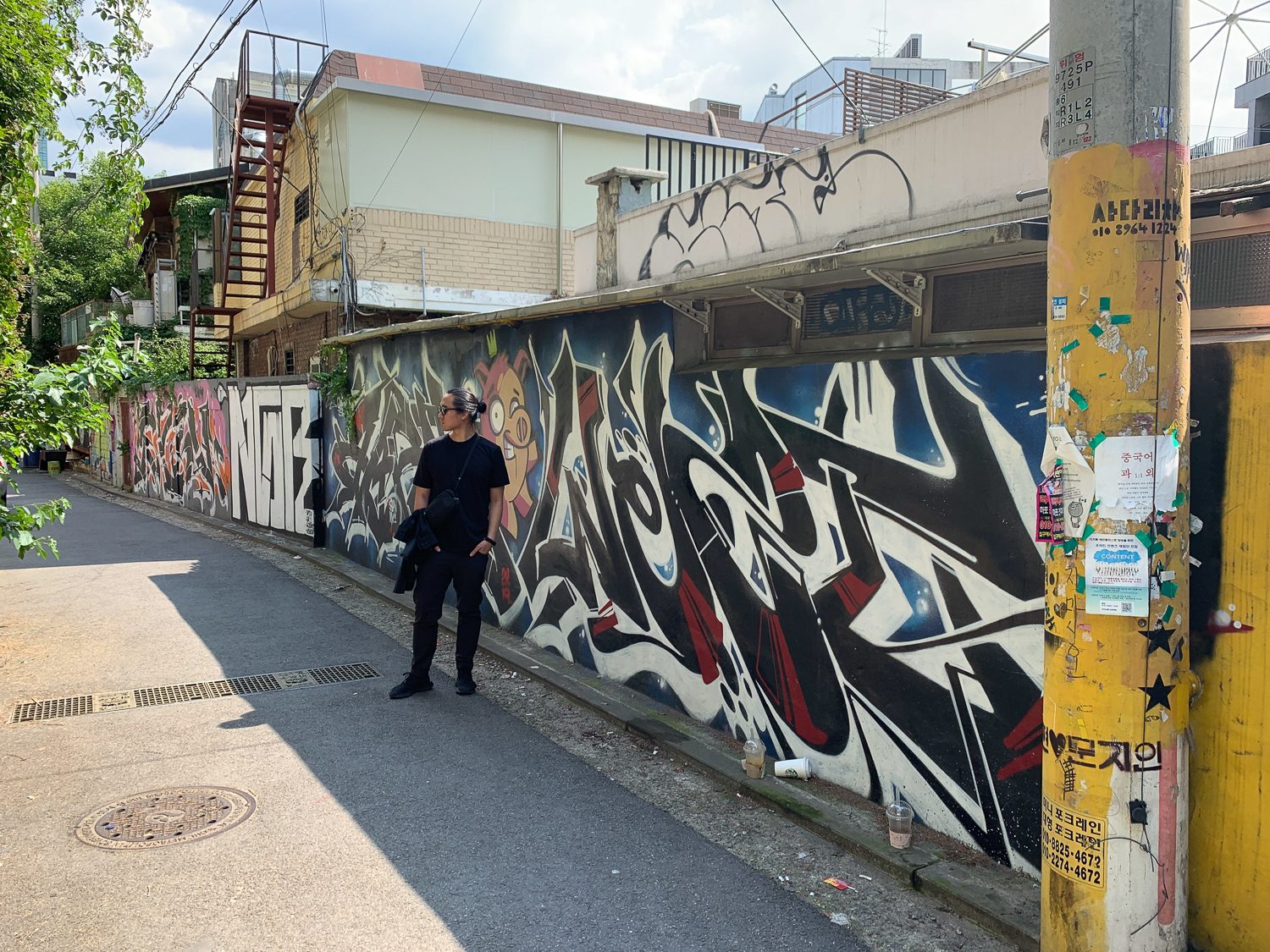 It was also due to the fact that the pants were slim throughout, and the movement around the knees was pulling the pants down as I walked. While the rest of the pants was of the perfect slimness, the waist was too loose at size L, which was meant for a size 34 waist. For reference, my natural waistline measured at a size 36.
I don't have a size M to compare with, so I'm not sure if sizing down for a better waistline would result in the pants being too skinny.
But no one likes ads, so I got rid of them. If my articles helped you, I ask for your support so I can continue to provide unbiased reviews and recommendations. Every cent donated through Patreon will go into improving the quality of this site.
From my days in an infantry unit, I've developed some pretty massive calves and the pants are slim enough that the shape of my calves can be seen, but yet the way the pants are cut allows it to stay flattering.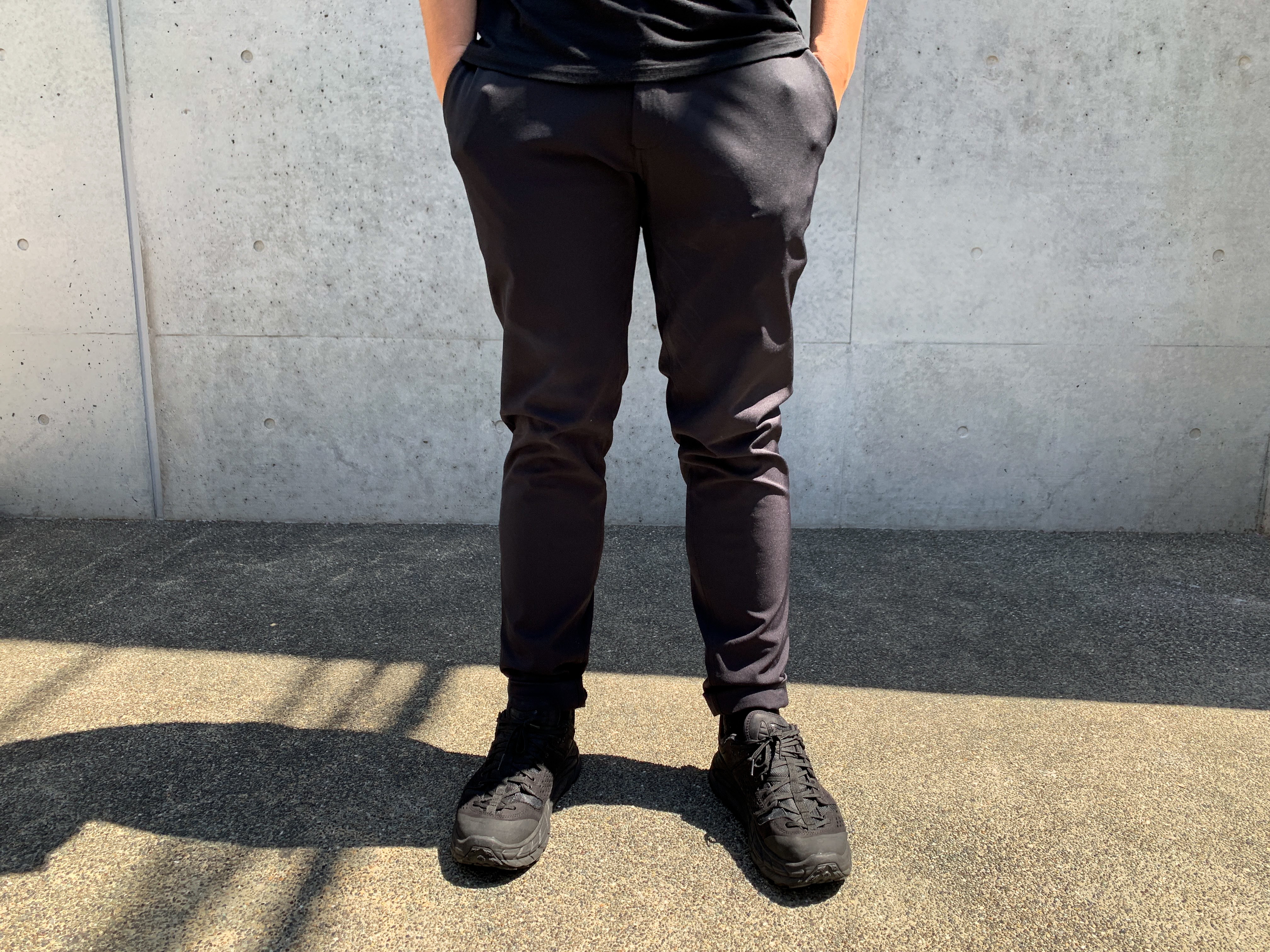 There is a hard taper towards the end of the pants after the knees, which makes it look smart even if the inseam is too long, they stay clean even as the pants bunch up towards to ankle.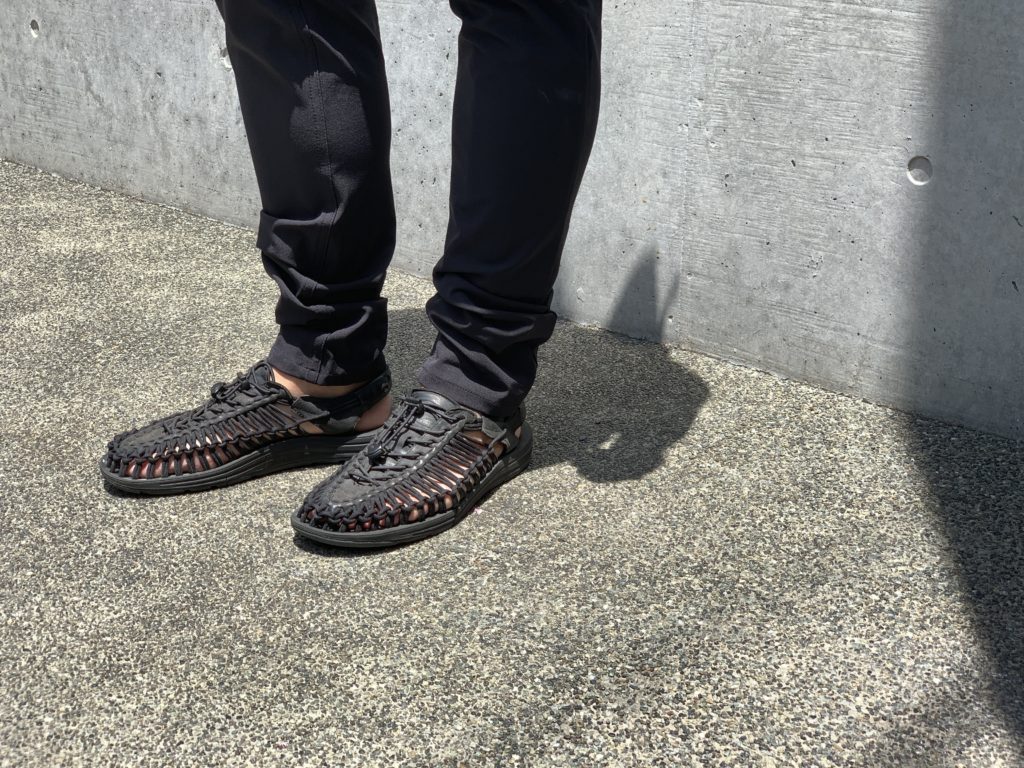 For this summer season, I've been folding the pants up to above the ankle for a cropped pants look, which looks perfect with sandals.
Unlike the ultra-tight look of the product image, there is an adequate amount of fabric so that it doesn't wrap your legs like a pair of yoga pants.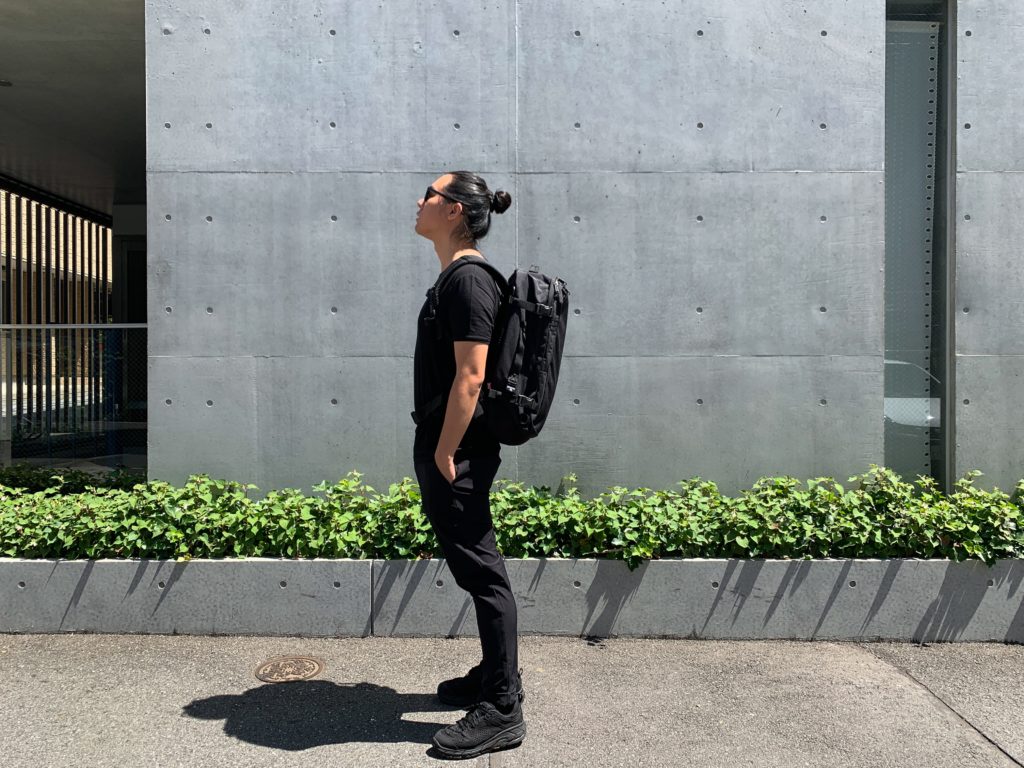 Unlike Outlier's pants, these do not have a gusseted crotch, which refers to a diamond-shaped fabric on the crotch that allows the stress points of the conjoining fabrics to be spread out.
This also means lesser freedom of movement and more chance of failure since the fabric intersects at just one point.
But, with the crazy four-way stretch, I don't see any way that someone can say that there isn't enough freedom of movement. These pants feel like the stretchiest pair of yoga pants. I feel minimal resistance with even the most rigorous stretch. You can literally do yoga in these.
I can't do splits, but I'm pretty sure these pants will handle them with no problems. This is unheard of in regular chinos, and I find it hard to believe anyone would prefer those over these Performance Chinos.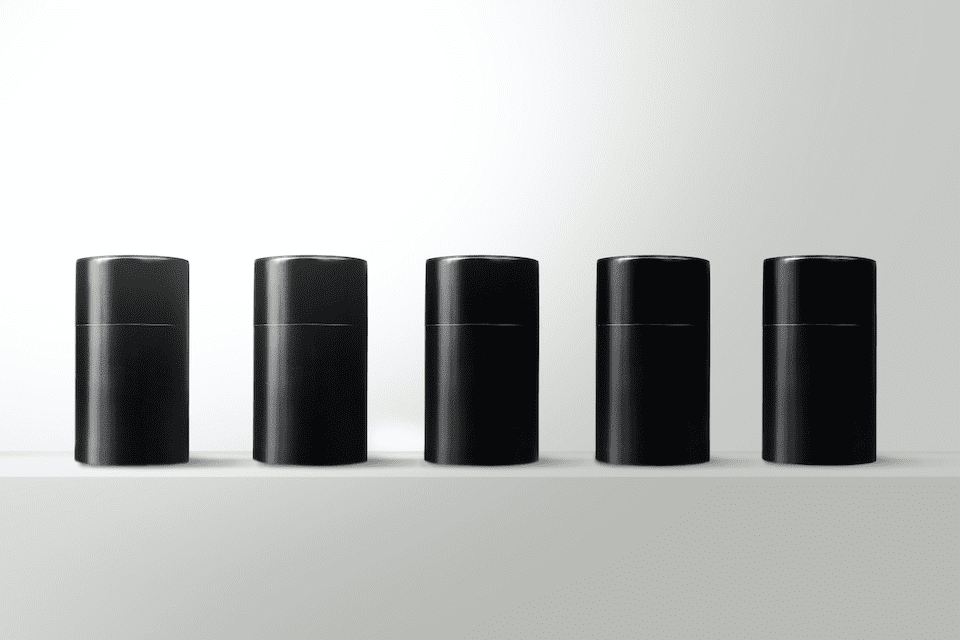 I found a 100 year old company that would create these heirloom quality canisters for me. They are handmade and will keep your tea leaves, coffee beans or anything that you need dry for years to come.
or read review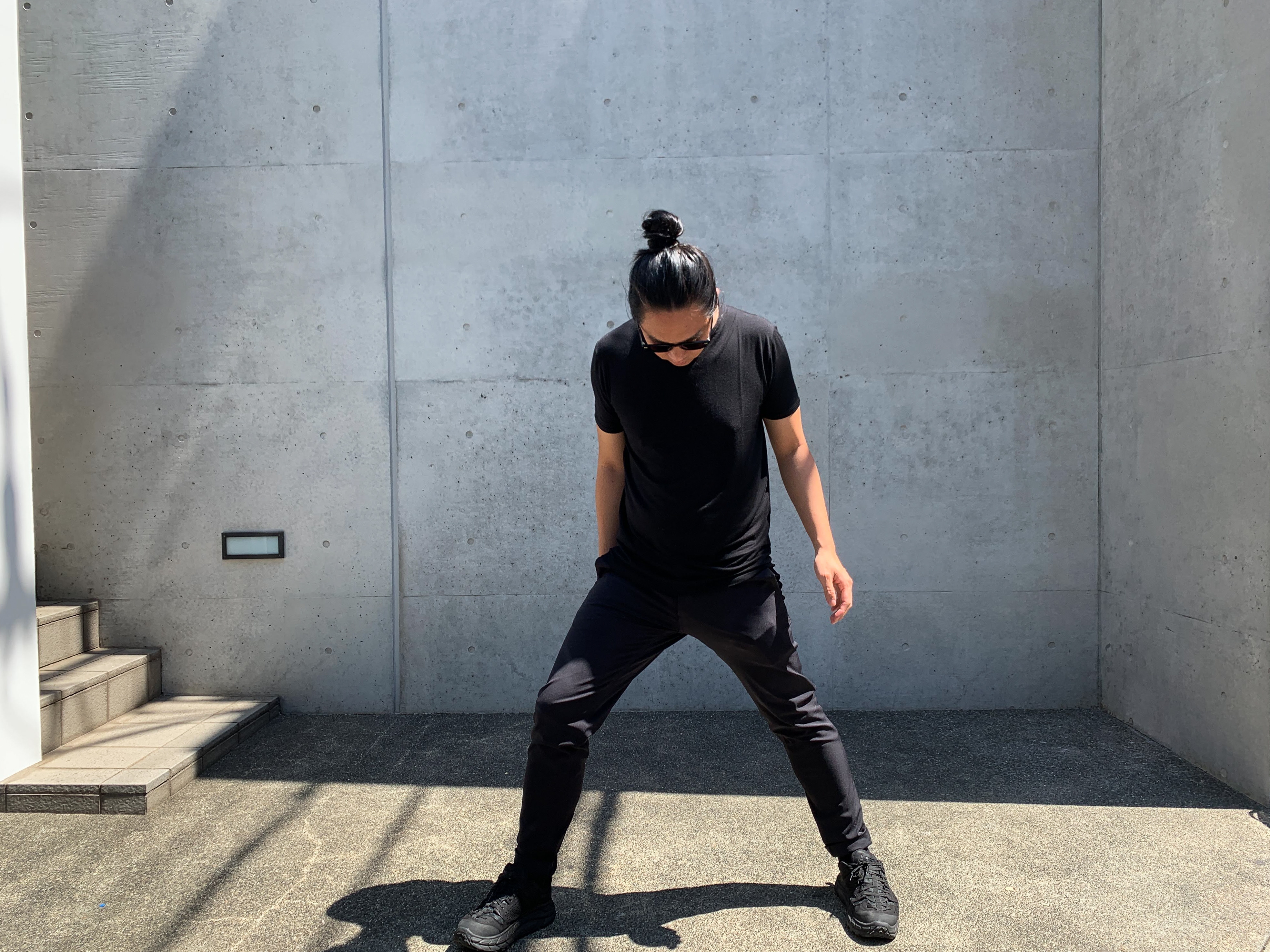 The fabric feels and looks very smooth, with few external details. Even the threading is so clean and well-stitched that the entire thing looks very neat. In fact, it's so meticulously done that you don't see the usual loose threads sticking out like you do when you get a new piece of clothing, not even on the insides.
There also isn't any sign of external branding, except for their tonal, barely-visible, embroidered cicada logo on the left side pocket. That much I can accept.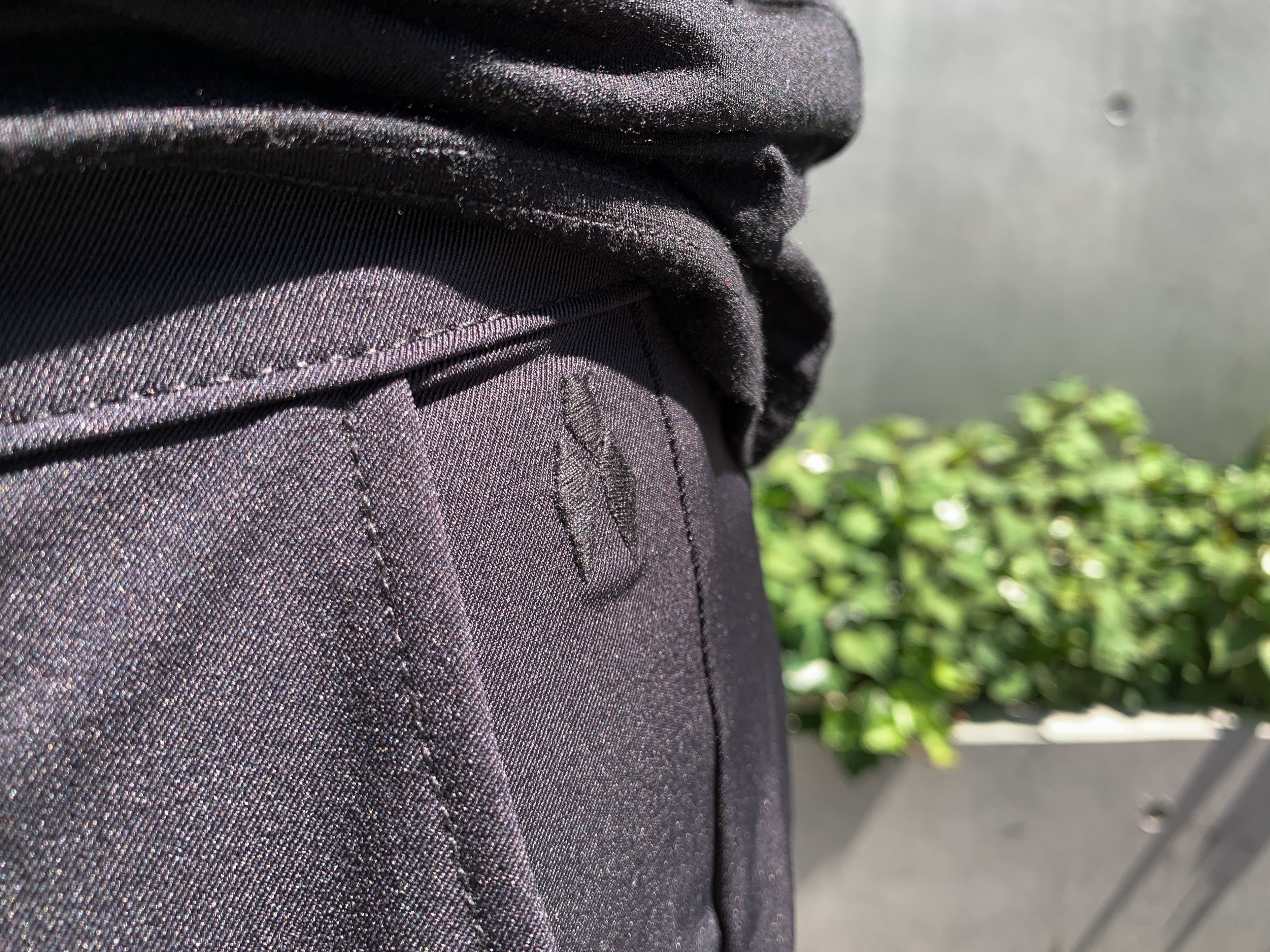 Having had the same reason with their Action Merino t-shirt before, I'm once again impressed by their attention to detail and stellar workmanship.
Materials
Seagale doesn't brand their materials and call them fancy names like OG Cloth, they are just referred to as high-performance French fabrics. They certainly feel and look the part.
For an experienced Outlier fanboy like me, I could immediately feel that the fabric performs very similarly to the OG Cloth that Outlier uses.
What it does better is that it is much smoother to the touch on the outside, as well as the lining. They have certainly retained their hatred for linings that cause irritation.
Like the OG Cloth, the fabric is a four-way stretch, which means the fabric can be stretched in every direction. Even when stretching to the maximum, the fabric retains its shape and doesn't tear.
Supposedly, it also holds colors extremely well. None of my other technical pants have faded so far, so I'm not too concerned about this. But it's good to know that my all-black wardrobe will stay black.
As with most techwear fabrics, the Performance Chino is DWR treated, which means splashes of water will bead off but is obviously not waterproof (you can't soak it in water and expect it to stay dry).
One thing about DWR-treated products is that the treatment would wear off in time and you would need to use a product like Nikwax to bring back the water resistance.
If comparing just fabrics, I prefer the material that Seagale uses over the OG Cloth just by a small margin.
The button on their pair of pants is also pretty cool, it's like a hook and eye set up, but in a button. Sounds confusing but it's basically a button, but you put it on like you would a hook and eye. It's unique and I kinda like it. It's pretty easy to get on and off.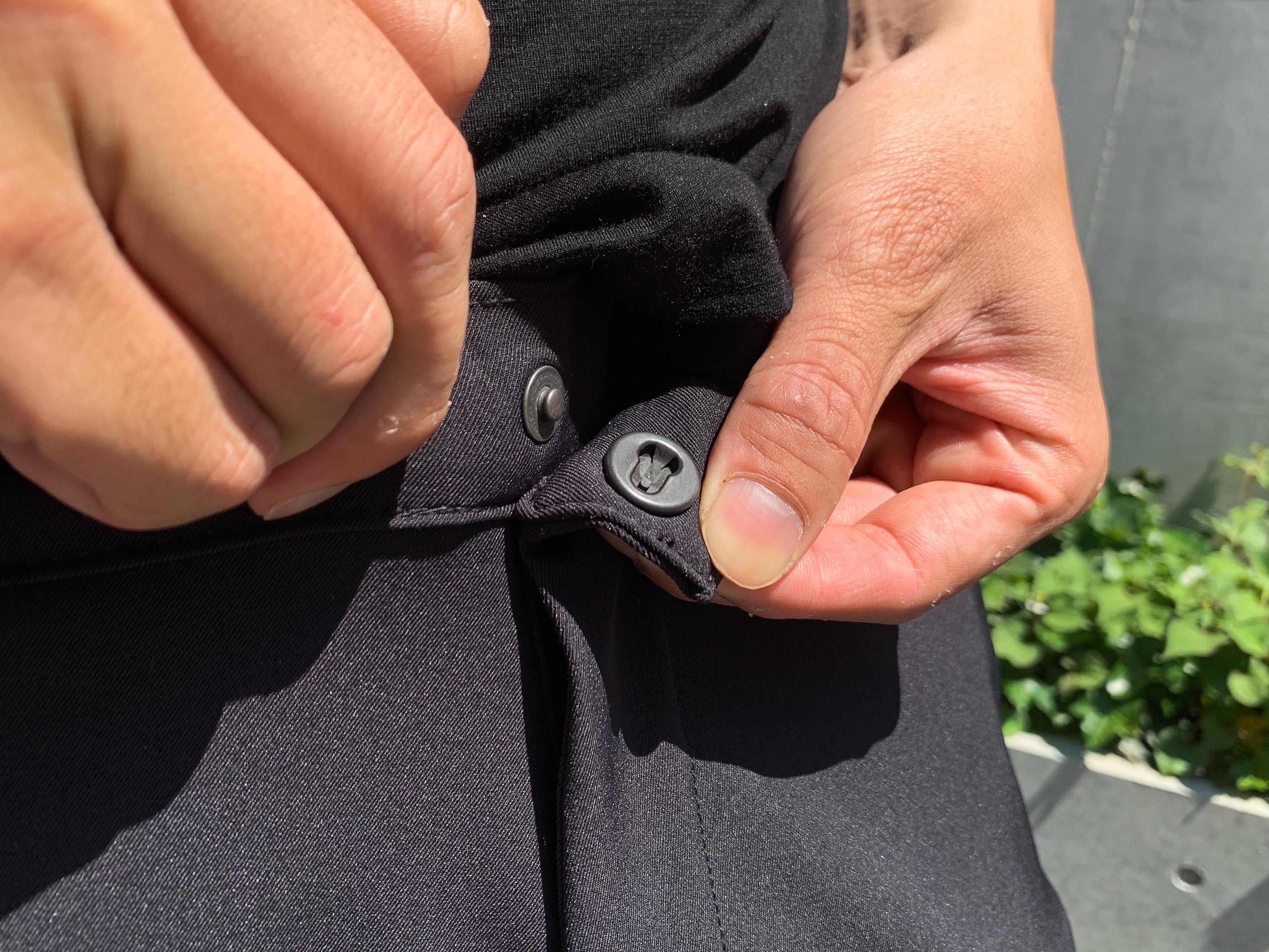 Usage
Three words. Four-way stretch. I've evolved my pants so far down the techwear realm that I'm never going back to denim, or even two-way stretch. Four-way stretch is the way forward.
In Japan, we sometimes have house parties where we are seated on the floor around a table. Even with two-way stretch pants, it gets uncomfortable seating cross-legged for long periods of time, given the pressure you feel with the fabric pressing onto your knee.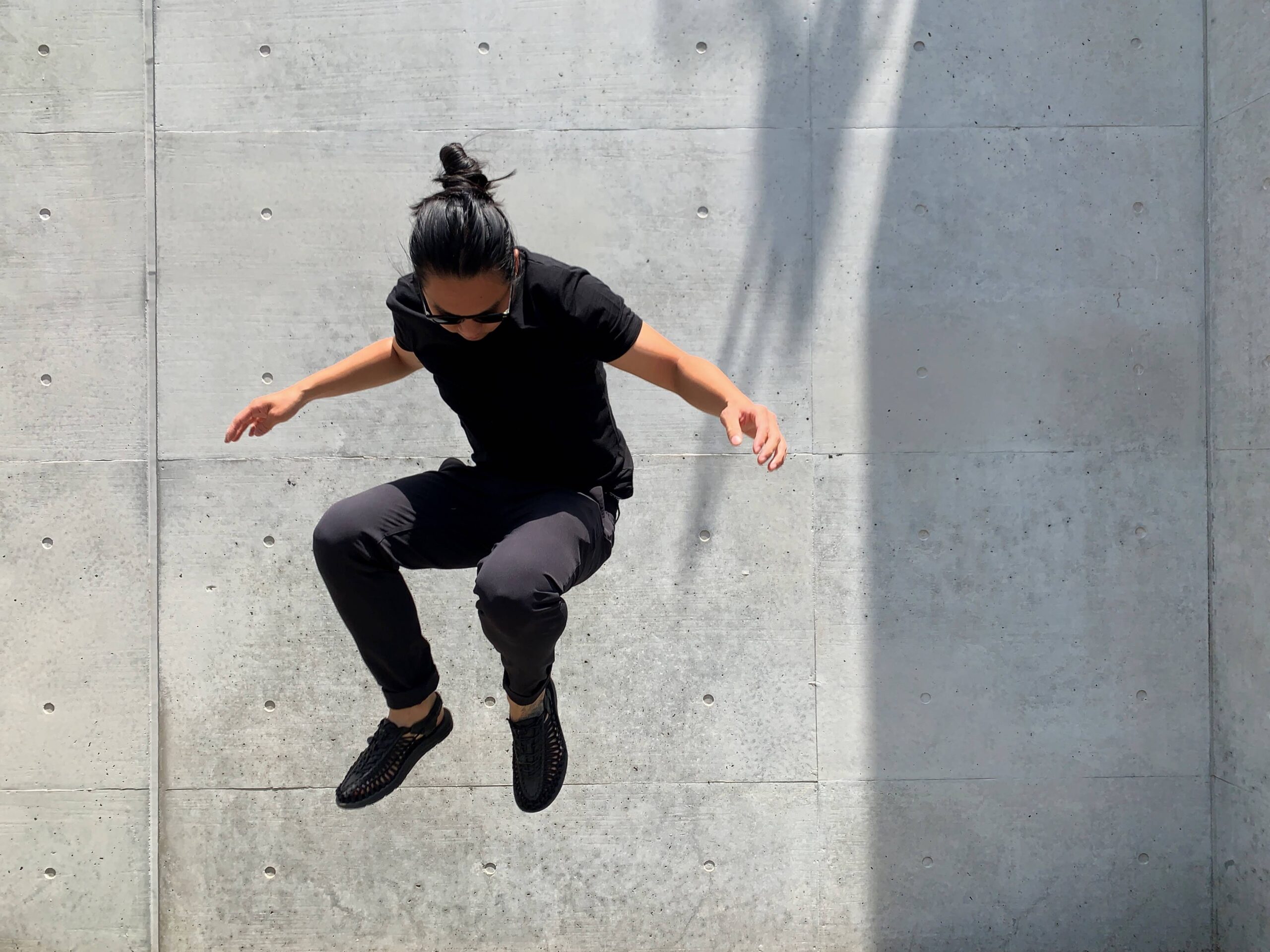 For the performance chino, I hardly feel any pressure even if I want to sit in the most awkward manner or do the Asian squat.
One nice little detail that really sets these pants above the rest is the addition of a zippered pocket on the right pocket. This is one whole additional pocket beneath the existing one, not just some small zippered pocket for keys or coins. I put my minimalist, small wallet or keys in there and never have to worry about it falling out.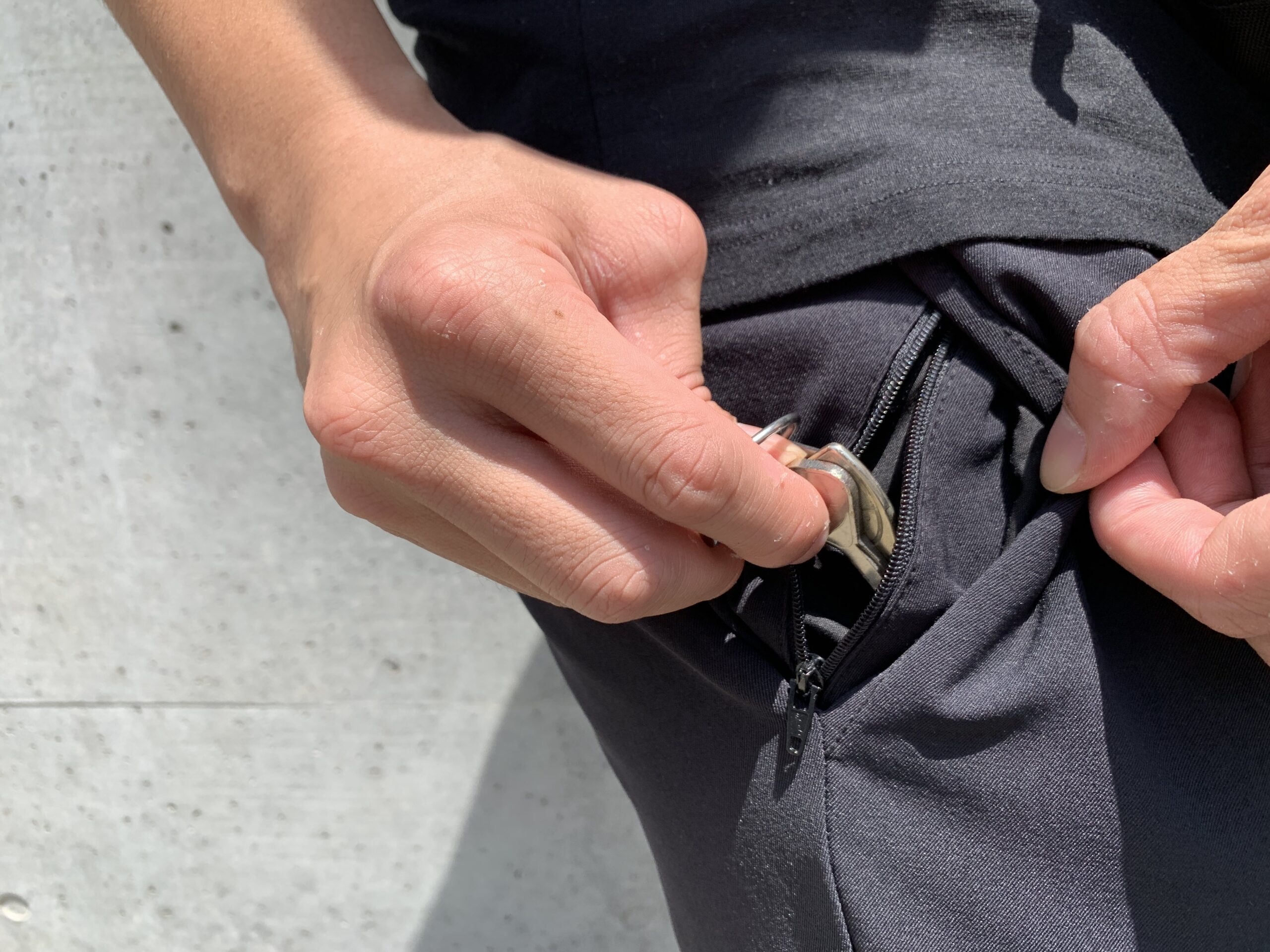 If you are comparing these pants to Outlier's, you might find the pockets relatively shallow. I don't find them too shallow that I am afraid that things might fall out at any time.
The back pockets, right out of the box, are sewn shut. Don't worry! They aren't fake pockets. Just cut the thread to open them up. I must admit that the usability here is questionable.
While the durability of the pants is no joke, the extreme comfort, mostly because of the incredible stretch, is my favorite part about this pair of chinos. I'd go as far as to say that I have no problems wearing it while lounging around at home or even to sleep.
Conclusion
Chic, simple, and elegant, yet high performing is what makes the Performance Chino from Seagale such a winner in my books.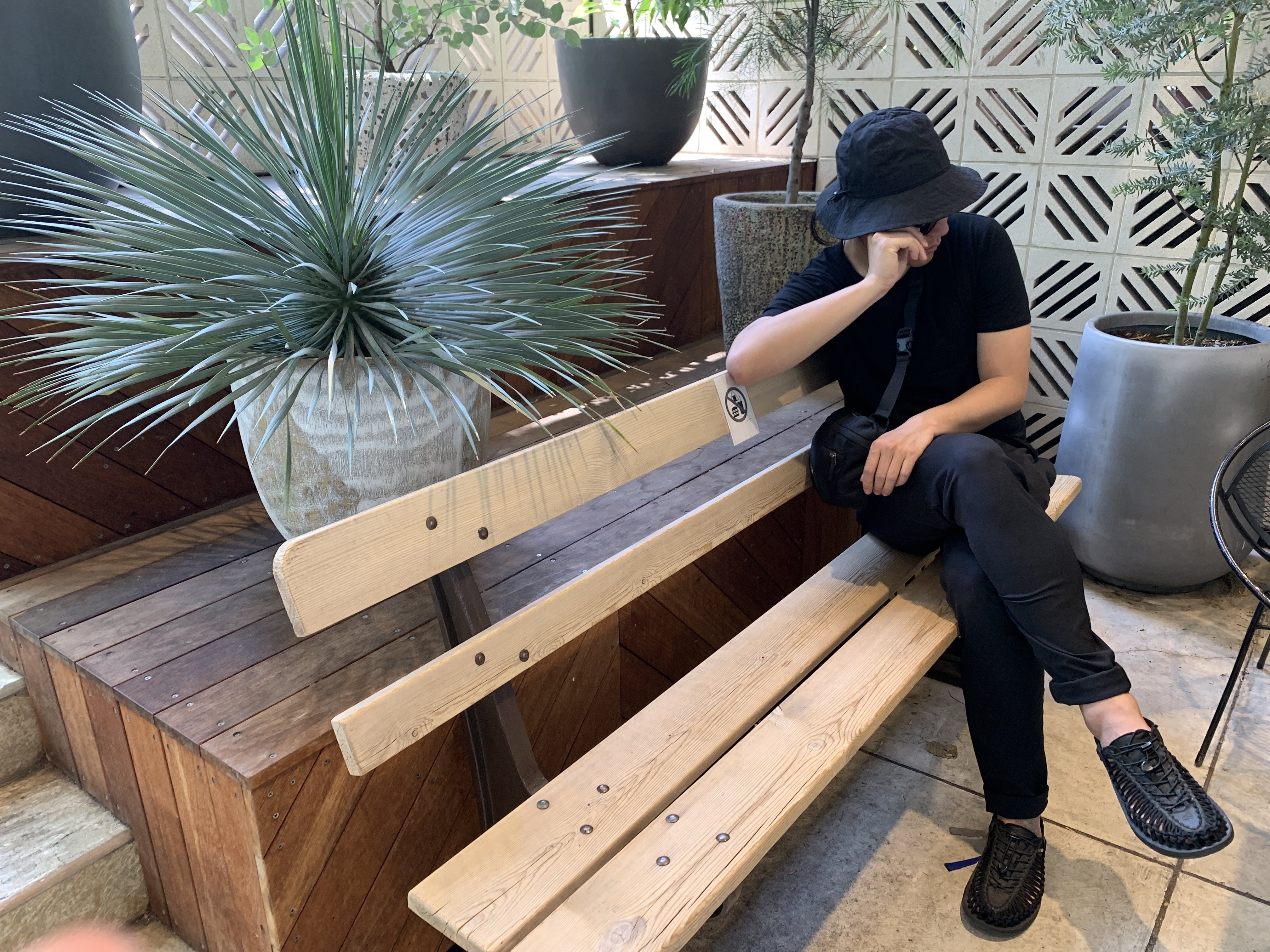 It is also a fair bit cheaper, more than $60 cheaper in fact, than the equivalent from Outlier, the OG Climbers. I absolutely love this pair of pants and would definitely recommend it for those who want to never worry about ripping their pants while bending over.
If you've already decided to pull the trigger, first of all, good choice. Can't recommend these pants enough.
Next, don't forget to sign up for an account first and use hello@alexkwa.com as the "sponsor email" for us both to get 10 € off.
Like this review? See all of my in-depth reviews.
Also, consider supporting me by being a Patreon. Every cent given will go back into improving the content of this website.