This website is made possible by readers. I may earn a small commission when you buy through the links in this article at no extra cost to you. Learn more.
The Outlier Futureworks is probably the perfect lightweight pants. If you come from a tropical country like I do, you'll see why this is key to escape wearing shorts every day.
Details
Price $148 on outlier.nyc
Material 97% Nylon, 3% Elastane
Woven in Sweden
Overview
As you all can tell, I have a special relationship with Outlier. They are the brand with which I took my first step into the world of technical apparel. Their Slim Dungarees and New Way Shorts were my gateway drugs into the world of high performance, stylish travel-ready clothing.
Being able to review one of my all-time favorite brands is an honor, but that doesn't mean I'm going to go easy on them. I've had mostly amazing experiences with their products, with the exception of some horrible piling on their socks. Hopefully, I'll be able to sniff out the details on the good, the bad or the ugly.
Style
As expected of Outlier, their style has always been on point for me and I often use them as the standard of how the savvy nomad should dress. Apart from one-of-a-kind fabrics, their quality is always top level and is often the benchmark for many other brands in the same category.
When they created the Outlier Futureworks, they wanted a classic-looking pant that was durable yet lightweight. Often, a pair of chino with good form and structure tends to be made of more rigid material, like the Perry Ellis Resist Spill Tech Chino, but the Outlier Futureworks managed to achieve the perfect balance of style and function, while maintaining the lightweight.
While the pant doesn't look ultra-formal, it looks slightly dressier than the Outlier's Slim Dungarees. There is a light weave texture to it, which does make it look a little more casual than an actual dress pant.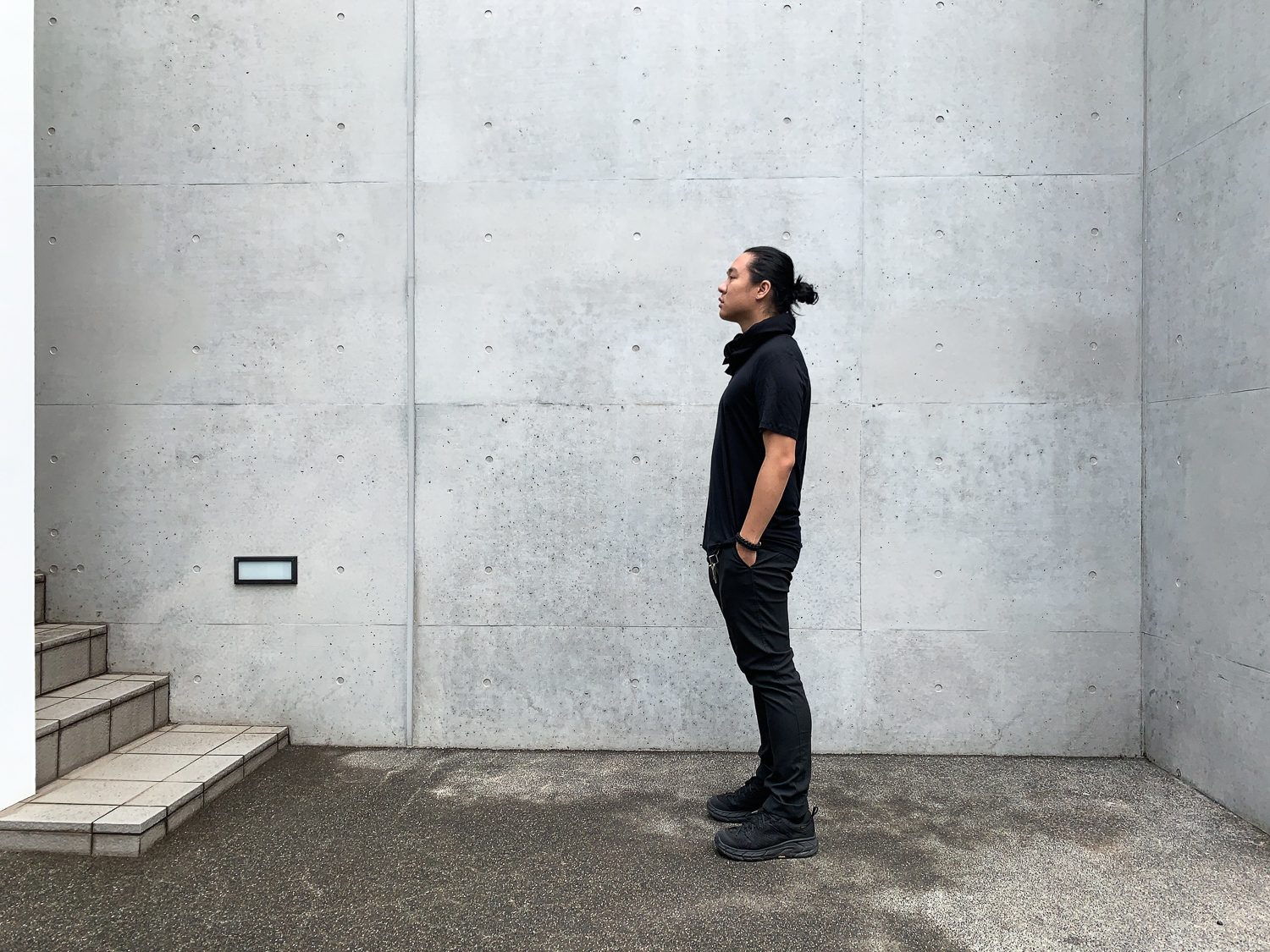 I'm usually a size 32, which is the size I got for all of Outlier's pants (except the Overdyed Strong Dungarees). Like the other four pairs of Outlier pants I have, the size 32 fits perfectly this time as well.
It's not too snug that I have to unbutton after pigging out at a buffet, but not too loose that I need a belt to keep it on. This is often how I determine the perfect size for me.
The buttons are from one of my favorite brands, Cobrax buttons from riri.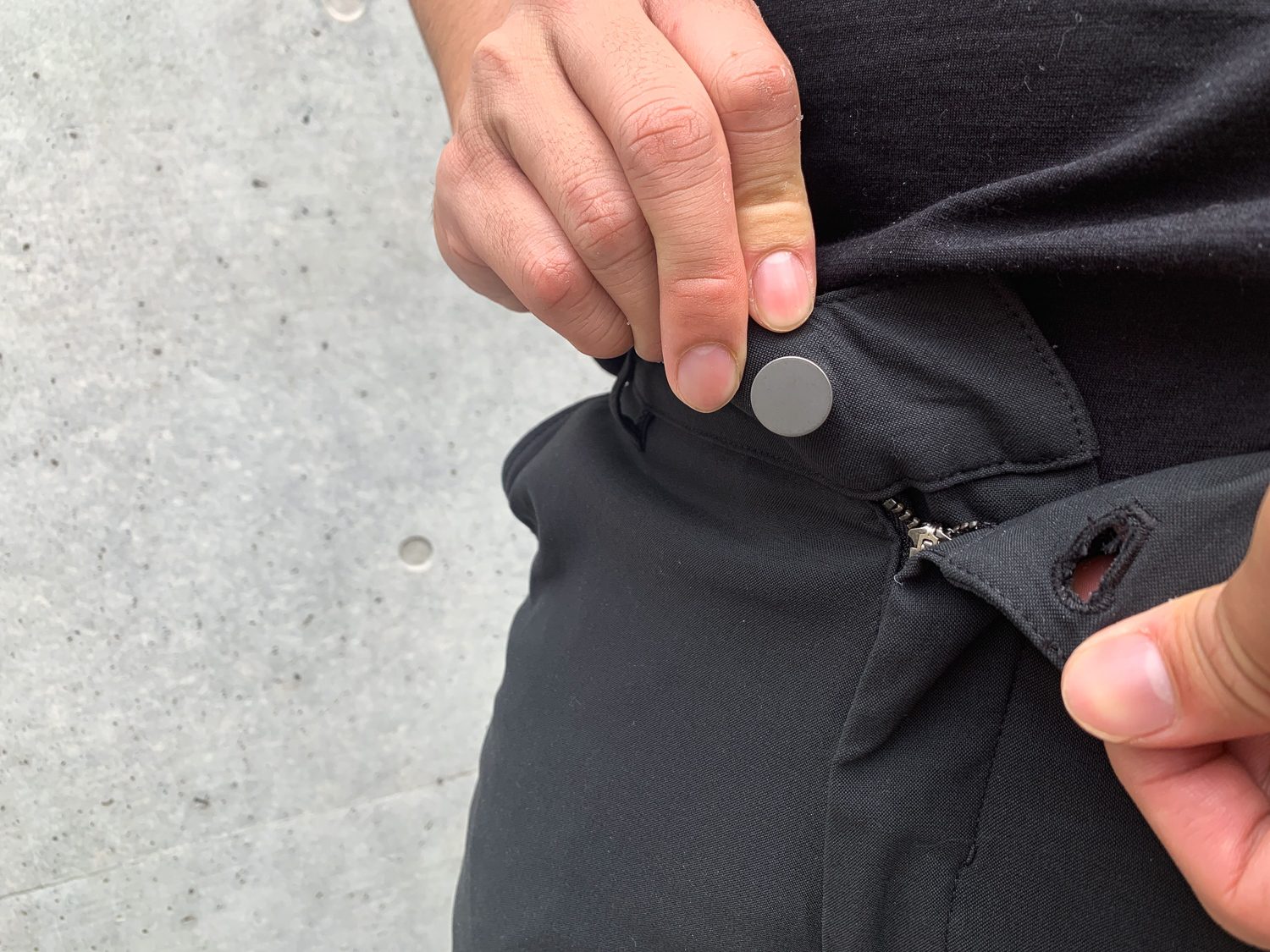 While I got the flat black colorway, the black is not what you would call an absolute black, but closer to a dark charcoal. It's somewhat similar to Outlier's Slim Dungarees in terms of color tone. While it's not too obvious on its own, it becomes apparent when you only dress in all black like I do.
But no one likes ads, so I got rid of them. If my articles helped you, I ask for your support so I can continue to provide unbiased reviews and recommendations. Every cent donated through Patreon will go into improving the quality of this site.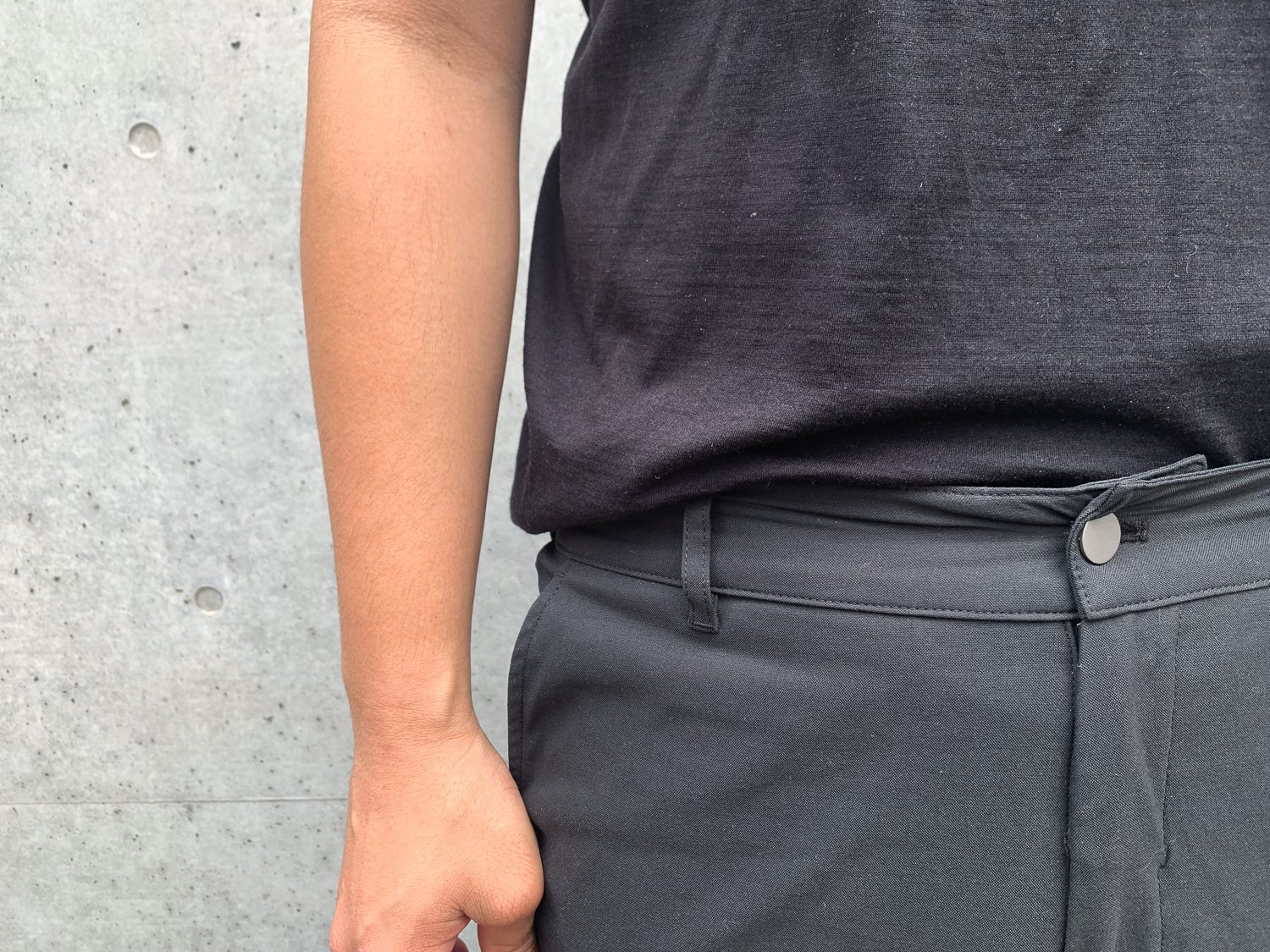 The Outlier Futureworks is very versatile when it comes to the style department. They marketed it as a pant that you can go anywhere in, but perfect for the office and in my experience, it does as describes.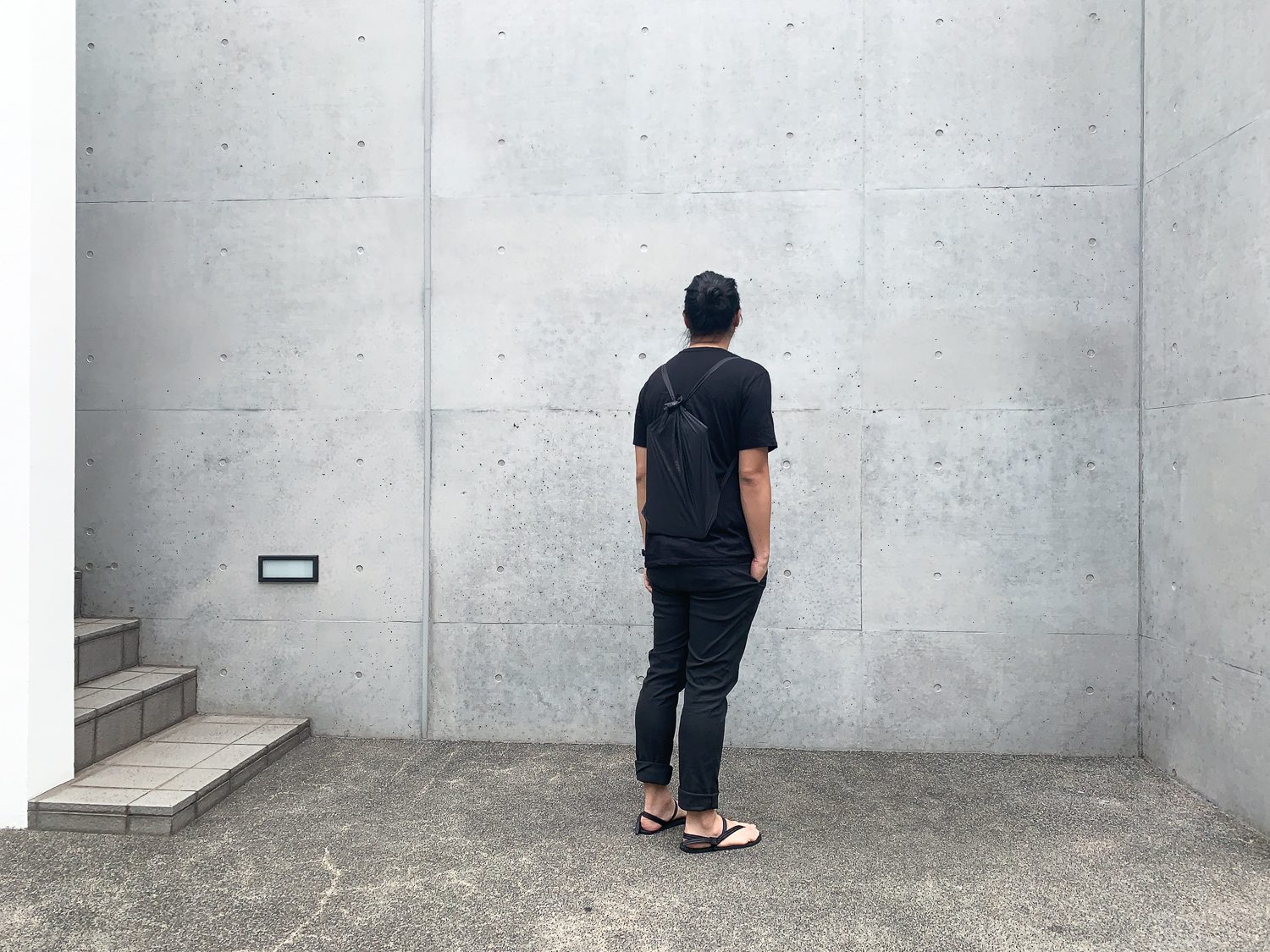 It goes well with boots, sneakers or sandals. You can match it with t-shirts or shirts and jackets. So, basically with anything for any occasion. This isn't anything new as most of Outlier's pants seem to be versatile enough for most occasions I would encounter.
I like cuffing up the pants to reveal a bit of ankle. I also noticed that the cuffs are a little larger than most pants.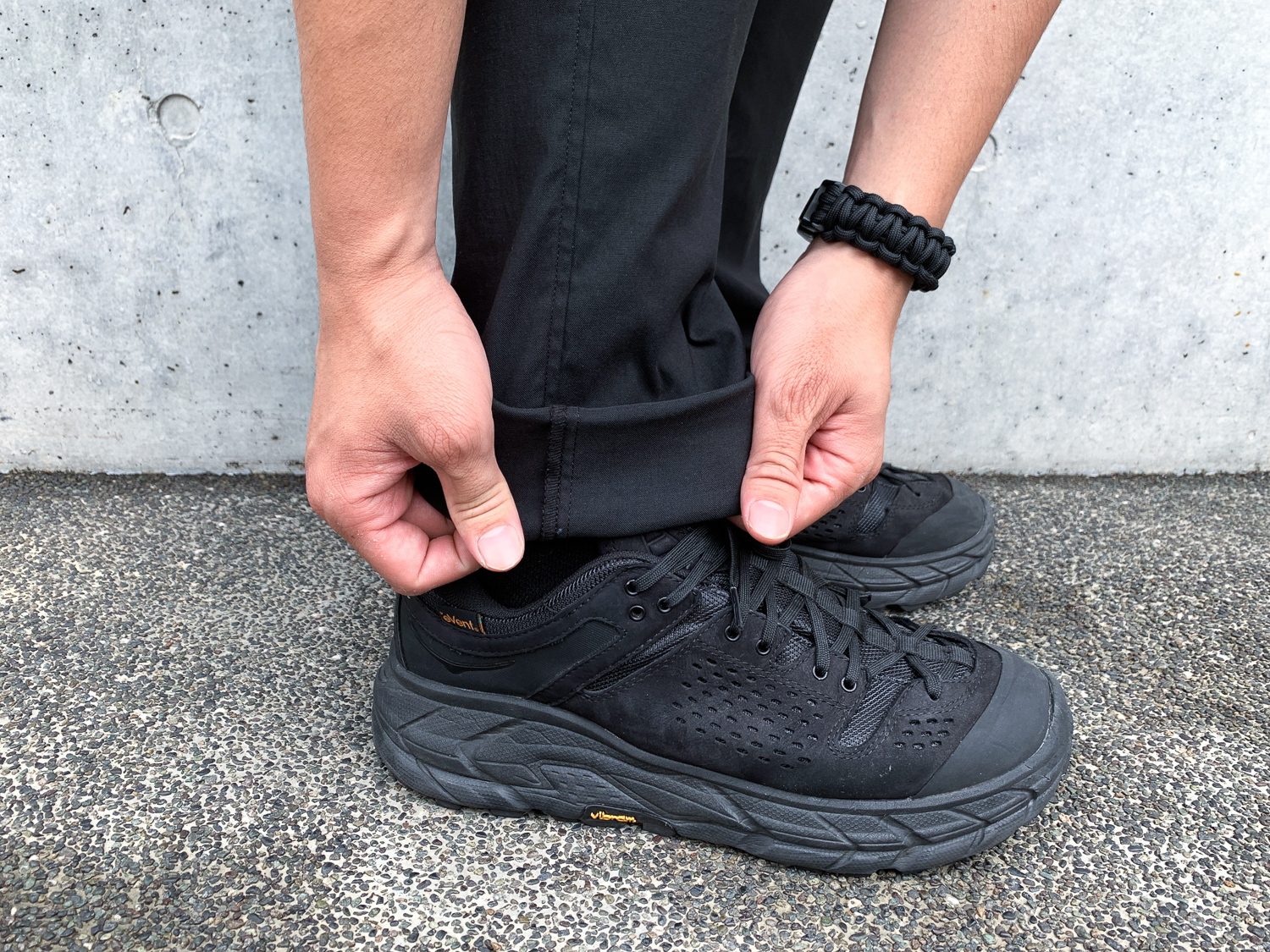 The side pockets are slightly slanted inwards, to prevent your pocket's contents from falling out. While it's not as secure as the Slim Dungarees L-shaped pocket openings, they made a fair compromise here to keep it looking cleaner and smarter for the office.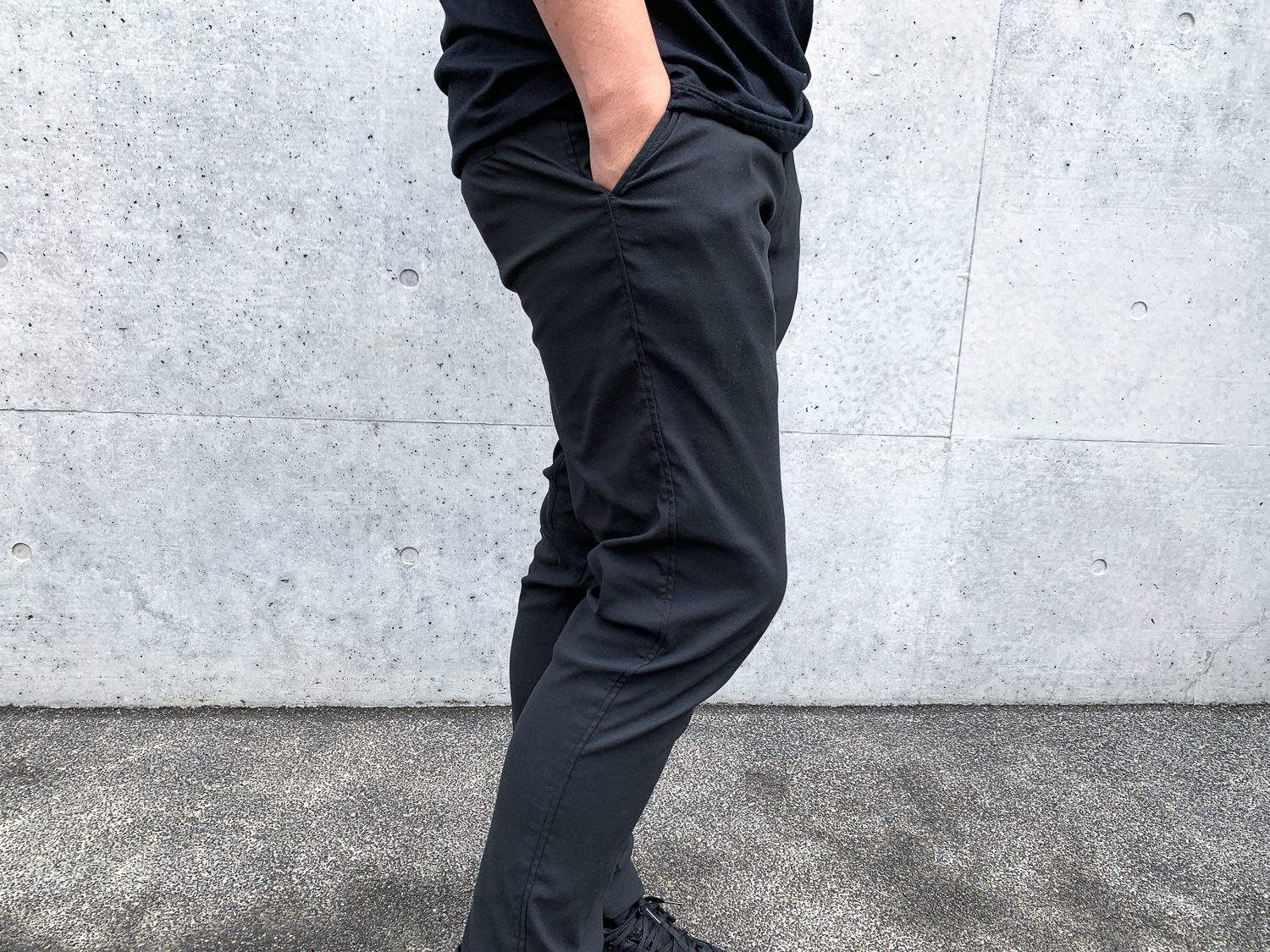 Material
Outlier Futureworks, F Cloth. Get it?
The F. Cloth fabric is a 200gsm, 97% Nylon, 3% Elastane canvas, with a substantial 35% two-way stretch.
The fabric is made in Portugal with Swedish fabrics. Man, Outlier knows how to the material sound high-quality just from the origin. Its air-texturized CORDURA grade nylon yarns are engineered to be strong yet soft enough to wear for a year-round comfort.
A light DWR has been applied to the pant to keep dry during light showers, but don't rely on it keeping you dry during monsoon season. I used the very scientific method of pouring some liquid on the pants to test this. While most of the liquid would bead off, the liquid would slowly permeate the fabric and you would feel it through the pant.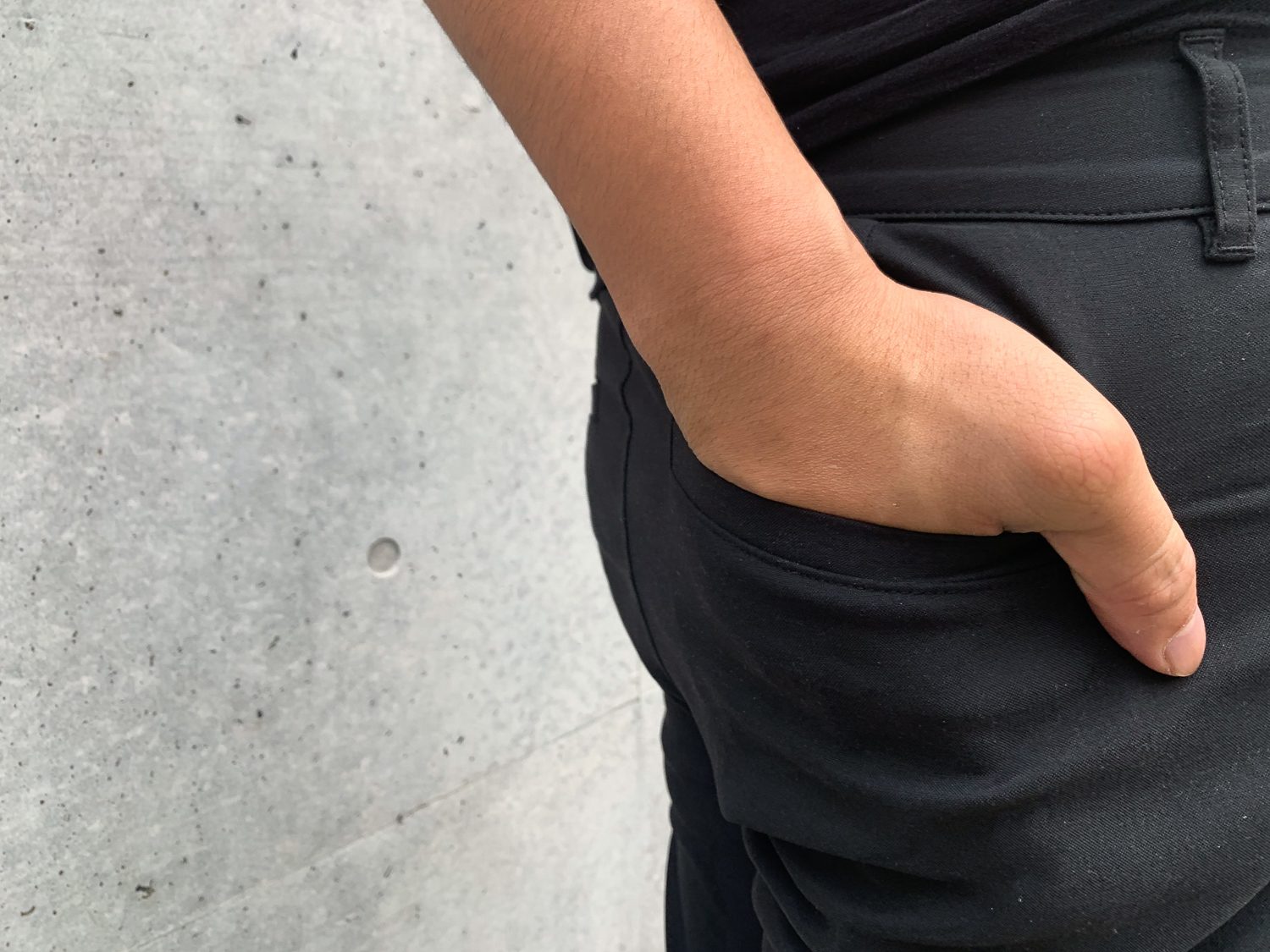 Although, with any kind of DWR coating, with continuous wear and wash, would lose its resistance over time. The water-resistance has to be maintained by reapplying the DWR coating regularly with something like Nikwax's products.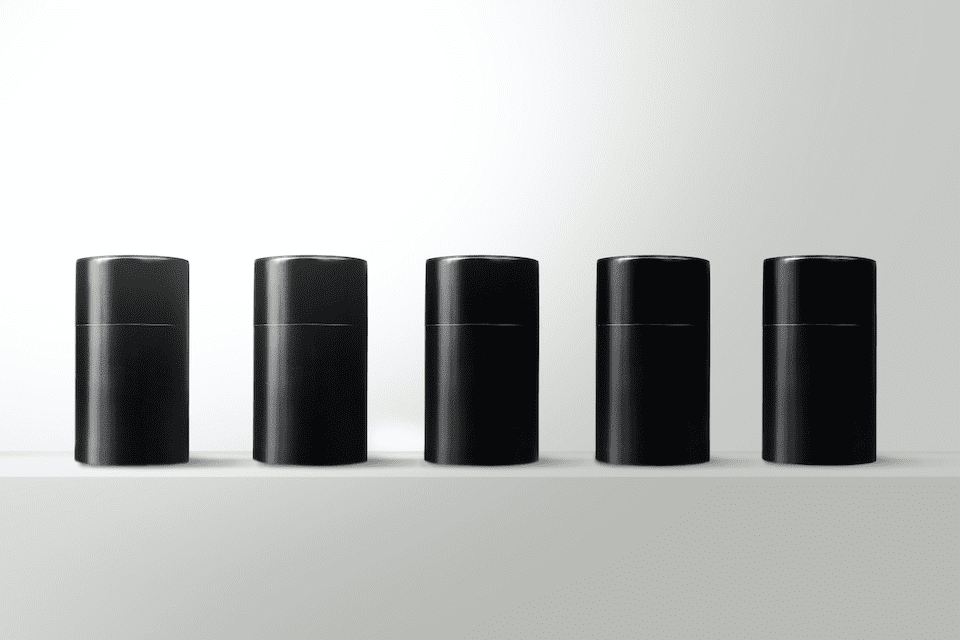 I found a 100 year old company that would create these heirloom quality canisters for me. They are handmade and will keep your tea leaves, coffee beans or anything that you need dry for years to come.
or read review
Two-way stretch
The two-way stretch felt slightly less stretchy than the Outlier Slim Dungarees, but it could also be because I've worn the Slim Dungarees for quite some time now.
Futureworks actually has one percent more elastane compared to the Slim Dungarees, but might also be less stretchy due to the lack of polyester.
While the cloth only has a two-way stretch, the gusseted crotch goes down to the knees for that extra bit of freedom of movement. For those who don't know what a gusseted crotch is, it's basically a diamond-shaped piece of fabric at the crotch. It aims to tackle the problem where a four-way intersection creates a bulky lump of fabric that doesn't hold up in traditional pants.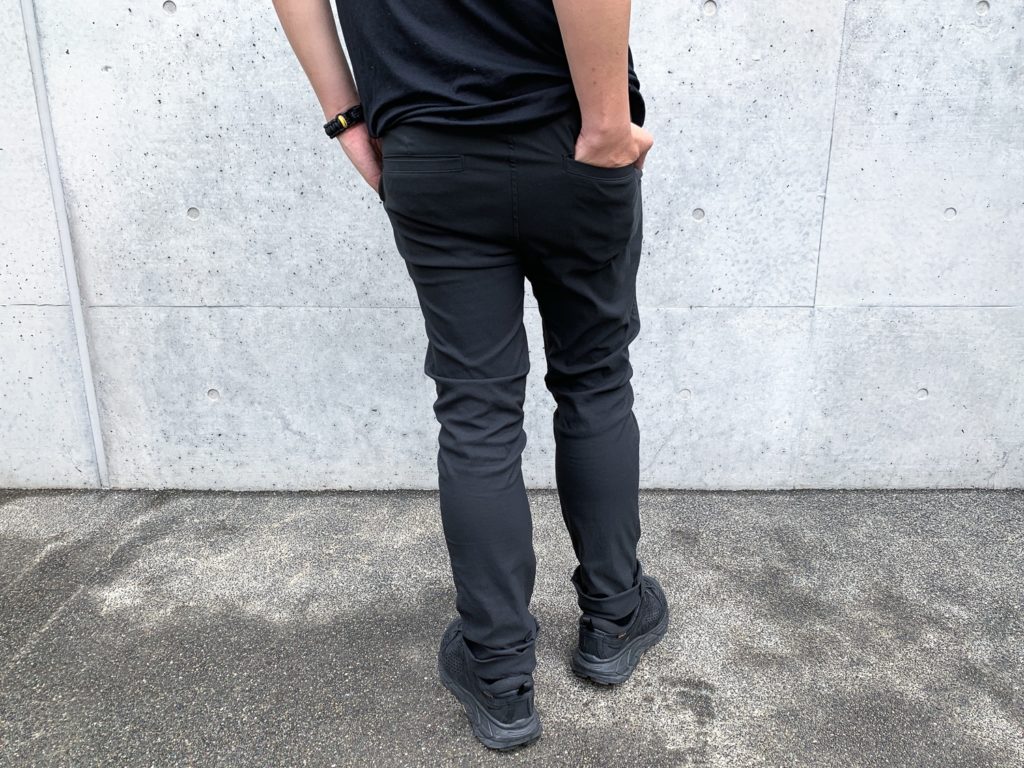 This intentional design element, inspired by climbing pants, is often added to offset the less stretchability compared four-way stretch pants. Doing this would give the Futureworks more structure, yet maintain a good range of movement for the wearer. It does so by allowing the forces of movement to be transmitted to four times as many places.
The gusseted crotch is a method often utilized by Outlier.
Lightest pants from Outlier
At 200gsm, the pant is also one of Outlier's lightest offering. You can definitely feel the difference when comparing to a heavier pants like Perry Ellis Resist Spill Tech Chino.
Usage
Abusing the Outlier Futureworks.
I've only been wearing the Outlier Futureworks for a few weeks now. The New Way Shorts on the other hand, which are made of the same F.Cloth material, is something I have years of experience with.
I've found this fabric hard to stain. In addition, the black colorway I always go with helps to keep it looking clean and crisp. Even after about two weeks of wearing it, I haven't actually had to wash it.
Unlike pants that use more cotton, the F.Cloth makes it hard for lint and dust to cling on. It makes it perfect for the lazy office-worker who dreads laundry (like me).
As marketed, the breathability is a god-sent for humid, Tokyo summers. While it's substantial enough to wear year-round, I suspect you would need a base layer to pull through winter. I'll be sure to update this article once I have a chance to experience it.
As expected from my experience with the New Way Shorts, the Outlier Futureworks is also very comfortable. Even if longer.
Conclusion
Is the Outlier Futureworks for you?
At $148, the Outlier Futureworks is one of the more affordable pants from the technical fashion frontier. While the Slim Dungarees might be the core pants that they are most known for, the Futureworks is a whole $50 cheaper. This is why it might be your perfect gateway to the world of high-end technical apparel.
Still too expensive? You might want to check out my article on how to get Outlier at a slight bargain.
Like this review? See all of my in-depth reviews.
Also, consider supporting me by being a Patreon. Every cent given will go back into improving the content of this website.
Tagged chinos outlier pant review water-resistant