This website is made possible by readers. I may earn a small commission when you buy through the links in this article at no extra cost to you. Learn more.
Details
Price $199.99 on xactlylife.com
Dimensions 13.7″ (w) x 20.7″ (h) x 8.9″ (d) / 347 (w) x 525 (h) x 226 (d) mm
Volume 35 liters
Overview
Kickstarter has given the world so much innovation, but at the same time, the many hits come with their fair share of misses. Some of those products, like the JIBBON Key Organizer and the MOFT "Invisible" Laptop Stand, I've had the most amazing experiences with.
Although, to be fair, those aren't backpacks. I'm a little more nitpicky when it comes to backpacks, since I've reviewed all tiers of backpacks, from top-of-the-line ones like the GORUCK GR1 and Tortuga Outbreaker to the average (but much more affordable) like CabinZero Classic Pro or Nayosmart Nayo Almighty.
When it comes to travel backpacks, there are two distinct styles, the minimalist exterior with just the right amount of internal organization, like the Aer Travel Pack 2 or the Tortuga Outbreaker, or ones that try to have all kinds to features to "stand out". These are usually newer brands trying to differentiate from the sea of backpack brands, like GORUCK or TOM BIHN, that have been around for a while.
To me, XACTLY belongs in the latter category which is not usually the category I go for. Like the Nayosmart Nayo Almighty, these backpacks were probably designed to solve specific problems. This means that the features are useless if you don't use it a specific way, or you would have to change the way you use your backpack to accommodate it, which makes no sense to me.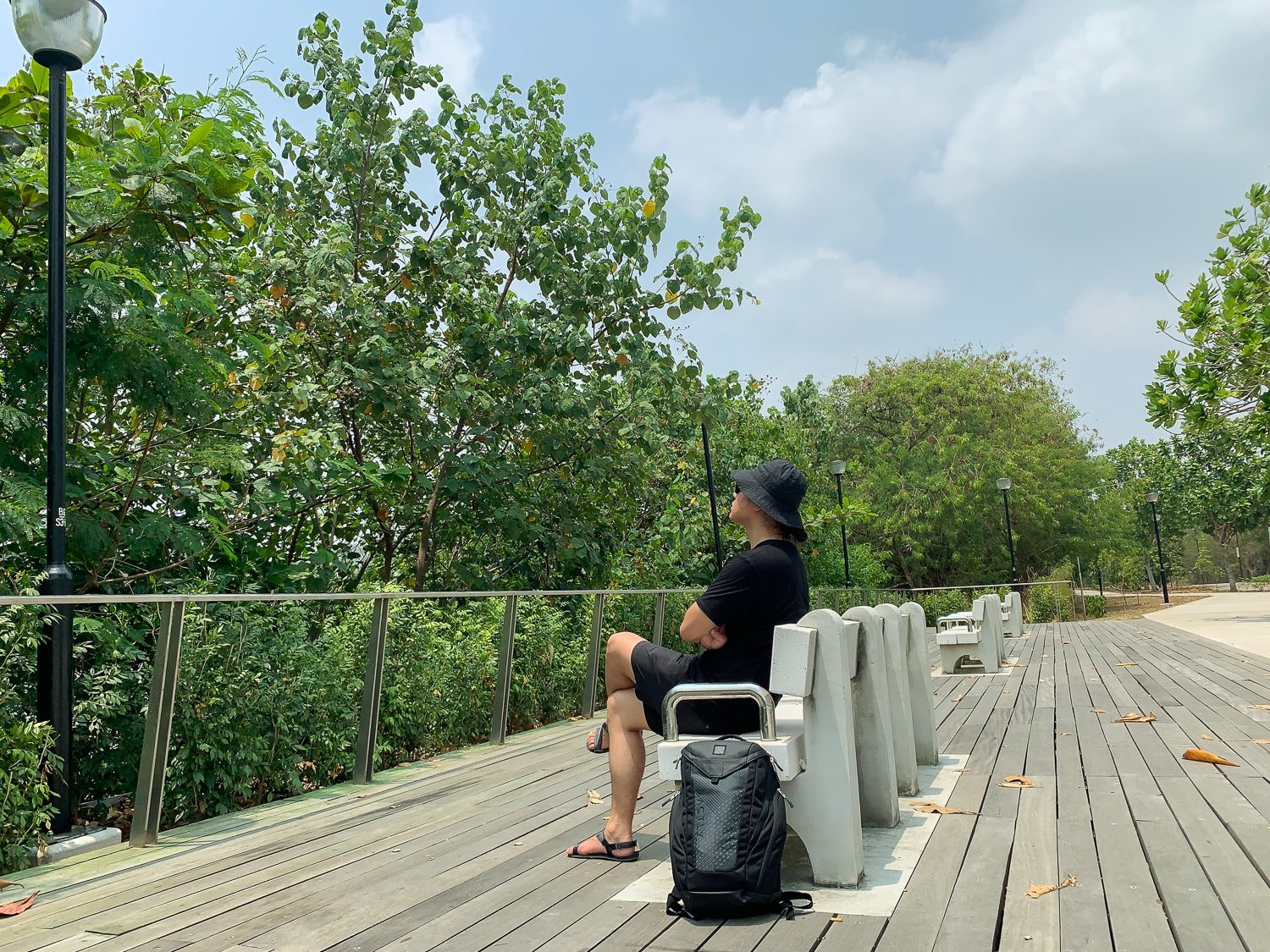 Despite looking like a promising product, XACTLY, unfortunately, did not hit their Kickstarter goal. But since I was able to get my hands on one, I'll be dissecting the Oxygen 35 Backpack and give you the lo' down on not just what's good, but also what needs more work.
The first thing that struck me about XACTLY, was the lack of a single positioning. Many successful backpack brands I've reviewed, have a strong concept for audiences to hook on to.
For example, GORUCK is all about special forces, bomb-proof backpacks and have rucking challenges and a whole community and warranty to back that up. Or, Pakt Bags are about a re-release of The Minimalists' favorite bag. Or Aer, with just about classy design and branding with a little edge.
Based on their marketing, XACTLY is about a balanced lifestyle or an exactly life as they put it. Exactly the right balance between the pillars that make a happy lifestyle, which are giving, work, play, travel, fitness.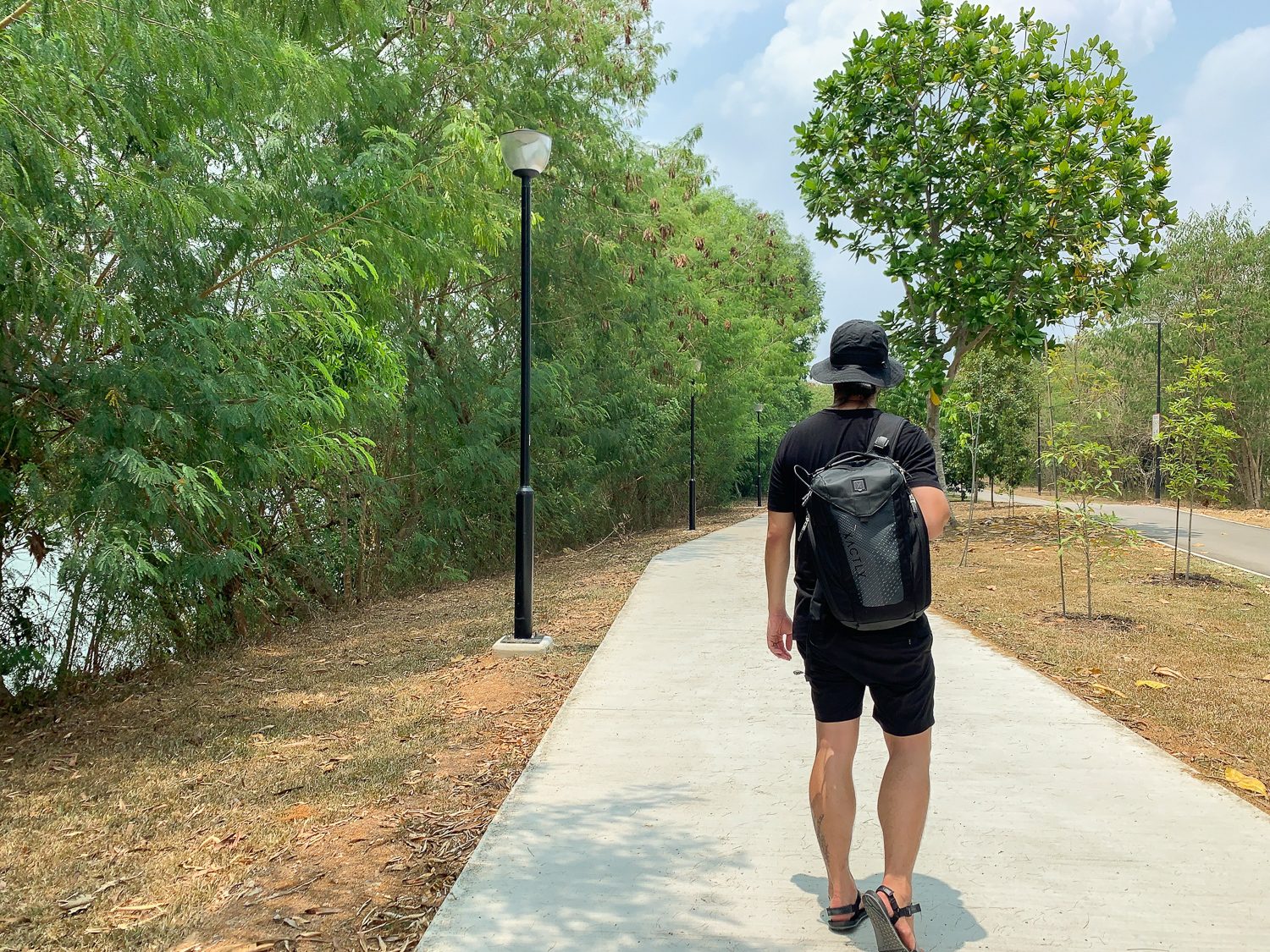 So rather than standing for one thing, they try to stand for a balance between multiple facets of life, the more unique one being, giving back to the community.
I'm sure there are people who care about that, but it wouldn't make me buy a backpack. Product-wise, there isn't any crazy material or unique selling point that would create that hook in the niche I'm in, the one bag travel community. It seems to me that XACTLY is trying to target as many audience segment as possible by checking as many boxes adequately, but might make the brand seem a little diluted to attract backpack enthusiasts and one bag aficionados.
But no one likes ads, so I got rid of them. If my articles helped you, I ask for your support so I can continue to provide unbiased reviews and recommendations. Every cent donated through Patreon will go into improving the quality of this site.
Apart from the backpack, XACTLY tries to create synergy by introducing several other products like a water bottle, mobile charger and earphones, to work seamlessly with the backpack, which I will also be featuring in this review.
Style
The Oxygen 35 comes in two colors, a black and a blue/grey. Since I only wear black, no prizes for guessing which I went for.
On the mostly black backpack, what became immediately most apparent is a unique pattern they are using, which was a sort of diagonal criss-cross embroidery on a dark grey background for some contrast, found on the front and the back of the backpack.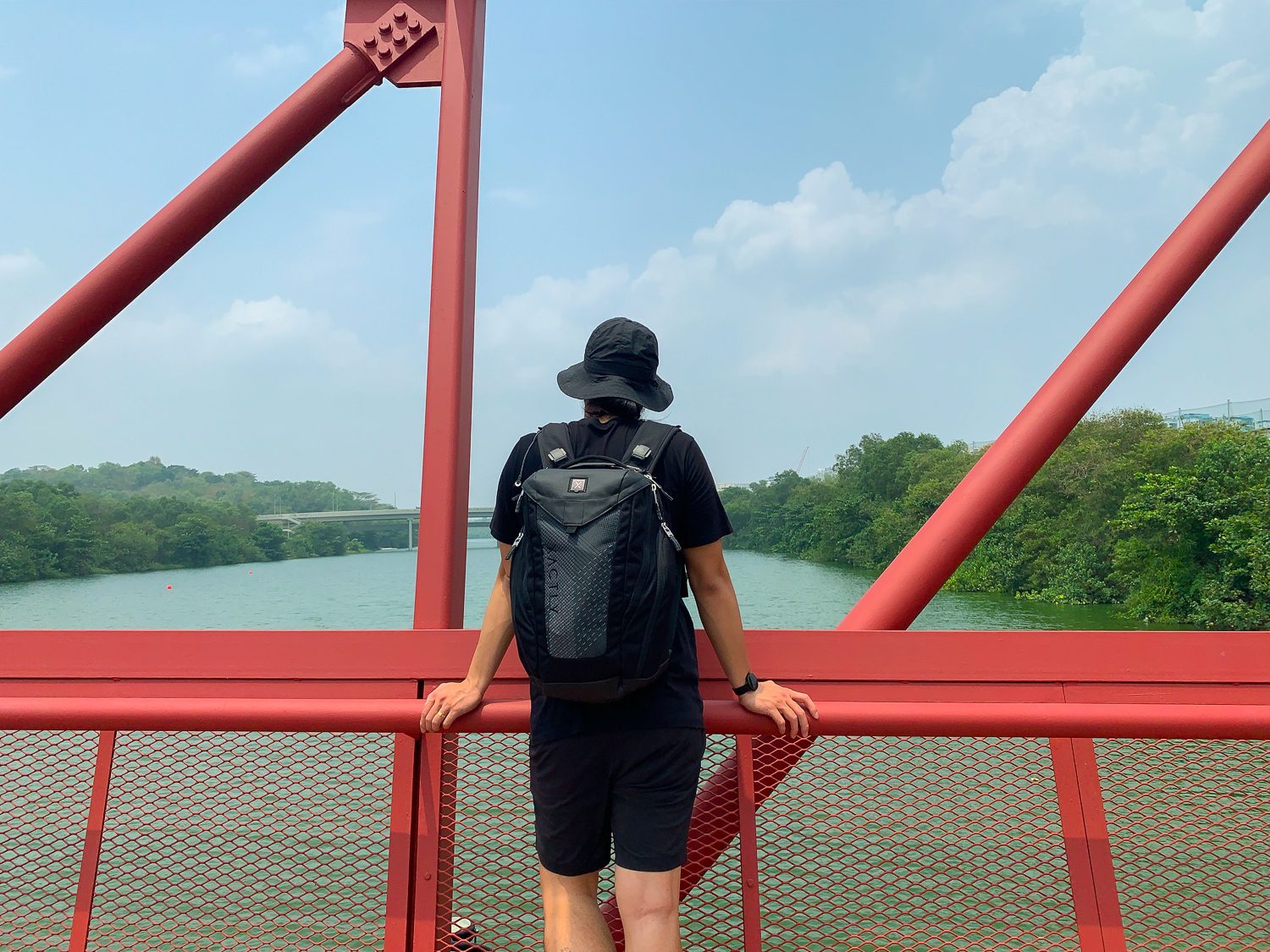 For those have read enough of my reviews, you'll know that I prefer absolutely no patterns or even branding on my backpack. I felt that the pattern, while unique, was too distinct, thus a little risky since some might just not buy the backpack itself because of it.
The design sense found in the patterns are replicated into the zipper pulls. While they managed to keep the entire backpack a tonal black, the zippers are silver, which was a small detail that could have been looked at for complete consistency of color.
As far as branding goes, there is an X mark branding at the top of the front of the backpack and a XACTLY logo embroidered onto the patterned area on the front.
Apart from the patterns, there is also a variety of materials used on the backpack, which adds to the inconsistency. While this is a purist's take on the aesthetics, the backpack looks pretty regular with all the parts coming together. It just isn't ultra-minimalist like some backpacks out there, and to be fair, they aren't designed to be as such.
For a 35 liter backpack, it looks very compact. When comparing to a 25-liter TOM BIHN Synapse and the 35-liter Tortuga Outbreaker, it looks much closer to the size of this Synapse, so you really wonder if it would really fit 35 liters of stuff. I transferred my stuff from the 25-liter Black Ember Citadel Minimal Pack and the amount of things it can hold seems the same, so I would say the true volume this backpack is about 26 to 28 liters or so.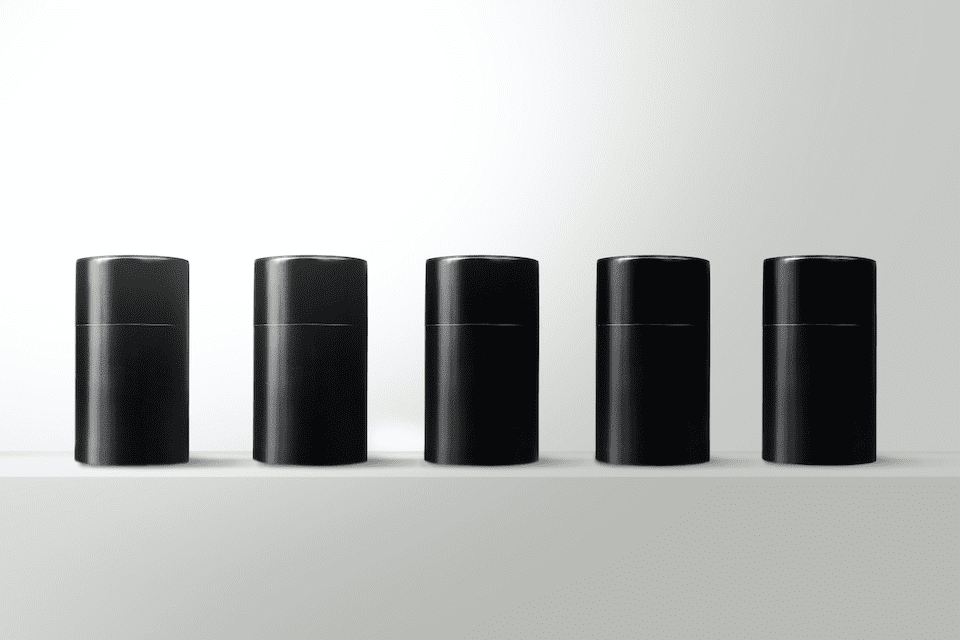 I found a 100 year old company that would create these heirloom quality canisters for me. They are handmade and will keep your tea leaves, coffee beans or anything that you need dry for years to come.
or read review
The Oxygen 35 is designed to be a backpack for the balanced lifestyle, so it looks appropriate for almost any activity you want to do with it, but not specifically designed for any of them.
Materials
In line with their "giving back" direction, the backpack is made of 100% sustainably sourced and manufactured materials.
The main material is a recycled polyester 900D, and looks a little like a less canvas-like version of Cordura.
The zipper pulls, which are similar materials found in the leashes on the power bank, water bottle, cords on the charging cables and wired earbuds are recycled polyester.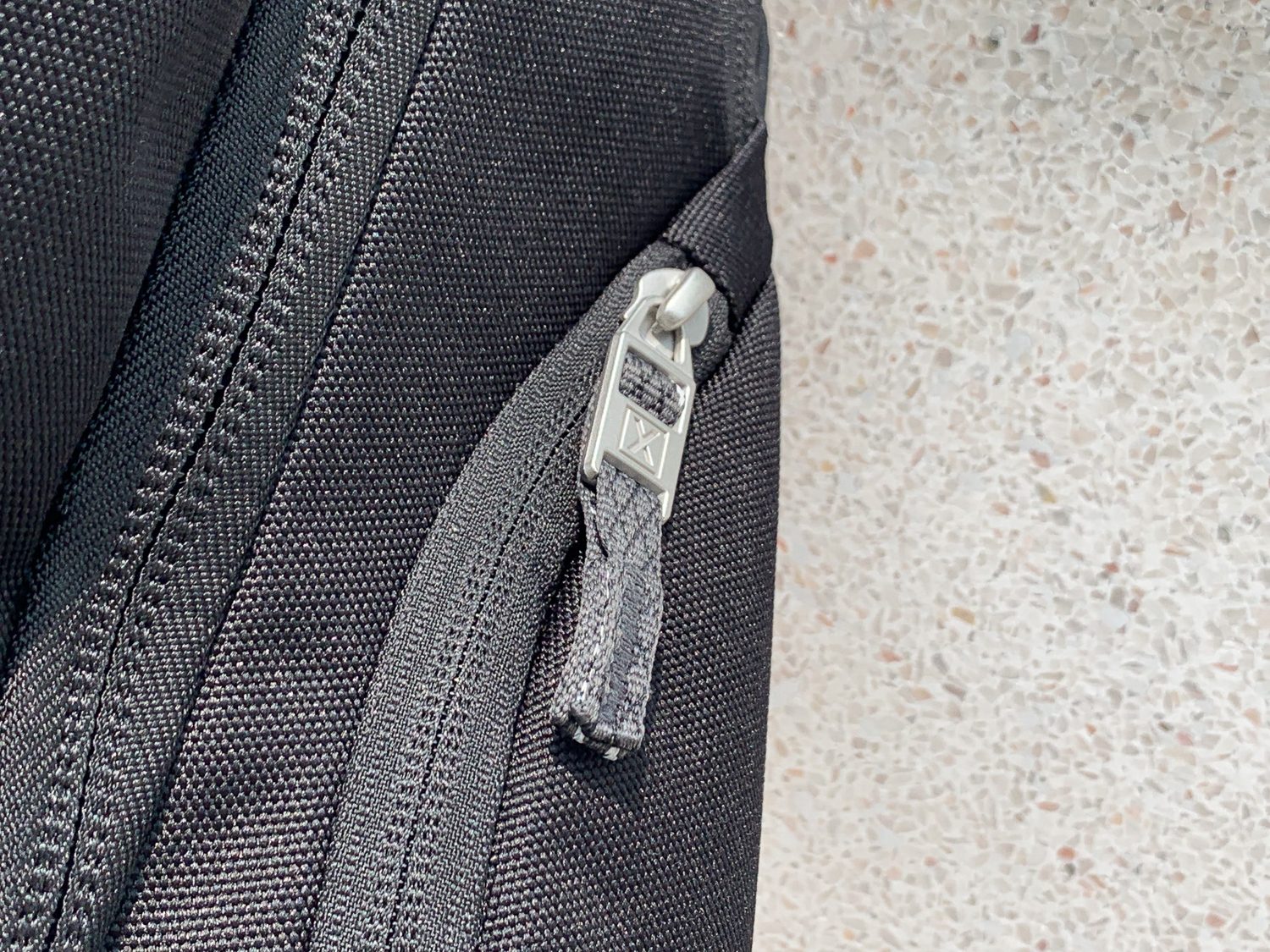 As with many bags in the travel backpack category, a TPU water-resistant coating, which is a thermoplastic polyurethane membrane is applied onto the base textile.
The unique patchwork pattern they have is a custom-curated jacquard woven design (they call it XACTknit™), to give a unique style to the backpack. This material is derived from the exact same process and material as Nike's Flyknit or Adidas Primeknit.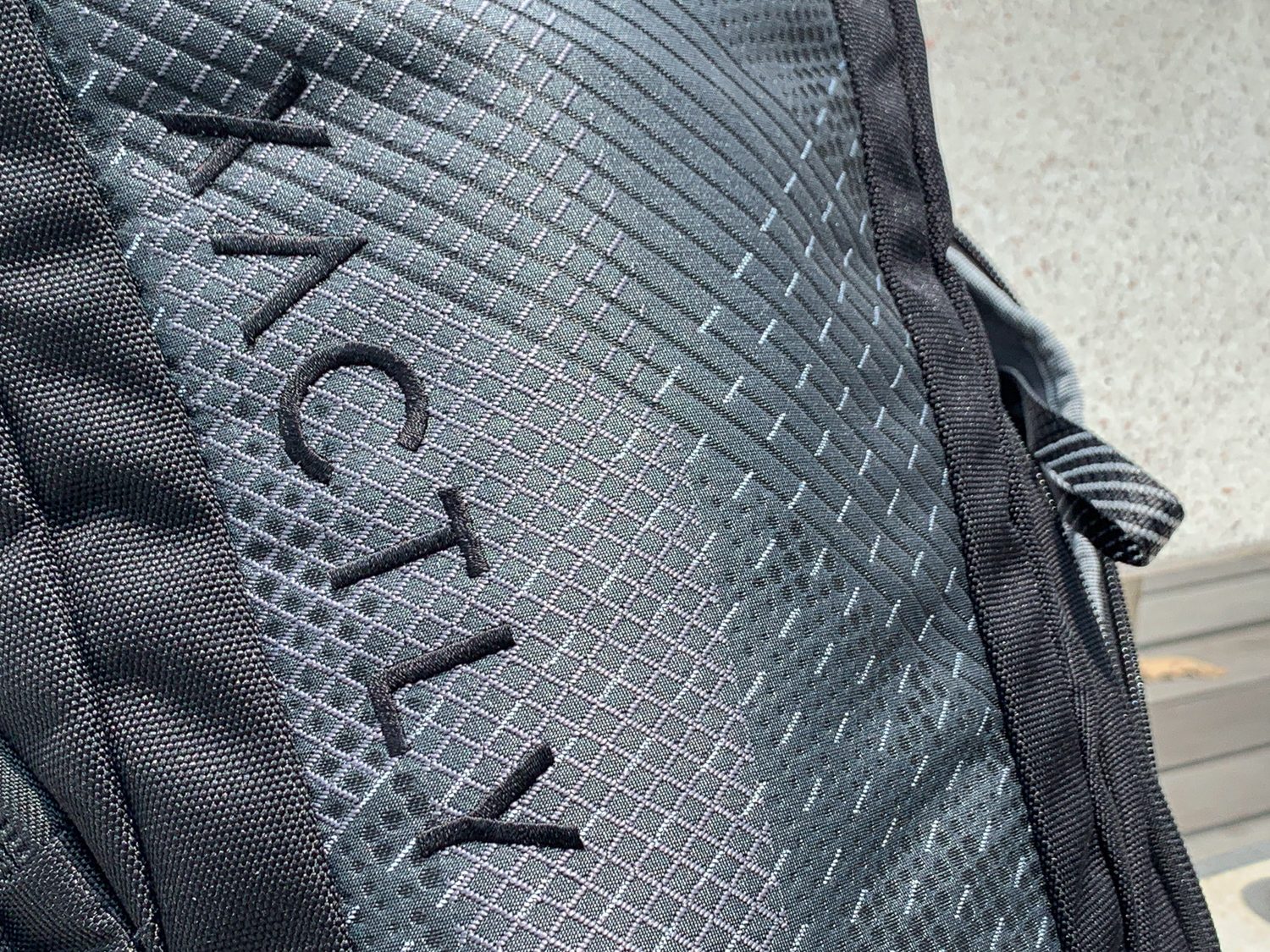 While the materials are, unlike the well-known Cordura or Ballistic Nylon, not branded, no compromises were made with the choice of hardware. The most well-known name in zippers, YKK is used with 100% recycled custom woven zipper pulls. Woojin magnetic clasps are also used throughout the bag.
While there aren't any groundbreaking proprietary materials, they have kept true to their direction as an environmentally responsible brand.
Usage
This backpack is jampacked with features, so let me unpack them one by one.
Charging Ports
This feature is basically a port on the outside on the outside of your bag that connects to the inside where you can connect to a mobile charger. On the Oxygen 35, the external charging port can be exposed from the X logo, which reveals a USB port and USB-C port if you open it like a garage door.
I've come across this feature with the Nayosmart Nayo Almighty and I wasn't really a fan of it then. The reason is that most mobile chargers require you to press a button to start charging, so even by connecting to the external port, you would still have to access your charger, which defeats the point. Sure enough, XACTLY's own mobile charger, the Lithium requires you to press a button to start charging. XACTLY alleviates this step a little by providing an easily-accessible tech mesh pocket for your charger.
Another thing about this feature is that the technology would get outdated with time. While XACTLY made the right choice in providing the latest USB and USB-C ports, someday, that too will someday get outdated and that feature would simply be dead weight.
Cable Organization
As with any great tech bag, cable organization is important. For backpacks, cable organization mainly refers to the management of earphone cables. With the new age of wireless headphones, I felt that this isn't a worthwhile issue to put your resources into. But XACTLY has some pretty interesting features to keep those pesky wires organized.
First of all, there is a cable tunneling system (If you like cable tunneling, ScotteVest Jacket takes it to the extreme). For those new to cable tunneling, it's basically a series of passageways between compartments and parts of your backpack that lets wires go through.
One pretty special feature are these little magnetic landing pads hidden in the straps, where you can temporarily place your earpods onto when you need a momentarily pause from your music, like when you are pretentiously ordering from your hipster barista. This is one of the coolest features of the backpack and I don't think I've seen it in another.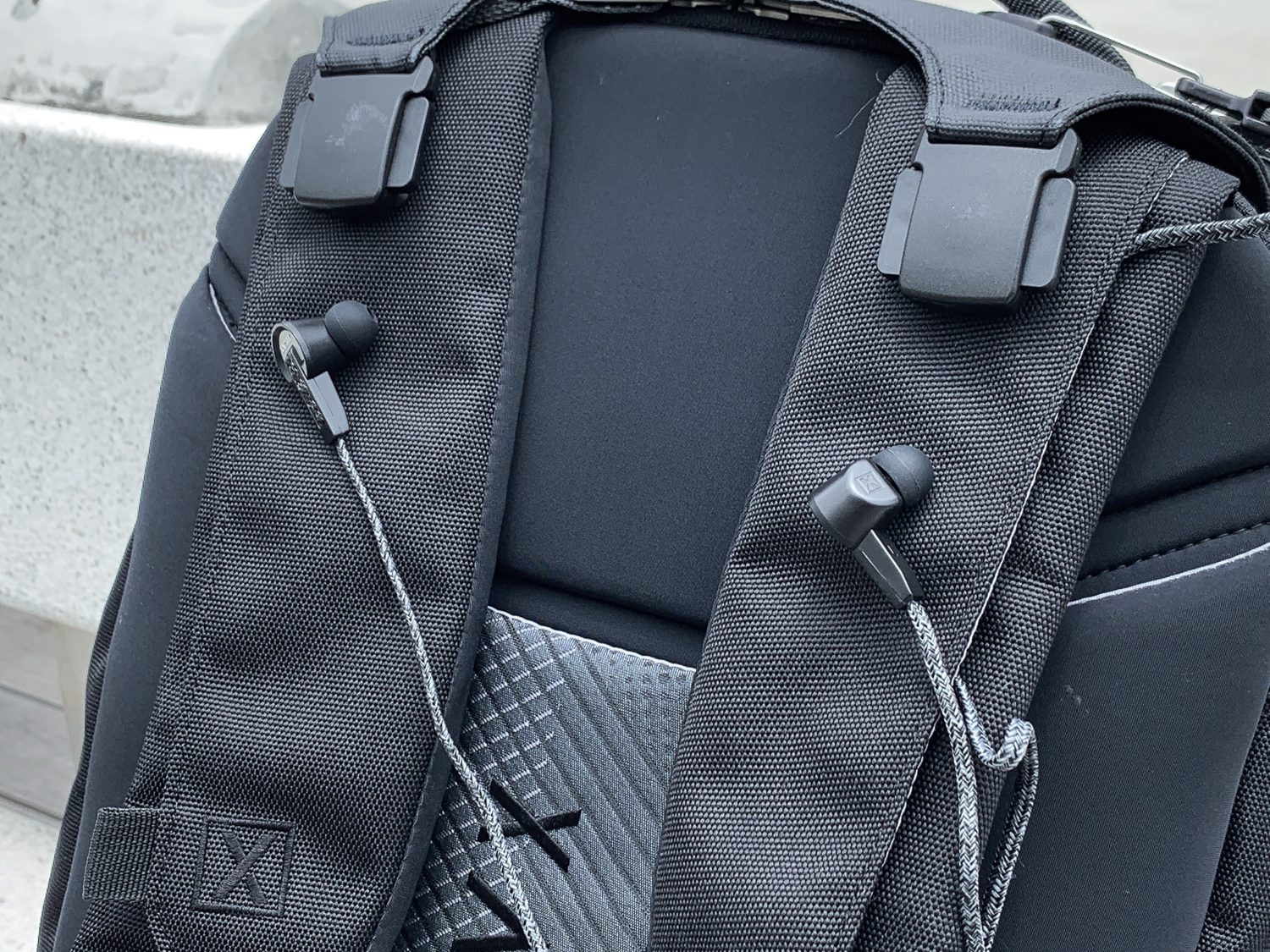 What if you are done and want to keep your earphones? XACTLY has got that covered with magnetic closures on each strap, so you can stash your cables away without going back through the cable tunnels.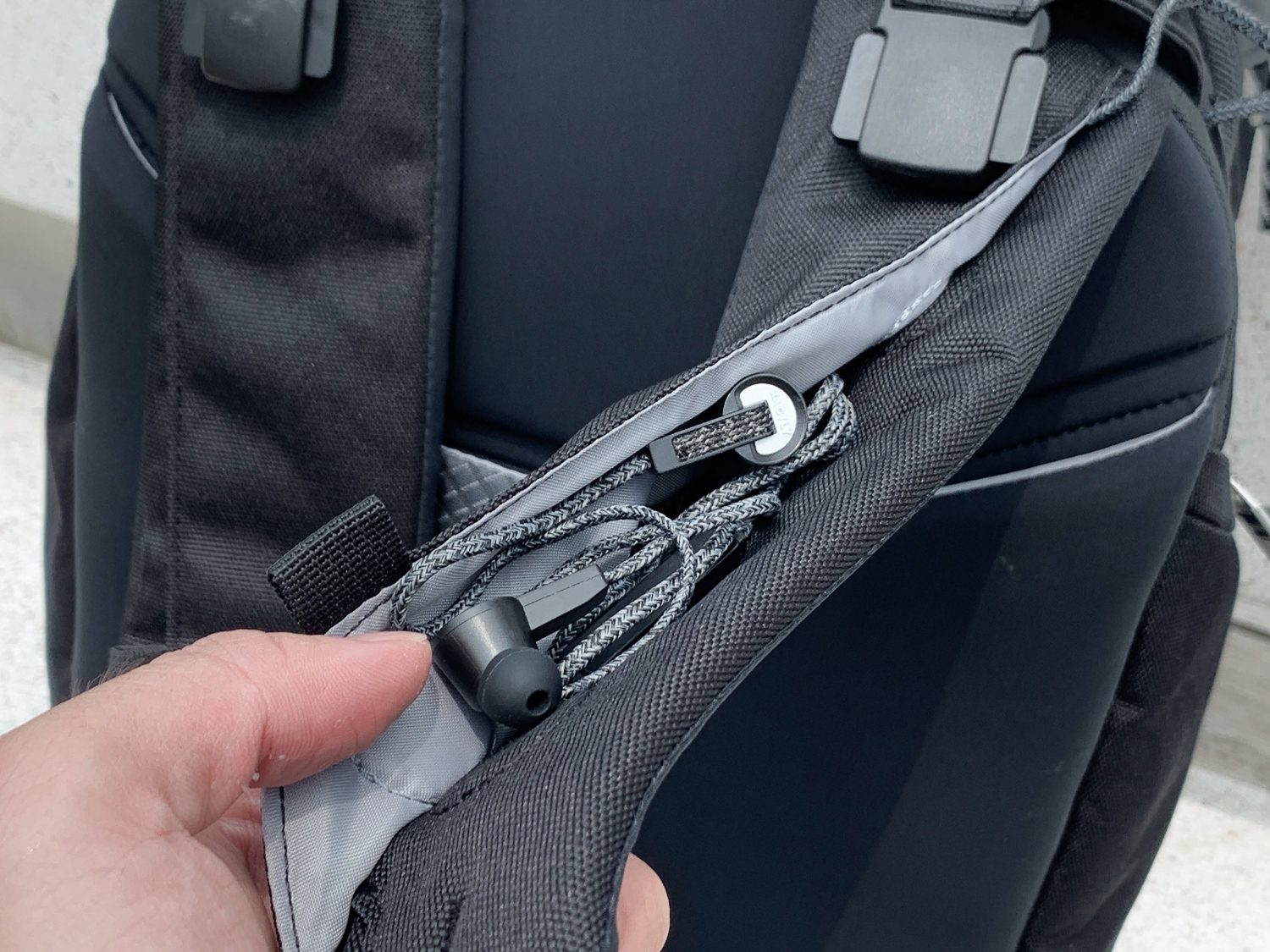 These closures are, by no means, a permanent place to keep cables as your cables tend to come out as you move around. Also, based on the height I like to carry my backpack, the position of the closures come up to my shoulders which makes it hard to access without taking off the backpack.
Roller Luggage Passthrough
As much as I'm a big advocate of the one bag travel style, there are times that I need a giant roller suitcase to transport larger items. Like the Aer Travel Pack 2, the Oxygen 35 comes with a loop at the back for you to loop it through the handle of the suitcase. Unlike the Travel Pack 2, the loop lets you stack your backpack the right side up on the roller suitcase, while the Travel Pack 2, would have you stack it sideways.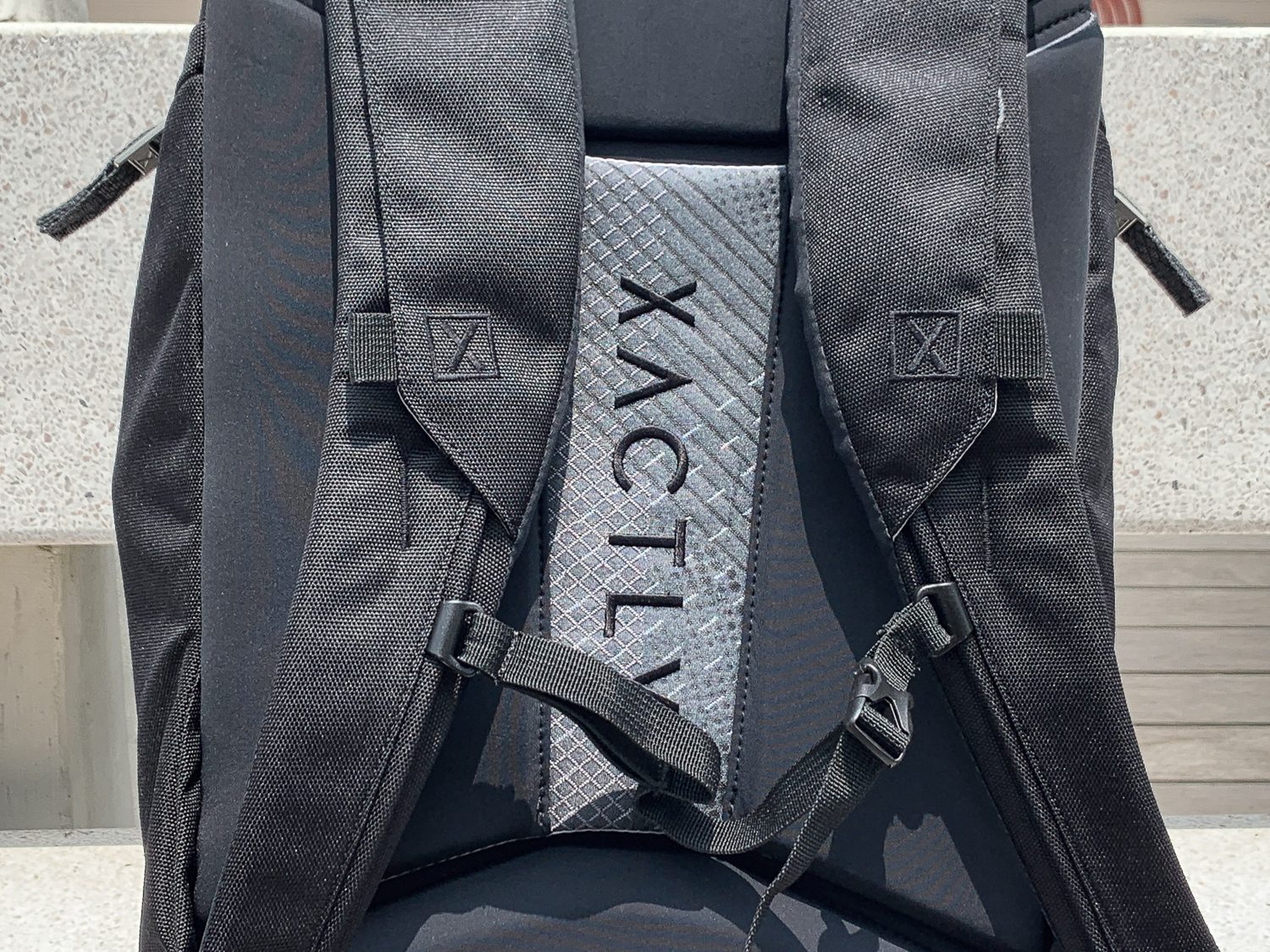 The reason why Aer did it that way, was to make sure you could hold on to the handle with the backpack stacked on top. Sure enough, with the Oxygen 35 on top of my MUJI suitcase made it pretty awkward to hold onto the handle. While it technically works, I would rather carry the backpack if I have to hold it like that.
Organization
There are four main compartments.
The Epicenter
On the front of the bag, at the top, there is a quick access compartment that XACTLY calls the Epicenter. This slot is perfect for essentials that you need frequent access to. The Epicenter not only has dual zippers, it has a single Woojin magnetic clasp, for a perfect balance between deterrence from thieves and ease of access.
You might want to note that, while I love the Wooljin magnetic clasp, it can be tricky to get it to close since you kinda have to feel for where the bottom piece is.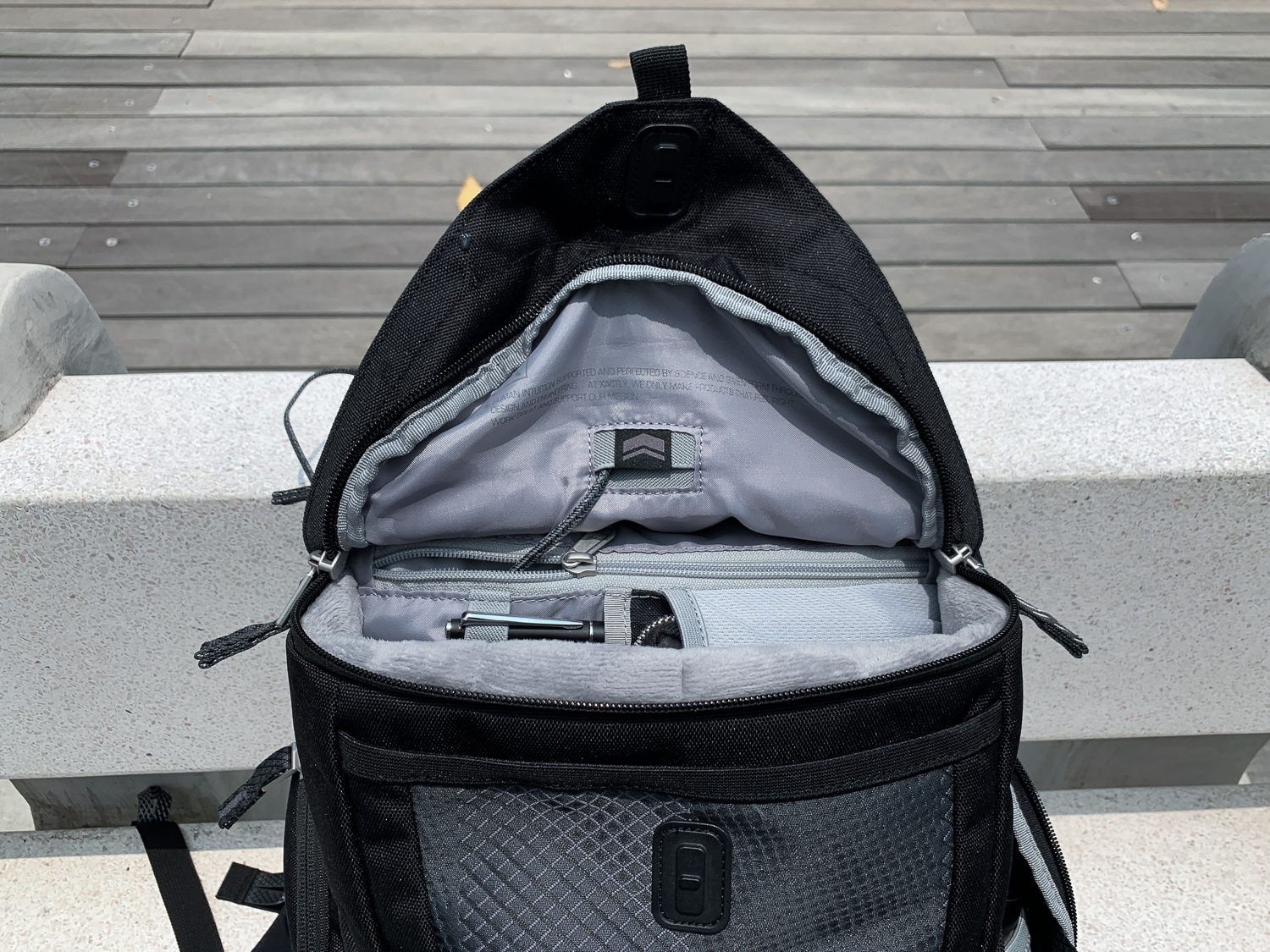 The compartment is polar fleece-lined for maximum protection of your valuables. There is a zippered pocket here, which is perfect for your mobile charger. There is a double layer of slots with a velcro fastener on the top. There is also a thin row of three columns of molle.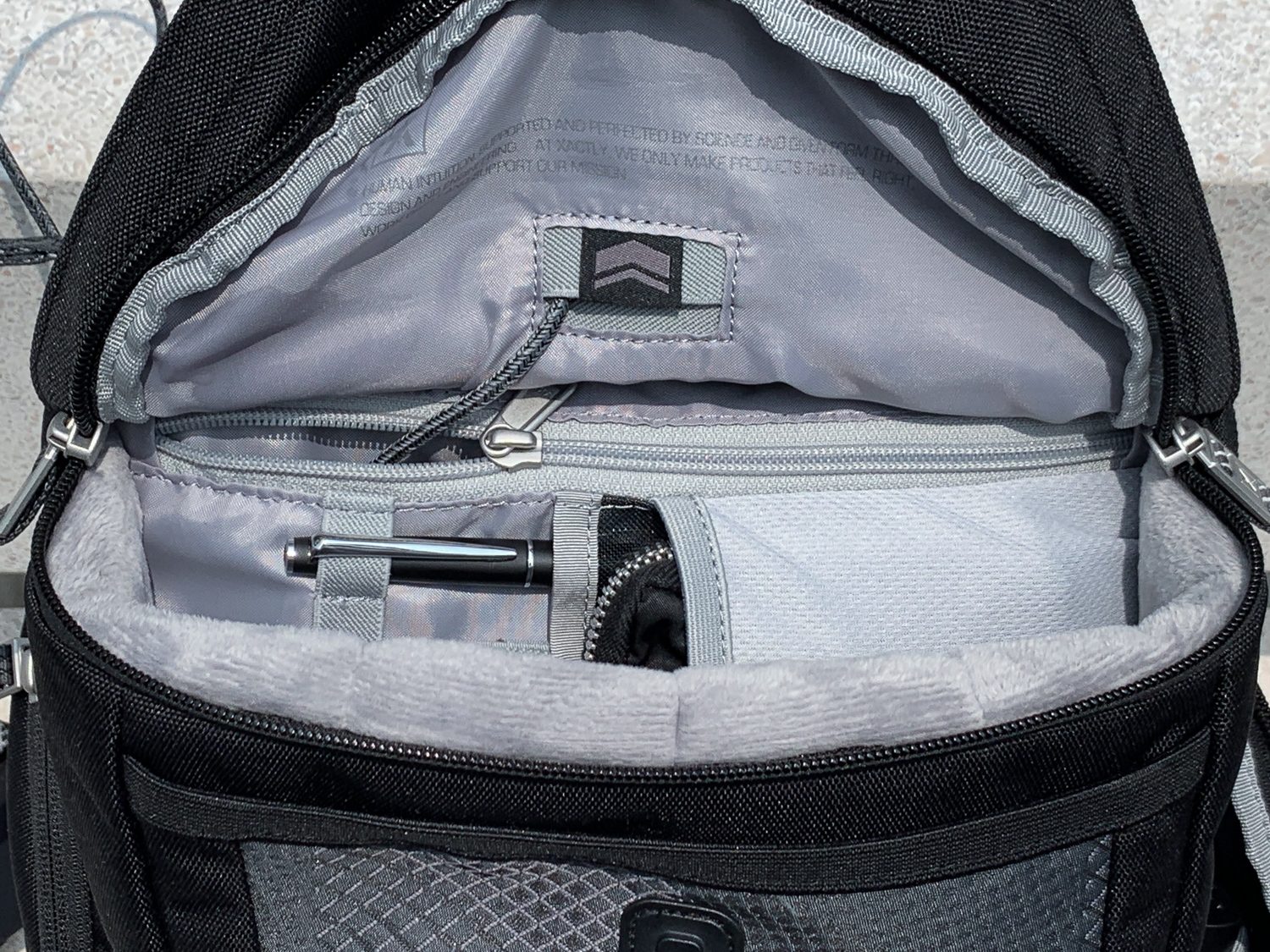 I really like this pocket and after experiencing quick-access pockets, like those found on the GORUCK GR1 or Black Ember Citadel Minimal Pack, that are flat and hard to access when your bag is full, this 3D pocket is so much easier to use.
It's just the perfect balance between security and ease of use that I end up using this pocket more than I thought I would.
Stash Pocket
Just behind the patterned fabric, is a stash pocket. This is a deep pocket for you to just dump whatever. When queuing up for the airport's security check, I like emptying my pockets and putting it into my bag. This pocket was specifically designed so it's easy for you to do so. I was able to fit fairly thick items like my sunglasses case from Porter here.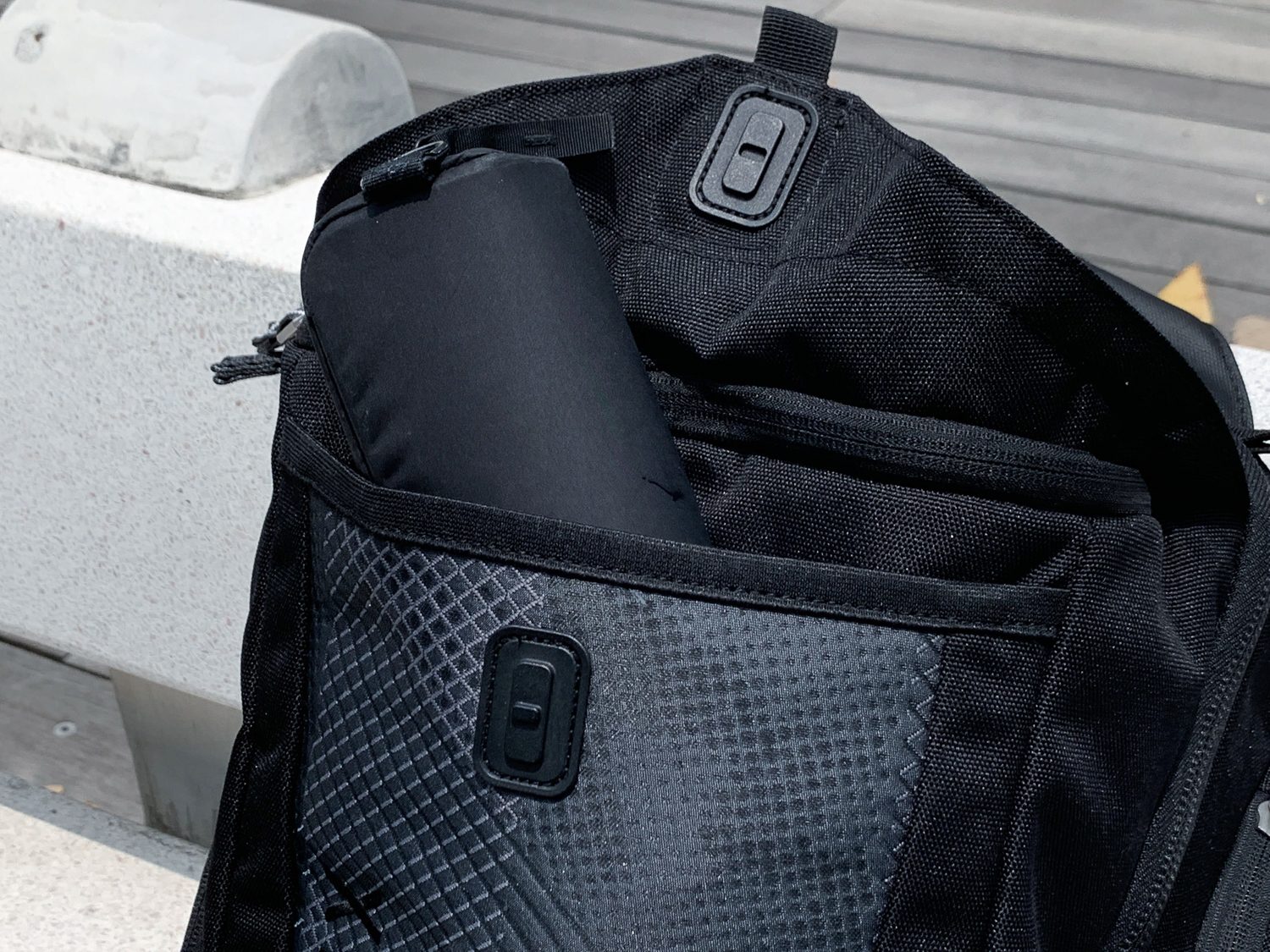 It can be fastened by the Woojin magnetic clasp that is ultra-easy to open and close. As such, you probably shouldn't plan to store valuables here in your usual setup.
Main Compartment
The main compartment is pretty compact for a 35-liter bag. It doesn't have any internal organization, but there are four small loops if you need something to put stuff like carabiners on.
Laptop Compartment
Behind the main compartment, there is a laptop compartment, one side polar fleece-lined like the Epicenter, and fits my 15-inch MacBook Pro perfectly. There is also an additional padded slot in here for an iPad. I don't have an iPad so I put my MOFT "Invisible" Laptop Stand here.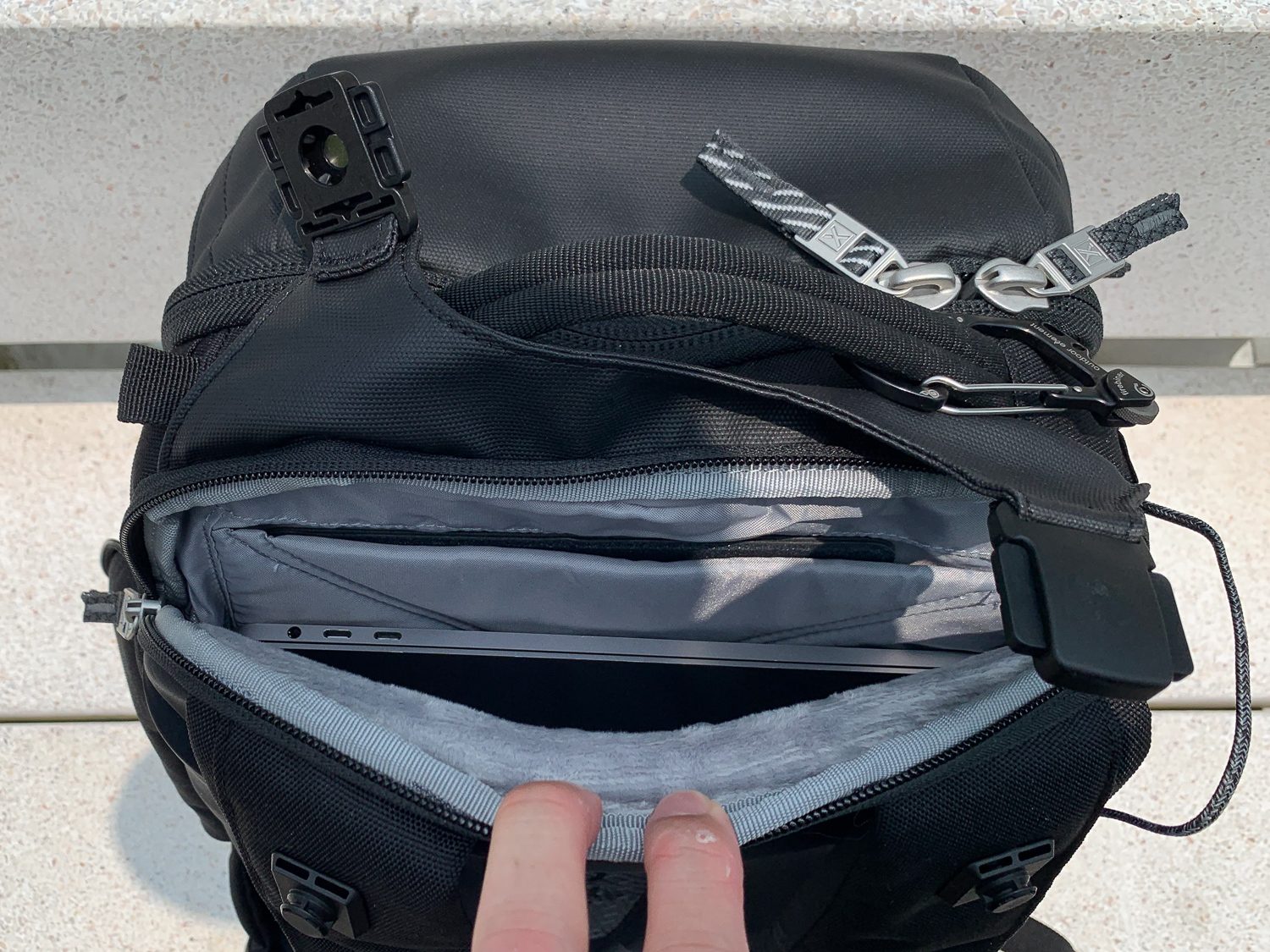 If you have set it up such that the cables run from the side tech pocket to the magnetic closures in the straps via the main compartment, you'll find that the wire would hinder your opening of the zips and you would have to go under them each time.
Even though this compartment is dual-zipped, there are some straps that go over it and clips onto the straps. The clips are detachable by squeezing both sides, but you don't have to do so when attaching because of the magic of magnets. I found that these were a little unnecessary as it makes the laptop harder to access, which is an inconvenience for a frequent traveler and digital nomad like me.
Hydration Pocket
On the right side of the backpack, there is a side pocket that is designed for your water bottle. If, like me, you are one of those that don't like having your water bottle exposed in open side pockets all the time, you'll be glad to know that this pocket zips up fully and takes up the space in the main compartment for a flatter profile.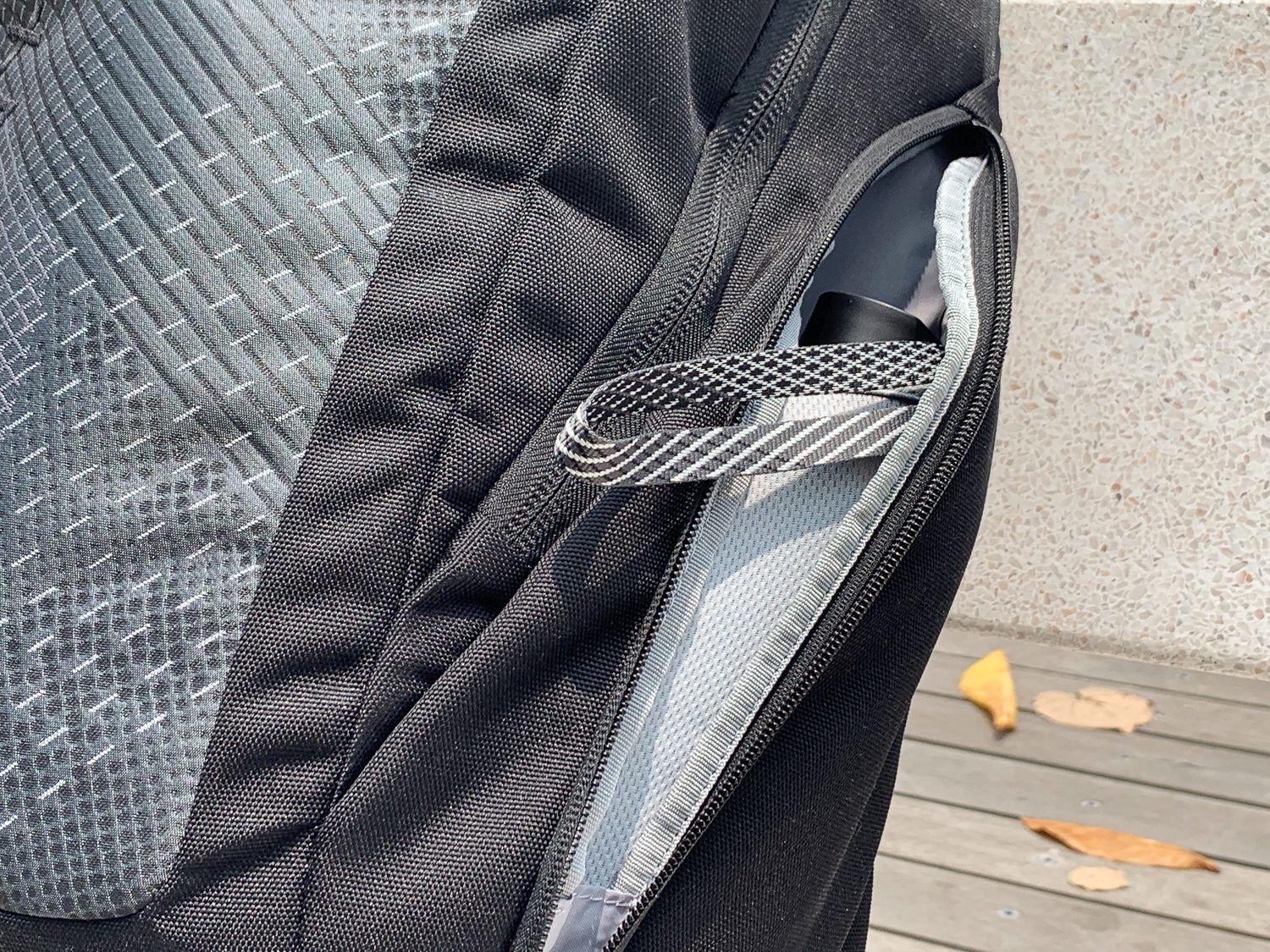 The pocket unzips fully, down to the bottom, which is probably why it comes with a mesh pocket to prevent your water bottle from falling out if you open it at the wrong angle.
Side Tech Pocket
As if the Epicenter isn't enough for your tech accessories, they have an entire tech pocket dedicated to all things tech. I don't have much technology when I travel, so if I were to use this pocket, it would be for the multitude of wires that I need.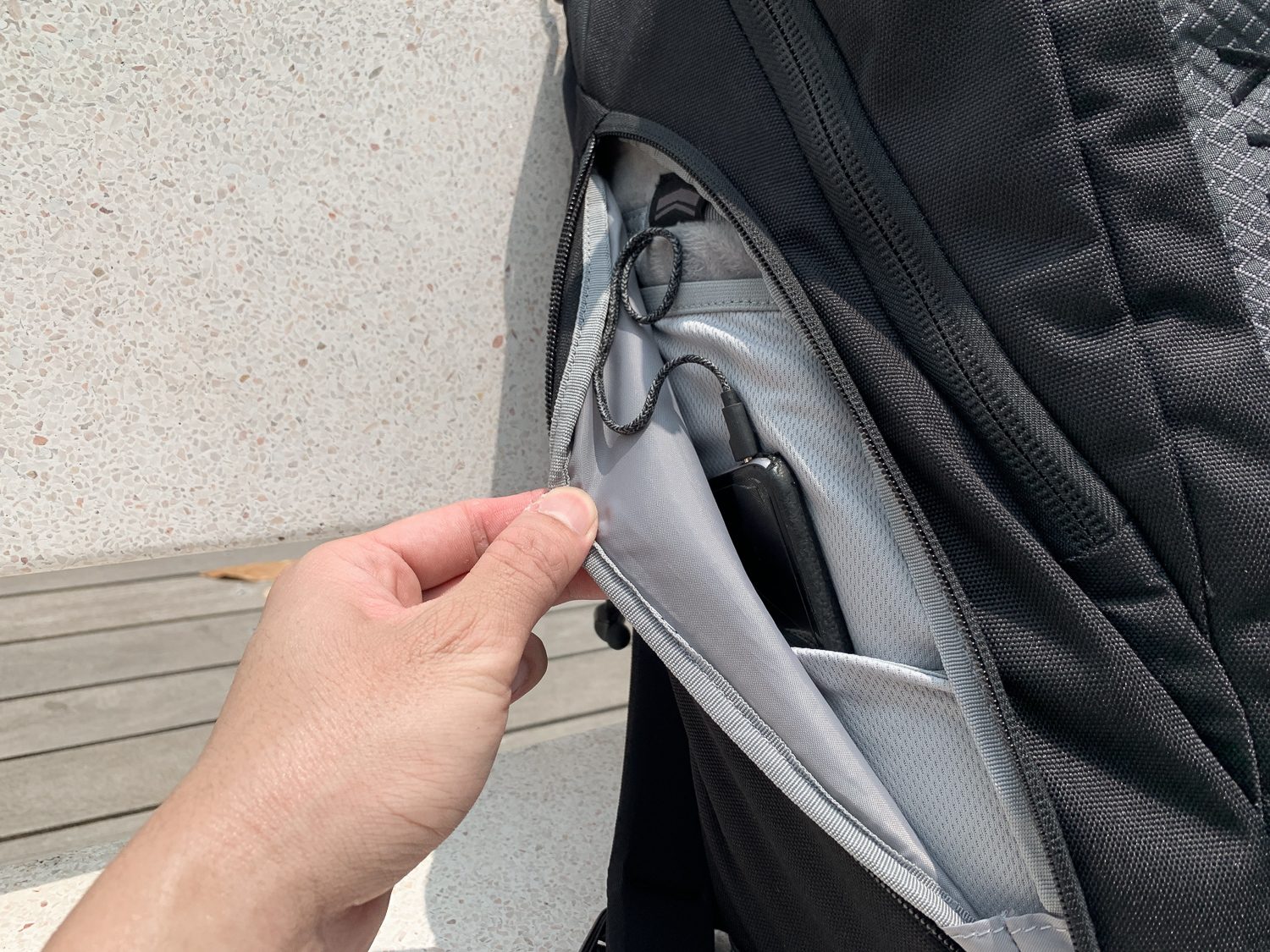 In this pocket, there are two mesh pockets, one on top of the other. If you want to put your phone here, do note that you can only put it into the bottom mesh pocket as there isn't enough space for an iPhone if you put it into the top mesh pocket. There is also a clip-detachable loop with their fabric pulls.
Unfortunately, since I usually keep my extra tech accessories in a separate pouch, like the TOM BIHN Snake Charmer, this pocket would not be able to fit another pouch like that.
Straps and Backing
The back is pretty well-padded and comfortable. The straps are of regular width with a thinnish, slightly-elastic sternum strap that I thought had too much excess strap length.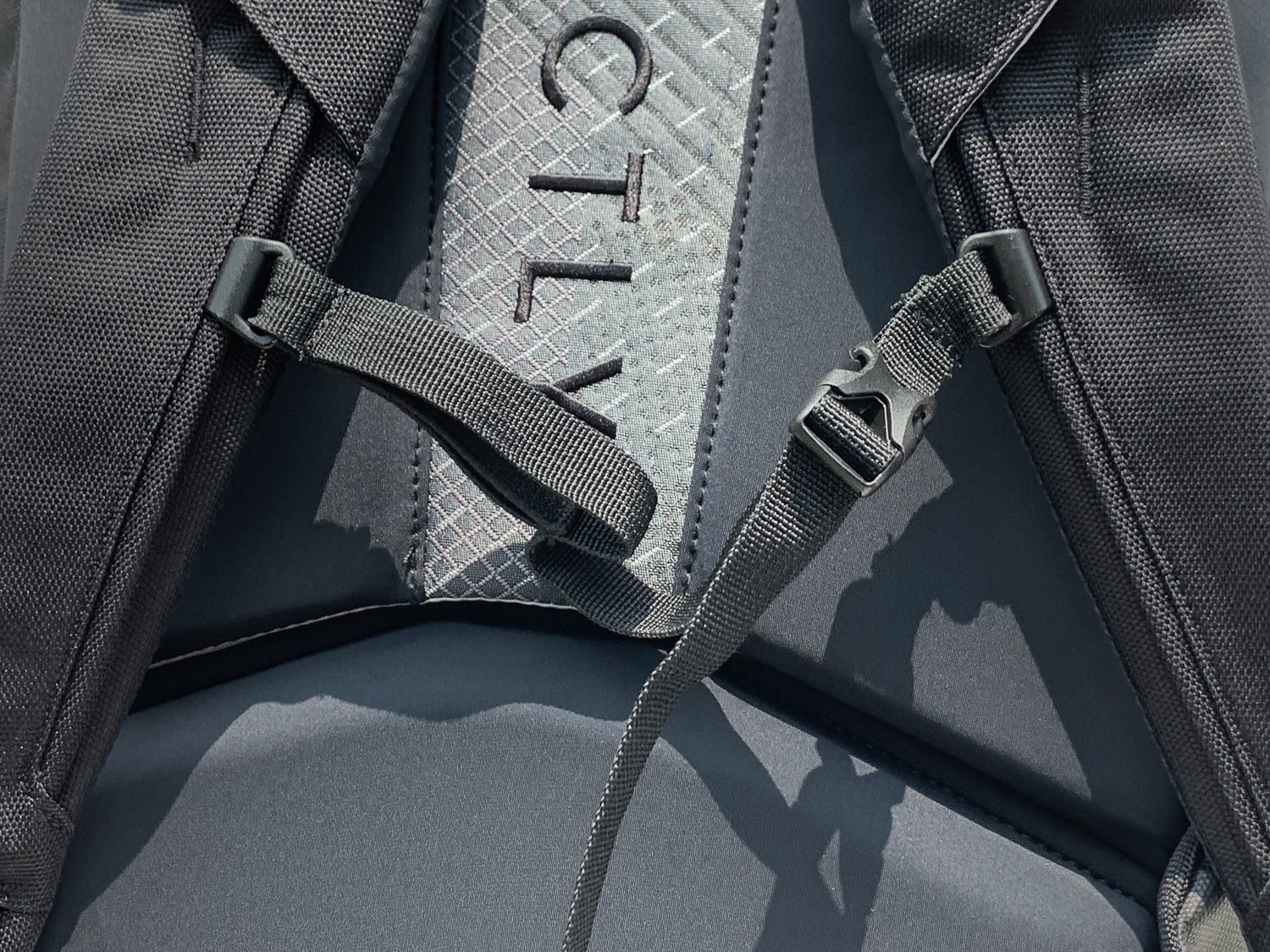 Since the sternum strap isn't adjustable, at the height I usually wear my backpack, the sternum strap usually comes too high up which is not very comfortable, an issue that was also present in the British Patrol Backpack from Varusteleka.
At the end of the adjustment straps, there are the same loops you find on the zippers for easy adjustment. While I love the functionality of it, I would say this isn't necessary for something you won't do too often.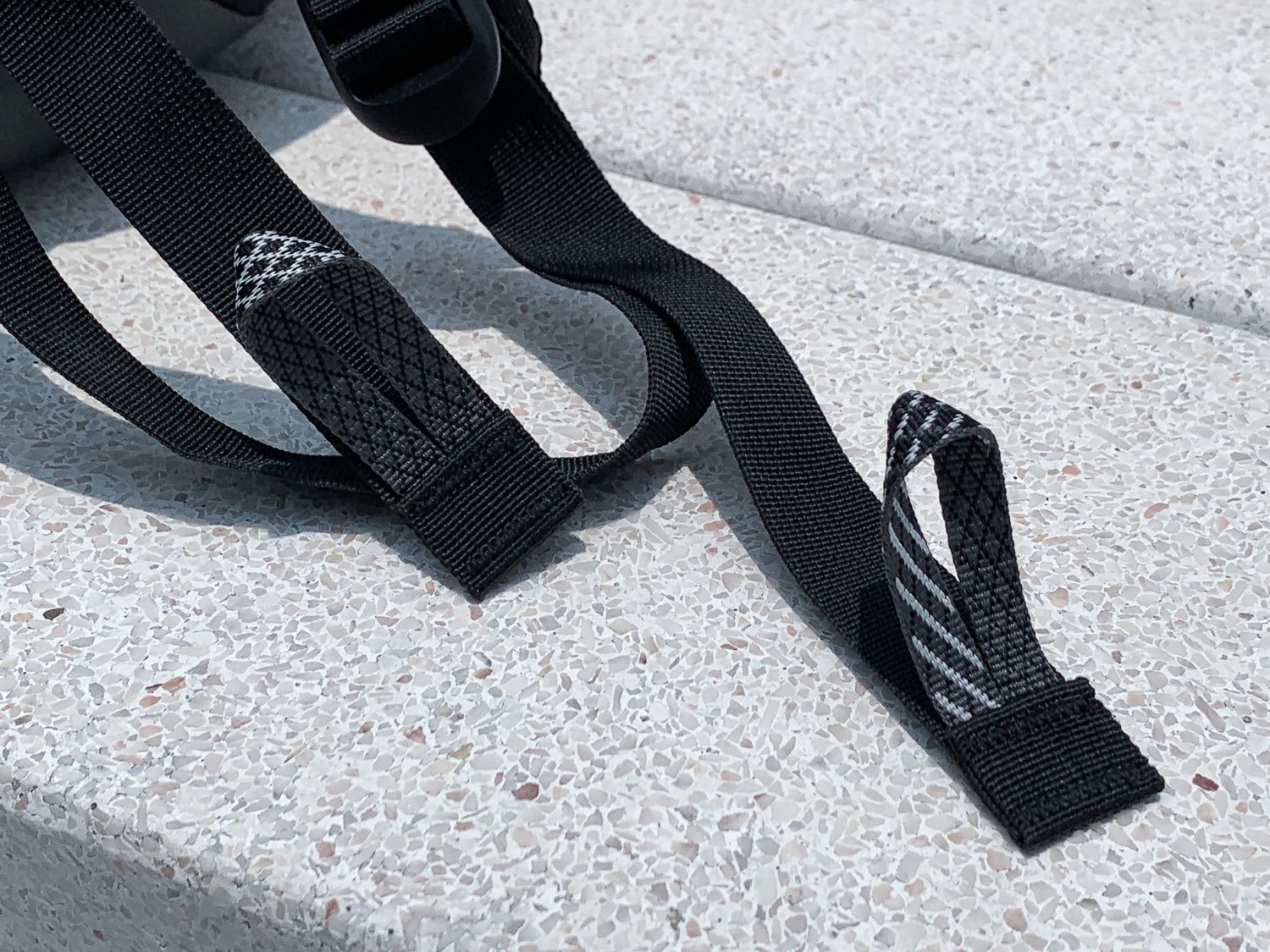 Conclusion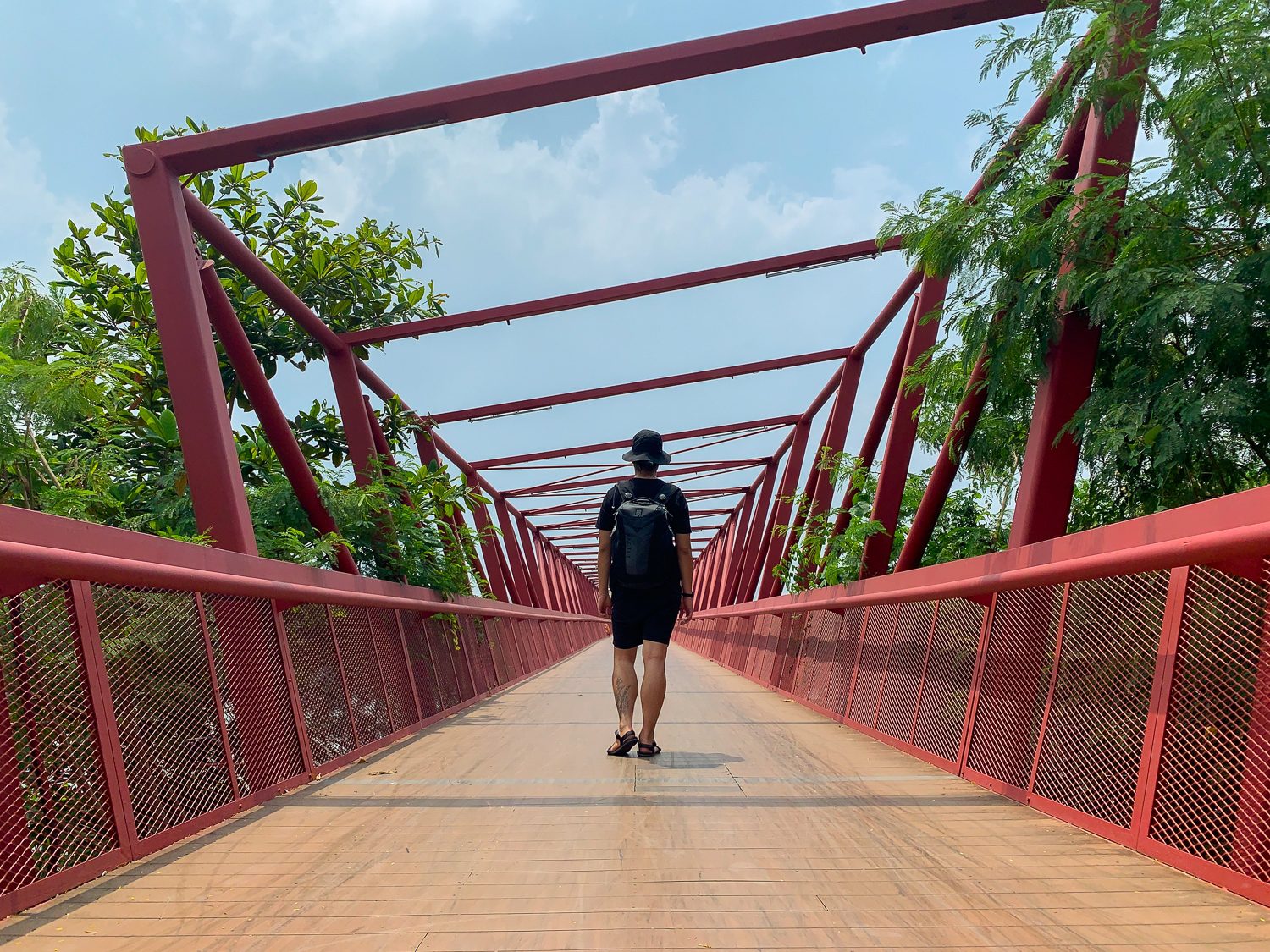 This backpack is jam-packed with features for the tech-savvy traveler. While there is an acquired pattern that might spoil it for the ultra-minimalist, it's definitely a decent backpack worth considering.
Like this review? See all of my in-depth reviews.
Also, consider supporting me by being a Patreon. Every cent given will go back into improving the content of this website.
Tagged backpack bag review water-resistant xactly