This website is made possible by readers. I may earn a small commission when you buy through the links in this article at no extra cost to you. Learn more.
Details
Price $175 on scottevest.com ($140 with code MD19)
Material 65% cotton / 35% nylon blend
What's Crazy It has 25 pockets!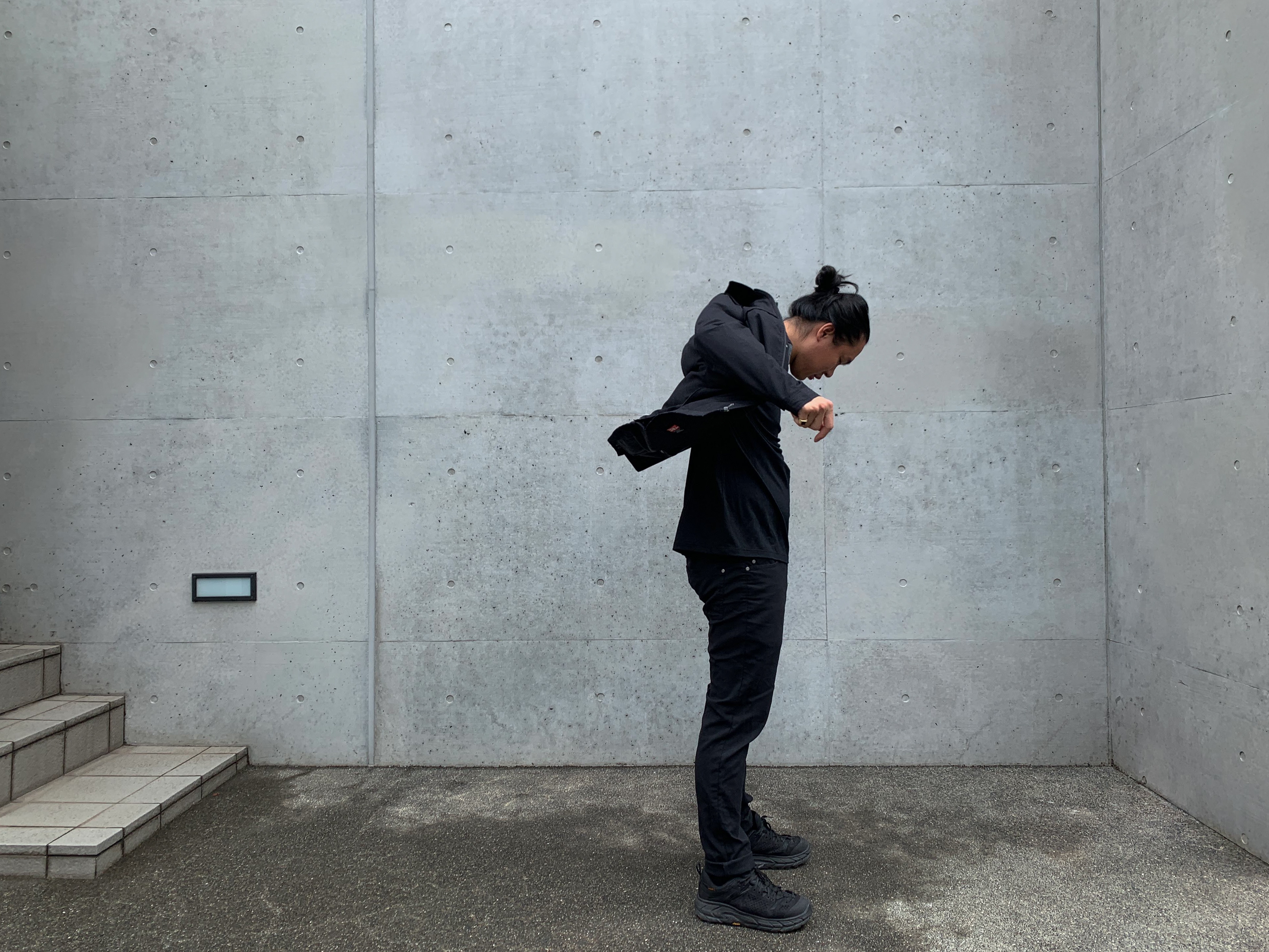 Overview
Back in 2000, an antsy wife decided that she has had enough of carrying her husband's gadgets in her bag. Her husband was wife-pleasing enough to design a modified fisherman's vest with pockets that could hold all his stuff and yet stay stylish enough to for a night out.
Fast forward today, they have really taken the pocket thing to a level no one expected. To be honest, as someone who likes to have nothing in any of my pockets, I was skeptical anyone could not look like a complete dad with that many pockets.
In order to see for myself, I jumped at my recent chance to review one of their products, in order to try for myself to see if this is just a gimmick or whole new way of carrying my stuff.
Before I start my review, I always like to look through the (negative) comments online to see what others are saying about a product in order to know what to look out for or if it's true or not in my case.

While I found mostly good things said about SCOTTeVEST, here were some negative comments I found:
"Fits like a potato sack" – u/nekkyo
"I prefer to carry stuff in my cargo pants, rather than in the ScotteVest." – u/kickstand
"I bought the first one and it fell apart pretty quickly, with minimal use." – u/heterochrome, 7 years old comment though.
"I also find that the snaps on the waist flaps easily become detached with the slightest of bumps or rubs against something." – Tim Floyd on the product page's reviews.
"Fits like a TENT, not that nice, wonky pockets that don't really work" – Amazon review
With some ammunition in hand, I set out to see if any of these comments hold water.
Style
Fit
As stated above, a lot of the comments seems to be about the fit. Despite those comments, what made me think that the jacket could work was these photos on their product page:



Good job, stylist. It looks like just the kinda of laid back style for a lazy run to the bodega that I can swing with. I'm also went for the jacket because I'm not a vest kinda guy to begin with.
As always, I ordered mine in black (you do know, I only wear black right?) and in a size XL. I have to say, I have a deep seated distrust for garment measurements and usually make my judgements on fits on the model they use.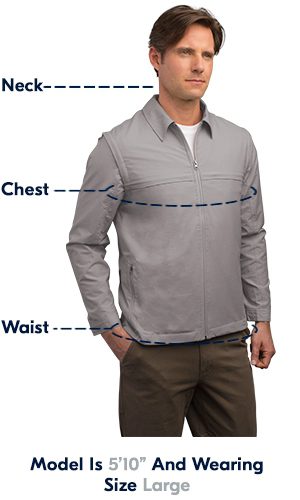 Mr Picture-Perfect Model on the left here is 5'10" and wears a Large. I'm 6'0″, so one size up it is. As much as I can, I try not to whip out the measuring tape. Retail therapy should be therapeutic, not stressful.
For the sake of this article, I did look at different ways that they offer help with sizing. First of all, they have a personal shopper program that supposedly pairs you up with an expert for a 30 minutes appointment and can advise you on the right size. But at the time I tried, clicking on the "Sign Up" button gave me a dialog with no options to choose from.
But no one likes ads, so I got rid of them. If my articles helped you, I ask for your support so I can continue to provide unbiased reviews and recommendations. Every cent donated through Patreon will go into improving the quality of this site.
Next, I found a video on YouTube with instructions on how to measure yourself in order to find the right size, but only for the SCOTTeVEST. Close enough.
In this other video, Scott Jordan says that they follow industry standards for their products, referencing brands like Patagonia or The North Face. If you are not sure or between two sizes, just order two and return one within 30 days. For international customers like me, this option is usually not feasible to me given the high shipping and import fees.
The one that really helped me make my choice was this tool that I found while searching on Google, but couldn't quite locate on the website. Put in my height and weight and viola, it recommended me a size L or XL.
As someone who is into streetwear and used to skateboard, I tend to like slightly loose (but not baggy) clothes, so I naturally sized up to an XL. Scott also did mention in his video, that if you are between sizes, you should size up to allow more things in the pockets and more breathing room.
When the jacket came, however, I could immediately feel like the jacket was slightly too big at XL. It would probably be a just right size if you fully stuff the jacket. But right now, while it's not ridiculously big, it was not as sleek as I expected it to be at that size.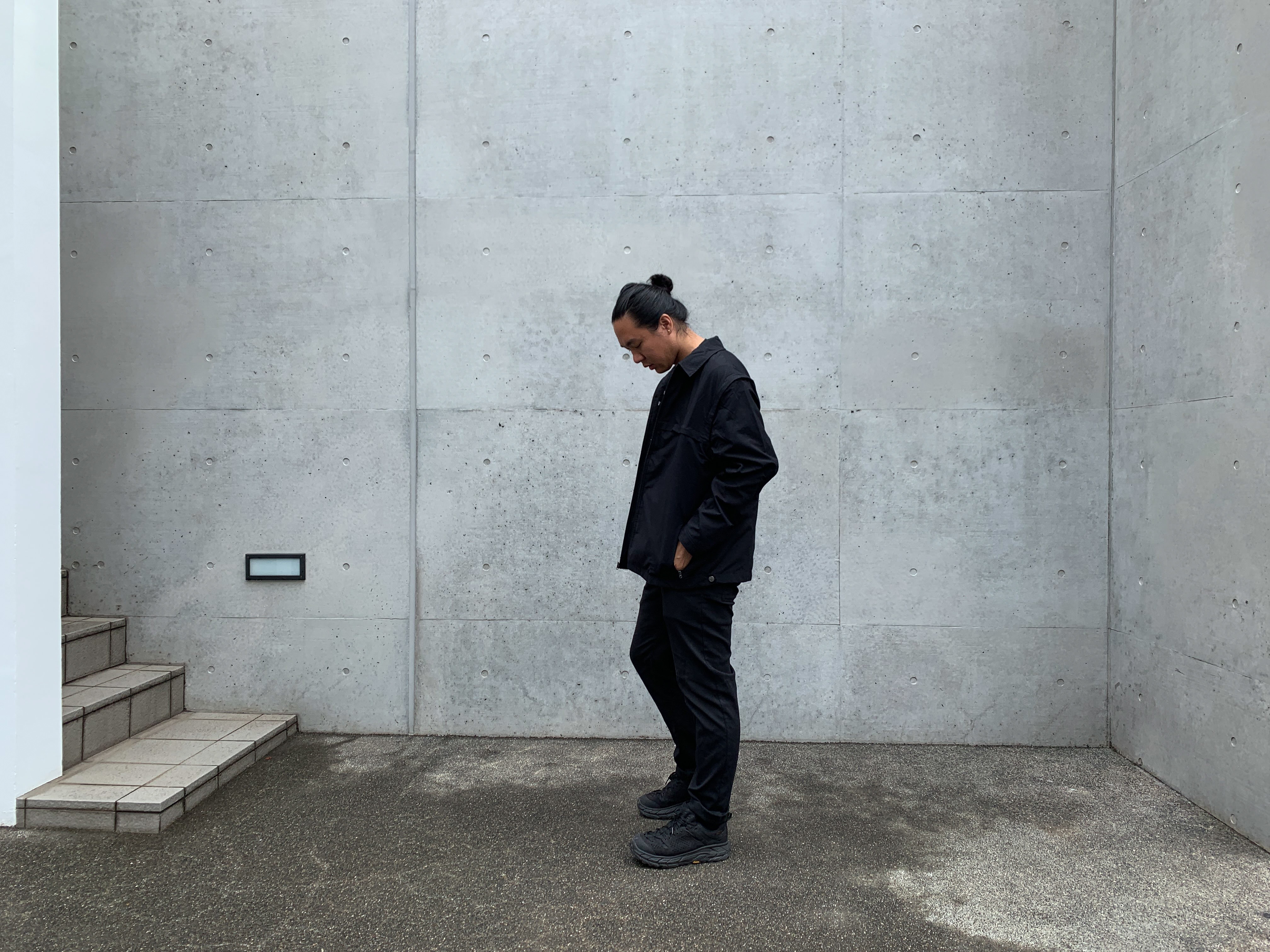 This was also partially because the arms are pretty baggy and it's what you would called a relaxed fit.
While saying that it fits "like a tent" is an exaggeration, it does fit big, but I guess there is no way not to if it's designed to have many things in the pockets. I hope I'll have the chance to try the size Large in the future for a better comparison.
I also made another comparison with the actual sizing chart to see where I went wrong. Here are my actual body size versus the sizing chart.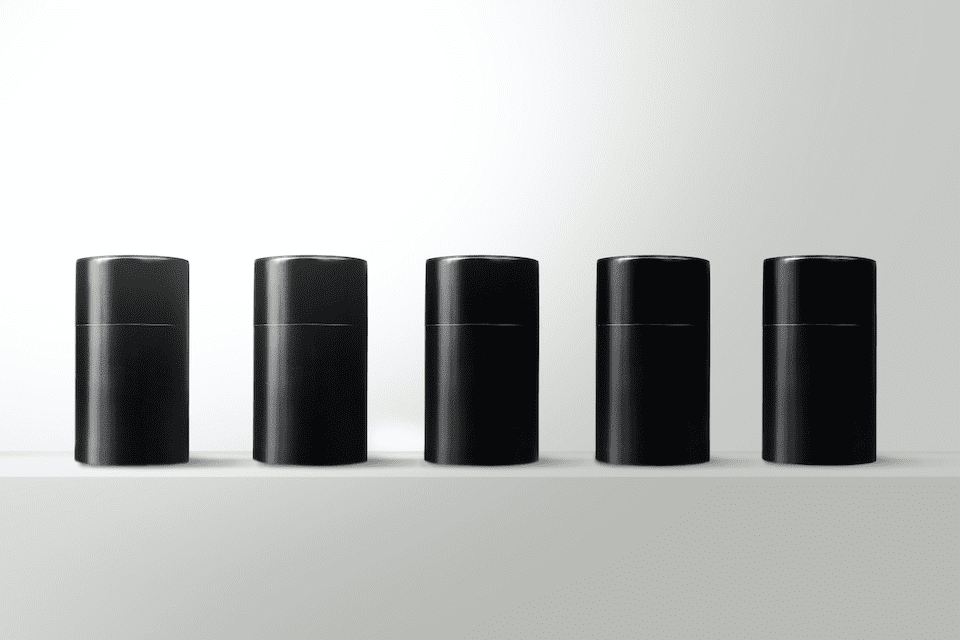 I found a 100 year old company that would create these heirloom quality canisters for me. They are handmade and will keep your tea leaves, coffee beans or anything that you need dry for years to come.
or read review
| | | |
| --- | --- | --- |
| | My Body Measurements | ScotteVest Sizing Chart |
| Neck | 40.5cm | Large (40.64-41.91cm) |
| Chest | 99cm | Medium (96.52-101.6) |
| Waist | 95cm | Large (91.44-96.52cm) |
As you can see, based solely on the sizing chart, a size large would have been the correct choice. What made me pick a size XL were few factors
I tend to base my size choices on the product shots. In this case, the model happens to be really buffed which made me judge it inaccurately. Perhaps having more images with height and weight against size references would have been helpful.
The concept of all the pockets made me overcompensate. While it was mentioned that the size has already compensated for the pockets, it was also mentioned that if you were in between sizes, you should size up.

In addition to that, according to the tool I used above and my waist being at the higher end of that spectrum, I got the larger size because I rather my clothes be too big than risk it being too small.
In retrospect, I would advise you to follow the size guide closely or get your usual size referencing your other Patagonia or North Face or similar jackets.
I was a little glad to see that there were flaps on both sides of the waist and end of the sleeves to let you adjust the size a little, but they were certainly not enough to remedy my situation.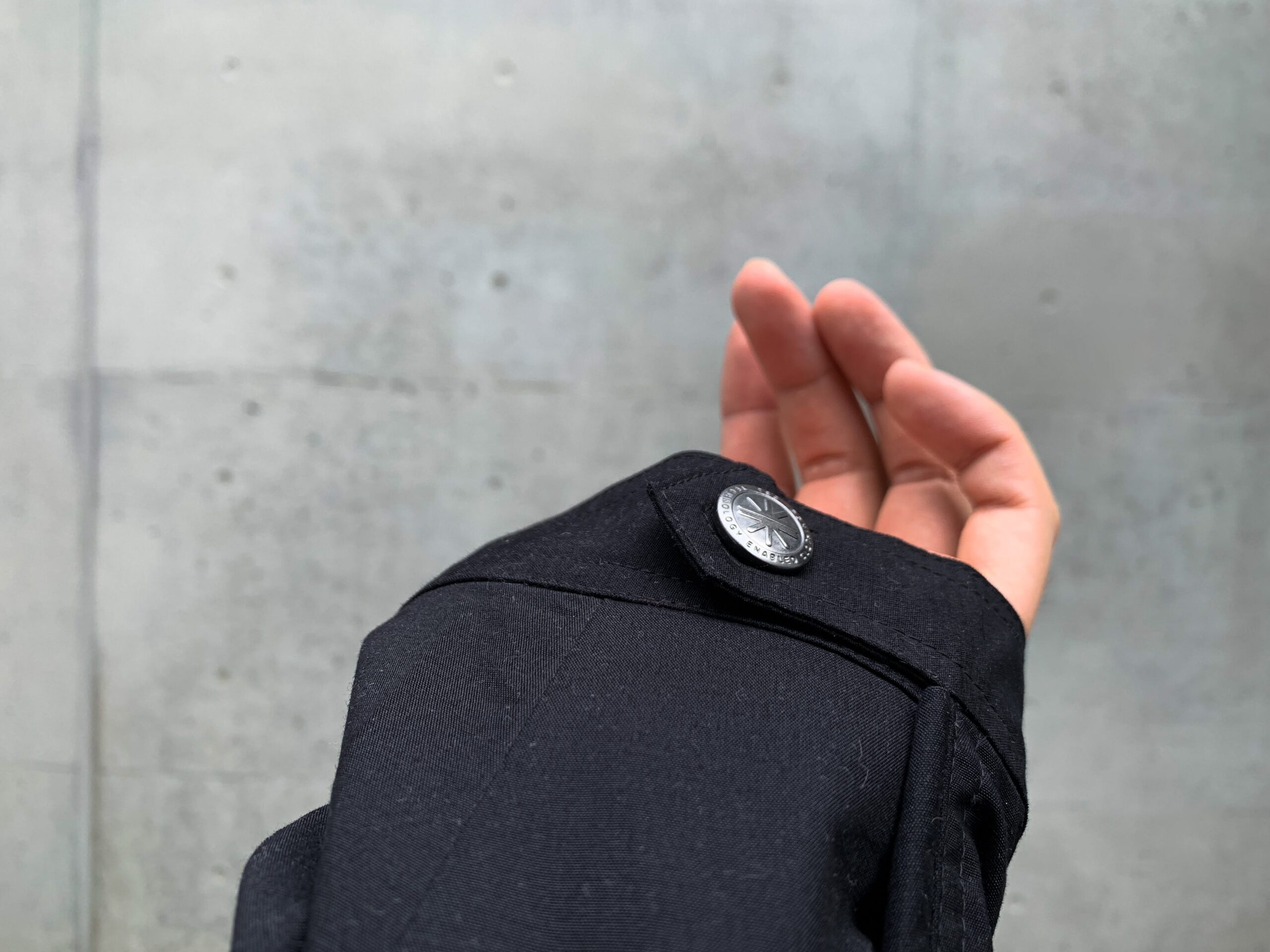 Contrary to the comment above, I didn't find that these straps come off easily.
Fit when Full
Since the jacket is designed to hold gadgets, which are generally quite flat, trying to stuff it with a lot of thicker items makes the jacket very bulky and if you try to zip it up, you will have a very odd body shape.
If you want to stuff your pockets with more than flat, even gadgets, I would recommend leaving it unzipped.
Branding
There is minimal branding on the outside of the jacket. Just an embroidered tonal "pocket logo" on the center back, below the collar. It looks pretty sleek and minimal.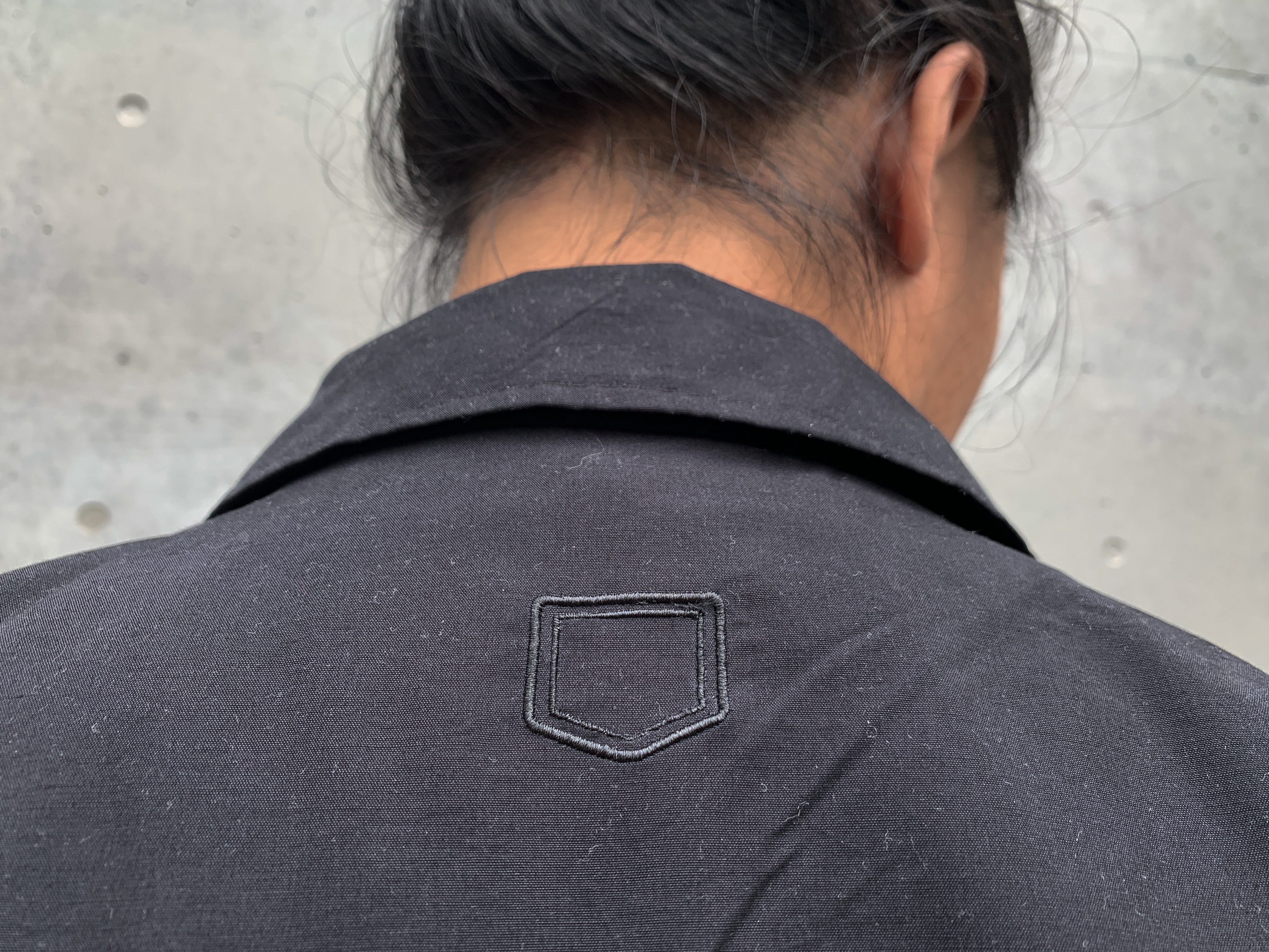 There is, however, a tag that proudly says "TEC, Technology Enabled Clothing" on the right. Even famous technical fabrics GORETEX or CORDURA is not directly included on a lot of garments, I don't see a need for this tag at all. And as if I'm not complaining enough about this, there is another identical tag on the inside.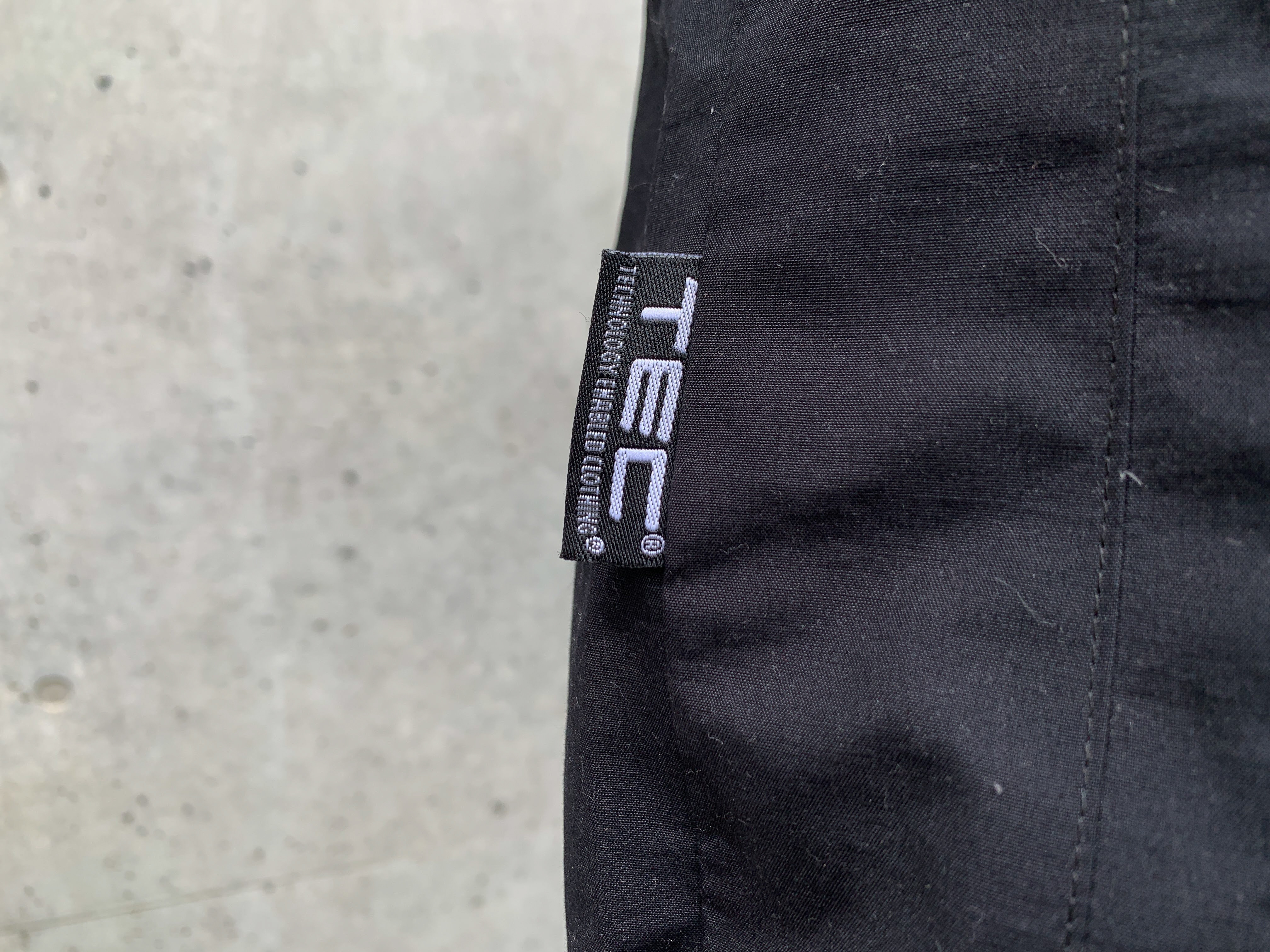 On the inner lining, there were repeated patterns of the pocket logo, albeit muted. I also found this unnecessary as well, but this is probably just me being obsessive about having no branding.
On the insides, there are embroidered icons near some of the pockets to tell you what they are for. The fact that they are stark white ruins it a little for me, since when your jacket is opened, they can be easily spotted.
Instead, I would rather they include a guide on where all 25 pockets were and what each of them was designed for. I can't imagine anyone could easily forget the purpose of each pocket after a few uses.
Details
Given that they are SCOTTeVEST, obviously this jacket can be converted into a vest. The sleeves are zipped on and is relatively easy to get off, but to put on again requires a bit of fiddling.
Once again, I'm not a vest kinda of guy and that kinda style is hard to pull off, but I could see this working as an inner carry-all.
Materials
The jacket is made of a 65% cotton and 35% nylon blend. Cotton itself absorbs moisture, keeps you cool, lacks lustre, skin-friendly, and is a material all of us should be more than familiar with.
With the 35% nylon blend, it's less likely to shrink or wrinkle compared to a pure cotton fabric, which seems perfect given there is going to be a lot of stuffing of pockets going on.
With the blend, it makes the cotton less breathable, which is ideal for the jacket's wind protection. It also makes it more abrasion-resistant and durable.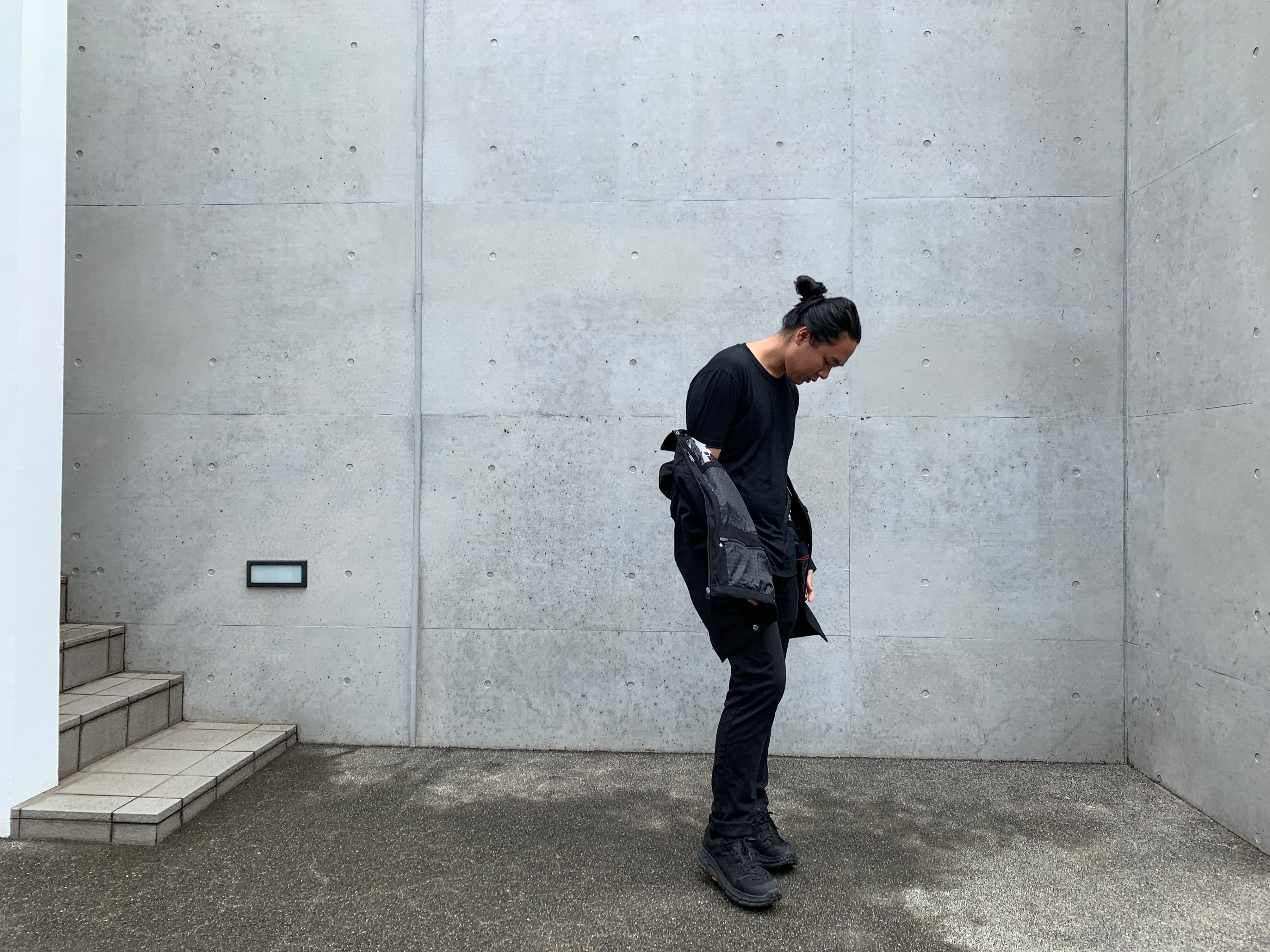 This ratio of blend is, by far, the most popular ratio used. This blend is also cheaper than pure cotton, in which savings can be passed on to the consumer.
The jacket has also been treated with Teflon™ fabric protector for durable and long-lasting protection against water and stain repellency.
Organization
Now, for the main event, the pockets! If you just want a nice jacket, there are plenty of much more stylish (and more expensive too) options out there. You bought the SCOTTeVEST Jacket for the pockets and you can bet that I'm gonna be stuffing some pockets for this review.
There is a total of 25 pockets in this jacket. There were some cards that came with the jacket that showed what the bigger pockets were used for, but to find all 25 pockets, you really had to dig hard and look close.
One thing you should note is that most of these pockets are actually compartments or slots within a pocket. I will try to go through each one.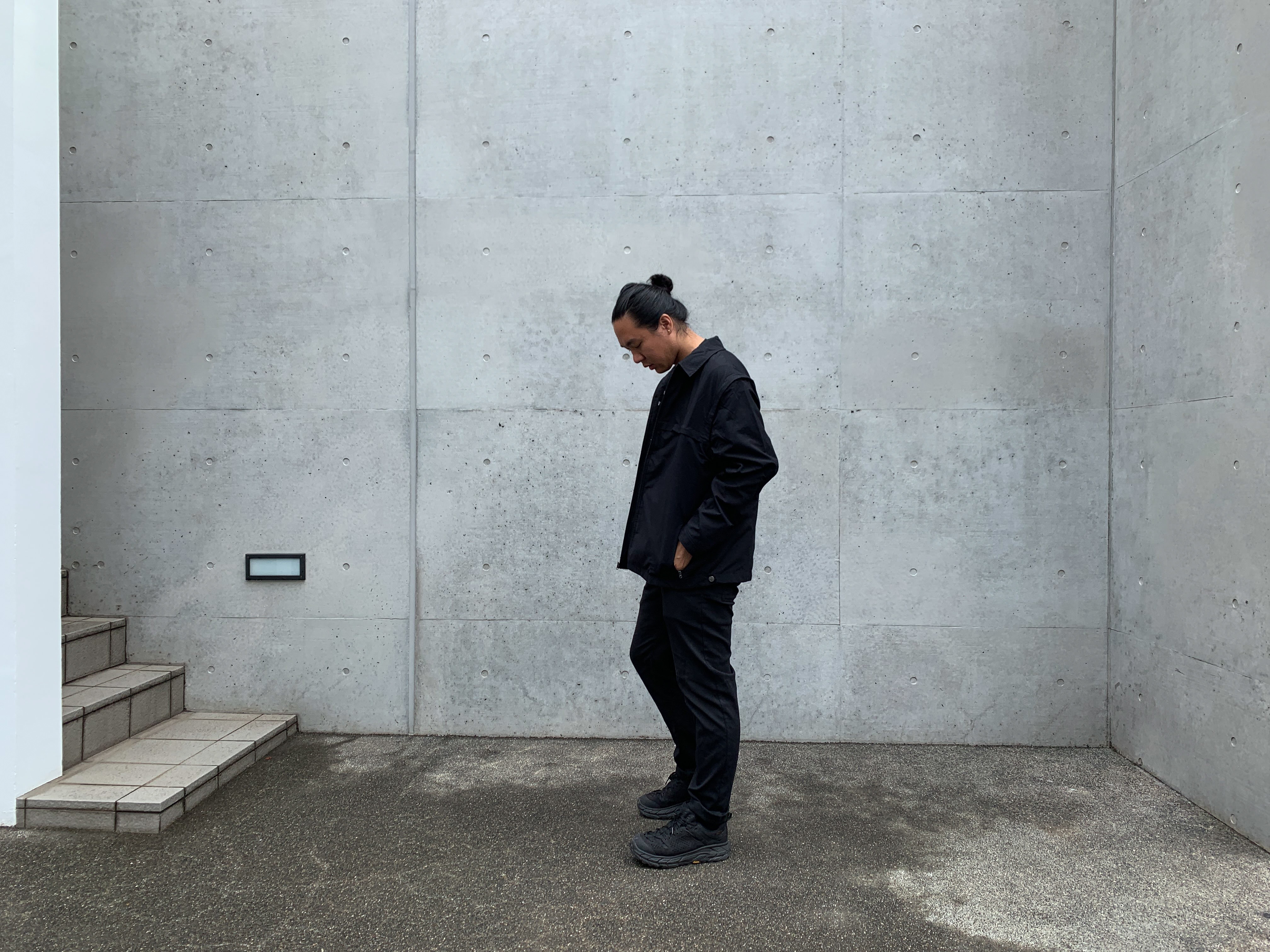 On the outside of the jacket:
Two breast pocket with a mesh slot inside of each them. (4 pockets)
These are pretty standard sized zippered breast pocket, perfect for quick access items. The mesh slot in them is good to keep things organized within. I also like how the zippers are hidden for a more minimal look.
Right hand pocket with small coin pocket (2 pockets)
I like putting my hands in jacket pockets and these are the perfect size for that. However, the slot of this pocket is vertical, instead of slightly diagonal for a possibly easier hand access.
Inside this pocket, there is a key chain attached. I love these retractable keychains because I often lose small items, like keys, I carry around. You also have to remove this keychain before wash.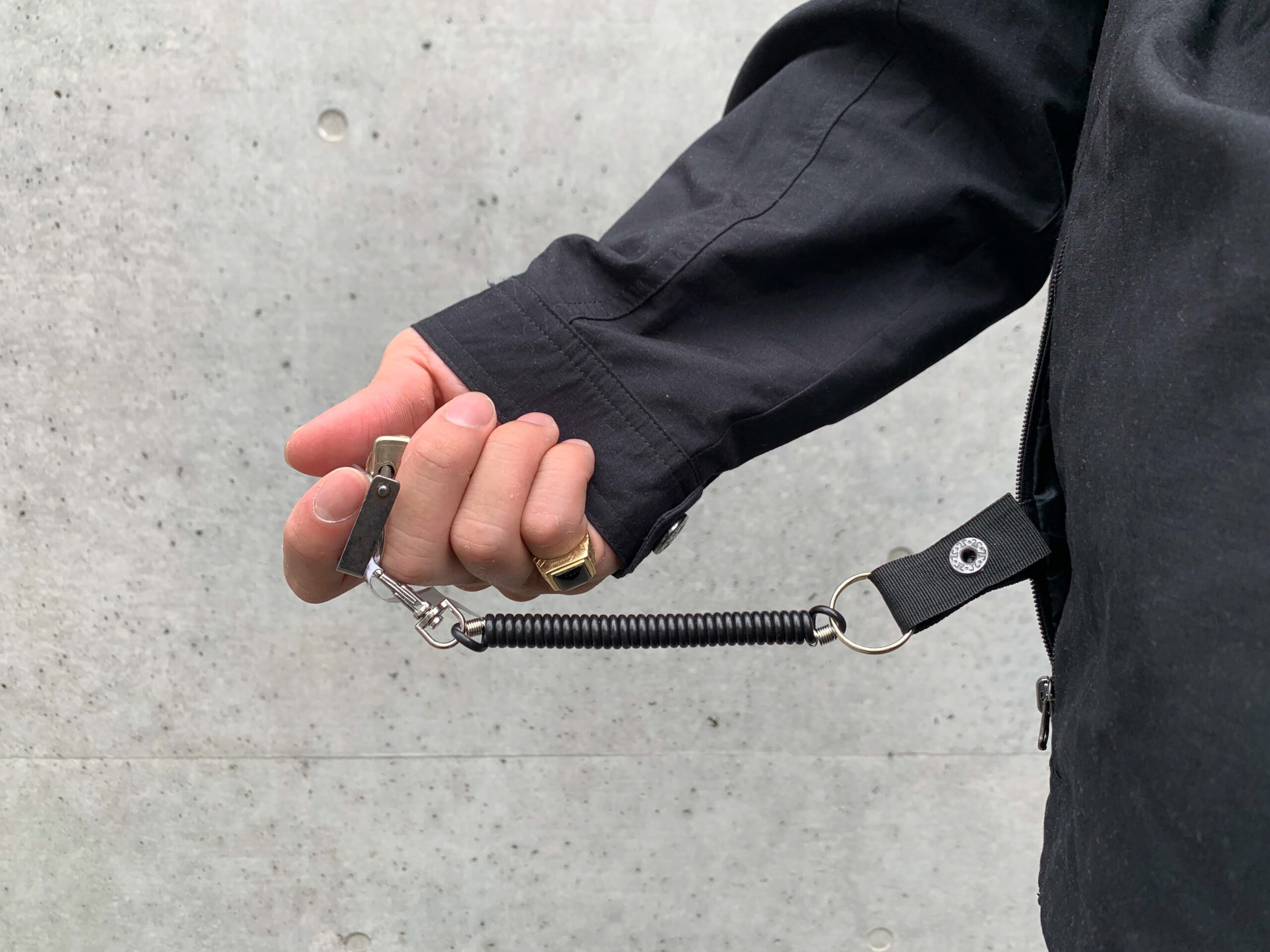 There is also an elastic band inside this pocket. The band is designed to keep a water bottle upright. The idea sounds great but it was a little cumbersome to put the bottle through the band each time.
To do so, you actually had to invert the pocket so the band is out and then put the bottle through. Depending on the size of the bottle, it's pretty hard to get it through the band. You would likely have to go through the band from neck of the bottle. After the bottle is in place, you would have to adjust quite a bit to get it back into the pocket.
I missed it the first time round, but there is a small velcro pouch here, which seems like it is designed for loose coins according to the product image.
Left hand pocket with zip separator, large slot and small slot with velcro (4 pockets)
The left hand pocket has a zip that let's you "split" the pocket into two compartments.
In the deeper compartment, there is a small slot with a velcro closure which looks perfect for a memory card or a SIM card.
In the same compartment, there is larger open slot, which looks like a good size for cards or a minimalist wallets. With the zip and additional slot, it seemed like a good extra layer of security for pickpockets.
These two hand pockets are surprisingly huge. They are actually as deep as the whole surface of the jacket.
---
I searched a few times, worried that I might have missed a pocket out as these pockets are just so subtle and hard to spot.
But it looks like I've covered all the pockets on the outside of the jacket, so it's time to take a look at the insides.
Earbud slots, one on both sides (2 pockets)
On the top of the jacket, on the both sides of the collar, there are two slots for your earbuds, which they refer to as BudBucket Pockets. The idea is that when you string your earphones through the holes around the jacket, it will ultimately come up through a slot in the center-back of your collar.
So when you aren't listening to your favorite tunes, these BudBucket Pockets are a handy way for you to keep them out of the way.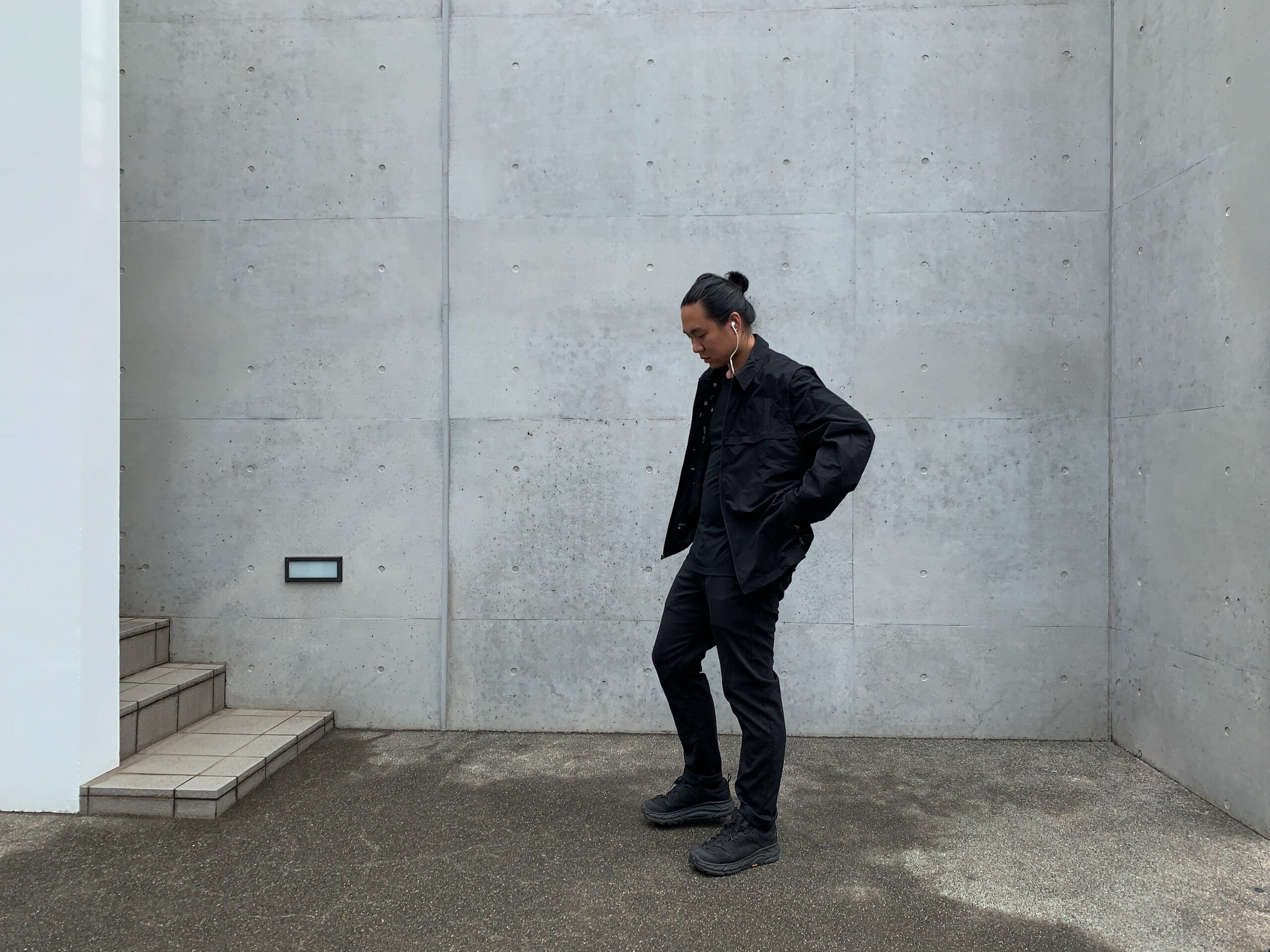 Although, I would think that SCOTTeVEST should begin thinking of new clothing technology with the wireless earbuds trend catching on.
Pen slots, one on both sides (2 pockets)
Once again, if you are a secret agent like I am, you need not one, but two pens. One of them shoots lasers.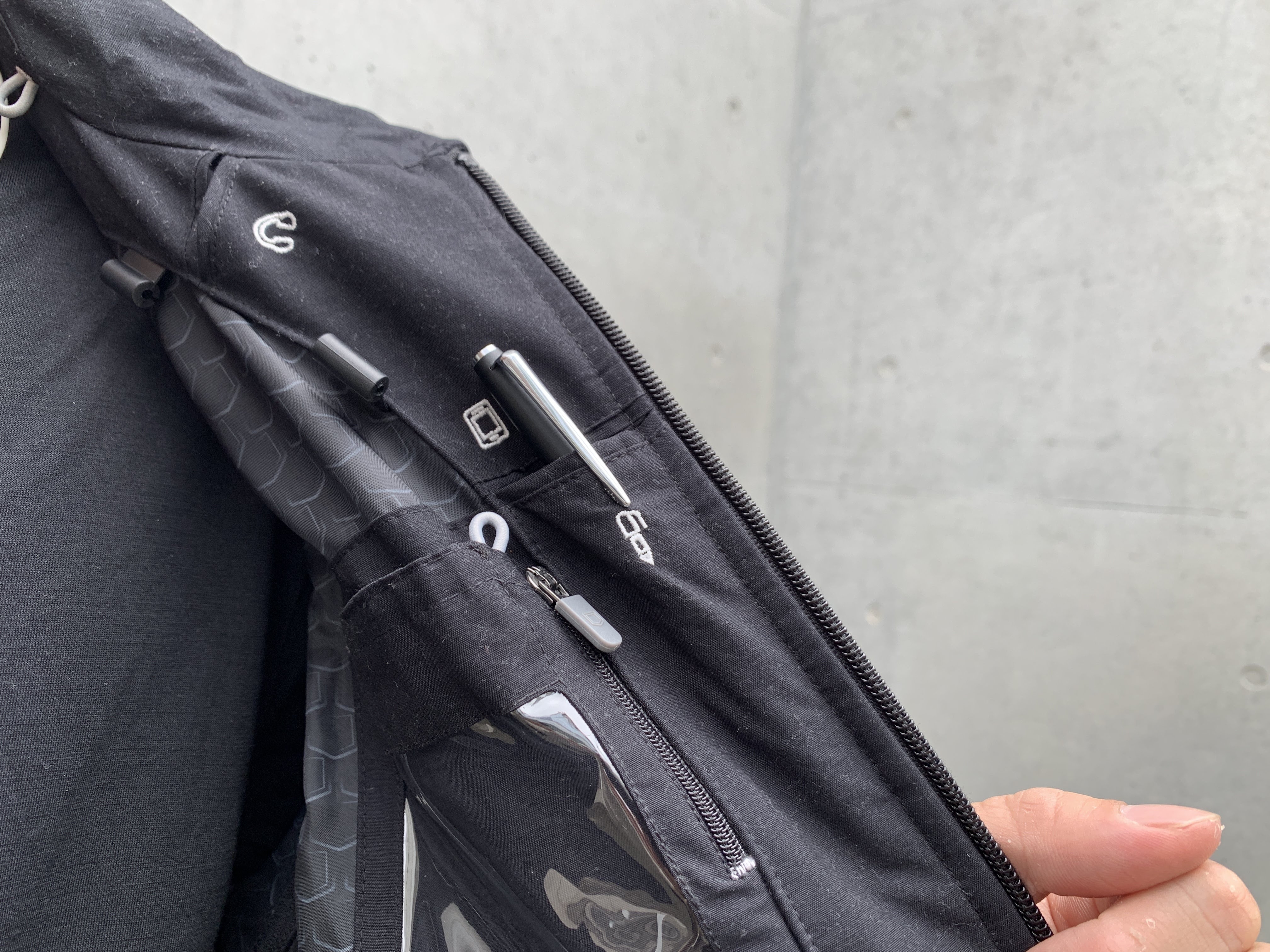 Gadget pocket, one on both sides (2 pockets)
Once again, since the jacket was designed for the maximum techie (think the guy with multiple devices for Pokemon Go farming), having just one phone pocket doesn't quite cut it, so they gave you two pockets for you to really multi-task.
These gadget pockets have clear window for you to touch the screen. It works great. The only thing is that they won't fit bigger phones completely, like my iPhone XS Max. You can put it into the pocket, but can't velcro it shut at the top. But, it definitely sits deep enough so that it won't ever fall out.
I've had experiences with these kinda of plastic holders start getting scratches or even crumbling from prolonged use. I'll be sure to update this post if that happens.
Also, with the border of fabric around the clear sheet, it's likely that the border of your screen would be hindered if you have a bezel-less phone.
A neat feature of this pocket is that it comes with a side zipper, that opens halfway, so you can widen the slot for easier access.
I believe while this is a good way to quickly glance at your phone without taking it out, it's not suitable for any sort of prolonged use for a few reasons. First of all, Face ID doesn't work, so beyond looking at notifications on your lock screen, you would have to take it out of the pocket to unlock it.
Even if you want to enter your passcode, the way the phone is orientated when you open the flap to look at it, meant that you would have to seriously twist your head in order to look at it upright.
I thought it would had been a cool feature if they had orientated the pocket in a way that corresponds to the natural eyeline when you are looking at your phone with the jacket on.
Giant gadget pocket, left side with small slot (2 pockets)
This one here is a winner for me. I know it's designed for tablets, but I could fit my entire 15′ Macbook Pro if I don't mind not being able to zip it up. This seems like my chance play out my crazy fantasy to work remotely without a bag.
There is also a small pocket in here that looks like the perfect size for a stick of lip balm.
Passport pocket with removable pouch (2 pockets)
The size is perfect for your passport and other travel documents.
This pocket comes with a red zipper. I assumed that they want you to be able to spot your important documents right away with the red color although I found it unnecessary. Each pocket is designed for a specific purpose so I don't think it's easy to forget which pocket carries what.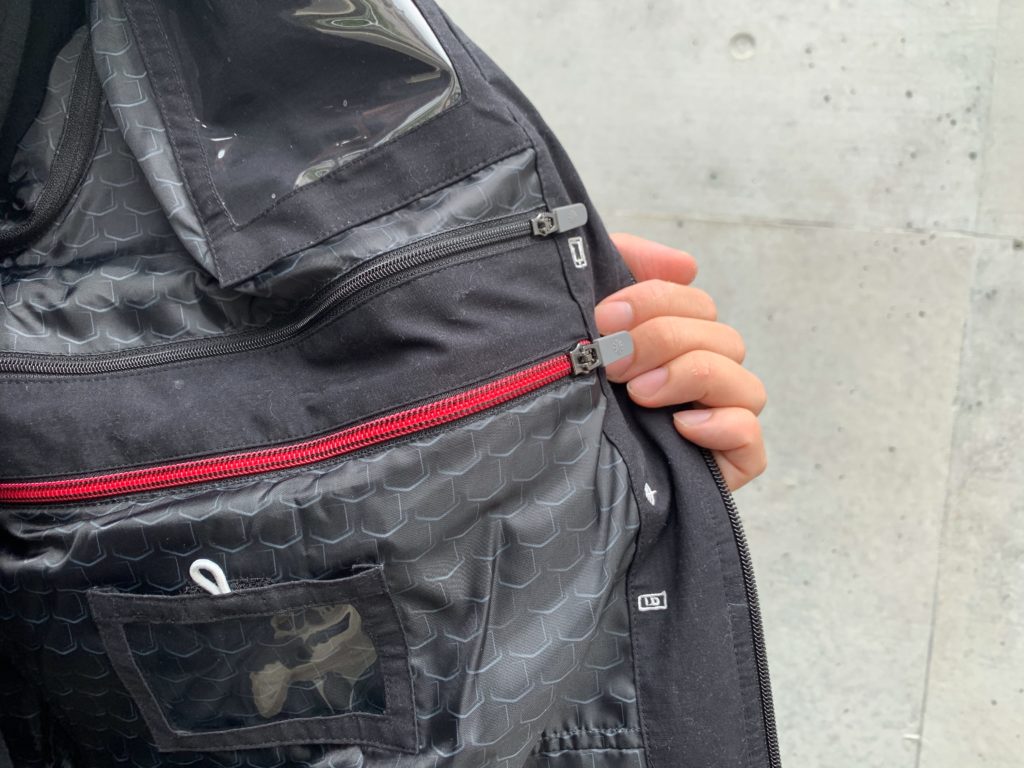 There is also a removable pouch, attached to the insides of the passport pocket with velcro. This is great as a travel wallet, since you can take it out easily. As it is velcro-ed into a zipped-up pocket, pickpockets will need to go through several layers to get to it.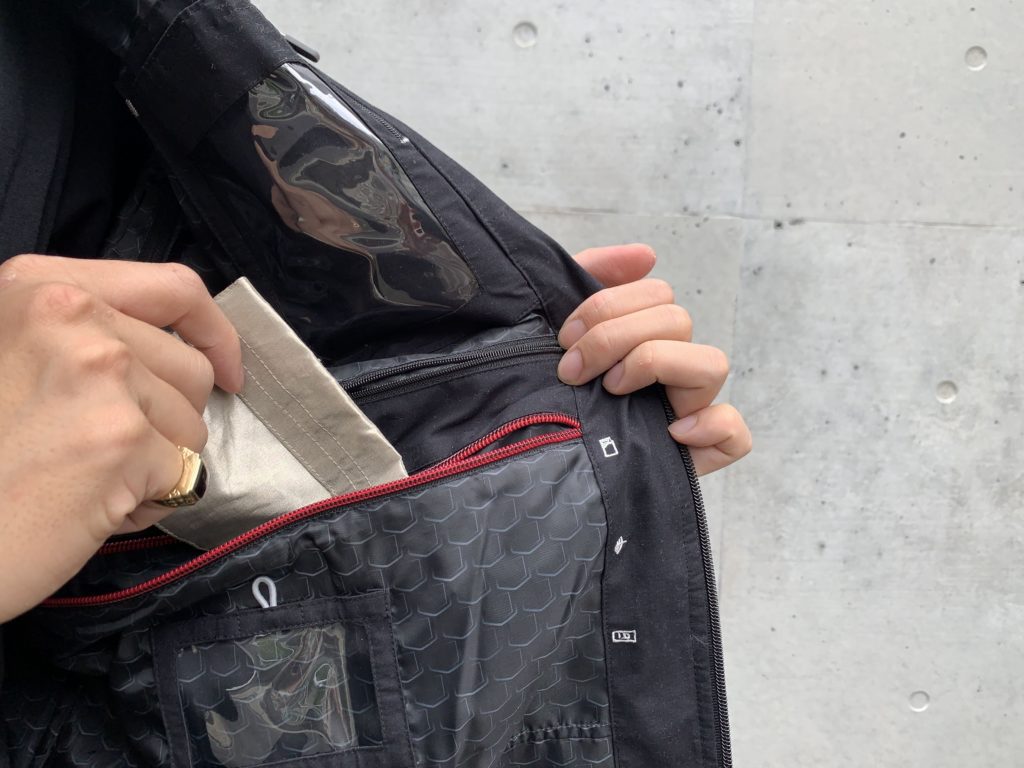 At first, I thought the embroidered symbol for this was some kind of WIFI sign, but it turns out it stands for RFID, which refers to this pocket being RFID-blocking.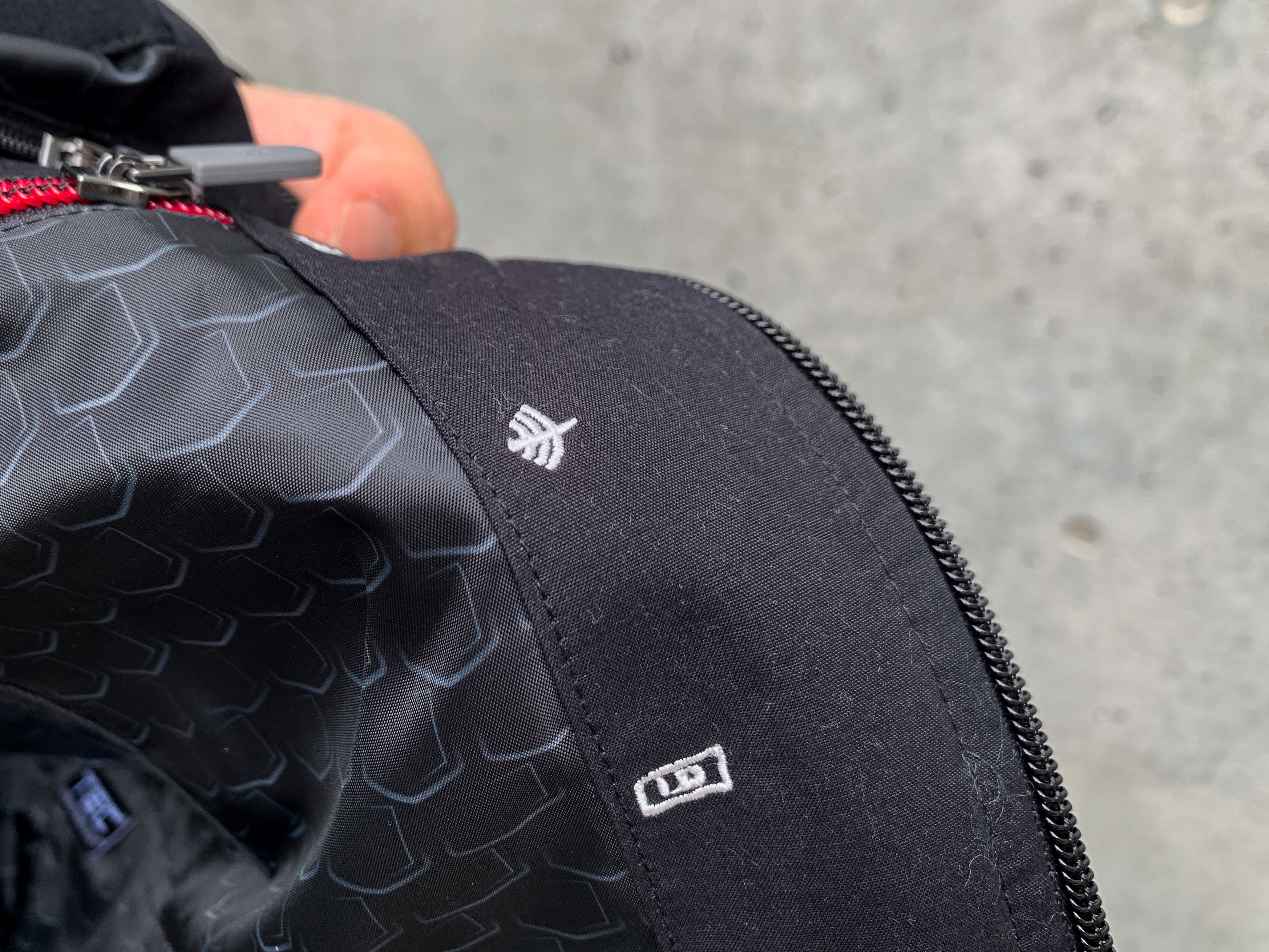 ID slot, left side (1 pocket)
In front of the passport pocket, there is a clear slot for your ID, although I can't imagine having to or wanting to flash my ID in that manner (conjured an image of one of those shady dudes in the back alley selling fake Rolexes).
In fact, since it's visible at certain angles or when you wear your jacket a certain way, I'm not sure about the privacy implications here.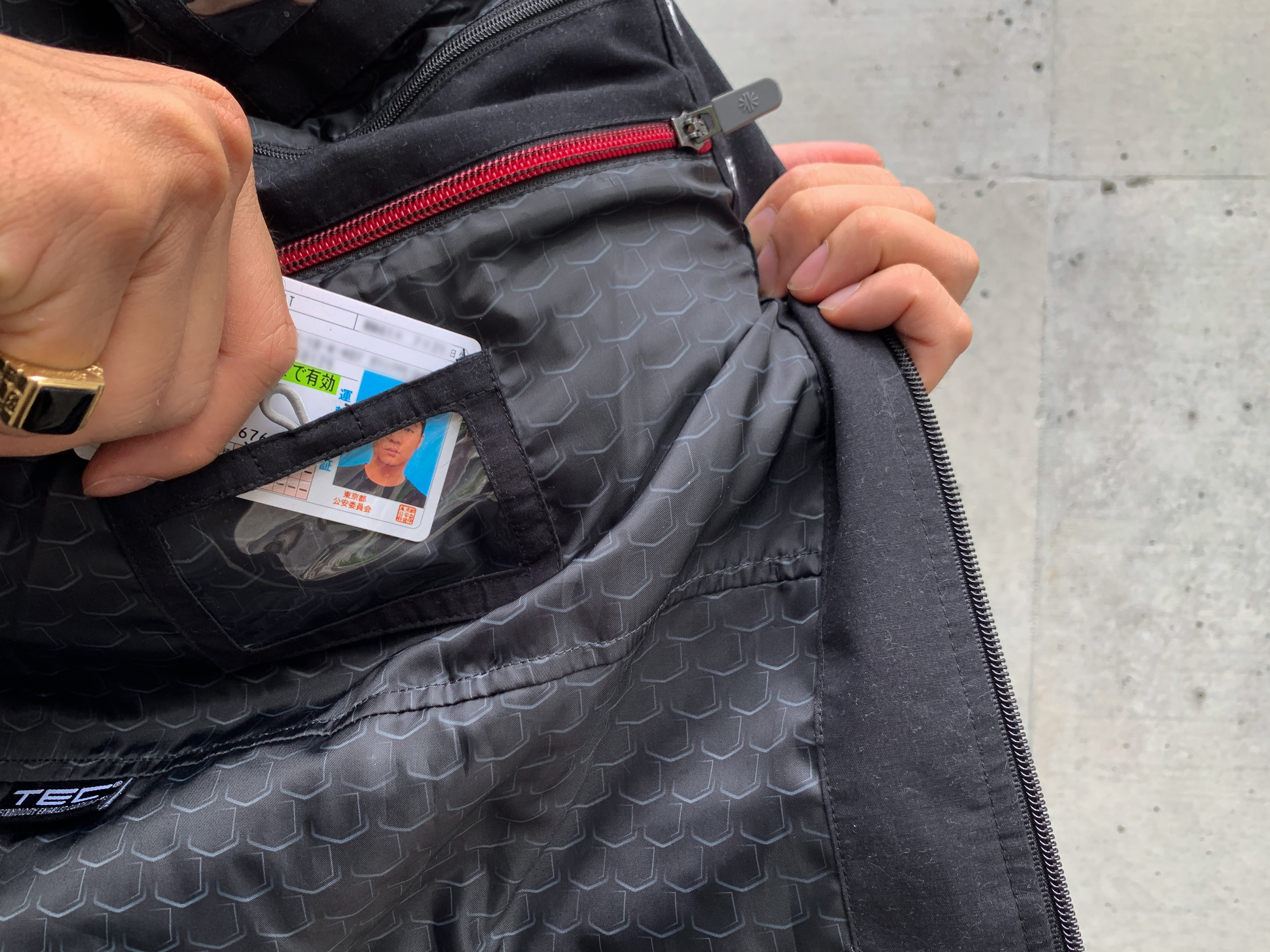 Sunglasses slot, right side (1 pocket)
This slot is quite spacious and have no problem taking in your sunglasses along with your bulkiest sunglasses case.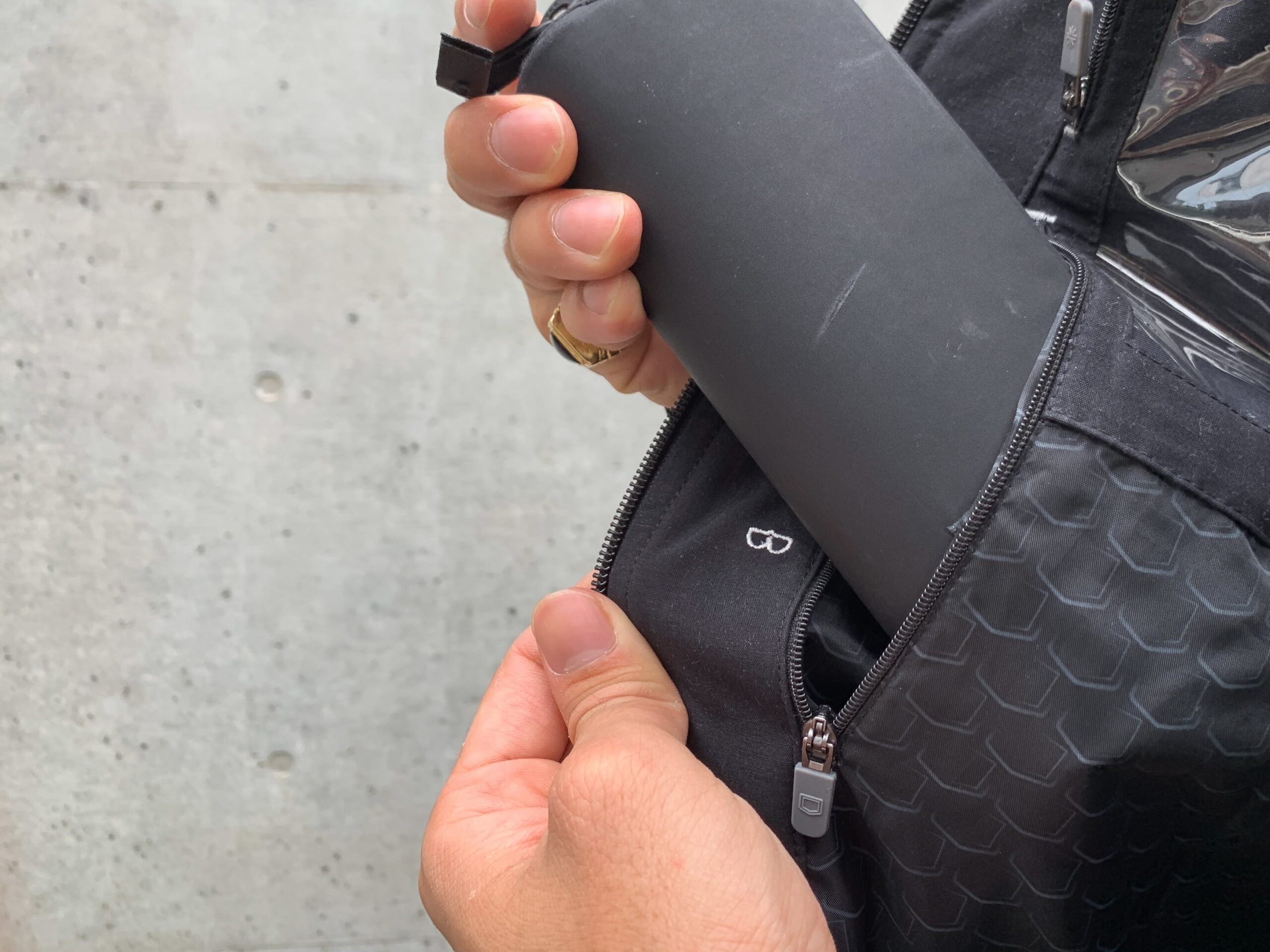 In this pocket, there is a microfiber cloth attached to an elastic cord for wiping smudges with your sunglasses. There is a bunch of branding and graphic here showing the uses of some of the pockets, which I felt was a little much, since they already include a tag with the same image with the jacket.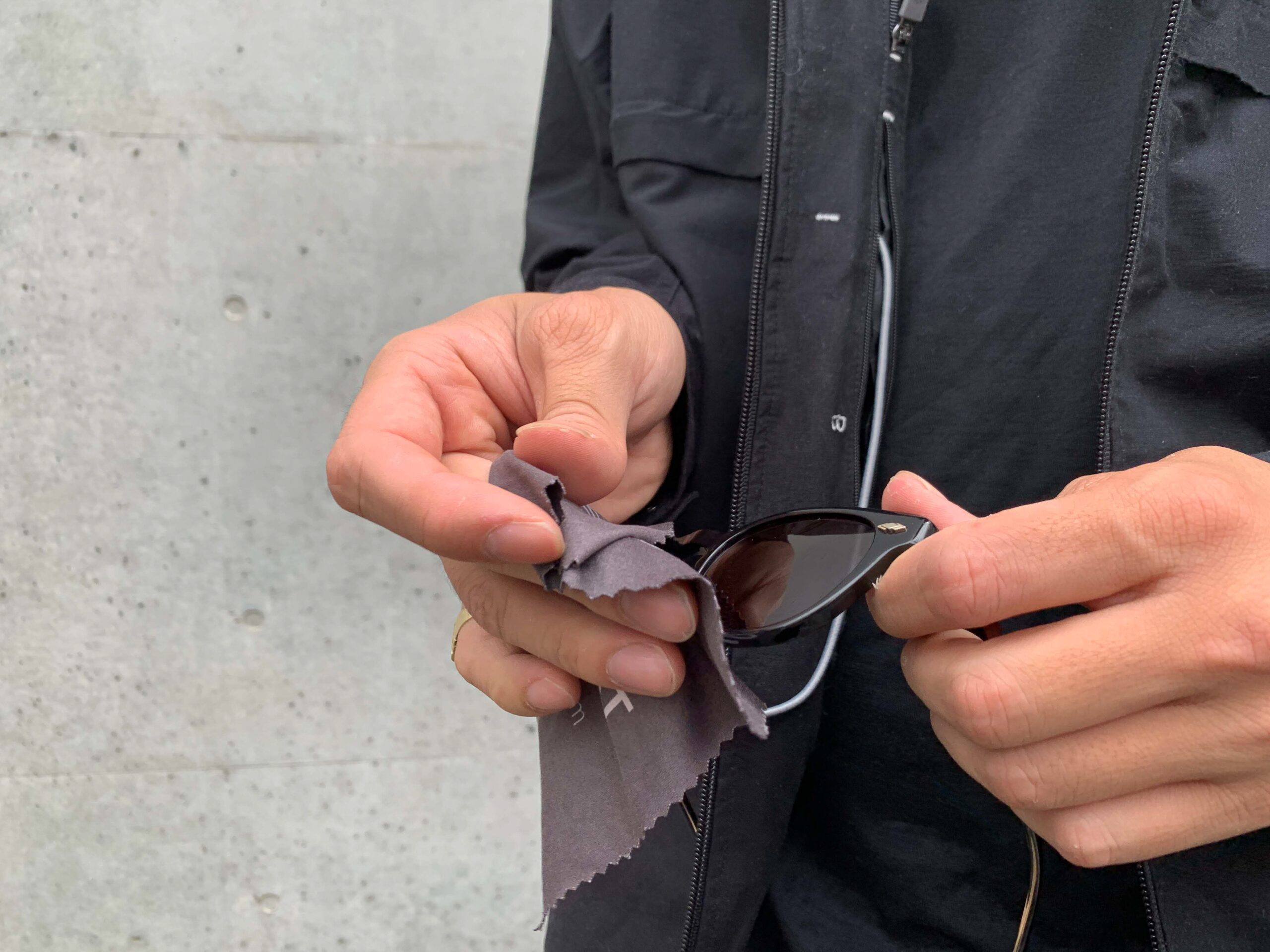 Camera pocket with separator and memory card pocket (3 pockets)
This camera can probably fit any kind of compact cameras, but not bulky DSLRs with lens. There is a velcro-able slot for memory card that they refer to as the MyMemory™ Pocket. I wasn't sure why they felt the need to trademark that.
A velcro on the inside lets you partition about a quarter of the bigger pocket into another pocket.
---
And there you go, all 25 pockets. As mentioned, a lot of them are small slots or separators, rather than full-on pockets.
Personal Area Network
This patented system is what they call the holes in the jacket that allows you to pass your wires or power cables through. If your garment has this system, then it's referred to as a TEC-enabled clothing. They certainly do have a lot of trademarks.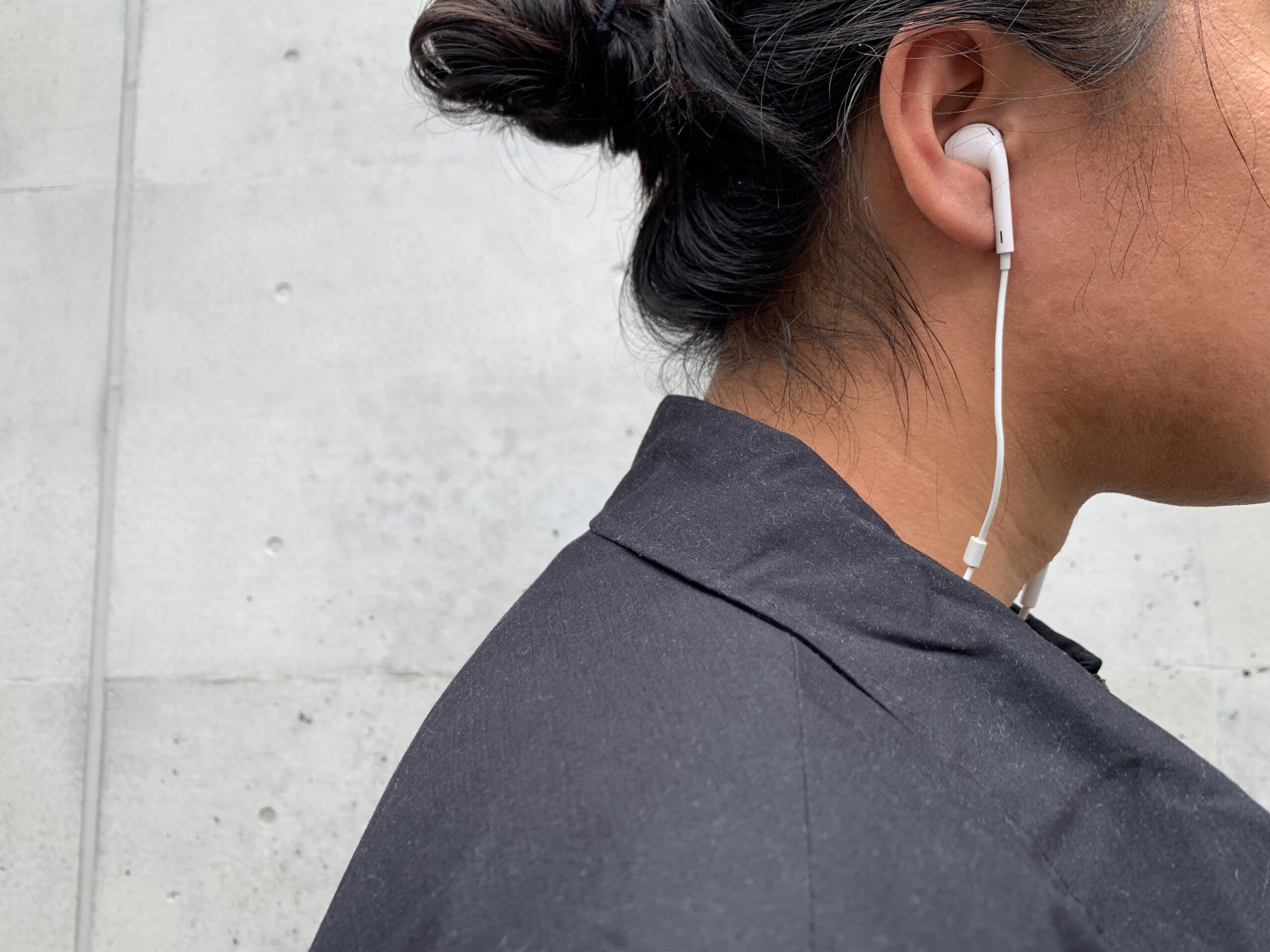 Usage
Now, can the jacket really carry all the things I want it to, and most of all, is that a practically way to get around; with a jacket full of stuff.
First, I tried to see if I could go to work without my bag. I took all my items out of my Synapse 25, including my 15 inch MacBook Pro, and put it into the pockets. I didn't change any sort of configuration of my items, after all, I am of the firm belief that your things should suit your lifestyle, and you shouldn't have to change your lifestyle to suit your things.
While most of the items could fit, the only pocket big enough for almost any sized item is the left gadget pocket. The front hands-warming pockets goes all the way up the entire front of the jacket, but the pocket was too small to fit, say my jacket in a packing cube.
The weight distribution on this jacket was great and it didn't feel as heavy as carrying bag since the weight is spread out over a wider area of shoulder.
The Personal Area Network is pretty awesome; it keeps crazy wires at bay at the same time the BudBuckets pockets is a nifty way to keep your earbuds,.
Although, unless this is your daily jacket, stringing your earphones through the Personal Area Network each time is not what I would personally do.
On a side note, I found the easiest way to string your earphone wires was to stick your finger in one hole and out the other, and then grab the wire with that finger and string it through as you take your finger out.
I'll be taking the jacket on upcoming trips and will be updating this post or write a new article when I get more insights. Stay tuned.
Conclusion
The SCOTTeVEST is for those crazy about pockets and have a massive tech inventory or everyday carry. The style is not optimal, but definitely not bad as a daily jacket, given what it's designed for.
I'd go as far as to day that you can easily take a weekend trip with just this jacket, and no bags.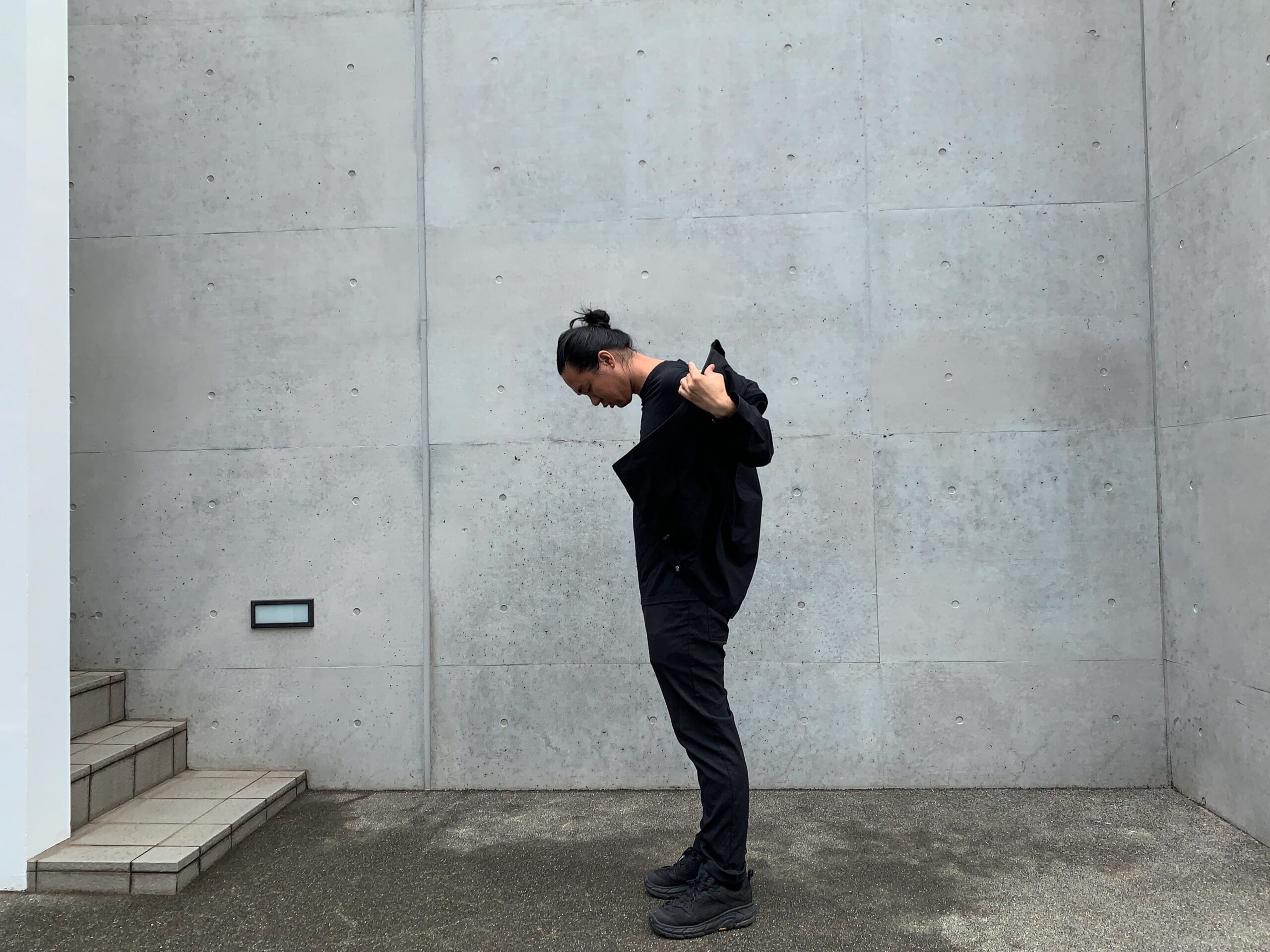 Like this review? See all of my in-depth reviews.
Also, consider supporting me by being a Patreon. Every cent given will go back into improving the content of this website.
Tagged jacket review scottevest