This website is made possible by readers. I may earn a small commission when you buy through the links in this article at no extra cost to you. Learn more.
In a world where brands like GORUCK and TOM BIHN reign supreme, challenger brands hoping to take a piece of the pie are popping up more and more recently. However, you won't find a cheap backpack for travel from any of these brands.
The price is because these brands who have been around for a long time have the advantage in materials and workmanship from the decades of experience and a wealth of industry connections. On the other hand, these newer brands are sleeker, with fresher ideas.
NayoSmart is one such brand to me. Armed with sleek photography, NayoSmart has clean, crisp looking brand images, but might come across as slightly generic. But I was most interested in the product, because backpack is often what makes or break a trip.
I brought the large Nayo Almighty on a trip to the beautiful Karuizawa in the Nagano Prefecture of Japan. I was excited to try out their best-selling backpack and did so over the course a four-day trip, which was the recommended length of trip the bag is for.
Is this the best cheap backpack for travel?
Let's find out.
Details
Price $159 on nayosmart.com
Exclusive: Use code ALEXKWA for 8% discount. Works even with current discount which brings the total price of the bag to $81.88 as of this post, making it one of the best candidates for a cheap backpack for travel.
Volume 32l (large size)
Weight 1.5 kg  
Dimensions 13.7″ (w) x 20″ (h) x 6.7″ (d) / 350 (w) x 510 (h) x 170 (d) mm
Material 600d High Tenacity Polyester with waterproof coating
Style
The Almighty backpack is a minimalist-styled backpack. This isn't anything special as more and more bags are touting the minimalist design angle. But, I don't blame them.
As a "minimalist" style blogger myself, the trend towards minimalism has sparked an entire new style of travel, a way of packing that says that you can consolidate all your belongings into a single backpack. Along with the packing style, these travelers (myself included) have developed an inclination towards minimalist aesthetics when it comes to bags. So going this path of minimalist aesthetics are, without a doubt, the right way to go.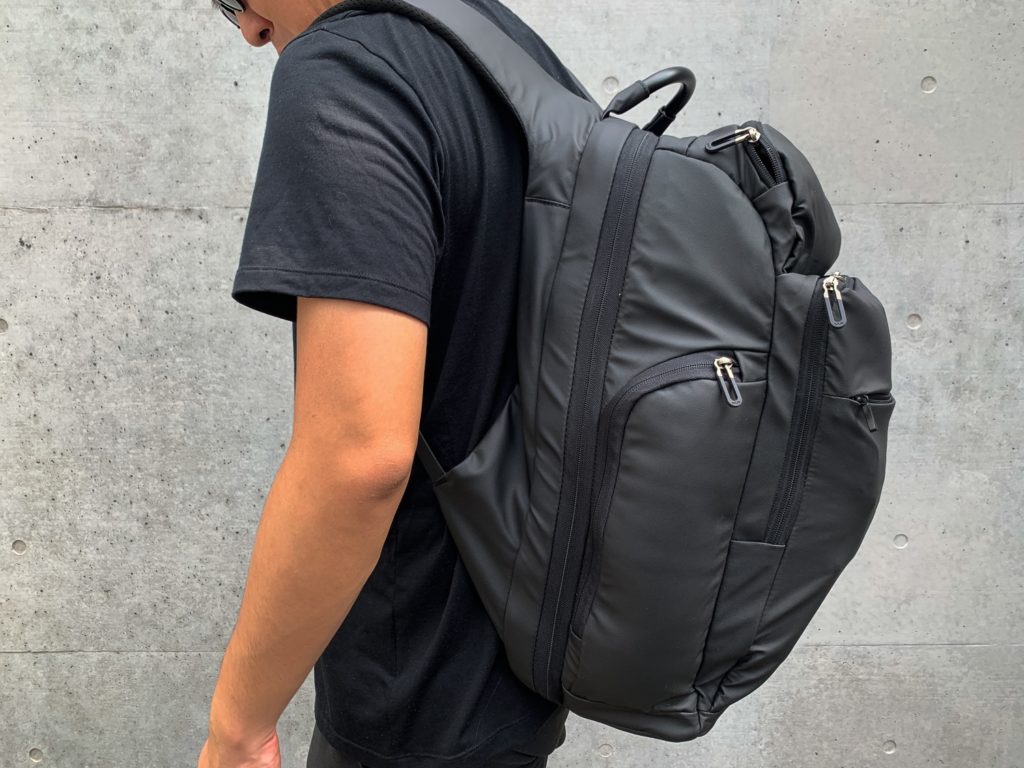 Bags like the Tortuga Outbreaker, Aer Travel Pack 2 and GORUCK GR1 are good examples of this trend, and that it works, given the legions of fans behind those brands.
The Almighty backpack is designed to be minimal and first impressions are as such. Clean lines, smooth fabric all over makes up a cohesive package.
While the bag looks nice and clean, the fabric reminds me a little of faux leather and makes it look a little cheap for me. I'm a regular bag reviewer so I might be bias towards fabrics I'm more used to, like CORDURA.
But no one likes ads, so I got rid of them. If my articles helped you, I ask for your support so I can continue to provide unbiased reviews and recommendations. Every cent donated through Patreon will go into improving the quality of this site.
Additionally, the fabric have a tendency to make bulges and wrinkles obvious which would, once again, add to the faux leather look.
Another detail is that if you stuff the front compartment a little too much, the zip pushed out on and exposed and look a little unsightly.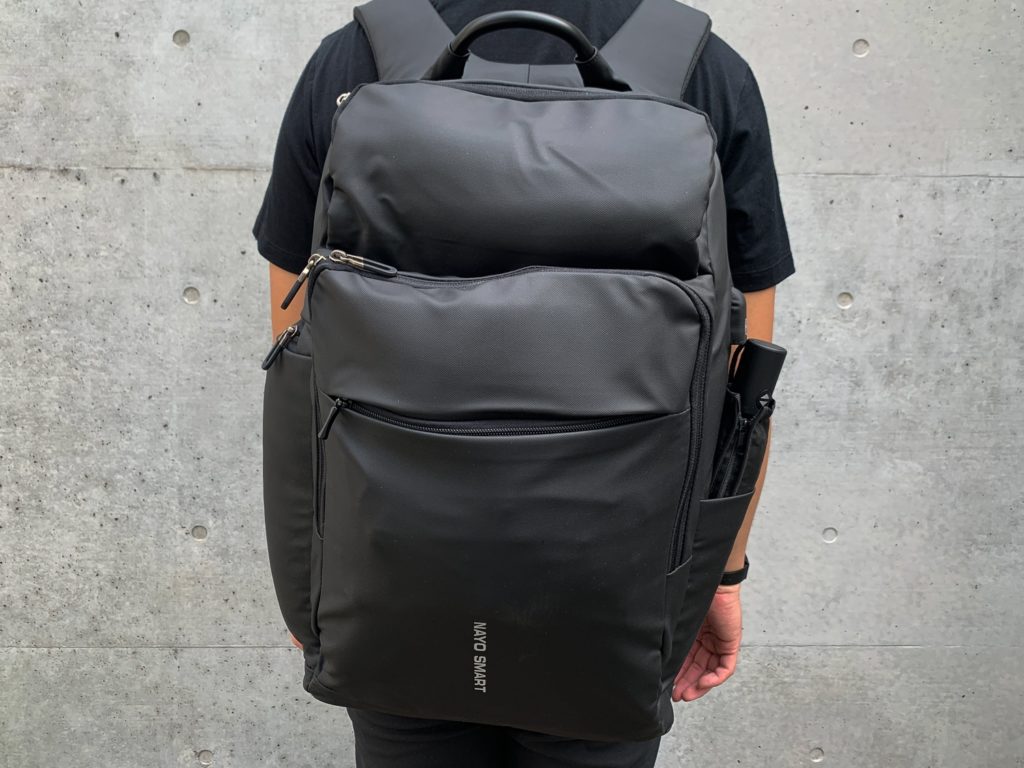 Upon closer inspection, you would notice a few details sets it apart from other bags. The compartments look standard enough but there is an external USB port which is made prominent by a printed "lightning" icon, one of the most unique features despite it being a relatively cheap backpack for travel.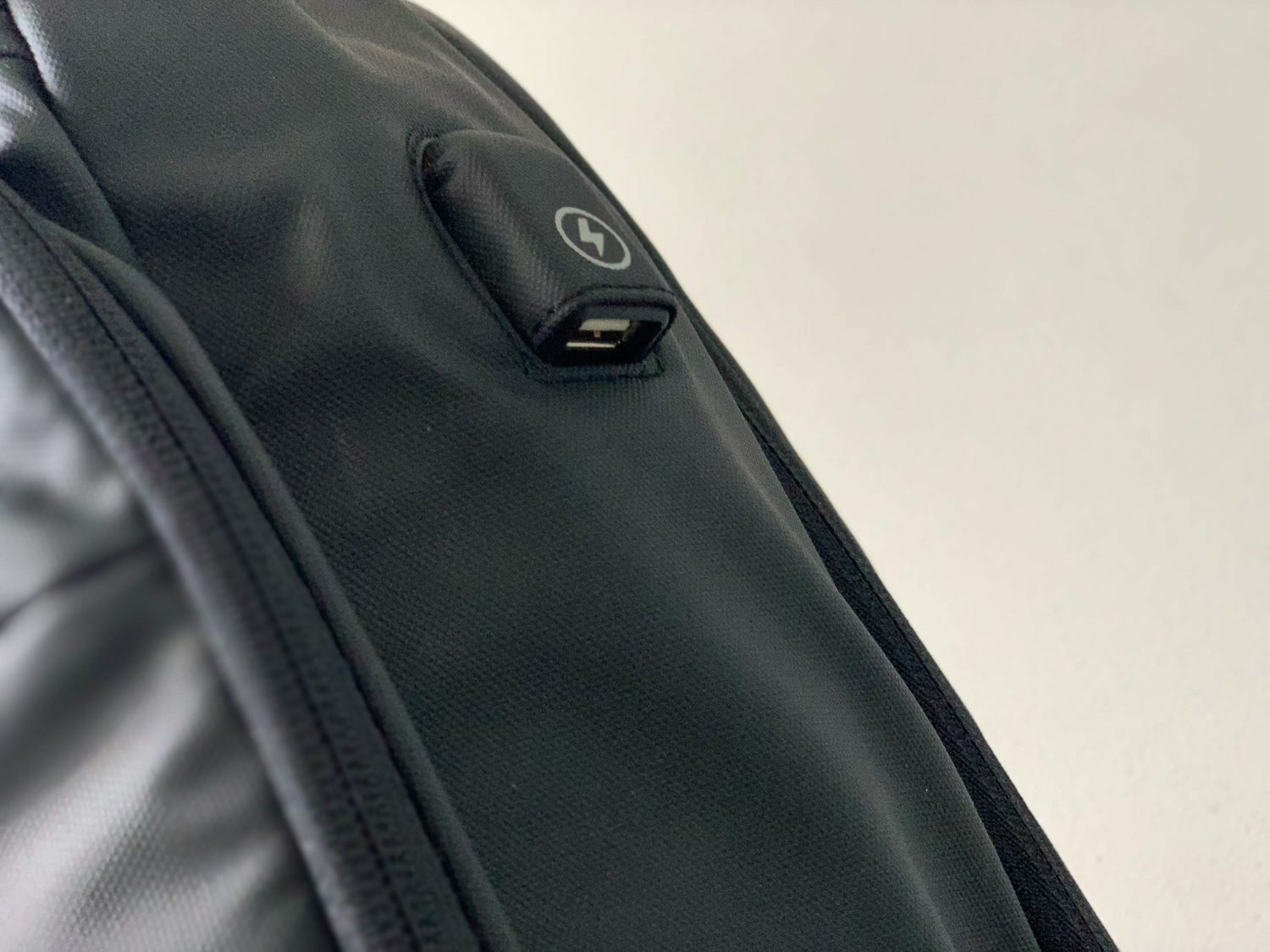 Another thing that looks different from other backpacks is that on the back, there are some side padding in addition to the straps.
Rather than a rugged backpack for wild adventures, the Nayo Almighty looks more suited for the city and looks like it would go better with a shirt.
The bag is completely devoid of external branding except for a NayoSmart logo on the front and the "lightning" icon on the external USB port. On one of the strap, there is also also an icon of a pair of glasses.
Material
The bag mainly uses a 600d High Tenacity Polyester with waterproof coating. While I didn't like the look of the material, it certainly looked and felt durable, and have decent waterproofing.
I was able to take it out in the rain and it kept the contents of my bag dry as a bone.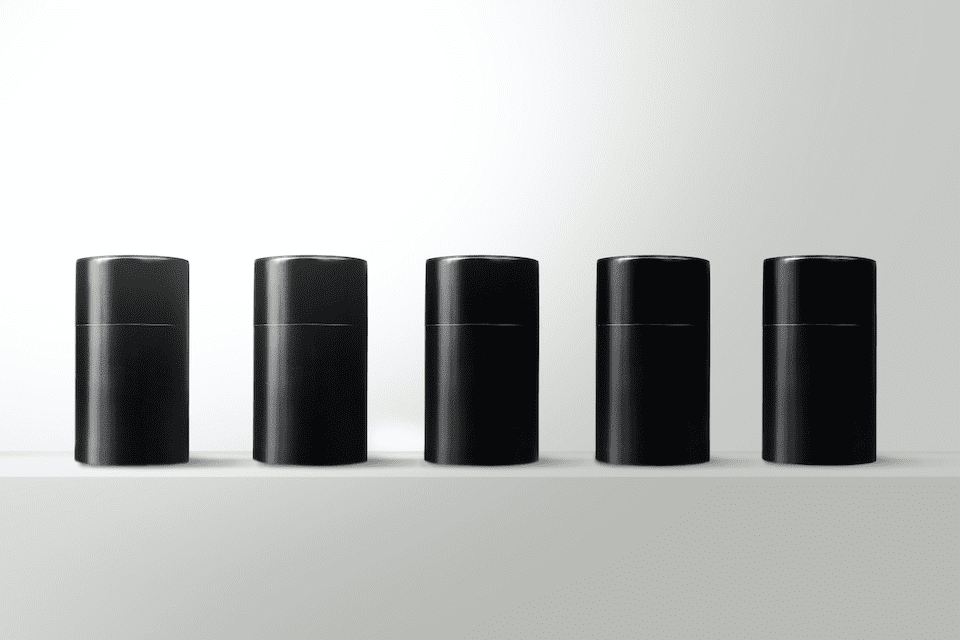 I found a 100 year old company that would create these heirloom quality canisters for me. They are handmade and will keep your tea leaves, coffee beans or anything that you need dry for years to come.
or read review
While the material is nice and smooth, it collects dirt easily if you scrape onto certain surfaces, but it's pretty easy to clean off.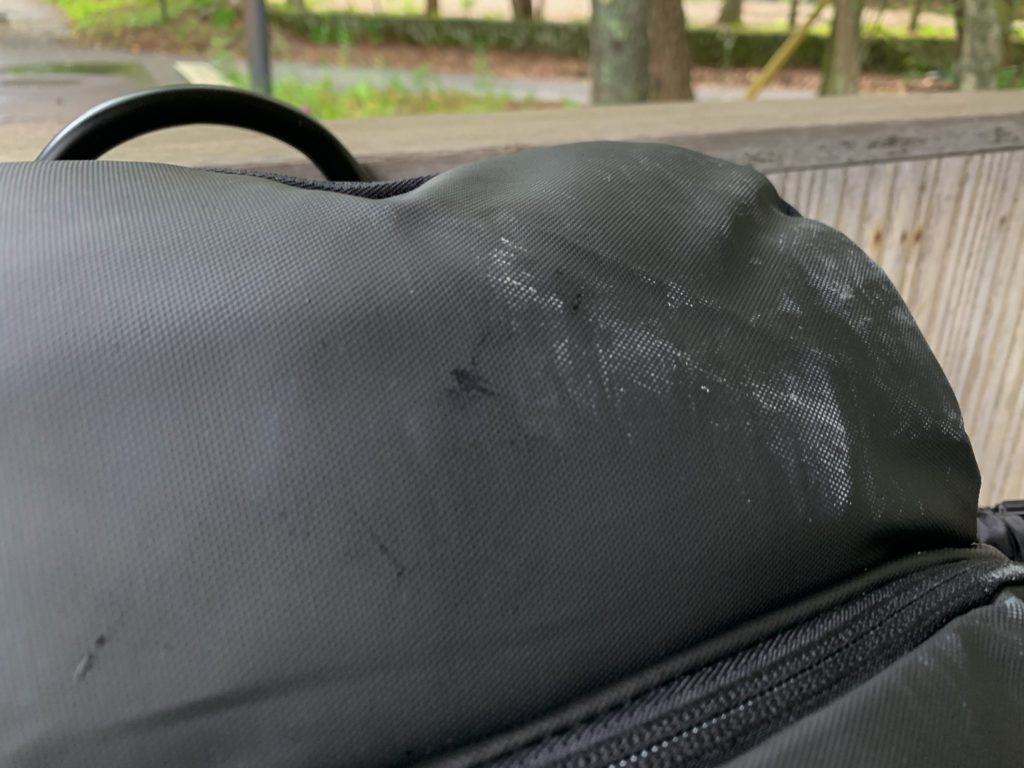 The back and straps uses a 12mm EVA molded padding, which is a material is commonly used to manufacture flip-flops as it is soft without being sponge like. This gives the bag adequate comfort with even the heaviest of loads.
While the rest of the industry uses YKK zippers, this bag uses SBS zippers which are designed specifically for luggage to stand up to heavy loads and frequent use. While the Japanese brand, YKK, is a much more well-known brand, SBS zippers, which are manufactured in China, have a much lower cost of production, which is apparent in the drastically lower price of the bag, which is why this might be one of the best cheap backpack for travel.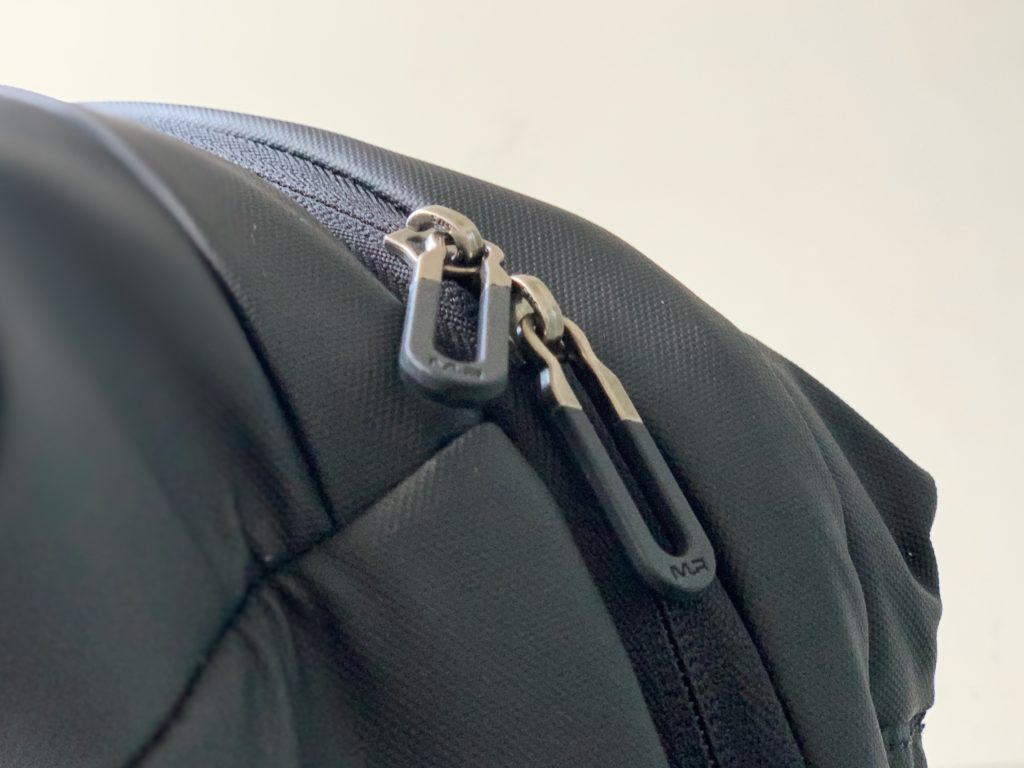 Usage
There were many new ideas in the Nayo Almighty, some good and some not so. Let me go through the each part of the backpack and share my experiences with them.
Top Handle
The handle is the first part of the bag that immediately got my attention. Instead of the usual padded handle, the one on the bag is made of metal despite it being a relative cheap backpack for travel. While it would definitely be ultra durable, it's rigid and at the weight I was carrying (about 12kg), so it wasn't very comfortable to hold for a long time.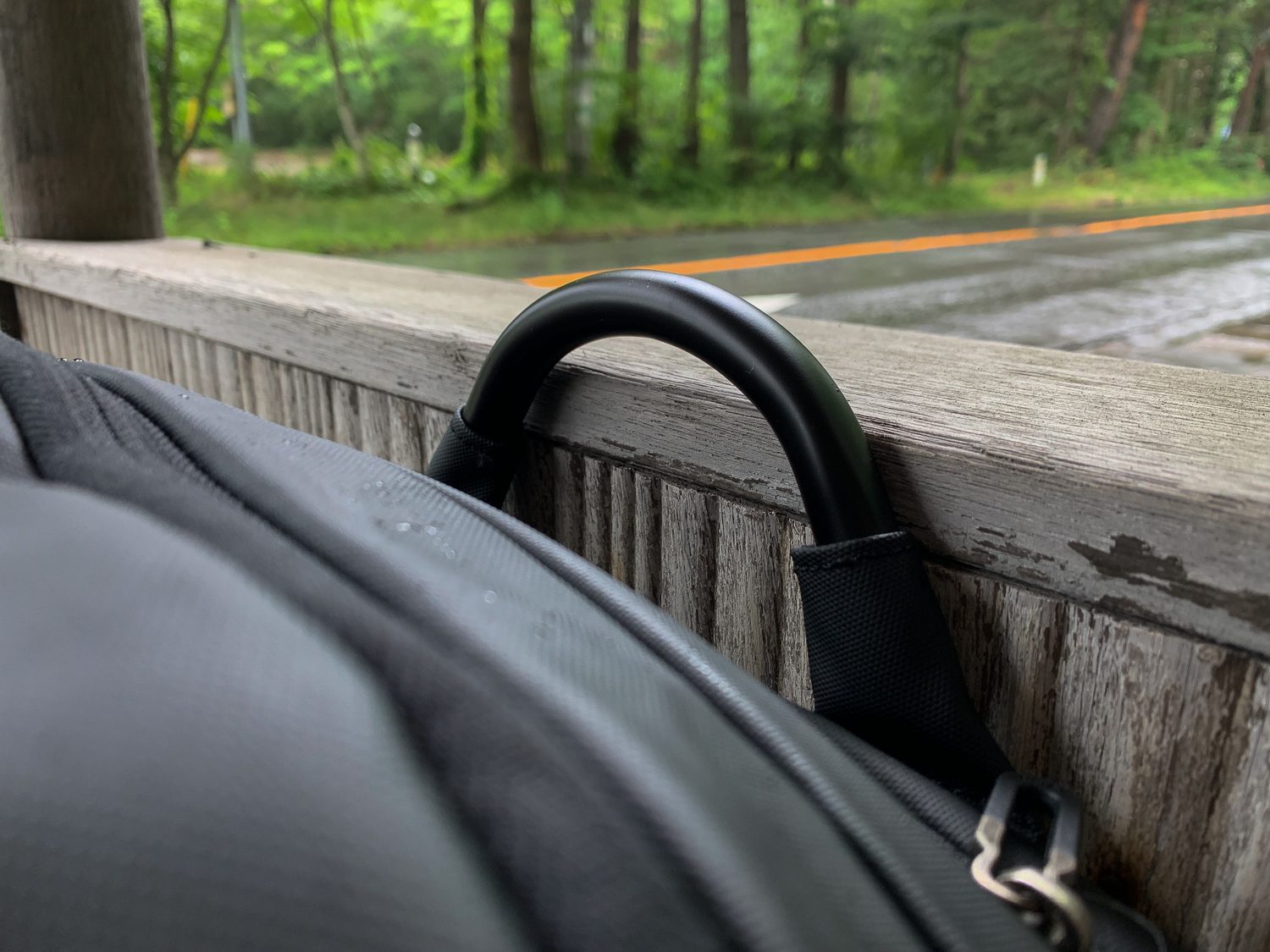 Straps
The straps was sufficiently comfortable. On the left strap, there is an elastic band for putting your sunglasses on. There is also a small pocket on each of the straps. The pocket on the right side apparently comes with a whistle, but it didn't seemed to be included in mine.
There is some padded material towards the side of the bag that I didn't understand the need for. It didn't seemed to add anything aesthetically and felt like it would prevent sweat from dissipating easier than it should.
External Front Pockets
In the front there are two main pockets, one on top and one taking up the rest of the space in front.
The top pocket is the perfect size for my electronic accessories (I use a TOM BIHN Snake Charmer) and is the compartment which is the easiest to access. Most of the pockets on the bag come with two zipper pull, one on each end, but this pocket has only one, which sometimes slip my mind and I try to feel for the other zip.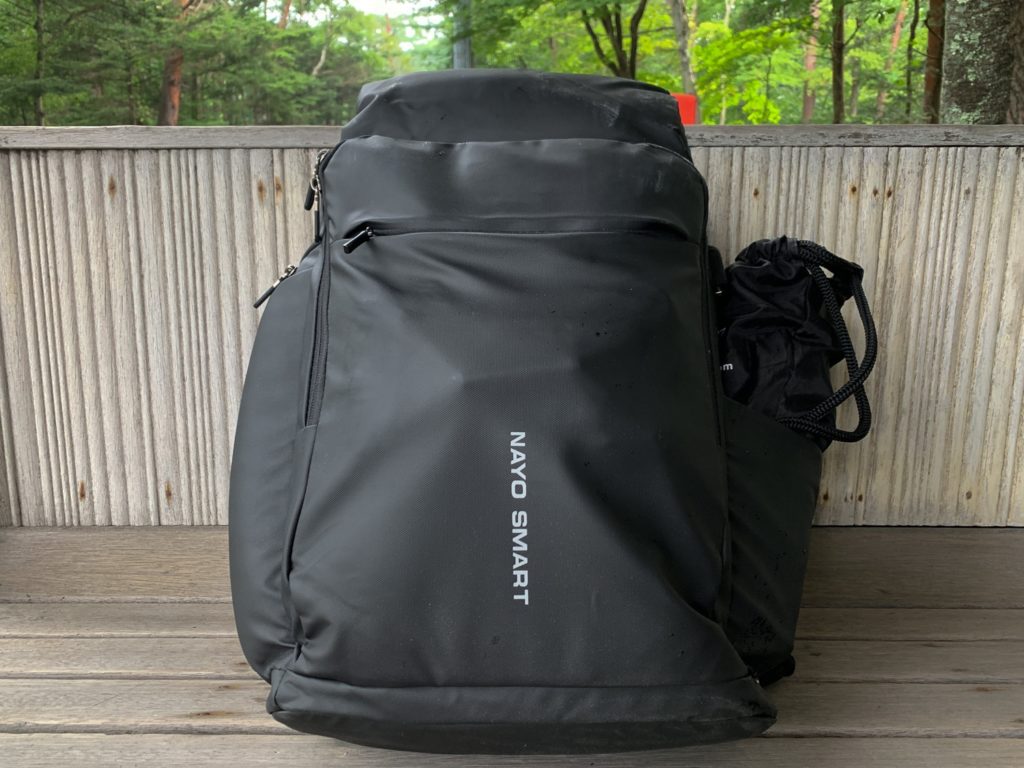 As part of the larger front pocket, there is a non-3D pocket in front of the larger pocket. In the larger pocket, there are a few slots, namely two pen slots and two wallet-sized slots.
The organization is pretty standard and the same can be found in bags like the Tortuga Outbreaker, although I would say that the pen slots are a little too large in size and your pens would probably be slipping in and out if you didn't clip it on.
In the compartment, there is also a key ring attached via a clip that you can easily detached. The clip is a unique mechanism that lets you detach with a push of one button, rather than having to squeeze both sides like most clips.
Side Pockets
There is a side pocket on each side of the bag. On the left side is a full zip insulated side water bottle pocket. While this fits regular-sized 500ml plastic bottles and would keep your drink warm or cold, it wouldn't fit any larger bottles like the ones I own.
To be honest, I didn't have much need for an insulated bottle pouch, since my bottle itself would keep my liquids insulated in the first place. I used this instead to put my Woolkerchief from North x North.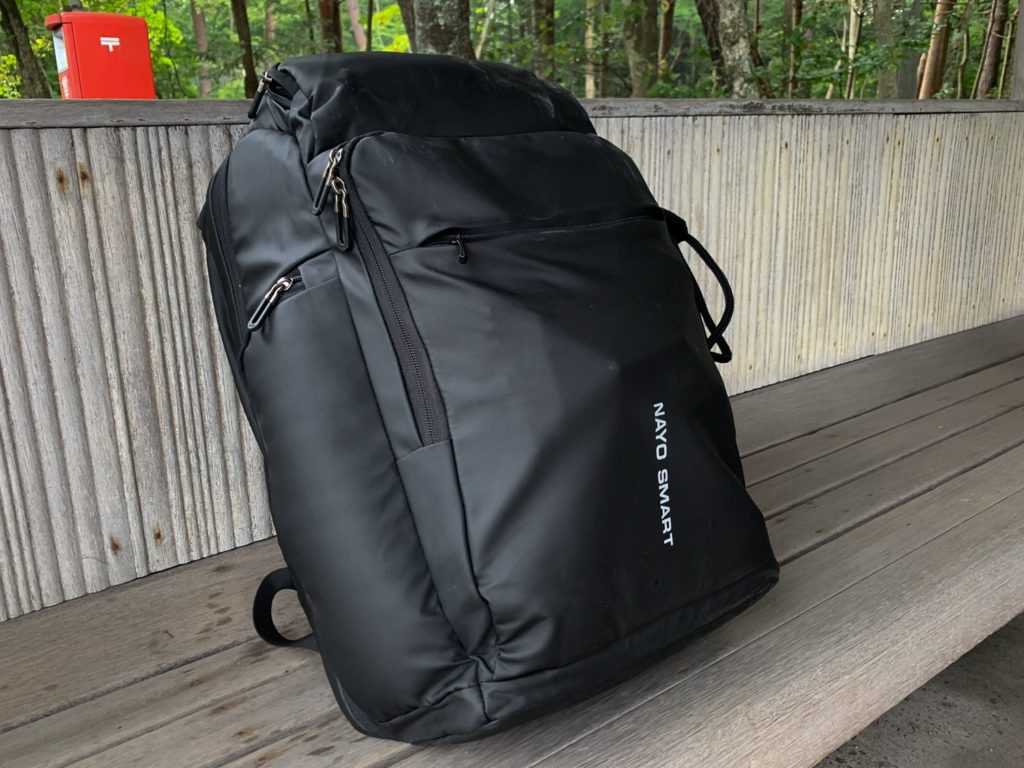 On the other side is an open slot, which space increases when you open up the side zip to reveal an expandable mesh.
The feature is similar to the one found on the Aer Travel Pack 2, but unfortunately on this bag, it is a little too shallow, which makes it a little insecure even putting in something short like a foldable umbrella.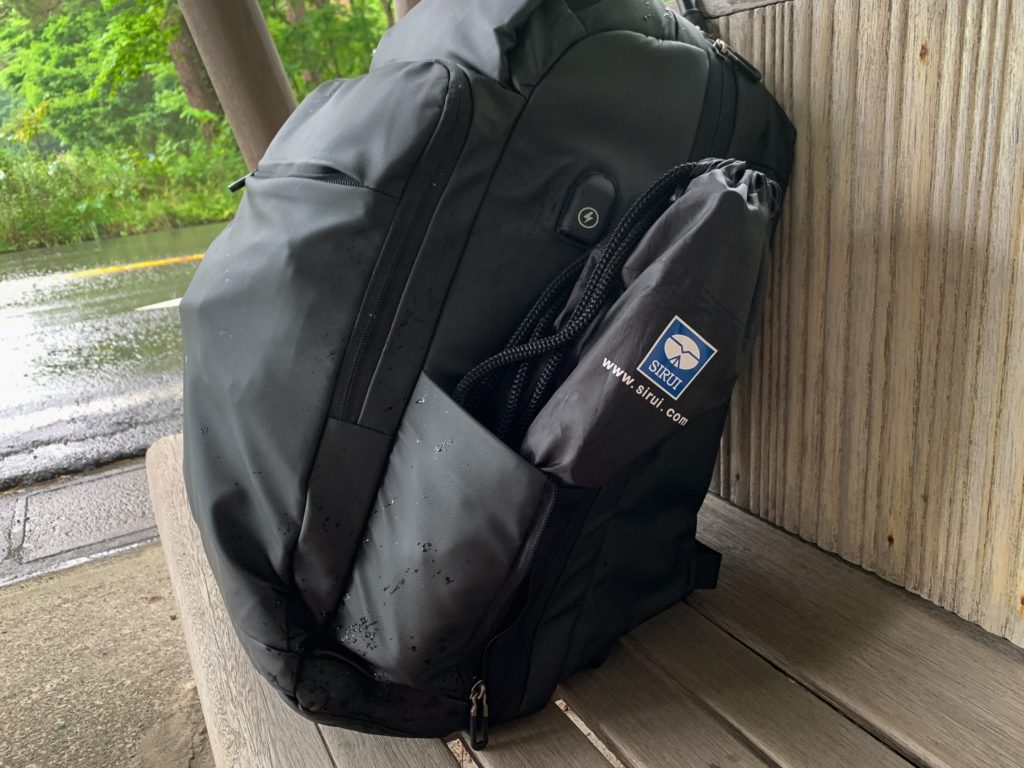 Main Compartment
The main compartment is separated into two sections by a mesh separator, one slimmer compartment for electronics and one for everything else.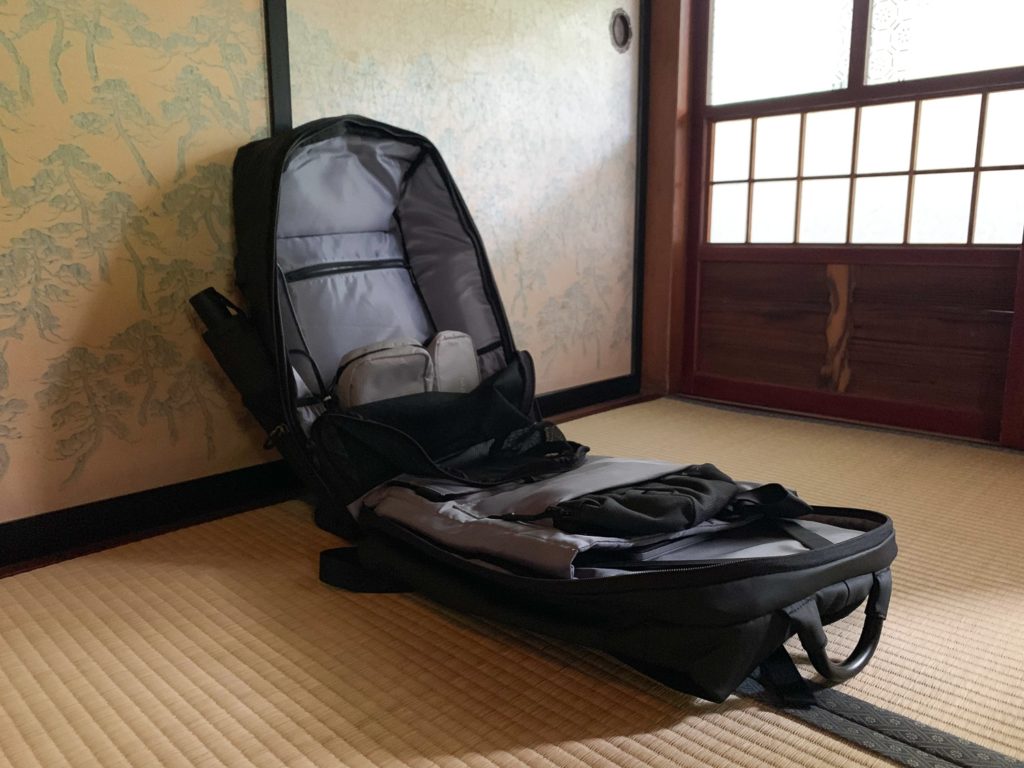 The electronics compartment, like most backpacks is towards the back, since there is more stability if heavier items, like your laptop, are closer to your back.
There are two padded slots, one for your laptop which fits up to a 17-inch laptop and one for a tablet. Each of those compartments come an inverted V shape elastic bands on the top meant for securing your devices down.
The laptop slot is a 3D slot, which means there is some depth (about one inch) to the slot, which I didn't think was necessary at all. The depth meant that the laptop would have more space to move around which wasn't optimum.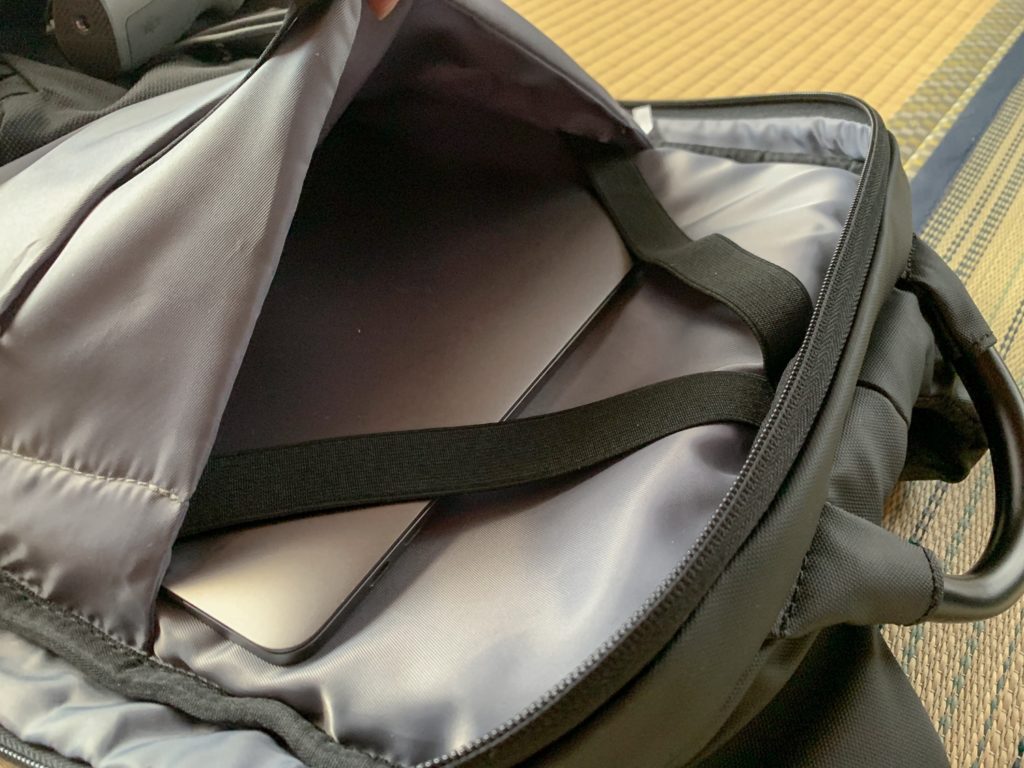 The elastic straps were also slightly too loose so they didn't seem to be useful. The slot was also a little too deep and while it was designed for a 17-inch laptop, a 15-inch laptop wouldn't be able to utilize the elastic bands well. On the other hand, the smaller version of the backpack would fit a 15-inch laptop well according to NayoSmart.
There are also printed icons indicating the purpose of the laptop and tablet slots. First of all, as a designer, the icons were not of proportionate size (the laptop icon was smaller than the tablet) and the style (line icon for the laptop but flat icon for the tablet) wasn't even consistent, so it was a little distracting.
Once again, this is me being nitpicky as a designer and they did say that they paid a lot of attention to details. But, this is, after all, a pretty cheap backpack for travel.
In fact, in my opinion, they aren't necessary in the first place. Like me, some might not own a tablet and would use the slot for some other pouches and the use for those slots were obvious enough.
Below that, there are two slots, with elastic bands at the side which tells me these are meant for keeping things in place as opposed to keeping a bunch small items.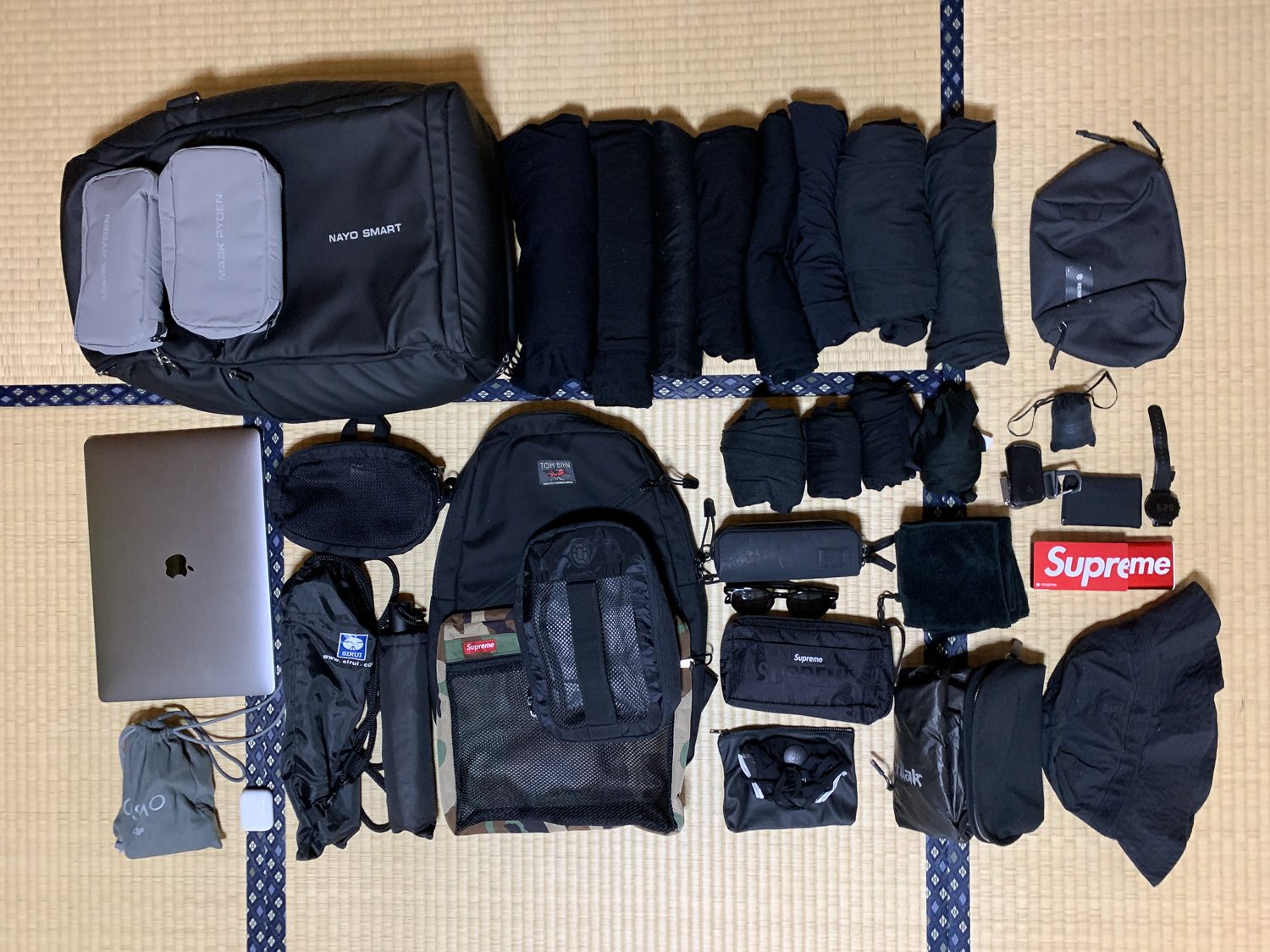 In the other section, there is a zippered pocket. It's a pretty shallow pocket and wouldn't fit my electronics pouch.
There are also two grey pouches included in this section. They each have a small velcro for you to attach to the bottom of the section. There is a subtle "Mark Ryden" logo on each of those pouch and an as-subtle checkered pattern all over the pouches.
While I didn't see the need for the printed icons, I would be happy if there was a way to differentiate the two pouches from the outside. I had to press the pouch to feel the contents to tell it apart.
Apparently, Mark Ryden is the parent manufacturing company of NayoSmart and it feels a little odd that it isn't mentioned anywhere on the site, but the logo is printed on the pouches.
Update: NayoSmart has informed me that Mark Ryden is not the parent company, but in fact a company authorized by NayoSmart to build the bags. The logo on the pouches have also been corrected since.
One of the pouch is designed to be for your toiletries, with the same silver foil insulated inner as the side pocket. Inside it, there is a mesh pocket on one side and a sectioned elastic band on the other. It also comes with a hook so you can hang it up in the shower.
I actually couldn't use this well as a dopp kit since my containers are usually pretty small and they wouldn't be secure in either the mesh pocket nor can they be held down with the elastic band.
Instead, I put my toiletries in the other pouch, which is an accessory pouch. It comes with a deep, vertical slot and a zippered mesh pocket which was perfect for keeping my small toiletries in place.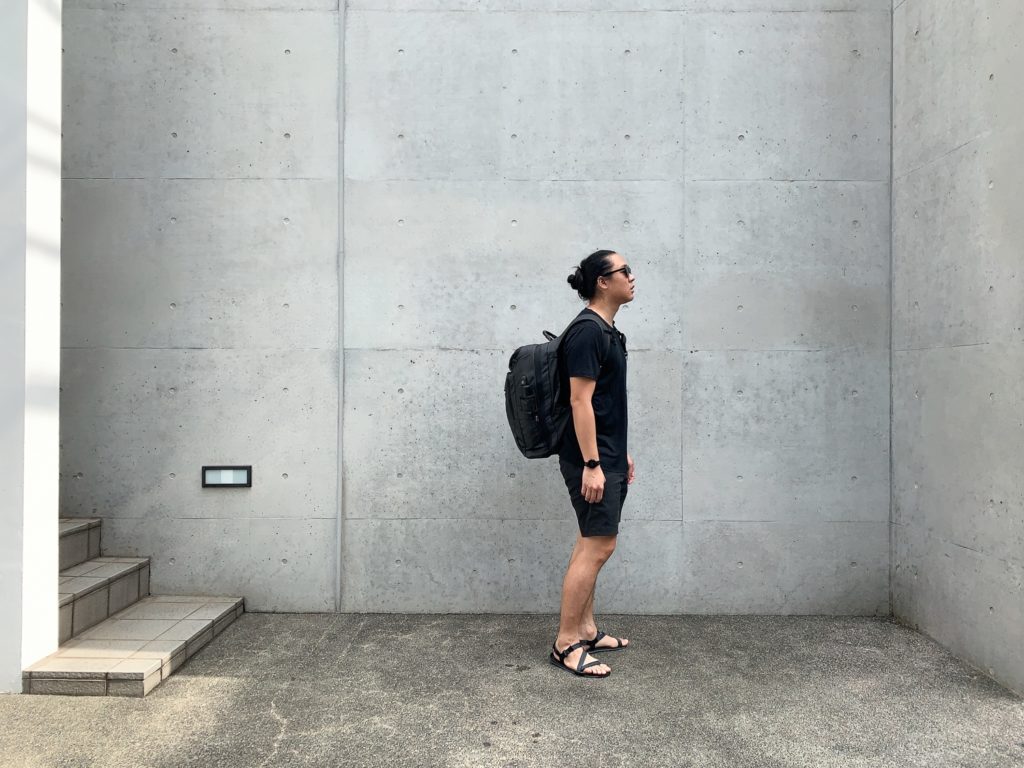 In the main compartment, there are two small slots on the sides. Since the cable connecting to the external USB port is in this main compartment, your external charger can be in one of the side slots or the zippered pocket.
Given that most of your clothes or packing cubes will be in this compartment, I've found the external USB port feature doesn't really work for me.
Since I don't want to bring two mobile chargers when I travel, getting the mobile charger when I leave the bag is pretty troublesome as I have to unzip the mesh separator and go through my packing cubes to find the mobile charger.
And most chargers would require you to press a button to begin charging, so even though you would be able to access the charging outlet easily, you would still have to go through your bag to find the charger, which defeats the purpose altogether.
And to nitpick, the external outlet has an unnecessary printed icon on it and since it's outlet is facing downwards, it's pretty hard figure out the right orientation to plug your USB cable in and I often have to fiddle with it to get it in.
Conclusion
This is a reasonable bag for its price point, and no doubt, a really cheap backpack for travel. At the time of this article, it was selling for $89, a whopping five times less than a bag like the GORUCK GR2.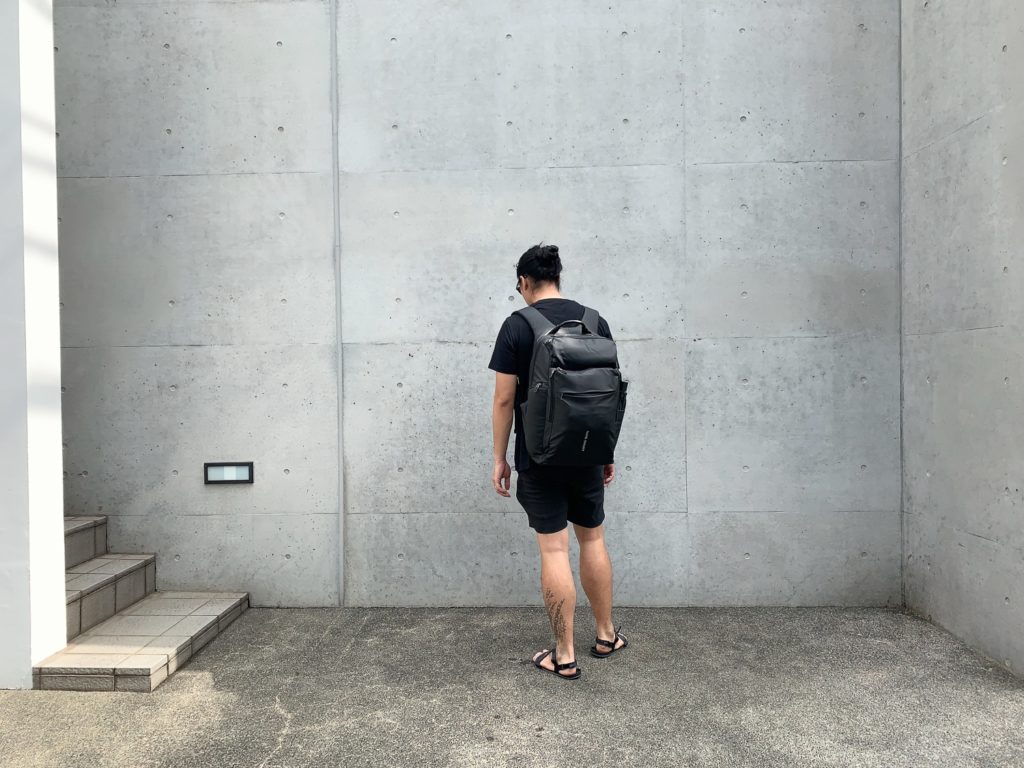 While the bag has some really good and innovative new ideas, they don't seemed very thought through and the details and user experience could certainly be worked on, but for a cheap backpack for travel like this, it's certainly worth some consideration. But this also is the reason why I couldn't give this bag a 5/5 like The Travel Bunny did.
There were also little design details, like the printed icons and zipper design that took away from the minimalist aesthetics more than add to it.
While I couldn't make use of some of the intended features, this bag might be perfect if you would use the bag or plan to cater your usage to how this bag was designed.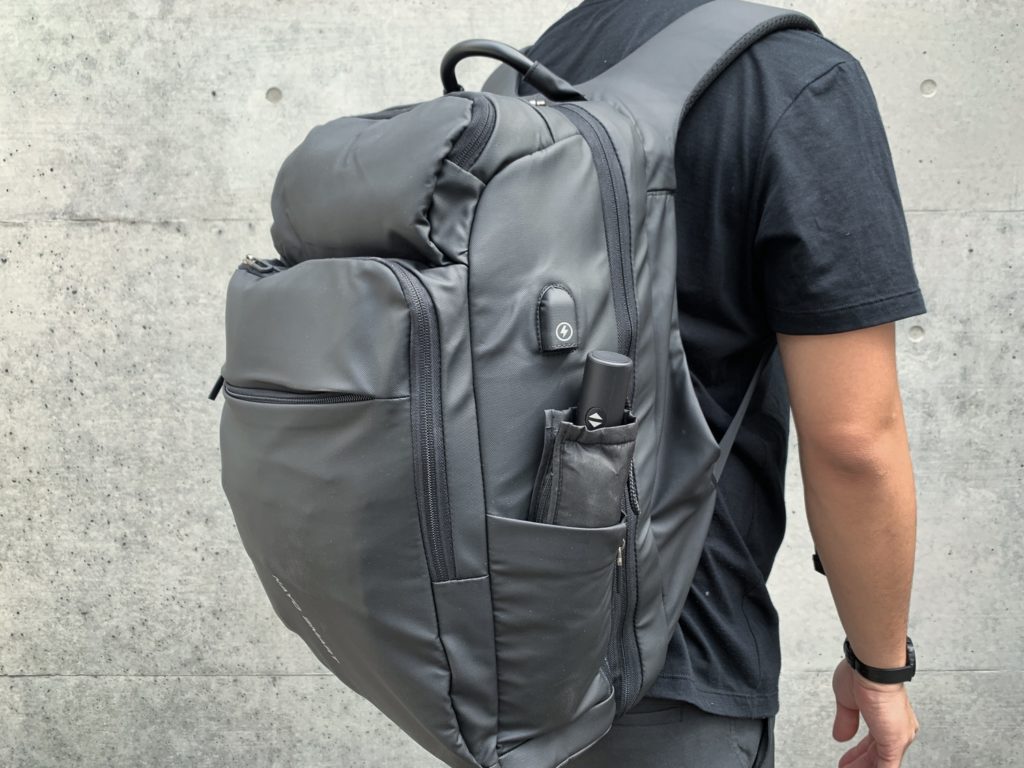 Another reason this cheap backpack for travel can keep the price low is that when you pay for the bag, you won't be charged any additional fees, even those pesky import fees. In the case that you have to, NayoSmart would cover it, which certainly offers a peace of mind for international shoppers like me.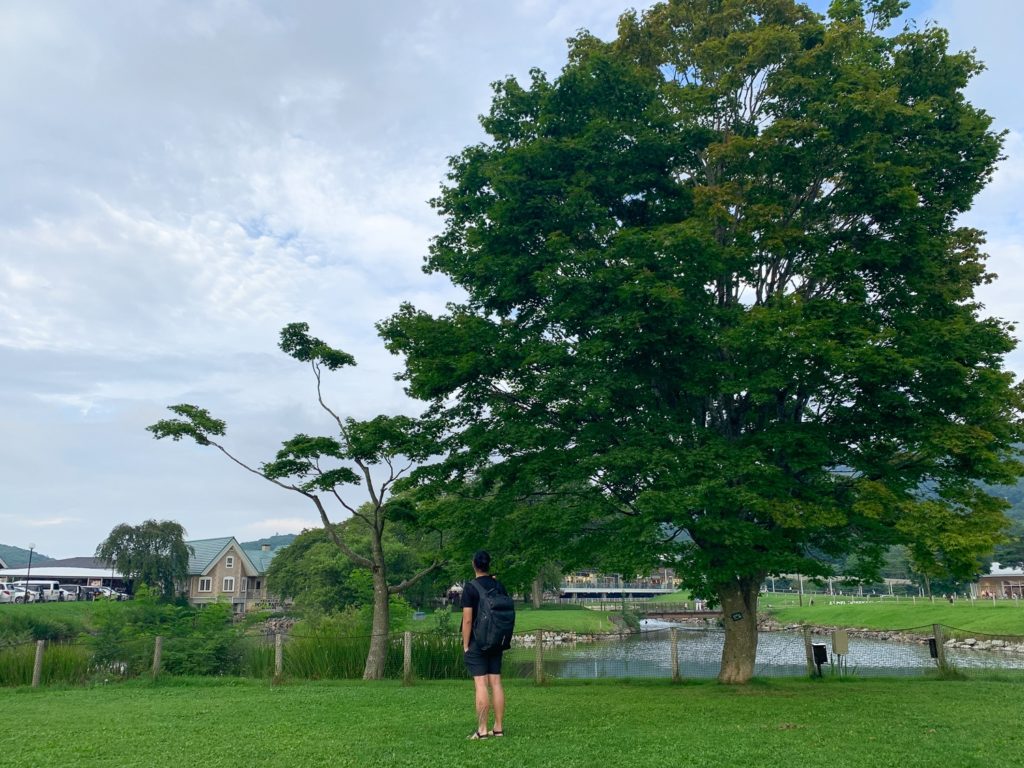 When you do decide to buy, don't forget to use coupon code ALEXKWA for an additional 8% off, to make this one of the best cheap backpack for travel you can get.
Like this review? See all of my in-depth reviews.
Also, consider supporting me by being a Patreon. Every cent given will go back into improving the content of this website.