This website is made possible by readers. I may earn a small commission when you buy through the links in this article at no extra cost to you. Learn more.
This is probably one of the best laptop stand Kickstarter has birthed us, the MOFT "Invisible" Laptop Stand is essential for any digital nomad's arsenal of tools to work better.
Details
Price $29.99 on moft.us
Use this link to purchase any stand and get $2 off automatically added during checkout.
Dimensions 9.8″ (w) x 7″ (h) x 0.1″ (d) / 250 (w) x 180 (h) x 3 (d) mm
Weight 5.6 oz / 160 g
Overview
As a minimalist, I can and have been doing without a laptop stand when I'm on the road. But for someone like me that spends a long time on the computer, having a laptop stand makes working infinitely better.
I have what is known as a forward neck posture, which causes my head to be slightly in front of my body. With a laptop stand, it can be raised nearer to my eye level, so I don't have to keep looking down, aggravating the bad posture. This is especially crucial when encountering low cafe tables.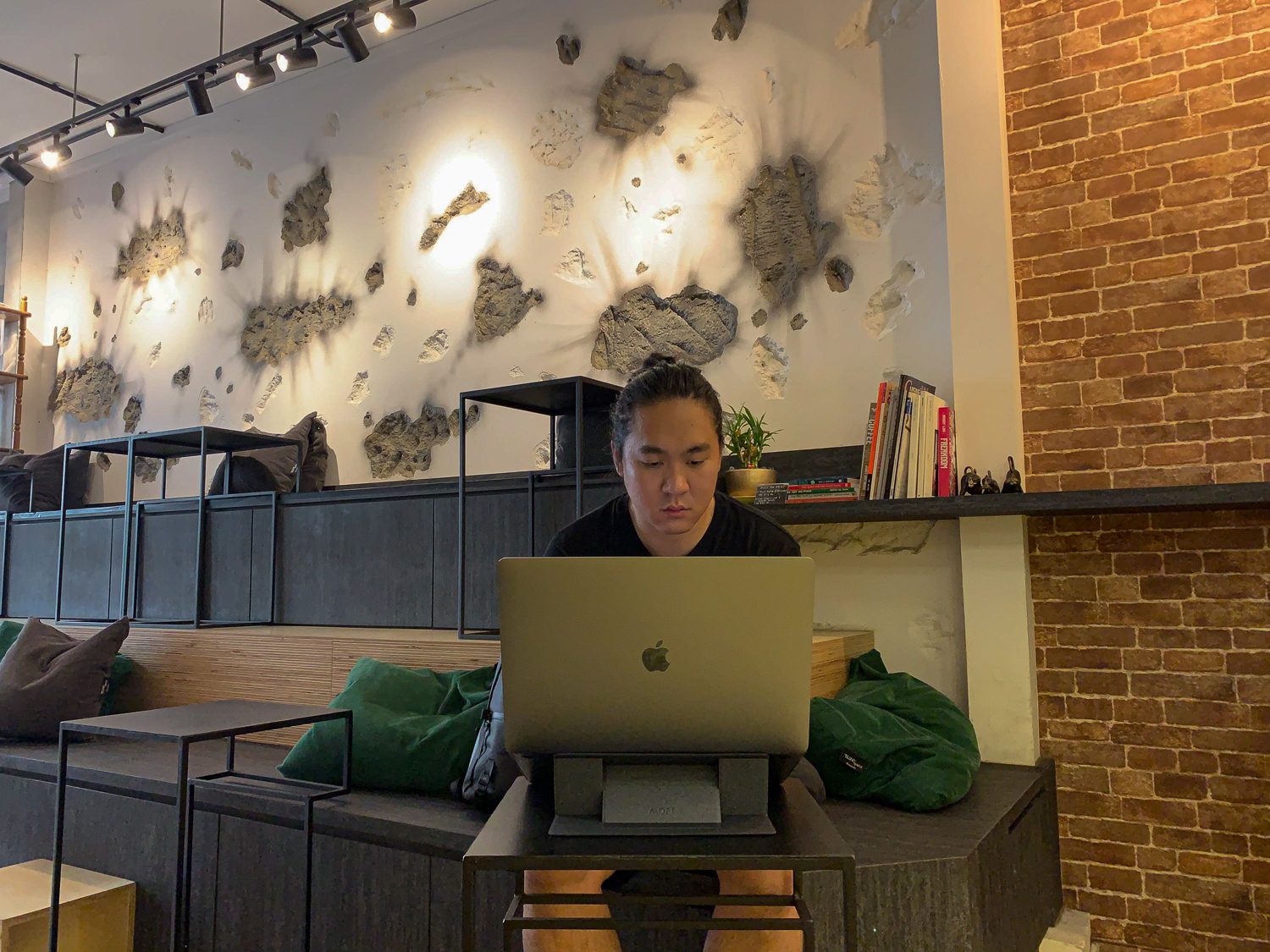 Probably the most well-designed laptop stand that Kickstarter has given us.
MOFT, which started as one of the laptop stand Kickstarter have many of, they have more than smash their goal and come a long way since. It all started when the founder was experiencing neck problems from long hours of slouching over the laptop while on the road, something I have quite a bit of experience with.
She tried a bunch of laptop stands and decided that the current available "mobile" laptop stands just don't quite cut it and decided to create one herself. While it's the most typical product origin story there is, I can understand that feeling of wanting to fill a void that is close to home. A long time ago, I started an online shop selling Japanese knives because there weren't any in the local market.
My laptop is a company-issued MacBook Pro 2018 and I don't have a personal laptop. You know, minimalist and all. For the original version of the MOFT Laptop Stand, you have to stick it directly to the laptop, and while the adhesive version is designed in a way that lets you detach and reattach easily (up to 100 times in fact), I rather not have to stick it on at all. So, for this review, I'll be reviewing the universal version which comes with no adhesives.
Style
Up till now, I've been using the mStand by Rain Design as a laptop stand, which is, by no means, portable. But the structure and consistent aluminum finish gave a very satisfying cohesive look when paired with my Macbook Pro.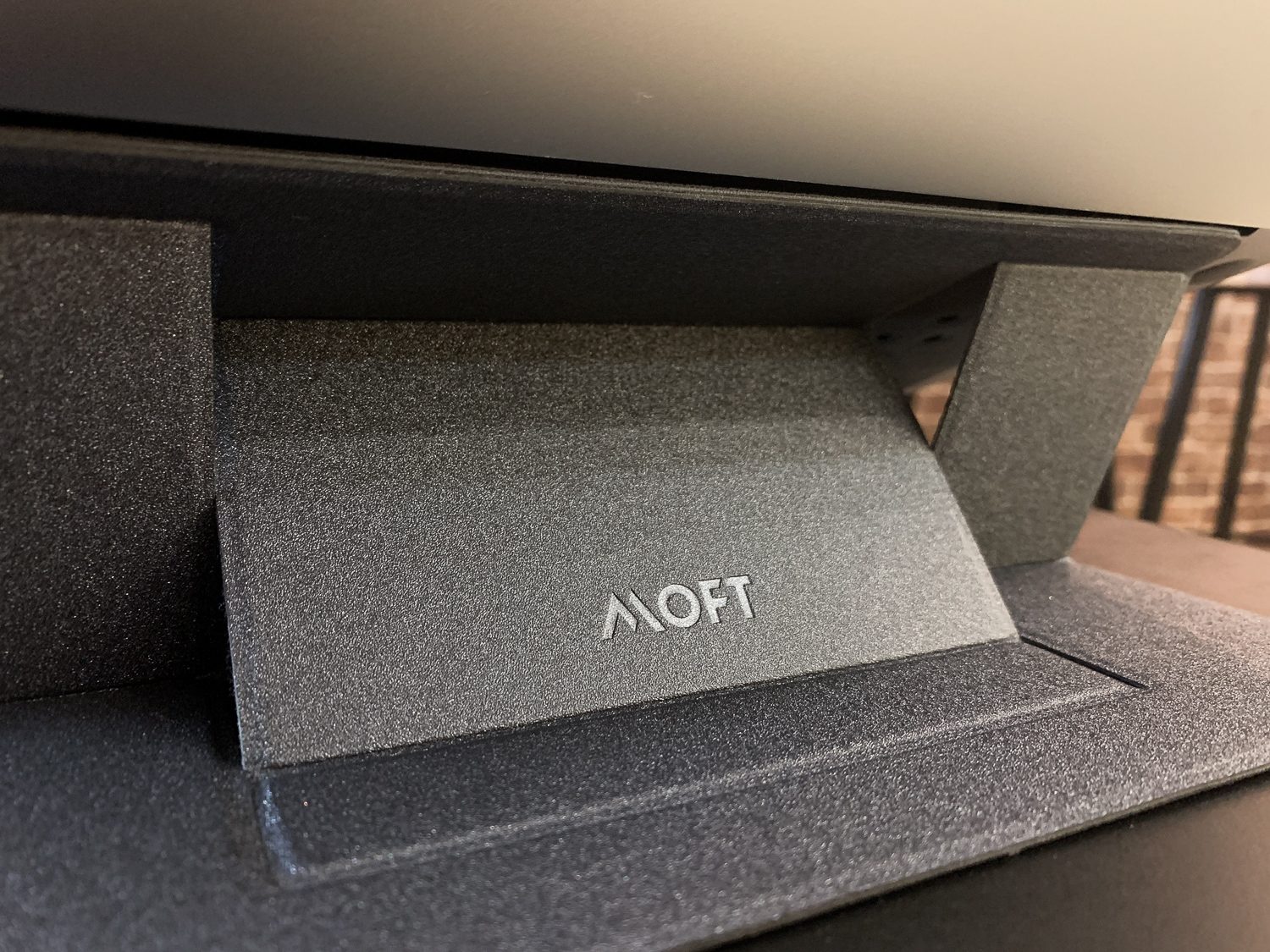 I would be more concerned with the look of the product if I had to stick it on my laptop, but since this is the universal version, I'm not as bothered since it would be in my bag or under my laptop most of the time.
The original MOFT Laptop Stand comes in 6 colors, but the newly-launched universal version has just the space grey at this time.
Just from the pictures, I thought that the MOFT Laptop Stand was some kind of foldable cardboard with nice fabric lining. But when I was able to inspect it up close, it resembles the kind of material you would see in a mousepad more.
But no one likes ads, so I got rid of them. If my articles helped you, I ask for your support so I can continue to provide unbiased reviews and recommendations. Every cent donated through Patreon will go into improving the quality of this site.
When closed, the MOFT Laptop Stand looks like a sleek-looking, slim piece of matte stiff fabric. I thought the designer did an excellent job of consolidating the lines and making it look very understated. Even the singular piece of branding, a subtle, debossed MOFT logo is the same color as the fabric, so the color (or lack of) really brings it together.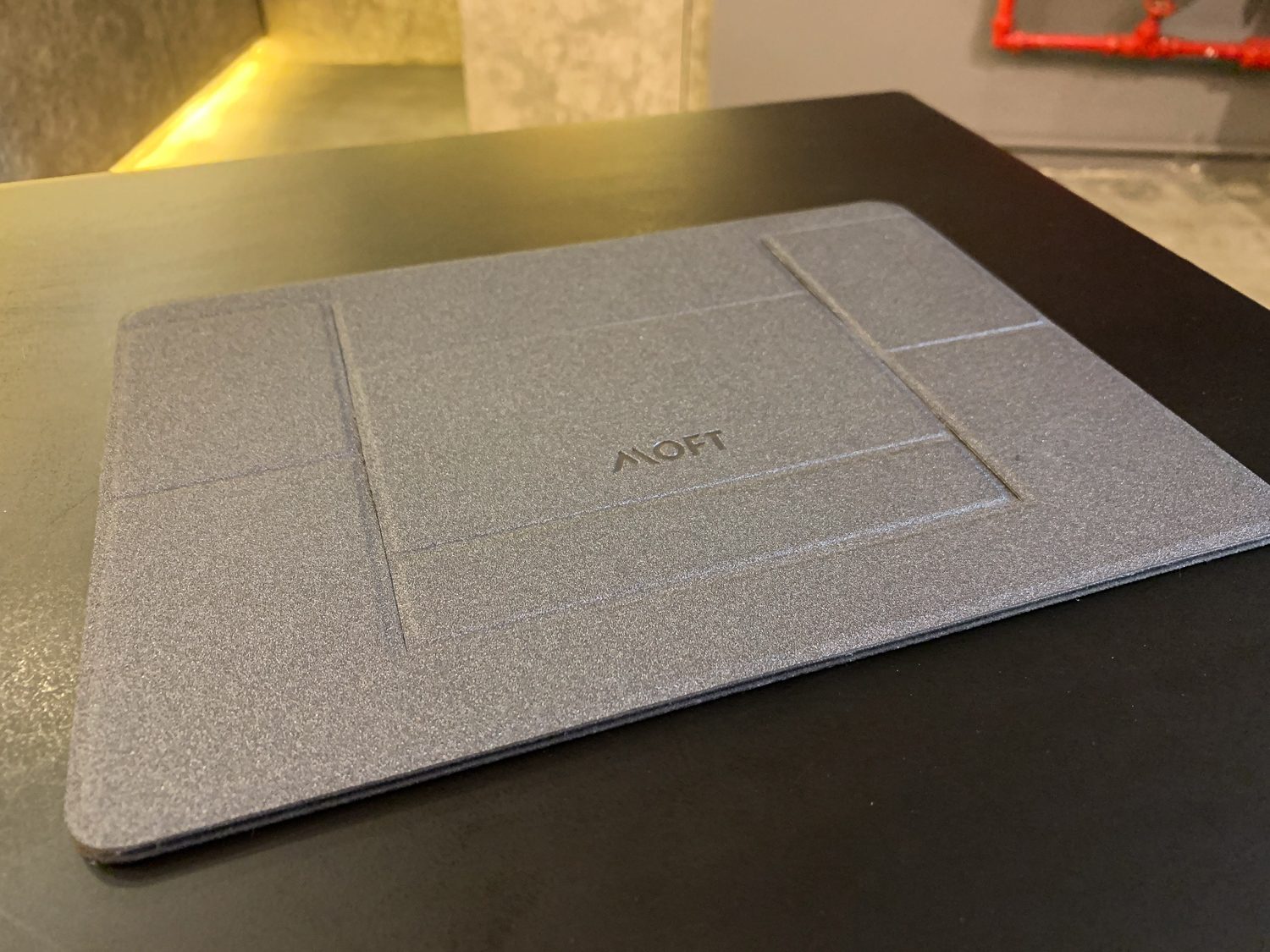 I love the little detail that where the folds are, the textile indents, creating a smooth transition between each part. When it's open, the color blends with the color of the space grey version of the Macbook Pro. If you look up close, there is some glitter-like treatment, which I felt wasn't necessary but does add to its uniqueness. If it were up to me, I would go with a completely matte treatment that would allow it to blend better with the laptop itself.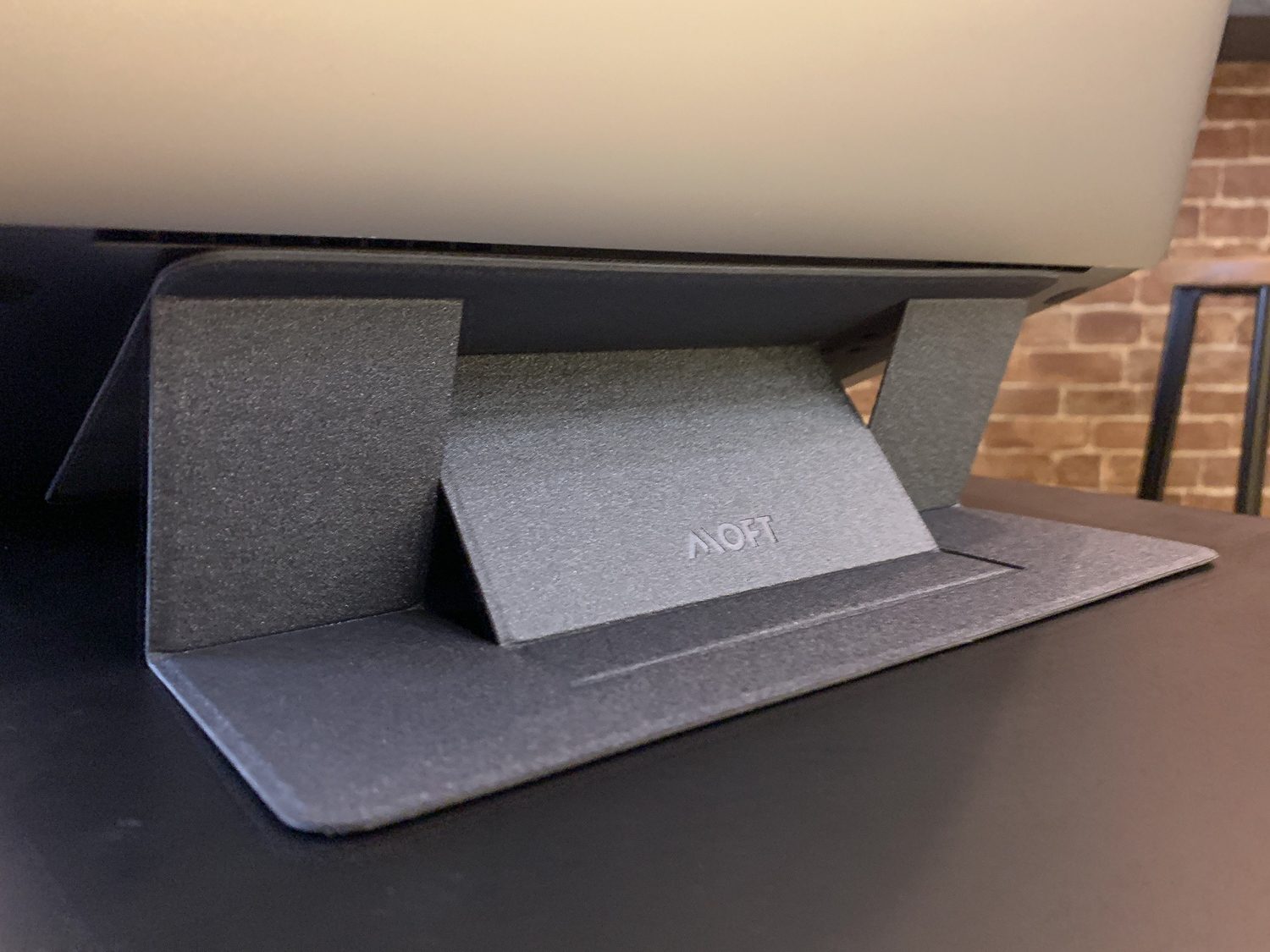 Because this laptop stand is so lightweight and thin, it doesn't come with all the additional features some other laptop stands have, such as extra USB ports or cable management, which are just extras you can probably do without anyway.
Material
The laptop stand is made from fiberglass. Fiberglass is actually glass that is molten down, forced through superfine holes to create glass filaments that can be woven into usable material.
Because of its light yet durable nature, it's used in things like surfboard and sporting equipment. Those very properties also make it perfect for the laptop stand, since weight is a big factor.
The laptop stand is just 5.6 oz / 160 g. Compared to other laptop stands that call themselves portable, like the Coomaxx Laptop Stand (12oz), Nulaxy Laptop Stand (23oz) or Nexstand Laptop Stand (8oz), this laptop stand is one of the lightest in its class.
The fiberglass is covered with PU or Polyurethane fabric, which makes it water-resistant, lightweight, and flexible.
One of the benefits of a laptop stand is that it lifts the machine off the table to prevent overheating. A laptop overheating will affect its performance. The MOFT Laptop Stand lets you raise the laptop 2 or 3 inches off the table.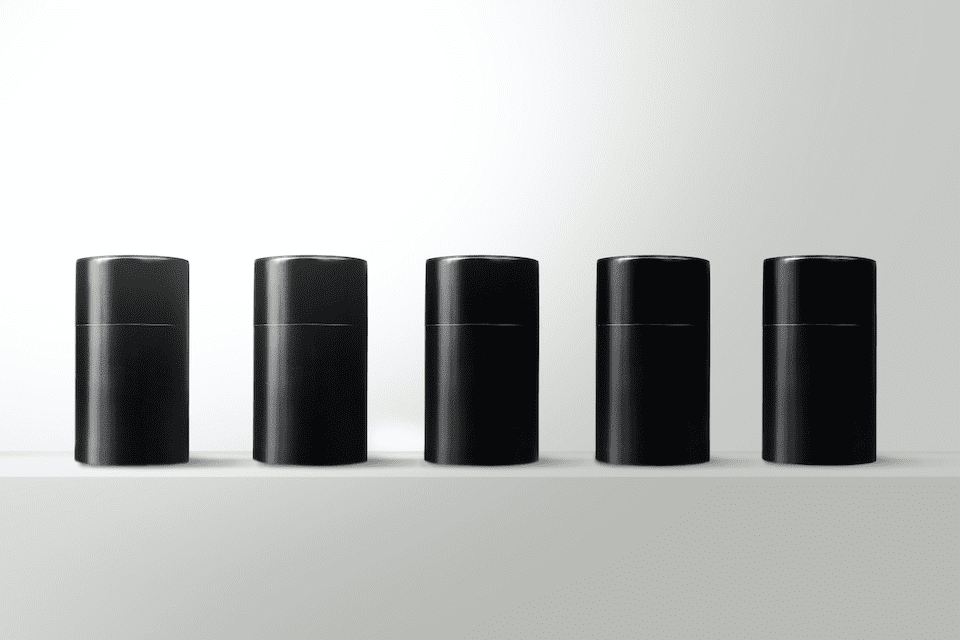 I found a 100 year old company that would create these heirloom quality canisters for me. They are handmade and will keep your tea leaves, coffee beans or anything that you need dry for years to come.
or read review
It also has several holes punched into the surface which comes in contact with the laptop to allow for air cooling to take place.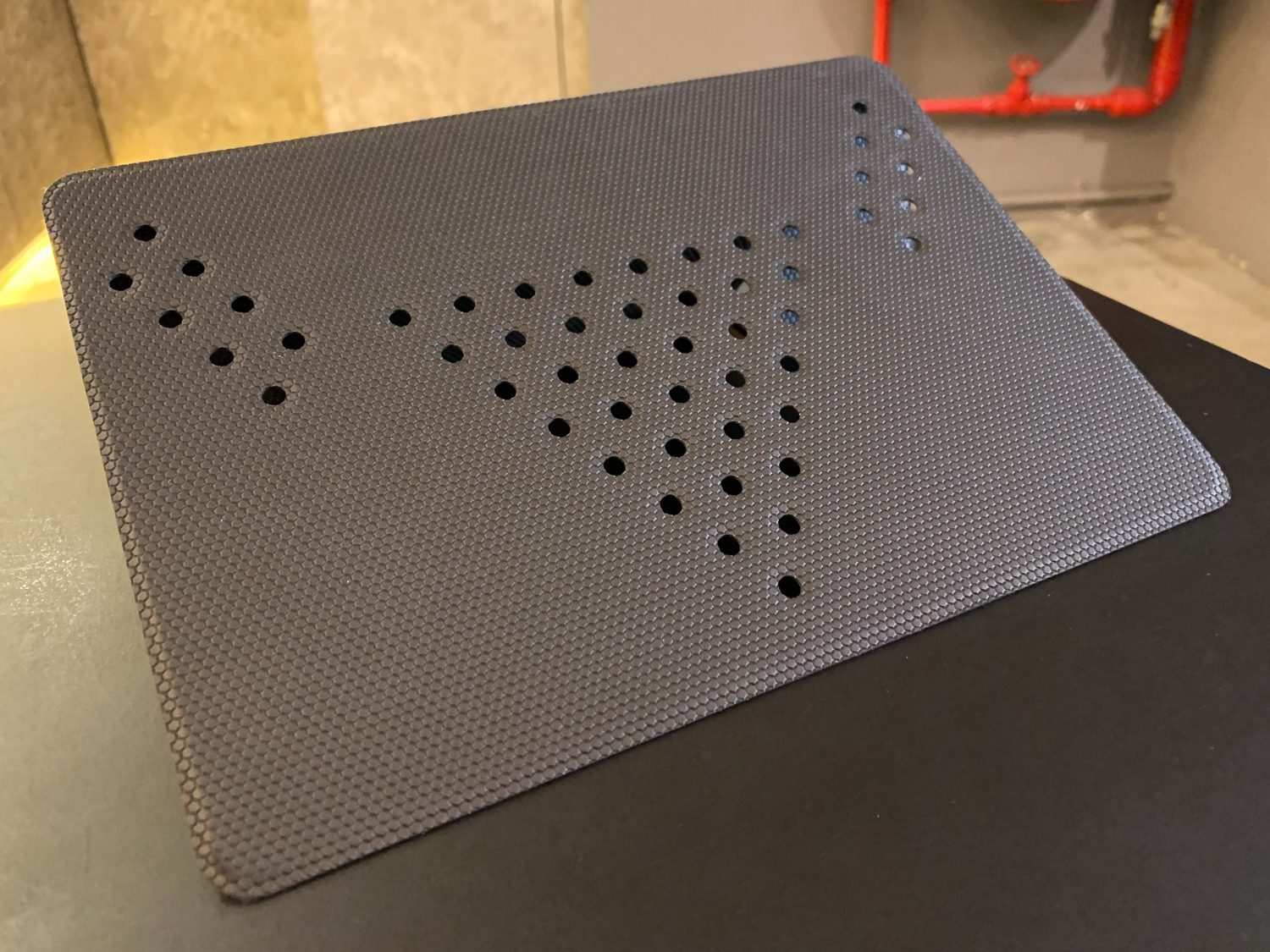 At first, I thought that the MOFT Laptop Stand wouldn't stay in place without a laptop pressing down on it, but there are magnets within the laptop stand that lets it stay in place, which I thought was pretty nifty.
I felt like the materials were well chosen for a good balance between durability, style, and affordability.
Usage
Opening up for the first time the laptop stand took a little fumbling for me. Since the folds go both ways, I had to look at the product images online to determine how they were supposed to be fold.
The MOFT Laptop Stand offers two viewing angles, 25° and 15°. The 25° is the maximum angle because it allows most laptops to adjust itself to a max angle of 120°, which lets most users see the screen even on a low table. I, myself, default to the 25° viewing angle as bringing the laptop as close to my eye level as possible is ideal for someone who is in front of my laptop for long hours of a day.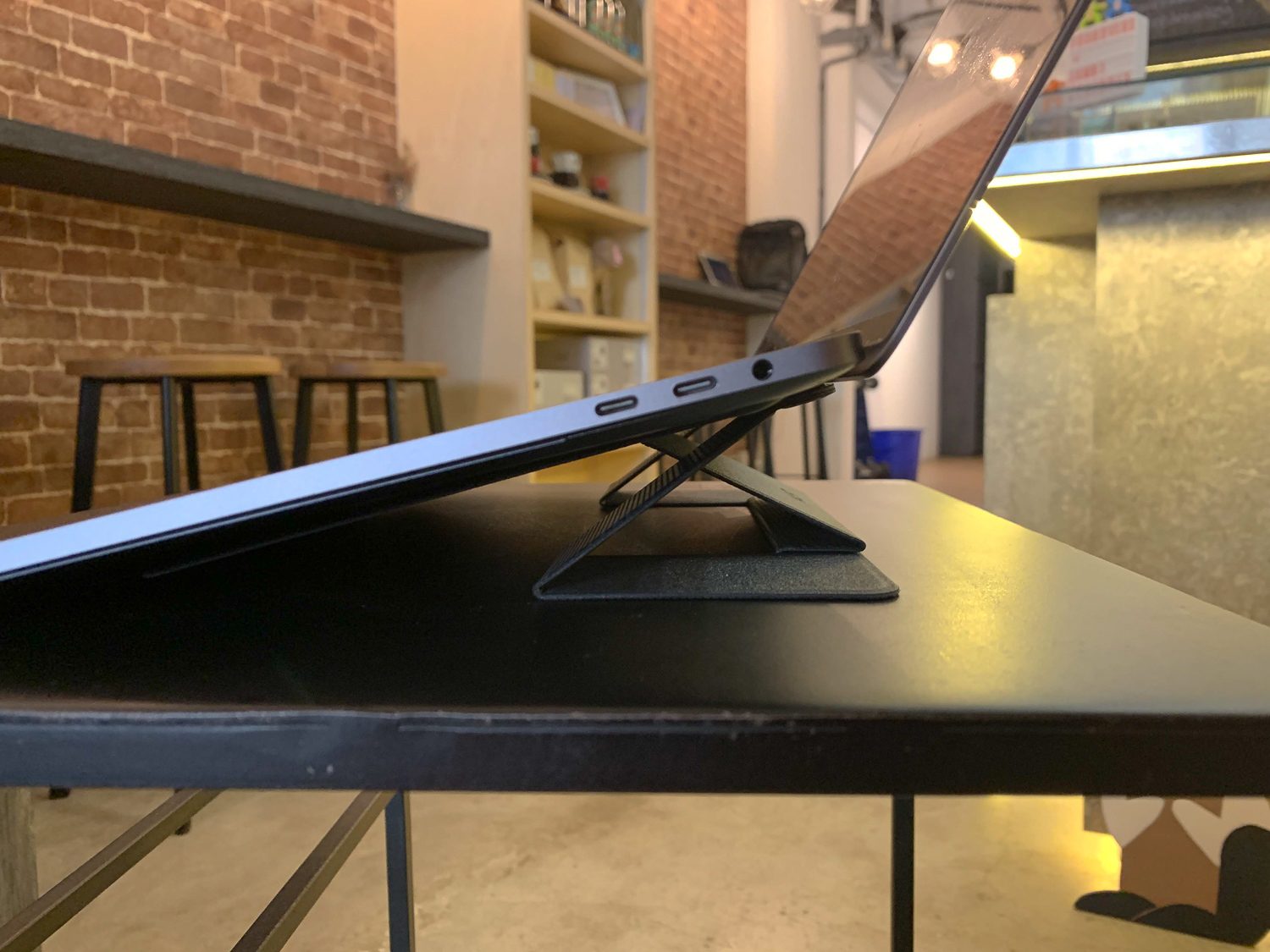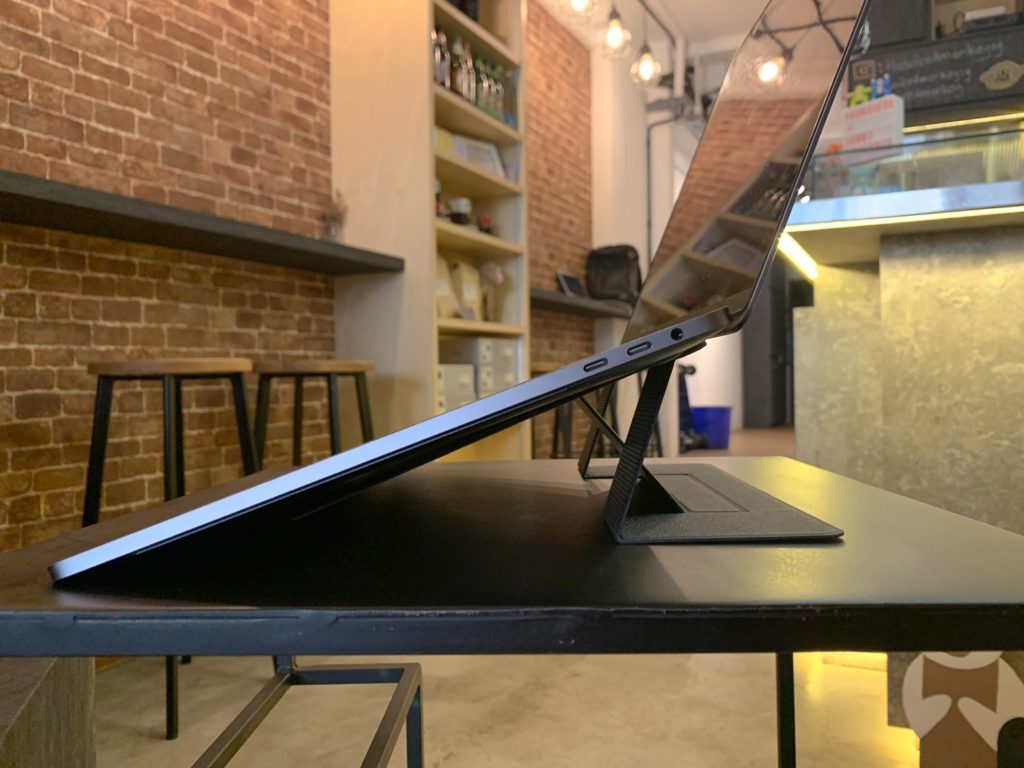 I felt that for the size and weight, the MOFT Laptop Stand was able to provide a fair amount of stability. There were a few small issues, probably specific to the universal version.
Since you don't stick the stand directly to the bottom of the laptop in this case, if you try putting the laptop too high up to match your eye level, the laptop would probably slide down till the center of gravity is more stable. In fact, the laptop stand is designed the align to the back of the bottom of the laptop. This wasn't immediately obvious to me at first.
The universal version of the MOFT Laptop Stand does come with little rubber adhesive for you to attach to your laptop where it meets the table surface. These do stop the sliding and provides additional stability, but when I take my laptop in and out of the laptop compartment of bags like the GORUCK GR1 or Tortuga Outbreaker, the adhesives came off due to the rubbing against the inner of the pockets. However, I found that the laptop was able to stay in place without the adhesives.
While I was pretty impressed by the stability of the stand, if you used too much strength pressing the top left or right corner buttons, the laptop would wobble a little.
They actually claim that you use it on your lap to prevent overheating caused by direct contact with the laptop. However, I found it rather uncomfortable to do so. The surface area required for the laptop stand is pretty small, so you would have to keep your legs closed or balance it on one thigh to support it.
Also, because of how the laptop stand is folded in the 3-inch height mode, there would be corners stabbing into your lap which makes for a pretty uncomfortable situation. So, if you wish to use this on your lap, you would be limited to the 2-inch height which should be fine for most cases, since you would probably be lying on a beanbag or something and don't need such a high viewing angle.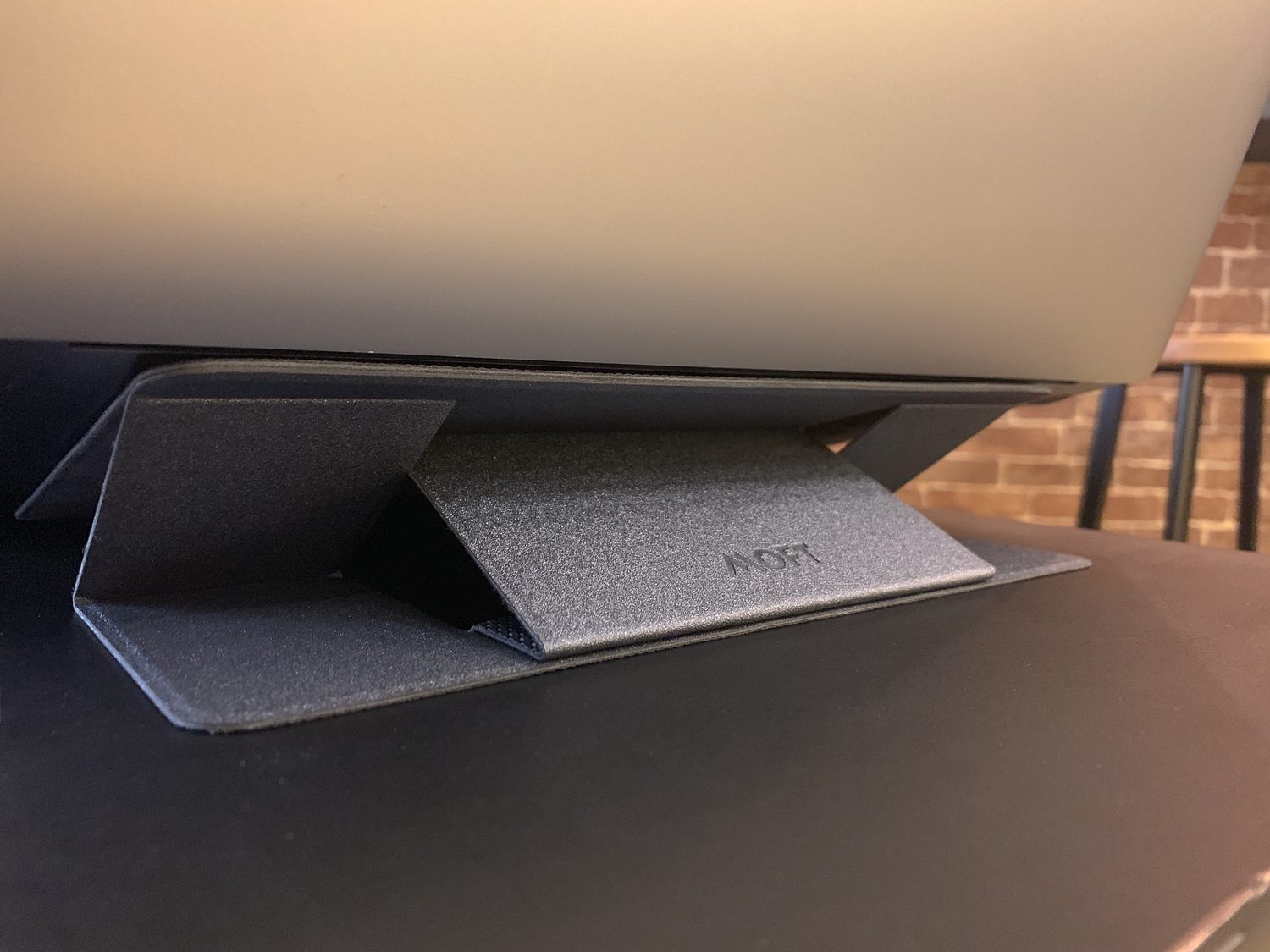 The best thing about the MOFT Laptop Stand was probably the thinness. At just 3mm, I can slide it into the laptop compartment along with my laptop, so I know exactly where it is each time.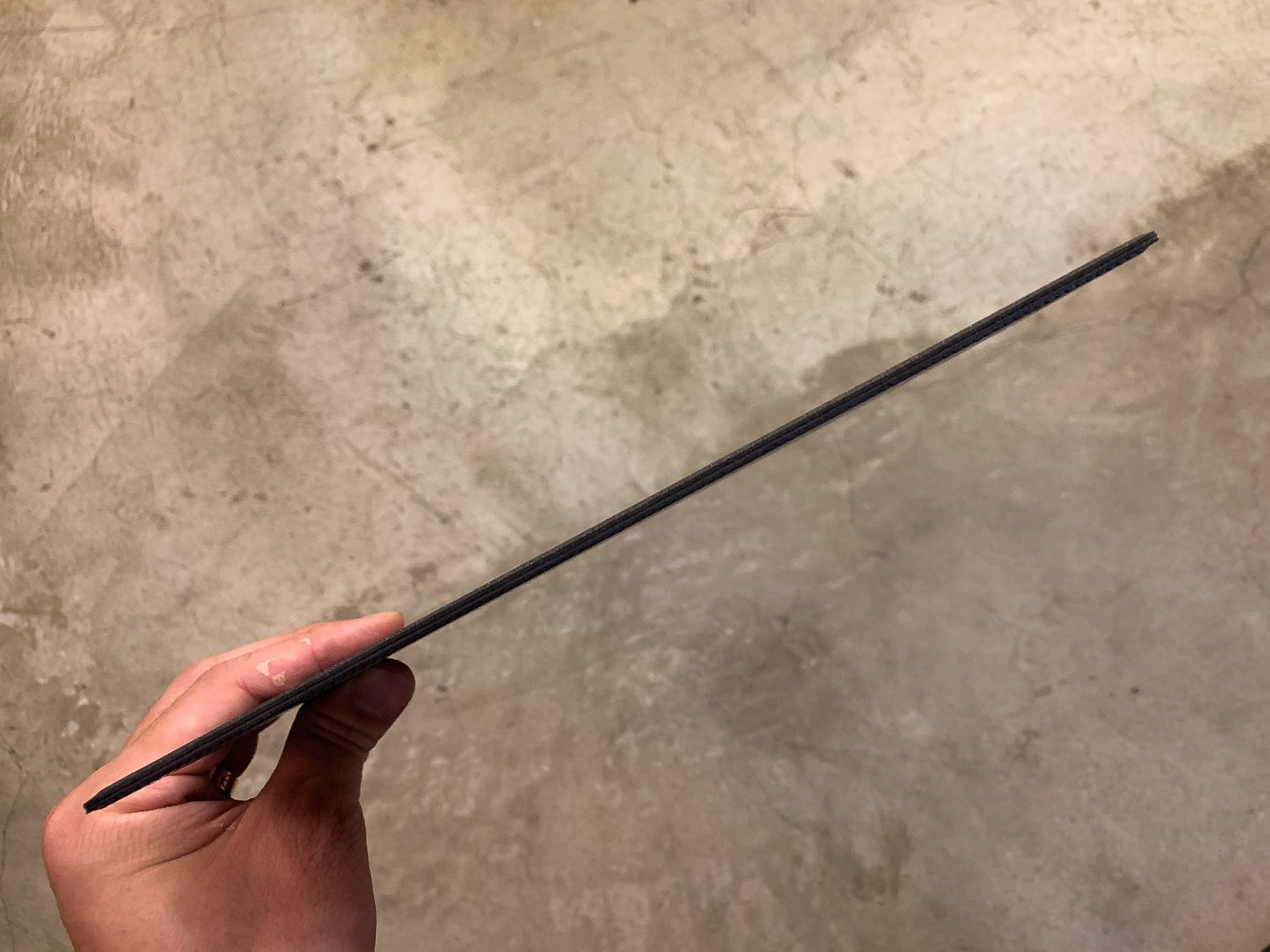 Conclusion
Thank the heavens, You don't have to continue your search for the perfect laptop stand Kickstarter, Indiegogo or Amazon has millions of put together, this is it. This is also why this is one of the most successfully funded laptop stand Kickstarter has seen.
Since then, you can also tell that the demand has gone up since this is the laptop stand Kickstarter originally sold for $19, and is now $24.99 (for the original version)!
The weight, thinness, and design is one of the best on the market I've seen. I review a lot of products and this is one that has become an essential part of my nomadic arsenal. Highly recommended and a must-have for the serious digital nomad.
Decided you need one? Good choice. Don't forget to use this link for $2 off, automatically added during check out.
Addtional Images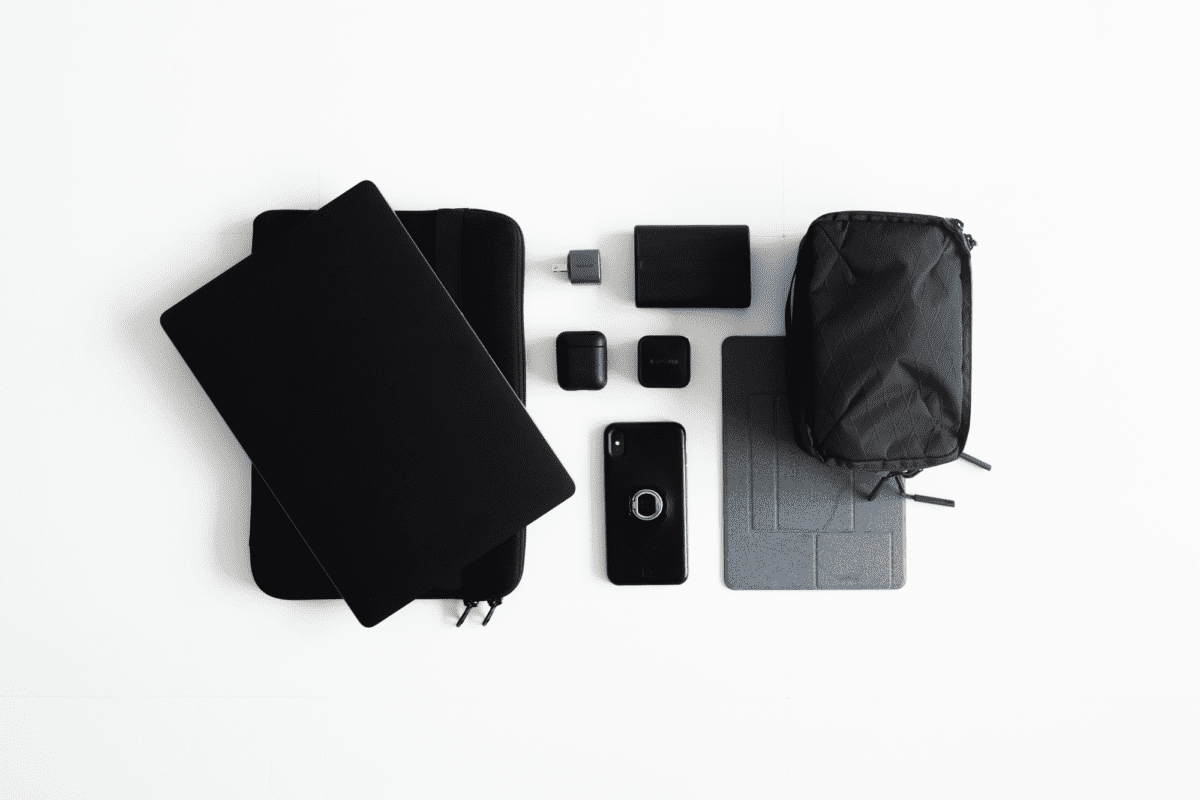 Like this review? See all of my in-depth reviews.
Also, consider supporting me by being a Patreon. Every cent given will go back into improving the content of this website.
Tagged accessory digital nomad kickstarter laptop stand moft review water-resistant