This website is made possible by readers. I may earn a small commission when you buy through the links in this article at no extra cost to you. Learn more.
Details
Price $96 on westernrise.com
Use code ALEXKWA15 for 15% off your first order.
Material 89% 18.5-micron Merino Wool / 11% Nylon
Fabric Weight 170gsm
Made in Vietnam
Overview
Western Rise has slowly been creeping up on me recently. While I was impressed by the Western Rise AT Slims, the first pair of pants that I tried from them, I didn't think much of them after. After all, as a product reviewer, I come across so many amazing products, it's hard for every single one of them to maintain my attention.
It's only once I've been impressed with the product after product from a brand that my curiosity would turn into prolonged attention. Outlier, TOM BIHN, and GORUCK are some of the brands that have secured my attention.
But as I try product after product from Western Rise, I start to take notice of their consistency when it comes to product quality. After trying three of their pants, the AT Slims, Evolution Pant and then the Diversion Pant, I felt that they are pretty comparable to even the higher-priced, almighty, Outlier.
While I've tried almost every single pair of pants from Outlier, their t-shirts take up a big part of my wardrobe, mainly because they are made from merino wool. In the travel community, merino wool is all the craze right now, extending beyond t-shirts to things like wool clothes, shirts, and even neck gaiters.
Western Rise is also on board this merino wool train with its own version, the StrongCore Merino Tee. This is the only merino t-shirt they sell, so I was excited to see how their flagship t-shirt fares within the competitive travel niche.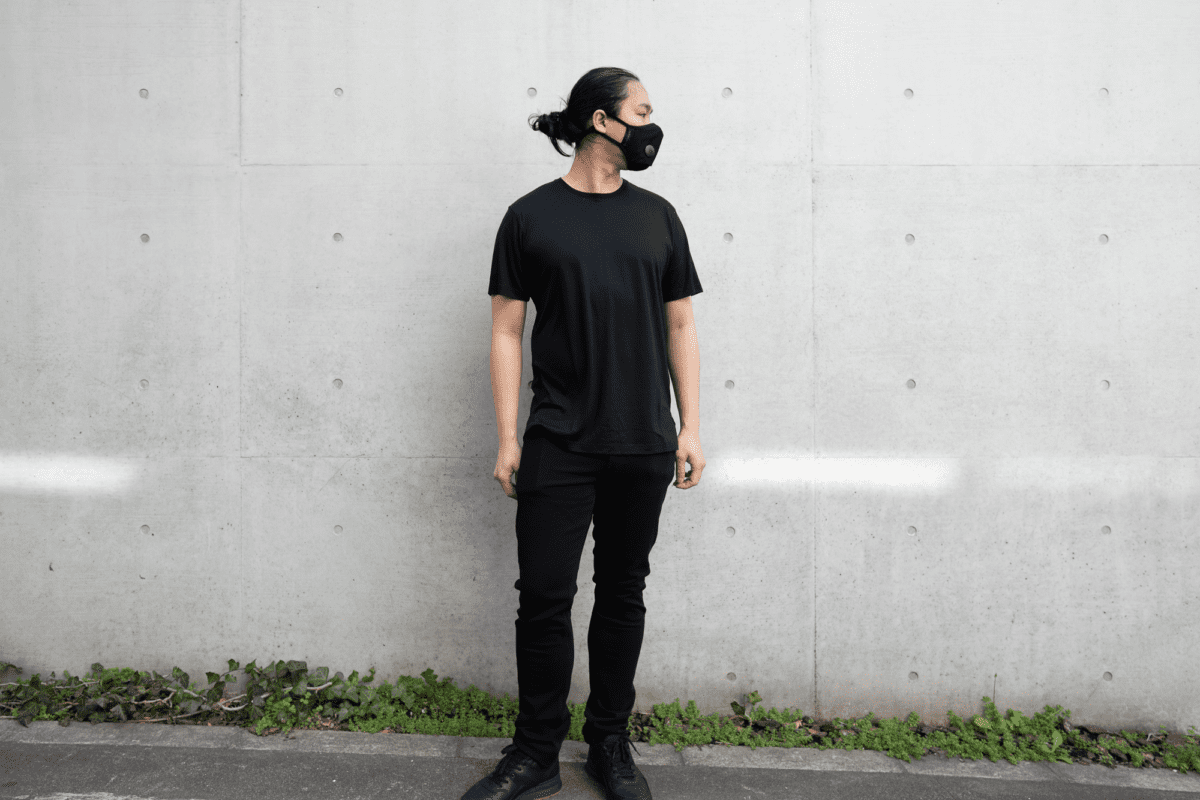 Style
The t-shirt comes in three colors, a black, navy (midnight) and light grey (ash). As someone who only wears black, the black piece is the one reviewed for this article.
I've always worn a size large for standard American sized tops, and that's the size I got for the StrongCore Merino Tee. I'm 6 ft and 198 lbs and size large was just right for me. Compared to other t-shirts, they are a wee bit short, but not enough for it to be uncomfortable to wear.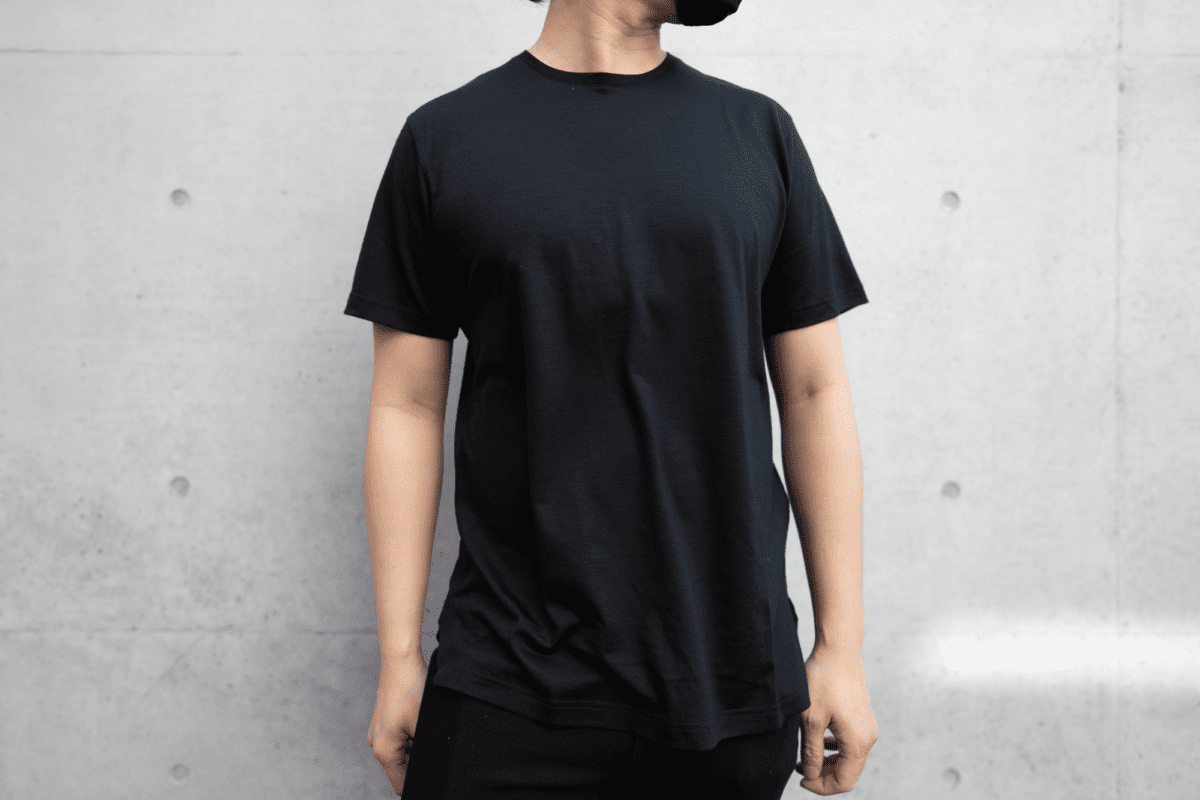 When it comes to the style of black t-shirts, there are little variations. These are pretty standard, slim-fitting t-shirts.
There are two stand-out design features that you'll immediately notice.
The first is the little red band on the inside of the collar. This is present in all the colors. Before I got it, I had thought that it was unnecessary. But stuffing it into my drawer is full of black t-shirts, I realized it was nice to be able to differentiate at least this one t-shirt.
But no one likes ads, so I got rid of them. If my articles helped you, I ask for your support so I can continue to provide unbiased reviews and recommendations. Every cent donated through Patreon will go into improving the quality of this site.
The other feature is the dropped tail. This style of t-shirts are usually with either a split cut or a curved hem. The difference is that the curved hems means that the front is cut to be shorter than the back.
The StrongCore Merino Tee uses a split cut, which means there is a split at the end of the side seams, also called a split hem.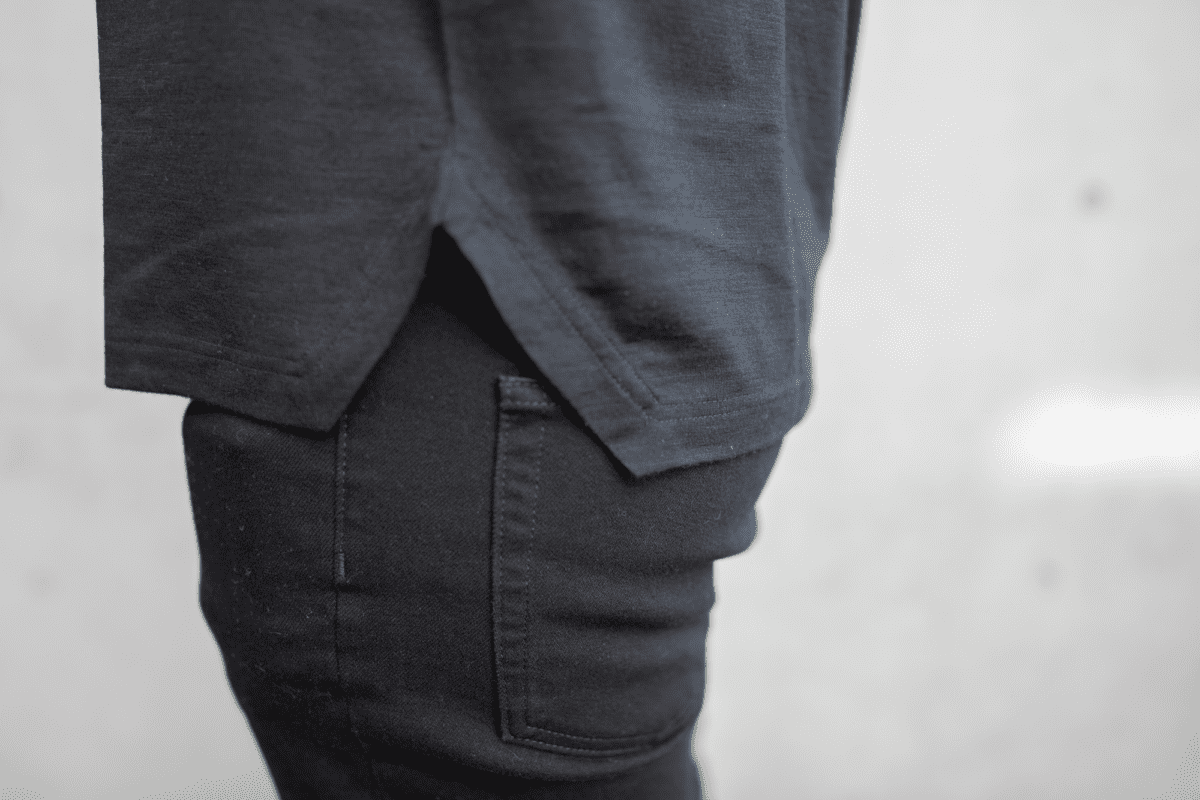 Most dropped tail t-shirts are actually longer and would have the aggressive dropped tail look, but the StrongCore Merino Tee only has it as a subtle design element. As with most travel-ready clothing, you want to avoid having design elements that result in you standing out unnecessarily and attracting unwanted attention.
Another thing about the t-shirt is that it's on the thin side, similar to the now-discontinued Outlier Runweight Merino T-Shirt. So if you have 6-pack abs like a model, good for you. I have a large Asahi beer-fueled 1-pack, so this t-shirt will highlight your curvy goodness much easier than t-shirts with lusher materials.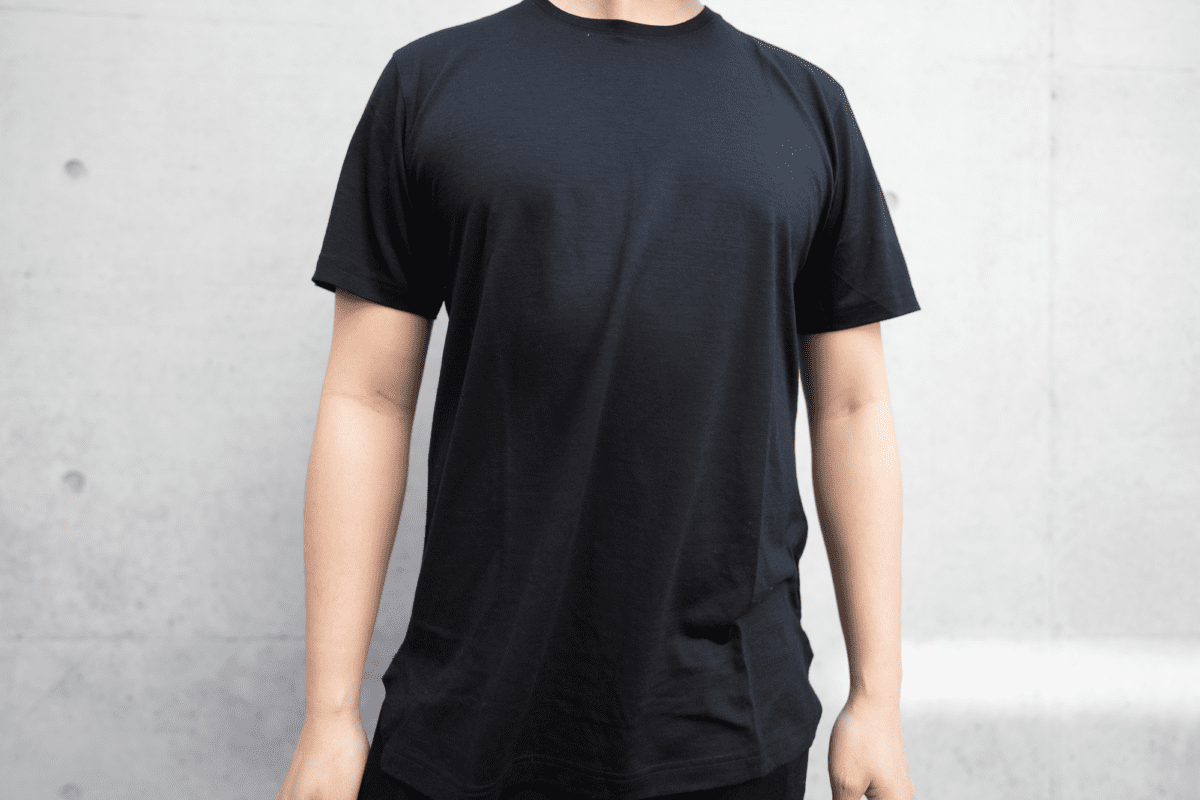 Material
If you are into travel products, you'll probably have heard of merino wool. I wrote an entire article on merino wool here if you really want to get into it. But basically, odor resistance, sweat-wicking, temperature regulating, comfortable and let's not forget, relatively expensive, are some of the features you can associate with merino wool.
For the StrongCore Merino Tee, there are a few details about the specific merino wool used that should be talk about.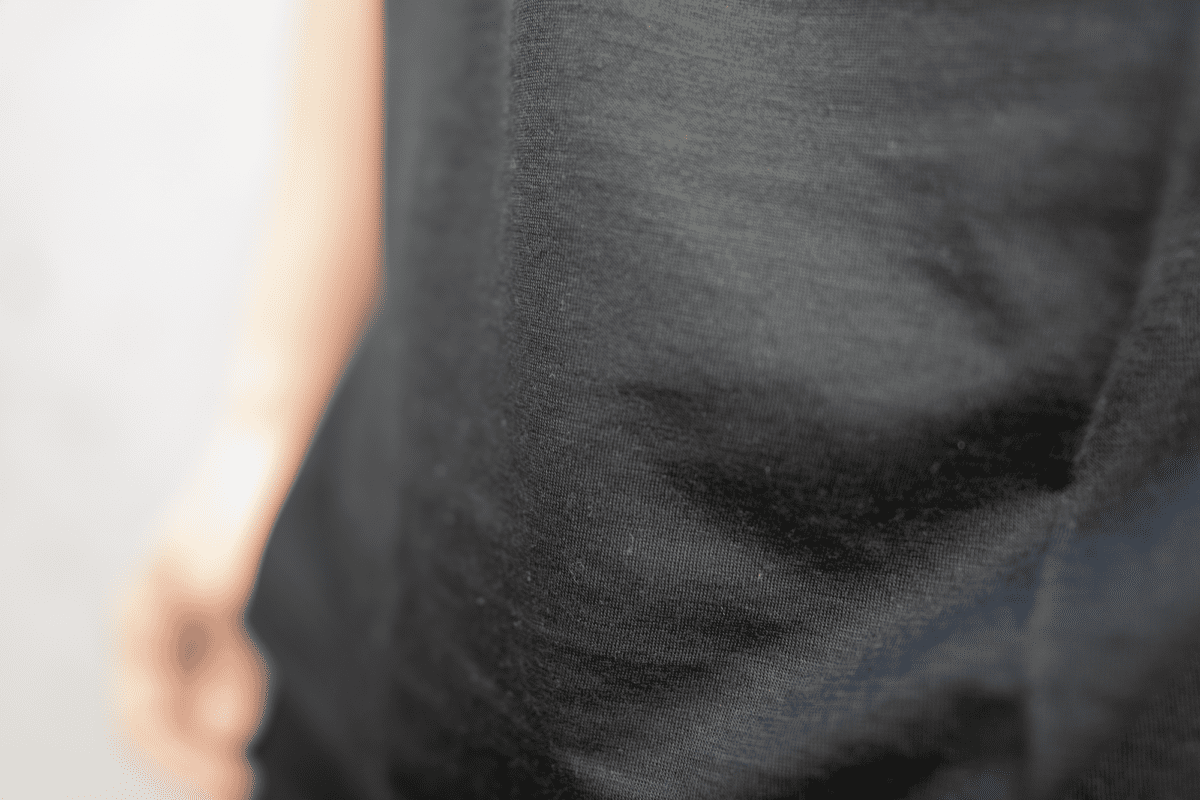 The first thing is that this isn't a 100% merino wool t-shirt. One might be tempted to think that the more merino the better, but I personally don't think so. In my experience, merino blends tend to have better durability and with the right balance with other materials, you could achieve a comfortable and reasonably-priced t-shirt.
The blend in this t-shirt is 89% Merino with 11% Nylon. This is actually pretty similar to the Woolx Endurance Tee, but without the elastane. I find that this amount of merino is more than enough for you to enjoy the full benefits that come with merino wool without forking out the premium. It's unlikely that you would feel any difference between an 89% merino wool t-shirt and a 100% merino wool t-shirt like the Outlier Ultrafine Merino T-Shirt.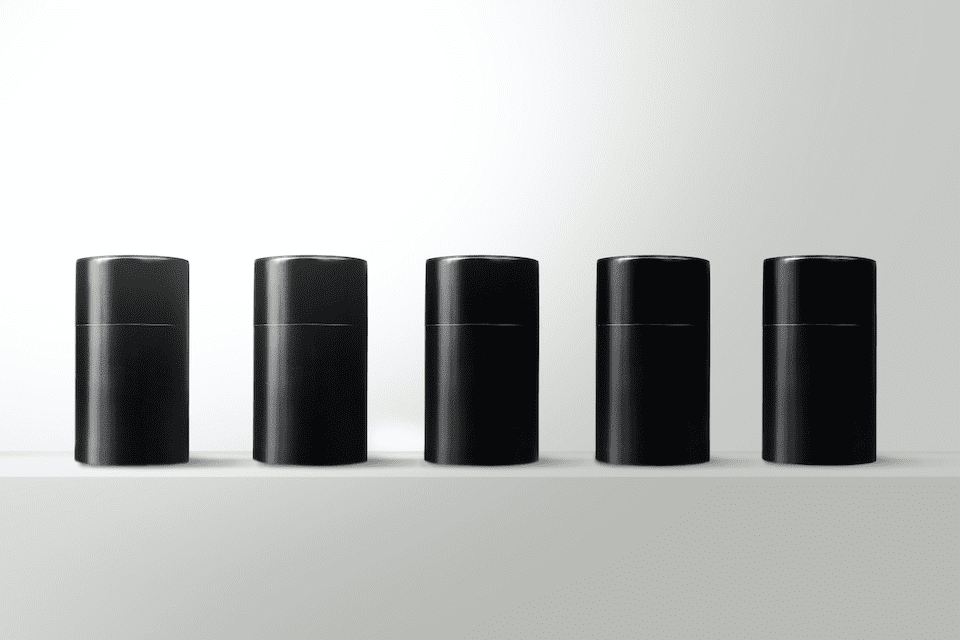 I found a 100 year old company that would create these heirloom quality canisters for me. They are handmade and will keep your tea leaves, coffee beans or anything that you need dry for years to come.
or read review
Another thing to look at is the micron count of the merino wool, which is 18.5 micron in this case. Micron count refers to the diameter of the wool fiber. Generally speaking, the lower the micron count, the better (and also more expensive).
First of all, the micron count Western Rise listed is a top-capped number. Most merino clothing brands would state the average number as the micron count, which means they would include wool fiber that is above the stated amount. For some brands like Outlier and Western Rise, they chose to be more honest with the customer by listing the top-capped number. In the StrongCore Merino Tee case, this means that 18.5 micron is the highest micron count of any fibers used.
As mentioned, the t-shirt is lightweight. The fabric weight is 170 gsm, which is between the fabric weight of the Outlier Runweight Merino T-Shirt (150 gsm) and Outlier Ultrafine Merino T-Shirt (195 gsm).
Usage
When it comes to the usage of merino t-shirts, there are two main things that I look at, comfort and durability.
For comfort, it usually comes down to the micron count. Compared to something like the Outlier Gostwyck Single Origin T-Shirt at 15.5 microns, this t-shirt is of a significantly higher micron count. on the Libertad Travel Shirt at 18 microns (which is probably about 18.5 top-capped), I could feel a little itch that merino wool sometimes causes. So, I had expected it from an 18.5-micron merino wool.
But for the StrongCore Merino Tee, I didn't feel the itch. I suspect it's a combination of the lighter fabric weight (less weight onto the skin) and blend of nylon that made it very comfortable to wear.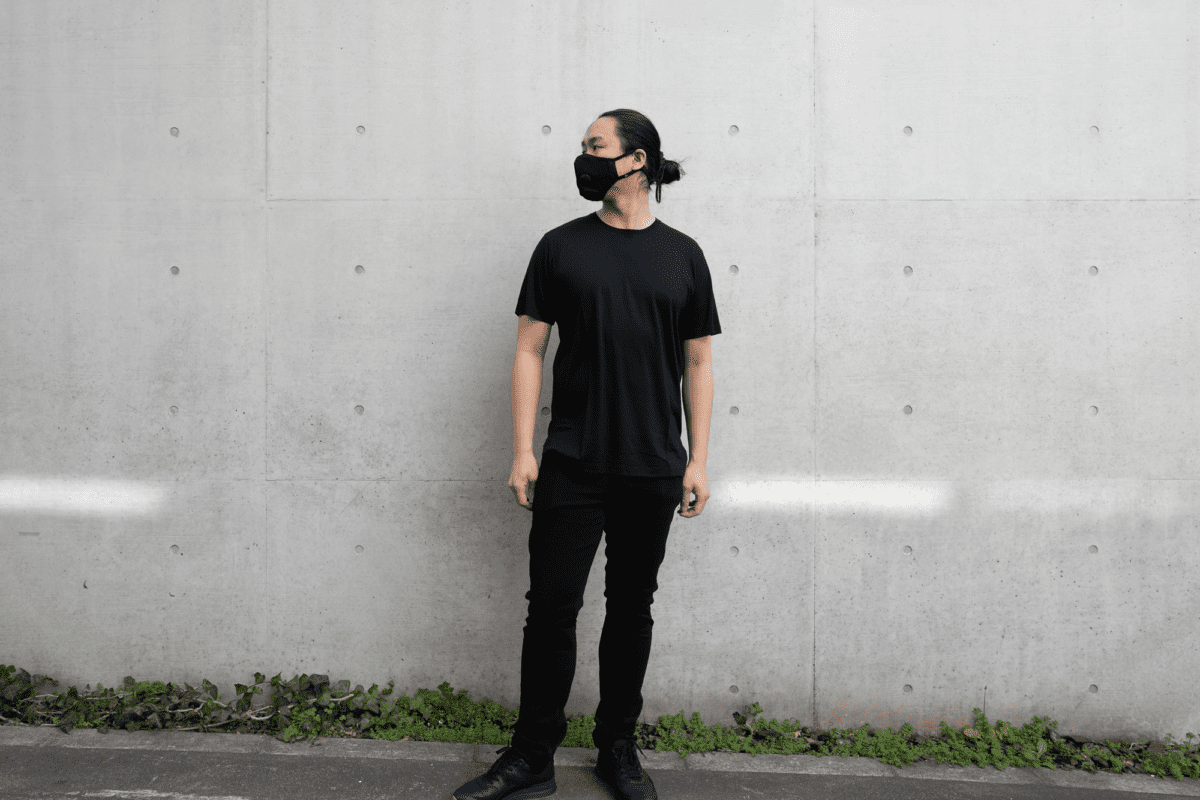 I wore it for four days straight, at home, to sleep and when heading out. It had stayed odor-free so far.
As for durability, I haven't seen anything that would cause any worry so far, but I'll be monitoring it with more use and updating this post if something happens.
Conclusion
The StrongCore Merino Tee is a solid basic t-shirt option. At $96, it's not the cheapest merino t-shirt you can get, but it also isn't the most expensive. As with plain black merino t-shirts, there isn't anything that really stands out with this t-shirt.
The factor that you would ultimately come down to comparing would probably be the price.
Additional Images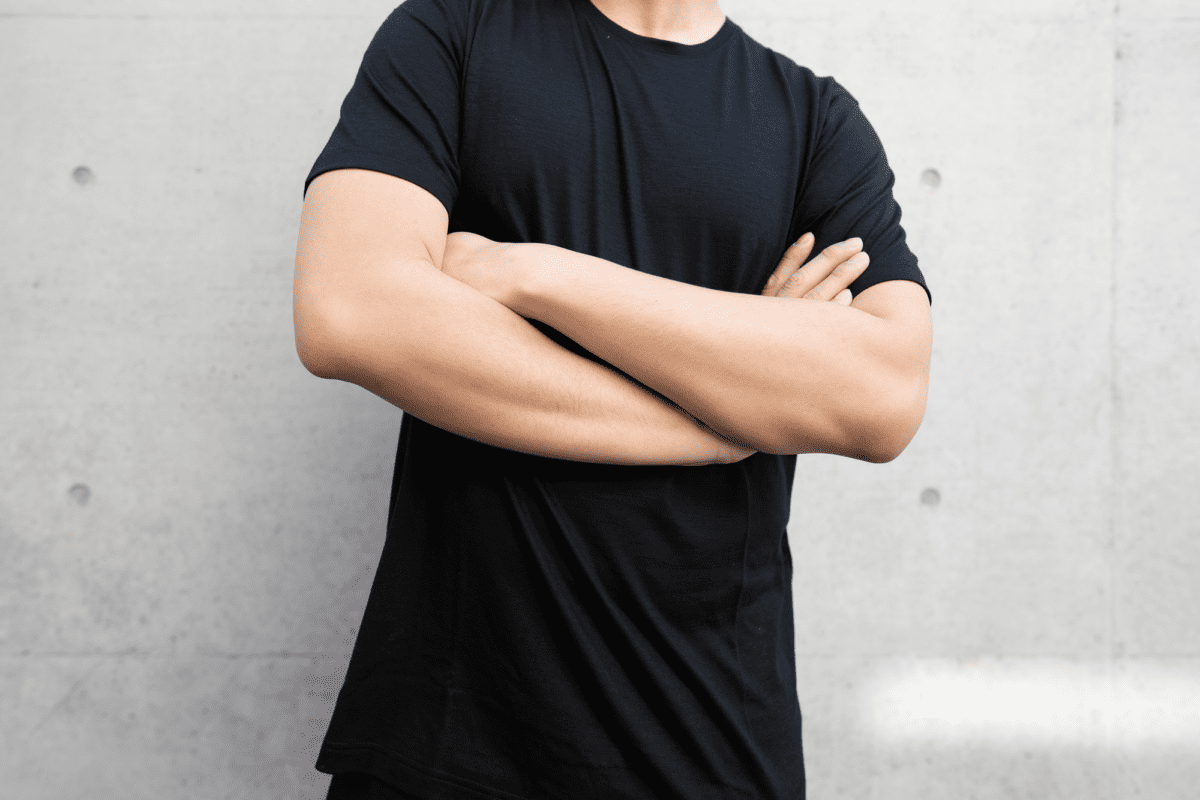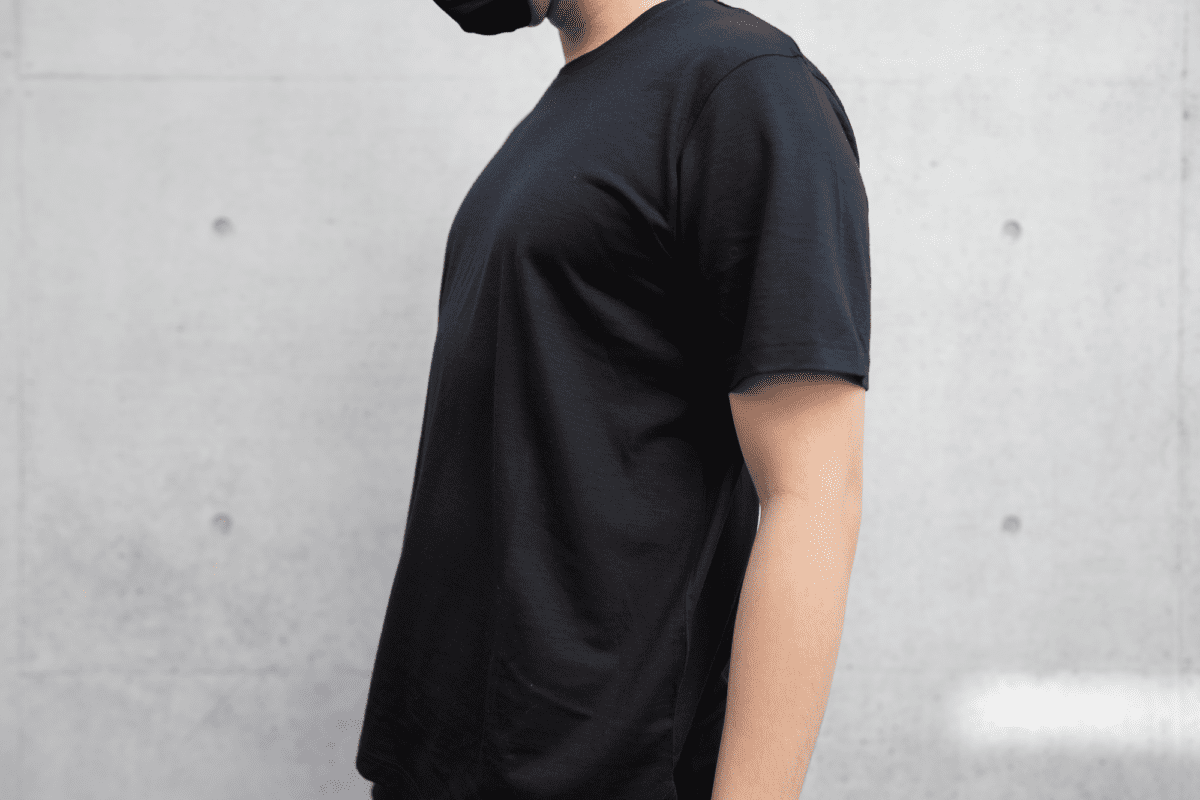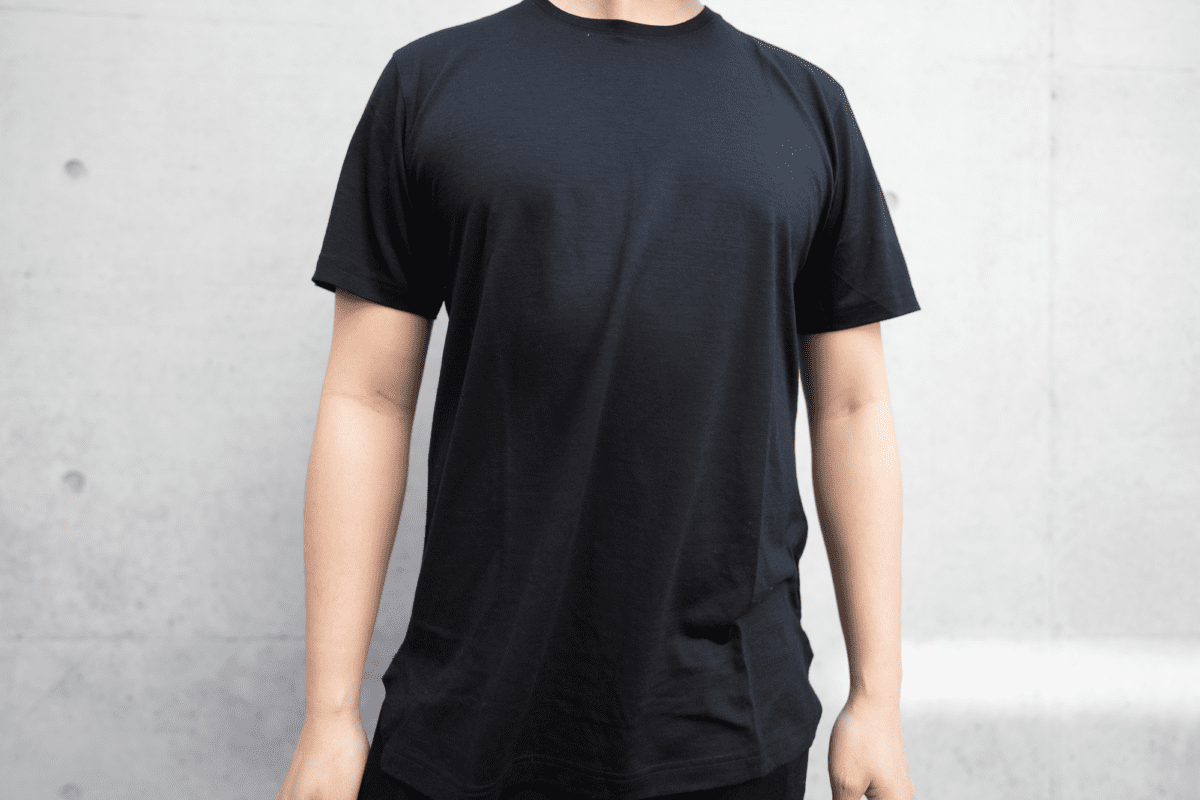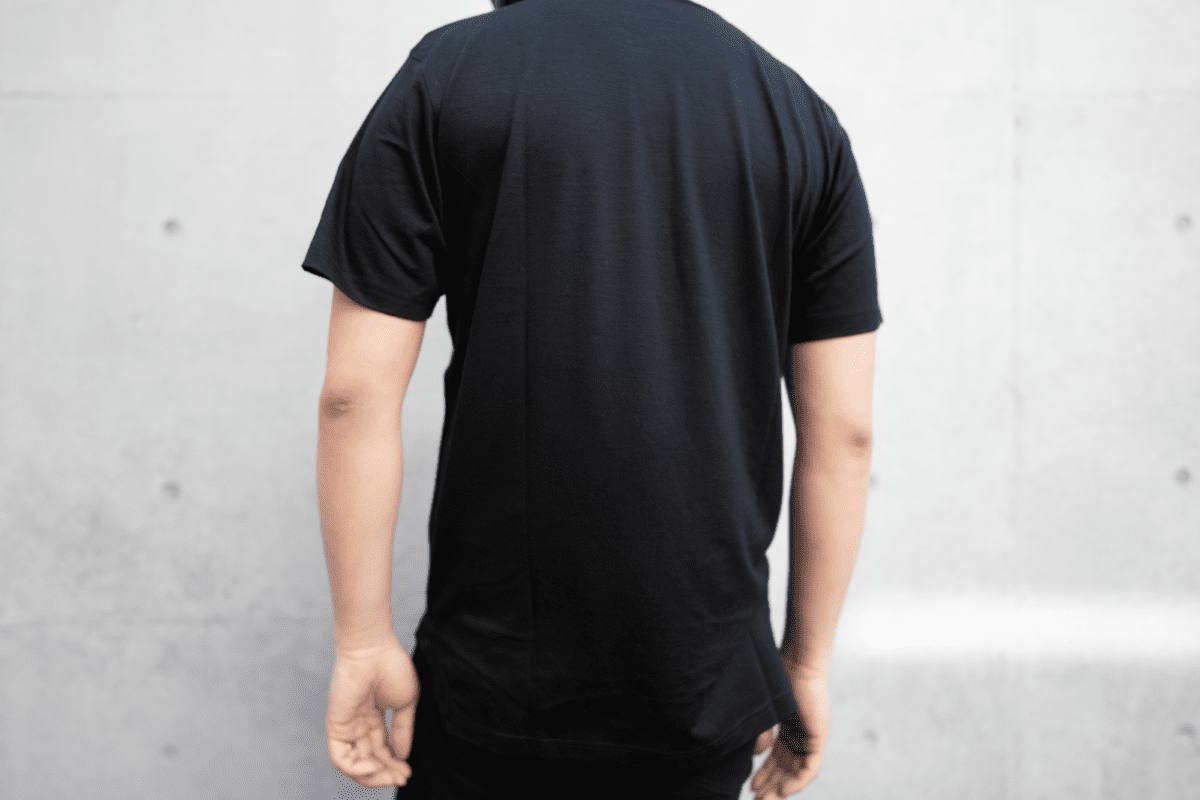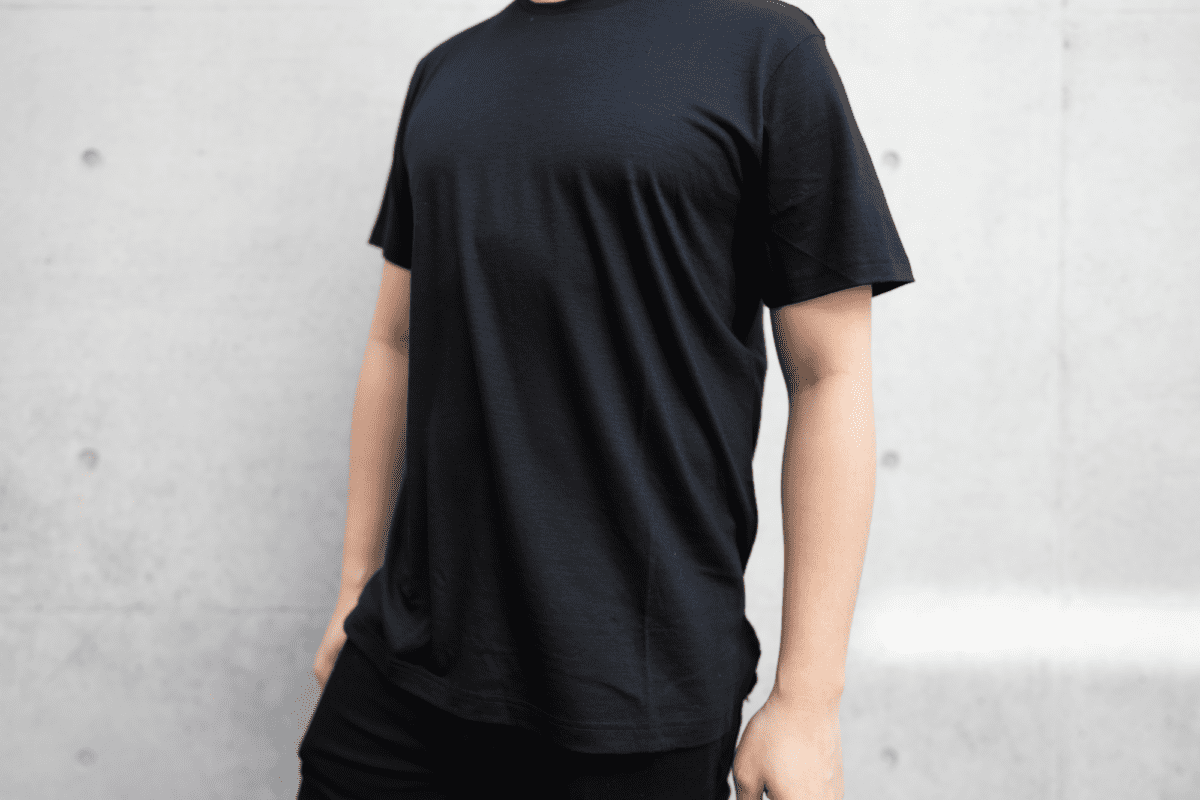 Like this review? See all of my in-depth reviews.
Also, consider supporting me by being a Patreon. Every cent given will go back into improving the content of this website.
Tagged review t-shirt western rise