This website is made possible by readers. I may earn a small commission when you buy through the links in this article at no extra cost to you. Learn more.
I've been waiting a whole season to review this. I received this all the way back when I got the North x North Wool Kerchief and wanted to be able to test it during winter. It is, after all, a neck gaiter.
Details
Price $30 on northxnorth.co
(Exclusive: Use code ALEXKWA at checkout for 10% off.)
Material 100% Superfine jersey knit Australian merino wool (160-165 gsm/18.5 micron)
Size 26″ x 10″ (66 cm x 25 cm)
Weight 2.0 oz (57 grams)
Handsewn in the USA
Overview
I've gone down the rabbit hole of merino wool. Merino wool t-shirts, merino wool utility cloths, merino wool hoodies, there is no escaping. And today, I've another one to add to that list, a neck gaiter.
I wear neck gaiters exclusively in winter. I used to think I could do without them, but try staying warm with winds blasting down your jacket when speeding on a bike. It's not too fun.
Since there aren't much fats around the neck, the jugular veins pumping blood to the rest of the body are exposed to the cold. Using a neck gaiter is useful in keeping your entire body temperature regulated from the cold.
I know a lot of people buy neck gaiters for snowboarding, but I've only snowboarded twice in my entire life, so I probably won't be using this for that. But, I do like a stylish neck gaiter, fashioned around my fat neck so I can post techwear fits on Reddit to get attention.
So, without further ado, let's see how this neck gaiter from North x North measures up.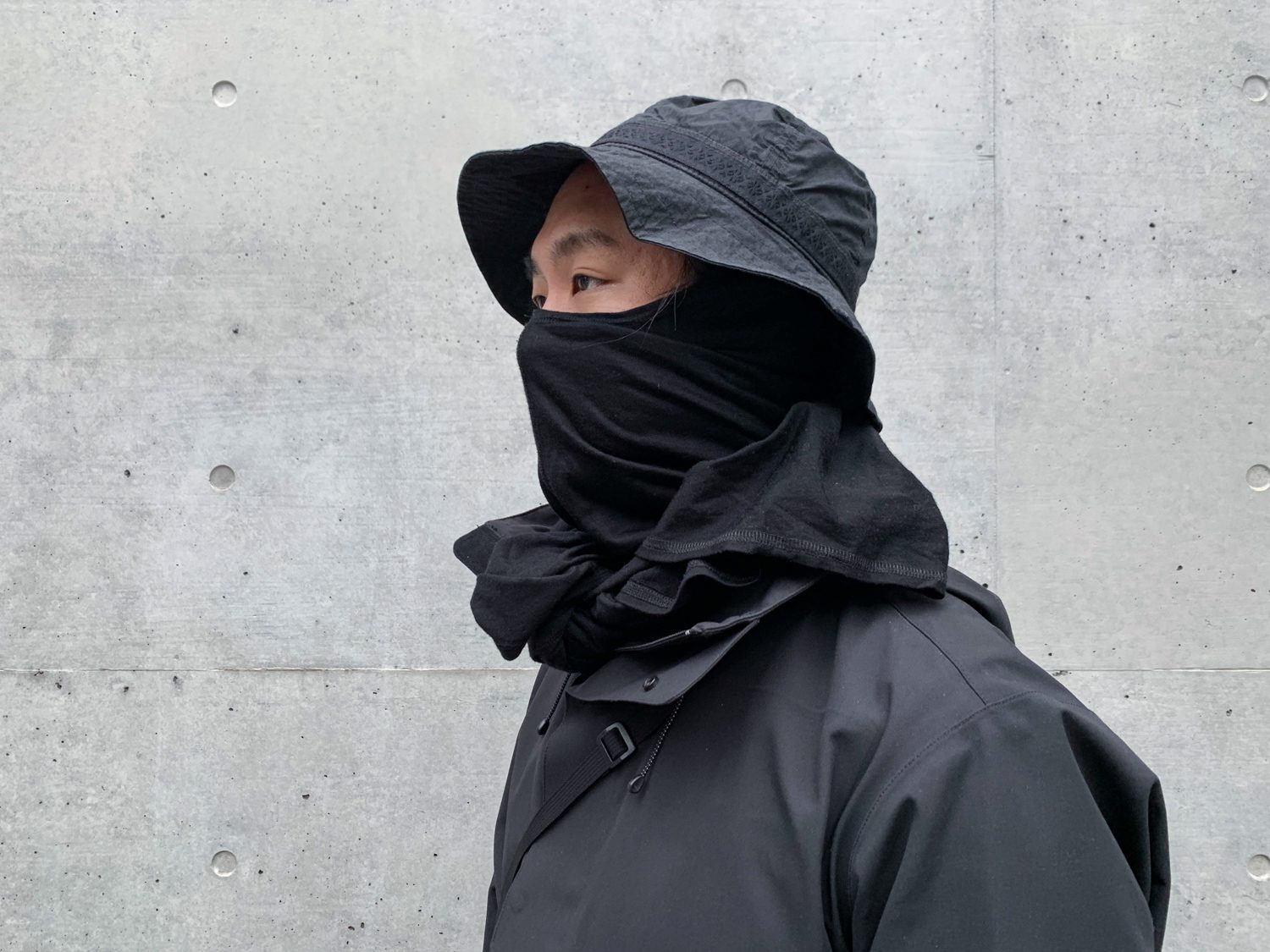 Style
Now, to me, a neck gaiter should do one thing, keep my neck warm. I don't need any fancy patterns or extra details. Just do your one job.
Lucky for me, like their Wool Kerchief, North x North kept this one simple. The gaiter comes in 8 colors, and as always, the black one is the one reviewed. In case you haven't noticed, I only wear black.
While it's a pretty minimal-looking product, there is a single tag on the bottom of the back of the gaiter. While I'm usually okay with that amount of branding, the tag is something that you can sometimes feel when worn on your neck.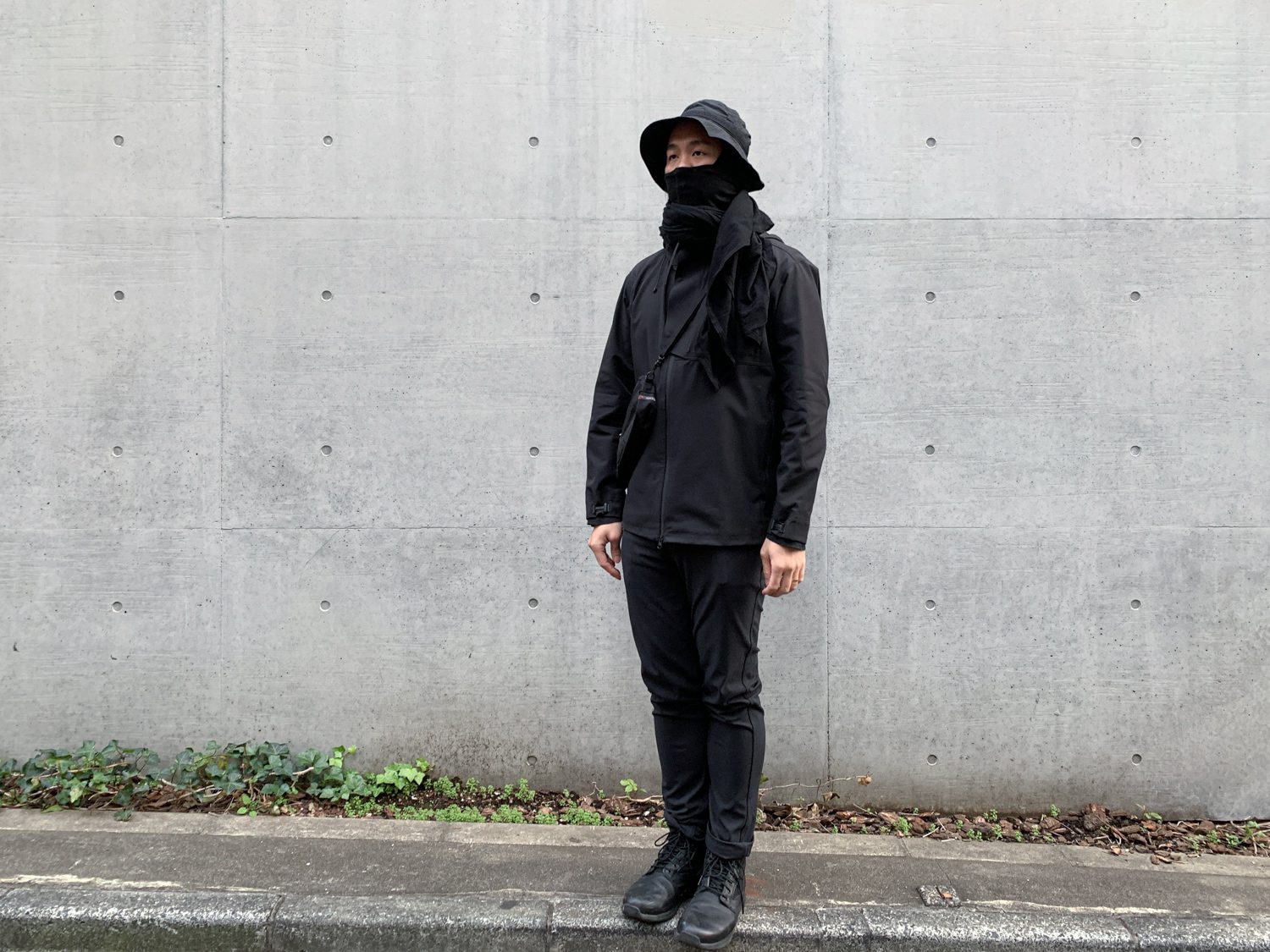 Rather than just a neck gaiter, this is really a balaclava. If you pull down the part over your head, then you have just the face cover. If you pull that down as well, then you have your neck gaiter.
But no one likes ads, so I got rid of them. If my articles helped you, I ask for your support so I can continue to provide unbiased reviews and recommendations. Every cent donated through Patreon will go into improving the quality of this site.
Apart from extreme winter sports, I would not recommend you wear it as a balaclava unless you want to be arrested for disturbing the peace. Face mask, well, it depends on where you are based. Even in Japan where surgical face masks are pretty common, I still look pretty suspicious covering my face with it.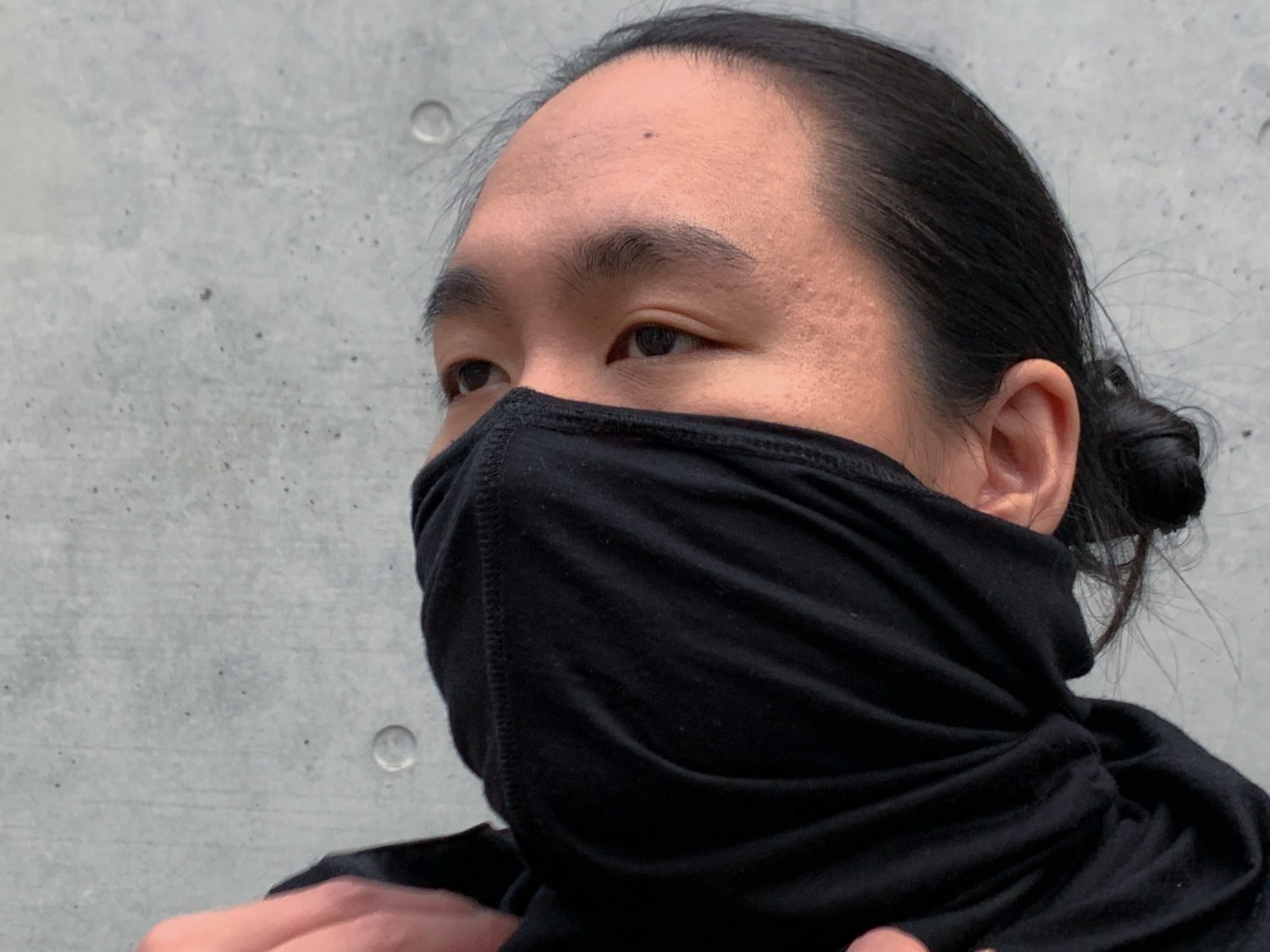 I do cover my face when I'm whizzing down the roads on my bicycle.
Apart from the three ways I mentioned, North x North suggested you can wear them in the following ways. Headband, ear muffs, stocking cap, doo-rag, foulard, wrist band, hair band, hair tie, hood, sun guard.
The neck gaiter comes in just one size but I was able to comfortably wear it as a balaclava. It was able to accommodate my manbun.
The nice thing about it is that it is adjustable. For example, you could twist the back of the neck gaiter (using the fabric that goes over your head in balaclava mode) to keep the gaiter up and covering your neck snugly.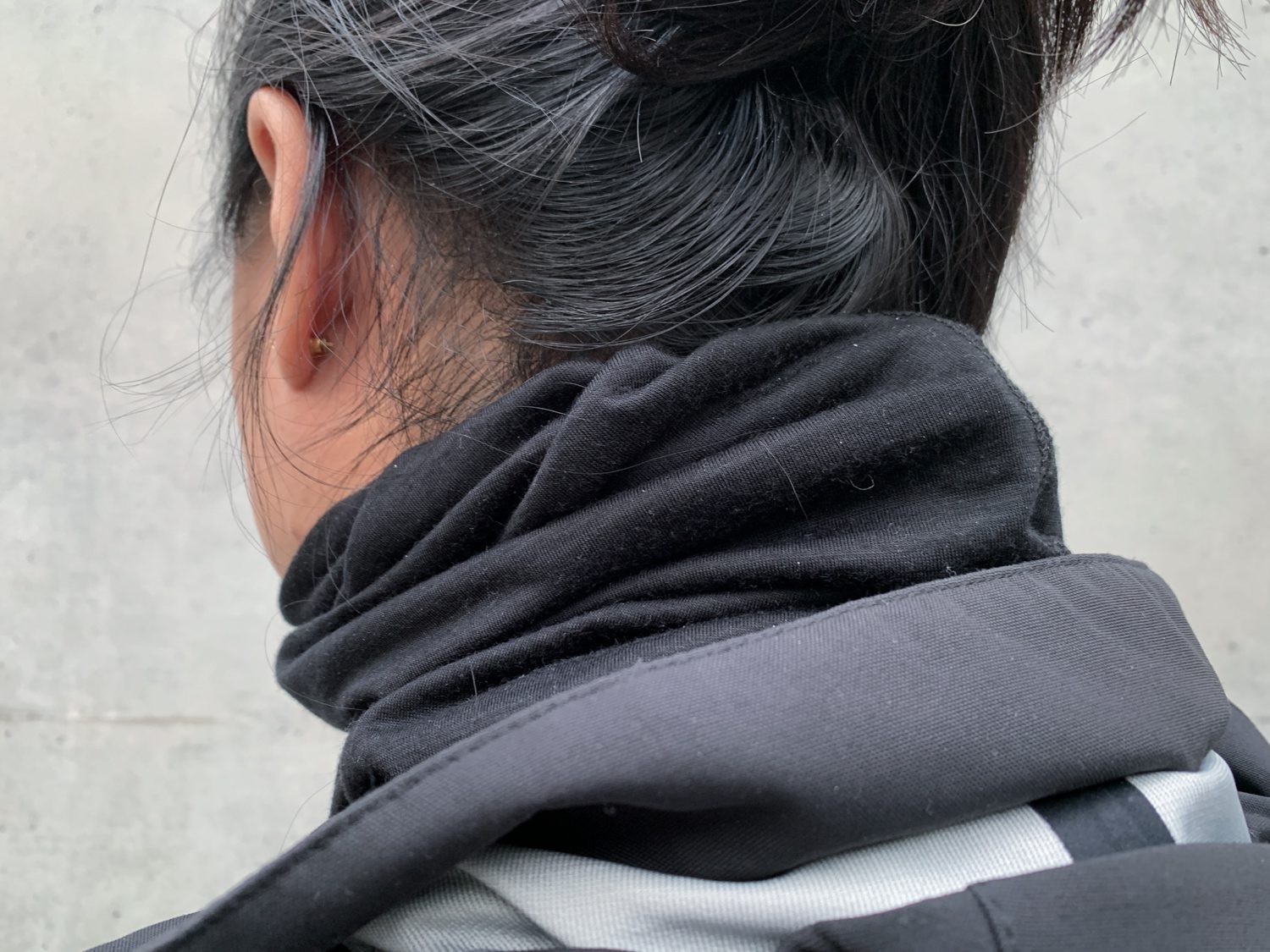 While being able to adjust the size is awesome, one thing I did notice is that there is a small lump of fabric on top, no matter how snug I try to adjust it. I'm not a career arm robber so I don't wear balaclava often enough to know if this is normal.
Another way I do wear it is as a headband. I do this mostly at home to keep hair out of my face. Since it's sized for your neck, it's pretty tight-ish for me, since it goes over my forehead down to below my manbun. Or maybe I just have a huge head.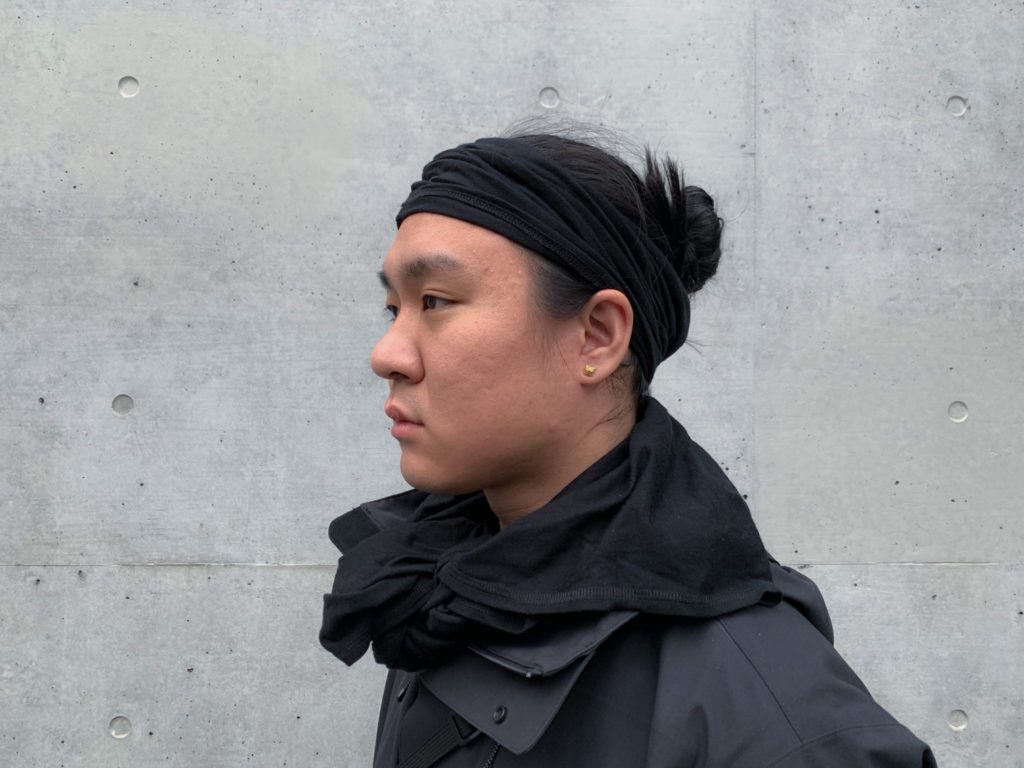 I don't quite mind the tightness and it's nice that it supports the weight of my hair. What I'm afraid it would stretch the fabric, making it look odd when worn in other ways.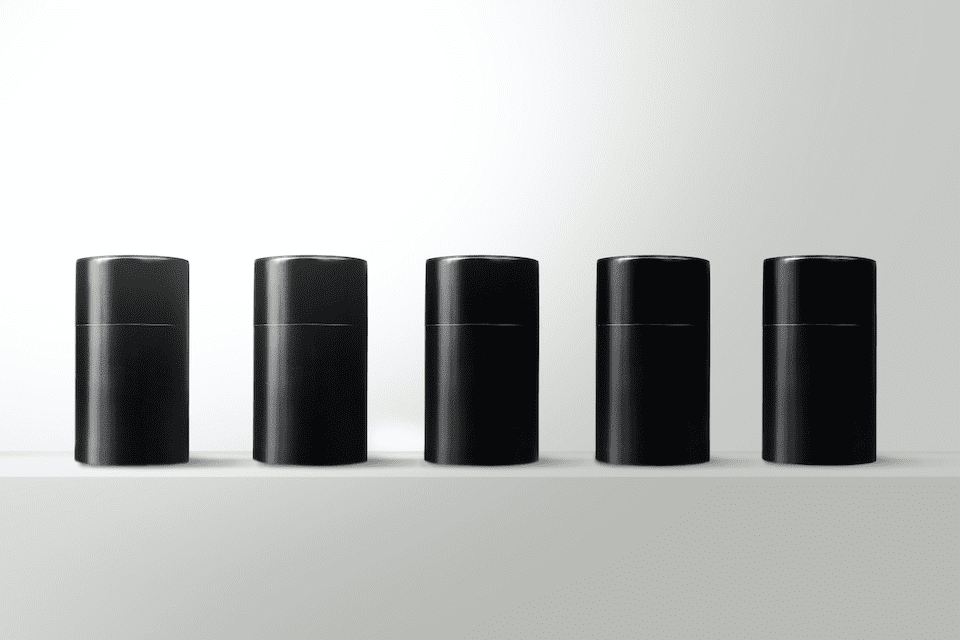 I found a 100 year old company that would create these heirloom quality canisters for me. They are handmade and will keep your tea leaves, coffee beans or anything that you need dry for years to come.
or read review
I actually prefer the gaiter as a headband compared to actual headbands. Actual headbands are pretty narrow and tend to slide off my head. Since this has quite a bit of fabric to play with, you could extend it a little so that it makes it harder to slide off. You can also tuck more fabric under it to make it tighter if you need to.
It also states hair ties as a way you could use. Gave it a try. Meh. Well, technically you could tie up a ponytail, but that's a lot of fabric to be wrapping around your hair. That's also quite a bit of weight to support with just your hair.
The same goes for wristband. I mean if you call a fabric you could wrap around your wrist a wristband, then I guess it technically is. But it's way too much fabric to be a wristband.
One bonus use that I discovered you can use this for, is some Bird Box-style blindfolds.
For the other usage, I would say that anything that goes onto your head or face, you'll probably be fine. Anywhere else on your body, chances are that you'll be pushing it.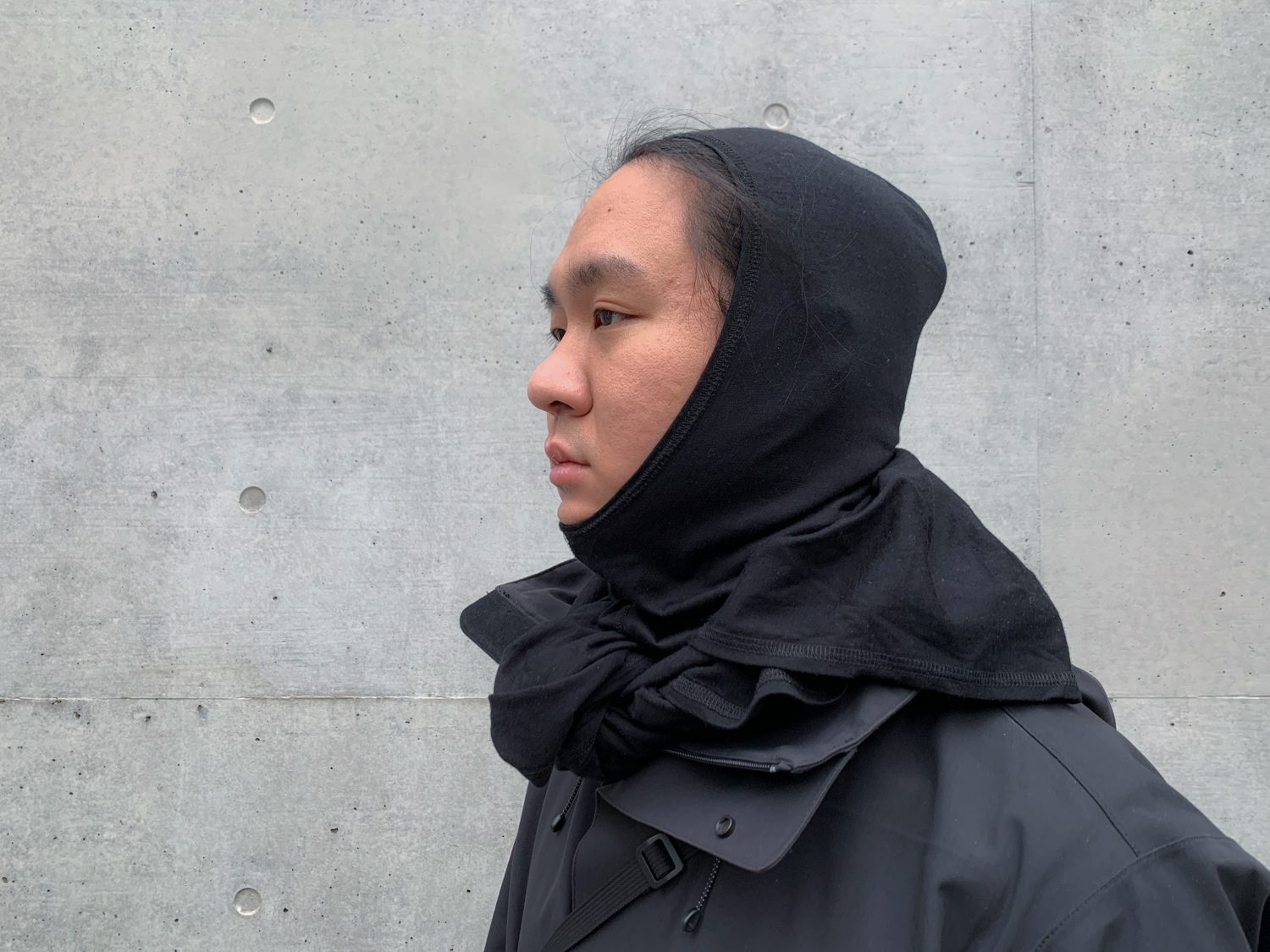 Material
Two words. merino wool. You have my curiosity, but throw in "100%" and now you have my attention. Merino is the darling of the travel community, which is why you see every new travel brand now using merino wool.
As someone who owns quite a bit of merino wool clothing, all merino wools aren't equal. The key indicator of good merino wool is basically down to the micron count. This is the diameter of each wool fiber, and basically, the lower this number is, the softer, more luxurious (and also more expensive it is). I wrote an entire article on just merino wool if you really want to go deep.
While it's easy to think that a lower micron count is better, sometimes that extra you pay is just simply unnecessary. For me, I judge the amount of micron count necessary by how much the fabric comes in contact with my skin.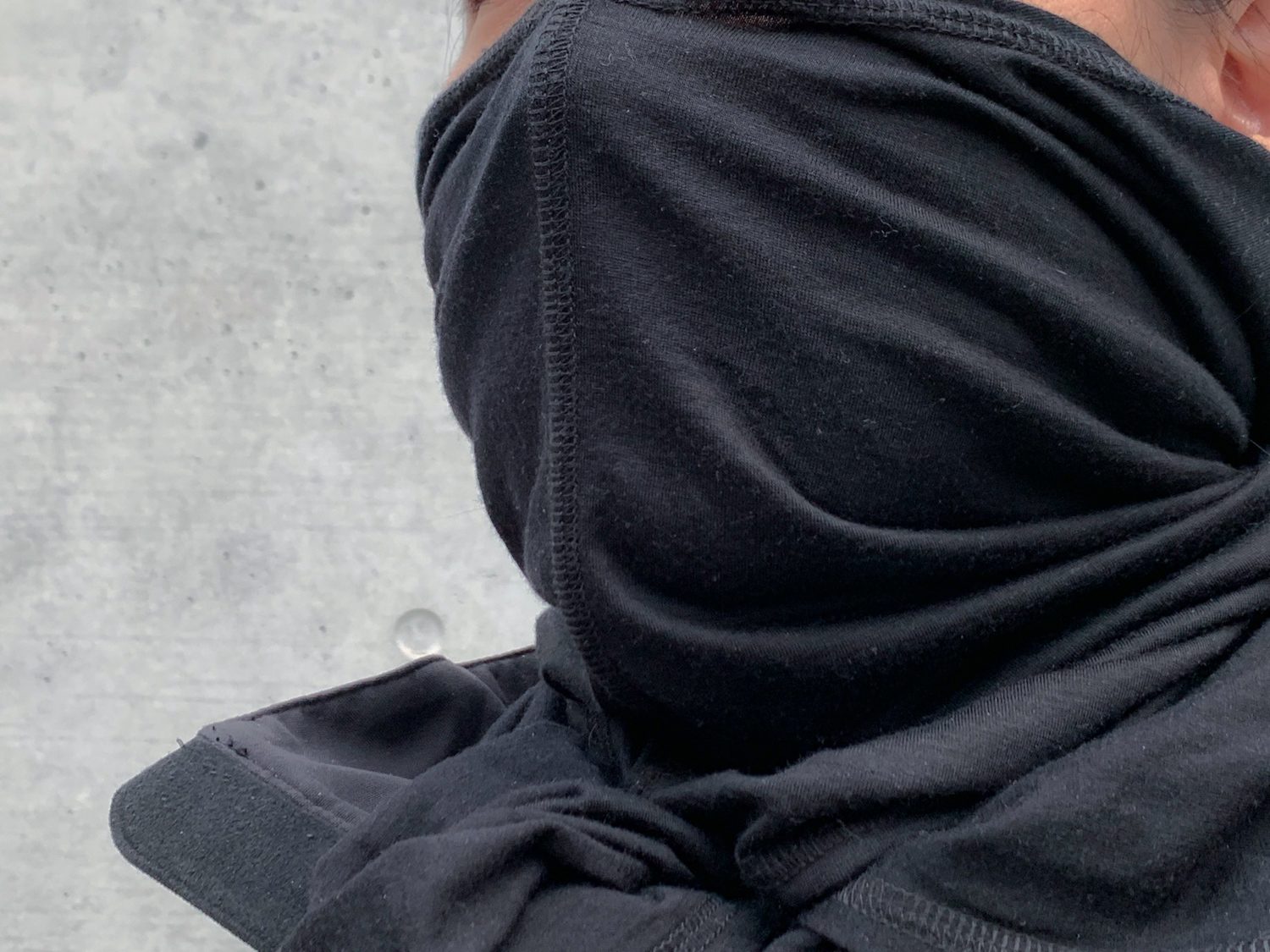 I've come to realize that any micron count above the 17.5-18.5 range, you'll get a slight itch. An example was the Wool&Prince Shirt which gave me a slight itch even at 18.5 microns.
Another thing I noticed is that when brands use merino wool above 18.5 microns, there would be a chance that they wouldn't even display it since it might discourage some buyers.
North x North does state that their wool is an 18.5-micron Australian superfine jersey knit. So, the itchiness to micron count relation seems pretty consistent as it has almost the same amount of itch as the 18.5-micron Wool&Prince Shirt.
The fabric actually feels soft and smooth when you run your hands across it, but you would start to feel the itch when you put it on. It isn't terribly noticeable, but definitely something you can feel when it's on more sensitive parts of your face.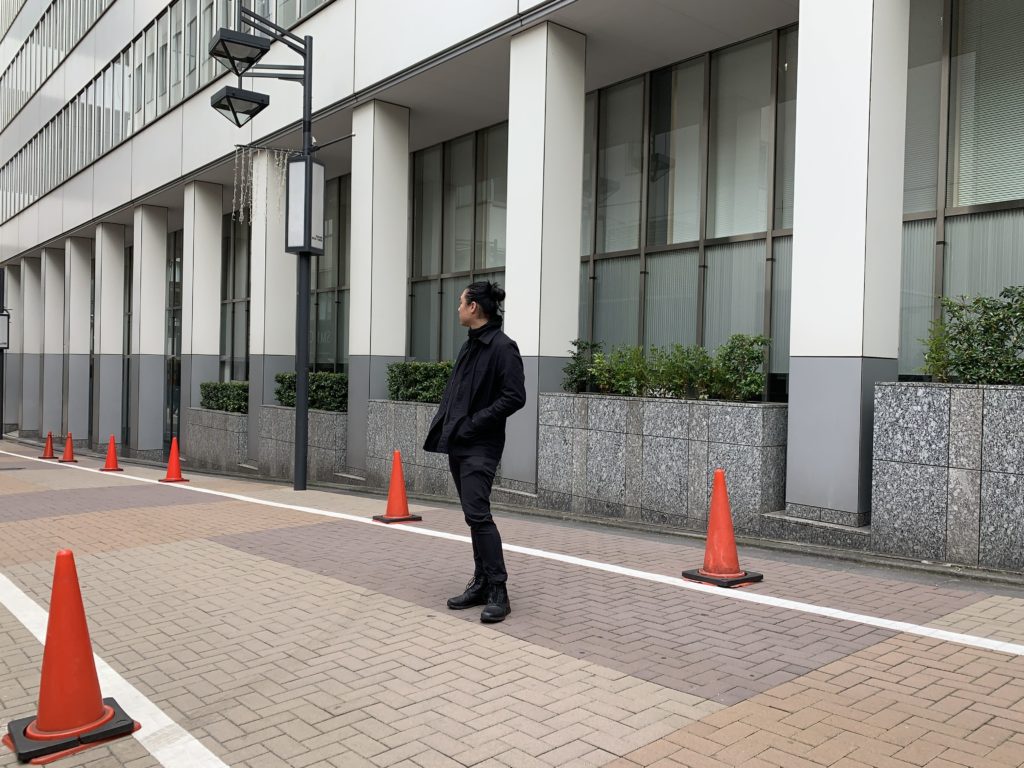 Usage
I've been using the gaiter pretty often lately, especially when I'm on my bike. The fabric isn't terribly thick, so rather than keeping your neck warm like a scarf, it's more for protection against the wind.
This is also probably the reason that they came up with the doubleweight version recently.
Apart from the very slight itch, the gaiter has been doing a good job at keeping my neck protected from winds.
I have been using the gaiter on pretty fast bike commuting around town. And even in winter, I sweat when trying to beat uphills with my single-speed tokyobike. As expected from merino wool, there isn't any odor even after using it for about a week in a row.
The gaiter has a pretty hefty double stitch, which is good for durability. But it also means that you'll feel the stitch on your face when using it as a mask.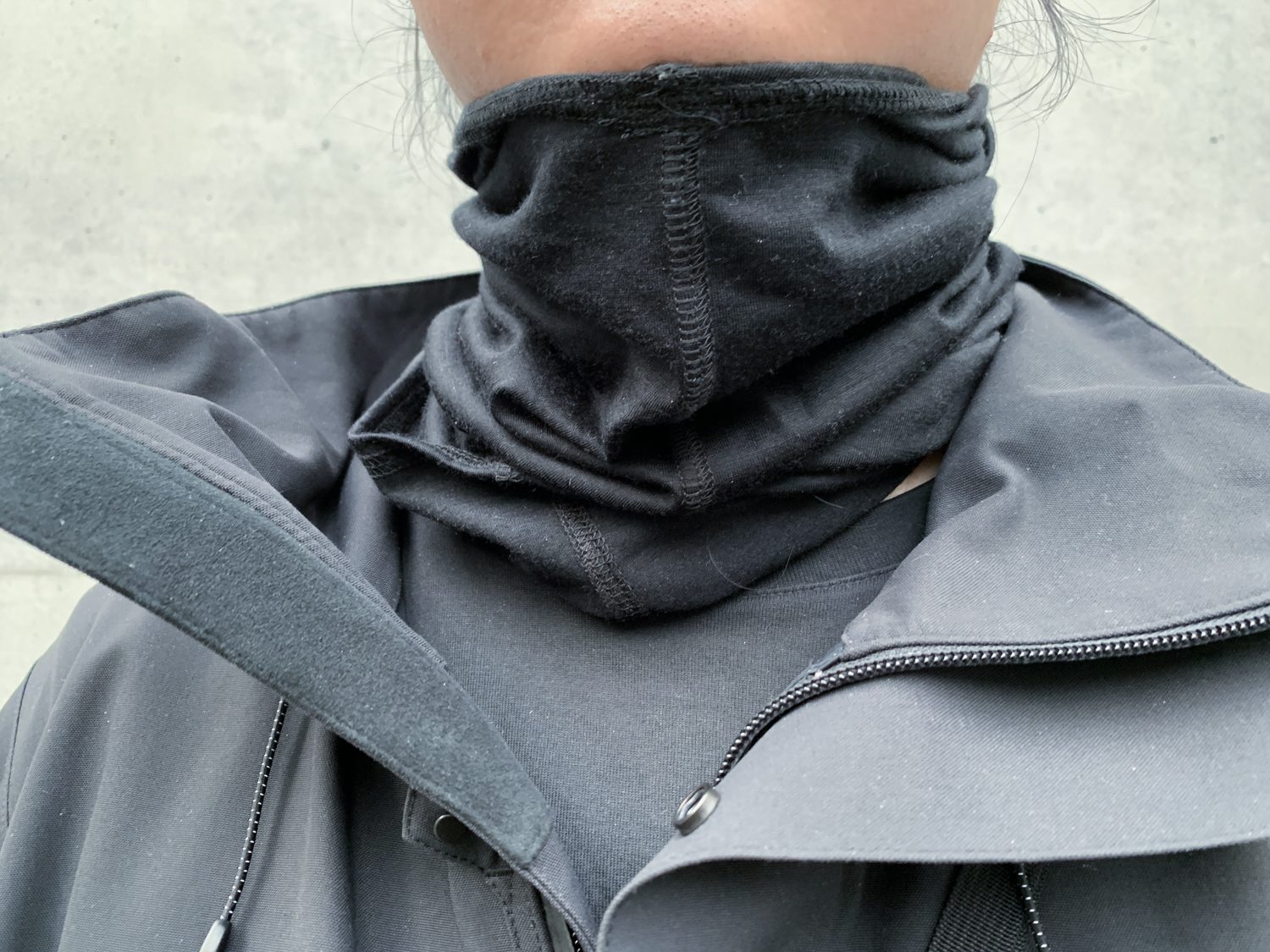 There is also a right side to this gaiter, but it's hard to tell unless you look at the way the tag faces. I don't do this and there isn't much of a difference whichever way you wear it.
I haven't been using it long enough to experience any problems, but they do have a "Darn It" lifetime warranty in case anything happens.
Conclusion
While I've been using the Wool Kerchief and TOM BIHN's Utility Cloth to cover my neck recently, the neck gaiter is a welcomed addition. It protects basic level warmth for your neck, but the good part about it is that it's versatile enough to do much more.
At $30, I found this quite a steal, although I would be glad to pay about $45 if they have better-quality merino wool that doesn't cause any itch at all.
Like this review? See all of my in-depth reviews.
Also, consider supporting me by being a Patreon. Every cent given will go back into improving the content of this website.