This website is made possible by readers. I may earn a small commission when you buy through the links in this article at no extra cost to you. Learn more.
Finally, the TOM BIHN Synik 30 review you've been waiting for. I put quite a bit of time into testing out this bag and hopefully you'll get all your questions answered here. Use the comments section if there are unanswered questions.
Details
Price $300 on tombihn.com
Dimensions 13.4″ (w) x 20.0″ (h) x 8.0″ – 10.8″ (d) / 340 (w) x 508 (h) x 205 – 275 (d) mm
Weight 3 lb 0.1 oz / 1365 grams (525d Ballistic/200d Halcyon Lining)
Volume 1830 cubic inches / 30 liters (ASTM Standard Measure)
Made in USA with fabric from Korea / Japan / U.S.A.
Overview
As you might know, TOM BIHN is one of my favorite brands. They've consistently delivered amazing products and have gained a great reputation as a company over the years. From the ever-reliable Aeronaut 45 to the Synapse 25, a cult favorite in the onebag community, to the Nik's Minimalist Wallet, my wallet for the past year or so, TOM BIHN has been delivering hit after hit in my books.
I've been a long-time user and fan of TOM BIHN's legendary Synapse 25 and was super psyched when I caught wind of the Synik. While the Synapse was an undisputedly stellar bag, there were places where updates were definitely due. I was personally most excited about the addition of a dedicated laptop compartment, which was one of the most requested updates.
Synik was named after the designer Nik to tease him that his name was going to be all the products he designed, like with the Nik's Minimalist Wallet.
In this review, I'll be reviewing the Synik 30 in Black 525 Ballistic/Northwest Sky 200 Halcyon. I also have a Synik 22 in Black 525 Ballistic/Cloud 210 Ballistic and a Synapse 25 in Black 525 Ballistic/Northwest Sky 200 Halcyon on hand and will be making references throughout this TOM BIHN Synik 30 review.
Style
While there are many functional updates that resulted in the Synik, the style has mainly been preserved from the Synapse. It's the same old school cool, somewhat retro vibe that many love but some hate. I personally love the contrast it gives to my sleek Outlier-heavy outfits.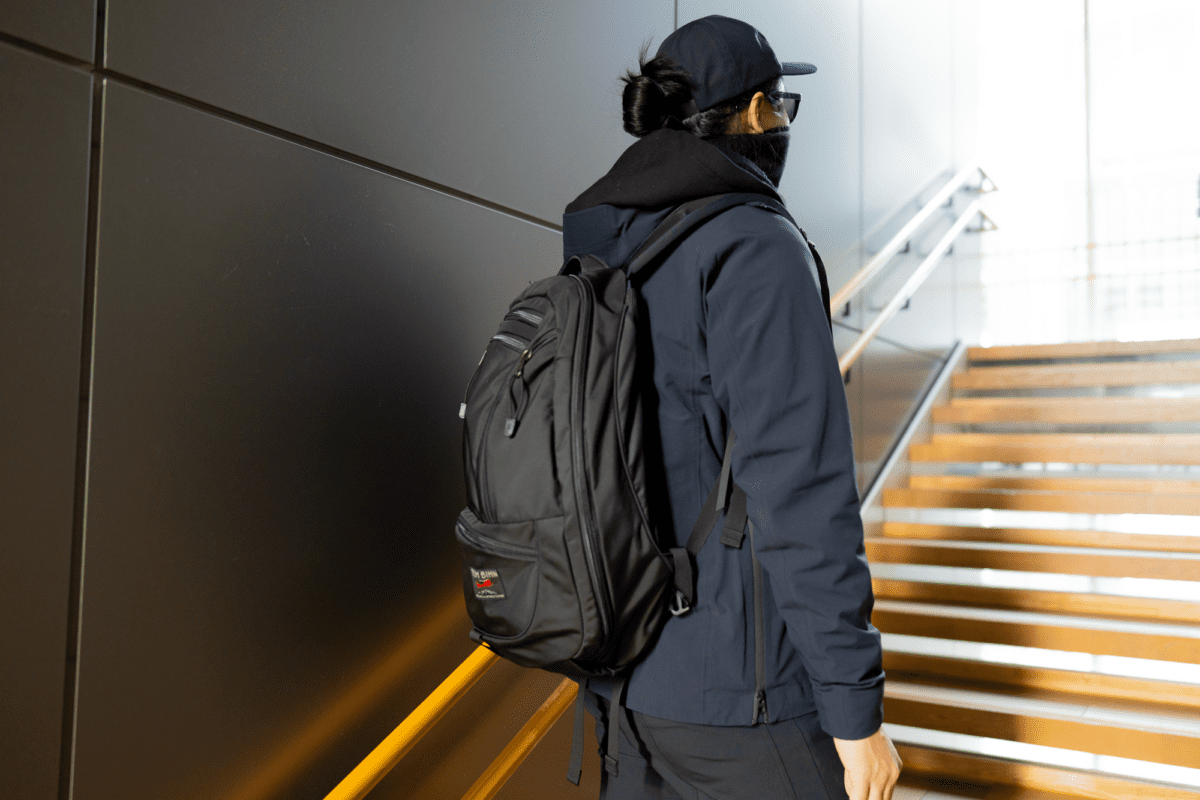 The Synik comes in either Ballistic Nylon, Halcyon or Parapack exterior. While Ballistic Nylon and Halcyon were available for the Synapse 25, the Parapack option is new for the Synik.
While black options are available for all three materials, I went for the Ballistic Nylon as I have an obsessive compulsion to keep all my bag materials as consistent as possible. The reason I didn't go for Halcyon for the Synapse 25 was also because the material comes with a checkered pattern throughout which I didn't quite like. While there are differences between the materials (more on that later), I have to admit, that my decision was purely based on aesthetics.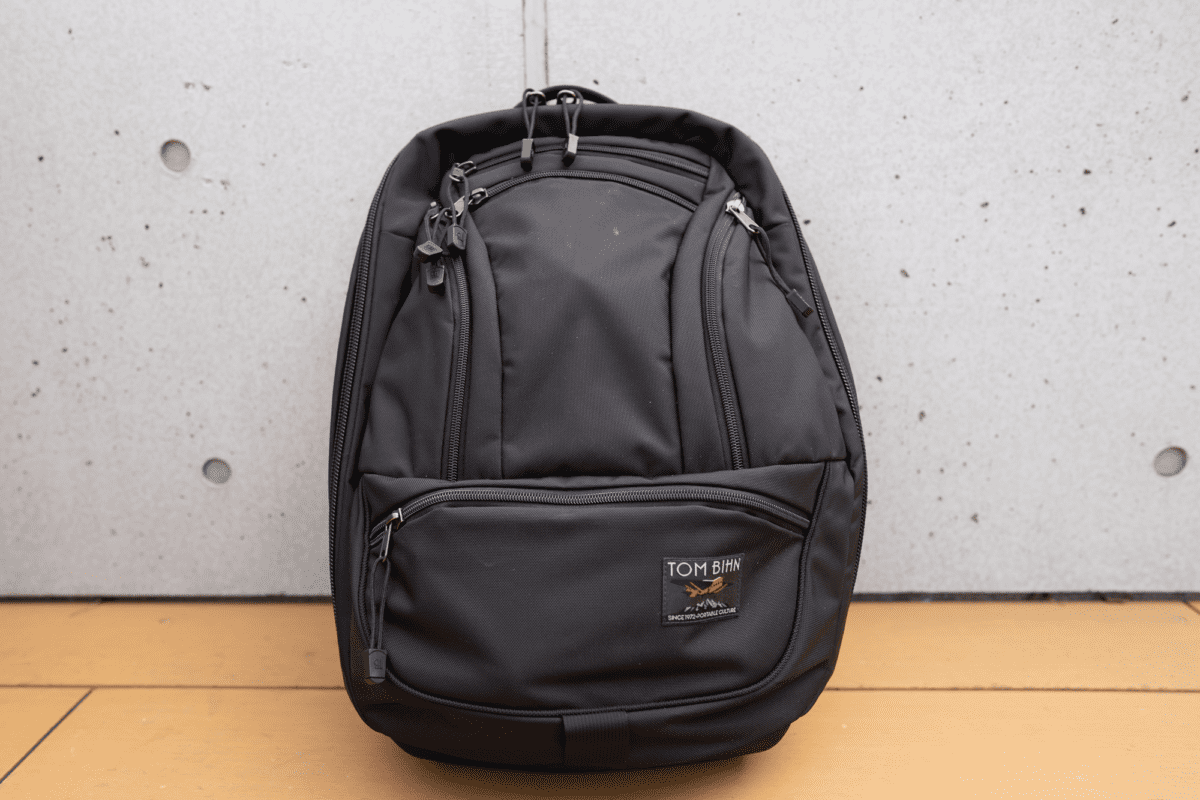 Apart from the material, the overall silhouette of the bag seems to be pretty much kept consistent with its predecessor. The shape is a very standard daypack shape, which is not rigid compared to something like the Black Ember Citadel Minimal Pack or Tortuga Outbreaker.
One more difference is that the brand label has been moved to the lower right, mainly for easy identification for their warehouse crew. I liked the change as it made the branding less obvious, something which I can always do more of.
But no one likes ads, so I got rid of them. If my articles helped you, I ask for your support so I can continue to provide unbiased reviews and recommendations. Every cent donated through Patreon will go into improving the quality of this site.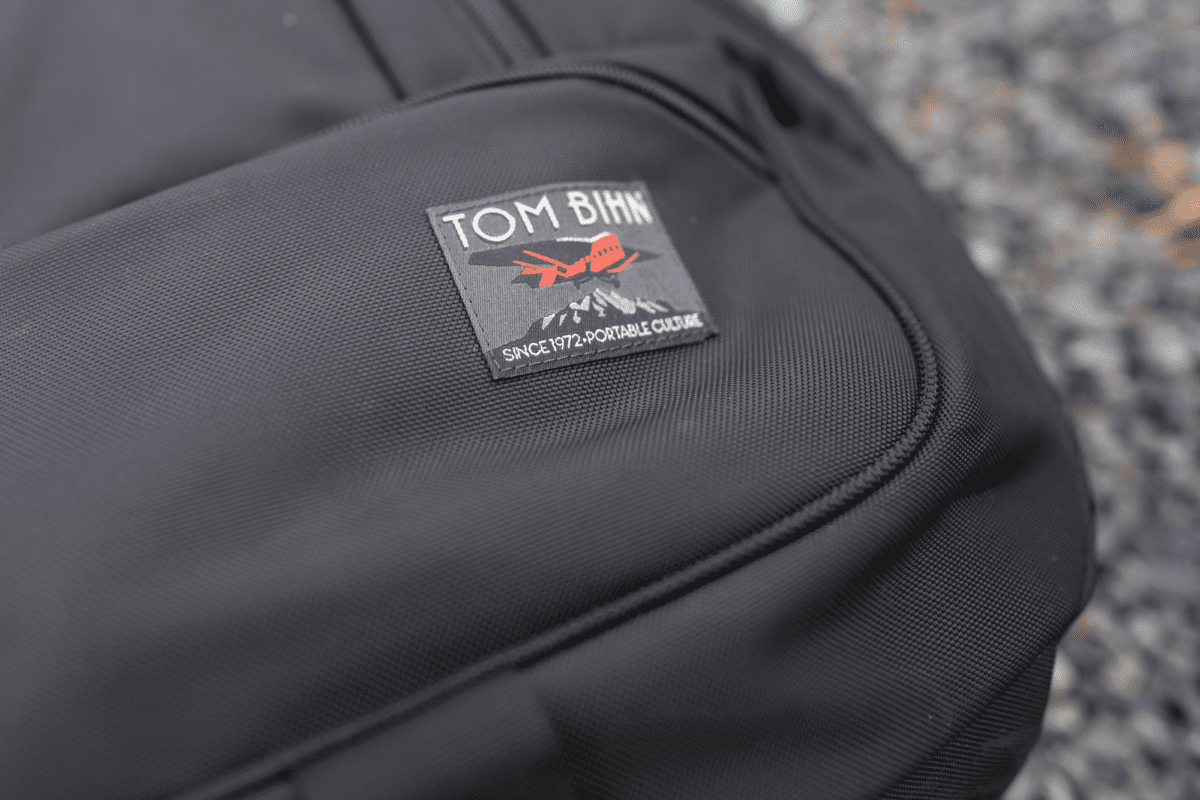 Material
TOM BIHN has mostly kept the material choices consistent with a few hardware upgrades.
Exterior Fabric
Even though I have the most experience with Ballistic Nylon, I'll be talking about the different materials you can choose for the exterior bag.
525d High Tenacity Ballistic Nylon
This is the fabric I have the most experience with and the one I got. In fact, I wrote an entire article about it. My favorite thing about Ballistic Nylon is how it's soft and supple, yet crazy tough. I don't think it would ever wear out based on the amount of use I'm giving it, which is a lot. In fact, I believe that Ballistic Nylon is the most tear and abrasion-resistant of the three.
Also, it doesn't collect any pet hair, although that isn't a feature typically look for when choosing a bag. You can check out TOM BIHN's very own testing with animal fur here.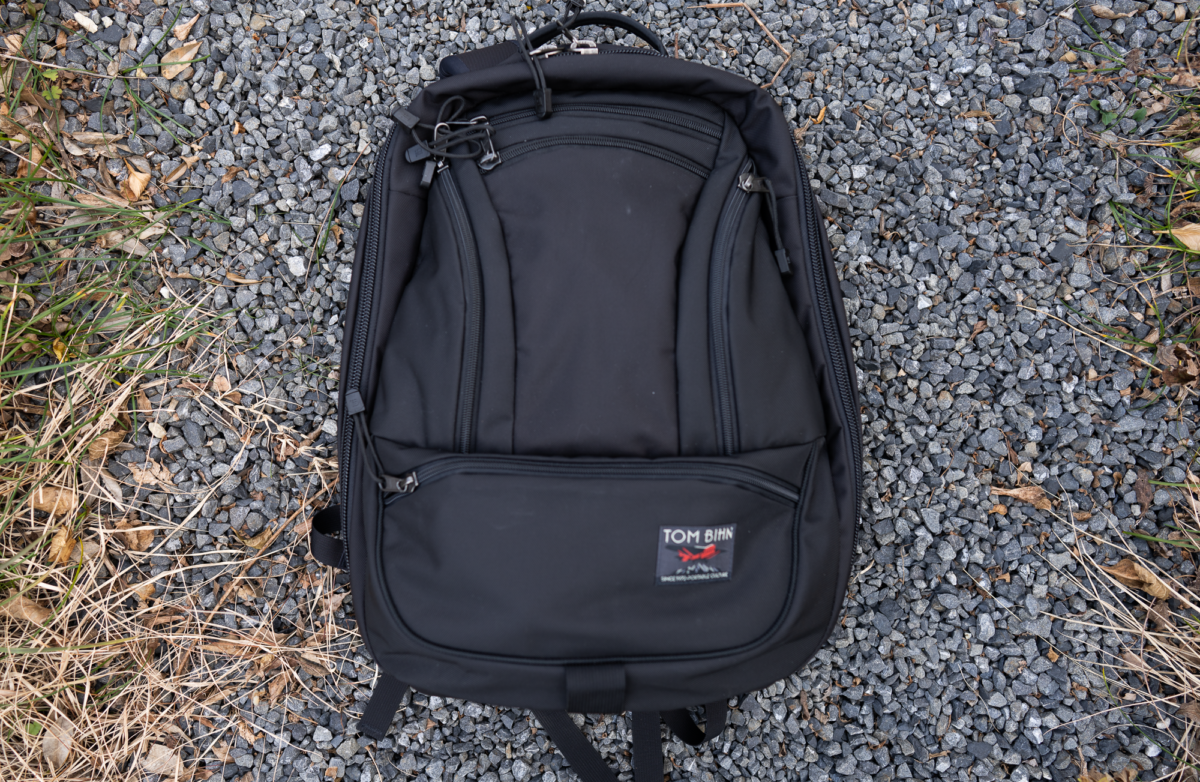 400d Halcyon
Halcyon is lighter but less durable than Ballistic Nylon. In fact, it's the lightest of all three. But then again, any of these materials are stronger than you ever need and it's unlikely that most will be able to wear them out. The Halcyon also looks much more technical-looking than the other two, which is something I rather avoid.
420d HT Nylon Classic Parapack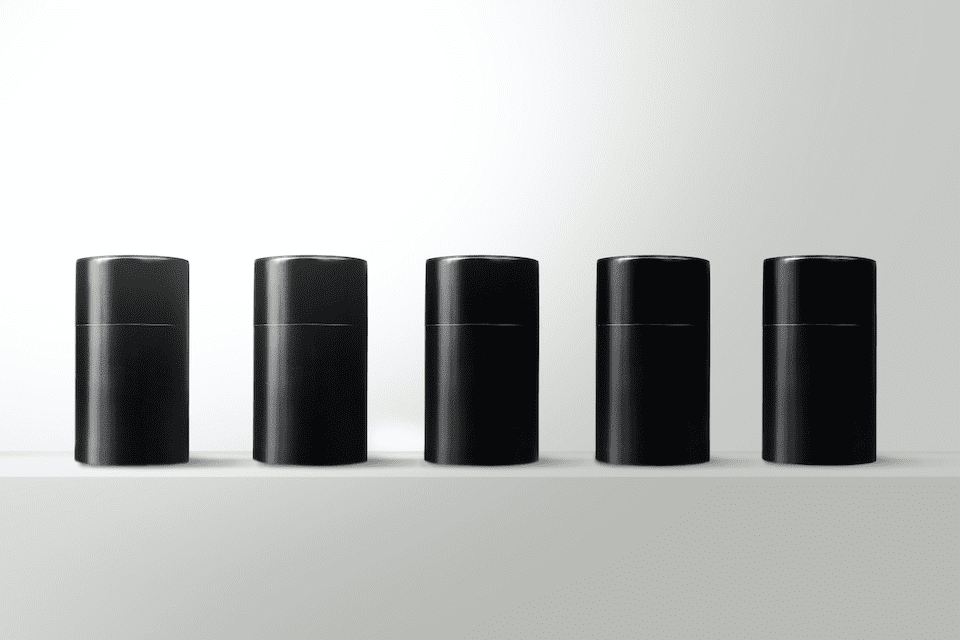 I found a 100 year old company that would create these heirloom quality canisters for me. They are handmade and will keep your tea leaves, coffee beans or anything that you need dry for years to come.
or read review
Parapack was originally developed as a material for the pack on the back of parachuters. Since they were jumping off planes, it needed to be smooth to not catch anything on the way out the plane, yet strong enough to withstand punctures and tears, yet stay light. Parapack is smooth and has a sheen, kind of like the material you'll find on a tent. It's similar with Ballistic Nylon but without the weight.
Interior Fabric
Depending on the choice of exterior fabrics, there are a few available combinations of interior fabrics. They are
Outer/Inner
As you can see, there aren't any options for Halcyon/Ballistic Nylon or Parapack/Halcyon.
You are probably not going to see enough abrasion on the interior to have to choose too carefully here. So, the interior fabric is a matter of personal preferences and perhaps weight.
The Ballistic Nylon/Halcyon is lighter than the Ballistic Nylon/Ballistic Nylon. Halcyon is also slightly less abrasive than Ballistic Nylon if you are worried about your delicate belongings. These are the reasons I personally went for the Halcyon interior.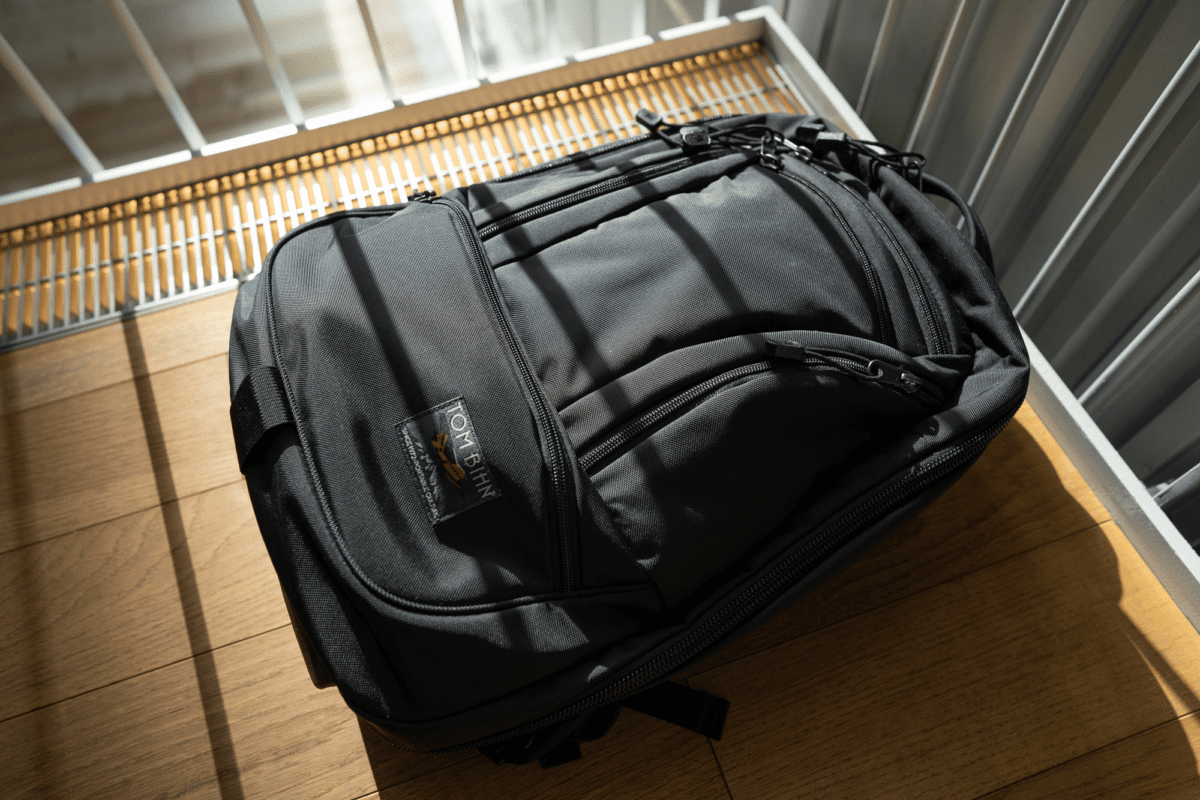 What's New
As the successor to the Synapse, there are quite a bit of upgrades that came with the Synik.
Clamshell Opening
One of my biggest problems with the Synapse was definitely the inability to clamshell-open it. And since I believe many others shared the same sentiment, the Synik boasts this as one of the biggest improvements from the Synapse. I agree.
Just a few years ago, before I got into this one bag travel thing, I hadn't realized just how much better a clamshell openable backpack is. Now, this is one of the biggest features I look for when shopping for a backpack.
A clamshell let you open up your backpack like a suitcase, something I've taken for granted with the GORUCK GR1. Like, why wouldn't you need a clamshell opening?
Sure, if you open the bag fully while it's upright, stuff might fall out. So, just do it when it's laid down flat? It's exactly the same as with luggage. Since I often travel with just one bag, being able to access stuff at the bottom of the bag is paramount. Else, I would have to take everything out and put everything back in once I get what I want. Not the best experience, especially in cramped hostel dormitories.
But, to counteract idiots who would fully open their backpacks while it's upright (seriously why?), the added two tie-down straps in the main compartment to keep stuff in place. It's good they are removable too, since I don't use them usually unless I have too much space in the pack that would cause things to move around.
Laptop Compartment
This is maybe my second biggest gripe with the Synapse backpacks. In this day and age, you can't really call yourself a decent travel backpack without a dedicated laptop compartment. We are in the age of digital nomads, where a laptop compartment is no longer a premium, but a necessity.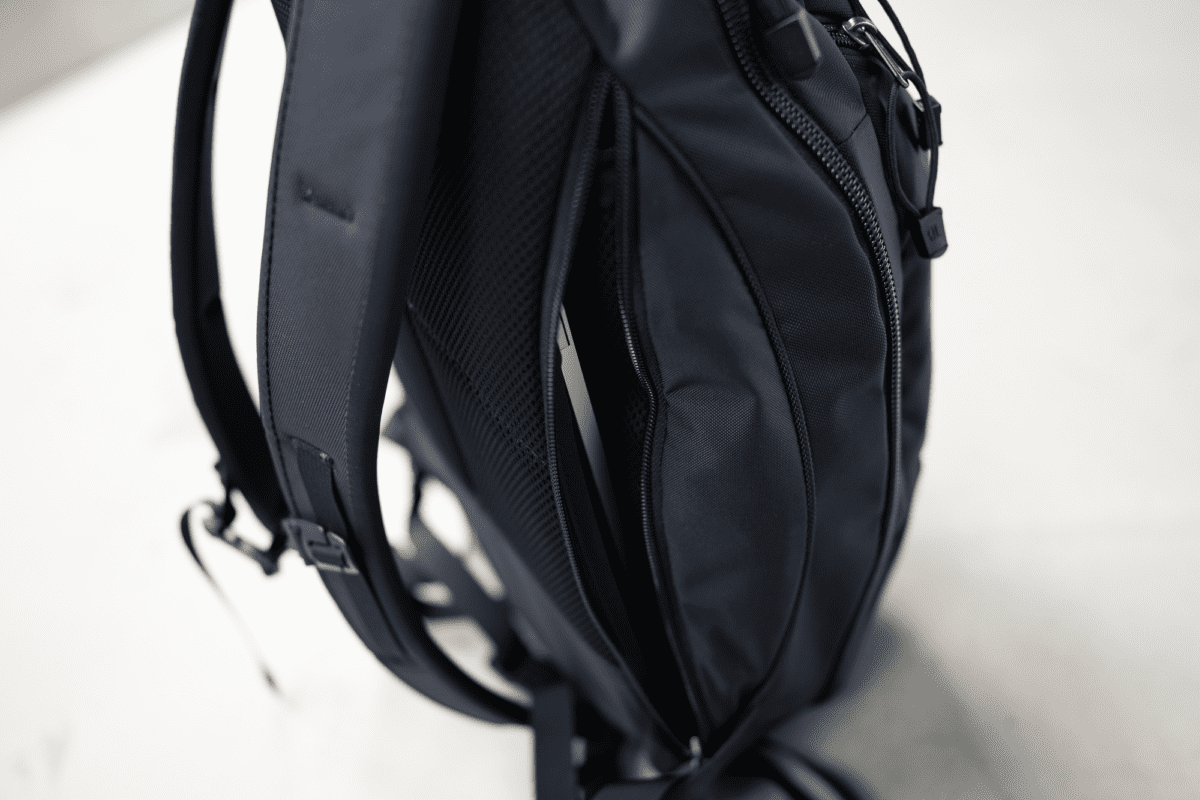 That laptop compartment is suspended, a feature that I look for after my experience with the Black Ember Citadels Minimal Pack. I don't like to baby my backpack and belongings when I travel, which includes me dumping my bag down on any surface. A suspended laptop compartment, together with the frame sheet, keeps the laptop from coming into impact with the ground. To add to that, the bottom of the bag is padded, so you are double protected with the suspension and padding.
The laptop compartment has two access points. One from the left side of the bag on the exterior, and one from within the top part of the main compartment.
Frame Sheet
In 2018, TOM BIHN released a frame sheet for the Synapse to improve structure and prevent an overstuffed bag from being felt by your back. For me, the Synapse didn't feel right until I got the frame sheet.
For the Synik, they did the right thing and included it with the bag. They had at first wanted to make it optional so you would be able to use your Synapse frame sheet with the Synik. But, while it fits, it was a little too hackish. So, they included it to ensure that you had a barrier between your laptop and your luggage handle when using the luggage pass-through slot, as well as to ensure that your laptop stays suspended off the ground.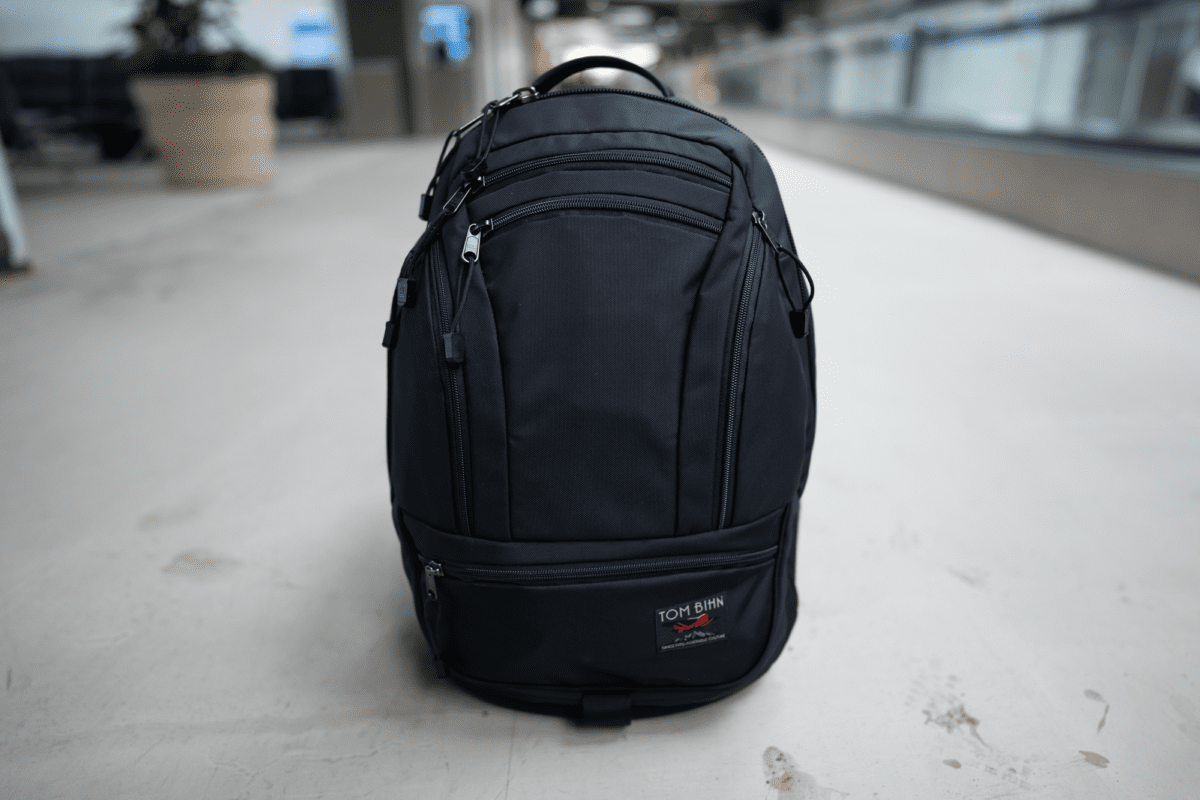 Since the Synapse frame sheet was released after the Synapse itself, they had to come up with a hackish way to accommodate the frame sheet. But on the Synik, it's designed to accommodate it from the beginning so it's hidden and you won't have to see it unless you are adding or removing it.
However, a frame sheet adds weight and takes up usable space by reinforcing it with its rigidity. This is why I'm also glad that they left it removable.
Edgeless EV50 1/2″ Shoulder Strap
The shoulder strap has also been upgraded from the Synapse. Edgeless seemly means the cushion is the edge, so you don't get the feeling of the straps cutting into your shoulders. EV50 refers to specifically 1/2" thick EVAZOTE® OEKO-TEX® certified foam which are comfortable, but aren't too soft that would cause instability when carrying a heavier load.
Rolling Luggage Handle Pass-Through
I was actually pretty surprised that they added this, given how popular their bags are with the onebag travel community. Bringing along a rolling luggage? Filthy peasant.
Just kidding. I actually had to bring along a rolling luggage on a recent trip so that I could bring leather shoes and a suit for a formal event. So, I can understand there will be situations like this.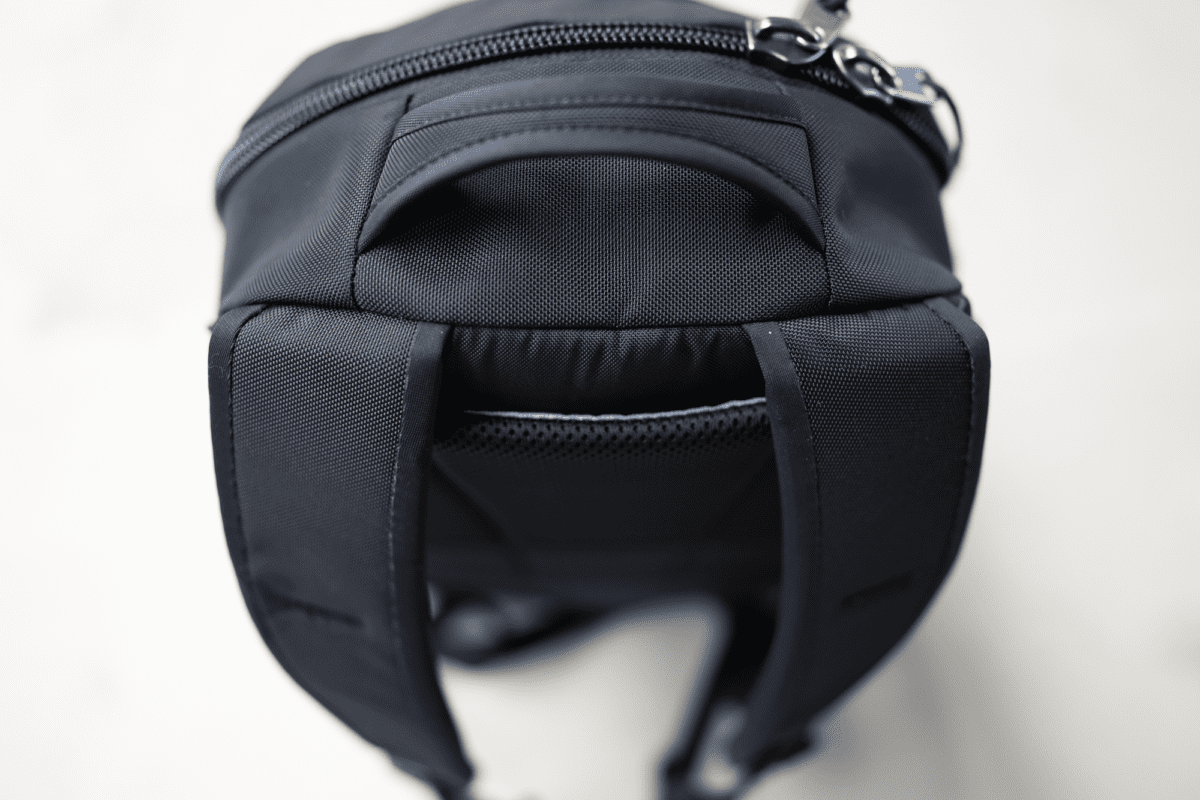 I also realized that TOM BIHN didn't simply add this feature by throwing on an elastic slot, but managed to double purpose the frame sheet slot. In that case, why not.
You do have to make sure that the luggage handles go behind the frame sheet instead of between the sheet and the bag. But, no biggie.
Others
Apart from the new upgrades, the hardware is pretty much the same as the Synapse and the other TOM BIHN bags. YKK zippers are used throughout.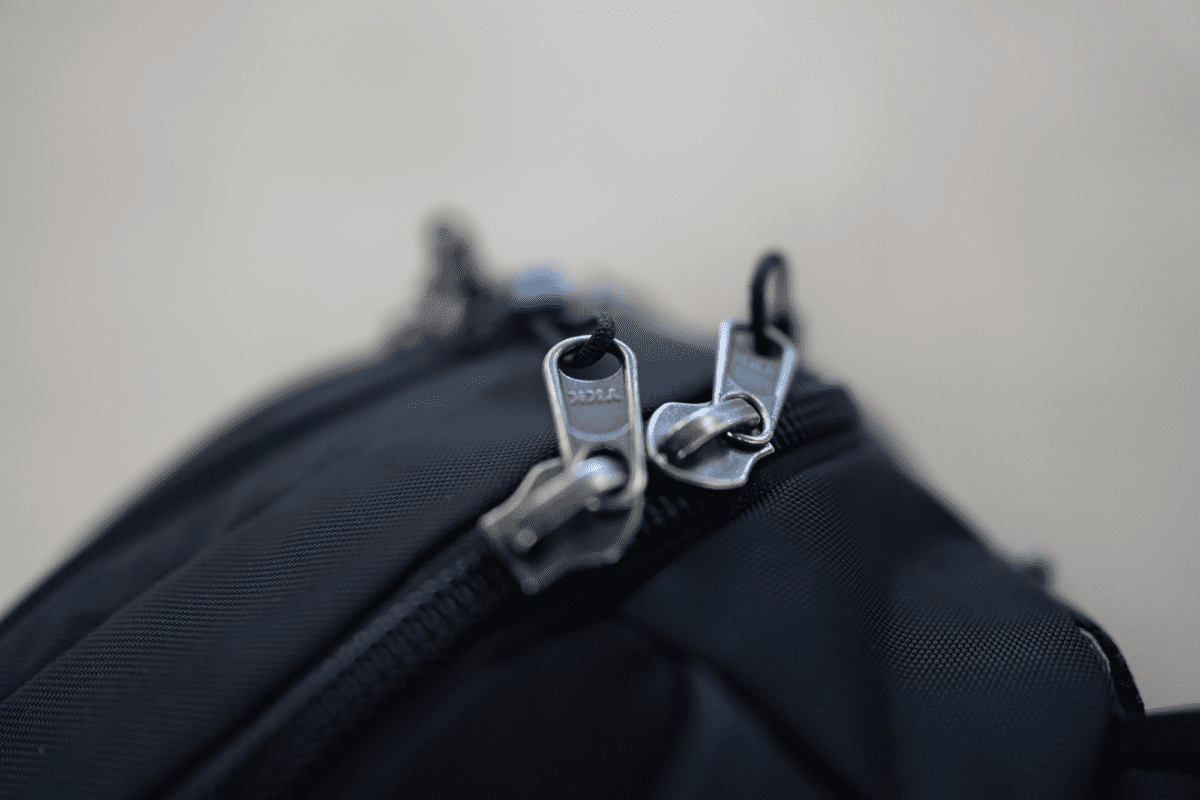 Usage
For this TOM BIHN Synik 30 review, I brought it on a week-long trip to Taiwan, with it being my only bag. Despite being 30 liters, the compact size makes the hostel staff question if that was all the luggage I brought. I also used it as my daily carry.
For Synapse users, especially those who use the frame sheet, the Synik should be very familiar. The same compartments, shape and look.
Like the Synapse, I always feel that these bags are smaller than they really are, because each compartment is so huge that the main compartment seemed small. But, I could fit a lot. For my trip, I had the following packed in my bag (not including those I wear)
Laptop Compartment
The laptop compartment is an amazing addition but I'm still a little on the fence when it comes to the access points. Since I often use it as my only bag, I wouldn't normally be able to access it from the main compartment without going through a bunch of stuff. Even without stuff in the way, accessing the laptop from there isn't the smoothest movement.
This leaves me with the side zip. I was very optimistic about this at first, but I'm not too sure now. To take your laptop out (I have a 15″ MacBook Pro), you have to turn it to an angle such that the short side of the laptop faces out of the hole and then pull it out. Compared to just having a top access zipper, this is two steps compared to one. Also, sometimes the corner might get stuck when you are turning it to the angle. This is especially troublesome when you unzip the compartment but didn't fully zip it all the way down.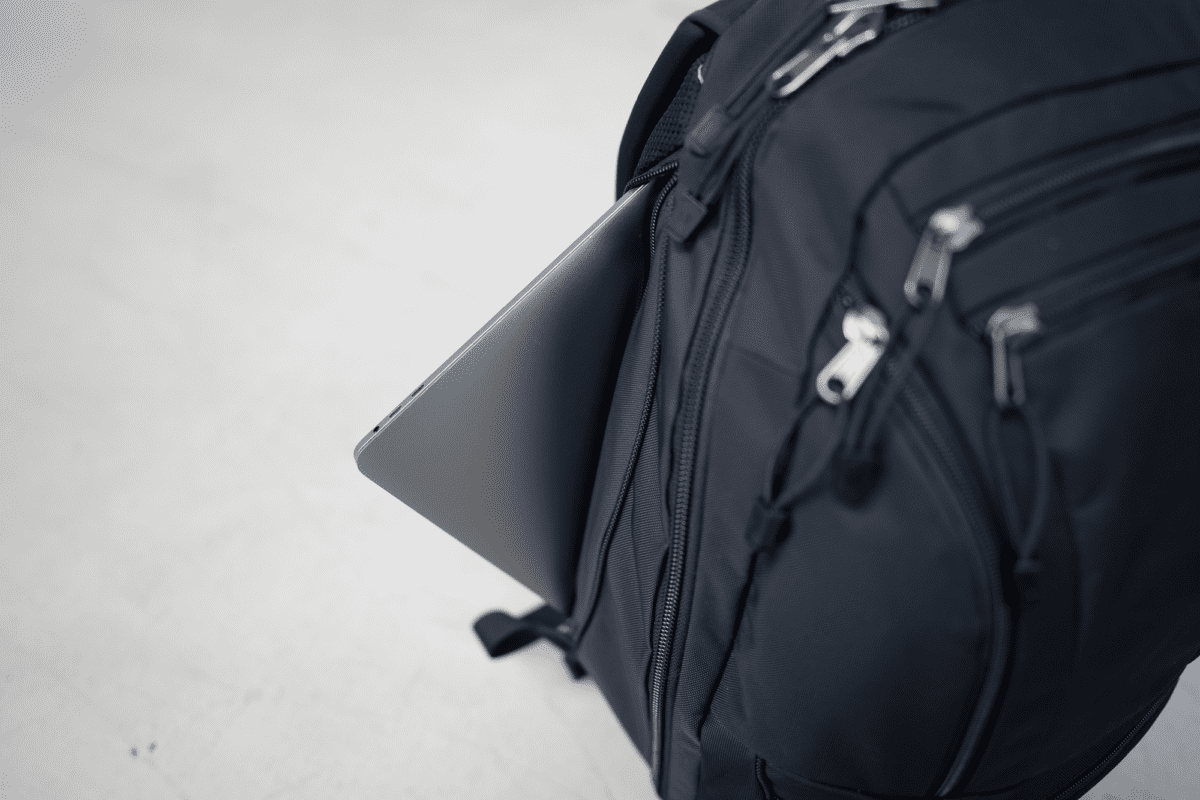 There are situations where you have to reach for your laptop while still carrying your bag, like in the queue for the security check where you want to take out your laptop before you reach the conveyor belt. You kinda have to bring your bag to the front while it's slung on one shoulder. Since it's only accessible on one side, sometimes I forget which side and sling it forward on the wrong shoulder.
To access it, you need to sling it forward on your left shoulder. When accessing other items, like my earpods on the front quick access, I'm used to swinging it forward on my right shoulder, so I'm still unable to get used to the change in movement.
While I still consider this an easy access, I wonder why they couldn't just let you access it from the top like the GORUCK GR1. It just seems more natural.
Another thing is that the side zip is not in a straight line, so you can't really pull the zip with one hand and expect it to open all the way through smoothly.
Rolling Luggage Handle Pass-Through
I never thought I would use the luggage handle pass-through, but I had a chance to use it during my Taiwan trip since my SO had to take along a suitcase. The bus drivers in Taiwan are a lot less careful than Japan, and there was a fair bit of swerving with the public bus on the way to the hotel.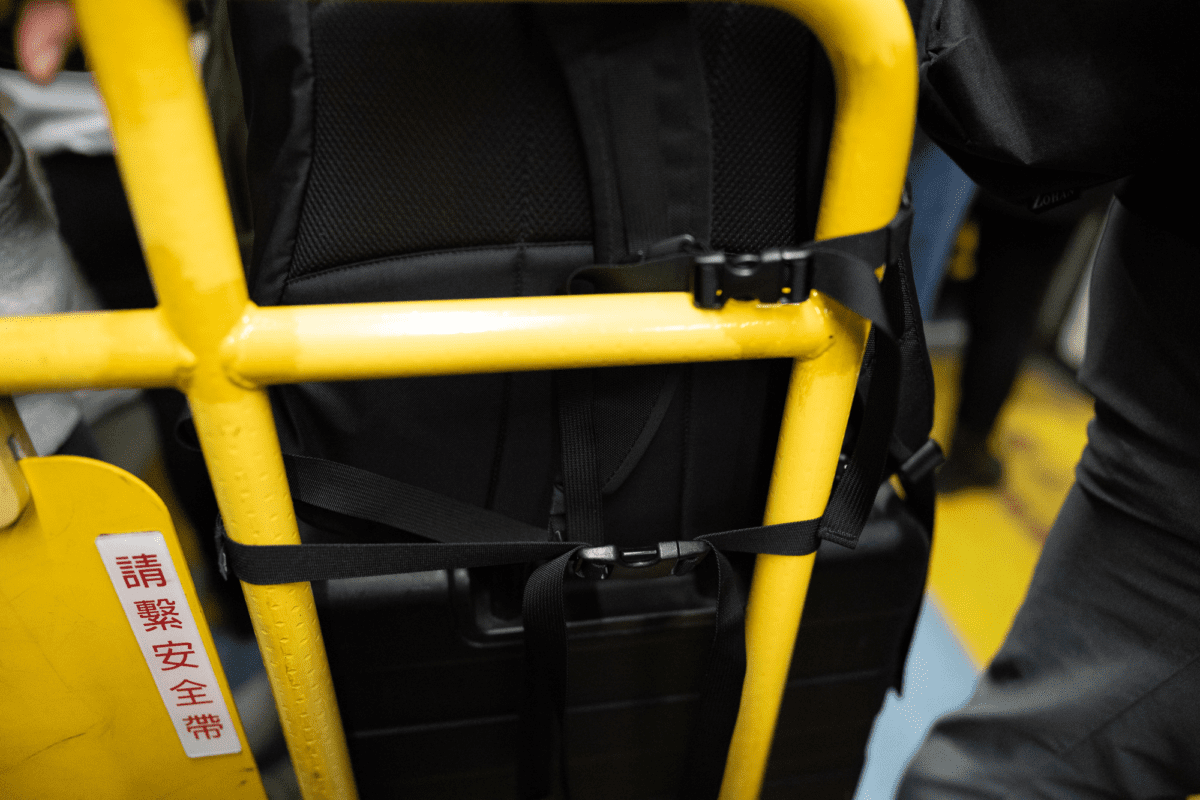 I was able to put my Synik 30 on the suitcase (one from MUJI) and use the straps to secure it to the poles on the bus. I could leave it that and it was enough to keep the luggage from rolling all around the crowded bus.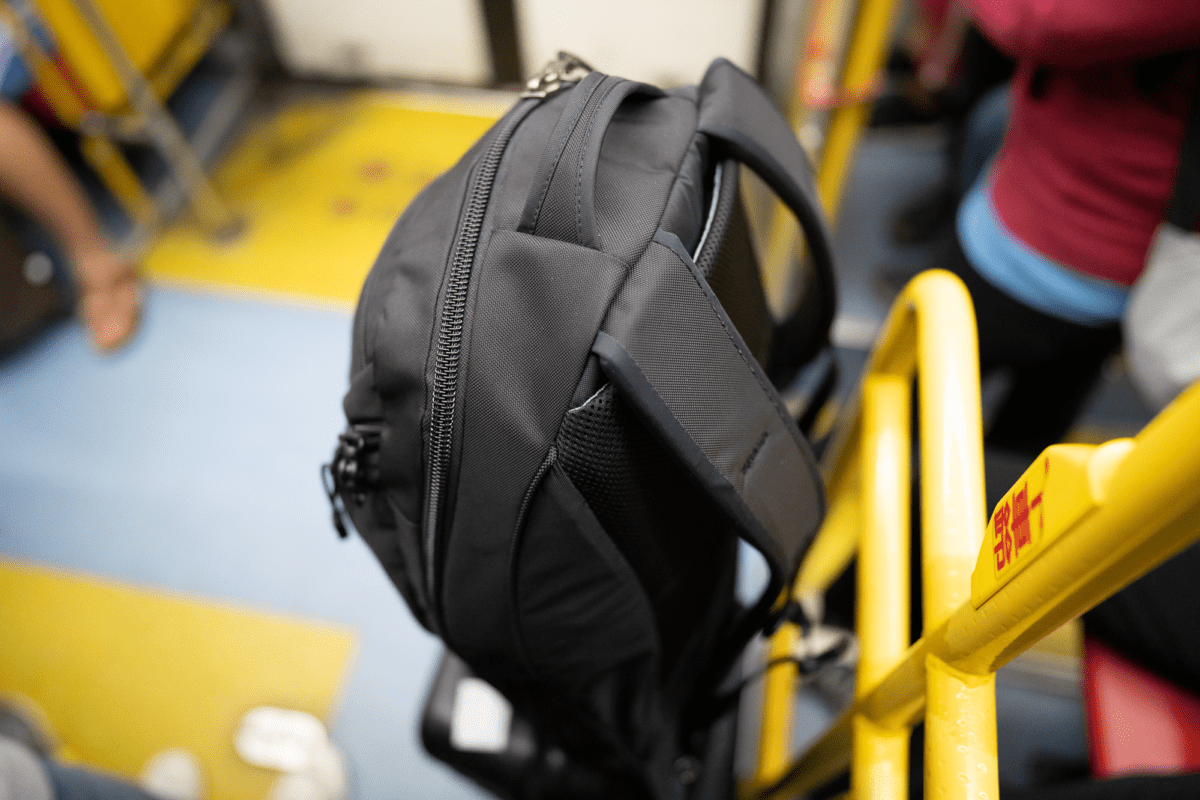 Compartments
I've gotten plenty of experience with the compartments of the Synapse 25 so I immediately knew what would go where.
In the middle top of front compartments, there's a shallow quick access pocket. Below that, a deep water bottle compartment right in the middle. Then, there are pockets on both sides of the water bottle compartment and finally, one that goes across the bottom of the bag.
The quick access compartments would usually hold my Master & Dynamic earphones. Since I don't have to use my local keys and wallet while I travel, my Keysmart Pro and Nik's Minimalist Wallet goes into here.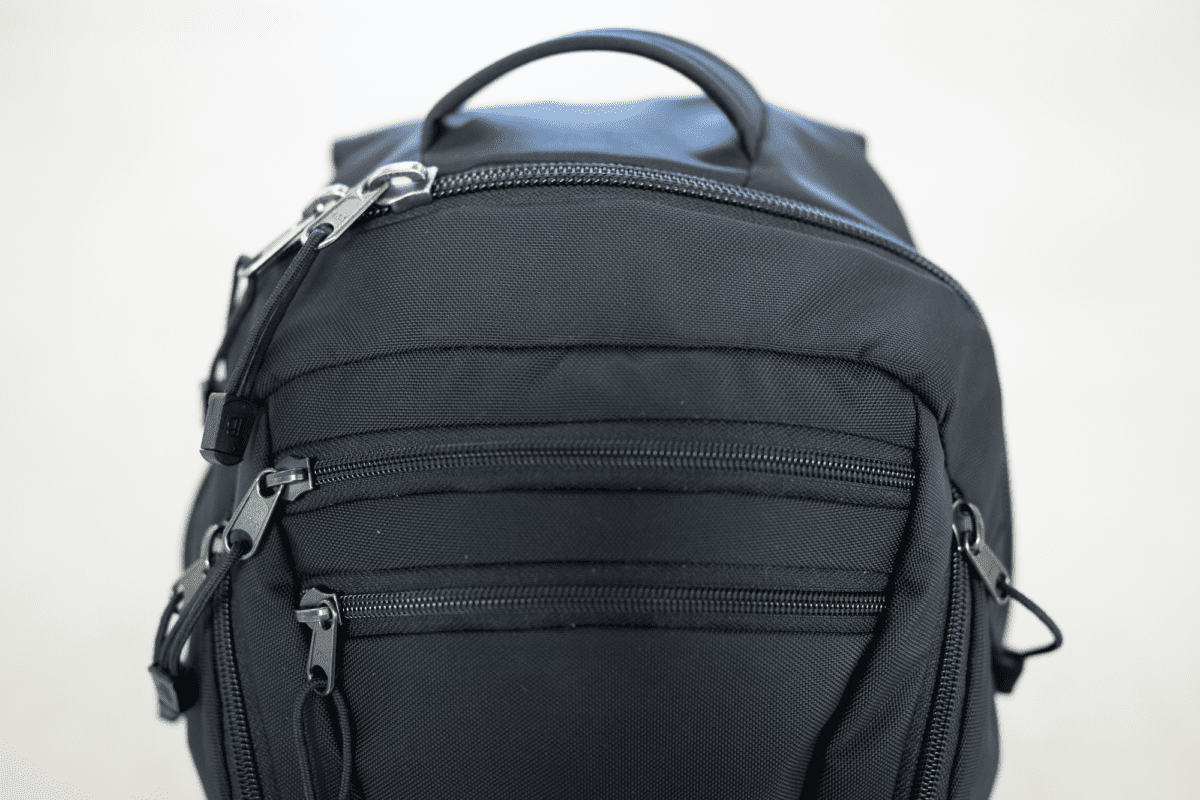 The water bottle compartment, I put my water bottle. But on this trip, I actually tried to go without a bottle. So I put my passport with the WAYFARER BORDERLESS Passport Cover and some wet wipes in here. I found that it was the most fitting compartment for my passport.
In the pockets beside it, I would have my everyday carry stuff like a Snow Peak Spork and Snow Peak Chopsticks, as well as an Airinum Mask. Once you've experienced the stench of smelly tofu and stained utensils, you'll find that these are essentials you need too.
In the bottom pocket, I put my laptop accessories and my sunglasses in a case.
In the main compartment, I put all my clothes in a TOM BIHN Packing Cube Shoulder Bag and have it at the bottom. Then, I'll have my camera and lens. I like to put my camera in the expandable slot within the main compartment since it keeps it suspended even further off the ground.
Size
While I was comfortable with the Synapse 25 as my one bag, the 30 makes it even more comfortable, while not increasing the size too much. When I checked into the hostel, the staff was surprised when I told them that this was all of my luggage.
While I could fit everything I needed for a trip into the Synapse 25, it gives me very little extra room. Sometimes when I get too hot and I just want to stuff my jacket into the bag or if I buy a drink or food that I want to keep into the bag. The Synik 30 lets me do so, without looking too much like a travel backpack.
Straps
Another significant change that you can feel are the edgeless shoulder straps. These are soft and comfortable, which offsets the weight of your bag a little.
Another strap I want to talk about are the hip straps. These are non-padded, so they don't offer any kind of real support you get from hip straps like the ones on the Tortuga Outbreaker. I've no problem with them but I just don't really use them, and if you leave them unclip, chances are they will hang down your bag a long way down. I ultimately opt to remove them.
Zippers
I'll probably include this in every review, but the putting on of zipper ties each time I get the bag is the worst experience of getting a TOM BIHN backpack.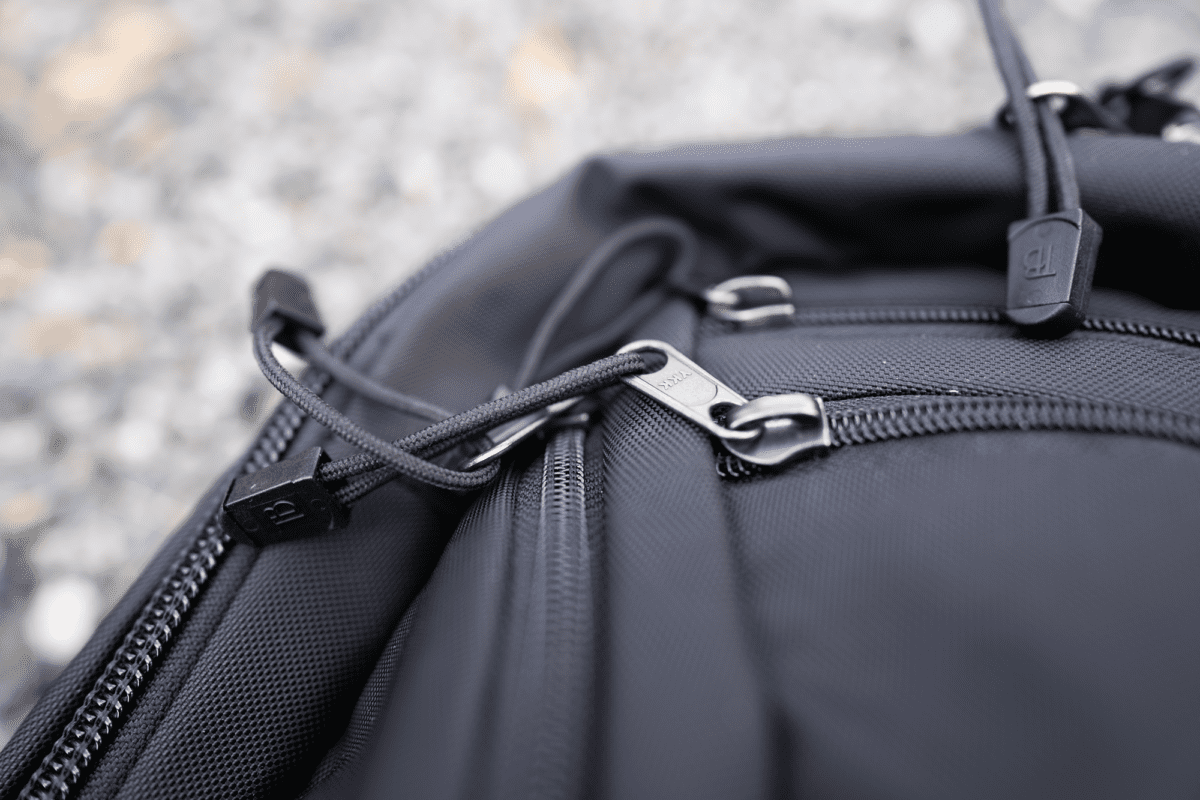 As if putting it on wasn't hard enough, I've gotten a few ties that were over-melted off at the end such that it became too thick to clip off.
Synik 22 vs Synik 30
I had originally gotten the Synik 22, but it just didn't work for me. For my 6 ft, 198 lbs frame, the Synik 22 looks a little too small. While this might be a good choice for people with smaller frames, the biggest problem for me was the laptop compartment.
The laptop compartment was not able to fit my 15-inch MacBook Pro. However, I found that the main compartment was able to just barely contain it, which makes it a viable option for those who prefer a small compact daily backpack.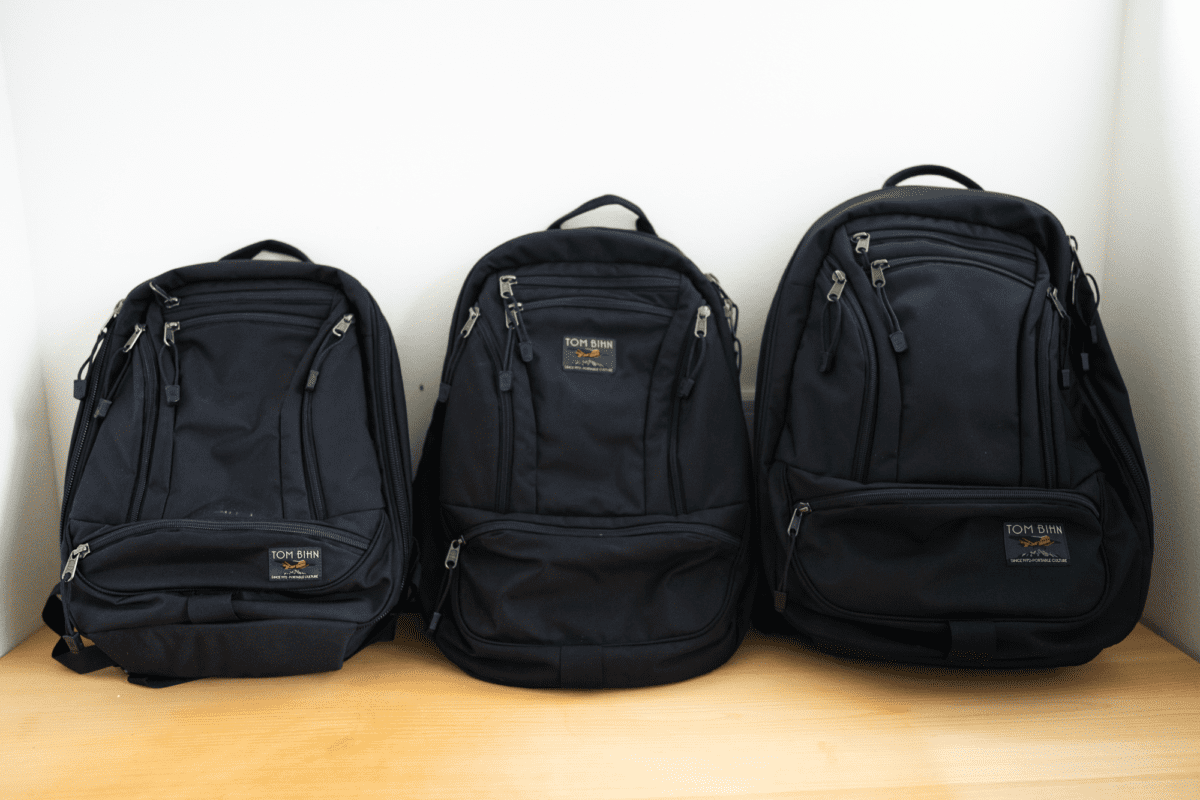 Also, unless you are an extreme minimalist, I don't see how a 22-liter backpack could be a comfortable size for any length of travel beyond a couple of days.
Conclusion
Damn, it was fun writing this TOM BIHN Synik 30 review. The Synik, is without a doubt, an upgrade from the Synapse 25. The laptop compartment and the increase in size are my biggest winners. Even if you already own a Synapse, the Synik certainly has enough reasons for you to get it.
Additional Images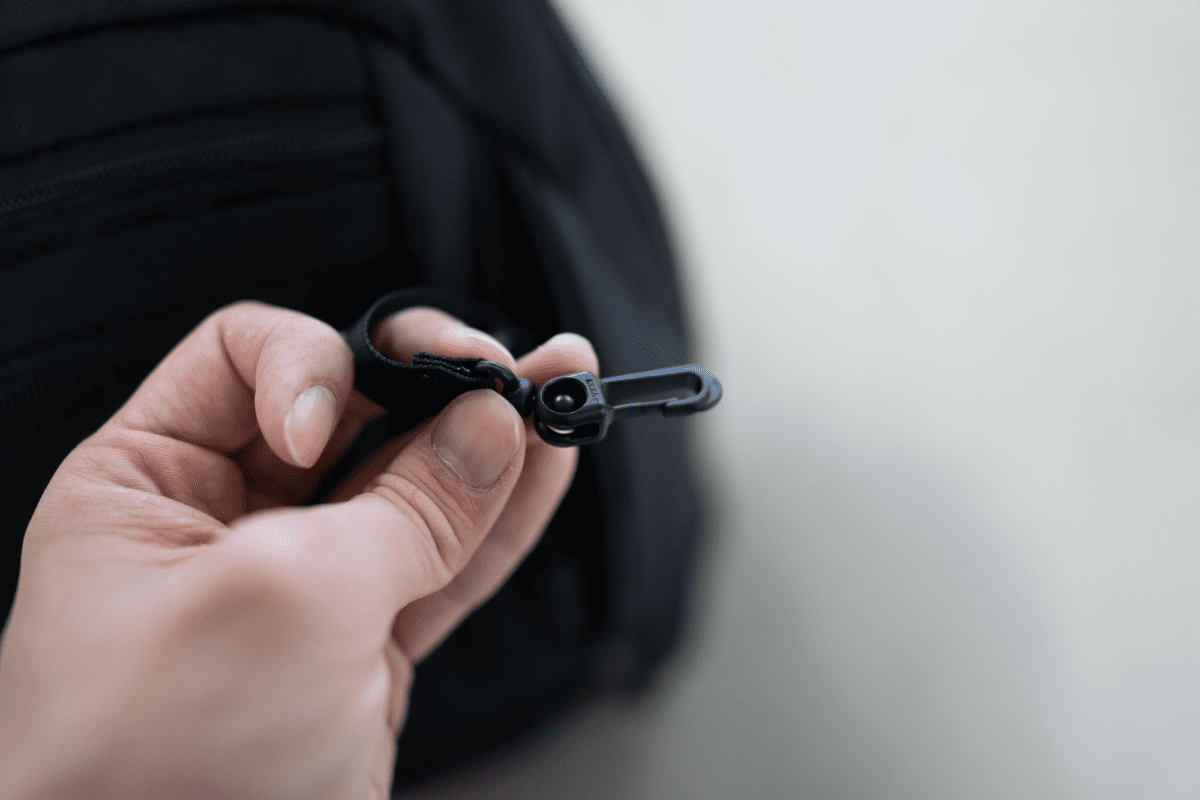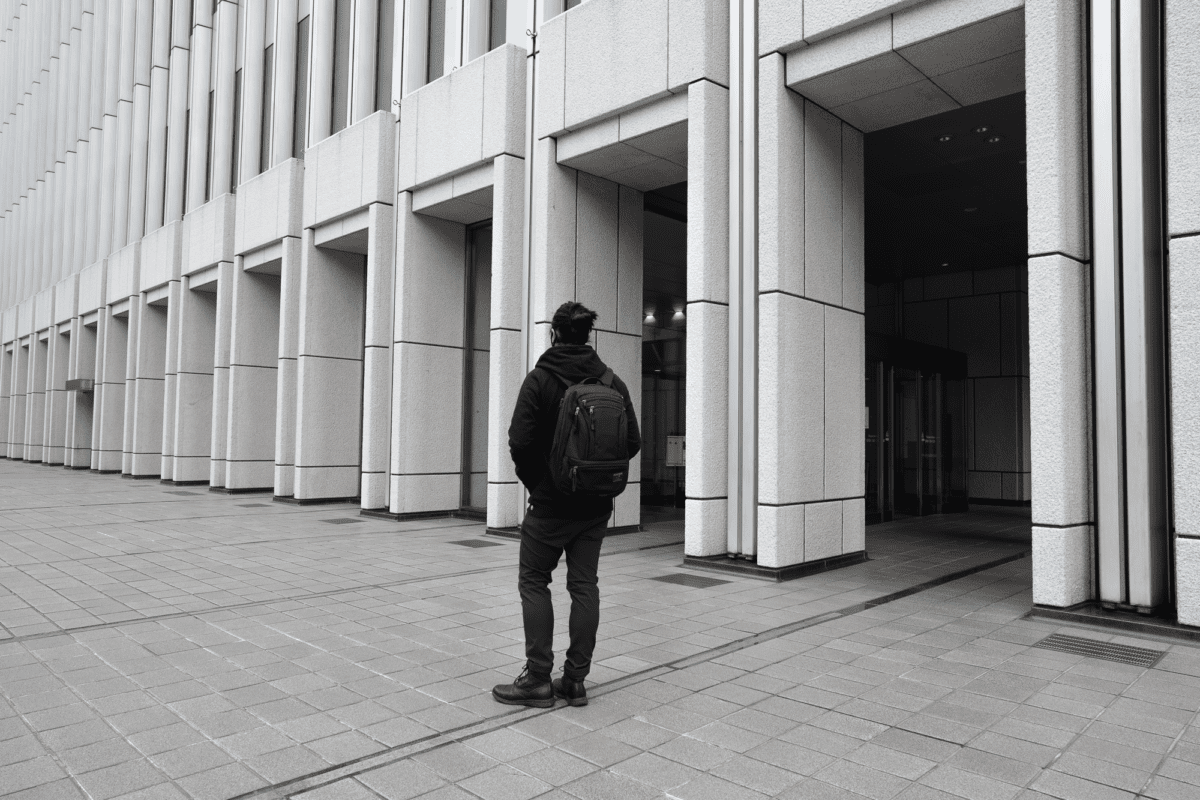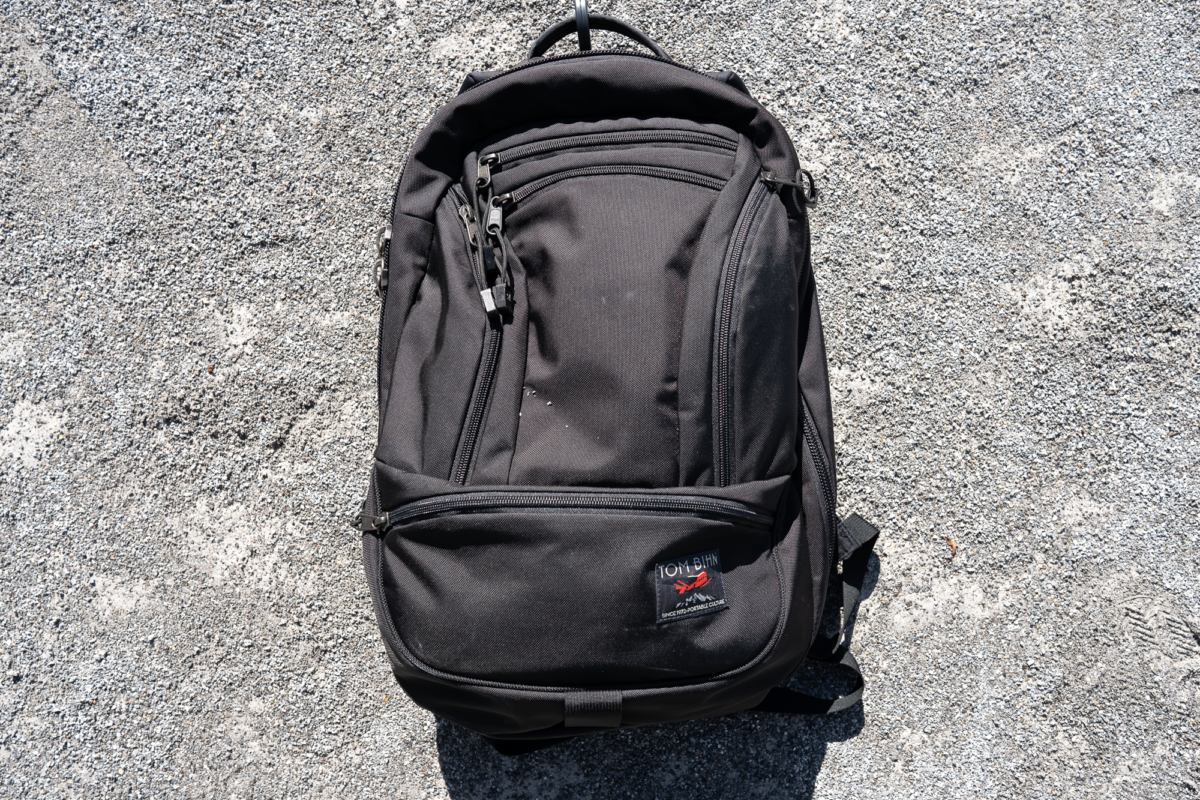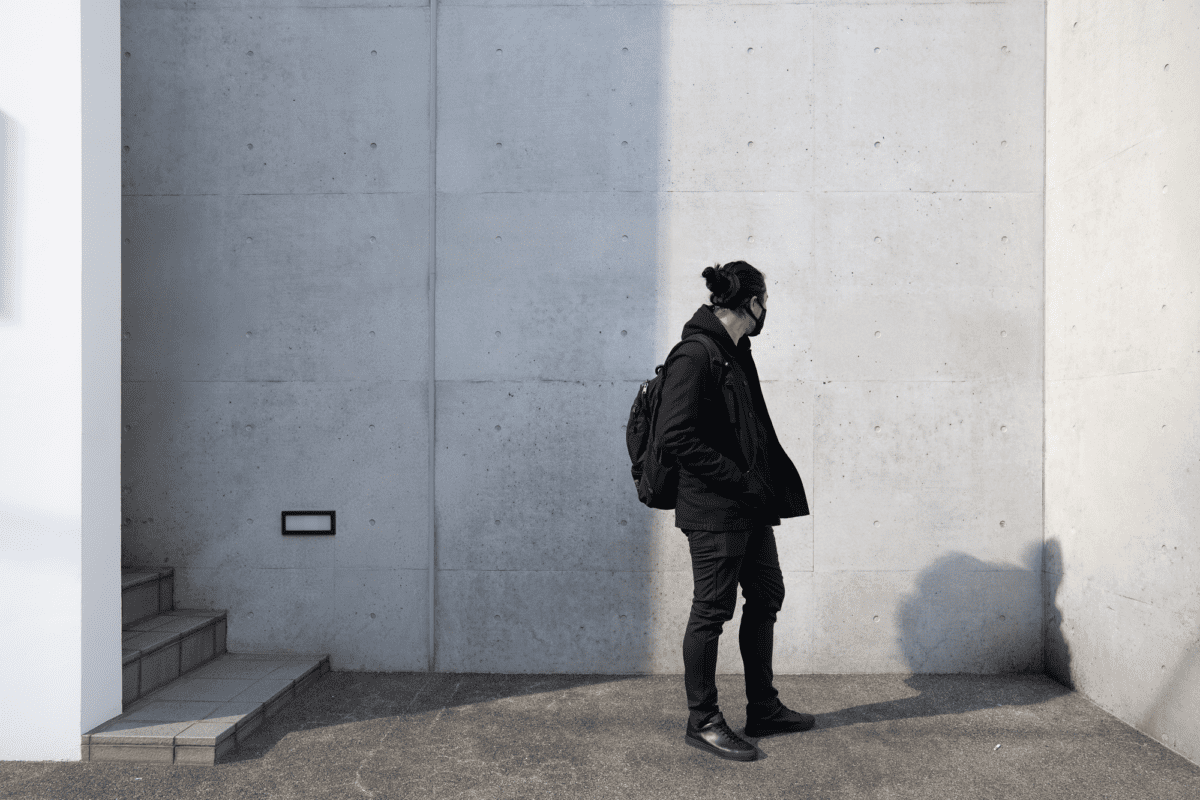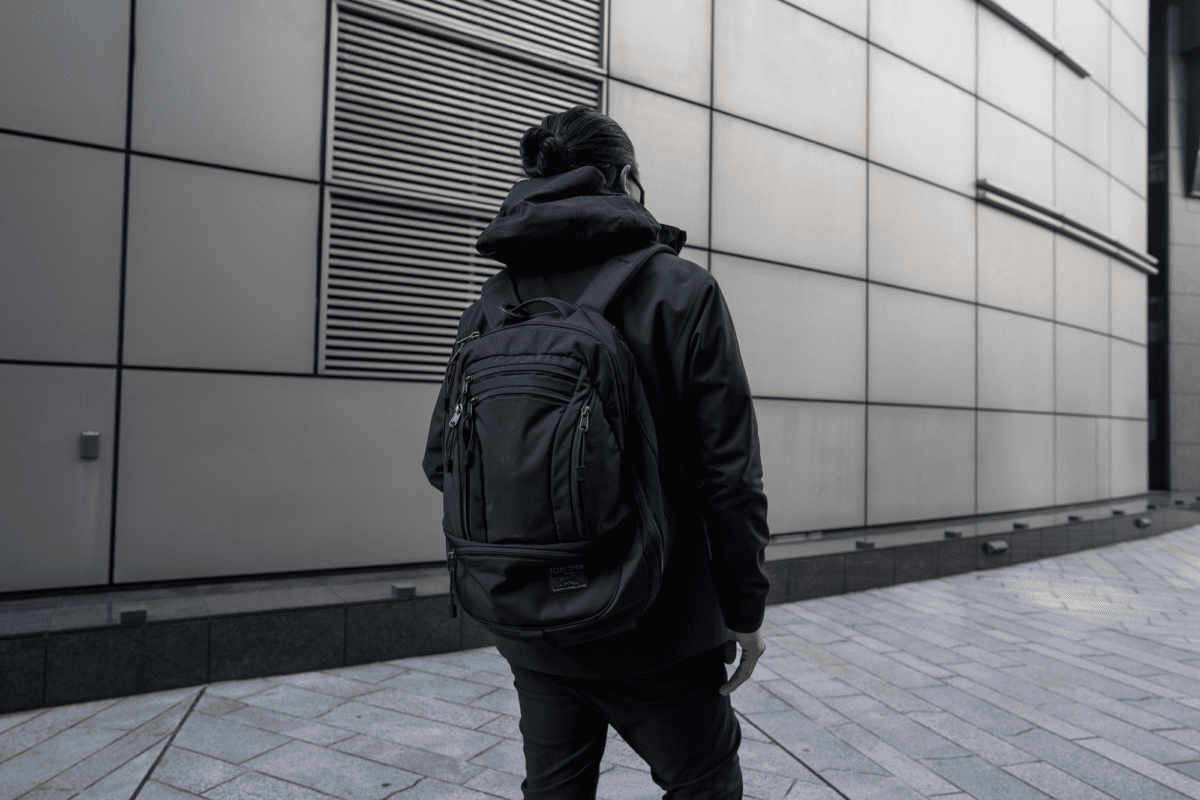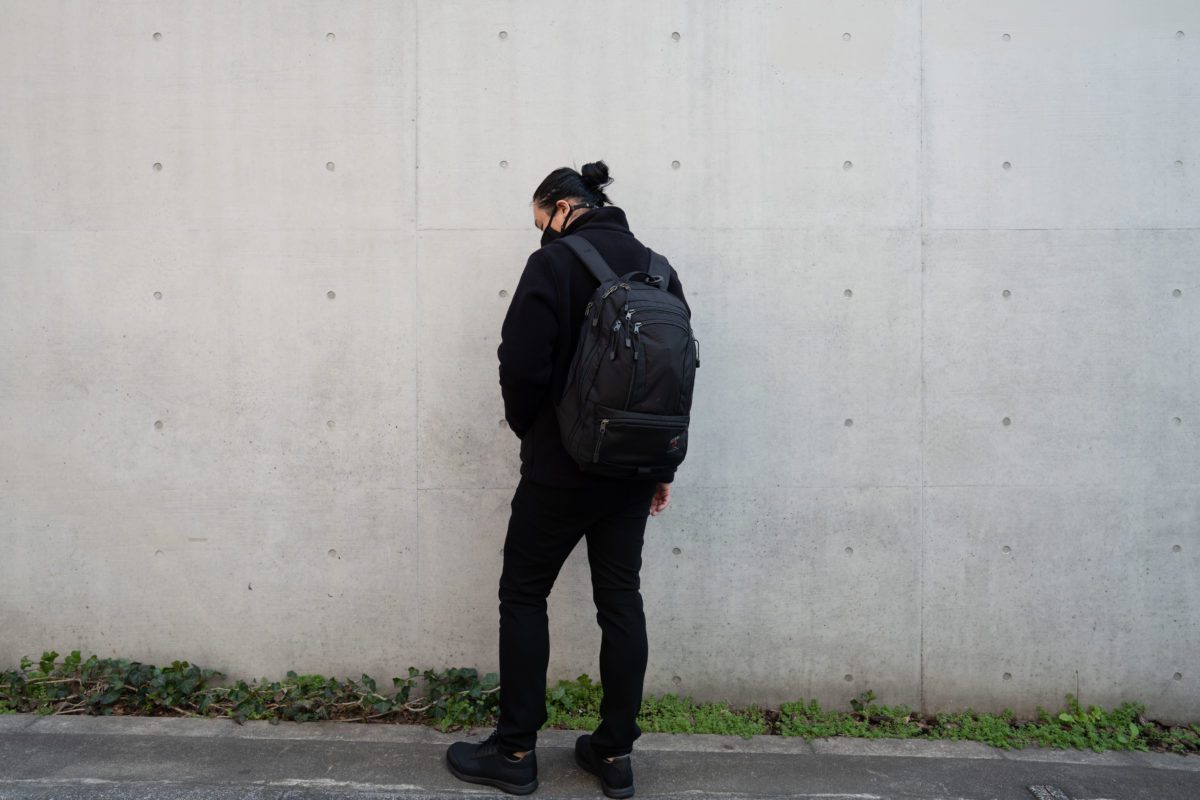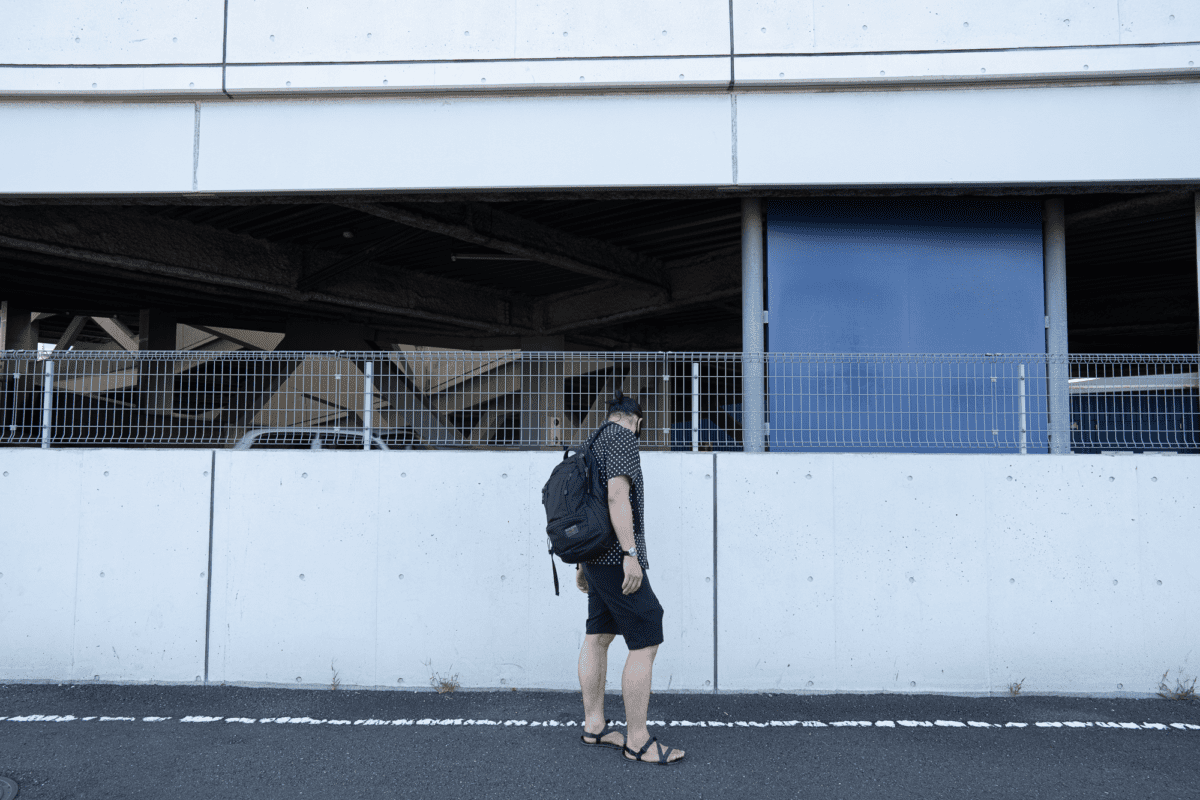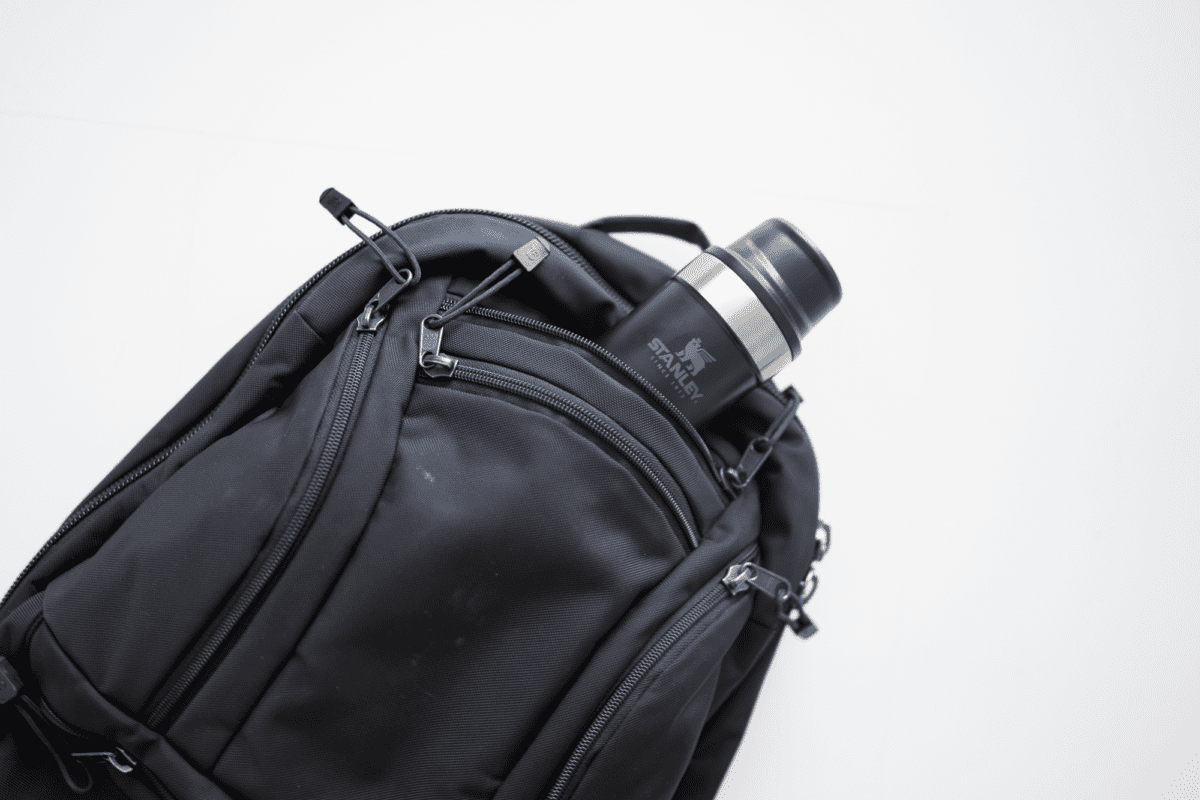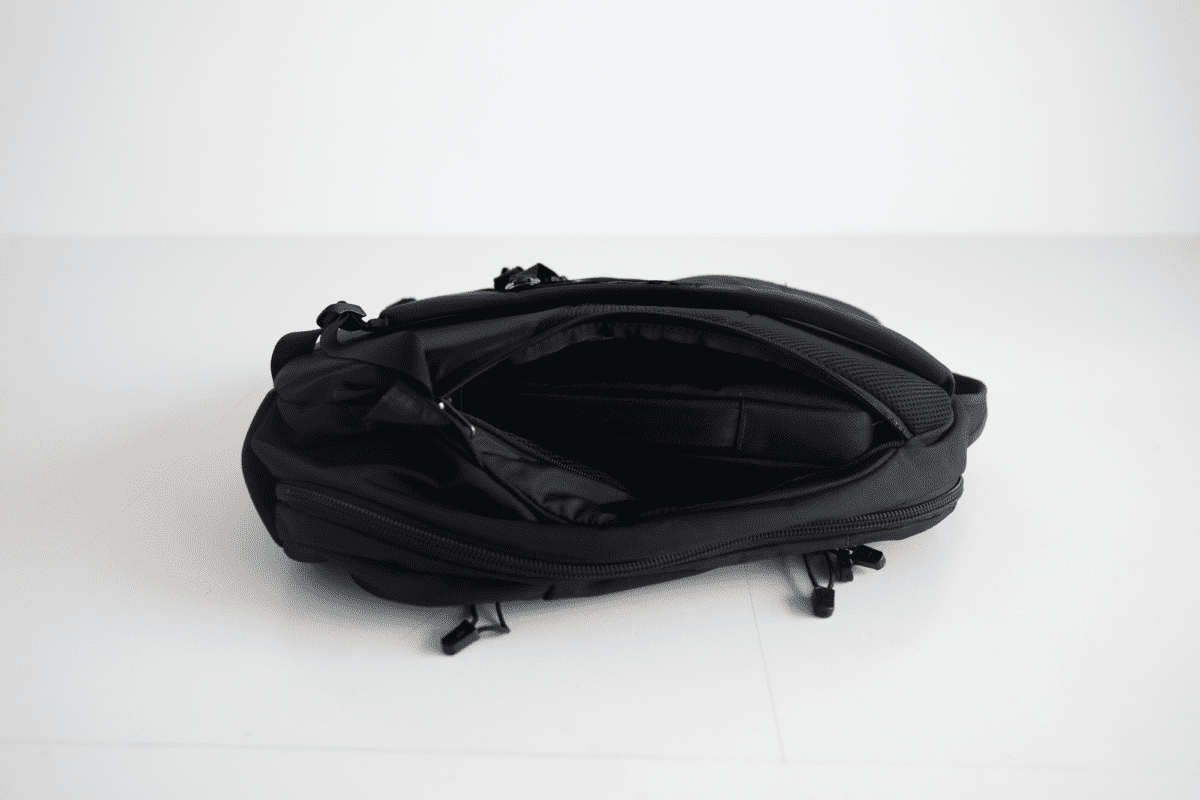 Like this review? See all of my in-depth reviews.
Also, consider supporting me by being a Patreon. Every cent given will go back into improving the content of this website.