This website is made possible by readers. I may earn a small commission when you buy through the links in this article at no extra cost to you. Learn more.
The Able Carry Max Backpack is Able Carry's fourth entry and first full-on travel backpack. Given the track record of this Hong Kong-based design powerhouse, I have high expectations, and suffice to say; they were not let down.
Details
Price $256 on ablecarry.com ($266 on Kickstarter)
Buy through this link for 10% off your entire order (once per shopper)
Capacity 30L
Dimensions H520 x W320 x D200mm (20.5 x 12.5 x 8 inches)
Weight 1.7kg / 3.7lbs
Overview
The Max is Able Carry's latest release and the first one designed for travel. Able Carry has crushed the daily carry backpack game with their Daily Backpack and Daybreaker. Their designs have always been purpose-driven with a point of view. In the Max Backpack, instead of trying to half-hearted appeal to all types of travelers, the Max Backpack will be perfect for a specific, but not small, segment of travelers.
Able Carry sent me a pre-production version of the backpack, so this isn't a complete review just yet, but more of a first impression. Do keep in mind that when released, there might be details that differ from the one used for this review.
Style
Many backpack brands have their own signature style, from the military-influenced GORUCK to retro-styled TOM BIHN to the ultra-sleek Aer. Despite being only four backpacks deep into the game, Able Carry has a distinct signature style.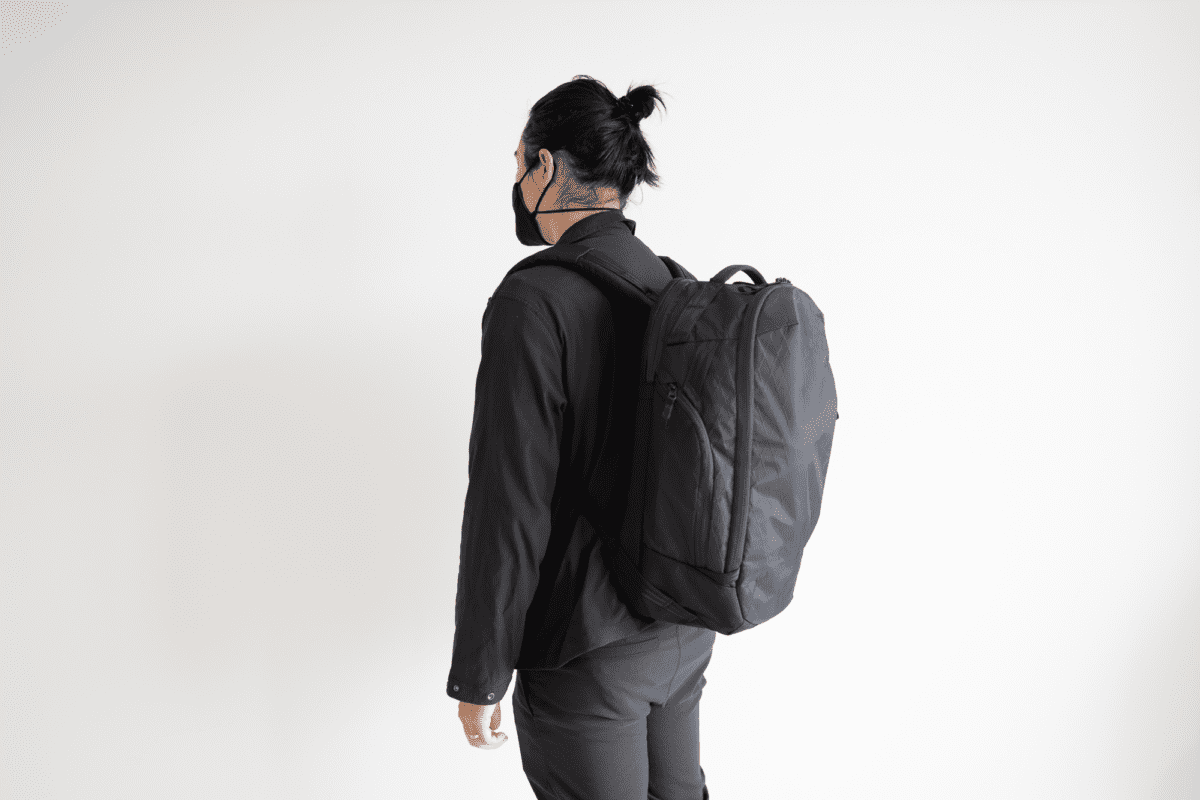 Able Carry's backpacks are often monotone, in muted colorways. The Max Backpack comes in Tarmac Black, Ocean Blue, and Forest Green. You might have noticed that the color names are different from the other backpacks. This is because the XPac on the Max shines differently compared to the others, and these names, according to Able Carry, reflect the actual colors better.
The one I got, as always, is the black version. Able Carry has always done its black versions well, keeping the tone consistent and material selection cohesive throughout the backpack for a premium finish.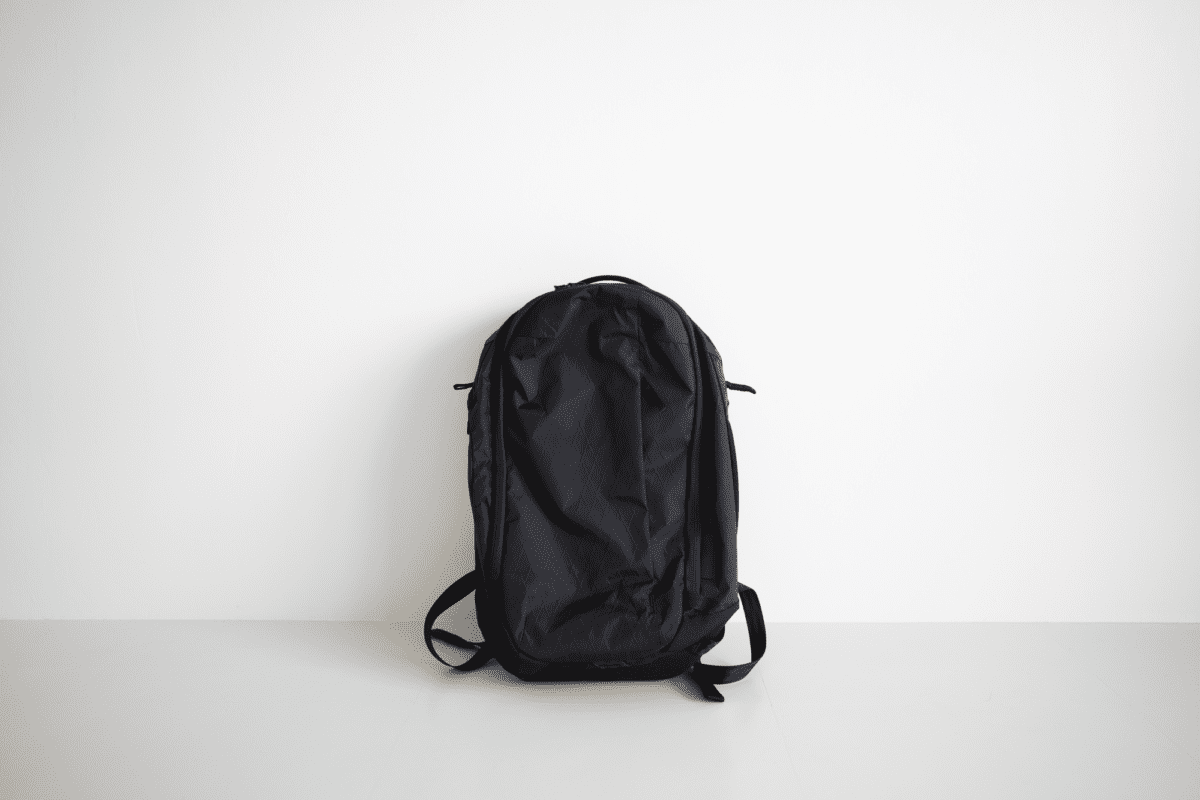 The main material of the backpack uses VX21 XPAC, which has a signature X pattern all across. I personally like the patterning of the material as it gives a subtle techwear vibe.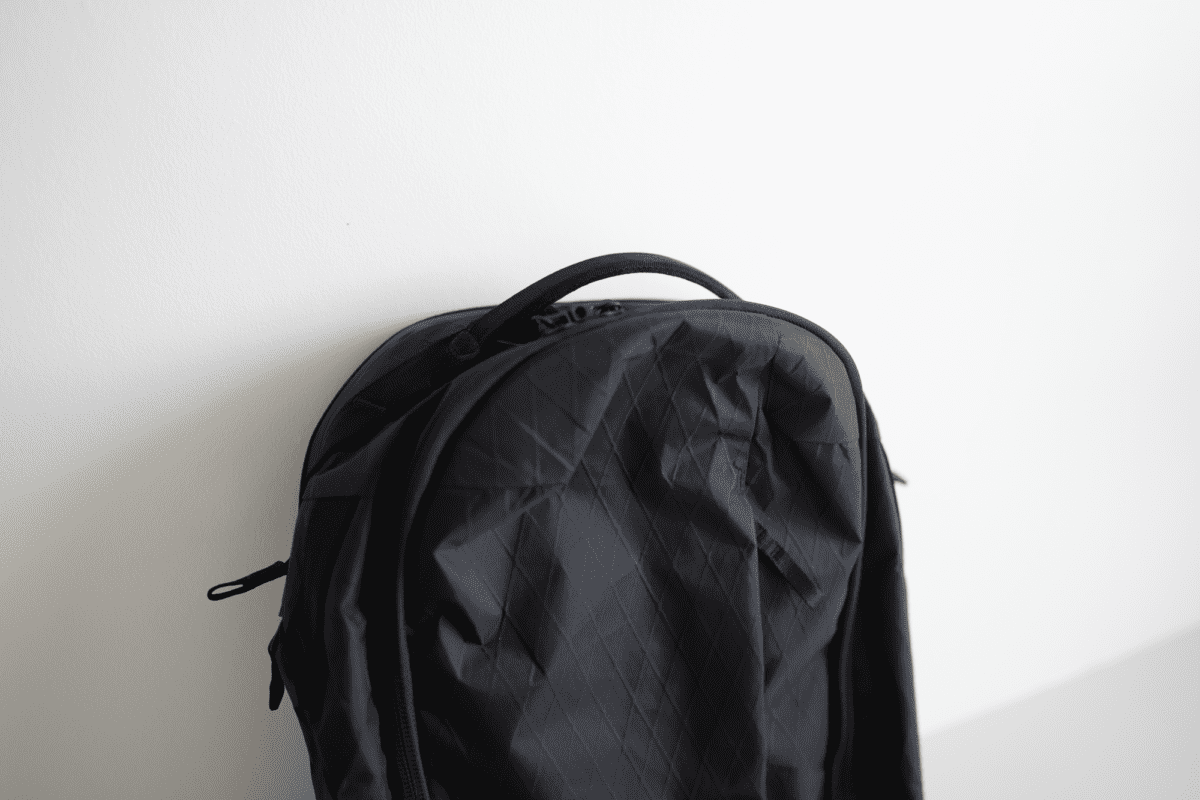 While the entire bag is matte, some parts have been purposefully glossy to indicate that they can sustain heavy weights. These parts include the side handle and luggage passthrough.
While the laptop compartment has water-resistant zippers, the main compartment doesn't. If I could nitpick, I would love those sleek water-resistant zippers on the main compartment as well, if not for anything else but purely aesthetical reasons.
Branding-wise, there is a black-on-black tag on the lower right side of the front and the right shoulder strap. I'm usually not one for branding, but Able Carry does theirs so tastefully and subdued that I didn't mind for once.
But no one likes ads, so I got rid of them. If my articles helped you, I ask for your support so I can continue to provide unbiased reviews and recommendations. Every cent donated through Patreon will go into improving the quality of this site.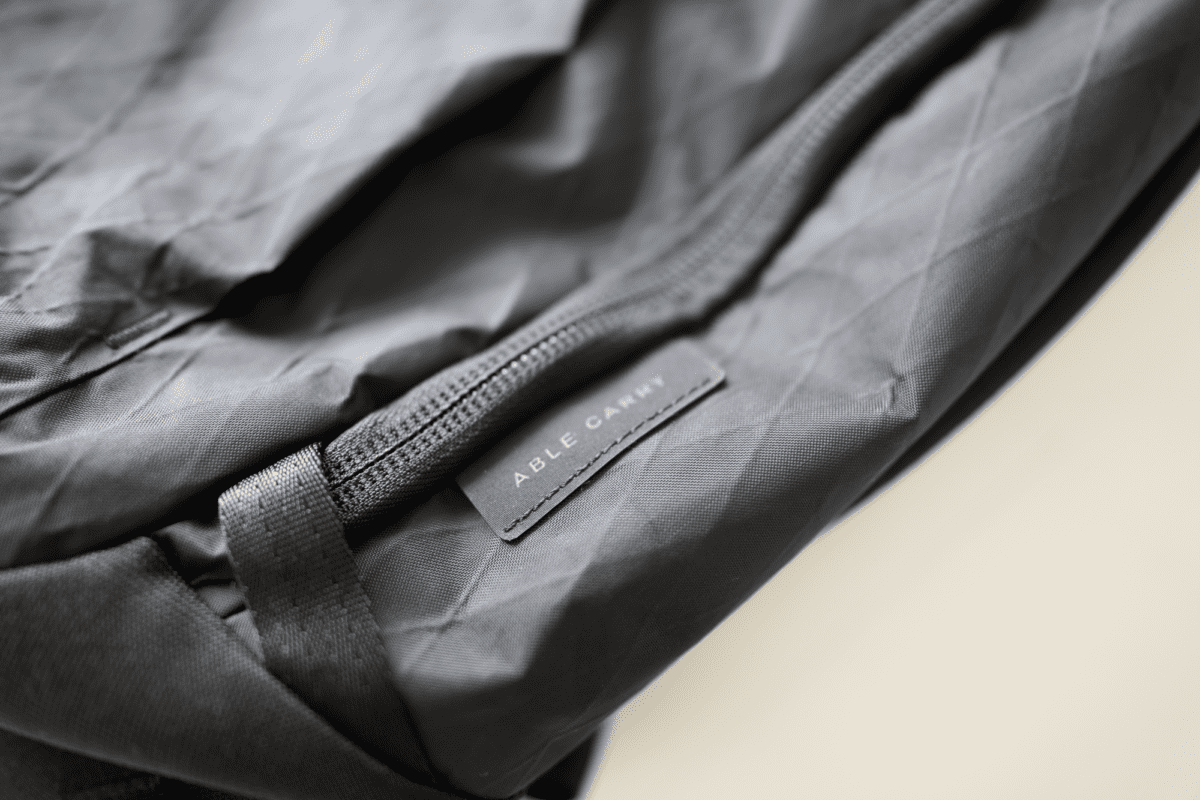 If you own one of Able Carry's bags, you'll find no surprises in the design language here. It's consistent with their other offerings and looks great for every situation. Like the bags from Aer, it's a design language that doesn't stand out, making you, not your bag, the center of attention.
Material
The main material of the exterior is XPAC. Specifically, it's the X-PAC VX21 and features the X-Grid with polyester film backing for waterproofing and structure and a surface layer of 210D CORDURA Nylon over it for strength.
This is the same XPAC material as that of Tortuga Outbreaker, which is a brilliant material that I've had absolutely no problems with.
The attachment points throughout the backpack are made of 1000D Cordura nylon. I could tell that they attached the nylon onto the backpack very strategically to reinforce the structural integrity of the backpack, such as constructing an a-frame at the bottom to prevent it from sagging.
While I'm not one to attach things to the exterior of my backpack, the attachment points do add to the techwear vibe of the backpack.
The interior is a ripstop lining. It's water-resistant to prevent water from passing between compartments, like when condensation starts forming from your water bottle.
The zipper for the laptop compartment is weather-resistant, tape-seamed YKK zippers, while the zipper around the main compartment is lockable, water-resistant ones. They look different because a larger luggage-grade zipper is used for the main compartment for better access and higher durability.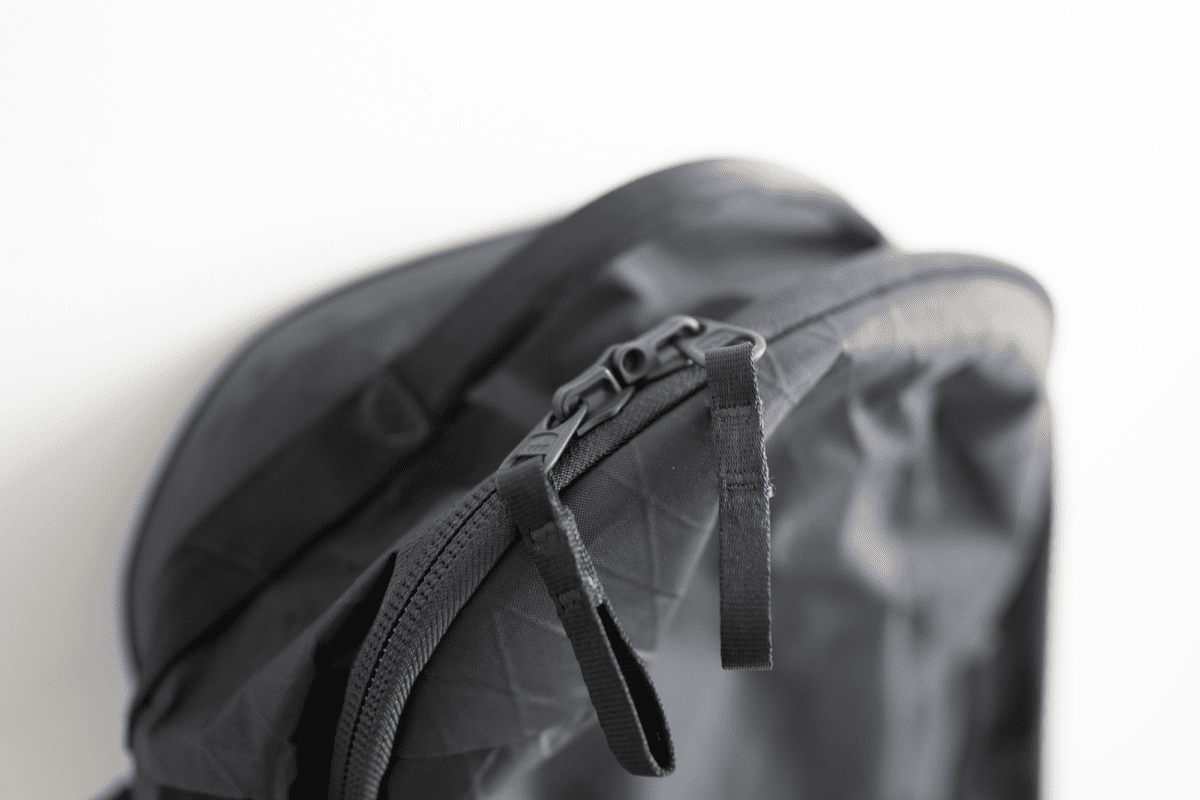 Features
Travel backpacks usually have similar features, like a laptop compartment and a water bottle slot. What sets them apart are the little details that go into these features.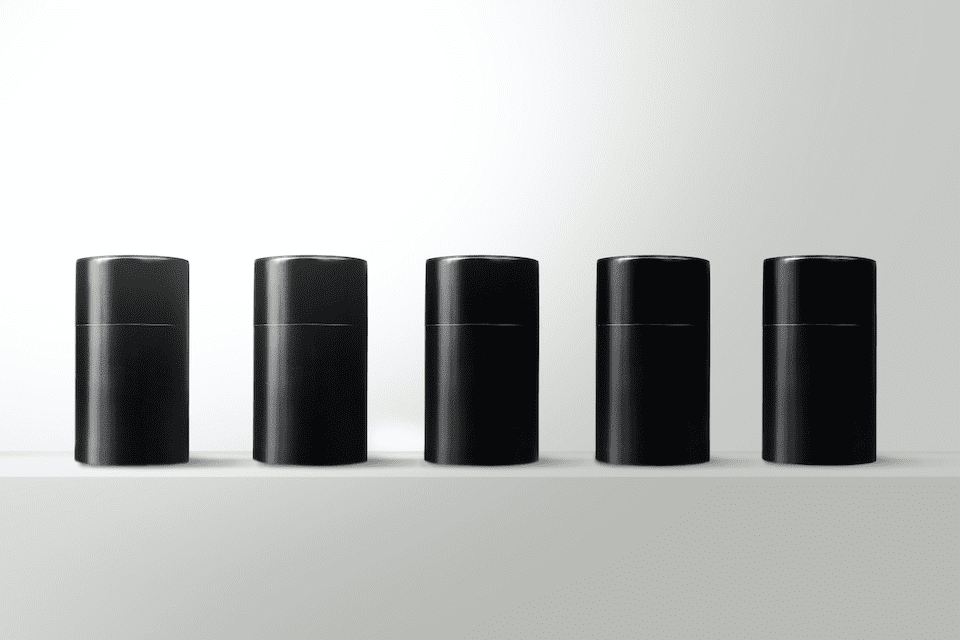 I found a 100 year old company that would create these heirloom quality canisters for me. They are handmade and will keep your tea leaves, coffee beans or anything that you need dry for years to come.
or read review
Capacity
The backpack has a capacity of 30 liters. While there are many travel backpacks in the 34 liters and up range, like the Minaal Carry-on (35 liters) or GORUCK GR2 (35 liters), many recent backpacks are sizing down to fit into the 30-33 liter range. Some examples include the TOM BIHN Synik 30 (30 liters) and Aer Travel Pack (33 liters).
This is largely due to a new breed of travelers who read this website and have developed a killer packing game. A few years ago, 40 liters would be the ideal indefinite travel capacity, but more and more expert travelers have been traveling the world with just a 26-30 liter backpack.
The advantages to a smaller pack are the lighter weight and the often overlooked plus point of not having to bring along a packable day bag like the TOM BIHN Daylight Backpack. You dump out your packing cubes when you reach your accommodation, and you are on your way.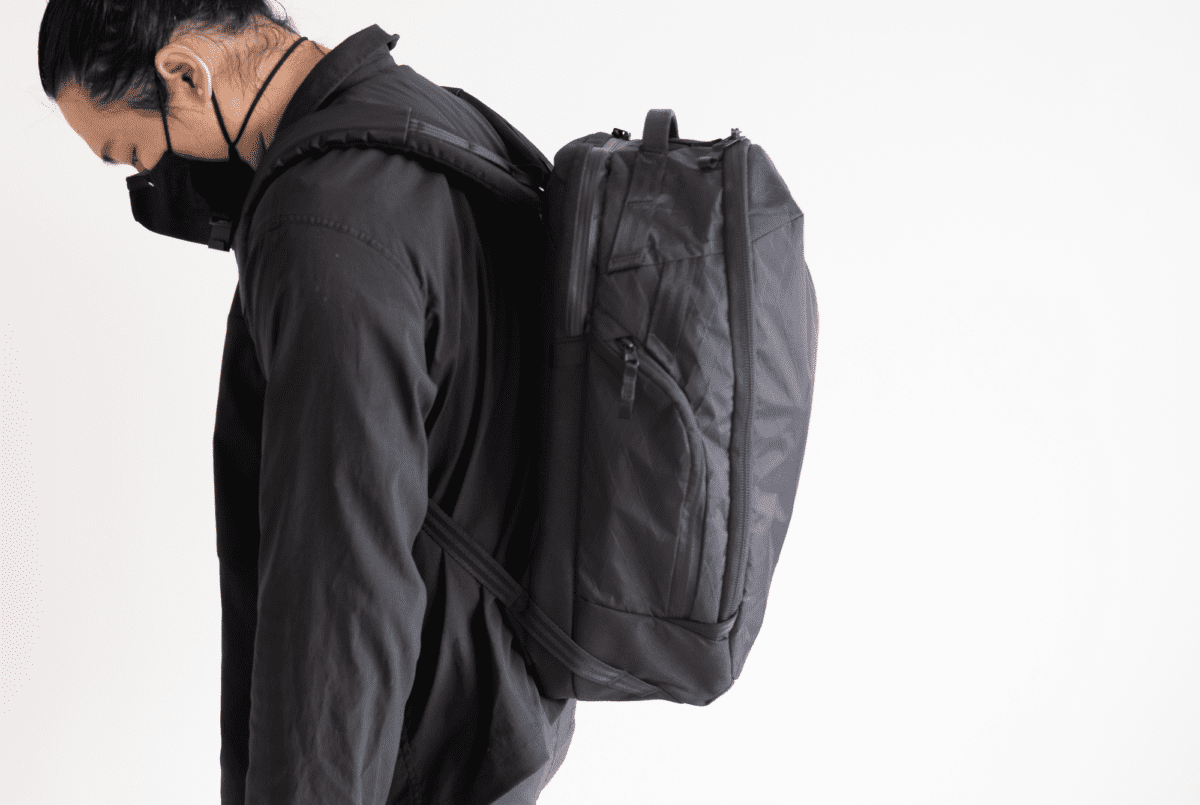 I personally travel within the 26-30 liter range and am a die-hard enthusiast of packing cubes over an in-built organization, so the Max Backpack is perfect for me.
Organization
The organization of the Max Backpack is just enough. I dislike backpacks with too much organization that you often do not use some, and the organization, in turn, takes up precious space.
The Max Backpack comes with a main compartment, a work compartment, a few quick access pockets, and a water bottle compartment.
Main Compartment
The main compartment is approximately 22 liters. It opens clamshell-style for easy arrangement. While the sides of some backpacks are floppy or shallow when opened clamshell-style, causing your stuff to spill out as you open them, not the Able Carry Max Backpack. The sides are structurally solid and even wrap over the top, preventing this exact situation.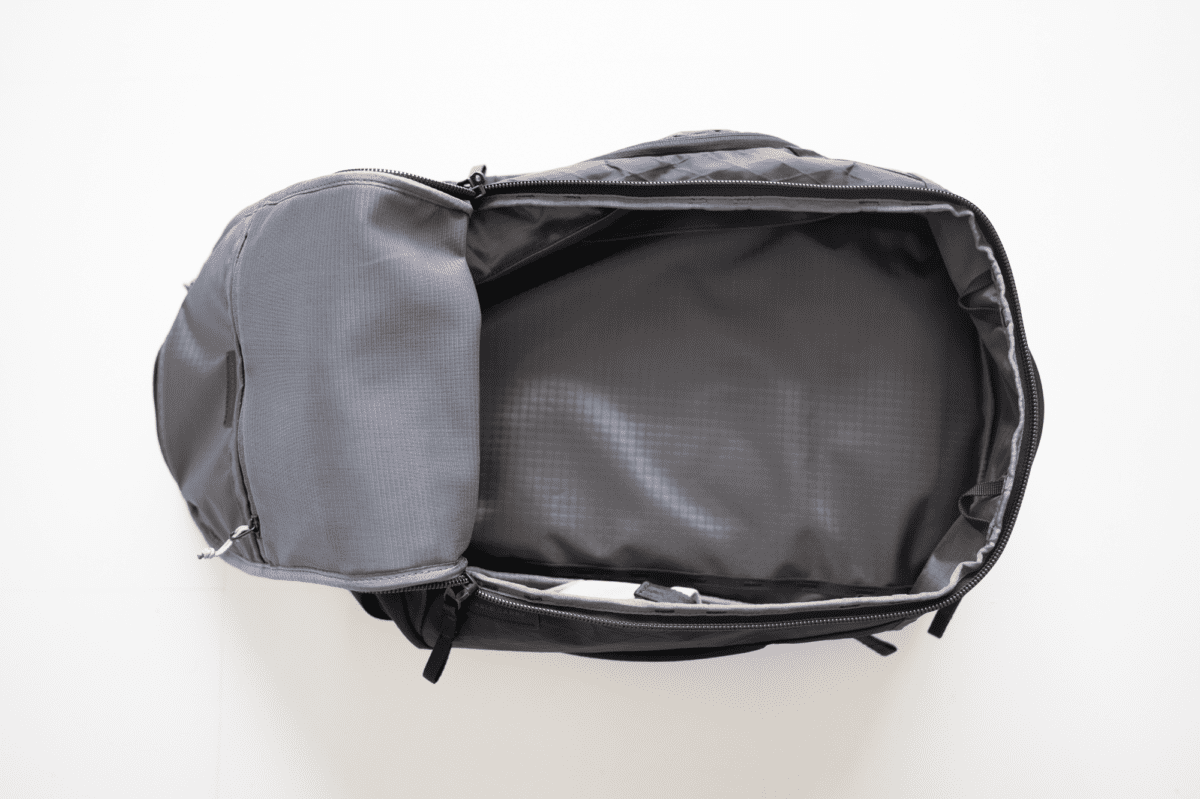 I had thought that this would make it harder to pack when I first saw it, but it was not the case. In fact, you would have to gauge better how much you can fit, so you don't overpack and struggle when trying to zip it up.
Here are all the things I could fit into this main compartment.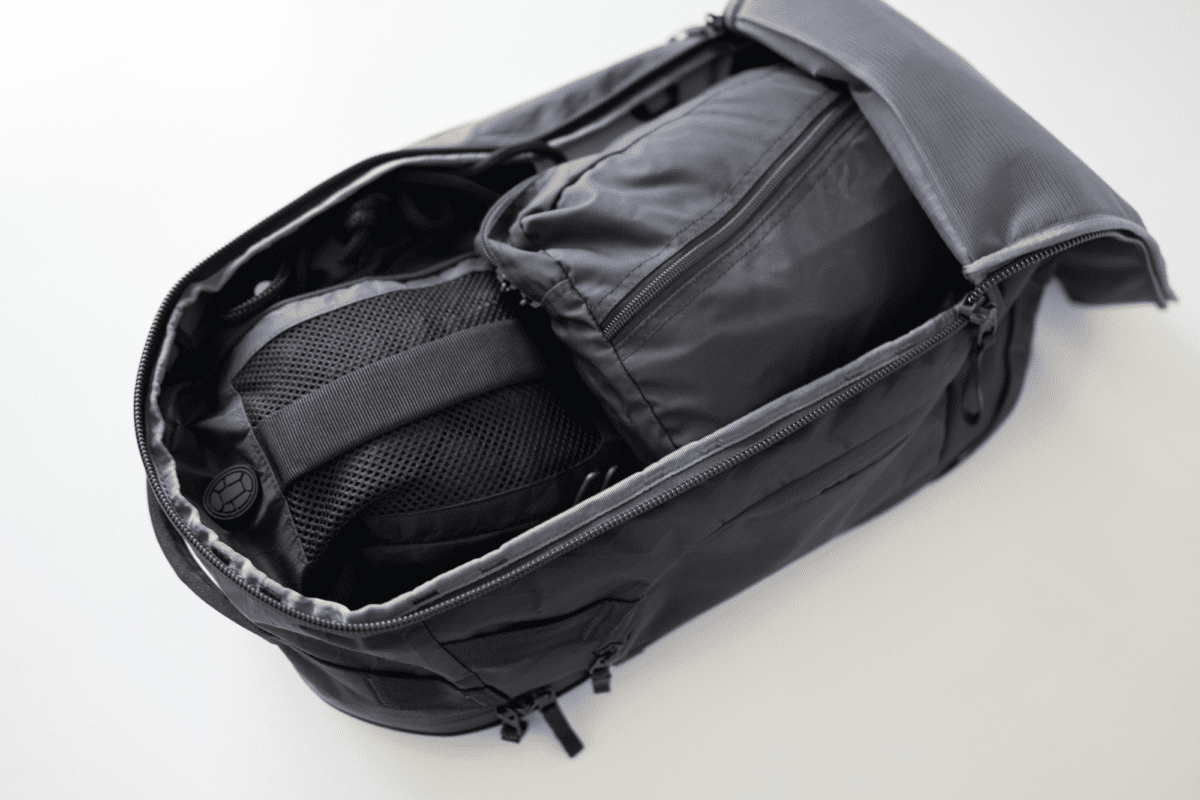 This amount of stuff gives me almost no leftover space but isn't stuffed to the point that I have difficulty closing.
There is a zippered pocket in this compartment towards the top of the outer flap. It's designed such that when you have the backpack under the plane seat in front of you, you can unzip the top part to access this pocket quickly.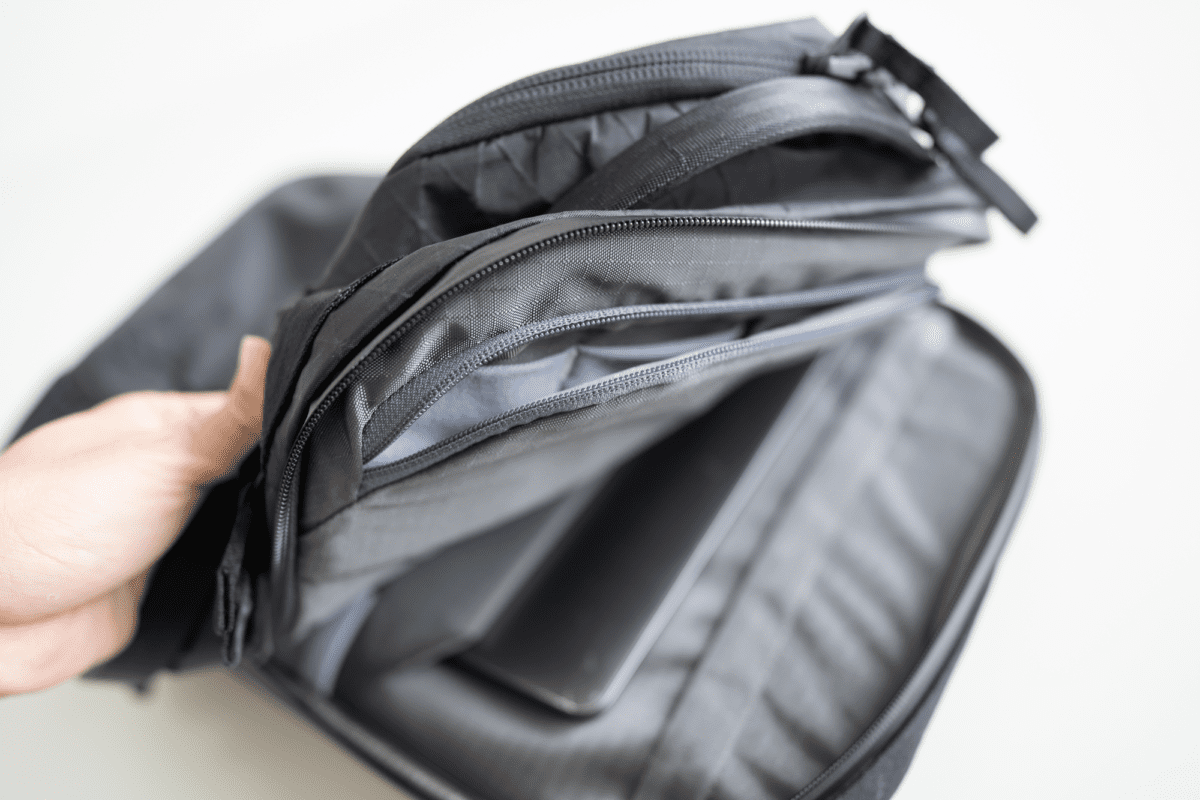 Below that compartment is a mesh pocket.
A stretch divider on one side of the main compartment is good for long-shaped items like a tripod or umbrella.
Laptop Compartment
The laptop compartment, or as Able Carry calls it, the "Work Compartment," is a space for your laptop and everything else that comes with it. It comes with a suspended pocket to keep your laptop from impact. I also like that the sleeve is snug to prevent your laptop from shifting around too much.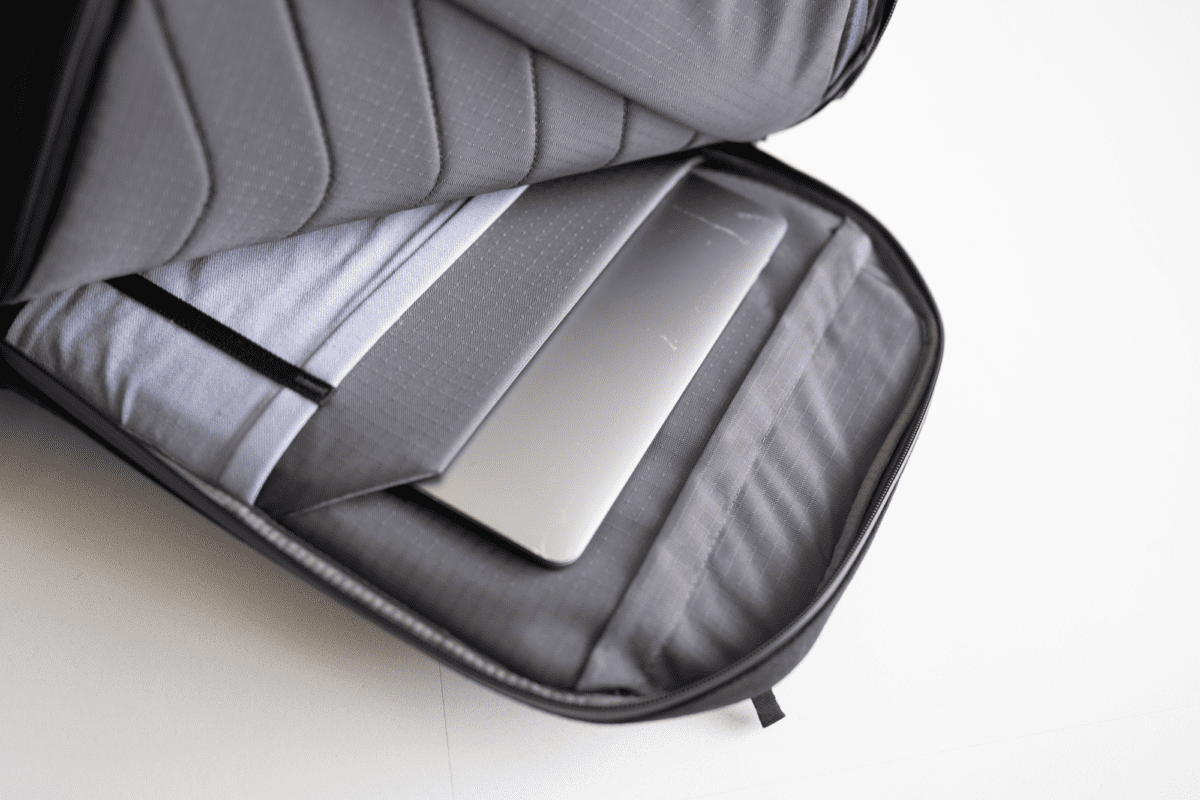 While the laptop is not suspended off the sides per se, the way the pocket is designed doesn't allow the laptop to go near enough to the sides to receive any impact.
Similar to the zippered pocket at the top of the main compartment, there is one in this compartment as well. It comes with four stretch dividers to put small accessories. These dividers fit cables and small accessories like your Apple AirPods. However, it's not stretchy enough to accommodate something like the RAVPOWER 61W Charger.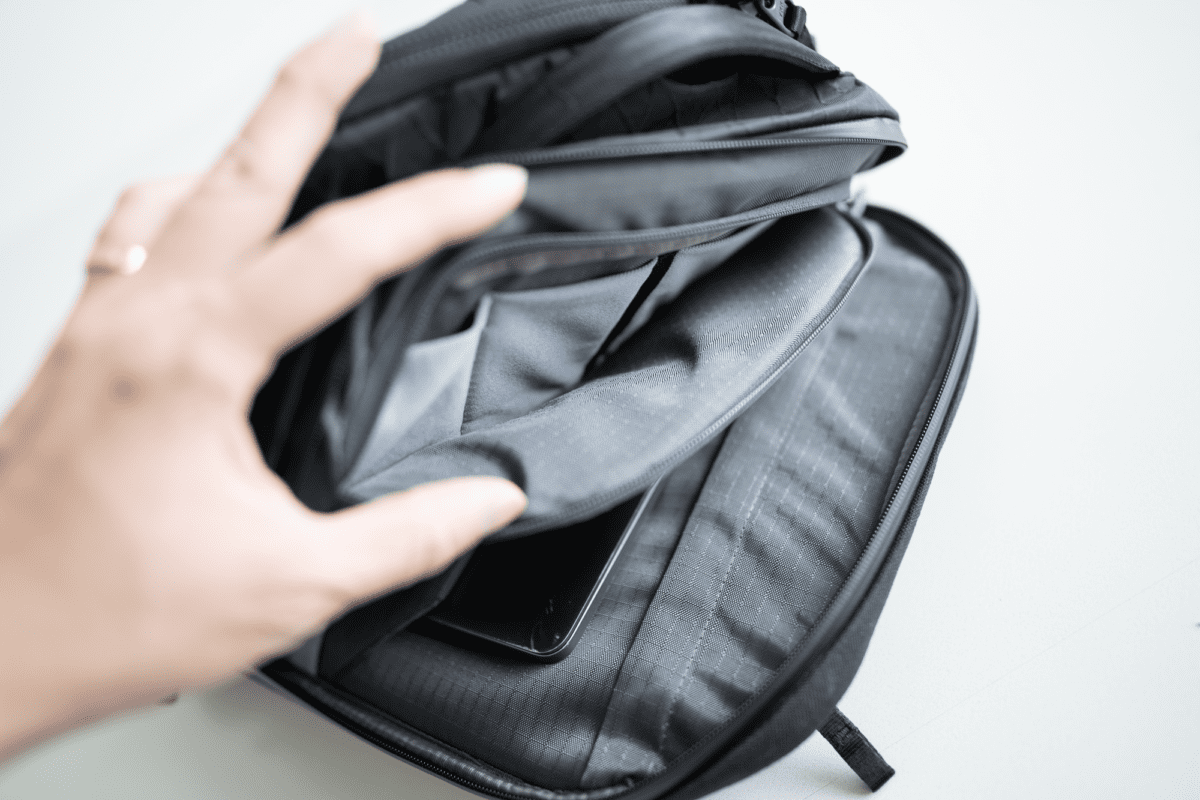 While I usually travel with a tech pouch like the GORUCK Wire Dopp, I was able to go without it using the zippered pocket in its place. I do wish that those stretch pockets are a little stretchier for more versatility in the items I can put in them.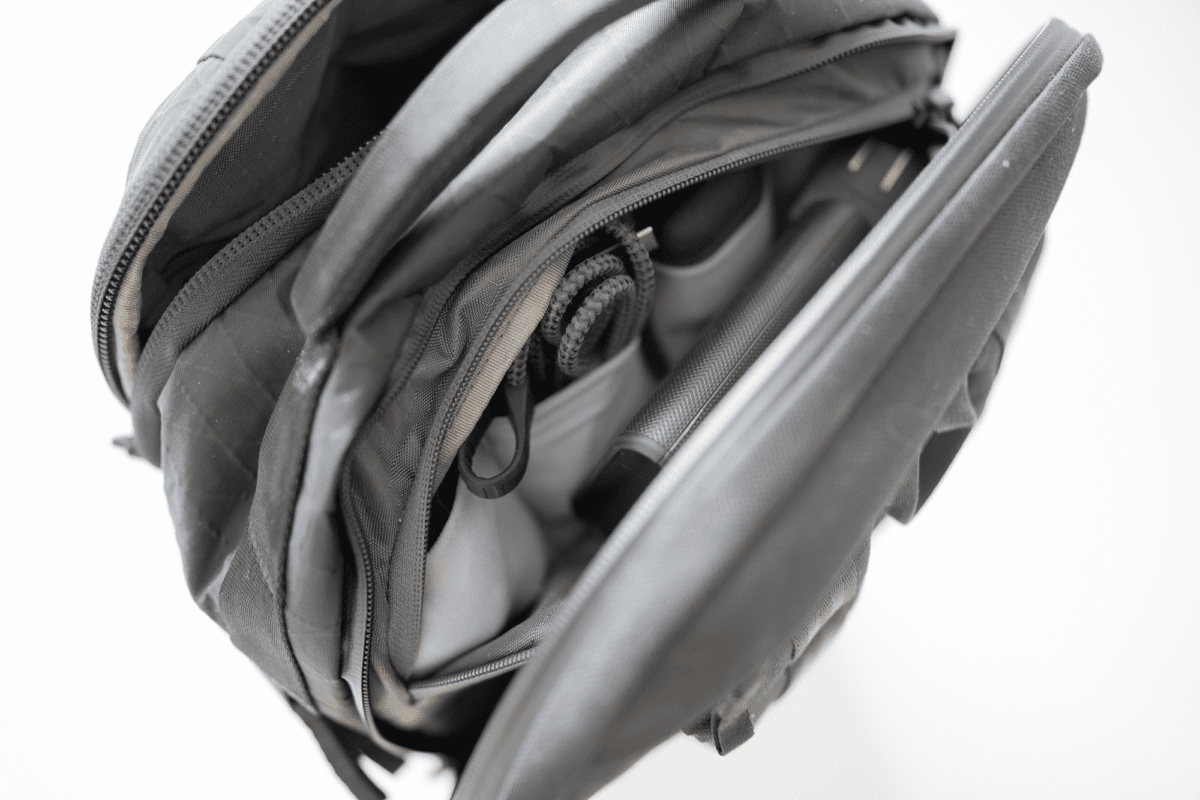 External Organization
There is a front panel pocket with stretch dividers within. This pocket fits quite a lot, but it takes up the space of the main compartment in order to keep a low profile. I don't have a tablet, but you will likely be able to fit one inside here.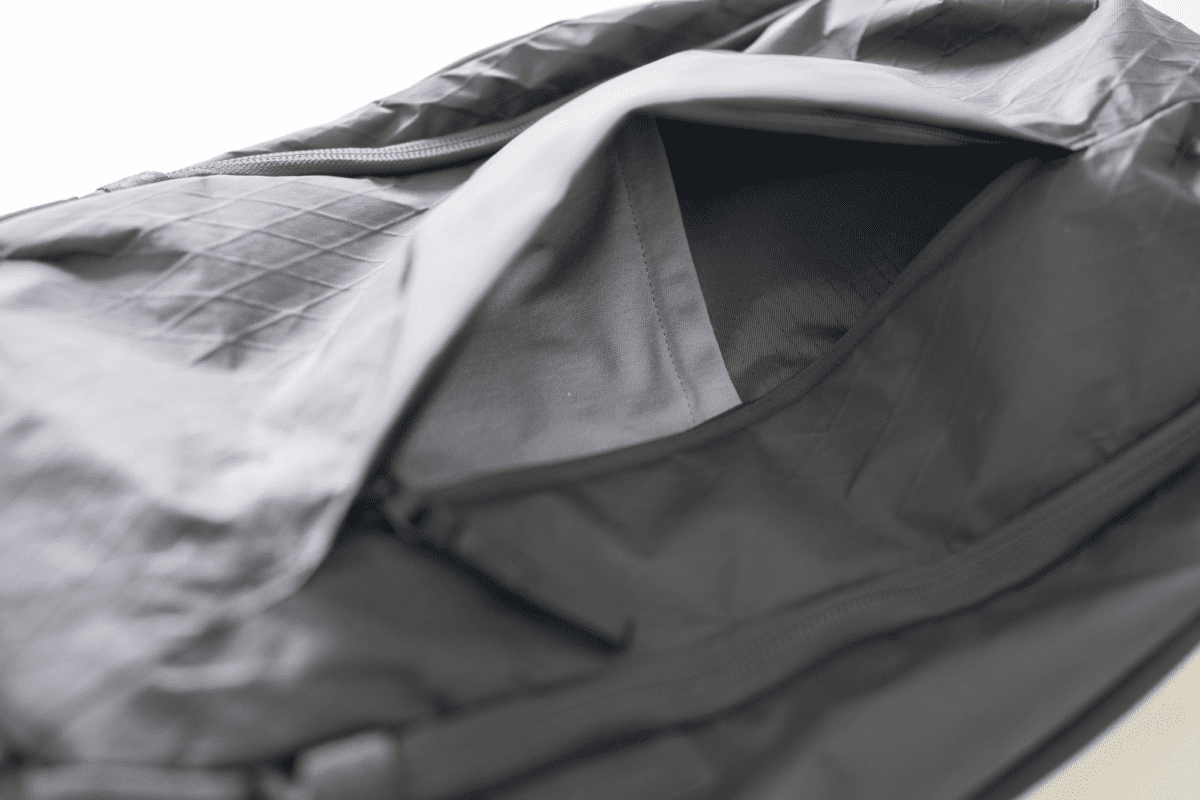 On the top, just behind your neck, there is a secure top pocket. There is a stiff flap that goes over the zipper that would be impossible to bypass without you noticing since it rests on your back.
On one side of the Max Backpack is a side pocket. This pocket is designed so that you can sling the backpack on one shoulder and reach for your quick-access items. This pocket also has two zippers for flexibility in the direction you can open it.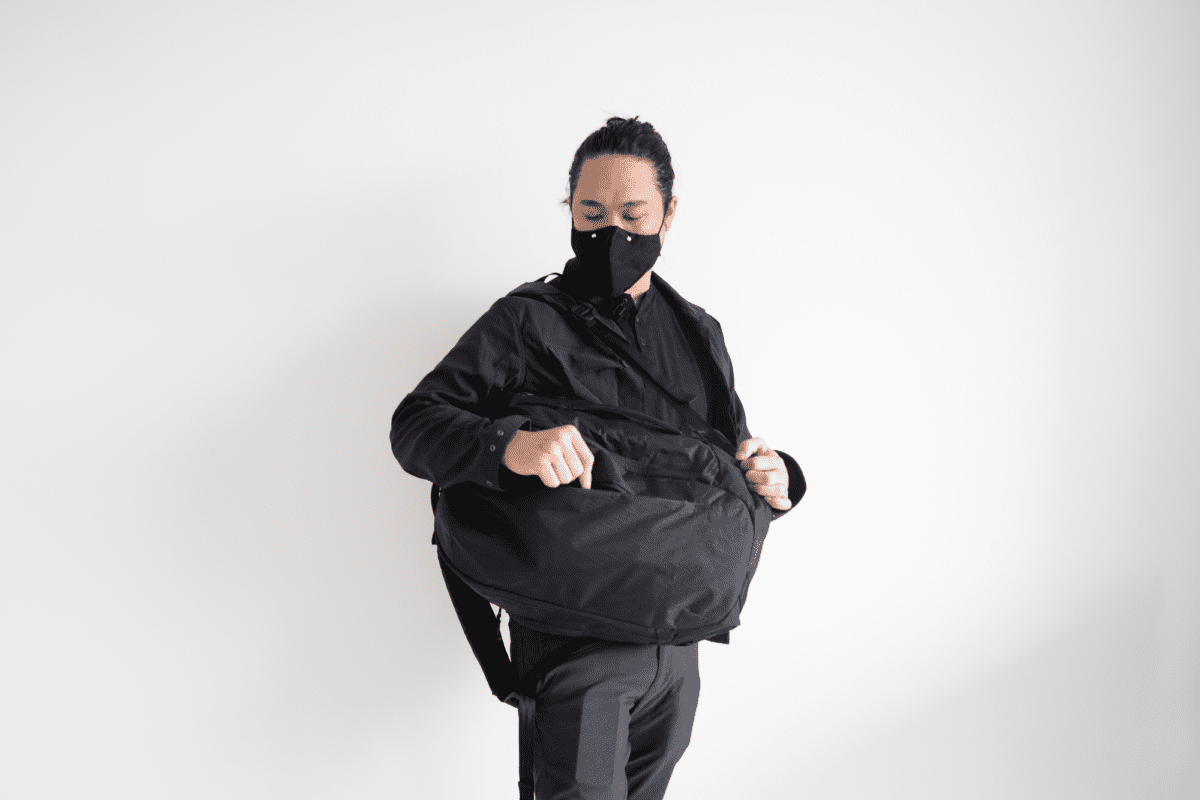 On the other side is a water bottle pocket. The pocket fits more than it looked like it could, up to a 1L Nalgene water bottle. However, this depends on how filled the main compartment is as it "eats" into the space of the main compartment.
It comes with a zipper that closes all the way to keep the exterior sleek. Water bottles sticking out on backpacks in an urban environment screams traveler and should be avoided when possible. This is the first time I've seen a water bottle pocket done this way, and I absolutely love it.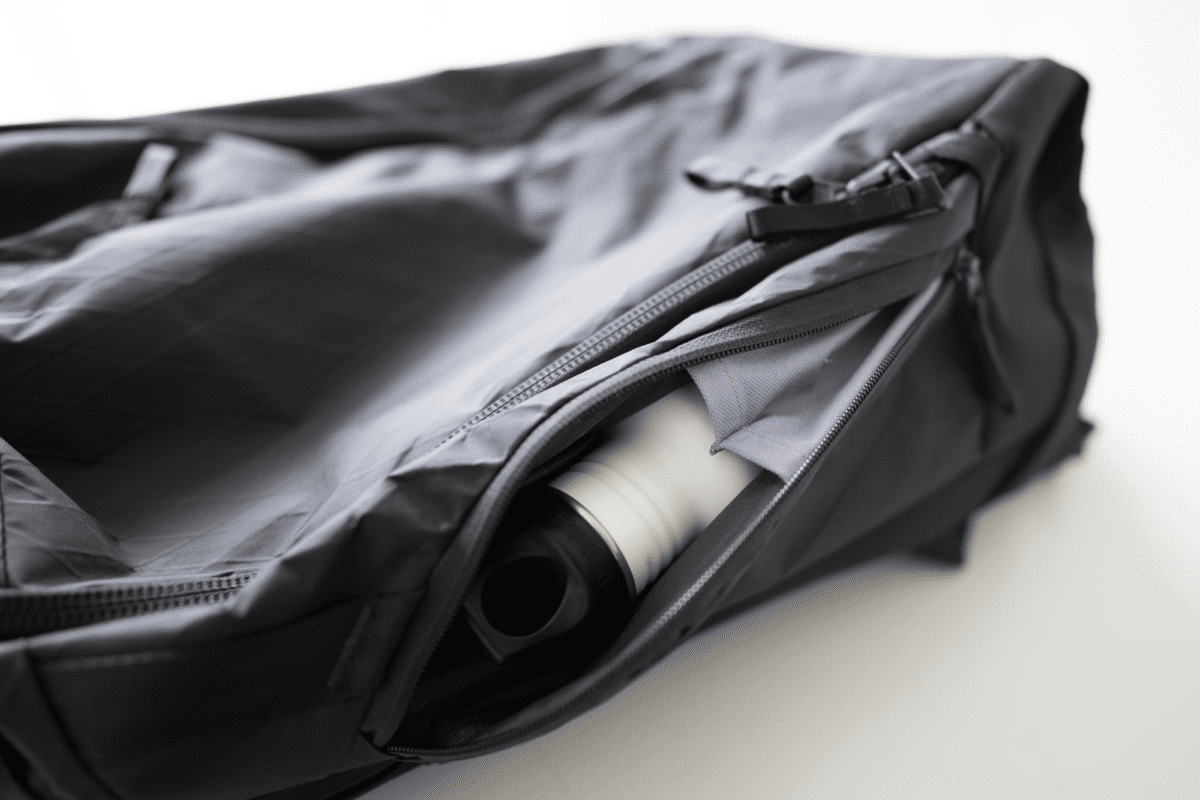 Handles and Luggage Passthrough
There are two handles, one on the top and one on the side so that you can carry it in briefcase mode. While I almost never hold it in briefcase mode, this seems like the standard with travel backpacks these days.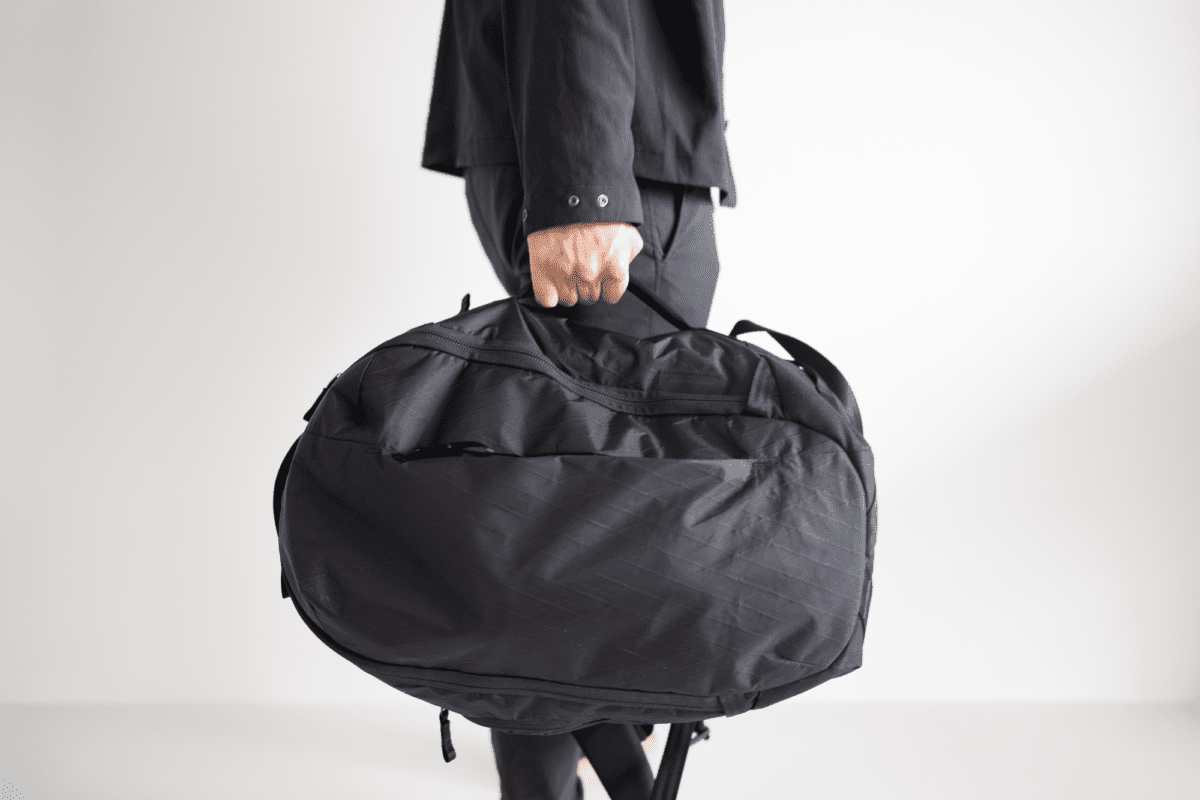 The Max backpack also comes with a luggage passthrough, which is a strap that lets you attach your backpack to a suitcase handle. The passthrough is also strong enough to function as a handle if, somehow, the other two handles are insufficient for you.
Apart from these, there is also a loop on the top specifically for toilet door hooks. I store my backpacks by hanging them onto hooks on a rack so that I can appreciate the inclusion of the loop.
This loop is a little short as it is, and you'll have difficulty handing it on certain designs of toilet door hooks. However, this is something that Able Carry is aware of, and it will be lengthened on the production version.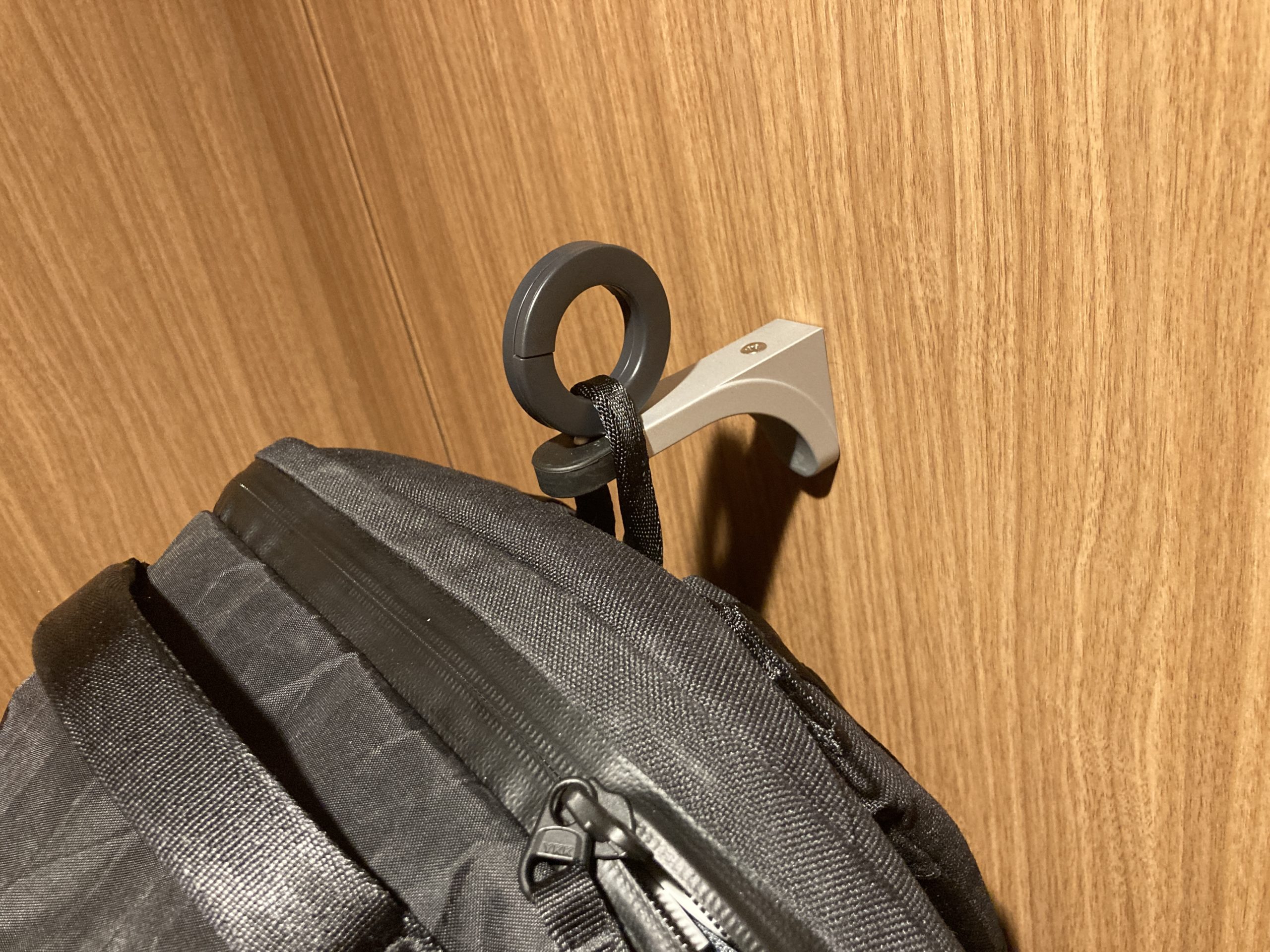 Harness System
An enhanced, closed-cell foam has been used on the back panel and shoulder straps. The back panel is lined up in two rows to allow for airflow between those rows.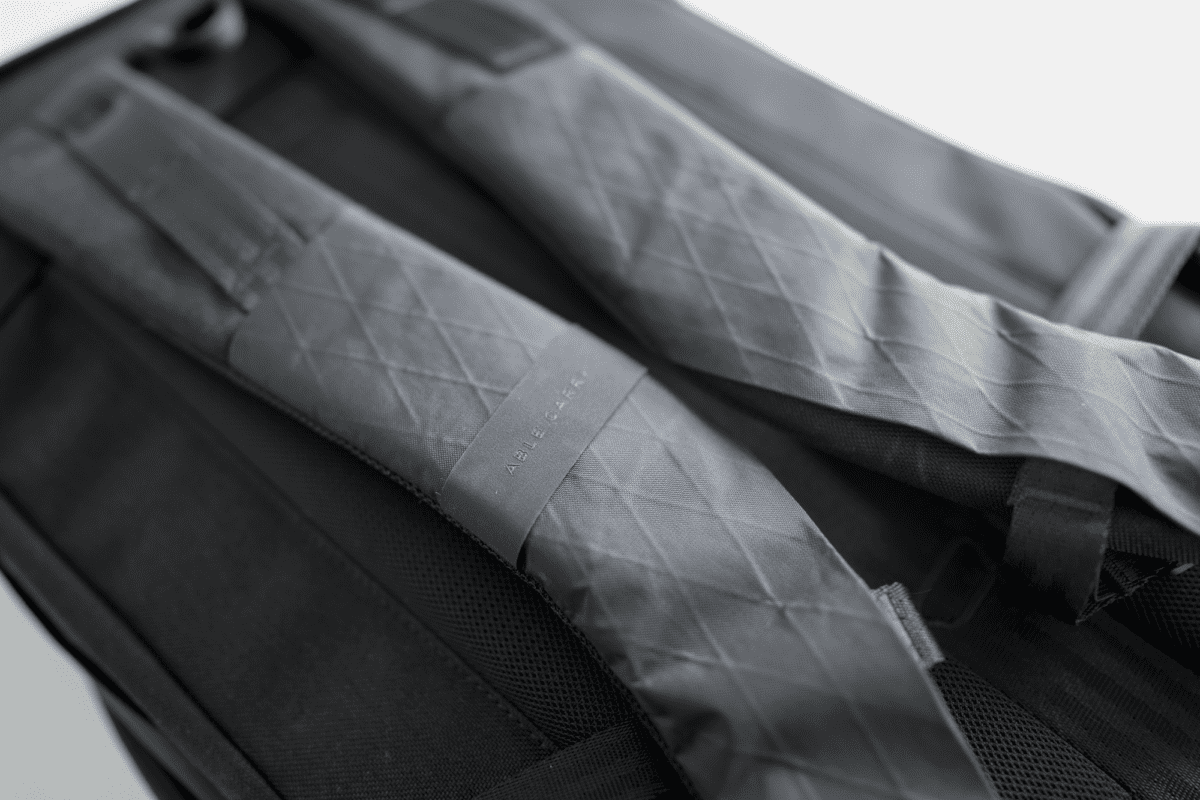 It comes with a sternum strap that lets you adjust the length and the position. It uses a magnetic clasp for easy attaching and detaching.
Usage
I managed to quickly squeeze a short trip to Nagoya to take advantage of Japan's Go-To Travel campaign.
Since many of the external pockets take up the space of the main compartment, the main compartment could fit less than I anticipated when I first saw the backpack. However, I felt it was enough for indefinite travel. In addition to my camera and work equipment, I was able to pack a jacket, five t-shirts, and two pairs of pants, which I felt were minimal but sufficient for indefinite travel.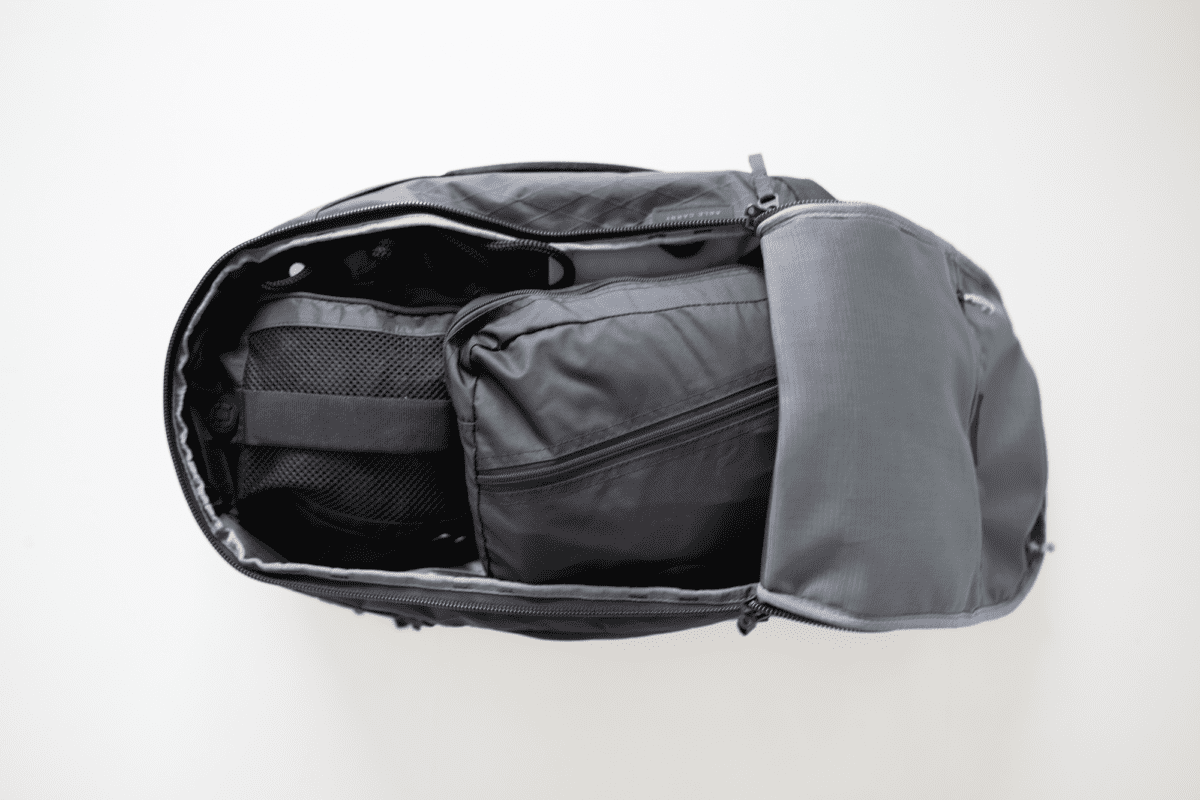 The reward for this is a backpack that looks sleek but, more importantly, compact. Like the TOM BIHN Synik 30, I enjoyed using the Able Carry Max Backpack as my daily carry. I dumped out my packing cubes when I reached my hotel and headed out.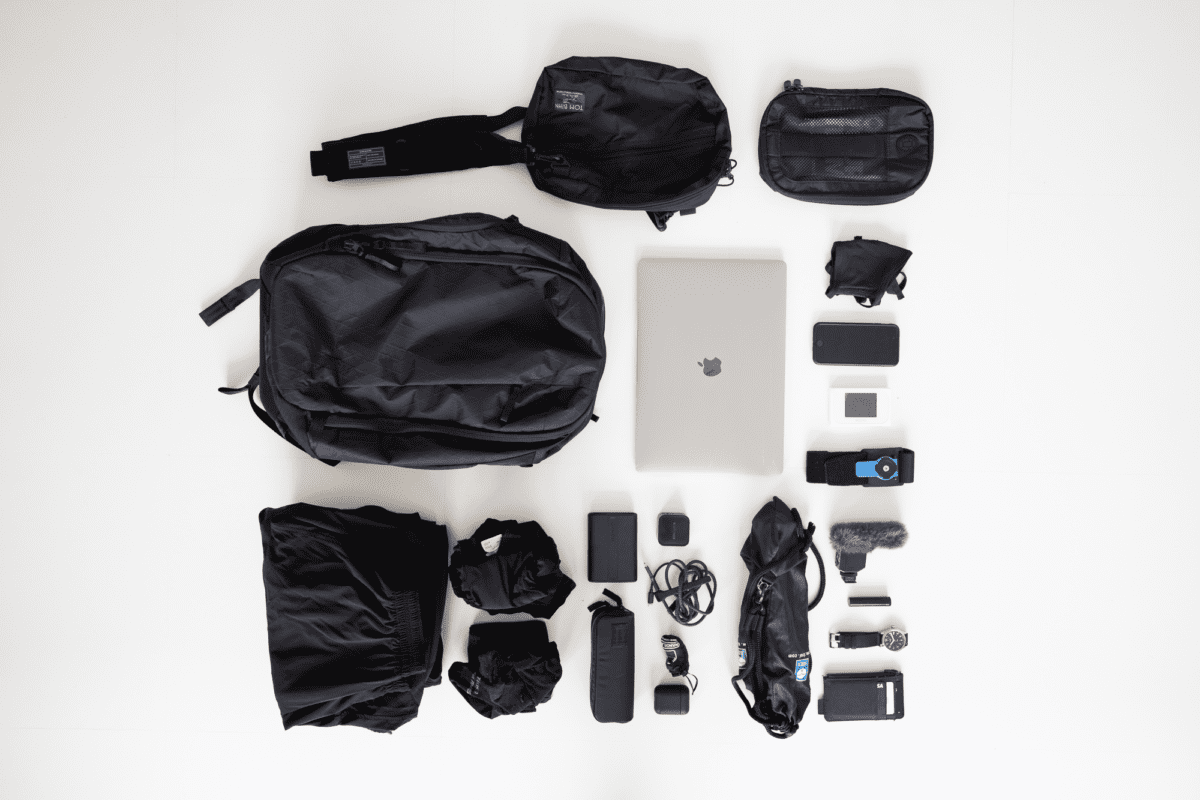 There were no compromises made to keep the backpack looking stylish and sleek, no matter the situation. From the way most external pockets blend in with the silhouette of the bag to the usage of 1000D nylon to reinforce parts of the bag to prevent any distortion no matter what you pack in.
The padding on the back and shoulder straps are nominal, similar to the Tortuga Prelude Travel Backpack. But what's different is the size of the backpack. The padding, while nominal, is enough because of how compact the Able Carry Max Backpack is.
While I've only tested the bag for a week or so so far, the material selection and my experience with Able Carry backpacks tell me that the backpack will likely last for many years to come.
I will be testing the backpack more thoroughly when I get my hands on a production version, so stay tuned for future updates.
Conclusion
The Able Carry Max Backpack has everything it takes to be my new favorite backpack. Its looks are up to par with the Aer Travel Pack 2, while features are certainly up there with the TOM BIHN Synik 30.
Besides some small nitpicks here and there, there is really nothing I dislike about the backpack. Given that most backpacks of this capacity and quality, like the TOM BIHN Synik 30 and the Minaal Carry-on, go for about $300, the $256 price tag makes it a no-brainer choice for many.
Additional Images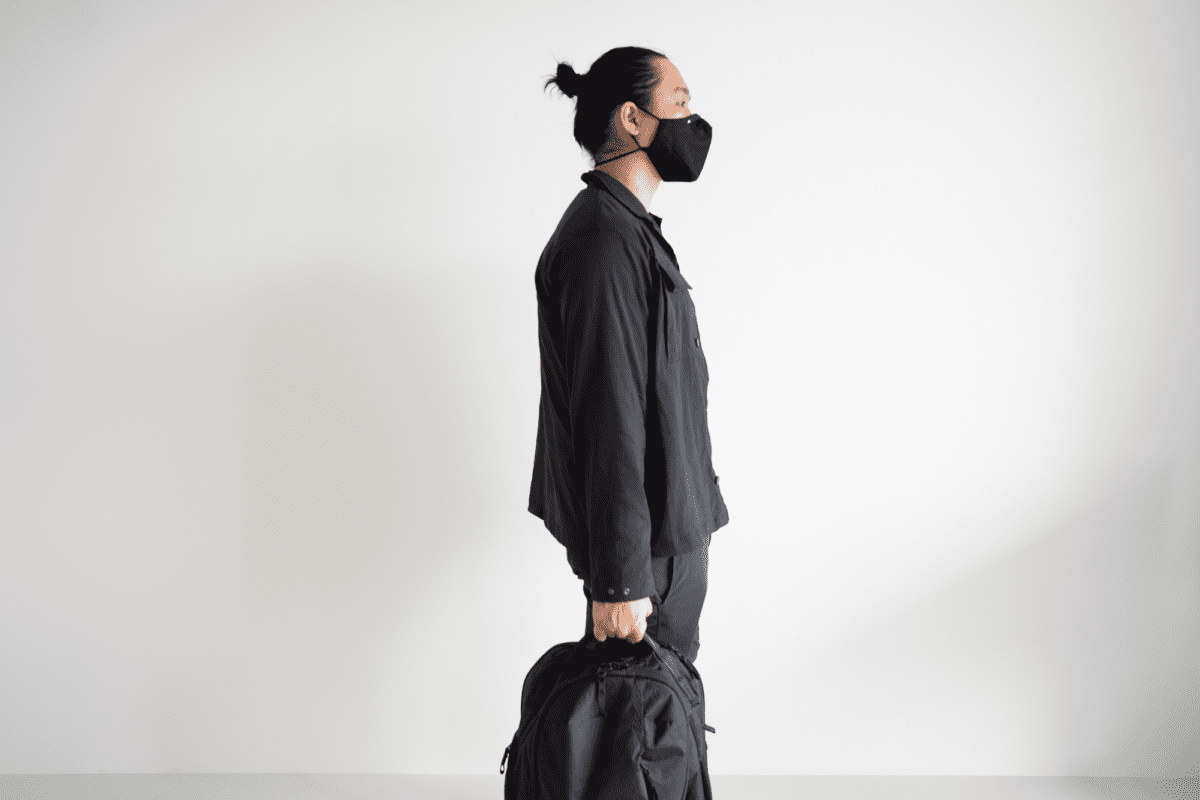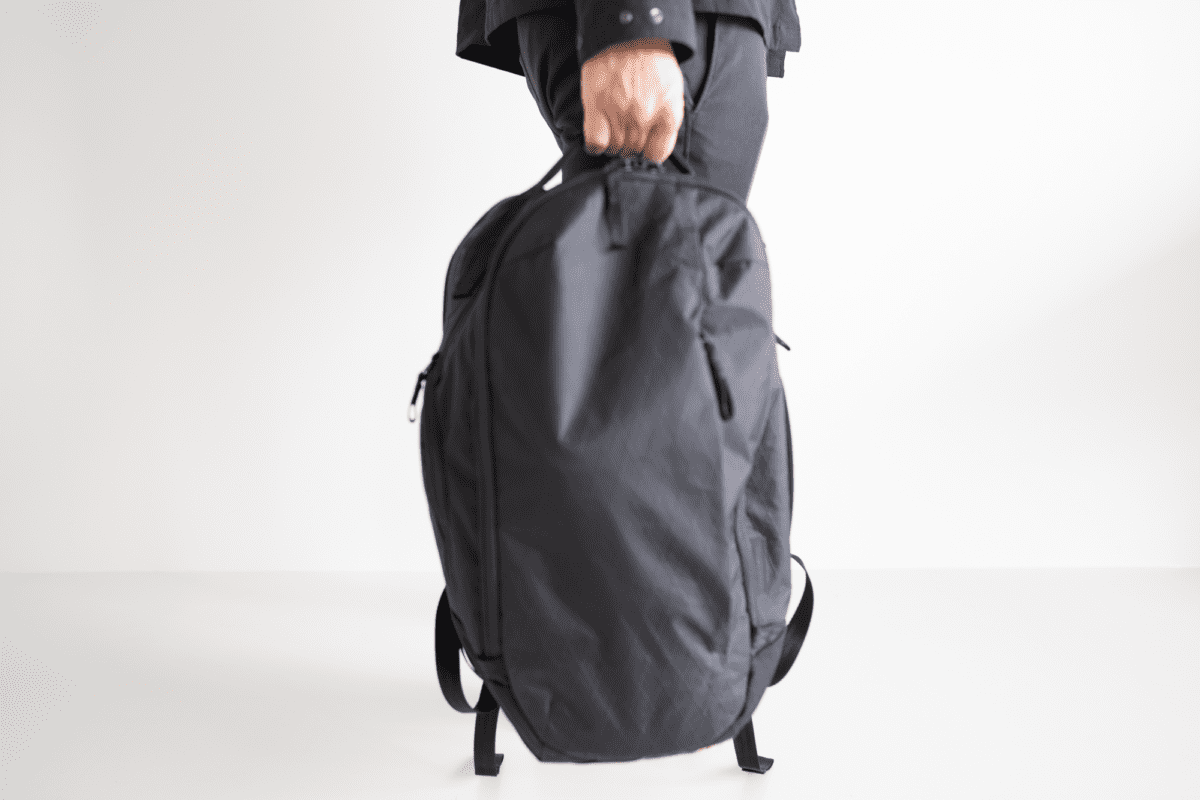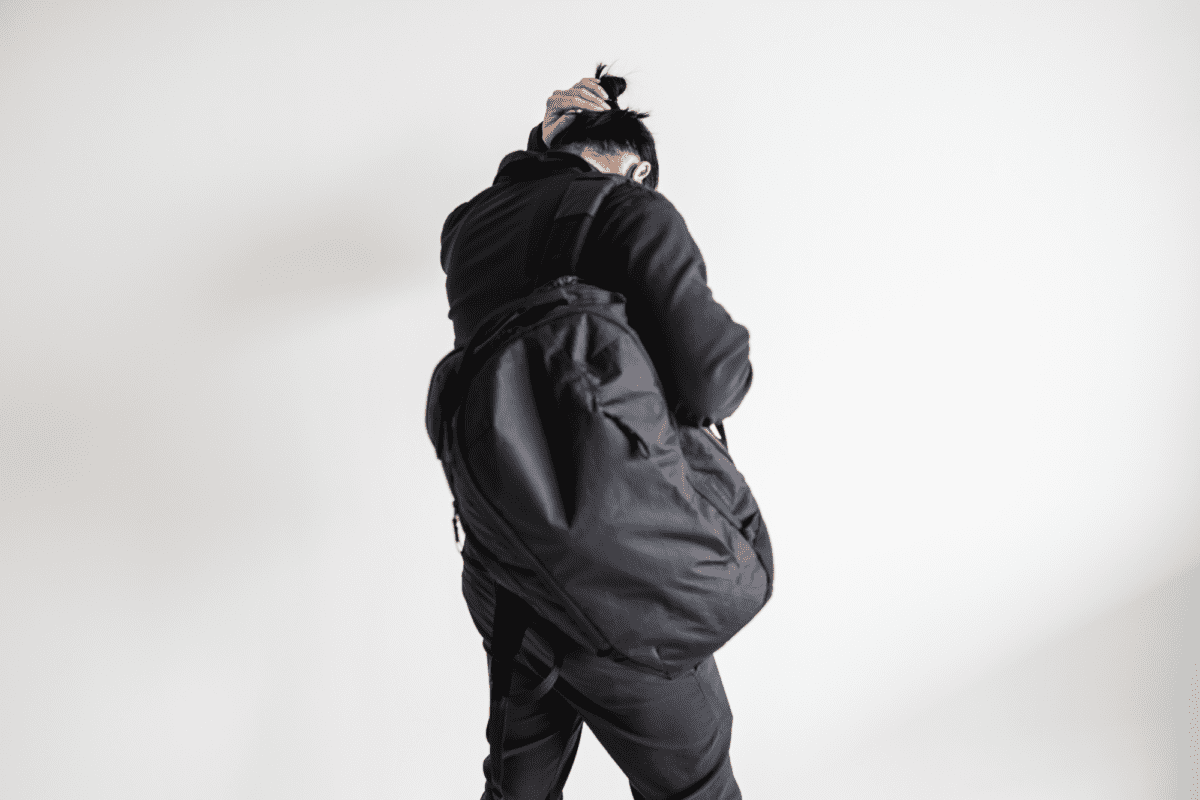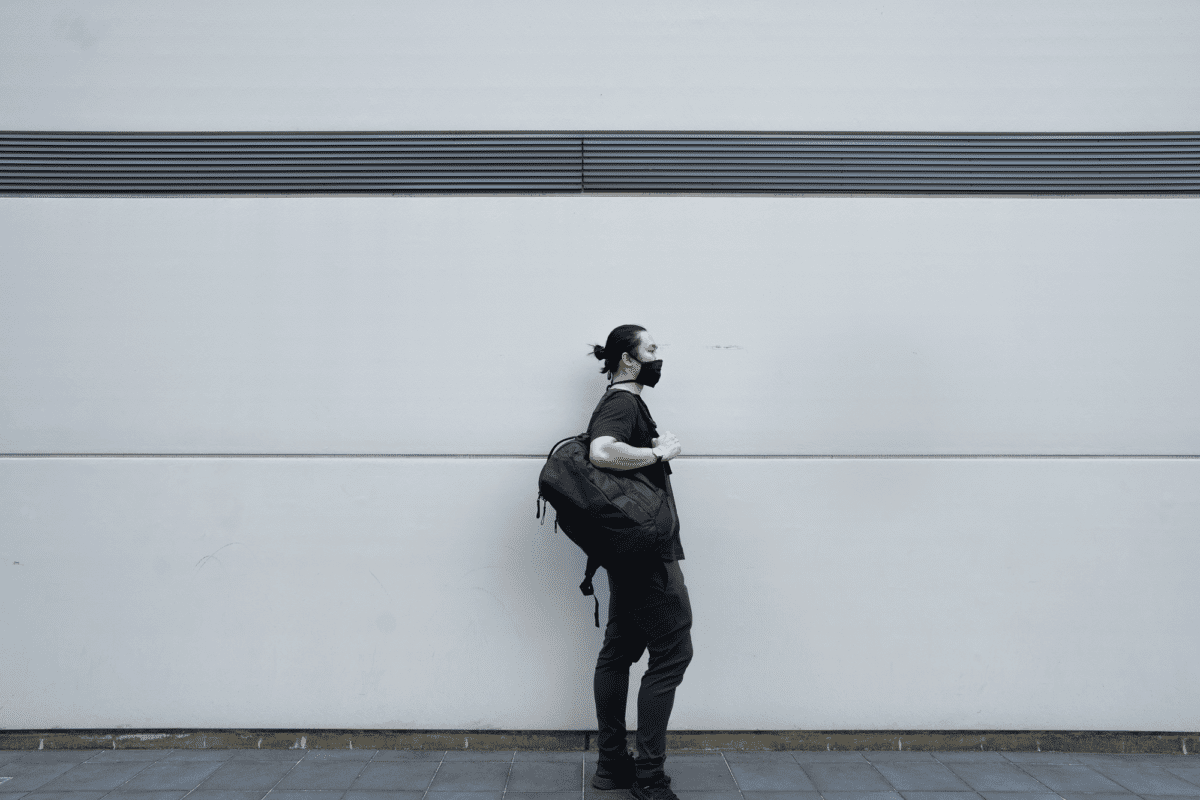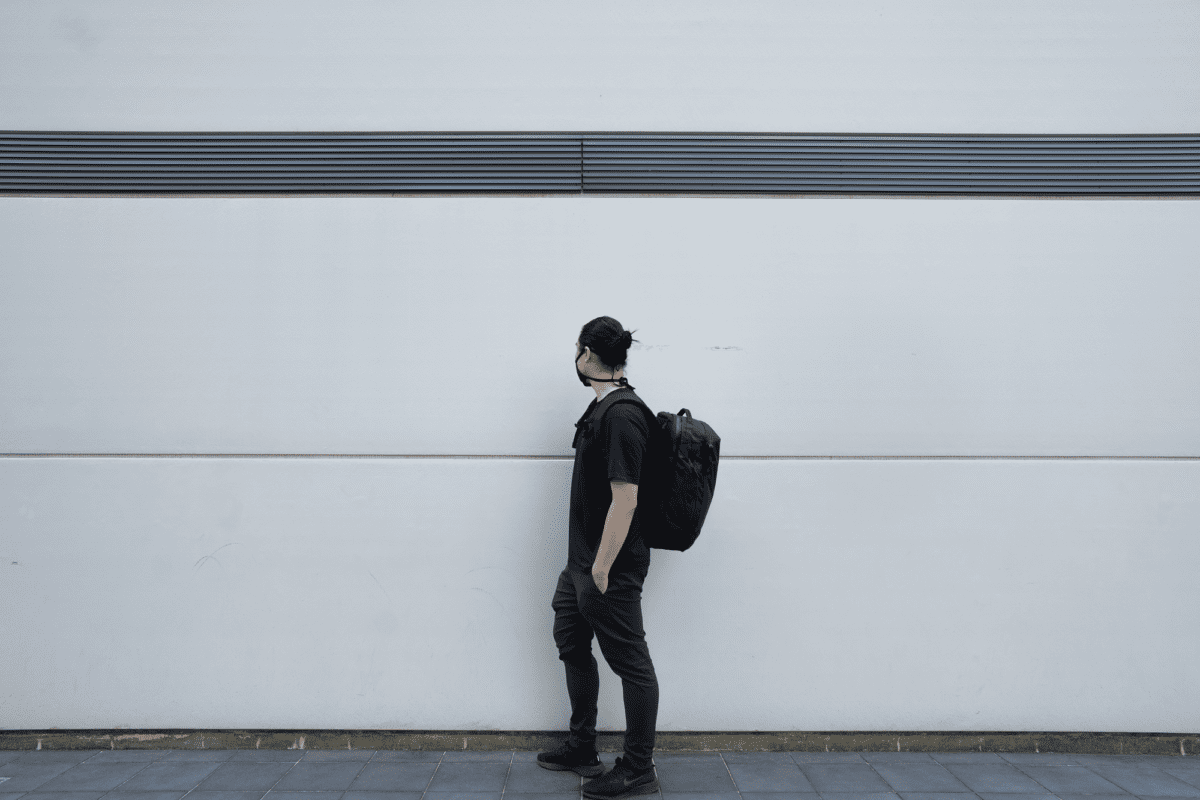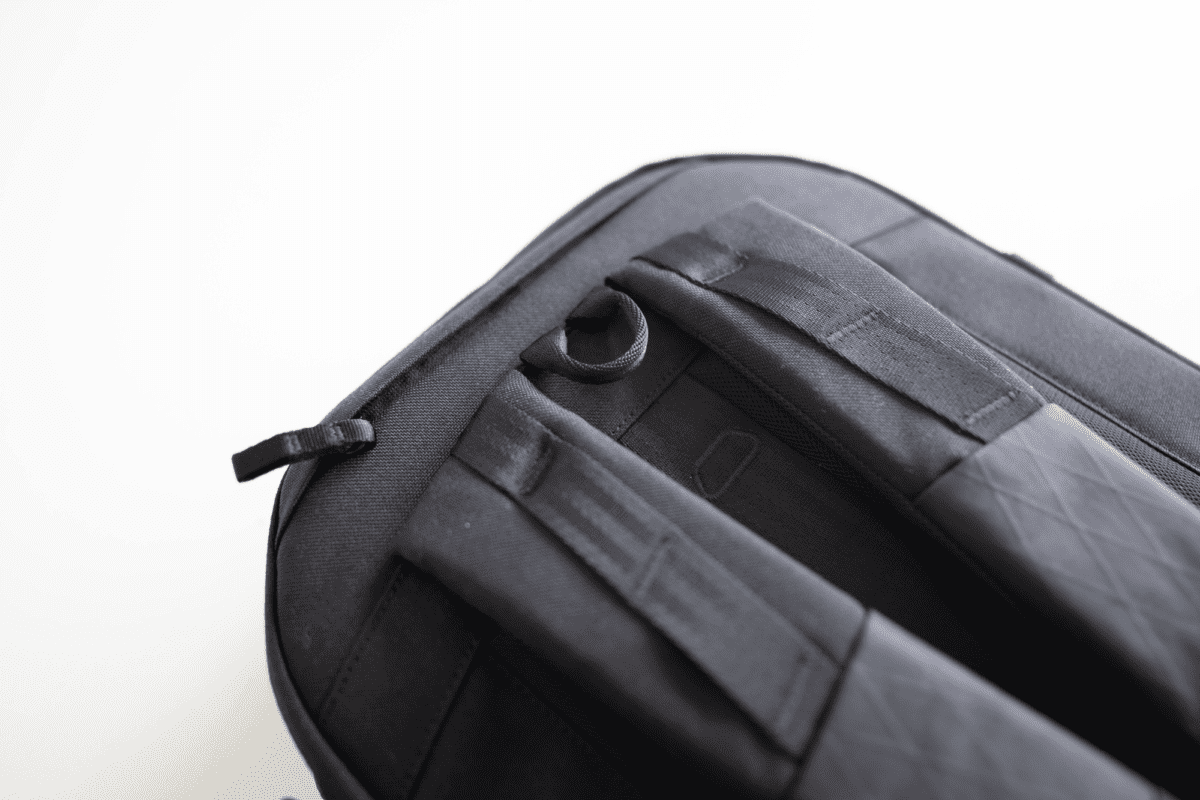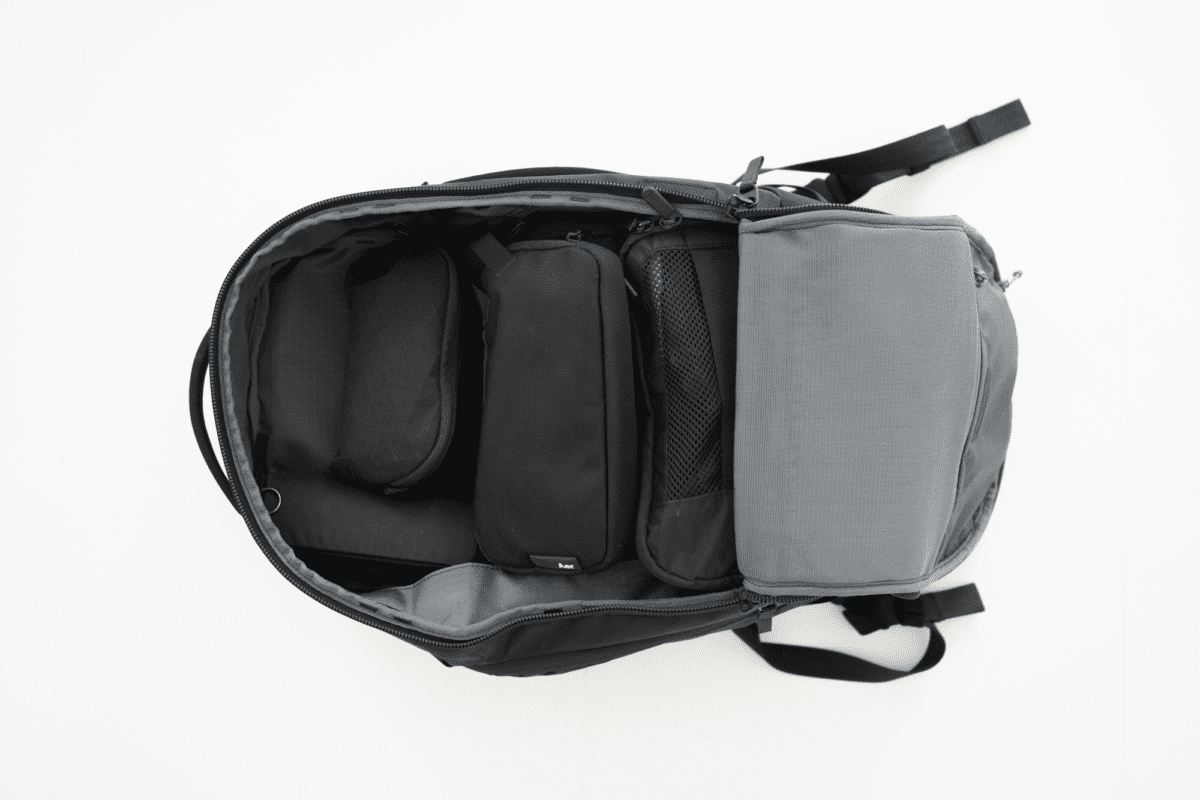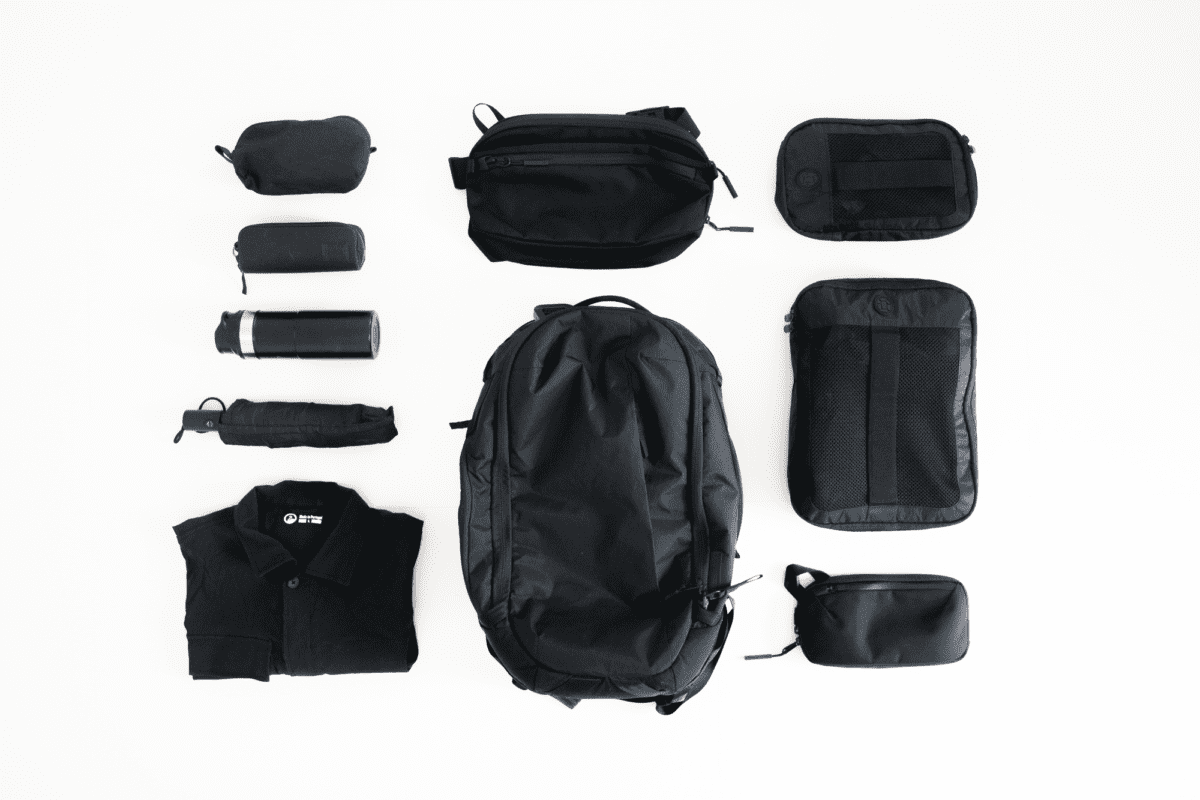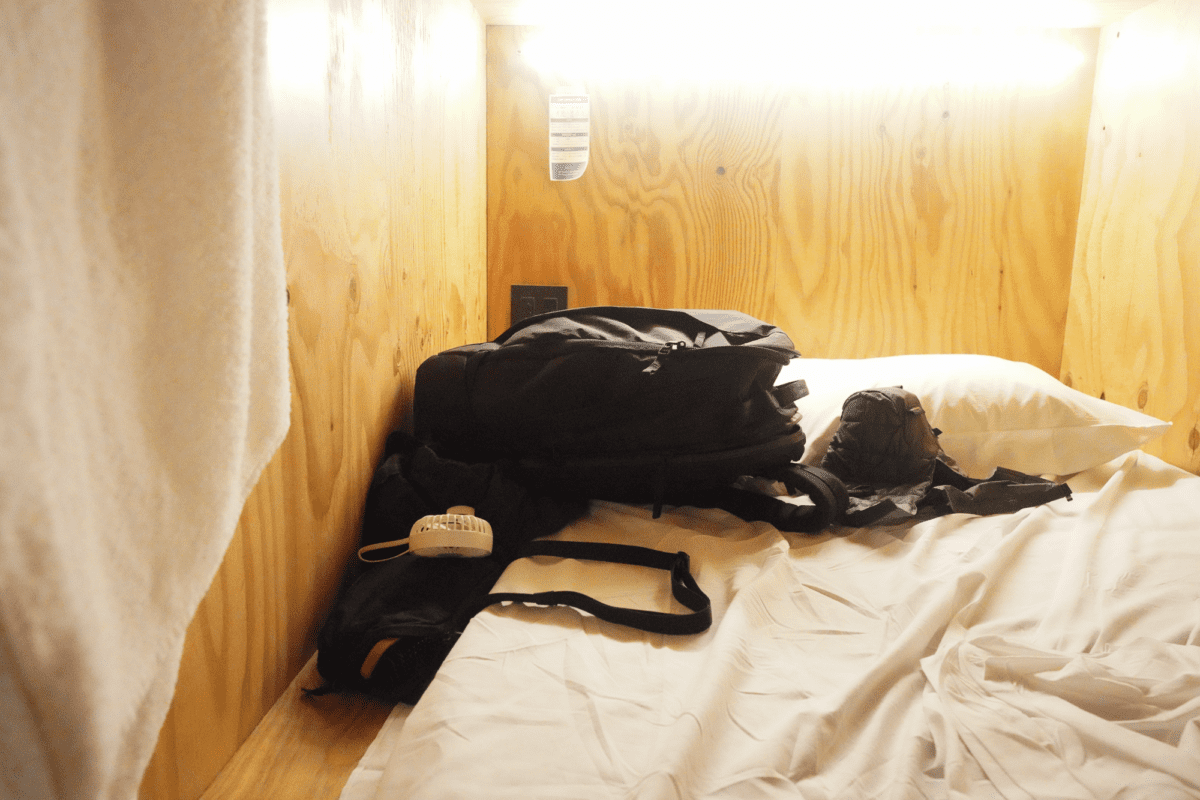 Like this review? See all of my in-depth reviews.
Also, consider supporting me by being a Patreon. Every cent given will go back into improving the content of this website.
Tagged able carry backpack bag cordura review water-resistant xpac