This website is made possible by readers. I may earn a small commission when you buy through the links in this article at no extra cost to you. Learn more.
Details
Price $198 for both the two pocket and hidden pocket version on outlier.nyc
Material 100% Super 140 16.5 micron merino woven in Thailand with non-mulesed Australian merino
Fabric Weight 200gsm
Made in Portugal with Thai fabric
Thumbnail image is of the one pocket version.
Overview
If you have been following the blog, you'd know how big a fan of Outlier I am. The brand changed my life and I have tried just about most of their core collections. From 100% merino t-shirts to everything-resistant shorts to chinos you can take straight from work to play, I've tried it all. And now, I get to try this beautiful merino shirt.
Actually, even after reviewing stellar merino shirts like the Wool&Prince Merino Shirt, perhaps I can't say I've tried it all until I've tried Outlier's shirts.
I work as a designer at an IT venture, so I rarely have the need to wear shirts. Weddings and funerals do call for collared tops, but even for those occasions, it's traditionally required to wear a white shirt rather than the black ones I gravitate towards.
Up till a while ago, the NYCO Oxford was the core Outlier shirt but I've always resisted since they didn't come in black, which is the only color I wear. They have since been discontinued and it looks like Outlier is looking to replace them with two offerings, the AMB Button Up and the S140 shirts.
I'll be making some comparisons with the AMB Button Up and Wool&Prince shirt to see how the S140 stands up.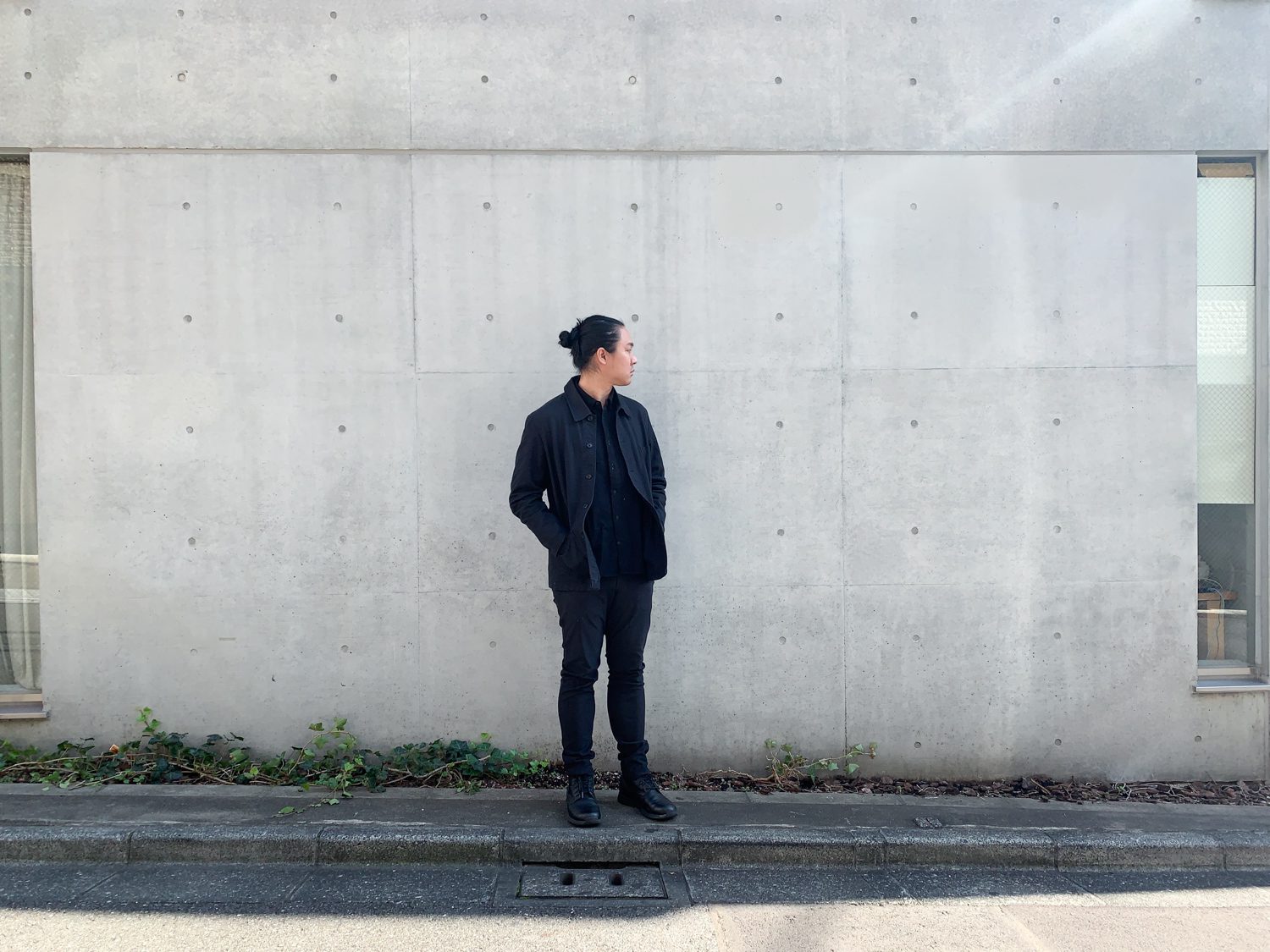 Style
A beautiful, simple merino shirt.
The S140 merino shirts actually come in a few variations. I will be reviewing the two pocket and hidden pocket pivot in black for this post. The shirt also comes in a one pocket version, but was sold out at the time of this post.
Now, when it comes to shirts, the fit is everything. I like more forgiving fits, in case of an unplanned visit to the buffet. At the same time, wouldn't go for something that looks clownishly large.
The usual size I go for is large for shirts. While this wouldn't make me look as sharp as Harvey Specter from Suits, but it would give me an option to use it as an overshirt.
I had owned a perfectly-sized AMB Button Up prior, so I felt pretty confident about the sizing. So, when I first put the S140 Two Pocket shirt, I was at first optimistic, but then I noticed that the shirt seemed kinda short.
But no one likes ads, so I got rid of them. If my articles helped you, I ask for your support so I can continue to provide unbiased reviews and recommendations. Every cent donated through Patreon will go into improving the quality of this site.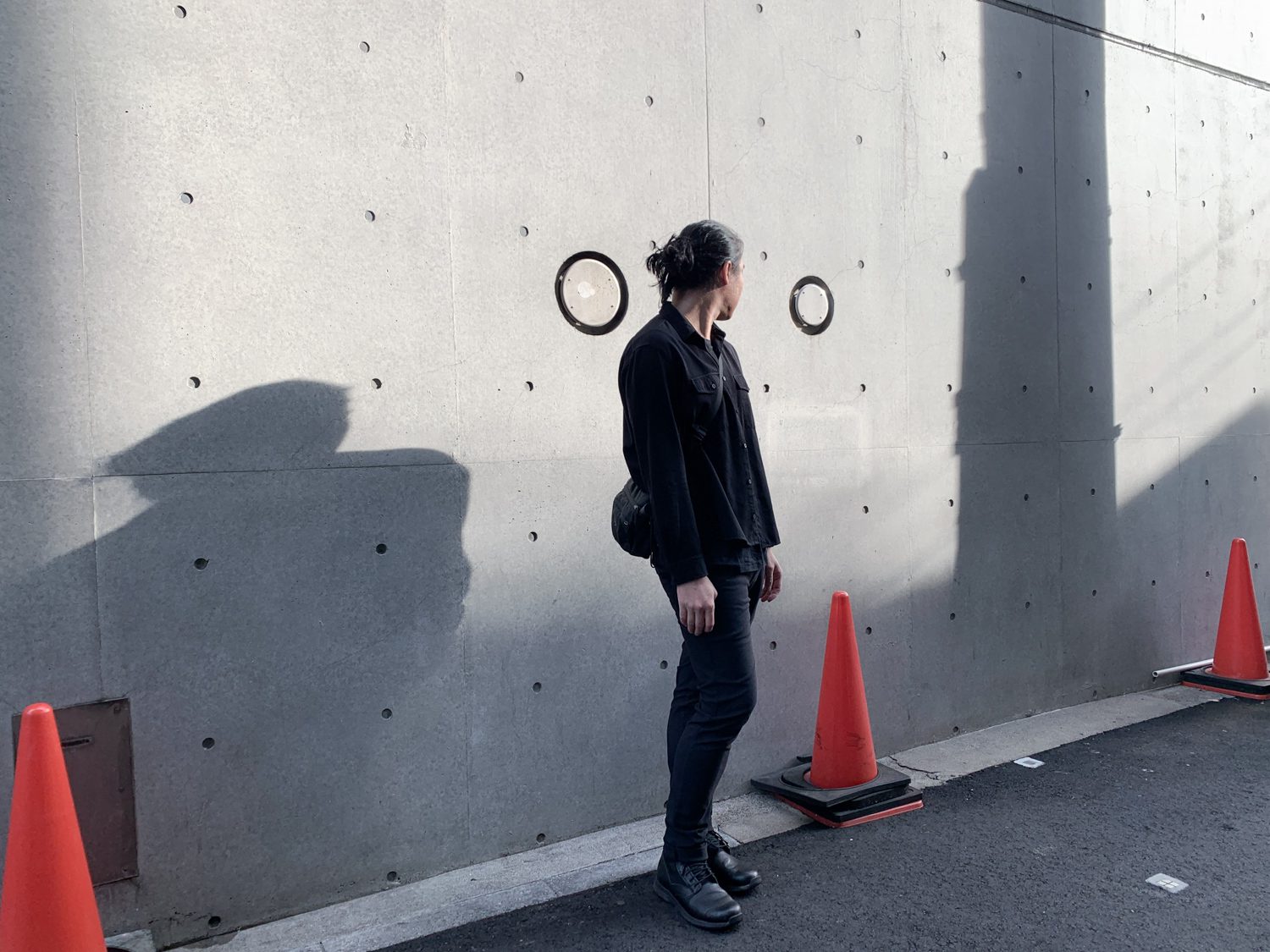 Lifting my hands up, sure enough, the shirt would reveal about 5 inches of my belly. I'm generally pretty alright when shirts show a little skin when you lift your hands up, but 5 inches is a bit too much that it crosses the line to where I would be a little too self-aware with the shirt.
At first, I thought it might be a one-off issue. I tried on the hidden pocket version, and it was the same length.
Wait, are all of Outlier's shirts sized this way? Putting on my AMB Button Up and lifting my arms, only about an inch of skin showing. The AMB Button Up was clearly of a longer length at the same size.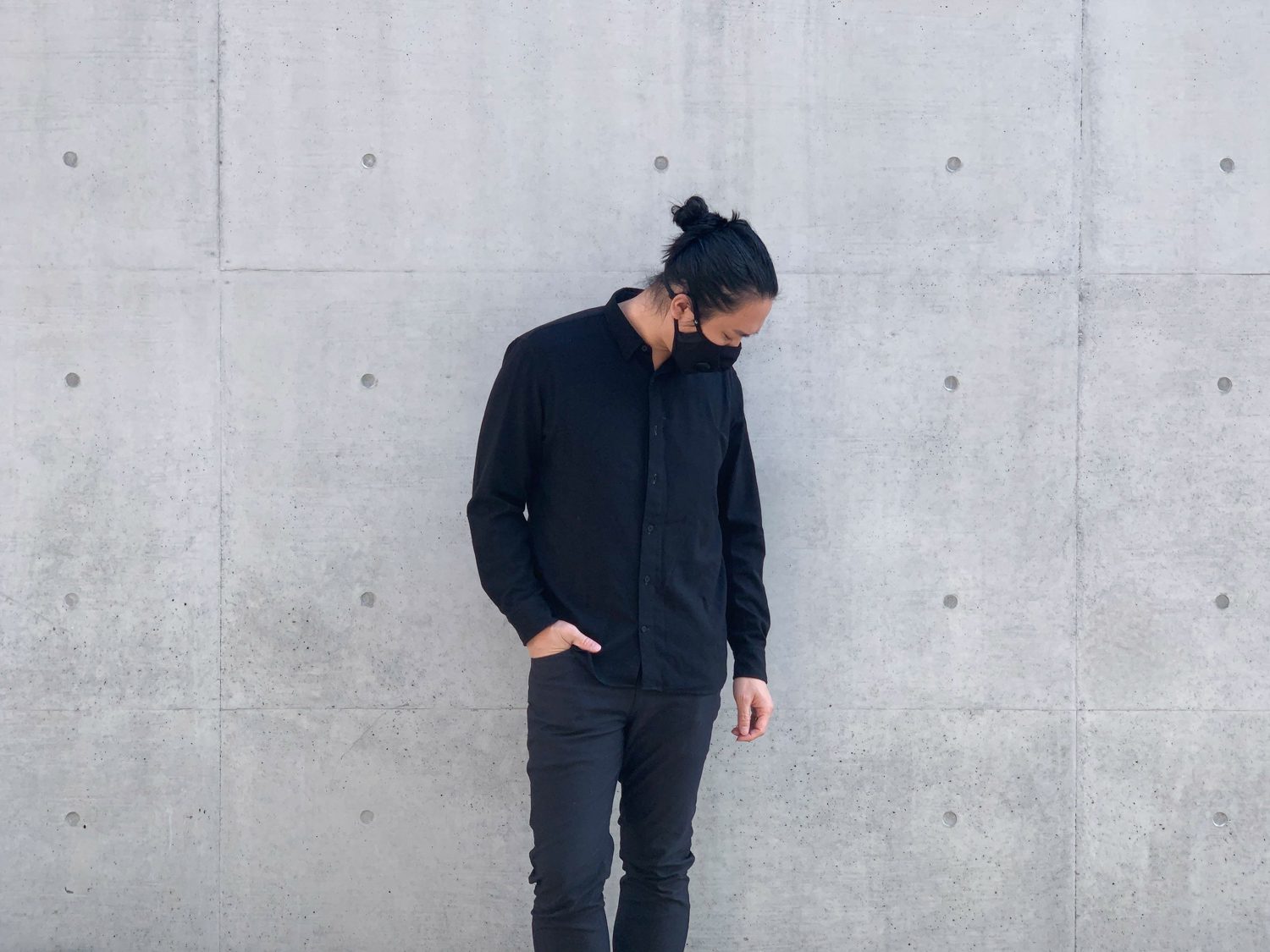 Based on the measurements found on the product page, the S140's length was 30.125 inches while the AMB Button Up was 30.375 inches at size large. Certainly, the 0.2 inches wouldn't account for such a difference.
I, of course, whipped up my measuring tape. Measuring the S140s, it turns out the length was actually about 28.5 inches on both the two pockets and hidden pocket. The difference between the stated length and actual length seems to be what contributed to this shortness.
I reached out to Outlier regarding this. It seemed that the black might have a different production process, specifically the way it's being dyed, that might result in additional shrinking. They told me that this is specific to the black one, and the other colors should be accurate according to what has been specified on the product page.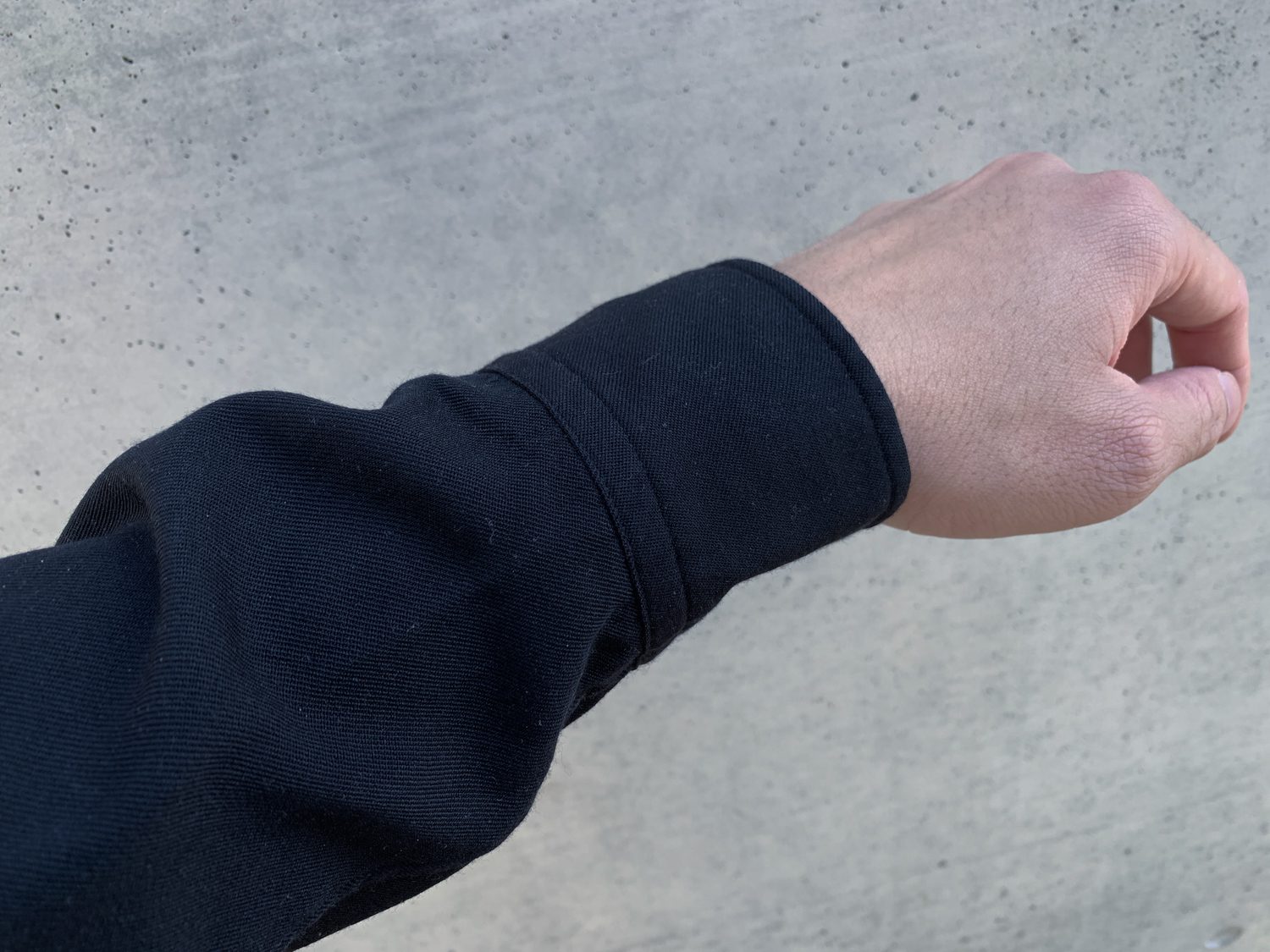 Compared to AMB Button Up, the twill material is more coarse, closer to the texture you can find on the Wool&Prince Merino shirt. The texture is visible when observed up close and it makes it look more casual.
I use the two pocket mainly as an overshirt. Given the short length, I didn't see any other choice but to wear it over a t-shirt. The hidden pocket one, however, was harder to pull off as an overshirt, given that it would look like you are passing off a regular shirt as an overshirt (if that makes sense). I get by the short length by making up the lack of length with a Uniqlo Airism undershirt.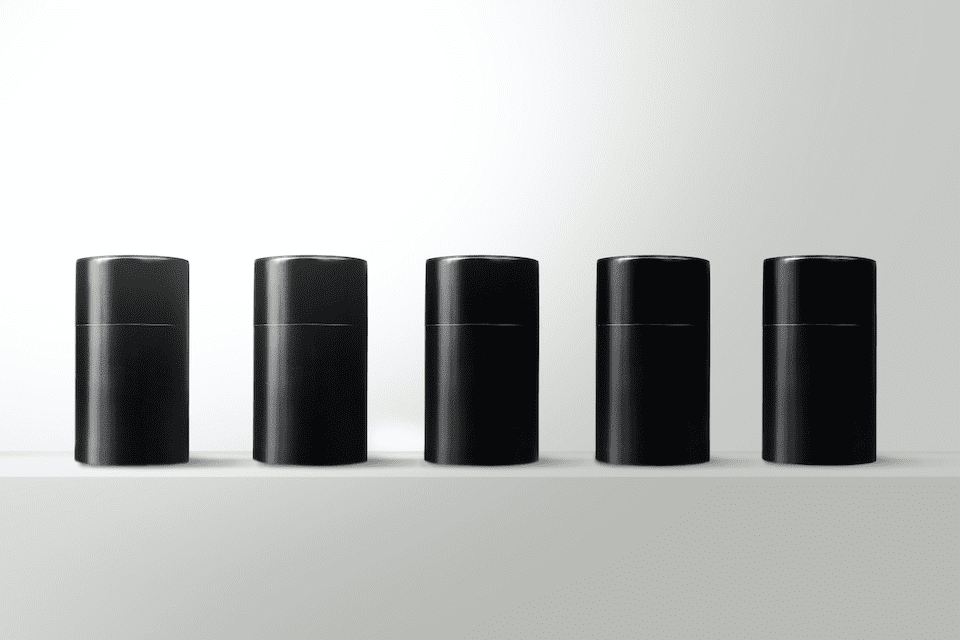 I found a 100 year old company that would create these heirloom quality canisters for me. They are handmade and will keep your tea leaves, coffee beans or anything that you need dry for years to come.
or read review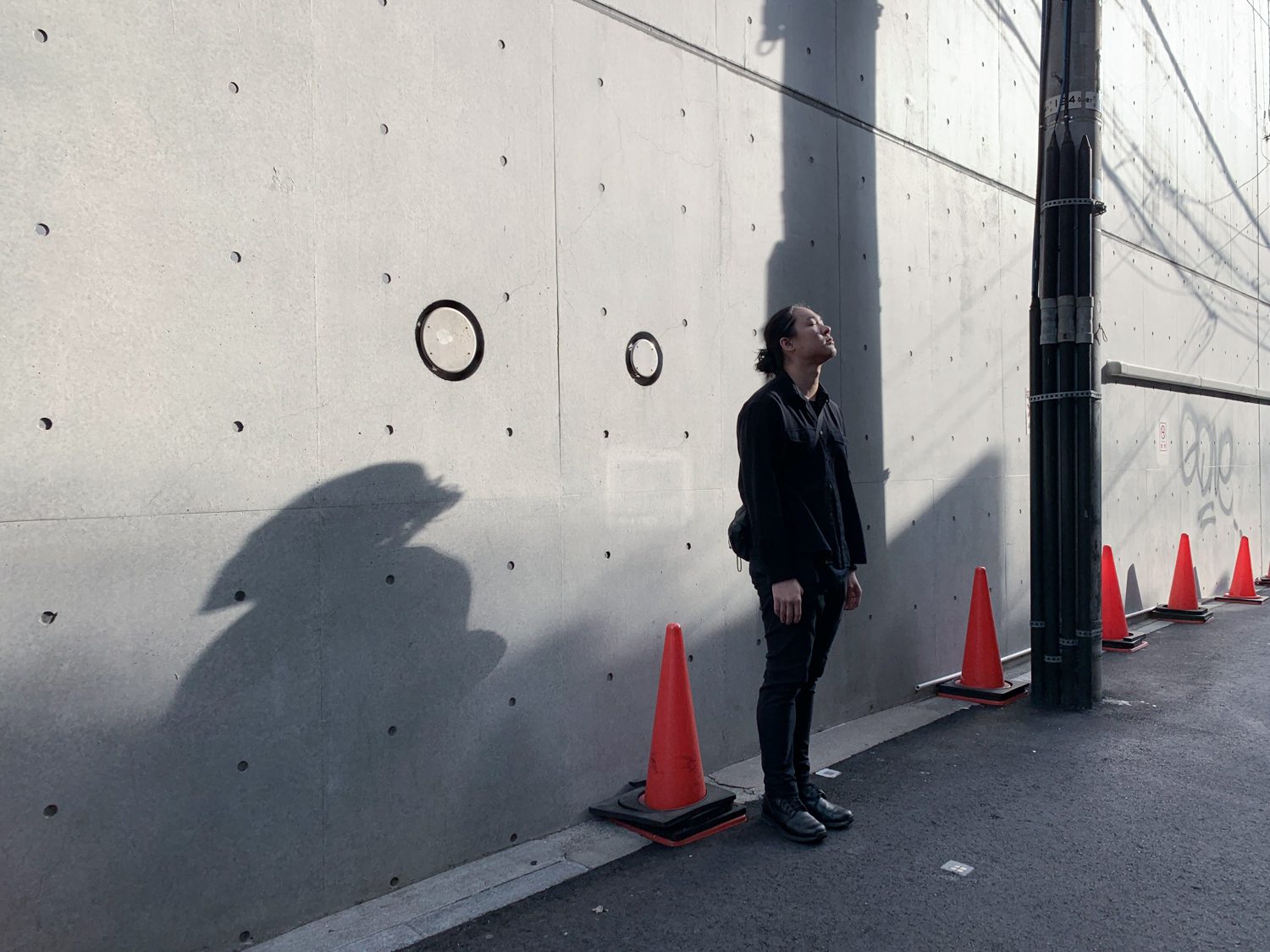 Hidden Pocket
The S140 Hidden Pocket Pivot deserves its own section. Between the third and fourth button, is a hidden pocket resting on top of your left breast pocket. In fact, the placket (which is where the buttons and buttonholes are on) are double-lined, and for the third and fourth button, they are actually split open so you can keep your shirt closed with just the bottom lining.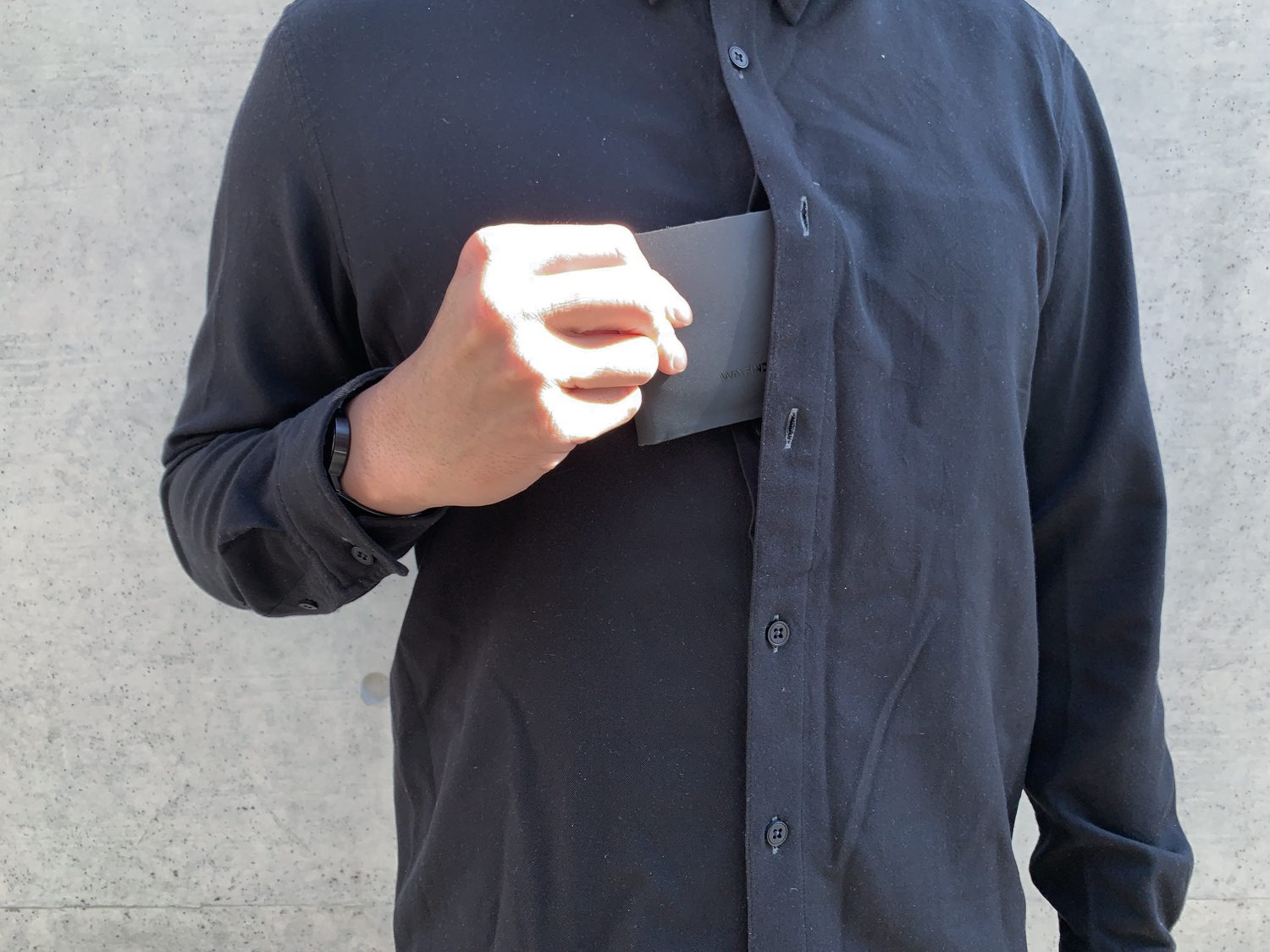 You can actually leave the top lining for those buttons undone for easy access to the pocket.
While the pocket is technically hidden, there are two stitches outside, one for each of the top end of the pockets. They are hardly visible, but are still there for those who mind the nitty-gritty.
Material
A true, blue, merino shirt.
The shirt is made from the S140 twill, which stands for Supers 140. This is a softer and finer upgrade from the previous offering used on the S120 shirts.
This wool is washable and comes in 16.5 micron. Compared to the Wool&Prince shirt at 18.5 micron, the difference is what gives you the finer skin-feel and completely no itchiness.
The twill construction uses 2×1, which means two warp (verticle) threads for every weft (horizontal) thread. As a comparison, heavy denim above 10.5 oz uses 3×1 while summer-weight denim under 10.5 oz uses 2×1 for the perfect balance of durability and breathability.
On the other hand, plain weave (or 1×1) just crisscrosses the threads. This is the simplest and cheapest way for cloth to be woven.
The wonders of merino shouldn't be unknown to you, otherwise you're probably reading the wrong blog. Odor-resistant, temperature regulating and ultra-comfortable, merino wool is the darling of the onebag travel community. While it usually also means a higher price tag, investing more money in fewer things is the base concept for packing less. I wrote an entire article just on merino wool if you really want to go there.
One thing that merino wool is less known for but Outlier does exceptionally well, is cutting it to drape beautifully, like with the Outlier Gostwyck Single Origin Merino Wool T-Shirt. This takes master crafting and good balance with the fabric's weight for that beautiful fabric flow.
At 200gsm, the shirt is heavier than Wool&Prince shirt at 170gsm and the even lighter AMB Button Up at 130gsm. The material feels weighty compared to the two, but doesn't feel overbearingly heavy or hot.
Apart from merino wool, Outlier uses their signature custom Italian Mombasa poly buttons to seal not just the pockets, but the deal.
Usage
Will the quality of the merino shirt help me ignore the length?
With the length issue, I've been using this shirt mostly as an overshirt. As claimed, the merino shirt isn't too warm despite the fabric weight.
With the two pocket version, I found that it goes well with the majority of my clothing. Mileage may vary since I wear only plain black clothes.
For the hidden pocket version, you'll find that doing the buttons is a bit of a chore, given that you have to power through the double-lined placket. While the hidden pocket was spacious enough to accommodate my iPhone XS Max, it creates a fair bit of bulge and weight you can feel. I wouldn't recommend using it for anything more than a slim wallet, like TOM BIHN Nik's Minimalist Wallet.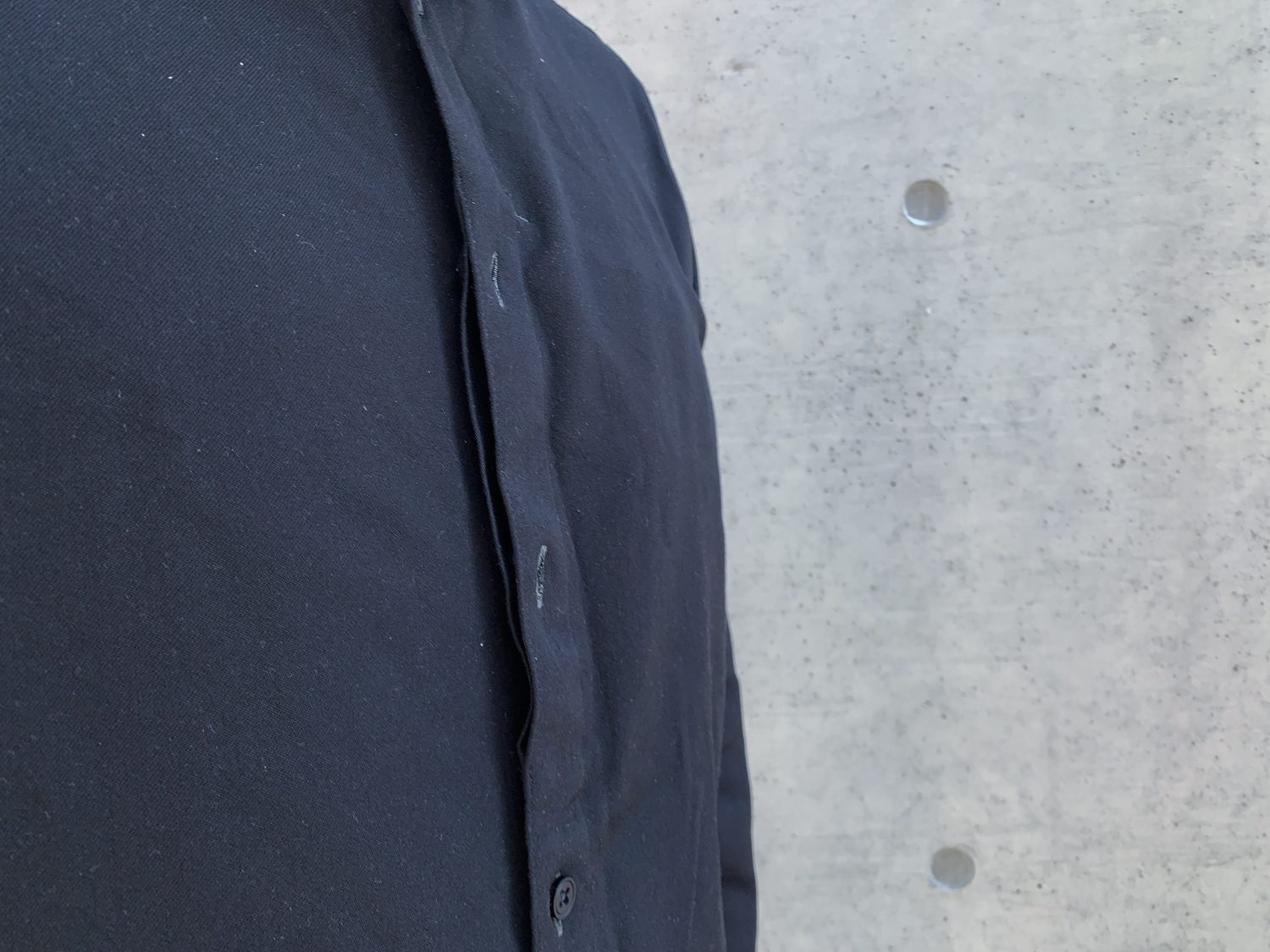 While minute holes do start to develop in high abrasion areas on my merino wool clothing, the heavier fabric on the shirt looks likely to resist them for a much longer time.
The comfort of this merino shirt is something worth mentioning. I had thought that with the texture and weight of the twill, it wouldn't be as comfortable as it looks. While not being itchy is the least I expect, the S140 shirts are super comfortable and feel exactly like how a heavier AMB Button Up would feel.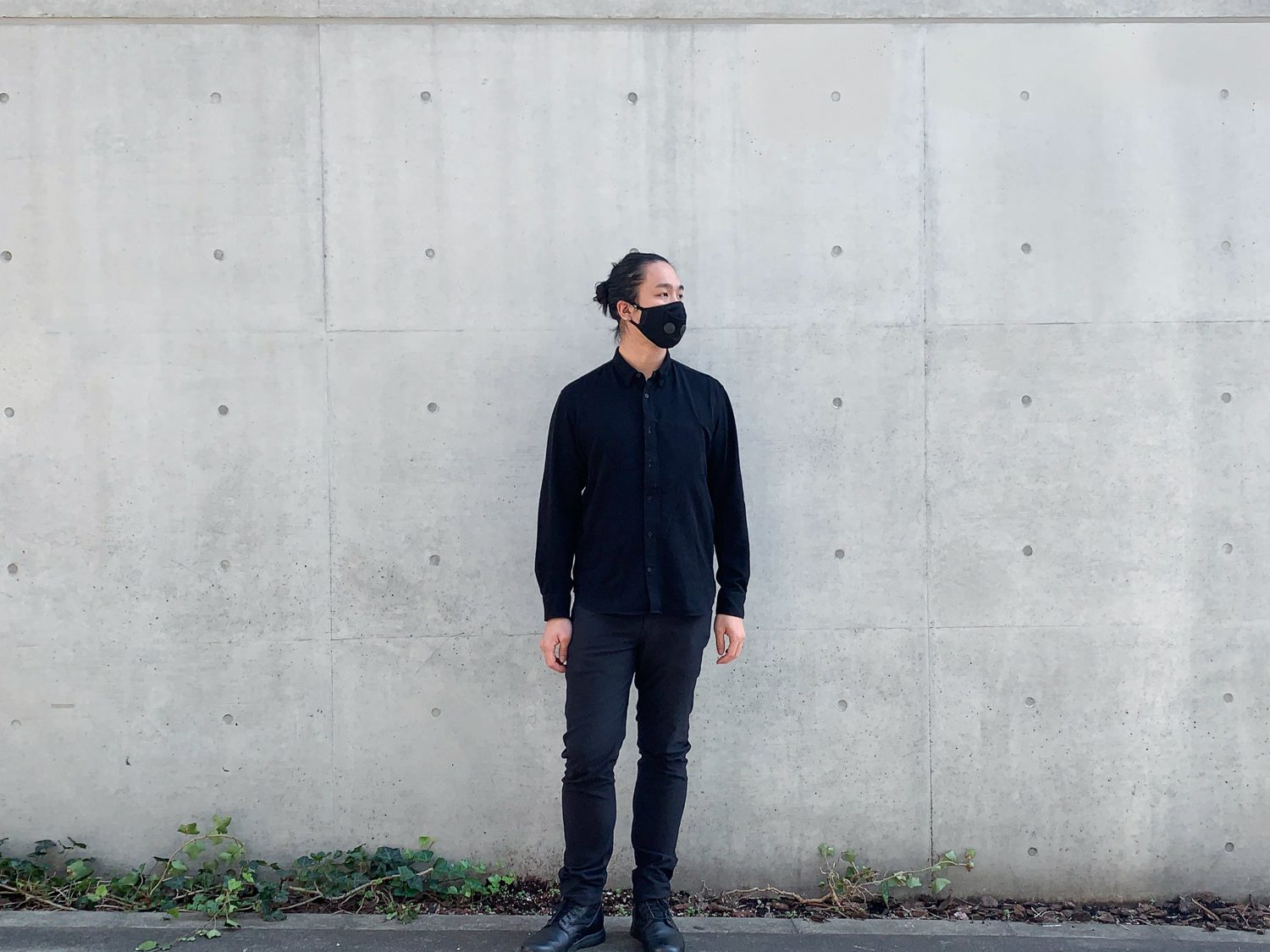 Conclusion
Is this the perfect merino shirt?
The short length is a deal-breaker for me, but I would recommend the black only for those who don't mind it or have a shorter torso. Outlier comes with a generous return policy (except for international customers who have to bear the import taxes) if you do face the same issue.
For those who aren't as particular about the color, the length is likely gonna be okay for colors apart from black. The black isn't available at the time of this review anyway.
To sum up, this is a perfect merino shirt for what it's made for, which is everything. If you want to own just one shirt, this might be it.
Like this review? See all of my in-depth reviews.
Also, consider supporting me by being a Patreon. Every cent given will go back into improving the content of this website.