This website is made possible by readers. I may earn a small commission when you buy through the links in this article at no extra cost to you. Learn more.
Details
Price $495 on outlier.nyc
Material 59% Linen, 41% Polyester, 165gsm
Weight 650g
Made in USA with Japanese fabric
Overview
Another Outlier review… And a poncho to boot. Another chance to change my world view with an amazing piece of garment. Seriously, Outlier did change the way I thought about certain pieces of clothing, like with the New Way Shorts that I used as the only pair of bottoms on a trip to Vietnam and as bicycle pants on a crazy single speed ride from Tokyo to Karuizawa and back.
This time, instead of a core piece, like the Ultrafine Merino T-Shirt or Strong Dungarees which makes up most of my wardrobe, it's an experiment, specifically experiment number 174.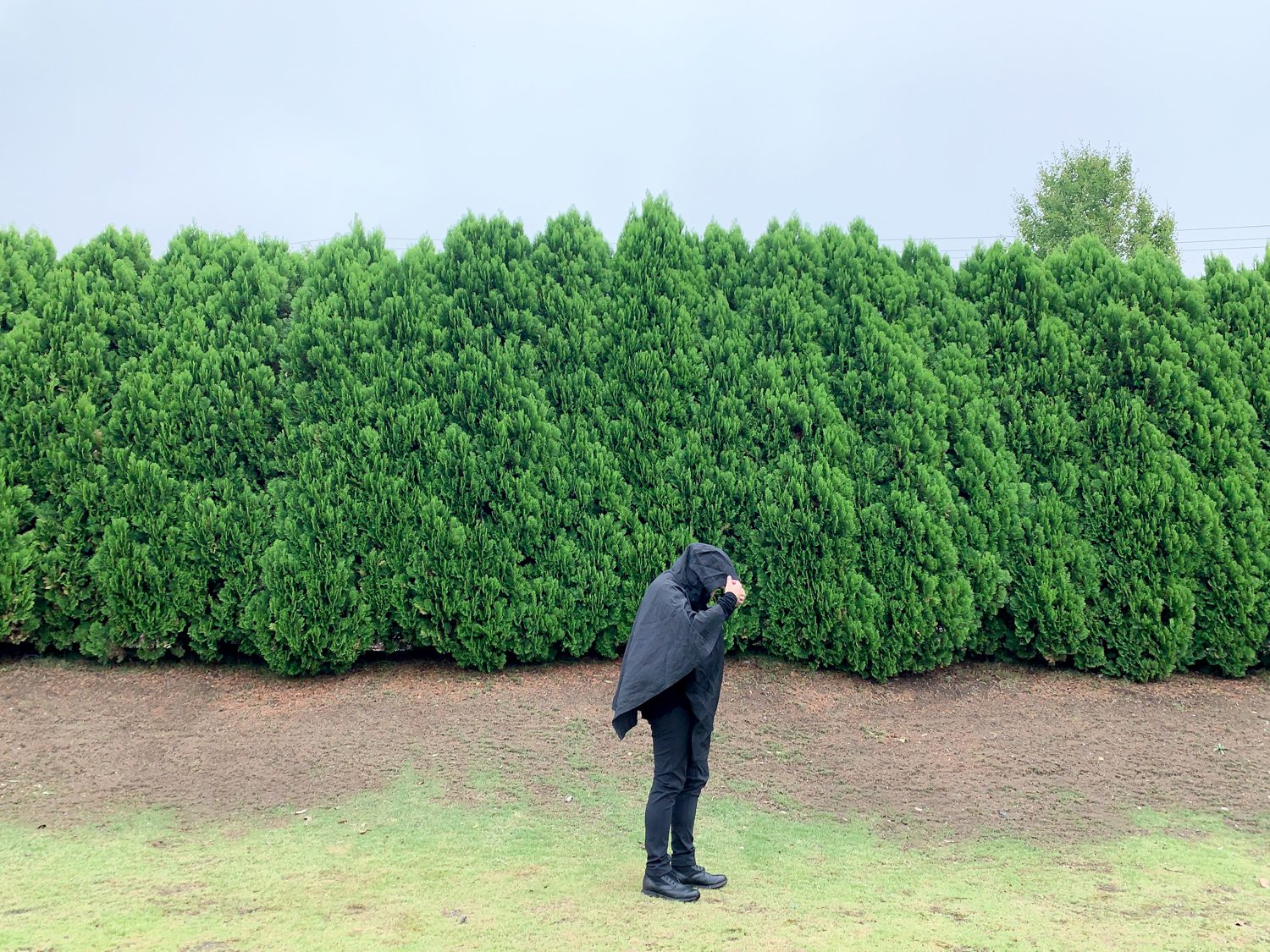 In case you are new to Outlier, experiments are what Outlier calls non-core products, usually released in limited runs. Some of these experiments see enough demands that they graduate into a core product, like the Shelter from the Storm. But, more often than not, they succumb to production limitations and won't be released again, which is why they are often snapped up in flash.
Frankly, the poncho itself is an interesting piece of garment, let alone one from Outlier, which makes me all the more excited to write about it.
Style
Not just a poncho, but a statement.
Style-wise this thing is just out of this world. Even just by looking it and putting it on for the first time, I could tell this was unlike anything I've tried before.
The poncho comes in just one size. To be honest, I don't have a long experience wearing ponchos so I wouldn't be able to know what constitutes a perfect size.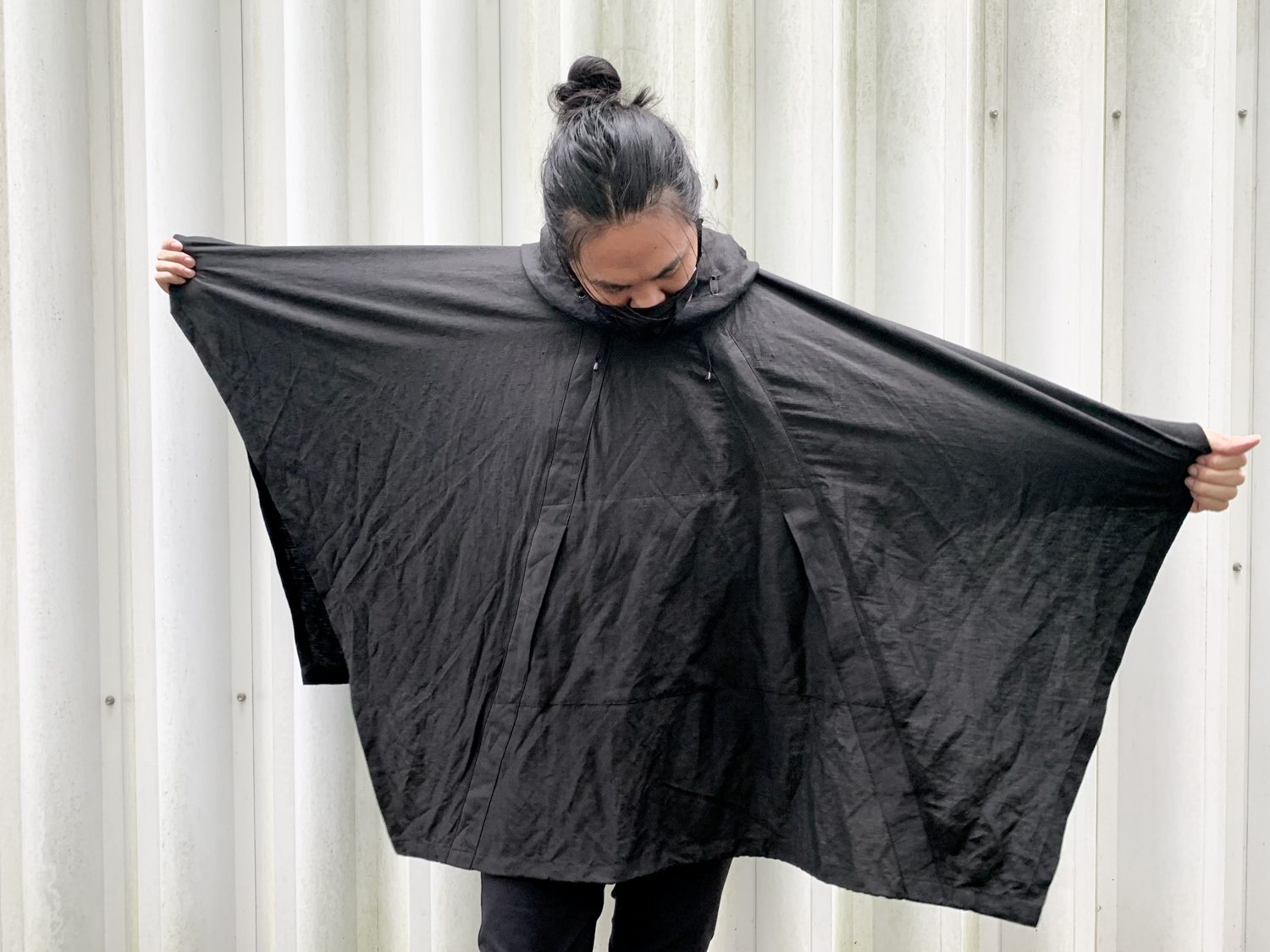 But, I guessed the point of a poncho is to keep you warm, so being able to cover most of your body what could be considered a good fit. At 6ft and 196lbs, the only size of the poncho fits me pretty well, with the exception that it would reveal a bit of my arm to the rain when I lift it up.
If there is one thing I appreciate about a baggy piece of garment, is that something like this is perfect for hiding unsightly beer belly figures like the one I have.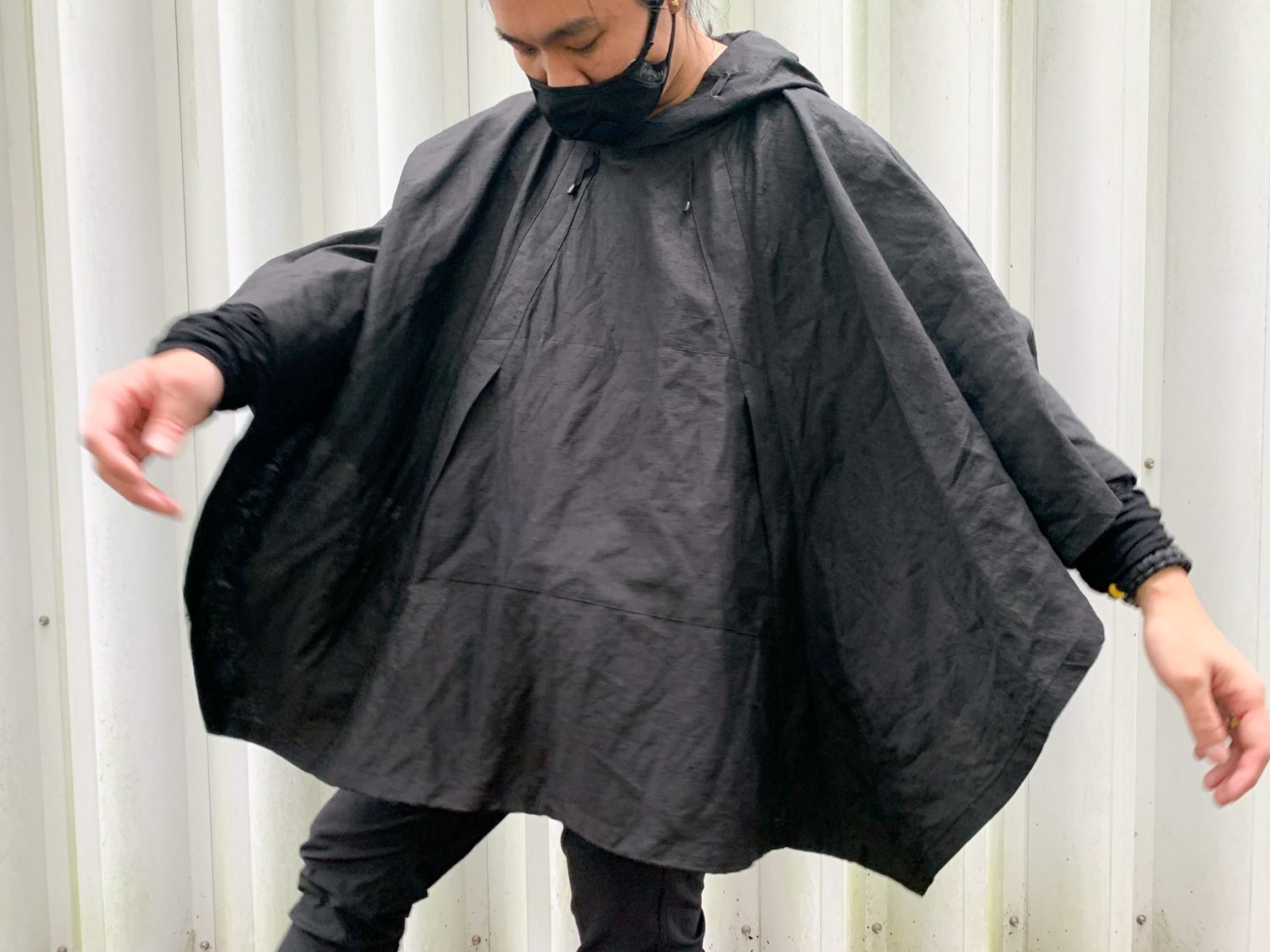 From the front of the hood, there are two stripes of fabric coming down that connects all the way to the two front pocket slots. Everything just seems so played down that what you are really enjoying is the silhouette and texture. From far, it kinda looks like you are wearing a big, black sheet of crinkly paper.
One nice detail is what they call a "dress weighted hem" which is what looks to be a heavy wire sewn into the hem to keep the poncho weighed down. I've always been impressed by Outlier's intentionality when it comes to details like drape or hand feel, something which most other brands tend to overlook.
But no one likes ads, so I got rid of them. If my articles helped you, I ask for your support so I can continue to provide unbiased reviews and recommendations. Every cent donated through Patreon will go into improving the quality of this site.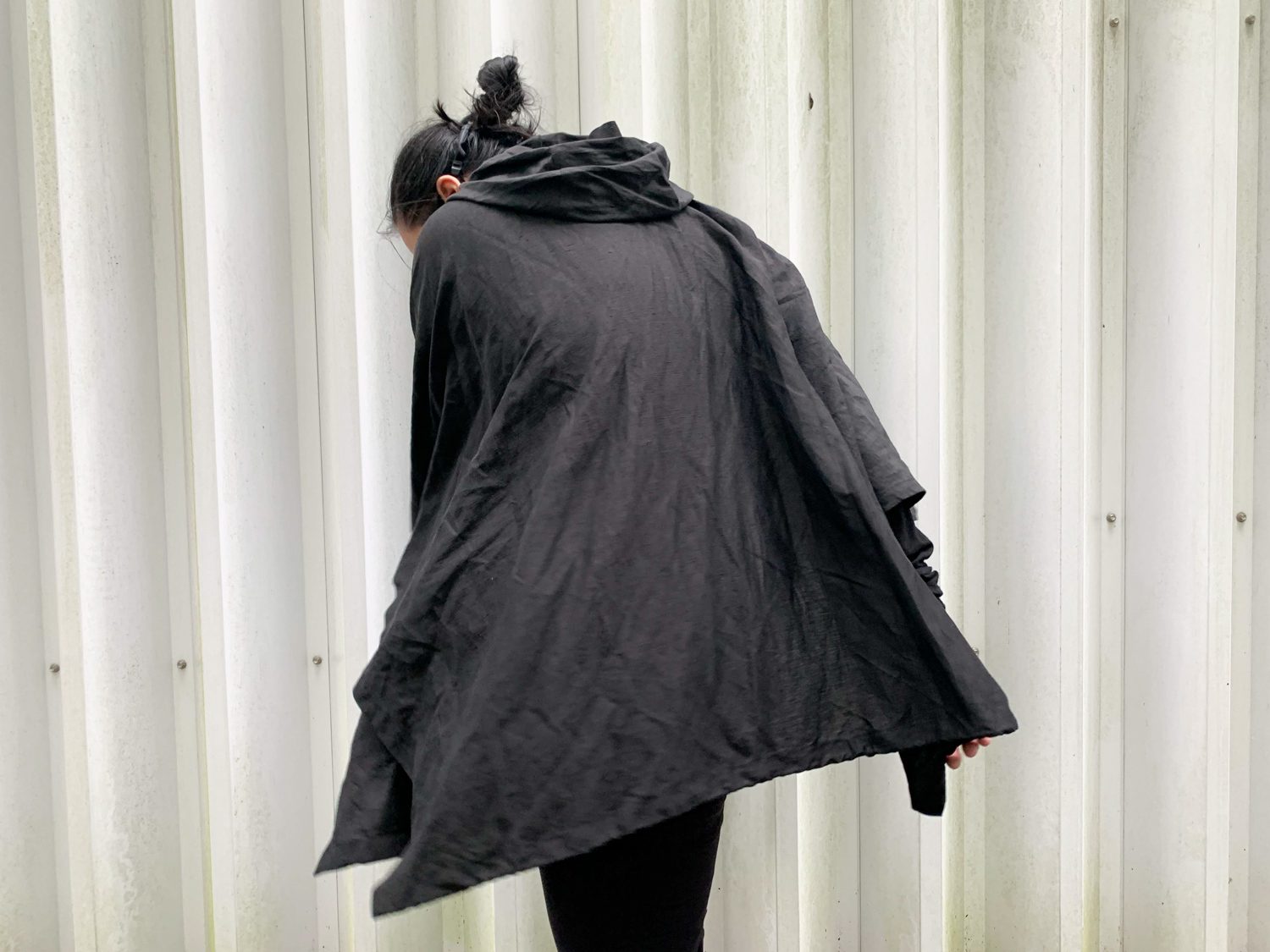 Injected Linen itself has a slubby horizontal weave visible that makes it look grunge yet stay subtle due to the complete black color. The texture, if you are able to notice it in the first place, makes it look like it comes from one of those more edgy high-end brands like Alexander Wang.
The fabric, however, retains wrinkles easily. But given the black colorway and drapey nature and texture of the fabric, they are negligible.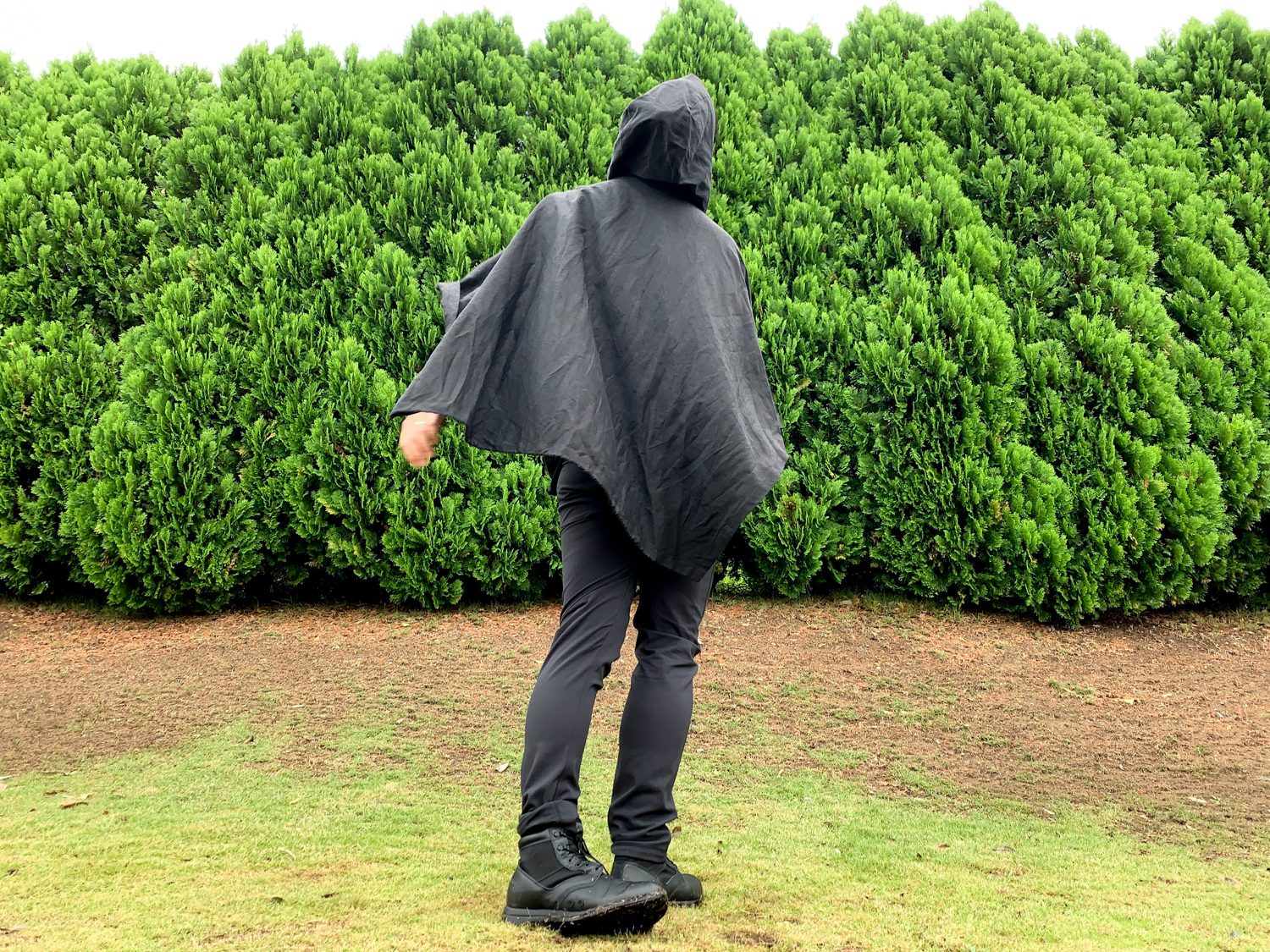 Paired with the CODEOFBELL X-PAK and Airinum Mask, my friends commented that I look like a video game character. There is just something about the slight sheen of the injected linen, combined with the drape of the poncho that gives it an ultra-edgy techwear look. To complete the look, the poncho, of course, comes with a hood that you can also tighten with the drawstrings.
As with most of Outlier's hooded clothing, the hood is generously sized and able to accommodate my man bunned head with room to spare.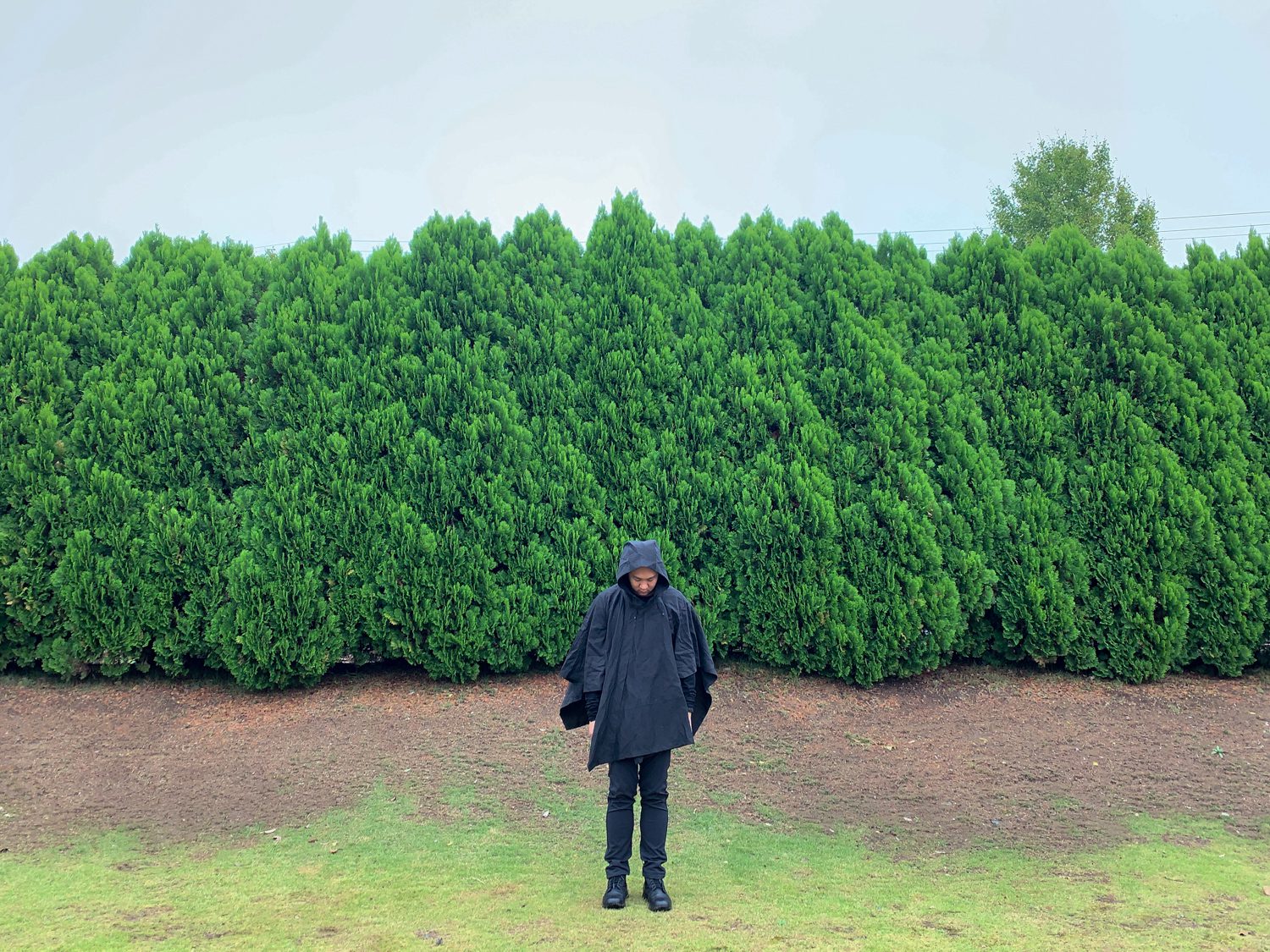 Material
Beautiful drape. Unlike any other poncho you've seen.
Injected Linen is one hell of a fabric. My overwhelming collection of black, technical pants stopped me then but I came pretty close to trying one out when I saw the Injected Linen pants.
This Japanese fabric is a super light polyester warp mesh is knitted around a linen weft insertion. Polyester is for durability and stability and linen, as a well-known summer fabric, for its breathability.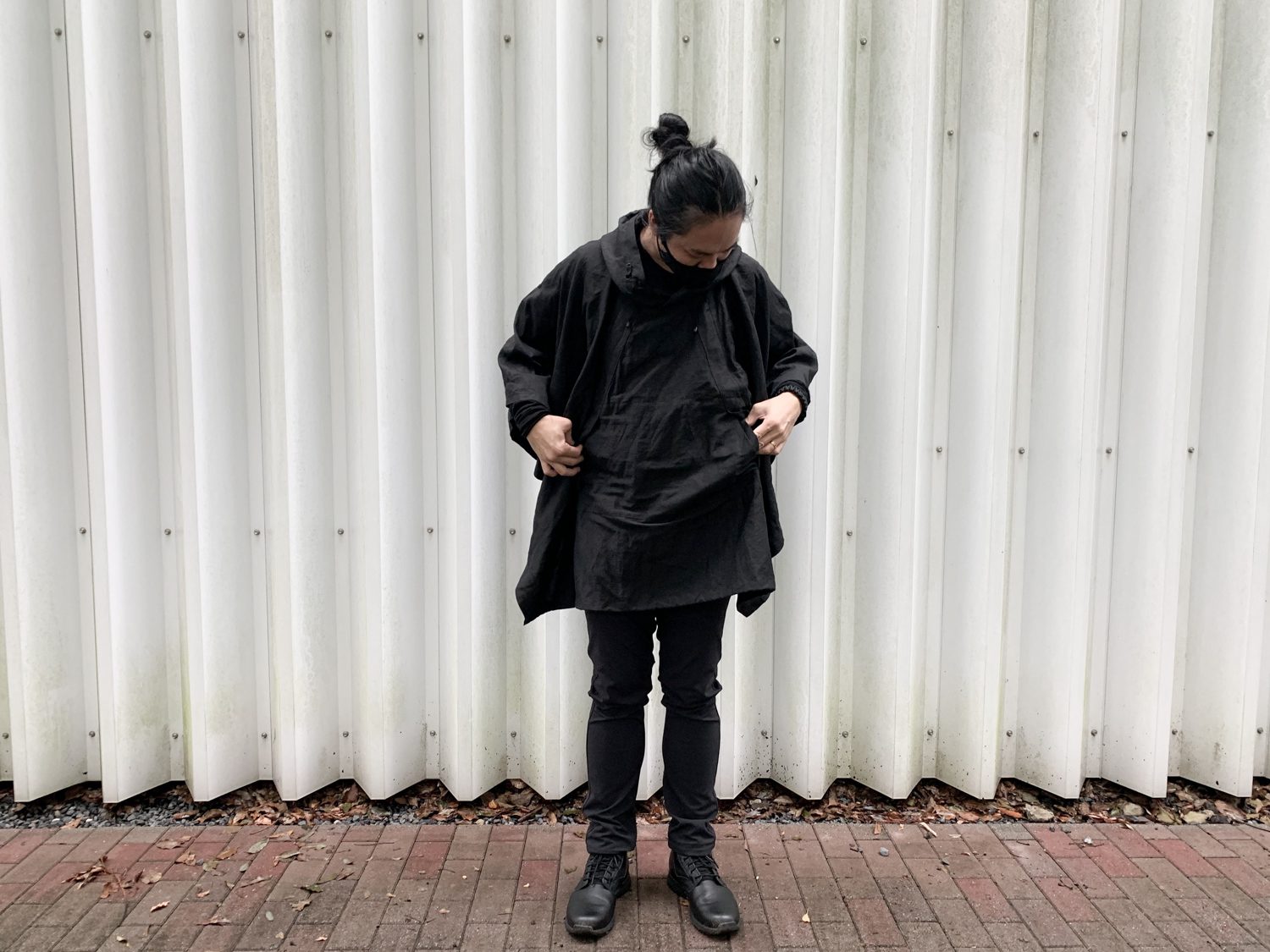 59% of the fabric weight is linen and it's what gives the fabric the slubby, uneven texture that's so elegant yet edgy. The fabric is opaque but if you really look, like really look, you can see through it.
Usage
Probably the best poncho for your travels.
The poncho comes with a kangaroo pocket, you know, those on a hoodie that connect to each other. In the same slot as kangaroo pocket, you can actually put your hands through another hole to go under your poncho.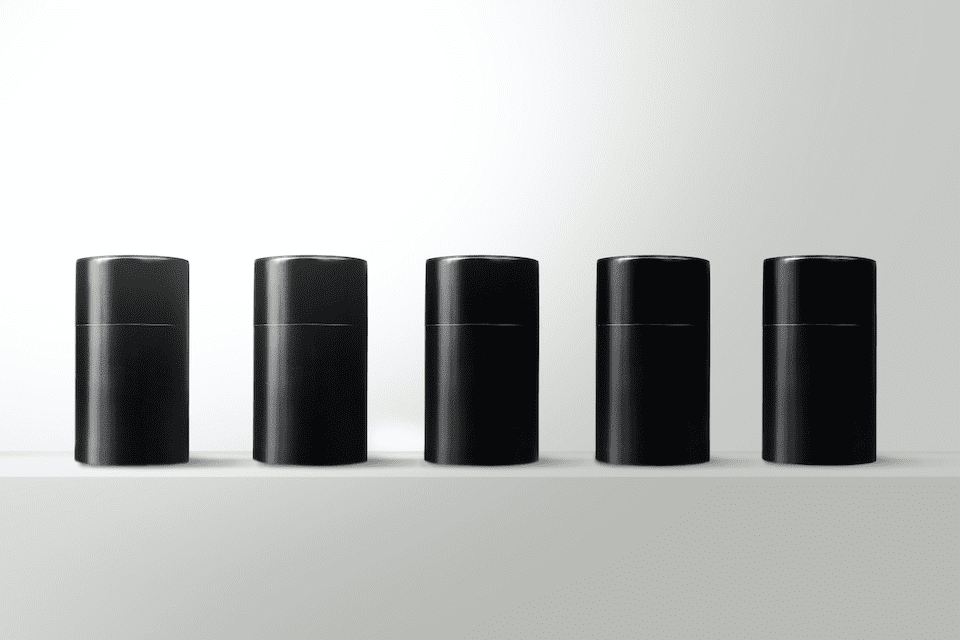 I found a 100 year old company that would create these heirloom quality canisters for me. They are handmade and will keep your tea leaves, coffee beans or anything that you need dry for years to come.
or read review
I wouldn't say these are very functional pockets. I don't think you want to put any daily carry into the poncho's pockets anyway, since you'll be taking it on and off according to the weather. They looked to be designed for your hands to stay warm.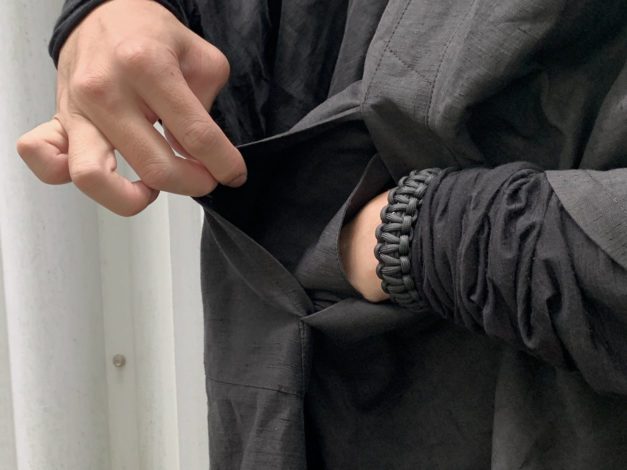 When it comes to water resistance, you want to note that this is a regular poncho, as opposed to a rain poncho. This means that it's made to keep you warm, rather than dry. While it does keep me dry from light showers, don't count on staying dry during heavy downpours. I mean, it is linen after all.
Unlike the conception most have about linen, I found the poncho rather heavyweight. Balanced with the open nature of the fabric, makes it suitable for summer temperatures.
6 Month Update
After 6 months with the poncho, I've a few additional thoughts about it. Since this isn't a rain poncho, I find that there are few situations that I would go for this rather than the other jackets I have.
I guess the perfect situation to wear it would be during a cool day with light rain. I did wear it on one such day only to have the rain worsen. I love how the poncho was able to cover my backpack as well. However, as mentioned before, this isn't a rain poncho and will get wet in the rain.
Since it actually soaks up the water, keeping in into your bag isn't really an option. However, one silver lining is the it dries pretty quickly due to the porous nature of linen.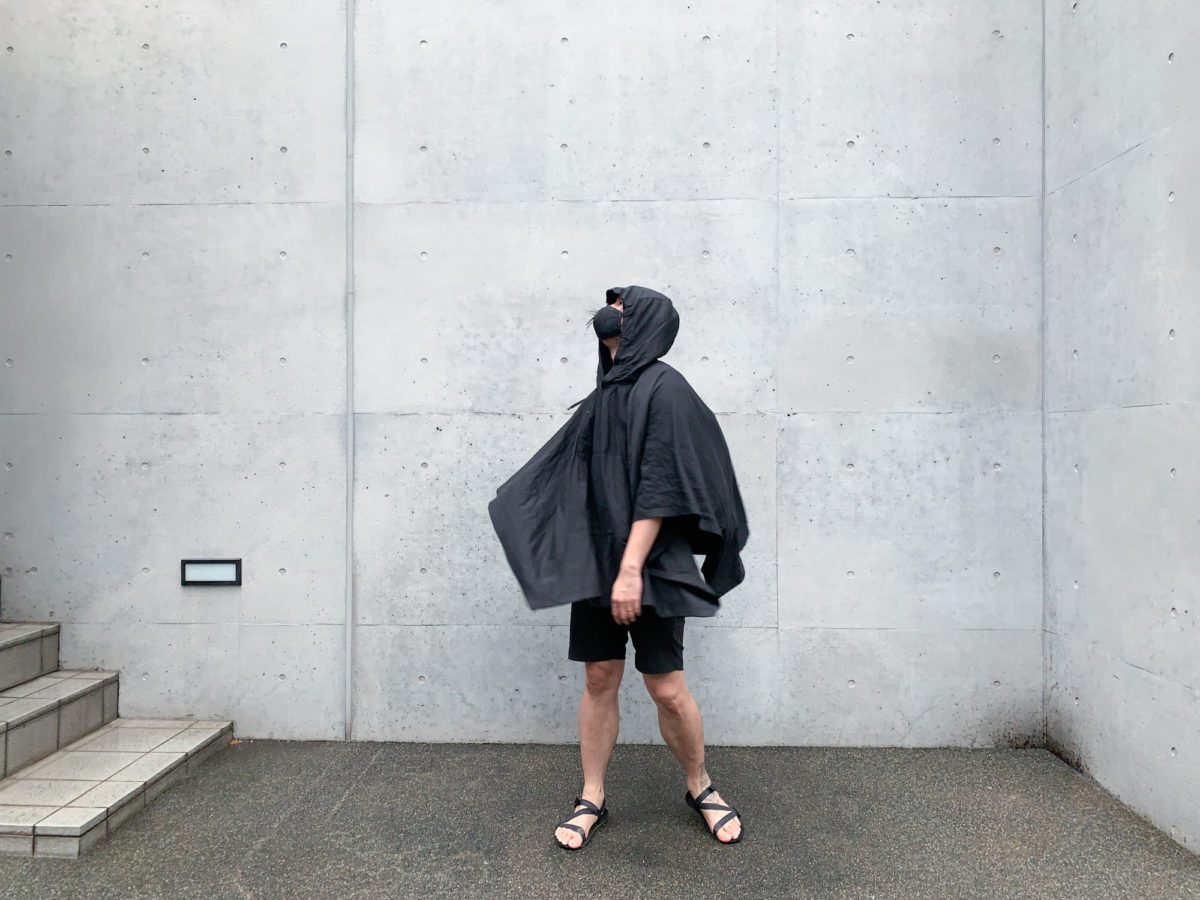 Conclusion
Is this poncho for you?
More than warmth or rain-resistance, I would totally throw down the dough for just simply how rad this poncho looks. It's bound to make you draw looks.
This is a poncho, so by most's standards, it is definitely hard to call it an "essential". But it does look ultra badass.
Additional Images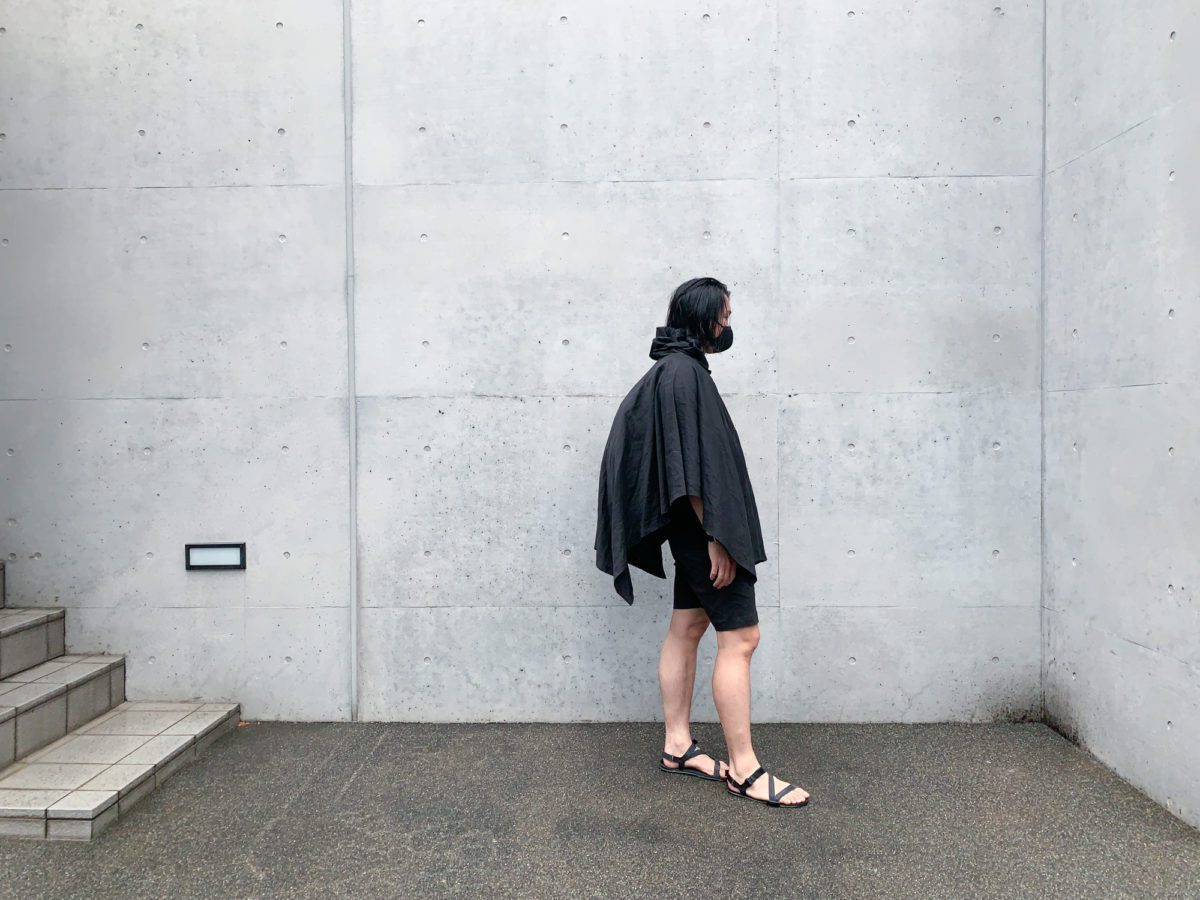 Like this review? See all of my in-depth reviews.
Also, consider supporting me by being a Patreon. Every cent given will go back into improving the content of this website.
Tagged injected linen jacket outlier poncho rain jacket review water-resistant