This website is made possible by readers. I may earn a small commission when you buy through the links in this article at no extra cost to you. Learn more.
Here's a tote bag that beat all those generic nylon tote bags. TOM BIHN, a legendary bag maker takes on the tote bag. Long story short; it's awesome.
Details
Price $60 on tombihn.com
Material bluesign® certified 525 denier High-Tenacity 2×2 Ballistic nylon
Dimensions 13.4″ (w) x 20″ (h) x 9.1″ (d) / 340 (w) x 508 (h) x 230 (d) mm
Volume 1525 cubic inches / 25 liters
Made in USA with fabric from Korea / Japan / U.S.A.
Overview
TOM BIHN is widely known for their backpacks, but does anyone even know that they have these nylon tote bags?
For those who haven't heard of TOM BIHN, they are a pretty big deal. They are a cult bag brand within the onebagging community. They make bags that last. If you haven't already, take a look at my review of one of their most iconic bags ever, the Synapse 25.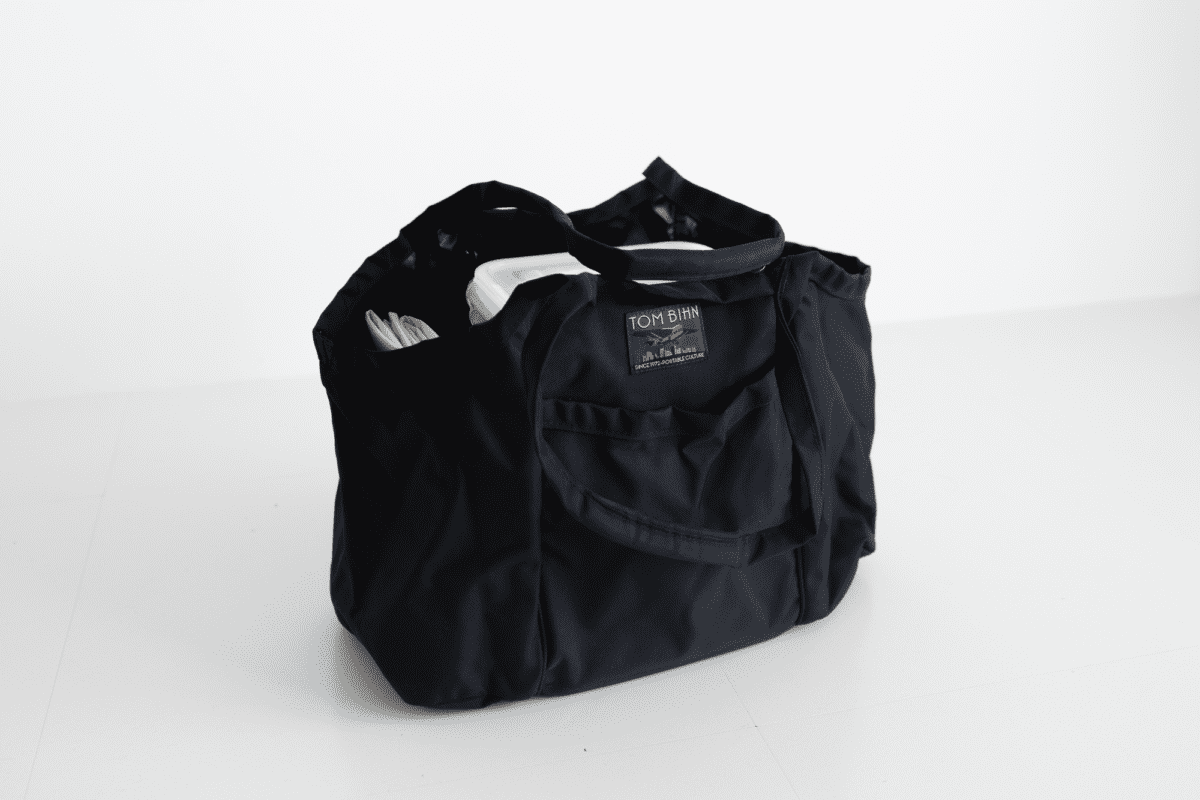 While TOM BIHN has made a name for their backpacks, they have a few lesser-known products and this is probably one of them. When I get myself into a brand, I always go all in. I want to know all about the culture, the people and of course, all the products.
The Truck looks to be the next version of their now-retired tote bag, The Moveable Feast. The Moveable Feast was made specifically for groceries, but people were using it for more than just groceries. With The Truck, TOM BIHN wanted to simplify it by making it less grocery-specific, to become a more versatile bag.
As a result of some serious tweaking, The Truck was born. Bigger, but a bit short and shallower, with longer handles to carry over the shoulders. Boys, we have a winner.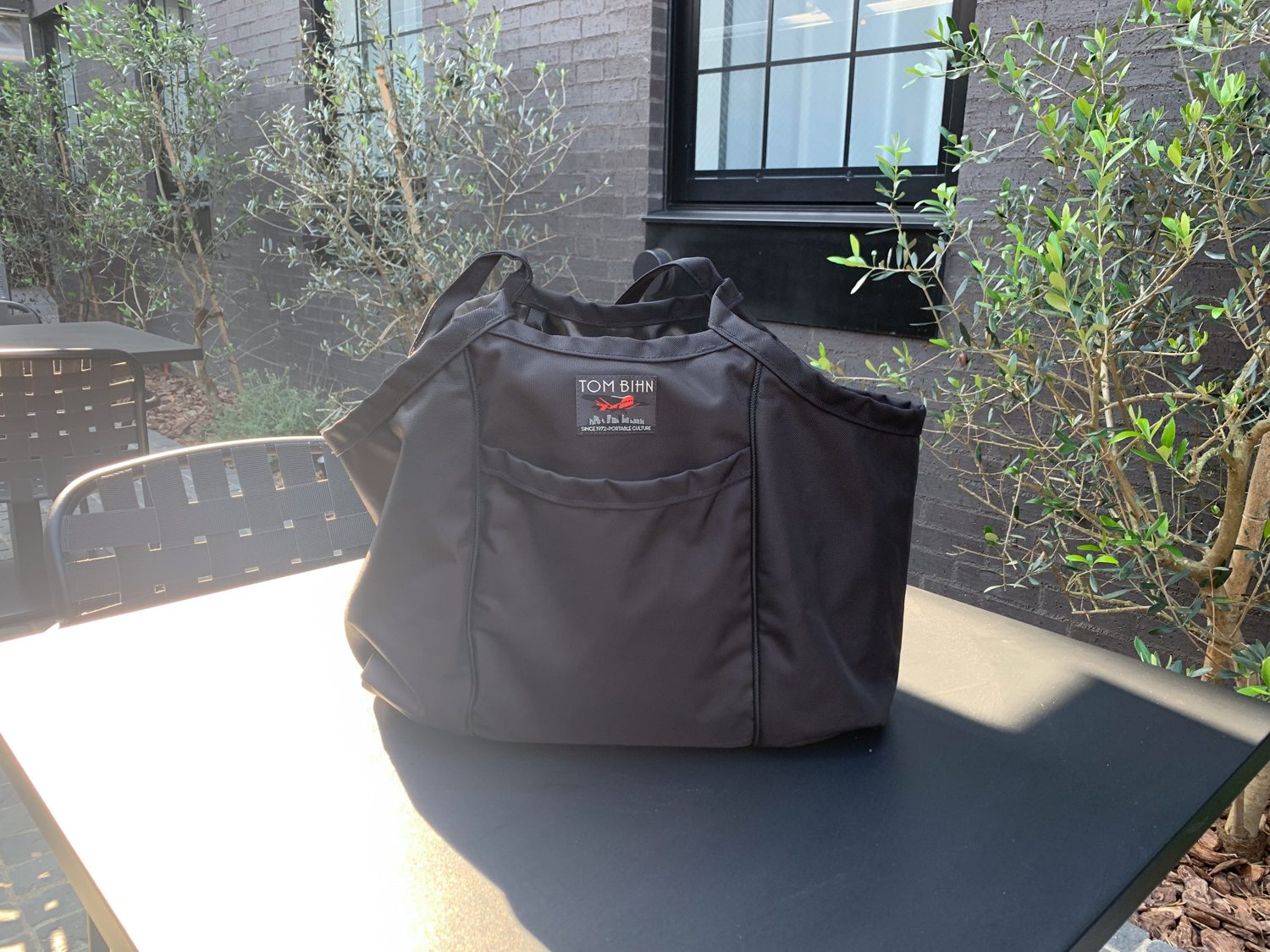 Style
Nylon tote bags can look good too.
TOM BIHN is pretty well-known for their old school style, or sometimes refers to as a "dad-style". Personally, I kinda like the old school cool vibe to it.
However, The Truck doesn't really have that vibe, probably due to just how simple of a product it is.
The Truck comes in six different colors as of this post. They are nebulous grey, deep blue, aubergine, alphaviolet, burnt orange, and the most important color of all, black.
As you might or might not know, this blog only reviews products in black which is the only color I wear. So, no surprise here. The black is the version reviewed here.
But no one likes ads, so I got rid of them. If my articles helped you, I ask for your support so I can continue to provide unbiased reviews and recommendations. Every cent donated through Patreon will go into improving the quality of this site.
The Truck is an open-top tote bag, which means there isn't any zippers or velcros to keep it closed. This is mainly to allow for overflow capacity.
Unlike many nylon tote bags with a straight opening, The Truck curves down on both sides, which allows oversized items, like loaves of bread, to rest at an angle for better stability.
There is a singular piece of branding on the tote bag, which is a TOM BIHN "airplane" brand tag on one side.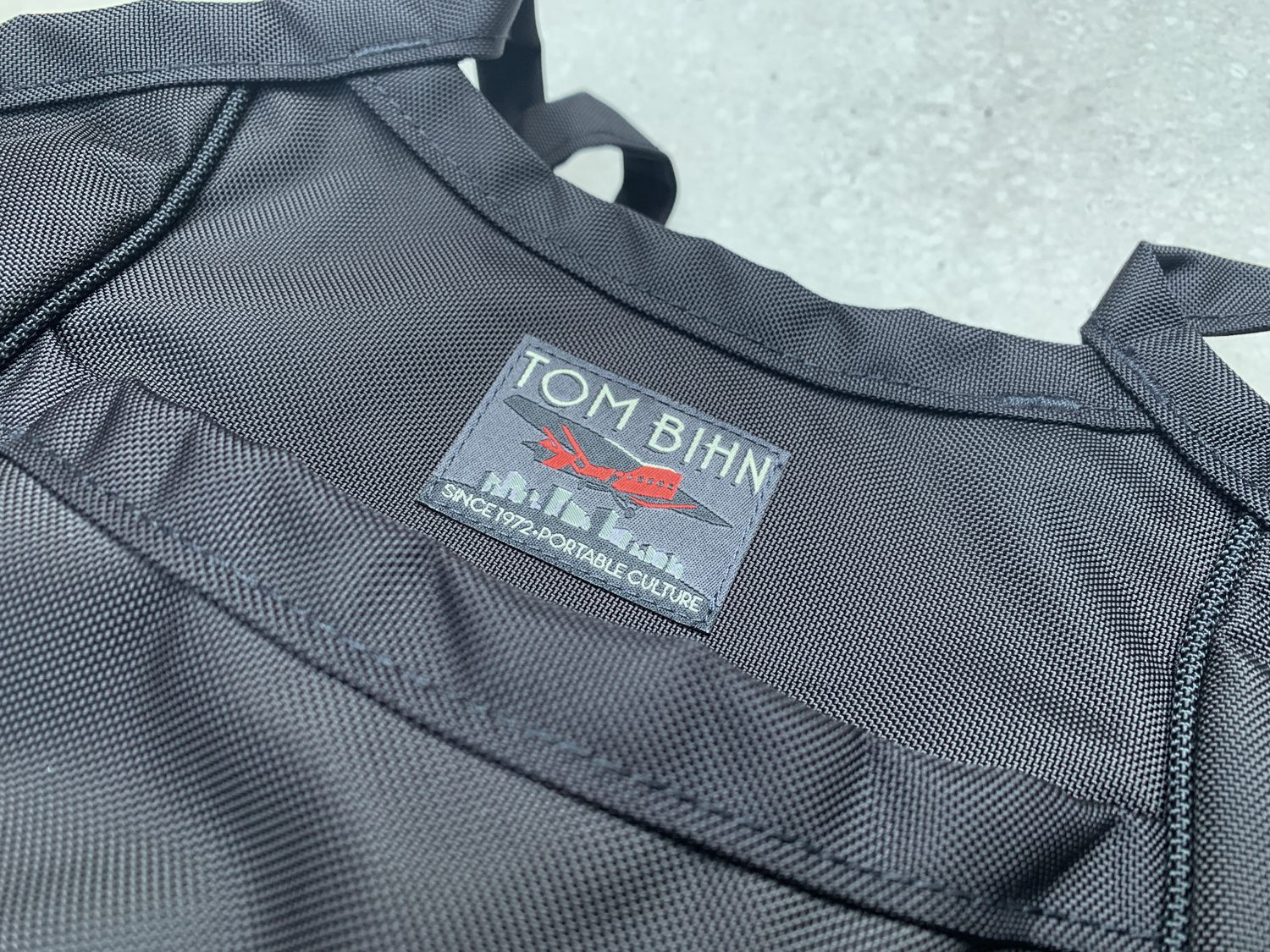 From the outside, the bag looks to be sectioned by stitchings into three parts. This is to accommodate the three internal compartments, as well as the exterior pockets.
With the use of Ballistic Nylon, it definitely looks more premium than regular nylon tote bags, mostly due to the luxuriant sheen of the fabric. People looking at it would think that there is something special about it, but probably can't put their finger on it. Talk about a subtle flex.
Despite having a hard, flat bottom, the bag does lack a little bit of structure. Since the bag is held up by the straps, the sides tend to droop down a little for a less flattering silhouette.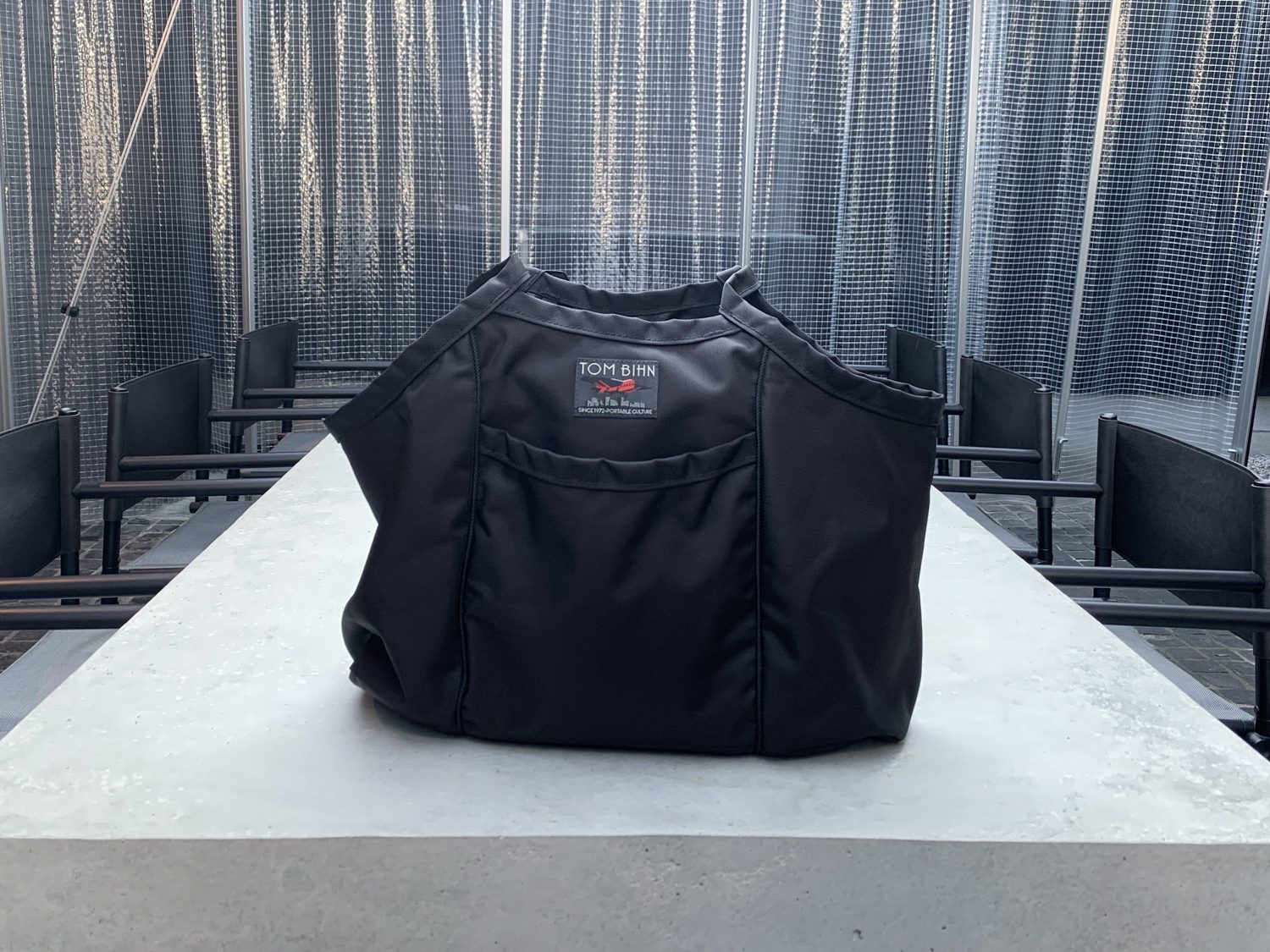 The Truck is a simple product and the look reflects that. This makes it really easy to match with almost any outfit, although I wouldn't go as far as to say it would go well with something formal like a suit, even a casual one like the Perry Ellis Washable Suit.
Material
Most definitely the most well-built of nylon tote bags.
If there is one thing that TOM BIHN is most well-known for, it's quality. It's not just the top-end materials they use, but the skills and experience they possess to put it all together.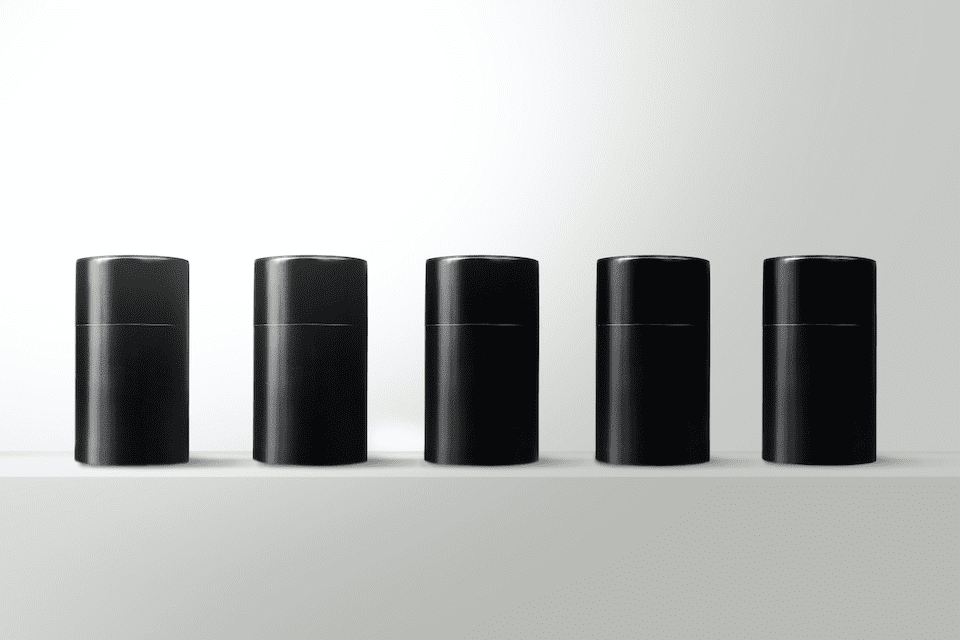 I found a 100 year old company that would create these heirloom quality canisters for me. They are handmade and will keep your tea leaves, coffee beans or anything that you need dry for years to come.
or read review
In fact, they stand behind their products so confidently that they offer a lifetime guarantee from any manufacturer's defects. This means if it breaks and it's TOM BIHN's fault, they'll repair or replace it for free. If it's your fault, they'll repair it for a reasonable fee.
The Truck uses the same materials as some of their backpacks made for travel, like the Synapse 25, which is a 525 denier High-Tenacity 2×2 Ballistic Nylon. According to the product page, it seems that 210 denier version is also offered, but it doesn't seem to be available at the time of this review.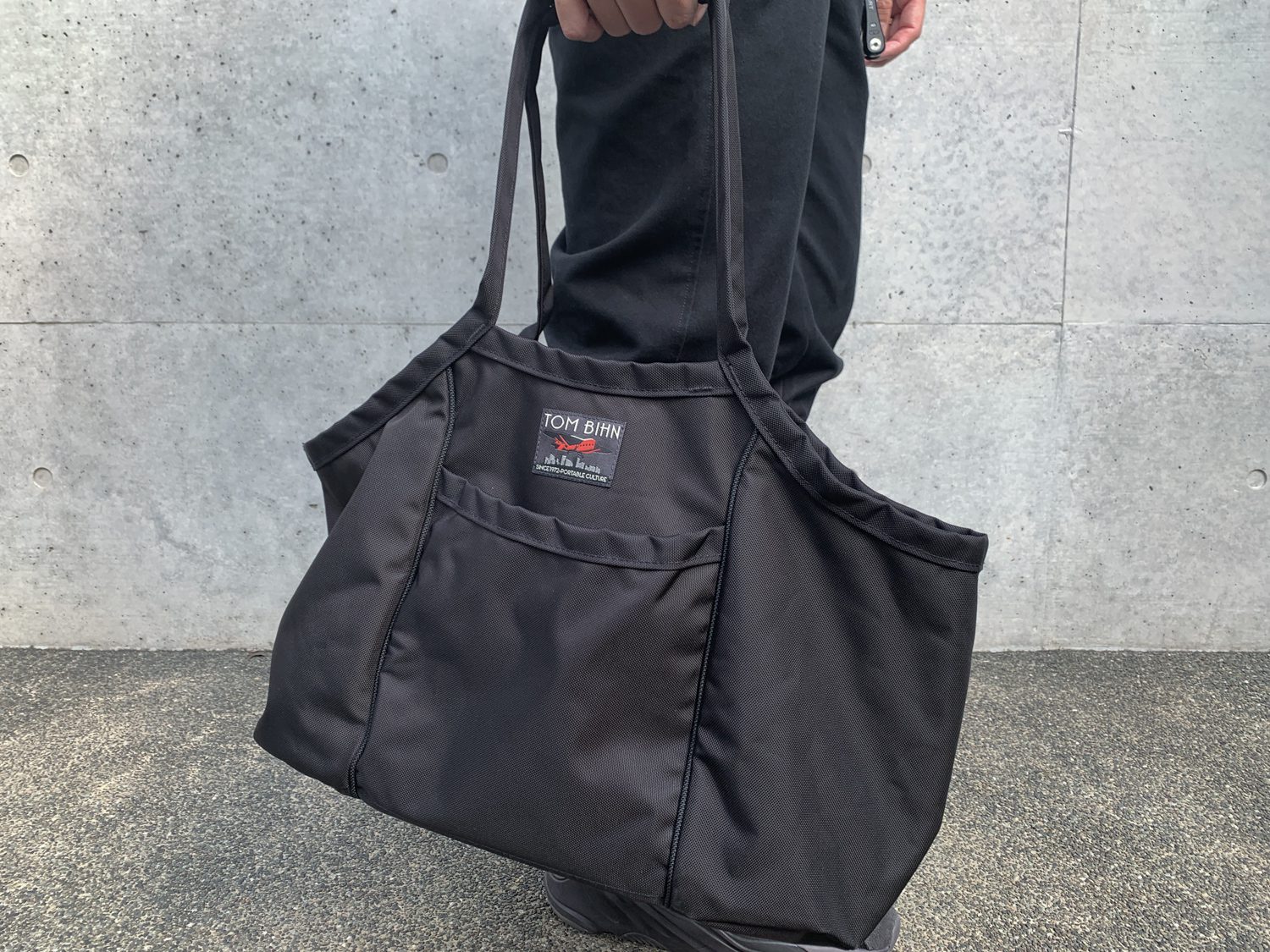 525 denier Ballistic Nylon is a lighter version of the 1050 denier used in bags like the Aeronaut 45. Even though those yarns are half the size, they are weaved more densely together. So, the weight is about 70% as opposed to 50% that some might think.
Its abrasion resistance is right in there with the 1050 denier, testing at over 10,000 cycles on the Taber machine. Simply put, unless you are taking this for special forces operations, there is little chance that regular folks like you and I will wear it out with runs around the neighborhood. I've had extensive experience with Ballistic Nylon and I can attest to this.
The fabric is also treated with an extra-heavy urethane coating (1.80 ounces per square yard / 60 grams per square meter) on the inside and an environmentally-friendly C6 Durable Water Repellant (DWR) on the outside.
Like the other nylon tote bags that TOM BIHN has, The Truck comes with PORON foam handles. PORON is actually pretty special.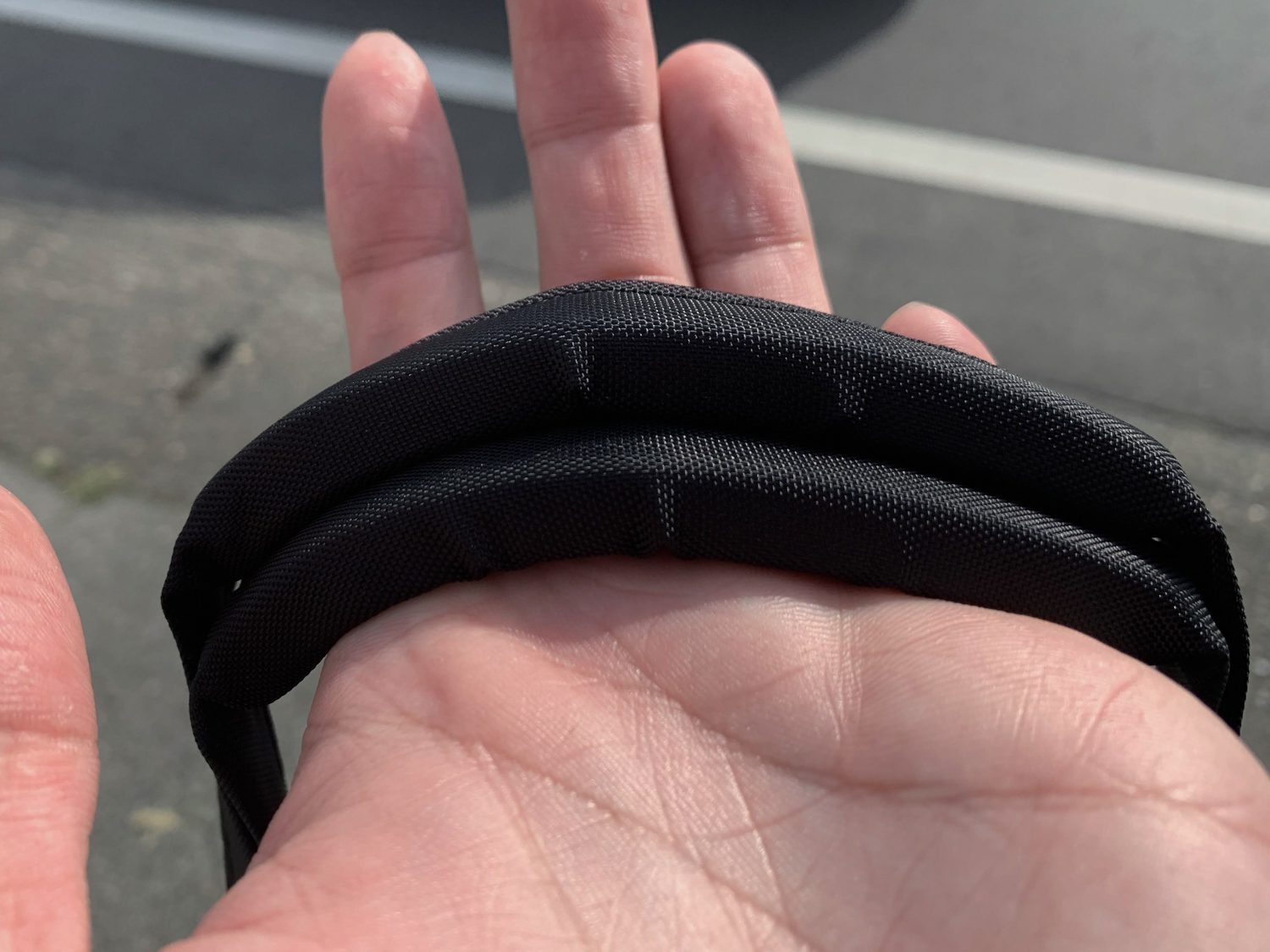 Foams that are soft, like your kitchen sponge, are open-cell foams. And while comfortable to hold, they absorb moisture easily, so perspiration is a problem. Closed-cell foam, on the other hand, won't compress as much because air cannot escape the cells. But, even the softest closed-cell foams are firmer than open-cell foams.
PORON is special because it is an open-cell foam that absorbs very little moisture. It is usually too heavy for extensive use, but when wrapped with something like Ballistic Nylon, viola, all the problems go away.
What you have is something that's cushy, yet extremely durable and won't get compressed over time. It's pretty expected of TOM BIHN to geek out on details like the handle of a tote bag and it's why so many of us love them.
Usage
Nylon tote bags were never my thing. Until now.
By design, this bag is not made for long term travel, mainly due to the open face nature of the bag. In some ways, the DWR treatment is not to protect the contents of the bag but the bag itself.
The inside of the bag is separated by three large compartments. Since I often bring my laptop along with me, I found that I can't use this bag in those instances. The largest of the three compartments, the center one, would only hold up to a size of an iPad. I kinda wish there was a way to remove the dividers when I didn't need them.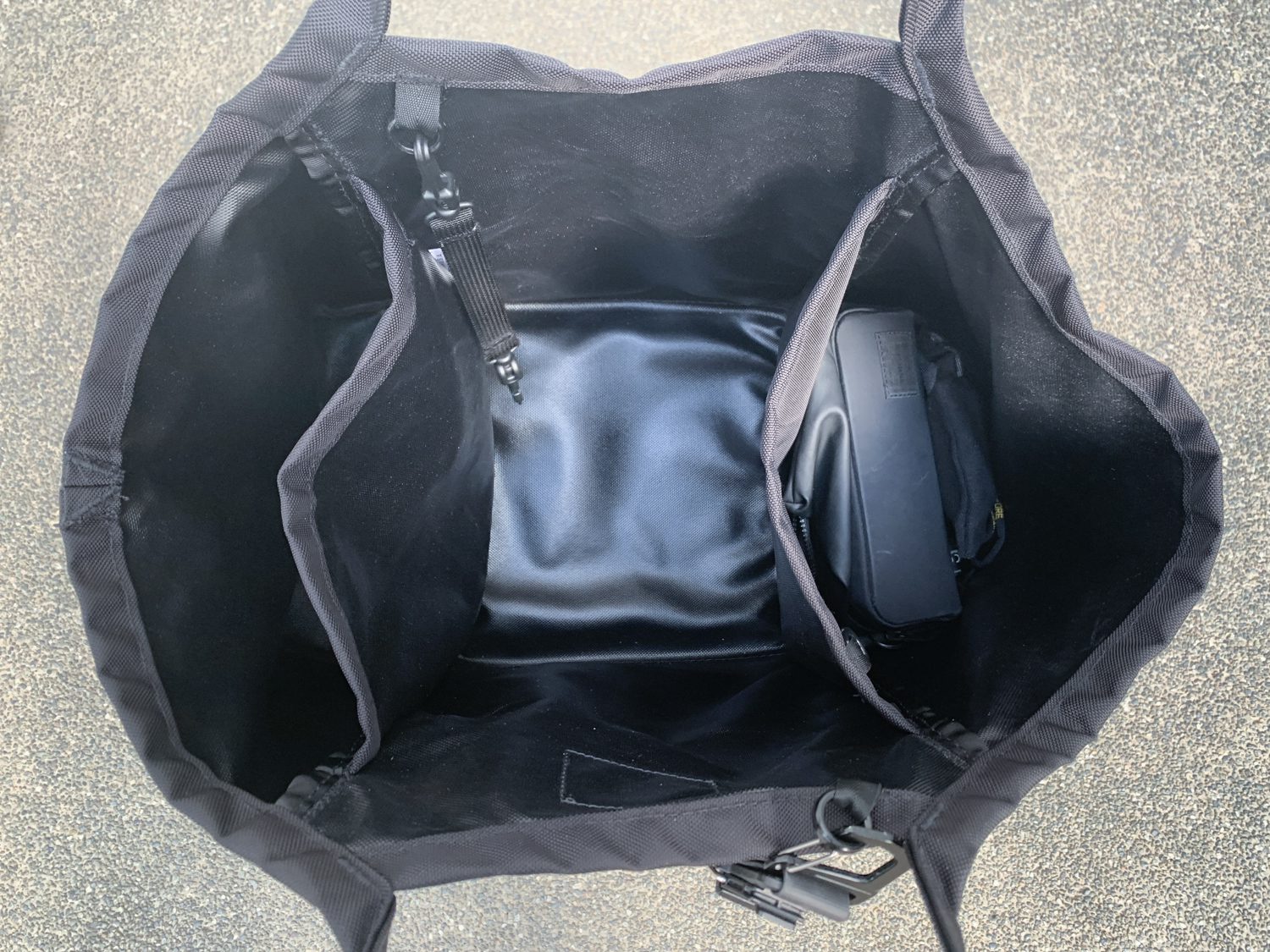 Those who prefer nylon tote bags that can hold your laptop might want to look at TOM BIHN The Large Zip-Top Shop Bag.
However, if I didn't need my laptop, this is the perfect bag for me to make quick trips around the neighborhood. After checking the weather report to make sure it wouldn't rain, that is. My other nylon tote bags don't have an internal organization, and the broad internal division makes it easy to casually sort the contents when I just want to dump them in.
When putting in groceries, I found that the compartments were especially useful. I could separate stuff to prevent fragile items, like eggs, from getting crushed.
The front and back external pockets are also great to put my daily carry items. I put my valuables, like my TOM BIHN Nik's Minimalist Wallet in the back pocket for extra safety, and the others, like a handkerchief in the front.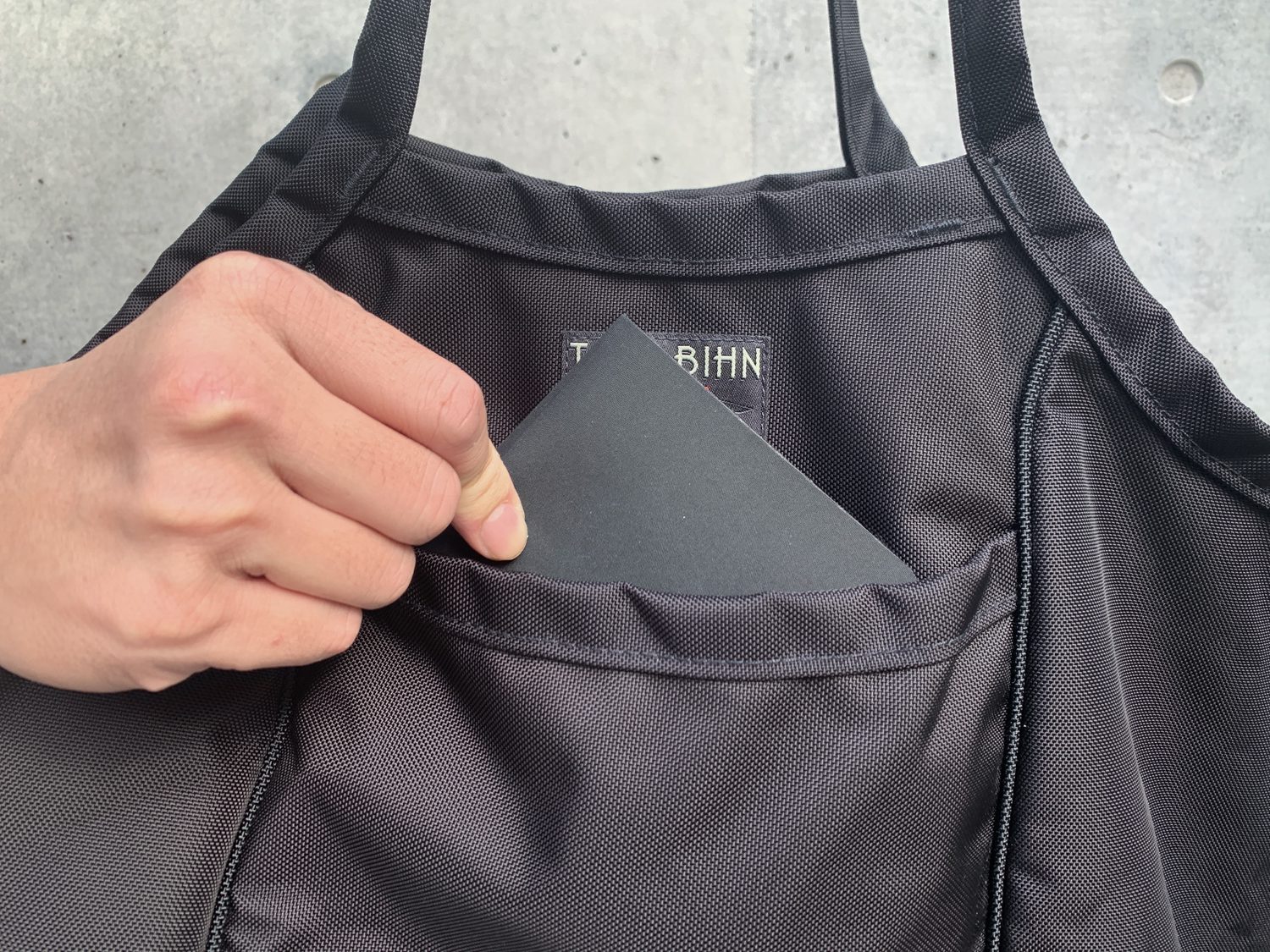 The volume is also amazing. At 25 liters, I can't imagine needing any more space unless for travel. I mean, it's the same volume at the Synapse 25, used by many for their only backpack on trips.
It will also likely carry more weight than you can carry or fit into it. I live in the overly-convenient location of Shinjuku. Everything I could possibly need is at my doorstep, so I've never come into a situation where I could test this. But frankly speaking, this is probably not the best bag if you want to carry that much weight.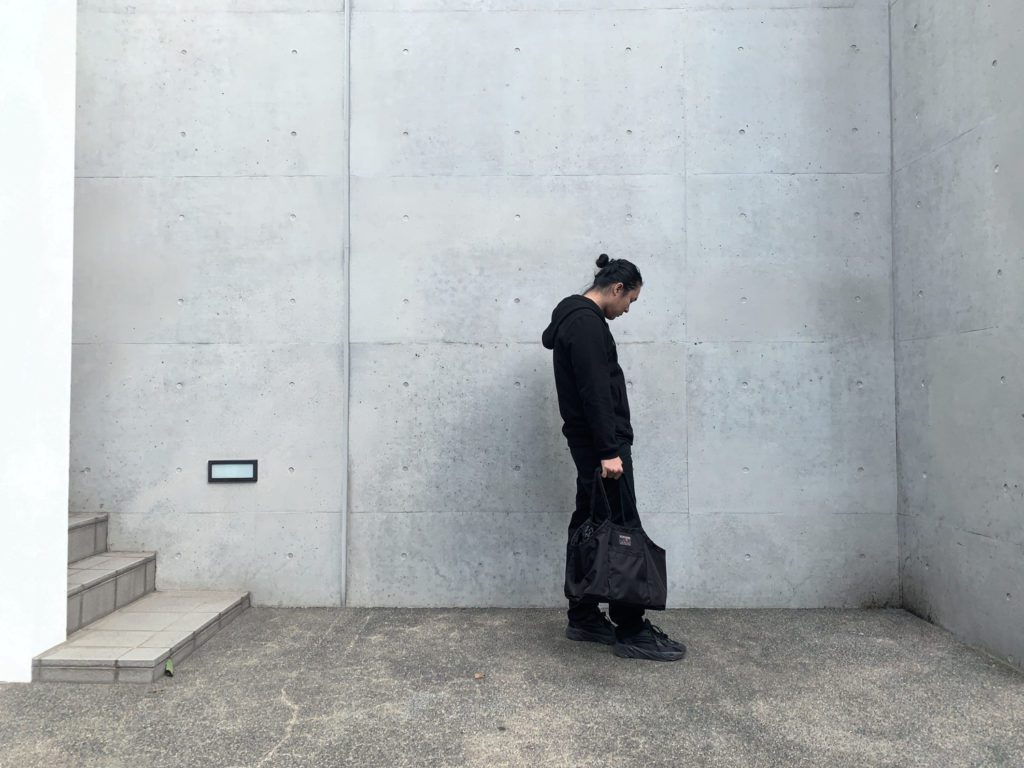 For those who own a car, you'll be glad to know that The Truck would fit perfectly utilize the floor space in the back seats.
The straps are pretty thin. I wish there was a way to keep them together as these kind of straps have a tendency to slip off my narrow shoulders easily. Some kind of rubber lining could also be good for friction to keep it in place.
If you are thinking to bring this along as an extra bag during travel, I've found that the hard bottom makes it hard to fold it down to a compact size for easy packing. You might want to consider the Nanobag to take on your travels instead.
There are also a total of 5 O-rings, three on the inside and one in each of the external pockets. Included, is an 8-inch snap hook key strap. These are great for keys or if you have some of the other TOM BIHN accessories like their Clear Organizer Pouches.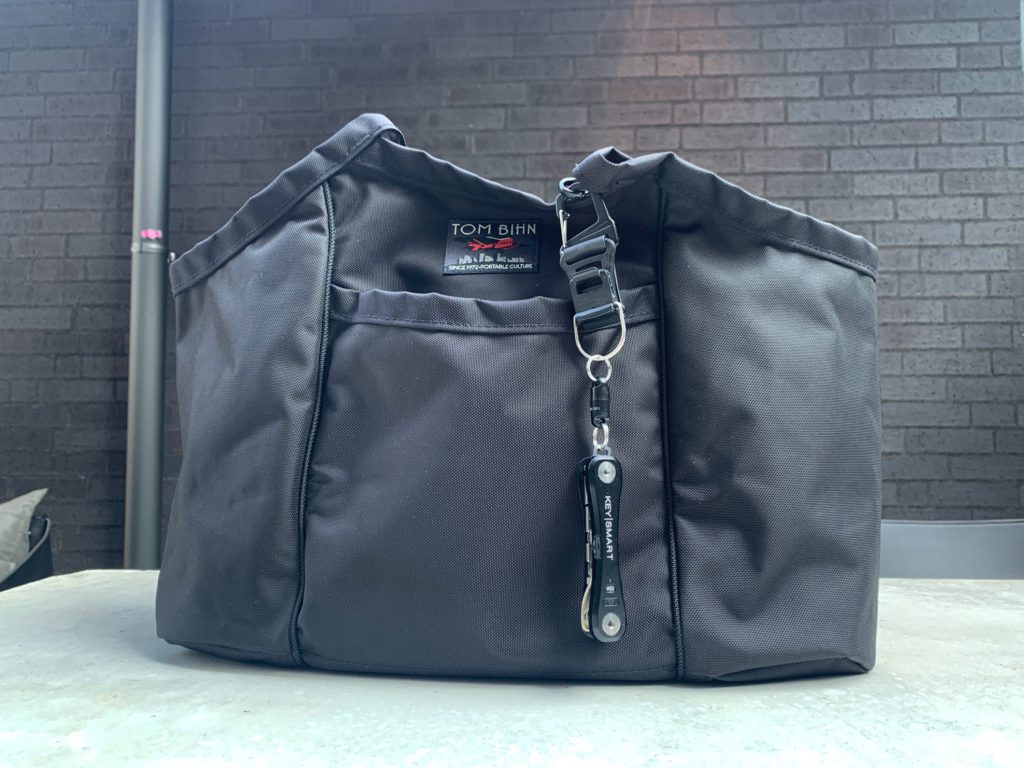 Overall, I've found that this bag does exactly as it was designed to, and is an excellent bag for car trips or runs around the neighborhood.
Conclusion
The answer to run-of-the-mill tote bags.
This is a deceptively simple bag, but after a few weeks of use, I can tell that a good amount of thought and work has been put into it. While it's perfect for its intended use, it might be a little too limited for a minimalist who needs more versatility from one product.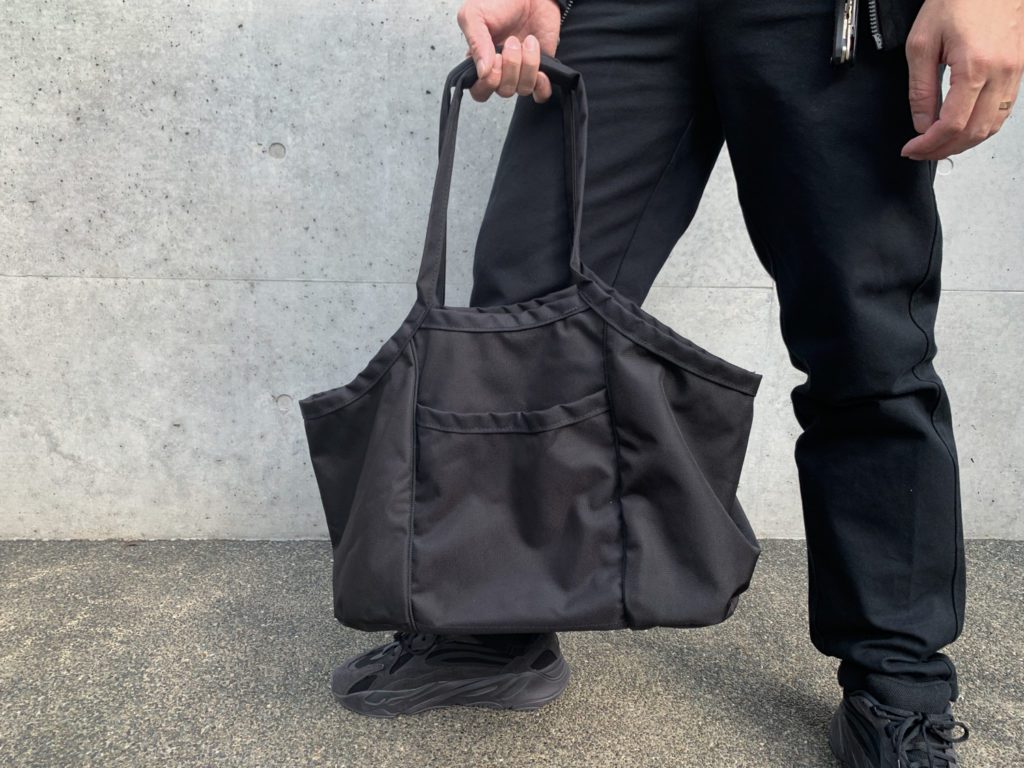 But if you decide to get this, you'll be assured to know that this is probably a product that you can use for the rest of your life.
Like this review? See all of my in-depth reviews.
Also, consider supporting me by being a Patreon. Every cent given will go back into improving the content of this website.
Tagged bag ballistic nylon review tom bihn tote bag water-resistant