This website is made possible by readers. I may earn a small commission when you buy through the links in this article at no extra cost to you. Learn more.
Price $75 on northxnorth.co
(Exclusive: Use code ALEXKWA at checkout for 10% off.)
Material 100% Merino Wool
Size 42″ x 42″ (106 cm x 106 cm)
Weight 6.3 oz (180 grams)
Handsewn in the USA
Overview
Only after I took a big bold step into the world of onebagging, that I've first heard of a wool kerchief (wool handkerchiefs, get it?). Living in Japan, I know of the wonders of a furoshiki, which is a type of traditional wrapping cloth used to transport things, so a wool kerchief seemed to have a similar do-it-all purpose to me.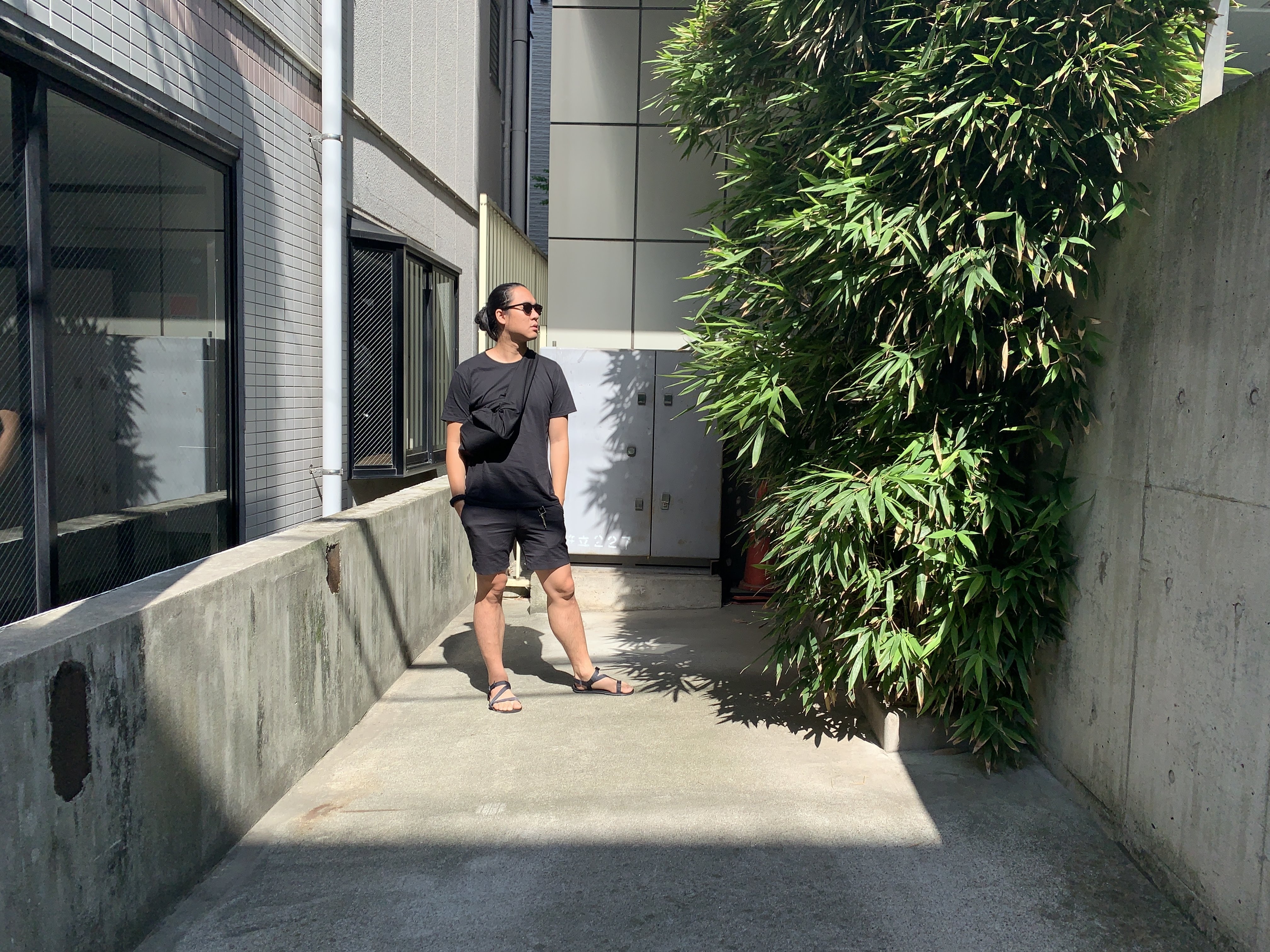 I also own a more modern adaptation of the furoshiki, a waterproof furoshiki that I use as a food mat (I have no dining table) and other miscellaneous uses. So, while I have similar experiences, I've not tried a wool kerchief itself.
So, I set out to experience the Wool Kerchief from North x North for myself.
Style
The Wool Kerchief is essentially a large piece of wool fabric. In itself, there isn't really any styling. It's how you use it that would be the deciding factor on how good it looks.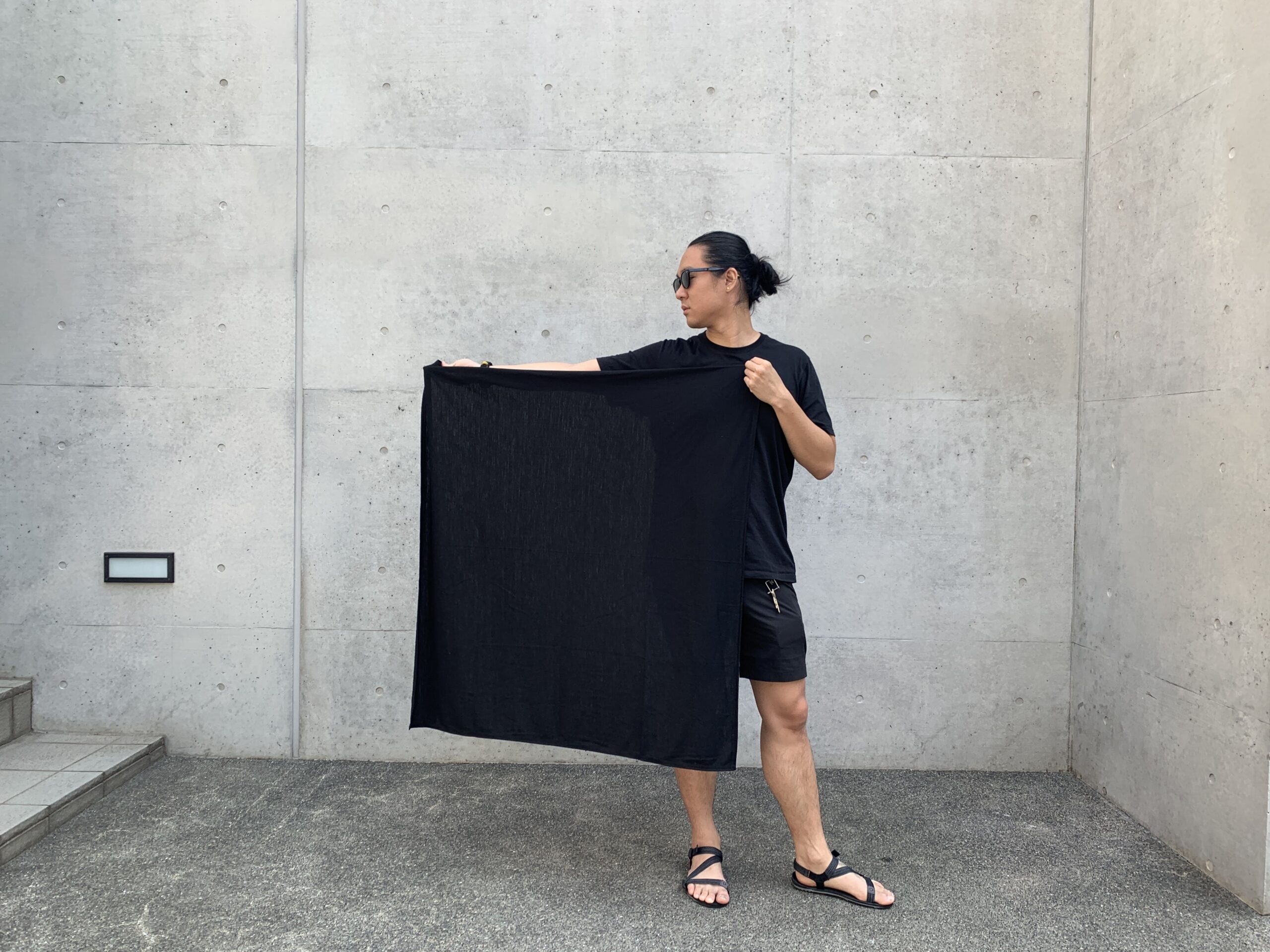 Size-wise, at 42″ x 42″, it's a good size for a variety of uses. The size is liberal enough for you to do different types of styling. You could wear it as a good ol' scarf or like a cowboy bandana. This is something that a smaller version like the TOM BIHN Shepherd's Wool Utility Cloth can't do as well.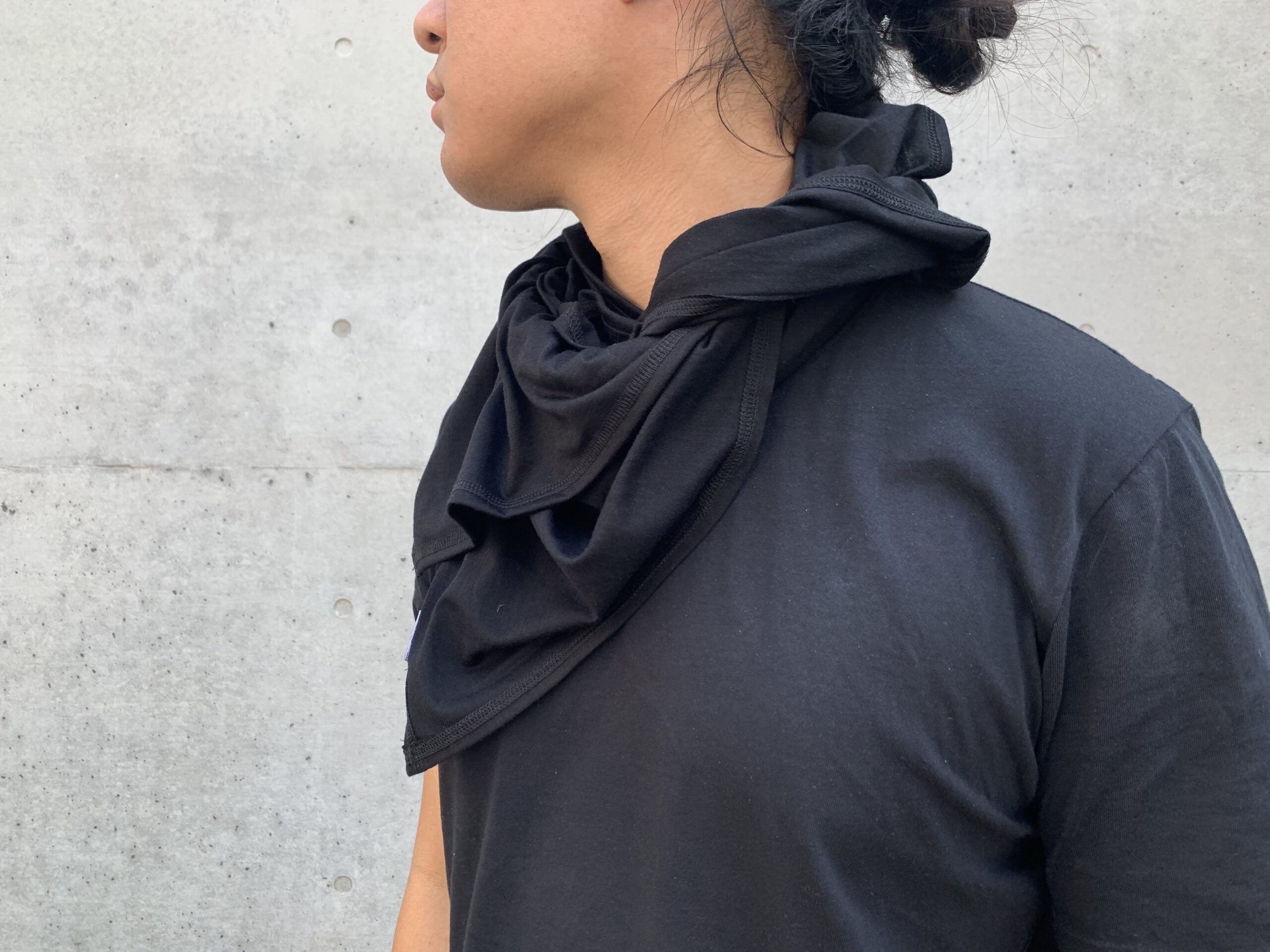 If you really want to, you can also dress up like a ninja although I wouldn't recommend this look in Japan if you don't want to look like a weirdo. You would probably have more leeway to wear it like that in winter.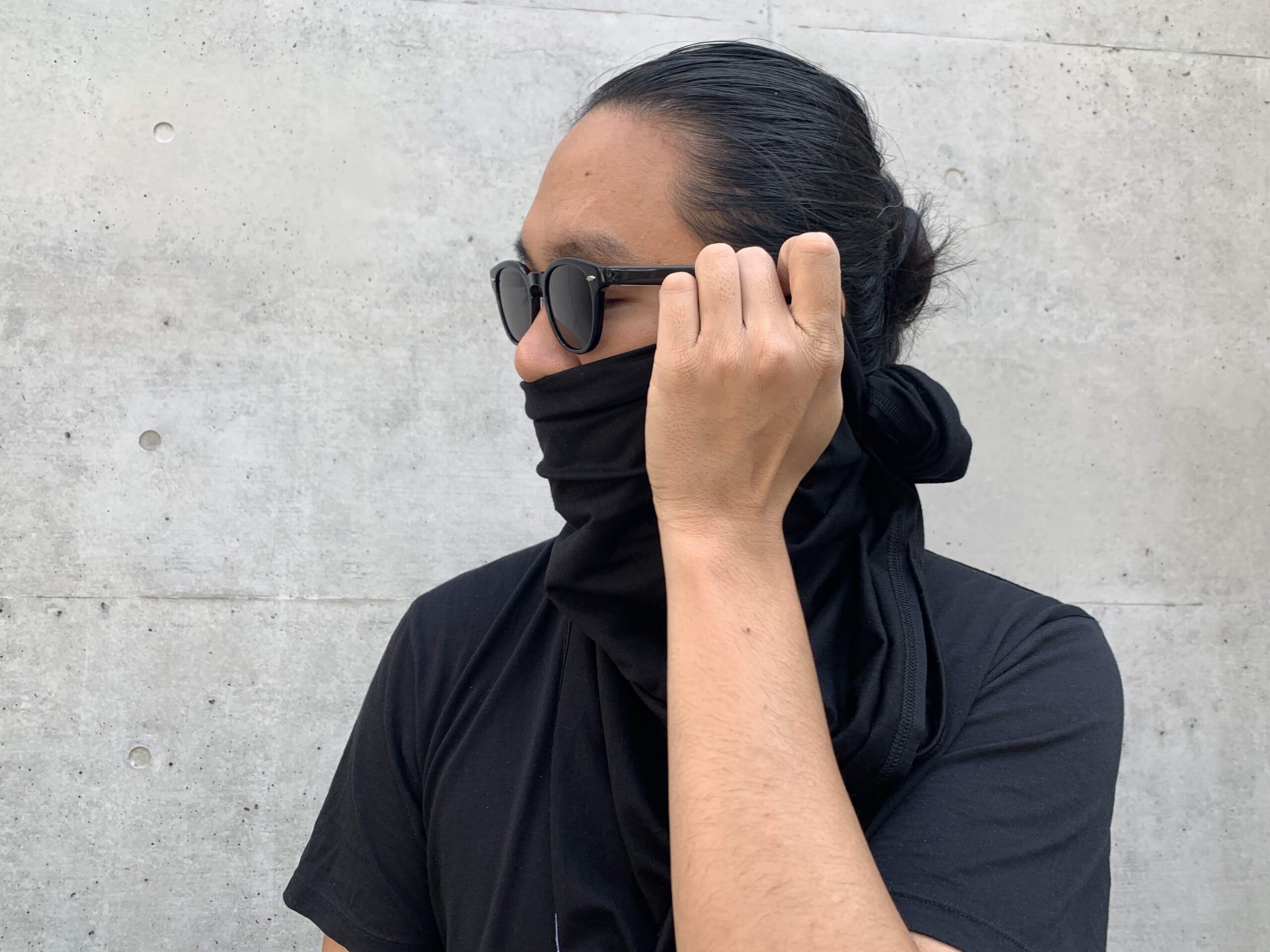 Since I only wear black, I was glad that the black it comes in is an absolute black. And if you usually wear merino tees like I do, the color and material would make your entire outfit look cohesive.
There is a singular brand tag that says "N x N" on the Wool Kerchief. While I usually don't mind that amount of branding, when you use the Wool Kerchief as a scarf, the tag can be seen pretty prominently depending on how you wrap it around your neck.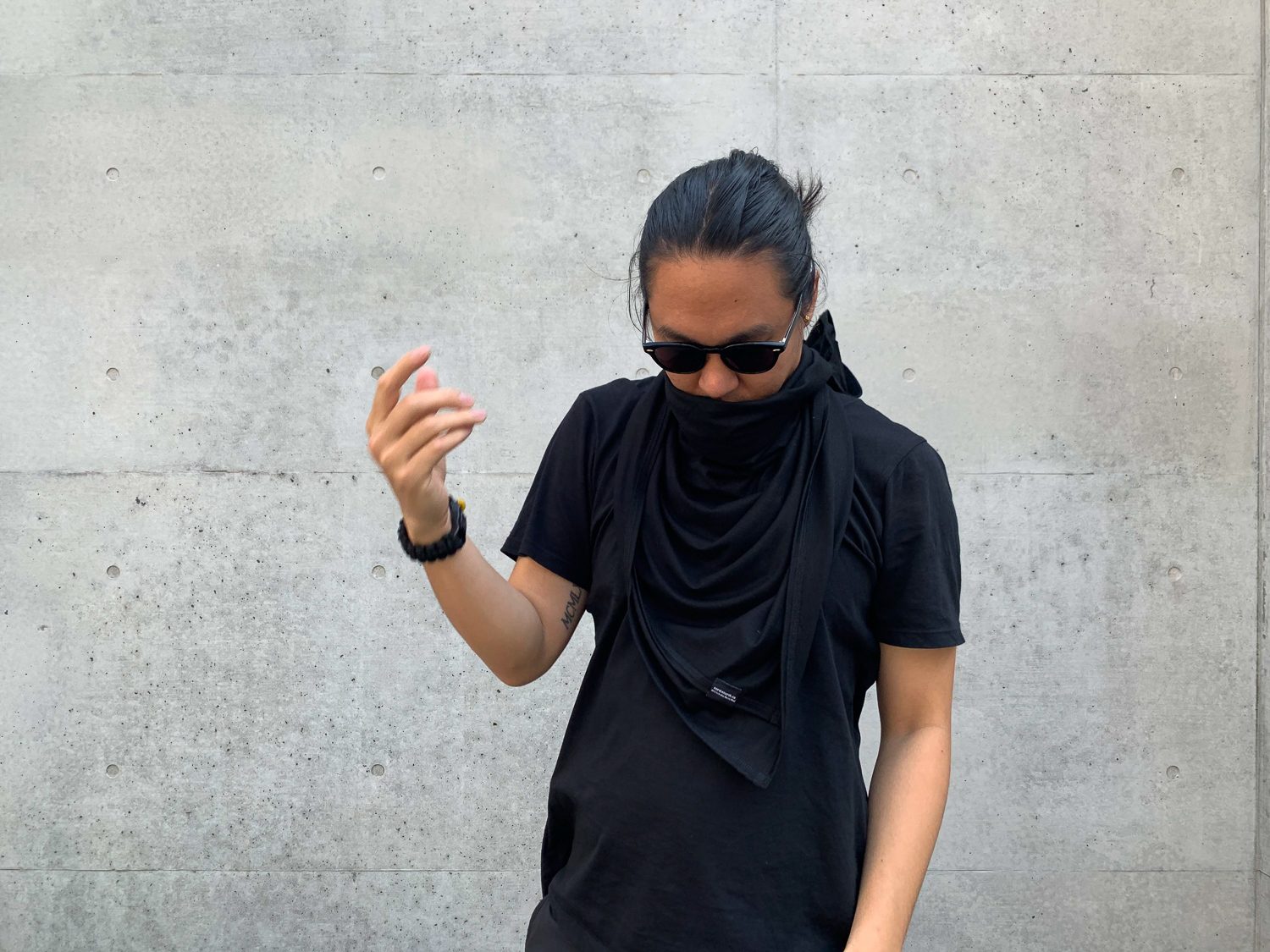 Since most scarfs have absolutely no branding, having the tag show is a little too eye-catching for my liking.
Materials
100% merino wool is the magic material in the one bagging community at this time. The wonders of merino wool has long been revered about. Durability, odor-resistance, comfort, it has sealed its position as the premium fabric of my world. I wrote an entire article just on merino wool if you really want to go there.
But no one likes ads, so I got rid of them. If my articles helped you, I ask for your support so I can continue to provide unbiased reviews and recommendations. Every cent donated through Patreon will go into improving the quality of this site.
Using 100% merino for essentially a large piece of cloth is luxurious but it didn't feel at all excessive to me given the obvious boost in quality.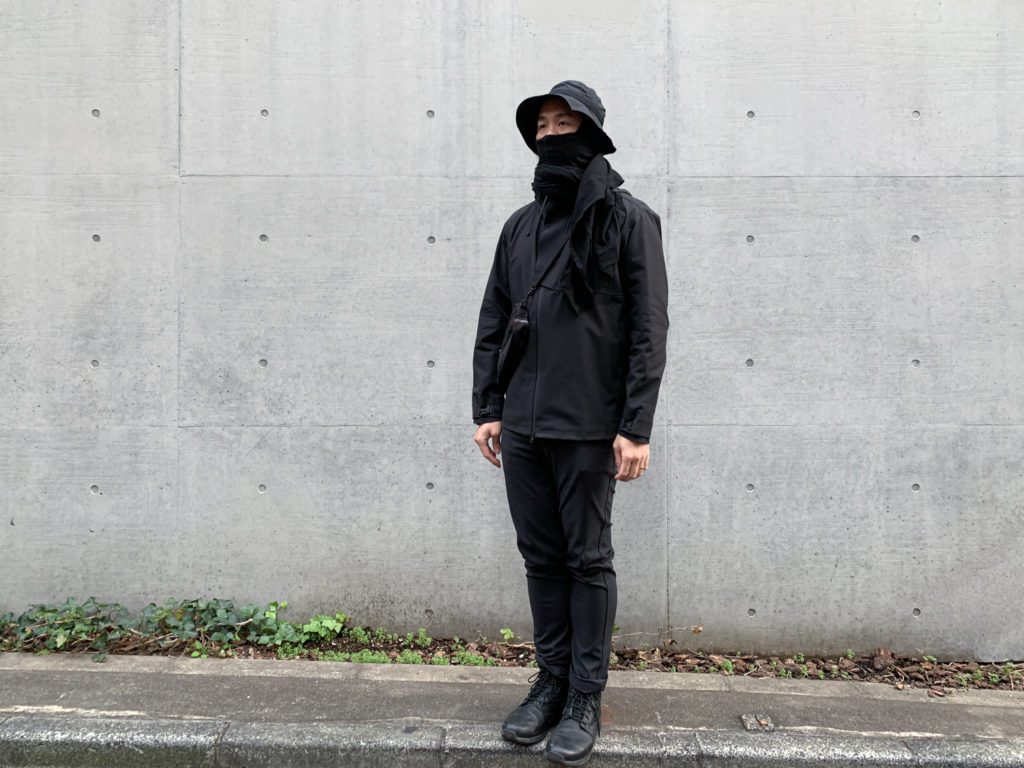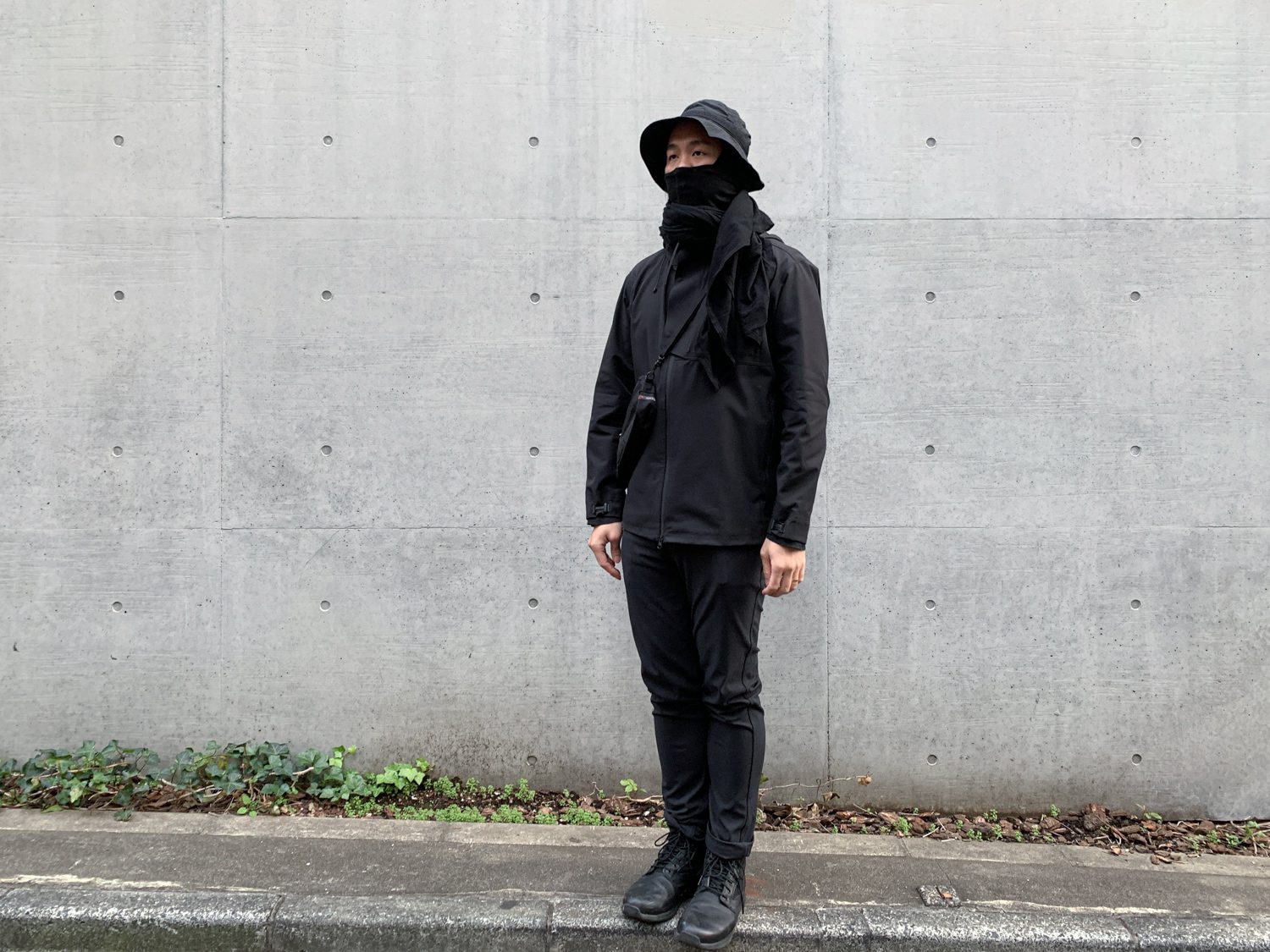 Superfine jersey-knit Australian merino wool of about 160-165 gsm, which are ethically sourced wool from non-mulesed or ceased-mulesed farms, is used for the Wool Kerchief.
Mulesing is the act of removing a huge chunk of skin from a sheep's buttocks without any painkillers, so that the area will scar and no longer produce wool.
While this is the most effective way to prevent a parasitic infection since there is no wool in the area to retain feces and urine, it is also undoubtedly a cruel and painful experience for the sheep and a controversial practice.
North x North also show their care for the environment by sustainably dying the product with 40% less water than conventional dyeing methods.
The stitching on the Wool Kerchief looks very secure, but it's also a little more complicated-looking than I like. Although, this is not something anyone will notice unless they look up close.
This beautiful material is then handsewn in the USA. With all this work and consideration given, the price, which I initially thought was expensive for a seemingly simple product, doesn't seem so bad after all!
Usage
To be honest, I'm not a scarf person. But there were certainly times where I make an exception. Since the Wool Kerchief is versatile in usage, I was okay bringing it around and using it as a scarf if I have to.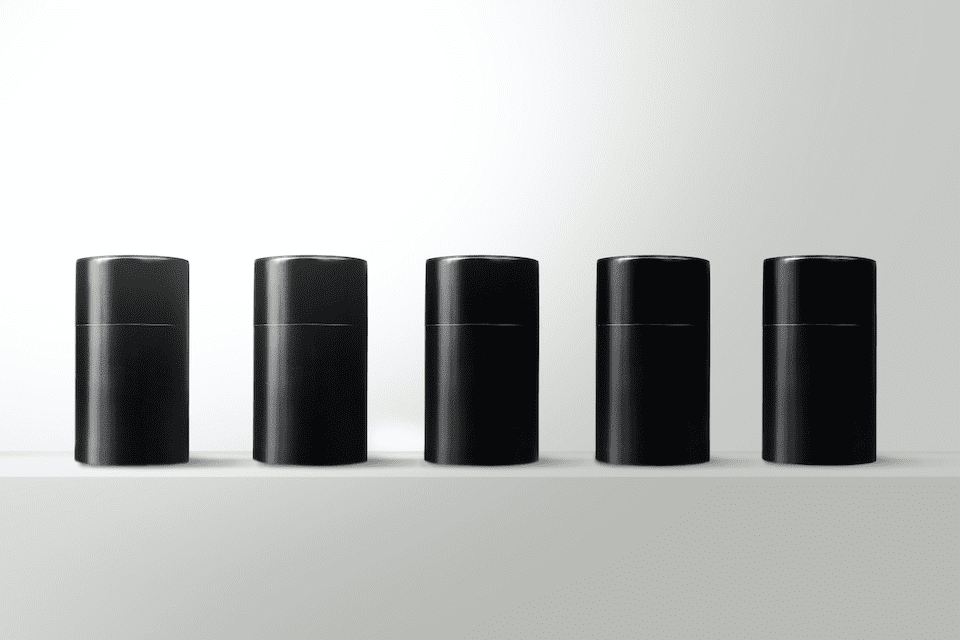 I found a 100 year old company that would create these heirloom quality canisters for me. They are handmade and will keep your tea leaves, coffee beans or anything that you need dry for years to come.
or read review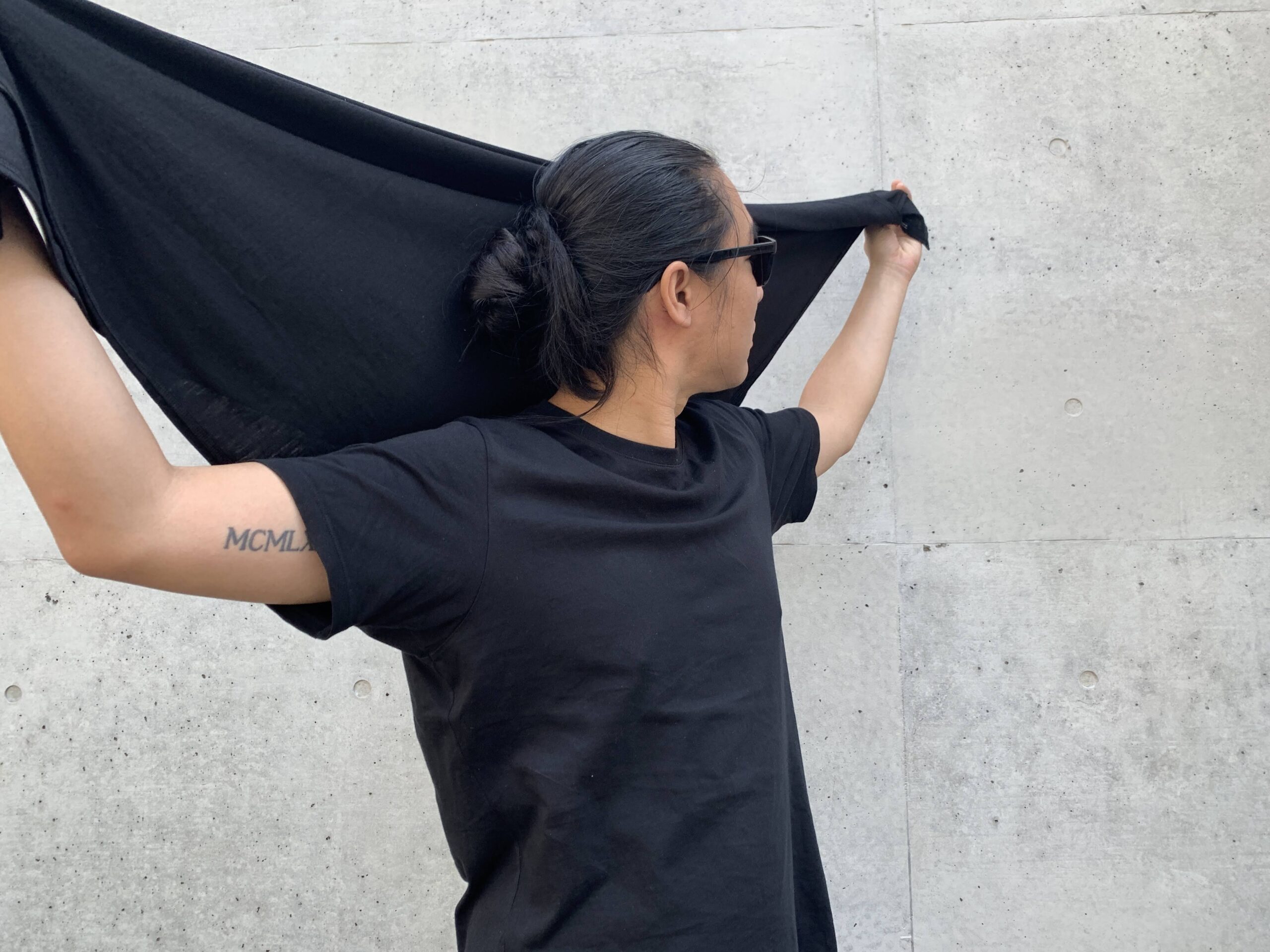 Apart from using it as a scarf, I was able to have experiences using it in a few different ways.
When the sun was blaring down and I just wanted some quick relief, it served as a good headcover.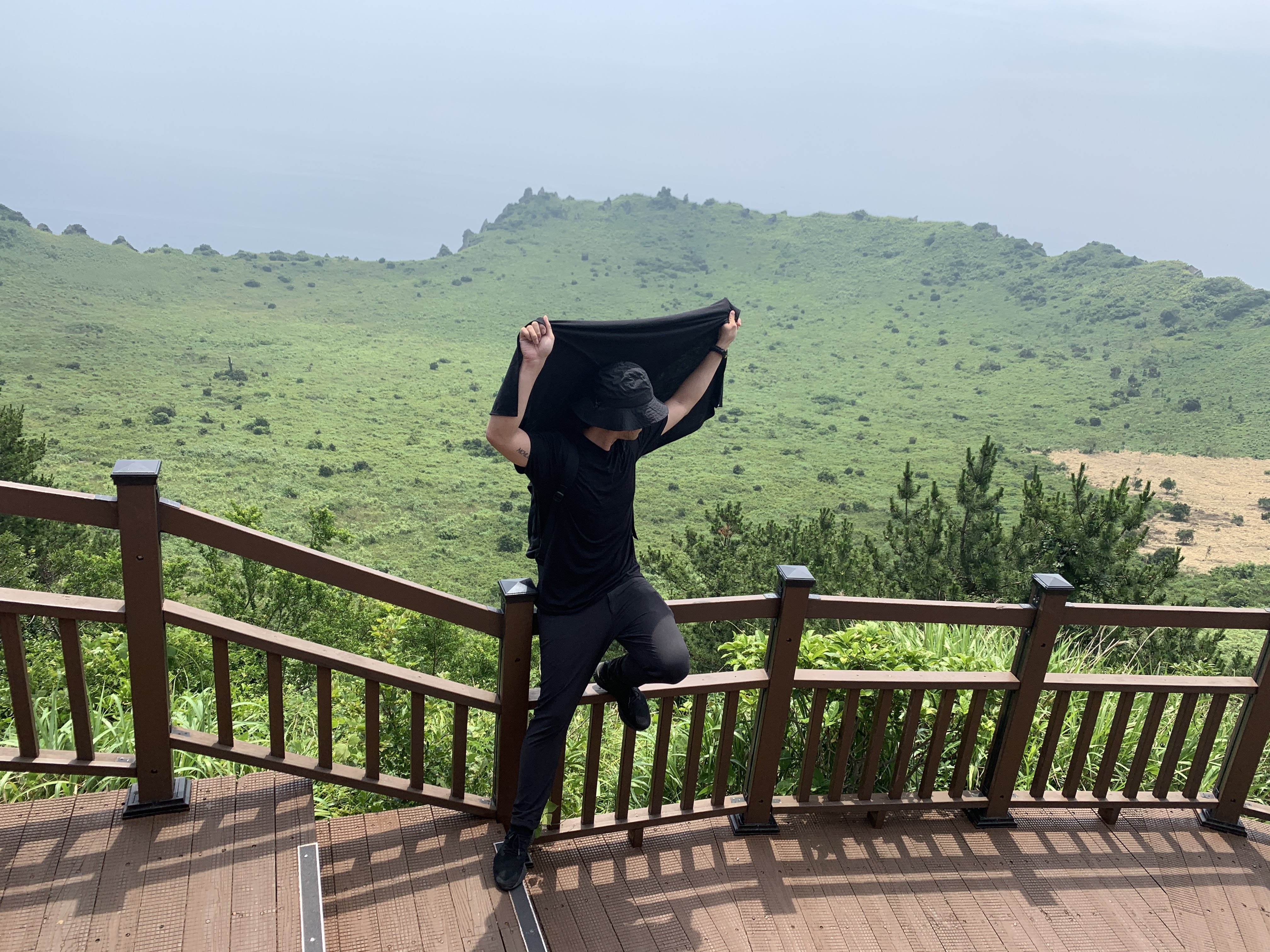 Although, I would only recommend doing that only when needed as it's not an optimal look.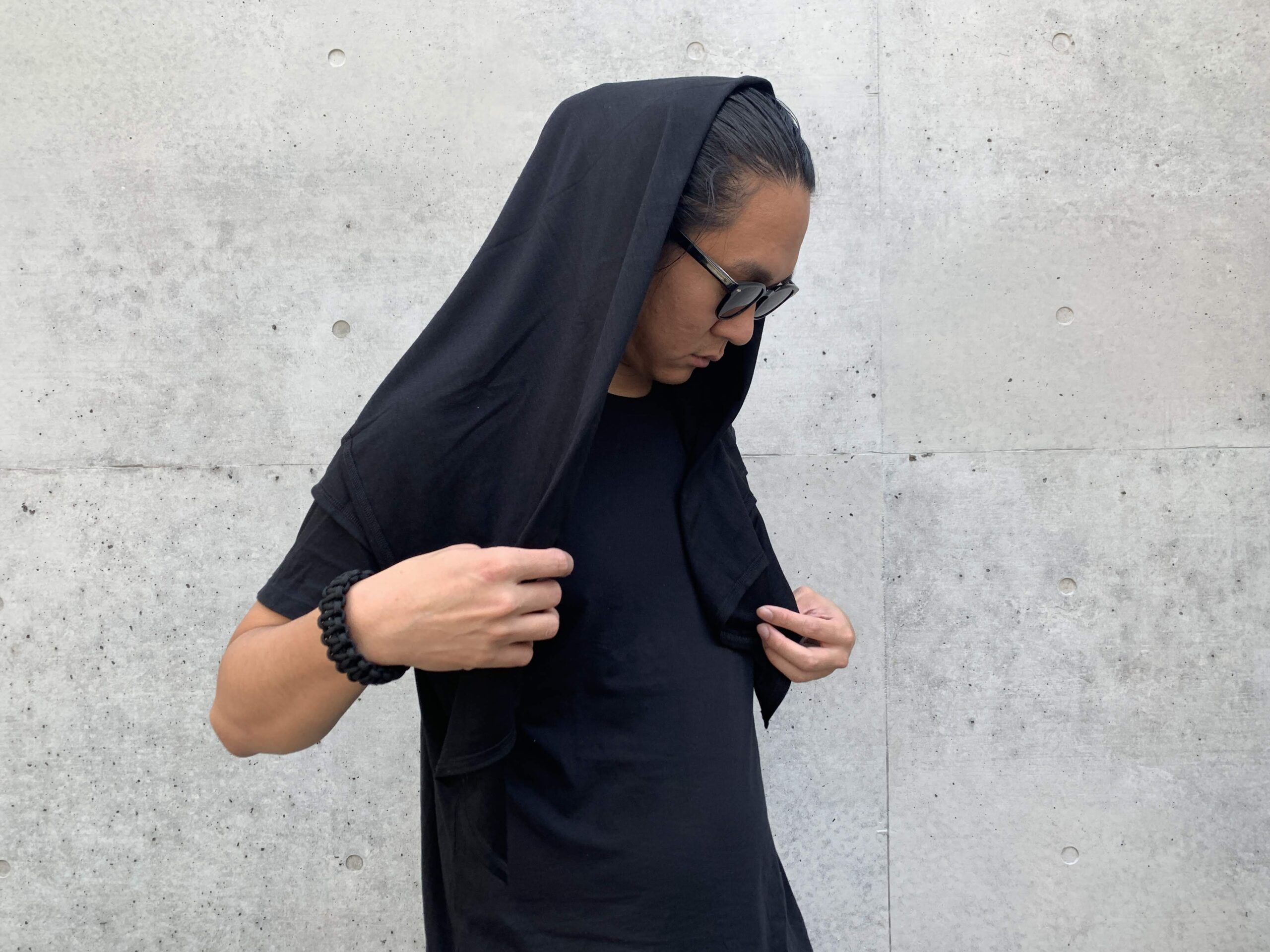 I spent a few nights couch-surfing and I get really itchy when I use wool (the scratchy kind) blankets. Since the kind of blankets you receive is not something you can control as a guest, I was glad that the Wool Kerchief was big enough to keep me covered and warm. The feeling of 100% merino wool on my skin was also soothing and ultra-comfortable.
I also did notice that the Wool Kerchief does catch onto lint pretty easily. But I didn't mind it too much.
I've also found the fabric effective as a guard against insect. It has come into play a few times when I found myself in mosquito-infested land.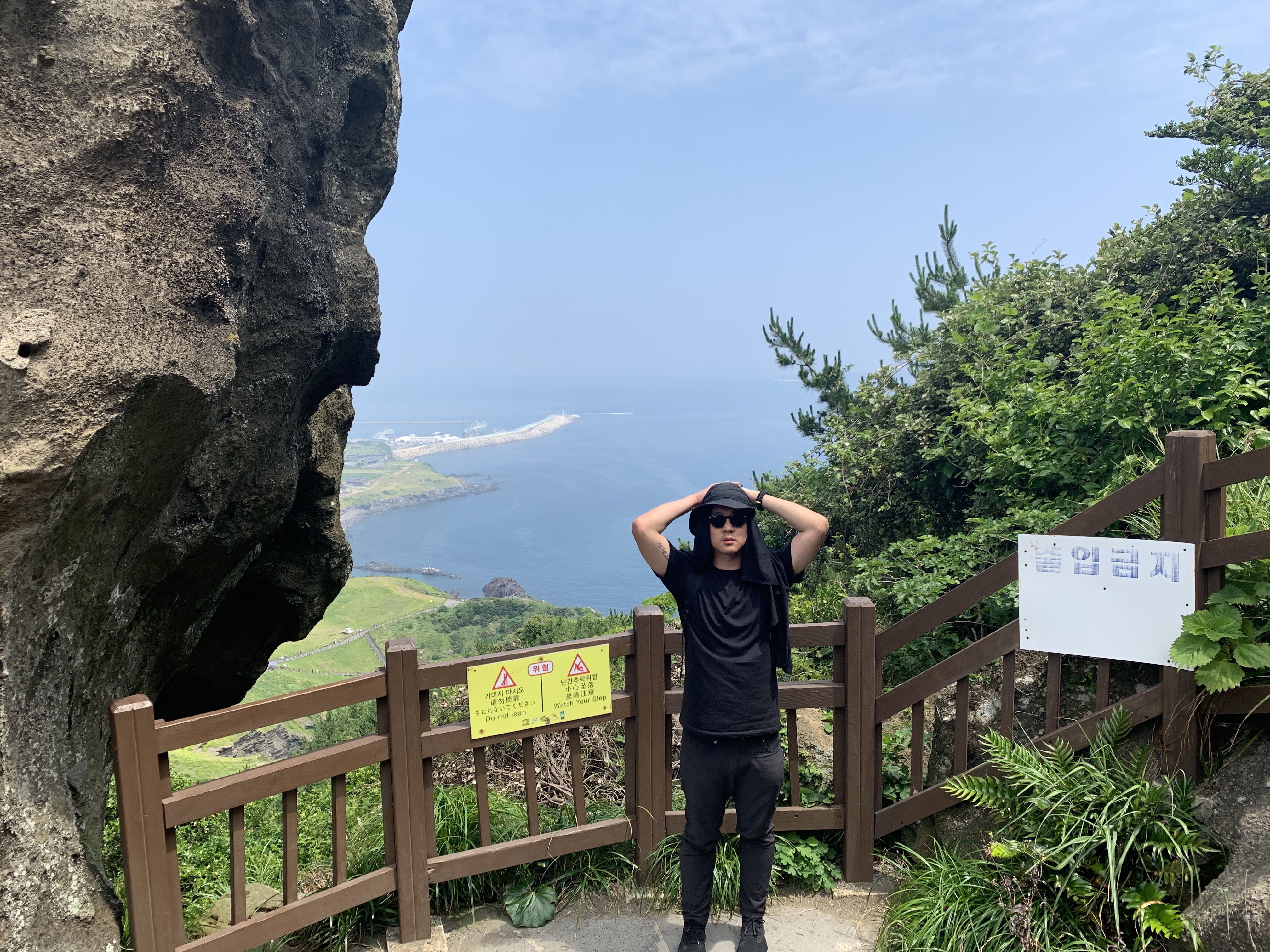 Conclusion
The Wool Kerchief is a travel accessory that I didn't think I need, but I actually do (kinda like my first experience with a spork). It's basically a large, luxurious, piece of premium cloth, so its uses are extremely versatile and only limited by your imagination.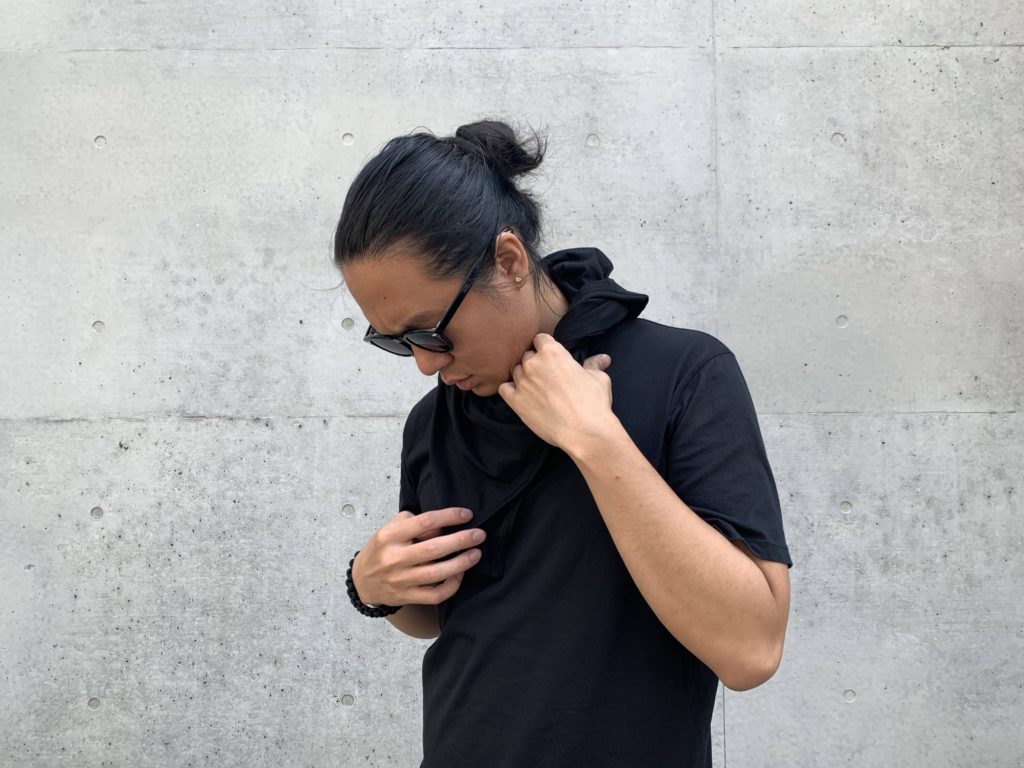 You still think you don't need it? Trust me, you do.
For $75, it might seem steep for some, but I've found it a reasonable price given the consideration that has gone into the material.
Still not convinced? Luckily, you can get 10% off if you use exclusive code ALEXKWA during checkout. You are welcome.
Like this review? See all of my in-depth reviews.
Also, consider supporting me by being a Patreon. Every cent given will go back into improving the content of this website.