This website is made possible by readers. I may earn a small commission when you buy through the links in this article at no extra cost to you. Learn more.
Details
Price $300 on tombihn.com
Dimensions 21.9″ (w) x 14″ (h) x 9.1″ (d) / 555 (w) x 355 (h) x 230 (d) mm
Weight 1050d high tenacity ballistic nylon: 3 lb 1 oz / 1395 grams
400d Halcyon®/420d nylon ripstop: 2 lb 7 oz / 1095 grams
Volume 2700 cubic in / 45 liters (ASTM Standard Measure)
Made in Seattle, USA
Overview
TOM BIHN is a legendary name in the travel and onebagging community. No gear discussion ends without the mention of the well-loved brand.
And from this legendary brand, there are some legendary pieces of gear that has secured itself a place in our hearts.
The TOM BIHN Synapse 25 I wrote about before was one of them.
After an amazing experience with their Synapse 25, I had high expectations for the Aeronaut.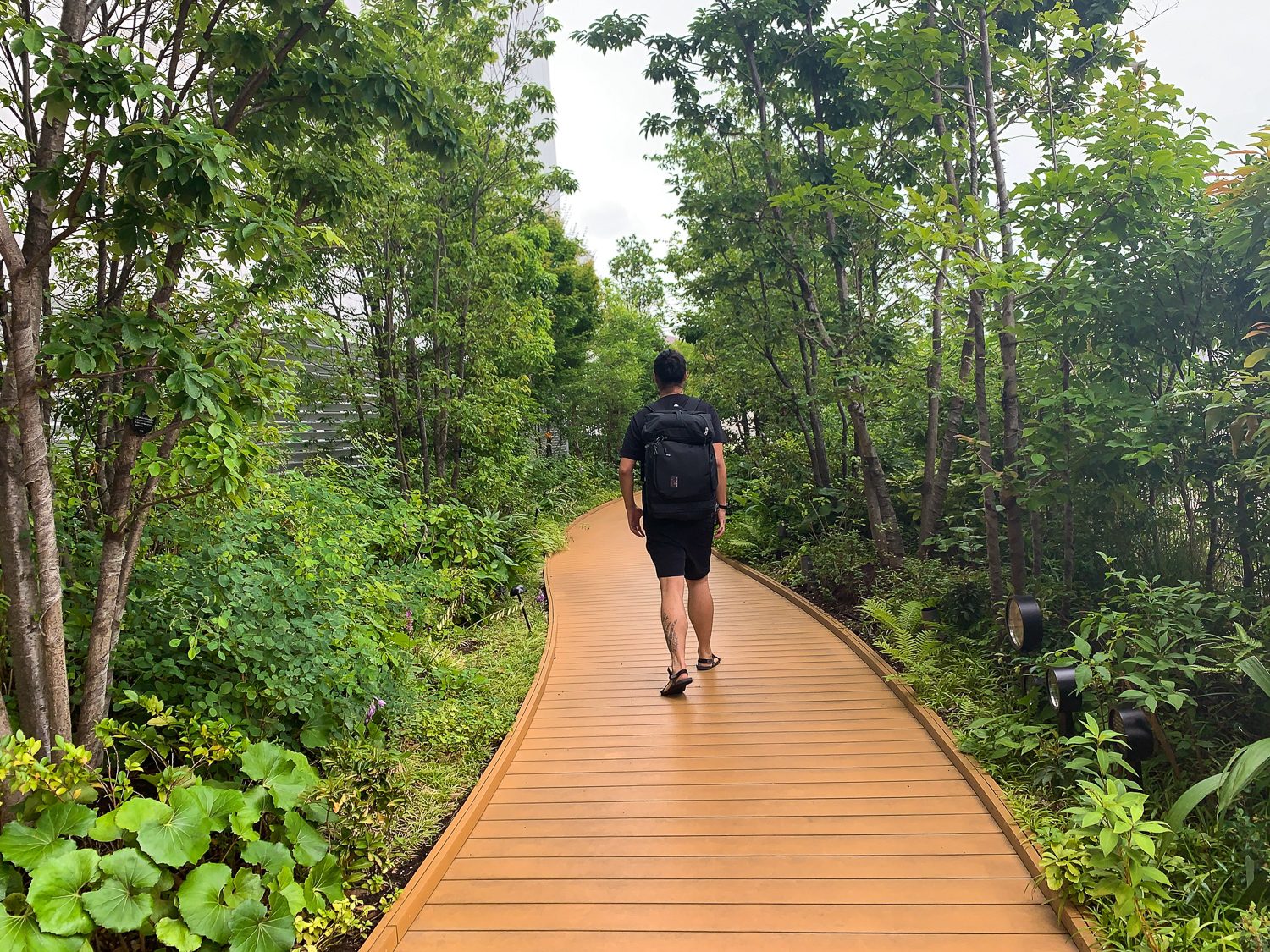 We know that most one baggers have an acute allergy towards shoulder bags, even awesome ones like The Pakt One.
So while, like the Ucon Acrobatics Rasmus Backpack, this is one of those bags that lets you carry it as a backpack or a shoulder bag, I didn't get the optional "Absolute Shoulder Strap" they sell.
Based on my experience so far, I could tell that the Aeronaut 45 is designed mainly to be a duffle bag. So, I was a little disappointed that the shoulder strap wasn't included.
Like the Synapse 25, Side Effect, Daylight backpack, I kept my material choice for the Aeronaut consistent with my other bags from TOM BIHN, so I will be reviewing the Black 1050 Ballistic/Northwest Sky Halcyon version.
While the Aeronaut also comes in an 30 liter version, I will be reviewing the 45 liter version for this article.
Style
Having quite an extensive experience with TOM BIHN bags, I can say one thing about their style. Consistent.
But no one likes ads, so I got rid of them. If my articles helped you, I ask for your support so I can continue to provide unbiased reviews and recommendations. Every cent donated through Patreon will go into improving the quality of this site.
As much as I like TOM BIHN bags, I won't lie and say they are stylish. In fact, to many, they might be considered unstylish especially in this generation of sleek, minimal black bags, like the Aer Travel Pack 2.
But I would say it has character. TOM BIHN bags carries a very distinct "dad bag" look and they are proud of it. It's also what separates them from the pack in terms of style.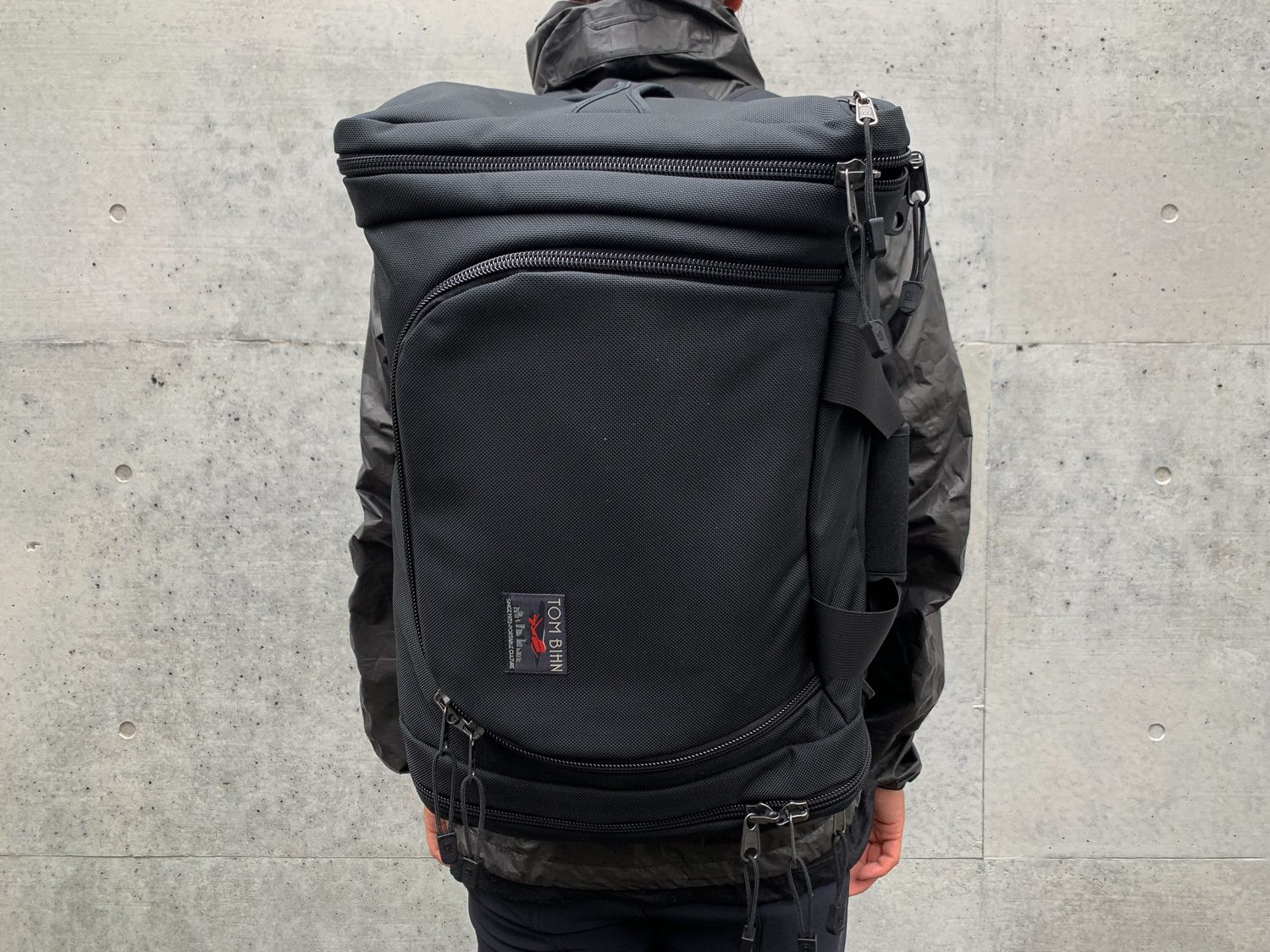 If the late Steve Jobs, with his Issey Miyake turtleneck, washed-out Levi's 501s and New Balance sneakers had a one bag for travel, the Aeronaut 45 might be it.
It exudes a little of what they call, old school cool. It's definitely an acquired look with opinions on both sides of the fence.
As mentioned before, the Aeronaut 45 can be used as a backpack or a duffle bag. But it is really designed primarily as a duffle bag. Even the orientation of the logo is as such.
Carrying it as a backpack, it looks exactly as how it was designed for. It looks like a duffle bag used as a backpack. The pocket positioning, organization and straps, all hints at it being a duffle bag, so there is some incoherence for someone like me using it full-time as a backpack.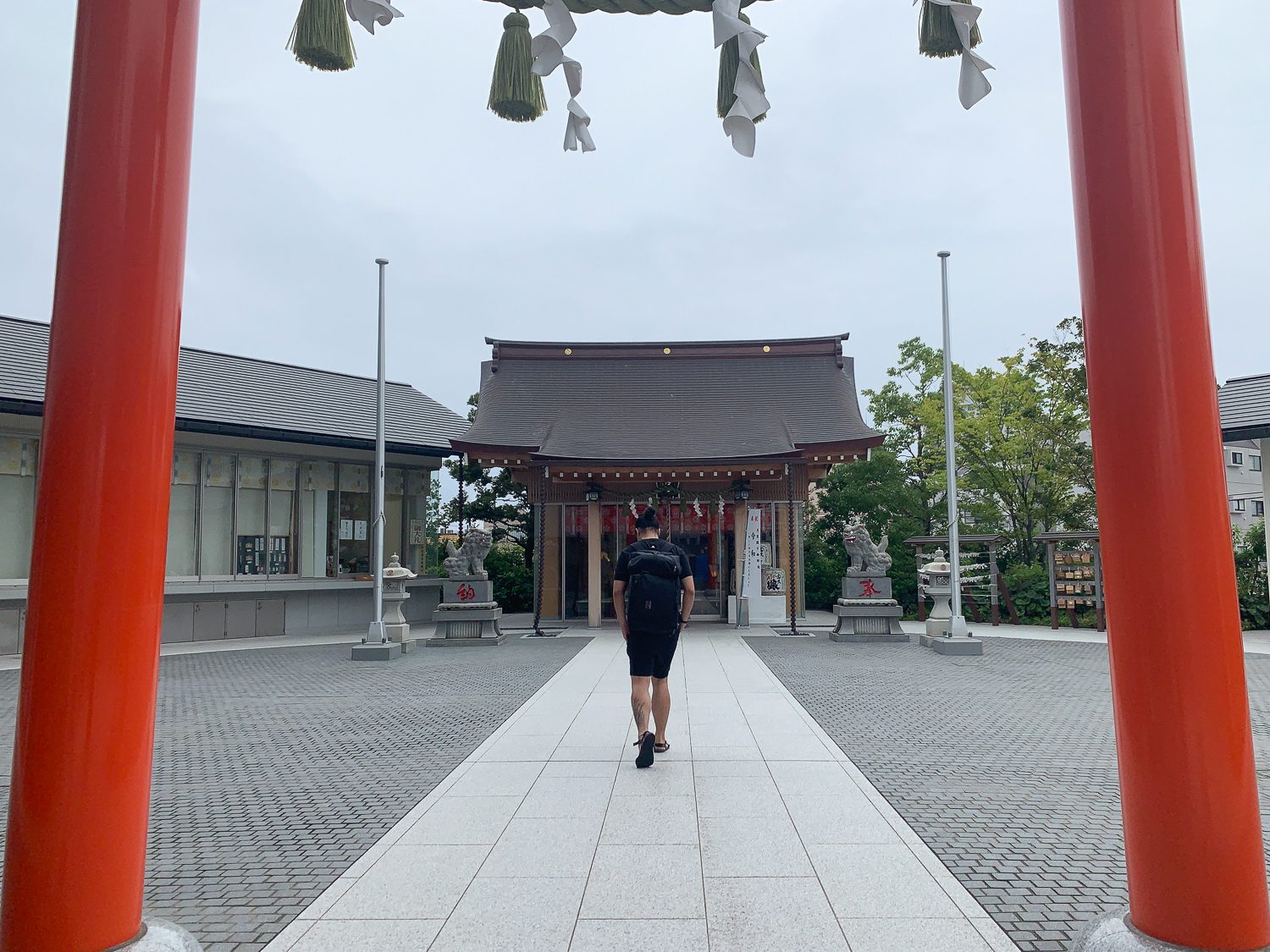 At 45 liter capacity, it wouldn't be out of place in the rucksack category but doesn't feel as big as the GORUCK GR2 40l despite being of larger volume.
Material
You get a choice of the 400d Halcyon exterior and 200d Halcyon interior or a 1050d Ballistic exterior and 200d Halcyon interior.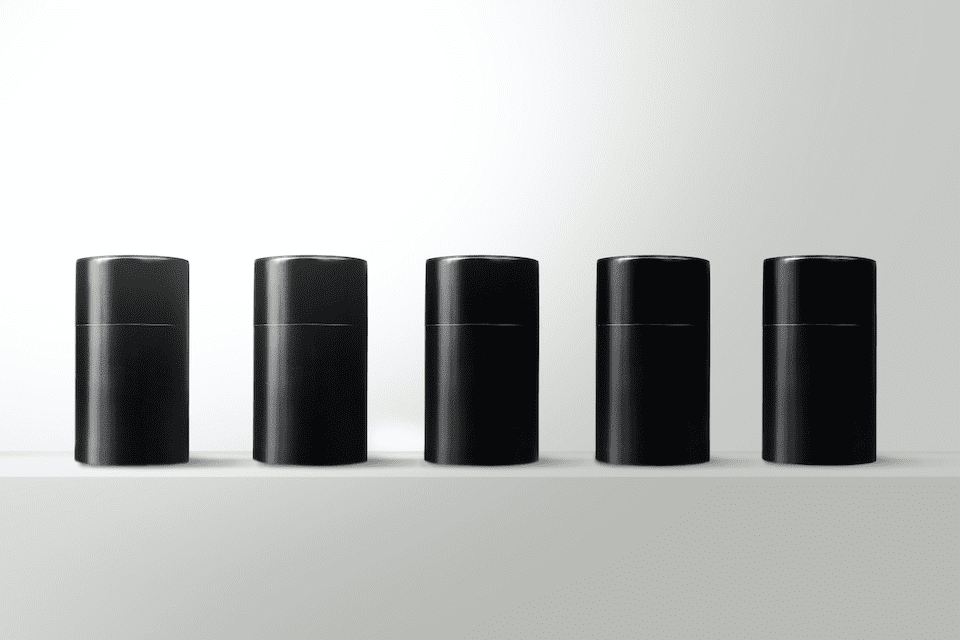 I found a 100 year old company that would create these heirloom quality canisters for me. They are handmade and will keep your tea leaves, coffee beans or anything that you need dry for years to come.
or read review
I've plenty of experience with Ballistic Nylon, especially with TOM BIHN other products, such as the Synapse 25, Side Effect and Nik's Minimalist Wallet.
With the same interior material on both options, the differentiator lies with the choice between the 1050d Ballistic Nylon and 400d Halcyon as an exterior material.
The difference, in a nutshell, is that Ballistic Nylon is more durable, while Halcyon is lighter.
For me, my decision came down to the difference in appearance. The Halcyon looked a little more technical and has the signature checked pattern, which made me choose the Ballistic Nylon for its flat black look.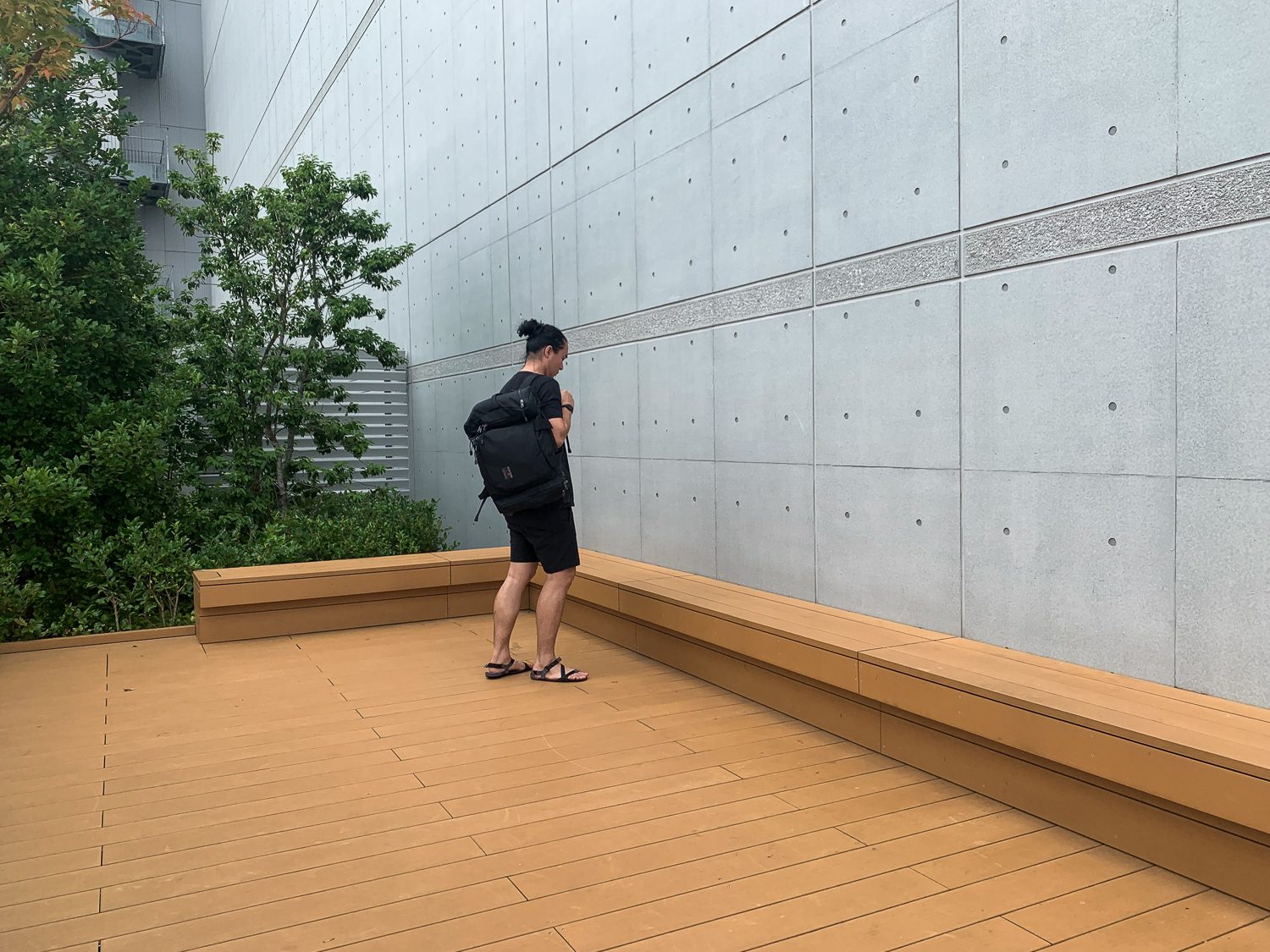 Apart from the appearance, Halcyon is also smoother to the touch, if that matters. Both are water resistant and doesn't collect pet hair.
For both bags, the interior is made of 200d Halcyon. They don't offer a black color inner, probably to make it easier to find your things in the dark.
These days, it's no longer enough to look at the brand of zippers, since YKK is the industry standard. You would have to looking at the models of YKK zippers used.
The zippers on the exterior of the Aeronaut 45, unlike the non-water repellent ones that you find on the GORUCK GR1, are #8 YKK Aquaguard Coil Zippers with lockable sliders.
The inner zippers uses #5 YKK Vislon Molded Tooth, which are not water-repellent since there is no need for water repellency on the insides of the bag.
Organization
The Aeronaut is actually made of three compartments, a main one in the middle and one on each end of that.
The compartments are pretty deep. You'll typically be able to fit two layers of packing cubes into the main compartment.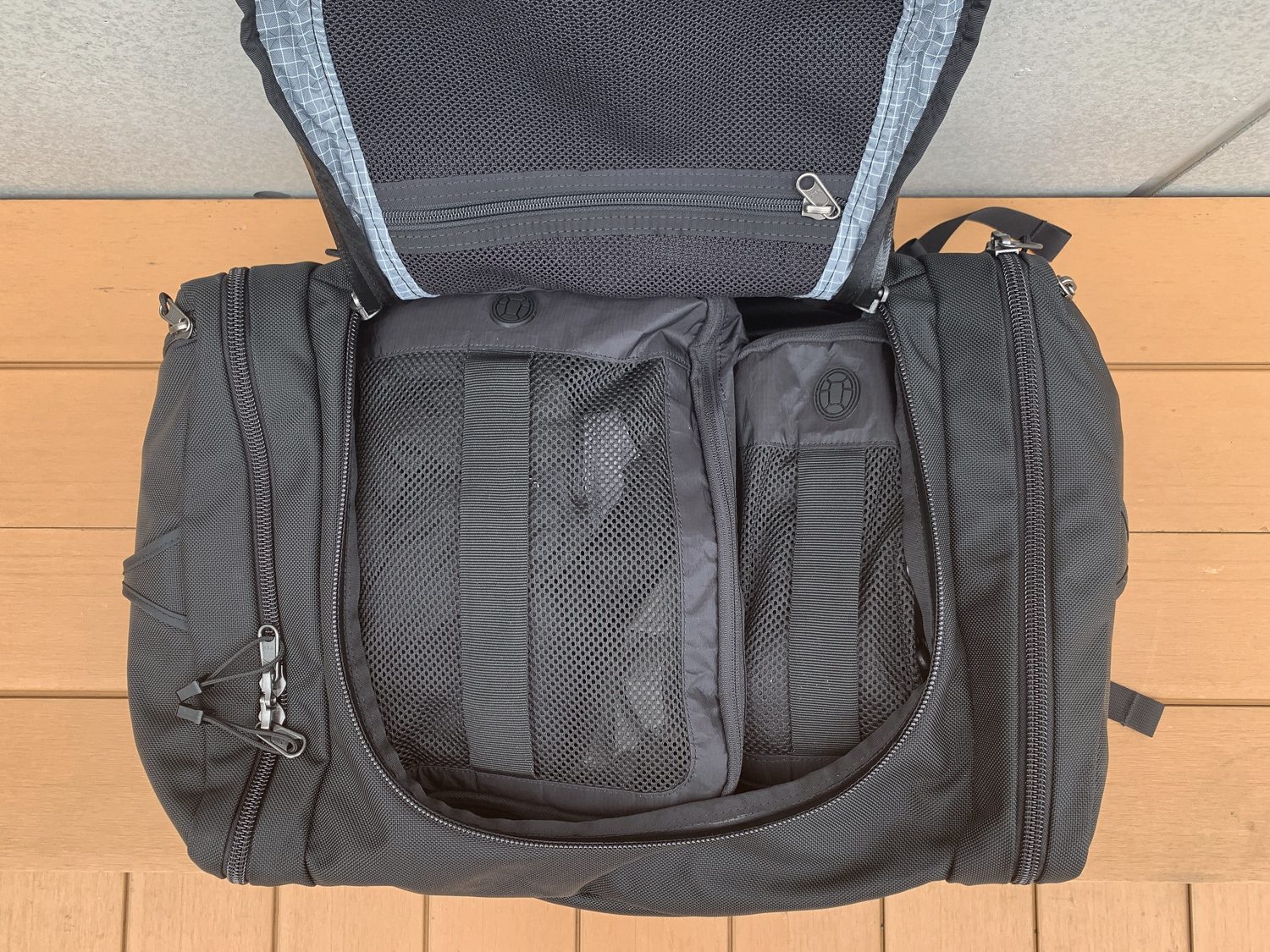 On the flap of the main compartment, there is a mesh pocket with an O-ring in it.
On the bottom of the main compartment, there are also some straps to hold down items.
The end pockets can hold up to a size 12 pair of sneakers. I stored my size US10.5 Nike Epic Reacts in here without any problems.
I put my electronic accessories like my MacBook Pro charger and miscellaneous wires in the TOM BIHN Snake Charmer in the other pocket.
If you unzip the interior zippers, you can allow the main compartment to encroach into the space of the side compartments, creating one larger center compartment.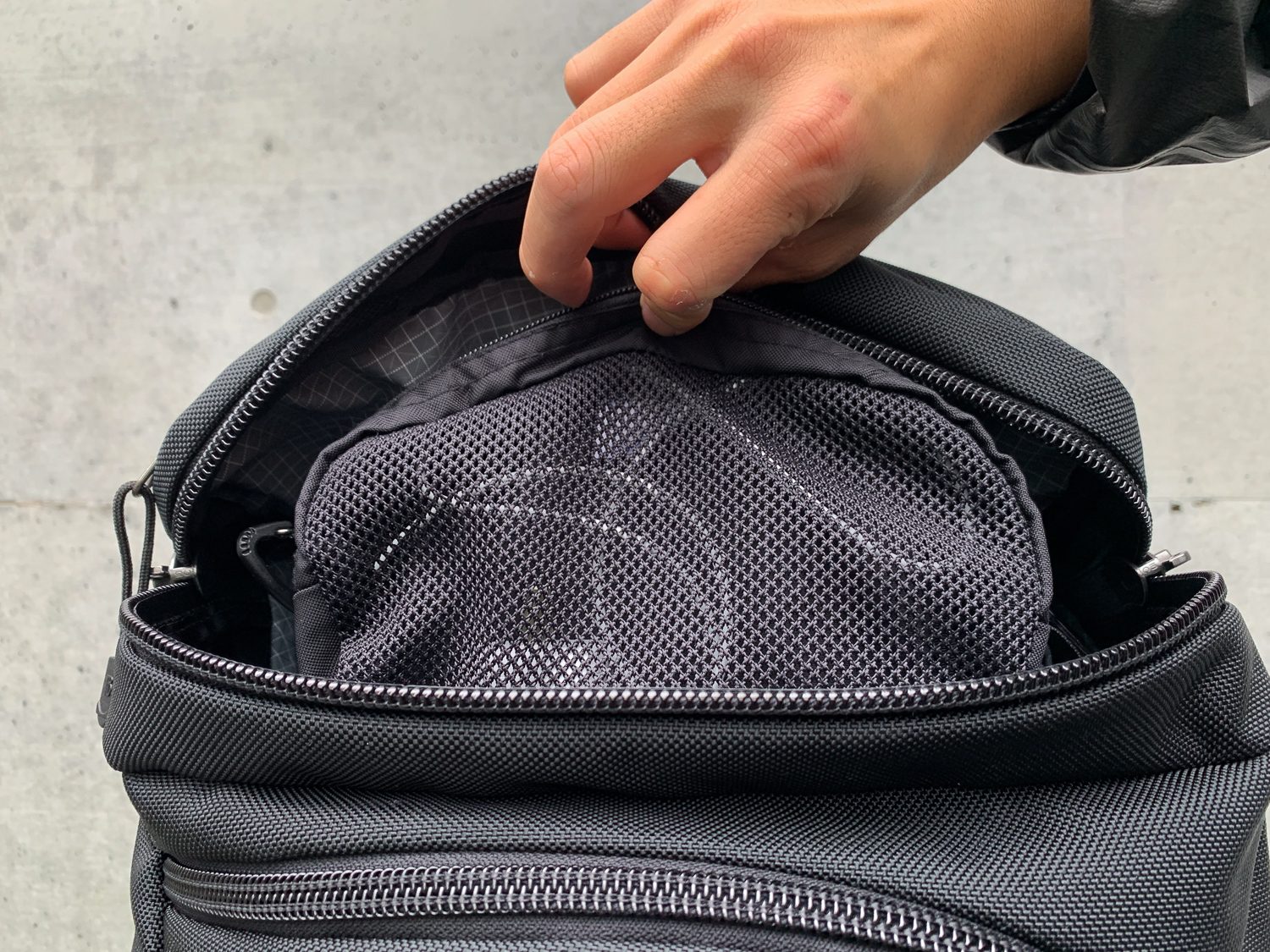 On each end of the bag, there is also a non-3D, diagonal-zippered pocket for quick access items. There is an O-ring in each of these pockets, but one of them comes with a key strap attached to it. Even though these were non-3D, I was able to fit a fair amount in it. A pouch and my Airinum in a pouch.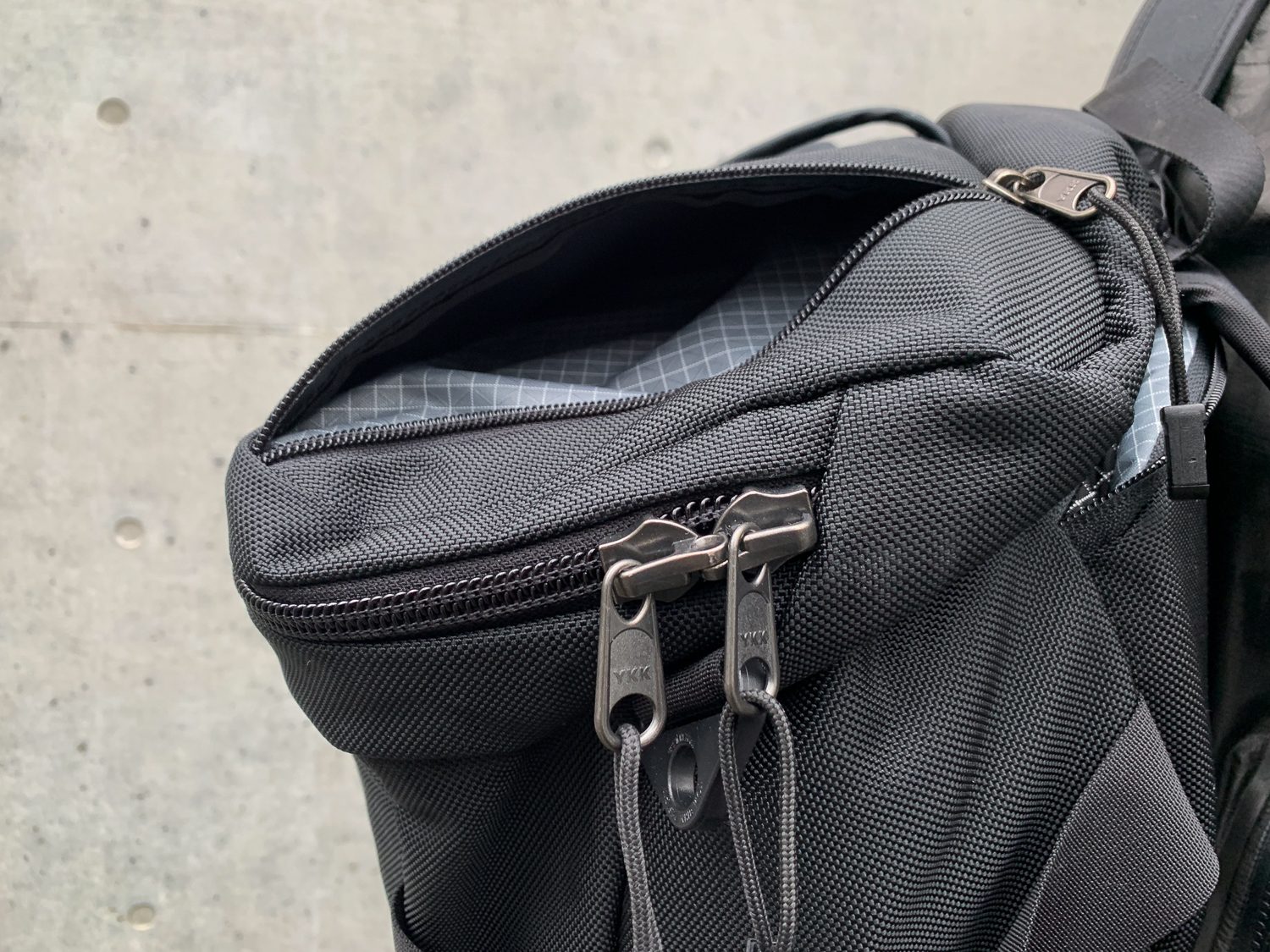 Speaking of O-rings, there is a total of 9 (4 in the main compartment, 1 in the inside mesh pocket, 1 in the left curved pocket, 1 in the right curved pocket, 1 in the left side pocket, 1 in the right side pocket), more than you ever need to use with TOM BIHN assortment of pouches.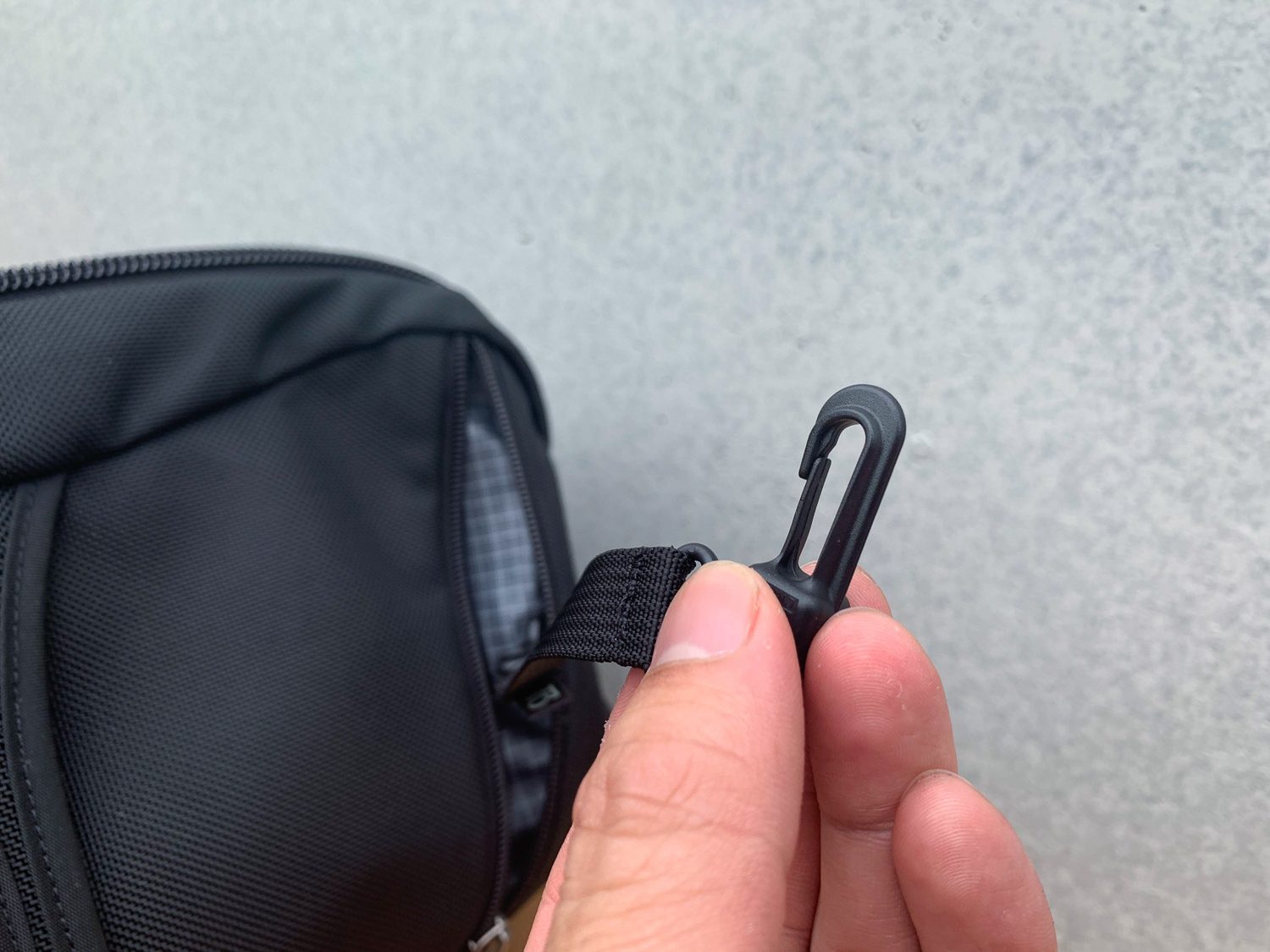 Usage
I've taken the Aeronaut 45 on a few weekend trips now and I've felt that for a 45 liter bag, it feels like it holds less than it should. This is the same experience I had with the Synapse 25, and is probably due to the amount of organization it has.
While it has definitely more volume, it somehow feels like I could pack as much things as the 33 liter, Aer Travel Pack 2.
As with their Synapse 25, there isn't a dedicated laptop compartment in the Aeronaut 45, and of course, no tech pockets for your electronic accessories. Most of the reviews have this as their biggest issue with this bag.
You would have to store your laptop in the main compartment along side with your clothes. While I usually like the laptop closer to the back of the bag for a better center of gravity, having to go through my packing cubes to access the laptop was not feasible for someone who access my laptop multiple times throughout the day.
What made it worst was the way the opening of the main compartment was shaped. The opening had a rounded corner, so you would have to angle your laptop to get it out of the compartment.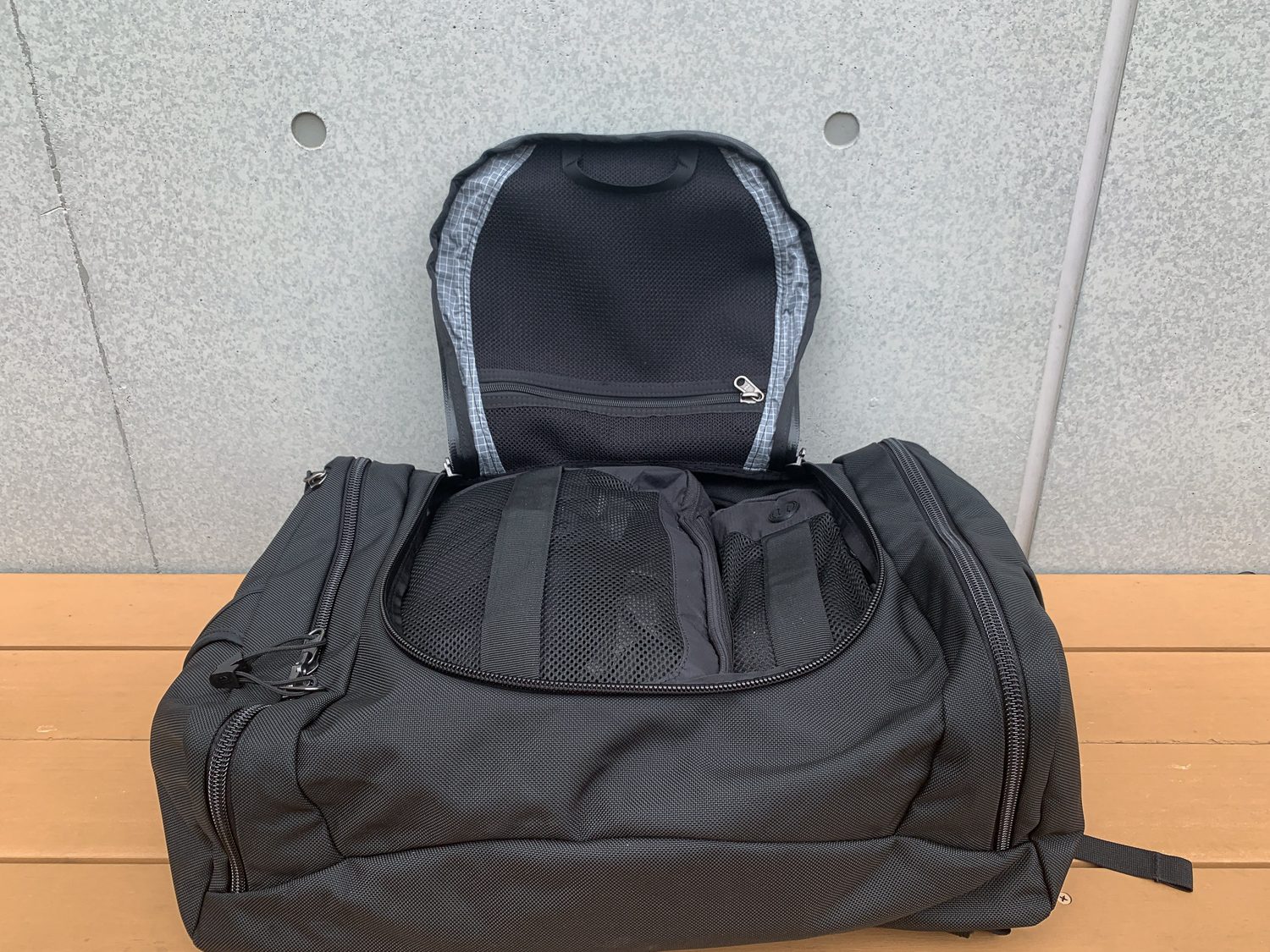 Another issue I had was that because the bag looks mirrored on both ends, it wasn't easy making out which was the right side up unless you look closely at the orientation of the backpack straps or logo.
The fact that the entire bag was the same color for me certainly didn't help.
I kinda like the usability of the handles on both ends of the bag. While it doesn't have padding, it is shaped pretty ergonomically and easy to hold for just shifting the bag around. They also lay flat when the bag is filled.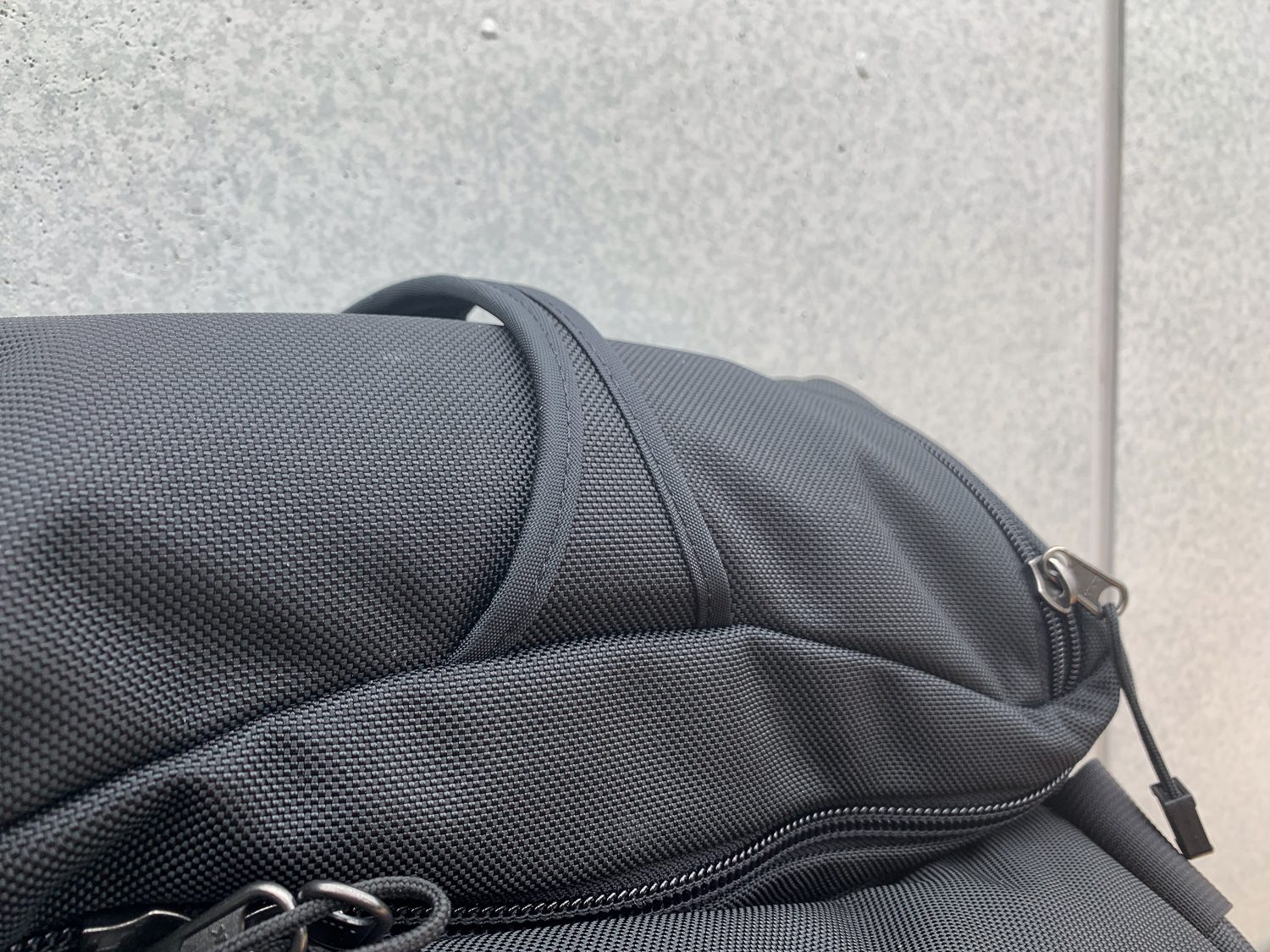 I've found that the handles are a convenient temporary place to put things that are damp that you didn't want inside your bag. I've used it to hold a foldable umbrella and also an unfinished bottle of tea.
Apart from those handles, there is a proper duffle style handle as well. The triple threat of handles allows you to maneuver the bag easily.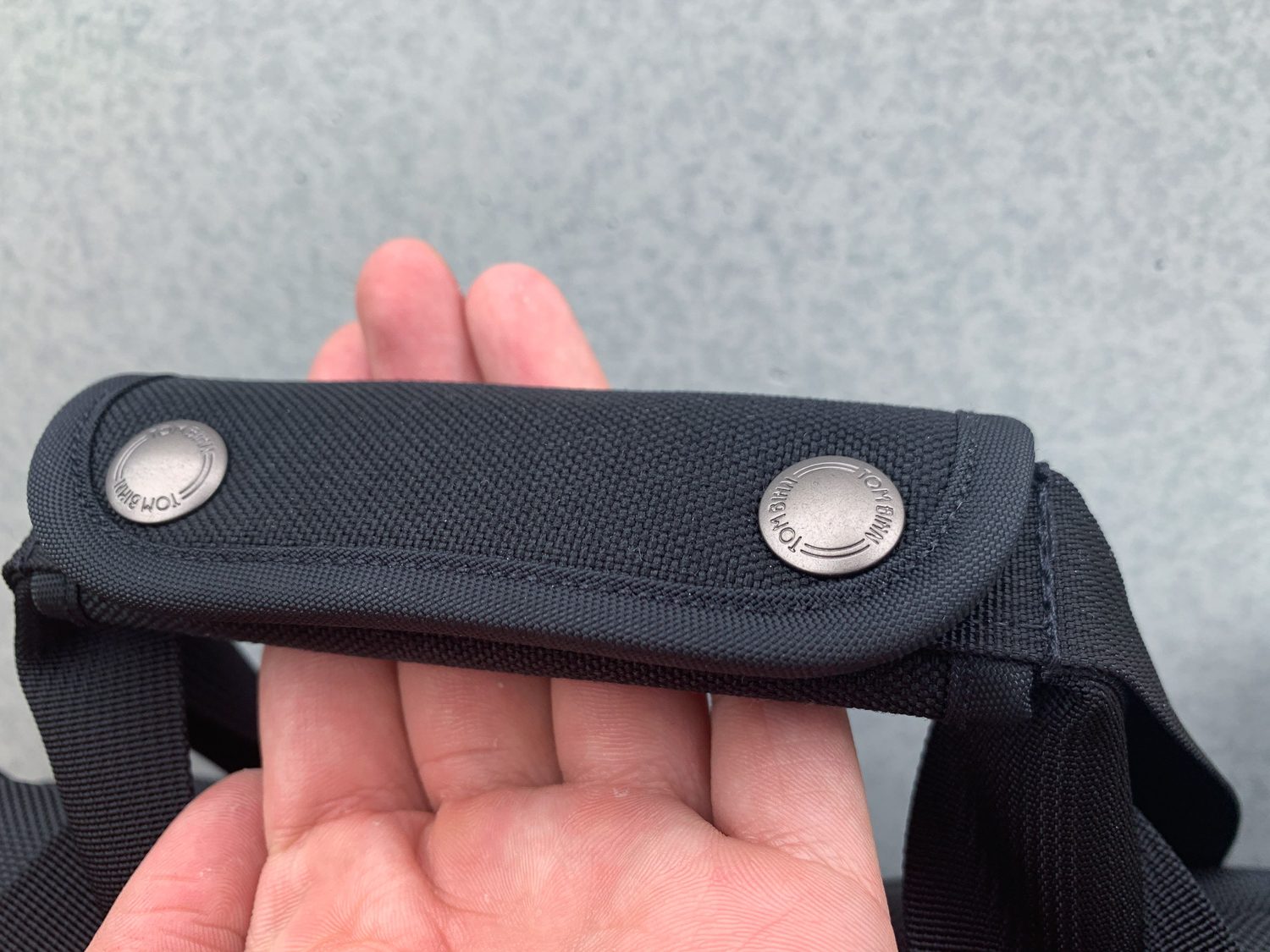 On my back, it does feel a little unsupported. They do offer an optional Aeronaut 45 Internal Frame and Padded Hip Belt to offset some of that weight onto your hips, but these aren't included in the $300 price tag.
Conclusion
As expected of TOM BIHN, the materials and construction is simply unbeatable. The only thing that might stop you from getting one is the lack of a dedicated laptop compartment and the style.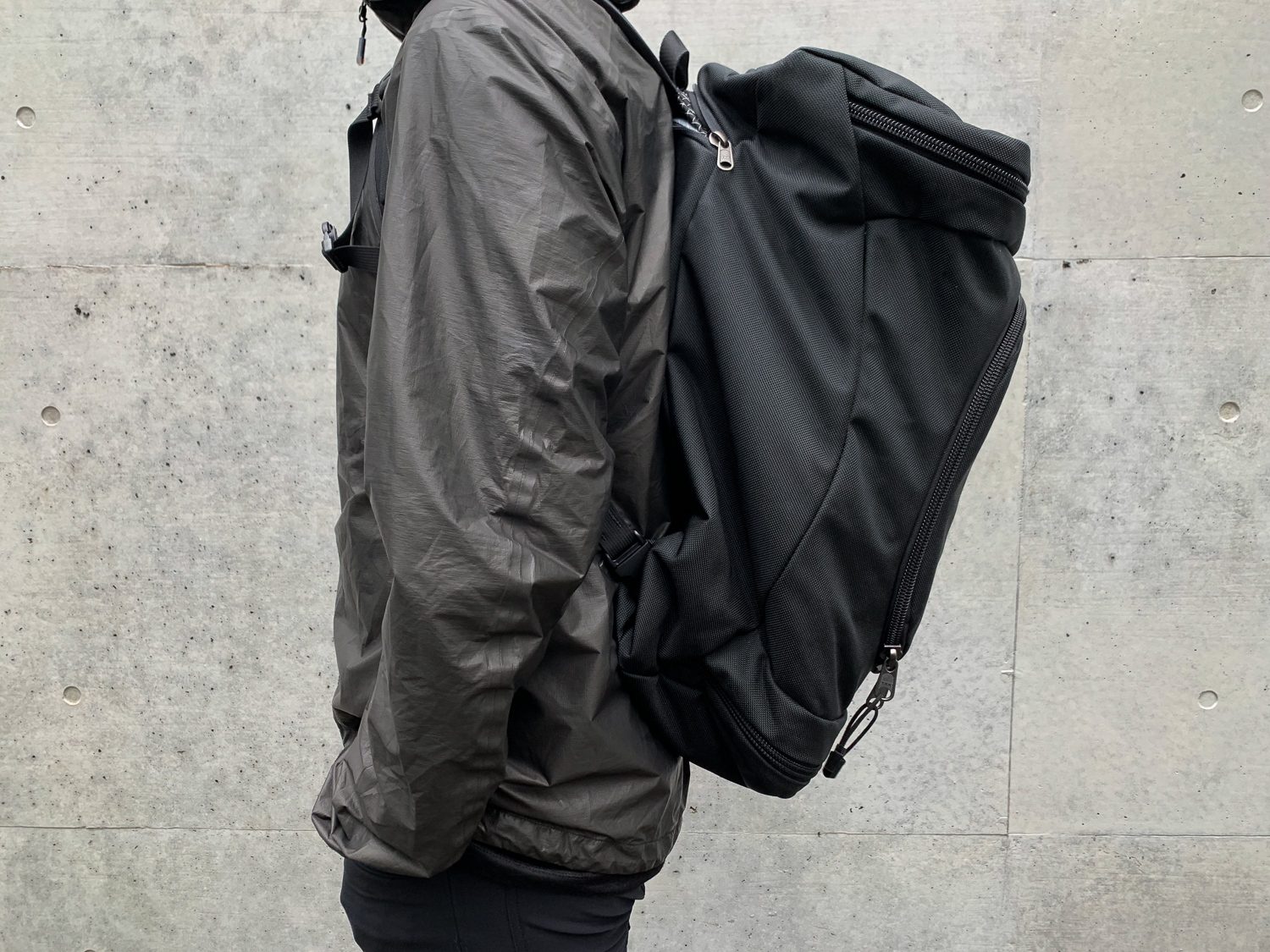 For me this is a perfect bag for a weekend trip where you only bring your clothes and leave your digital distractions behind. You probably won't go wrong with this bag that has withstand the test of time.
Like this review? See all of my in-depth reviews.
Also, consider supporting me by being a Patreon. Every cent given will go back into improving the content of this website.
Tagged bag ballistic nylon duffle bag review tom bihn water-resistant ykk