This website is made possible by readers. I may earn a small commission when you buy through the links in this article at no extra cost to you. Learn more.
Details
Price 56.99 EUR (Approx $62.76) on varusteleka.com
Material 65% polyester/ 35 % cotton
Made in China
Overview
A windproof jacket with military roots.
While I've been reviewing a good selection of military-inspired outfits, sometimes referred to as techwear, I like to review actual outfits made for the military when I can. So you can imagine my excitement with this windproof jacket.
Varusteleka has repeatedly provided me the opportunity to review such goods. Varus-what? Yep, I still can't remember how to say it without reading. Varusteleka (pronounced [Where's the liquor?]) is an army and outdoor store from Helsinki, Finland. While their brick and mortar is exclusively in Helsinki, they offer their goods online worldwide.
What does this Varusteleka mean? Varusteleka is obviously Finnish and comes from "varuste", which means equipment, and "leka" which stands for, among other things, a sledgehammer or a bottle of booze. Established in 2003, the store has now become the biggest in Europe.
They are just not military-inspired, they are military. I've reviewed some of their products, from military surplus like British Patrol Backpack to their original products like the Särmä Merino T-Shirt and Särmä Merino Hoodie. They are either products actually used in military or based on the designs of actual military gear.
The Windproof Smock is also one of their original products. I've had many good experiences with outerwear that is not just windproof, but full-on waterproof like Outlier's Shelter from the Storm and Tilak Vega SD. I'm excited to see how this compares.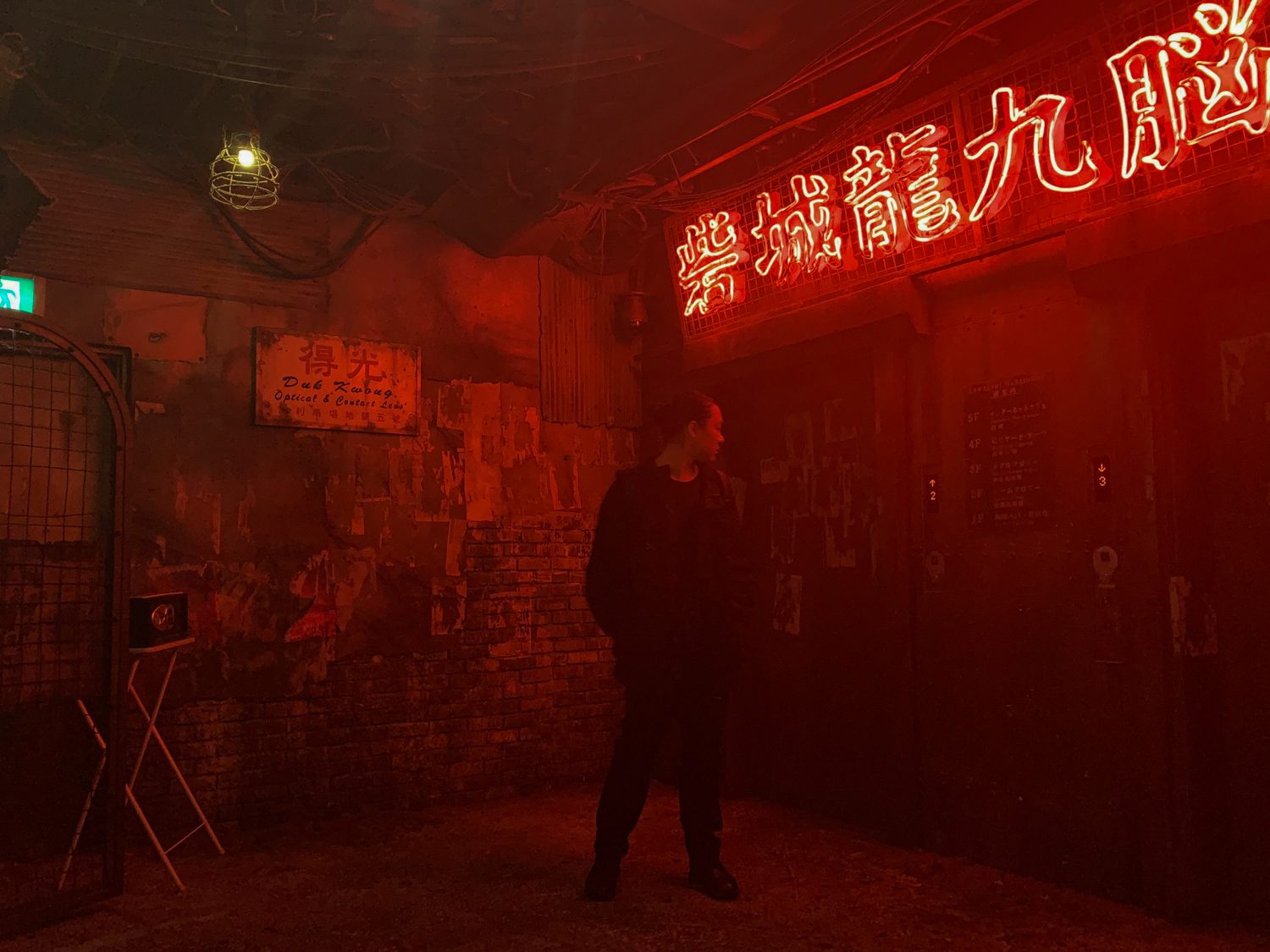 Style
An edgy, tacticool windproof jacket.
I'm ashamed to call myself a minimalist at times looking at my collection of jackets. I have a lot of jackets. As I only wear black, most of them are entirely black and make use of technical fabrics. So, they often fall into a certain category of look, commonly (within the niche that is) referred to as "techwear".
The Särmä Windproof Smock does naturally fit into the category, since it's based on the classic British Windproof Smock, specifically the DPM Windproof Smock. The DPM Windproof Smock was issued alongside the DPM Combat Jackets by the British Army.
Following the footstep of the original, the windproof jacket comes in two core single-color versions, the black and green. They also provide seasonal colors, like yellow and oxblood, where the buttons are of contrasting colors. The seasonal colors are often sold out and you should sign up for a restock notification if you really want them.
As any good military gear should be, the color is completely consistent throughout with no external branding at all. This makes the entire jacket look clean despite having a lot of details. One thing that contributed to the consistency is the use of the same material religiously, even on parts where traditionally other materials would be explored, such as the strap to adjust the hoodie.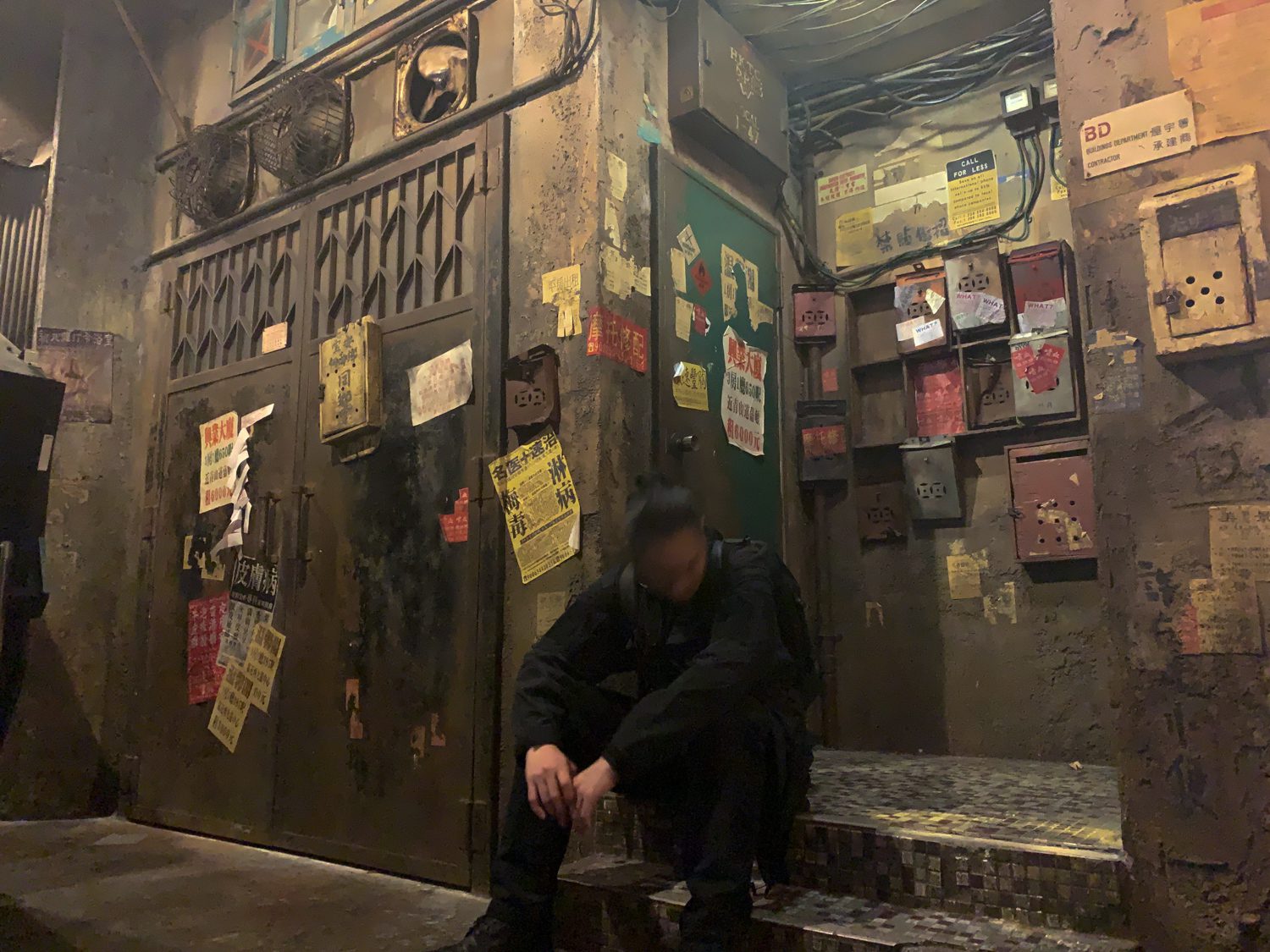 The original, apart from being a windproof jacket, is cut to fit loosely over other clothing which is the fit being adopted in this version. Another trademark of the jacket is the four expanding front pocket and hand-warming pockets for field dressing, all of which are sized up for ease of use by gloved hands.
But no one likes ads, so I got rid of them. If my articles helped you, I ask for your support so I can continue to provide unbiased reviews and recommendations. Every cent donated through Patreon will go into improving the quality of this site.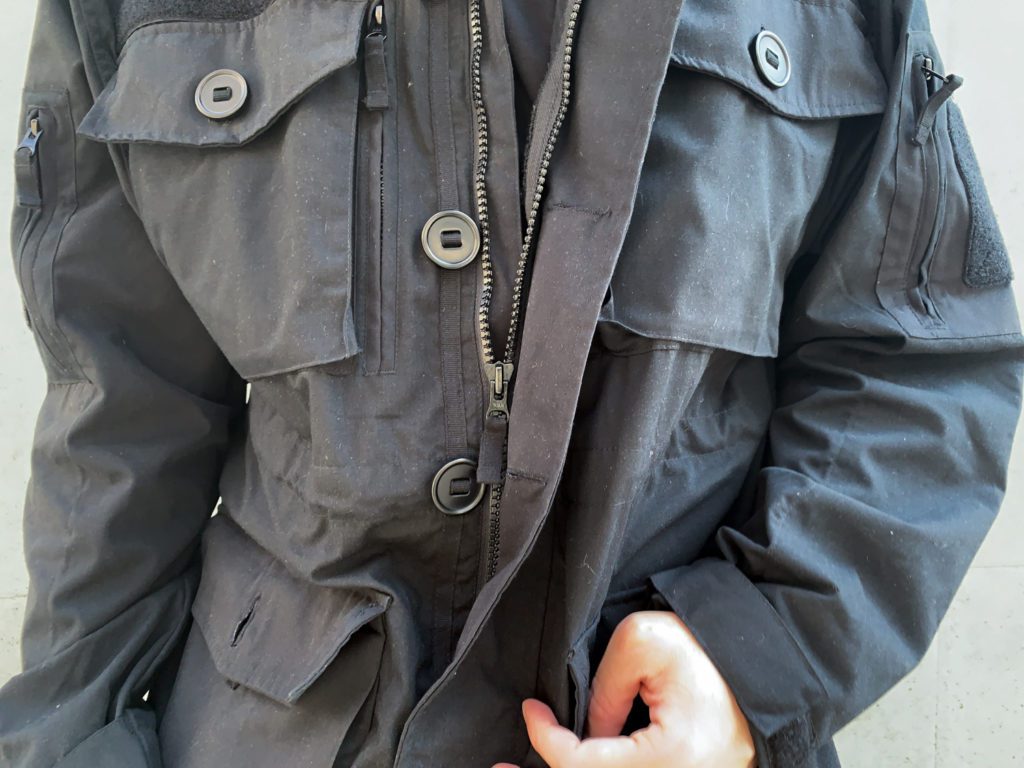 The Särmä Windproof Smock follows the original closely with the loose fit and trademark huge-ass pockets. I got my usual size with American-brand jackets, a size large, and it was perfect for me as I like my jackets slightly baggier for easy layering. Along with the baggier fit, the longer hem and generous hood size balances out the look.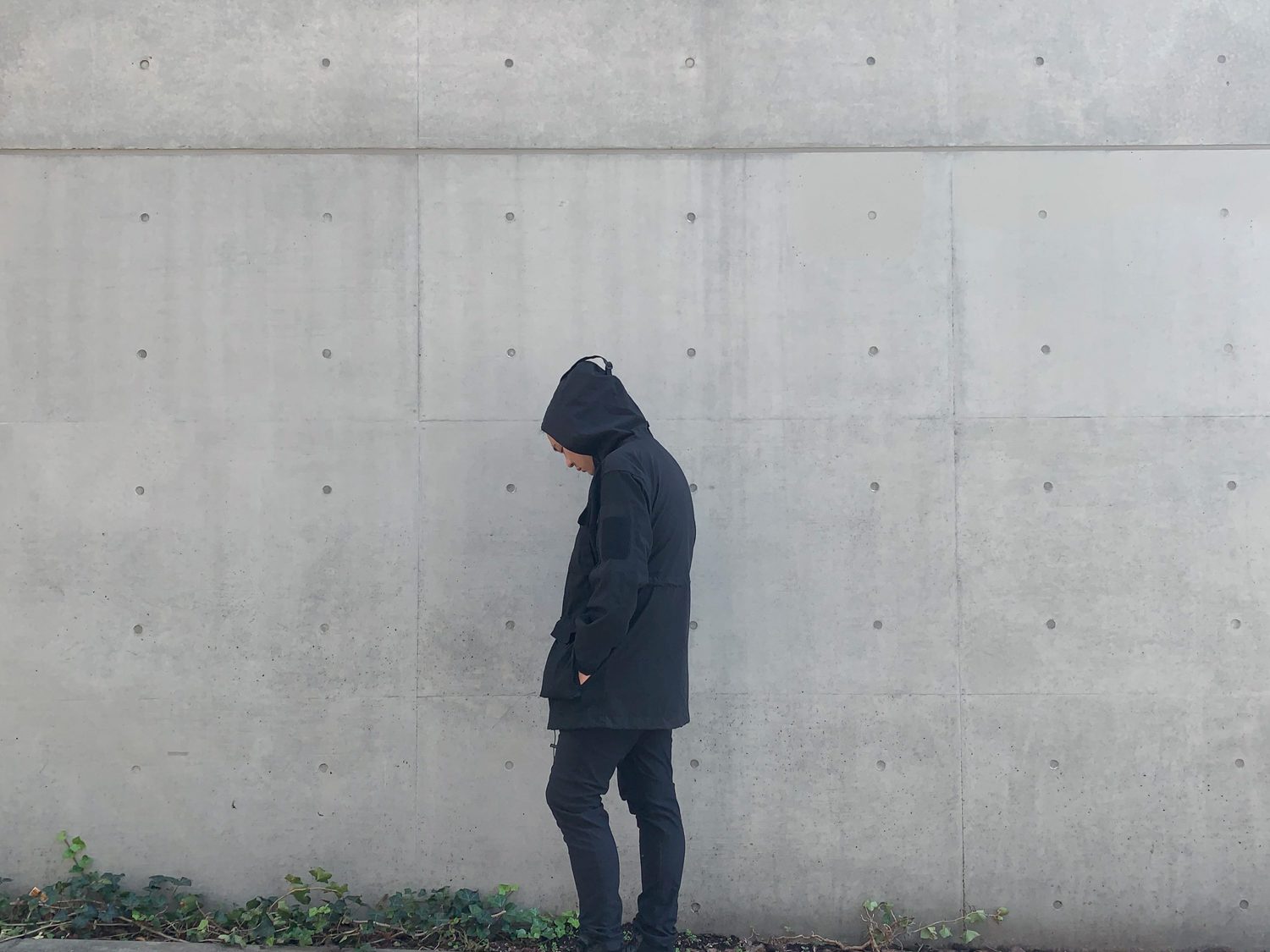 Despite the oversized cut, several features are included to let you adjust it to your body size. For the hoodie, it comes with a velcro to adjust. It can be rolled and stored into the collar with the help of a cord and the button. There are also velcro straps at the sleeve holes to reduce the size of the openings.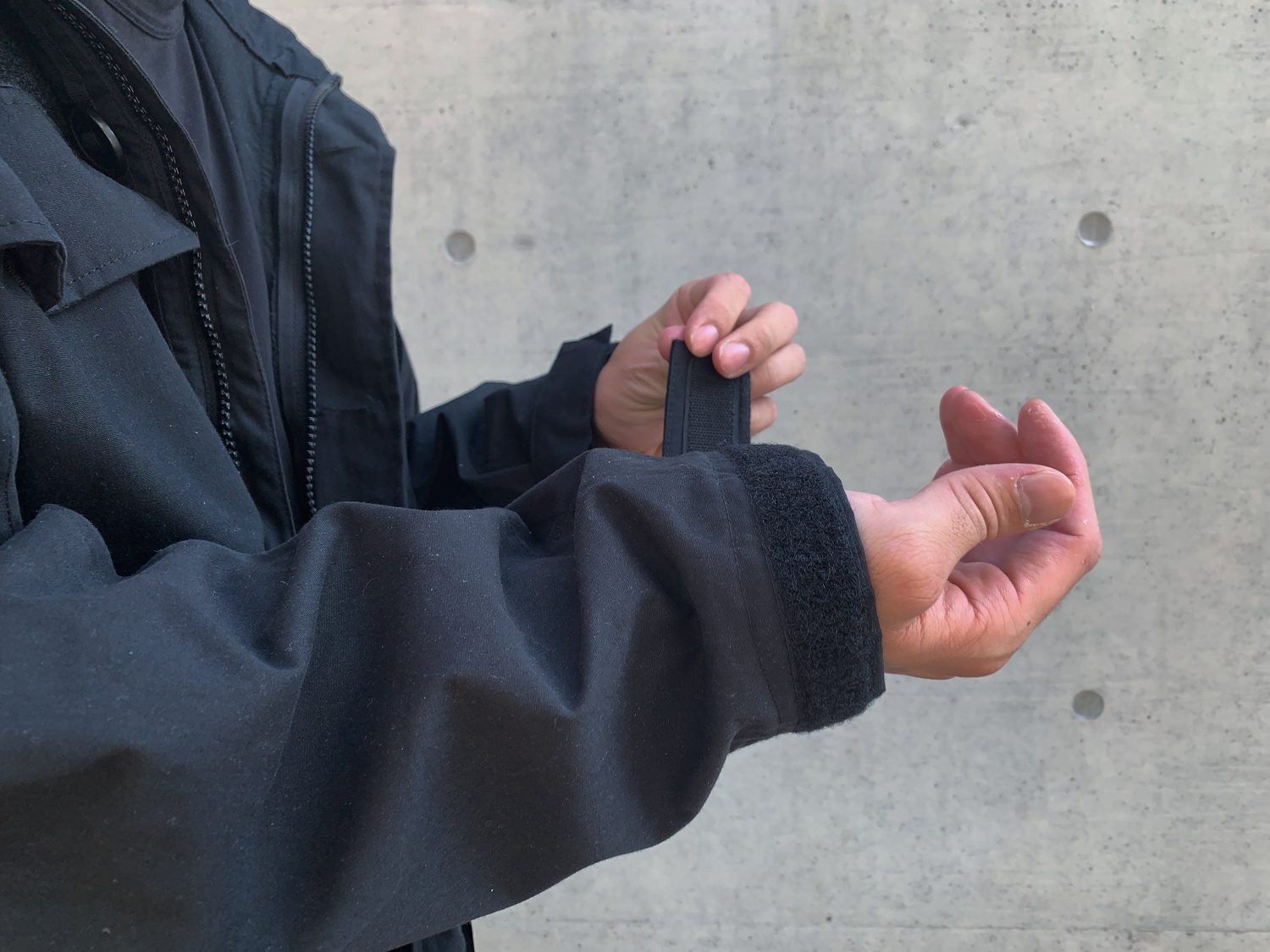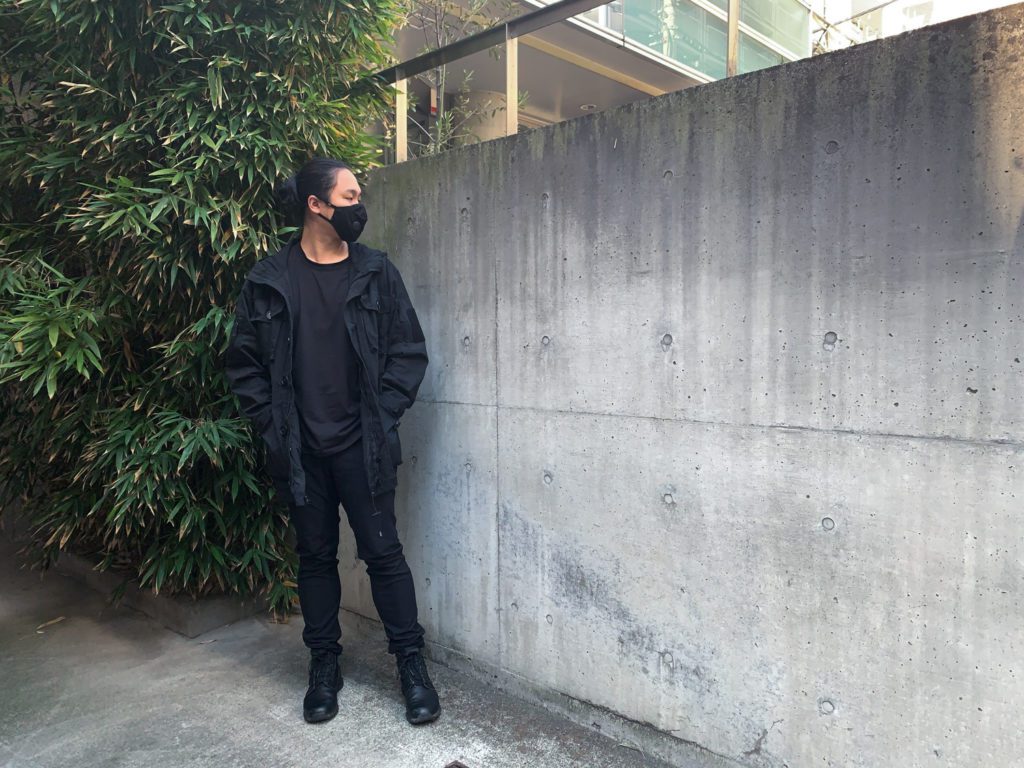 In the product description, Varusteleka did say that you should size down for better form-fitting. But, I would personally go the regular size for the original intended fit. I love how baggy and nonchalant it looks.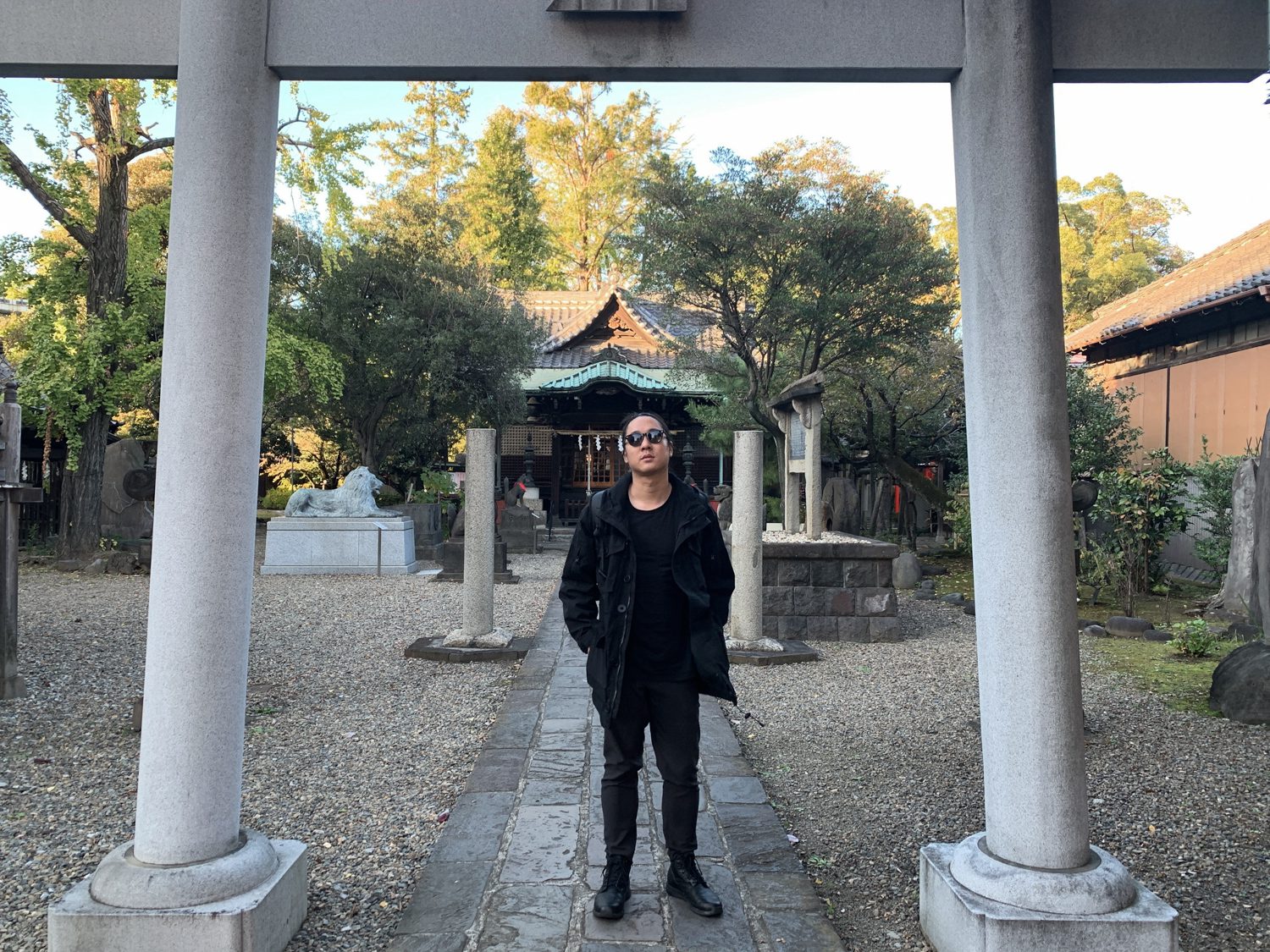 Like the original, pockets and the accompanying buttons, are large for ease of use by gloved hands. Since I have the black version, the buttons look very sleek but I imagine the large buttons would stand out more than most would like when contrasted on a base color like yellow.
Very much military.
On the upper part of both sleeves, there's a velcro patch for you to put on your favorite patch. This is commonly found on military-style goods like the GORUCK GR1. This patch is black despite the color of smock you choose. On both sleeves, there are flat pockets for you to put quick-access items.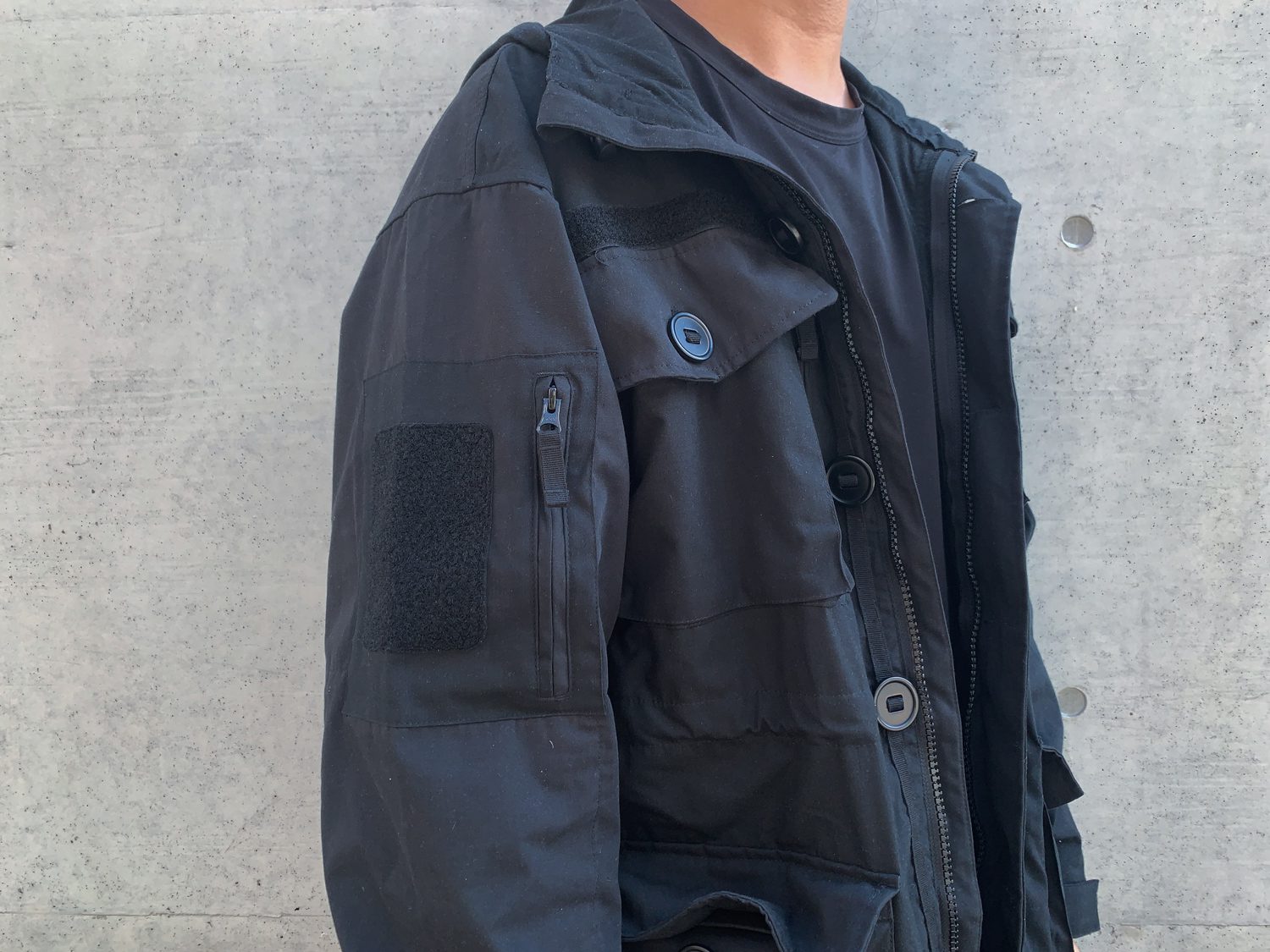 In my experience, the Särmä line has a very approximate quality when it comes to their products. Some parts of the jacket would be cut too large or small and seams would be pretty haphazardly sewn. While not obvious on an all-black jacket, you would notice some details here and there. These details don't equate to a lower quality, as they are usually just aesthetic details.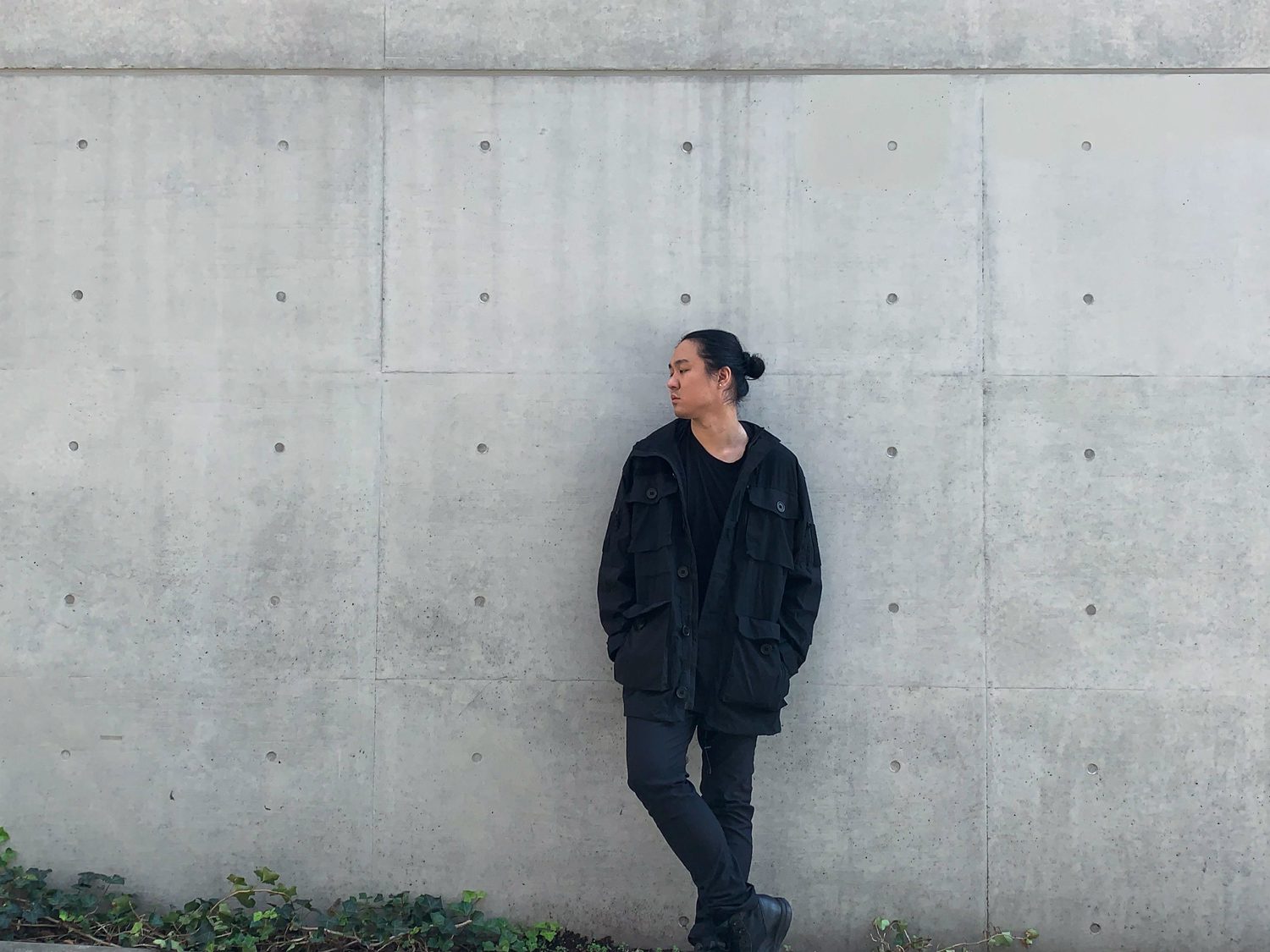 While it lacks the attention to details that would put it on the same level (and price) as brands like Arc'teryx Veilance or Outlier, I'm satisfied with how edgy and good it looks when put together.
Material
Not just a windproof jacket.
As with any piece of garment that's made to protect you from the elements, the material of this windproof jacket might be the single most important factor that would make or break the experience.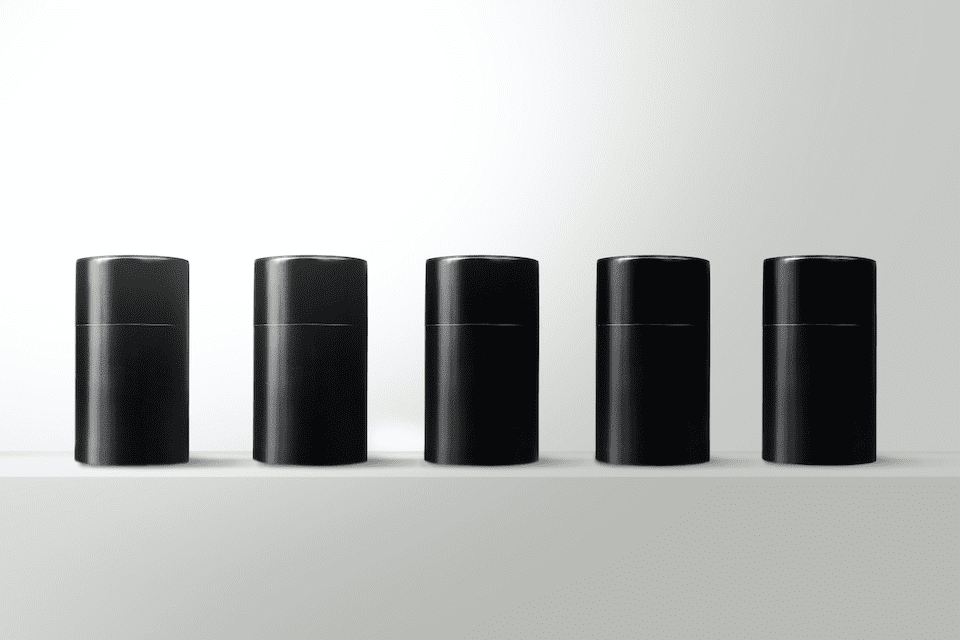 I found a 100 year old company that would create these heirloom quality canisters for me. They are handmade and will keep your tea leaves, coffee beans or anything that you need dry for years to come.
or read review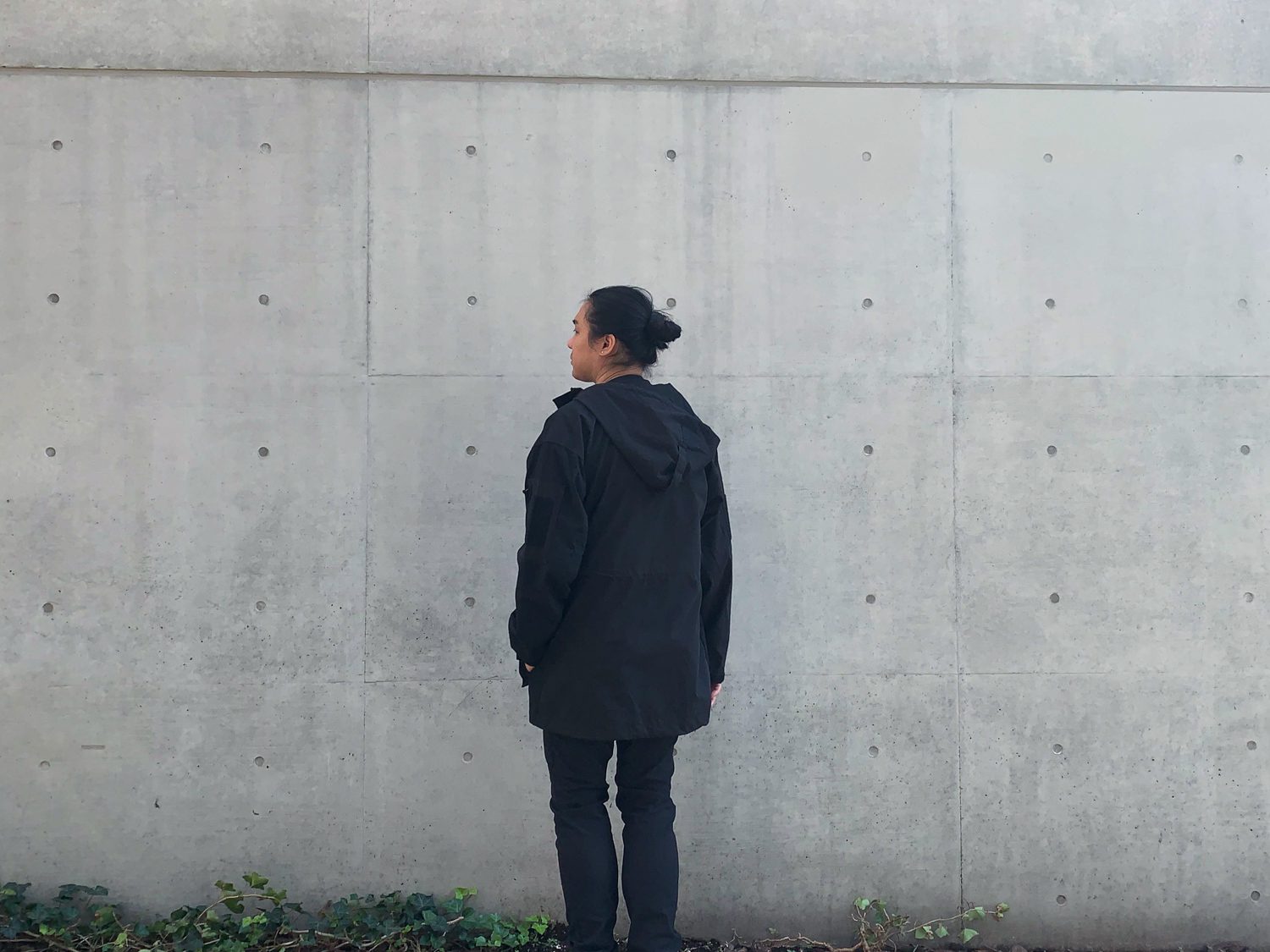 The material is 65/35% polycotton with water-resistant treatment. Since the water resistance is not inherent in the material itself, the treatment would eventually wear off with wear and tear.
The buttons are unbranded but are attached Canada-style, with webbing to prevent failure.
Even on such a relatively low-cost jacket, Varusteleka knew not to spare any expenses on the zippers, which are probably the only one we would consider, YKK from Japan.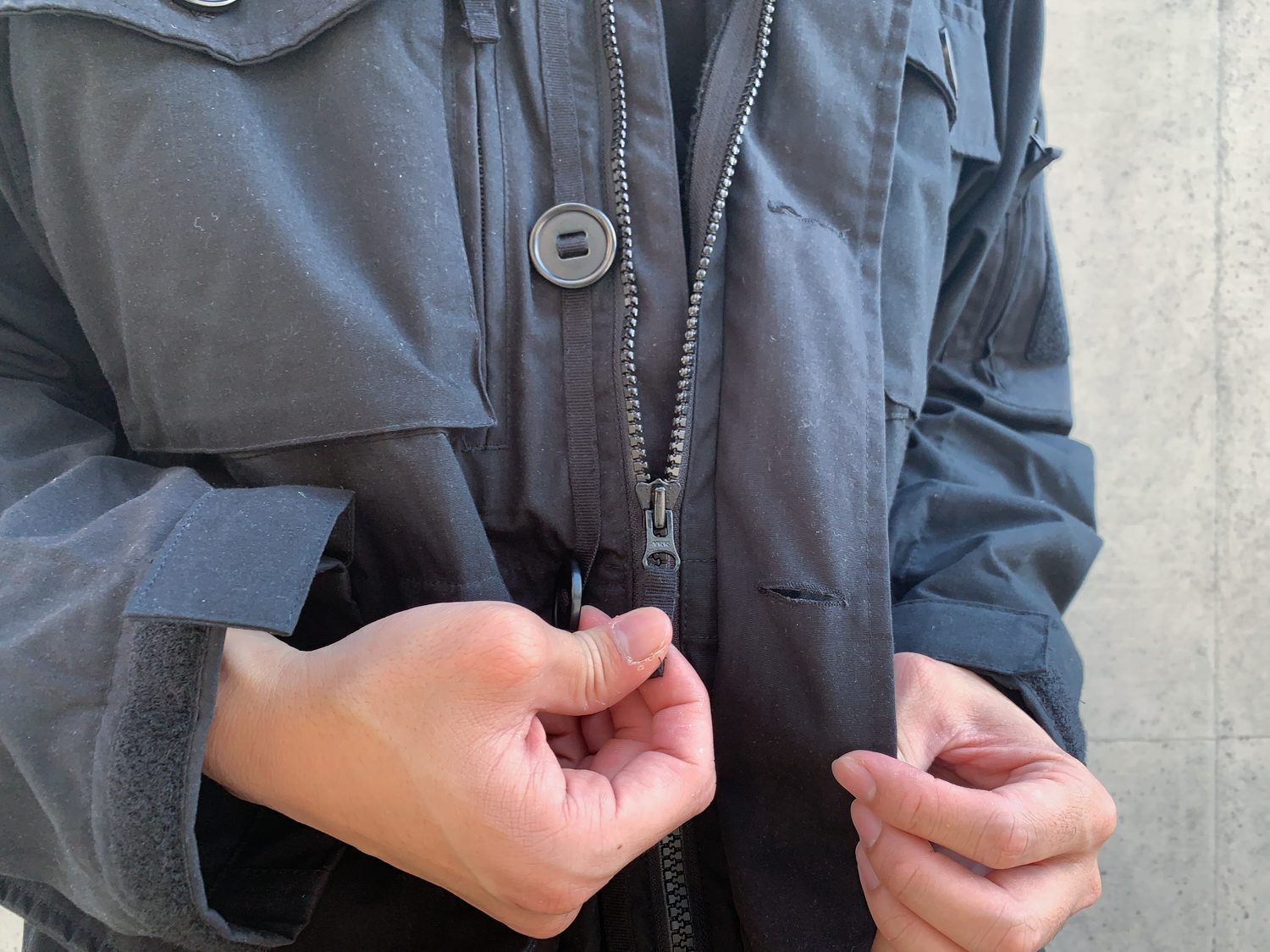 The pockets are lined with fleece for relief from the cold.
The jacket is made in China. As Varusteleka so eloquently put it, "There's good quality to be found in the PRC, as long as you don't choose the lowest bidder.". I found this to be true as many of my favorite products are made in China. It all comes down to quality management, and Varusteleka has done a fair job here.
Usage
A hard-wearing, long-lasting windproof jacket.
For the price, this is an extremely hard-wearing piece of garment. While this isn't sold as being waterproof, I've used this in light showers and it has kept me dry so far with just the DWR treatment. I would confidently spend an entire drizzling day out in just in this.
One thing about DWR-treated products is that the treatment would wear off in time and you would need to use a product like Nikwax to bring back the water-resistance.
As described, the windproof jacket is oversized by design. This makes it easy as something to just throw on. You won't have to baby it seeing it's durable as it is and it's relatively low price. I wear it to work, events, night outs, and so, almost everything.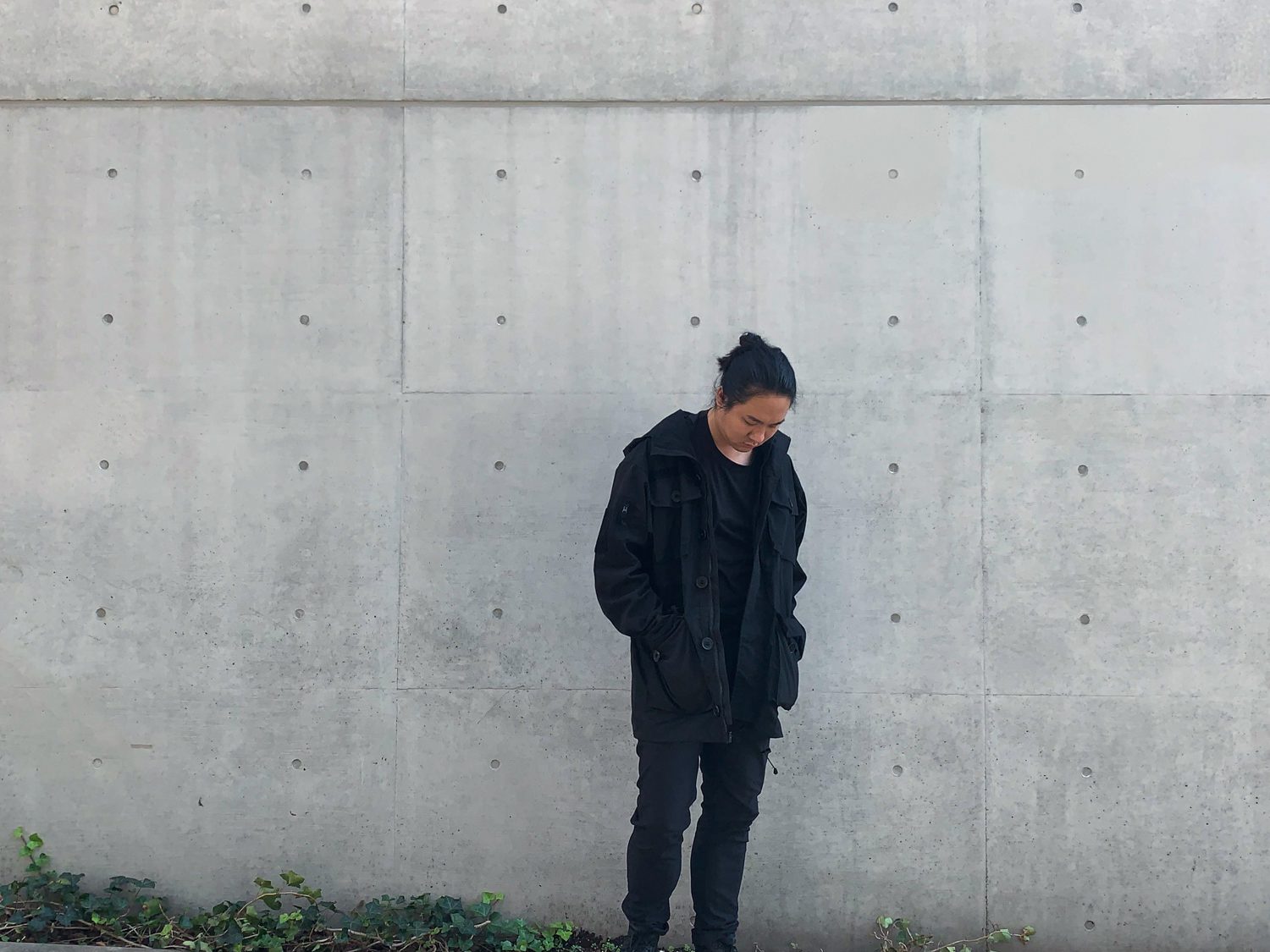 It is as warm as it looks. While isn't lined, it has kept me reasonably warm and I haven't found the need to layer this during spring or autumn. When I move around a lot, my body temperature fluctuates a lot.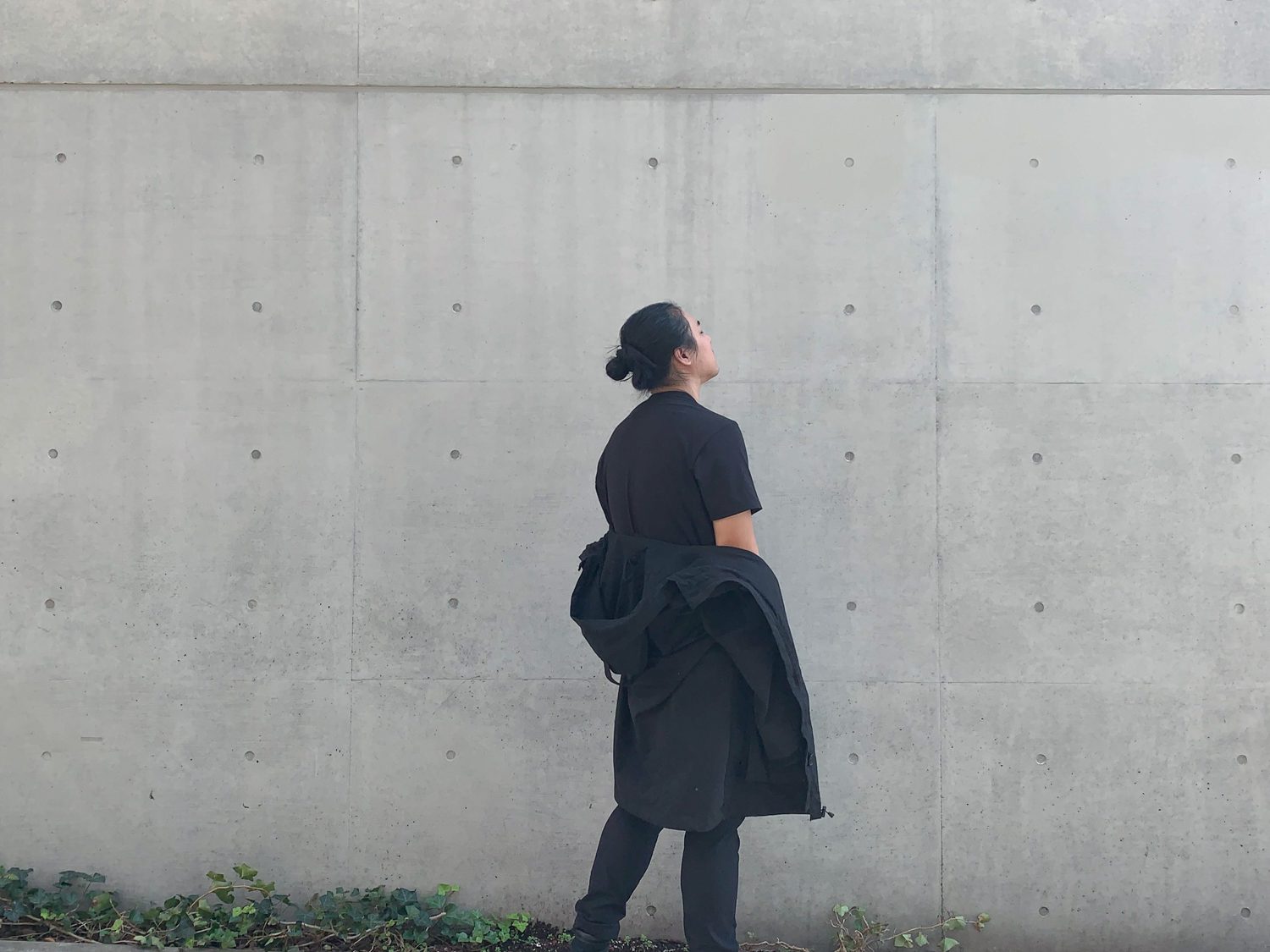 Like the Särmä Softshell Jacket, there are ventilation zippers at the armpits that let you unzip to regulate temperature in case unzipping the front isn't enough. I'm not the kind that likes to constantly put my jacket off and on. This is something I utilize pretty often in spring or autumn afternoons when the sun is out.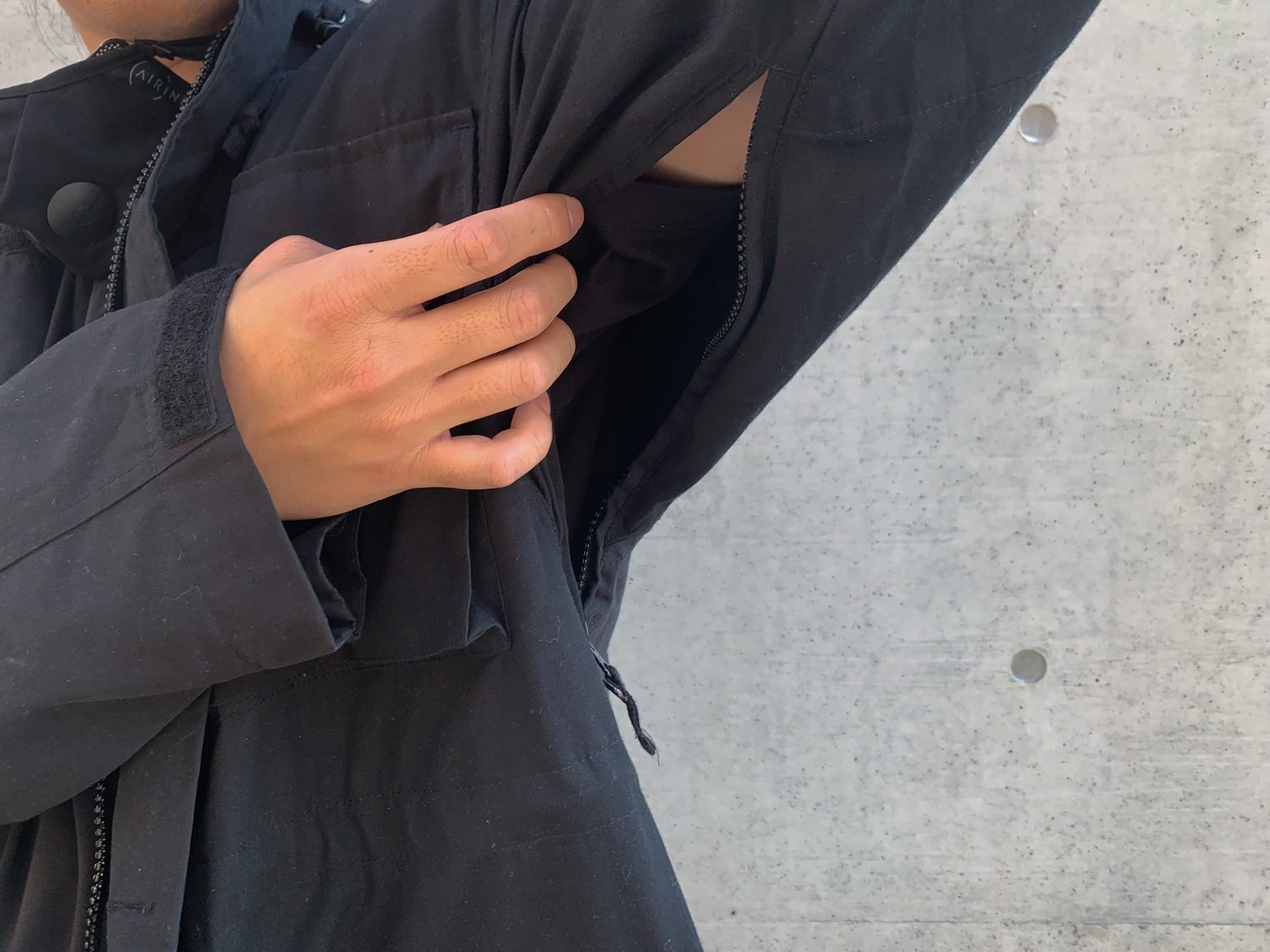 Pocketful of sunshine
The windproof jacket comes with a total of ten pockets. Four large pockets in the front, two handwarmer pockets behind the bottom large pockets, two pockets behind the top large pockets, and one pocket on the upper part of each sleeve. The pockets are so oversized, that I often just put everything into the bottom two large pockets since they are the easiest to access.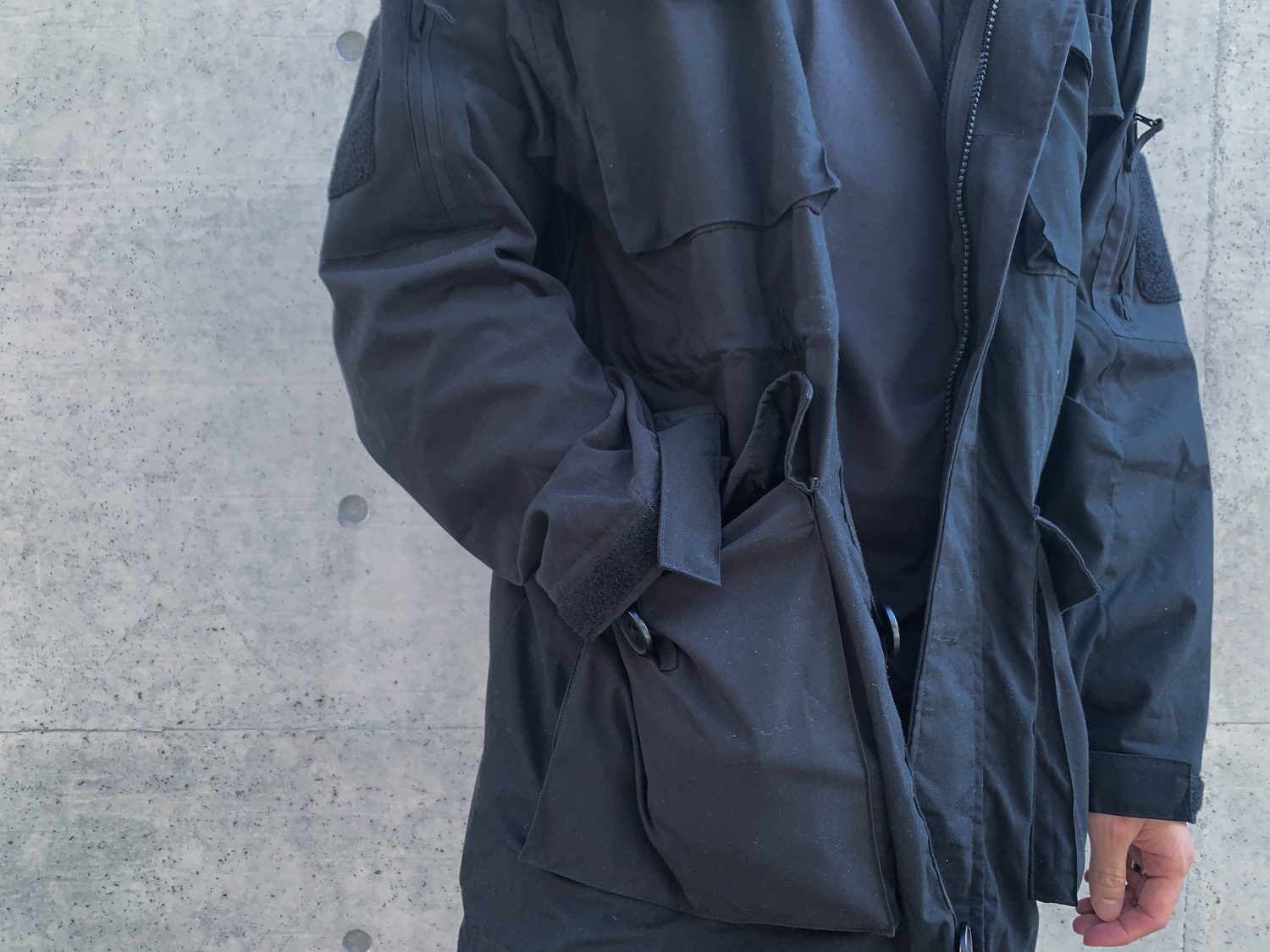 The best thing about this is that they have hand pockets on top of the four large front pockets. Most jacket-makers would just assume that the bottom two pockets are sufficient as handwarmer pockets.
When a jacket comes with such large pockets, I've a tendency to just dump anything and everything into them. Those pockets aren't as comfortable to put your hands into when they are full of things.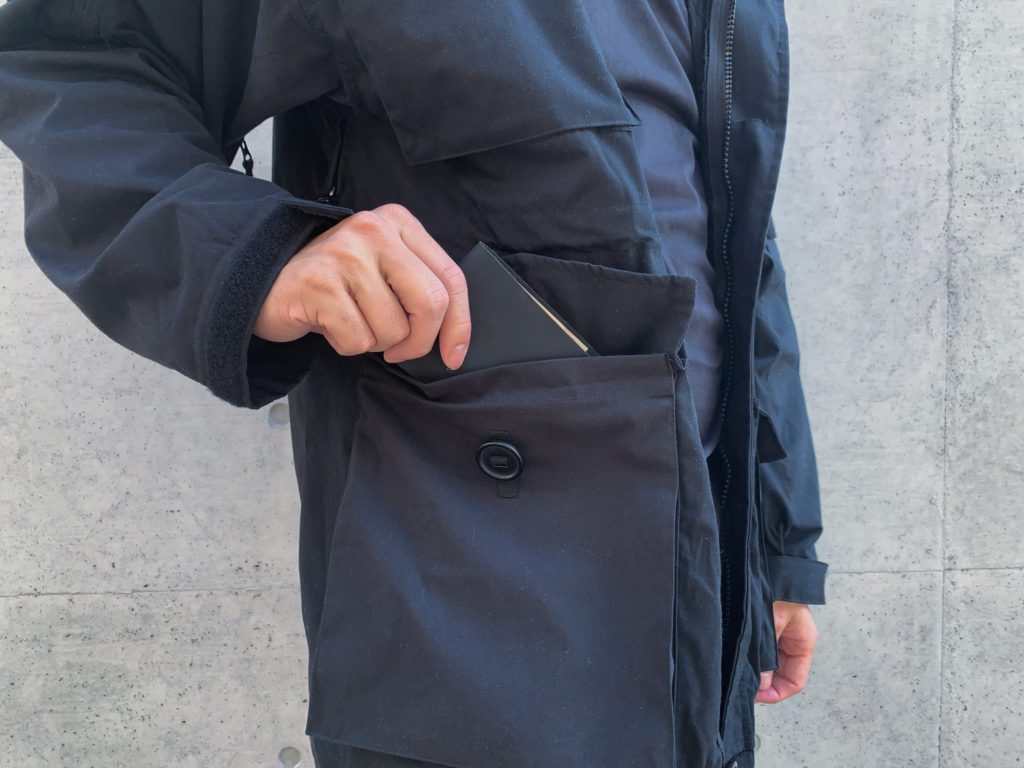 The hand-warmer pockets that are aligned perfectly to the exact angle that your hands will enter are perfect for someone like me who loves to park my hands in pockets instead of having them fidgeting around. The pockets are also the only part of the jacket that's lined with fleece for a comfortable. I did notice that they are only lined on one side of the insides of the pocket.
Conclusion
Once again, Varusteleka has done what they do best; provide high-quality technical garments at an extremely affordable price. Despite having many high-end, expensive jackets, I tend to gravitate towards this jacket since it's something so easy to put on.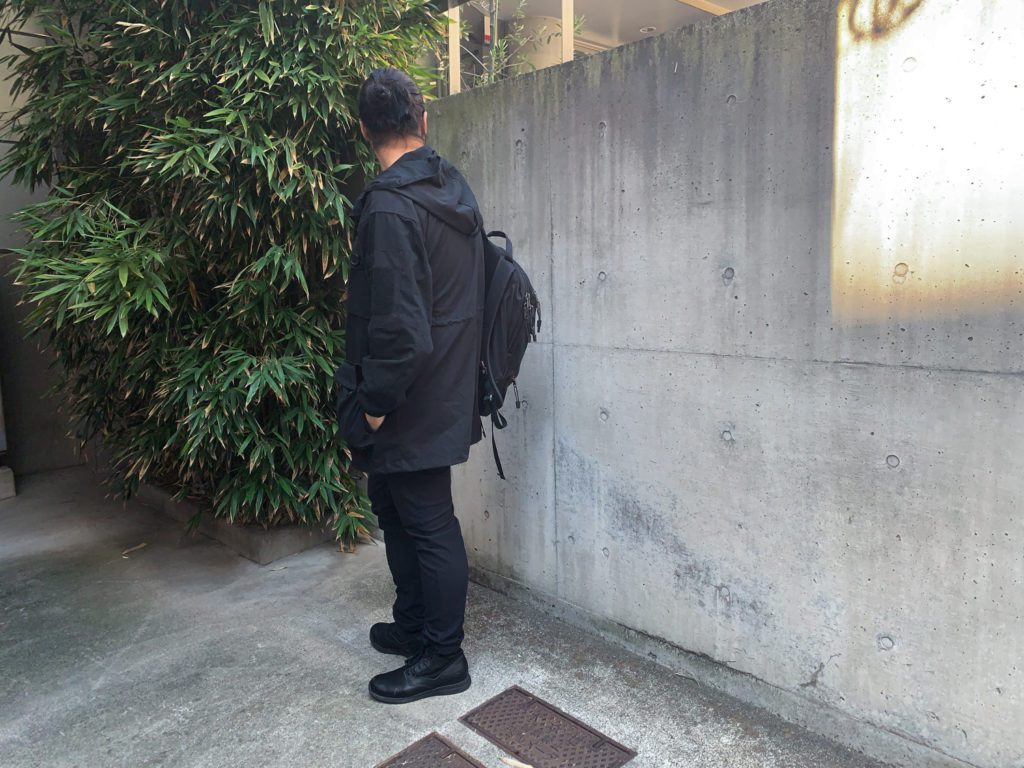 The Särmä Windproof Smock is no different. It's subtly edgy yet so versatile as something you can simply throw on. It's certainly a good option for those who can't afford overpriced techwear jackets.
Like this review? See all of my in-depth reviews.
Also, consider supporting me by being a Patreon. Every cent given will go back into improving the content of this website.