This website is made possible by readers. I may earn a small commission when you buy through the links in this article at no extra cost to you. Learn more.
Details
Overview
If you don't already know, I not only have a fascination for travel ready gear, but also love to straddle the line between that and a fashion subculture called techwear. Techwear focuses on utilitarian clothing that makes everyday life easier in one way or another and largely draws inspiration from military garments, which is what got me interested in Varusteleka in the first place.
Varus-what? Yep, I still can't remember how to say it without reading. Varusteleka (pronounced [Where's the liquor?]) is an army and outdoor store from Helsinki, Finland. While their brick and mortar is exclusively in Helsinki, they offer their goods online worldwide.
What does this Varusteleka mean? Varusteleka is obviously Finnish and comes from "varuste", which means equipment, and "leka" which stands for, among other things, a sledgehammer or a bottle of booze. Established in 2003, the store has now become the biggest in Europe. So, along the way, they have created a few of their own products.
The Särmä Merino Wool T-shirt is one of them. With experiences with well-known merino wool heavy brands like Outlier and Wool & Prince, I tested the t-shirt for a few weeks and made comparisons.
Style
For this t-shirt, I got an XL which is the same size I usually get for t-shirts from Outlier. They fit just slightly slimmer than Outlier but it was the perfect size for me. So, I would recommend sizing one size up your regular American size.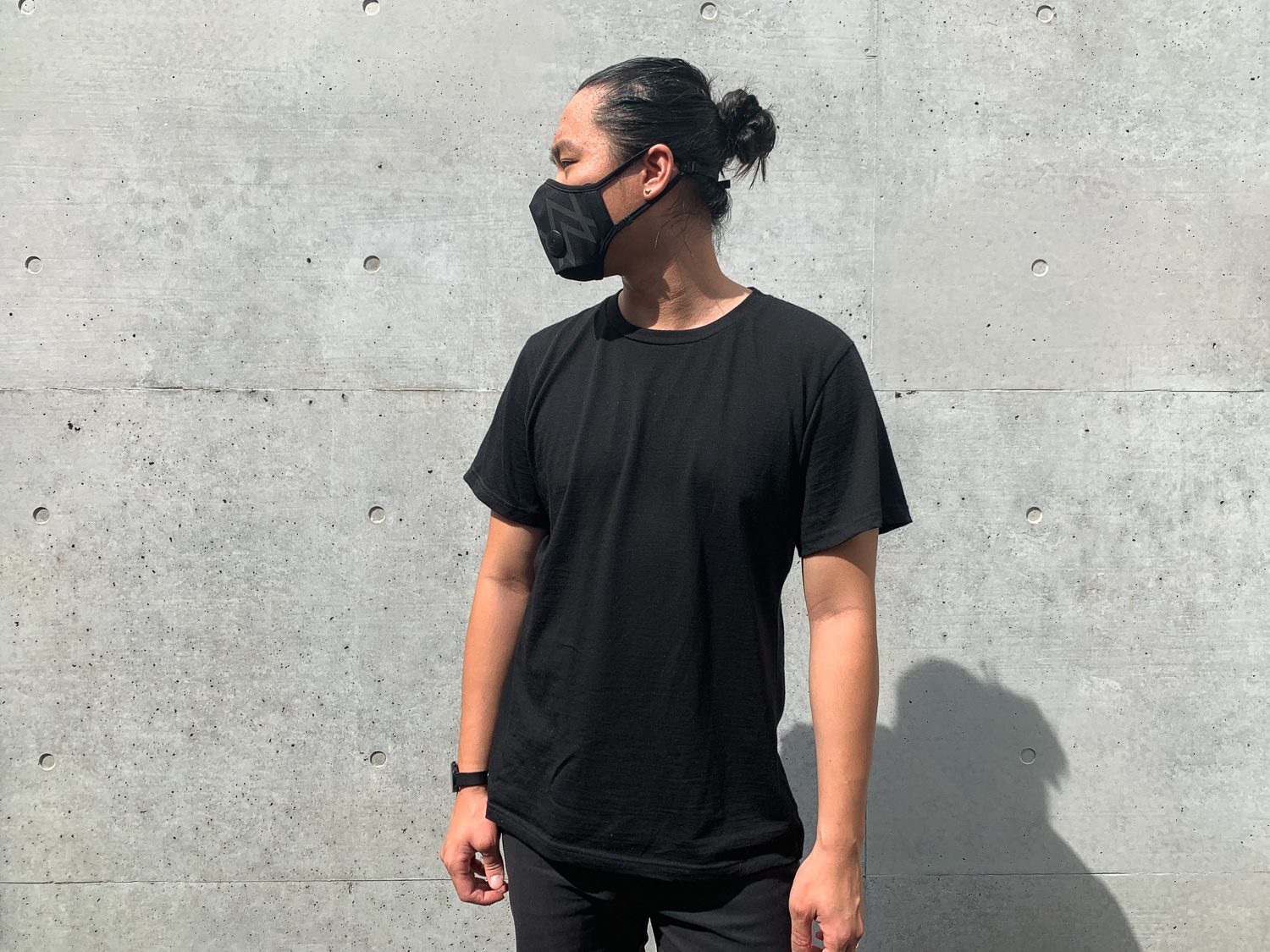 Like most of the t-shirts I review on this blog, this t-shirt is completely black, down to the stitching with no external branding whatsoever. This t-shirt doesn't even have any internal branding. Talk about minimal.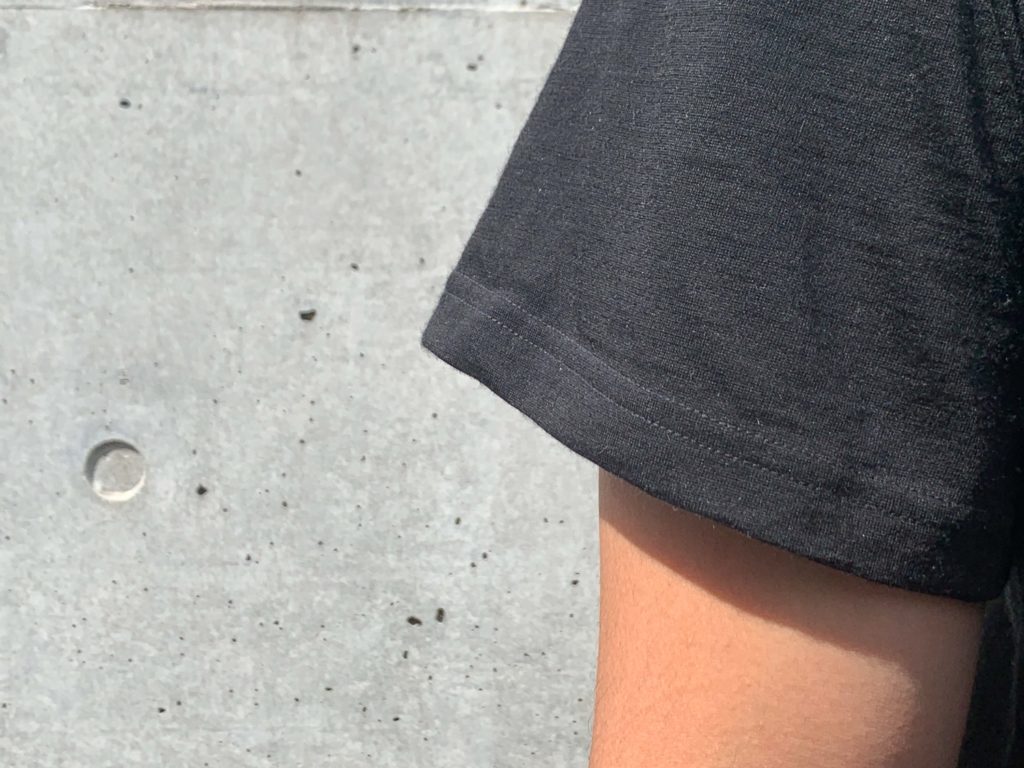 The t-shirt is of a slimmer fit compared to the other t-shirts I tried, which isn't ideal for someone with a beer belly like I have. These are designed to stretch a bit, but they haven't for me, or at least I haven't noticed.
The t-shirt is designed with a longer hem for you to keep them tucked in, military-style. I always think a t-shirt with a good length should cover your belly even when you raise your hands up, and this one does.
The fit of the t-shirt is pretty sleek, with an exception of one part that I didn't really like. It's the way the sleeves flare out, like there is too much fabric used for the sleeves. I'm not sure if this t-shirt was made for body builders and the sleeves were to accommodate bulging biceps, but I certainly didn't have them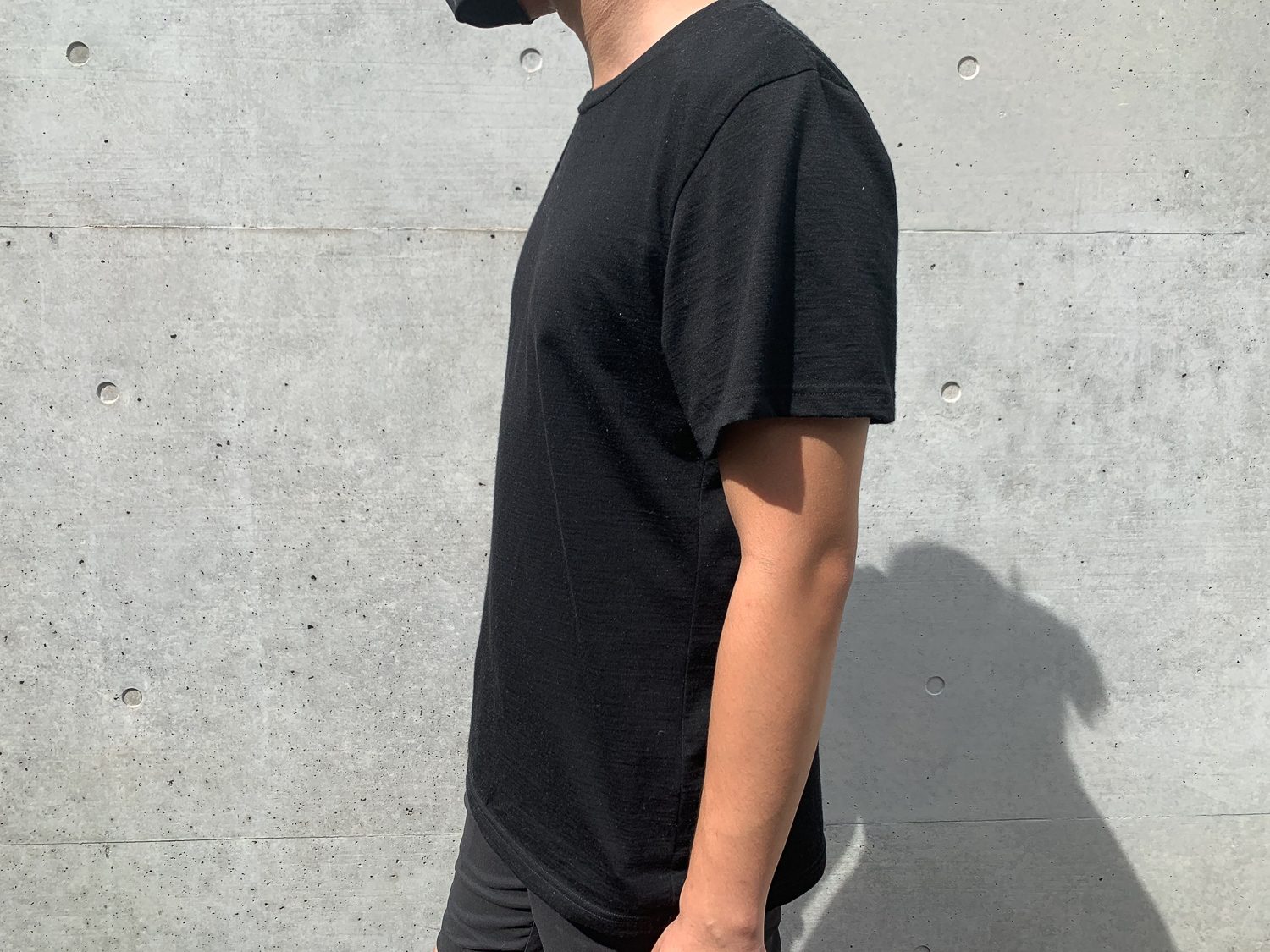 Compared to t-shirts like the Seagale Action Merino Tee, the flare on the sleeves makes the t-shirt look less fitted than it should be.
But no one likes ads, so I got rid of them. If my articles helped you, I ask for your support so I can continue to provide unbiased reviews and recommendations. Every cent donated through Patreon will go into improving the quality of this site.
Material
This merino wool t-shirt is technically a merino blend, specifically an 80/20 blend of mulesing free merino wool and polyester. This blend is used for the black and white t-shirts, while the grey and oxblood users polyamide instead of polyester.
While I enjoy a 100% merino tee like the Outlier Ultrafine Tee, the added polyester is meant to add stretch to the fabric and make it a little more affordable.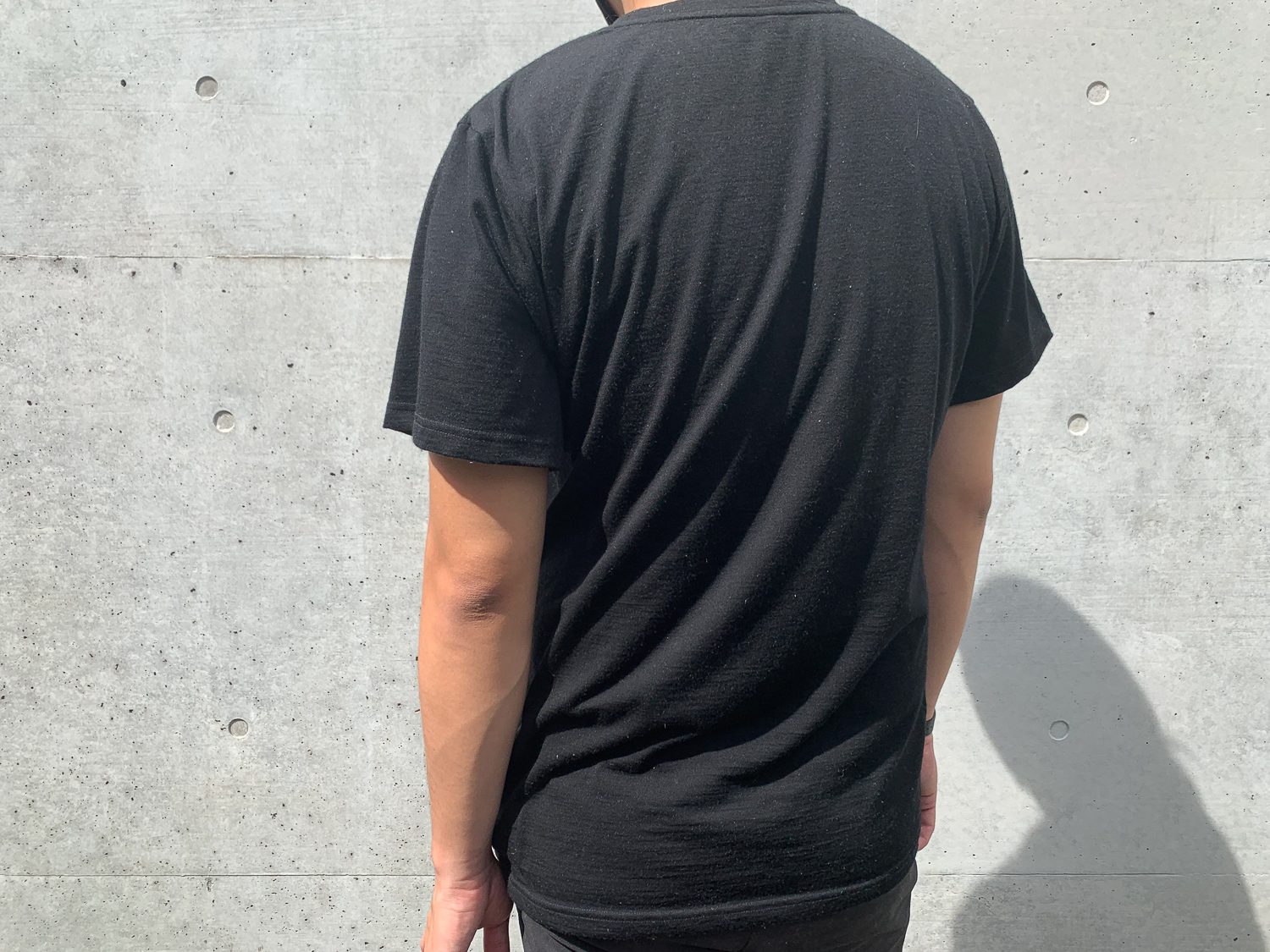 Merino wool gives it fast moisture wicking and self-cleaning features, something that travelers can appreciate. I wrote an entire article just on merino wool if you really want to go there.
If you experienced merino tees from Outlier or Wool & Prince, you'll realize this is a lot less fine than those. You'll get a slight itchy wool feeling. Apparently, the itchy feeling goes away with washes, but even after about 3 washes, I still experience the itchiness.
The itchiness is, in part, due to the micron count of the wool. The finer it is, the softer and smoother it will be, which means you won't feel the itch even on a new t-shirt.
Unlike some 100% merino wool t-shirt that requires hand-washing, these are machine washable. Although, you only have to wash them if you see stains or they start smelling. This is usually how I decide if my t-shirts need washing.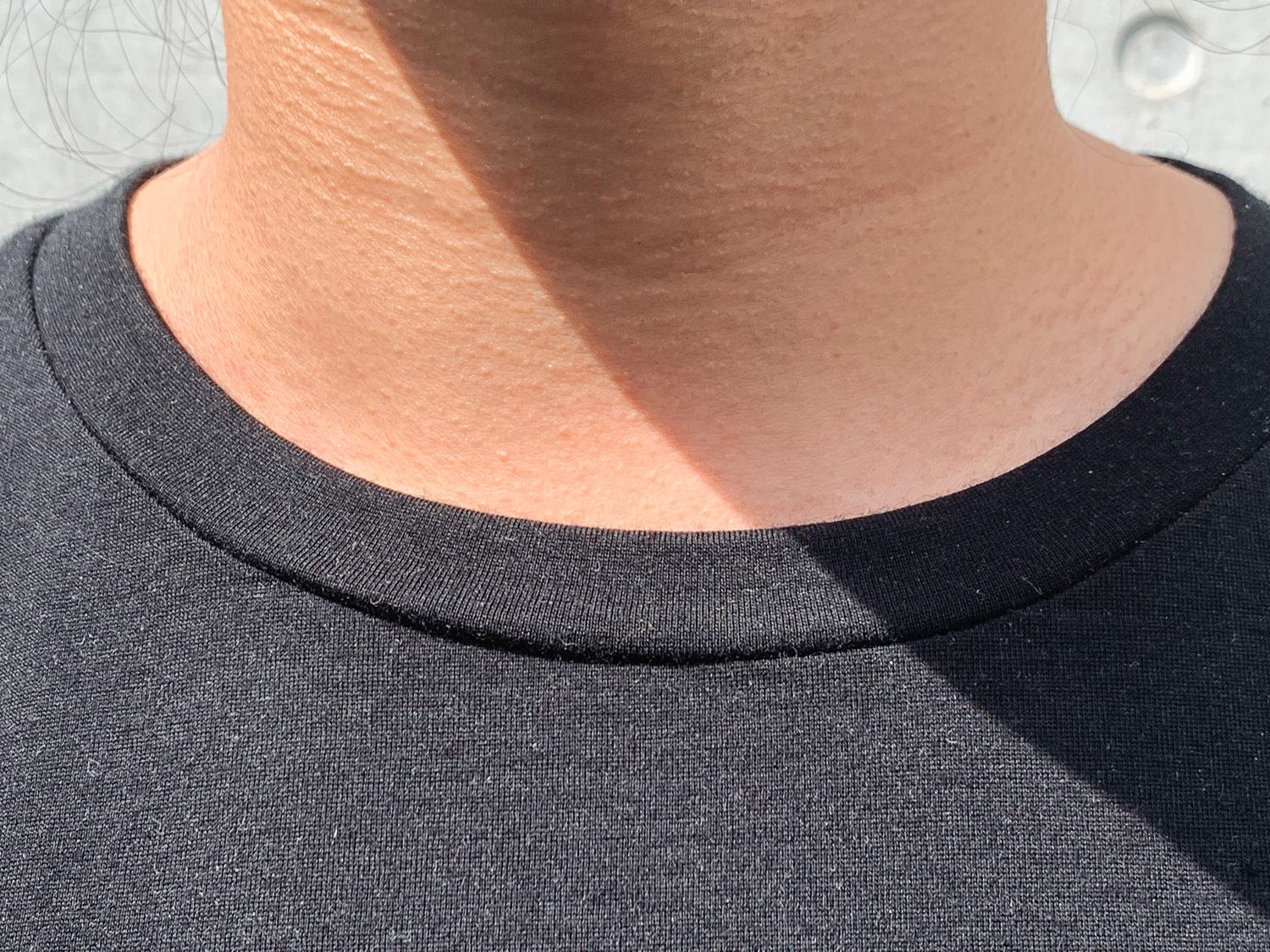 I've only washed them three times so far, but no signs of stretch anywhere.
Usage
I've used this t-shirt for a few weeks now. It goes well with a lot of my outfits from my all-black wardrobe.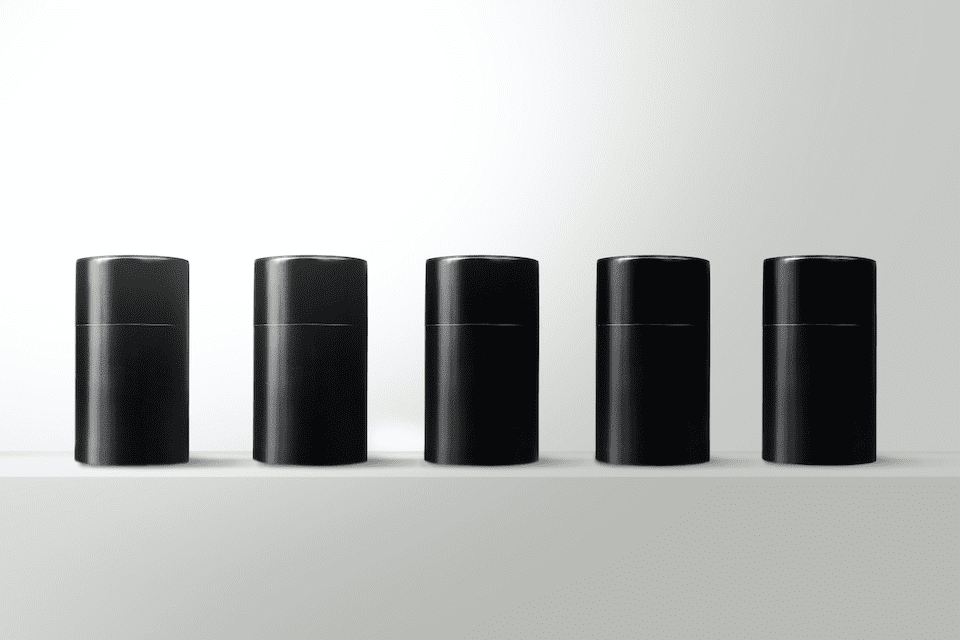 I found a 100 year old company that would create these heirloom quality canisters for me. They are handmade and will keep your tea leaves, coffee beans or anything that you need dry for years to come.
or read review
The t-shirt is pretty slim so it works well for humid summers in Tokyo. However, the itchy wool feeling, while just a tad, made it a little less comfortable despite the moisture wicking nature of the t-shirt.
While this t-shirt is overall pretty nice, the itchy nature really makes it a little less wearable than I like. Although, I'm comparing it with t-shirts three times the price. For t-shirts at this range, I like to be able to wear them at home as loungewear, but the itchiness really discourages me from doing so.
Conclusion
If you are not particular about wearing merino wool, perhaps a supima cotton tee might be a better choice for you, such as the Uniqlo Supima Tee.
If you are like me, not too concerned about budget if it's for your travel gear and just want the highest end merino tee money can buy, you might want to consider something like the Ultrafine Merino Tee from Outlier instead.
What really stands out about this t-shirt is the price. This is probably as cheap as a merino tee is going to get. At about $30, the t-shirt is less than three times the cost of Outlier. So, it's certainly worth the tad of itchiness if you just want a merino tee that you can abuse on your adventures.
Like this review? See all of my in-depth reviews.
Also, consider supporting me by being a Patreon. Every cent given will go back into improving the content of this website.
Tagged merino review särmä t-shirt varusteleka