This website is made possible by readers. I may earn a small commission when you buy through the links in this article at no extra cost to you. Learn more.
I love a basic black hoodie. They are comfortable and easy to wear around the home and out. The one is especially easy to do so with the super soft material and simple design.
Details
Overview
Finally, Autumn has arrived and I have been waiting to review all these jackets I have lying around. This one comes from Varusteleka, which is not just a "military-inspired" clothing brand but a true, blue supplier of army goods. One such product is the British Patrol Backpack, which is actually used by British Armed Forces.
Varus-what? Yep, I still can't remember how to say it without reading. Varusteleka (pronounced [Where's the liquor?]) is an army and outdoor store from Helsinki, Finland. While their brick and mortar is exclusively in Helsinki, they offer their goods online worldwide.
What does this Varusteleka mean? Varusteleka is obviously Finnish and comes from "varuste", which means equipment, and "leka" which stands for, among other things, a sledgehammer or a bottle of booze. Established in 2003, the store has now become the biggest in Europe. So, along the way, they have created a few of their own products.
The Särmä Merino Wool Hoodie, like the t-shirt I previously reviewed, is one of them. With experiences with well-known merino wool focused brands like Woolx, Outlier, and Wool & Prince, I tested this black hoodie for a few weeks and made comparisons.
Style
Basic, black hoodie. Just the way I like it.
At about 6'0 and 196 lbs, I got a size large, which is the usual size I get for jackets from brands like Outlier, ie. the Outlier Shelter from the Storm.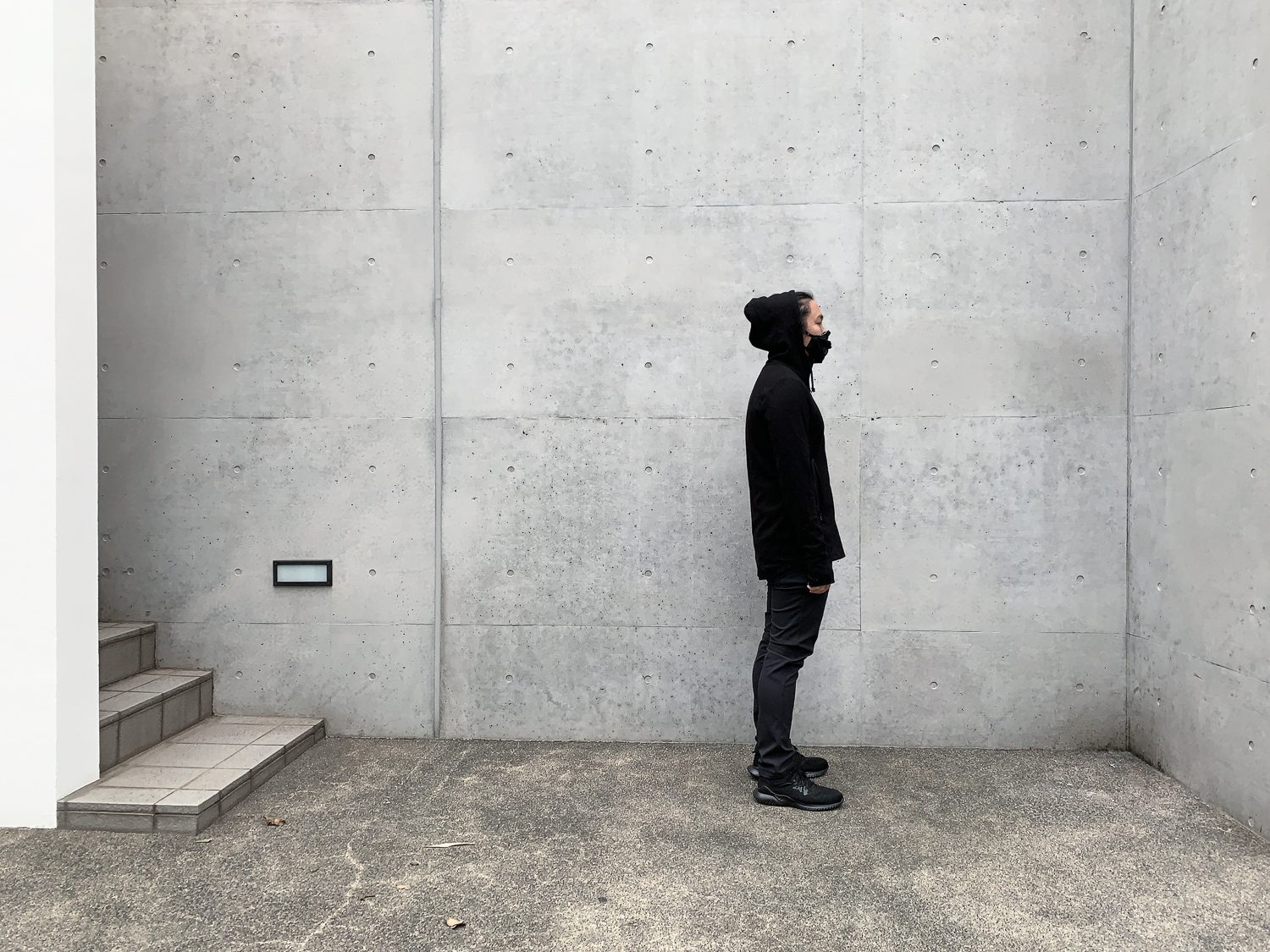 This hoodie has a pretty unconventional cut. It was designed to be slim with a long hem and at a size large, was a very comfortable fit. The long hem gives it a very distinct vibe, and those who prefer more basic fit might not like it. I'm personally okay with it since it's pretty subtle although I prefer more standard fits.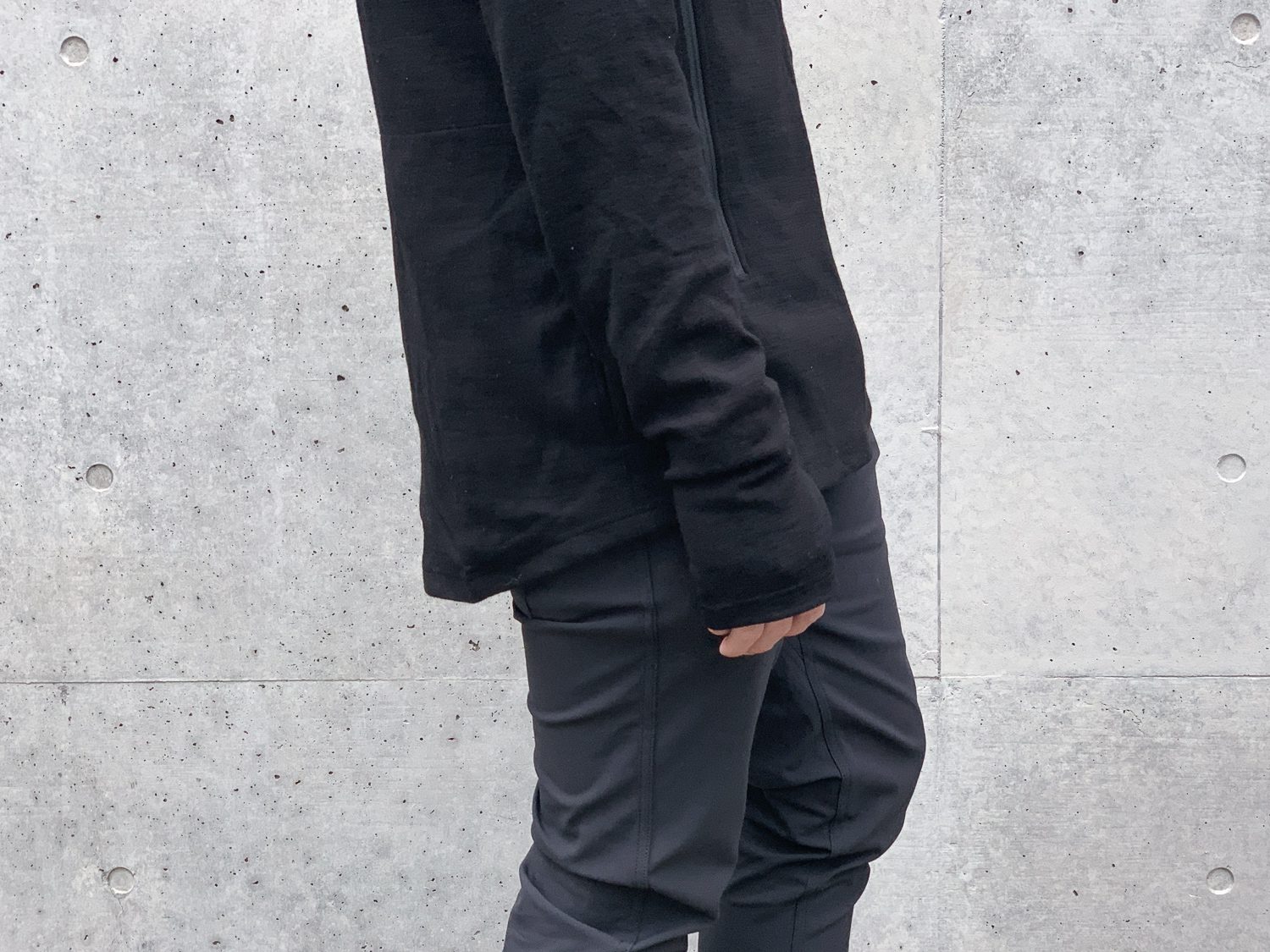 While it's of a slimmer cut, it's not skin-tight which makes it suitable as a mid or top layer.
The front zipper lets you zip it all the way up to cover your neck so you can do without a scarf or gaiter if you wish. While I generally prefer an oversized hood, in line with the rest of the slimmer fit, the hood is of regular size to keep the balance. This means that it barely covers my head with a man bun taking up a fair bit of space. The hood was designed so that it could fit under a motorcycle helmet, so it comes with drawstrings for you to tighten if further for a snug fit.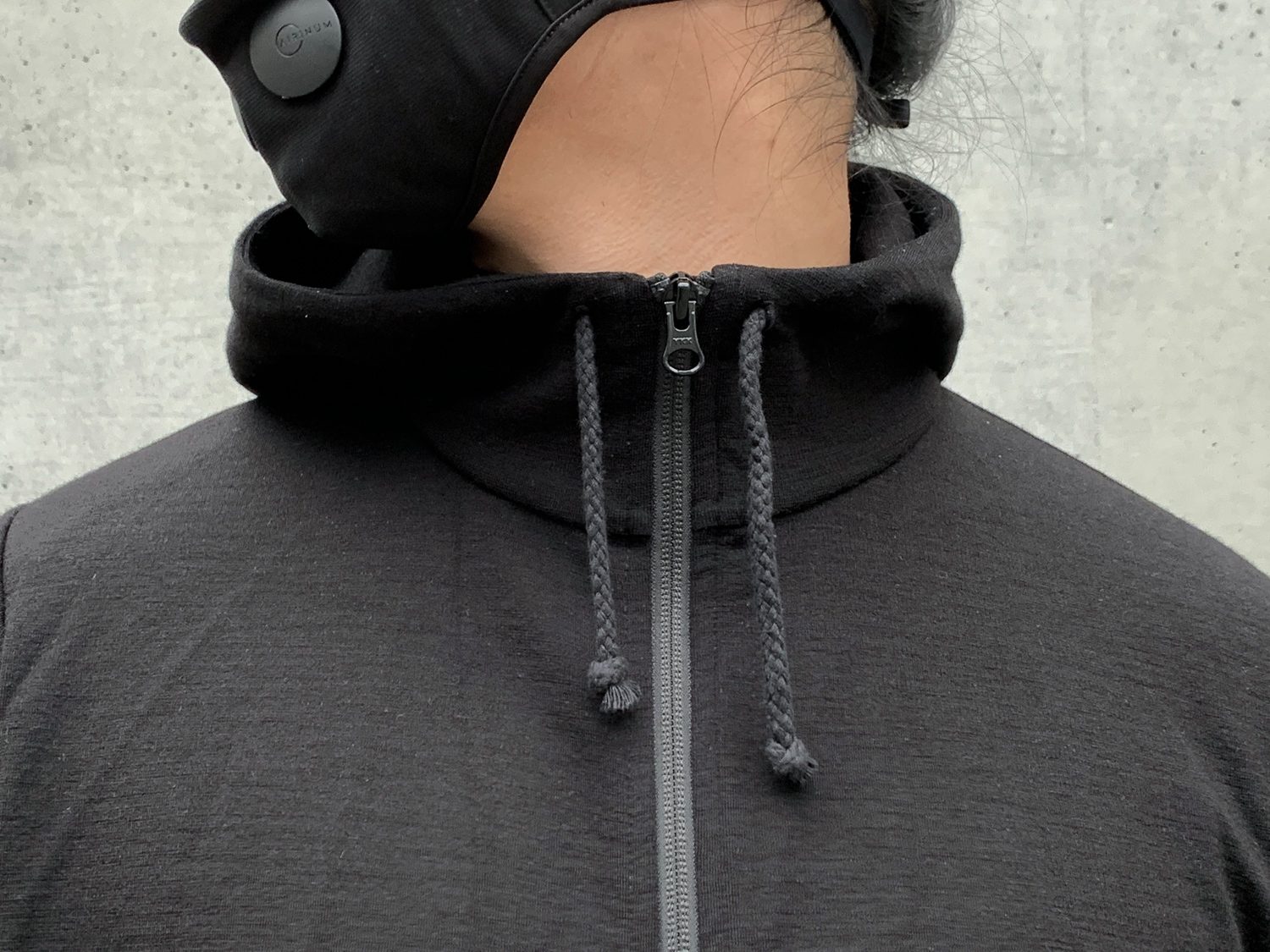 There are thumbholes at the end of the sleeves for a full-on military ninja vibe, but I don't usually use them and I don't find the sleeves too long even then.
But no one likes ads, so I got rid of them. If my articles helped you, I ask for your support so I can continue to provide unbiased reviews and recommendations. Every cent donated through Patreon will go into improving the quality of this site.
There are two zippered hand-warmer pockets in front. There is also a kangaroo pocket at the lower back, accessible from both sides. On the upper part of the left sleeve, there is a zippered pocket, perfect for your smartphones.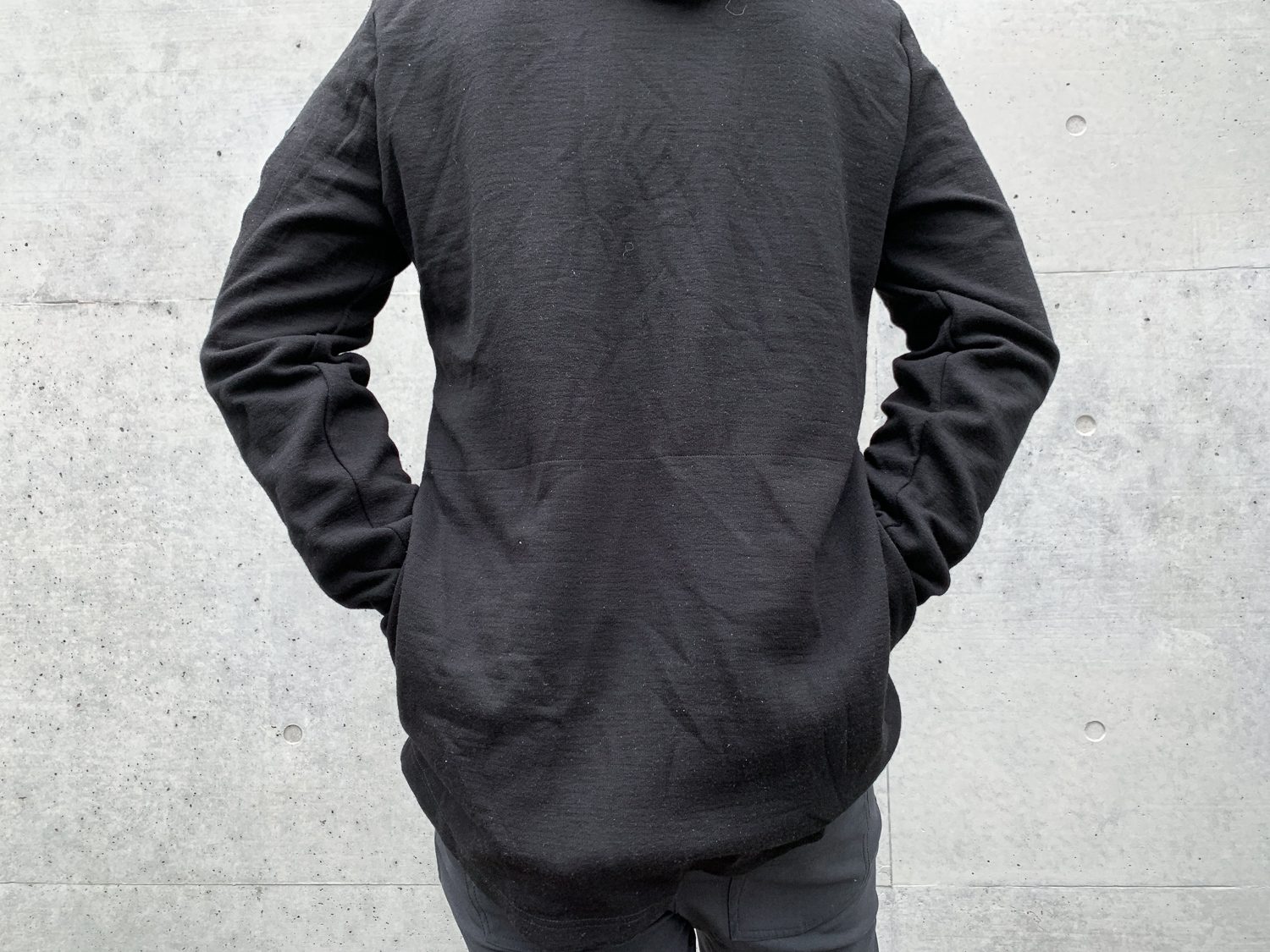 The materials are technically black but because of the material, looks grey next to the main fabric.
Next to the pocket on the sleeve, there's a velcro patch for you to put a patch of choice. Embroidered into the velcro patch is a logo, the only piece of external branding you will find on this hoodie.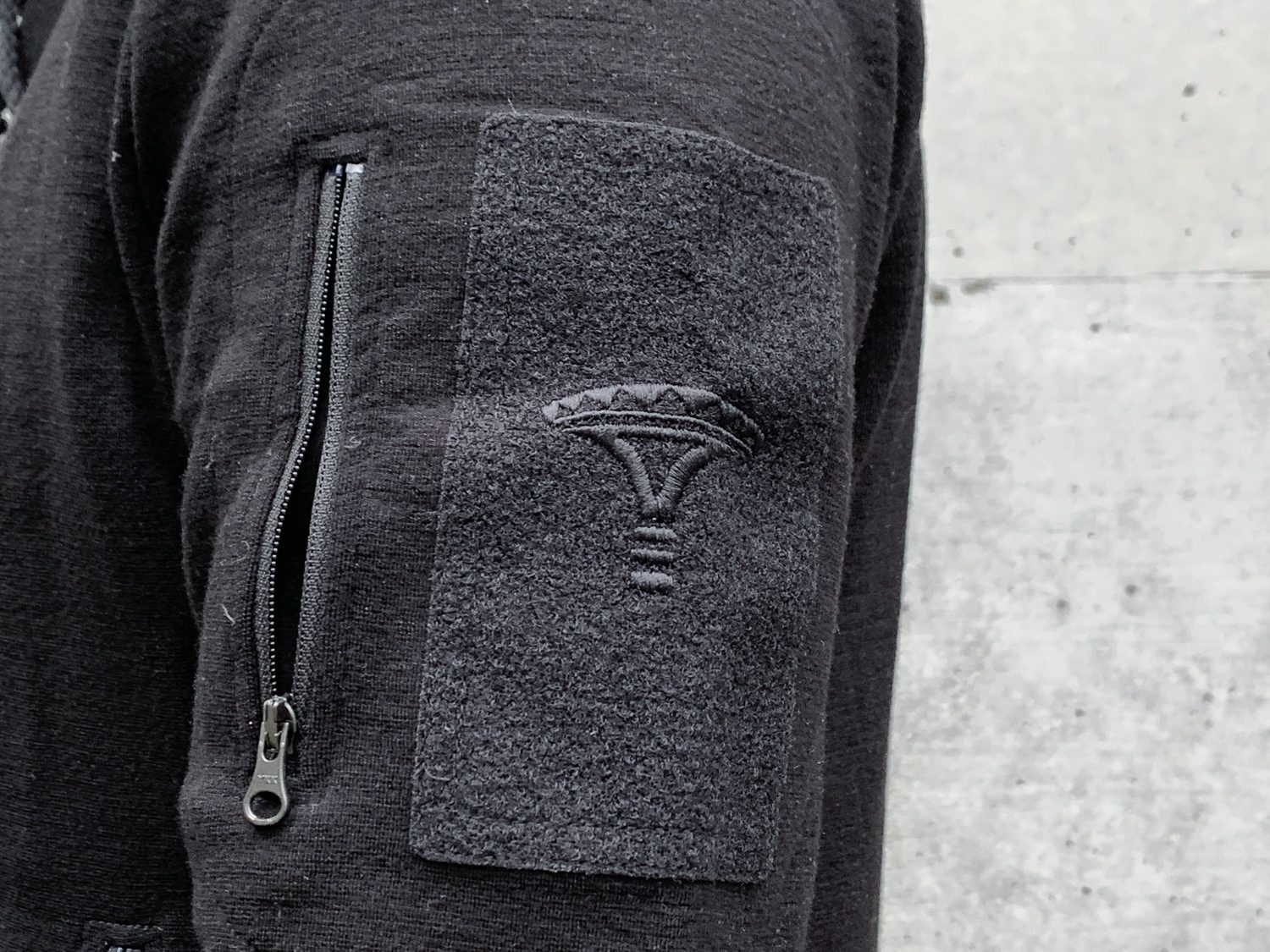 The material's weaves are pretty visible, gives off a very coarse, rugged feeling. Most premium sweaters have a very smooth exterior, and while I don't think that the Särmä Merino Wool Hoodie looks cheap, the look of the fabric does make it look more on the casual and sporty side.
The inner of the hoodie looks to be made of black and blue threads weaved together, which has a blue tint, which is obvious when compared to the main fabric.
Overall, the hoodie is not as refined in style as other brands like Outlier with a strong focus on design, but instead has a rugged style that some might prefer for its authenticity to military wear.
Material
A classic, black hoodie upgraded with killer materials.
The Särmä Merino Wool Hoodie is made of a 335 g/m2 interlock weave blend of 78% mulesing-free merino wool, 19% viscose and 3% elastane.
I'm sure that you are already familiar with the wonder material, merino wool. They are naturally water, odor, abrasion-resistant, durable, ultra-comfortable material is the darling material in the one bag travel community. I wrote an entire article just on merino wool if you really want to go there.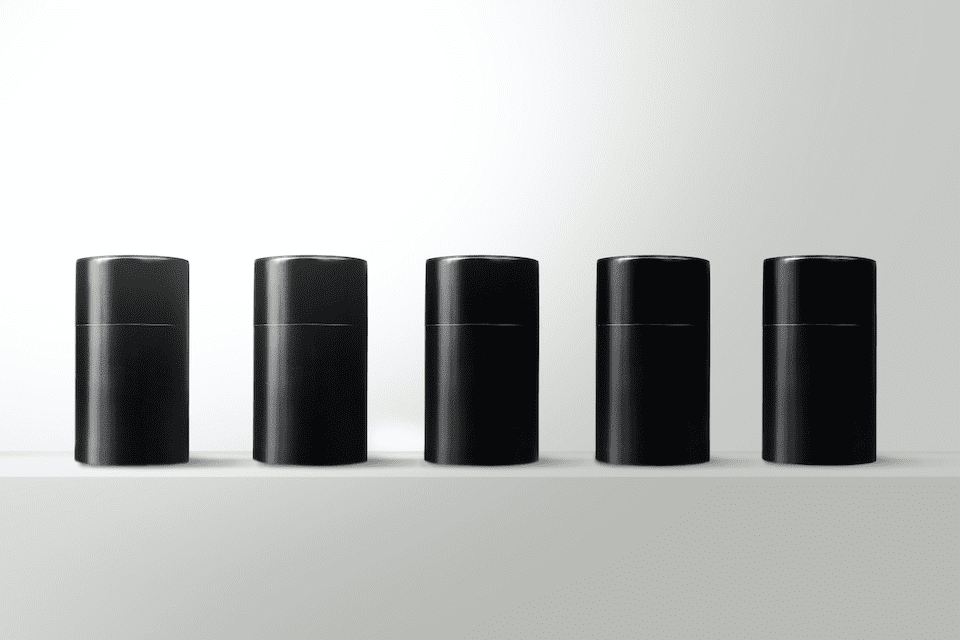 I found a 100 year old company that would create these heirloom quality canisters for me. They are handmade and will keep your tea leaves, coffee beans or anything that you need dry for years to come.
or read review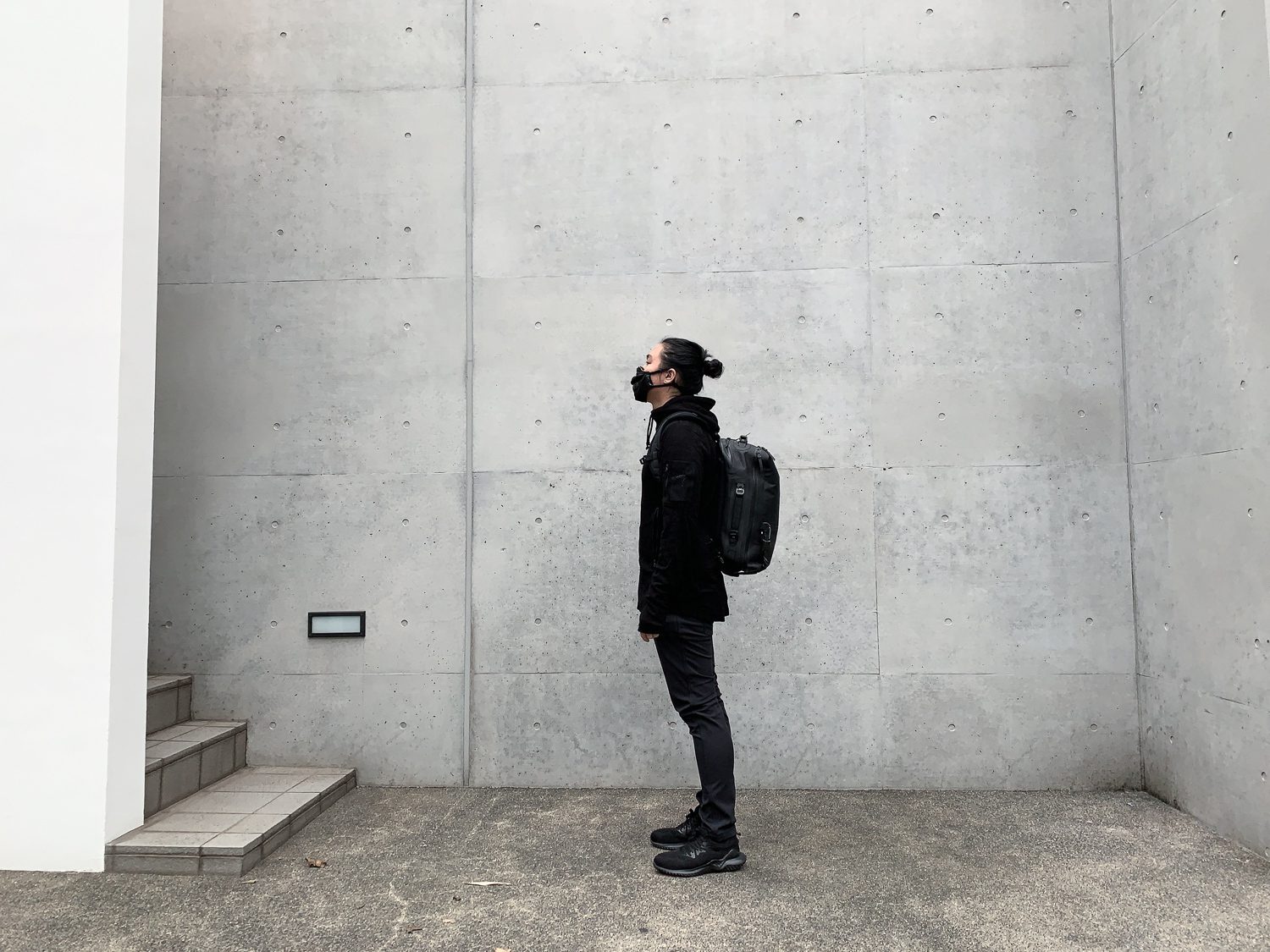 The merino wool used is mulesing-free. Mulesing is the act of removing a huge chunk of skin from a sheep's buttocks without any painkillers, so that the area will scar and no longer produce wool. I wouldn't recommend you to Google image search this.
While this is the most effective way to prevent a parasitic infection since there is no wool in the area to retain feces and urine, it is also undoubtedly a cruel and painful experience for the sheep and a controversial practice.
In the merino wool blend, there is a 3% elastane (also referred to as spandex), which is pretty common in travel clothing, like the Woolx Endurance Tee, to give a tad bit of elasticity, giving a wider range of movement.
The real downside of merino wool is really the high cost. Viscose was probably added in to reduce the price of the hoodie, as opposed to a 100% merino wool fabric.
The zippers used throughout are the best of the best, YKK zippers.
Usage
The thing that strikes me most about the hoodie from the moment I put it on was how comfortable it is. When I tried the Särmä Merino Wool T-shirt, the material was coarse and I could feel it on my skin. So, I was worried that the same experience would repeat itself with the hoodie.
While the exterior fabric felt similar to the t-shirt, it seems like they used a difference weave on the interior to prioritize comfort. It felt ultra-comfortable, similar to how a soft, knitted cardigan would feel.
I love how the pockets are all zippered and they are huge. You could fit a wine bottle into each of the front hand-warmer pockets.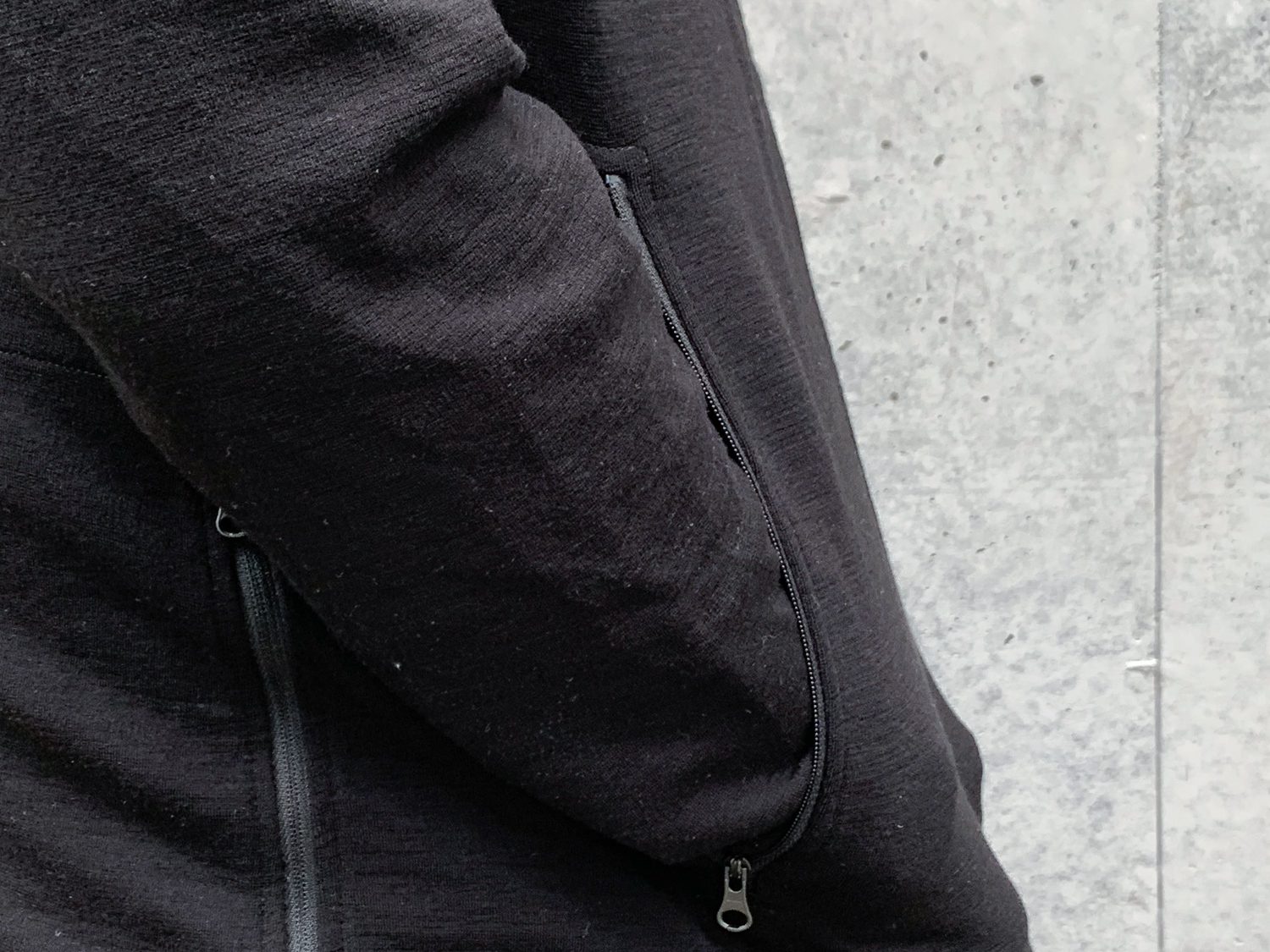 While pocket on the left sleeve could comfortably fit my iPhone XS Max, I felt that the fabric lacks the structure to sustain it. Putting my iPhone XS Max, I felt that the sleeve was pulled down and it looks bulkier than I like it. So, I wouldn't think that the sleeve pocket is the best usual place to keep your smartphone.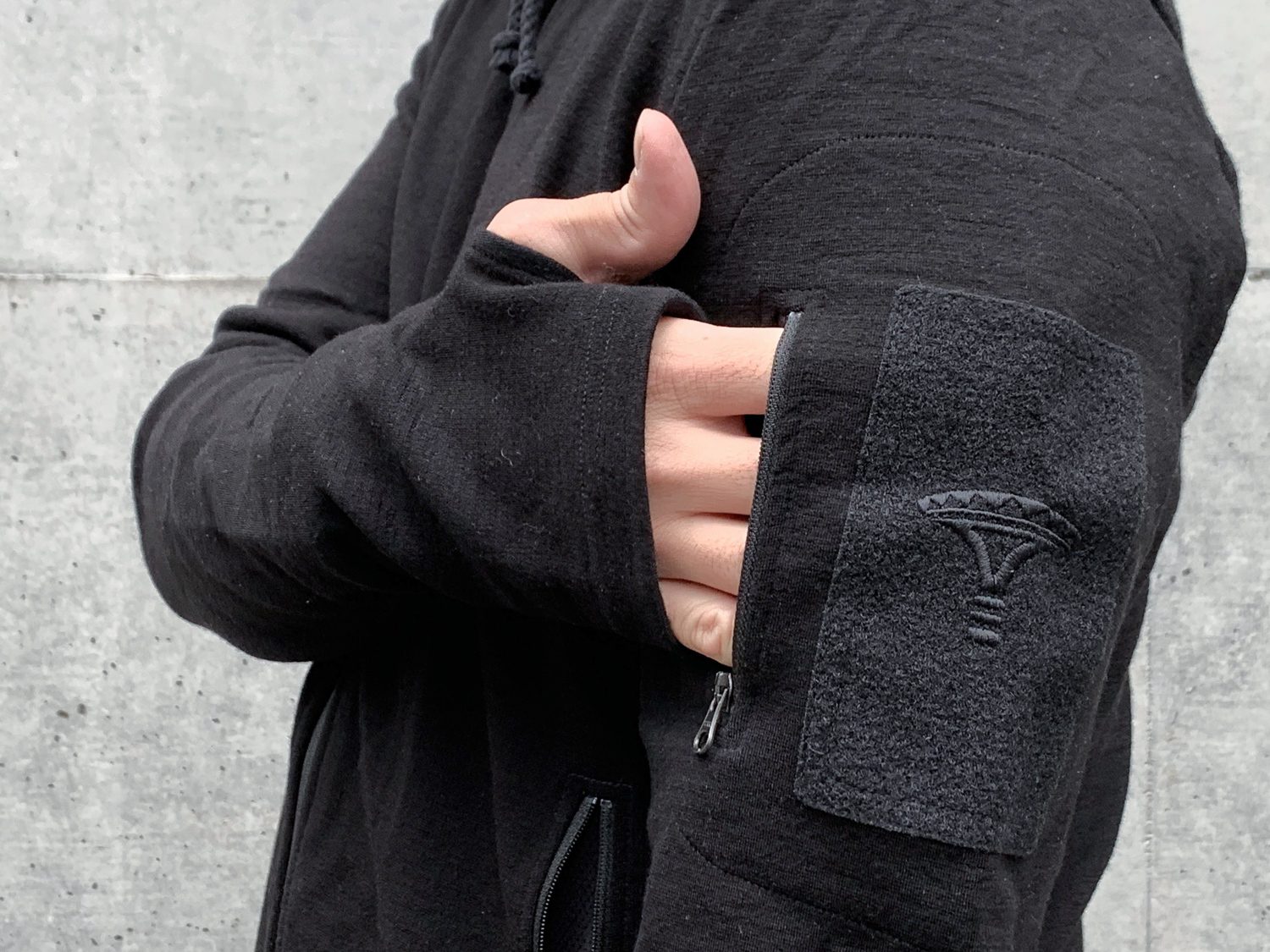 The lack of structure also results in you having to use both hands to zip or unzip the pockets, since the fabric would bend as you try to do so.
While the hoodie will withstand light drizzles, it's by no means waterproof and don't expect to withstand showers with just the hoodie.
I've read that many who frequently utilize the thumbhole would make the sleeve cuff venerable to holes, particularly in desk jobs where the sleeve sweeps all the time against the mouse mat. I have a desk job, but I haven't used it long enough to experience this, and will be sure to update this article if it happens.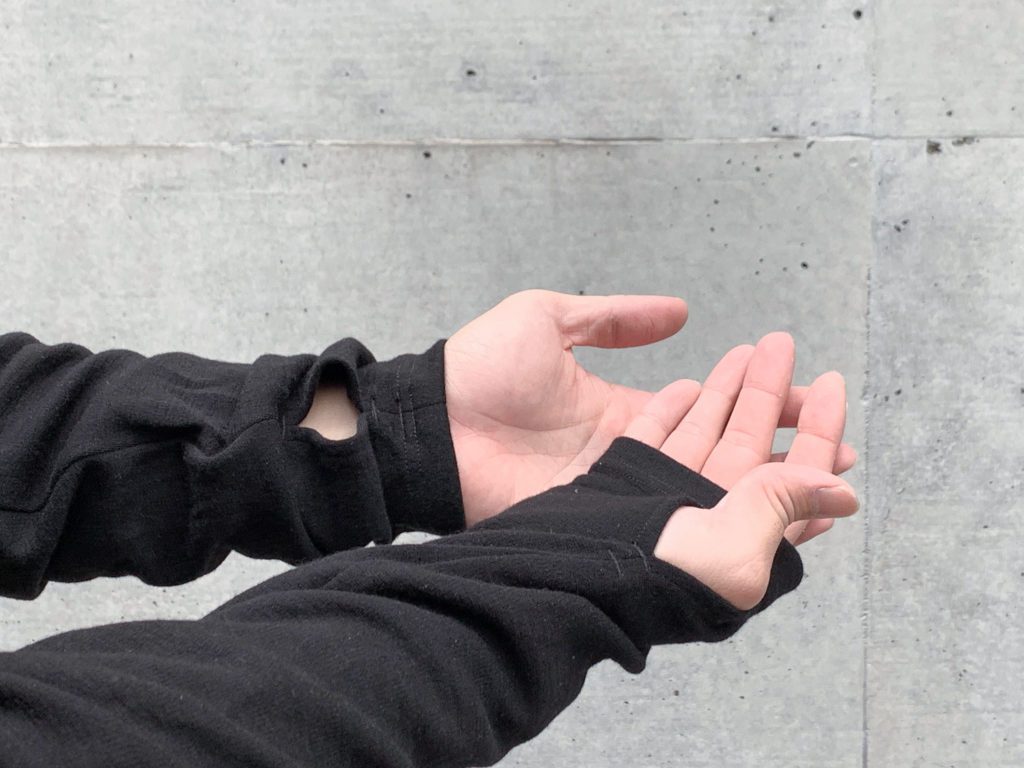 Conclusion
As with the Särmä Merino Wool T-shirt and the British Patrol Backpack, the best thing about the Särmä brand of products is the cost performance. It's unheard of to see a merino wool hoodie at this price point and I highly recommend it if you like the look.
For those who like something thicker and more minimal in style, might want to consider the Outlier Hard/co Merino Hoodie.
Like this review? See all of my in-depth reviews.
Also, consider supporting me by being a Patreon. Every cent given will go back into improving the content of this website.