This website is made possible by readers. I may earn a small commission when you buy through the links in this article at no extra cost to you. Learn more.
Details
Price $79.95 on nitecorestore.com
Dimensions 2.4″ (h) x 5.39″ (l) x 1.18″ (d) / 6.09 (h) x 13.69 (l) x 2.99 (d) cm
Weight 5.4 oz / 153 g
Battery 1500mAh USB-C rechargeable
Overview
In my 36 years on this earth, I've never imagined I would ever be reviewing a product called BlowerBaby. It's a niche product with a quirky name to match.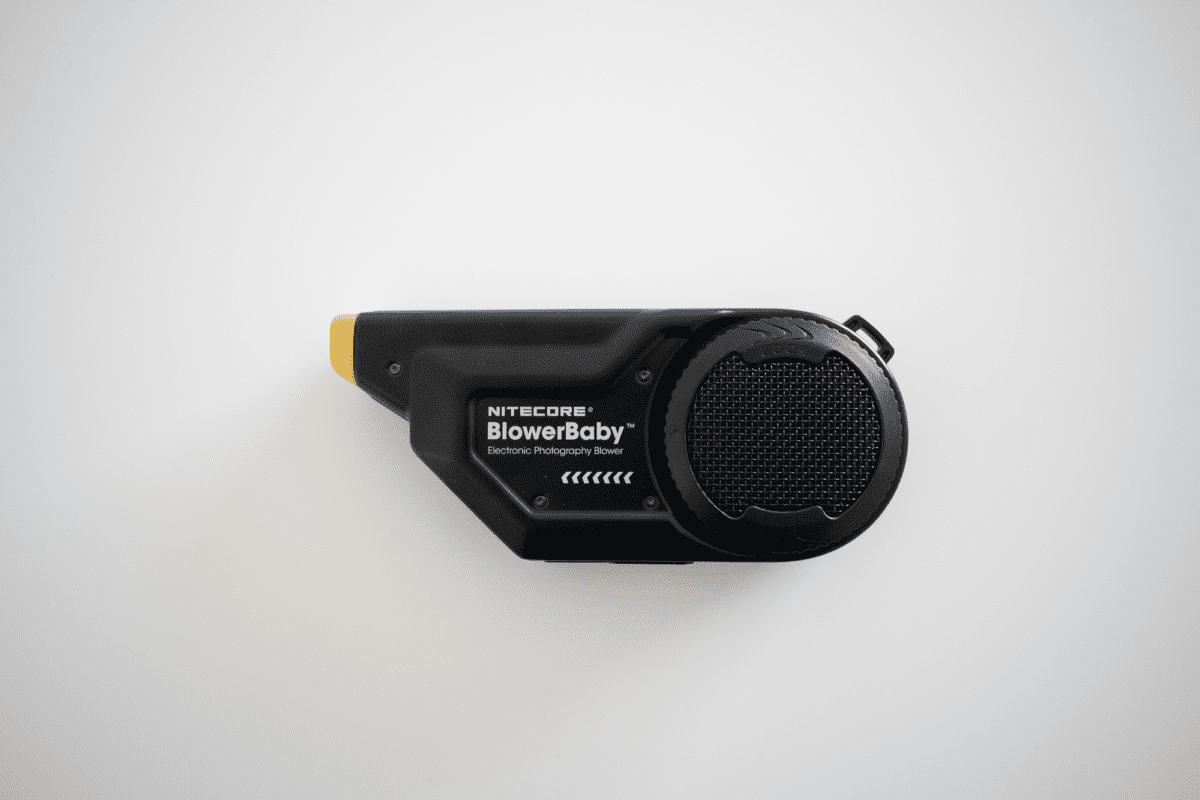 Taking photos almost every day, smudges and dirt on the camera lens or filter is something I have to deal with. Sometimes, it is impossible to spot dust when taking and all you can do is apply spot heal in Lightroom when you realize how bad it looks in post.
I usually give it a quick blow as you do on Nintendo cartridges if I can actually spot the minuscule specks. Of course, the risk of getting your saliva on it is high.
The Nitecore BlowerBaby is here to save the day. Most photographers have those dust blowers that you press on. This takes it to a whole new level. It is a mini-sized, high-powered blower aimed at blasting the dust off your lenses for a clearer picture.
Style
Nitecore is well-known for its tactical-styled flashlights and their all-black, stealthy products are why I was interested in them in the first place. This design sense has permeated into the BlowerBaby with an all-black colorway, unfortunately with the addition of a yellow accent at the end.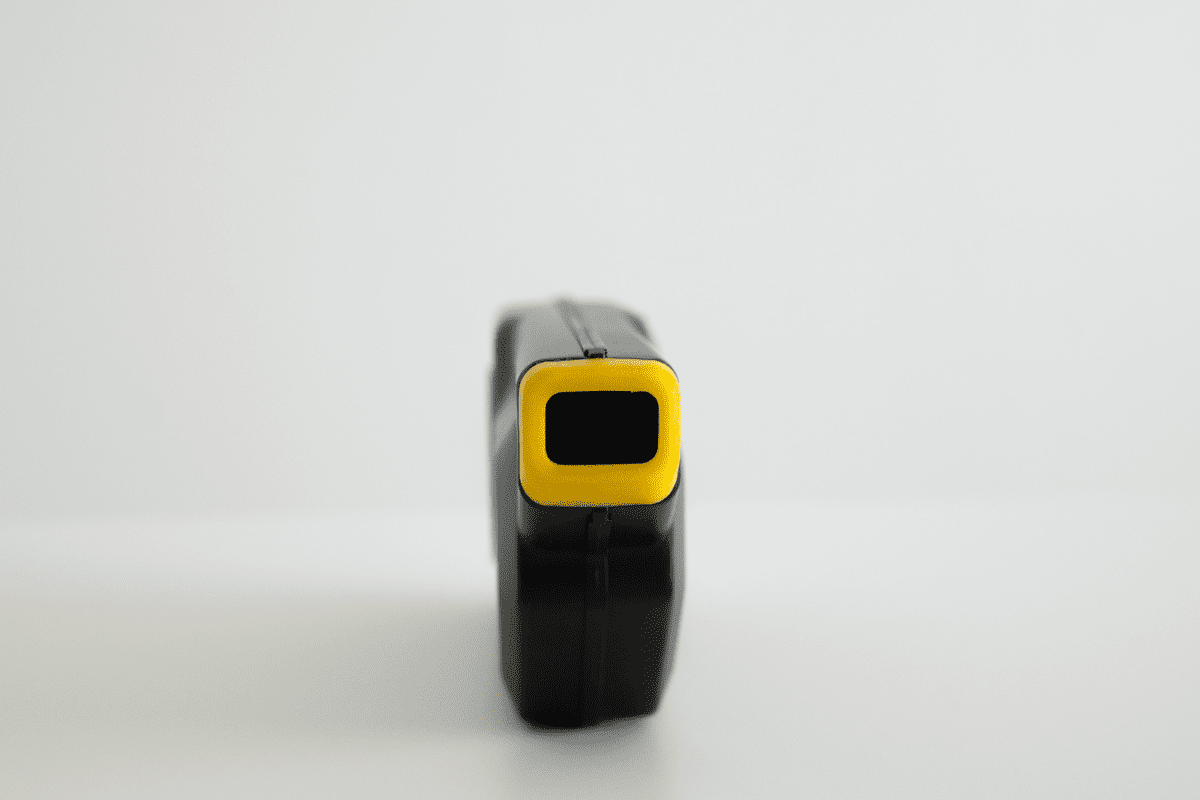 There is a reason why I describe Nitecore's designs as tactical but not minimalist. As they sell electronics, they have an obligation to display the specifications upfront and clearly. They do so, but not with the taste that you see on more design-centric electronic brands like NOMAD or Satechi.
On one side, there is a Nitecore logo and product name. It clearly states here that this is an "Electronic Photography Blower", although you can use it for a variety of electronics like a keyboard. On the other side, the power output specification and compliance logo is listed. I'm not completely averse to text on products if they can be done tastefully. NOMAD products are great examples of how this can be done tastefully and I hope Nitecore can pay attention to this detail a little more.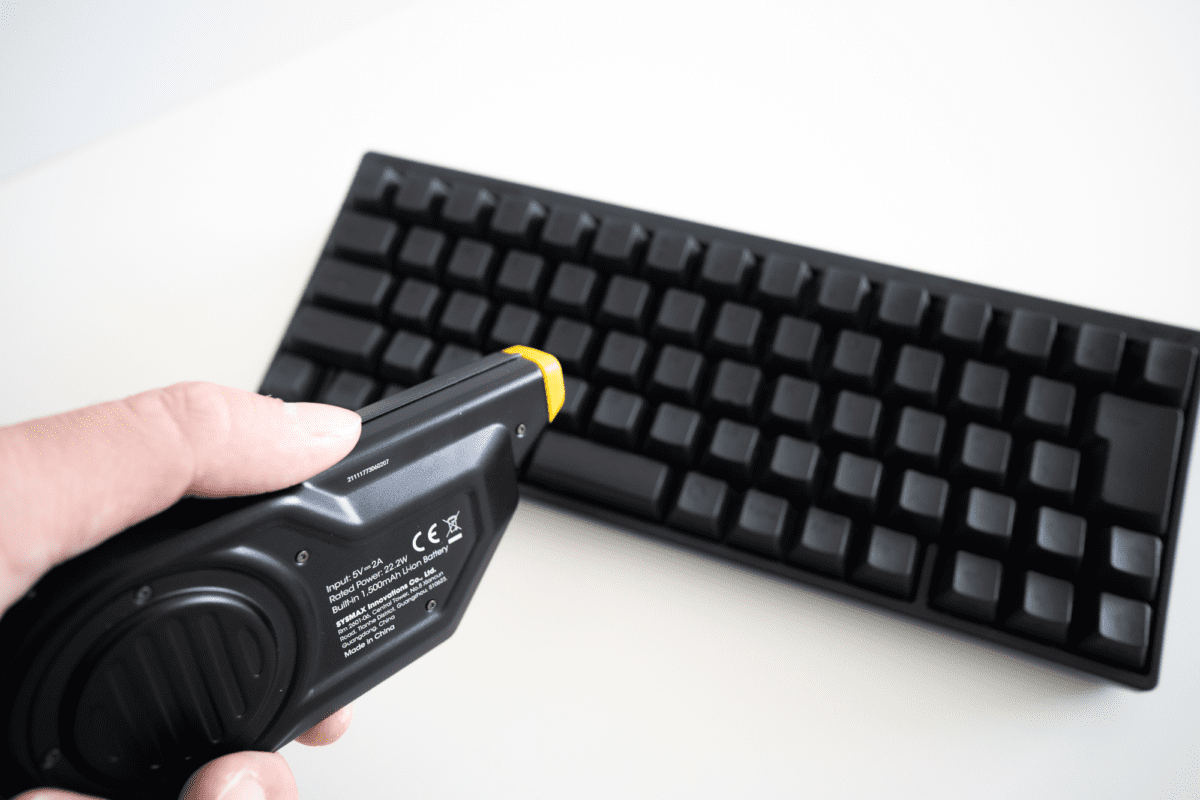 Nevertheless, the BlowerBaby is a left-field product, and there are not many similar products that you can compare it to. Generally speaking, it is a good-looking product for what it is, a product most would not look for but can't do without once they discover it.
Tech
The BlowerBaby comes with a powerful 26,000RPM motor blowing at 43.5 miles per hour. RPM stands for revolution per minute, which comes up to about 433 revolutions per second. This powerful spin will give you a powerful jet that will blow any dust or debris into oblivion.
Battery & Charging
The 1500 mAh battery will let it blow for 15 minutes continuously. Basically, you can use it about 90 times (of 10 seconds burst) before you need to recharge again.
But no one likes ads, so I got rid of them. If my articles helped you, I ask for your support so I can continue to provide unbiased reviews and recommendations. Every cent donated through Patreon will go into improving the quality of this site.
USB-C is the new standard and I have converted most of my setup, which includes the Satechi Wall Chargers and NOMAD USB-C Cables, to be USB-C (with the exception of the stubborn lightning ports on Apple devices). Nitecore has to be one of the earliest brand that recognize that USB-C is the way to go and quickly converted most of their products to USB-C compatible.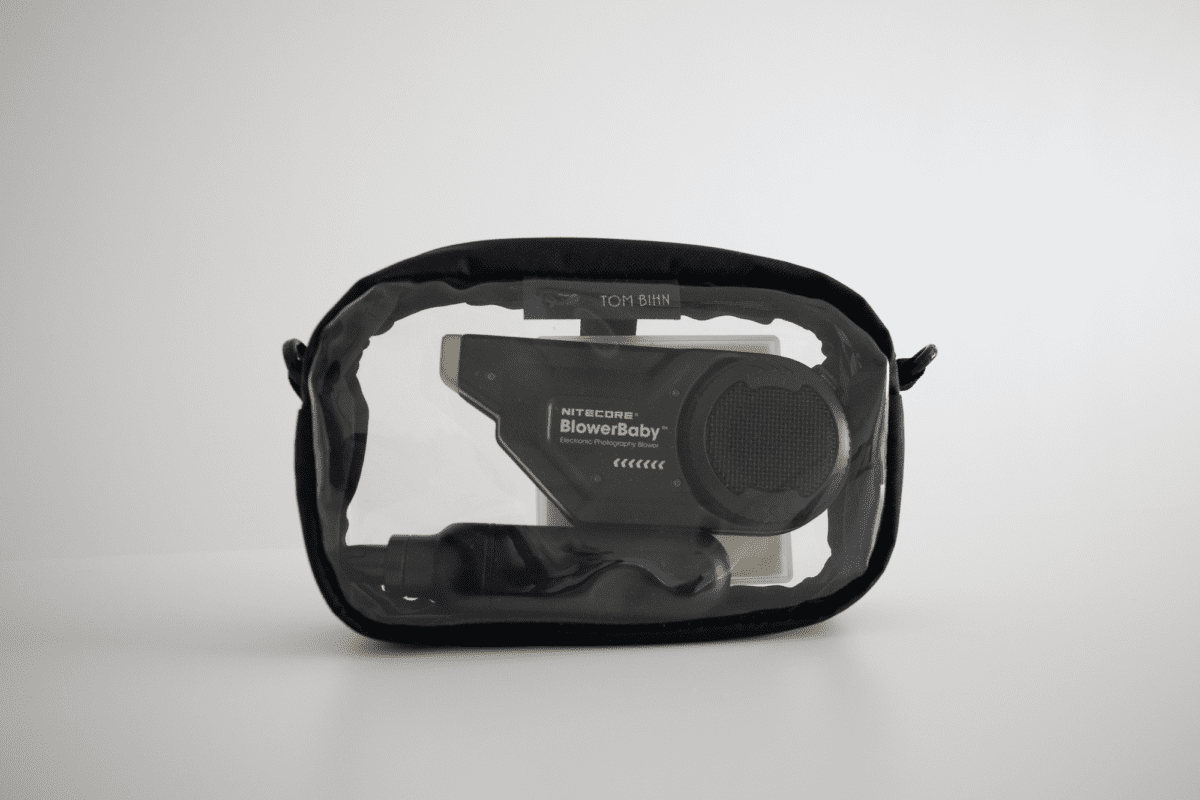 Some USB-C ports, like the one on my MUJI Portable Fan, can only take in charge from a USB-C to USB-A. But the Nitecore BlowerBaby charges with no problem through my NOMAD Universal Cable USB-C and Kovol Sprint Charger.
Plugging the cable in, you'll see a red light indicating that it is charging, and it will turn to a green light when fully charged. The same indicator shows a blue light when you press and hold the button.
Usage
Operation
The BlowerBaby is very simple to use, thanks to the single-button operation. You press and hold on to the single yellow button on the bottom. It takes about a second to power up to make sure you didn't accidentally press on it.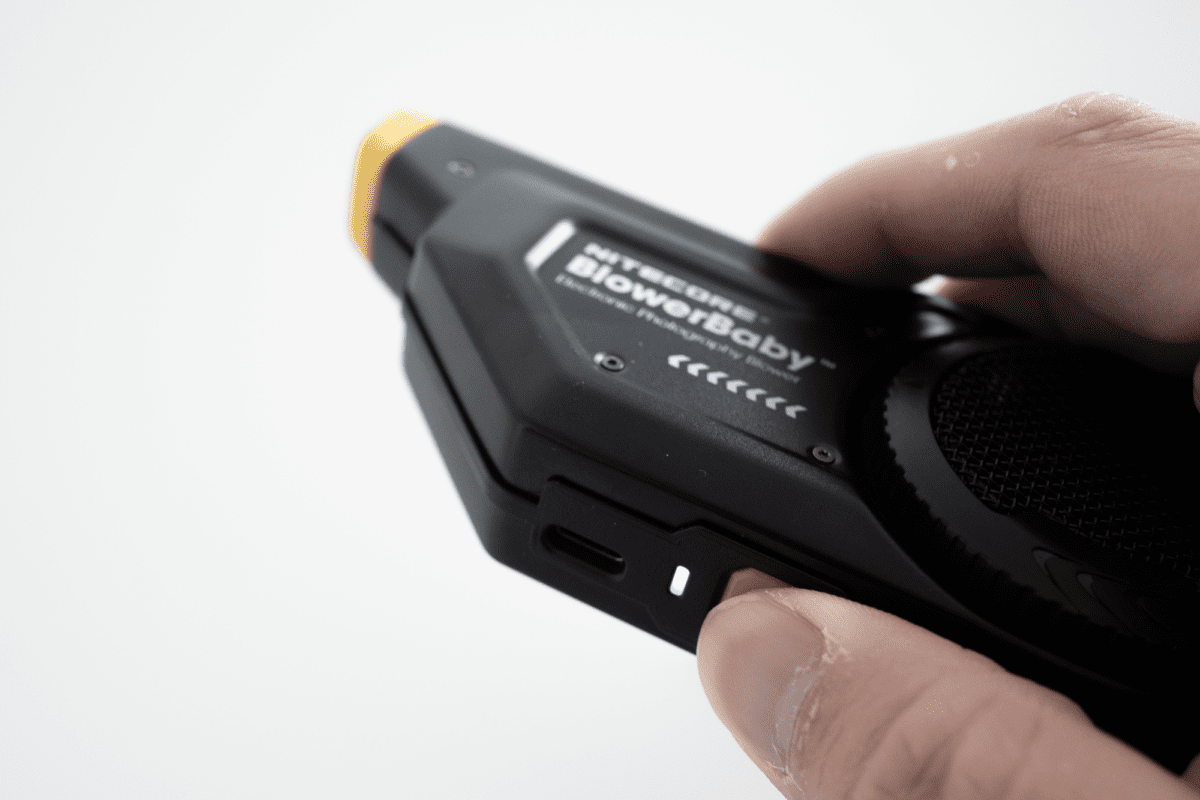 How well does it clean?
Most dust would be blasted away, but it won't be 100%. There would usually still be some stubborn specks that would have to be removed with a microfiber cloth.
If you don't want to do so, they can get the Nitecore Camera Cleaning Pen. It is a set of attachments that can be affixed to the BlowerBaby so you can brush any stubborn debris and it blows. It comes with three types of attachments.
Carbon Cleaning Tip
This is the only one of the three that doesn't attach to the blower. It lets you clean more stubborn smudges without the use of liquids.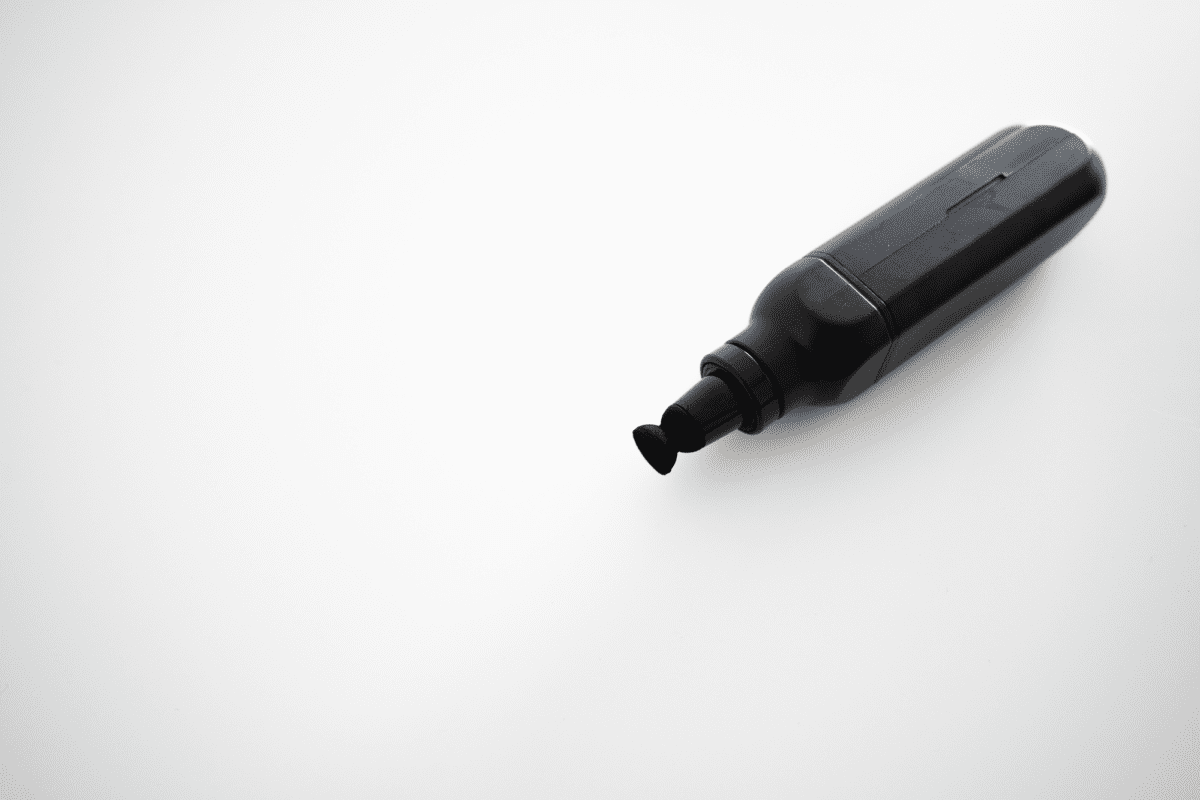 Basic Cleaning Tip
This is designed for general cleaning of the camera body. It comes with more and stiffer bristles. I found it great for cleaning my keyboard as well.
Lens Cleaning Tip
Like the Basic Cleaning Tip, this is a brush that is attached to the blower. It has a small tip for more focused cleaning and comes with softer bristles for more gentler cleaning to prevent unintended scratches.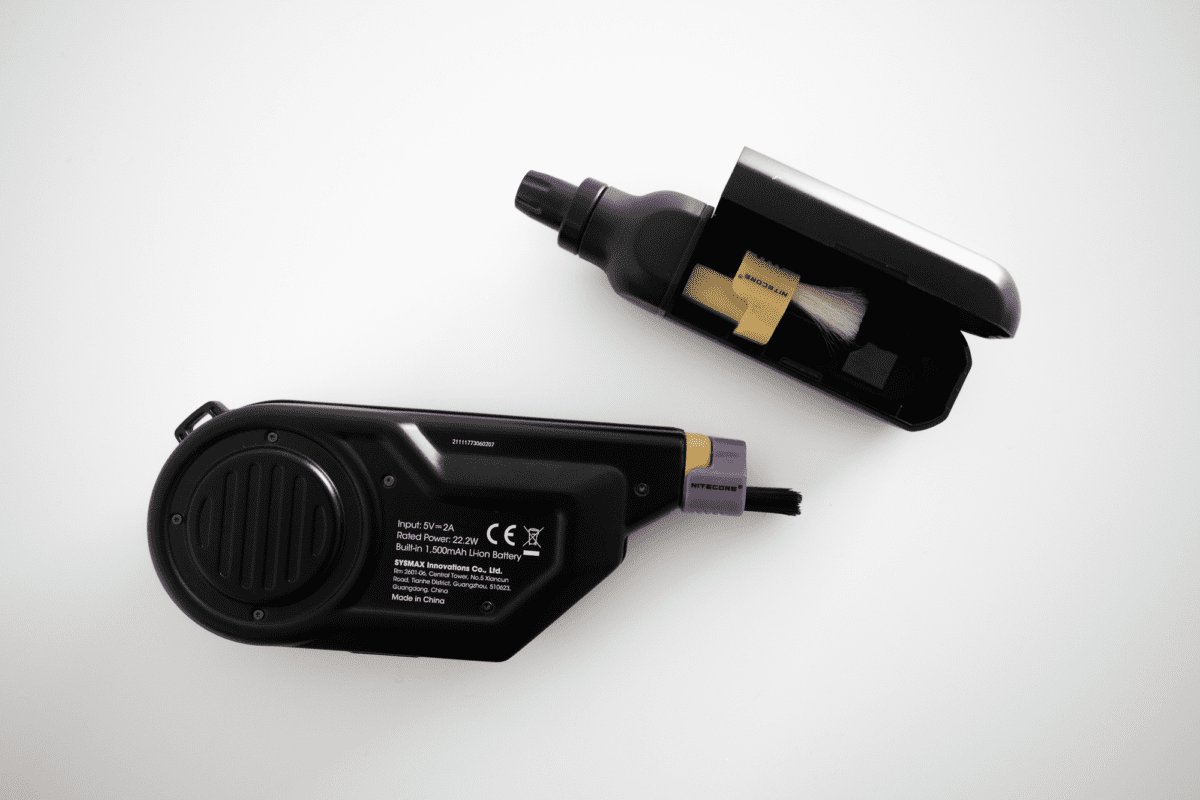 There is no way to adjust the fan power. If you are concerned that the airflow might be too strong or about fine particulates being blown into your equipment, Nitecore offers a CMOS Air Filter for $7.95.
The filter reduces the wind speed from 43.5 mph to 31.1 mph, which would make the BlowerBaby work for more sensitive parts like the camera sensors. The filter can be affixed easily since there are grooves around the filter for better grip.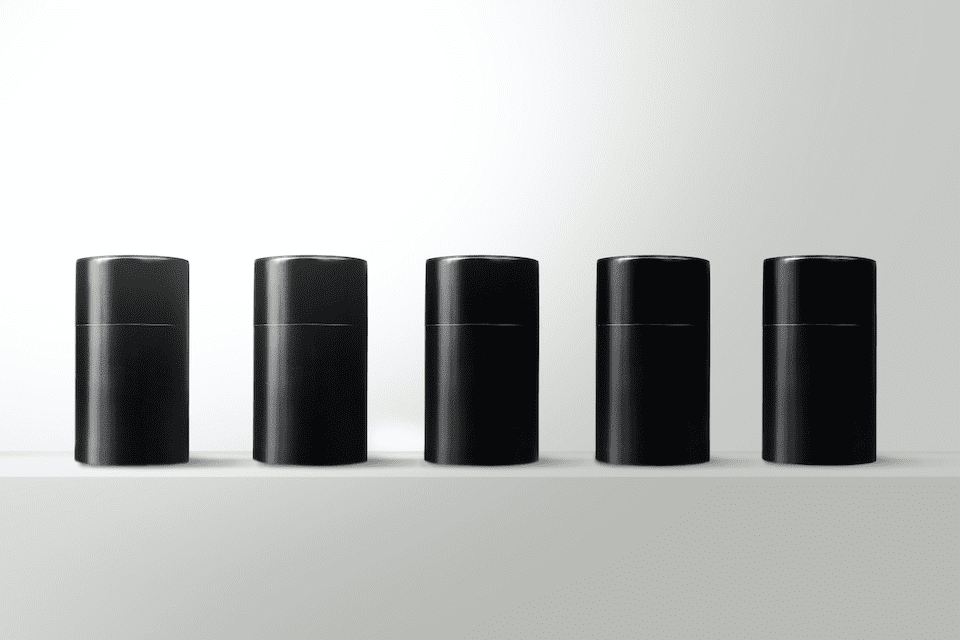 I found a 100 year old company that would create these heirloom quality canisters for me. They are handmade and will keep your tea leaves, coffee beans or anything that you need dry for years to come.
or read review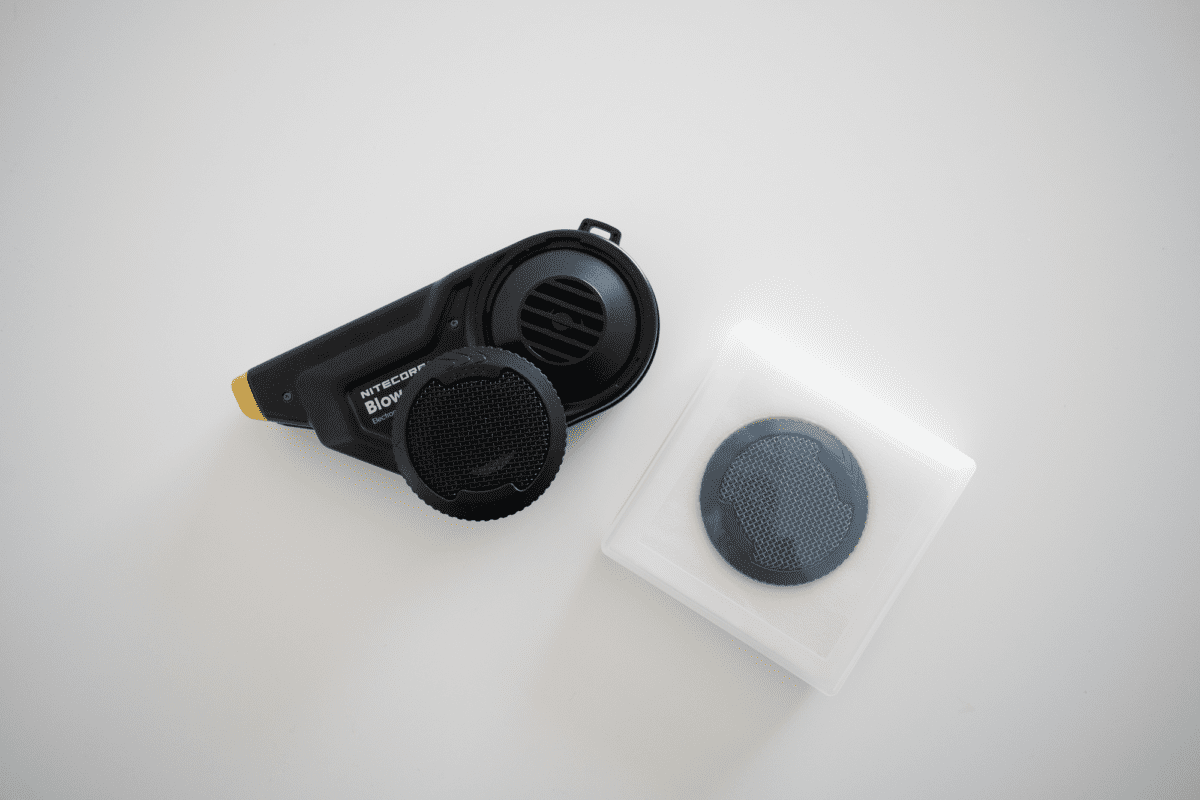 The BlowerBaby is loud
The BlowerBaby blows powerful bursts of air and, similar to a leaf blower, generates quite a bit of noise. Using it in a quiet place would surely draw attention.
Conclusion
The BlowerBaby is, no doubt, one of the most unique products I've reviewed.
When you are serious enough a photographer to invest in a kit like this, you would probably want to get your equipment totally clean each time. As such, I would recommend seeing the optional Camera Cleaning Pen and CMOS Air Filter as non-optional, and getting them all.
Additional Images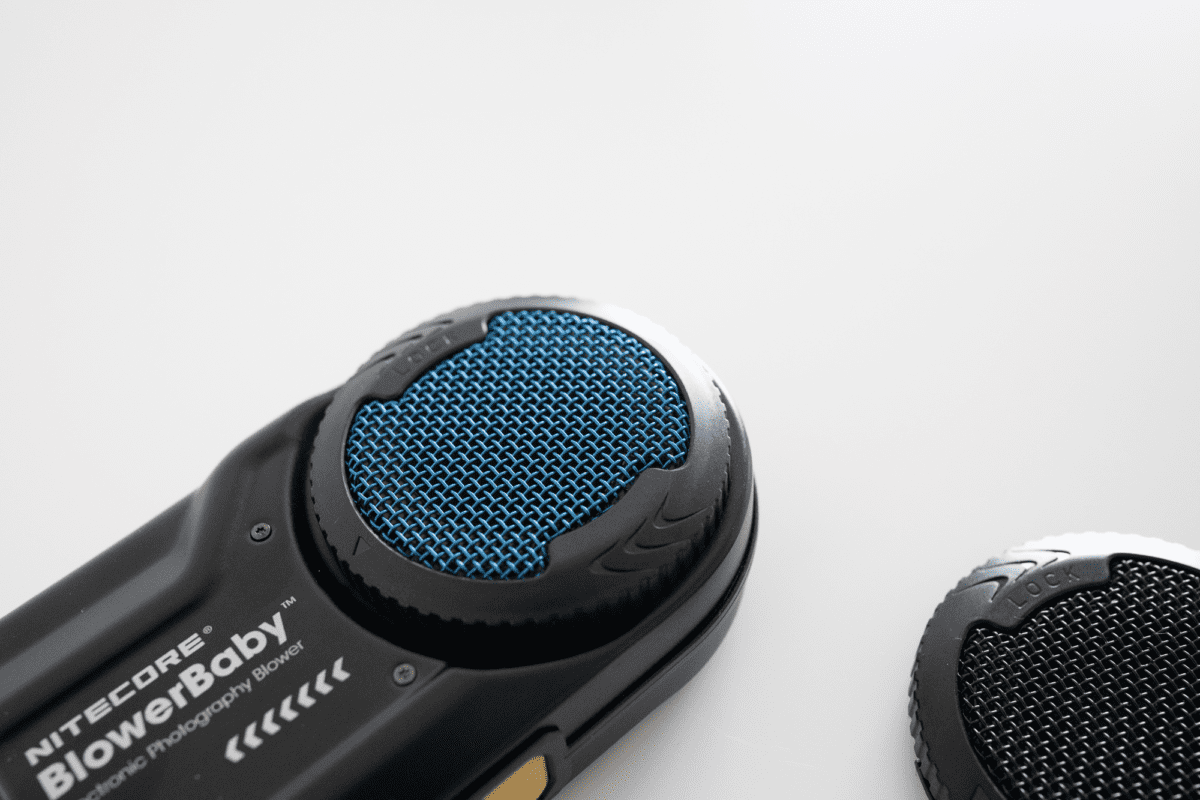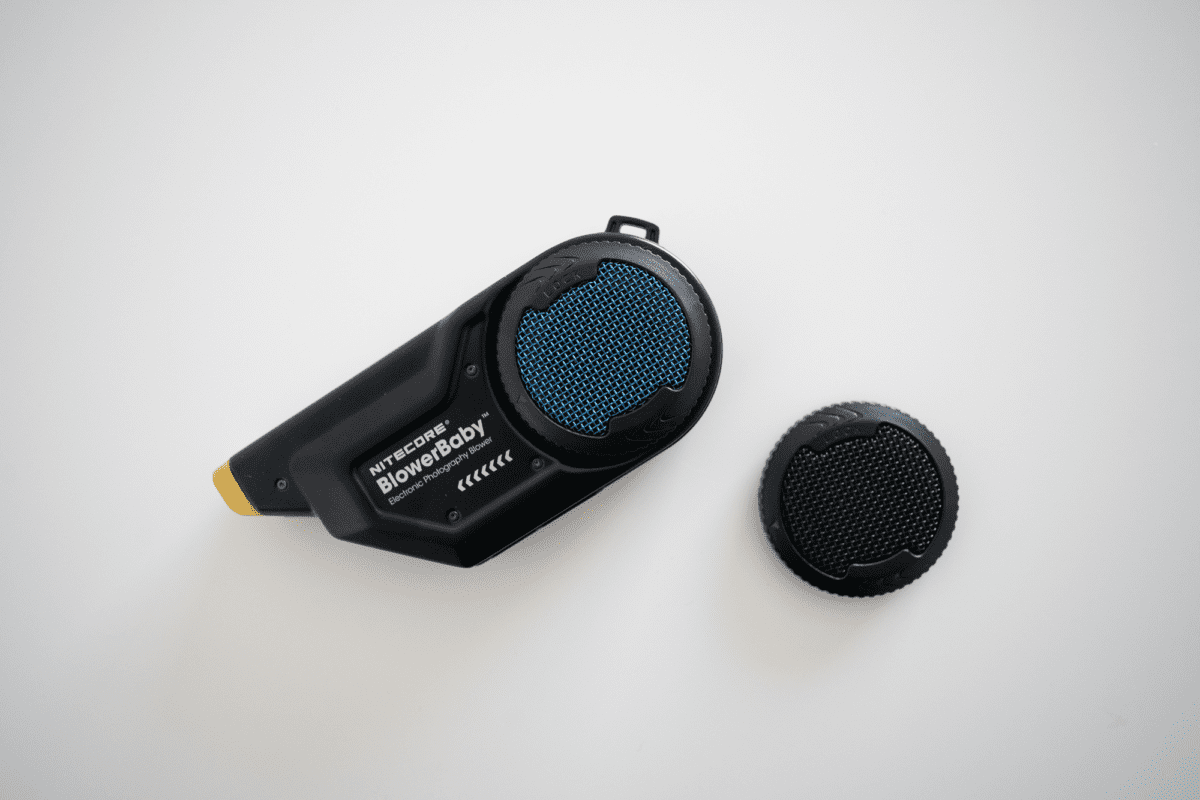 Like this review? See all of my in-depth reviews.
Also, consider supporting me by being a Patreon. Every cent given will go back into improving the content of this website.