As an affiliate for various programs such as Amazon Associate, I earn a small commission on some of the purchases you make at no extra cost to you. Read my disclaimer here.
Details
Price $239 on codeofbell.com
Use the code ALEXKWA for a 10% off at checkout.
Volume 11 liter (folded) / 23 liters (expanded)
Dimensions 10″ (w) x 17.5″ (h) x 4″ (d) (10.5″ when expanded) / 250 (w) x 445 (h) x 100 (d) (270 when expanded) mm
Overview
Do we need another brand making black bags? Yes, we do. In my humble opinion, there can never be enough. Code Of Bell (COFB) realized that with the digital age, more and more things can be replaced by the smartphone and the stuff that you once thought you need to carry with you everywhere, you can do without.
So, instead of a carryall, COFB wanted to design bags that would carry your daily essentials in the modern age, something like an additional wearable pocket.
Inspired by the 80s style coming back in recent trends, specifically the rise of the fanny pack style bags, they focused on a single strap design that gives wearers easy access, without having to take off the bag.
This X-PAK (pronounced cross-pack) is the third version of this product, with previous versions being the X-PAK ONE and X-PAK PRO, both of which initially released as part of a successful Kickstarter campaign.
Style
At the time of writing, the X-PAK comes in three colors, a navy blue, deep moss and pitch black, and since I only wear black, the pitch black is naturally the version reviewed in this article.
But no one likes ads, so I got rid of them. If my articles helped you, I ask for your support so I can continue to provide unbiased reviews and recommendations.
By becoming a Patreon, you get
Exclusive deals and coupons
Insider news to product releases and sales
Personalized style advice
The general style of the bag gives off a minimal techwear vibe to them and look like they would go perfectly with the edgy aesthetics of Outlier clothing. The unique single-strap design, abundance of straps, and consistently black color, really adds to the "tacticool" style without overdoing it.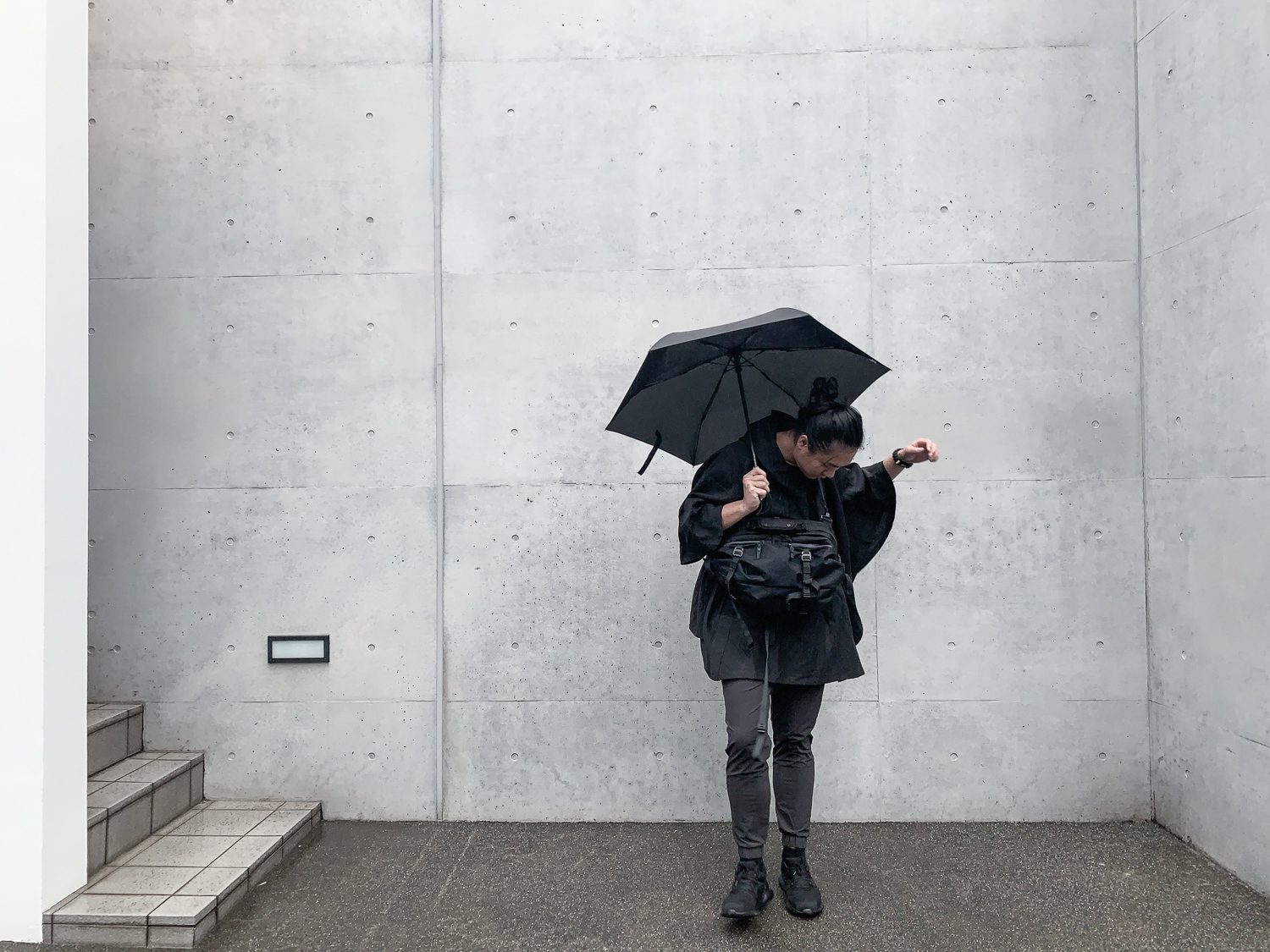 The material looks to be X-Pac, which is the one used on backpacks like the Tortuga Outbreaker and Able Carry Daily Backpack, and has a repeating subtle X pattern throughout which is one of my favorite design detail.
The single strap design makes the bag especially eye-catching when you put it on. Together with the Outlier Injected Linen Poncho, my friend commented I look like a character right out of a video game.
I liked how the black is thoroughly applied throughout the bag, from the clips to the zips. In addition, none of the parts of the bag look cheap or plasticky, making the bag clearly a premium and well-designed product to the eyes of its observers.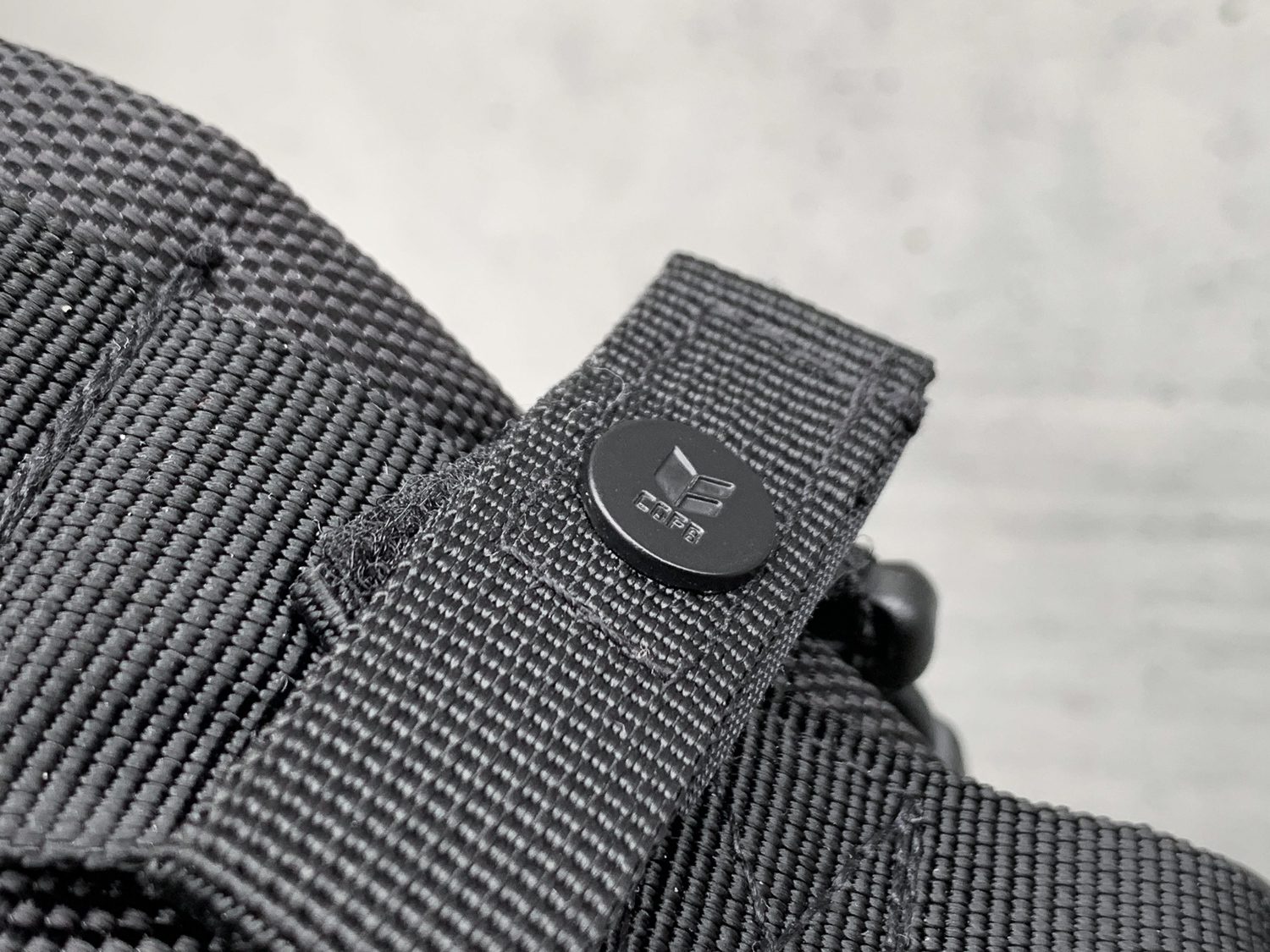 There is virtually no external branding on the bag. If you really look closely, you can find an indented logo on the rivets on the handle and a black on black logo printed on the zipper pulls.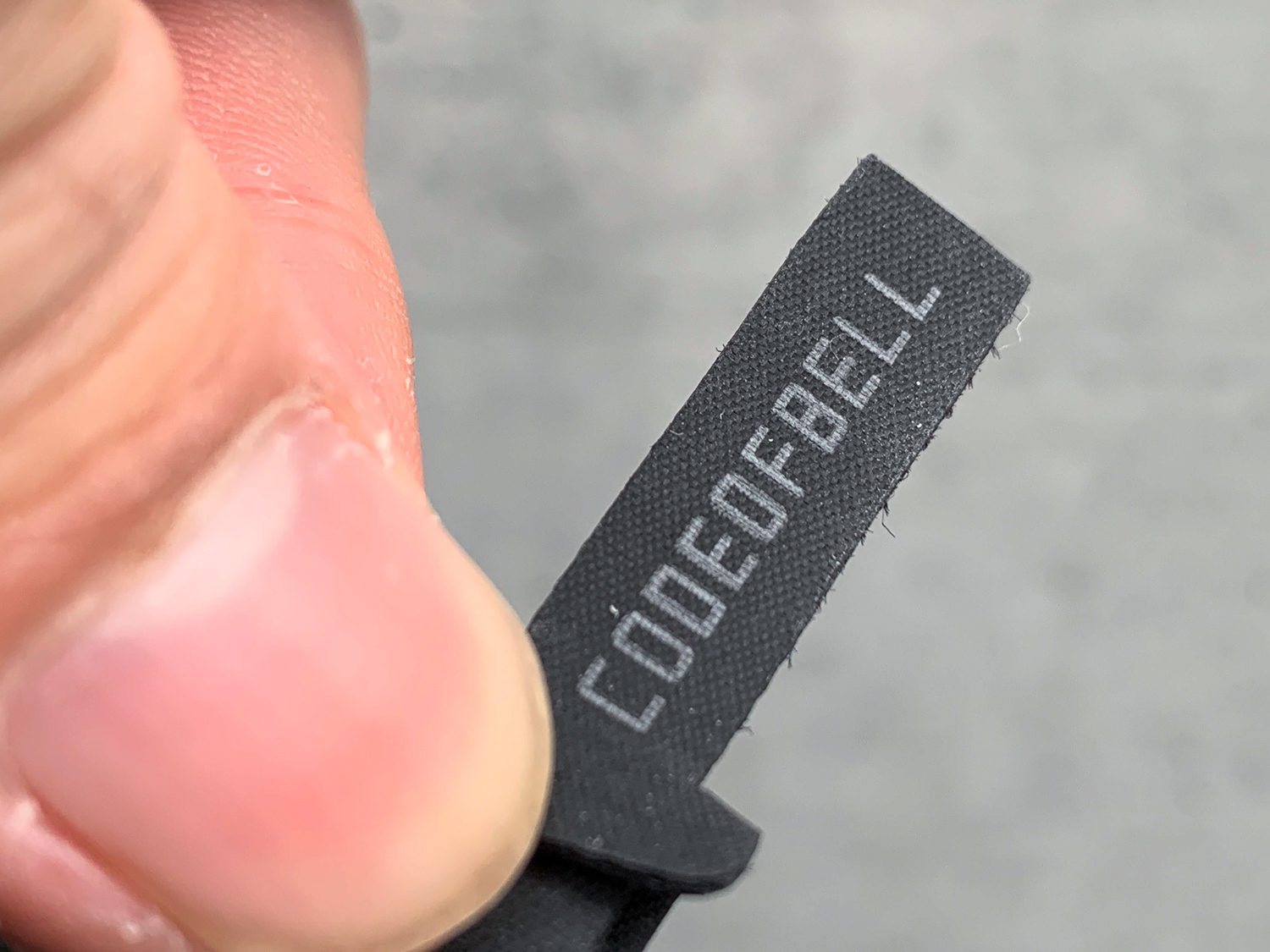 Inspired by the MA-1 bomber jacket, the inner of the bag is orange to provide visibility when going through the contents, like how the orange inner of the MA-1 jacket promotes visibility during rescue missions.
Material
The front outer shell compartment utilizes X-Pac, which is an up-and-coming fabric I'm seeing in more and more recent backpack. Even the stellar Aer Travel Pack was recently released in a limited X-Pac version.
X-Pac is basically a composite fabric where multiple layers are laminated onto a single sheet instead of just one layer with PU coating.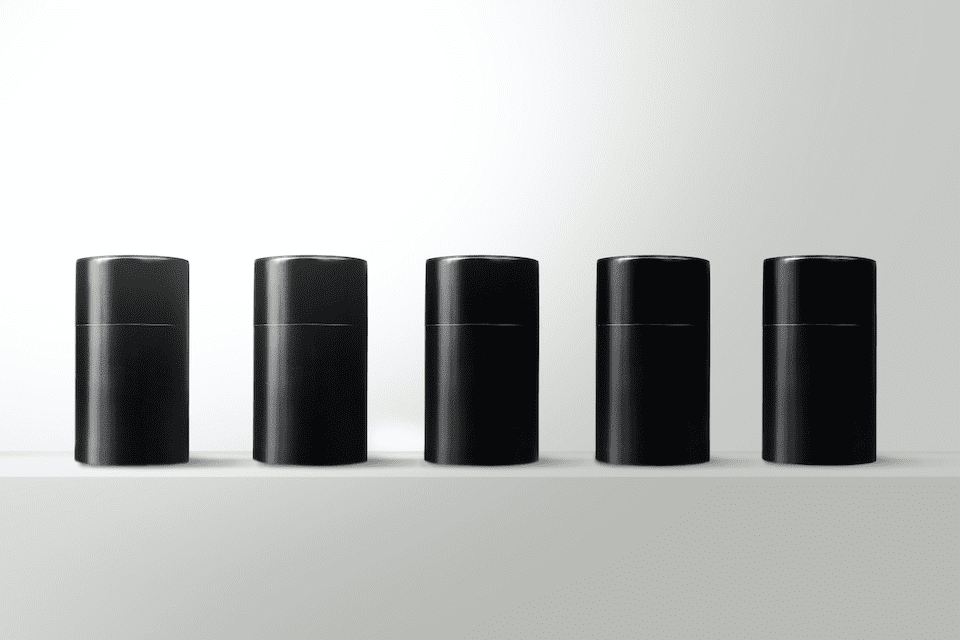 I found a 100 year old company that would create these heirloom quality canisters for me. They are handmade and will keep your tea leaves, coffee beans or anything that you need dry for years to come.
or read review
Specifically, the four layers are a 210D nylon face fabric, a polyester "X-Ply" mesh which gives the criss-cross pattern, a 0.25mil (0.001″) PET waterproof film and a 50D polyester taffeta backing with waterproof coating.
This material is produced and distributed by Dimension-Polyant, who originally made specialized racing sails and found that the same materials could be used for bags as well. What determines a good sail is weight, strength, stability and of course, weather resistance. All these qualities so happens to be the very qualities that bag makers look for when making the perfect backpack.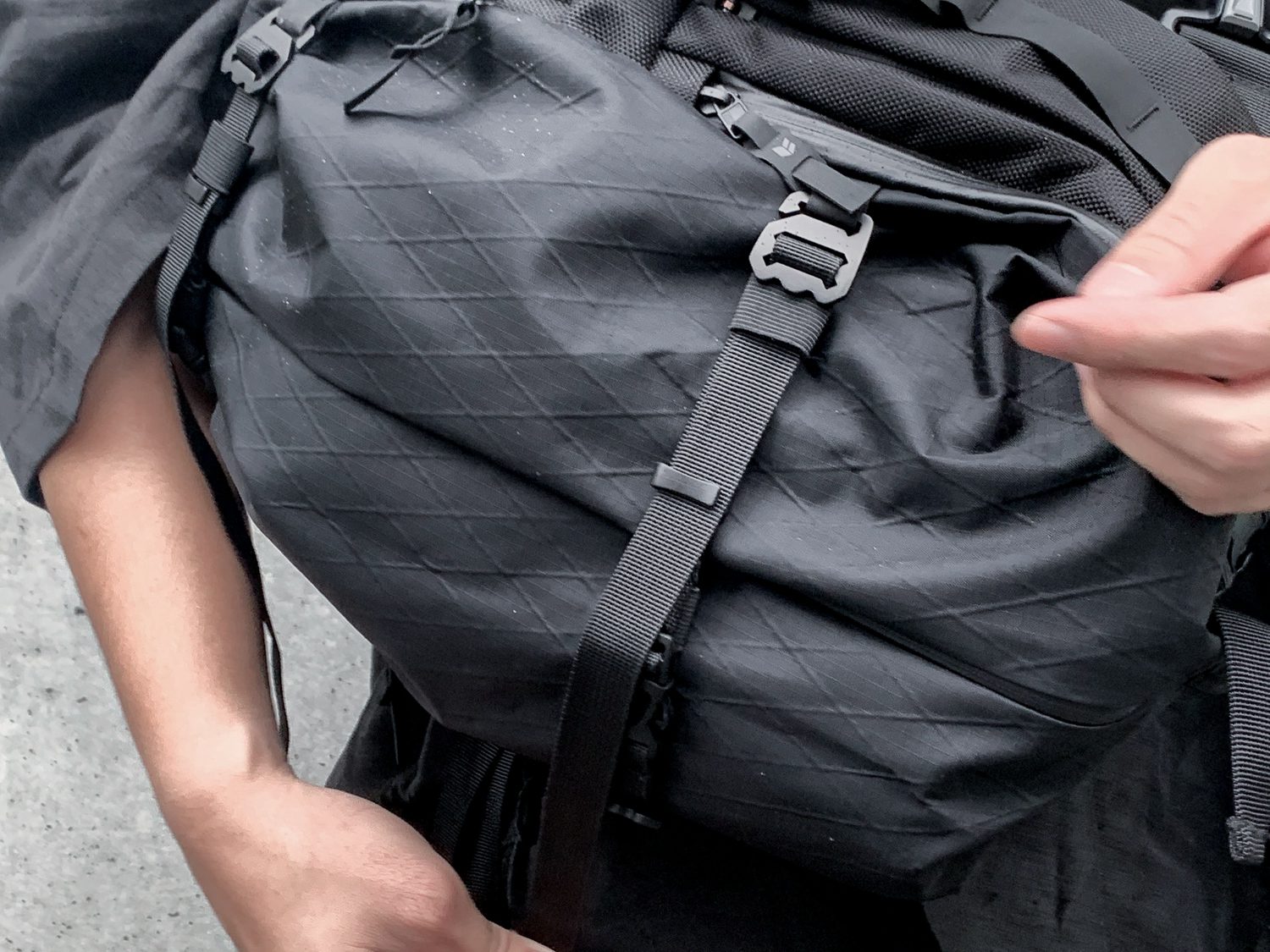 In particular, the waterproof film makes the X-PAK waterproof up to 200 PSI, and don't gain weight even as it faces rain. However, this doesn't mean that the X-PAK itself is waterproof, since there are other factors like the zippers.
Since this is a four-layer composite fabric, it's easier to slash or puncture the layers compared to other single thicker layer fabric like Ballistic Nylon.
The other parts of the body use a more rugged 1680D Ballistic Nylon. While 1680D sounds like a better fabric than the 1050D used in bags like the Aeronaut 45, it's woven with a single ply of 1680 denier yarn, while the 1050 Ballistic is woven as a two-ply fabric. So, the 1050 Ballistic Nylon could technically be referred to as a 2100 denier fabric, and is generally more abrasion-resistant.
With that said, the 1680D Ballistic Nylon is really more than enough for where it's being used on the bag. You are probably not going to see enough abrasion for this to matter, unless you are planning to use this for Navy Seal missions or something.
It goes without saying that zippers used on the X-PAK are from YKK. The lightweight buckles are from ITW, the brand which brought us the killer GT COBRA buckles used on the Klik Belt.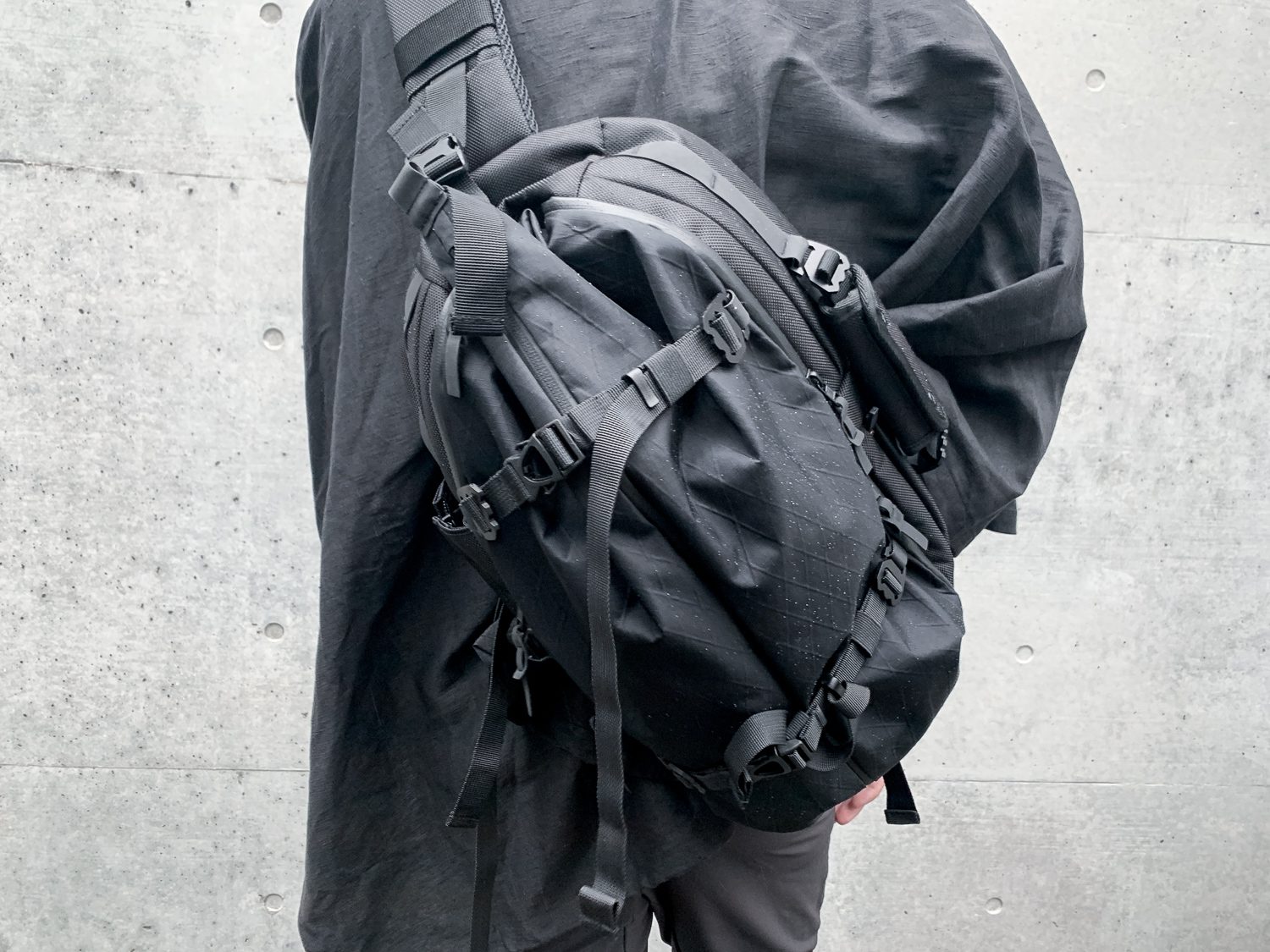 Organization
The compartments are designed similarly to the ones on the Ucon Acrobatics Rasmus Pack, with an expandable compartment on the front and one behind it.
The expandable compartment can be accessed either from the long vertical zip that goes across the front or from the bottom. The easy access makes it very convenient to dump whatever into it, at least that's what I tend to do.
COFB claims that the expandable compartment gives an extra 12 liters of space when expanded, by unclipping the top and bottom clasp. I personally wouldn't do this since it makes the bag too bulky for its size. I would probably just use another bag if I need more capacity but it's nice to know that it's an option in a pitch.
The expandable compartment offers almost no organization, with the exception of a zippable mesh pocket near the bottom of the compartment.
The main compartment offers some pretty standard organization. Closest to the back is a padded slot for tablets with a velcro fastener on the top. On top of it are four slots, a mobile-sized slot with a velcro fastener, next to it is another narrower slot and two more pen slots next to that.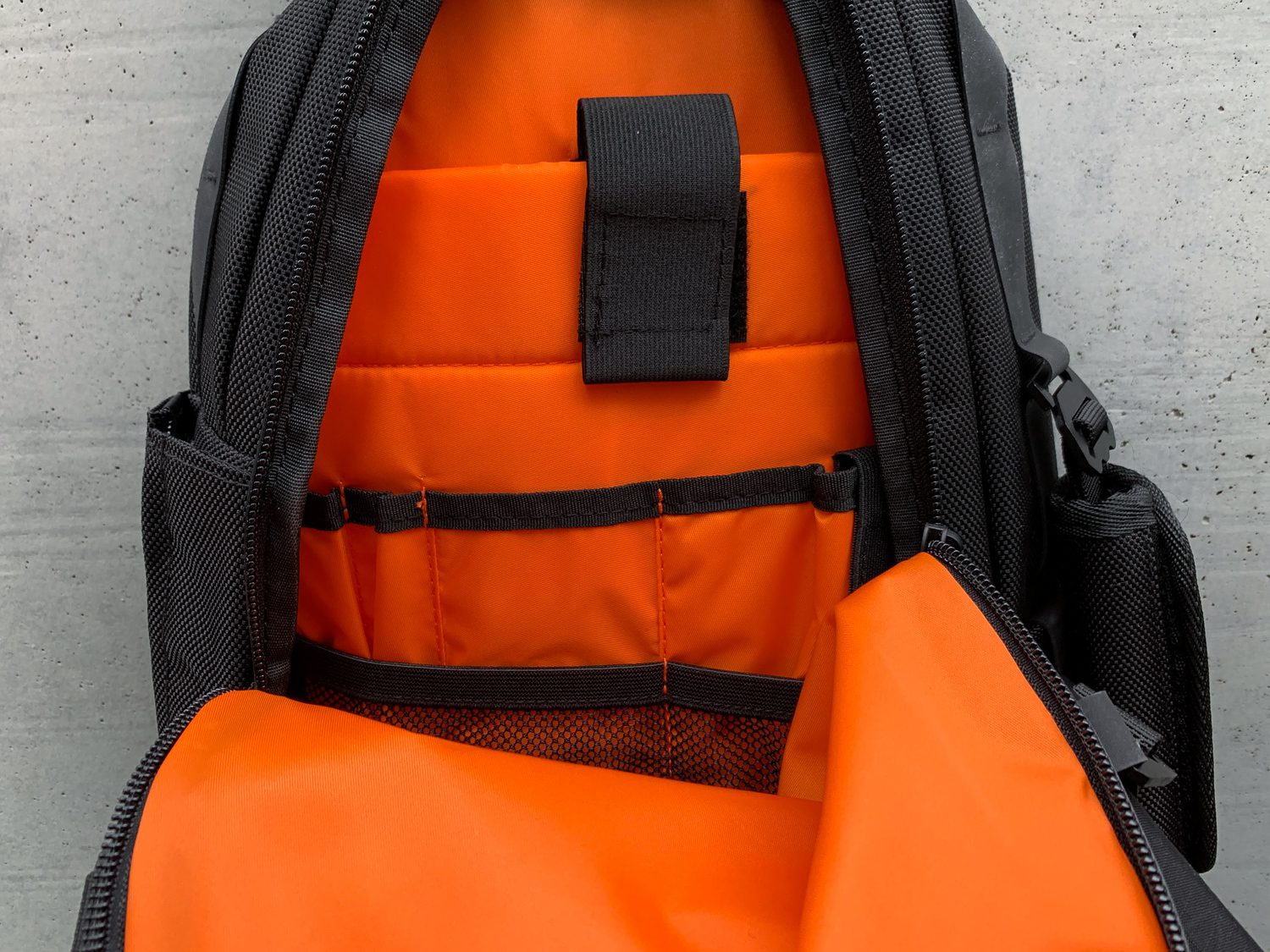 The next row is two mesh slots the same width as the mobile-sized slot of the row above.
On one side of the bag, there is also a slot which can be unzipped to show a mesh pocket, a feature also found on the Aer Travel Pack 2.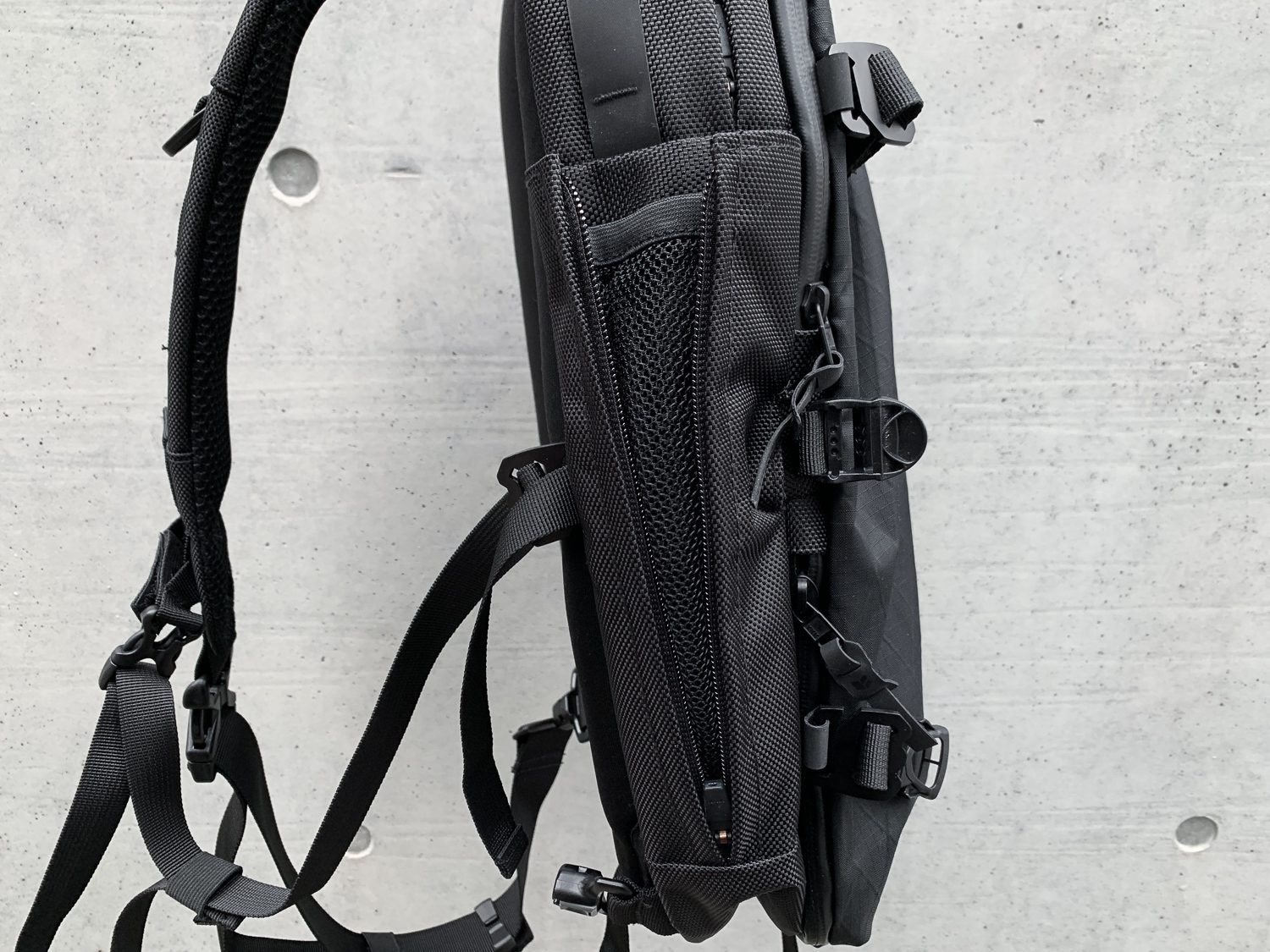 Usage
Like the Ucon Acrobatics Rasmus Backpack, I'm still not used to this style of bag. Specifically, the accessibility of the main compartment. The fact that you have to undo the top clip each time to access it is something that makes me just dump everything into the expandable compartment.
There are two compression straps that go across the expandable compartment that let you suppress it from slouching too much. As there are quite a bit strap action going on with the X-PAK to begin with, it's nice that these straps are removable.
The straps can also be used to temporarily strap on a bulky jacket that wouldn't fit into the compartments even when expanded.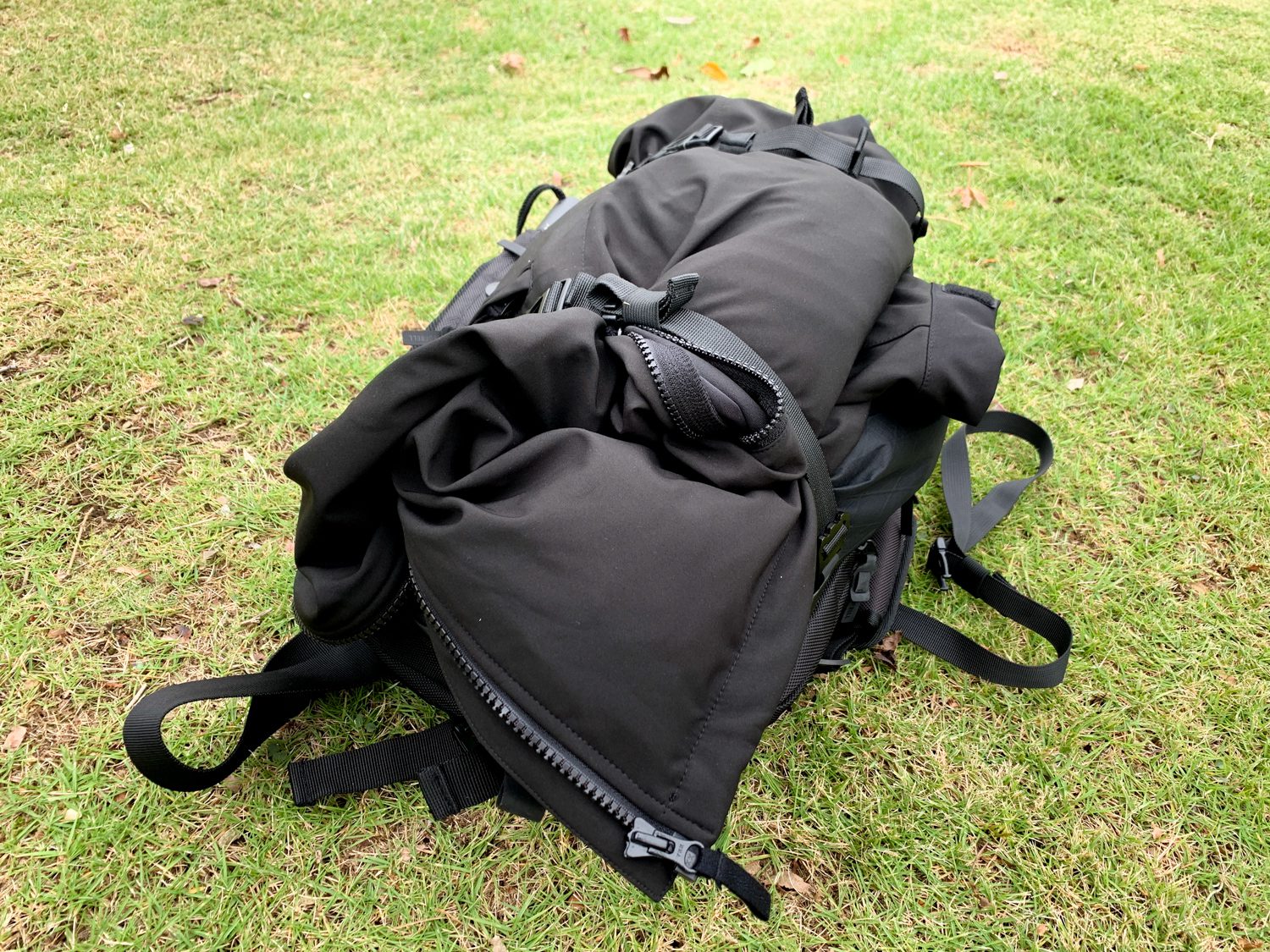 While this is a single strap design, there is a support strap that secures to the main strap for more security. I absolutely love how this looks and I think it adds a lot to the tech ninja style.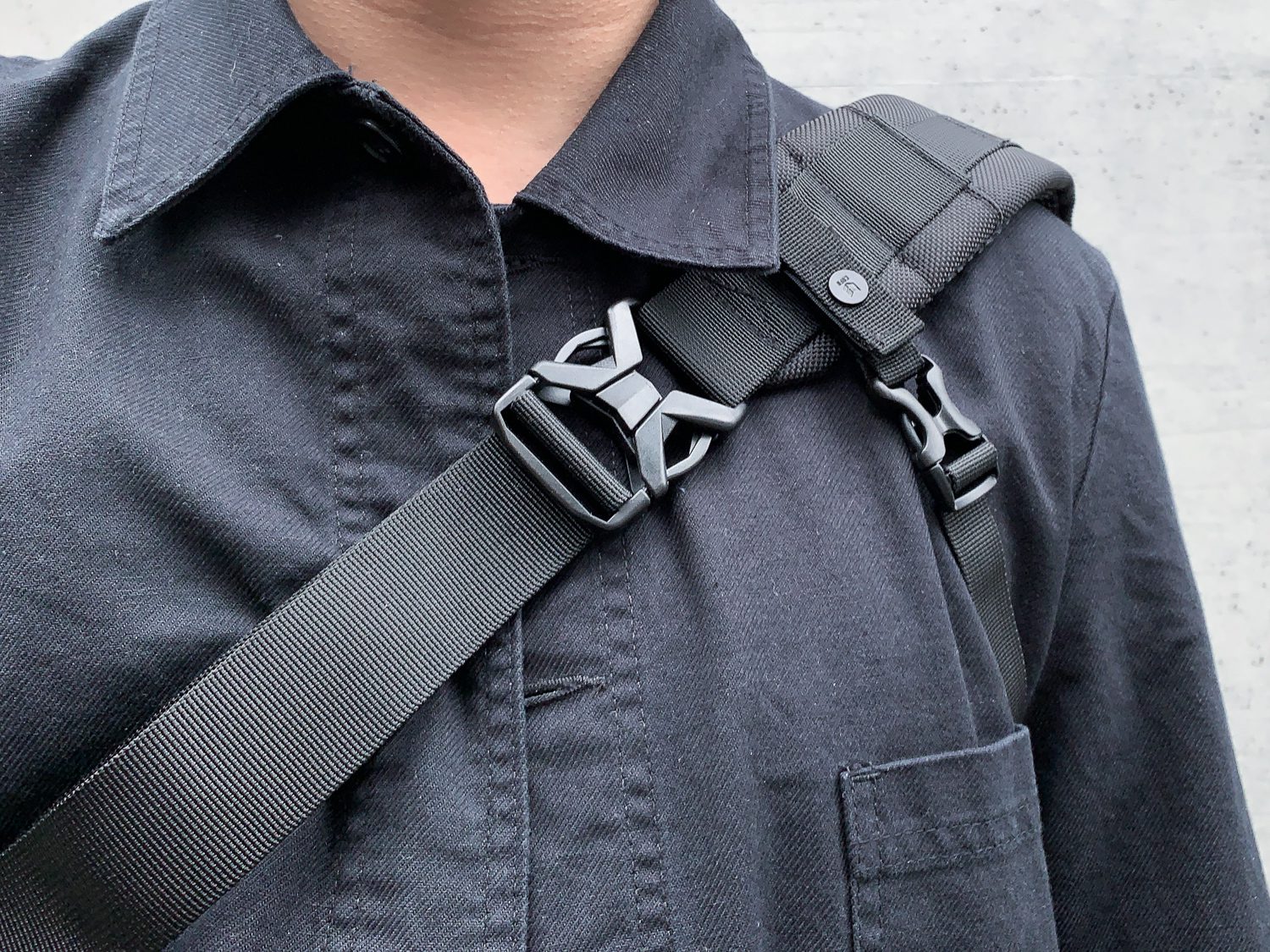 Both the main strap and the support strap can be readjusted to sling either direction across your chest.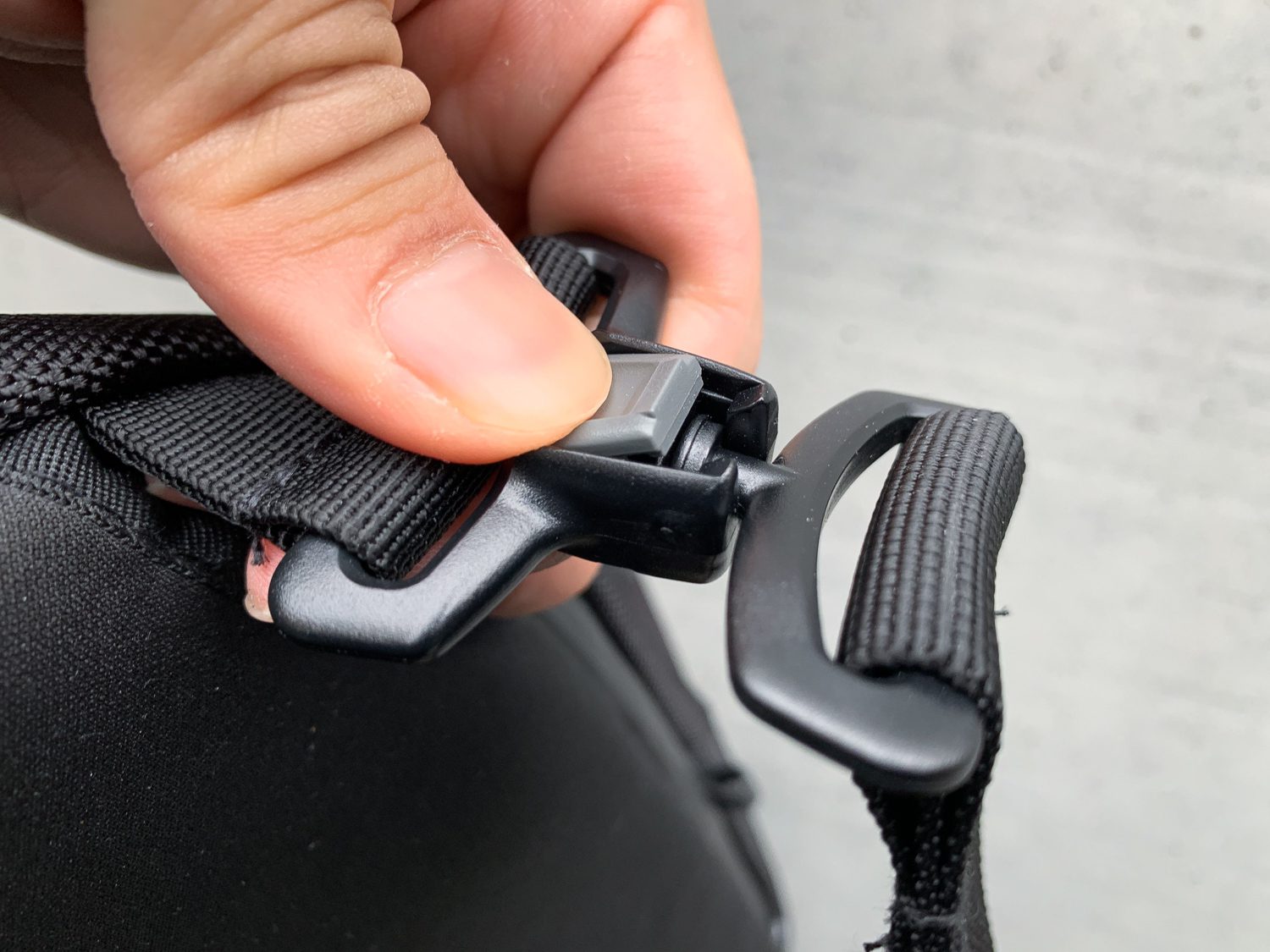 On the only strap of the bag, there are three rows of molle with plastic hardware at the top for you to clip your carabiner on.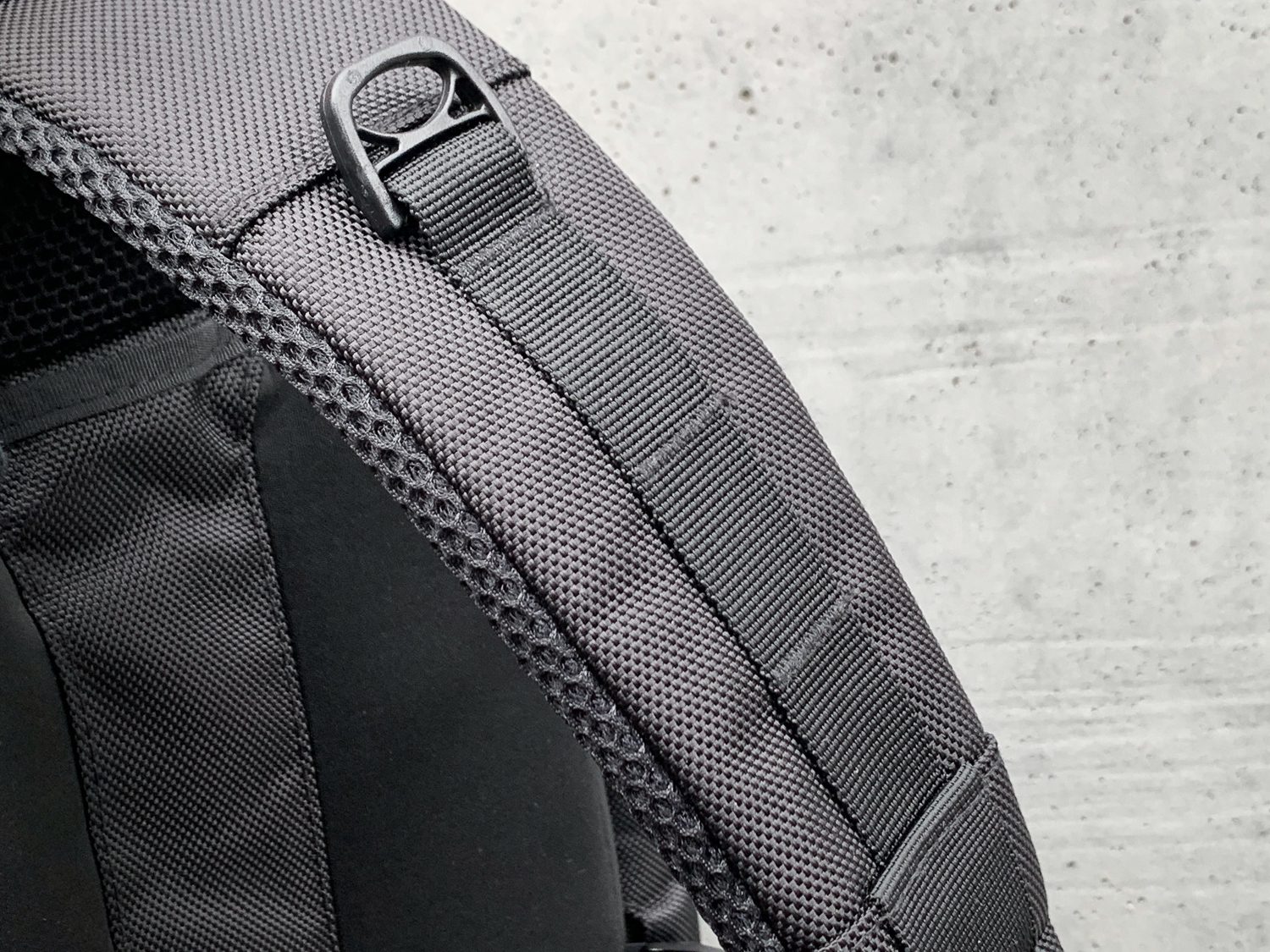 While the bag is designed to accommodate up to a 13″ laptop, I found that I could squeeze my 15″ MacBook Pro into the expandable compartment, but it's a really tight fit and you don't get the padded protection of the dedicated slot. While it's possible, I wouldn't recommend it.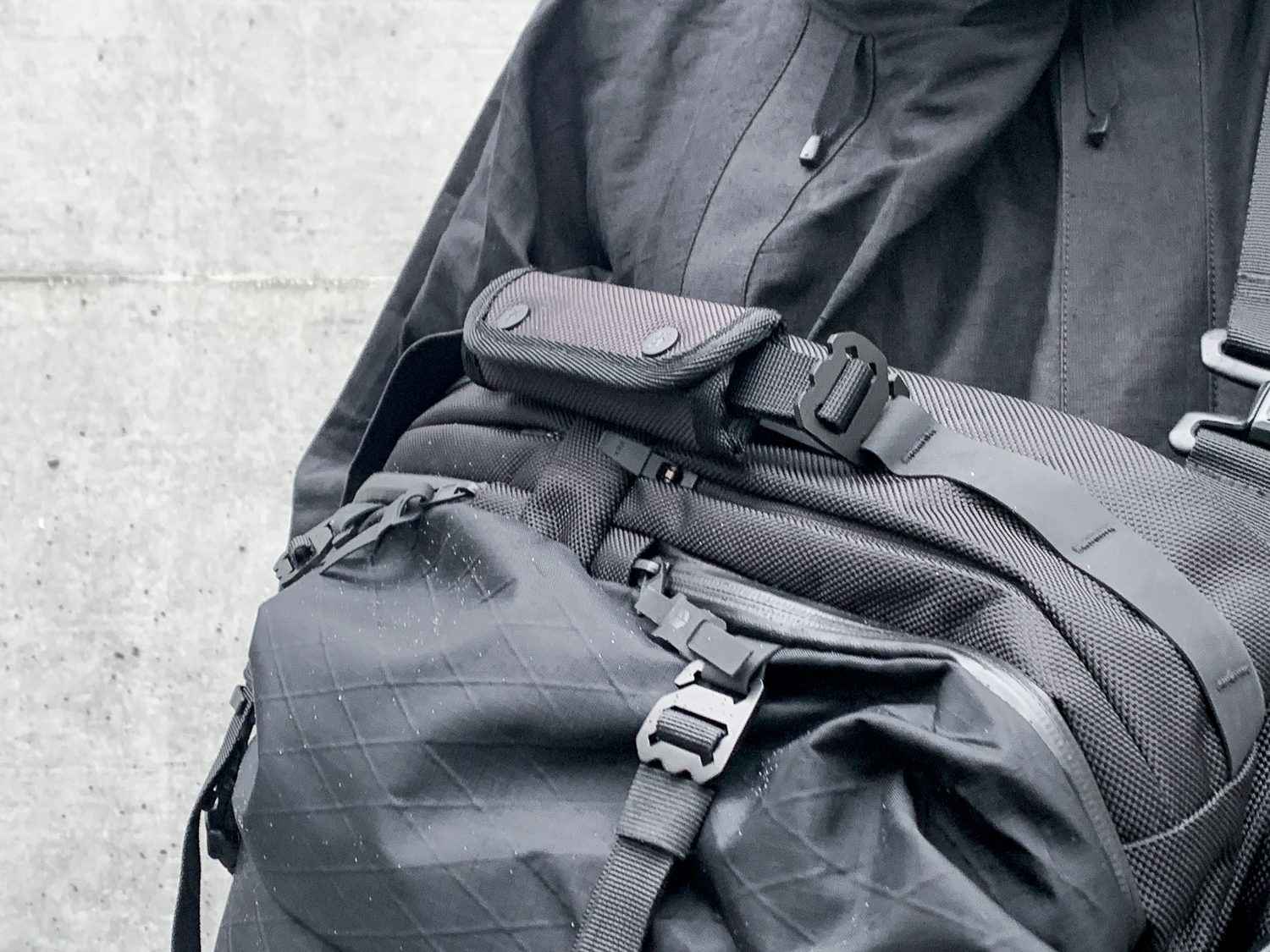 While there is a nice handle on one side of the bag, I found it unnecessary for this size of bag, since it's much easier to just grab the strap.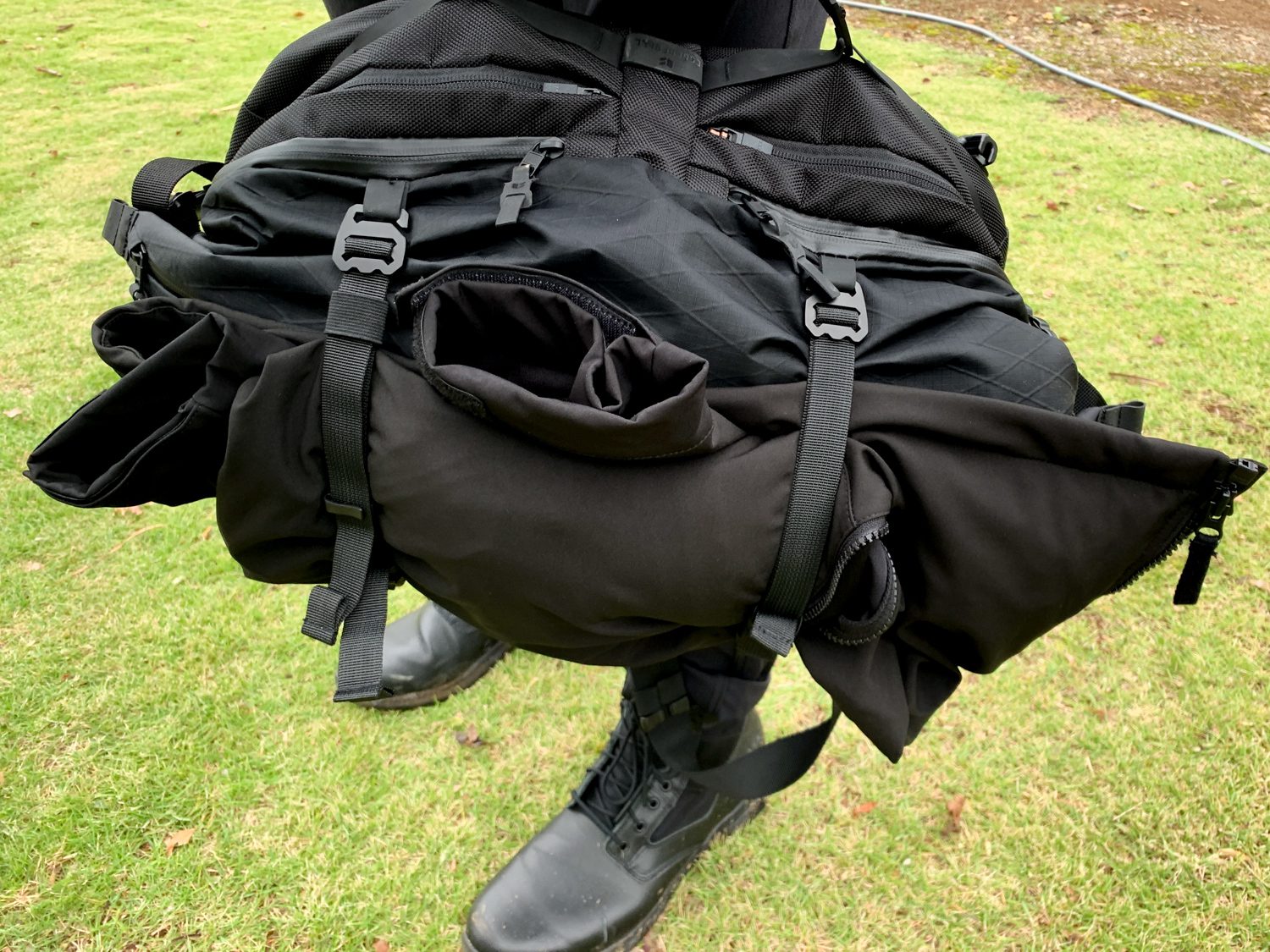 Conclusion
At $239, this is a pricey bag, but it's well-designed with top of the line materials and minimalist style, which are all of my favorite things combined. You are bound to get compliments with this unique bag.
Like this review? See all of my in-depth reviews.
Also, consider supporting me by being a Patreon. Every cent given will go back into improving the content of this website.
Tagged bag codeofbell review