This website is made possible by readers. I may earn a small commission when you buy through the links in this article at no extra cost to you. Learn more.
Details
Price NT$8490 (approx $277.55) on hanchor.com
Volume 45 liters
Weight 1284g
Material Cordura 500D
Overview
I know I write a lot about American products and am pretty obsessed with some of them, like life-changing goodies from GORUCK or Outlier. But as an Asian, I feel glad when Asia-based brands, like Able Carry from Hong Kong, produces products quality enough to catch my attention and want to write about.
HANCHOR hails from Taipei, Taiwan. Started in 2012, HANCHOR is a combination of the words "hand" and "anchor", which is based on what keeps you on the wall when you climb. I've always found the design sense from Taiwan a little more embellished and decorative, but HANCHOR provides designs with qualities that the outdoor and travel community loves the most, innovation, simplicity, and durability.
Style
Unlike many of the bags I review, this is not the usual style seen frequently on onebag travel packs, which usually tries its best to blend aesthetically as a regular bag. This is a backpack styled for the outdoors.
The look comes from the height of the bag, typical of hiking-style bags. While the shape resembles those hiking bags, I could tell that steps have been taken to reduce that look to something more accepting in urban environments.
It comes with two colors, khaki and black. No surprises guessing which color is chosen for this review.
The black version is really black. I mean, there are black products that can't resist hints of colors, or don't bother with details like zippers and hardware where it's harder to source for a black version.
The exceptions are a single piece of branding on the front, the grey clip on the sternum strap and a hint of silver on the clasp that attached the shoulder straps to the bag. While the zippers are tinted black, it's not totally consistent like those on the Black Ember Citadel Minimal Backpack. Of course, these are details probably only someone like me, who wear exclusively black, would look for.
Because it's so consistent with the color, I'm more forgiving of the hiking backpack style, since the details are harder to make out.
Overall, I've found this backpack a little too outdoorsy for daily carry, in particular, the longish shape. Backpacks like the GORUCK GR2 or Tortuga Outbreaker are designed better for the city. The Breccia would make you stand out a little more. But if you don't mind that, it's an extremely stylish and sleek-looking backpack.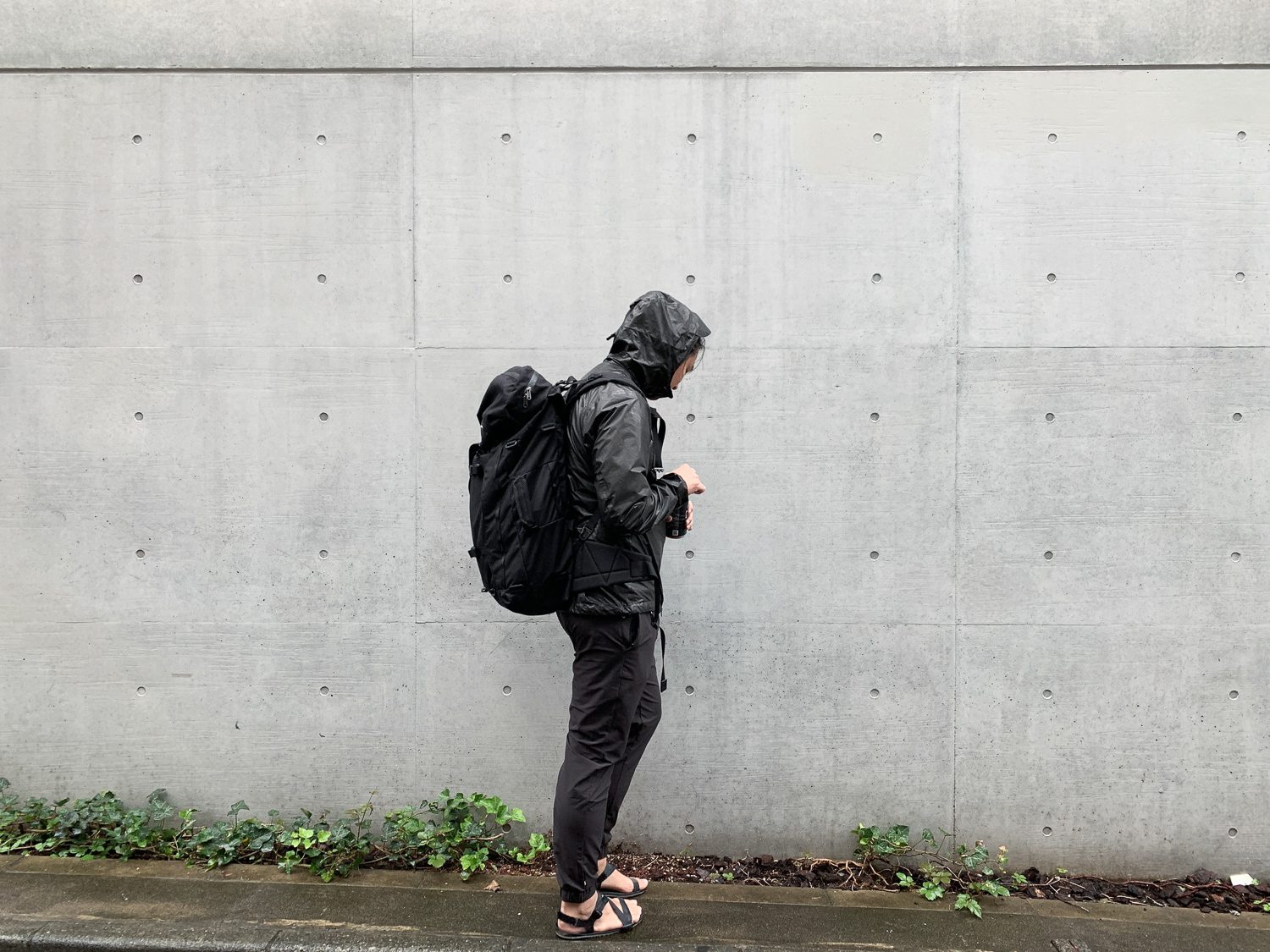 Material
The main fabric is 500 denier CORDURA. CORDURA is basically a brand that creates these high-quality fabrics from 100% high tenacity nylon 6,6 filament fiber. They are commonly used in backpacks for its abrasion, tear and water resistance.
But no one likes ads, so I got rid of them. If my articles helped you, I ask for your support so I can continue to provide unbiased reviews and recommendations. Every cent donated through Patreon will go into improving the quality of this site.
While backpacks like the GORUCK GR2 offers their bags in 1000d CORDURA, higher denier count usually means more weight and a higher price. That said, the average user would never wear out 500d CORDURA. 1000d is an overkill, usually designed for people who would be using the products in the field.
The inner lining uses a 100D olive gray nylon fabric. While a purist like me usually like when the lining is black as well, having the lining colored, like the bright orange lining in the CODEOFBELL's X-PAK, helps make it easy to locate what you are looking for within the backpack.
Usage
The bag is top-loading, but as a one bagger, I find myself using the front panel to load most of my things as I like to visually confirm the layout of my cubes.
One thing I had to get used to was that the top loader zip opens from the back, which means you access your stuff facing the back of the backpack. At times, I find myself blinding reaching the front of the top loader for the zip out of habit.
Another reason is that once you open up the top-loader, it comes with a cover that you can tighten with a drawstring. This is presumably to allow you to create a separate compartment right at the top, but I've found it a hassle to navigate through even if left untightened.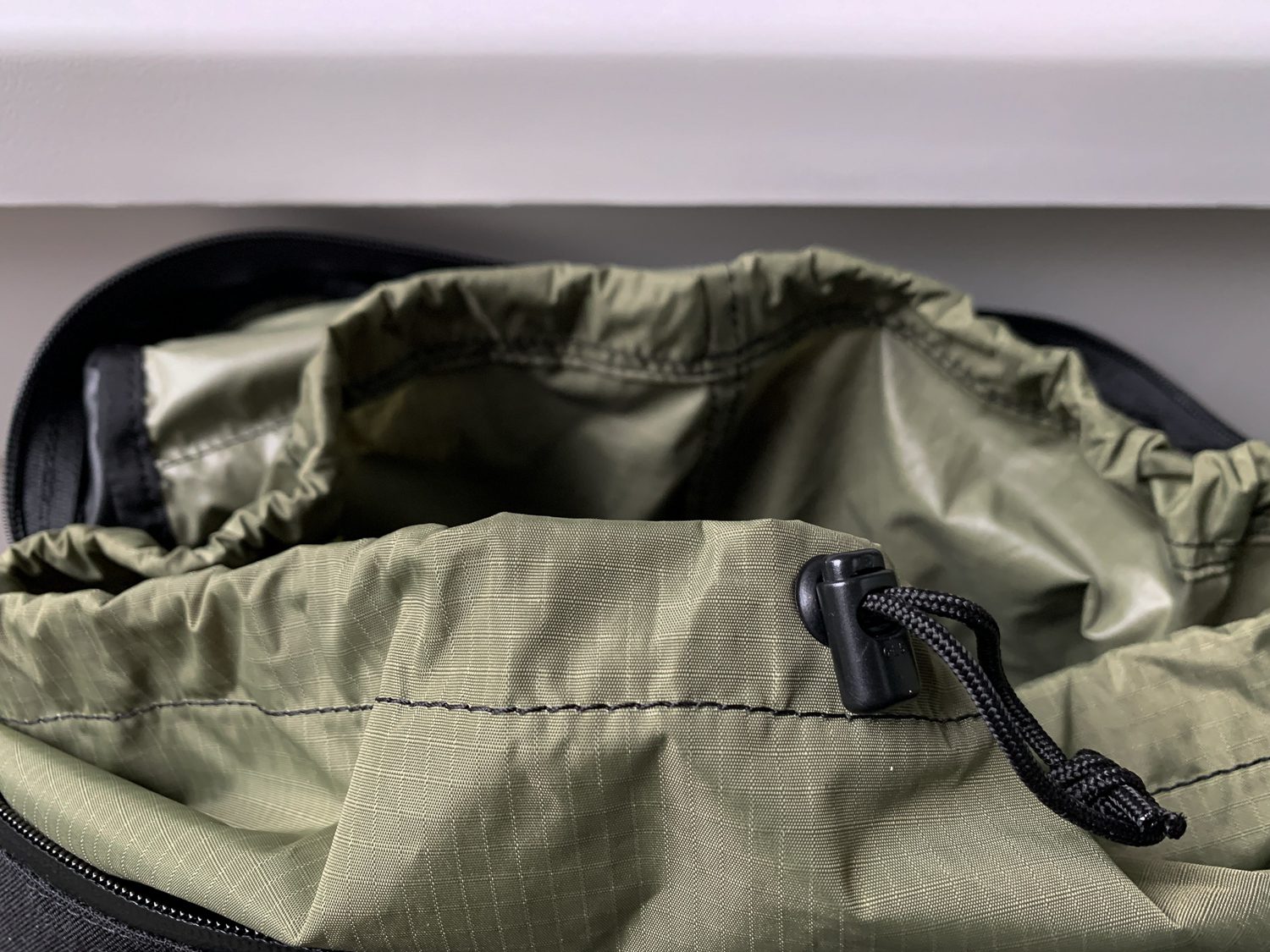 While the front loading panel is my access point of choice, you do have to go through two sets of clips and a zip to get to it. Like the TOM BIHN Aeronaut, it also doesn't expose the insides fully like clamshell backpacks.
HANCHOR also sells the CLAST Backpack which lets you attach it to the Breccia via those clips, which would, of course, create another barrier you have to get through to get to the contents.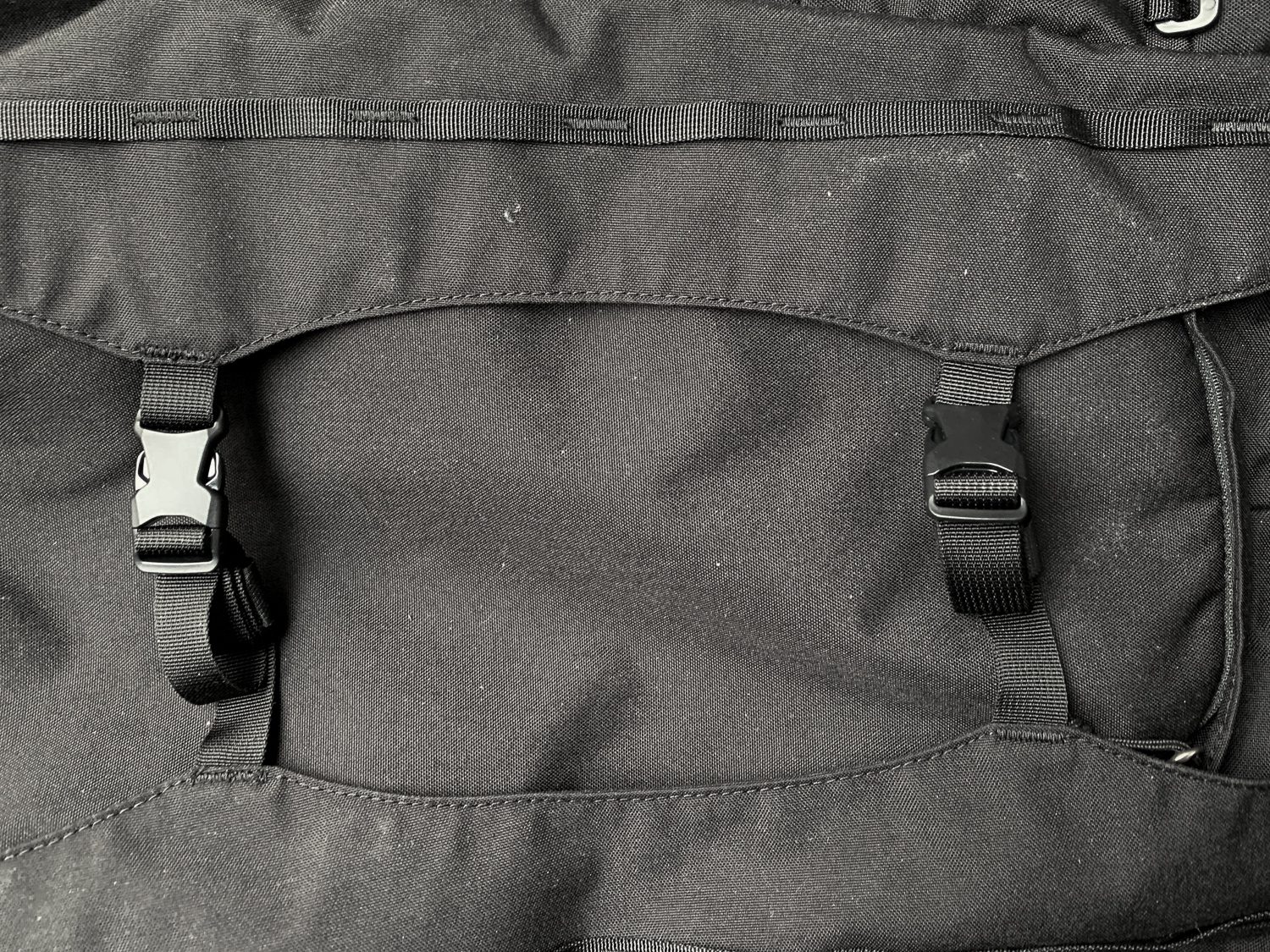 There is a non-padded slot on the inner back of the backpack. Since there is no way to put my laptop into this compartment from the front, I do load my laptop from the top. It was able to fit my 15-inch MacBook Pro just fine, even though it's unlikely it was designed for one. This compartment is also lifted off from the ground so your laptop won't get impacted if you carelessly put your backpack down, just like the Black Ember Citadel Minimal Pack,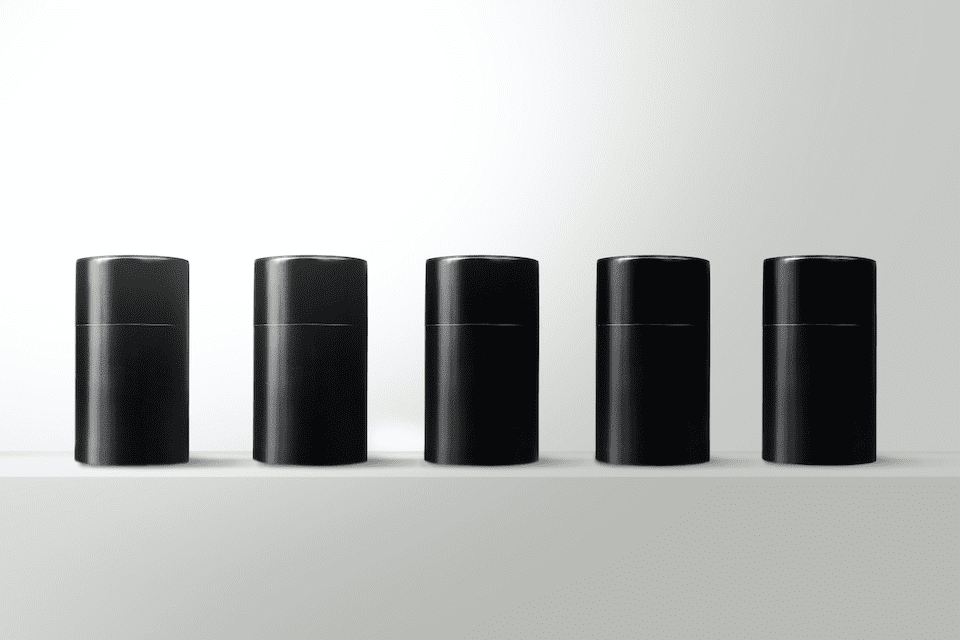 I found a 100 year old company that would create these heirloom quality canisters for me. They are handmade and will keep your tea leaves, coffee beans or anything that you need dry for years to come.
or read review
On the insides, apart from the back compartment, there are two zippable mesh pockets on both sides and one that covers the entire face of the front panel that you open up. I would consider the internal organization to be minimal, especially compared with bags like the Tortuga Outbreaker.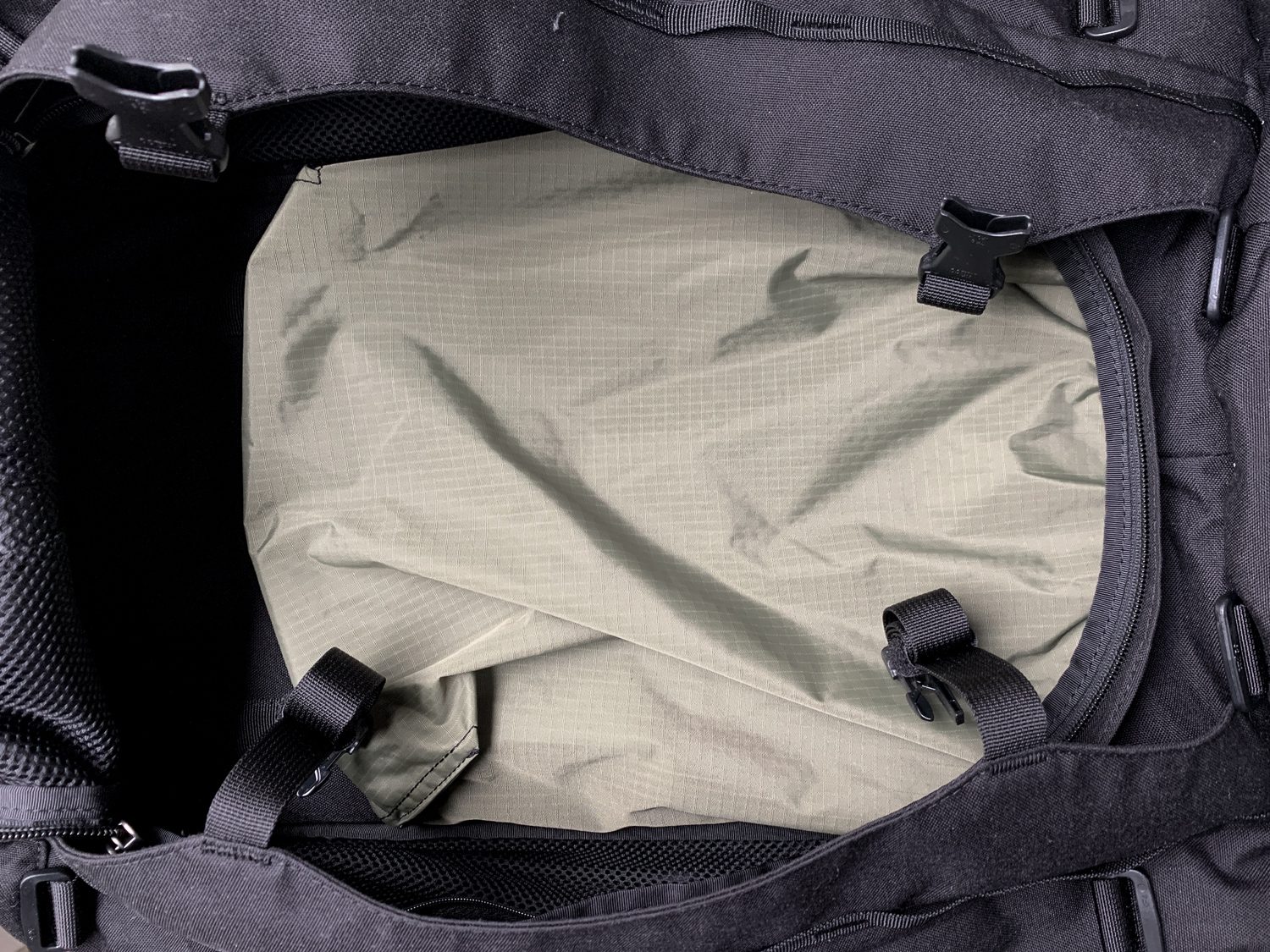 On the top of the insides, there are three loops, designed for you to attach your carabiners for climbing expeditions.
Like the insides, there are also minimal external organization.
On the top-loading flap itself, there is a zippable compartment. I find myself dumping most of my quick access EDC items into this, since it's the easiest to access.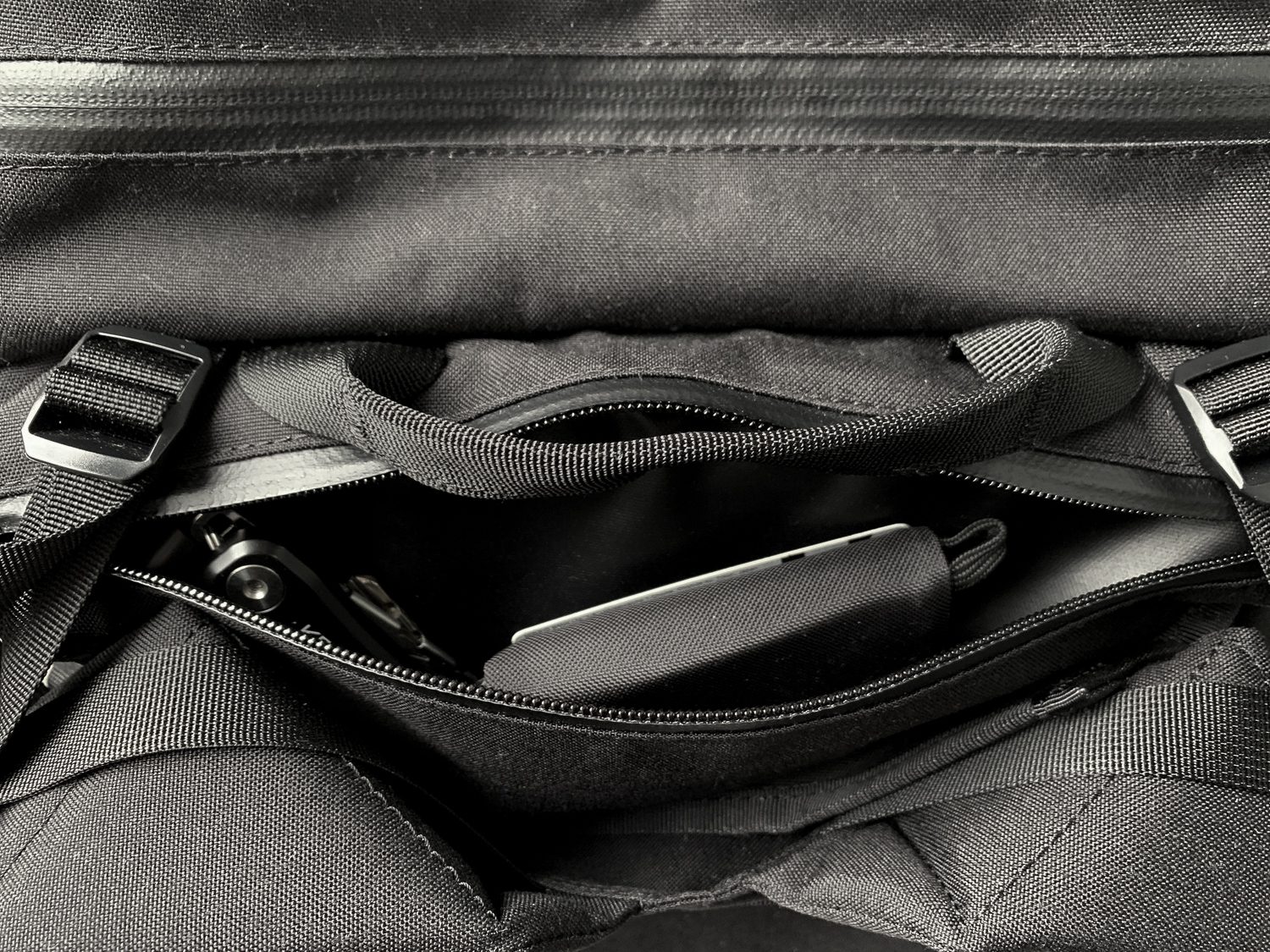 Within it, there's a mesh zippable compartment and a smaller, card-sized, non-mesh compartment. I don't really see a need to have these compartments since the enclosing compartment is small enough to see all its contents at a glance without the extra organization.
On the top part of the back, there's an anti-theft compartment that has just enough space for your valuables like a wallet and phone.
Right below that, there is a hard-to-spot velcro pocket which comes with a removable backpad. It can double as a picnic mat or half-sized sleeping pad. While I don't imagine you using it often, it's helpful to have the option in a pinch.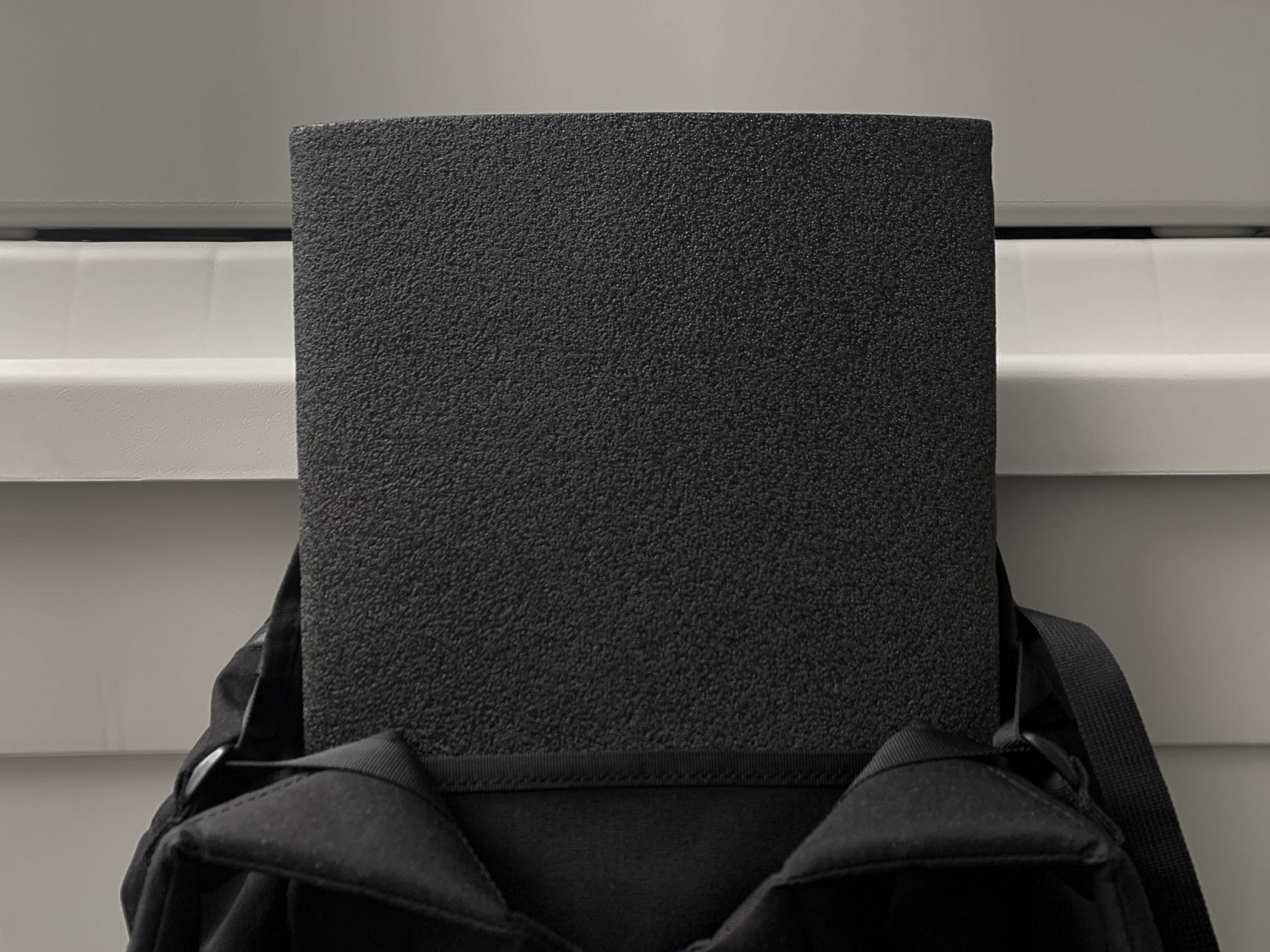 Below that, there is a slot that covers the entire back of the backpack. This was designed to let you hide away the straps. I don't really see a time I would hide the straps away apart from long-term storage, but I guess it doesn't hurt to have this slot.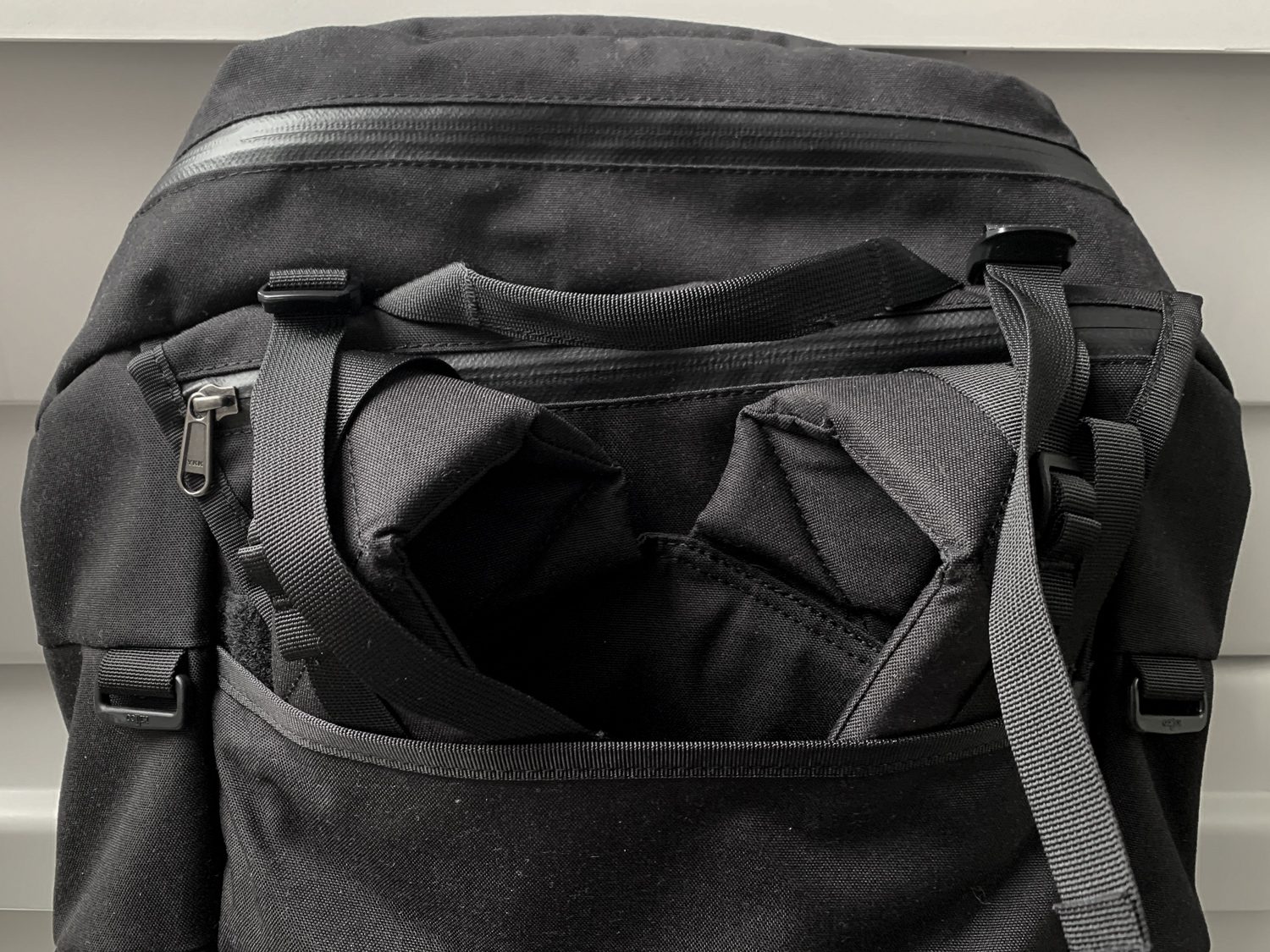 There is also an open water bottle slot on the left side of the backpack. It can tighten with a drawstring.
I found that the 45-liter capacity was more than enough for indefinite travel. You could also add on the CLAST Backpack and side pocket attachments for a total of 61 liters. Even at 45 liter, the Breccia is borderline carryon friendly, don't be expecting to carry this on when fully loaded. Other Breccia accessories include a multifunctional organizer and a laptop case.
One thing that really surprised me about this bag was how comfortably the backpack fitted on my back. Apart from the standard strap adjustments, what sets this apart is you get to adjust the straps from the top as well. This ensures that you get as close a fit as you possibly can. The padding around the straps and back seemed very unnoteworthy, but that didn't hinder the comfort at all. If the strap adjustment doesn't do it for you, there are also hip straps which are, unfortunately, non-removable.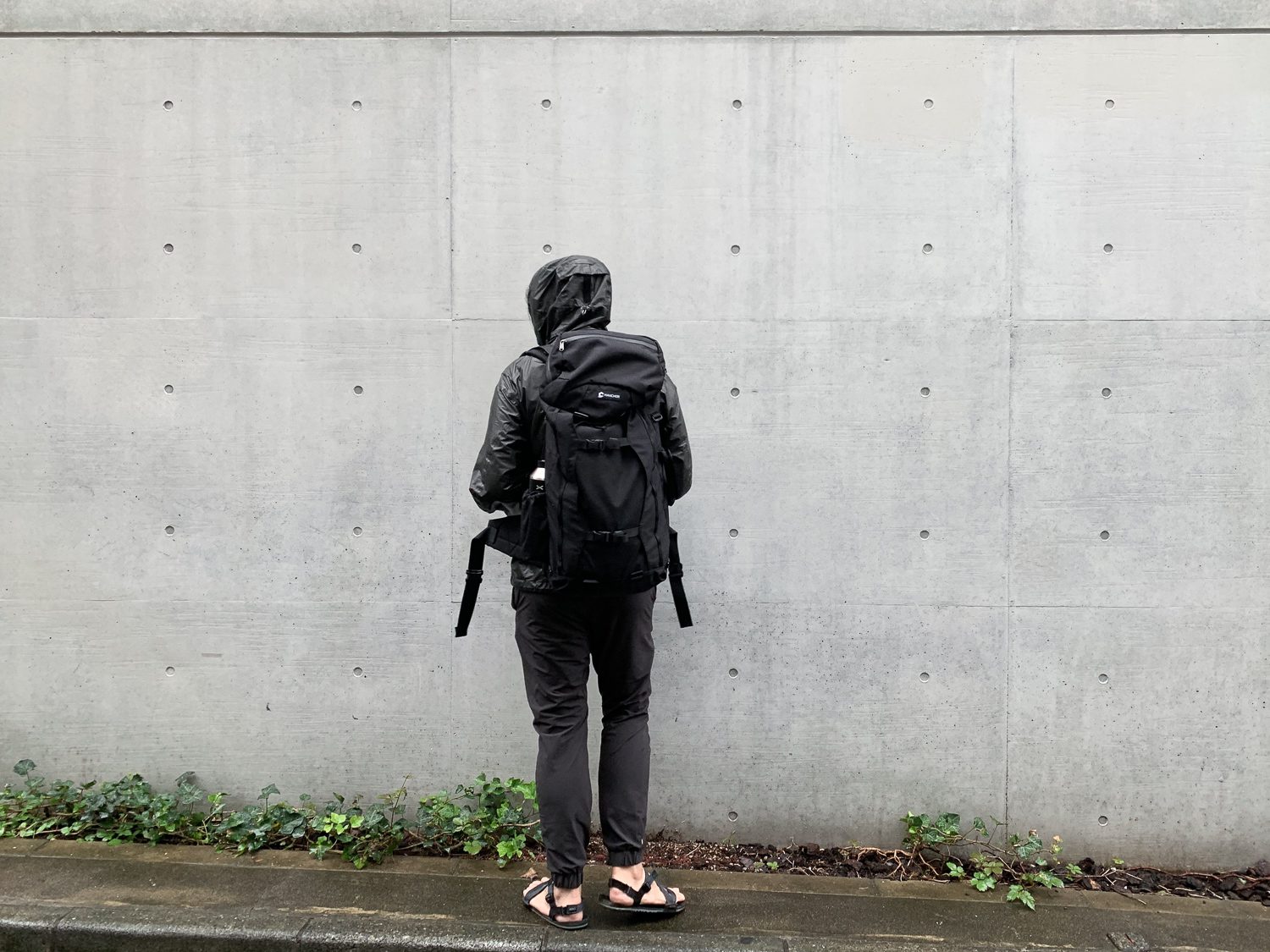 Conclusion
I wouldn't consider this the ideal one bag for urban explorers or digital nomads. It's designed for the outdoors, and it probably perfect for the hybrid nomads that's heavy on the trail adventures.
Like this review? See all of my in-depth reviews.
Also, consider supporting me by being a Patreon. Every cent given will go back into improving the content of this website.