This website is made possible by readers. I may earn a small commission when you buy through the links in this article at no extra cost to you. Learn more.
Details
Price $254.10 on amazon.com
Or €199,99 on uconacrobatics.com (Use the code ALEXKWA for 10% off)
Dimensions 12″ (w) x 19.6″ (h) x 8.2″ (rolled out to 17.1″) (d) / 310mm (w) x 500mm (h) x 210mm (rolled out to 450mm) (d)
Weight 2.82 lbs / 1.28kg
Volume 29 liter capacity (rolled out to 40 liter)
Designed in Berlin, Germany, made in Fujian, China
Overview
I'll admit I have never heard of Ucon Acrobatics before until I did this review, but when I was able to read about their philosophy, see their brand expression and try their bags, I wondered why they aren't more rampantly talked about in the one bag community.
Perhaps it's because the brand is from Berlin, an origin that the community, saturated with GORUCK and TOM BIHN bags, can't discovered as easily.
Even from their products, especially this one, you'll be able to derive their "bias for utility and simplicity" as they put it. Similar to the stylish AER Travel Pack, I was already blown away by their super cool product shots and look book, which reminded me a little of the French brand, A.P.C.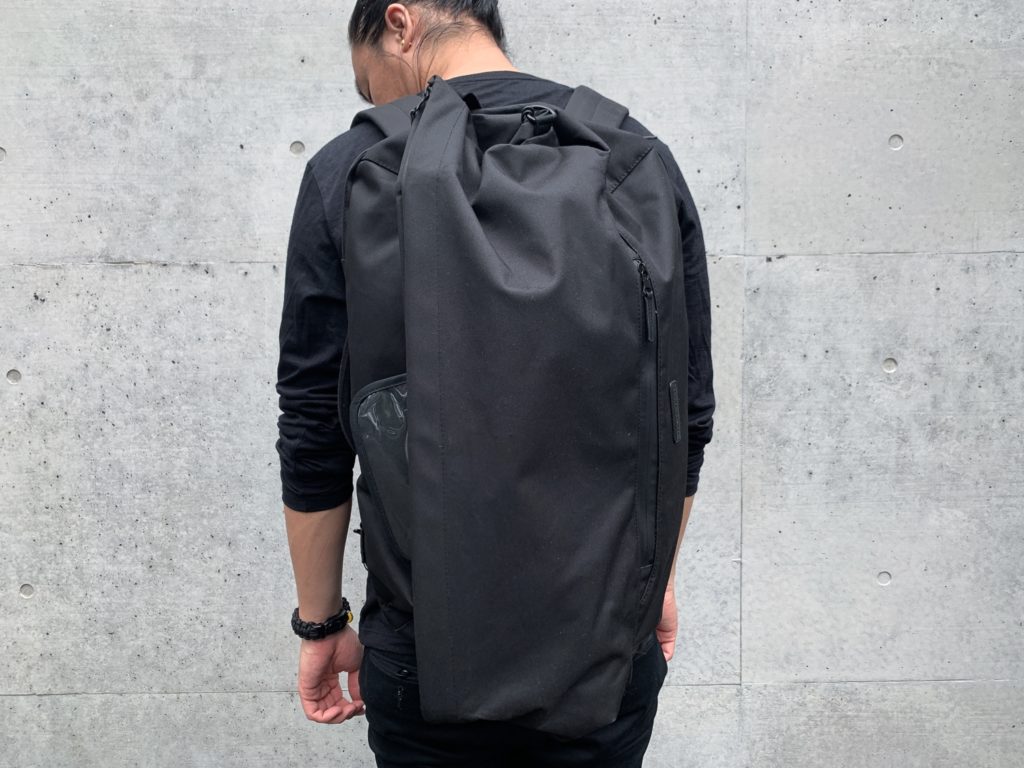 Another point that resonated with me as a one bagger was their mission to create goods designed to enable your journeys and exploration. While I get the irony that I promote products through my reviews, I always see these apparel and gear as an enabler. Once they become a burden, then you're not doing it right.
While I'm a little more cautious when it comes to shoulder bags, like the Pakt One I recently reviewed, I'm more forgiving when it comes to bags that can function as either a backpack and a shoulder bag.
Style
As expected from a brand that touts their inclination towards a minimalist aesthetics, the Rasmus backpack is minimal.
Because of its innovative design, it also has a unique silhouette. The free-form design bears some resemblance to that of bag brand, côte&ciel.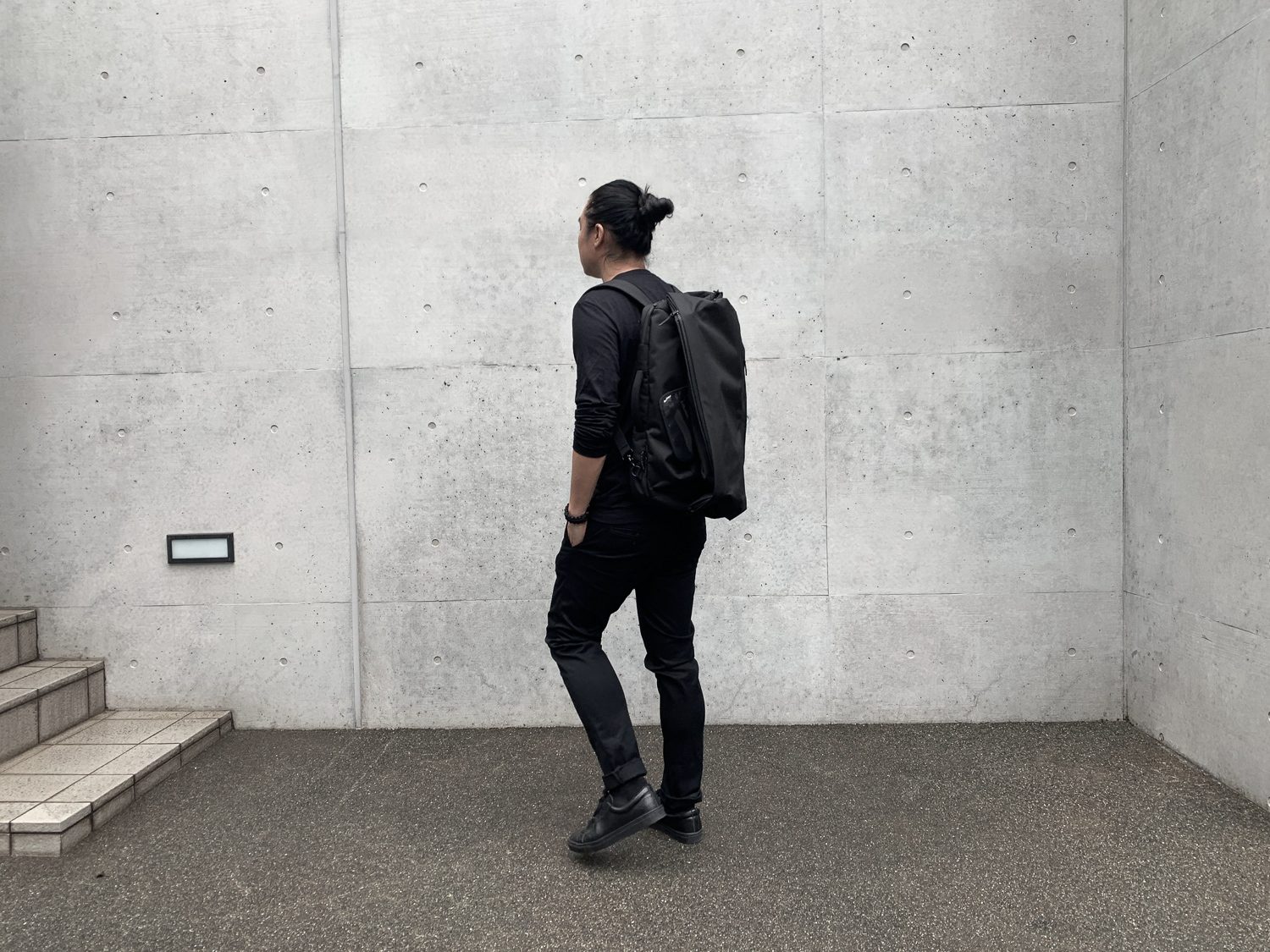 It's hard to describe but it felt fluid yet structured. Free yet put together. I think it's due to the free form main compartment contrasted with the strict color control.
As you might already know, I wear only black and this blog reviews only products that are black in color, but many of these black products can't resist slipping in a small white logo here and there.
The Rasmus Backpack does a one-up by being completely and totally black. Black fabric, zips, straps, hardware and even their logo is completely black. They must be serious when they created this Stealth series.
But no one likes ads, so I got rid of them. If my articles helped you, I ask for your support so I can continue to provide unbiased reviews and recommendations. Every cent donated through Patreon will go into improving the quality of this site.
As mentioned, the bag can be used as a backpack or as a shoulder bag with the included shoulder strap. While I mainly like carrying it backpack style, carrying it as a shoulder bag definitely look better with more formal outfits.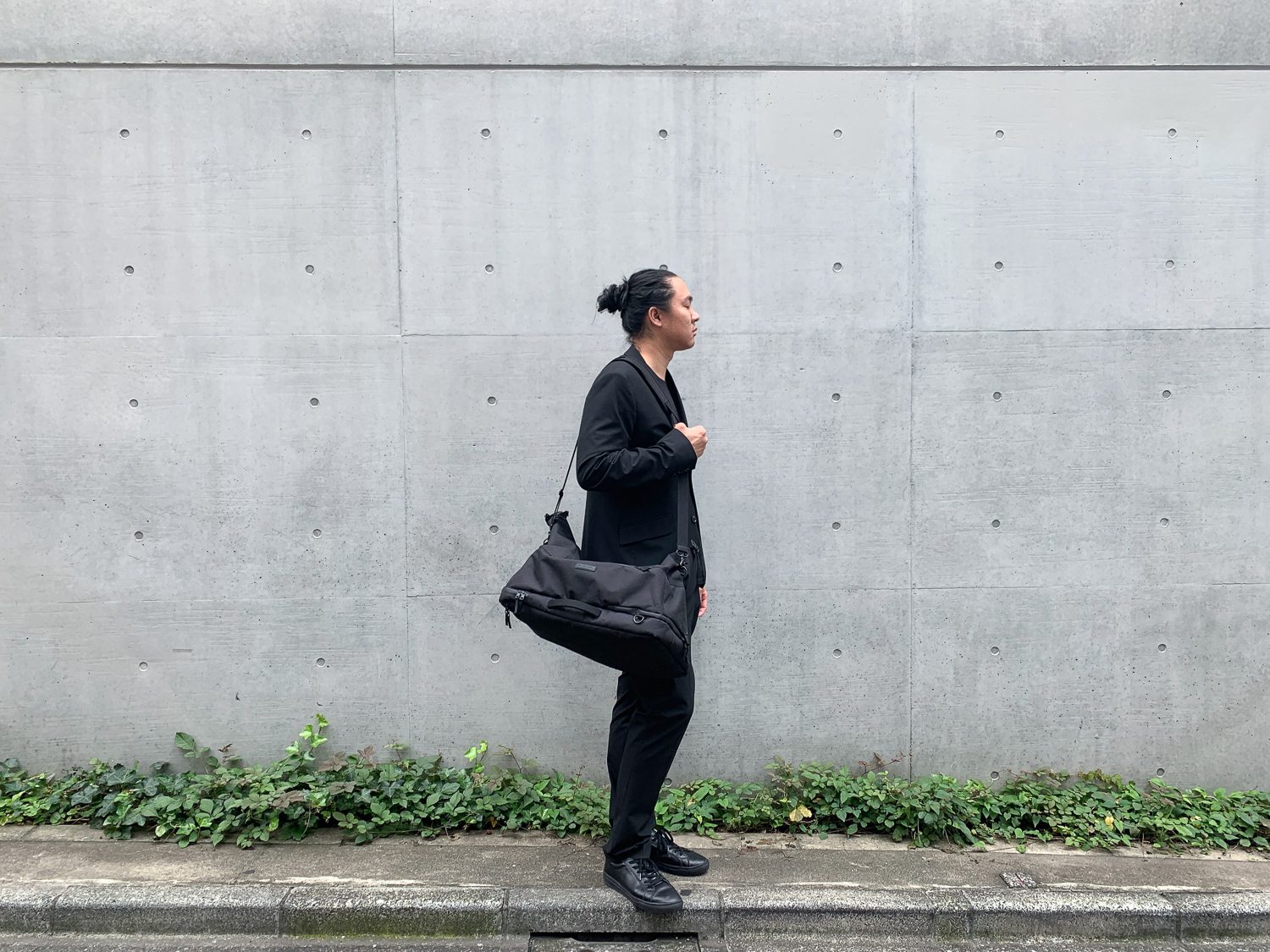 There is a single branding in a form of an embossed 'Ucon Acrobatics' label made out of high-grade vegan leather.
Material
The main fabric ecological recycled PET fabric, and in the world of CORDURA and Ballistic Nylon, is perhaps one of the reason why the bag hasn't fully penetrated the one bag community.
The "PET" in PET fabric actually stands for polyethylene terephthalate, the substance plastic bottles are made of. These plastic bottles are collected, cleaned, sorted, shredded, melted and new threads are drawn and spun into yarn.
This yarn is very light and easily processed a durable fabric for the backpacks.
The bag is water repellent via a laminated foil from TPU, PU or PVC which makes the material impermeable up to a water pressure of 1.500 mm. Even so, a minuscule amount of water might find its way through the zippers and seams, which is why it's water repellent and not waterproof.
From what I can tell, the zippers doesn't seemed to be from the usual suspect from Japan, YKK.
The side handle has been padded with high quality EVA foam, which is a material is commonly used to manufacture flip-flops as it is soft without being sponge like. Although I don't usually carry it by the handle, it was adequately comfortable to hold.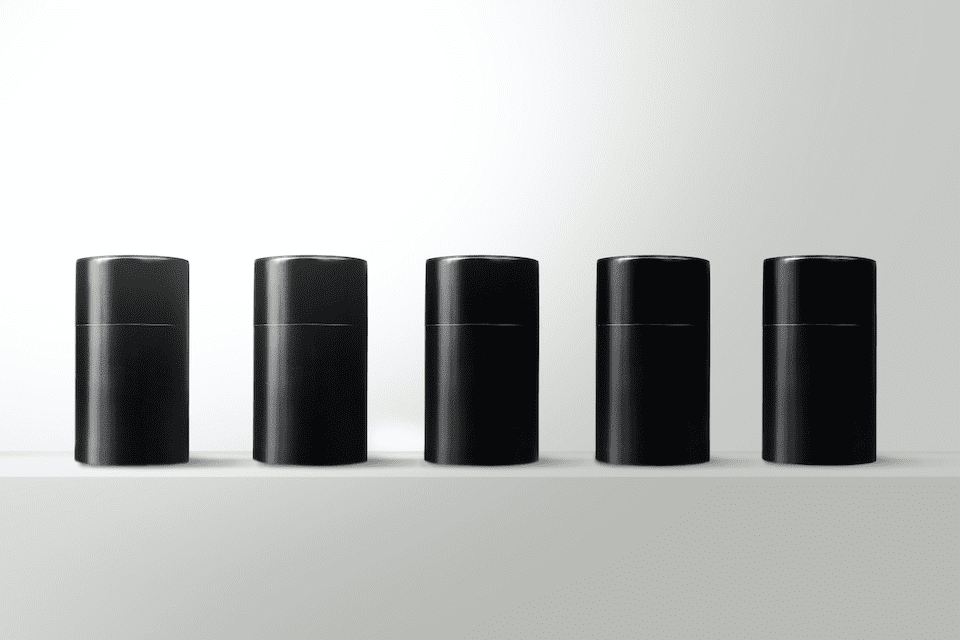 I found a 100 year old company that would create these heirloom quality canisters for me. They are handmade and will keep your tea leaves, coffee beans or anything that you need dry for years to come.
or read review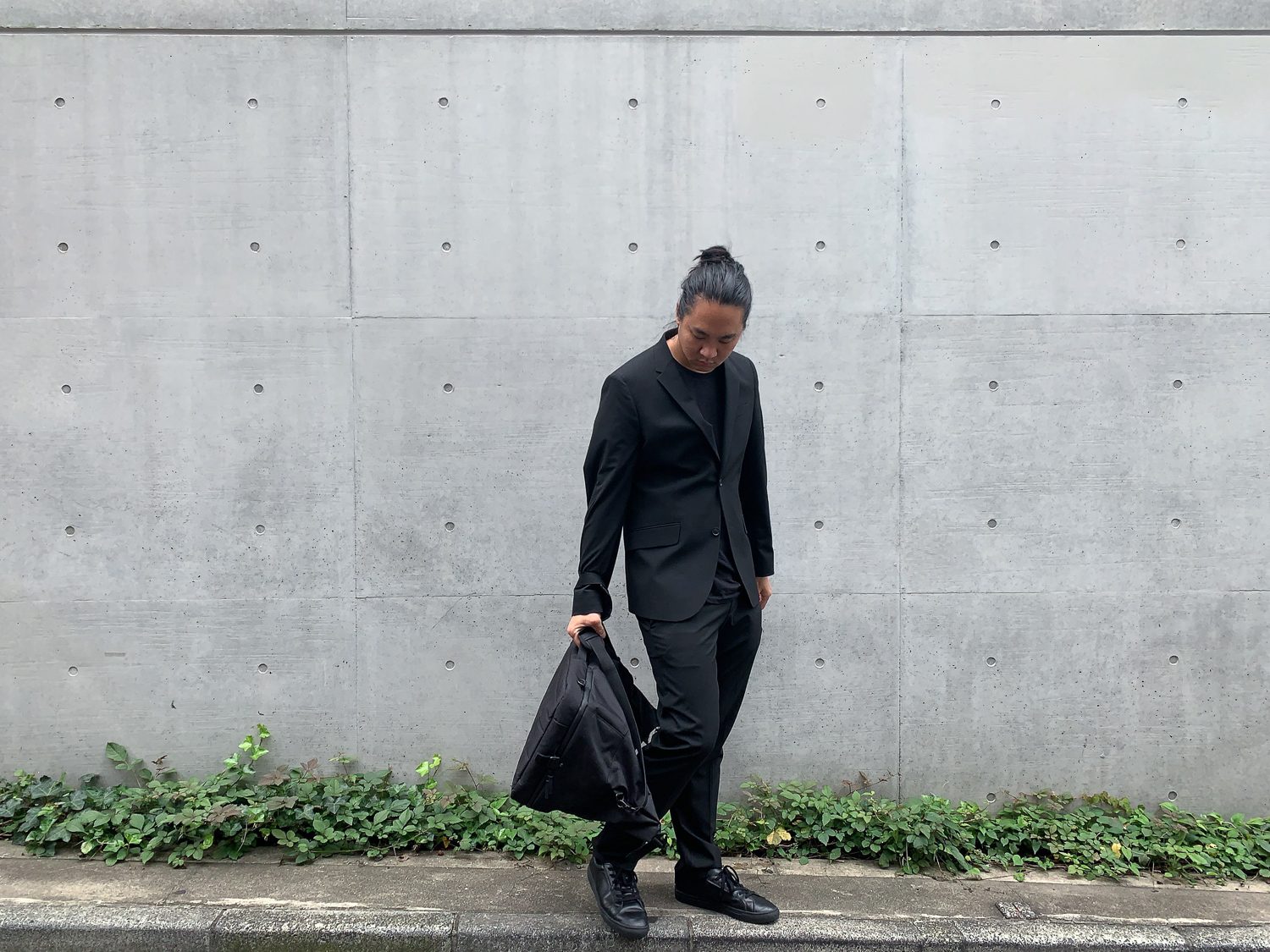 Organization
Let's talk about this crazy main compartment that can be opened up. It amazes me how a 29 liter bag can expand to a 40 liter one. But this main compartment is like Doraemon's pocket. It feels like you can fit anything in there.
Unlike some bags with crazy organization that takes up the main space, like the Synapse 25, this bag lets you freestyle the organization. Great for packing cubes enthusiasts.
When I travel, I like to obsess about organization because under the stress of foreign situations, you just want forgo the hassle of not being able to get what you need when you need it.
But when I'm just going about my daily activities, sometimes I just want to dump everything into my bag. For those like me, this is the perfect bag to do just that.
In the main compartment, there are some clips for you to hold down items you would like secured to the back of the main compartment. This might be good for large packing cubes that might cause clutter in the main compartment.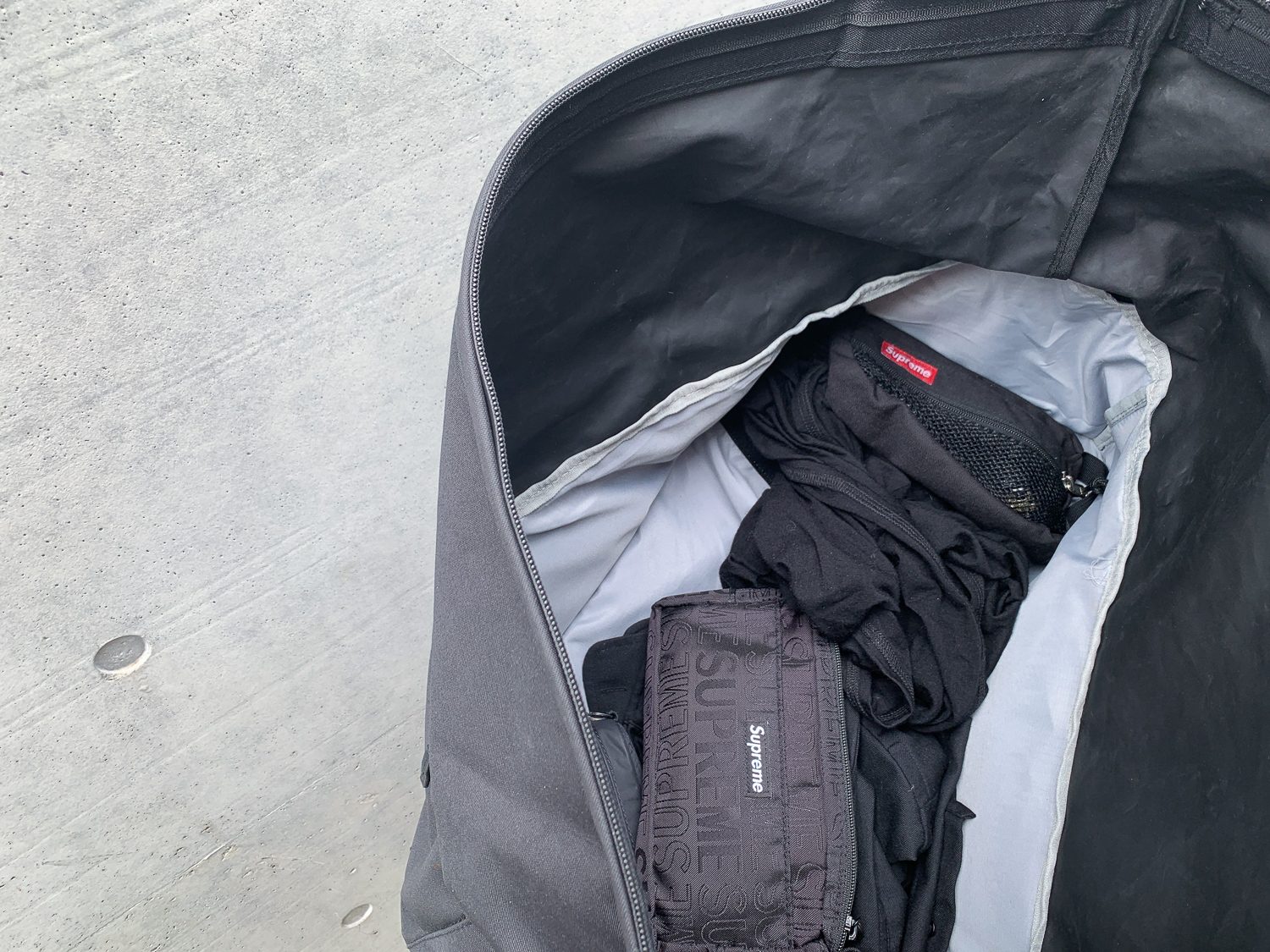 The bag's concept is based upon two clips on the both ends of the bag. Clip it down, and you can flatten or expand the pack by adjusting the straps.
You can also clip them onto each other for a different profile.
On the surface of the bag, there are two quick access pockets.
They are a little less quick access than most bags because it's closer to the middle of the bag, so you have to reach down more to access it.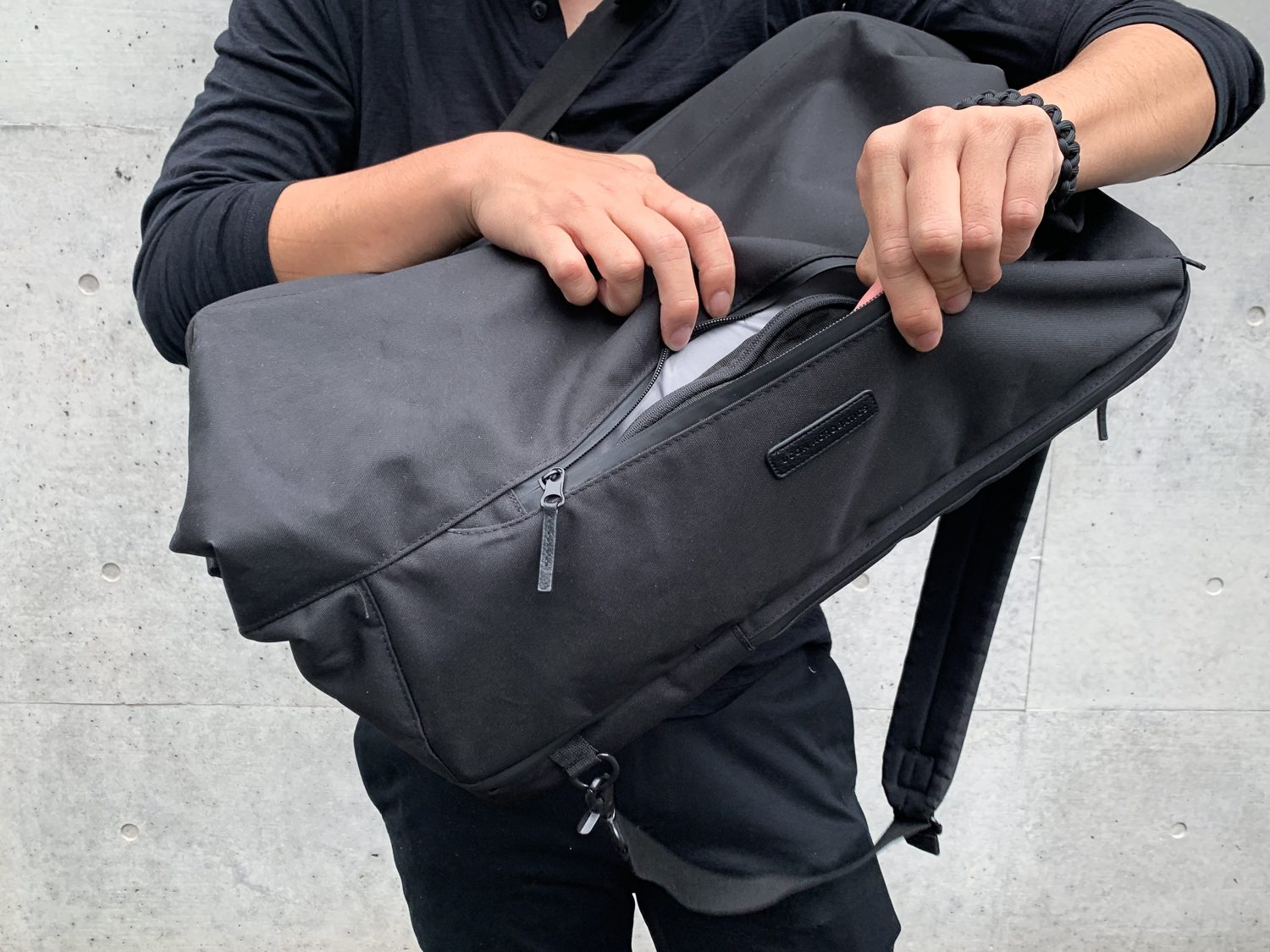 Despite being just a quick-access pocket, I was able to fit quite a bit in the left pocket. I usually have a dopp kit and my employee pass in here.
There is also another quick access pocket on the other right of the bag. This pocket was where the shoulder strap came in and I left it in there even though I seldom use it.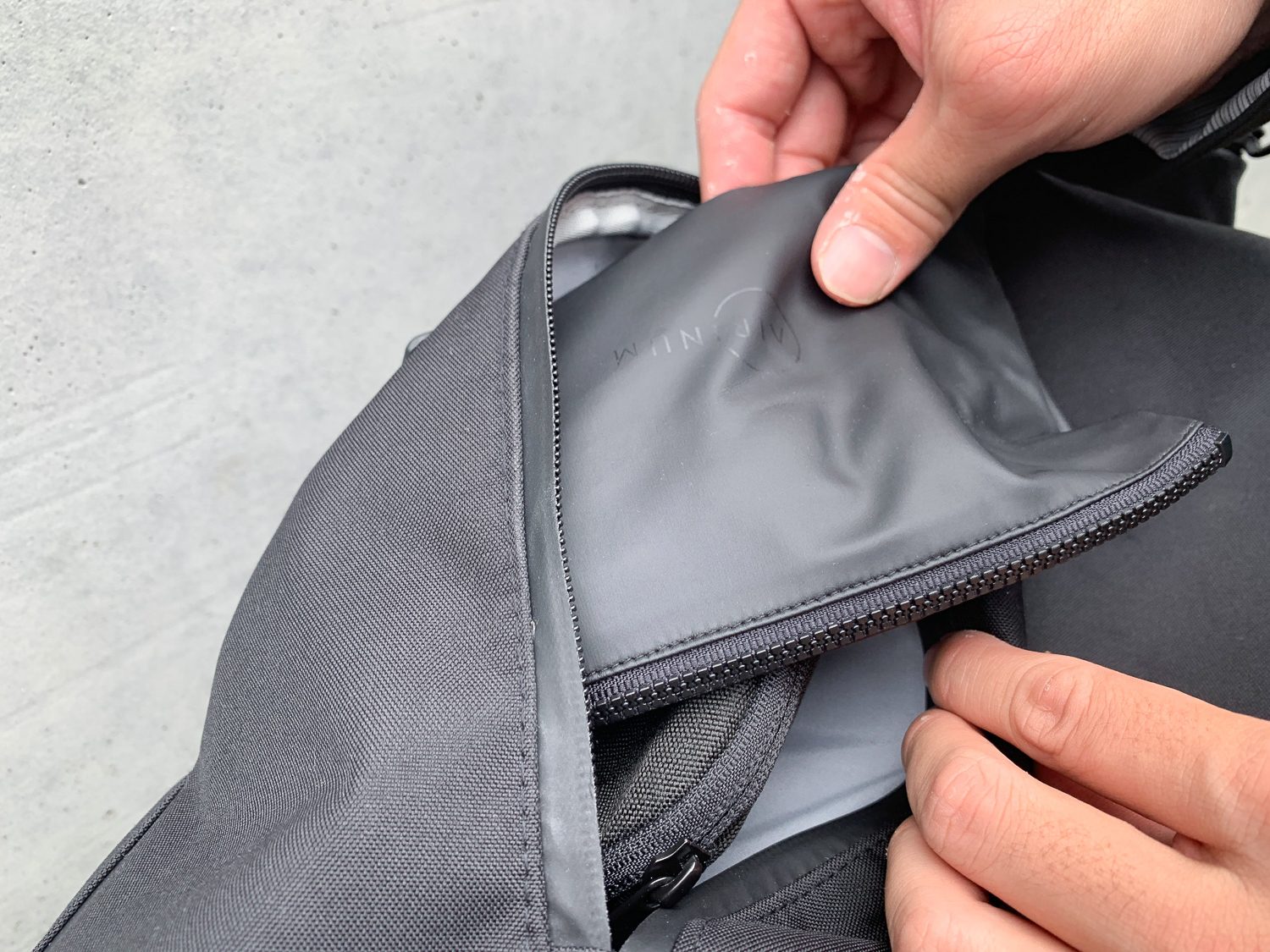 There is also another quick access pocket with lesser space is on the top of the bag. It fits your mobile phone and wallet well.
Behind the main compartment, is the laptop compartment. The laptop compartment is pretty standard but I found it interesting that it has slots within it as well, probably for tablets. Unlike some bags, they don't have a pocket here for your electronic accessories. I put those in my TOM BIHN Snake Charmer and put it in the main compartment.
Right on the back of the bag, there is a pocket in which to store the backpack straps. This is a pretty standard design which can be seen in bags like the TOM BIHN's Aeronaut 45.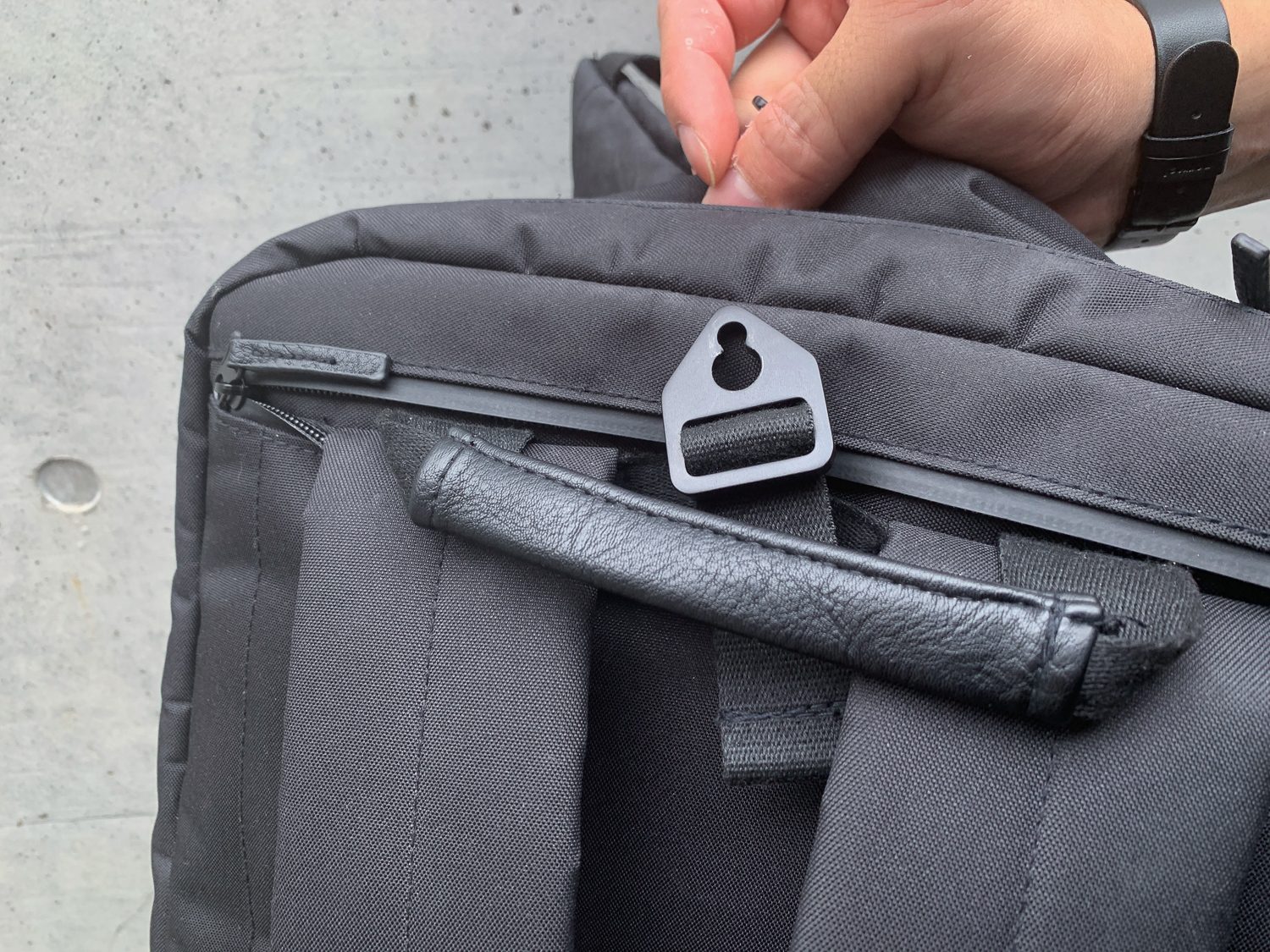 Once your keep the backpack straps into the pocket, it would look something like this.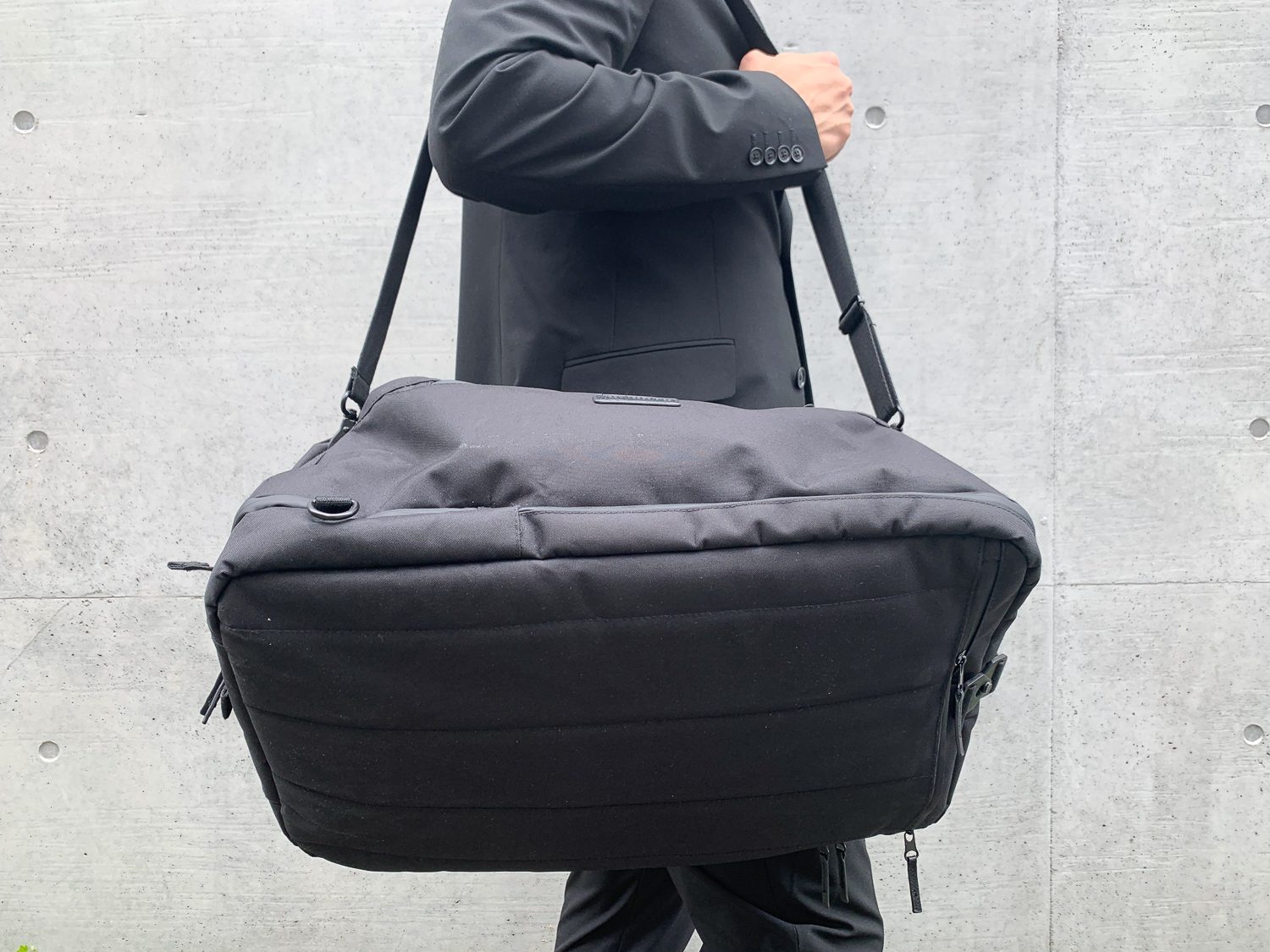 Usage
I've been using this bag as my daily carry for a few weeks now and I'm really like it.
It looks unique but not overbearing, which is a good balance to me. At first, I wasn't used to the clip system. Especially since you had to undo the clip to access your laptop, something I do multiple times a day.
You also want to note that even after just a few weeks of use, it's likely you'll start scratching off the coat on those clips.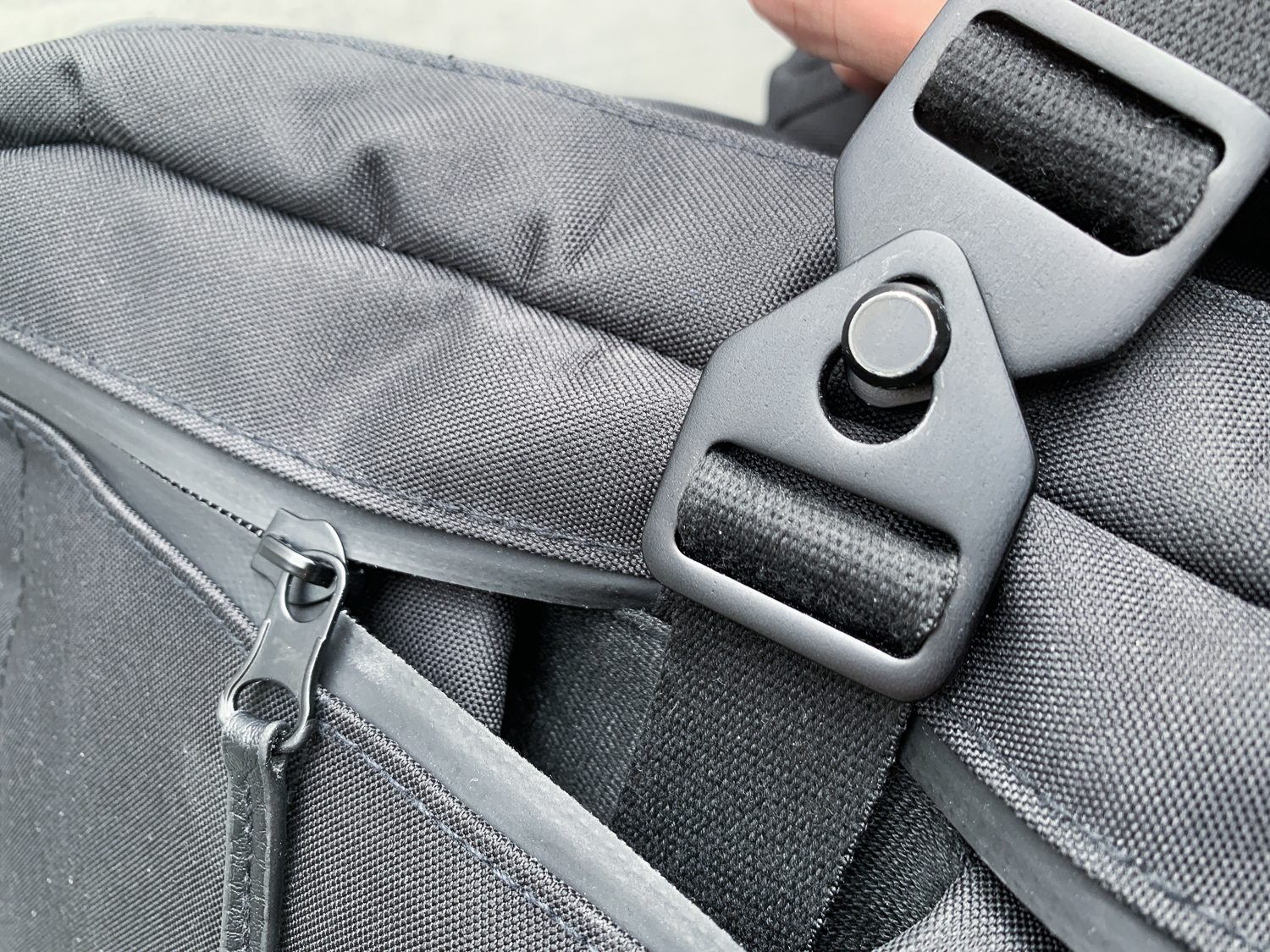 The organization is just perfect for me since I sometimes just want to dump my things into a compartment without thinking. I think the fact that you can open it up such that it exposes the entire contents really help you find what you need, even though it's just a pile of stuff in one big compartment.
One thing I did wish they had inside the main compartment, was at least one O-ring. While they have O-rings on the outside of the bag, I'm not one for attachments flapping around on the outside.
What I did was attach my TOM BIHN Clear Pouch on the outside O-ring and have the pouch in the main compartment.
I'll be updating this review as I continue to use this backpack, so be sure to check back again.
Update: 2.5 years later
I've left this in Singapore as my main backpack when I visit home. I am sad to report that vegan leather does not do well in the humid conditions of Singapore. The leather on the handle and zipper pulls have flaked and is a giant mess. Unfortunately, the leather is not as high-quality as some of the other bags I owned stored in the same conditions.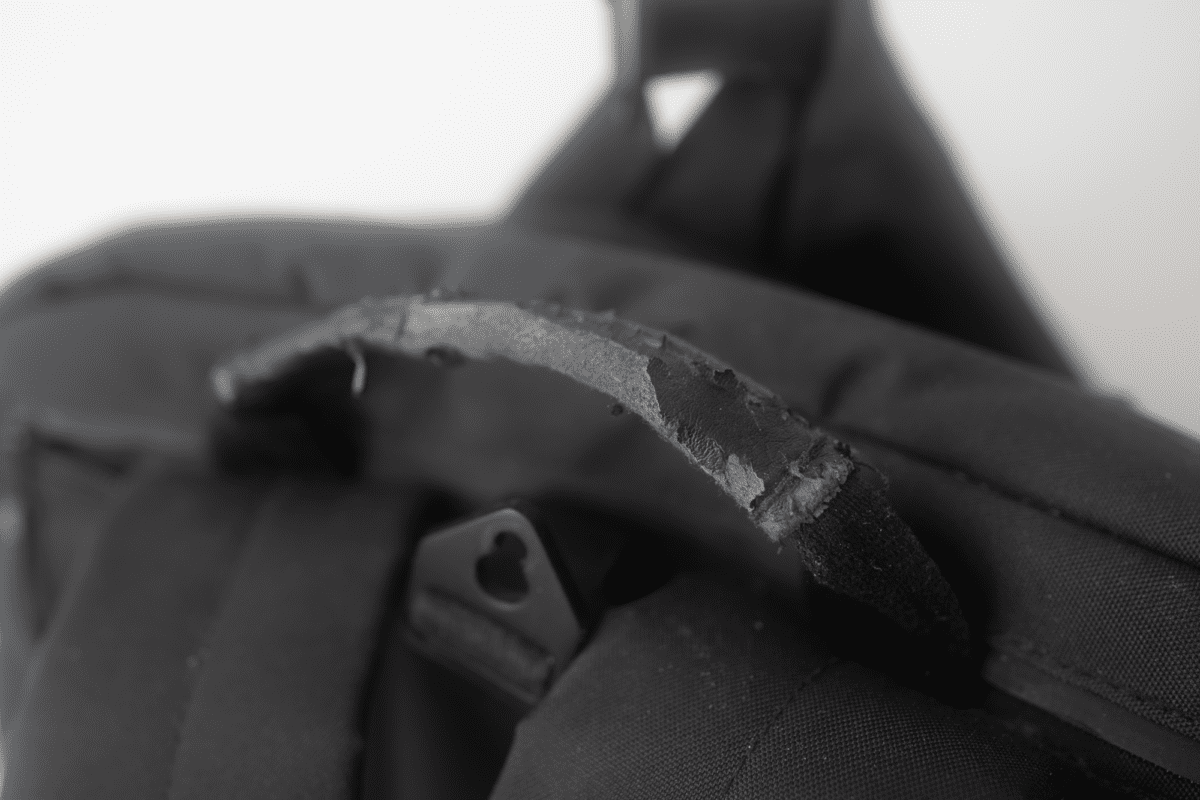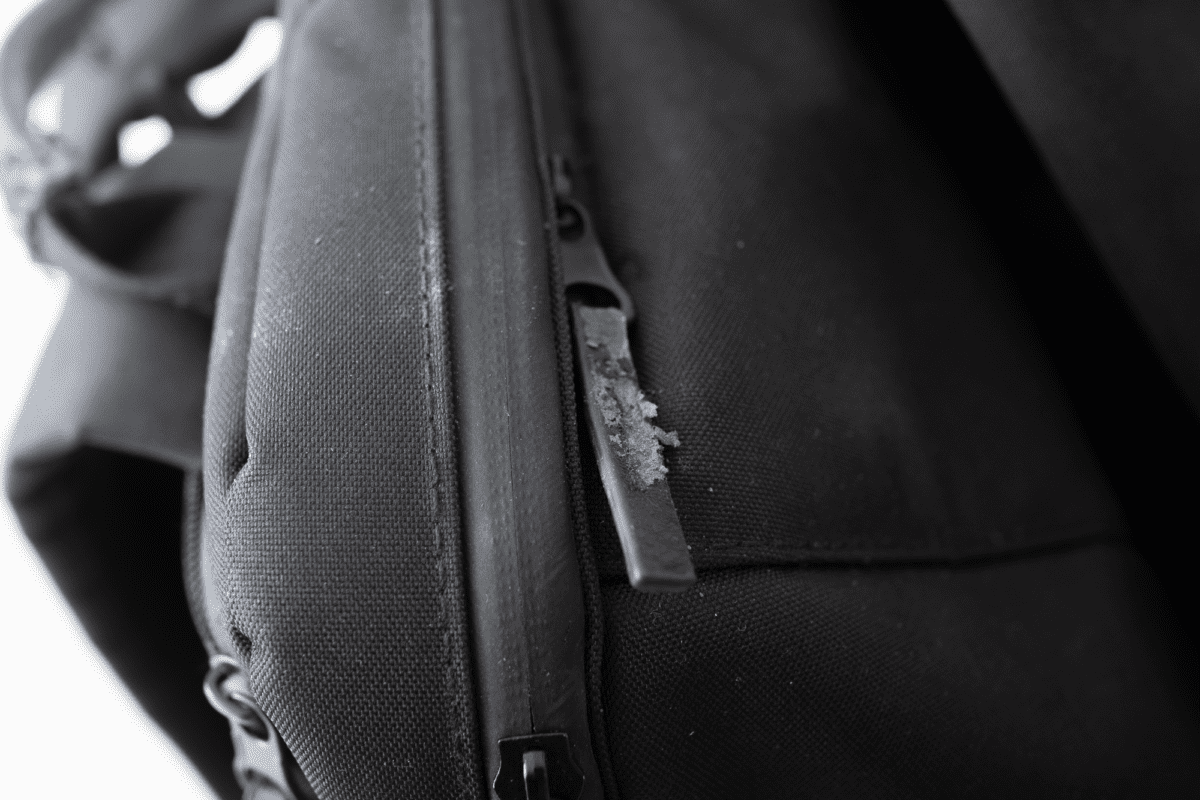 Update: 3 weeks after the last update
I cut off the leather and was able to continue using it without issues. But the straw that broke the camel's back was when the main zipper stopped working. It wouldn't seal the opening. Unfortunately, repairing it would not be worth the time or money and I had to let go of it.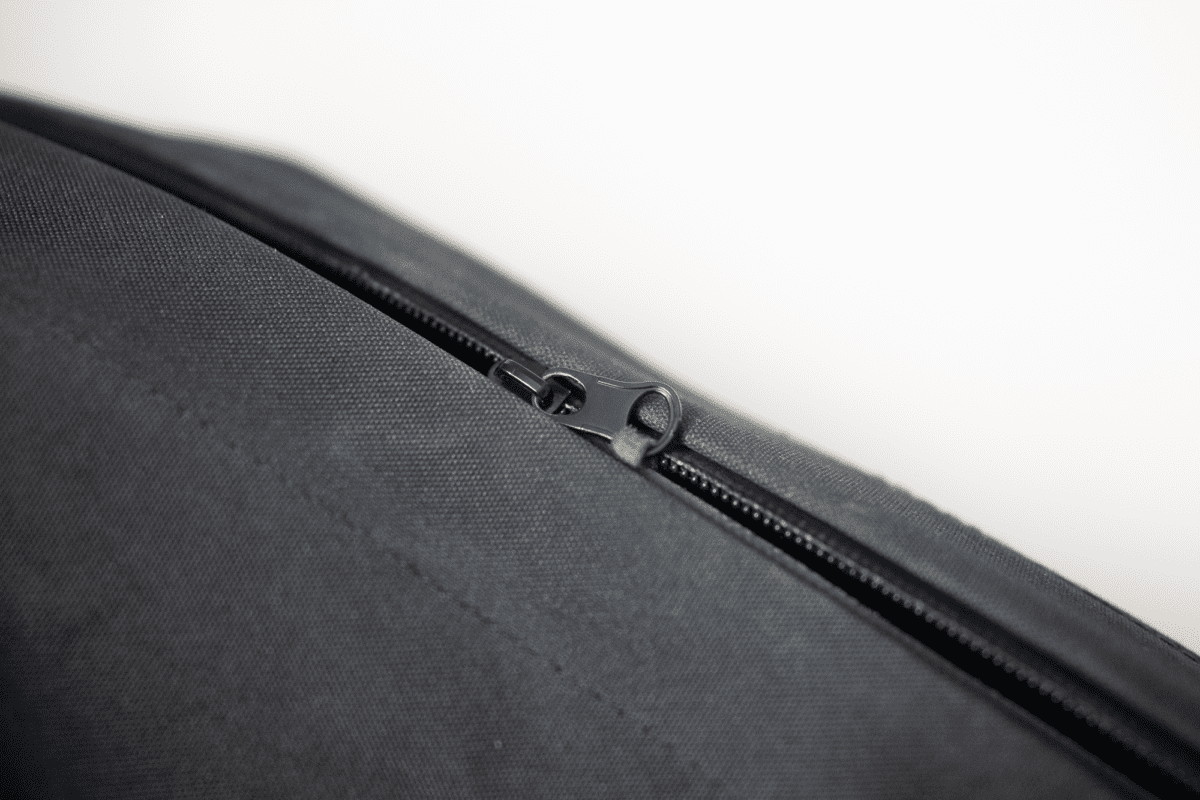 Conclusion
While this bag doesn't have super materials like the GORUCK GR1 or impeccable organization like the Tortuga Outbreaker, it steals the show with its innovative design, gracefully realized with a minimalistic sense.
While it took some getting used to in the beginning, the unique design grew on me and is one of my favorite everyday carry backpacks.
Update
Unfortunately, it seems like components of the backpack, while sounds good in concept, did not hold up after prolonged use. At that price point, you can get backpacks like the TOM BIHN Synik or TOM BIHN Techonaut that would last forever, so I would not recommend this one.
Like this review? See all of my in-depth reviews.
Also, consider supporting me by being a Patreon. Every cent given will go back into improving the content of this website.
Tagged backpack bag pakt bags review ucon acrobatics