This website is made possible by readers. I may earn a small commission when you buy through the links in this article at no extra cost to you. Learn more.
This is a review of the Design Lab version of the TOM BIHN Paragon Backpack that's all black, something I am all about. Get intrigued.
Details
Price $160 on tombihn.com ($170 for the Guide's Edition)
Materials 525 Ballistic Nylon and Halcyon
Capacity 19.8 L
Dimensions 13.4″ (w) x 17.9″ (h) x 6.8″ (d) / 340 (w) x 455 (h) x 175 (d) mm
Weight 1 lb 7.6 oz / 670 grams
Overview
If you've just found out about TOM BIHN, you are in for a ride. They are a brand that has been around since the 80s, although the founder, Tom Bihn (yep, Tom Bihn is a real person), has been designing bags since the 70s. Over the years, an army of enthusiasts has risen alongside them, and it's a cult following which I am proud to be part of.
In the few years I've written about TOM BIHN backpacks, from their iconic TOM BIHN Synapse to the recent Design Lab version of the TOM BIHN Shadow Guide, I've witnessed the brand evolve. From an acquired retro, almost dad-bag look, the style of TOM BIHN products has evolved to the tastes of 30-somethings who are buying travel backpacks even when they can't travel. Guilty as charged.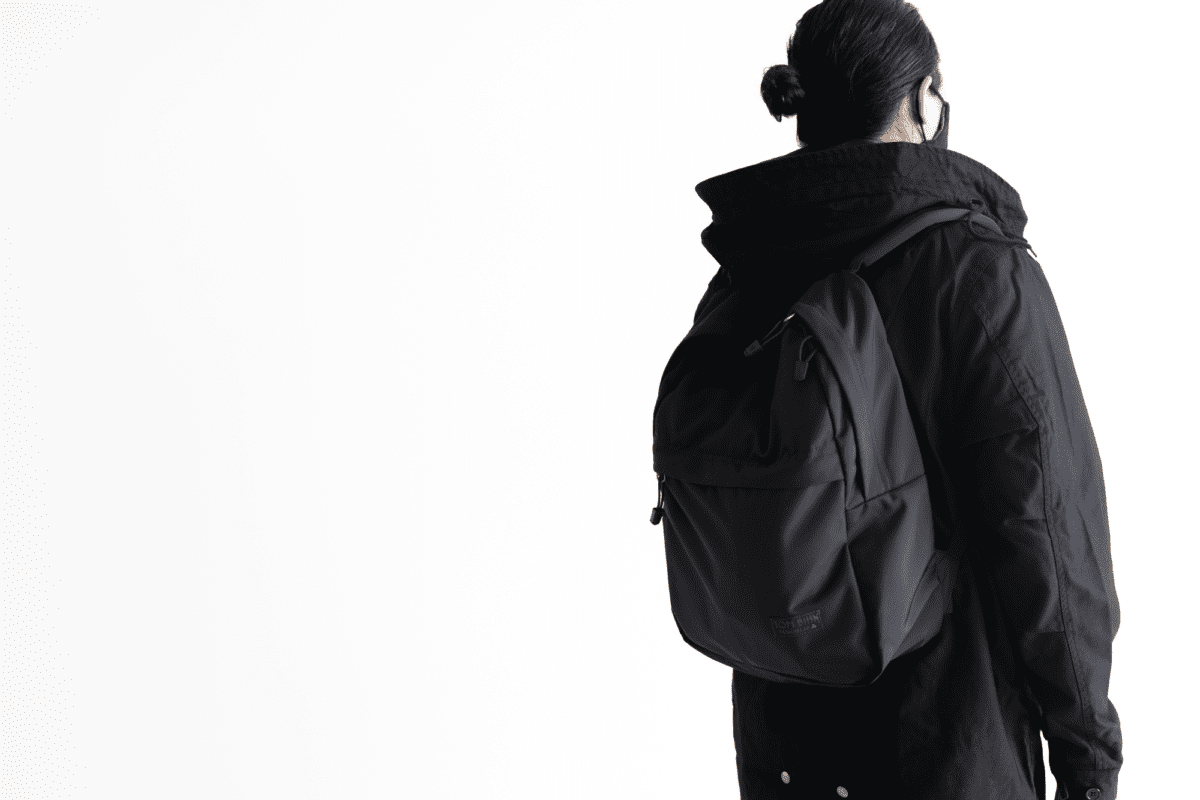 I've often lamented the style of TOM BIHN products, including that big airplane logo patch that is usually smack in the middle of any backpack. TOM BIHN started the Design Lab to experiment with styling and materials that deviate from their usual look. Even though it's called "Design Lab", it's really "Nik's Lab" as it seems like a playground that Nik, the prodigal heir to Tom Bihn, can design bags the way he wants them.
Nik is behind some of the latest hit pieces like the TOM BIHN Synik. If anything, he certainly has the knack for taking Tom's time-proven designs and adapting them to a modern crowd. An example would be the addition of the laptop compartment in the Synik, something which long-time Synapse fans have been begging for.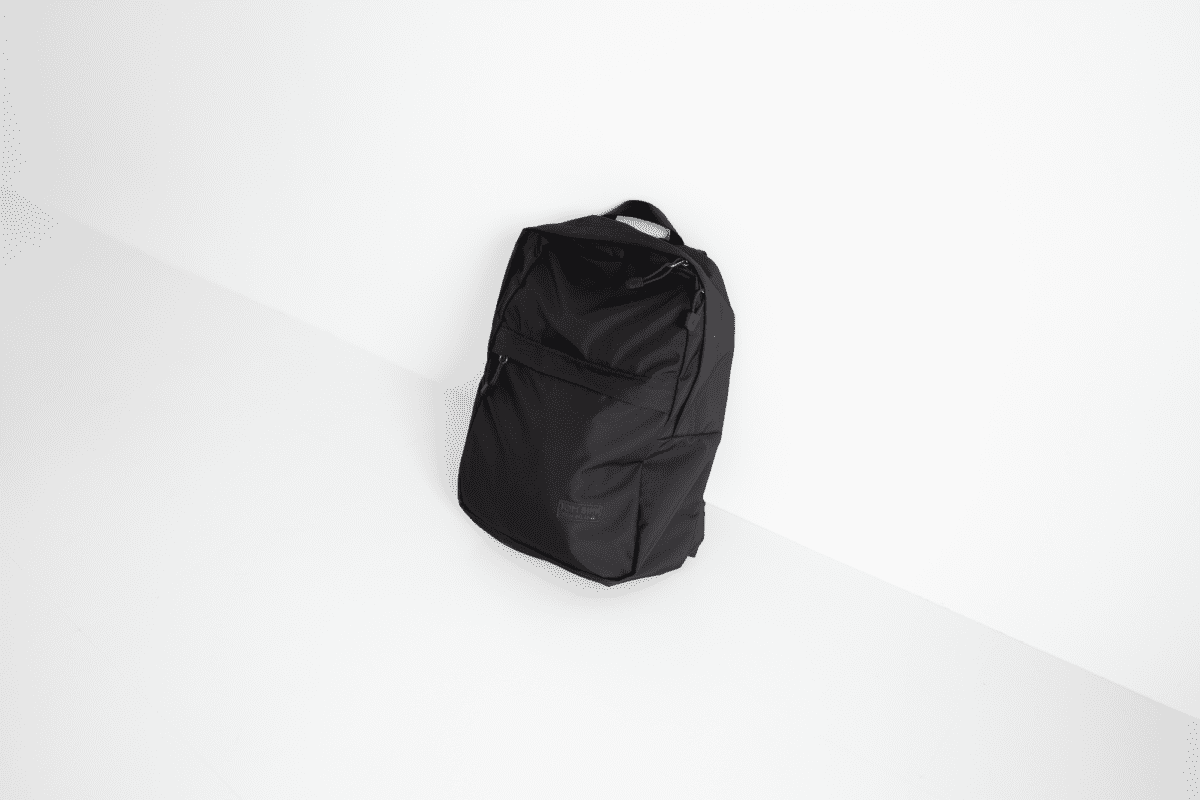 However, my favorite part of this endeavor is Nik's propensity for a black-out palette. In case you haven't noticed, I've adopted a lifestyle of wearing only black clothing and gear. Design Lab versions usually include an all-black option, which is exactly what I went for. I'd like to think that my website has been subconsciously influencing their move to all black colorways on their latest products.
The exact bag featured in this review is the Paragon Backpack Design Lab Black 525 Ballistic/Northwest Sky 200 Halcyon.
Style
My first backpack from TOM BIHN was the little talked about TOM BIHN Daylight Backpack (which coincidentally is available in a blackout colorway now). The Daylight, even to this day, remains my packable backpack of choice. It strikes a fine balance between being packable and looking substantial enough not to make you stand out too much as a traveler.
However, I wouldn't go as far as to say that it will make a good daily backpack. It is clearly a packable backpack that doesn't try to be anything more. The lack of any padding in the shoulder straps and any structure are telling signs of this.
The TOM BIHN Paragon Backpack seems to be trying to solve just that. It feels like a backpack substantial enough to be a daily backpack, yet slim enough to be a second backpack you bring along on trips. As such, the size and minimalist design make it a worthy choice whether you are traveling or in day-to-day use.
But no one likes ads, so I got rid of them. If my articles helped you, I ask for your support so I can continue to provide unbiased reviews and recommendations. Every cent donated through Patreon will go into improving the quality of this site.
The front of the backpack is clean, and the only feature you can see is the hidden zipper to the quick access that runs directly across the center of the bag. You would be able to see the zipper pull tab peek out slightly from the zipper concave. The zippers are the only non-completely-black part of the backpack. The zippers will also be more prominent if you choose to add on the iconic zipper pulls that come with any of TOM BIHN bags.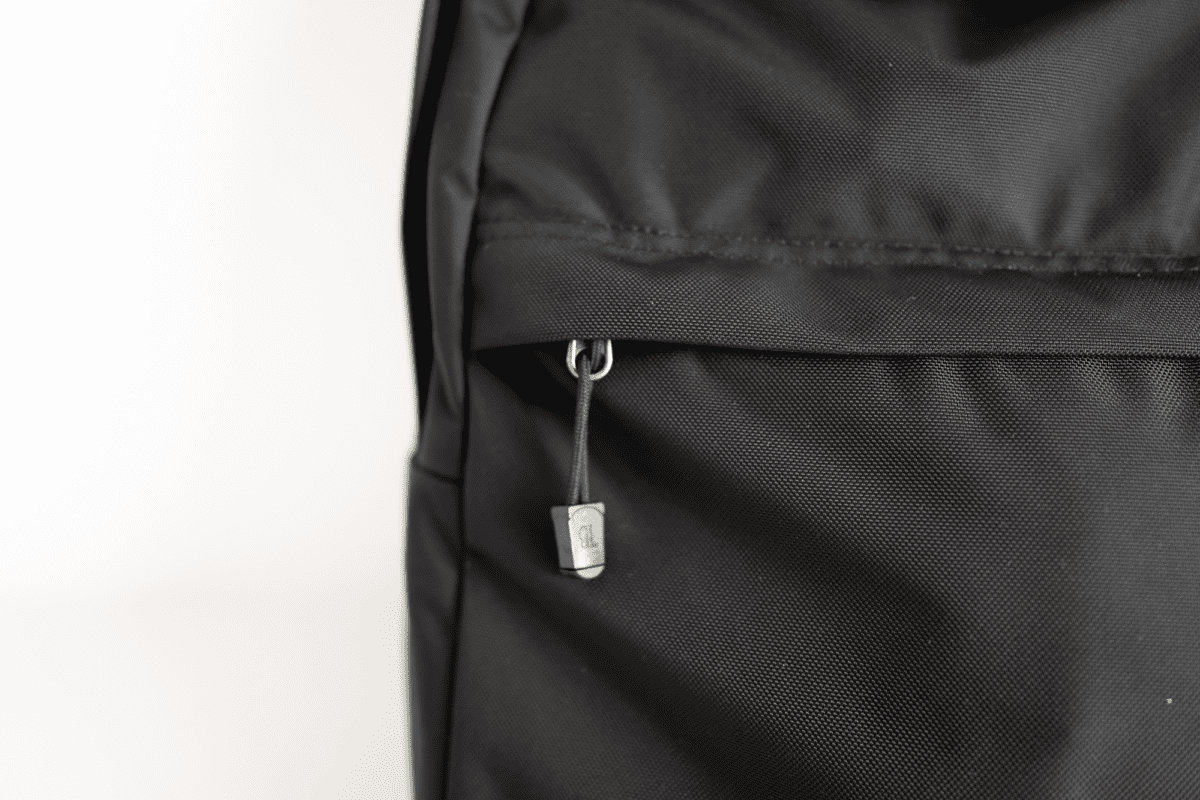 The only other visible detail is the murdered-out TOM BIHN logo tag on the bottom right. Although technically speaking, it is black with dark grey text. It says "TOM BIHN" followed by "DESIGN LAB" on the next line. Next to it, an icon consists of three dots, a "therefore" sign, an actual sign used in logical argument, and mathematical proof formulas.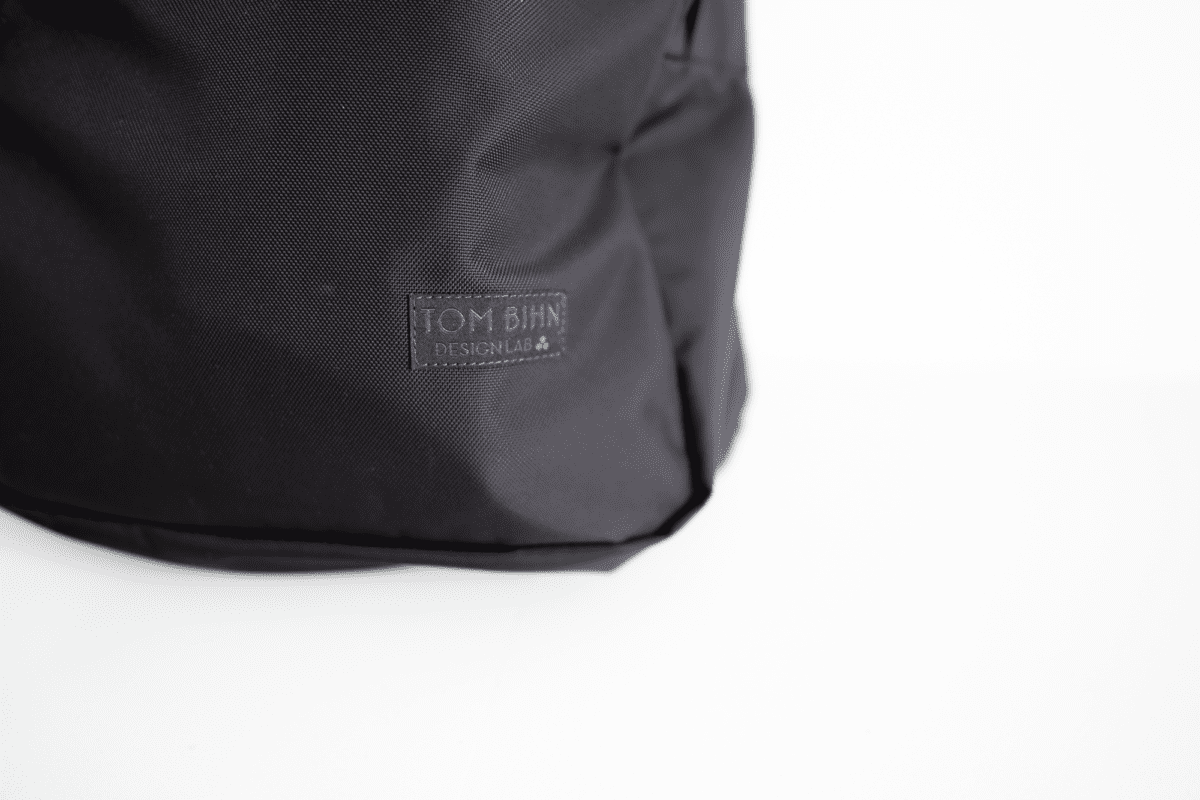 Apart from the details (or lack thereof), what is worth mentioning with the TOM BIHN Paragon Backpack is the slim profile. Measured from the side, it's around 3.5″ in depth, and it expands out to about 4.8″ towards the bottom. Although, that isn't to say that it will stay like that. It will likely budge out towards the bottom if you pack more things, causing the top part to dent inwards, creating a less flattering silhouette.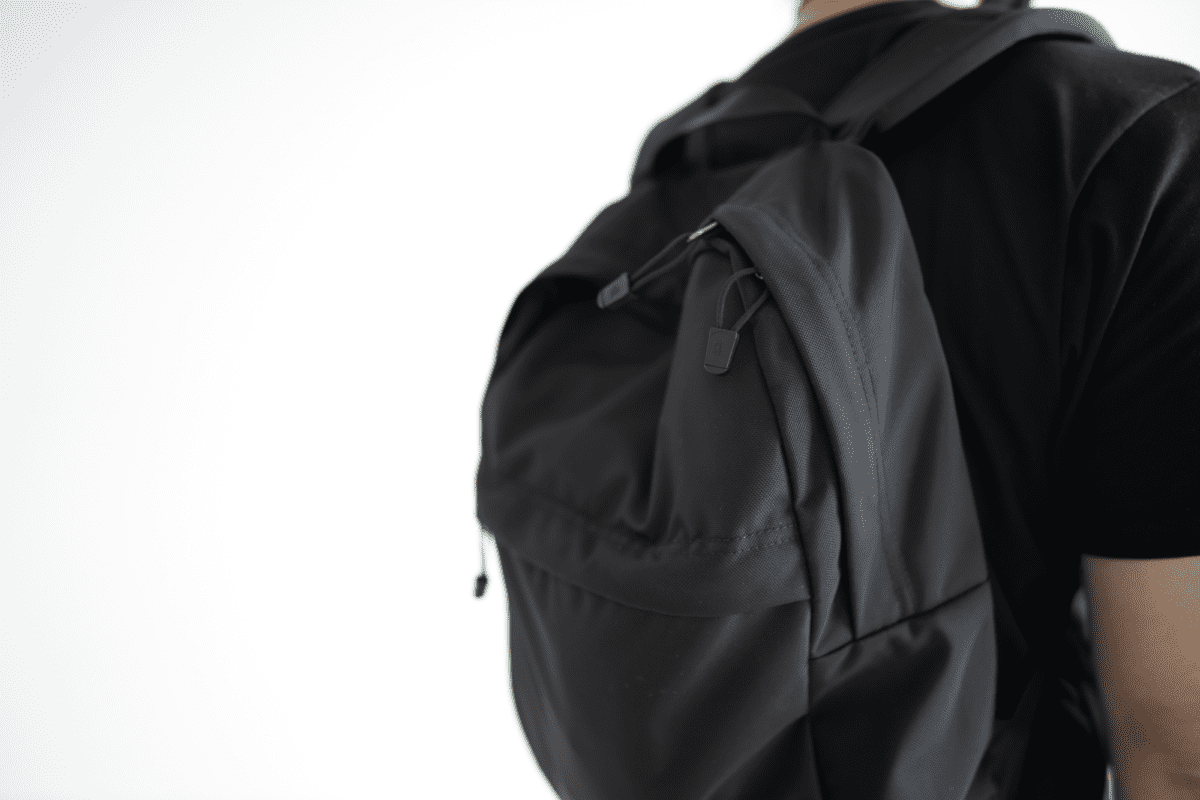 Compared to the similarly-sized TOM BIHN Daylight Backpack, the Paragon comes with more features to give it structure, like a padded back panel and shoulder straps. On the flip side, more structure on a slim bag means it will look odd when it's not packed enough. If you only have a laptop and a few accessories, it looks almost too slim, making for an odd silhouette.
The shape is decidedly rectangular and not unlike the TOM BIHN Daylight Backpack. However, it is sized well for my 6'0″ build. The size and shape are part of the reason why I felt the TOM BIHN Paragon Backpack was substantial enough for an everyday bag. The caveat here if your bag is too empty, it will look a little like you are carrying a piece of cardboard on your back.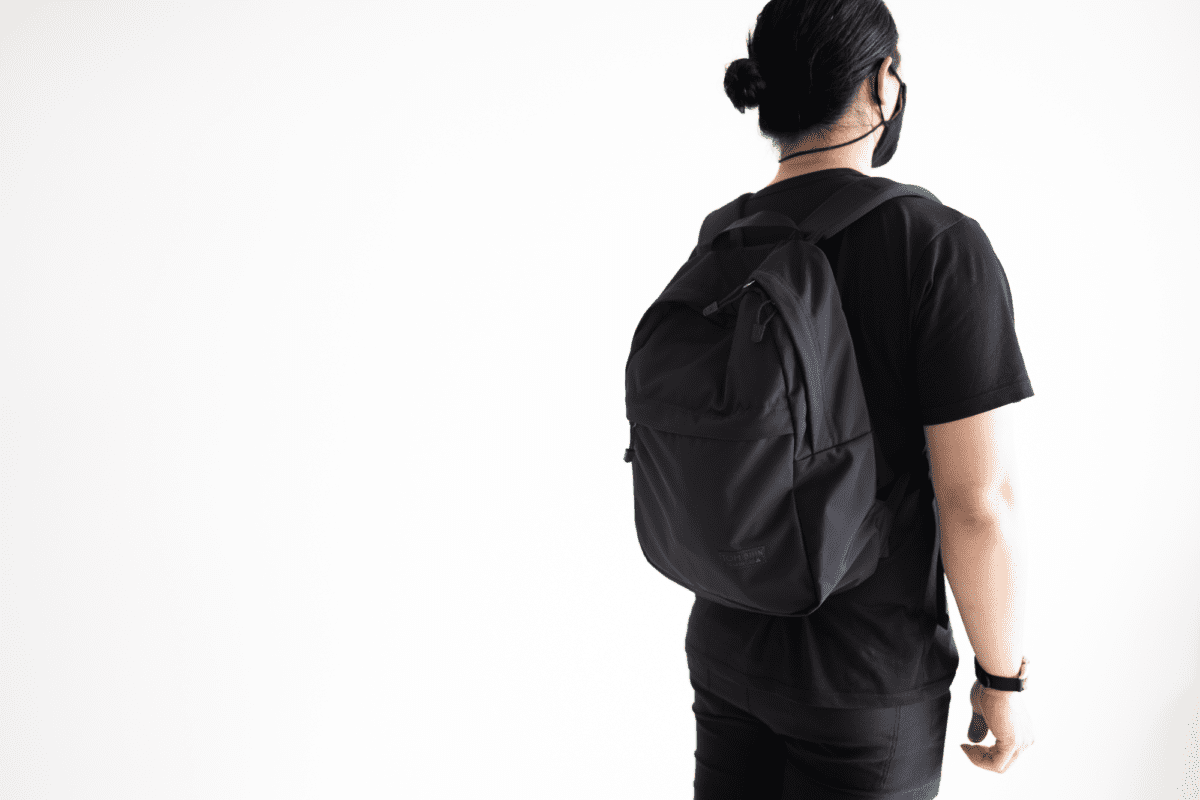 Overall, the Design Lab TOM BIHN Paragon Backpack is a beautiful variation of a design classic. The minimalistic design blends well into an urban environment. The lack of details makes it perfect for travel since you want to draw as little attention to yourself as possible.
Materials
The Paragon Backpack is available in two main materials, a 525 ballistic nylon and halcyon. Each bag company has materials that they are inclined towards. 1000D Cordura is what you will often find on GORUCK bags, while 1680D Ballistic Nylon and X-Pac are often seen on Aer's sleek lineup. For TOM BIHN, it's ballistic nylon and halcyon.
The 525 denier ballistic nylon is used on many of their popular packs. While 525 denier (or d for short) might sound low compared to a number like 1050 or 1680, 525d means the yarns are smaller, resulting in a tighter weave. As a result, 525 weighs 70% of the weight of 1050d ballistic nylon instead of a 50% that one might assume.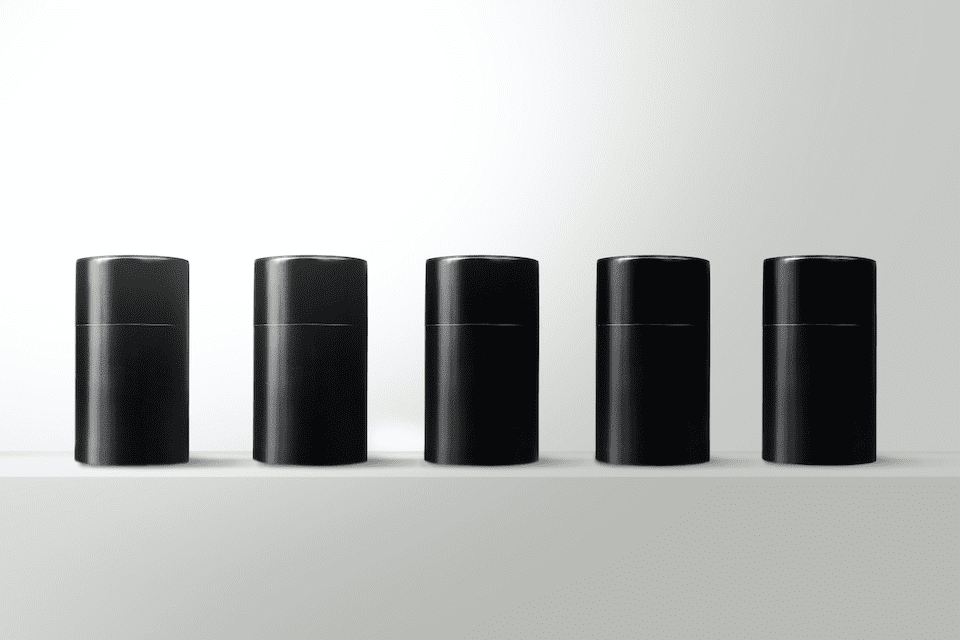 I found a 100 year old company that would create these heirloom quality canisters for me. They are handmade and will keep your tea leaves, coffee beans or anything that you need dry for years to come.
or read review
The tighter weave contributes to increased abrasion resistance, which measures close to that of the 1050d ballistic nylon. This abrasion resistance is virtually the same as 1000d Cordura, but it has a higher tear strength. It's also important to note that both fabrics cannot be torn with normal use.
In fact, ballistic nylon, originally created for military application, is way more durable than the needs of most travelers. There isn't a practical point comparing materials or denier count when it comes to this tier of materials. The materials will likely outlast you and anything you throw at it. If you want to know more about ballistic nylon, you can read this unnecessarily detailed guide I wrote because I had too much time.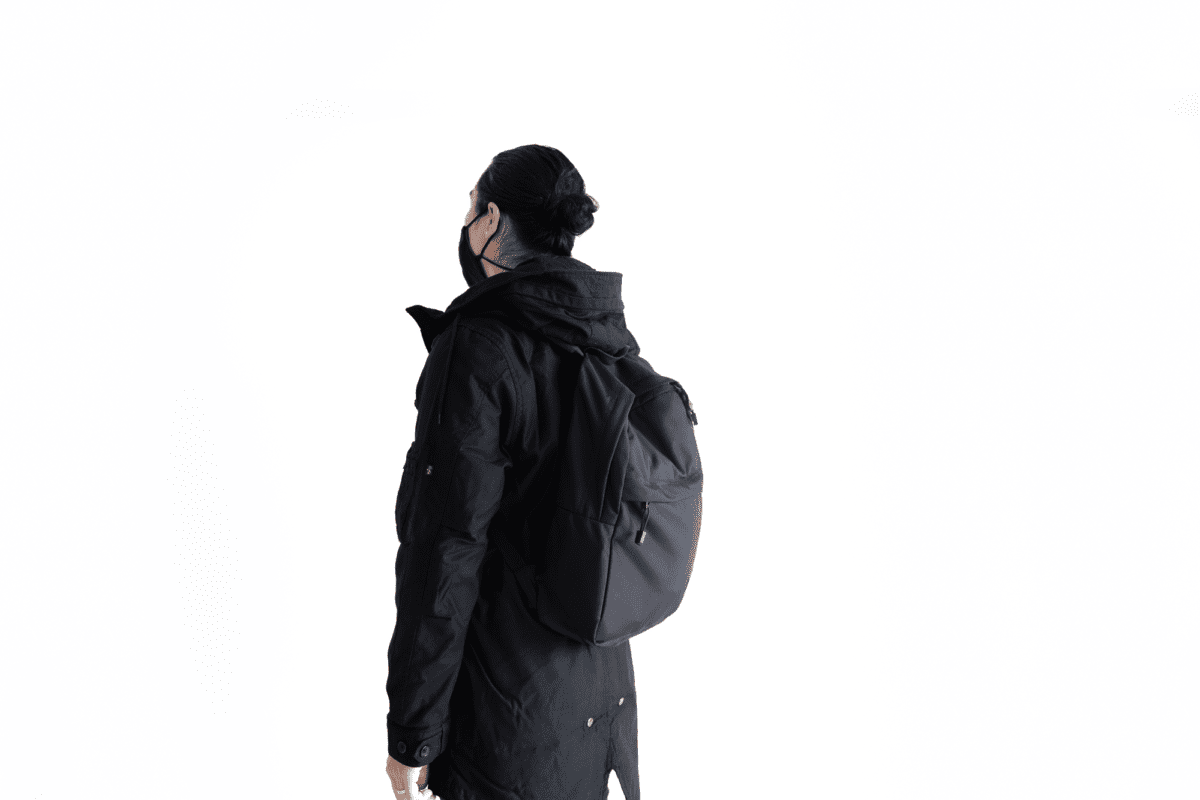 The other material is a 200d halcyon. It's a ripstop fabric that's technically 210d. You'll notice that halcyon comes with a grid pattern. The grid pattern is made up of UHMWPE (ultra-high-molecular-weight polyethylene) yarns. This isn't just for aesthetics. What it does is make the halcyon fabric virtually impossible to tear at no added weight.
For my review unit, the halcyon is used just for the lining, but TOM BIHN offers halcyon exterior versions. Even though I've got extensive experience with TOM BIHN products, most of my experience is with their ballistic nylon lineup.
The main reason why I never go for the halcyon exteriors is really a superficial one. I was not too fond of the gridlines and thought that an all-black exterior was better. They have started adding all-black halcyon exteriors in recent releases where the grid lines are also in black. I would love to give halcyon a chance in light of this new development.
Usage
First, let's talk organization. Or a lack of, in this case. If you are the kind that needs a pocket for every damn accessory, then look somewhere else. Something like the TOM BIHN Synik or Aer Tech Pack might work better.
The TOM BIHN Paragon Backpack is for those who will stuff their stuff into their bags in no particular order and don't mind burrowing for what they need. You animals.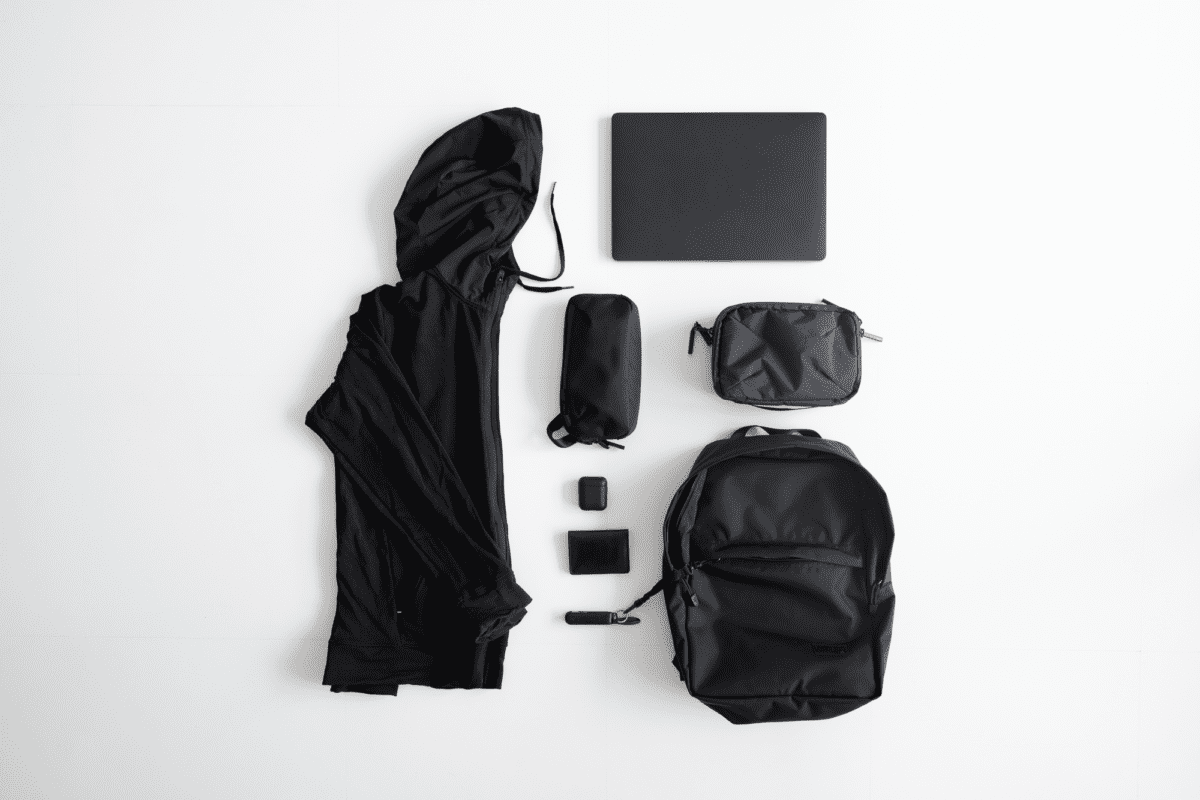 Or those who went all-in into the packing cubes game. That's me. If you belong to either of these tribes, the Paragon Backpack is the gem you are looking for.
That said, it has some organization.
Quick Access Pocket
First of all, it has a quick access pocket that takes up approximately half the backpack's front. The standard TOM BIHN Key Strap is included.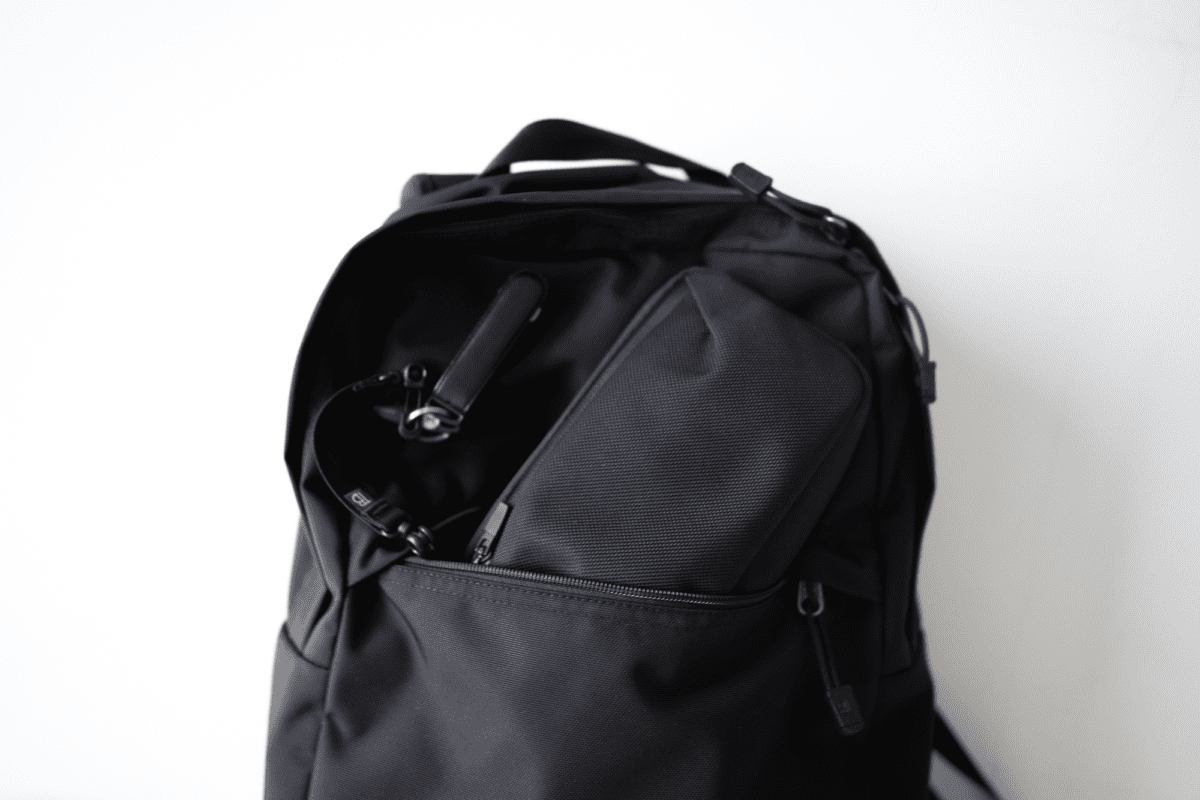 I know some of you like to put their little accessories like keys and wallets in here, but I found it too deep for those. Instead, this perfectly fits my Aer Slim Pouch that I bring along every time I head out.
One thing to note about the zipper of this pocket is that a one-inch flap hides it. You have to lift the flap to access the pocket. However, if you try to lift it and unzip it in one swift motion, the flap will prevent you from unzipping all the way.
Another point is that when the main compartment is filled up, it will push against the pocket, especially at the bottom. When you try to put something like the Aer Slim Pouch in, you won't be able to put it all the way in unless you use your other hand to make space at the bottom.
Internal Zippered Pocket
Inside the pack, there is a zippered pocket. This pocket is about four inches in height, with the zipper starting after one inch. Along the bag, there is a padded sleeve meant for your laptops.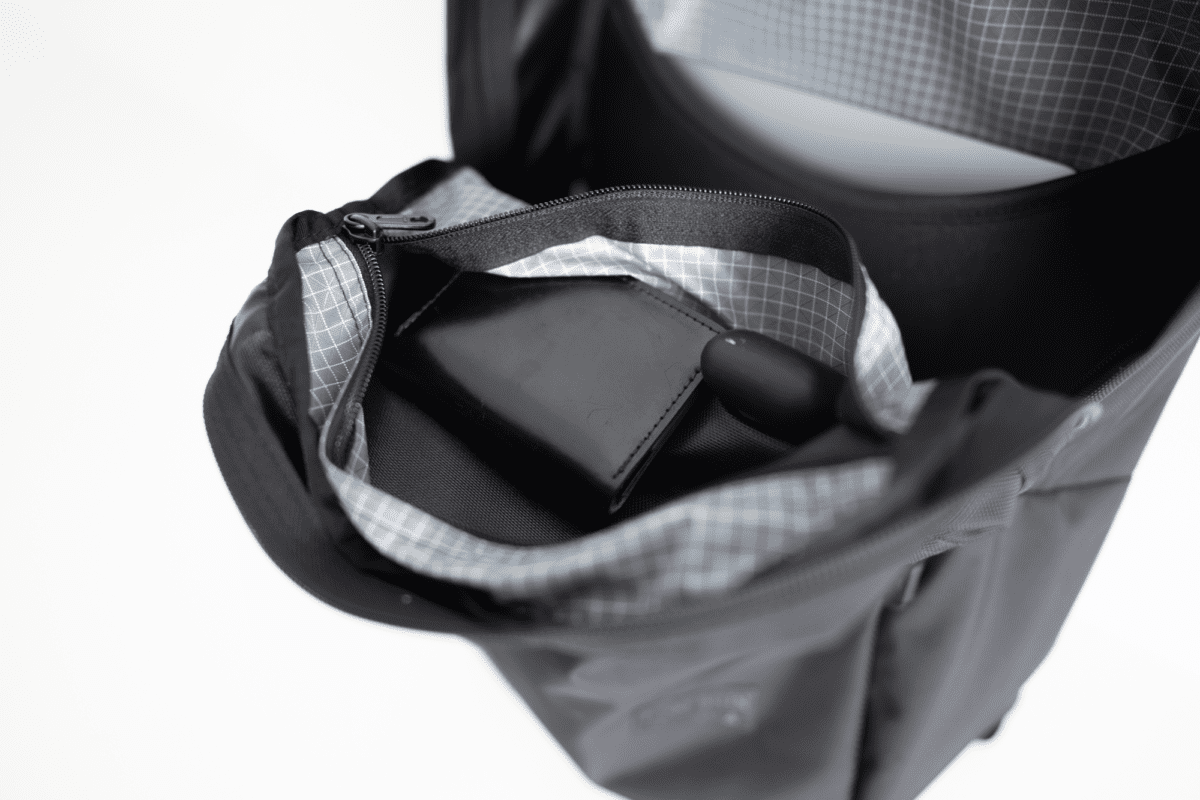 While it might seem little to some, it's actually just right for me. You always want at least a bit of organization, even if you are an avid packing cube user. I prefer keeping my keys with Jibbon Key Organizer, NOMAD Shell Cordovan Wallet, and Apple AirPods with NOMAD Active Rugged Case in here.
Laptop Sleeve
I really liked the laptop sleeve. I thought that it was a fantastic partition that does well in place of a dedicated laptop compartment. It lies flat, so you don't lose any space for those who don't have a laptop. While the sleeve is padded, the foam backing doubles as protection for your laptop and cushioning for your back. It's not bag design rocket science, but I just liked how it all came together, resulting in a package with minimal space wastage.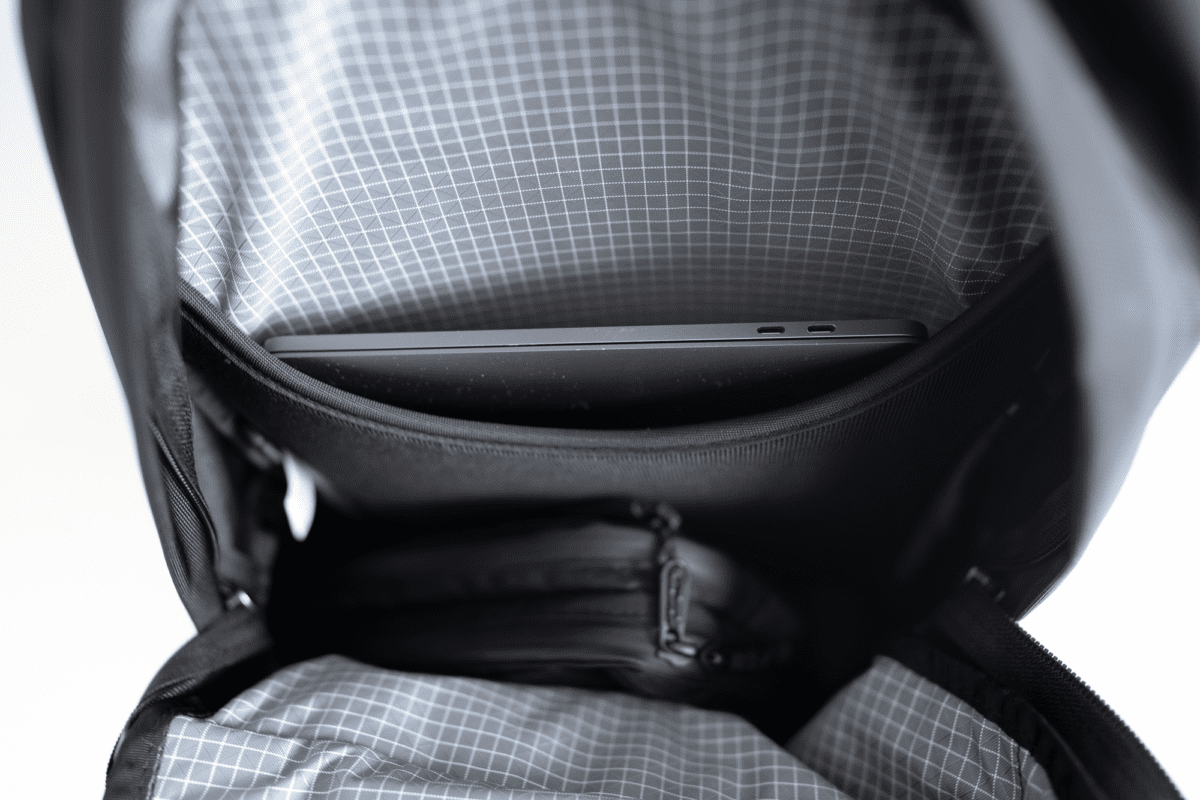 Another point that is nice about the sleeve is that it goes reasonably high up to prevent the laptop from slumping over within the bag. At the same time, there is enough space for your laptop and some documents or magazines. I usually slide a mat in this slot with my laptop for workouts at the park or impromptu picnics.
The opening is a curve so that the laptop can be easily accessed. This, together with the space of the slot, allows you to draw out your laptop easily at an angle. With the size of the pack, large laptops (I tested up to 16 inches) would have no problem fitting.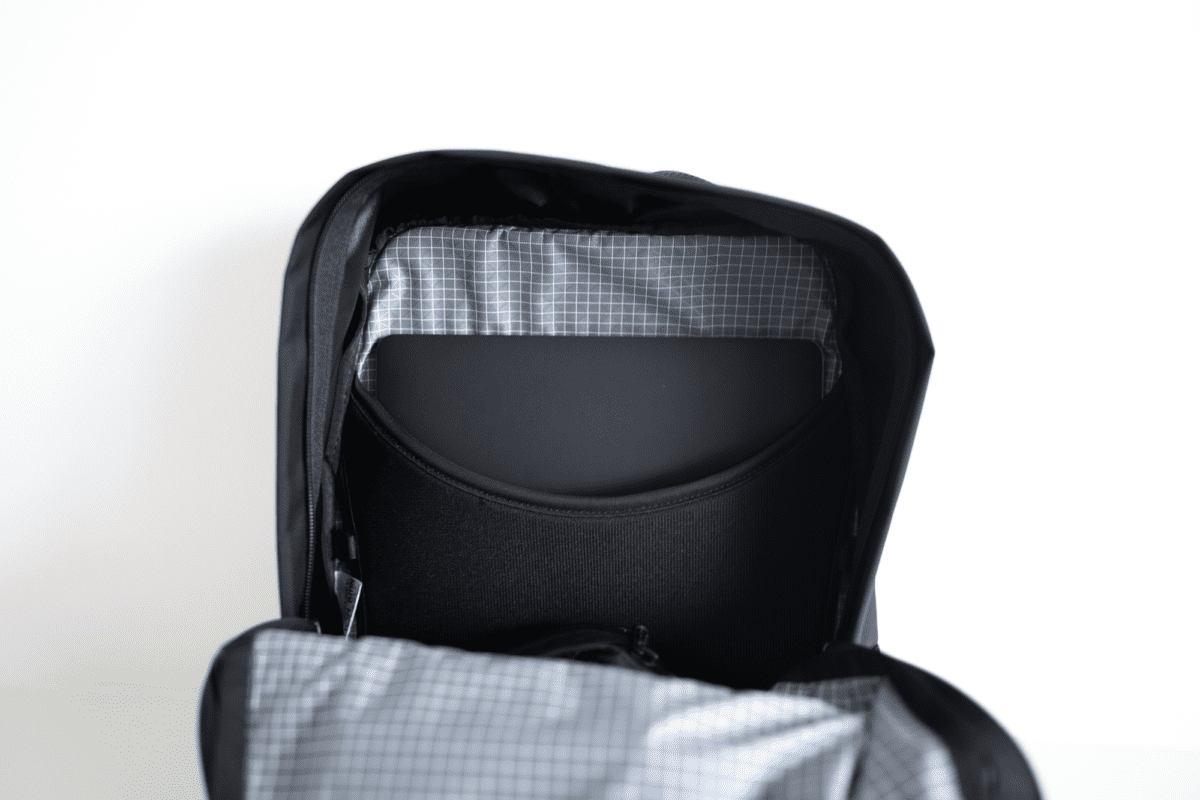 Straps
The backpack comes with sternum straps and hip straps. I need sternum straps, especially when I cycle, as it keeps my backpack from swinging around. Shoulder straps also tend to slip off my shoulder, especially if I layer too much.
On the other hand, the hip straps, which are the TOM BIHN Gatekeeper Waist Straps, I take off immediately. Especially for a pack this size, I don't see how one would need hip straps. Still, it's nice that these straps are compatible with most TOM BIHN bags like the TOM BIHN Synik. For those who still insist on hip straps and want something more substantial, TOM BIHN also offers an excessive padded version.
The shoulder straps are TOM BIHN's edgeless shoulder straps. I am not sure why I never felt this before on the other bags with the same straps, but I felt something jutting against my back when I carried the Paragon.
If you look closely at the shoulder straps, you'll notice that the 1/2" thick EVAZOTE® OEKO-TEX® certified foam is below the strap but doesn't go completely to the part that connects to the backpack at the top.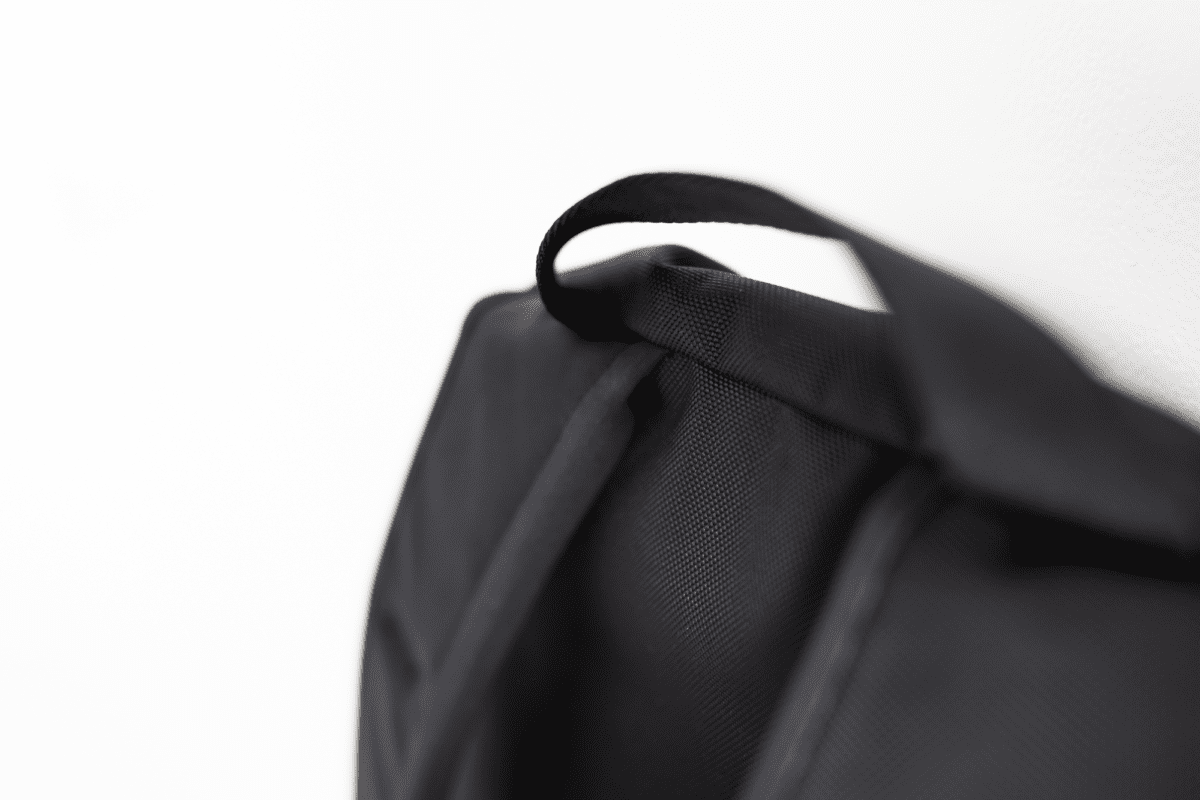 What I felt was the corner of the foam against my back. Most of the time, I only feel it on one side, depending on how I carry it. It doesn't feel uncomfortable or anything, but it's definitely something you feel.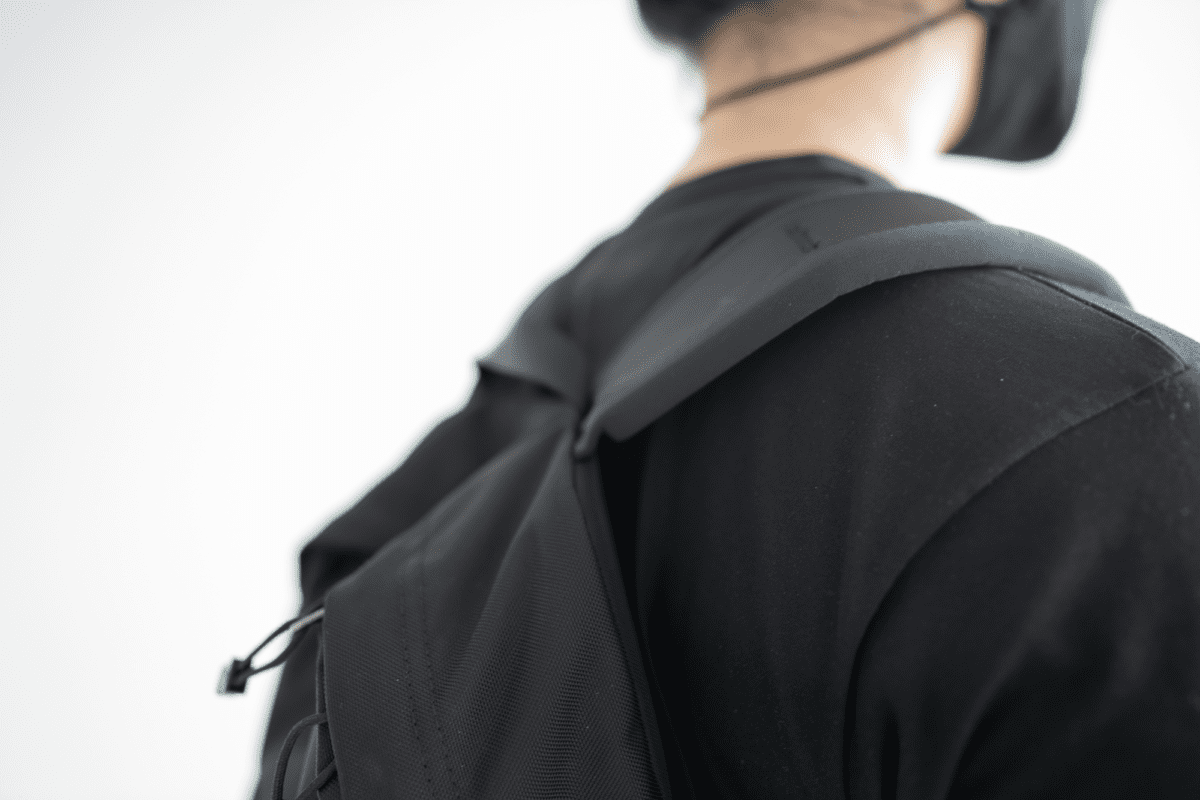 Padded Back Panel
The padded back panel provides added comfort against your back and additional laptop protection. On the other hand, the back panel generates heat on your back. There isn't any system that allows airflow like on the Tortuga Outbreaker. The padded back panel lies flat on your back, so be prepared for a sweaty back on hot summer days.
Design Lab Paragon Backpack vs Guide's Edition Paragon Backpack
You might notice that TOM BIHN sells two models of the Paragon Backpack. A Guide's Edition as well as a Design Lab version. In this section, I will highlight the key differences to help you choose between the two.
Design
The first and easiest way to choose between the two is design. If you want an all-black stealthy version, you should look no further than the Design Lab version. Even though the Guide's Edition carries a black version with the black logo tag, the shoulder straps, and the diamond accessory strap holders are of a different color.
These extra features and color scheme gives the Guide's Edition a distinctive outdoorsy vibe. I like a little bit of the outdoor vibe now and then, but there is a reason why go all black. The versatility of something that's just all black is hard to beat. For example, I would wear the Design Lab version to the office but not the Guide's Edition.
Features
The two packs are largely the same, but there are three diamond accessory strap holders on the Guide's Edition; one on the front middle and two at the bottom. Using straps, you can attach stuff like a tripod, folding hiking poles, or an ice pick.
There is also a loop hanging from the middle of the bottom of the pack.
I am not sure if this can be considered a feature, but it also comes with an official Leave No Trace tag with a TOM BIHN Coyote Key Strap Snaphook; the tag lists the 10 principles of Leave No Trace, one of the organizations that TOM BIHN supports.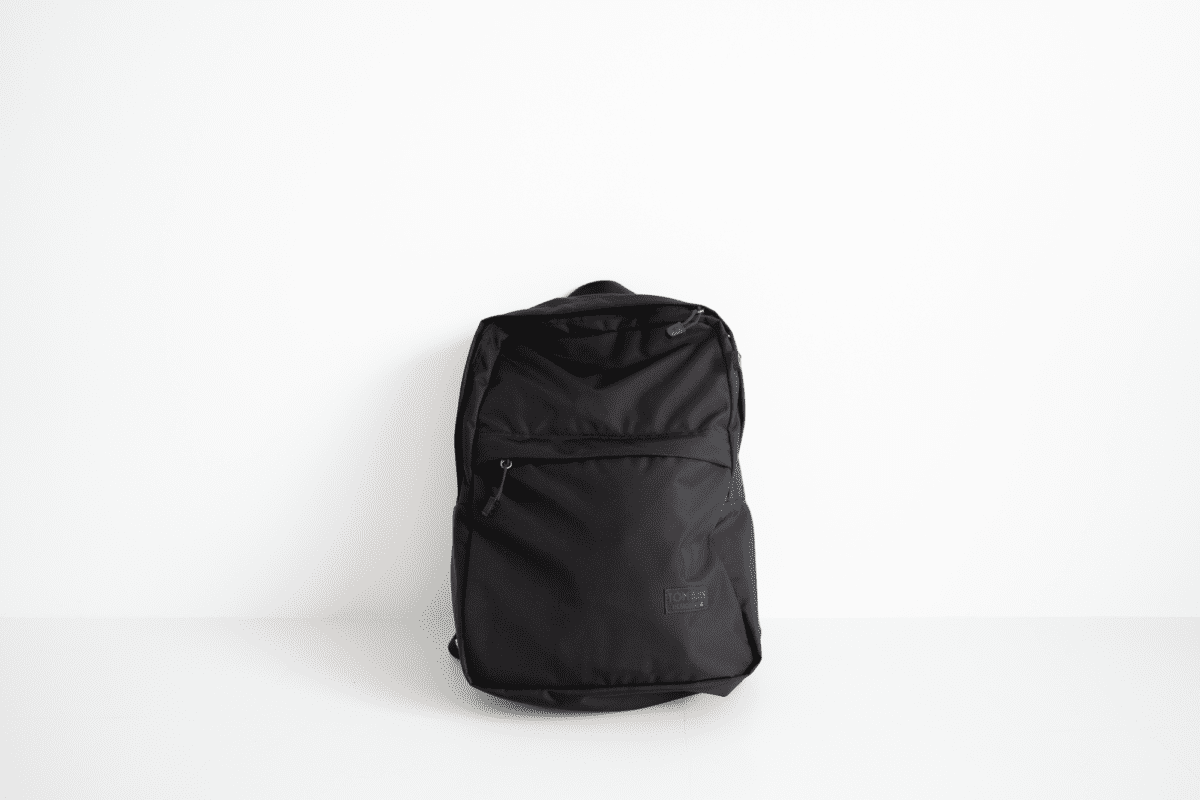 Conclusion
I have many backpacks, but I can definitely see myself spooning the TOM BIHN Paragon Backpack every night to sweet dreams. Seriously though, the Paragon Backpack hits a spot that many of my backpacks can't reach. It's keeping it simple, not just aesthetically.
The lack of organization, slim profile, and almost minimalistic features are strangely what attracts me about the Paragon Backpack. While it's not a travel backpack, it's a worthy sidekick to one and a solid everyday carry for those who want a simpler life.
Additional Images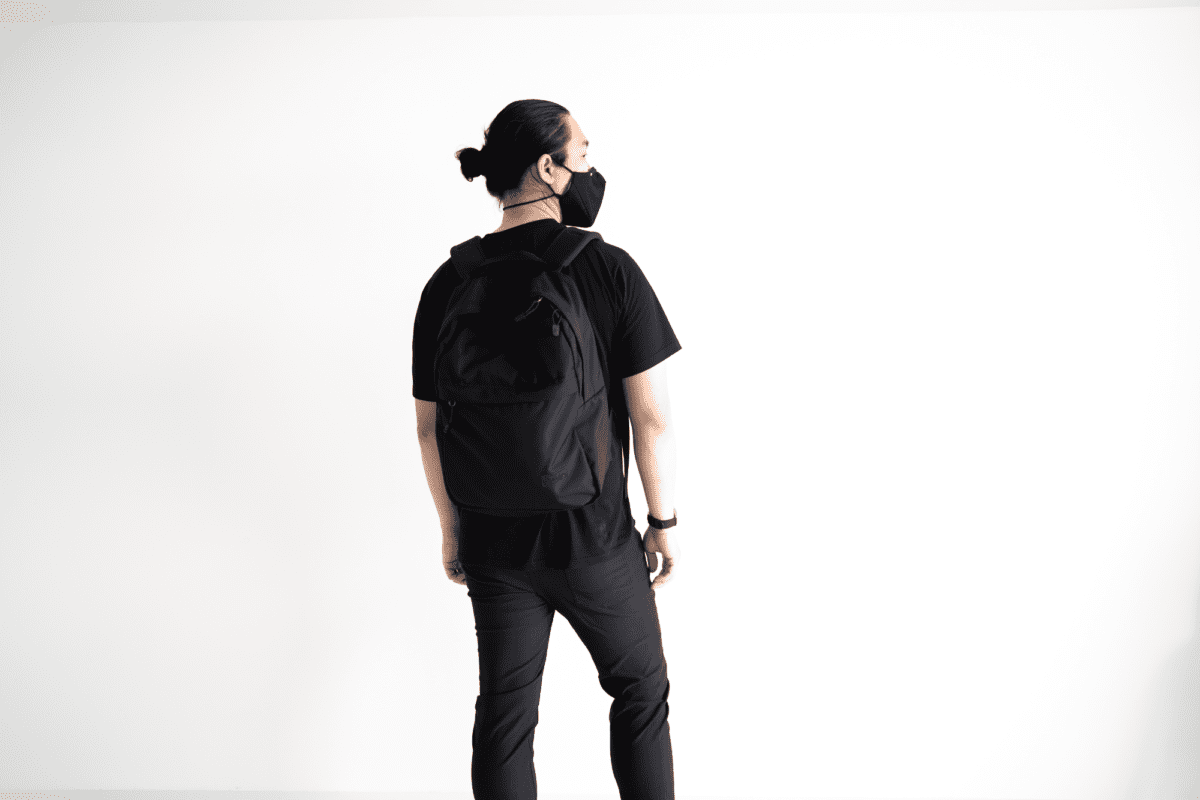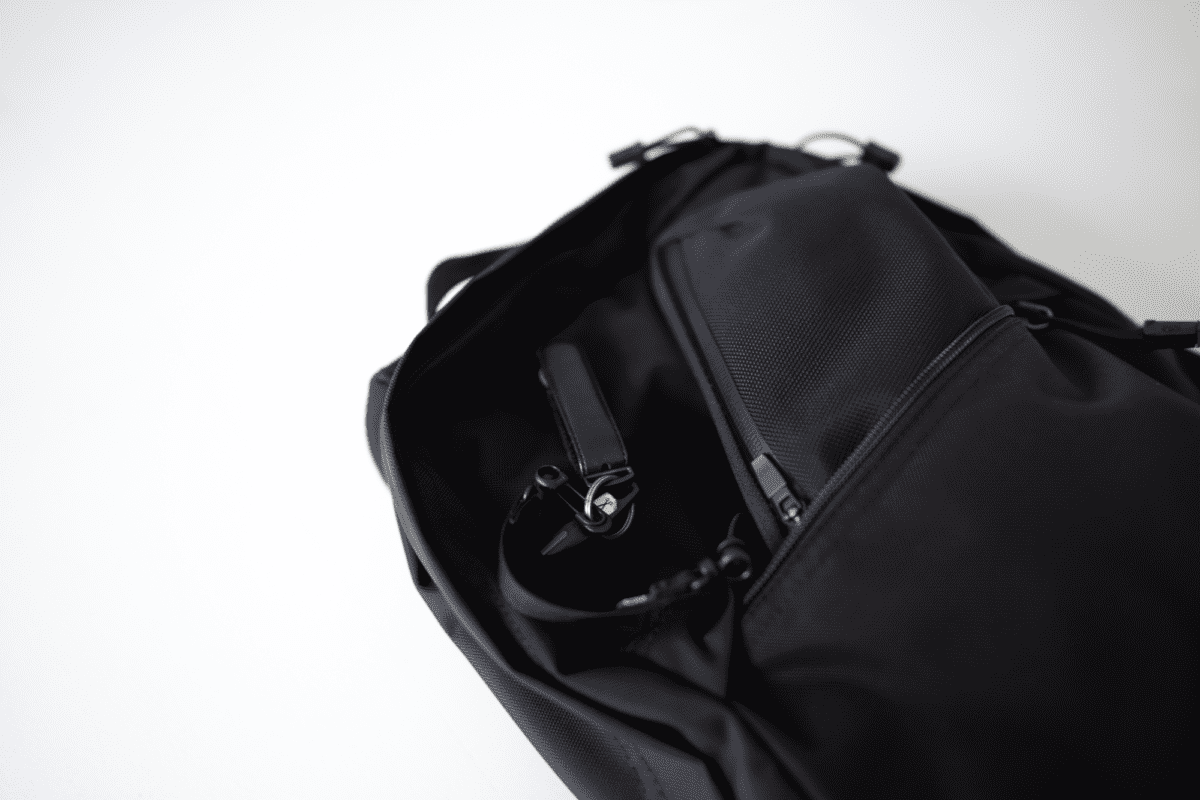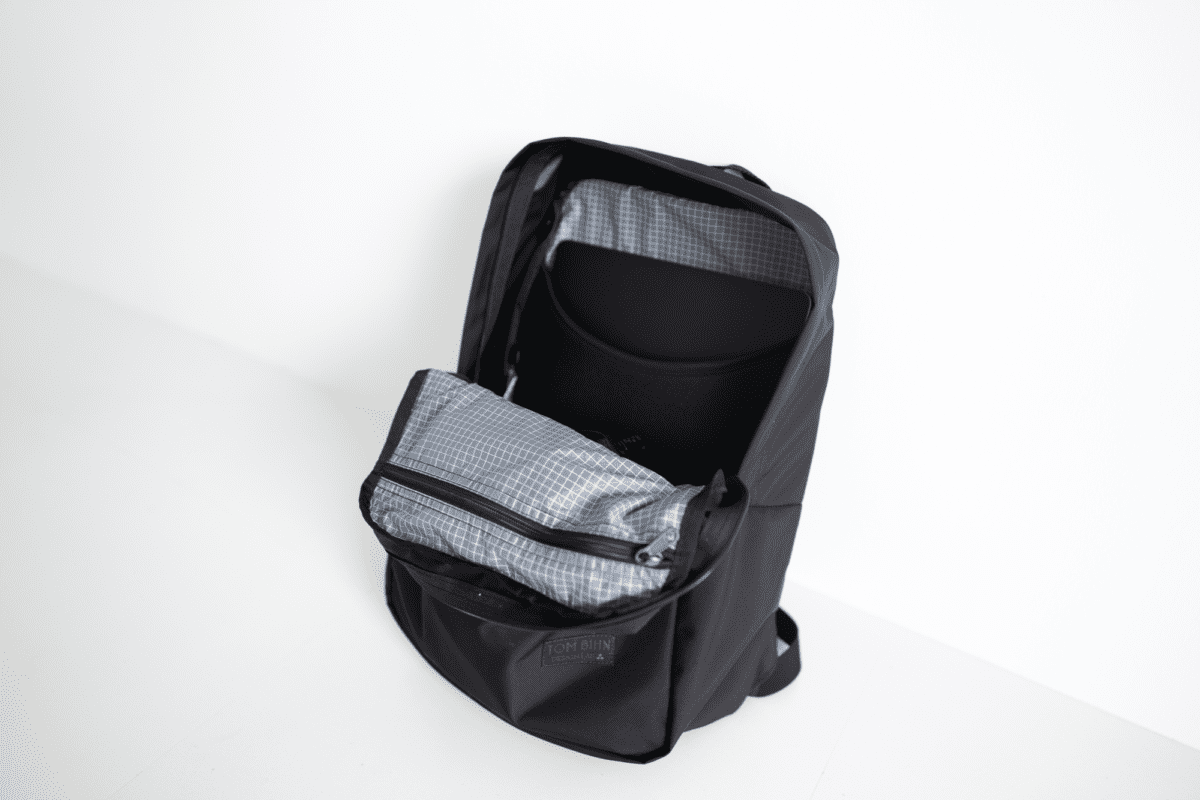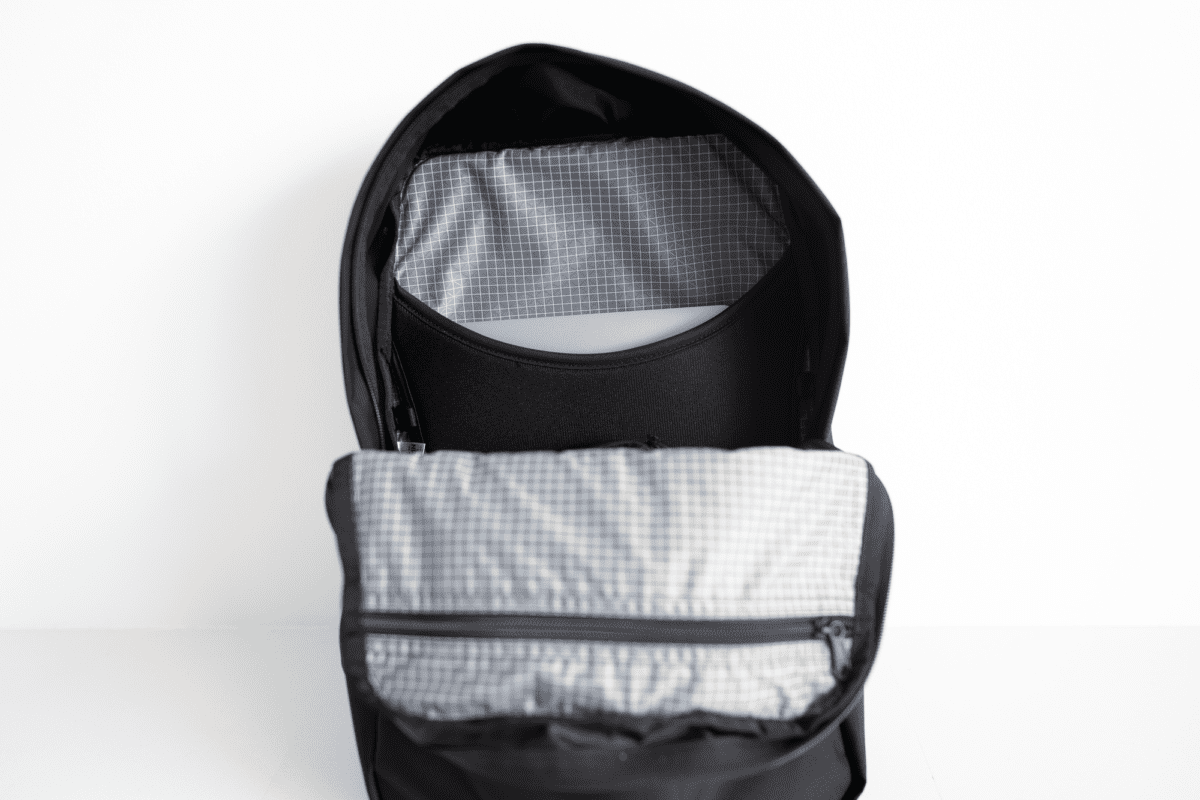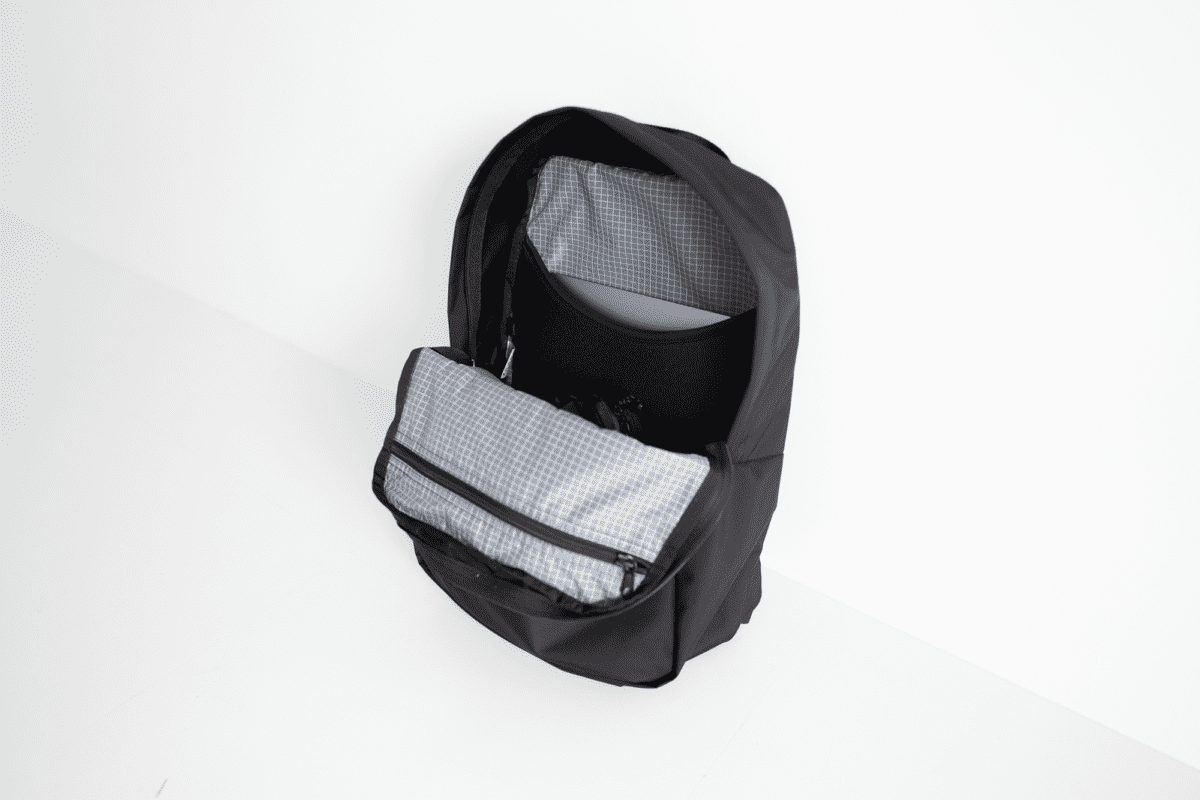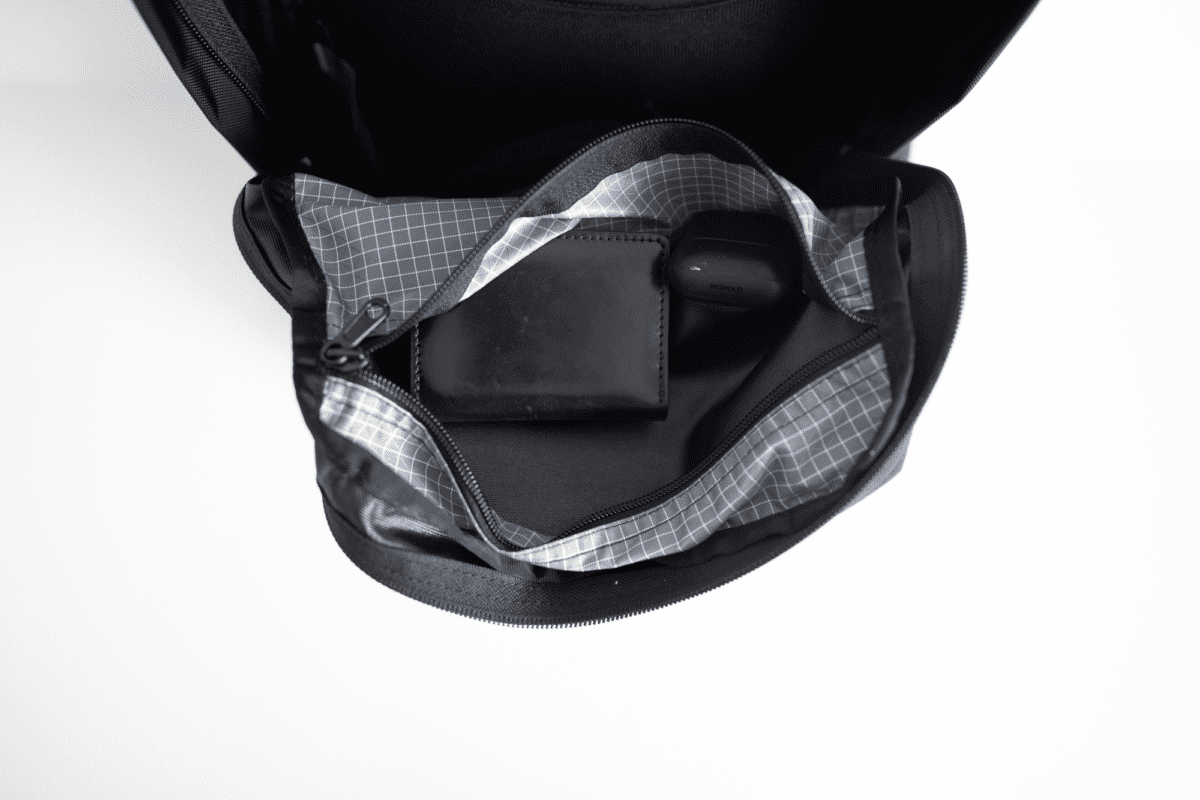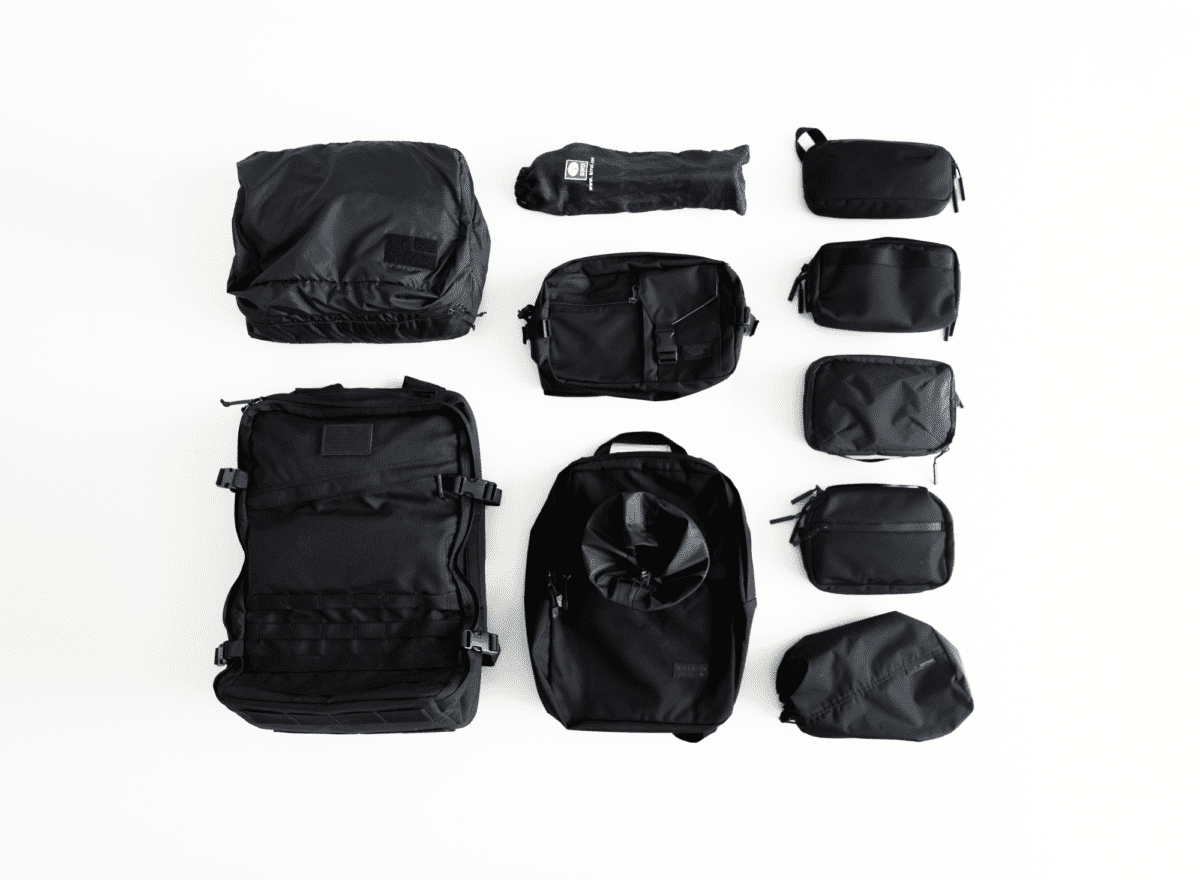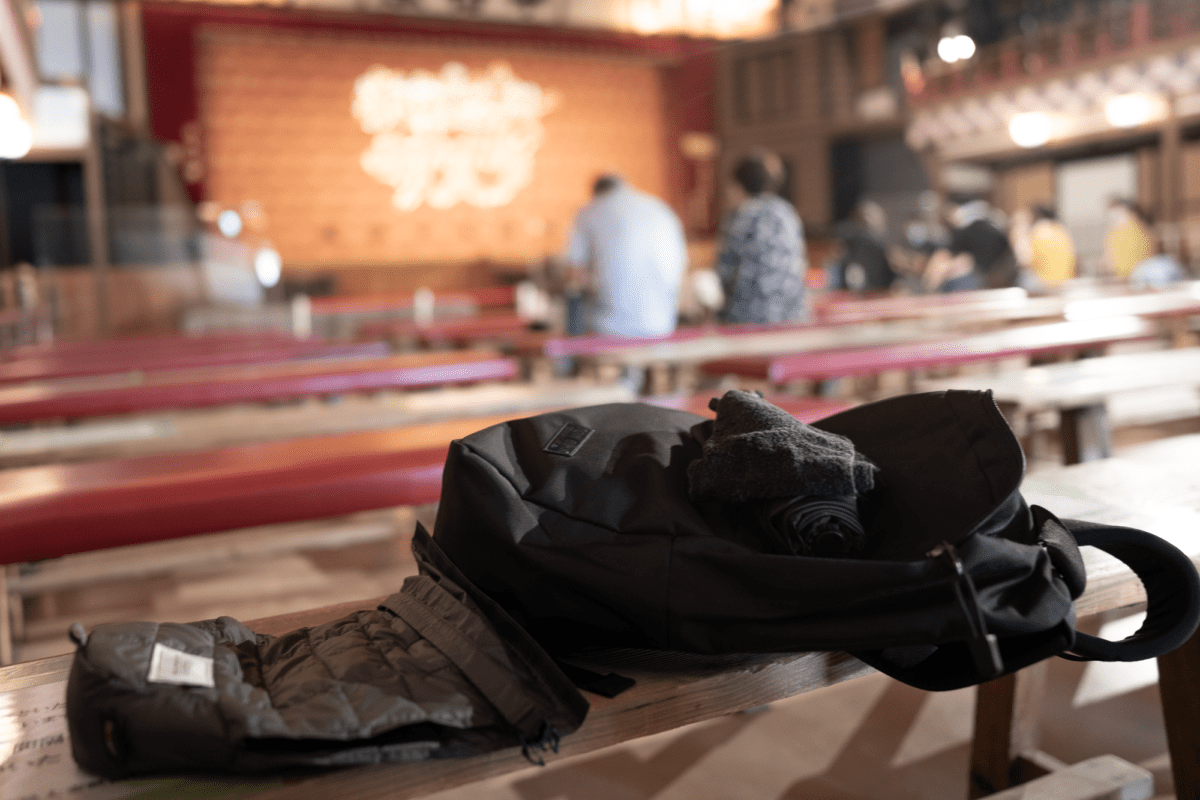 Like this review? See all of my in-depth reviews.
Also, consider supporting me by being a Patreon. Every cent given will go back into improving the content of this website.
Tagged backpack bag ballistic nylon packable review tom bihn