This website is made possible by readers. I may earn a small commission when you buy through the links in this article at no extra cost to you. Learn more.
Details
I'll admit, this was a bit of an impulse purchase. I saw it while trying out some jackets at my local Arc'teryx. Maka 2, the larger one of the Maka series, is so popular in Japan that it was sold out almost everywhere I went.
Since I finally managed to get my hands on it, I decided to write a review as there wasn't many out there.

Style
While the Veilance series aims specifically to be the minimal, high-end arm of Arc'teryx, the main line of Arc'teryx gear takes many cues and are slowly introducing minimalistic design options at a lower price than Veilance.
As I have written previously about why I only wear black, it was no exception this time round when choosing a colorway. The black is by far the most popular color in Japan, with the color only sold out almost everywhere I asked.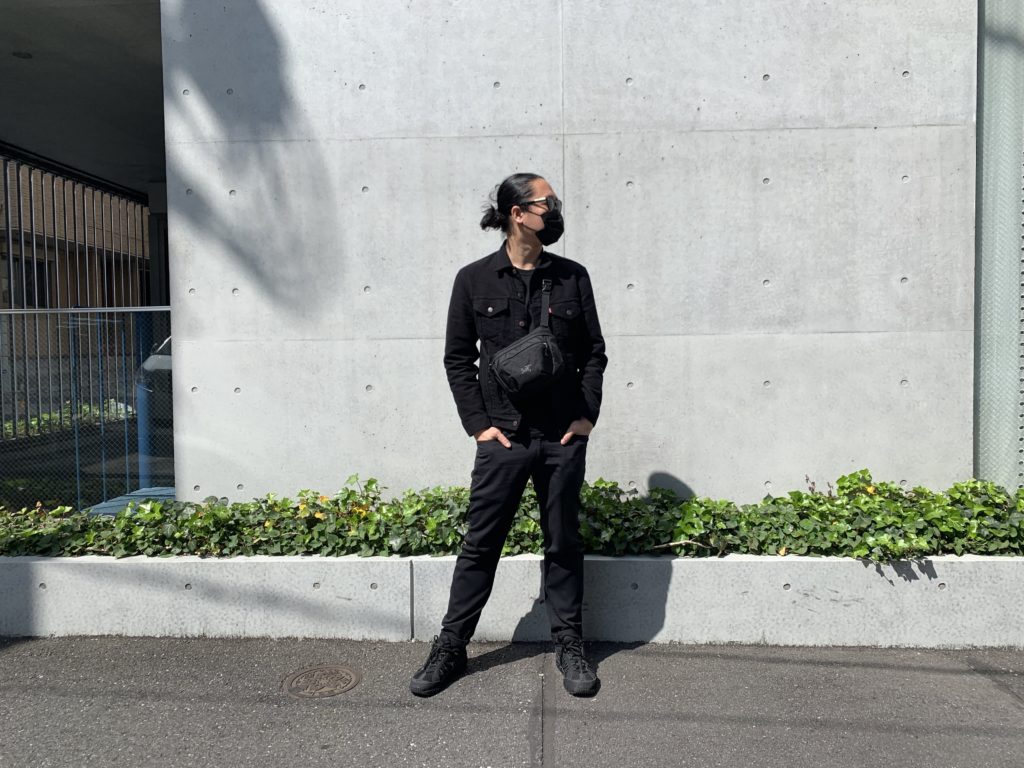 The color is followed through across the entire bag, down to the zips and clips, with the exception of the inner material. I'm okay with the internal lining being non-black as it makes finding my things in the dark way easier with the amount of black items I carry around.
The bag is low in profile, styled perfectly for urban travel, with a tint of the outdoorsy style. Since the bag uses technical materials, it goes well the "techwear" look without being overly complicated looking.
While this is named as a waistpack, I wouldn't exactly recommend wearing it as such to prevent the fanny pack look. The style when wearing it over the shoulder is pretty common in Japan and looks fine when casually sling to the front or back of your torso.
A single Arc'teryx logo is embroidered on front of the bag. I like how it's not stark white, but a white grey. It stays visible without drawing too much attention from afar.

Materials
The main material is N420p nylon 420 denier Oxford. Sure enough it's not CORDURA or any of those household names, but no less awesome.
But no one likes ads, so I got rid of them. If my articles helped you, I ask for your support so I can continue to provide unbiased reviews and recommendations. Every cent donated through Patreon will go into improving the quality of this site.
Also referred to as high tenacity nylon 6,6, this material was originally developed for the military for use in parachute backpacks (the bag that holds the actual parachute).
It was designed to be smooth, so as not for the paratrooper to catch anything on the way out of a plane, yet light and strong enough to withstand punctures or abrasion that might be turn out life-threatening.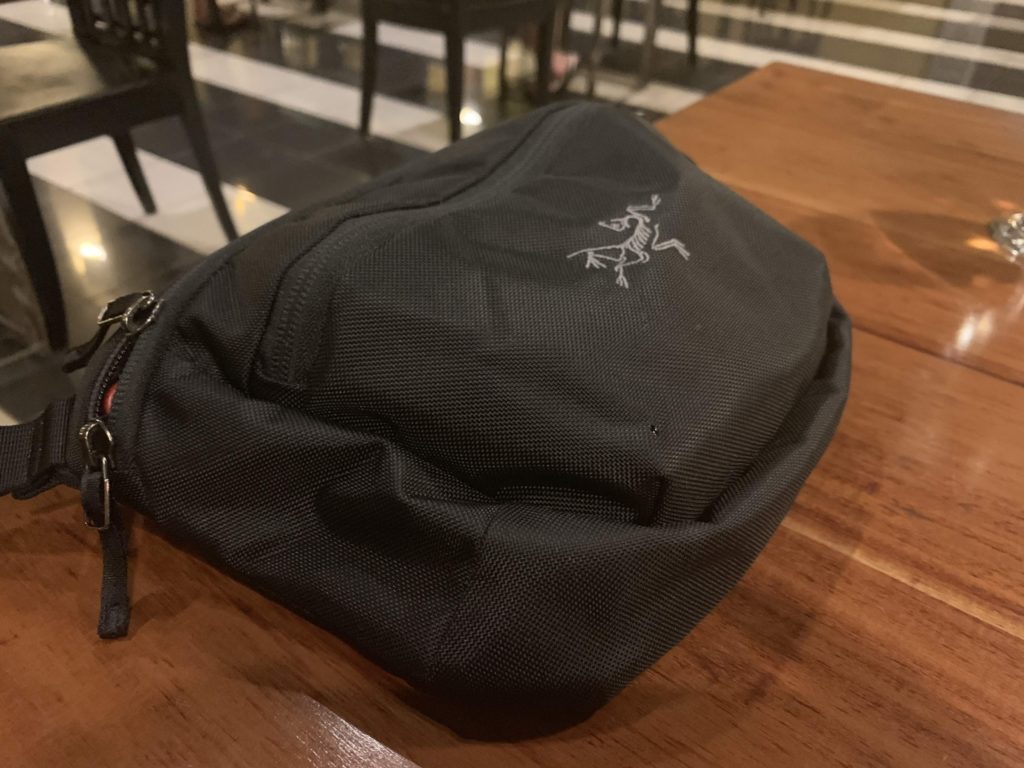 These favorable properties allowed it to take over cotton canvas as the go-to material for high-end backpacks from the 1960s onwards.
The back of the bag is lined with Spacermesh™, produced by Coverking, originally designed for car seat for maximum ventilation. Given the porous nature of the material, it does not fare very well in liquid repellency. So make sure to watch out for liquid entering from the back during a heavy rainstorm.
Given the size of the bag, I would prefer a water repellent fabric over ventilation, such as what TOM BIHN's Side Effect offers. I don't imagining sweating much in those small areas and the position of the bag can be easily adjusted if sweat builds up too much.
The internal lining is P200p polyester 200 denier plain weave. Lower denier count is due to the fact that you won't face much abrasion on the insides.

Usage
The Maka 1 is small, and looks like it holds the same volume as TOM BIHN's Side Effect. The Maka 1 is 2l, can hold 1l less than the Maka 2. Apart from that, there is no other visible design difference.
For me personally, the Maka 2 is the perfect size for travel and non-travel everyday carry, but of course, this depends heavily on how much you usually carry.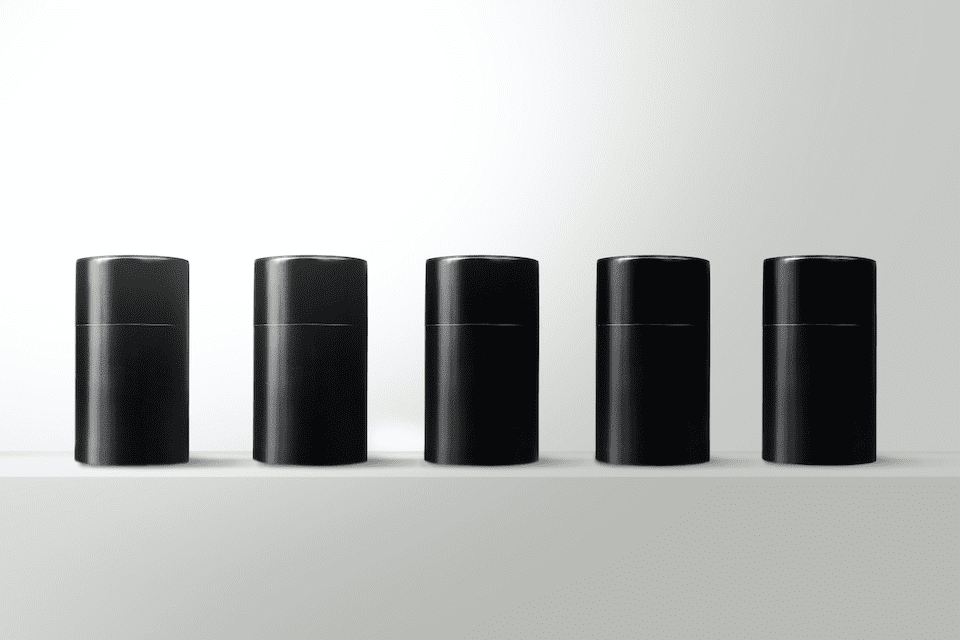 I found a 100 year old company that would create these heirloom quality canisters for me. They are handmade and will keep your tea leaves, coffee beans or anything that you need dry for years to come.
or read review
The front pocket is perfect for quick access items, like my minimalist wallet. It also has a key ring.
The main compartment is perfect for passports, accessories. When I go for lunch, I put my Sigg aluminum lunch box to take home leftovers to prevent overeating. It's actually the precise perfect size for the lunch box, without feeling like it's overstuffed.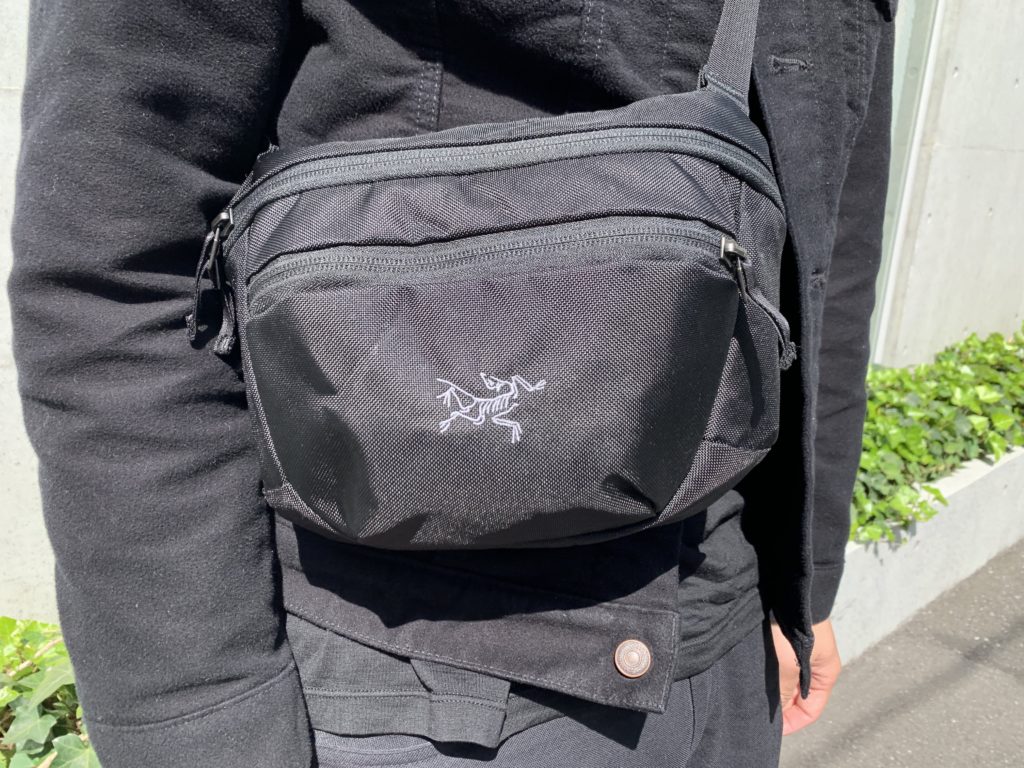 Personally, I dislike overstuffed pockets and don't use back pockets as I don't like to sit on my things. So things like my mobile charger, earphones, namecard holder or really any thing that usually go into my pockets go into the bag.
The only things I keep in my pockets are my wallet, phone and keys. These are the minimum set of items I need to do anything, and I use my wallet and phone often enough for it to be troublesome to keep into a bag. Keys cause scratches easily so these are hooked onto my belt loop.
Inside the main compartment, there is a slot that separates items towards the back. There is also a zipped compartment along the back as an extra step for potential pickpockets for additional security.
There is a smaller front compartment that I usually put my phone in. There is a clip in that apartment that you can attach stuff like your hat onto.
Unfortunately, these do not pack flat and have a certain amount of volume to them, with the Spacermesh™ back contributing quite a bit to that volume. However, I have no problems using it as a packing cube to pack into my main carry-on bag.
There is a small slot above the back which you can fit your phone cleanly into. You can also use it to keep the straps cleanly when using it as a packing cube.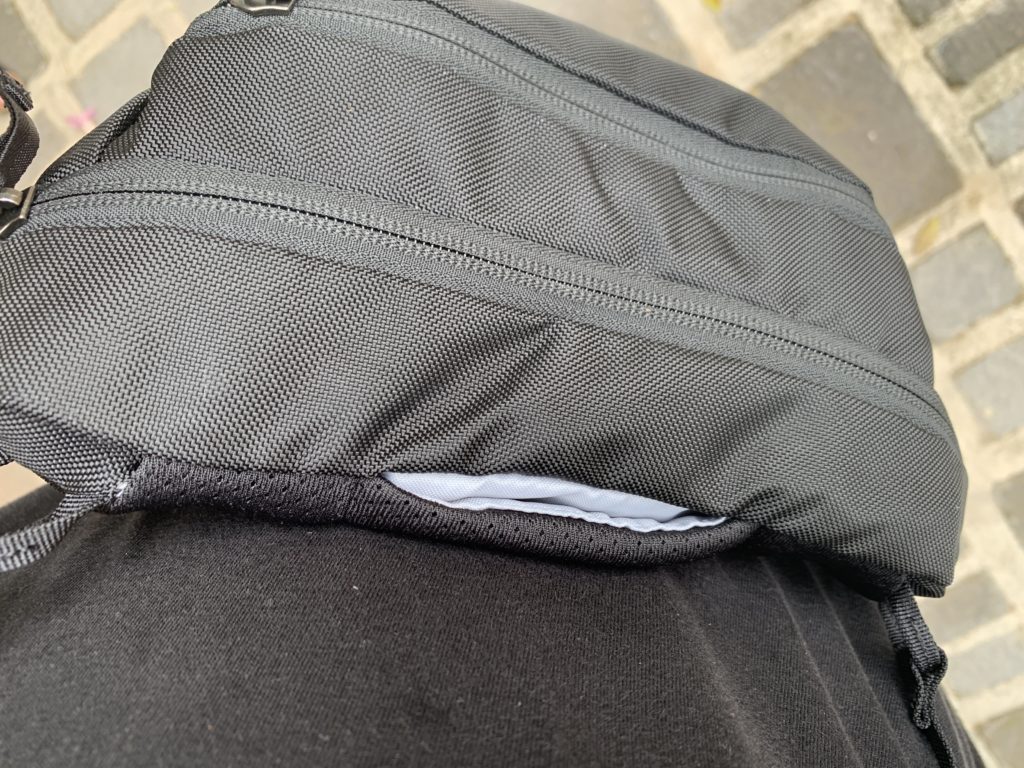 Conclusion
I own many small-sized bags like this, but this has got to be one of my favorites. The size and style is perhaps my favorite aspect of the bag. I've even read about people taking short trips with just this single bag. Definitely recommended for those who want a simple bag at an affordable price.
Like this review? See all of my in-depth reviews.
Also, consider supporting me by being a Patreon. Every cent given will go back into improving the content of this website.