This website is made possible by readers. I may earn a small commission when you buy through the links in this article at no extra cost to you. Learn more.
Originally an Outlier experiment (060), I got one when it graduated into a non-experiment item in the store. I've made it a point to not buy experiments from Outlier. I see no reason to pay a premium for untested goods. I've been a pretty big fan of Outlier's bottoms, putting heavy use into some of the crowd favorites like Strong Dungarees or less hyped ones like the Ultra Ultra Track Pants. To be honest, I have a massive collection of jackets, specifically the Supreme North Face collaborations, but the jacket I was looking to replace this time was my now-discontinued Patagonia Kniferidge Jacket.
My Patagonia jacket served as my go-to weatherproof option during my travel, used mainly in tropical countries. While Patagonia was great for its quality, one thing it lacked was in the style department.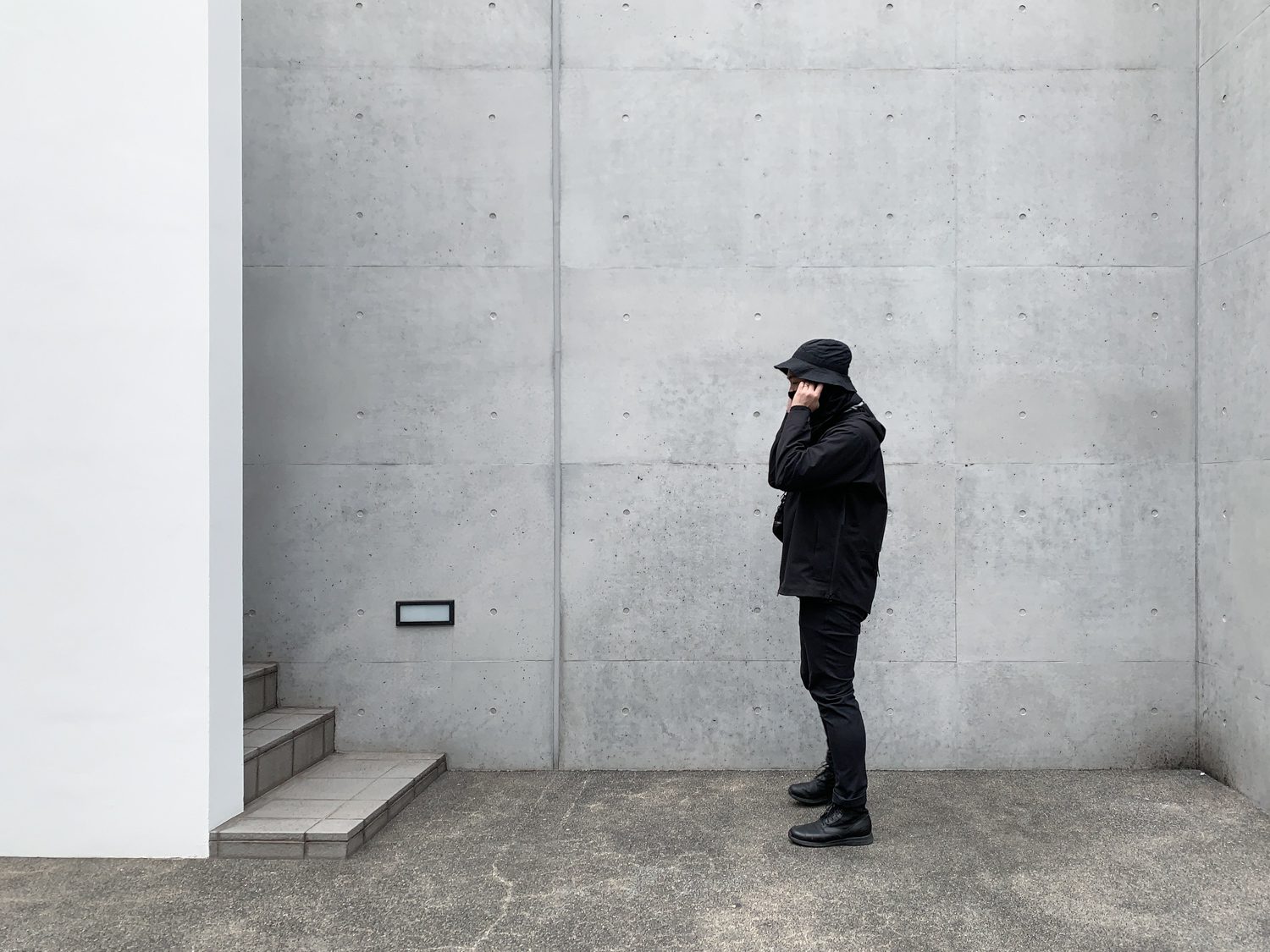 Fit & Sizing
I'm about 6'0″ and 190 pounds and got a size large. I wear a size XL for their Ultrafine Merino tops but have read a few reviews talking about how big they were.
Layered over Uniqlo's Heattech, a cotton t-shirt, Triple Aught Design's Ranger Hoodie, the fit was just nice, albeit a little tight around the shoulders. Without the hoodie, it was a similar fit to my Patagonia jacket, a standard loose rain jacket fit. While I considered getting the XL, I settled knowing the length of the jacket and the sleeves is slightly longer the model on their product page.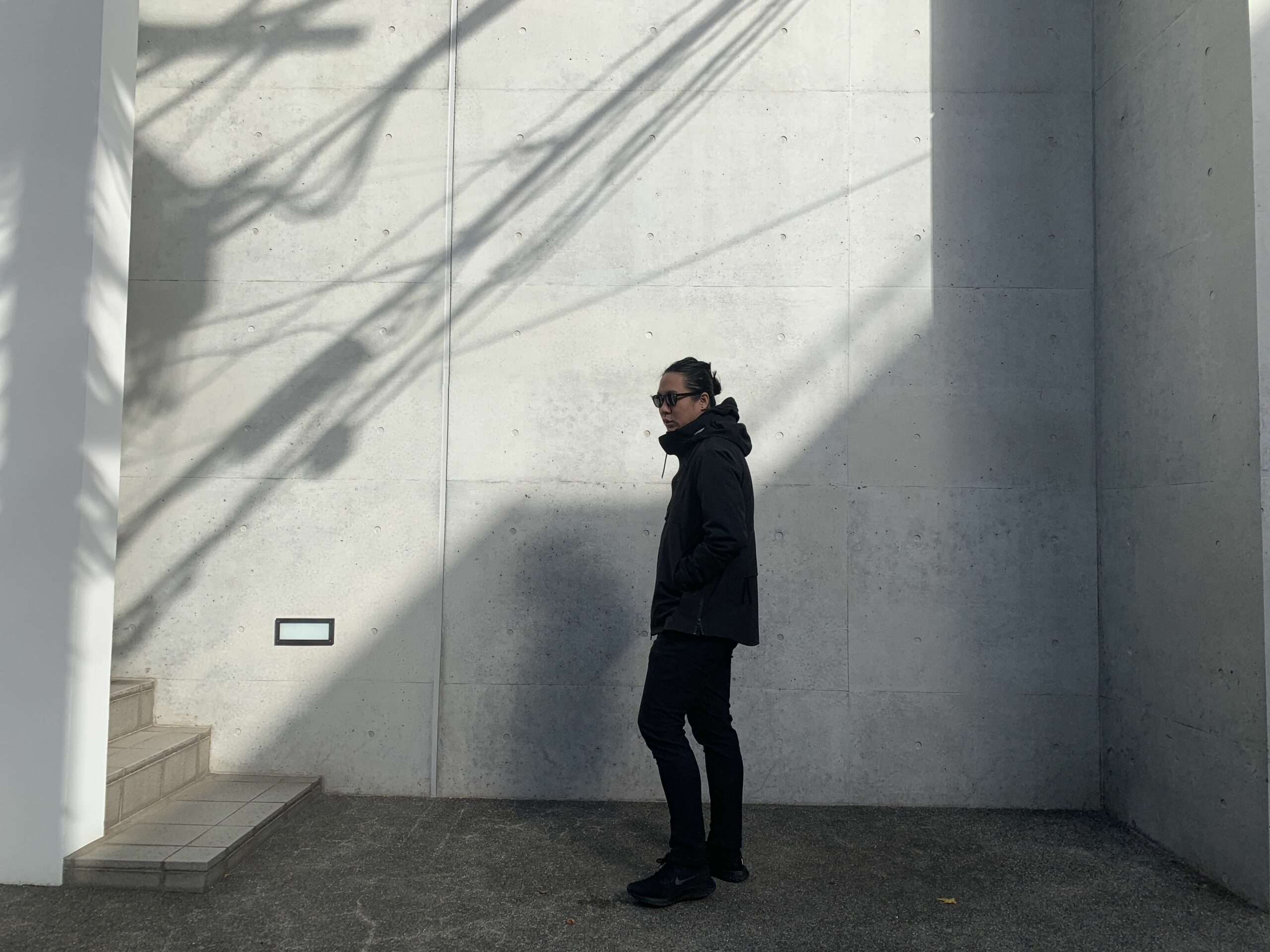 Quality
The jacket, as expected from Outlier and its accompanying price tag, looks very well-made. No details was overlooked in the making of this garment, despite being made in China. Abe from Outlier has proudly stated here that they chose a factory in Guangdong because it was the best place for the job. And that decision is apparent in the garment itself. The waterproof shell feels tough to the touch, and is modeled to be a heavyweight version of Polartec's Neoshell fabric. This Raincloth is electrospun using a nonwoven process, which leaves holes too small for water to go through but big enough for air to flow through.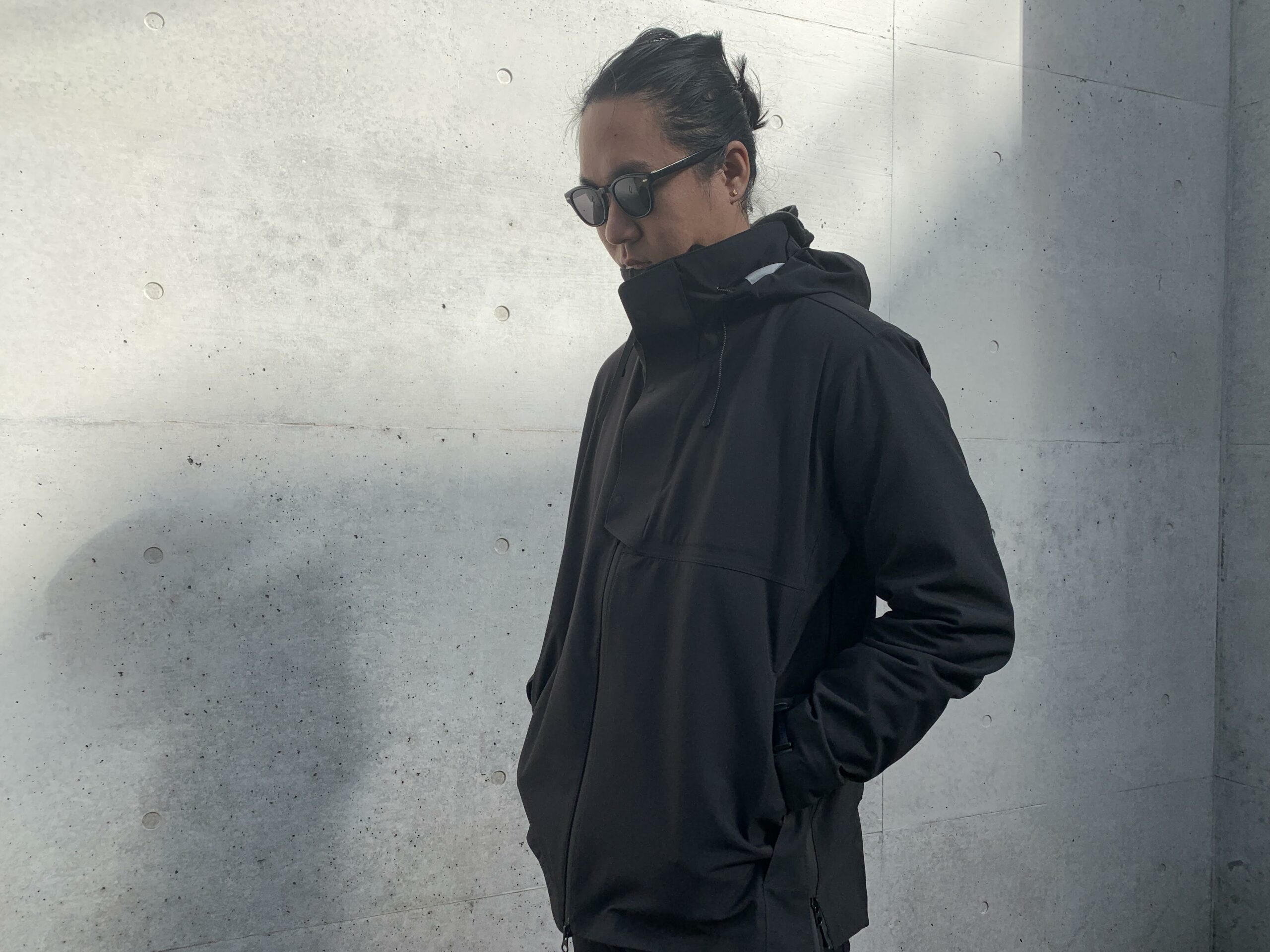 The fabric isn't light or stretchy. It's meant to be solid, hard and durable for a substantial handfeel. Also, no usual waterproof fabric sounds and no garbage bag crumpled look common on other waterproof breathable fabrics. The visuals matches the qualit
Style
Outlier has long been my wardrobe staple mainly because of their style. These guys know how to make a cool piece of clothing. Murdered out YKK Uretek zippers and drawstring cords complete the stealthy look they are best know for. The zips on the front and the sides let you regulate heat.
The high collar was one feature I like for the look and often used. The fabric facing your mouth is ultra suede and feels like a nice cozy scarf pressing against your face. You could pull the hood over your head and adjust the draw string for a snug fit to keep yourself very dry, but this is not the usual hood-over-the-head look you can pull off with a normal hoodie.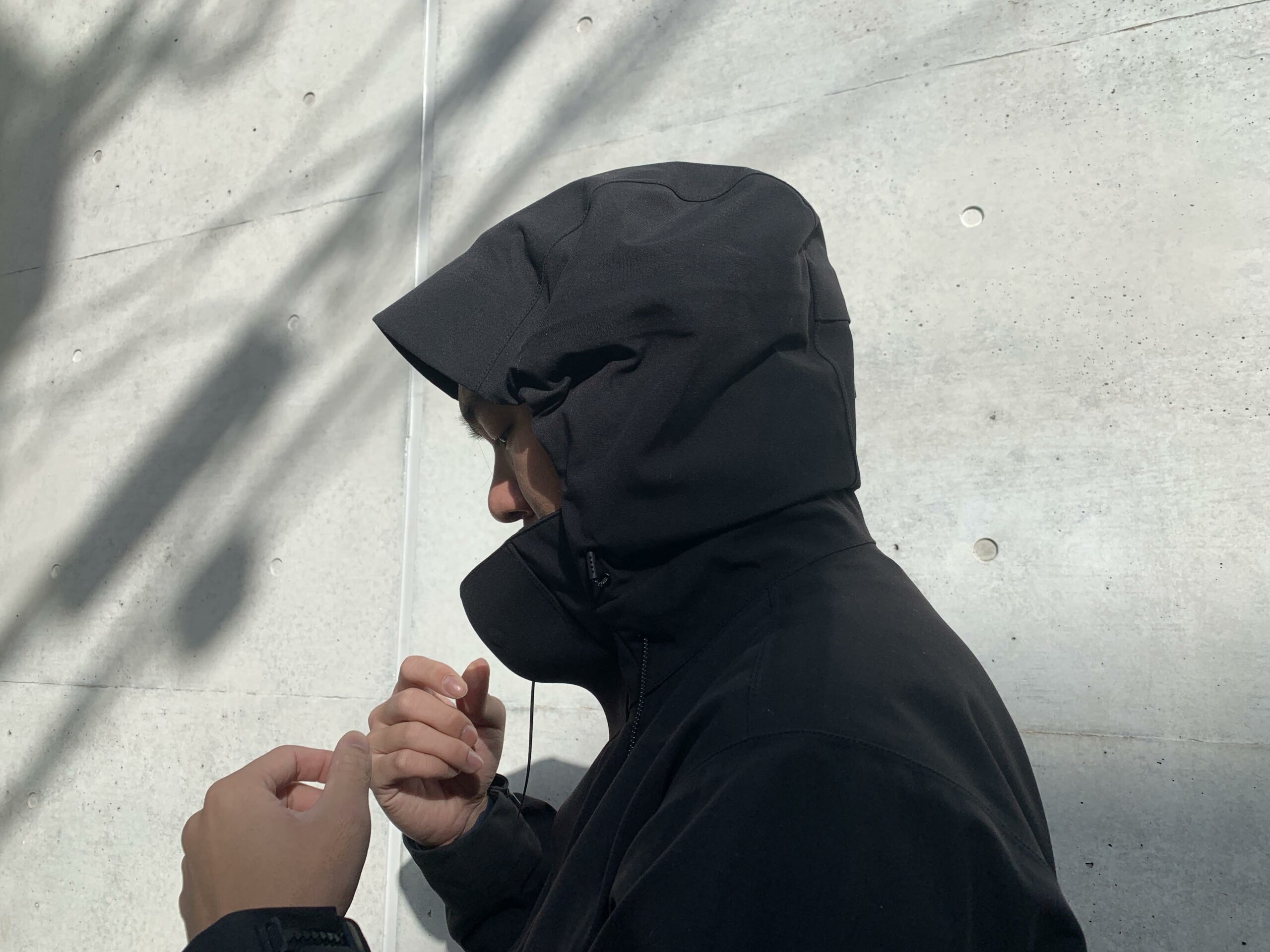 Function
The flap in the front of the jacket is great for quickly keeping your jacket closed or open and I tend to default to that unless I am really cold. It also hides an already hidden pocket. The snaps for the flap are pretty small, and while they close with a satisfying and secure-sounding "snap", they come off at times especially when you are adjusting your backpack over it.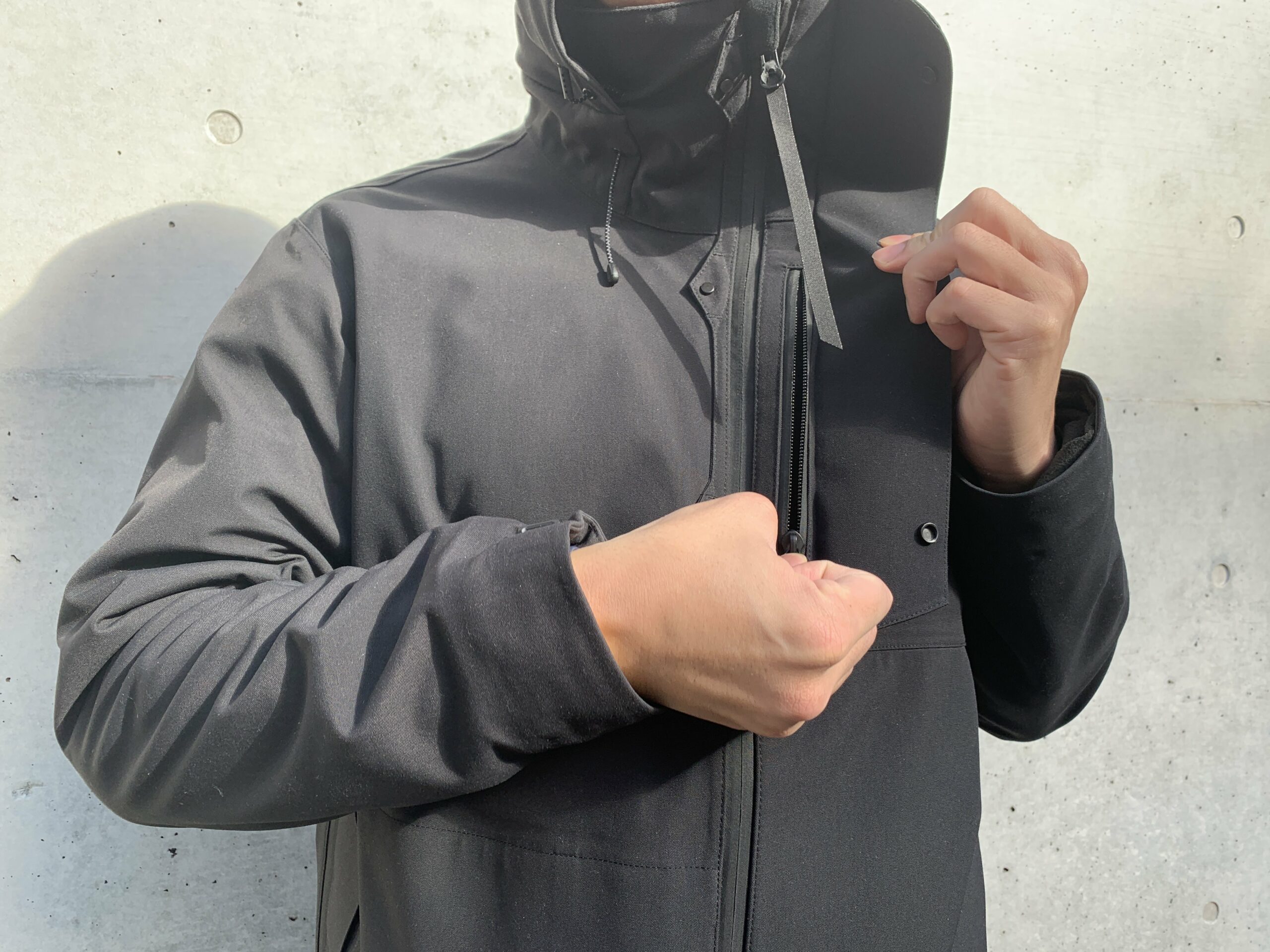 The two magnetic, cross-lipped slash pockets on the sides for your hands are hard to access, and I often just get lazy and deal with cold hands.
But no one likes ads, so I got rid of them. If my articles helped you, I ask for your support so I can continue to provide unbiased reviews and recommendations. Every cent donated through Patreon will go into improving the quality of this site.
The Japanese-made ratchet cuffs allow for fast adjustments, but are honestly pretty funky to deal with. They look super cool but I'm not sure if they need to be there. I would much prefer the same drawstring system used in the hood or even velcros. Right now, they do nothing much for me except look "tech".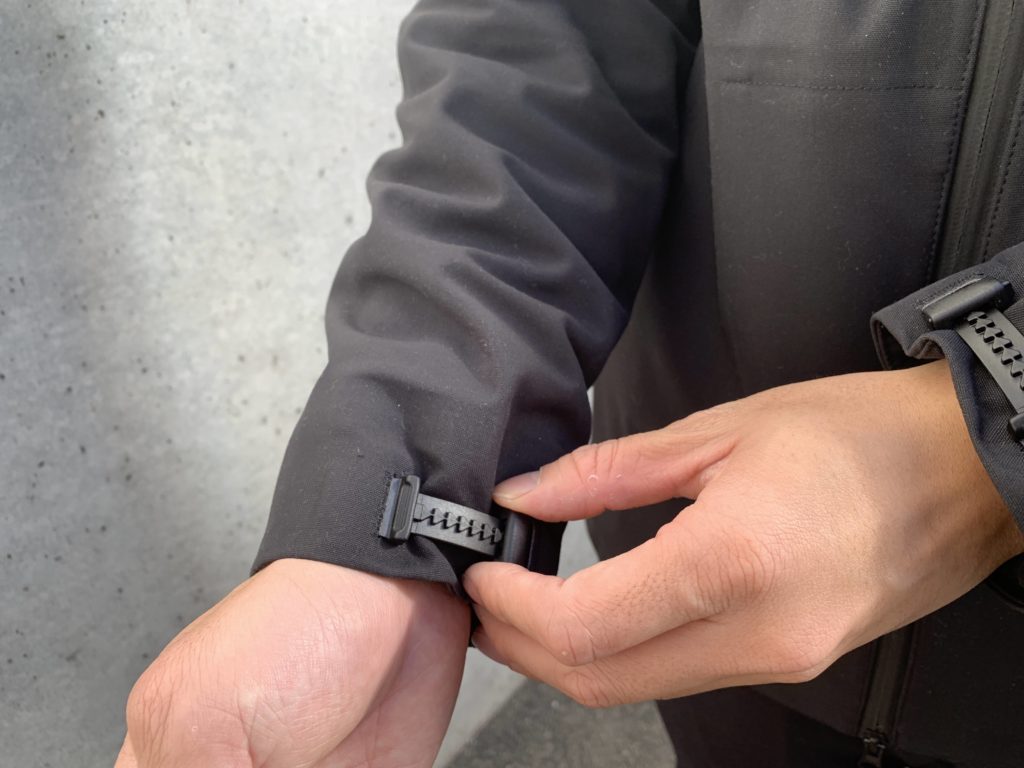 Conclusion
This is an amazing jacket and one of the coolest piece of garment I own. I would definitely recommend it although it's a tad big pricier than I would like. This would be perfect in the 500 dollars range.
Like this review? See all of my in-depth reviews.
Also, consider supporting me by being a Patreon. Every cent given will go back into improving the content of this website.
Tagged jacket outerwear outlier review water-resistant