This website is made possible by readers. I may earn a small commission when you buy through the links in this article at no extra cost to you. Learn more.
Details
Overview
If you are looking at this review, it either means that you are into onebag travel or have searched for TOM BIHN reviews. It also means that TOM BIHN probably needs no further introduction. A true legend in the backpack scene, I have used and abused countless of their bags.
While each TOM BIHN backpack review presents fewer surprises, I am still impressed each time. The sheer number of variations of bags they can design for every single situation and use case is only made possible by their in-house manufacturing team.
Even with that many iconic backpacks in their lineup, they had to release the Addax, their first take on a rolltop bag.
Style
Tom Bihn, a real person and the founder of the brand, has given up his reigns on most of the recent designs. It has since been a new breed of designers like Tom's protege, Nik, that has been pumping out designs with a more modern look.
Tom's a legend but let's face it, some of his designs can feel dated. They were, after all, designed in the '80s. Although, it is that classic look that some, myself included, go for.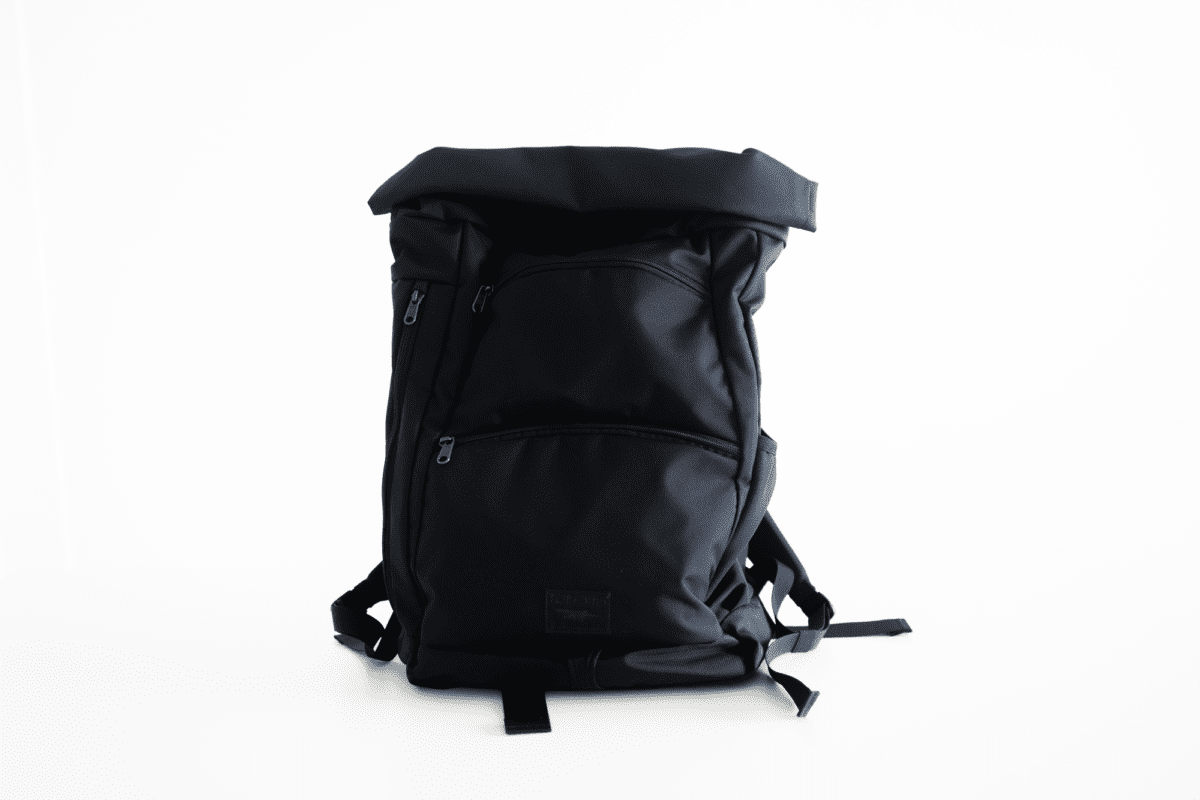 The Addax is also designed by a new designer, Jose, from start to finish. It is great to see fresh eyes tweaking the TOM BIHN formula.
TOM BIHN has been known to produce all sorts of colors and material variations for a single bag. Once again, their in-house manufacturing team is an advantage not to be trifled with.
For me, as most might suspect, only one color matters—black. Most TOM BIHN bags come in black, but usually with a colored brand tag. Don't get me wrong; I actually like the tag design. However, an all-black design is preferred.
For this review, I got the black ballistic/mountain grey 210 cerylon colorway.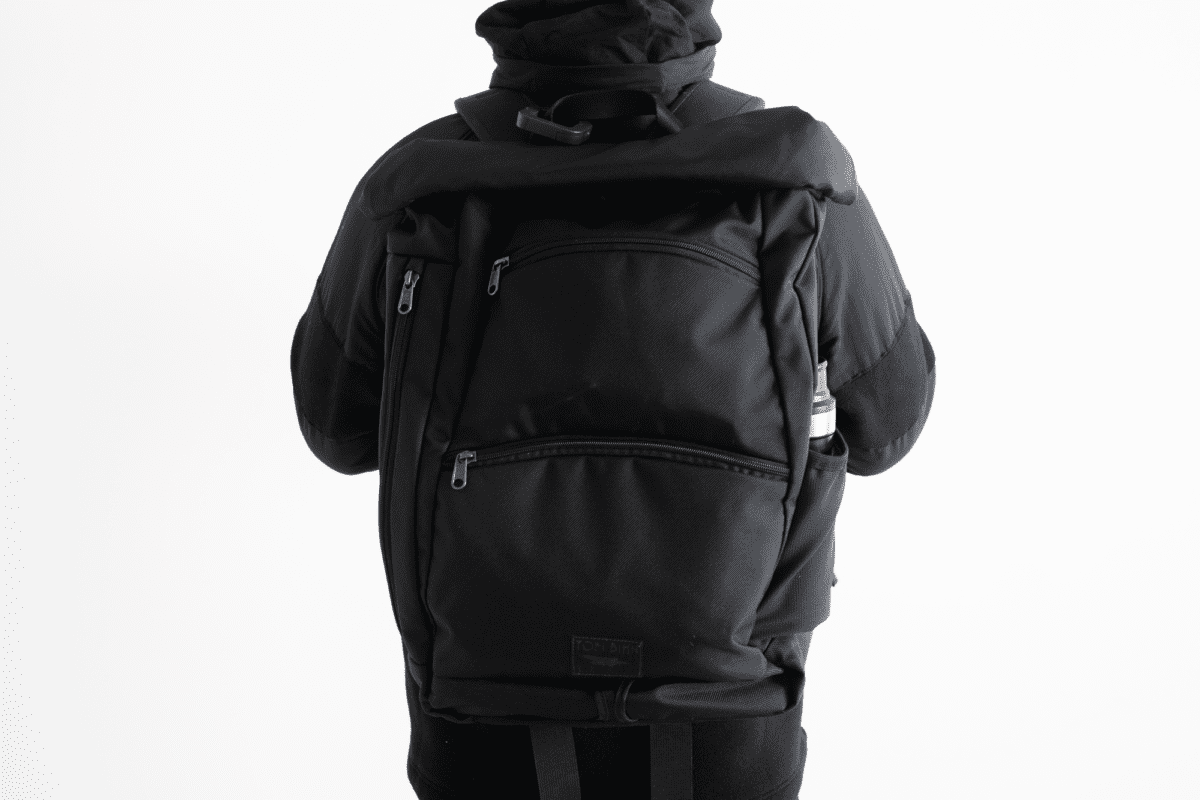 Lucky for me, the new breed of designers agree and have been adopting a blacked-out brand tag for recent designs, including the Addax. It looks so stealthy and can hardly be noticed unless you really look, perfect for travel when you just want to keep a low profile.
But no one likes ads, so I got rid of them. If my articles helped you, I ask for your support so I can continue to provide unbiased reviews and recommendations. Every cent donated through Patreon will go into improving the quality of this site.
The Addax comes in two sizes, 26 and 31 liters. Roll-top bags allow you to carry more by rolling less. The tradeoff is that roll-top bags, well, need the effort to roll. Compared to the ease of a good ol' zippered bag, they don't make sense to me as a daily carry. So, I opt for the 31 liters since I can justify it as a travel pack.
I did do some testing as a daily carry and the 31 liters is surprisingly not too big when you have it rolled down.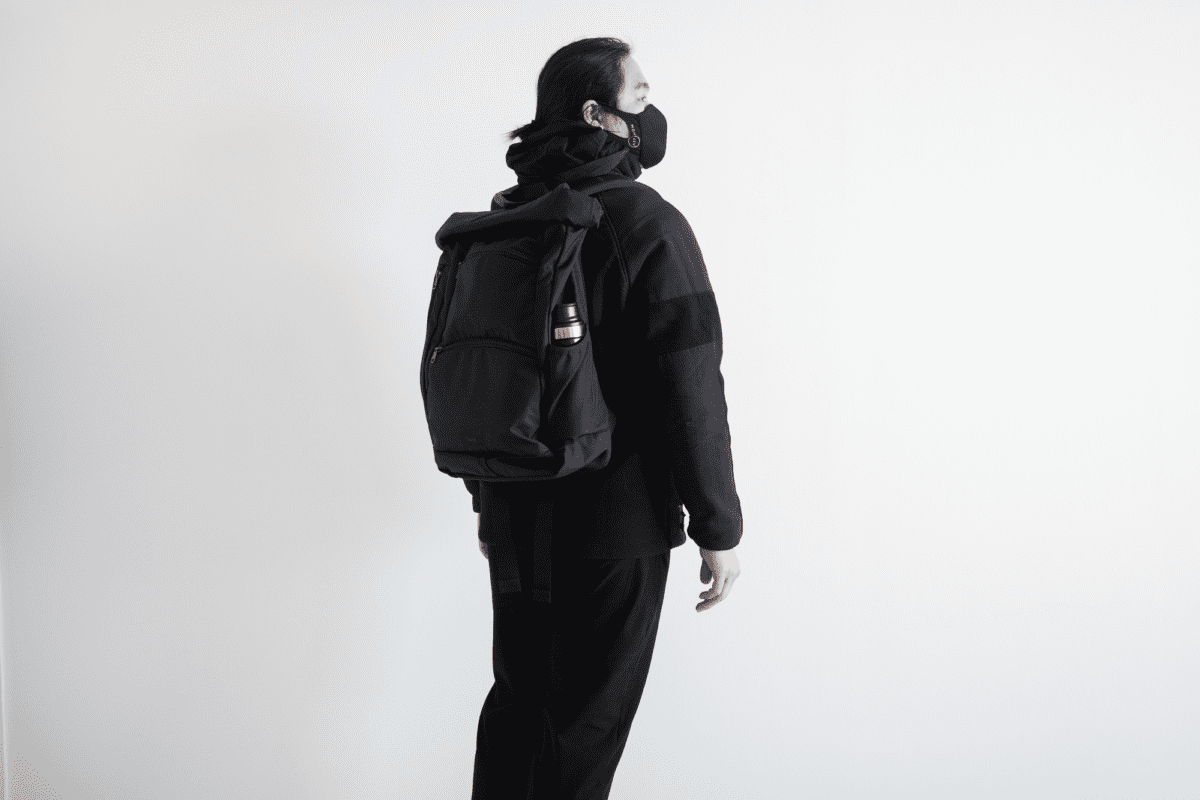 The Addax silhouette gets tricky to manage and depends on the amount you pack. If you pack it with the right amount and size of things, it would look like a nice, slim backpack.
When not filled completely, it looks a little deflated. If packed to the max, it will look bloated and round like a barrel. Either way, it's not for those that care about such details.
Material
TOM BIHN is a well-respected master at materials and is often regarded as a brand that knows its shit. While ballistic nylon is offered for almost every TOM BIHN product, it was the first time I saw X-Pac being offered by TOM BIHN. At the same price!
Most X-Pac versions of bags are sold at a slight premium (see Aer). I suspect that this X-Pac being recycled might have helped bring the price point down a little, although I can't be sure.
The X-Pac used is the RX30 which offers superior performance while considering the environment. I have never been one to care about environmental effects when buying a bag. I often believe the best way to care is to not buy at all. But if you do decide to buy, buy one that lasts so you don't have to buy it again.
The RX30 is a 300-denier recycled polyester face that goes on top of a recycled polyester x-ply, which gives it a 22° criss-cross X pattern.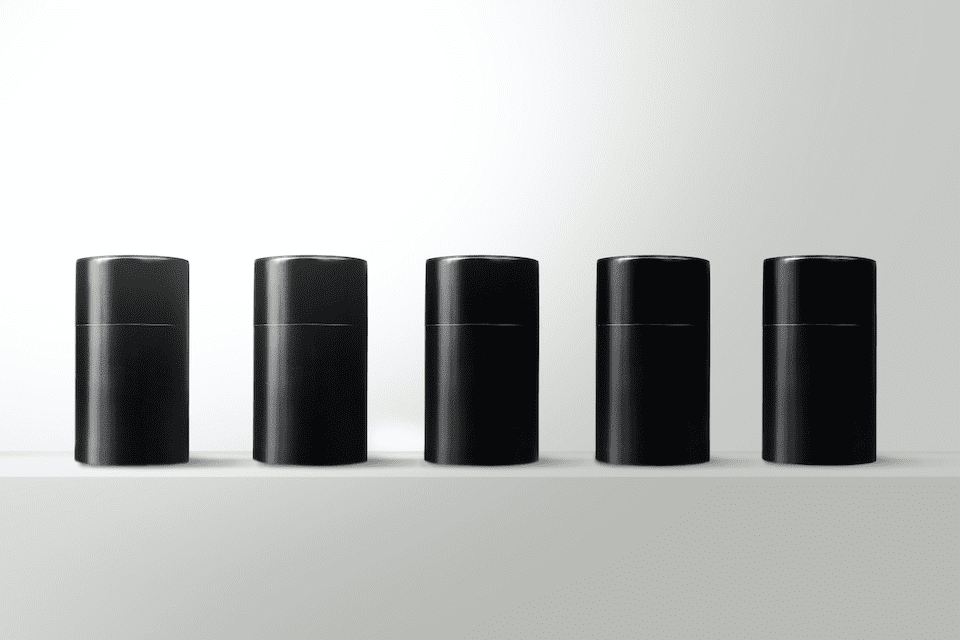 I found a 100 year old company that would create these heirloom quality canisters for me. They are handmade and will keep your tea leaves, coffee beans or anything that you need dry for years to come.
or read review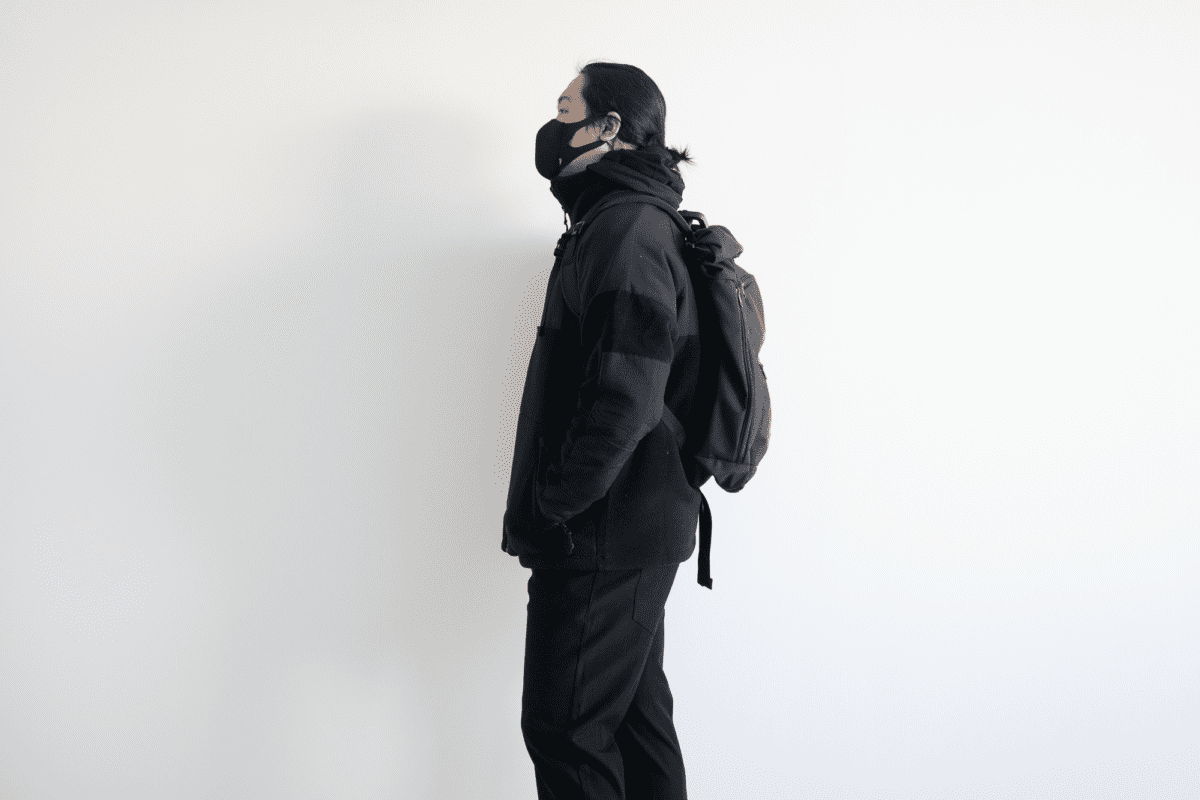 I got a sample of the Addax before the release, but if I had known that it comes in X-Pac, I would have gone for it. The only thing that might stop me is that I noticed that the X-Pac doesn't come with a blacked-out brand tag, which is a puzzling design decision for me.
The ballistic nylon is the lighter-weight version of the 1050 denier one that TOM BIHN offers. It has the same construction as the 1050 but the yarns are twisted as they are laid down to reduce the effects of abrasion by sending the effects back into the weave instead of leaving it on the surface. That's some black magic fuckery right there.
Note that TOM BIHN is transitioning the 525 denier to a 630 denier to ensure a consistent supply flow. It is not clear if the bag you get will be 525 denier or 630 denier and I think it was deliberately not stated to accommodate this transition.
The bottom of the bag does use the 1050 denier ballistic nylon for extra durability from abrasion when you leave it on the ground.
Usage
Those who own TOM BIHN bags might find some features of the Addax familiar. The side-access laptop compartment and 1/2″ EVAZOTE® EV50 Edgeless shoulder straps are some of my favorite features on the TOM BIHN Synik and I am glad to see it in the Addax.
Roll-top
The main feature of this backpack has got to be the roll-top. Roll tops provide additional capacity when unrolled at the expense of a little more work rolling the top.
A roll-top bag might be good for travel when you use the maximum capacity to get to your destination. Upon arrival, you can take out your packing cubes and use the bag as a daily carry.
However, as an everyday carry only, I find a roll-top bag too cumbersome. This is especially so with the TOM BIHN Addax as it has thicker ballistic nylon that makes it a little tiresome to roll. You need to use both hands. One side would unwind if you let go and try to use both hands to clip it. And trust me, it is impossible to get a tight roll clipped with just one hand.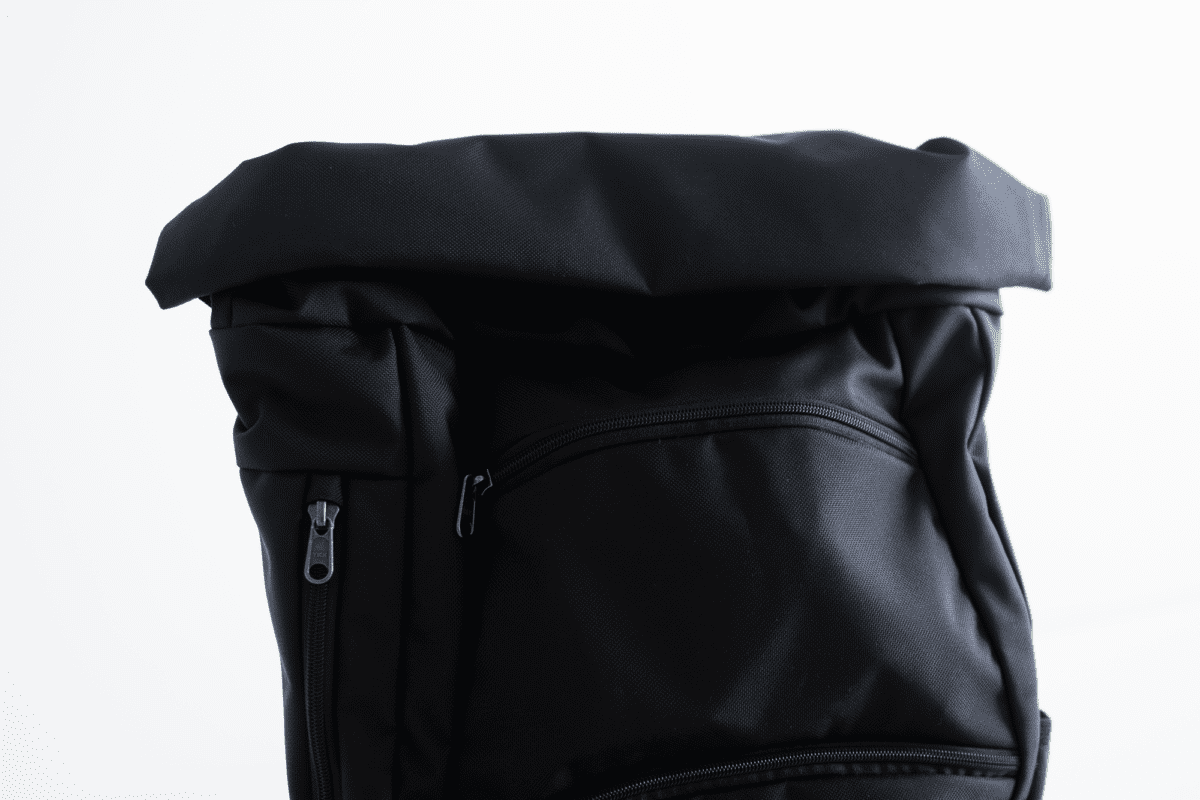 Something like the Outlier Nexhigh Rolltop is what I consider a good example of a roll-top opening that is easy to handle. It comes down to the choice of material, and a roll top with ballistic nylon just doesn't seem to work for me.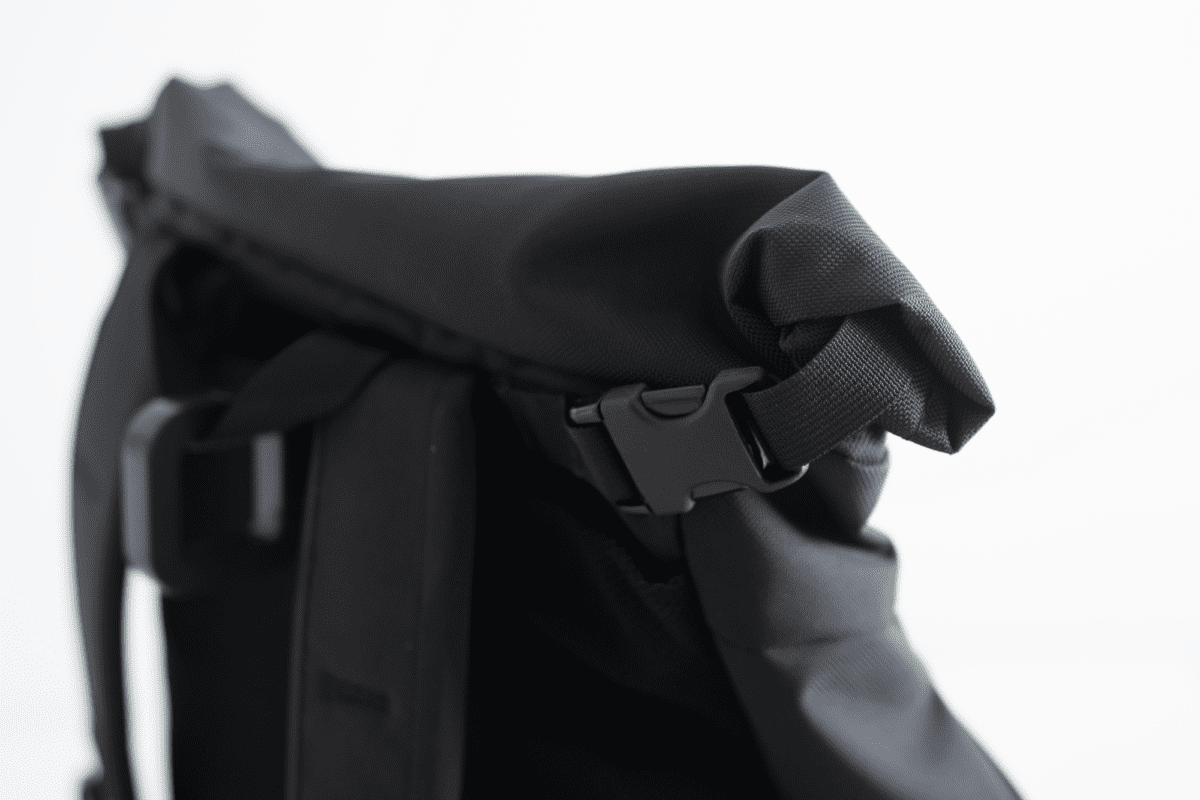 I would personally use a thinner material for the roll-top portion; something like halcyon might work.
The Front
It seems like TOM BIHN can sense my distaste for accessing the main compartment through the roll top. The front pockets are generously sized, going across the front, one on top of the other. The bottom pocket is slightly larger than the top one.
Note that these are flat pockets, as opposed to 3D ones. Although, there is enough capacity in these to accommodate some depth.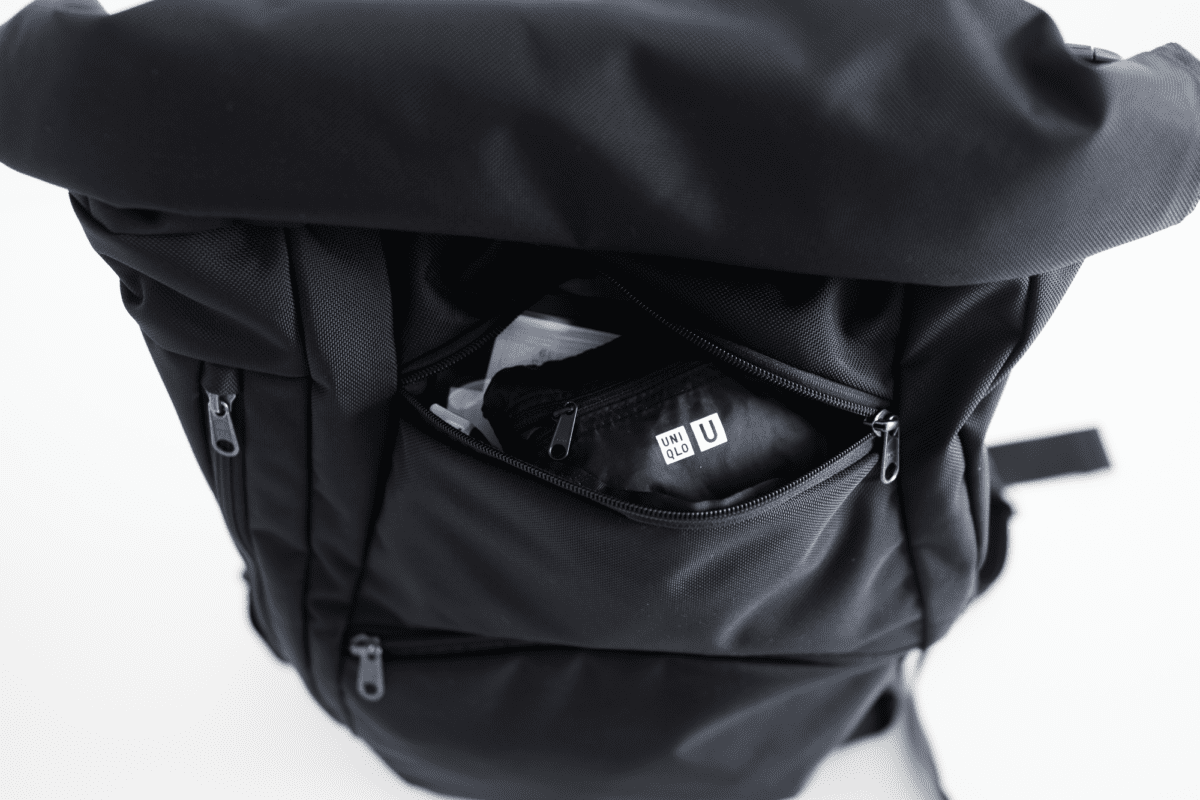 I have most of my stuff in them.
My electronics dopp kit goes in the bottom, while the rest of my quick access items go on top. They include the Sony WF-1000XM4, a Muji ziplock bag for receipts, a hand sanitizer spray, and a pair of North Face gloves for the season.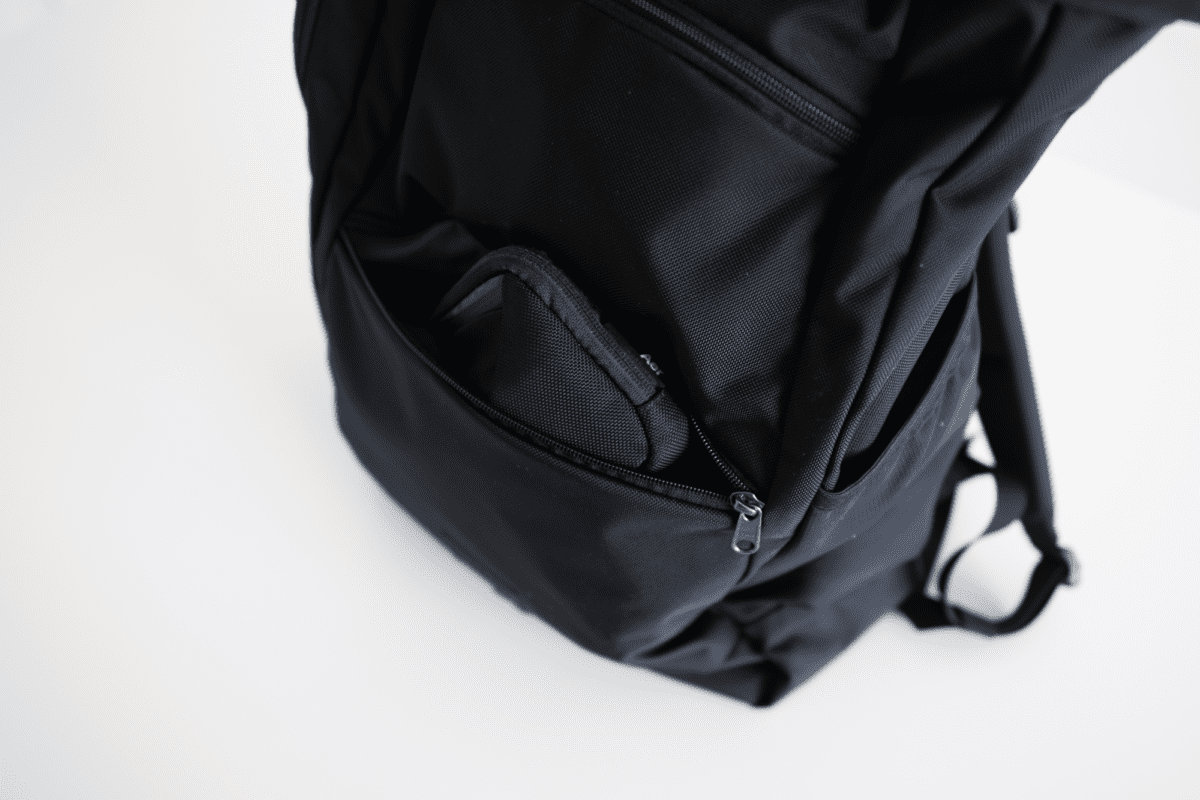 There are two mesh dividers against the back of the top compartment, but I can't be bothered to use them since I have to dig through stuff to get them in and out.
The Sides
What's new to TOM BIHN bags is an external water bottle pocket, something that TOM BIHN has been stubborn about excluding in the past. For me, a water bottle pocket is a must. I bring along my Stanley Travel Mug wherever I go and would prefer it in an external pocket since condensation causes damp pockets. I hope that TOM BIHN will find a way to include this in all their backpacks.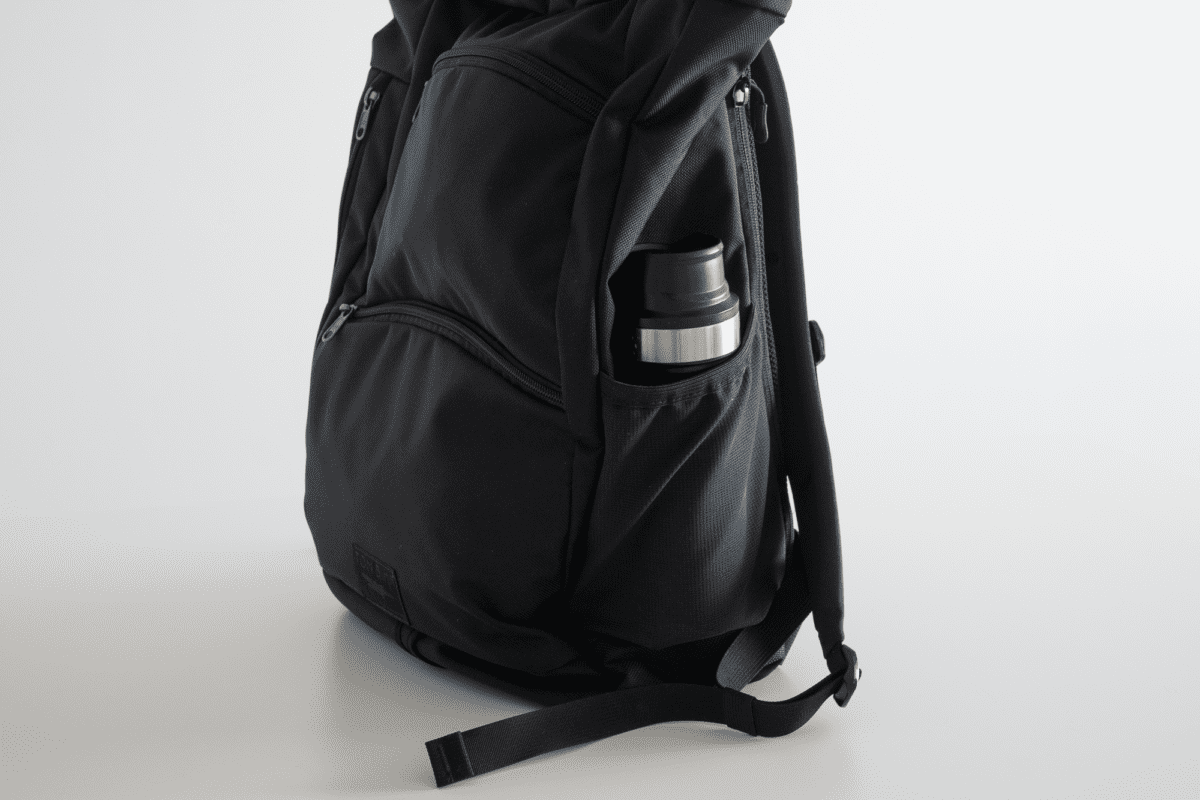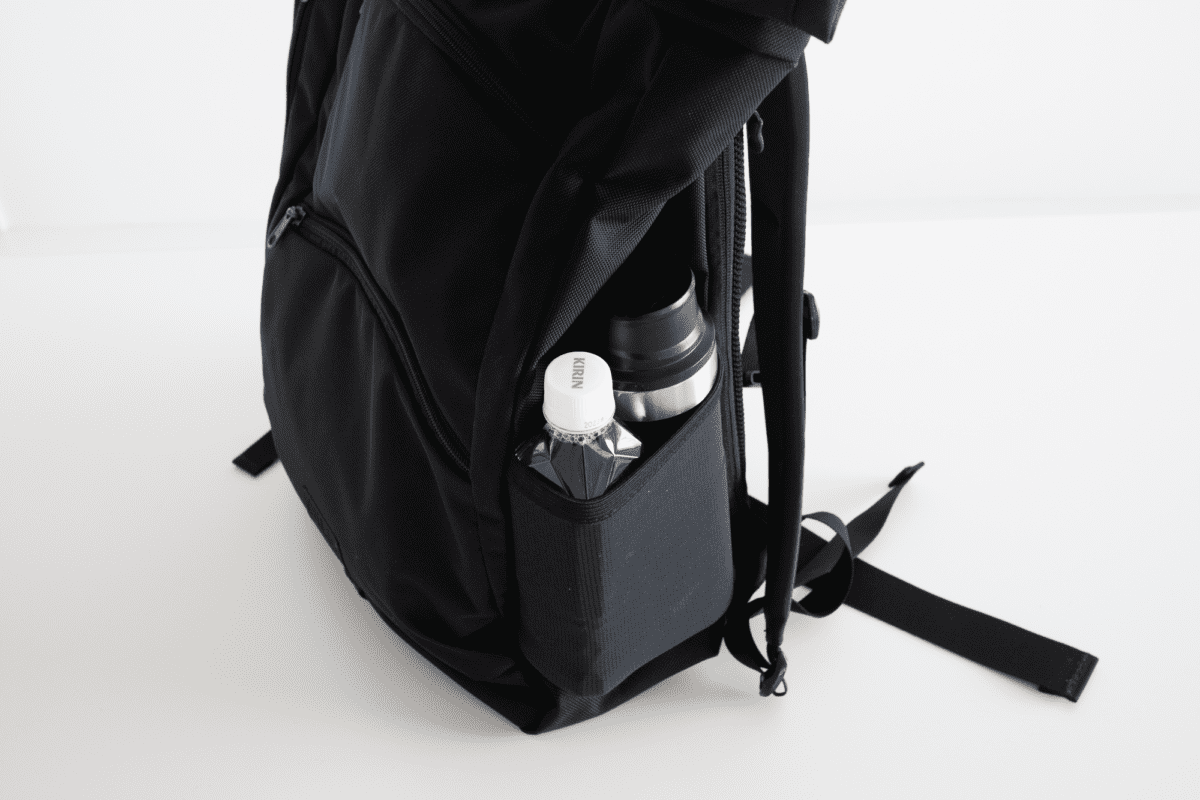 On the other side, is a long zippered pocket which is great for a foldable umbrella. I have my EnergyQC Pilot X7 in a TOM BIHN Ghost Whale Organizer in this pocket.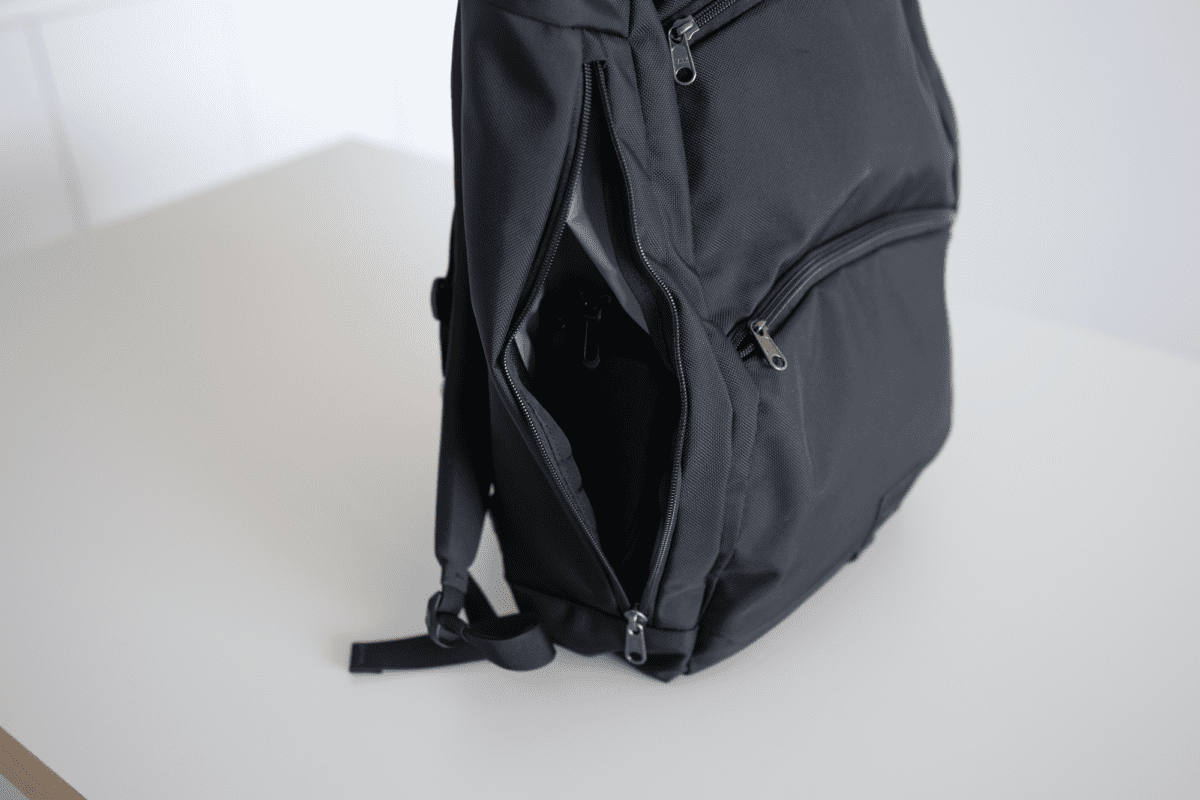 Main Compartment
The main compartment is essentially a deep pit. The abundance of space is a double-edged sword; there is just no good way to keep things organized.
Getting things in and out can be a chore, especially in the dark, and all your stuff happens to be black like me. Most of the time I would just stuff my hands in and feel around for what I needed.
TOM BIHN does try to mitigate this with two webbing pockets (similar to the one in the front top pocket). As someone who uses cubes for everything, I almost never use these as well. If I am going through the trouble of opening that roll top, rummaging through the contents isn't too much extra work. It can also be hard to remember dedicated pockets for dedicated items if you switch backpacks frequently like I do.
If that isn't enough organization options, TOM BIHN's generous inclusions of o-rings can be seen in the Addax too. The idea is that you attach things you want to easily reach for to these o-rings, so you can pull them out without having to dig around. For the same reason I don't use the webbing pockets, o-rings are often underutilized for me.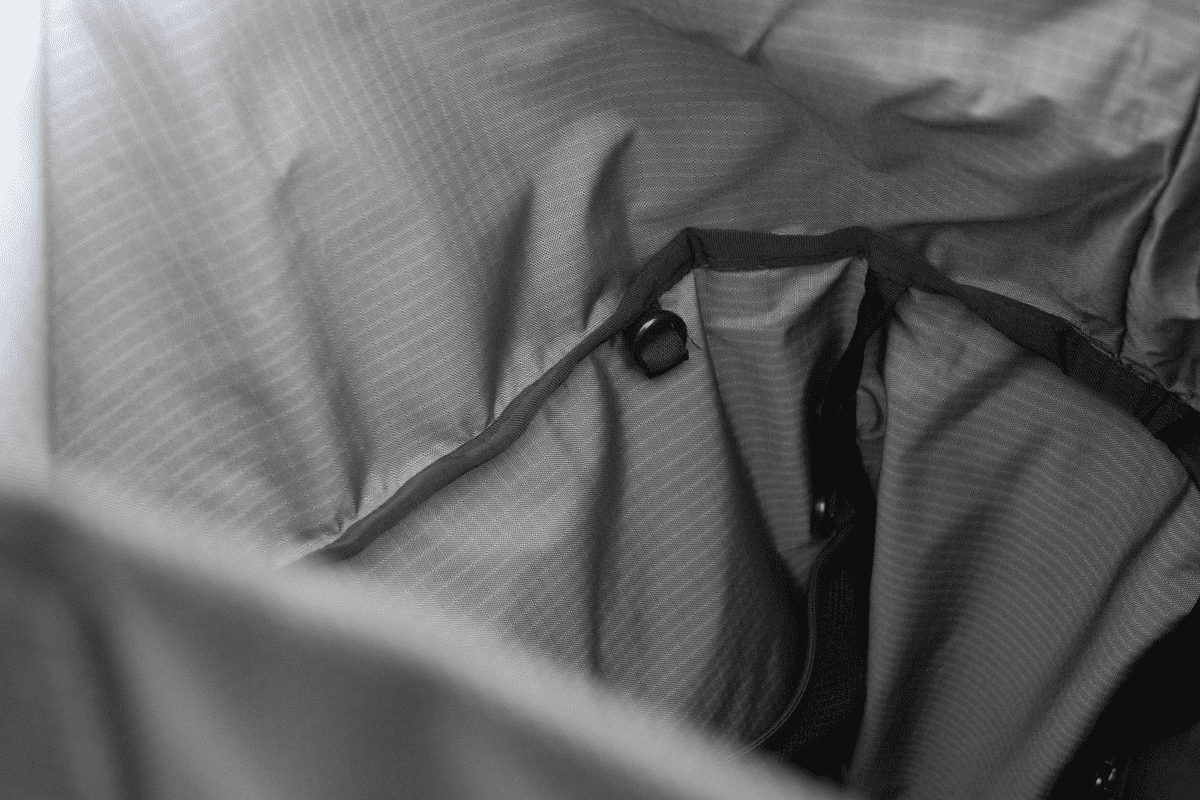 Device Pocket
Like the TOM BIHN Synik, the Addax comes with a side-accessible device pocket. It fits up to a 16-inch MacBook Pro. You have to unzip the compartment fully to insert a 16-inch laptop straight in. I have a Yubikey attached to my laptop most of the time so I would have to put it in at an angle each time.
You can also access the device pocket from within the main compartment.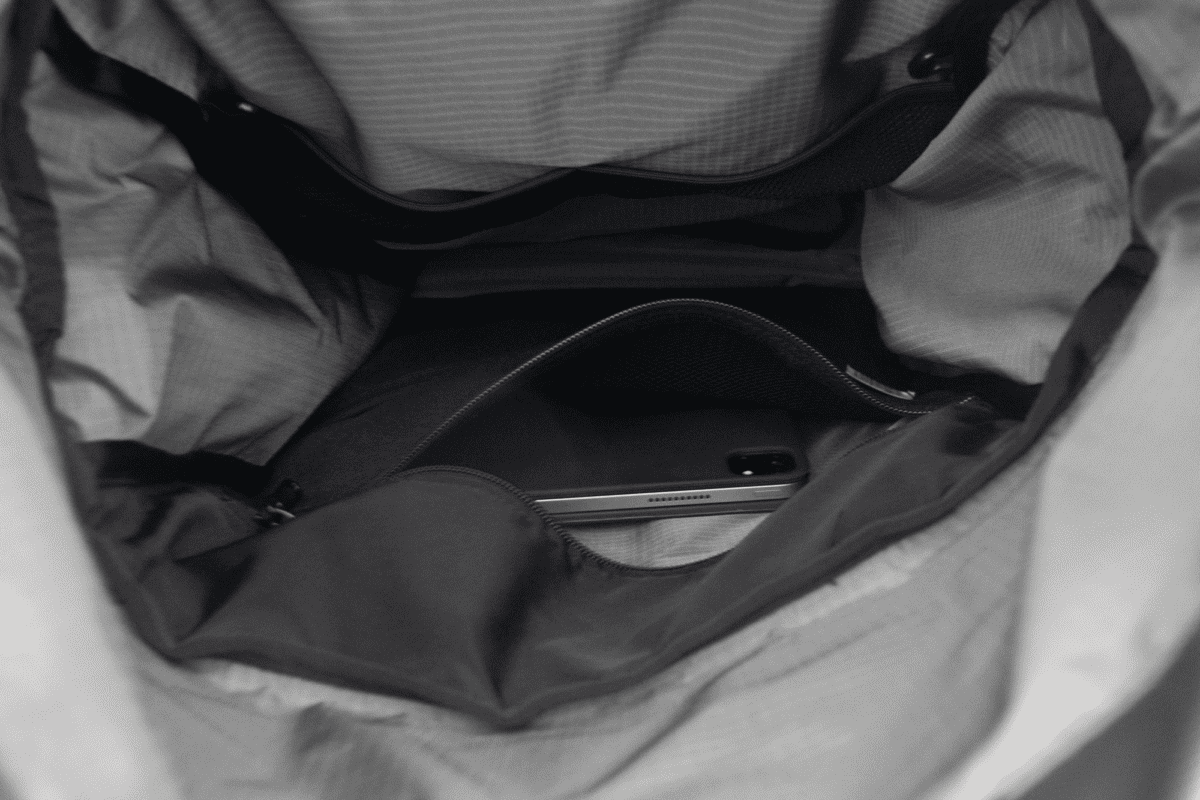 Straps
The straps use the 1/2″ EVAZOTE® EV50 Edgeless shoulder straps, which is the strap used on most of TOM BIHN's latest designs. These are one of the most comfortable straps I've felt on my shoulders. They are well padded, and the lack of an edge prevents the strap from digging into your shoulder, allowing the weight to be evenly distributed.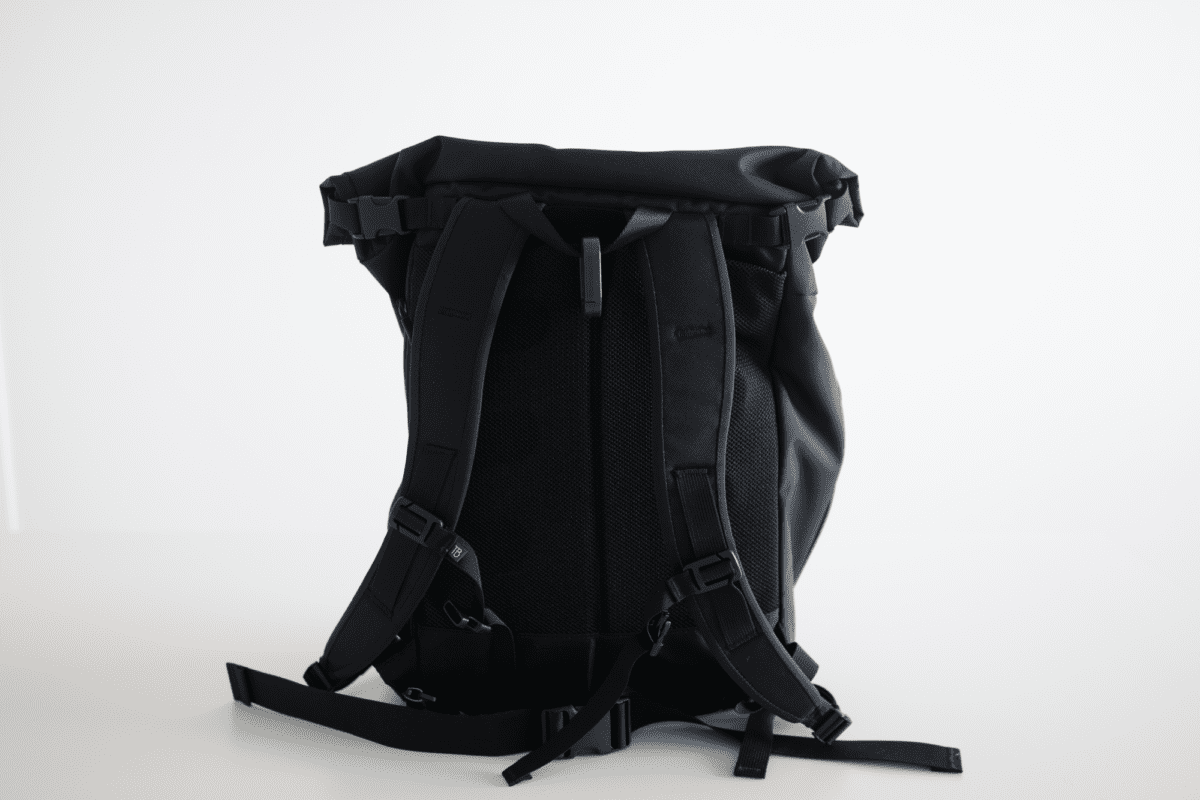 The Addax also comes with a Gatekeeper Waist Strap. Like most TOM BIHN backpacks that provide this, I take it off immediately. The shoulder straps do too good a job that I never see myself ever needing to use the waist strap. Also, they don't come with any padding or pockets and hang in an unsightly manner when not in use. While it is certainly nice that TOM BIHN includes them, I didn't think they were particularly necessary.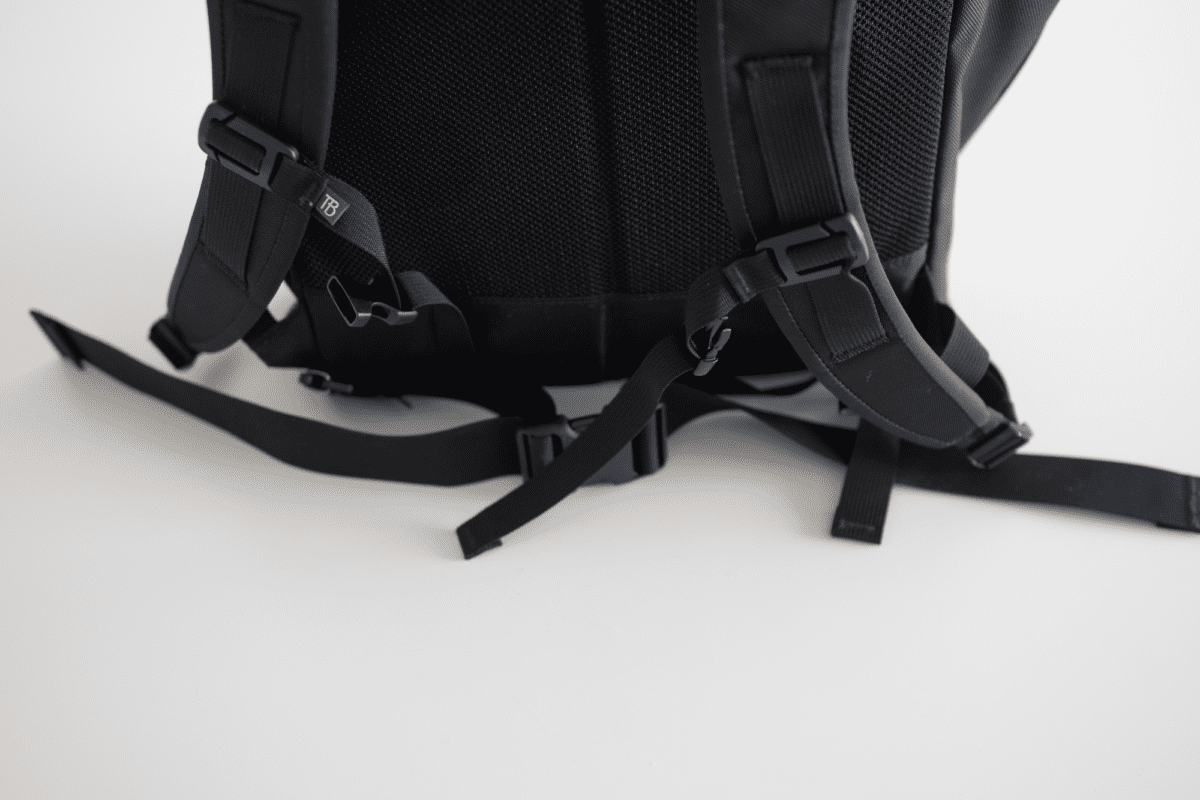 Conclusion
The Addax is a great backpack that comes with everything that you love about TOM BIHN. Top-notch materials and expert craftsmanship put together refined elements made only possible by the decades of experience TOM BIHN has under its belt.
However, the roll top is not as seamless an experience as I would have liked. Seeing as this is their first roll-top backpack, I think they have quite a few iterations before perfecting the mechanism.
Additional Images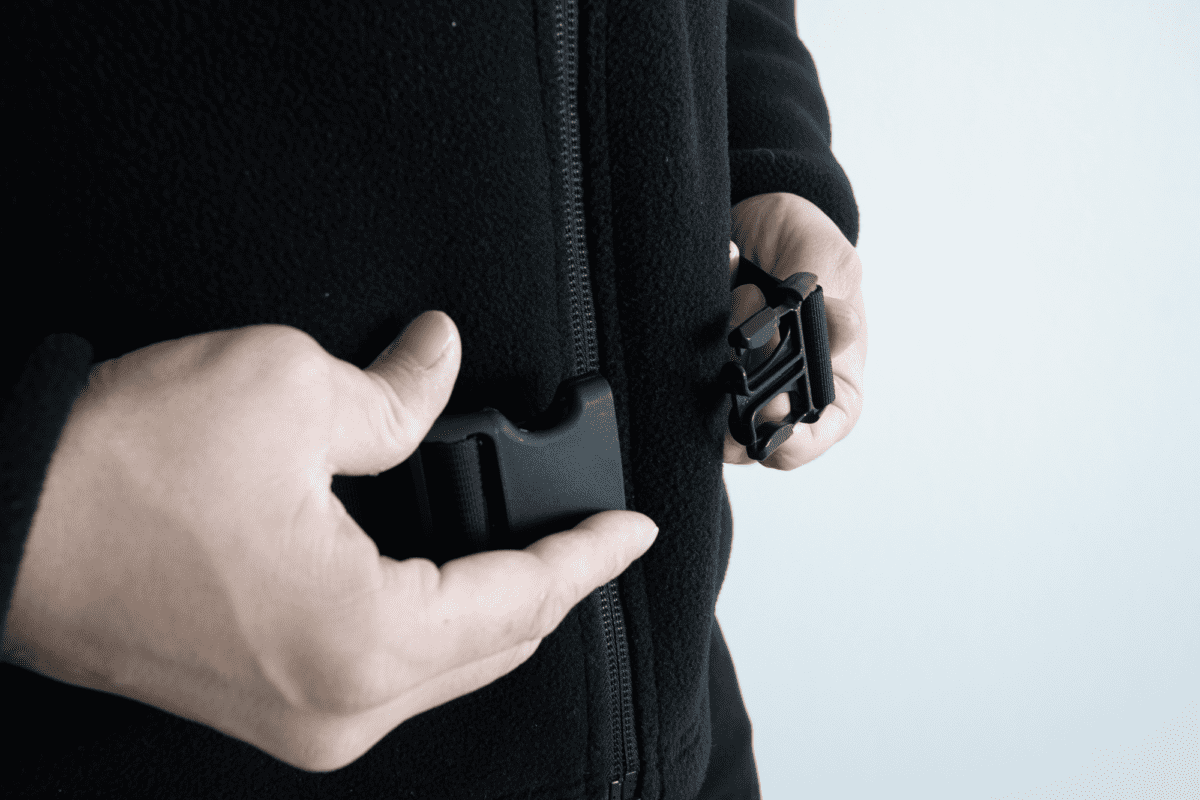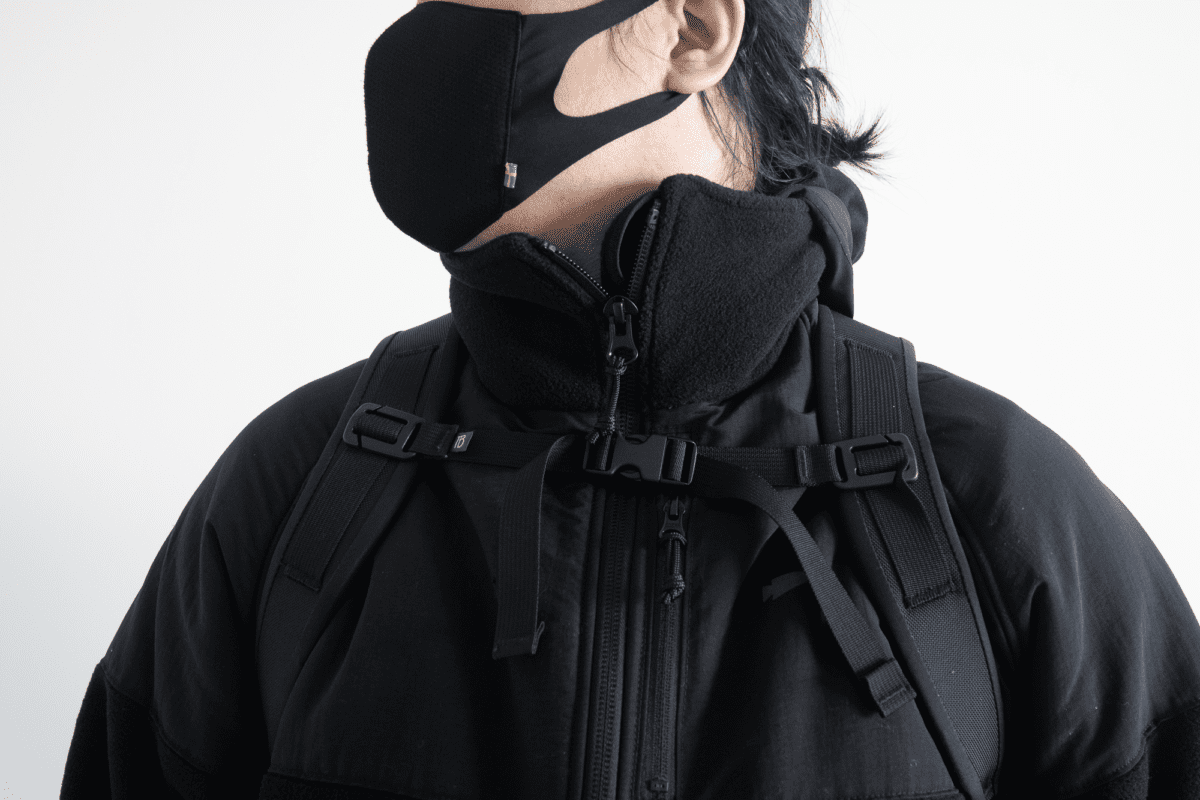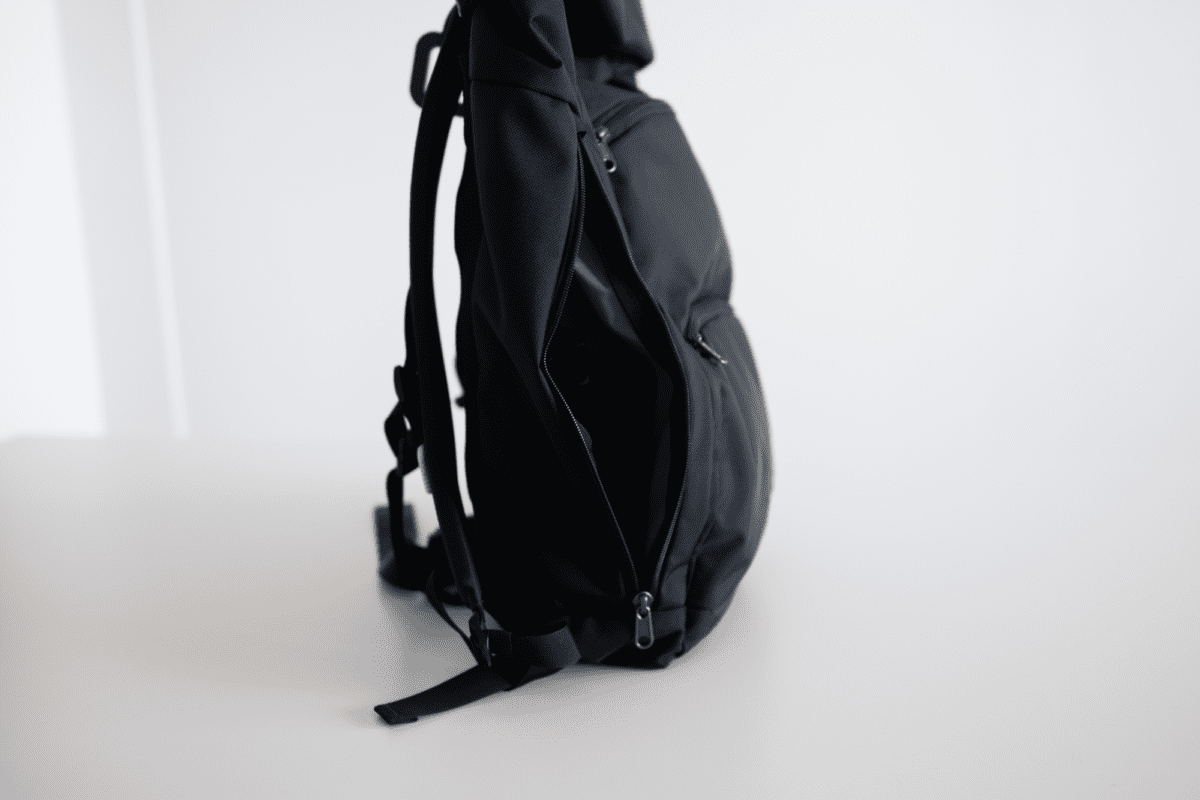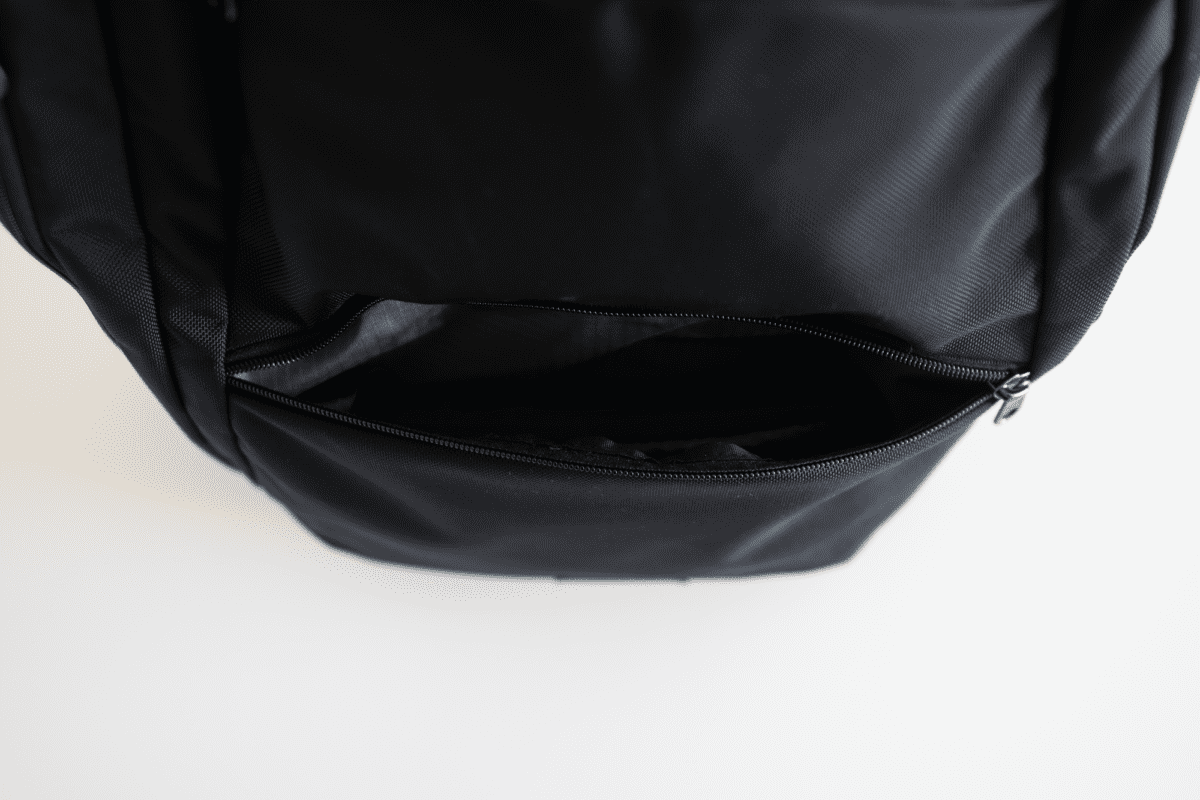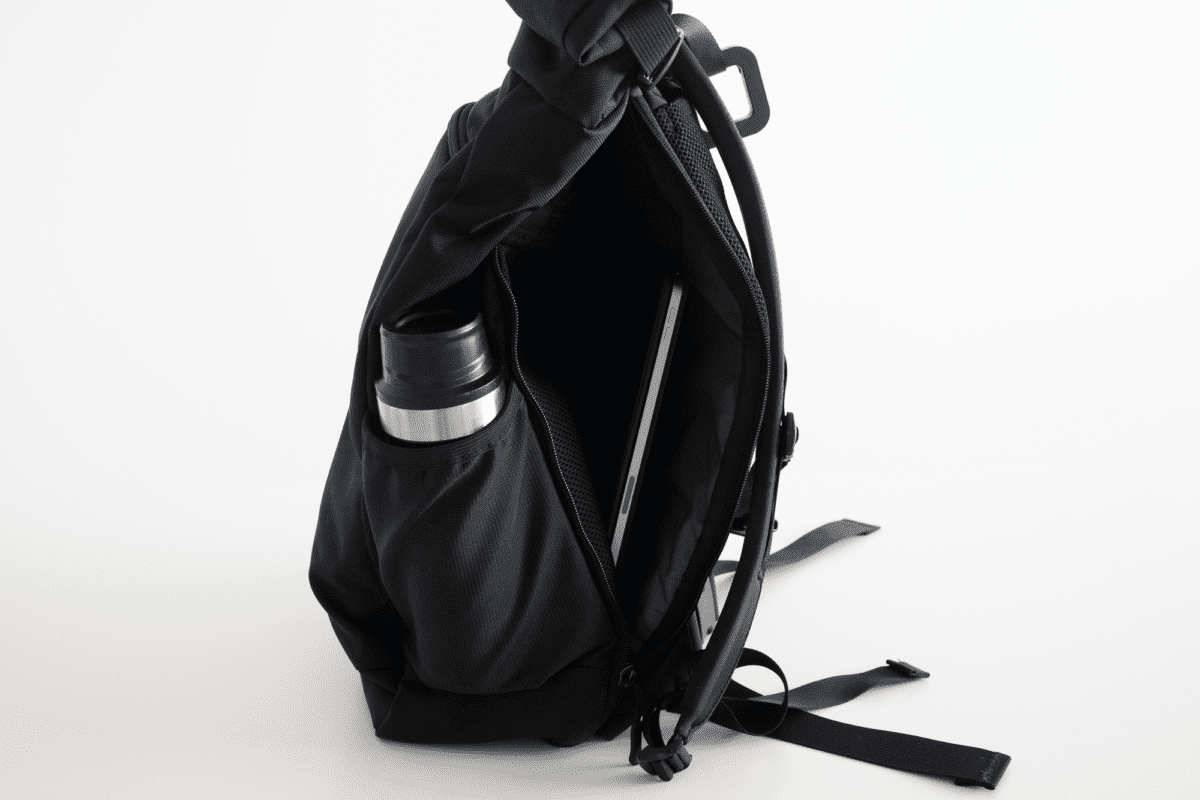 Like this review? See all of my in-depth reviews.
Also, consider supporting me by being a Patreon. Every cent given will go back into improving the content of this website.
Tagged backpack bag ballistic nylon review tom bihn