This website is made possible by readers. I may earn a small commission when you buy through the links in this article at no extra cost to you. Learn more.
The Able Carry Daybreaker is the third backpack I'm reviewing from Able Carry (which means I've tried all their current offerings), and this is my favorite one so far.
Details
Price $126 from ablecarry.com
Buy through this link for 10% off your entire order (once per shopper)
Material 210D Ripstop Nylon (black) or XPAC VX21 (grey)
Weight 580g (1.28lb)
Capacity 25 liters
Dimensions Height: 50cm (19.7in) | Width: 26cm (10.2in) | Depth: 19cm (7.5in)
Overview
As much as I strive to be a minimalist when it comes to travel, I'm in a dilemma when deciding to bring an extra backpack just for daily carry, technically turning my one-bag travel into two-bag travel.
Using your main pack as your daily carry is the most minimal way to do things in the sense that you've got one less thing to carry. I've tried this on a few occasions, but never on trips that are more than a couple of weeks. When I spent three weeks traveling around Vietnam, the GORUCK GR1 (26 liters) was my only backpack. I dumped out my packing cubes into the hostel's locker before heading out.
But, depending on the size of your main pack, it might not be the best choice when balancing between the size and weight versus the capacity needs. Lugging around a huge backpack all day, especially when you need only about half the capacity, doesn't seem like the best way to go about your travel.
Even when I travel, I spend most of the afternoon at a cafe working my day job (that's how I pay for the trip), so I carry my laptop and accessories every day of the trip. I see these as necessities. I've considered tablets and tried even using only my phone to work, but I can't justify the loss in productivity.
The style of carrying I have in mind is that I wanted my daily carry to be comfortable enough to carry my digital nomad arsenal around, yet light and packable enough to stow into a bigger pack when I don't need it.
Up till recently, the TOM BIHN Daylight Backpack has been my daily carry of choice. But, based on the product specifications alone, the Able Carry Daybreaker looks like it can very well take its place.
Style
I've tried both of Able Carry's other bags, the Thirteen Daybag and Daily Backpack, and while both are very well-made bags, the biggest reason I don't carry them often is the size. They look like a kid's pack on my 6 ft frame. So, I was nervous that the same would be the case with the Able Carry Daybreaker.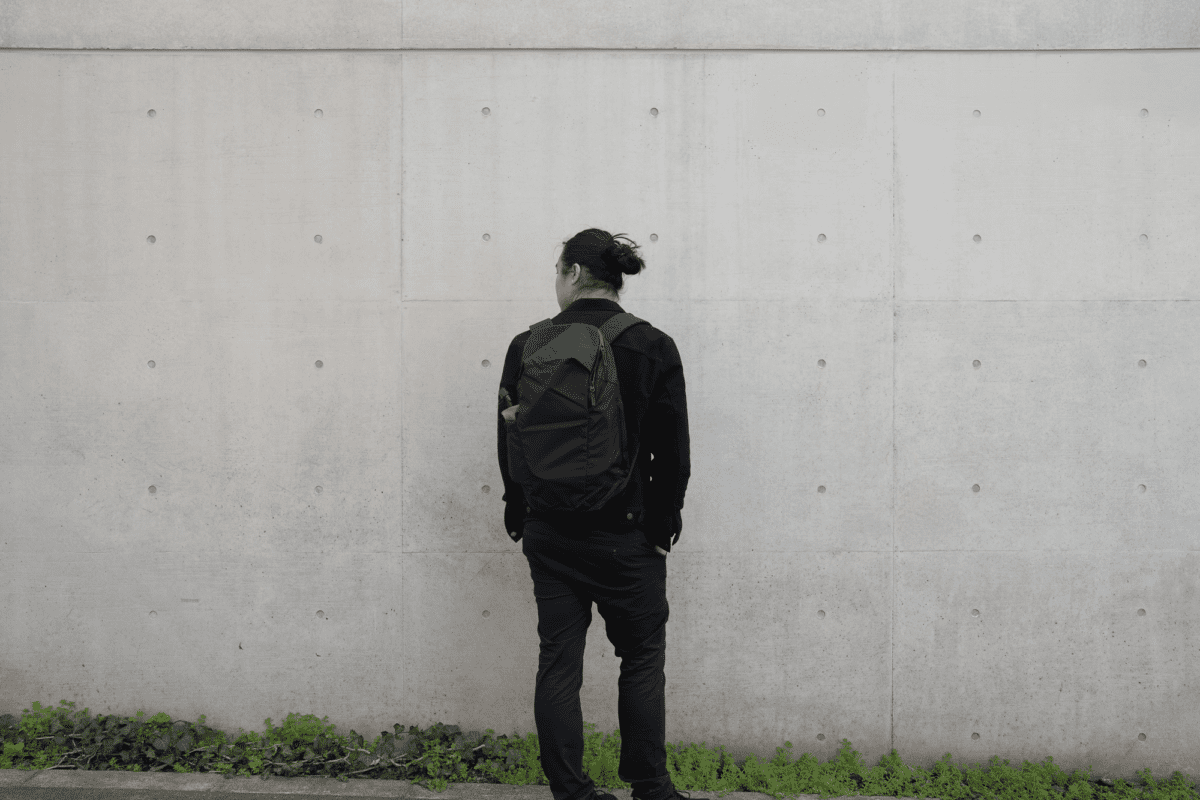 But to my relief, the size was perfect and even better sized than the other two packable backpacks I have, the TOM BIHN Daylight Backpack and the Matador Freerain24. It was in the magic "just right" spot for sizing, which is surprisingly uncommon.
The bag comes in two colors, grey and black. Since black is the only color I wear, I went for the black one. Interestingly, apart from just the color, Able Carry used different materials for each color. The grey version uses XPAC, while the black uses Cordura. While grey versions of Cordura do exist, the Cordura usually comes in black due to ease of dyeing thus lower in price. I can only speculate that it was chosen to keep the price affordable.
But no one likes ads, so I got rid of them. If my articles helped you, I ask for your support so I can continue to provide unbiased reviews and recommendations. Every cent donated through Patreon will go into improving the quality of this site.
There are also different patterns across each material. The XPAC has a criss-cross pattern, while Cordura has a checkered pattern.
Like most backpacks made for travel, the design of the bag is ultra streamlined and minimalistic. There is an observation within the web design community that websites are slowly beginning to look more and more similar, and the same can be said for these backpacks. One day, every backpack will look the same, lest a few variations. The Able Carry Daybreaker is certainly no Tesla Cybertruck.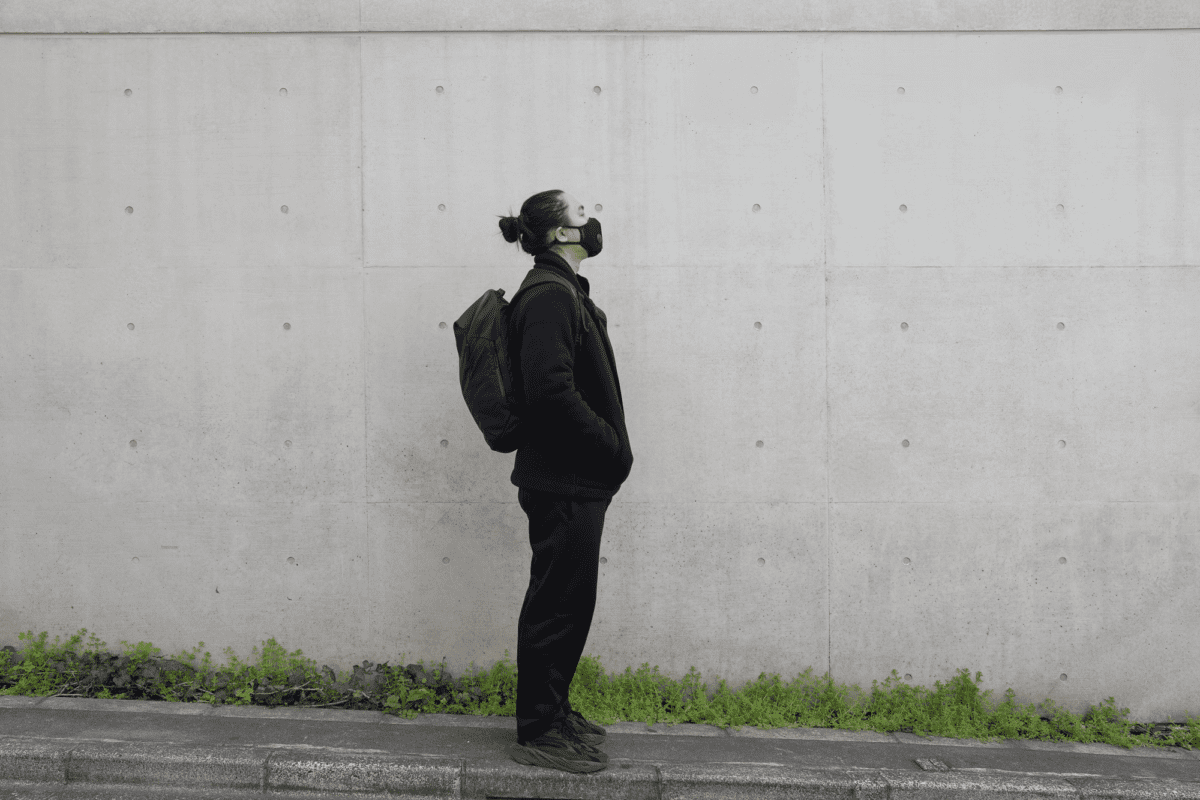 Even though there are details like extra handles, quick access pockets, and a water bottle slot on the exterior of the Daybreaker, they maintained the black color consistently across all the details, which makes it look very put together.
The branding has been kept to the minimum, with a spot UV print on the right shoulder strap and the bottom right of the face of the bag. The branding is black on black and can barely be noticed. They will have to remove the logo altogether if they try to reduce it further.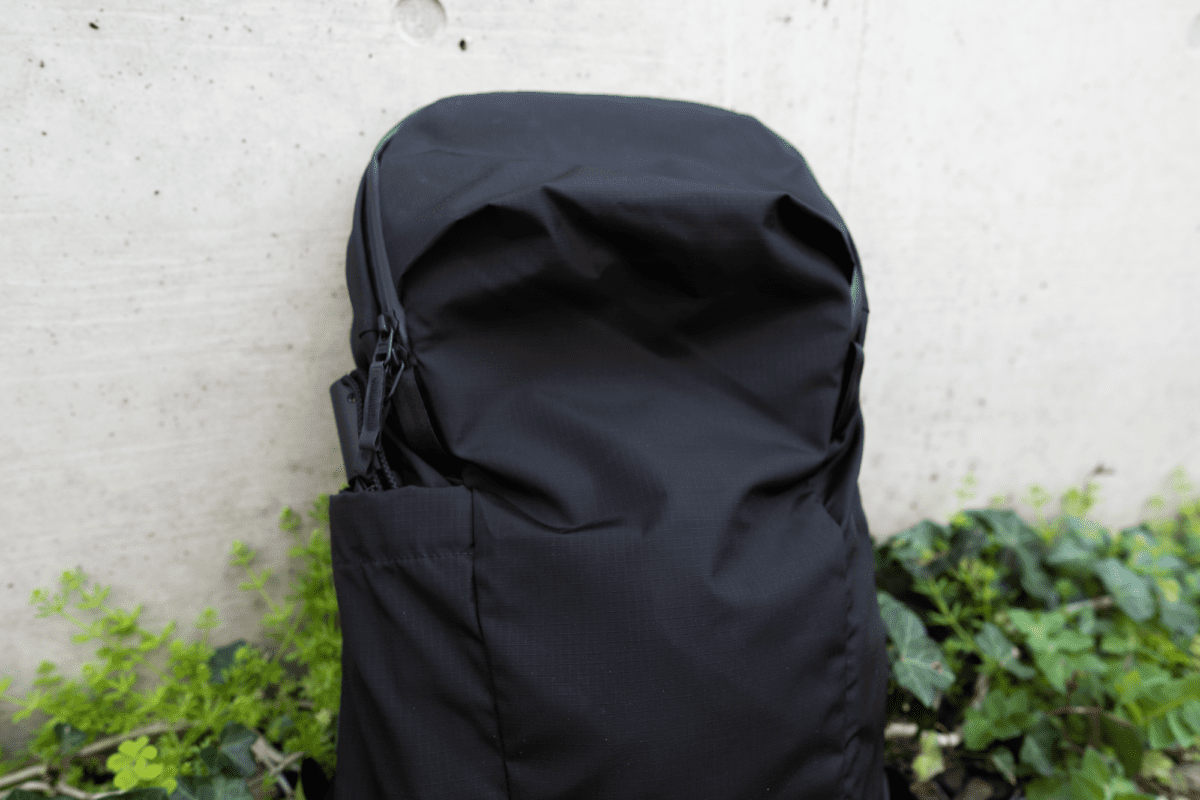 One of the ten principles of good design by Dieter Rams, the designer whose principles inspired the iPhone's designer, is that "Good design is unobtrusive." This is why I have a deep respect for brands that practice restrain in their design instead of trying to plaster branding all over. This is also the basis for my own brand, SHADOWS.
"Products fulfilling a purpose are like tools. They are neither decorative objects nor works of art. Their design should therefore be both neutral and restrained, to leave room for the user's self-expression."

Dieter Rams
The padding in the back of the bag gives it a base structure, so it won't crumble down when not filled up, like other packable backpacks.
The face of the backpack is sewn with a slight pleat towards the top to create a more 3D shape, even with nothing inside.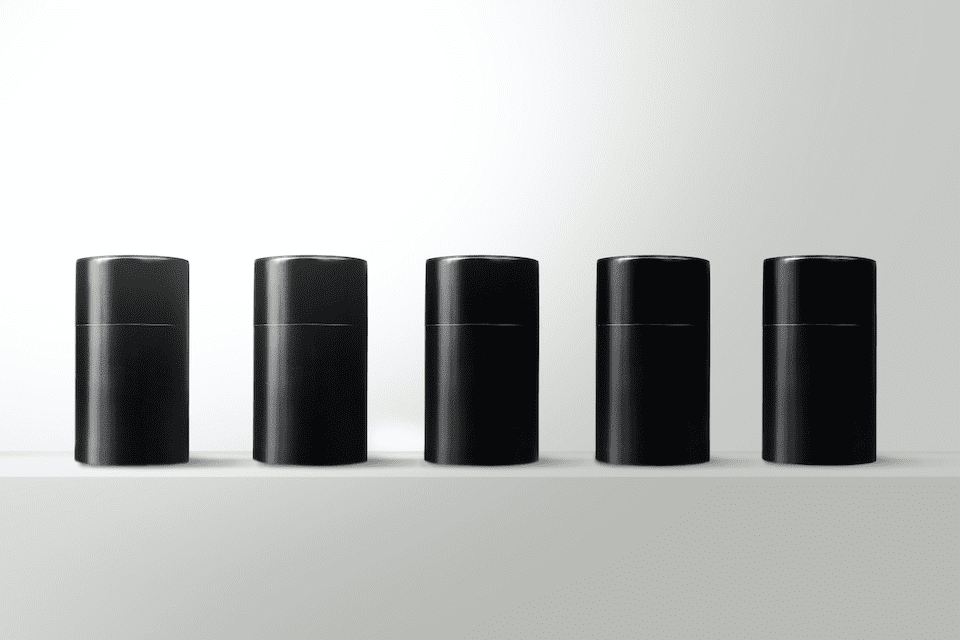 I found a 100 year old company that would create these heirloom quality canisters for me. They are handmade and will keep your tea leaves, coffee beans or anything that you need dry for years to come.
or read review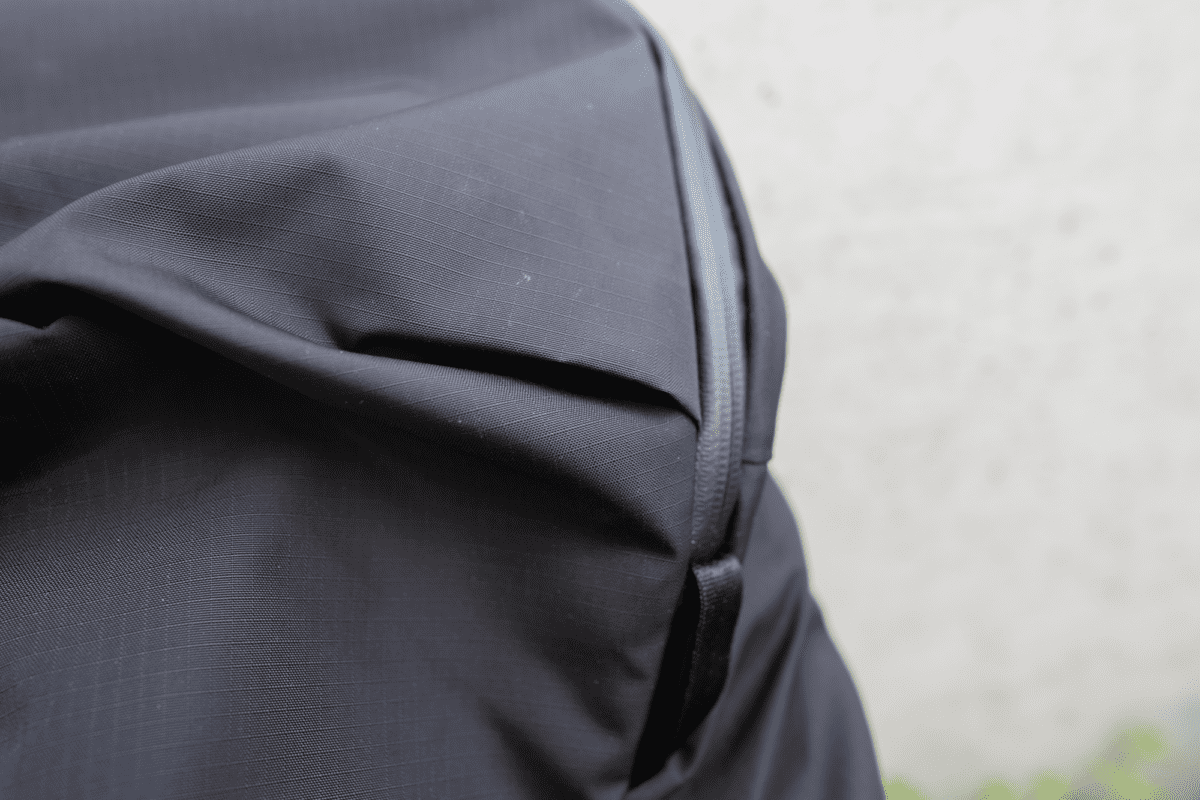 If I were to nitpick, the fabric where the shoulder straps are attached seems to be separated from the padding, which creates a small droop. This makes it a little less sleek compared to ultra-high-end bags like the Veilance Nomin. Although, at that price point, they are clearly not to be compared.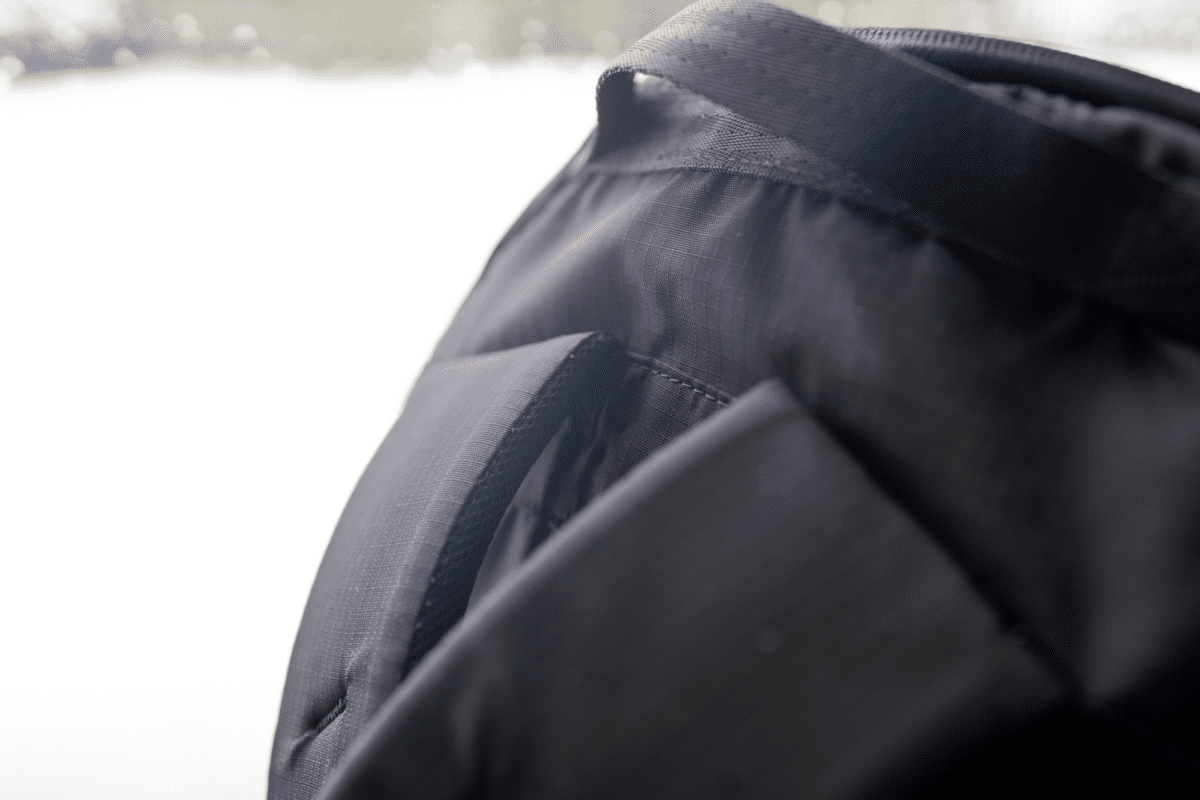 There's also a deep stitch on the upper part of both shoulder straps that looks aesthetical but could be for some reinforcement.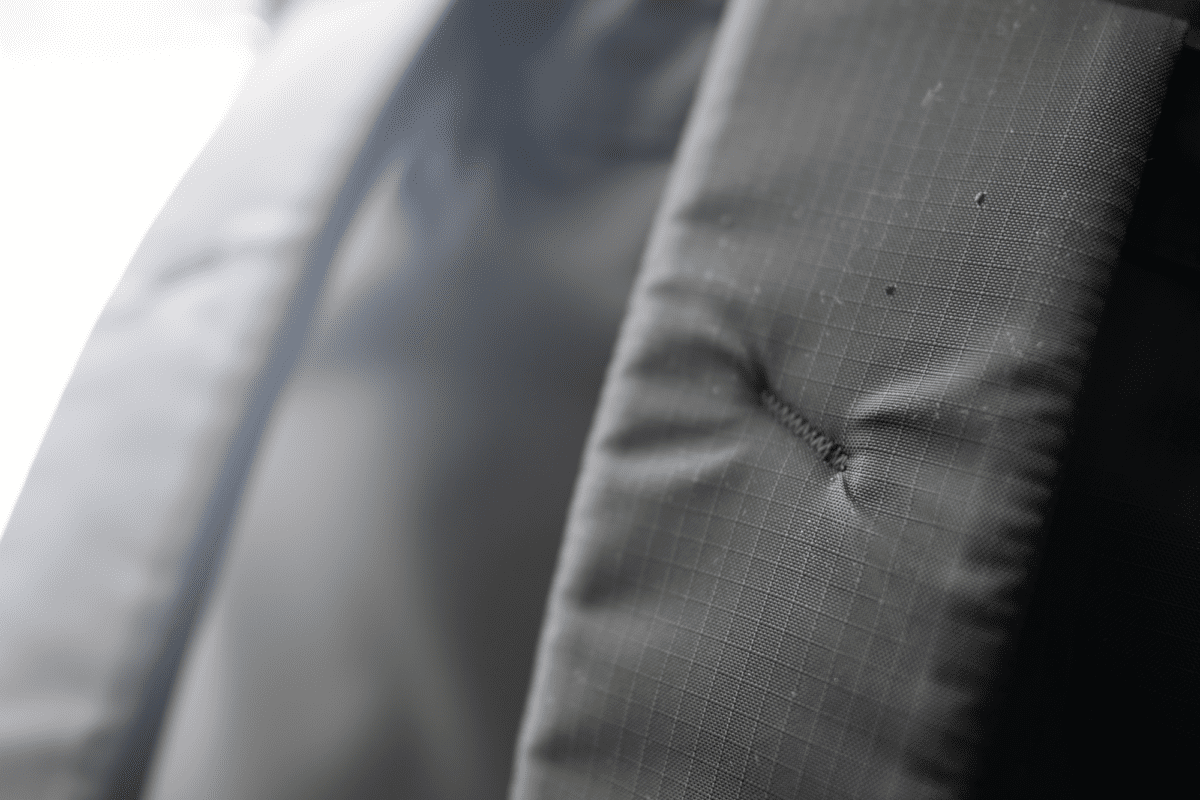 Even though it's designed to be a lightweight backpack, the materials and design really elevated the backpack, making it look premium and ultra-durable (whether it is remains to be tested).
Materials
Interestingly, the materials differ in color, with the grey using XPAC and the black using Cordura. I've had plenty of experience with both of these materials.
Both materials are durable, water-resistant, and beautiful. Unless taken to the extreme, the choice between both of them is honestly down to a matter of preference, or more specifically, a matter of color preference.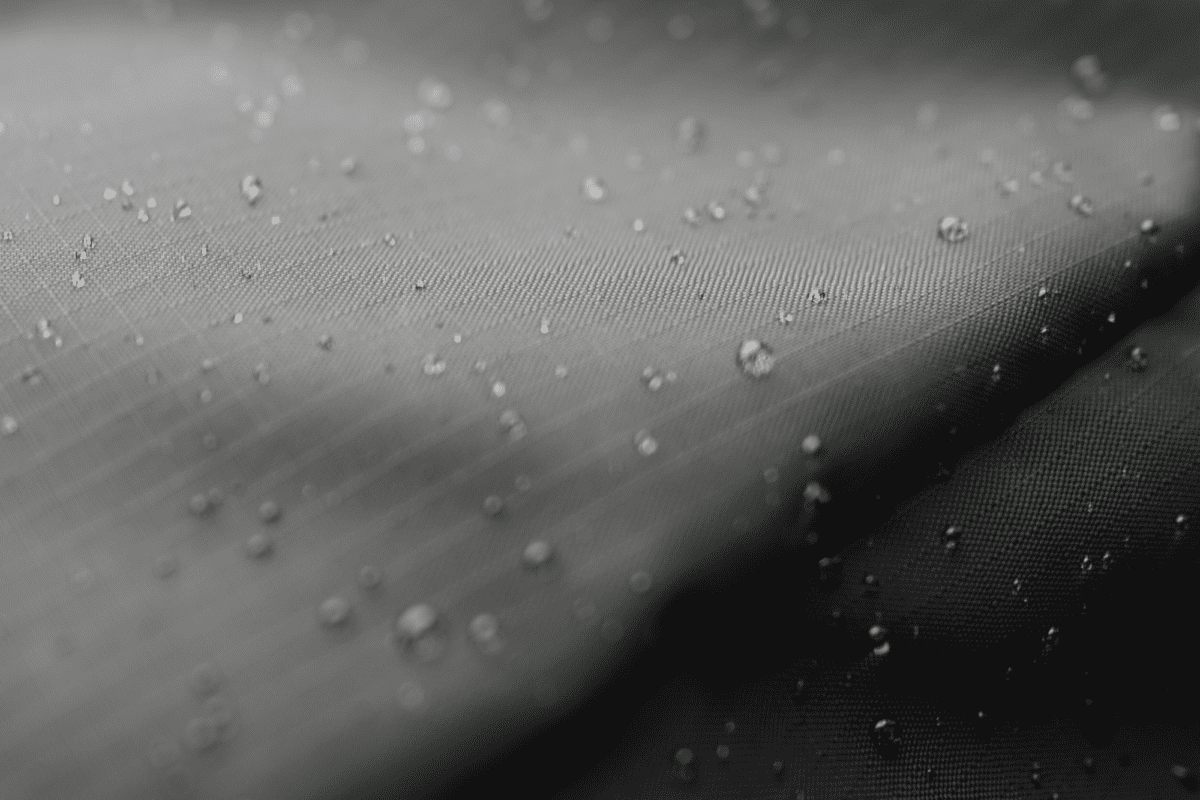 XPAC
The XPAC material used on the Castlerock grey version is the VX21 by Dimension Polyant. While the backpack I have is the Cordura one, I've had the chance to travel backpacks made of XPAC like with the Tortuga Outbreaker, 1733 Side Pack, or CODEOFBELL X-PAK.
The material is chosen to withstand the heaviest of rains. Most bags' fabrics are made up of threads woven together; the rain will still go through those holes no matter how tightly woven they are.
While most brands combat this with some form of DWR protection, this coating wears off over time, and you'll find yourself with the burden of having to reapply it.
The VX21 was chosen as it is ultra-durable. Rather than a woven fabric with holes, the ultralight PET layer is a film in itself, which means no holes for water to go through. The VX21 specifically is actually not a laminate, but a 4 layer laminate which are;
210D nylon with DWR and UV resistant coatings
Black polyester "X-Ply" (Also what gives the criss-cross pattern)
0.25 mil (that's 0.001″) PET film
50D polyester taffeta backing
This means it is (almost) completely waterproof, is tough even under stress, and is rigid enough to stay in shape. Since rain isn't the only element your bag will be facing, the UV protection quality of the material will also help protect it from the sun.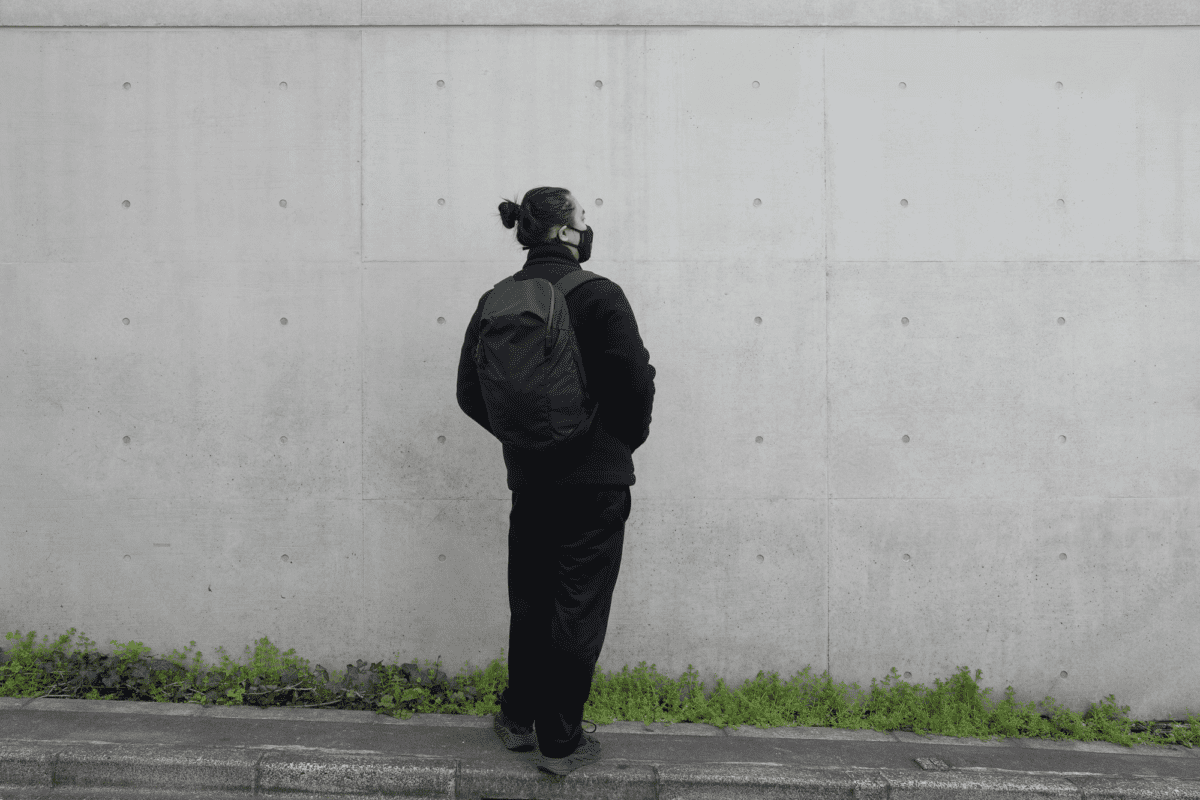 But, if you are as superficial as I am, you will probably be choosing the XPAC for that rad X grid pattern that lines the entire bag.
Cordura
Cordura, used on the black version, is arguably the more well-known of the two. In case you don't already know, Cordura is actually just the name of a brand, and they produce an array of materials. The Cordura used on the Able Carry Daybreaker specifically is the 210D ripstop nylon.
Originally developed to replace silk parachutes during World War 2, ripstop nylon is now more commonly found on camping and hiking backpacks, specifically for its lighter weight. Ripstop nylon introduces thicker threads inter sewn into the nylon to the threads from unraveling in the case of a rip; thus, the name "rip stop."
Compared to something like the 1000D Cordura, holes can form easier in case of abrasion; the thicker threads and the nylon wears at different rates.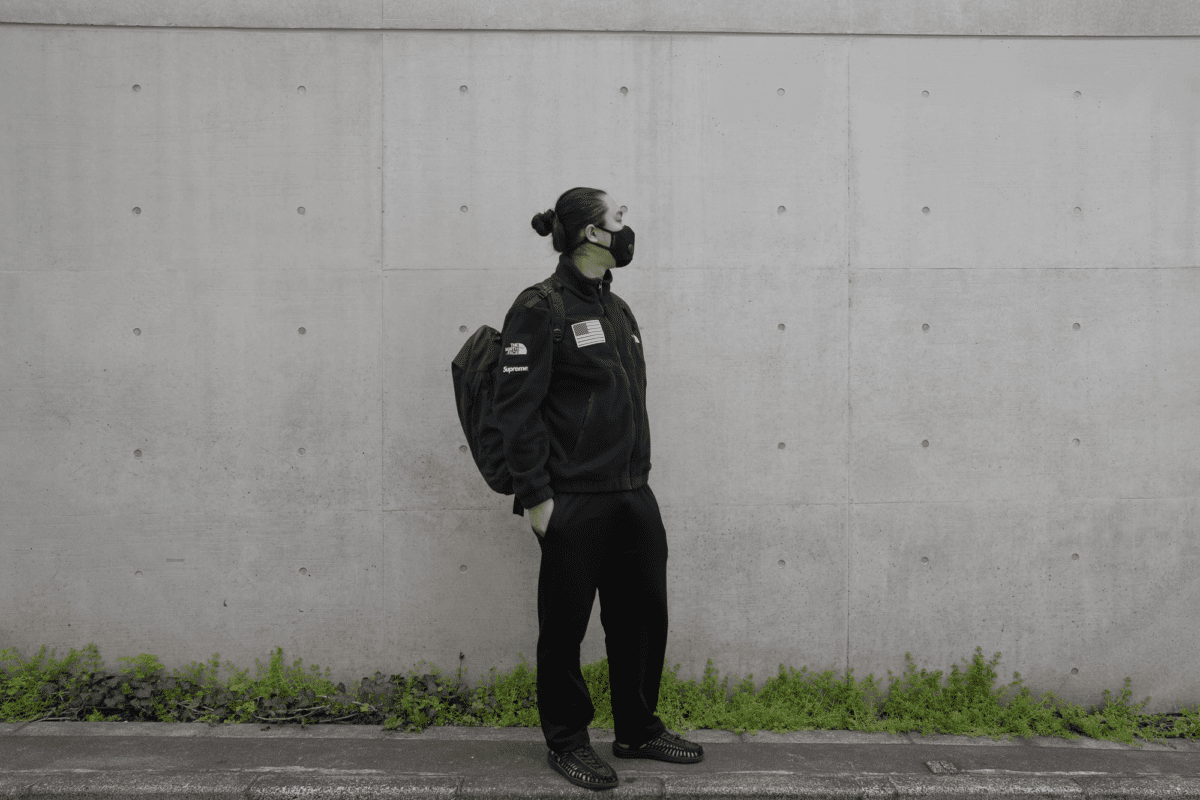 Usage
I've used the backpack in a variety of ways since I got it. I mostly use it as a daily carry. Given the virus situation (crazy times we live in), I haven't had the chance to use it on travel, but so far, I've been delighted with it as a daily carry.
Lightweight
As a remote worker, my 15-inch MacBook Pro, my GORUCK Wire Dopp that carries my charging accessories are my absolute minimum gear to head out and start working at nearby cafes. The first time I brought this setup out with the Daybreaker, I was surprised by how light my kit was. I've been using the TOM BIHN Synik 30 for the past couple of months as my daily carry and had gotten used to the weight, and you could feel the difference.
Upon checking, the weight of the Able Carry Daybreaker is 580g, almost three times lighter compared to the Synik's 1380g. Of course, the lesser weight is a result of the thinner material and sparse organization.
Organization
In some ways, I like how little organization it has. More pockets usually mean a more organized pack, but it also means that you'll sometimes forget which pocket you put something in, resulting in more time to find what you want.
The more fixed organization also means you have less space to play around with. This might require a whole packing style shift for heavy packing cubes users.
While there is considerably less organization on this bag, there are a few basic slots that are pretty nice.
There is a slot within the main compartment for your laptop, and sometimes, the opening of backpacks has an odd angle of entry, making it hard to slot your laptop in easily. But not the Able Carry Daybreaker. The slot was a perfect position, height, and angle for easy slip in and out of my laptop. However, given how the slot "flares out," it sometimes catches onto the things I try to put in the main compartment on the way in.
Another thing is that the slot isn't suspected off the ground, so you risk damage to your laptop if you drop your bag.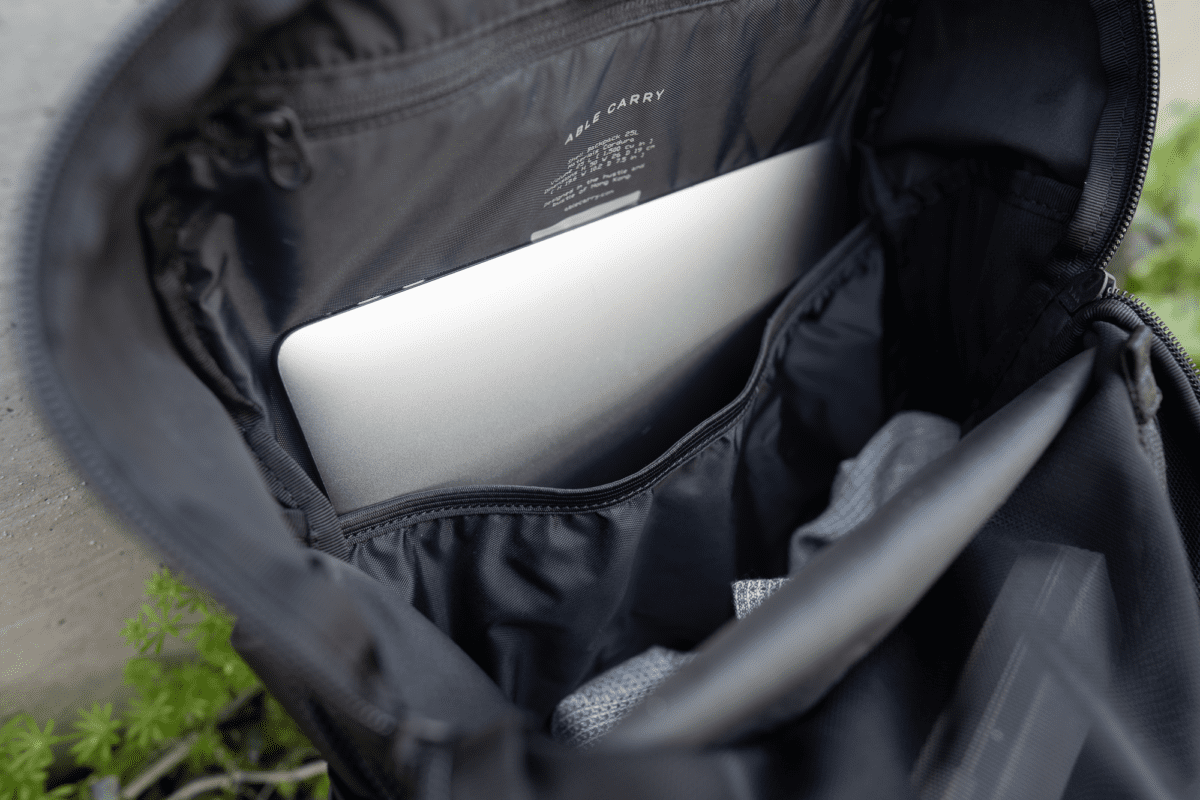 Behind the slot is another zippered slot that goes deep, all the way to the bottom of the bag. This slot is where the foam padding sits, and you can remove it completely if you like. This looks like a perfect spot for documents or a tablet.
On the opposite side of the interior, there is a zippered mesh pocket that looks perfect for wires or a laptop charger.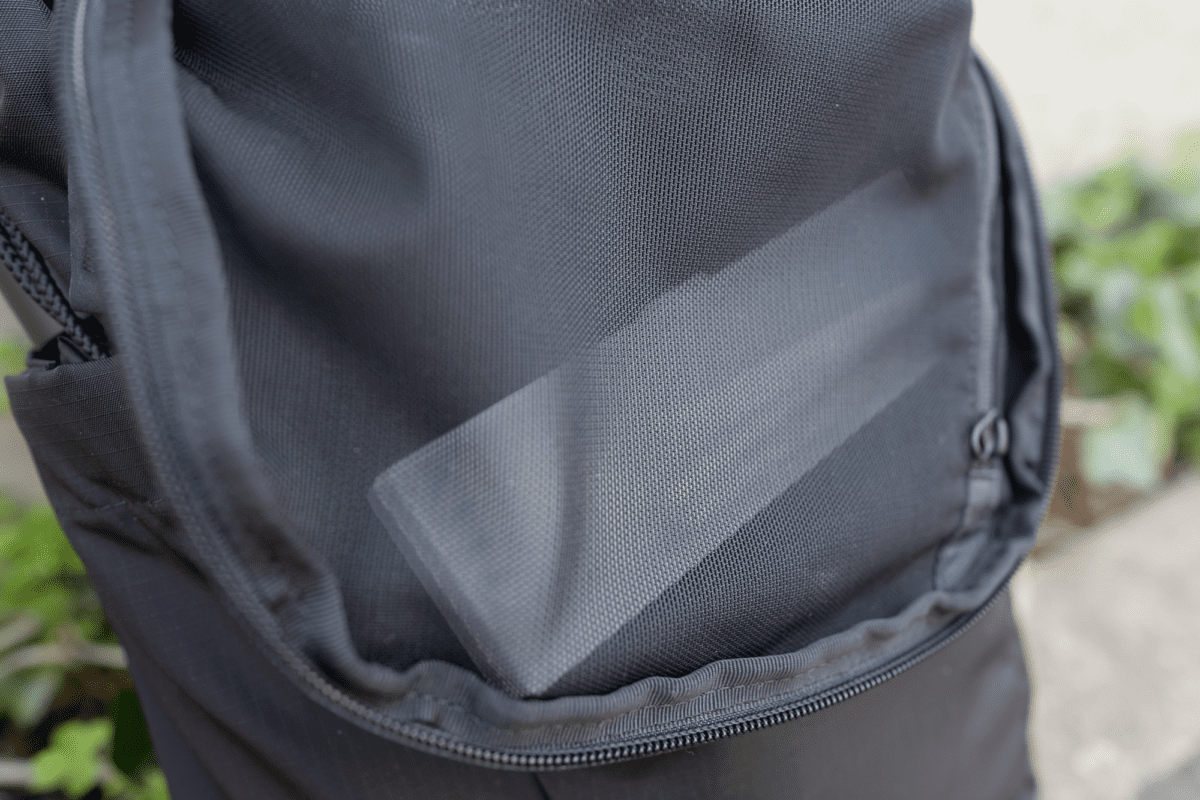 On the exterior of the bag, there is also a quick access slot that is relatively deep. The interior is made of stretchable mesh should you need more space. There is also a key clip on the inside I used to attach my Keysmart Pro.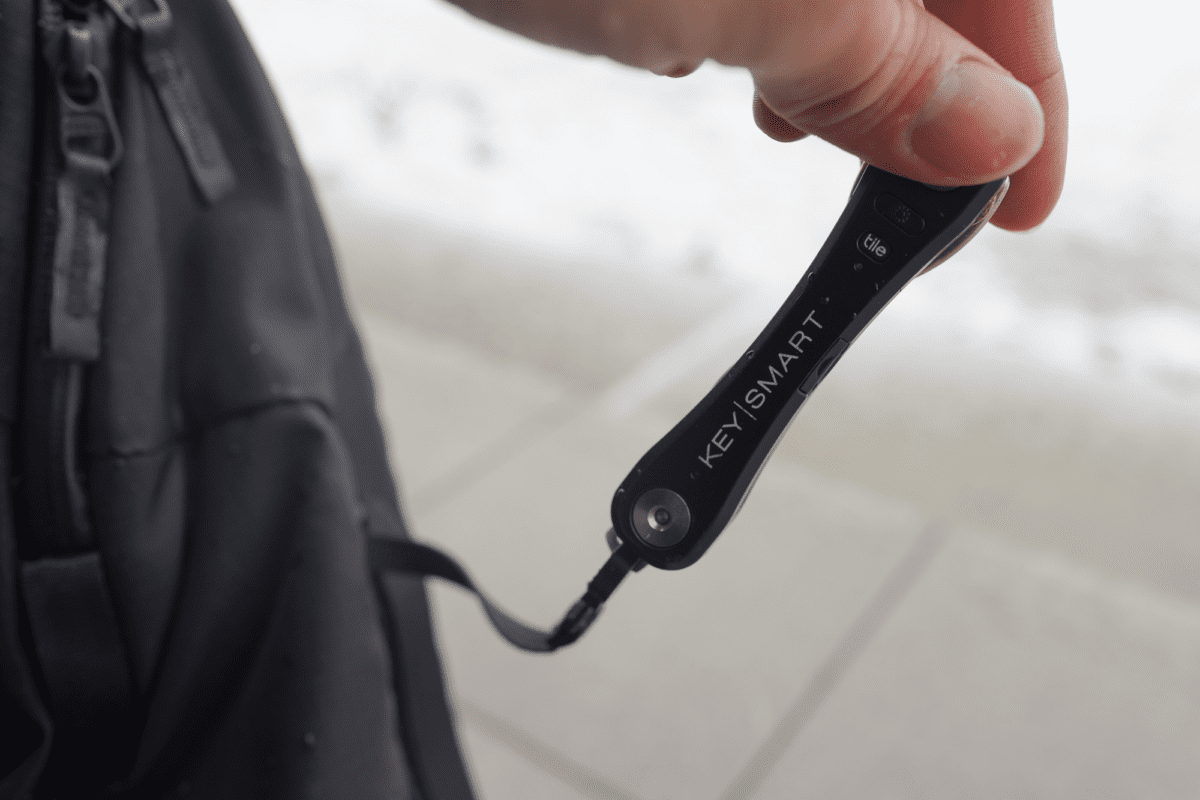 Last but not least is a water bottle pocket on the left side of the bag. The opening uses an elastic band which allows you to expand it if you need to fit larger bottles. There are vent holes at the bottom which makes the slot perfect for wet umbrellas as well. However, given that this is the only external slot, you would have to choose either one.
Capacity
When it comes to capacity, I was actually surprised that the 25-liter Able Carry Daybreaker "felt" like it can hold about the same amount of stuff as the 30-liter TOM BIHN Synik. I was able to bring this backpack for a weekend trip, and I could fit everything I wanted comfortably.
Details
It comes with removable sternum straps. Even though the shoulder straps are not adjustable, I haven't felt like the straps were slipping off even with heavy loads. I only put use the sternum straps when I have to run with my pack on. You can also adjust the sternum straps by moving them onto one of the three molle-style loops. It looks like there are four loops, but the last one is actually sewn shut.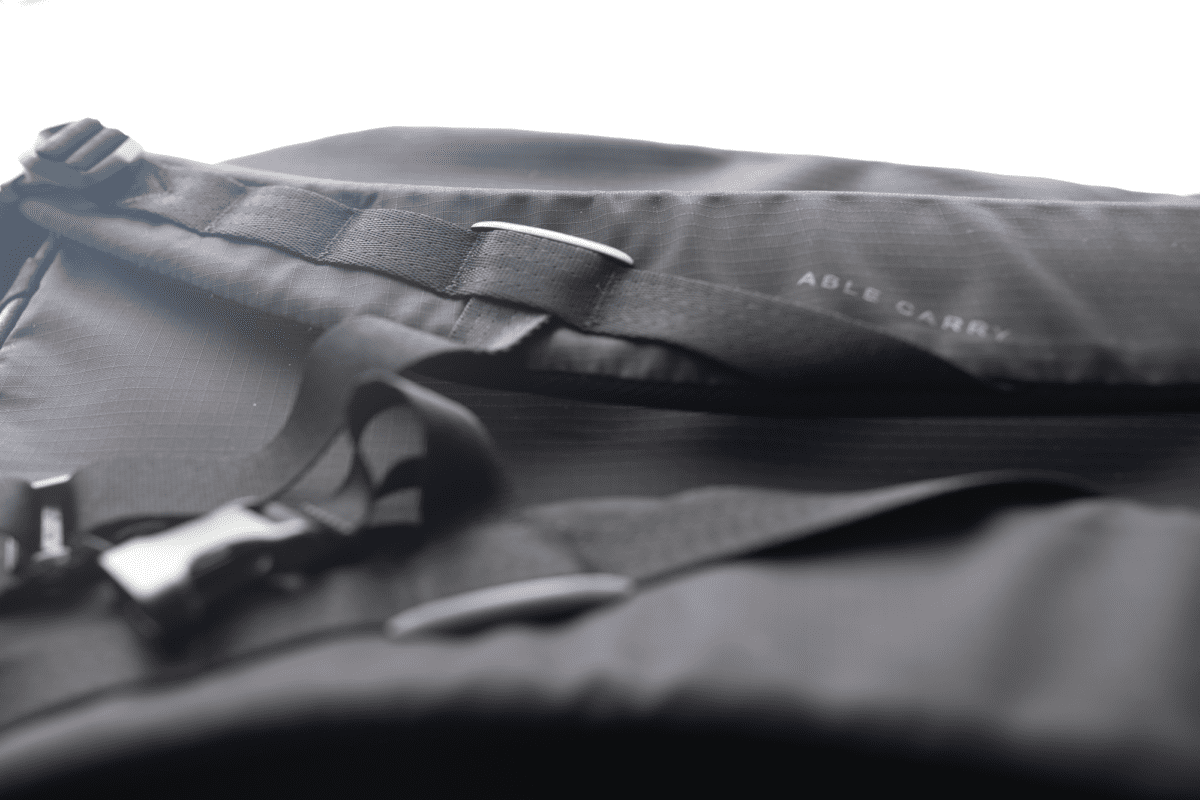 Apart from the top handle, there is also a handle on each side. I've never gotten around to using side handles with any of my backpacks that have them. I don't see the need to try to grab onto the handle and pull on my bag's fabric.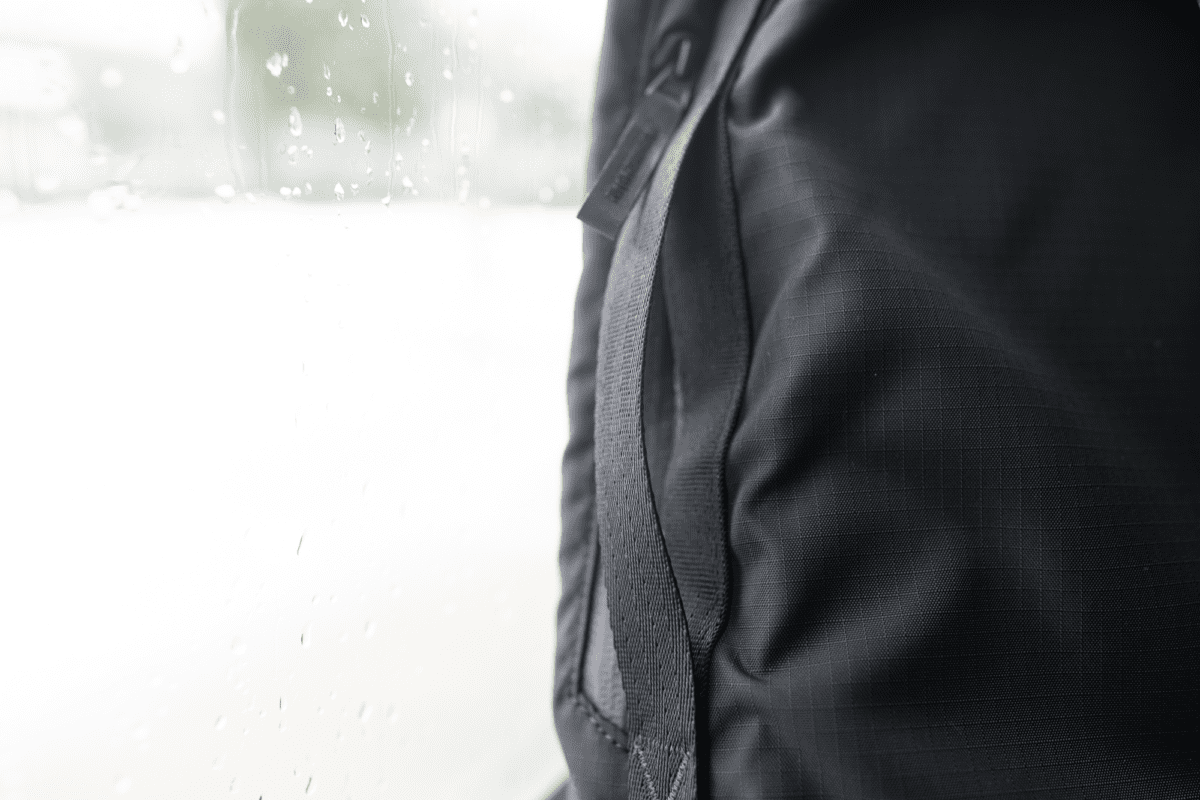 I haven't been using the backpack long enough to witness any problems due to abrasion, but I don't foresee any problems with regular use in urban environments. If you want to take it into a warzone or a through hike, then maybe consider something like 1000D Cordura or Ballistic Nylon.
Conclusion
Given my experience with other Able Carry backpacks, this one comes as a pleasant surprise. The design is so simple, and it doesn't try to do too much. The lightweight and versatile designs are winners for me. Given the virus situation has confined me to pretty much the vicinity of my neighborhood, this looks like a backpack that will see the most use in the coming days.
Additional Images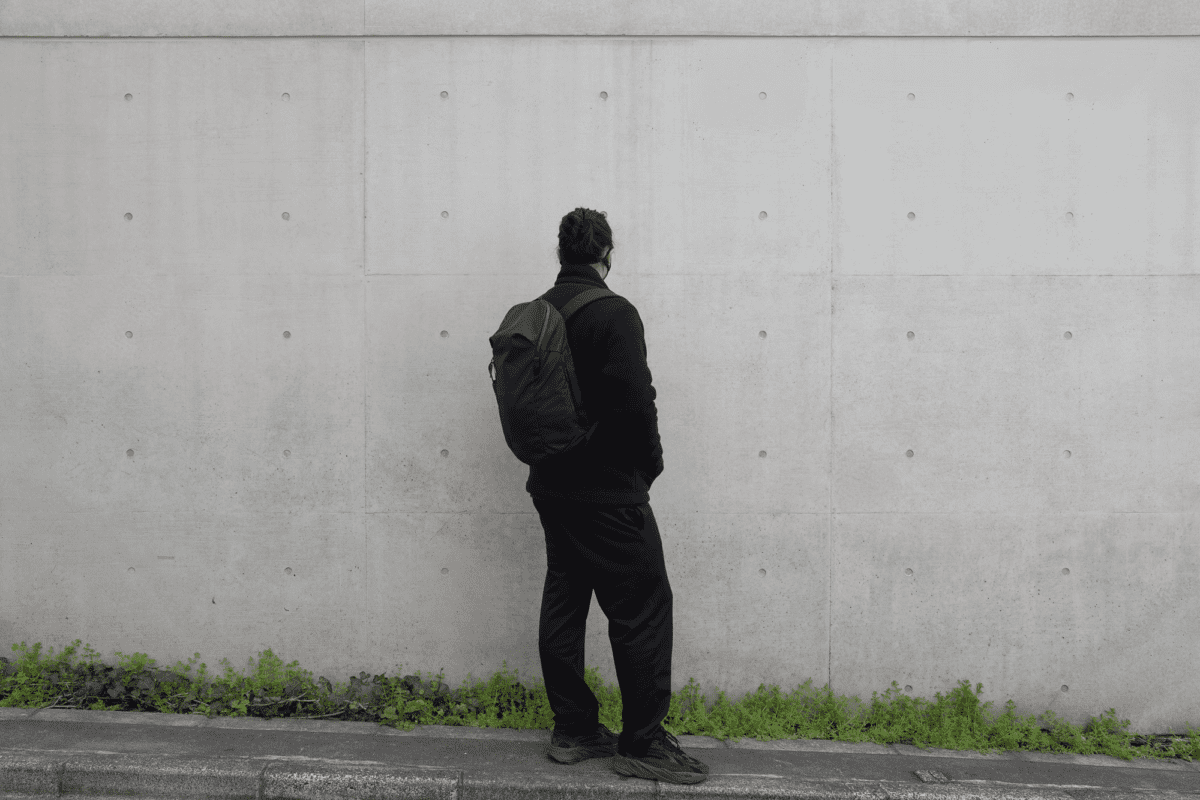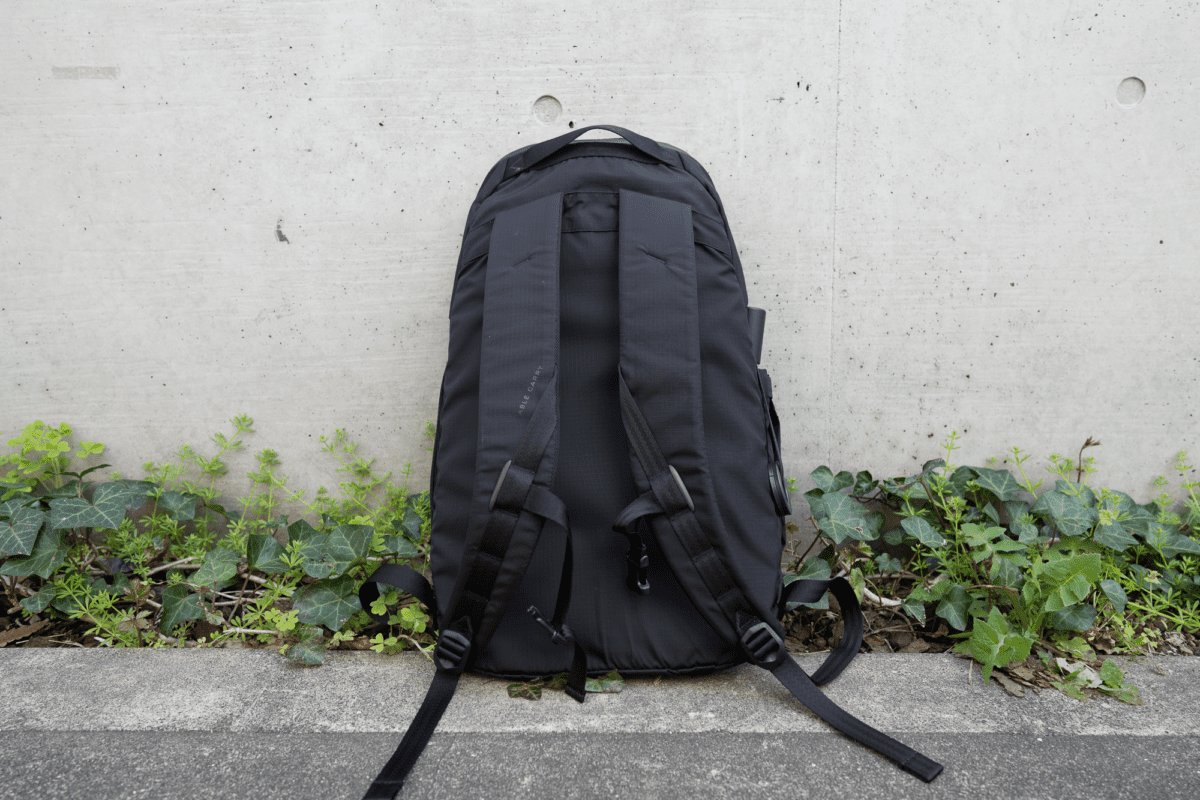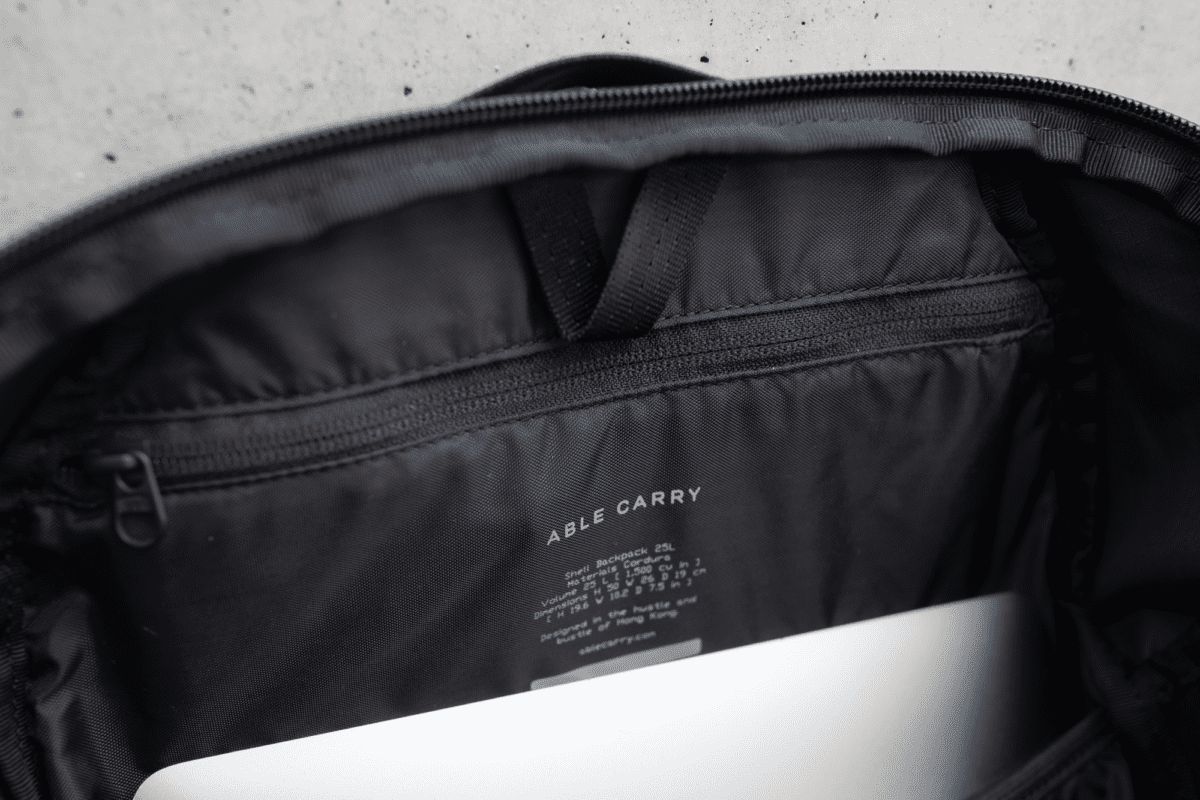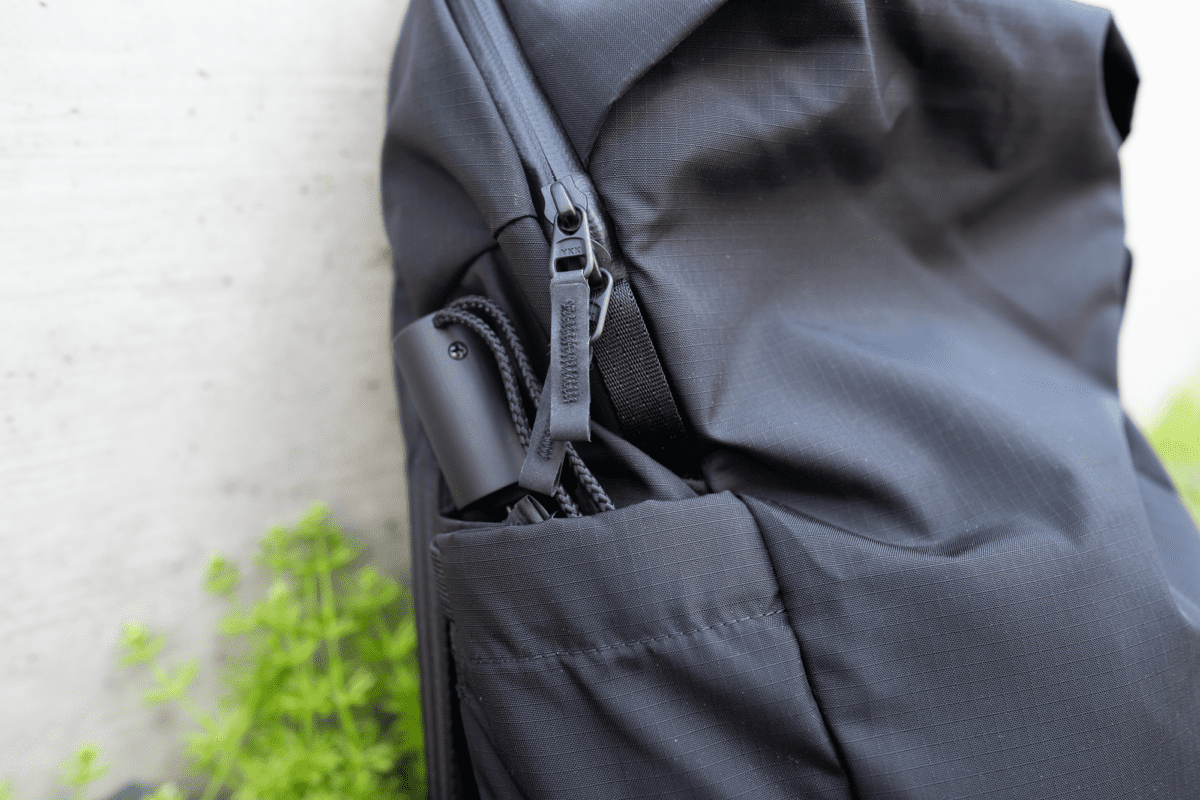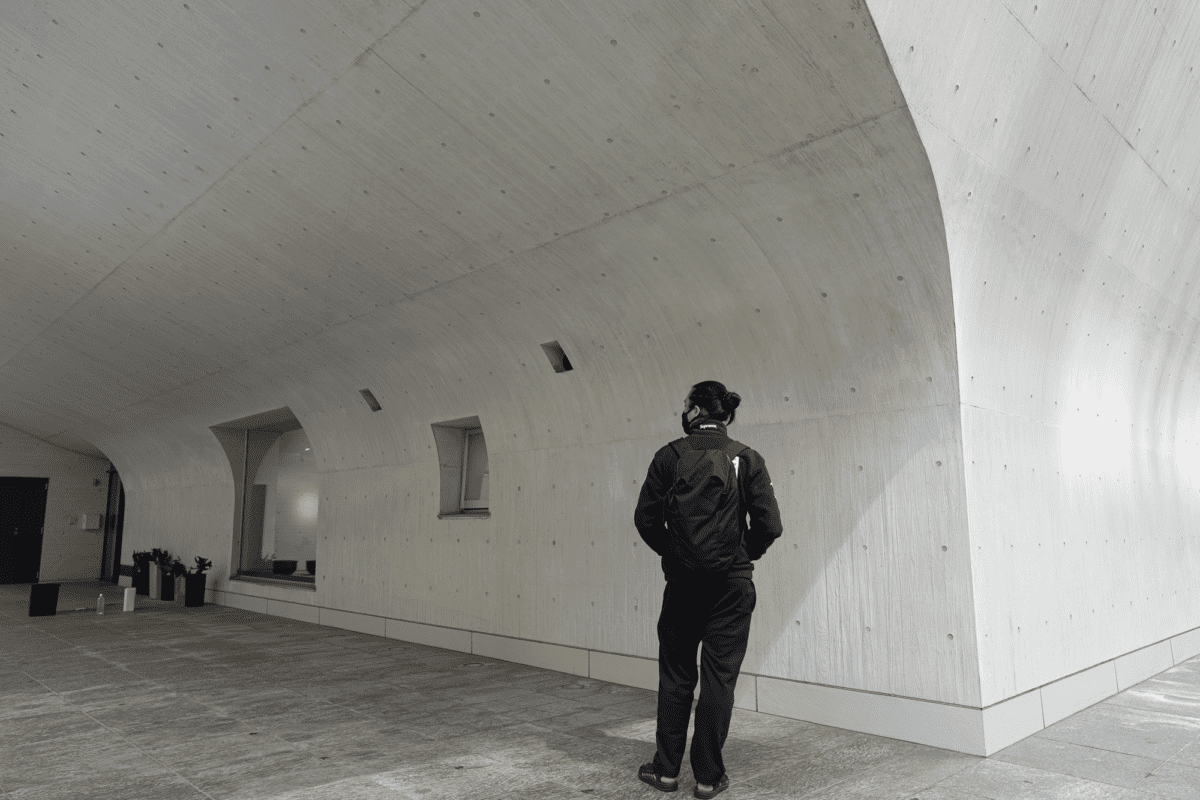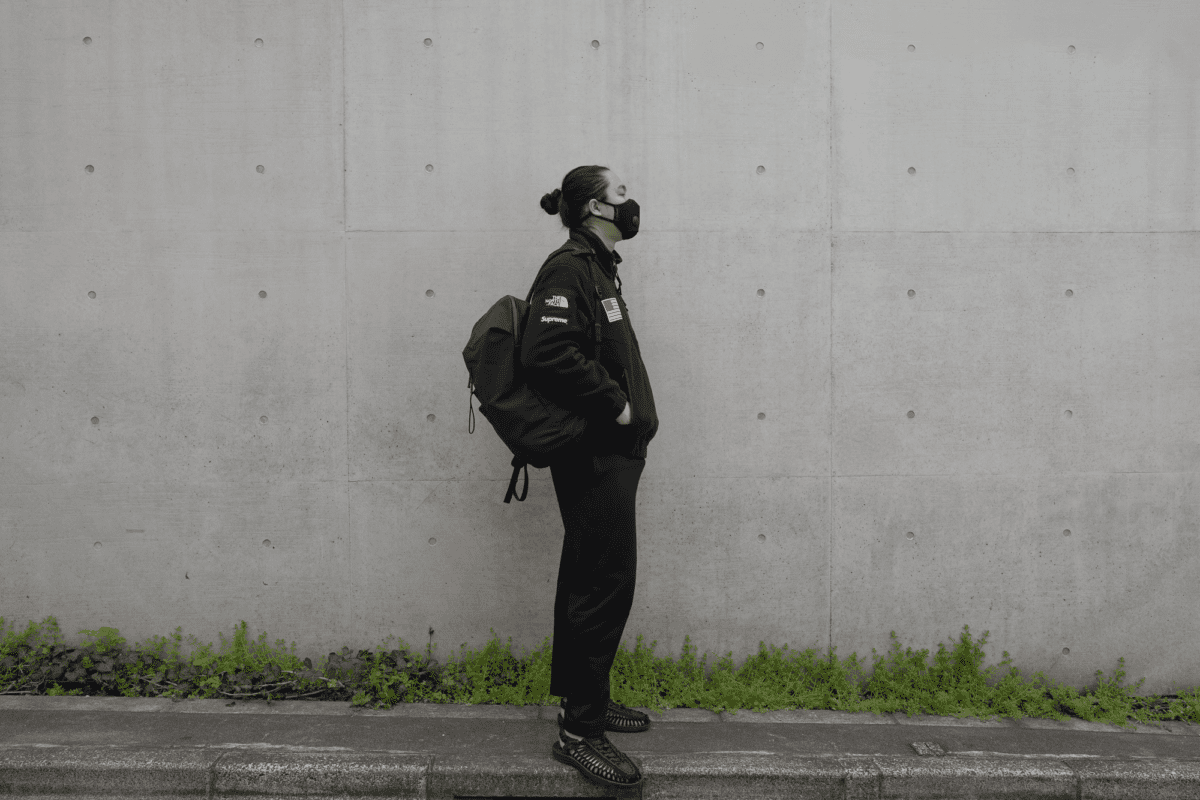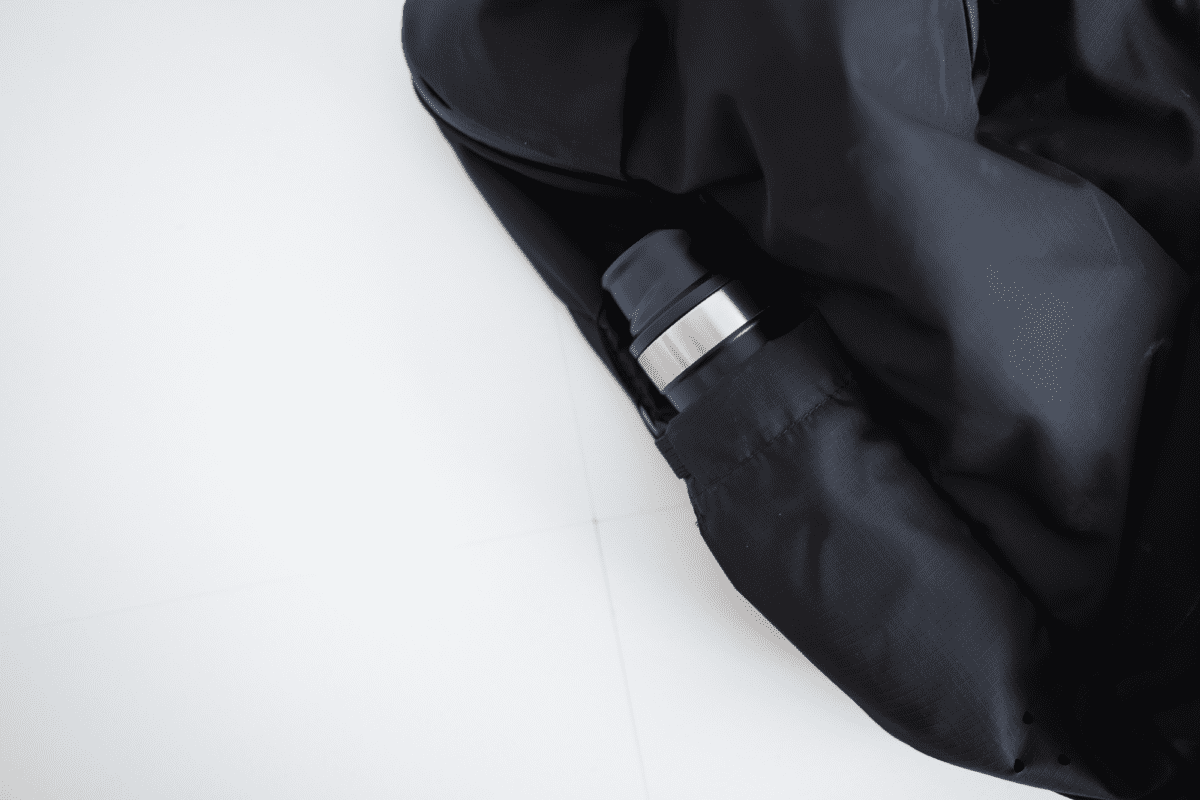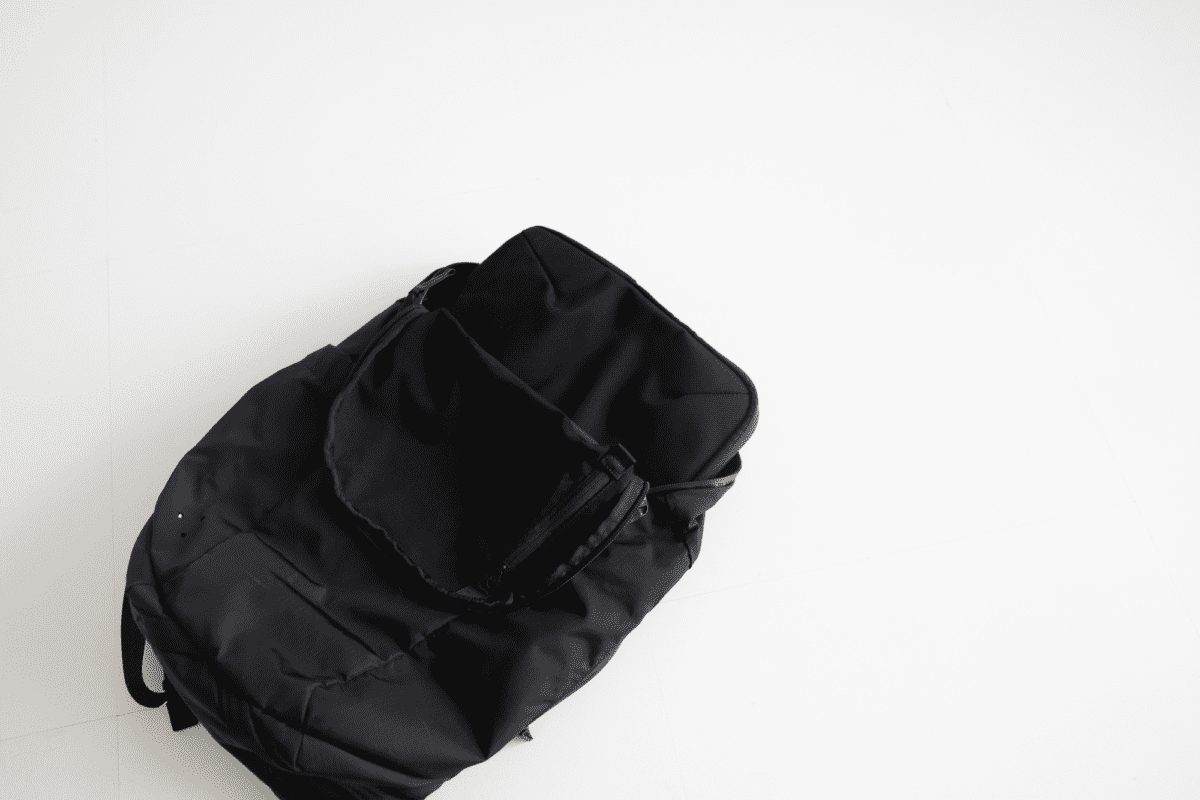 Like this review? See all of my in-depth reviews.
Also, consider supporting me by being a Patreon. Every cent given will go back into improving the content of this website.
Tagged able carry backpack bag cordura review water-resistant xpac