This website is made possible by readers. I may earn a small commission when you buy through the links in this article at no extra cost to you. Learn more.
Details
Overview
I started out reviewing bags, and then apparel, but this time, I'm really moving up the ladder. A smart skipping rope.
I'll be honest, I don't normally skip rope. In fact, I'm pretty bad at it. Which is why this is a good time for me to get good at it.
Tangram sent over their Smart Rope and their newest evolution to the product, the Smart Rope Rookie for me to try out. They also have one called the Smart Rope Pure, so before I start the review, it's important to know what the differences between the versions are.
Smart Rope
Smart Rope Pure
Smart Rope Rookie
Battery
– Rechargeable
– About 48 hours usage
– Rechargeable
– About 45 hours usage
– Non-rechargeable
– Coin-cell battery
Rope Length
– Non adjustable, comes in 5 sizes (XS, S, M, L, XL)
– Adjustable
– Adjustable
Colors
– Chrome
– Black
– Gold

With soft grip in
– Orange
– Blue
– Green
– Pink
– Neutral
Black
– Matt Black
– Loving Coral
– Ice Cream Blue
– Ice Cream Pink
Weight
XS 294g
S 301g
M 308g
L 314g
XL 317g
250g
235g
As you can see, Tangram simplified their product through three versions. From their original Smart Rope, they came up with the Pure version which comes in just one size but with an adjustable rope length.
From then, users probably wanted something simpler (and more affordable), so they evolved it into the Smart Rope Rookie.
Style
As you might already know, I only wear and own products that are black, so I was glad that the both ropes came in a beautiful matte black.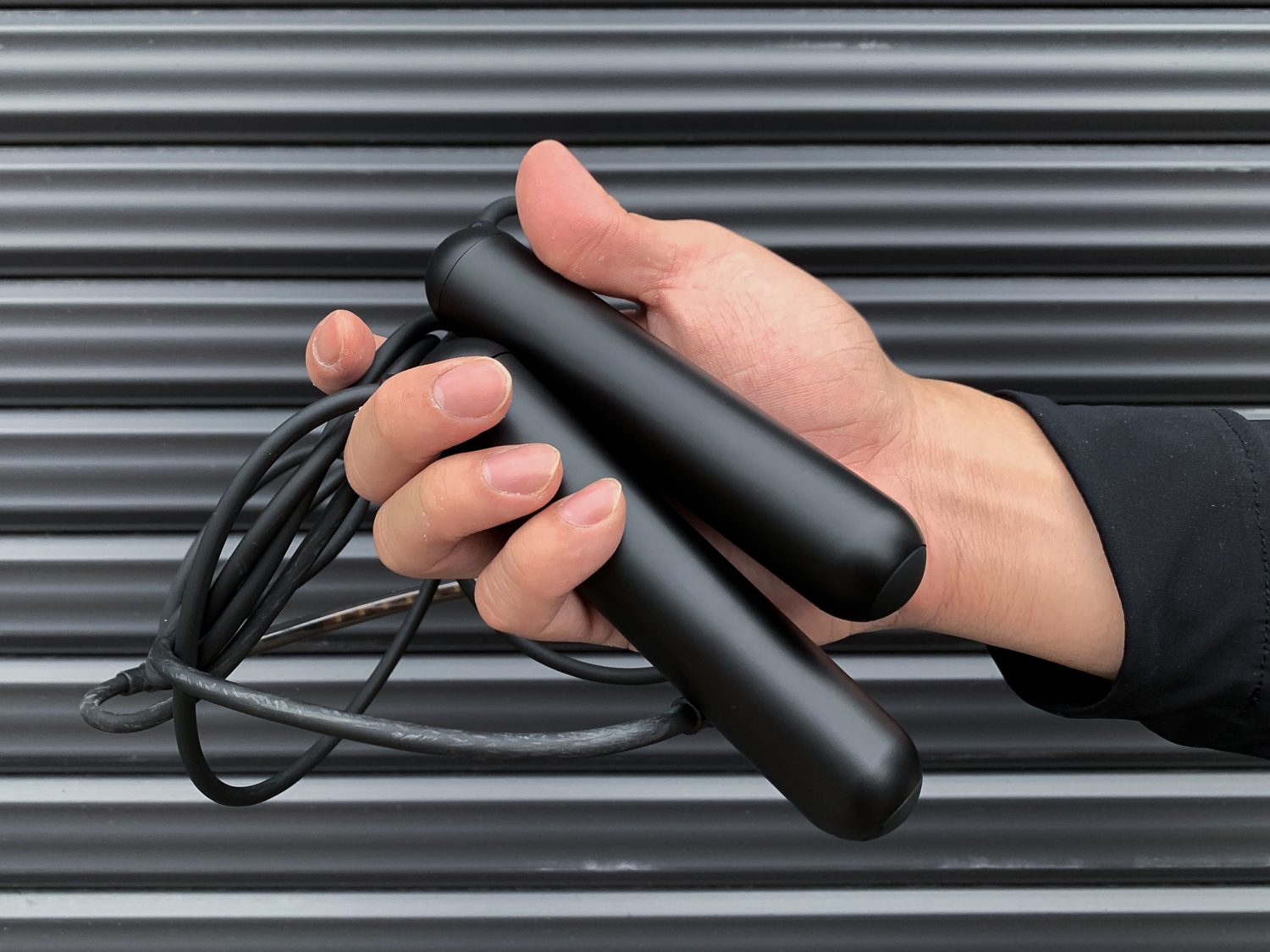 Even on close inspection, you could tell Smart Ropes were definitely well-designed, beautiful and minimal in industrial design terms, with brilliant attention to details.
I also loved that they both came with their own cases, which allows you to pack it into a neat little package.
Since the Rookie is much lighter and easier to pack, it's able to be packed into a much smaller package compared to the Smart Rope.
However, the Smart Rope case can be zipped and has small internal pockets for storing the charging wire, so it feels more designed even though it's larger. The size for the Smart Rope pouch is at about W210 X H210 X D50 (mm), which packs flat, making it easy to store into the quick access compartments of bags like the Tortuga Outbreaker, GORUCK GR1 or Aer Travel Pack 2.
But no one likes ads, so I got rid of them. If my articles helped you, I ask for your support so I can continue to provide unbiased reviews and recommendations. Every cent donated through Patreon will go into improving the quality of this site.
Usage
This might be the section that really decides how good a product the Smart Rope actually is. With a smart product like this, it really comes down to how easy it is to use it. After all, the point of such products is to increase your motivation to work out more and if it's a hassle to use, it'll cause an opposite effect.
Unless you just want to use it like a regular skipping rope, you have to download their app, which is available on iOS or Android.
Once you have it on your mobile device, go through the setup, link up your rope to the app and start jumping. It's as simple as that.
There are basically two modes to choose from, the basic count mode which tells you the number of times jumped, calories burned and time jumped.
There is also an interval training mode that tells you how many times to jump and how long to rest in between.
Seeing the number goes up as you jump is pretty cool.
The count would automatically start once it detects a rotation at the swivel in the handle, or you can manually start it with a tap. I don't recommend starting it with a tap, since there is a countdown from when you manual start it to when you start jumping. So, if you take too much time getting into position, it would stop the workout.
Like with any smart fitness app or service, accuracy is the biggest challenge. Since the Smart Rope counts the number of times the swivels at the handle rotates, it also counts when you are getting into position or if you missed the jump. It's not perfect, but it's as good as it can gets.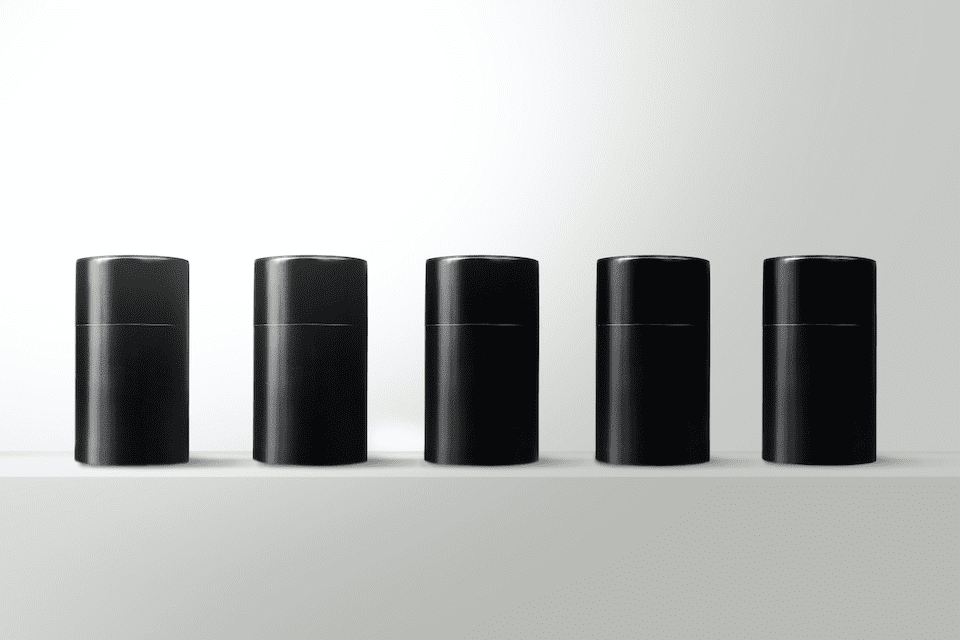 I found a 100 year old company that would create these heirloom quality canisters for me. They are handmade and will keep your tea leaves, coffee beans or anything that you need dry for years to come.
or read review
Speaking of the swivel at the handle, it's definitely a different experience compared to a traditional skipping rope. Since the rope rotates at the handle, you would have to rotate your wrists less to swing the rope a full circle. It really makes jumping rope, especially for a beginner like me, a lot easier.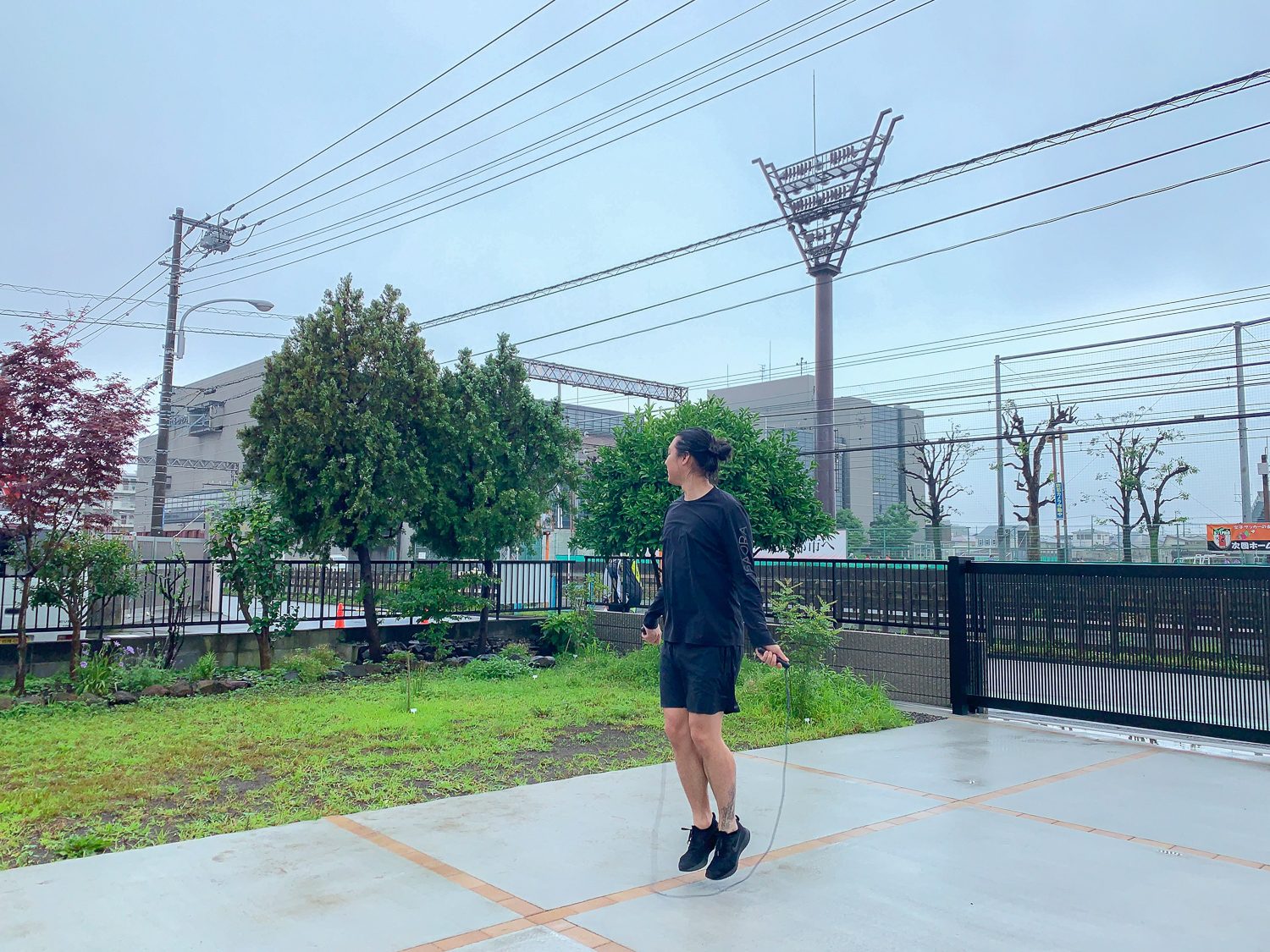 With the material of the rope, if you are jumping rope on a rough surface like asphalt, your rope hitting the surface repeatedly will cause scratches. This is especially prevalent in the Smart Rope, where the part which hits the ground is translucent to show the LEDs.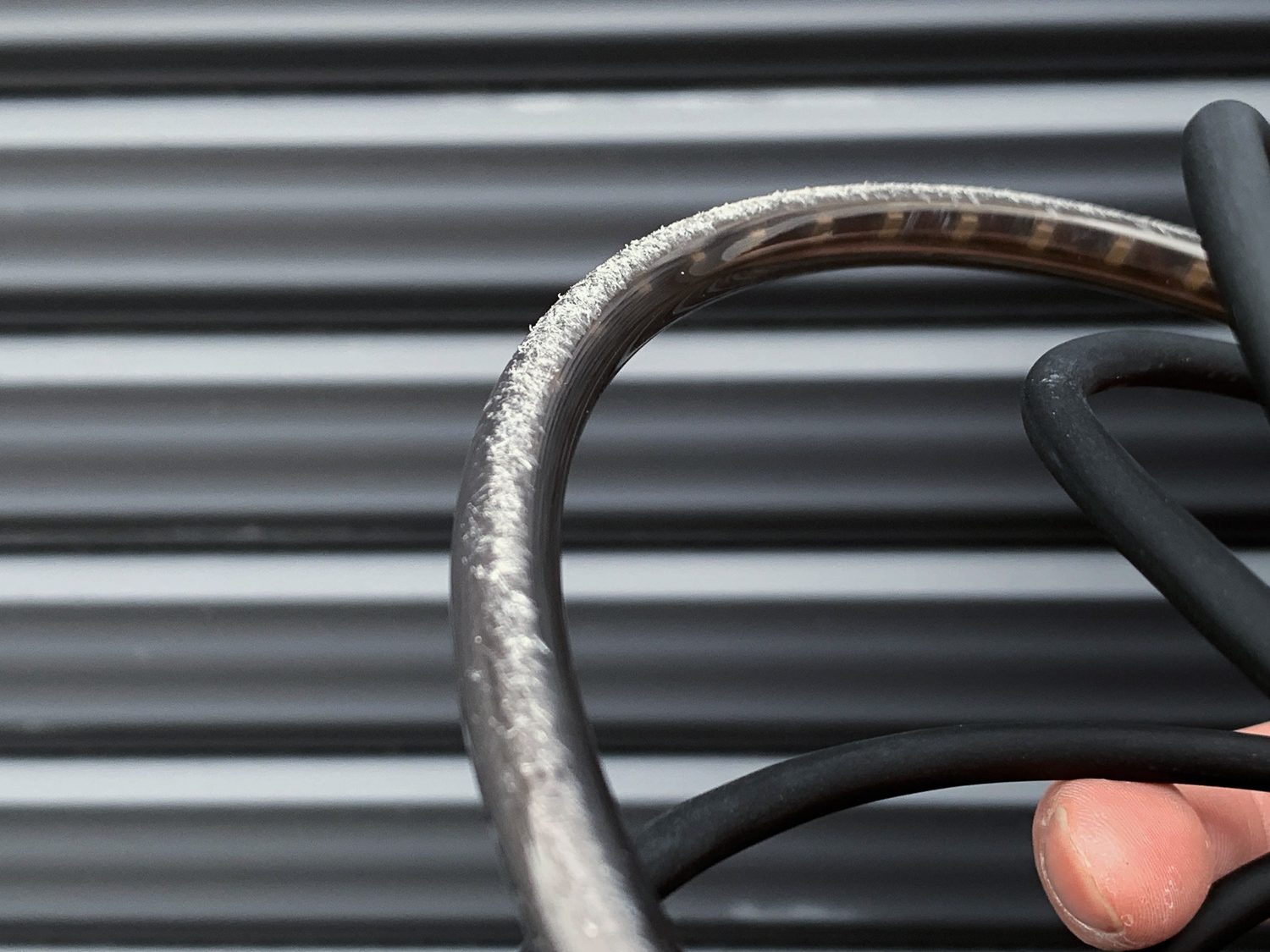 Key Differences between Smart Rope and Smart Rope Rookie
When choosing between the two, there are some key differences you can base your decision on.
Price
The first and most obvious one is price. The Smart Rope is $79.95 and the Smart Rope Rookie is $39.95, which is more than 60% cheaper. While I haven't used these long enough to find out, it's usually a matter of time before gadgets die out, so it depends on you if you think it's worth the price.
Weight
Another obvious one once you have them in your hands, is the weight. The Rookie feels a lot lighter than the Smart Rope. The difference is obvious if you tried each of them back to back like I did.
You can feel the weight of the Smart Rope pretty jarringly as your jump for longer amounts of time, whereas you can barely feel anything with the Rookie.
You might want to note that with the lighter rope, this means that it has less structure and is much easier to get tangled up. Especially if you keep it in the pouch each time, be prepared to spend a few minutes untangling them before each work out.
I'm not too bothered by this since this is the same experience that you'll probably get with an actual skipping rope.
However, with a lighter rope, its also more likely that the rope wouldn't stay elongated if you didn't swing it hard enough, thus making it more likely to catch your feet.
I didn't have the same problem with the Smart Rope, since the LEDs at the middle of the rope make sure the rope stays stretched.
Function
In the Smart Rope, there's an LED in the rope that, as you rotate it around you, would light up at different times to create the effect of a display floating in mid-air.
This function does not exist in the Rookie.
While I think it's a cool concept, it doesn't have any real advantages for someone who just wants to get fit. In fact, as the rope-skipper, an activity which I imagine you would mostly do alone, you wouldn't be able to see the display while jumping rope.
I often work out early in them morning, so the LEDs would not serve its purpose well in my case since it's hard to notice the LEDs in daylight.
Rope Length
The rope length is adjustable with the Rookie. I wouldn't say the adjustment process is the best experience, but some might want the option to change the length.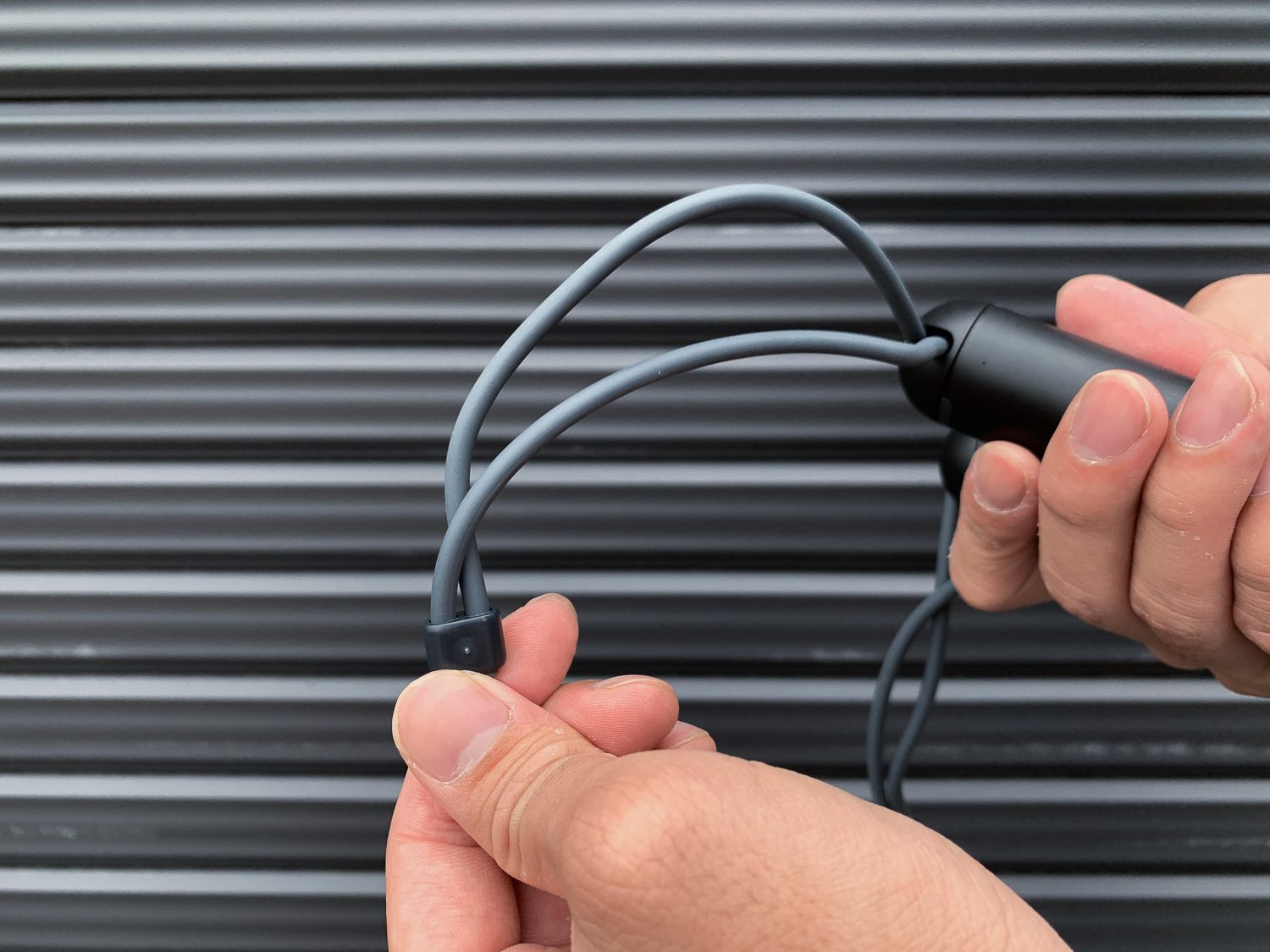 Since the length of the rope on the Smart Rope is fixed (comes in five sizes), you wouldn't be able to share it with your travel buddy or share it around a household.
Battery
In the above instances, I would prefer the Rookie without a second thought. But here is the deal breaker for me; the battery.
To achieve its light weight, the Rookie gave up on the lithium polymer battery with is rechargeable via mini-USB. Having to change batteries is bad enough, trying to locate a specific battery in a foreign country seems like a nightmare to me.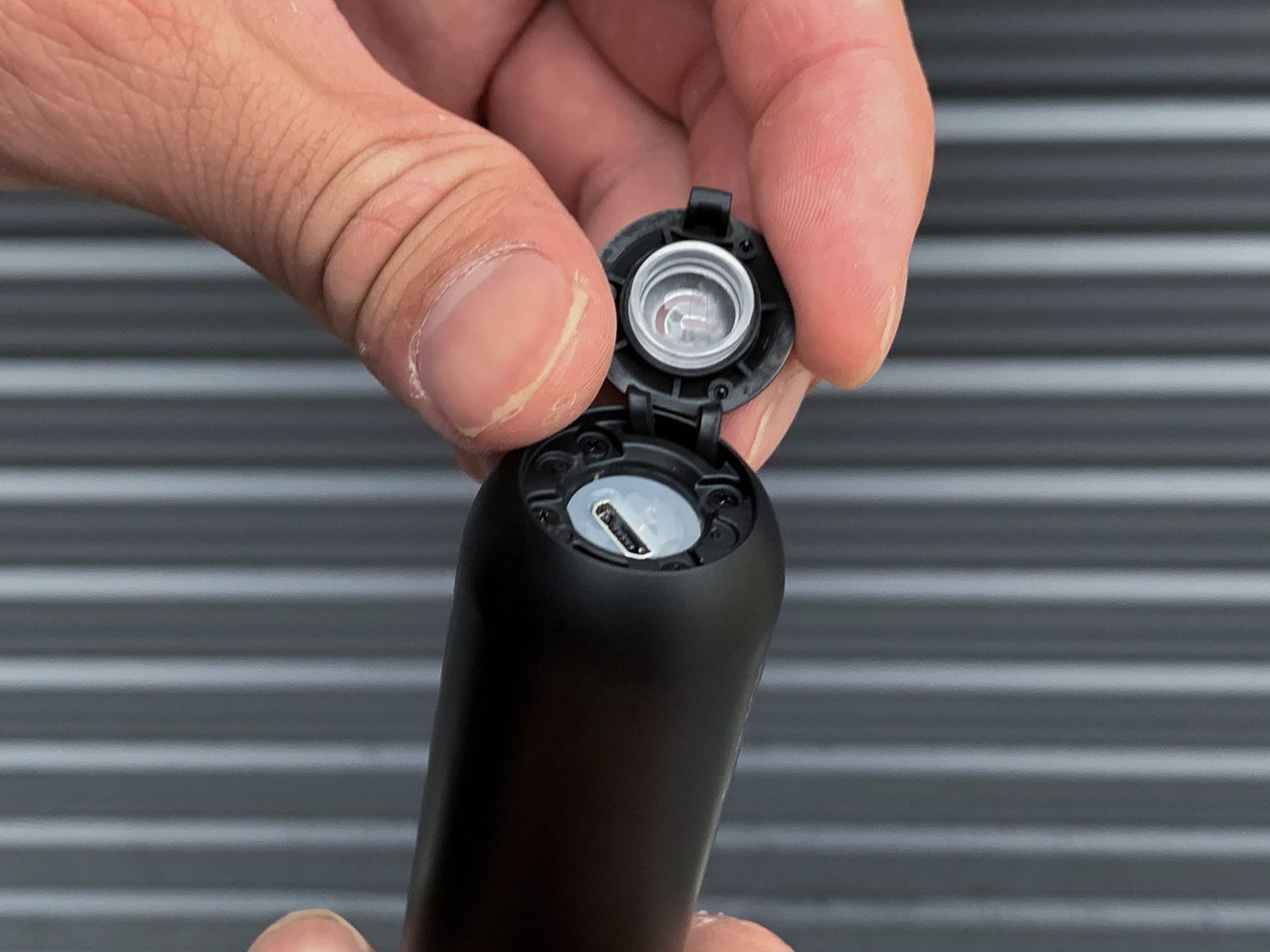 Even if you don't mind this, since the battery lasts up to six months, the biggest issue for me is the you have to reinsert the battery before each use.
In fact, I didn't even know the following and found out after searching online.
See, the recommended battery operation goes like this, the battery would come stored inside the right handle (the side without the "Rookie" logo) and you would have to take it out and put it into the left handle. Turning the left handle then would turn it on.
When you are done with it, you should then put the battery back in the right side to store. This means with one use, you would have to open up both handles twice.
As if this wasn't troublesome enough, it wasn't immediately intuitive to how to remove the battery from the right "storage" side. Apparently, you have to push it at an angle to pop it out. I guess they wanted to prevent the battery falling out the moment you open it.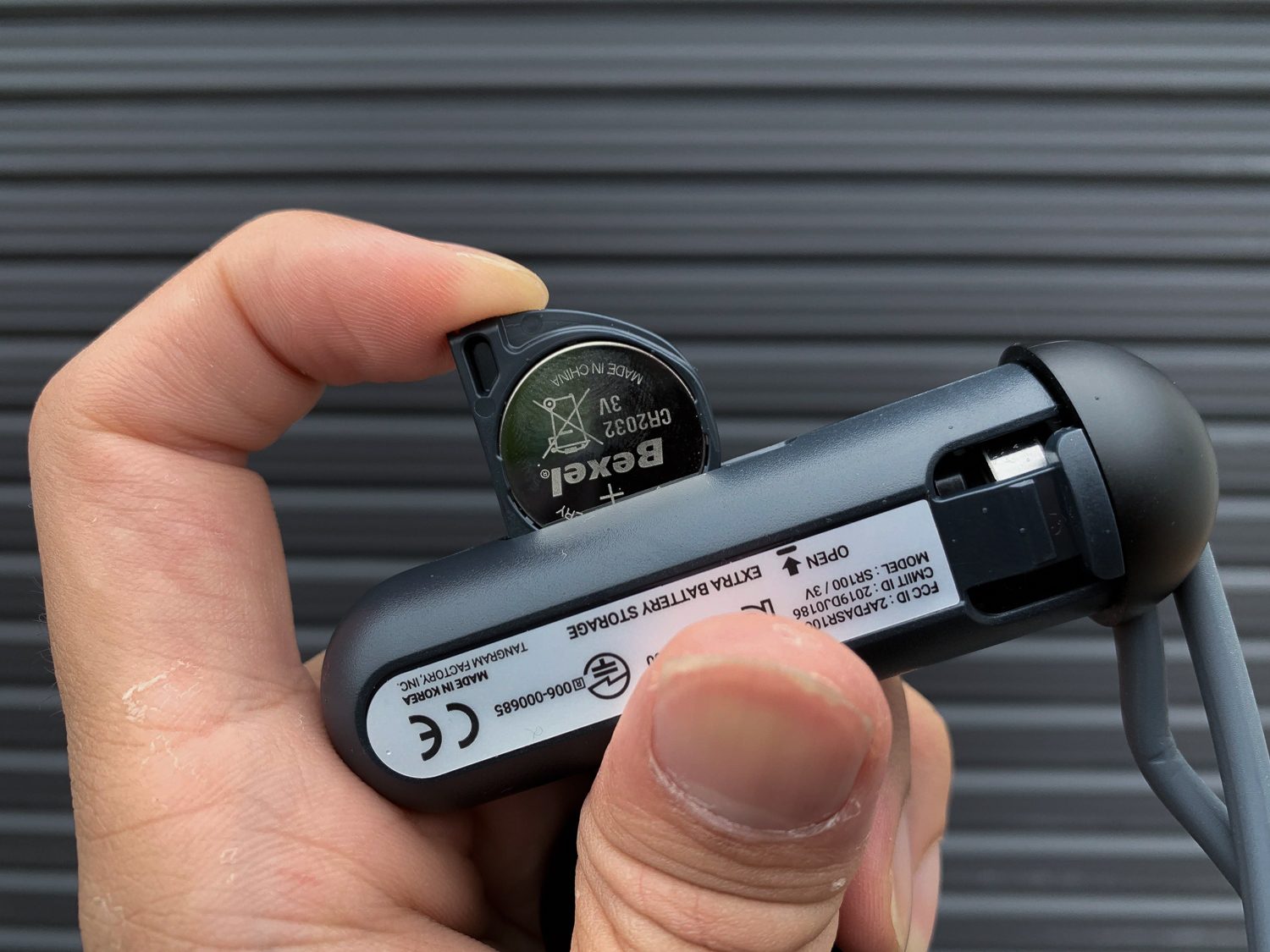 Putting it into the left handle is easy enough, but to remove it, you need to push it out with something pointed on the other end. A pen wouldn't even do the trick well since it doesn't push it out enough for you to have a firm enough grip to pull it out.
As you can imagine, while I like the light weight of the Rookie, I'm not down to go through all the above steps for the battery.
Another detail is that the Smart Rope turns on with a push of a power button at the bottom of one of the handle, while the Rookie turns on with by turning the left handle (Because it wasn't indicated, it was not intuitive that the left one is the handle with the "Rookie" logo).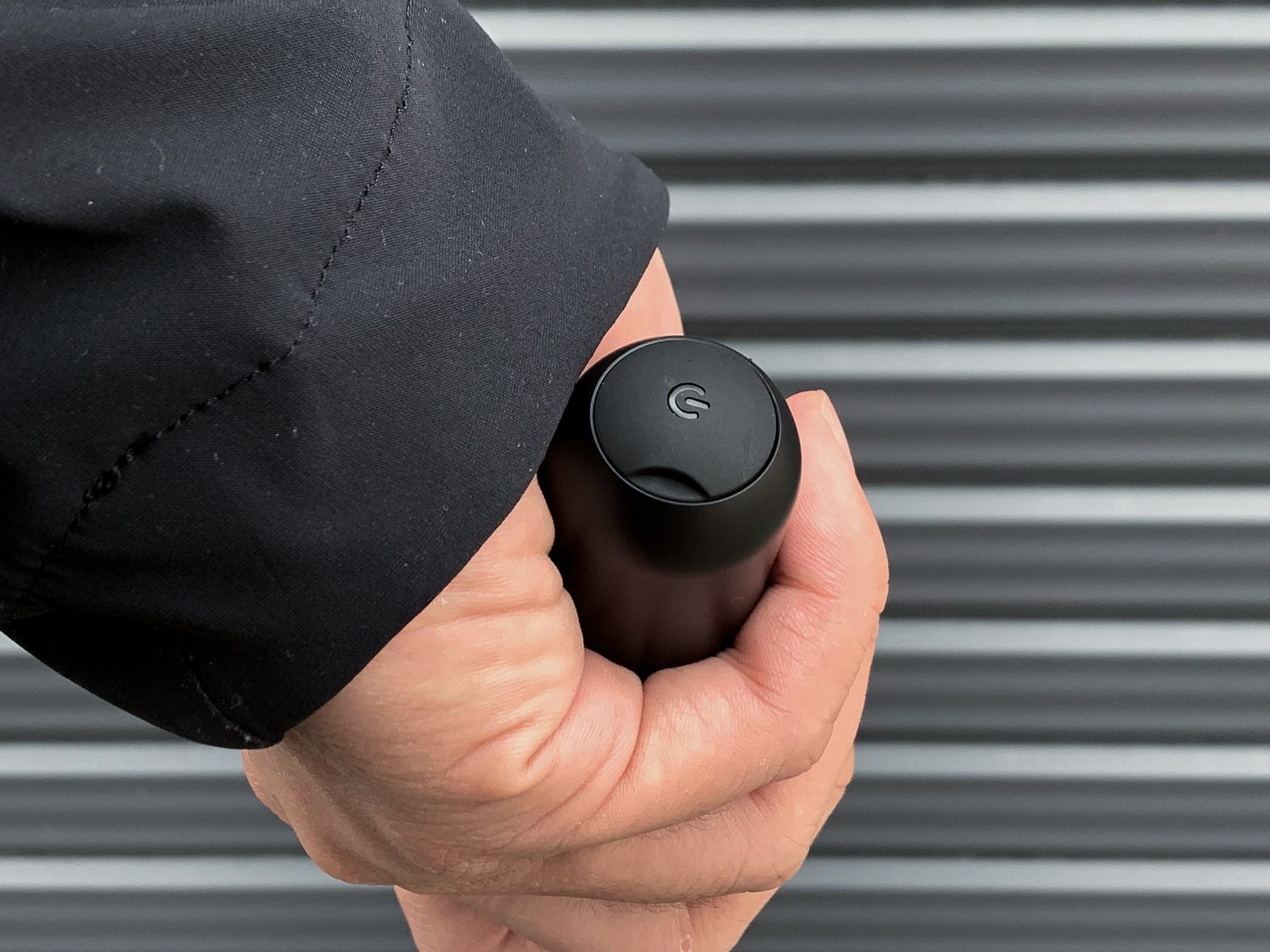 Conclusion
This is an amazing piece of smart fitness technology. To some, this might be excessive, but it has really helped a non-rope-skipper like me to be motivated to regular jump rope.
I personally prefer the Smart Rope over the Rookie version, but both are great and it comes down to your preference.
Decided to get one? Remember to use code ALEXKWA for 15% off anything on their store. The Smart Rope Rookie, however, is only available on Amazon at the moment.
Like this review? See all of my in-depth reviews.
Also, consider supporting me by being a Patreon. Every cent given will go back into improving the content of this website.