This website is made possible by readers. I may earn a small commission when you buy through the links in this article at no extra cost to you. Learn more.
Details
Price €169,00 on r-pur.com
(Exclusive: Use the code ALEXKWA to get 10% off a mask or any order above €169,00)
Made in France
Overview
I am big on face masks, specifically black masks. It's an Asian thing, and even more so a Japanese thing. Japan as a society is big on masks and wear it as a way to protect others when you have a flu or simply as a fashion statement (I'm often guity of the latter).
R-Pur might be a relatively unknown company, but from my impressions of the French mask-maker so far is that they know their materials well and are passionate about making a good product.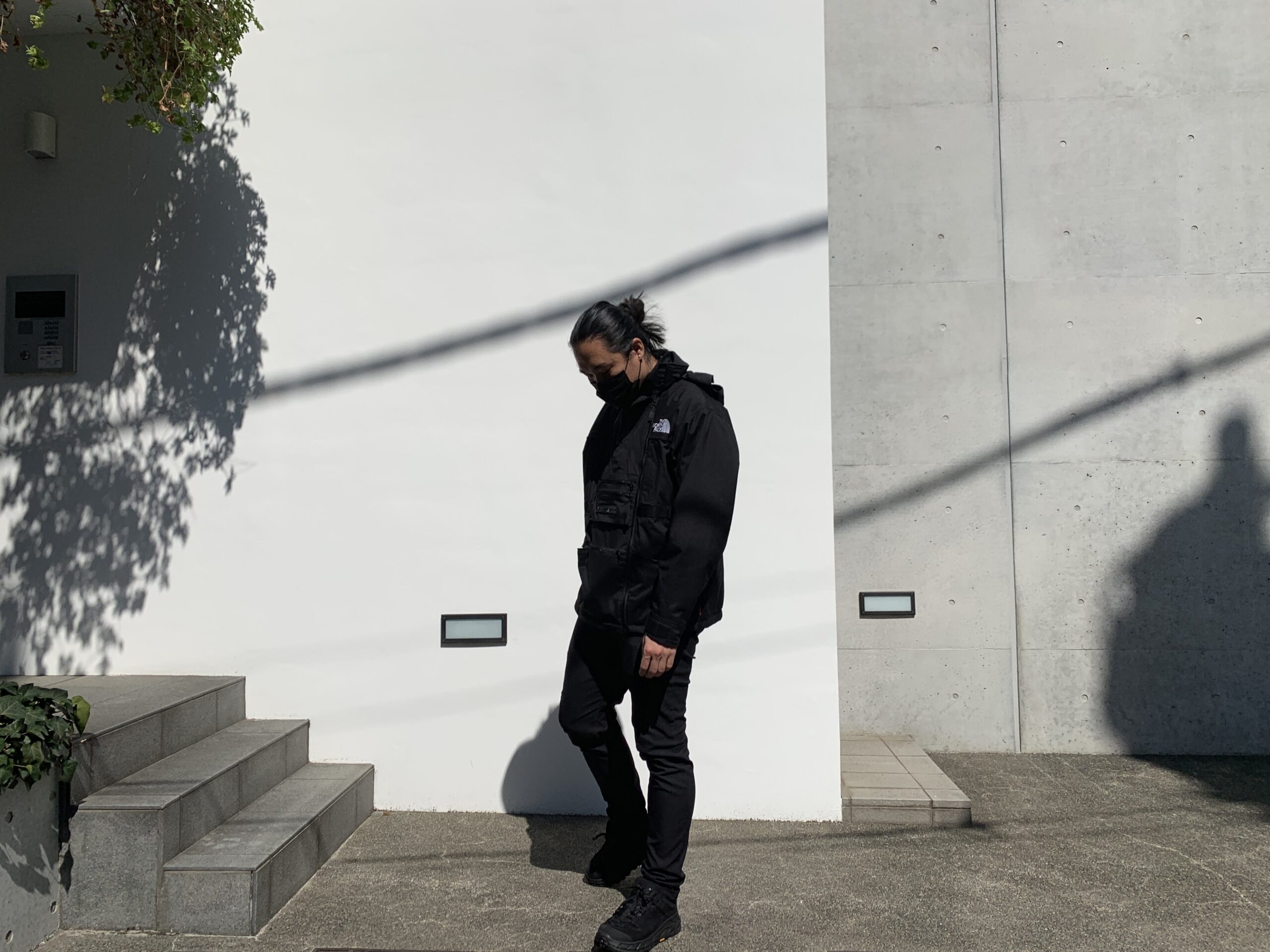 R-PUR begun as a successfully crowdfunding project on Indiegogo where they wanted to create the first anti-pollution mask specifically designed for motorcyclists.
Although I have a motorbike license, I don't ride these days. Since I wasn't actively riding, I tested if I could wear it regularly as a daily techwear accessory.
It also seems it would be particularly useful when I'm traveling to cities like Hanoi where motorcycles contribute to most of the air pollution.
For this review, I'm testing version two mask in Hexagon style.
Style
The mask is substantial to say the least. It's definitely not in the same category of the typical white surgical face masks people here wear.
Even without putting it on, you can tell the mask is going to look pretty big on your face. Sure enough, putting it on, it protrudes quite a bit on you face. Unlike surgical face masks, the mask does not come in contact with your mouth at all.
The mask comes in four colors/styles, Hexagon, Ghost, Ancre, and Bordeaux. I went with Hexagon which is the blackest option of the four (you know I only wear black, right?.
While it looks amazing with the matte black material in the front, the replaceable filter isn't black. This can't be seen by others when you wear it, but for purists like me, you might be bothered by it.
But no one likes ads, so I got rid of them. If my articles helped you, I ask for your support so I can continue to provide unbiased reviews and recommendations. Every cent donated through Patreon will go into improving the quality of this site.
The Hexagon pattern is very subtle, since it's cut out on the top layer of two similar-looking fabrics. I really like the lack of contrast. It's very understated since it's the kind of pattern you only notice under the right kind of light.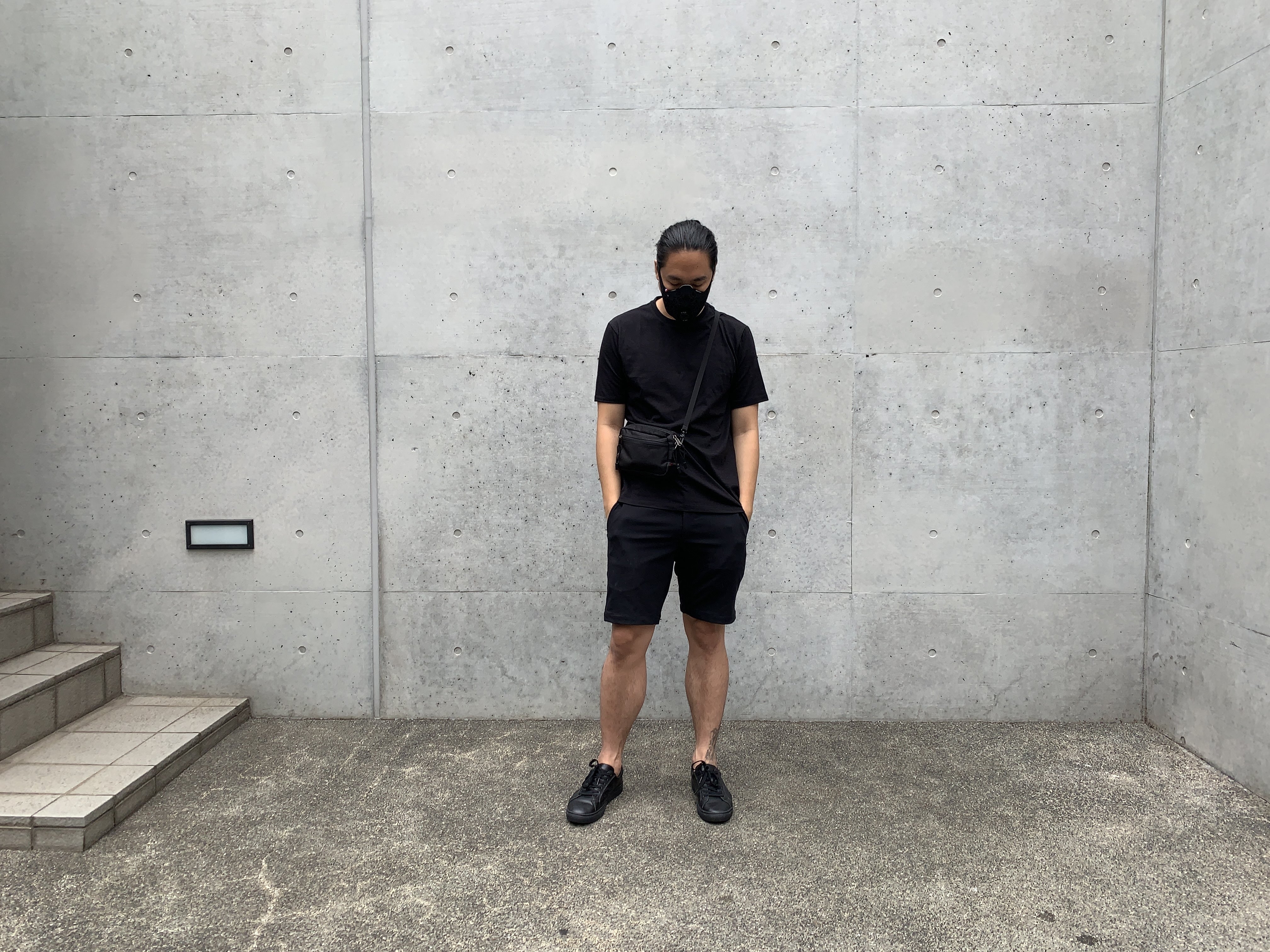 Style-wise, it's pretty hard to carry off on the streets without getting stares. Even in Japan, the land of visual J-rock bands and cosplay, you'll definitely get some second looks on the street.
The last thing you want is to attract unwanted attention while traveling. But, I would wear it while I commute on my bicycle, as it looks very apt for that.
Fit
The mask is just one size. When I put it on at first, I thought that it felt pretty tight and a little too small for my face.
After checking with R-PUR, I was informed that they used to have size options for version one, but removed it with the introduction of a memory foam that would mold itself against the shape of your face. So, it should feel looser and a better fit after a few days of use.
The memory foam looks to be the grey foam on the replaceable filter that comes in contact with your face. The foam itself feels pretty comfortable, but you do feel quite a bit of pressure on your face before you break it in.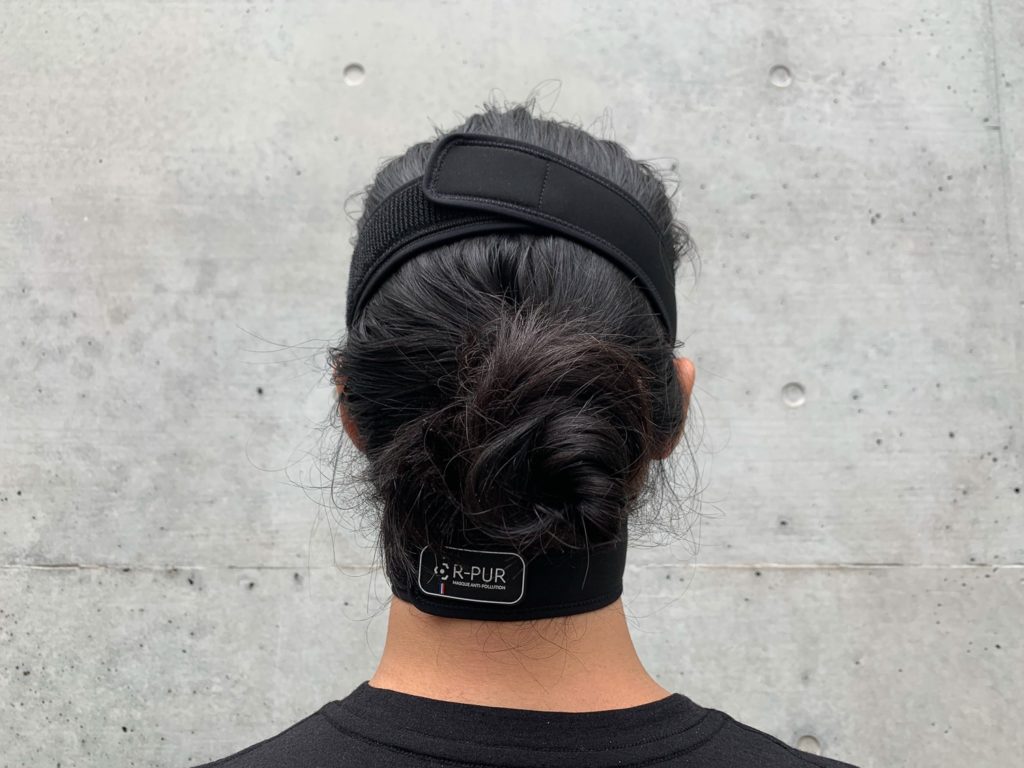 When I first put it on, I put it on where the top straps covered my ears. This is apparently not the right way to wear it. You should have the top straps above your ears as shown in the photo above.
I do like that it comes with two straps that wraps around your head and not the kind that wraps around your ears. It feels super secure. It should be even more secure for motorcyclists since the top of the strap is under the motorcycle helmet. This is probably by design since the last thing you want is for your mask to fly off mid-ride.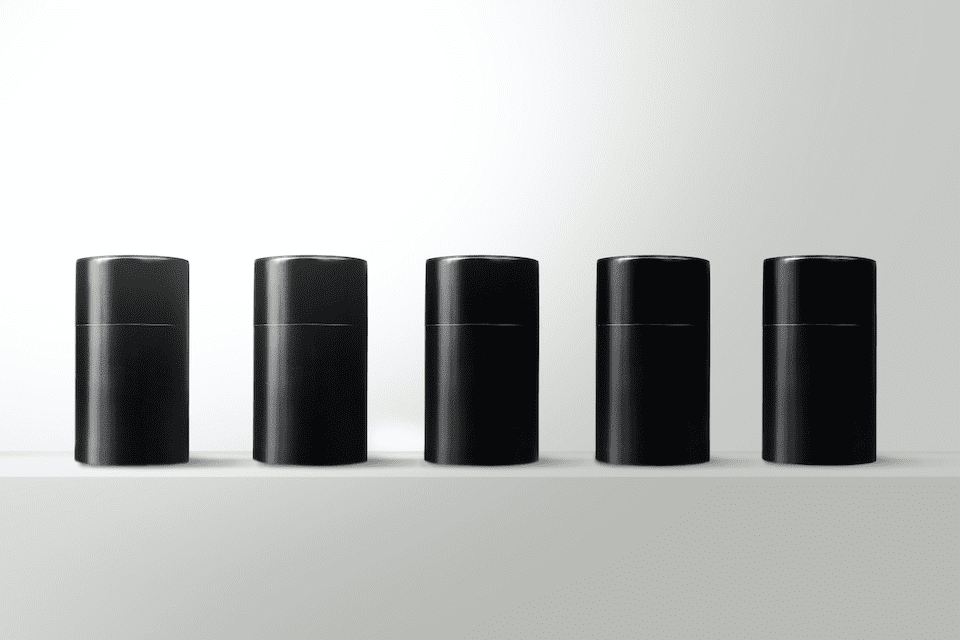 I found a 100 year old company that would create these heirloom quality canisters for me. They are handmade and will keep your tea leaves, coffee beans or anything that you need dry for years to come.
or read review
Branding
There is minimal branding on this mask. For where there is branding, it's placed in the way that it doesn't shout for attention.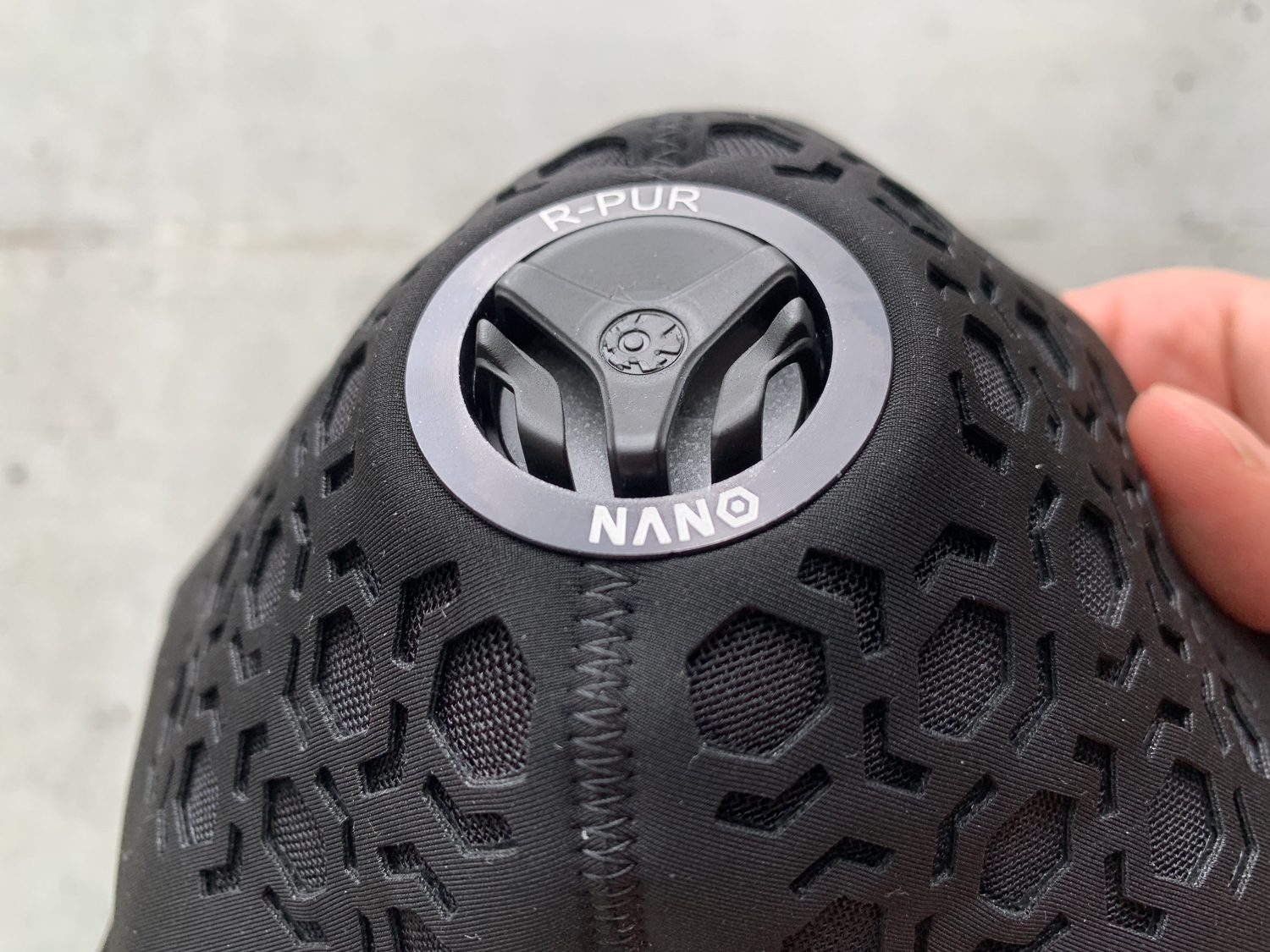 There is the word "R-PUR" and "NANO", referring to the filtration system, on the front of the mask. Since the "R-PUR" logo looks so much like plain text without the hexagon logo, it doesn't looked too impressive in that position.
On the top left of the mask, there is a cut-out NANO logo. I really didn't see a need for this logo to be repeated twice on the same face of the mask.
There is a small tag with the French colors near the logo. They are obviously very proud of the fact that the mask is made in France.
On the end of one of the strap, there's a rubber logo piece with their full logo.
For a piece of accessory this size, I would prefer if they had less branding. In fact, I think with just the hexagon patterns on the front, it was strong enough of a statement to make and absolutely enough branding. Besides, no one would be able to read the logos when it's on a face of a moving motorcyclist.
Materials
The main material of the mask is a premium water-resistant material with a technology they call Thermo-Control®, which is an anti-perspiration technology. This helps you stay cool in tropical weathers, stay warm against cold winter winds and stay dry while riding in the rain, basically every condition you'll face while on the road..
The mask is also outfitted with a patented hot air extraction valve which supposedly allows the outflow of hot air up to 60 times faster than a conventional valve, which is perfect for runners or bikers in hotter climates.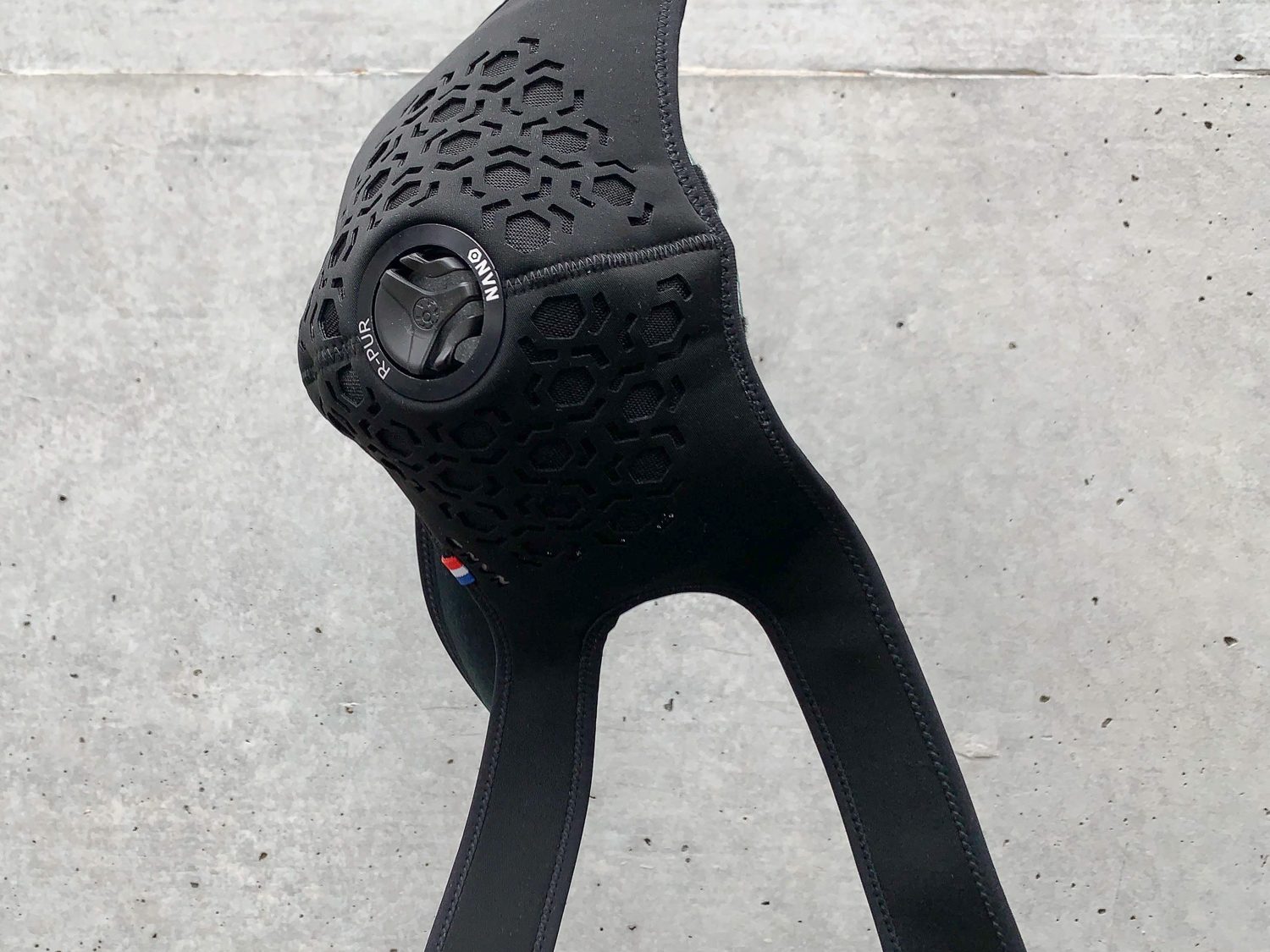 I love wearing masks but do get uncomfortable when the mask feels too hot and you start sweating under there. While you still have a little bit of that with this mask, it's much less so compared to other masks because of the valve, the smooth airflow around the space between the mask and your mouth.
Usage
The mask is a premium piece of gear and you can feel it's of super high-quality make and materials even just by holding it on your hands.
I've walked around in Shinjuku with it and as expected, you do get some looks, but they wouldn't stare for long. Style-wise, it's what we call visual-style in Japan and might be too much for some.
But while this mask isn't made for going around your neighborhood, as a motorcycle mask, looks pretty cool.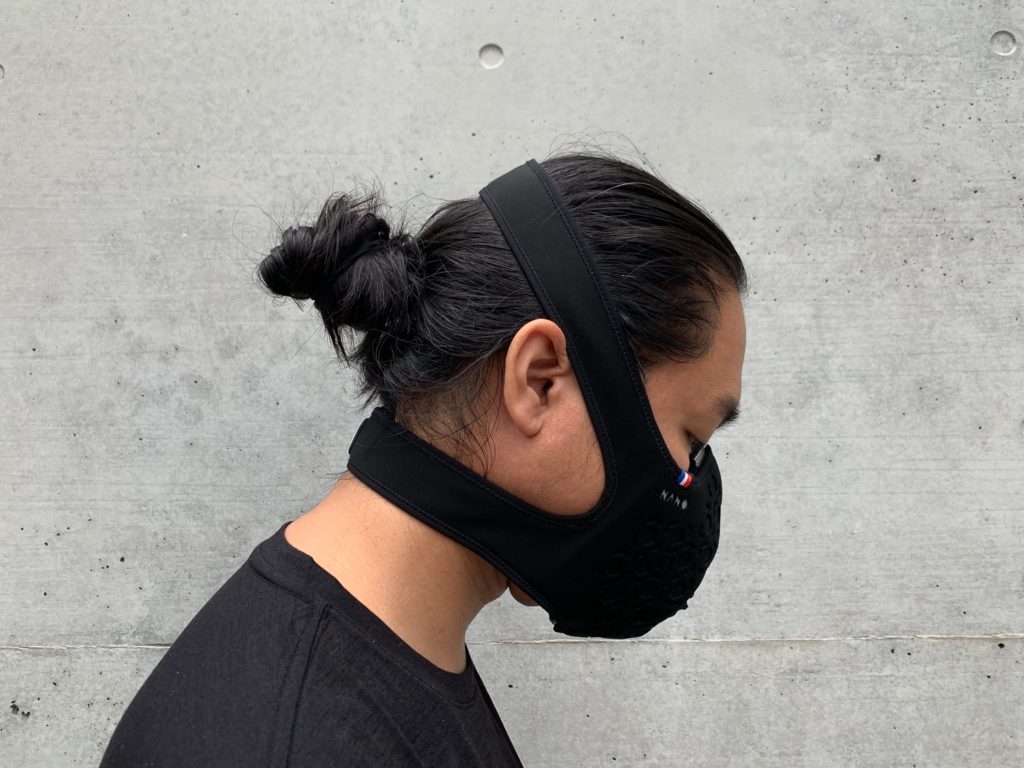 I usually wear a man bun, so one strap would go above my bun and the other behind my neck under the bun. With the way the straps are designed, I feel like it could go well with a variety of hair styles, long or short.
The mask does feel tighter on your face as you move around. For me, you feel the pressure of it pulling your face downwards as you tilt your head up. You might lose a little freedom of movement with this mask on, but it's definitely not a deal breaker for me.
App
The mask actually has a companion mobile app which I downloaded on my iOS device.
While the app is designed to tell you the status of the mask and filter, it doesn't actually connects to the mask or the filter or get any kind of data directly from it.
What it does is takes in information like how often you think you would use it, how long you have been using the mask and local weather data and gives you an estimate on the status of the filter and when you should replace it.
It's was not quite what I expected and frankly, I didn't think it was necessary.
Portable
For what it offers, it's pretty compact and portable. A pouch is included with the mask which lets me carry it around easily. It would fit nicely into a waist pack like Arc'teryx Maka II.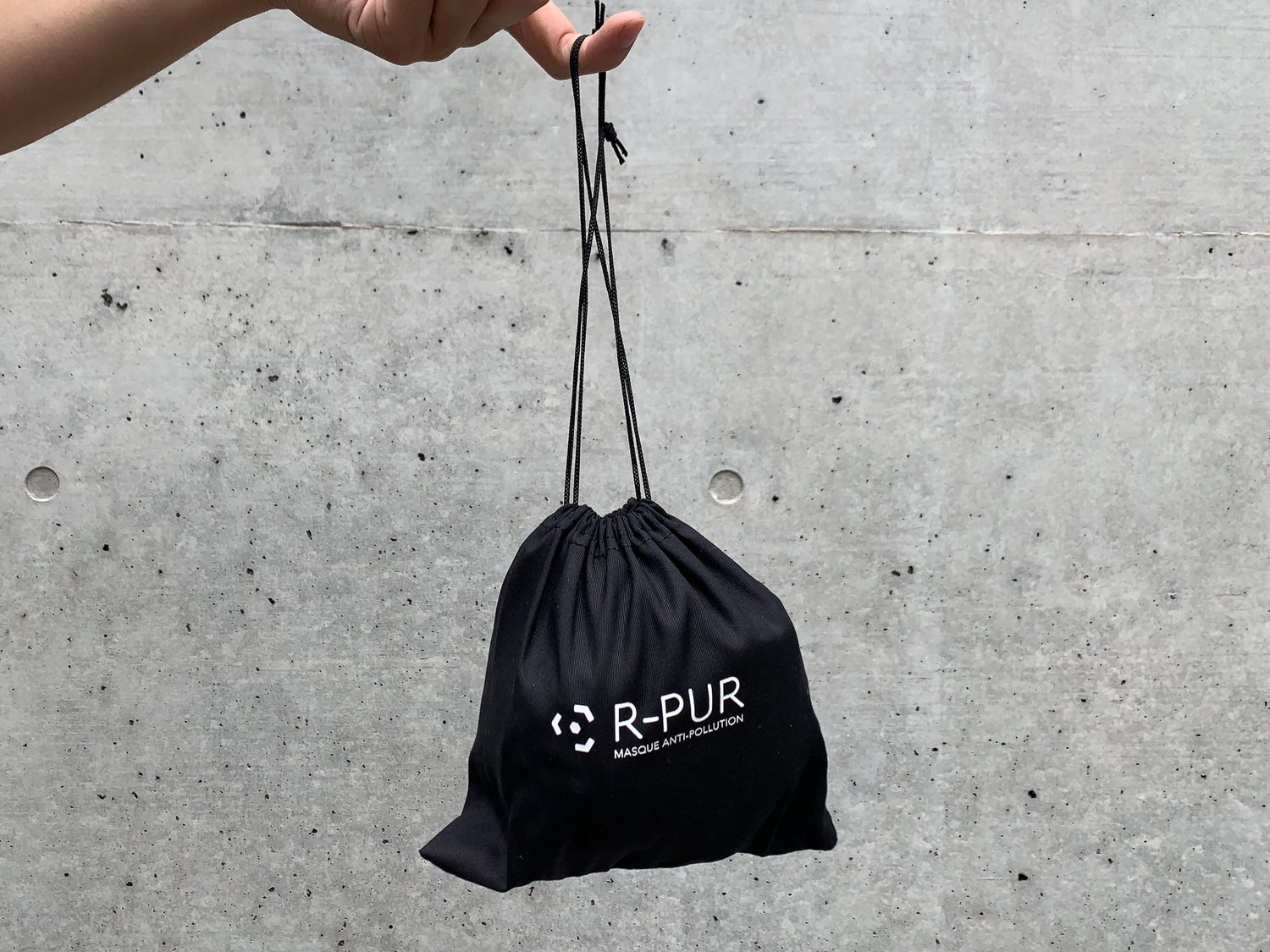 Filter
One filter lasts an average of 5-12 weeks depending on how much you use it. It allows you to filter out nanoparticles, which is equivalent to PM 0.05. PM stands for particular matter. For scale, PM 2.0 is 50 times smaller than a typical human hair.
This means that it can filter out a lot of bad stuff like bacteria, viruses and air pollution without a problem.
Conclusion
While the mask is not the most subtle piece of accessory you can have on for a day out to the town, it's probably the best mask you can find for motorcyclists.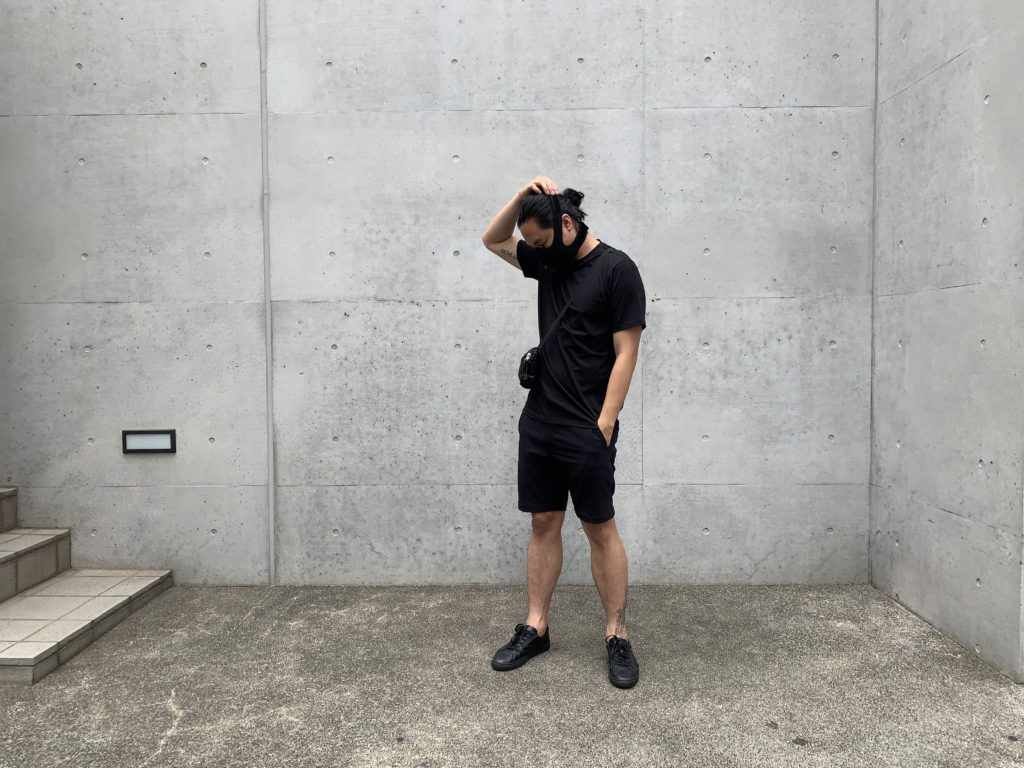 With the ultra advanced pollution filtration system, your lungs would be happy you got one. Bonus is that it also looks very badass.
This is probably the best mask you can get if you are looking for maximum protection. So, if you are a motorcyclists or live in a highly-polluted country, this might be the mask for you to keep you protected and looking good at the same time.
Like this review? See all of my in-depth reviews.
Also, consider supporting me by being a Patreon. Every cent given will go back into improving the content of this website.