This website is made possible by readers. I may earn a small commission when you buy through the links in this article at no extra cost to you. Learn more.
Details
Price $169 on aersf.com
Capacity 24.1 L
Weight 2.9 lbs
Dimensions 11.5″ (h) x 17″ (w) x 9″ (d) / 29 (h) x 43 (w) x 23 (d) cm
Overview
I seem to be on gym duffel spree despite being so snobbish as a "backpack only" guy just a few bags ago. Getting a car certainly changed the way I carry. A sling, while less ergonomic for long periods is much easier to pick up and put down.
Before this review, I tried the TOM BIHN OSCA and the GORUCK Kit Bag, so expect some comparisons and me to definitively tell you which I think is the best.
Now, I assume that you know Aer before finding this article. My entire website is geared towards backpack enthusiasts. If you are one, you would definitely have heard of Aer. They are, after all, one of the strongest players in their industry.
Quality, style, and organizational design; I would consider Aer one of the best, if not the best.
Perhaps GORUCK might be slightly better in terms of durability, with their lifelong SCARS warranty. Or TOM BIHN might be better in quality, having full in-house control of bag manufacturing.
But Aer certainly has the best balance with top marks in each criteria. ie. If GORUCK is a 10/10 in durability, Aer is probably a 9.8/10. That 0.2 difference will provide no tangible effect to you.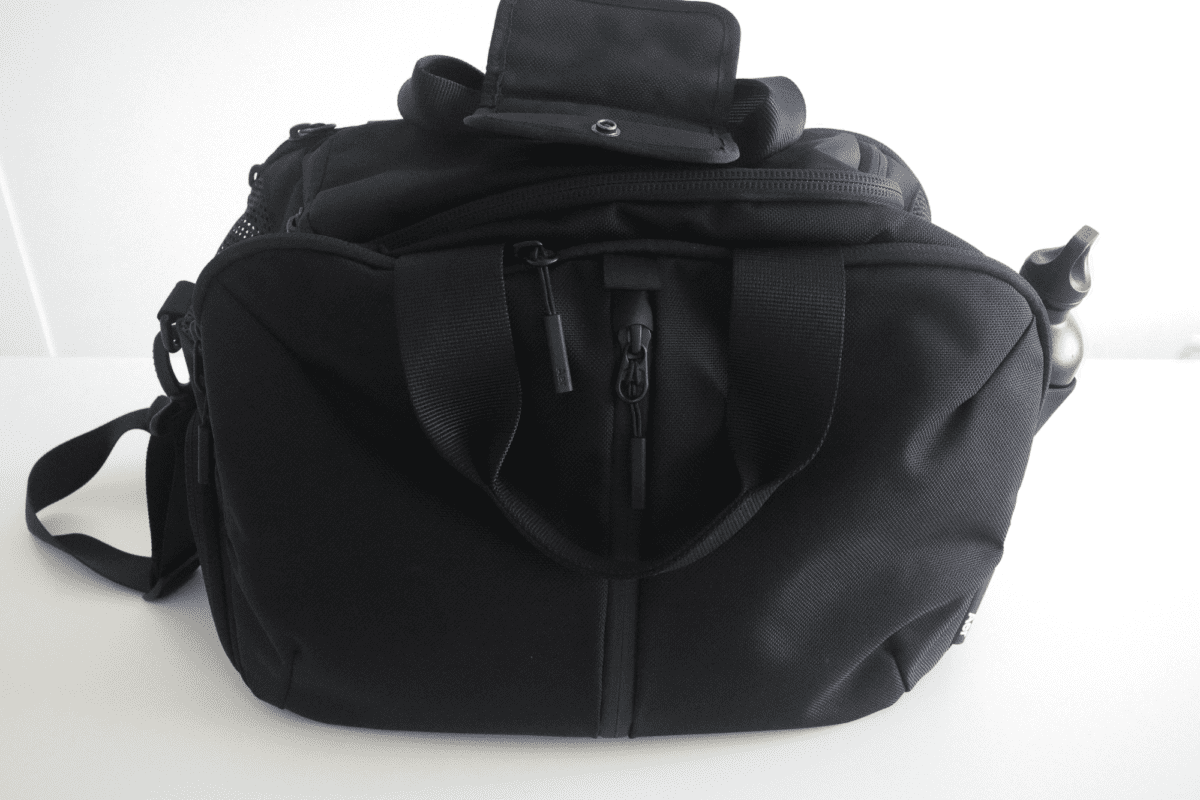 I have full, and the same, expectations with the Aer Gym Duffel 3. And I was not disappointed.
Style
At 24 L, the Gym Duffel 3 looks much bulkier than 24 L backpacks I have. It could also be because the duffel is on my side most of the time, while the backpack is on my back, out of sight.
While the GORUCK Kit Bag has technically more capacity at 32 L, the Gym Duffel feels bulker since its internal organization makes it always full-size, where the Kit Bag would "deflate" according to its contents. I personally think it looks better looking full and looking like a duffel that it is.
While I had extensive experience with Aer's backpack, I was not able to imagine how that style would look on a duffel until I got my hands on the Gym Duffel.
But no one likes ads, so I got rid of them. If my articles helped you, I ask for your support so I can continue to provide unbiased reviews and recommendations. Every cent donated through Patreon will go into improving the quality of this site.
Aer's packs are always distinctive with a structured, rigid shape. The same is on the Aer Duffel Pack 3. It looks like a proper, full-on gym bag. It looks sleek while looking somewhat rugged at that size.
It also looks great for travel, looking somewhat professional depending on how your carry it, and yourself.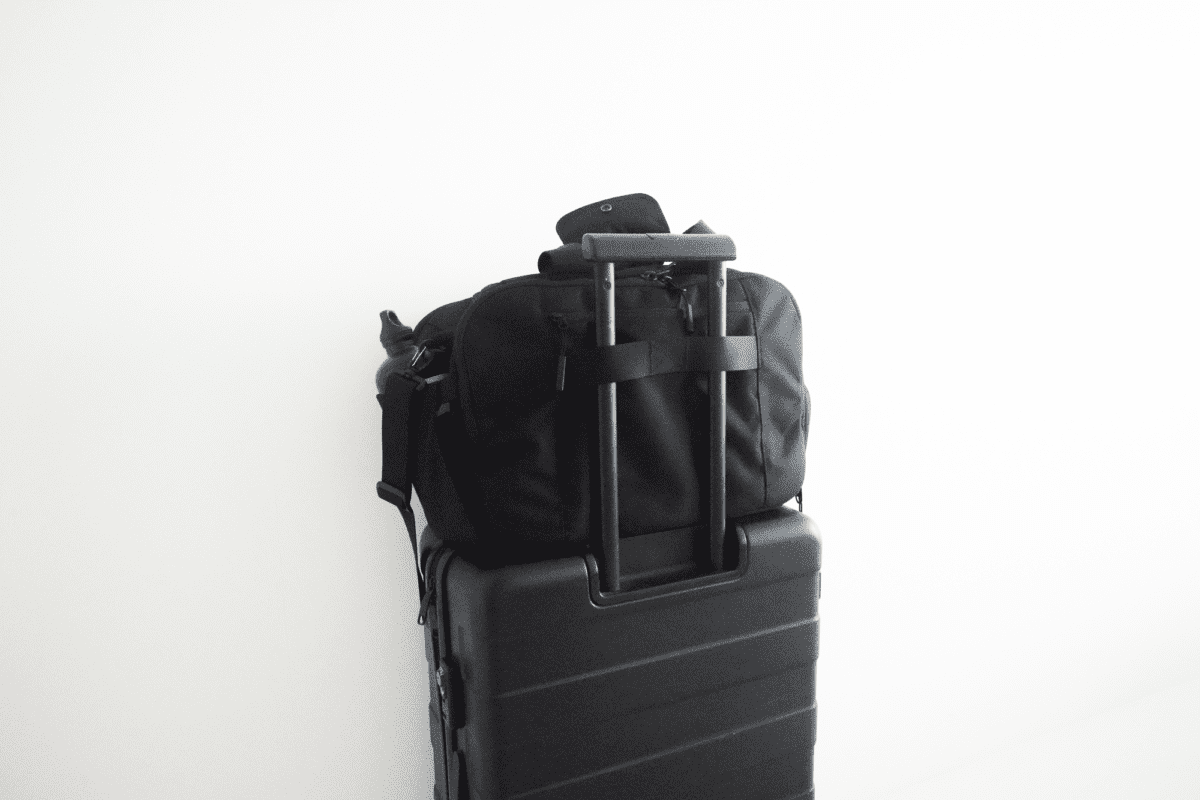 Material
Most brands have signature materials they work with, like GORUCK's 1000D Cordura or TOM BIHN's ballistic nylon. For Aer, it is 1680D Cordura ballistic nylon exterior.
For those new to backpack materials, ballistic nylon is one of the most used materials in this tier of backpack brands. You can learn all about it here in my unnecessary detailed guide.
Cordura is a technical fabric company, most known for its signature fabric, Cordura, confusingly named after the company. This is the material that lets you put the GORUCK Rucker through hell and back. Cordura (the company) also has other fabrics like ballistic nylon, which is the material used on the Aer Gym Duffel 3.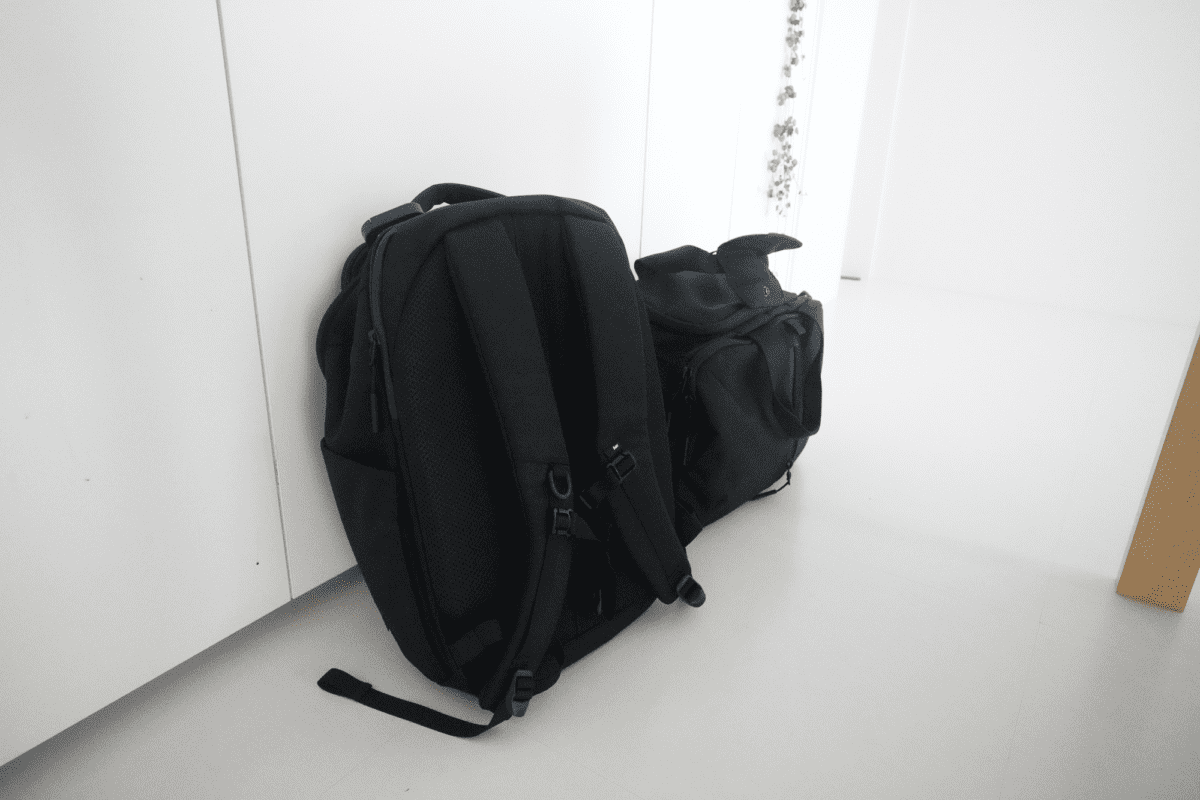 If you are the type of consumer that believes in brand names like Horween leather, Cordura, or GORETEX, then you'd probably feel assured that Aer uses ballistic nylon from Cordura. No-name ballistic nylon doesn't necessarily mean lower quality. Take most TOM BIHN bags like the TOM BIHN Synik for example.
The rest of the materials are the usual suspects like Duraflex and YKK. I could see that Aer cares a lot about its brand, and if the materials it used can be perceived better with an industry-leading name, they are all over that.
It's also worth noting that Aer doesn't let these "fancy" materials impact their price point. Most of Aer's bags are reasonably priced when compared to similar-tier products on the market.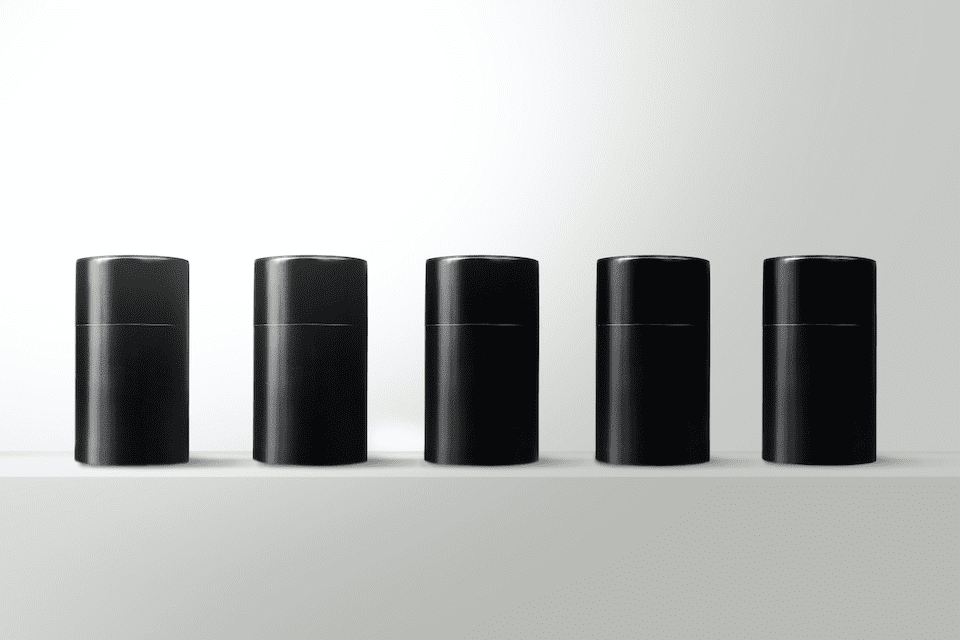 I found a 100 year old company that would create these heirloom quality canisters for me. They are handmade and will keep your tea leaves, coffee beans or anything that you need dry for years to come.
or read review
Usage
Aer keeps to its style consistently, so I thought there would be little to be surprised about after my umpteen bag. But their thoughtful organization design impresses me once again.
Main Compartment
The main compartment is spacious. I usually have my Outlier Supermarine Doublebag with a change of clothes and TOM BIHN Travel Tray.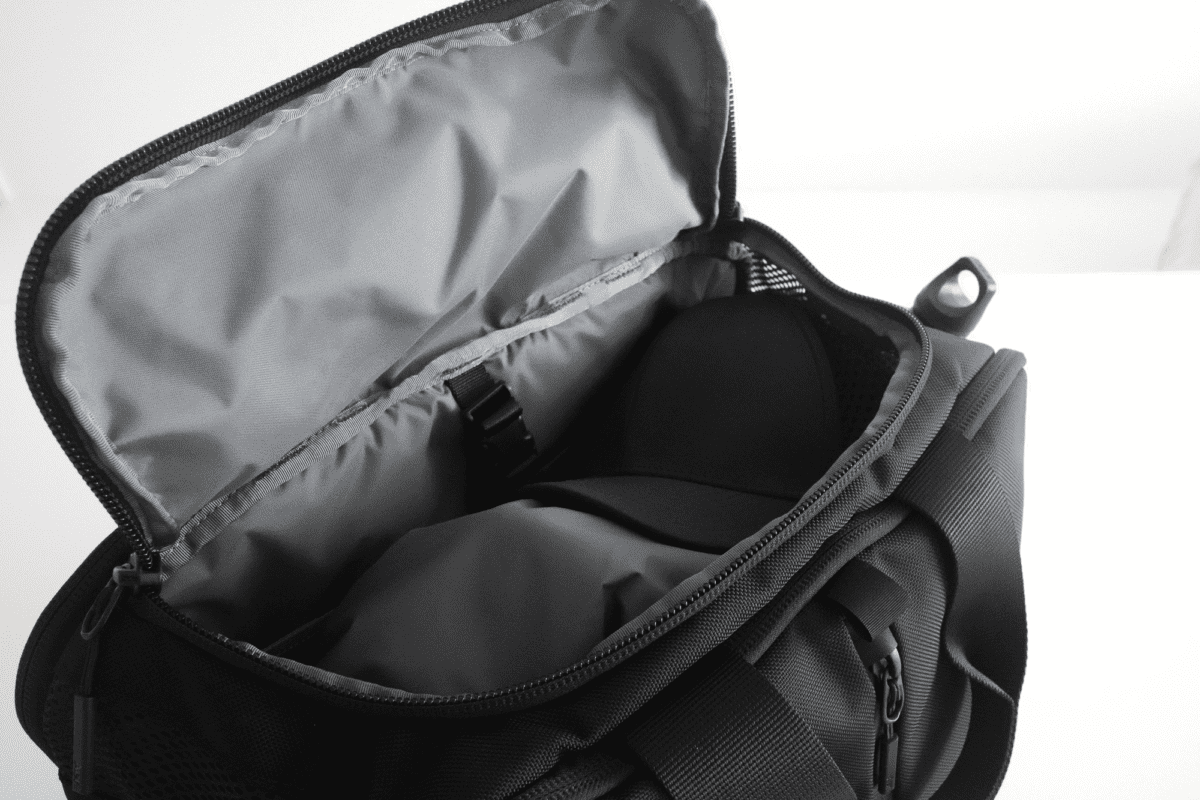 There is a separate shoe compartment that takes up the space of the main compartment. It can sometimes be hard to put your shoes in if you have the main compartment packed. You need to move the contents of the main compartment around to make space.
What's great about this compartment is there are some vents to air your sweaty clothes or wet towel.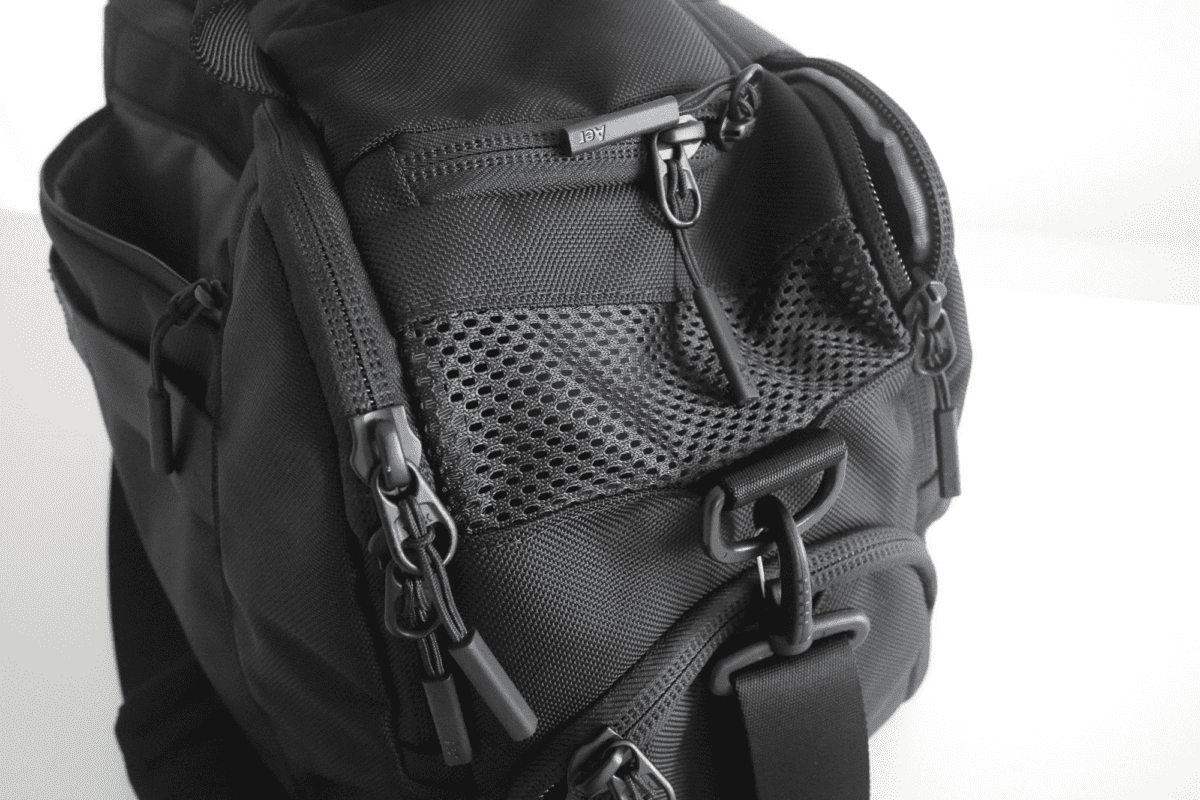 It fits my US 10.5 Singapore Armed Forces issued running shoes well. When your shoes go in, they might stack on top of whatever contents you had. You might have to move the shoes around to access stuff under it.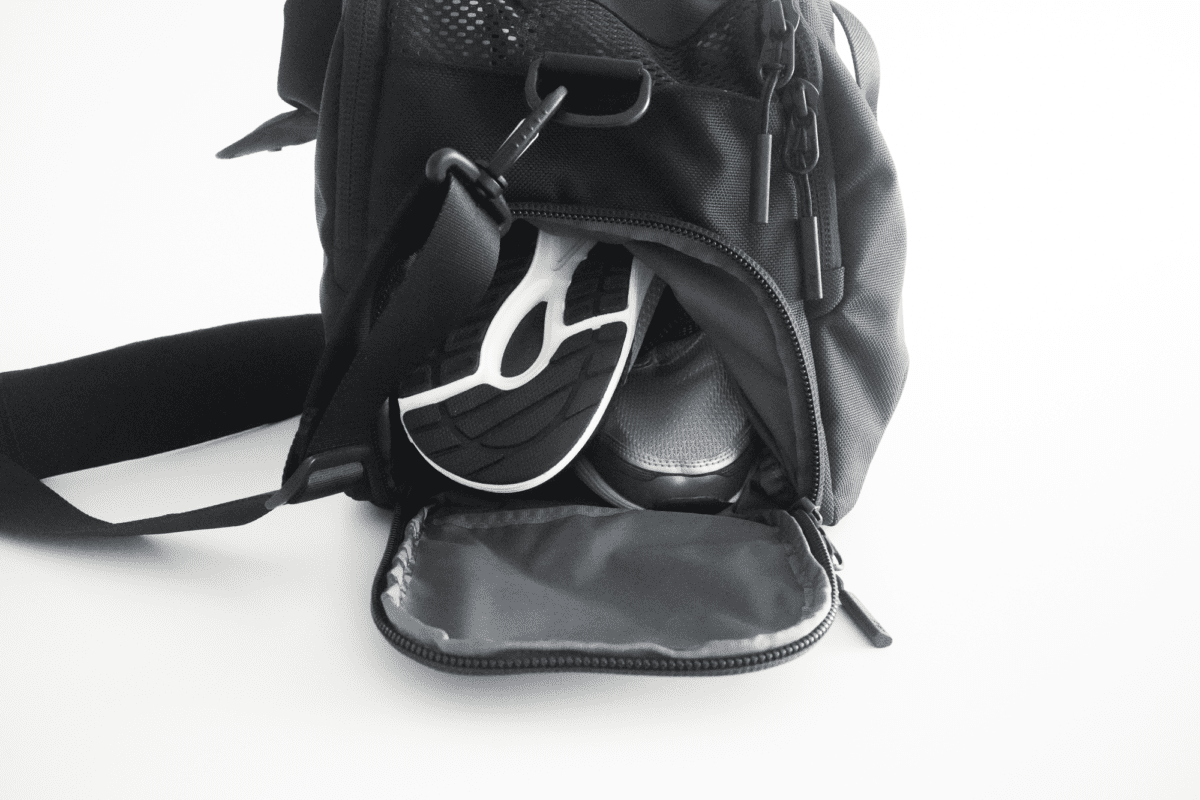 On the opposite side of the shoe compartment, there is a water bottle pocket. If I have one complaint about this bag, it would be that this compartment needs better elastics to secure bottles. The bag sometimes ends up at an angle when you sling it across your shoulder. I've had my 1 L metal bottle slip out and clunk onto the floor a few times.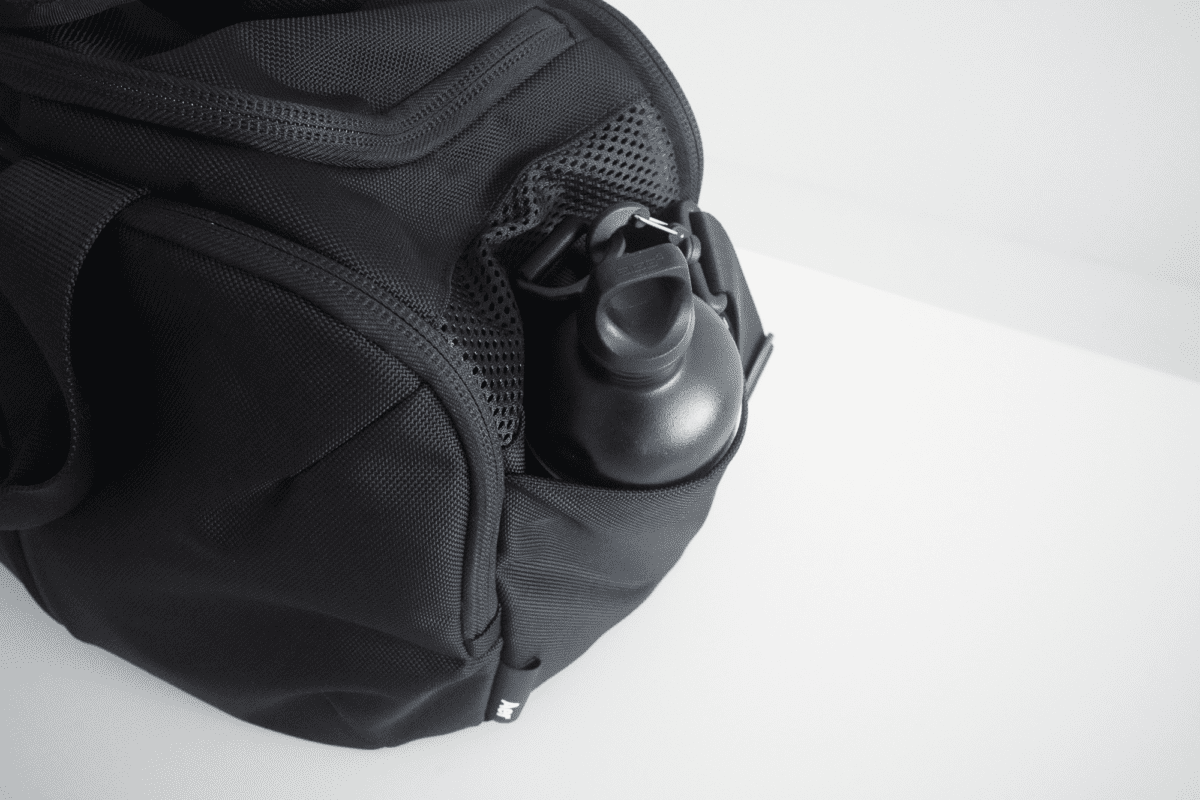 Quick Access Pocket
There is a pocket on the wearer's side; great spot for keeping pickpockets at bay. I usually dump my NOMAD Slim Wallet, keys, and Apple AirPods here with some space to spare. I really like how it's not too small.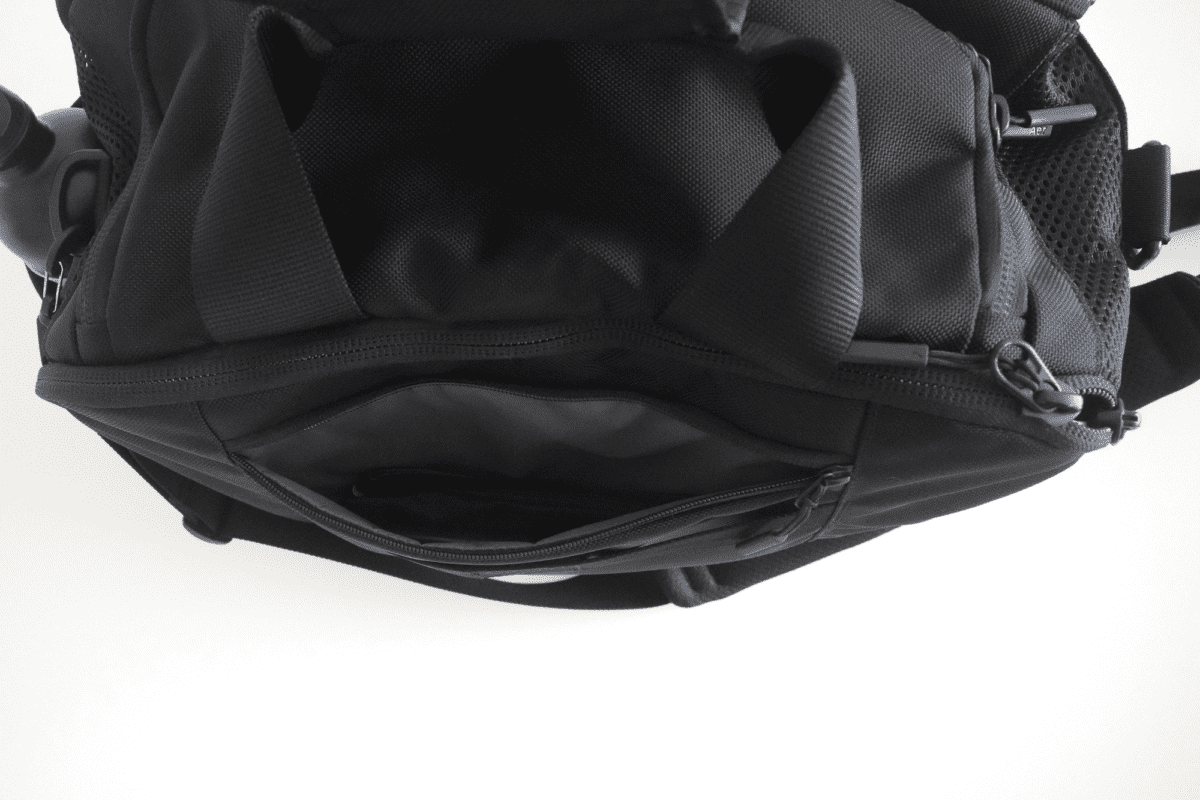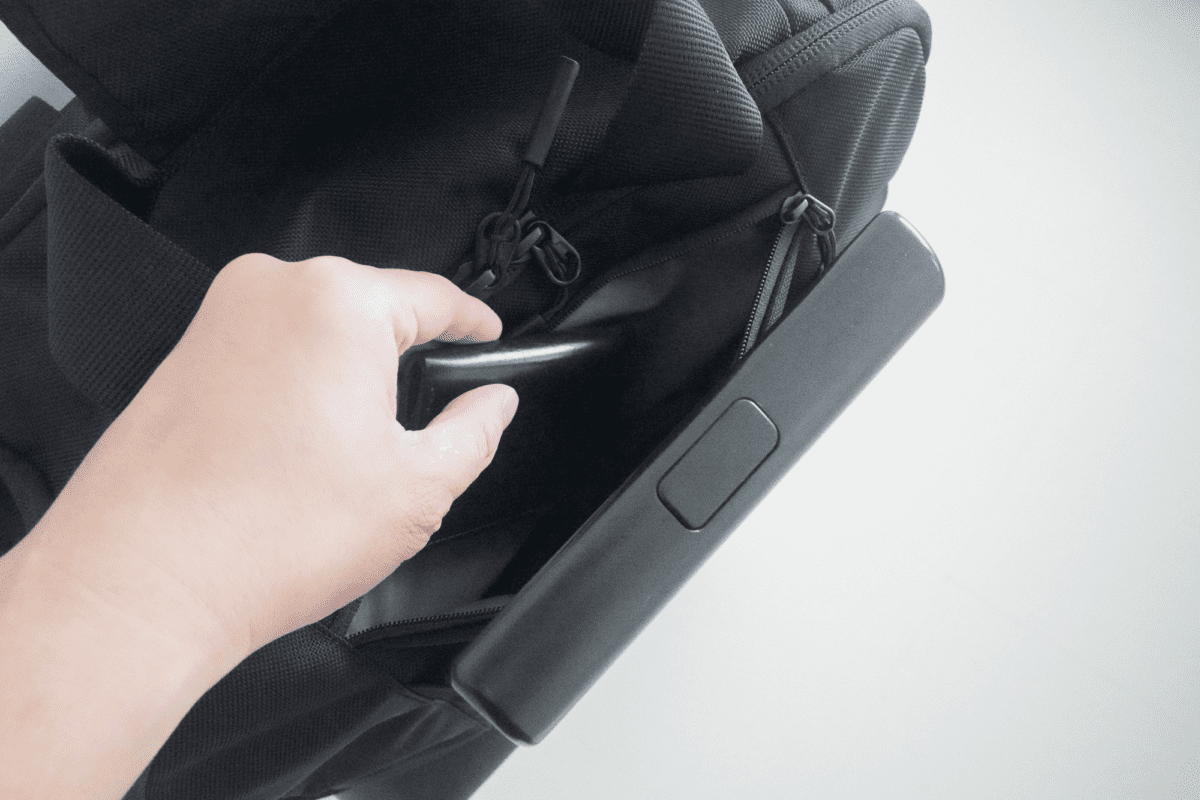 Laptop Pocket
While the "gym" in the Gym Duffel has led me to think that this duffel is only good for the gym, I was actually surprised to see accommodations made for the digital nomad or office worker.
On the same side as the quick access pocket, there is a whole laptop pocket here that holds my 16-inch MacBook Pro perfectly. There is a sleeve here with soft lining that you can slide your laptop in and even secure with a velcro tab. I love how simple this compartment is.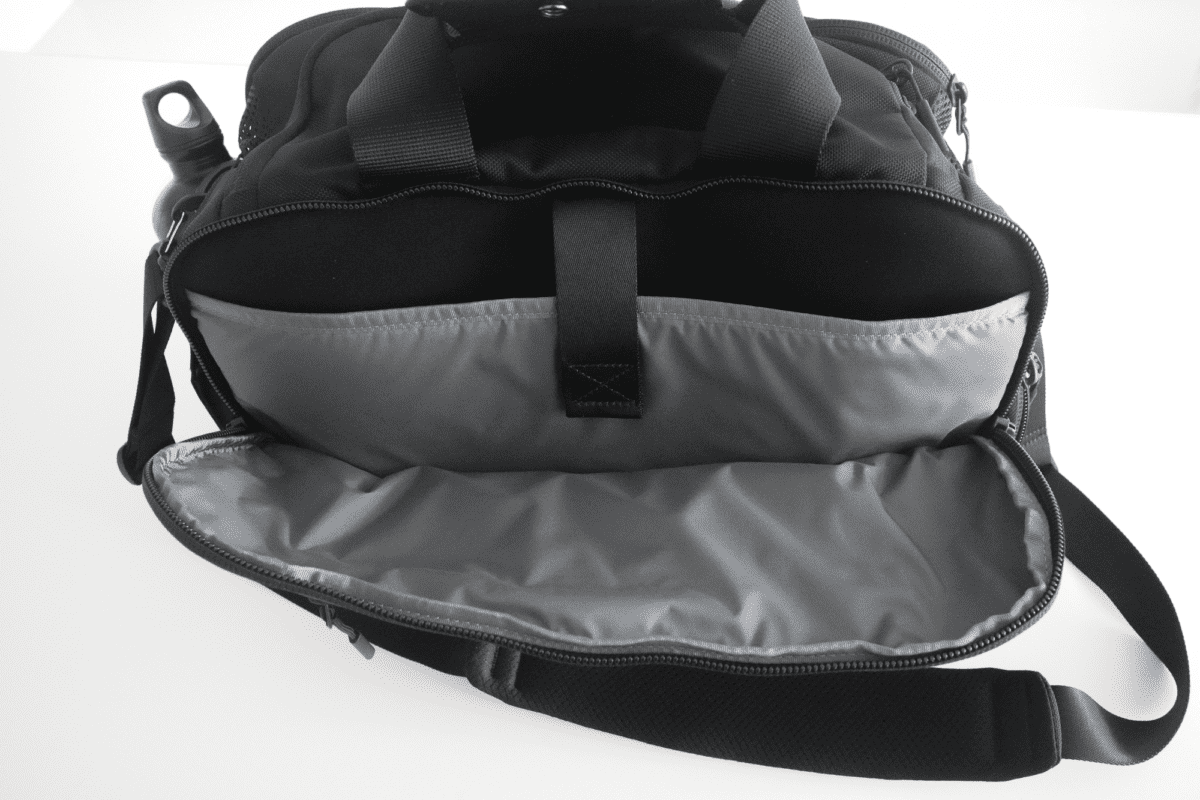 Since the sleeve acts as a separator, you can easily have two laptops in here.
Interior Pockets
On the front of the bag, there is a whole compartment with organization for all your accessories. This kind of compartment can be commonly found on Aer's bags like the City Pack or Tech Pack. But it is a full-sized pocket on the Aer Gym Duffel.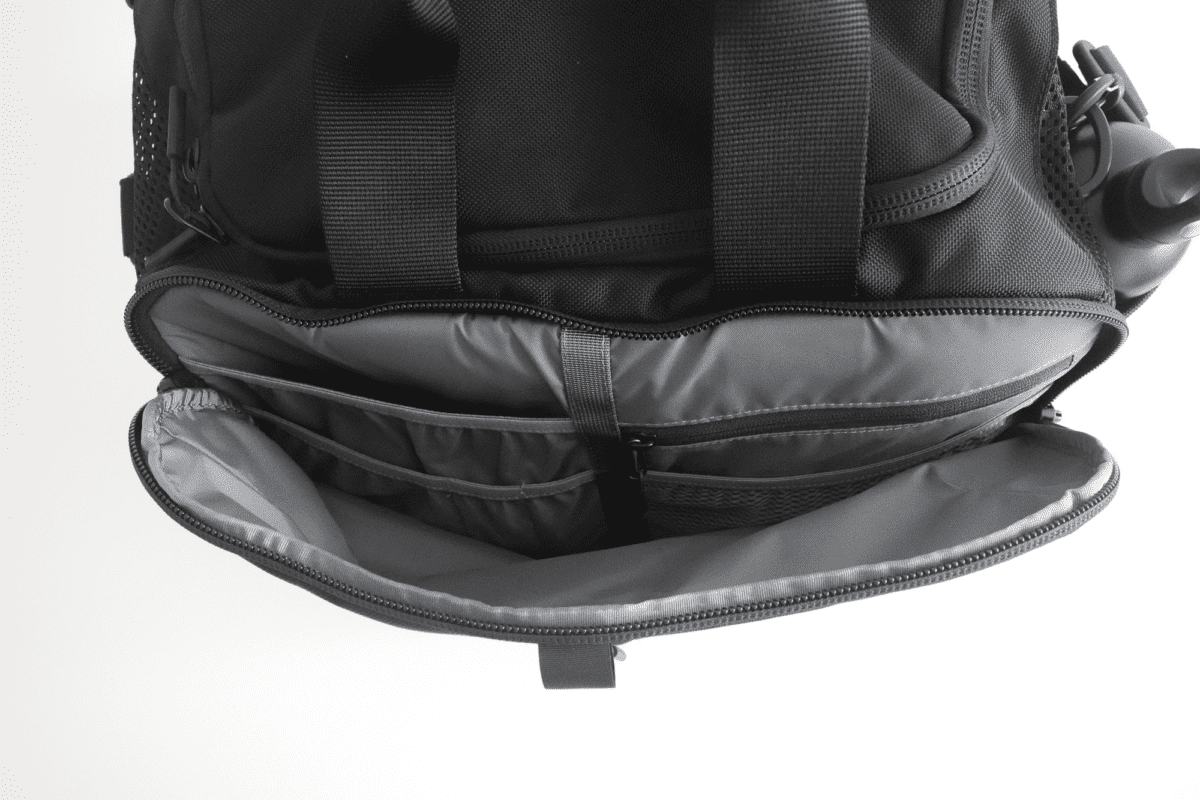 Handle
You can button the two handles together with a wrap—I never use this.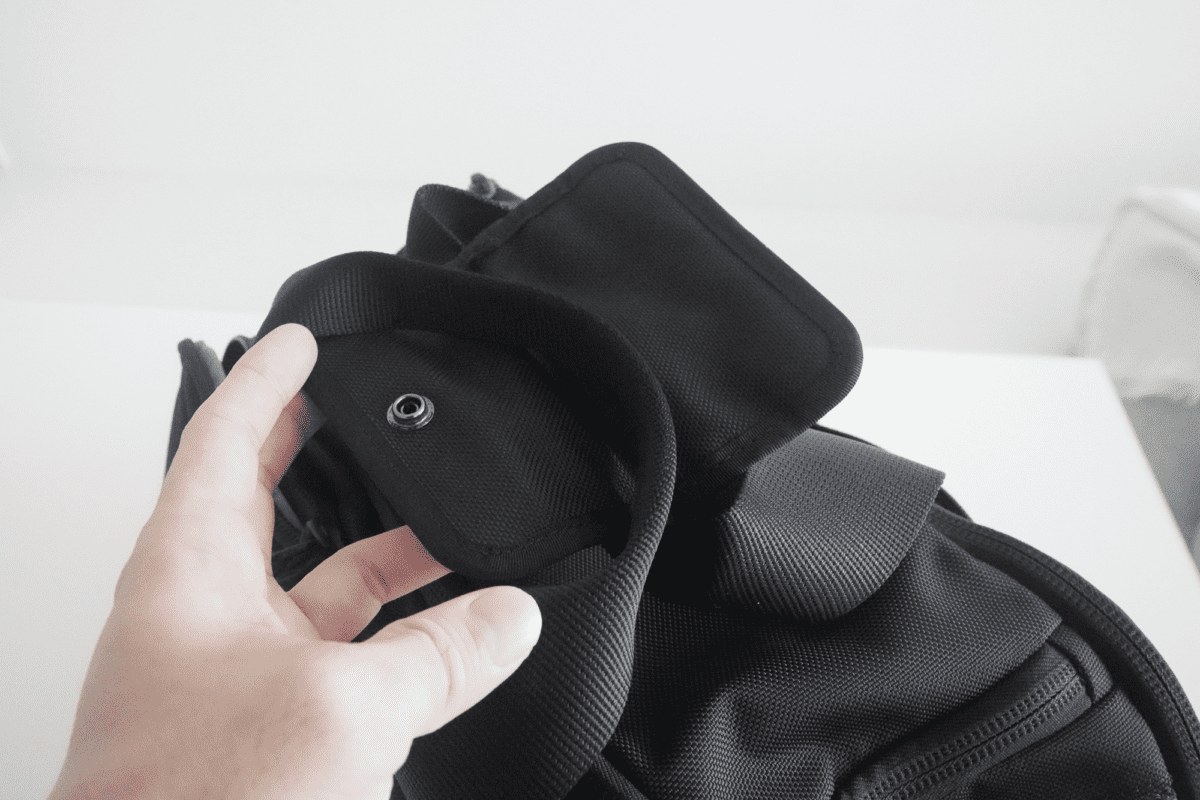 Coming from the TOM BIHN Old School Carry All where the handles were designed to "kiss" each other without such a wrap. It is just too much of a hassle to try to button that wrap together. I think this would work a little better if the closures were magnetic.
The structure of the duffel allows me to hang it off a hook in the shower room, saving counter space for my TOM BIHN Travel Tray.
Conclusion
There are a few details that I thought could be tweaked like the handle wrap and water bottle pocket, but at this price point, style, and quality, this is my choice of gym bag.
That's right. After going through the TOM BIHN Old School Carry All and GORUCK Kit Bag, this is the one I am going to keep using in the foreseeable future.
I cannot possibly think of a reason why one would not choose the Aer Duffel Bag 3 as their gym bag.
Additional Images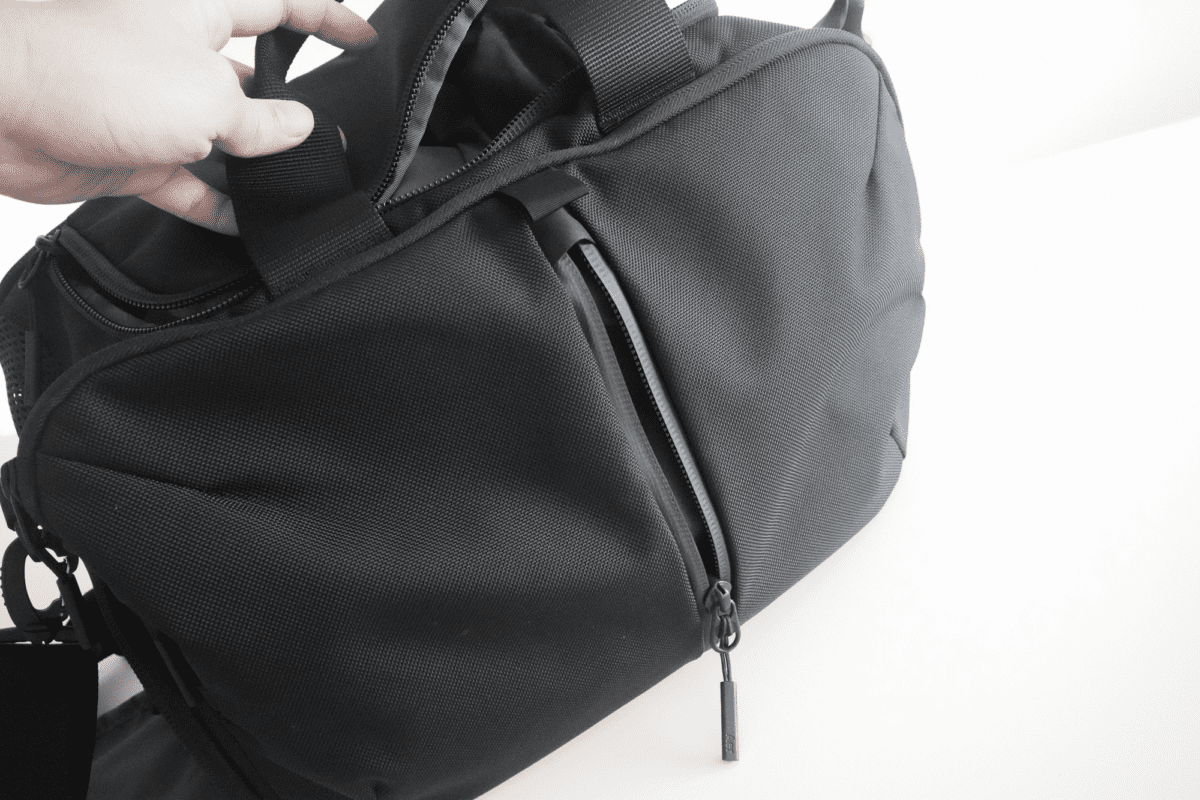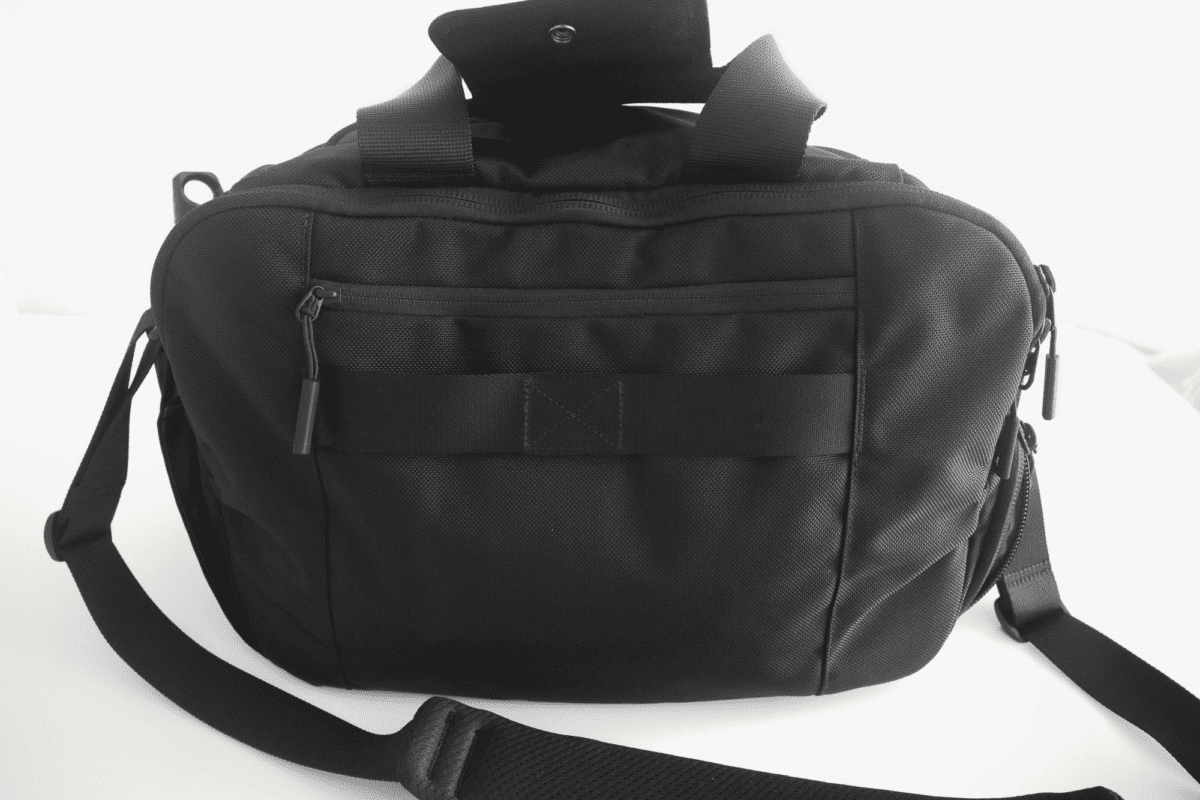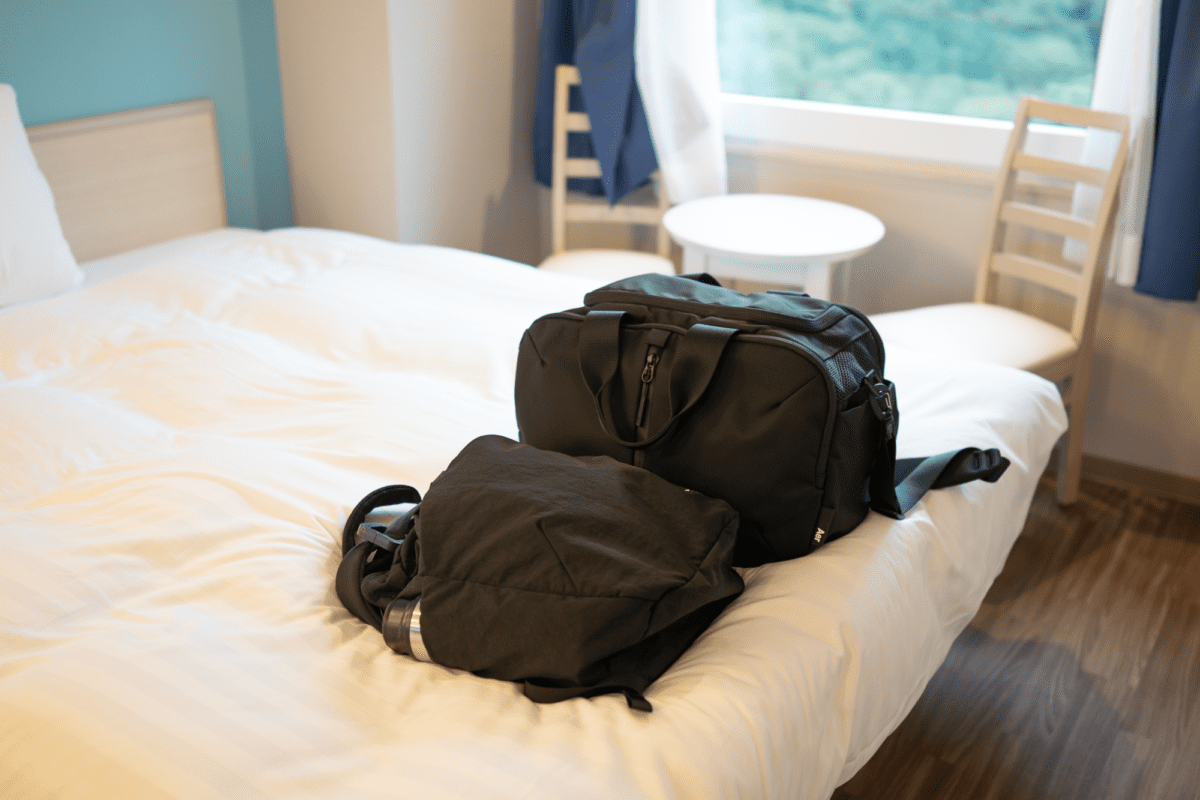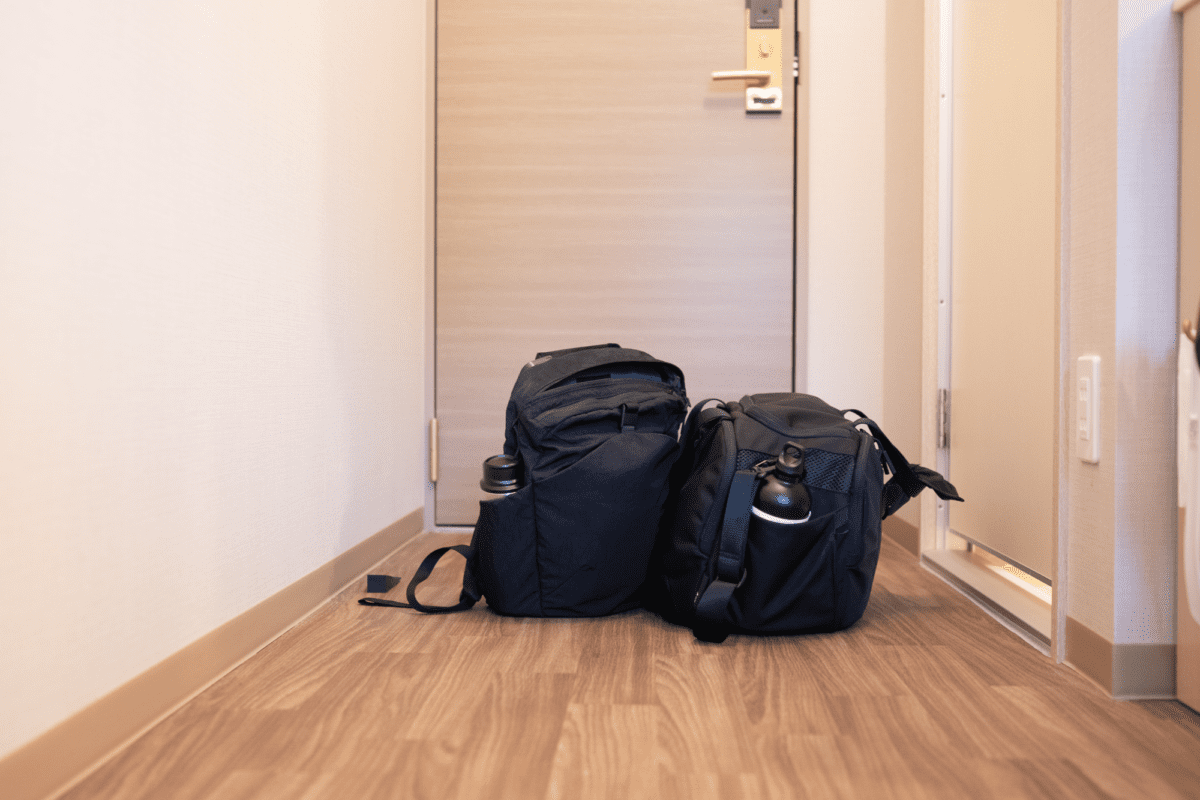 Like this review? See all of my in-depth reviews.
Also, consider supporting me by being a Patreon. Every cent given will go back into improving the content of this website.
Tagged aer bag ballistic nylon cordura gym bag review sling bag water-resistant