This website is made possible by readers. I may earn a small commission when you buy through the links in this article at no extra cost to you. Learn more.
When the GORUCK Ballistic Trainers was released, I knew that they were going be a durable pair of shoes. I can only expect as much from a company obsessed with producing military-spec goods that last forever.
Details
Price $125 on goruck.com
Weight 306g/0.675 lbs/10.8 ounces (size 9)
Overview
GORUCK is known for building indestructible gear. And this is not something that they simply proclaim, but something they live by.
Apart from their lifetime SCARS repair policy to back it up, they regularly hold events which pushes your GORUCK gear to the limit.
Even with such a stellar reputation, I'll admit I was a little apprehensive if GORUCK's footwear can stand up to the reputation of GORUCK's durability. After all, shoes in our fast fashion world are meant to last two years tops. However, my (ongoing) experience with the Cross Trainers have been an eye opener and I have to say I have high expectations for the Ballistic Trainers.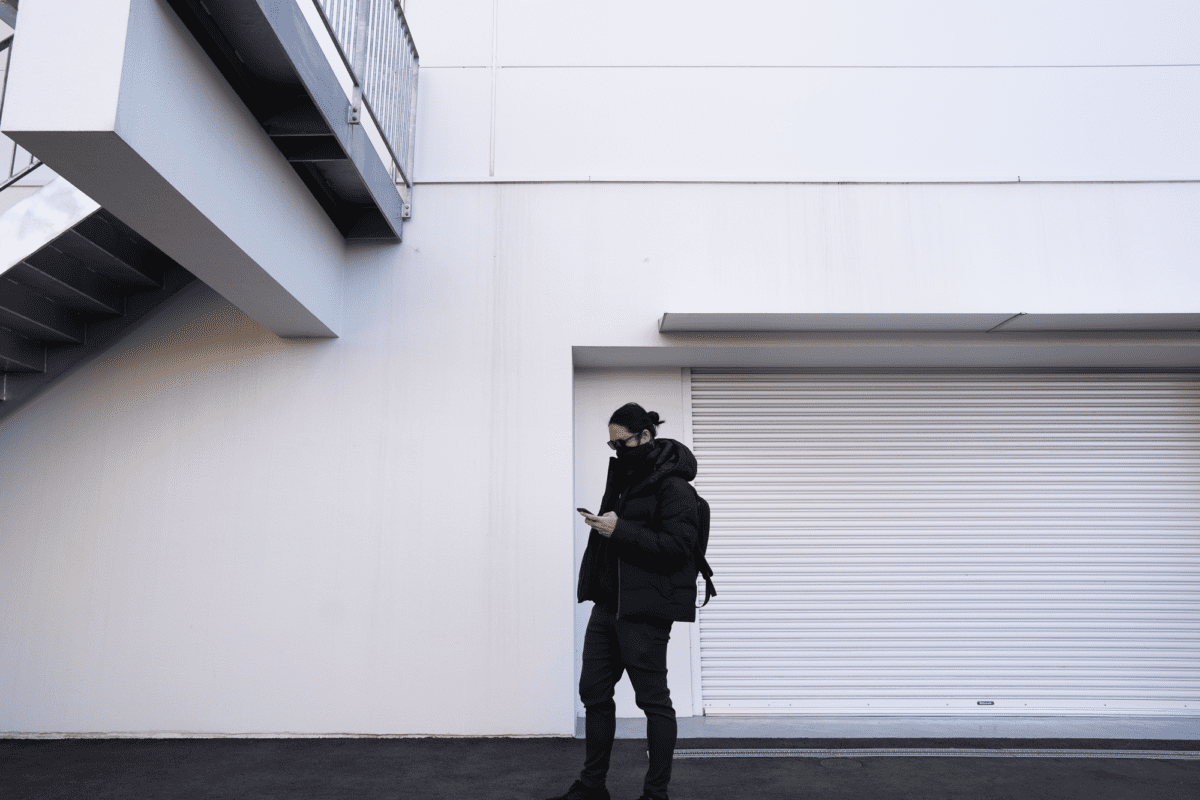 Style
As a huge Outlier fan, GORUCK pales in comparison in the style department. Actually, they don't even compare. Outlier puts out fashion pieces that last, but GORUCK puts out durable gear that also looks good. The focus is different and it comes across even in initial impressions.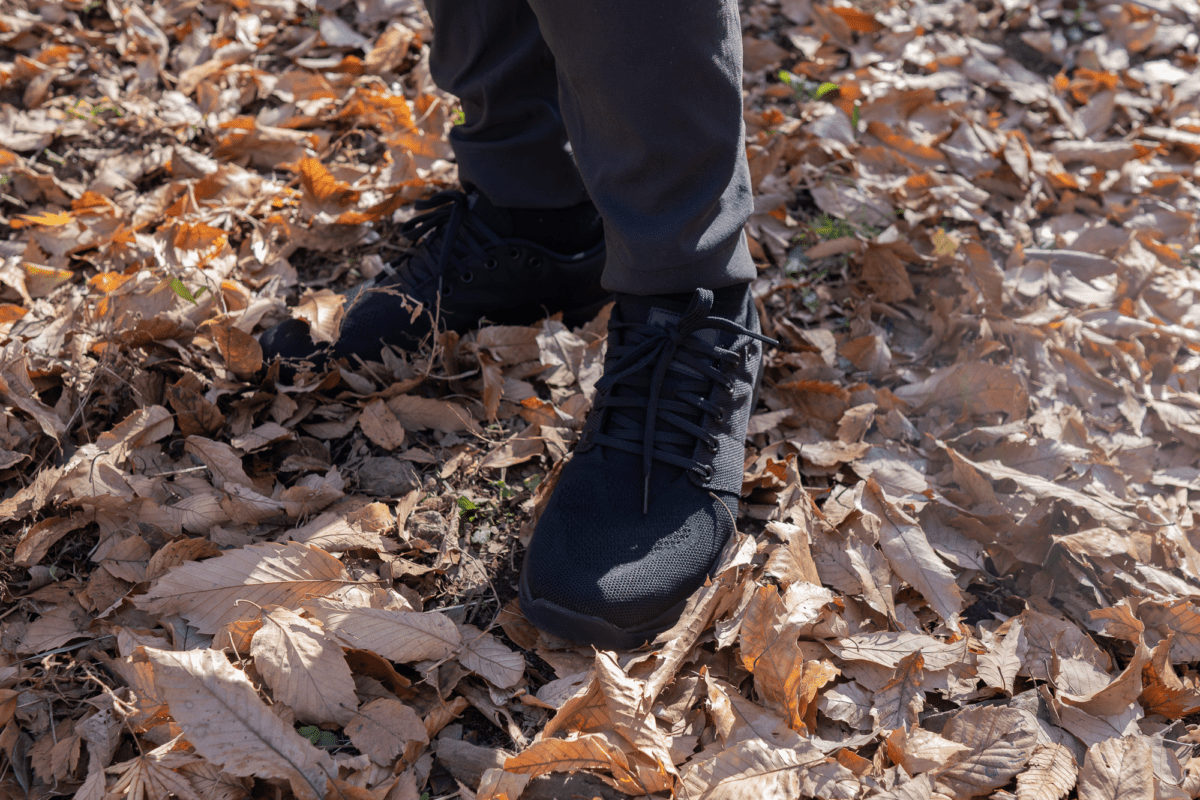 GORUCK has always been consistent to their military roots and carries a distinct utilitarian style. As someone who have served two years of national service in Singapore, I wouldn't be surprised if GORUCK's gear were to be issued as standard military gear.
The Ballistic Trainers fit right into GORUCK's plethora of rugged, military-styled goods. As someone who used to be a sneakerhead, I have to warn you that won't make you look stylish even though they don't look too bad. The porous warp knit with a pattern at the toe cap, especially, gives it a technical look.
The trainers come in four color combinations, but the Blackout version is the one reviewed. I also have the Black+Gum version for comparison. In case you haven't noticed, this website has a theme of reviewing only black products.
While the pairs I reviewed is black all over, I noticed that the uppers are a little reddish. This is noticeable only when compared to the back mid soles.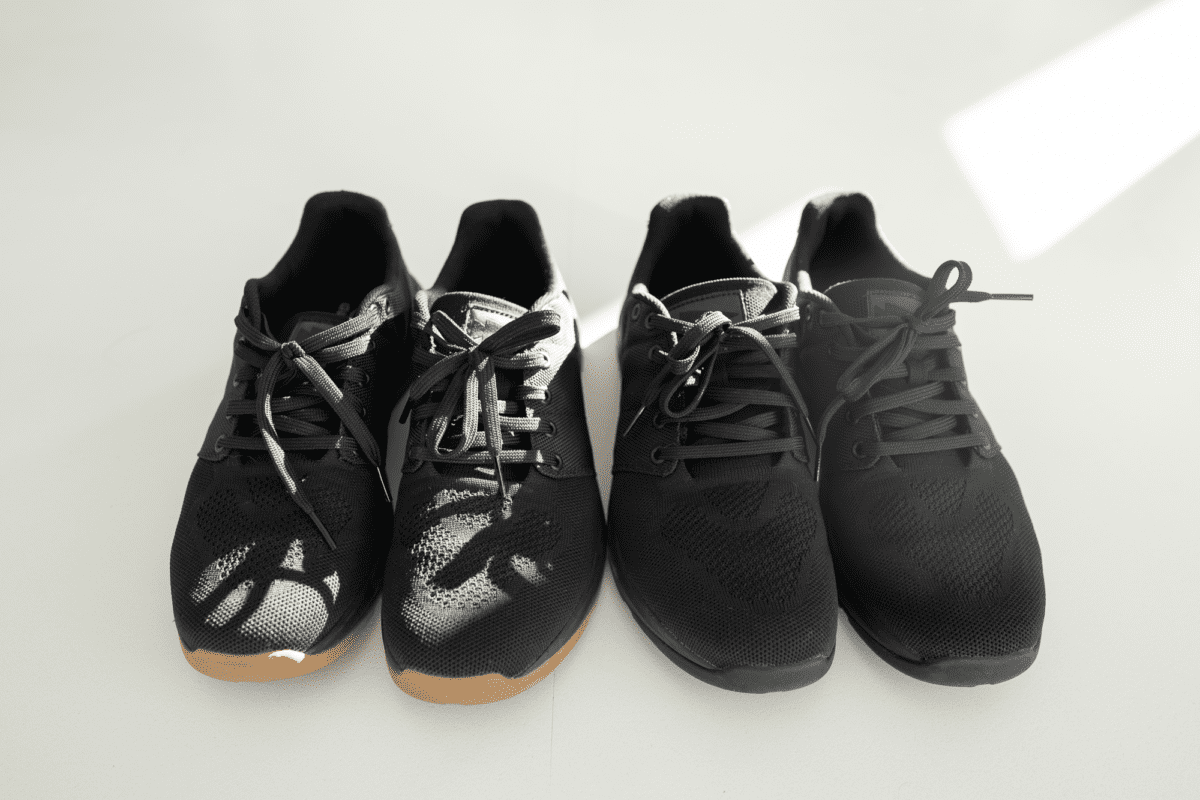 I got my usual shoe size, a US size 10.5 and it fits perfectly. The shoe fits more like a snug daily trainer, even with a wide toe box. For most, I would recommend going true to size.
But no one likes ads, so I got rid of them. If my articles helped you, I ask for your support so I can continue to provide unbiased reviews and recommendations. Every cent donated through Patreon will go into improving the quality of this site.
The entire shoe is matte black with the exception of a glossy pull tab with an debossed GORUCK "arrowhead" logo. This is probably meant for a bit of reflectivity when running on open roads.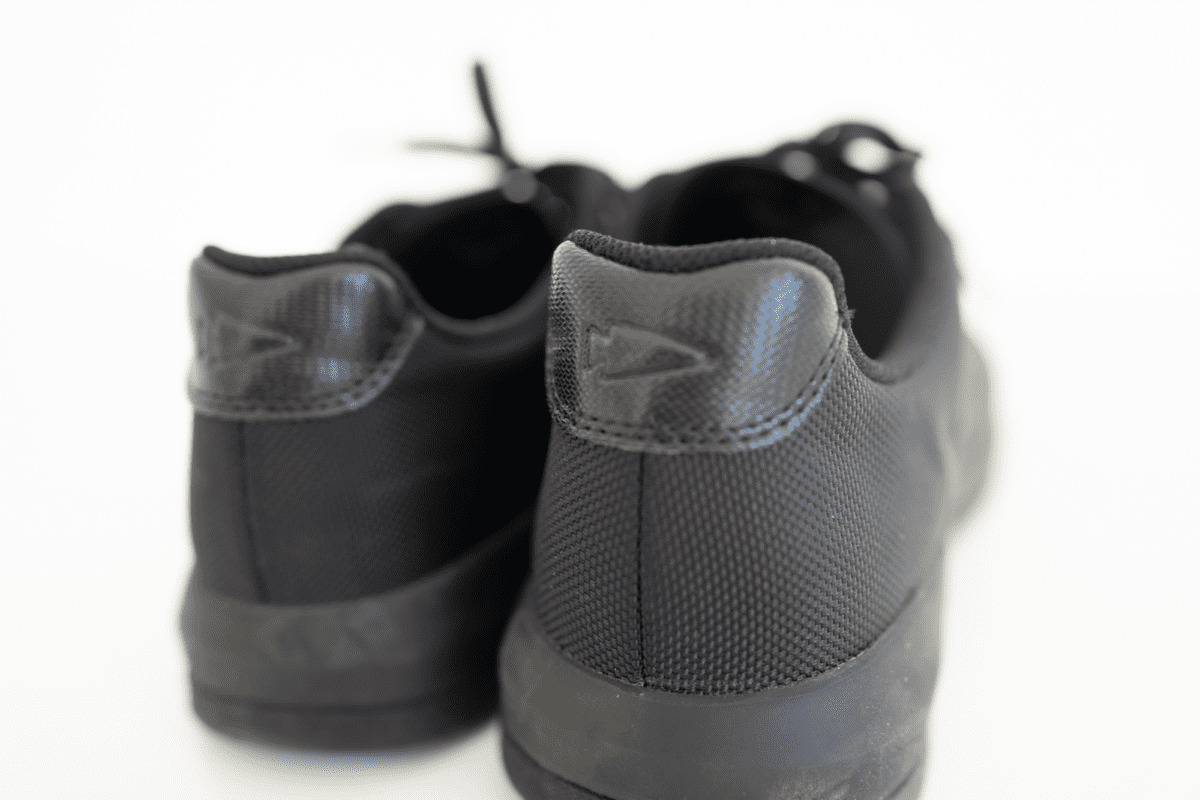 Speaking of branding, there is a subtle, black-on-dark-grey logo patch on the tongue, as well as the logo printed in white on the insoles. While I prefer no branding, the external branding on the Ballistic Trainers is subtle and not immediately noticeable.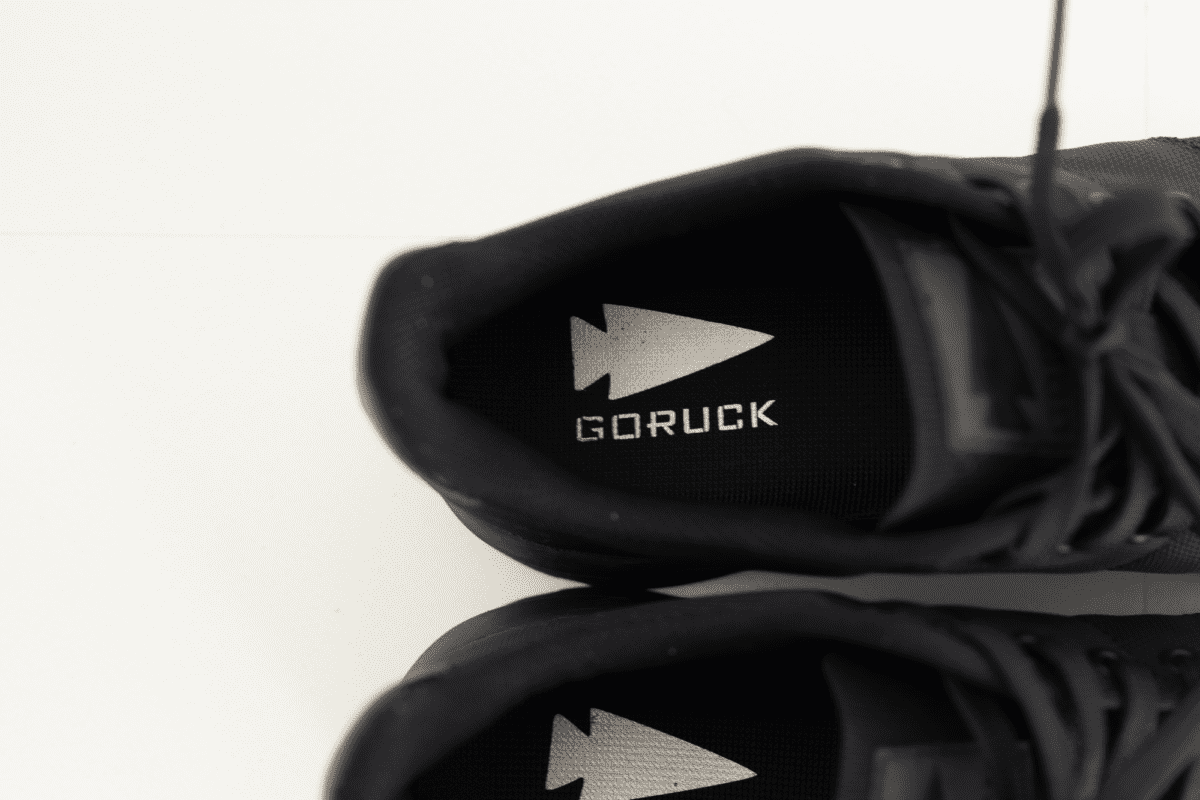 On the toe vamp, there is a pattern formed by the knit, which to be honest, I am not a fan of. It looks unintentional and carries a little bit of the "ojisan" (Japanese for uncle) look, something which my wife frequently reminds me of.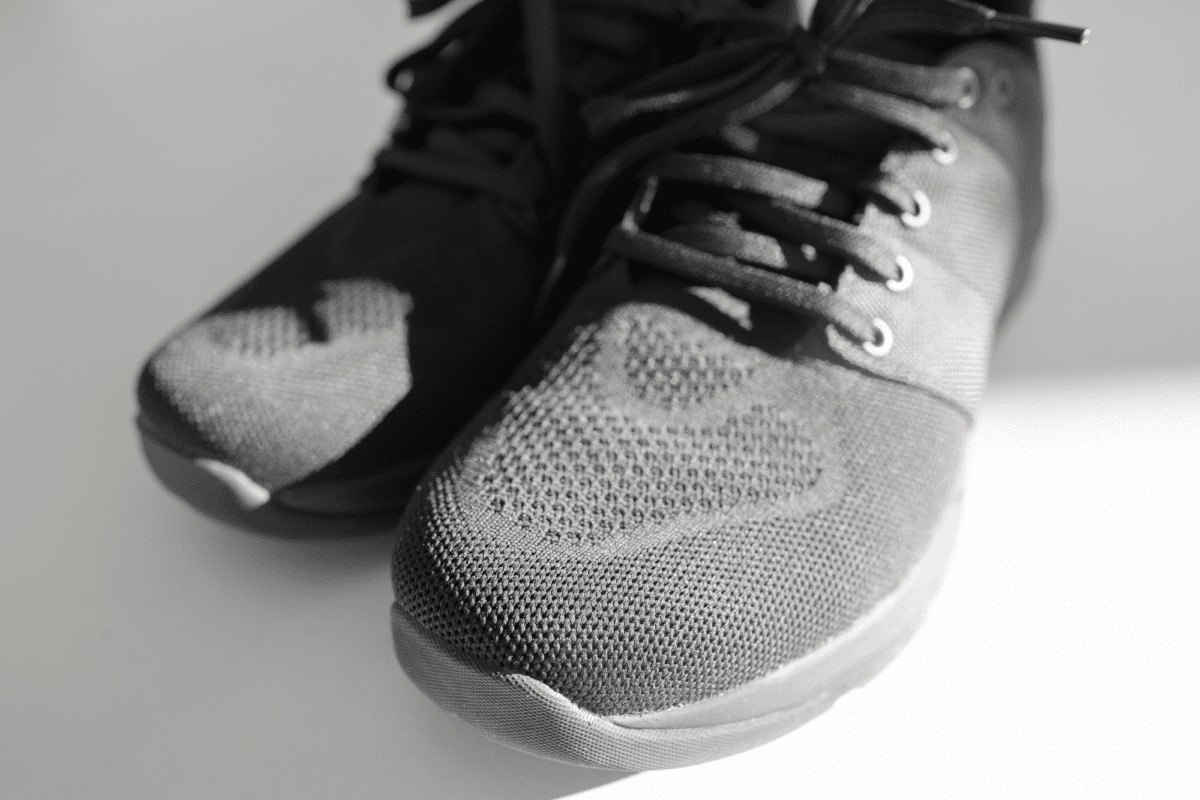 Material
The upper is made up of two materials, Engineered Knit and 1680D CORDURA Ballistic Nylon. Engineered Knit is used on the vamp and toe cap while CORDURA Ballistic Nylon is used on the sides.
In case you don't already know, CORDURA is a brand of a range of fabrics and CORDURA fabric and CORDURA Ballistic Nylon are different fabrics made by the same brand. While I've many experience with Ballistic Nylon especially on TOM BIHN's bags, this is the first time I've seen GORUCK use Ballistic Nylon. GORUCK bags and the GORUCK Cross Trainers almost exclusively use 1000D CORDURA.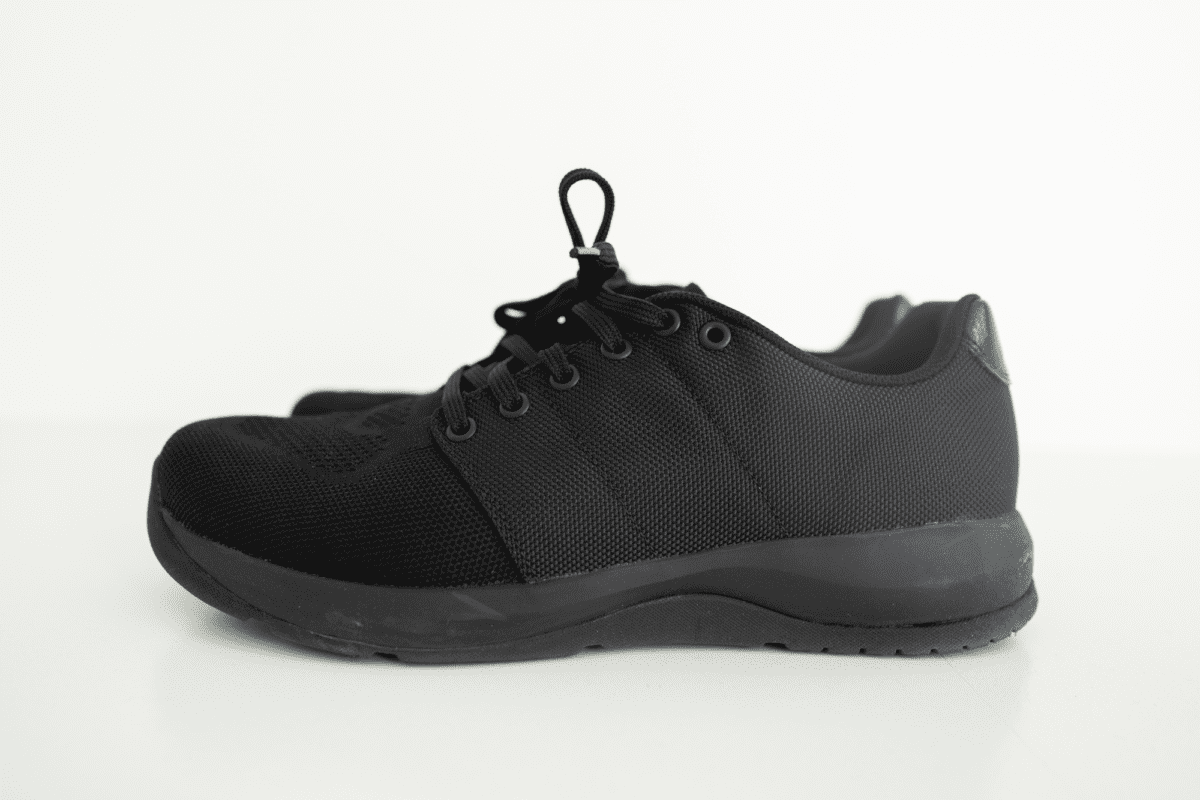 The Ballistic Nylon is included specifically for durability and stability. The material is military-grade and has enough abrasion resistance to stand up against the stresses of rope climbs. As you can see, the Ballistic Trainers is not designed for the average person doing average things.
Although it is interesting to note that CORDURA is more abrasion-resistant compared to Ballistic Nylon, which makes the material a strange choice to me.
Stability is one of the biggest selling points of the Ballistic Trainers and is achieved by injection molded heel counter, custom high density insert, and EVA midsole.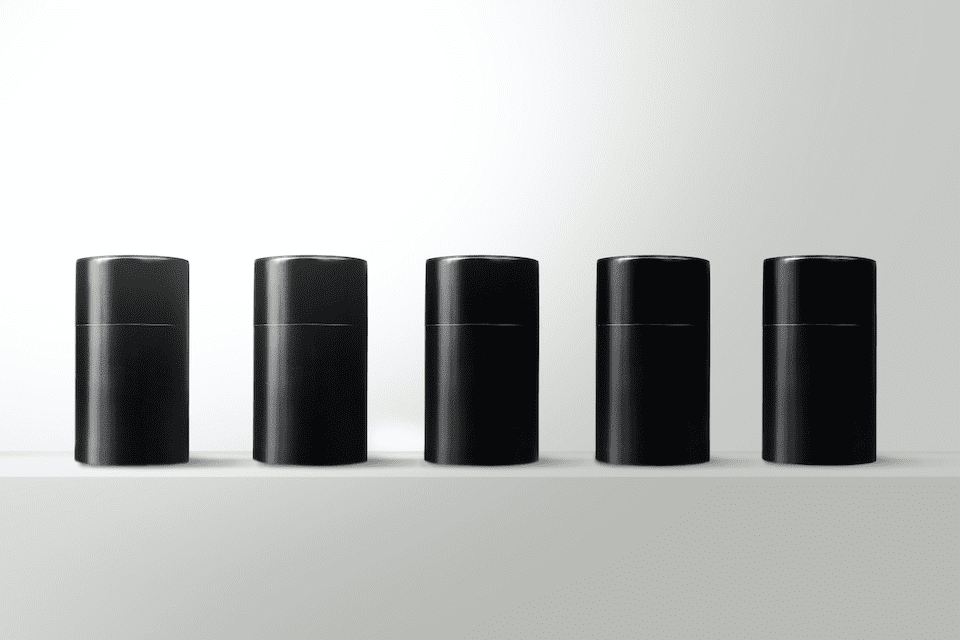 I found a 100 year old company that would create these heirloom quality canisters for me. They are handmade and will keep your tea leaves, coffee beans or anything that you need dry for years to come.
or read review
Out of the three parts, the insert is the most groundbreaking as it is designed to support all three arches of your foot. Yep, I thought that our feet have just one arch as well. This gives much more support for feet with arch that need accommodating for. Additionally, for those who don't need as much support, a extra thinner insert is also included with each pair.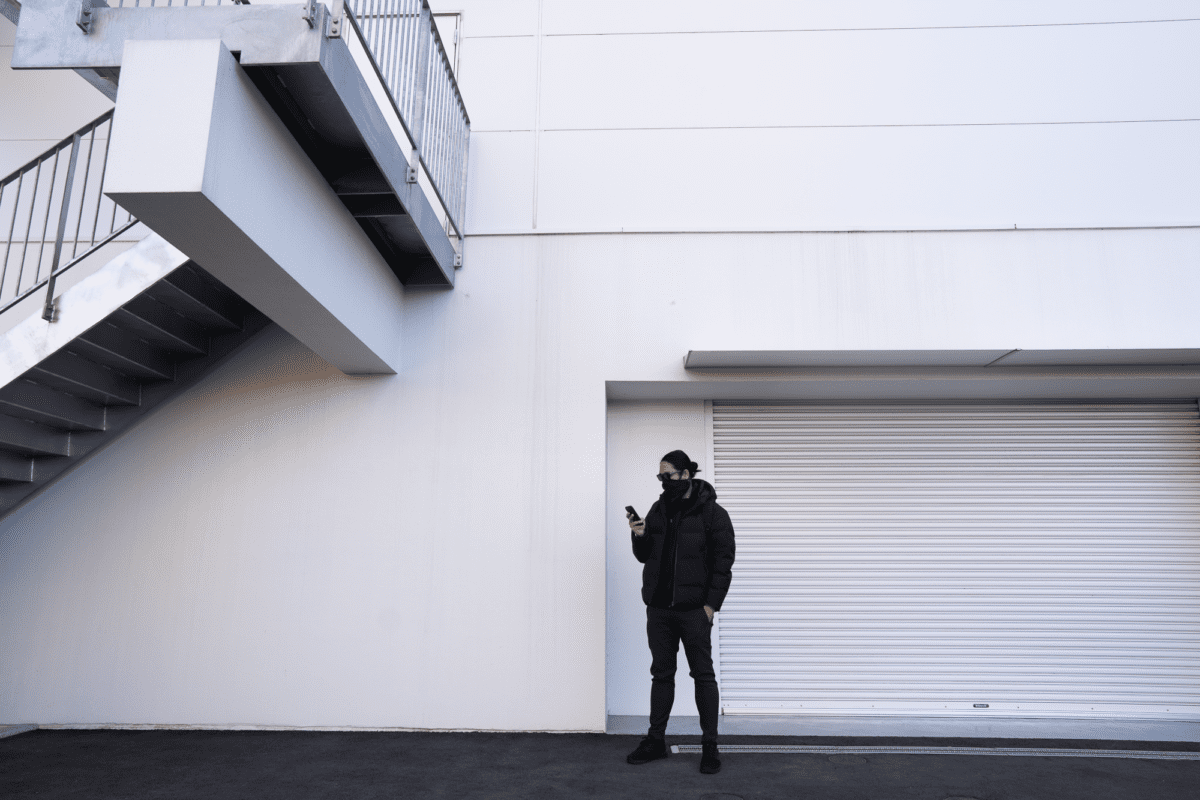 The outsole is another interesting part, as it is made up of three different compounds, a grippy, high-traction forefoot, a hardened midfoot, and a dense, durable heel. The midfoot caught my attention in particular, as it is formulated from a rock climbing compound for the best abrasion resistance and long term durability. Along with the 1680D uppers, it is the ideal combination for rope climbs.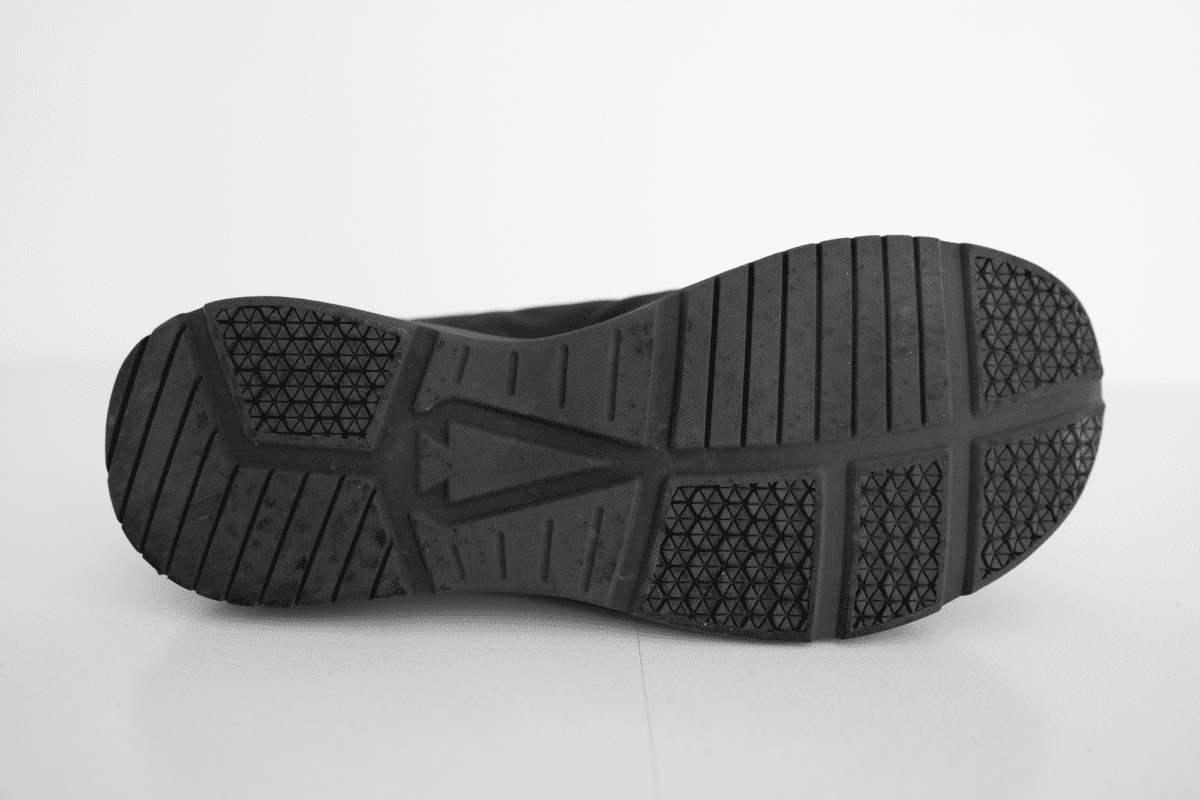 Usage
This shoe is really more of a crossfit-style shoe. But, if, like me, you are not a crossfitter, you are probably not going to do rope climbs or ruck on a daily basis. You'll want to put this shoe on when you go for a run, head to the gym, or perhaps head out for the night (with your mask on, of course).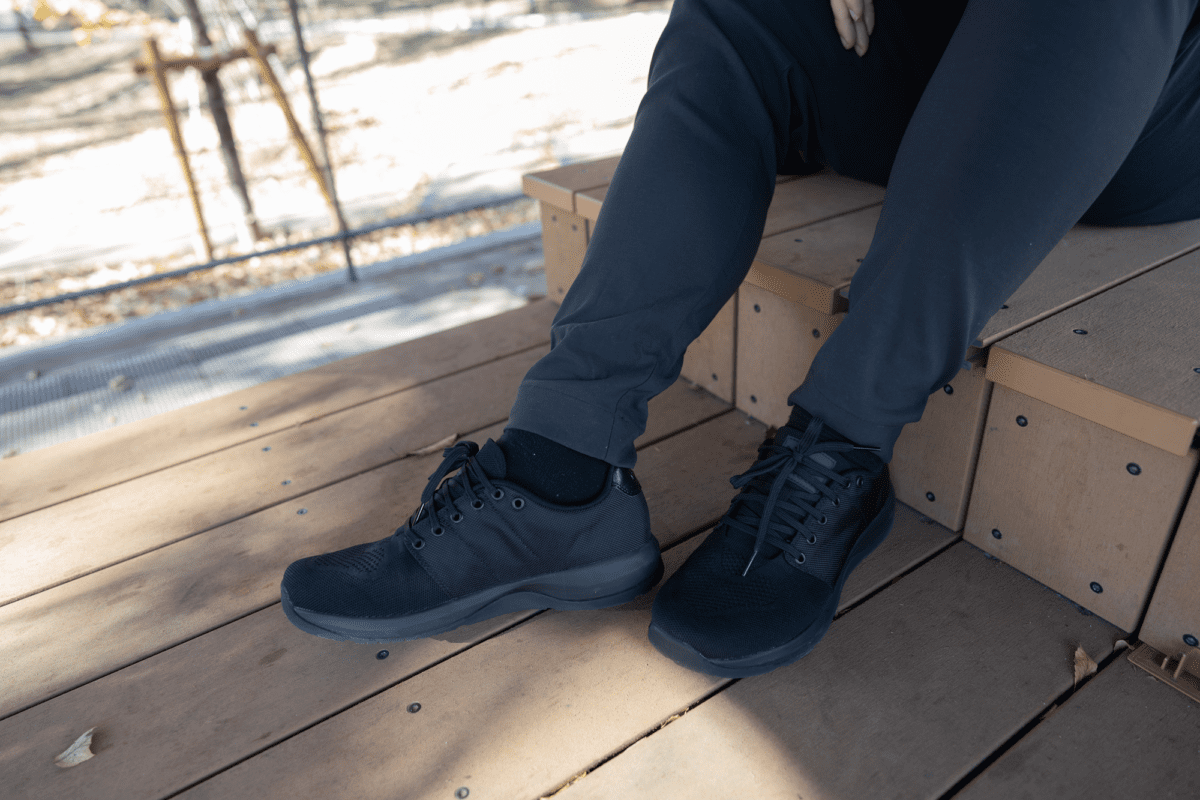 Jack of All Trades, Master of None
One thing you have to know is that while this shoe is great for a variety of usage, it's not the best pair for any one use case. It's not the most comfortable shoe for your daily runs, nor is it the most stylish shoe for your night out. However, it will do adequately in almost every use case and probably last forever, which makes it an excellent choice for travel.
A Little Too Stiff
There is a reason why you don't see many shoes using Ballistic Nylon. It's a stiff material which makes it not as flexible as regular running shoes.
The Ballistic Trainer is stiff enough that it would come loose with each step as your heels lift from the ground. The stiffness basically prevents the shoe from bending up with the shape of your feet. I've tried tightening it and it is a little better but you still get the same feeling of the shoe feeling like it would come off.
I expect this to be fixed naturally when the shoe becomes more broken in and the nylon softens.
Not the Best Choice for Running
Running is one of the few activities I do to stay fit, but unfortunately, the Ballistic Trainers is too heavy, with too little cushioning.
It is 10.8 oz compared to the HOKA ONE ONE Clifton 7's 8.7oz. The weight difference might seem small, but you'll feel it when it's on your feet covering long distances.
Compared to HOKA ONE ONEs, the Ballistic Trainers have only a nominal amount of cushioning which means your body will feel the vibrations caused by the impact from striking the floor.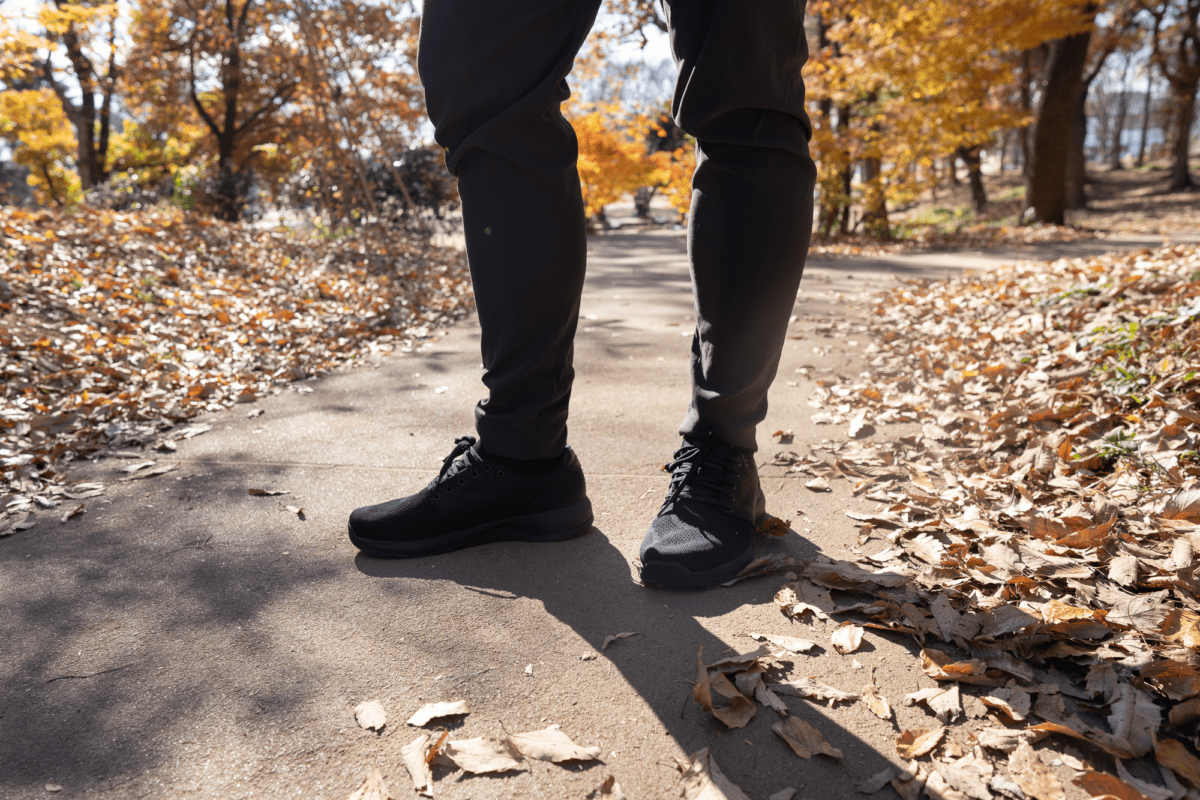 The amount of cushioning you need is very dependent on the type of runner you are and the terrain you run on. Ask any running shoe geek and they will tell you that the best way to know if a shoe is for you is to try it out.
GORUCK has a 30 day return policy from the day the product arrives to the day you ship it back. Because, you need to return the products in its original condition, I would advise you to wear it with your socks on to get a feel of it without developing any signs of use.
Buy It for Life
As you can expect from GORUCK, the best thing about this shoe for me is how it is build like a tank. Even from just observation and my first few wears, I can tell that it's gonna last no matter what you throw at it. It's the same warm fuzzy feeling I get with most of GORUCK products, like the GORUCK GR2.
When it comes to my $100+ Outlier Ultrafine Merino Wool T-Shirt, I have to baby it to prolong its life. During my travels, I always prefer to focus on my experiences so this shoe is perfect for that. I pay zero care to the Ballistic Trainers and abuse them however I want.
I'll likely be wearing mine as much as I can for the next year, and I will update this article with my thoughts then.
GORUCK Ballistic Trainers vs GORUCK I/O Cross Trainers
These two offerings from GORUCK seem pretty similar but they actually have a few key differences that might help you choose the right one.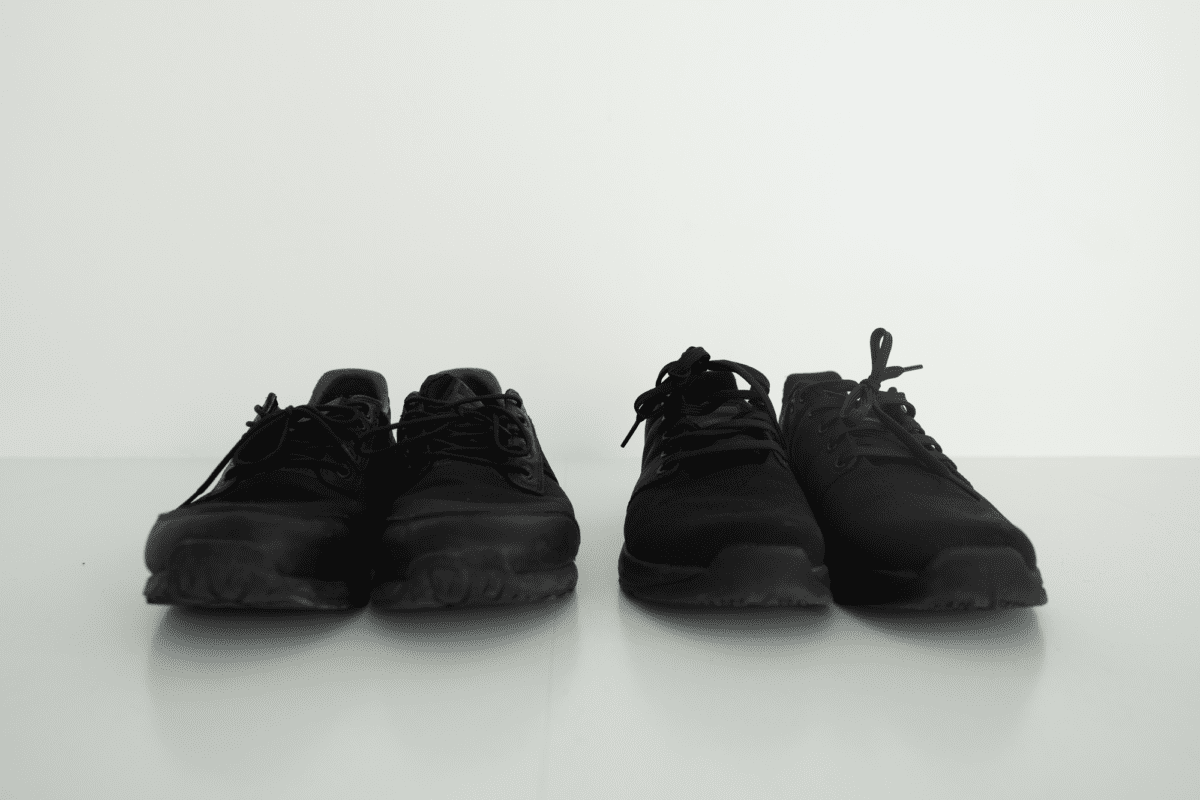 The GORUCK Ballistic Trainers are lighter
The Ballistic Trainers are 0.675 lbs vs a 0.8125 lbs for the I/O Cross Trainers, which is a 20% increase. This is actually pretty interesting as Ballistic Nylon is typically heavier than CORDURA.
For those who prefer ultralight gear, the Ballistic Trainers are a better choice, although it is a relatively heavy shoe compared to the other options on the market.
The GORUCK Ballistic Trainers uses two materials for upper, while the I/O Cross Trainers uses just one
The Ballistic Trainers uses an engineered warp knit for the toe cap, while enforcing it at the sides with 1680D Cordura Ballistic Nylon. The Cross Trainers use a single piece of 1000D Cordura throughout.
The 1680D Cordura Ballistic Nylon and 1000D Cordura are fundamentally different materials, even though they are both made by Cordura. Read my guide here to learn about the differences between the two.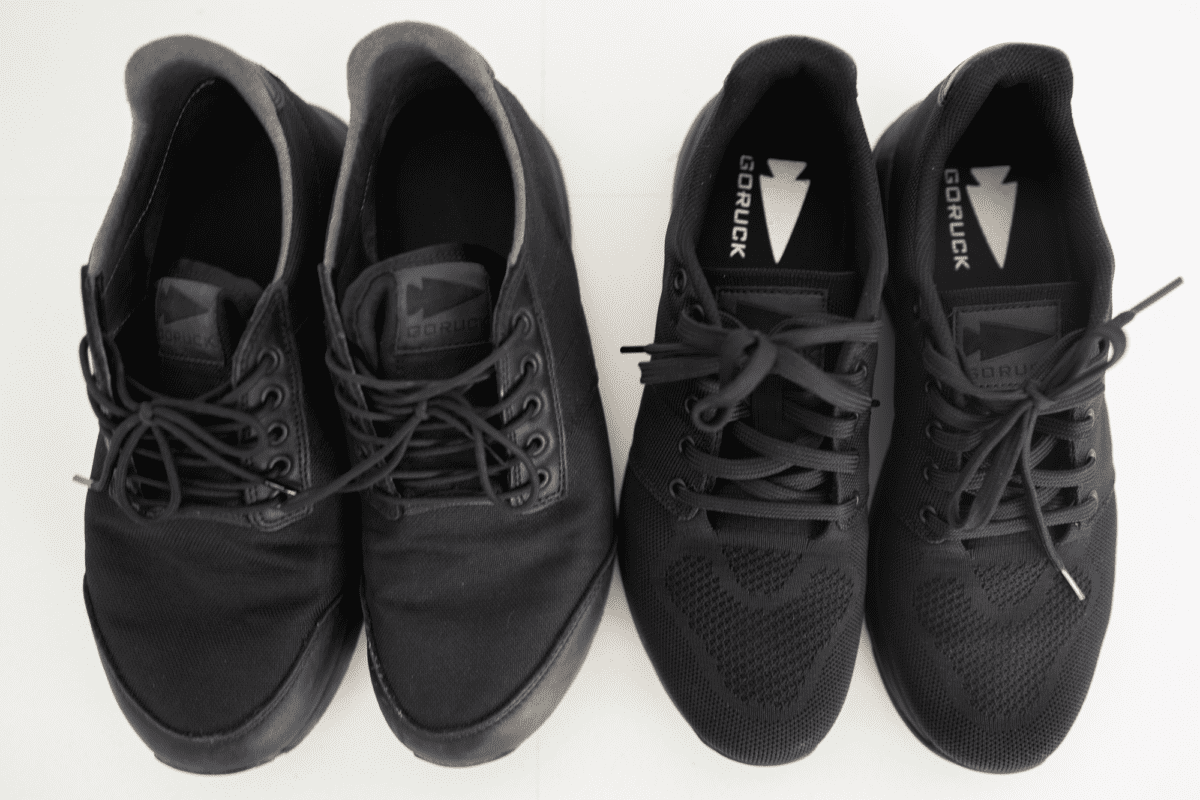 Ultimately, both materials are extremely durable material and the only difference you will notice is the appearance. Ballistic Nylon has bigger weaves which gives it more of a noticeable texture.
The GORUCK Ballistic Trainers have a triple compound outsole, while the I/O Cross Trainers uses a double compound one
The main difference is the addition of the midfoot compound on the Ballistic Trainers. It looks like they really wanted to accommodate rope climbs with the soles on the Ballistic Trainers.
The Ballistic Trainers has no drain holes
The I/O Cross Trainers has drain holes to expel water, but the Ballistic Trainers doesn't. To some, the drain holes can seem pretty gimmicky and they are a potential weak spot and could ruin the shoe if they come off. Unless you frequently get your shoes wet, not having a drain hole might be a better choice.
The GORUCK I/O Cross Trainers costs $10 more
For some reason, the Cross Trainers costs $10 more. I reached out to GORUCK to ask about this and according to them, the I/O Cross Trainers are made with boot construction, using the methods of MACV-1.
The Ballistic Trainers, on the other hand, uses athletic footwear manufacturing methods for the upper.
In other words, the I/O Cross Trainers cost more to make, which is why it is more expensive.
GORUCK Ballistic Trainers or GORUCK I/O Cross Trainers: Which to get?
These are two pretty similar pair of shoes with the material as a big differentiator. There are also a few small differences that might help you choose one over the other.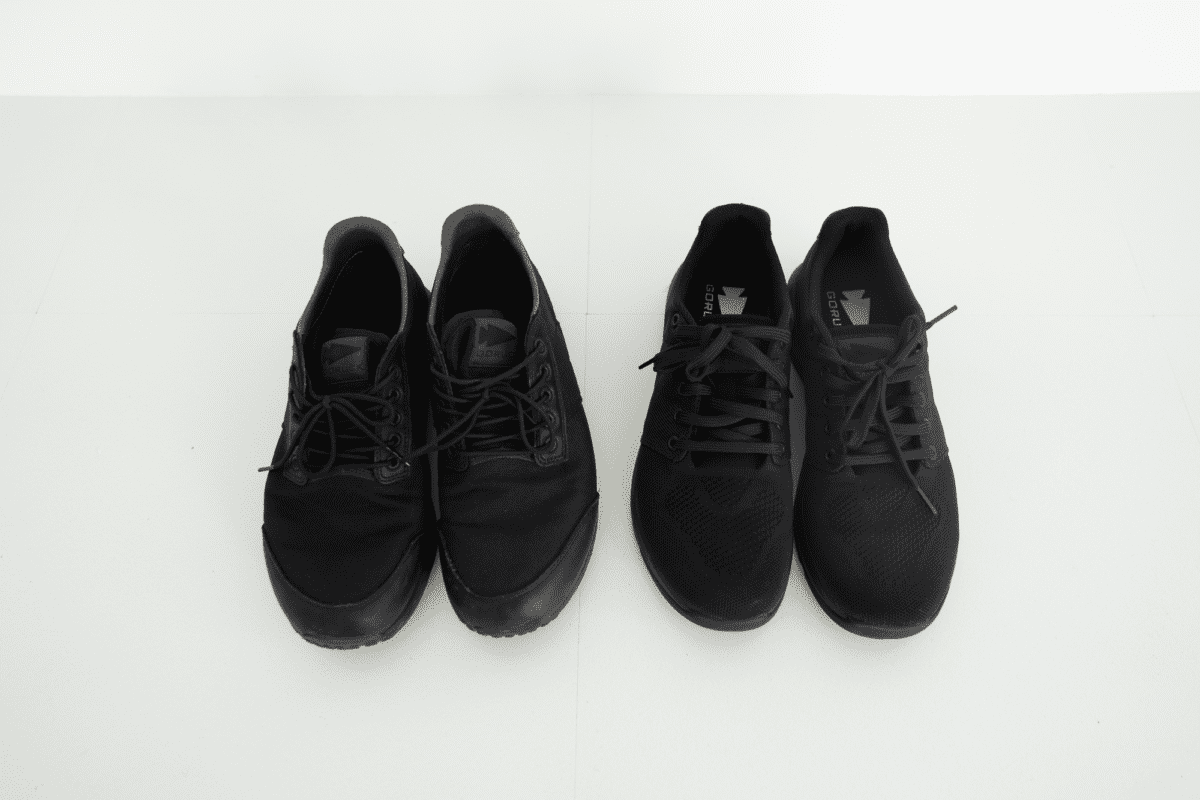 For example, if you do crossfit and frequently do rope climbs, the Ballistic Trainers will be the right choice. If you often do jungle treks then the I/O Cross Trainers will let water drain in wet situations.
According to GORUCK, the main differentiator is that the Ballistic Trainers are more suited for heavier loads like Ruck PT or barbell training, while the I/O Cross Trainers are more suited for activities that cover extensive mileage like hiking and trails. In that sense, the I/O Cross Trainers seem to be the more suitable option for travel.
However, despite the differences in make and weight, the two shoes feel similar. For most, it will come down to aesthetics. I personally prefer the look of the GORUCK I/O Cross Trainers, as the texture and knit pattern of the Ballistic Trainers makes it look a little less classy for me.
Conclusion
This is an excellent choice if you just want to own one pair of shoe that does everything. It does an adequate job in almost any use case, but probably not the best choice for any one of them. As such, it's great for activities that need a bit of everything like crossfit, rucking, and travel.
Additional Images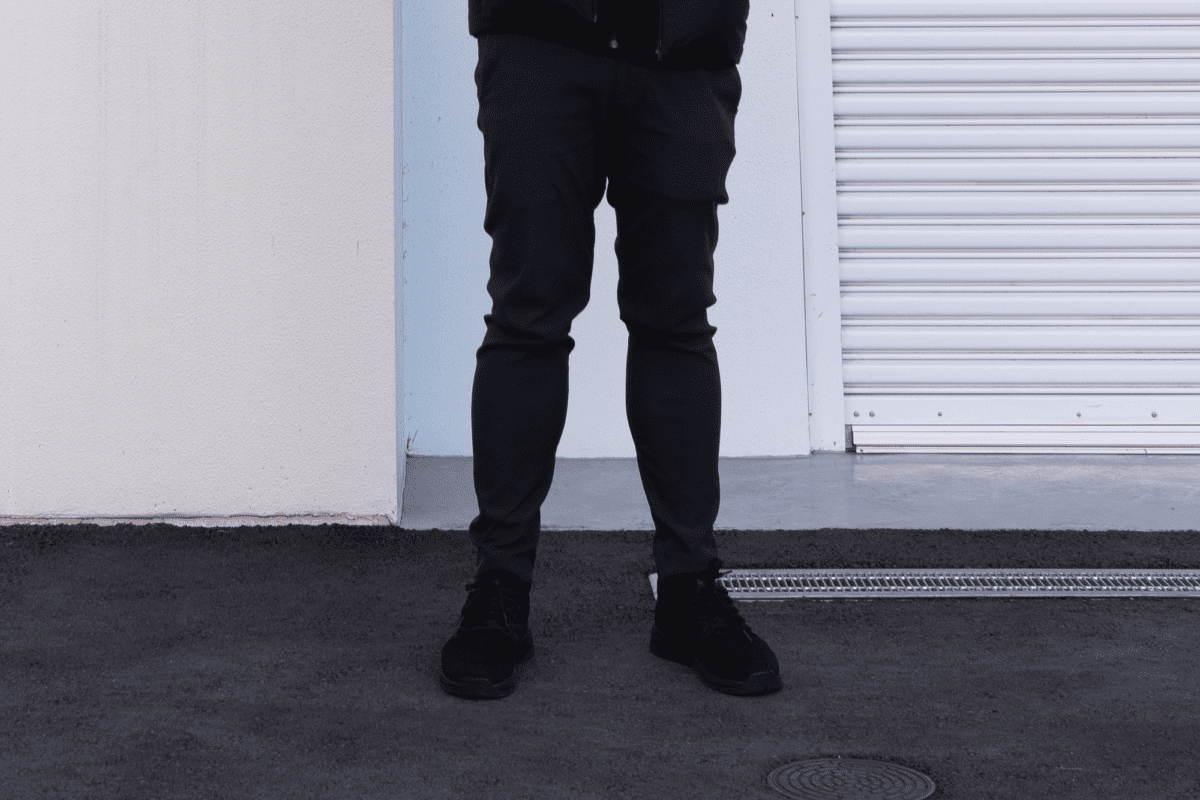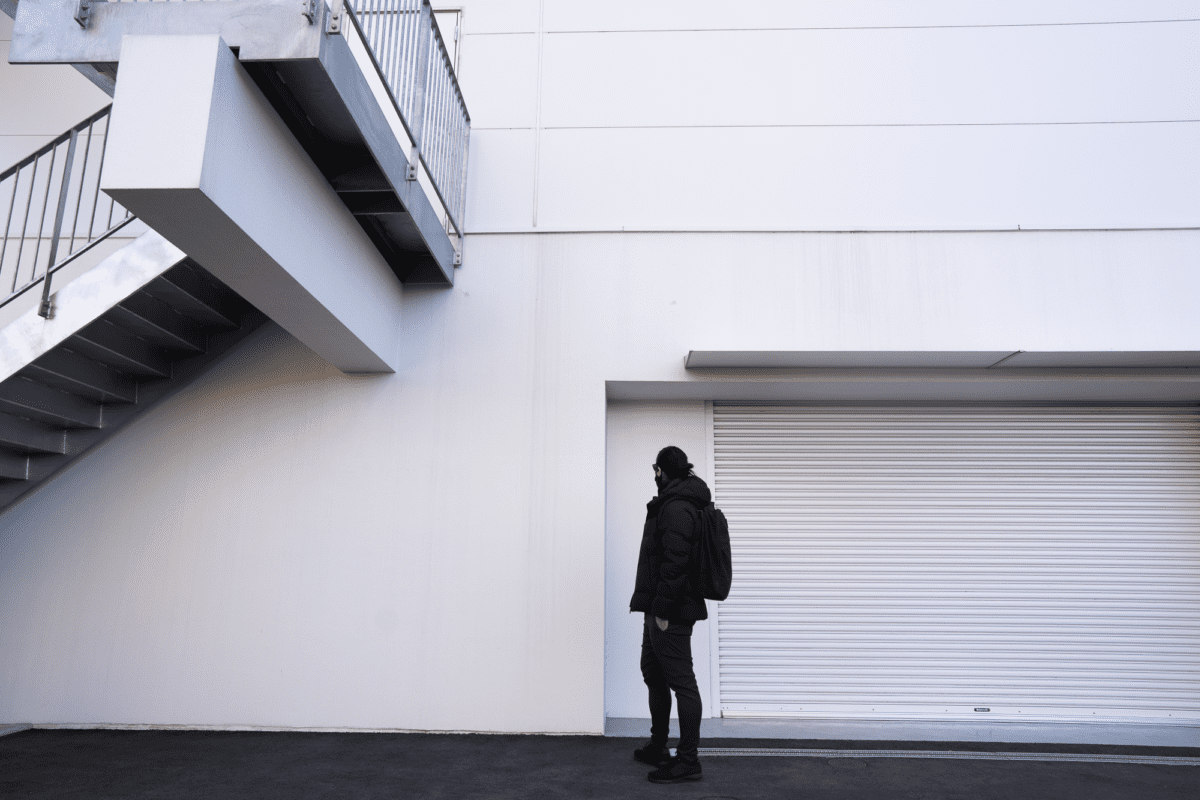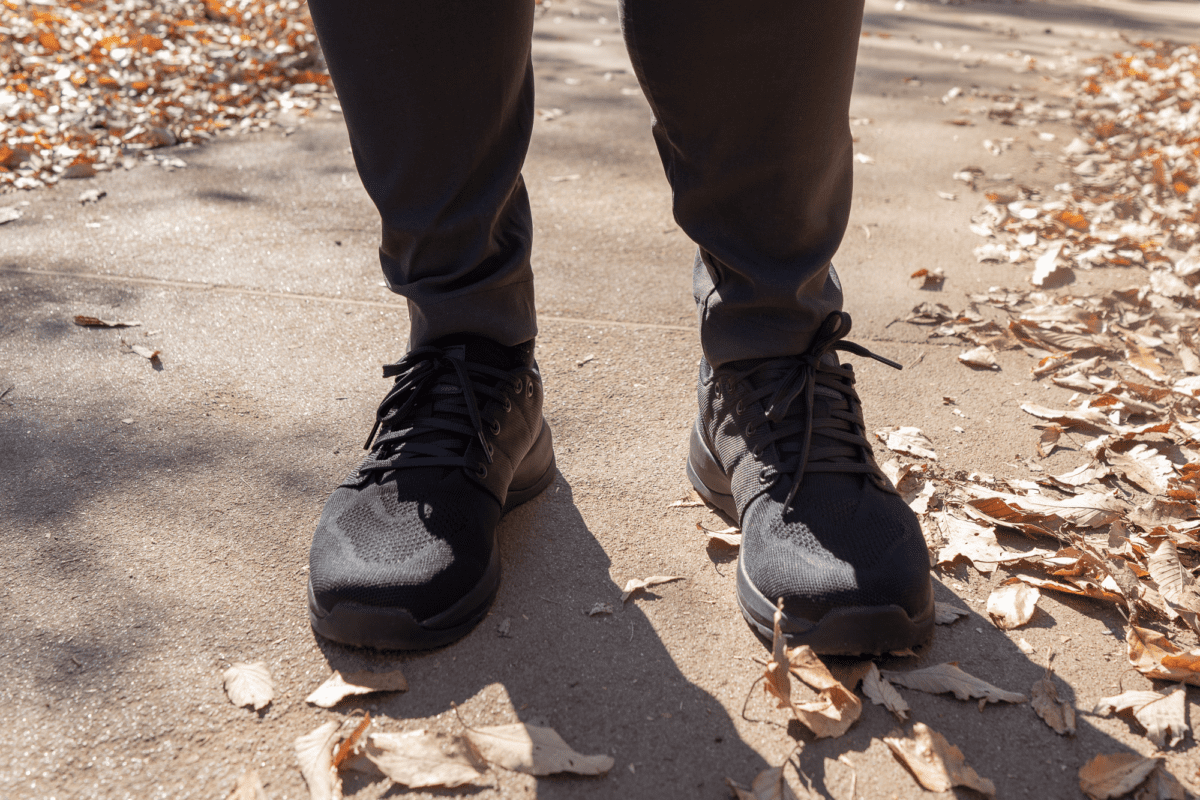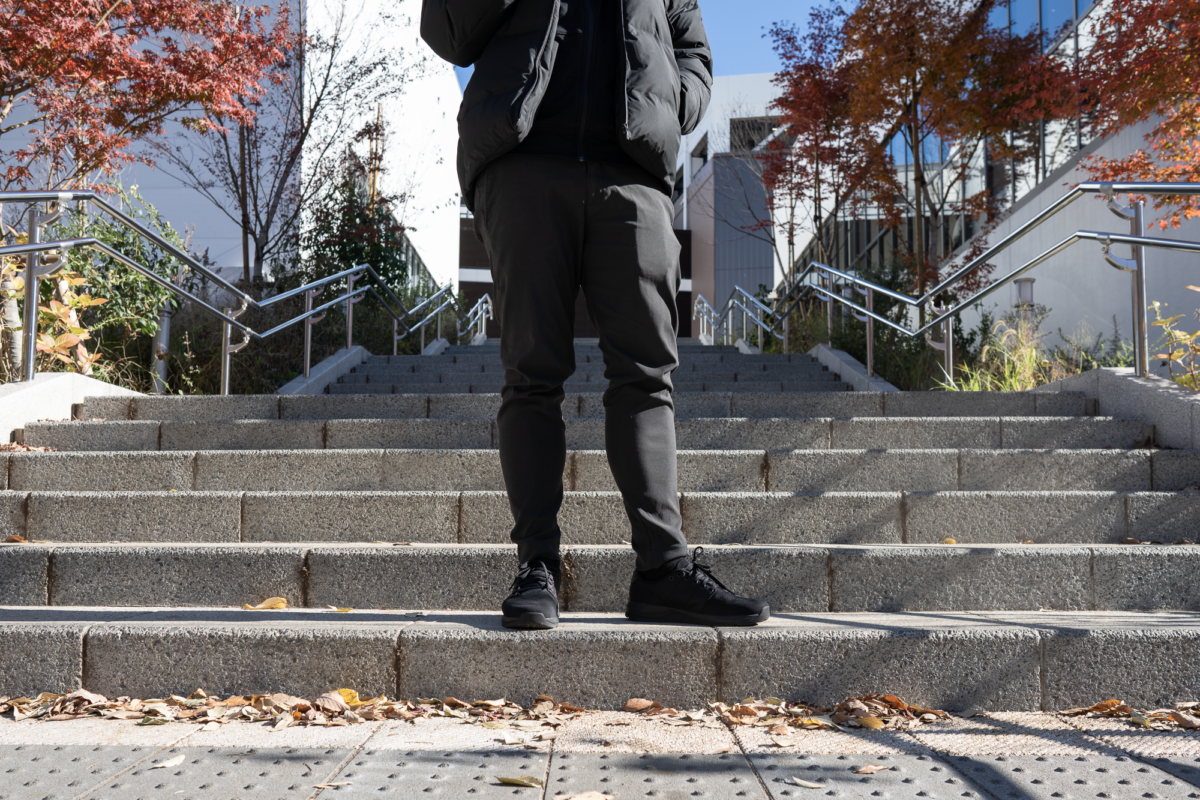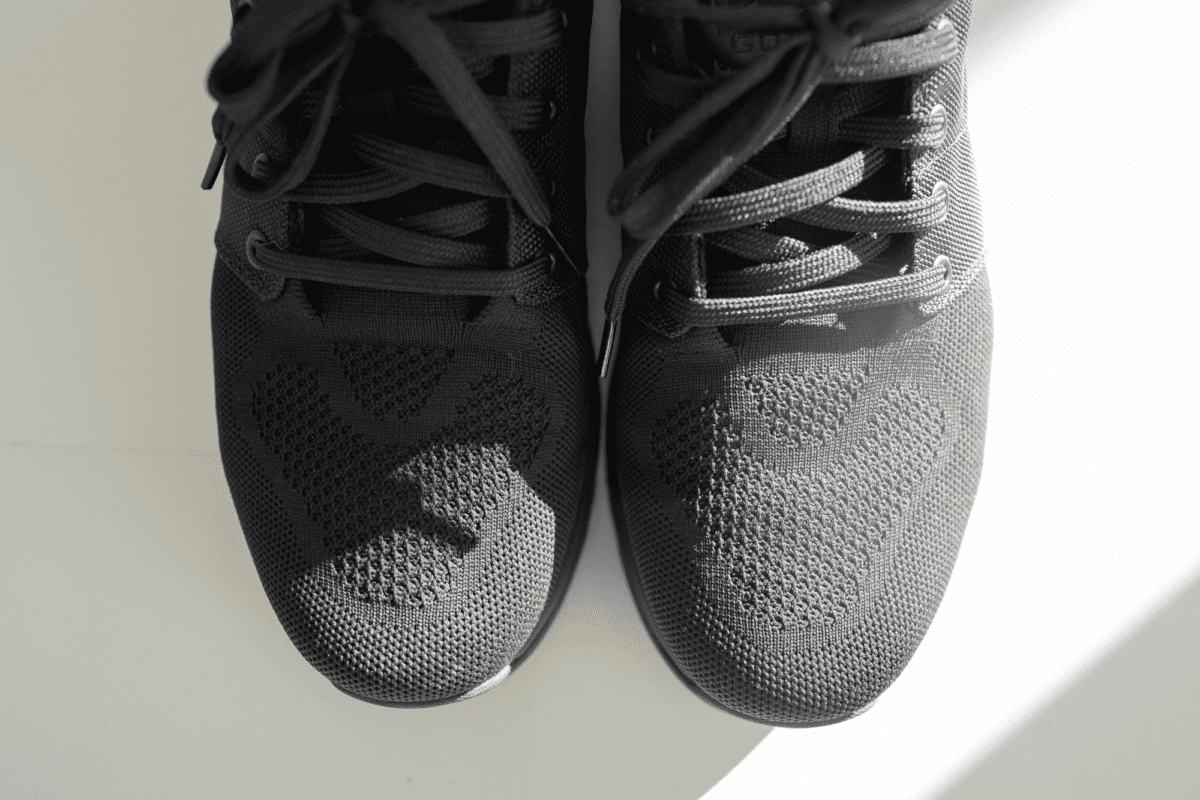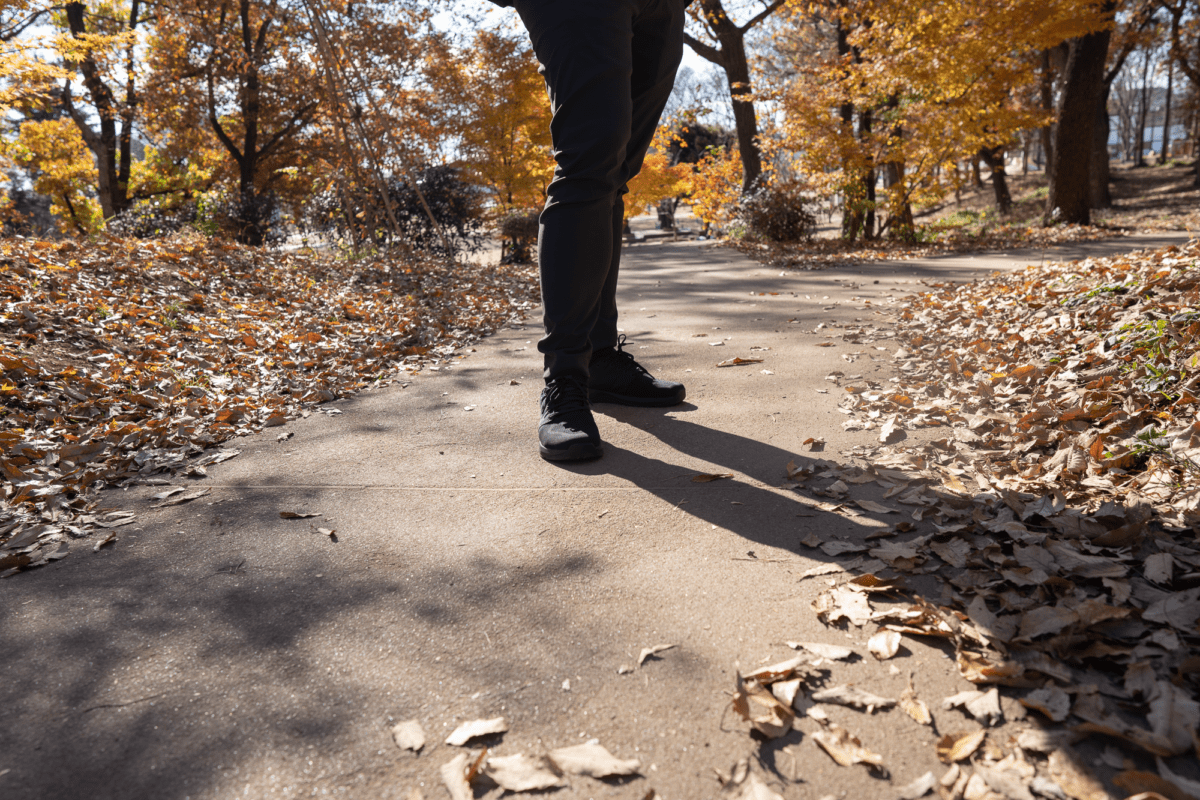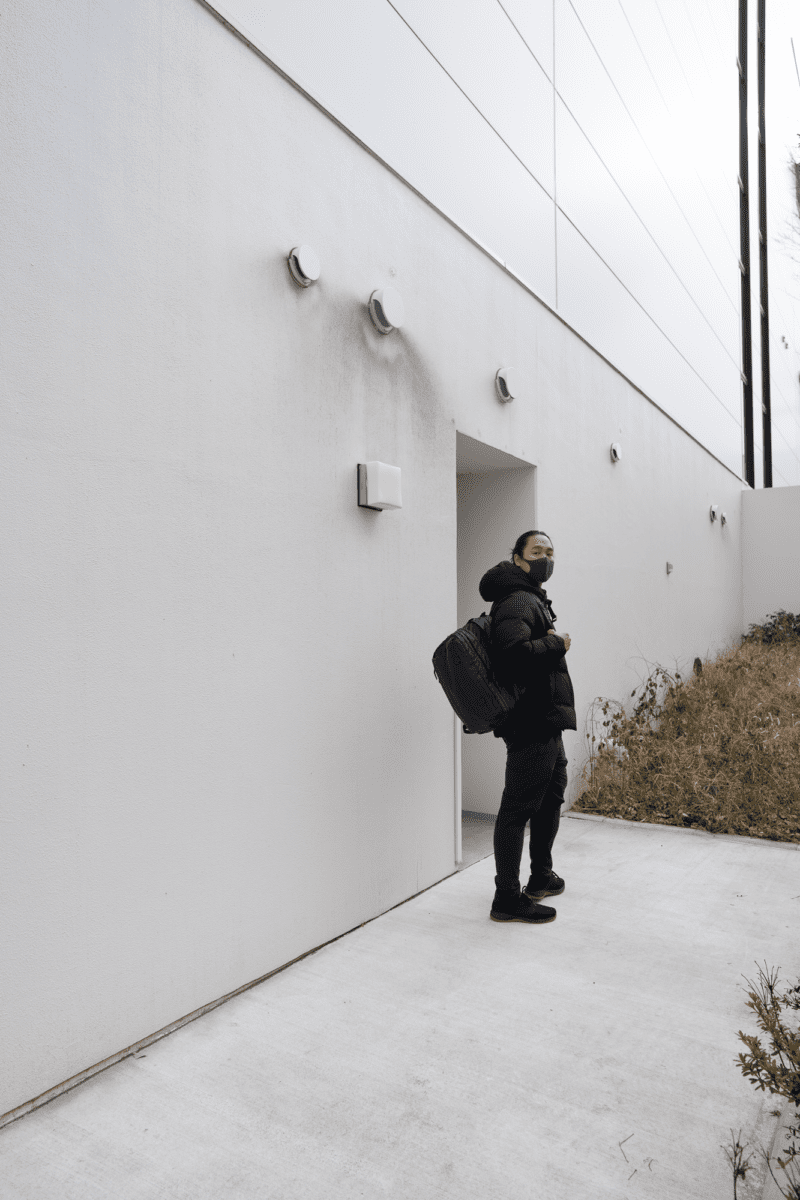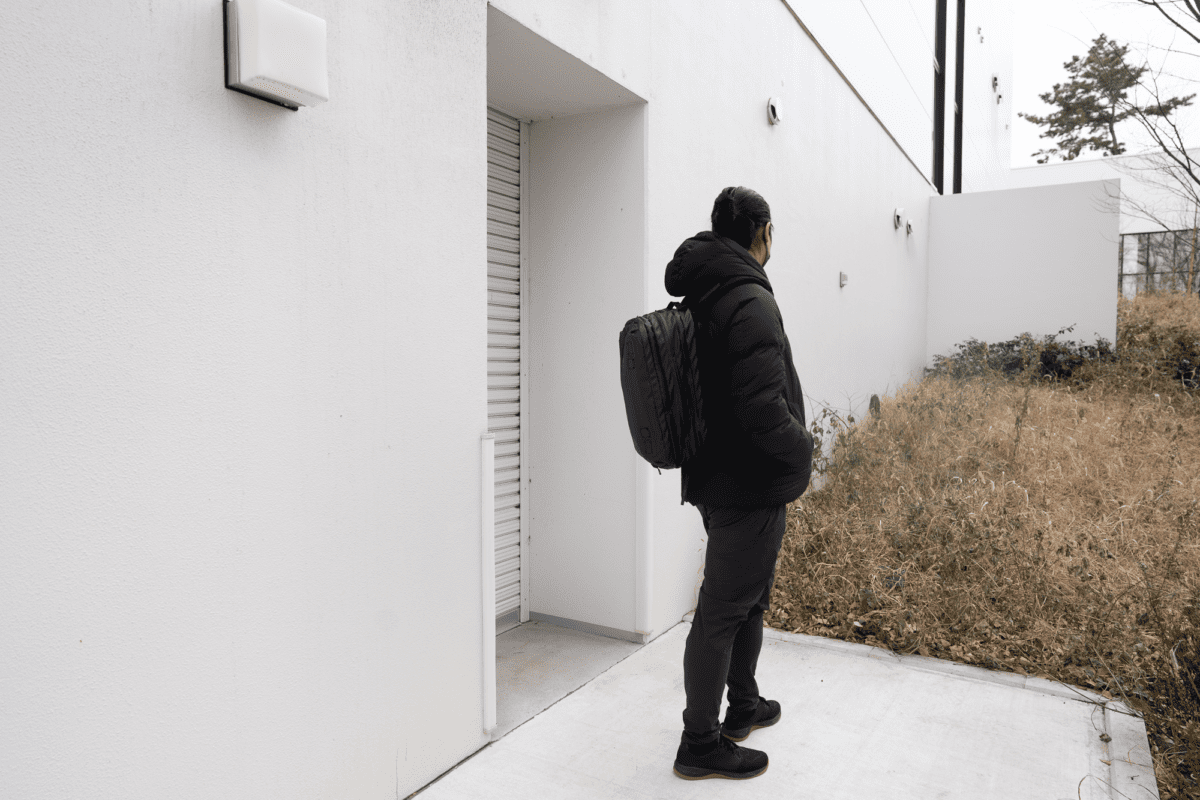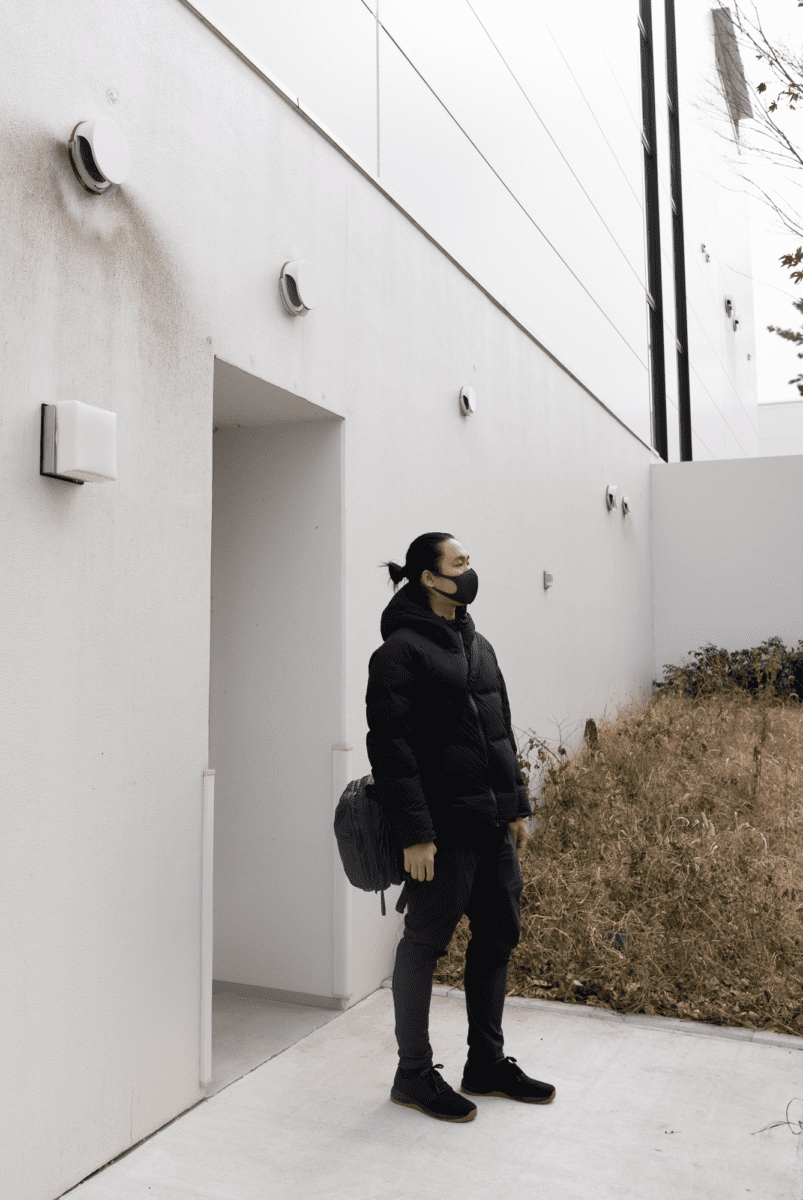 Like this review? See all of my in-depth reviews.
Also, consider supporting me by being a Patreon. Every cent given will go back into improving the content of this website.
Tagged ballistic nylon footwear goruck review shoe