This website is made possible by readers. I may earn a small commission when you buy through the links in this article at no extra cost to you. Learn more.
In this time when remote work has become the new normal, the Aer Tech Pack 2 is potentially one of the best option for those who love their tech.
Details
Price $210 on aersf.com
Capacity 17 liters
Weight 3.8 lbs (1.7 kg)
Overview
Despite having tried only one other of Aer's product, the Aer Travel Pack 2, Aer is one of the brands that checks all my criteria for a great bag company. Apart from top-notch craftsmanship and materials, the thing that stands out most about Aer for me is their style.
While the Aer Travel Pack was perfect for travel, it is simply too large for everyday use. I'm more often out and about as a remote worker and the Tech Pack 2 is something that I'll put more use into. Even though I love bags like the Tortuga Outbreaker, I've always preferred backpacks with less in-built organization. This is also why bags with a minimal amount of organization, like the GORUCK GR1 or the Able Carry Daybreaker, have always appealed more to me.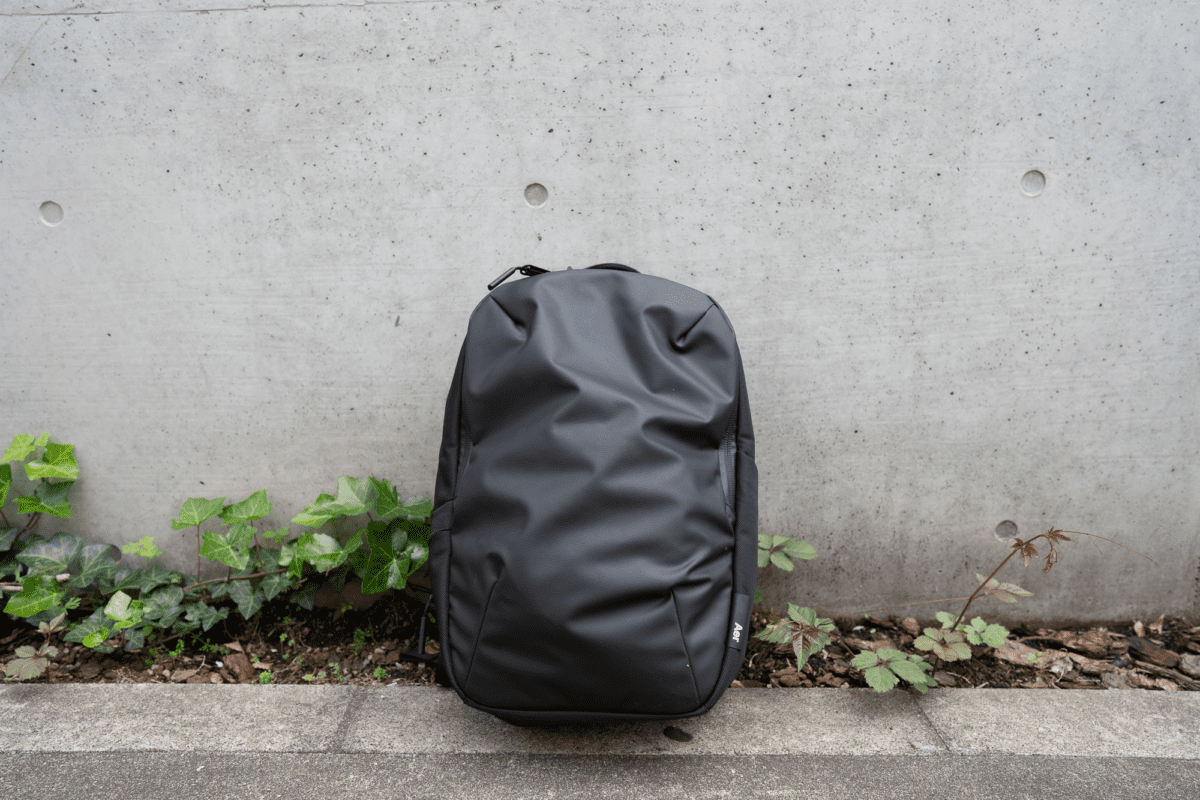 The main reason for this is that my configuration of tech accessories are always changing. always improving and evolving to match the tech that's coming out. So, more often than not, I can't use any of the pockets since my accessories don't fit or I simply don't have that many accessories that need organization.
Another reason is that I often like to rotate my bags. When I'm going away for the weekend, something like the TOM BIHN Synik 30 would double as my daily tech bag. When I'm just heading to the Starbucks down the street, the Able Carry Daybreaker or my TOM BIHN The Truck is one that I dump my stuff into.
I don't want to carry a bag that's too big or too small for the contents that I want with me. Sometimes I spend time organizing my bag but sometimes I just wanna throw it into my bag and head out.
However, as remote work becomes the new norm, perhaps just sticking to just one bag might be the way forward. With the Tech Pack 2, I decided to try to use it for as many situations as I can, including the ones that it isn't designed for and see how well it works.
Style
The Aer Tech Pack 2 has a familiar oblong shape that's similar to the Aer Travel Pack. It's not as boxish looking as a GORUCK GR1, which some might prefer as they look more like a "regular' backpack. However, it is still a pretty boxy looking bag if compared to something like the TOM BIHN Synik 30. There isn't anything particularly wrong with a boxy-shaped backpack and it comes down to personal preferences.
While the Aer's travel backpacks come in black, grey, and navy, the Aer Tech Pack 2 comes in only one color, black. As someone who reviews and wears only black products, I have no complaints.
The work collection uses nylon with a water-resistant coating, which makes the material have a bit of a sheen. While I prefer a matte surface on my backpacks, the sheen on the Aer Tech Pack 2 isn't as reflective as I thought it would be in person compared to the product photos. It's close to matte, just not completely.
But no one likes ads, so I got rid of them. If my articles helped you, I ask for your support so I can continue to provide unbiased reviews and recommendations. Every cent donated through Patreon will go into improving the quality of this site.
For a 17-liter backpack, it's larger than I expected. This is a good thing since small-capacity backpacks, like the Able Carry Daily Backpack, are often too small and result in poor proportion with your torso. The Aer Tech Pack 2 looks alright on my 6 ft tall frame. It does look a little too small depending on how I style my outfit, but once again, it's acceptable for a 17-liter capacity backpack. Any smaller, it might be hard to pull off.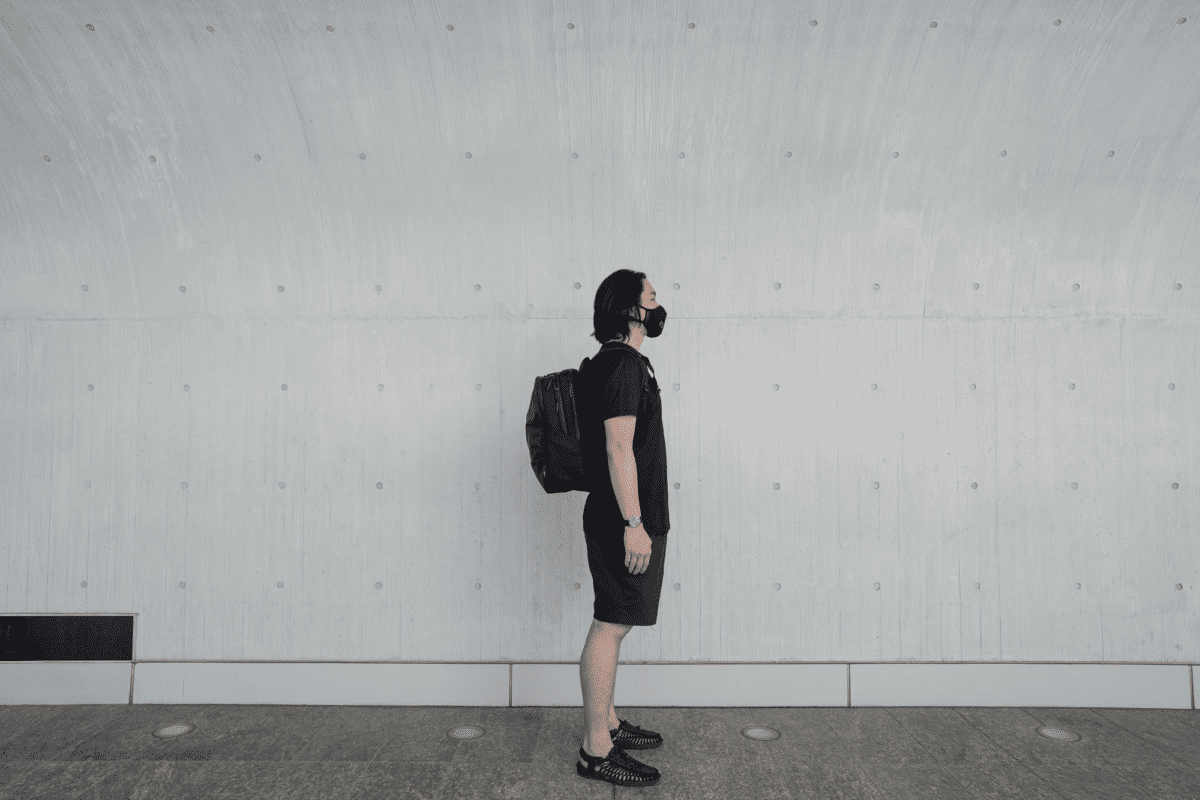 As with all of Aer's products and most of the backpacks in the industry, the design is sleek and streamline. With all the organization internal, the front face of the pack is completely void of details.
There is a cinch on each corner of the backpack to achieve a less boxy shape, but that's about it. While this cinch helps define the shape of the bag, sometimes it ends up looking deflated instead, achieving the opposite effect.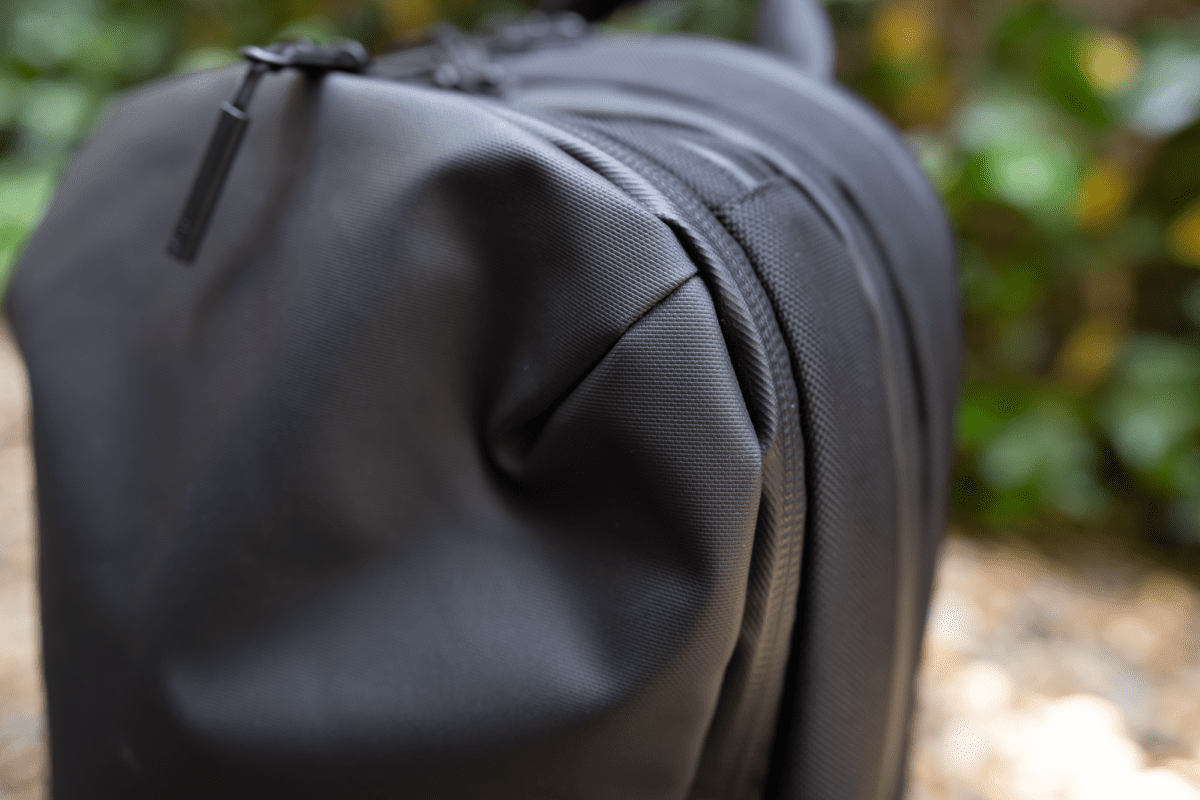 There is an Aer tag with white wording off on the bottom right of the bag which takes a little away from the minimal look.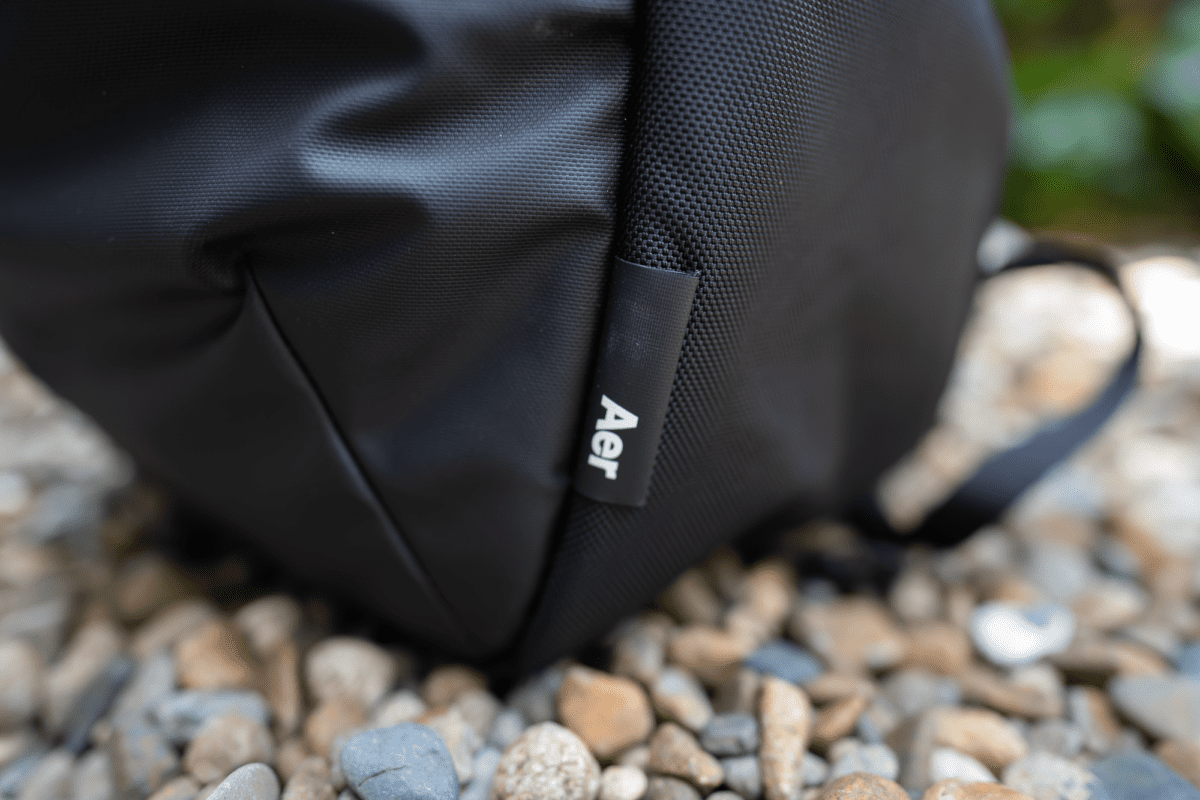 Compared to many of the bag brands out there, Aer is, without a doubt, the brand that consistently produces one of the best-looking packs out there. While some brands like TOM BIHN focuses on durability, Aer is a design powerhouse and this bag reflects it.
While there are some which prioritizes function over form, I've always thought that companies that can achieve both are the ones worth your money. The Aer Tech Pack 2 does this with flying colors and you really can't go wrong in the style department with this backpack.
Material
The Aer Tech Pack is built with the quality you'd expect from Aer.
Aer has always exercised good sense in their choice of materials and it isn't any different with the Tech Pack 2.
The front of the face uses an 840d nylon with a water-resistant coating. I assume this choice of material was to prioritize water resistance. As a tech pack, getting the contents wet is the worst-case scenario.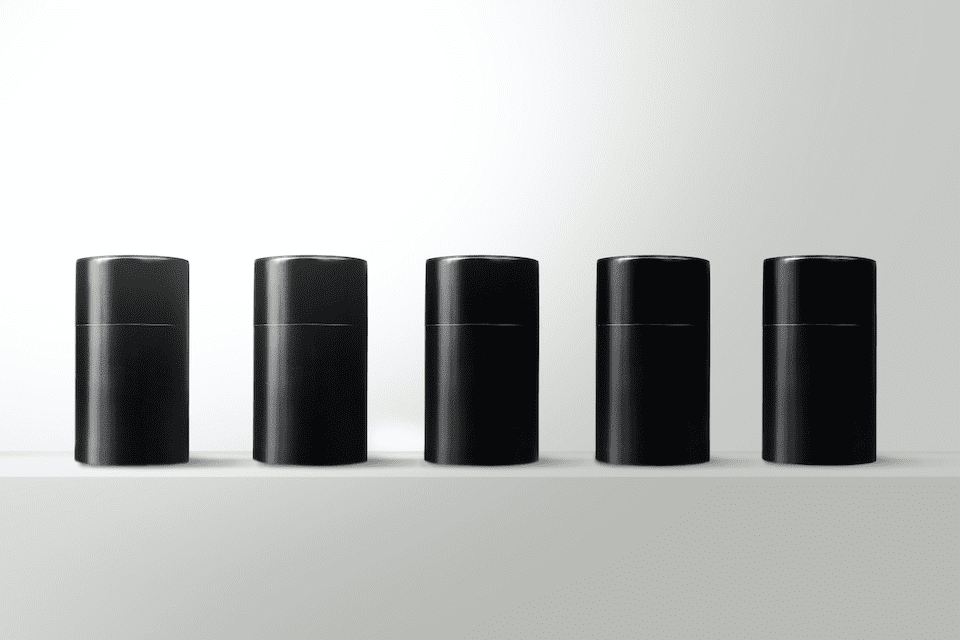 I found a 100 year old company that would create these heirloom quality canisters for me. They are handmade and will keep your tea leaves, coffee beans or anything that you need dry for years to come.
or read review
The 1680D Cordura® ballistic nylon used on the travel collection is a more durable choice, but since a tech pack isn't going to see as much wear as a travel pack, the choice of 840d is a functional decision to prioritize water resistance. You'll likely be taking the backpack to the office and cafes and 1680d Cordura would be overkill. 1680d Cordura will also look less smooth, taking away from the minimal aesthetics.
While the 840d nylon front face looks smooth and sleek, it gathers dirt easily and it'll look obvious on the black fabric.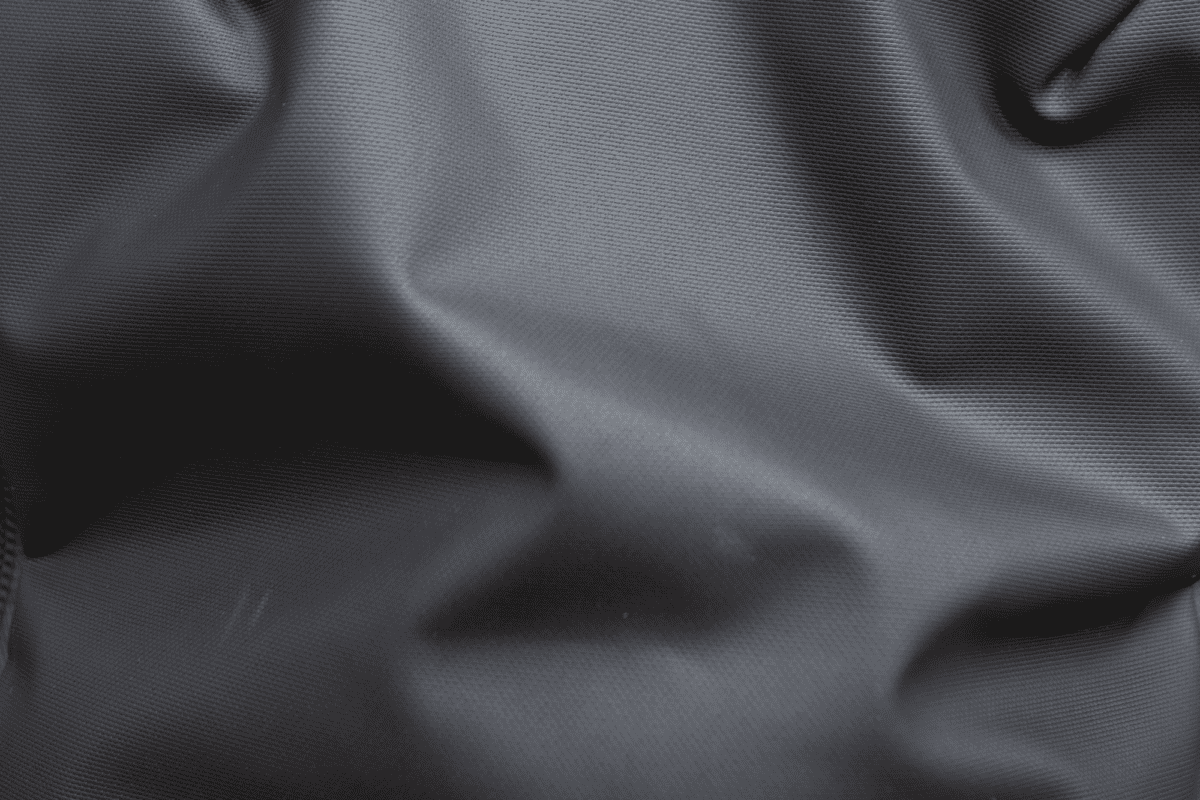 However, they do use 1680D Cordura® ballistic nylon for the sides of the pack. My assumption was that they needed a material with more structure so that the backpack can stand on its own. They also want to prioritize aesthetics for the front of the backpack which people will look at
YKK zippers are common in quality backpacks these days, but since water resistance is the priority for a tech pack, the AquaGuard model is used. YKK AquaGuard zippers are practically waterproof and you don't have to worry about water seeping through the zippers during a heavy downpour. I've had experiences with AquaGuard zippers on backpacks like the Black Ember Citadel Minimal Backpack, and apart from the water resistance, I personally like how they look.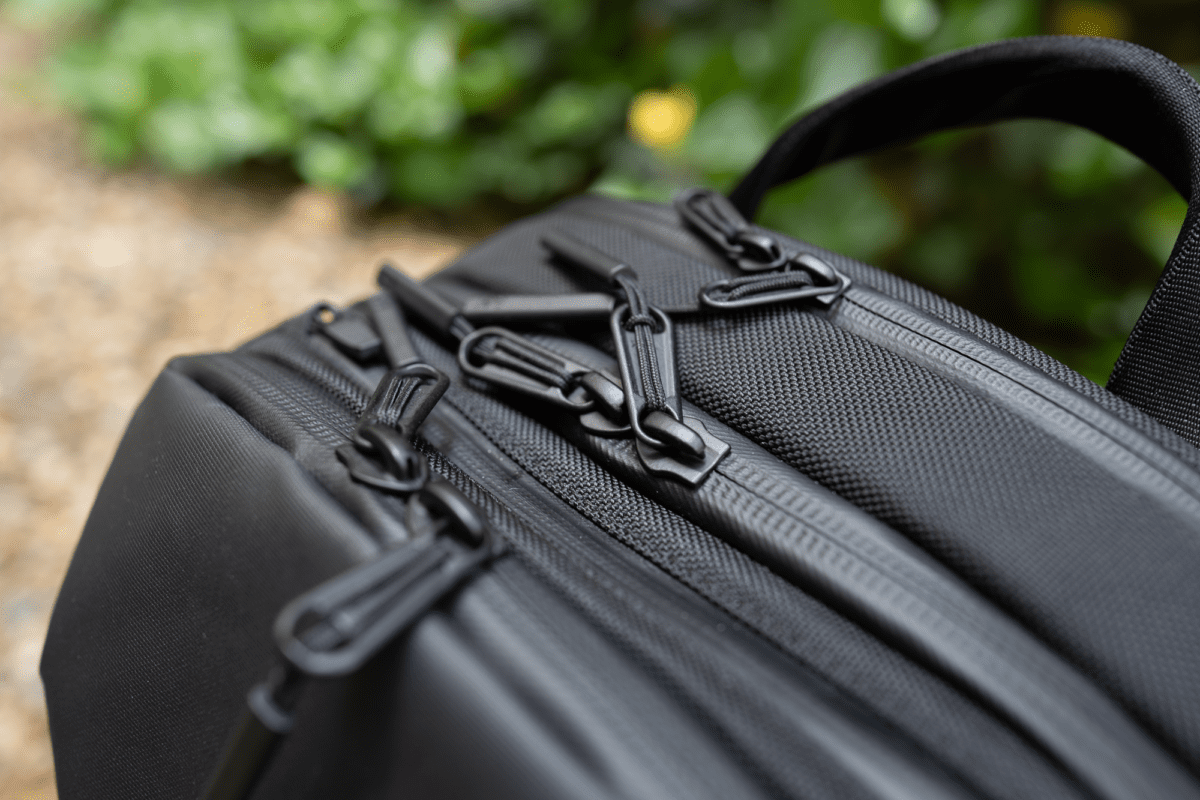 The plastic hardware around the backpack are from Duraflex, which is also what Able Carry uses. To be honest, as long as you don't buy cheap knock offs, hardware breaking is pretty uncommon. I've never experienced any of the hardware on my packs breaking off ever. But it doesn't hurt to know it's from a reputable company.
As evident in my experience with the Aer Travel Pack 2, the craftsmanship on the Tech Pack 2 is impeccable. Even if you look through it with a fine-tooth comb, I challenge you to find something off quality about it. I couldn't even find a single loose thread. The quality of Aer has always been consistent, so you won't find any surprises here.
Aer Tech Pack is a Digital Organization Powerpack
The organization of the Tech Pack 2 is arguably the biggest draw that i feel like it needs it's own section.
There are three main compartments in the backpack.
The front compartment for daily essentials
The main (or middle) compartment for documents and accessories
The back dedicated compartment for your laptop
Apart from those, there is also a
Quick access pocket assessable from the top of the backpack
Exterior water bottle pocket on the right
Small pocket on the left (opposite side of the water bottle pocket)
Let's look at each of them.
Front Compartment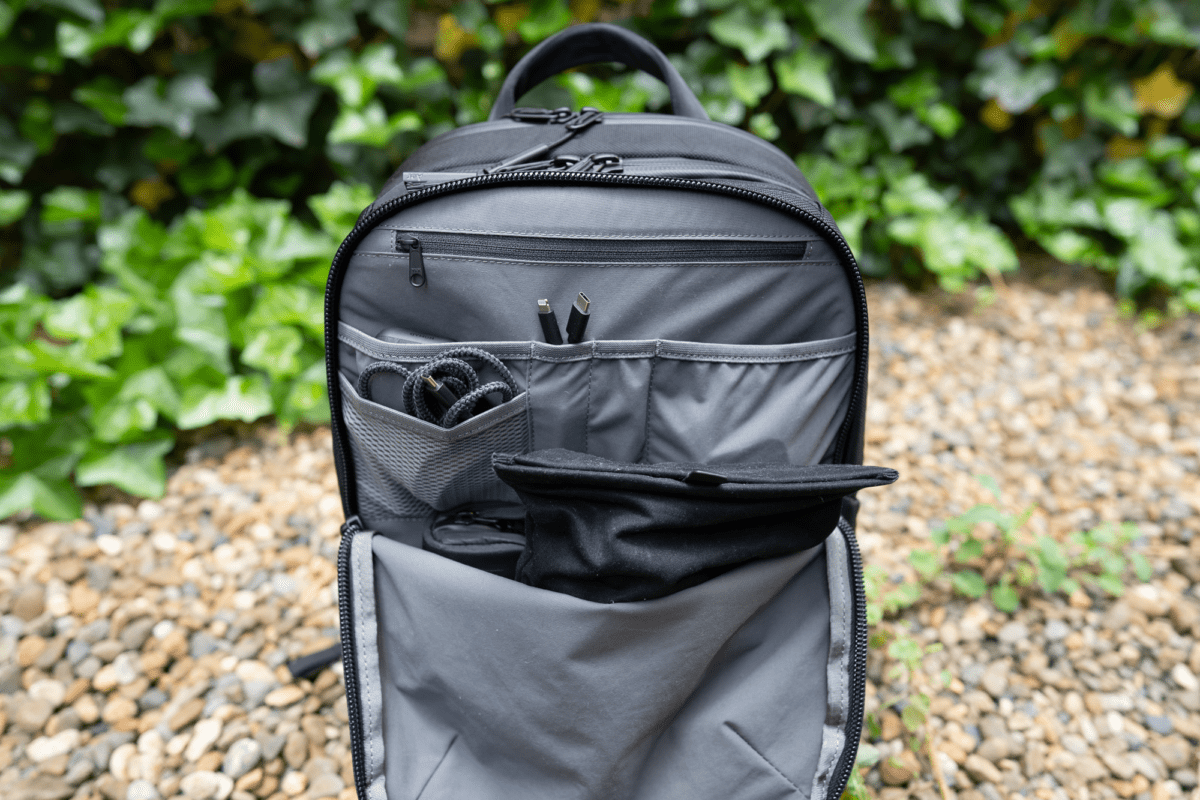 The first thing from the top is a zippered pocket with a key loop on the inside. It looks good for any daily essentials that you want more security for, since the external quick access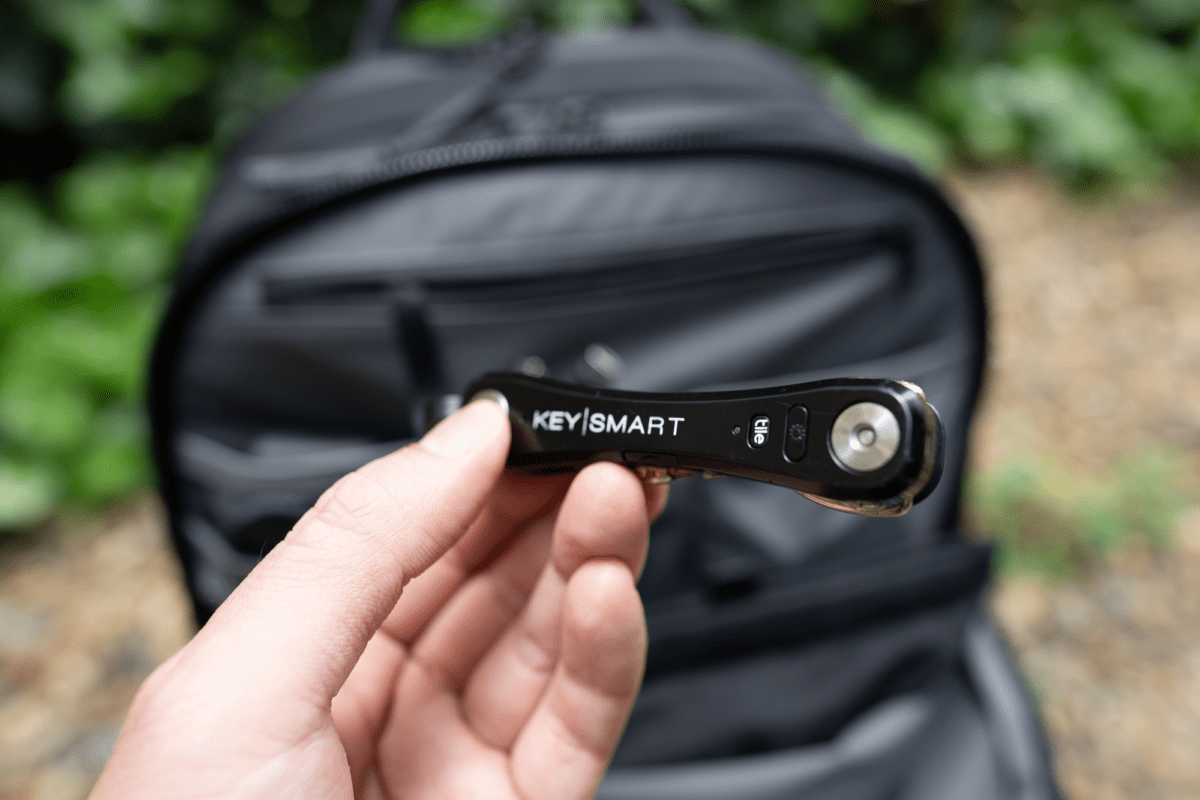 Next is a roll of slots. The first slot is perfect for your smartphone and fits my iPhone XS Max perfectly. There is another shorter slot layered in front of it.
The fabric on the front layer has a texture. Since you sometimes reach into your bag to grab something blindly, the difference in texture might help you differentiate between two closely situated slots.
However, if you put too much stuff in either pocket, it'll naturally limit the space in the other.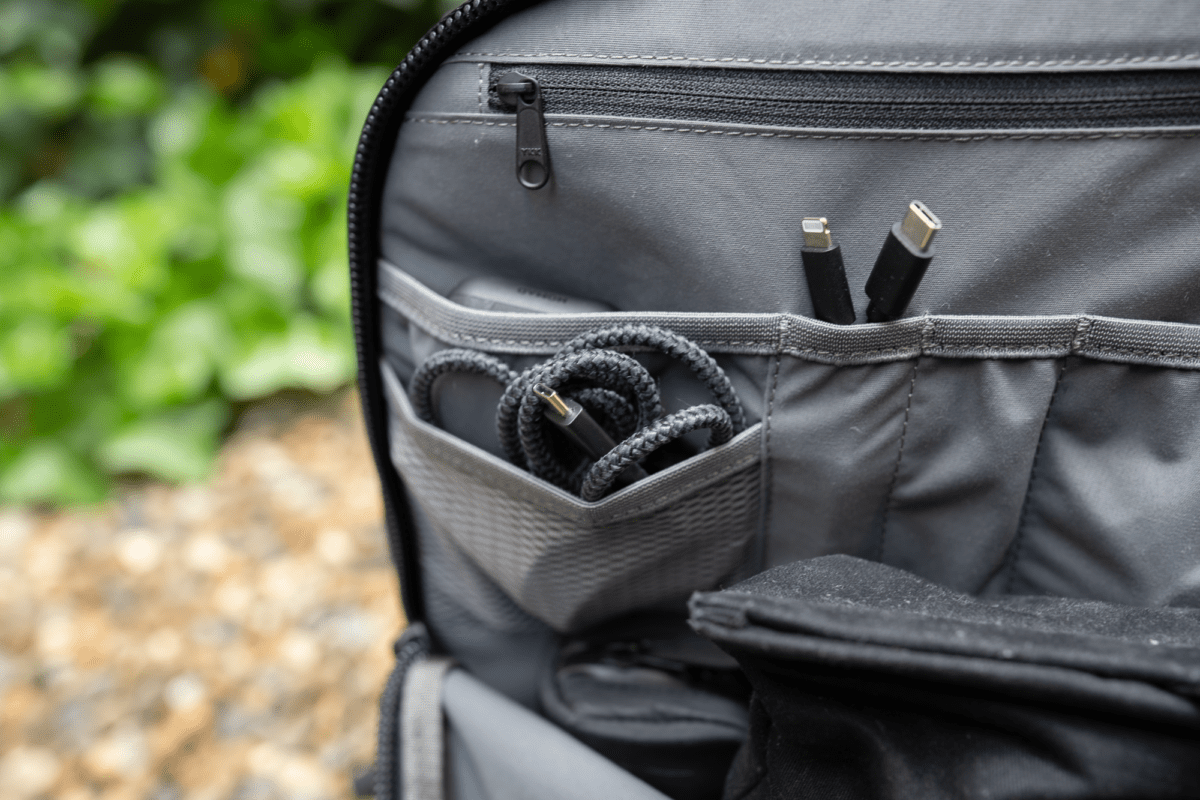 On the right of the first pocket, there are two pen slots. Since I'm into digital minimalism, I write my notes exclusively on my laptop or phone. While I do carry the Fisher Space Pen Bullet with me, these pen slots are made for regular sized pens. Short pens would slide deep into the slot making it a hassle to fish out each time. The pen slots are pretty standard sizes so this isn't a problem unique to Aer. Instead of pens, I also sometimes use it to put short cables.
On the rightmost of the row, there is a similar slot as the first slot, but without the layered slot in front.
Below those row of slots, there are two slots of equal sizes that span across the length of the compartment.
This compartment doesn't open fully. The zippers go down to just show the opening of the bottom row of slots. I'm guessing this is because this compartment is a 3D compartment, which allows you to put stuff outside the above-mentioned slots. Having the front compartment open all the way could be dangerous as contents could fall out if you forget that you have stuff in there.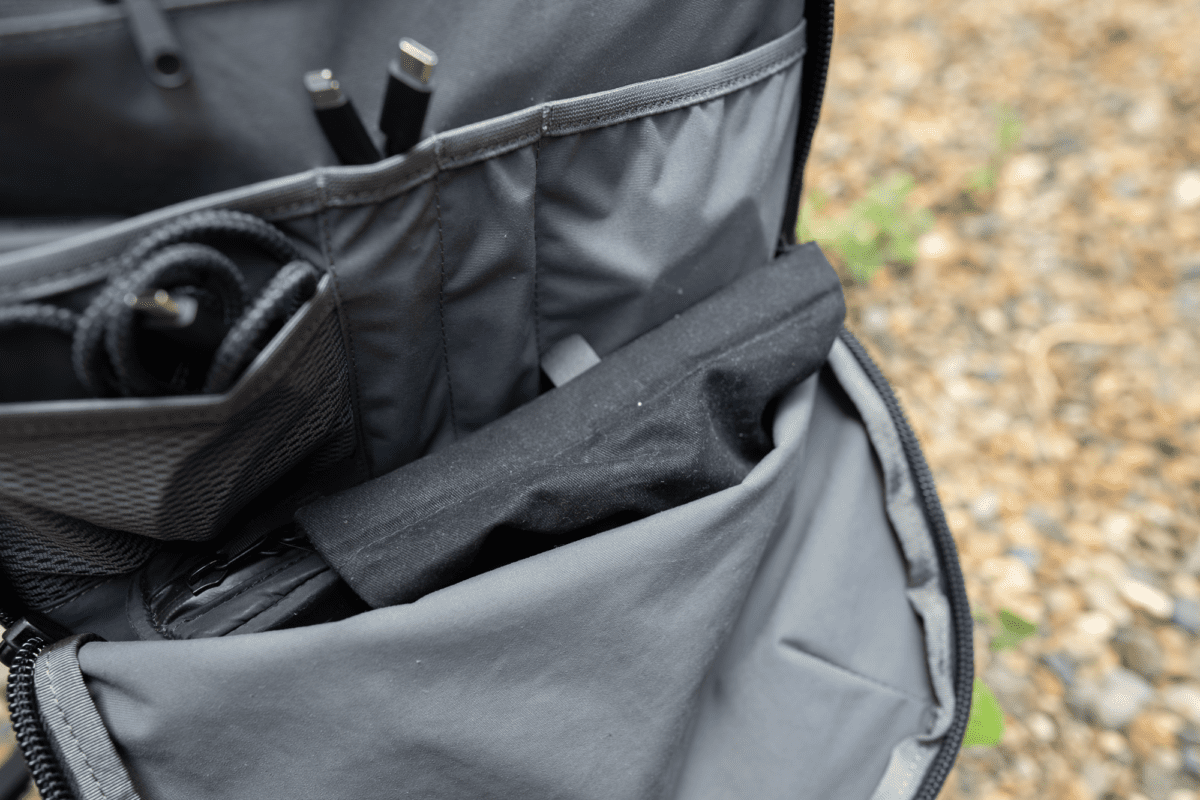 Main Compartment
On the back face of the main compartment, there are three slots layered on top of each other, each shallower than the one before. The outermost layer can hold a horizontal PS4 game cover perfectly.
The middle layer would be great for an A5-sized notebook.
The back and largest slot look great for documents or a magazine. Especially if you have a laptop in its dedicated compartment, it'll help as a backing to keep your documents from getting crumpled.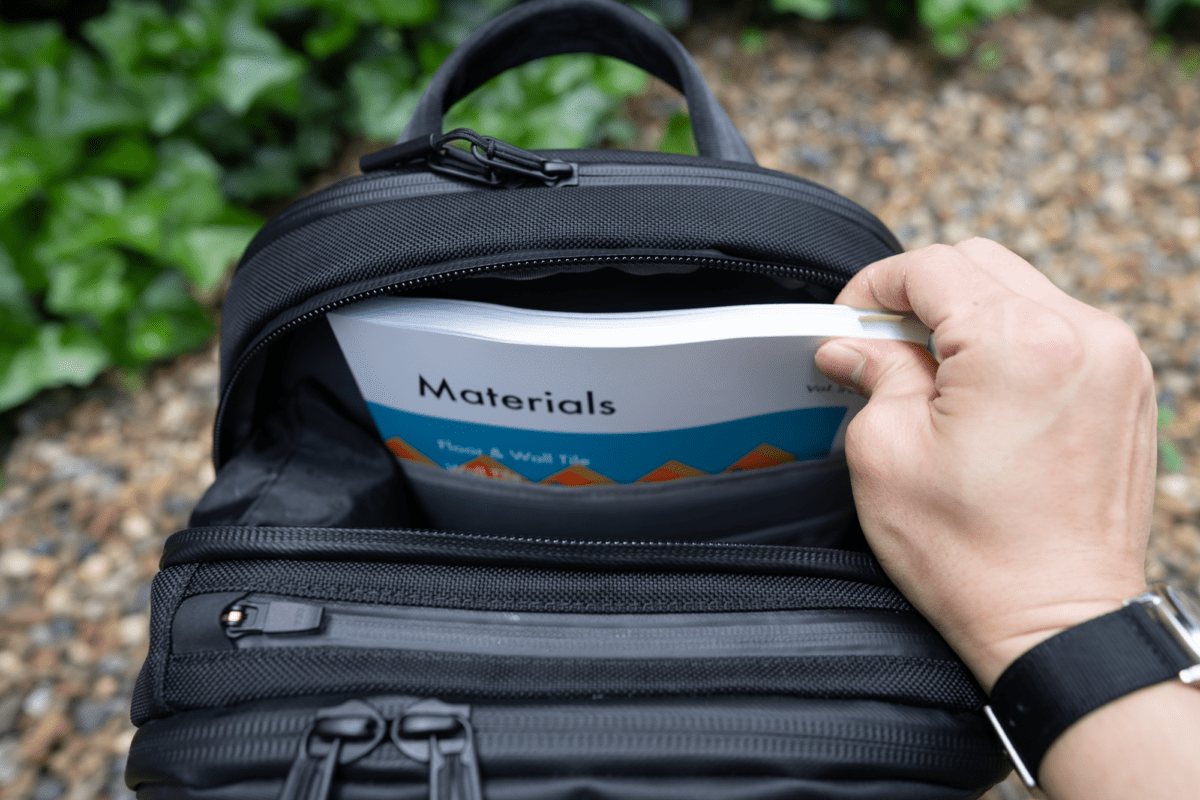 Opposite those slots on the other side of the main compartment, there is a zippered slot near the bottom. There is a removable frame inside here which gives you extra support. I like how they only have it at the bottom of the backpack since that's where the weight gives the most pressure to.
Another thing to note is that the quick access pocket on the top of the bag uses the space of this compartment.
Laptop Compartment
There is a padded slot to keep your laptop well-protected. In the case where you have a laptop and a tablet, you can use this slot for your tablet to keep the screen for scratches and just put your laptop outside the slot.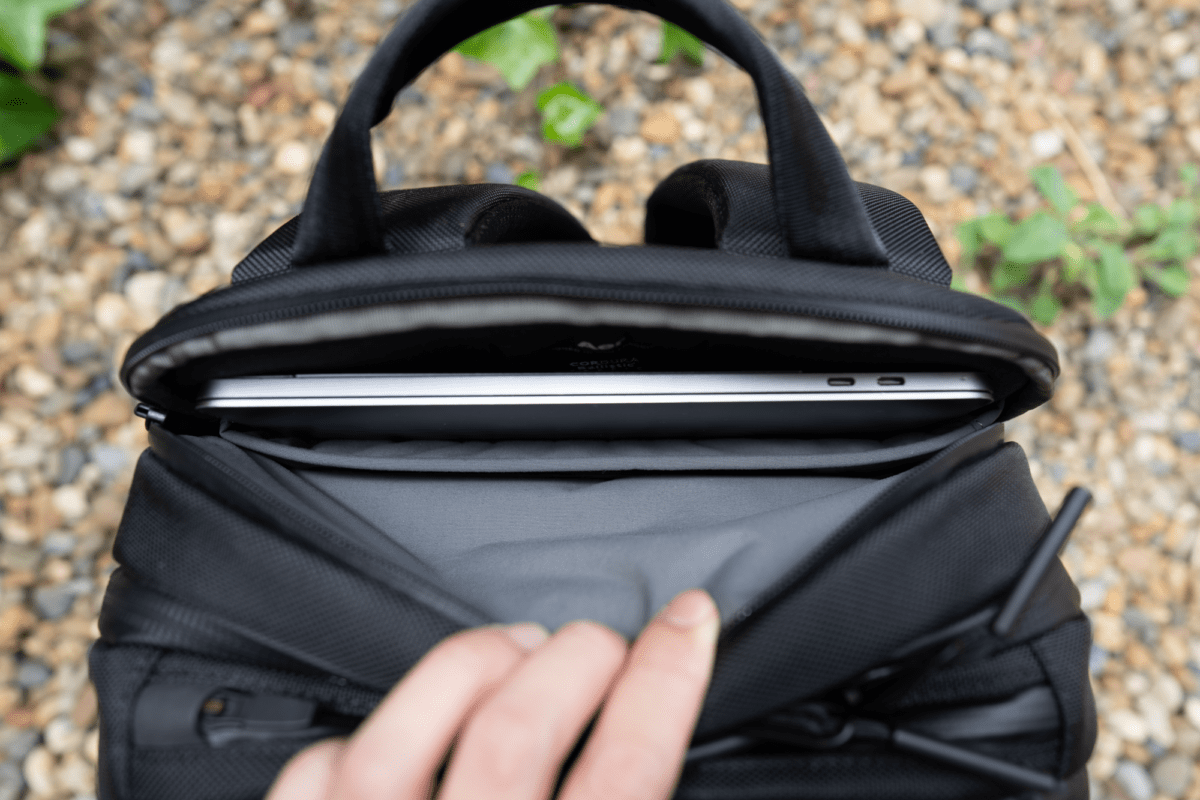 In front of that slot, there's another slot layered on it. I personally use it for my MOFT Laptop Stand.
Since there is a handle on the left side, the zipper on the right side opens more than on the left.
Quick Access Pocket
There's a quick access pocket between the front and the middle compartment. This is a small pocket for your everyday carry. It's pretty well padded and suspended within the main compartment, so you'll be okay putting your expensive AirPods Pro into.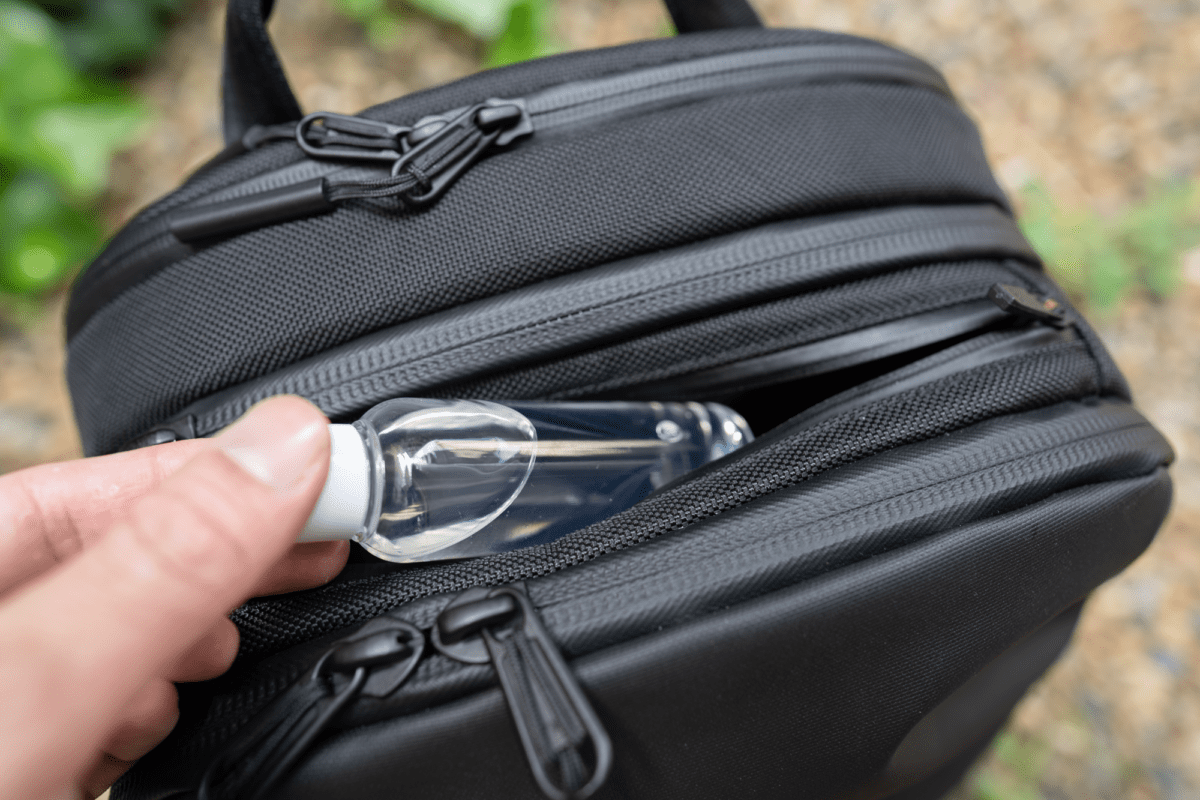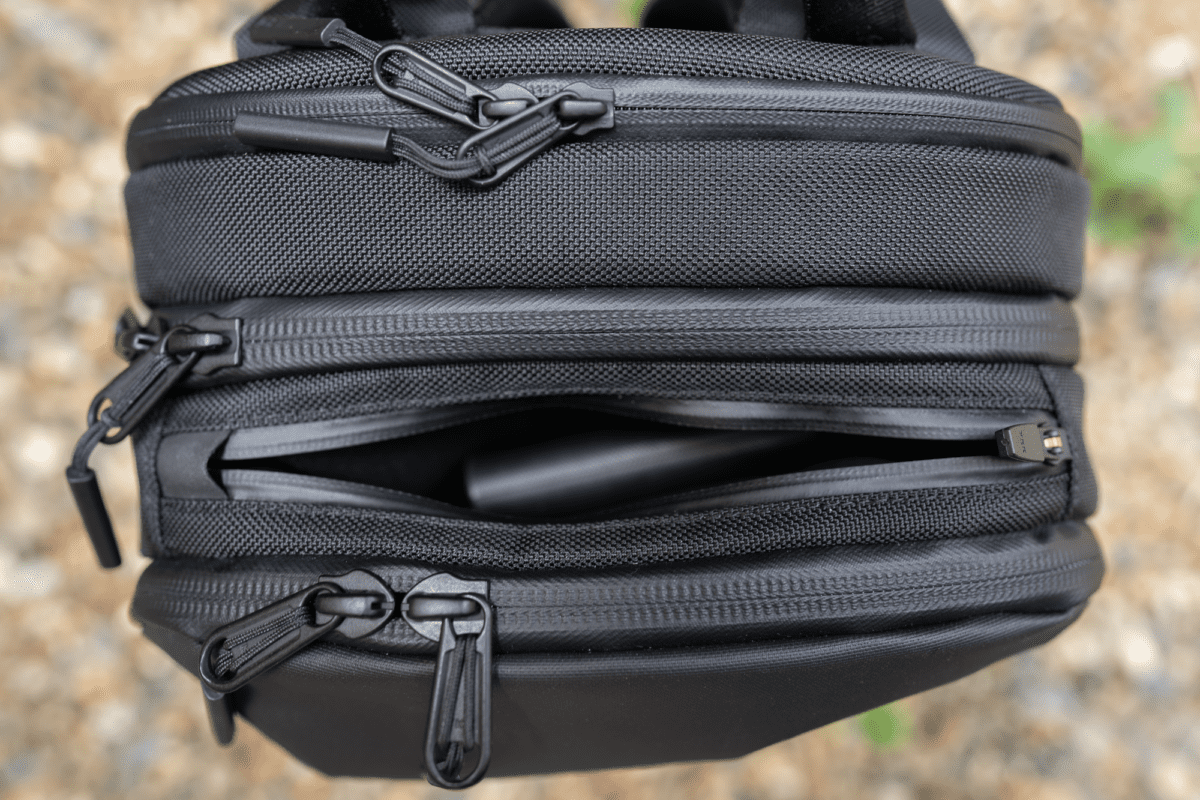 Exterior Water Bottle Pocket
This exterior pocket on the right holds a water bottle. It's expandable so it'll fit a variety of water bottles sizes.
Exterior Zipper Pocket
This is on the opposite side of the water bottle pocket. I think the reason they didn't have a water bottle slot here was to accommodate a side handle. Since there is some space below the handle, they included a small zippered pocket here for better aesthetical balance.
Aer Tech Pack 2 vs the original Aer Tech Pack
With the original Tech Pack still available for sale at a $40 lower price tag, you might want to know what the differences are. While I don't own the first version, here are the differences I found.
The Tech Pack 2 is slightly smaller
The size is slightly smaller in the new version based on customers' feedback. The dimensions are 19″ (48 cm) length, 12.5″ (32 cm) width and 7″ (18 cm) depth on the Tech Pack 1, while the Tech Pack 2 is 18″ (46 cm) length, 12″ (31 cm) width and 7″ (18 cm) depth.
The original Tech Pack is lighter but holds more
The original Tech Pack holds 18.5 liters and weights 3.1 lbs while the Tech Pack 2 weights 3.8 lbs and holds 17 liters. What? The newer version weighs more but holds less.
The reduced size and addition of soft liners are the reason for the reduced capacity.The extra weight is due to using improved materials like the new front face material.
Materials have been improved
The difference in weight is largely attributed to improved materials for durability. The external front panel was upgraded to 840D nylon which has smaller weaves. This gives it a smoother look when the water-resistant coating has been applied. This is also the main reason why the Tech Pack 2 went up $10 in price.
Which is better?
It doesn't seem to make sense to upgrade something if it isn't going to be better. The Tech Pack 2 is definitely the way to go, unless you want to forgo the upgrades and save $40. You might also consider the original Tech Pack if you want a slightly larger backpack.
Usage
With all these organizations and features, the real test is when they are put to actual use. Some features look great in concept but is pretty useless when put to actual use. How do the very promising features of Aer's Tech Pack 2 stand up?
Self-Standing
The design of the backpack is inspired by a toolbox, which means it can stand on its own. You have no idea the number of times I put my backpack down at my feet and it falls over. While most of my backpacks would last in the war zone, they are mostly black and gather a considerable amount of dirt even just by grazing the ground.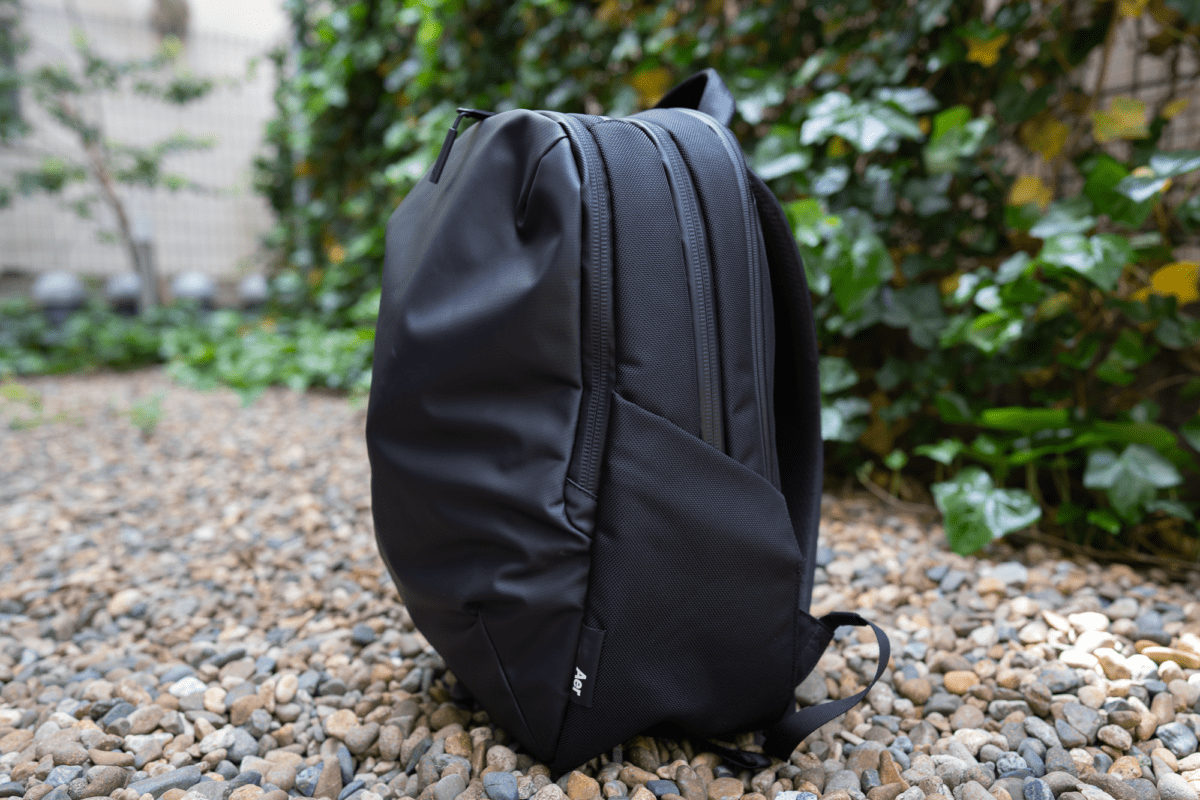 The Aer Tech Pack 2 balances on its own. And some backpacks claim to do this, but you actually have to balance is precariously for it to do so. But not the Aer Teck Pack 2. Just plop it down any way you want and it'll stand. Mind-blowing.
Organization
Since it's designed for the tech maximalist, the organization doesn't quite gel well with my remote working setup. For example, I usually have my charging accessories and cables in a GORUCK Wire Dopp Kit so I won't put most of the organization in the front compartment to use.
However, when I have a bit more to carry like on a weekend trip to the in-laws, I stuff all the extra bits and pieces in to those slots.
I just don't ever see the need for pen slots.
Capacity
It holds much more than what I expected a 17 liter pack would hold. I was able to pack my entire PS4 (controller, games and everything) as well as my laptop and accessories comfortably.
However, 17 liters is not a whole lot when it comes to travel. This would not work for a trip beyond a couple of days and I would not recommend this for travel. But I can't imagine it not being enough for even the digital maximalist.
Water Resistance
Like most DWR protected backpacks, water would just bead off the fabric. This amount of water resistance is more than enough for a tech pack. Assuming you are using this around the city, it shouldn't hard to duck into a shelter when it starts to pour. The backpack will hold off rain even for prolonged periods of rain, let alone any brief period of water exposure.
Comfort
The shoulder straps are not especially comfortable or uncomfortable and are very well built. They don't have thick padding like Tortuga Outbreaker. But, I'd say they are adequate for the amount of weight you are likely to carry.
Conclusion
This is an amazing backpack. It's the combination of materials, design, and craftsmanship that really makes Aer's backpacks stand out. The Tech Pack 2 is no different.
If you are a Aer Travel Pack owner, you can pretty much expect the same qualities in the Tech Pack.
More Images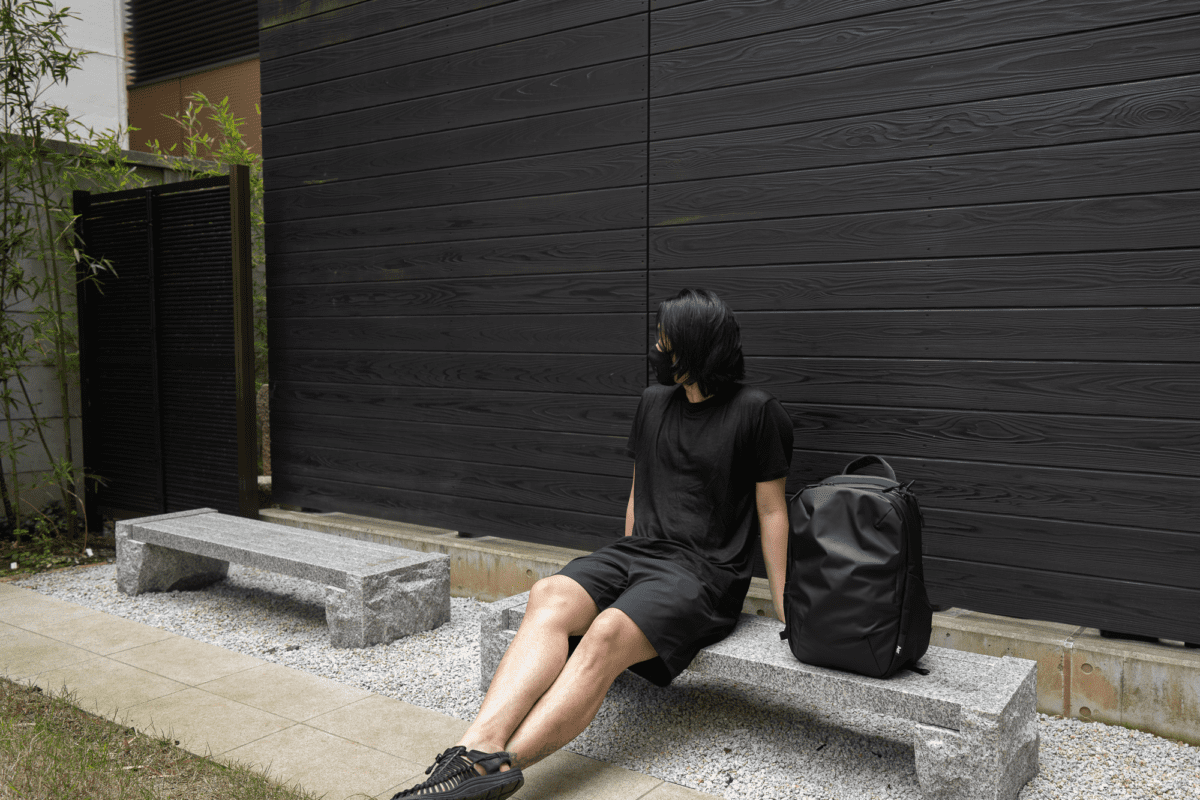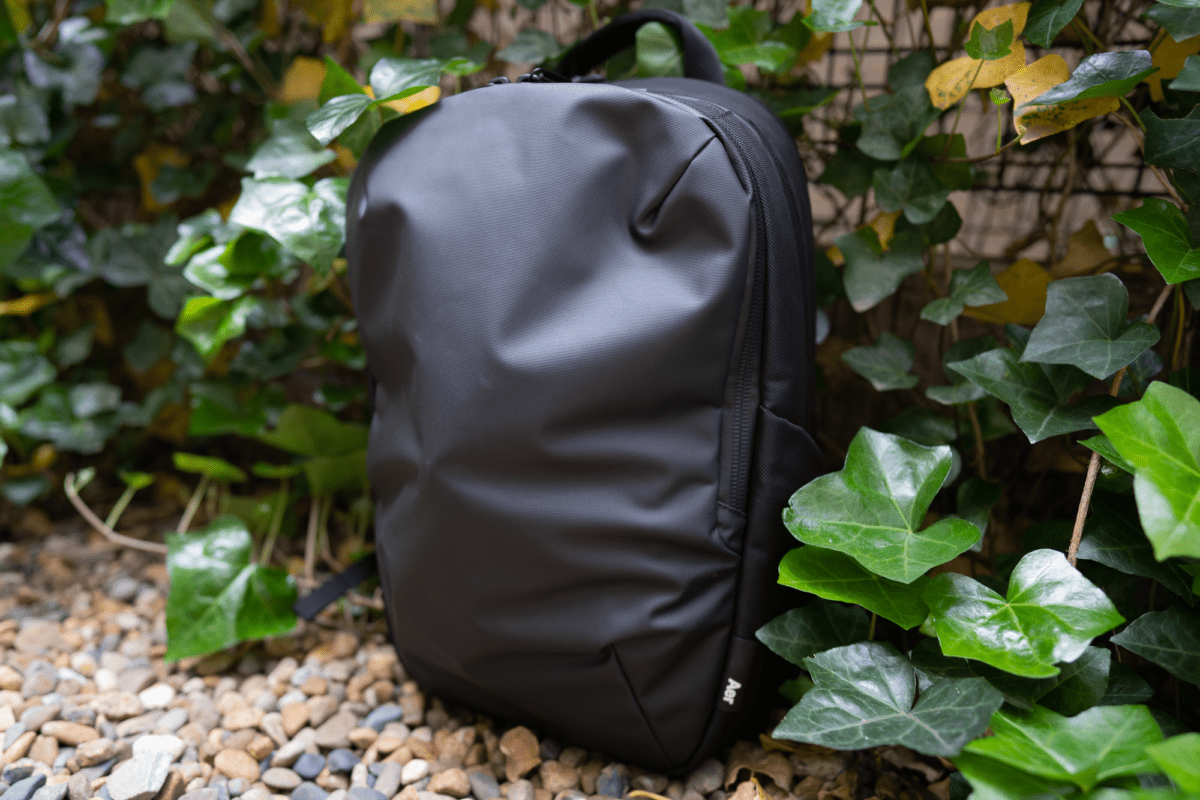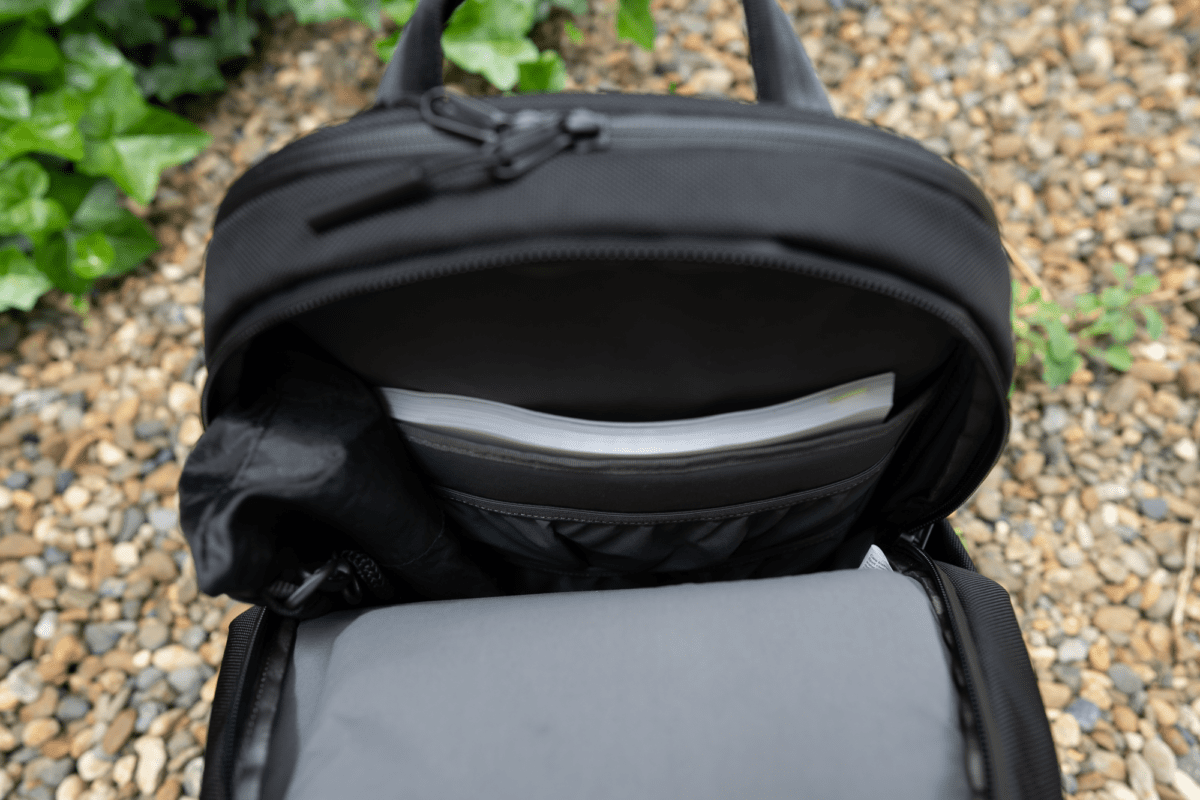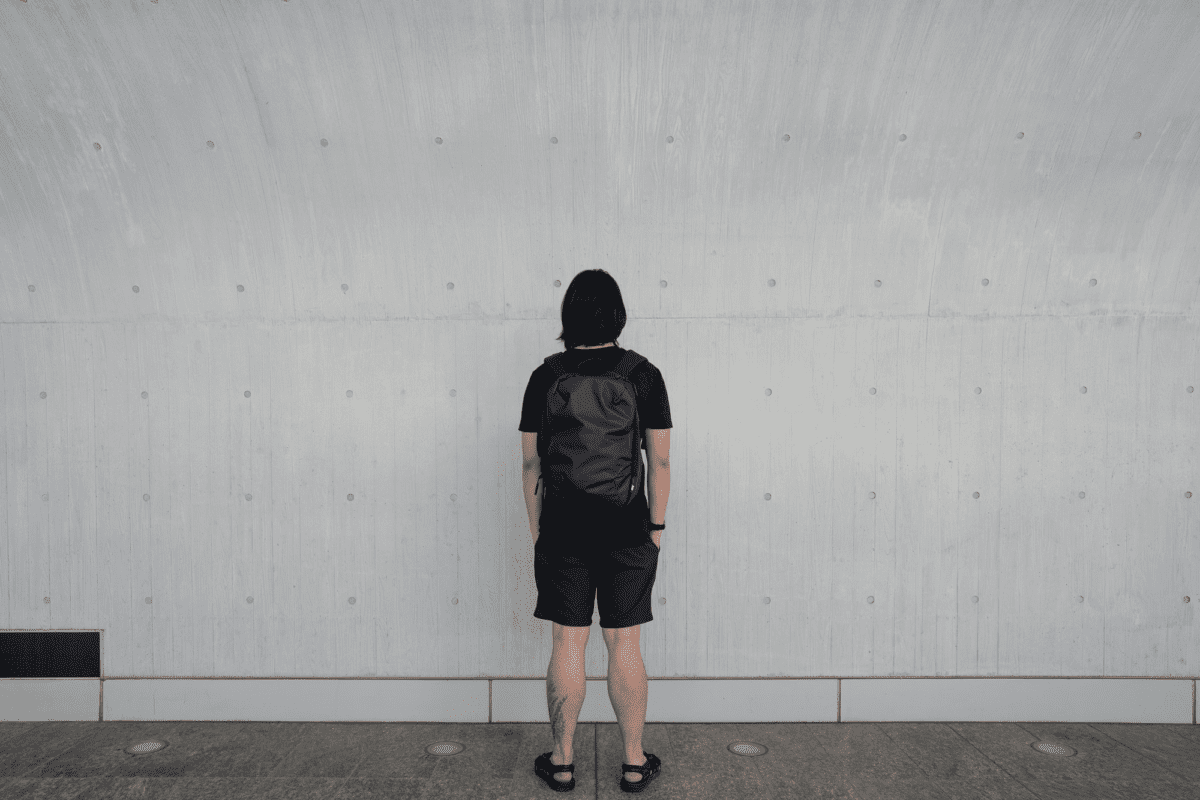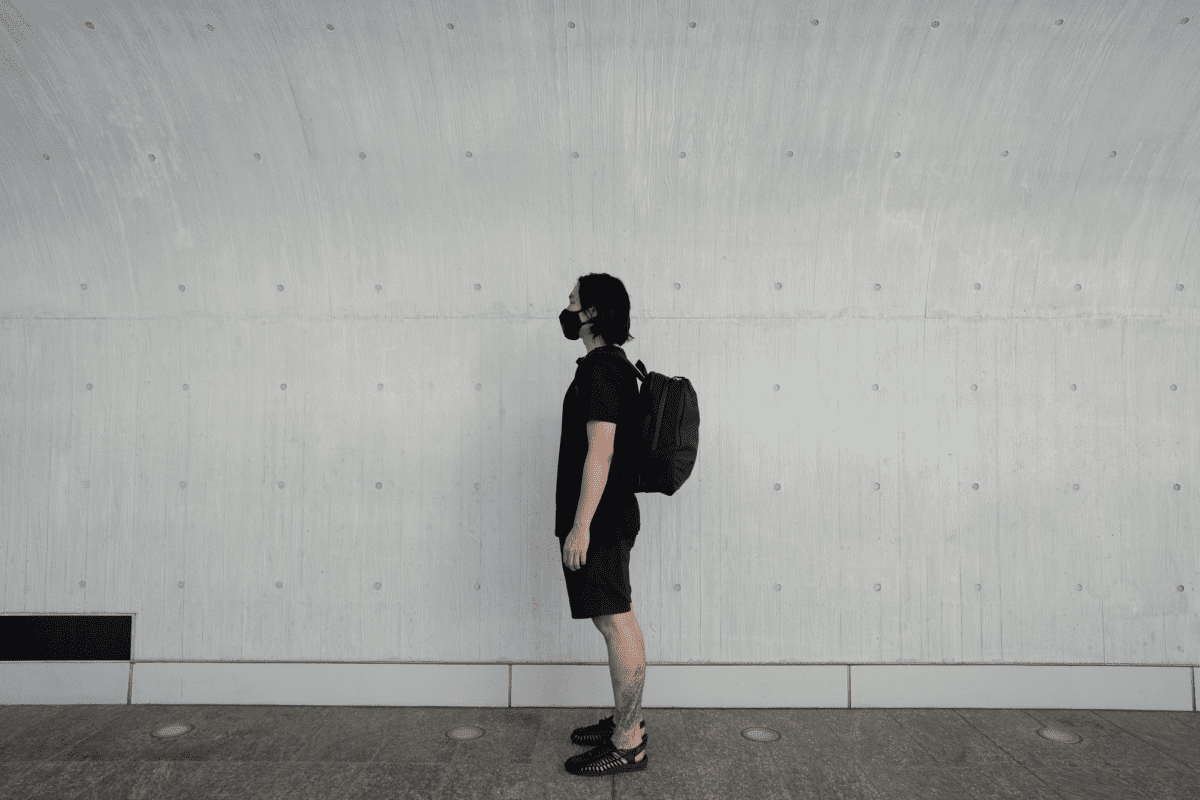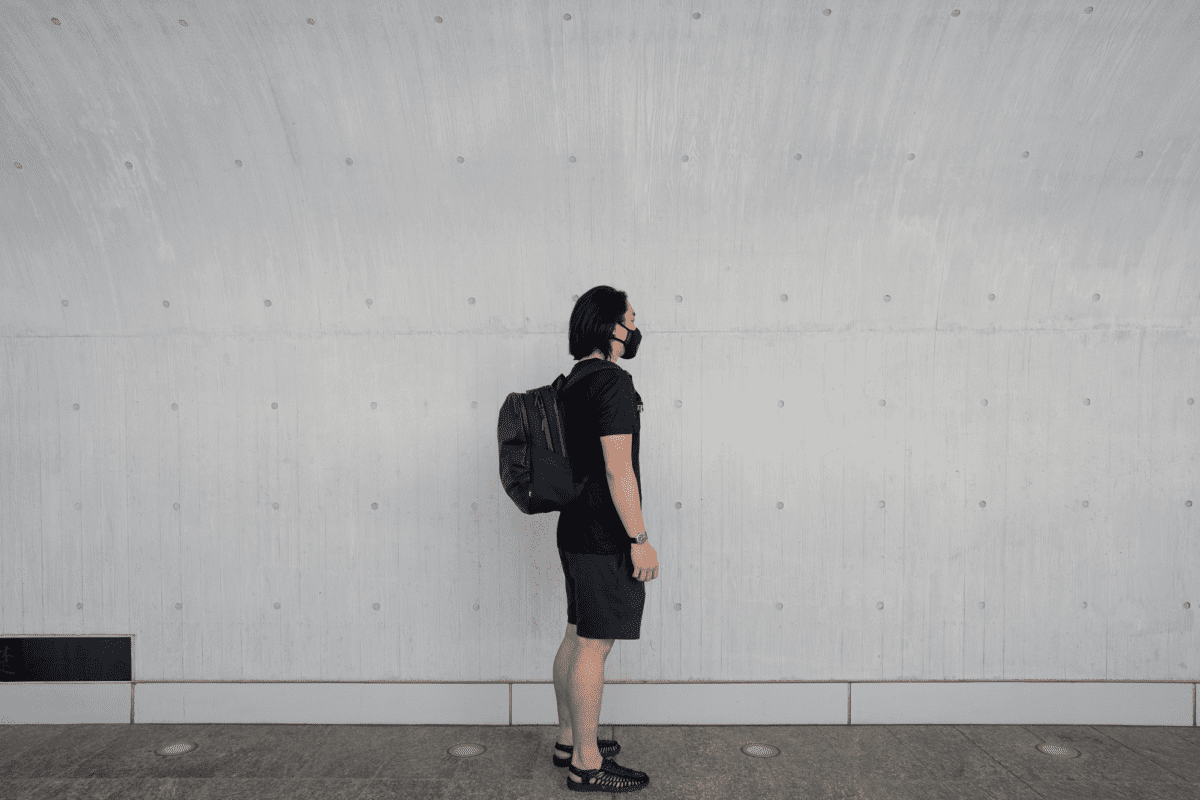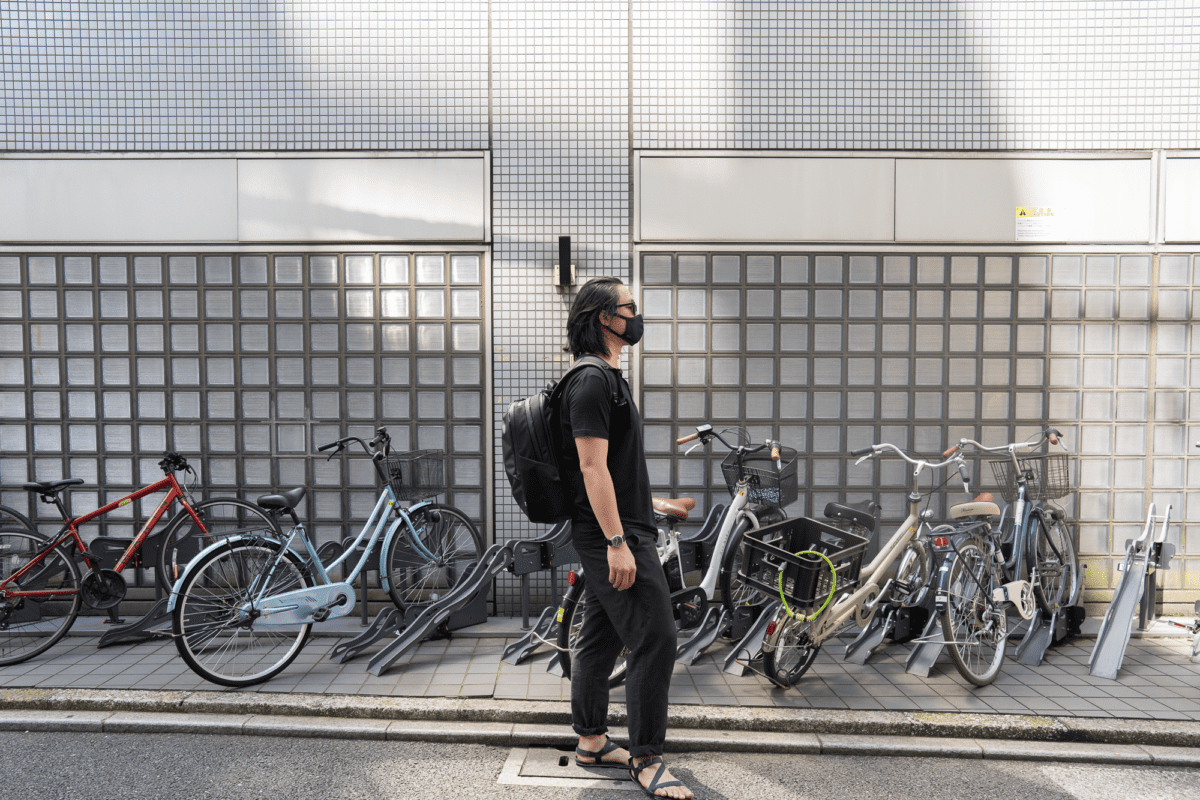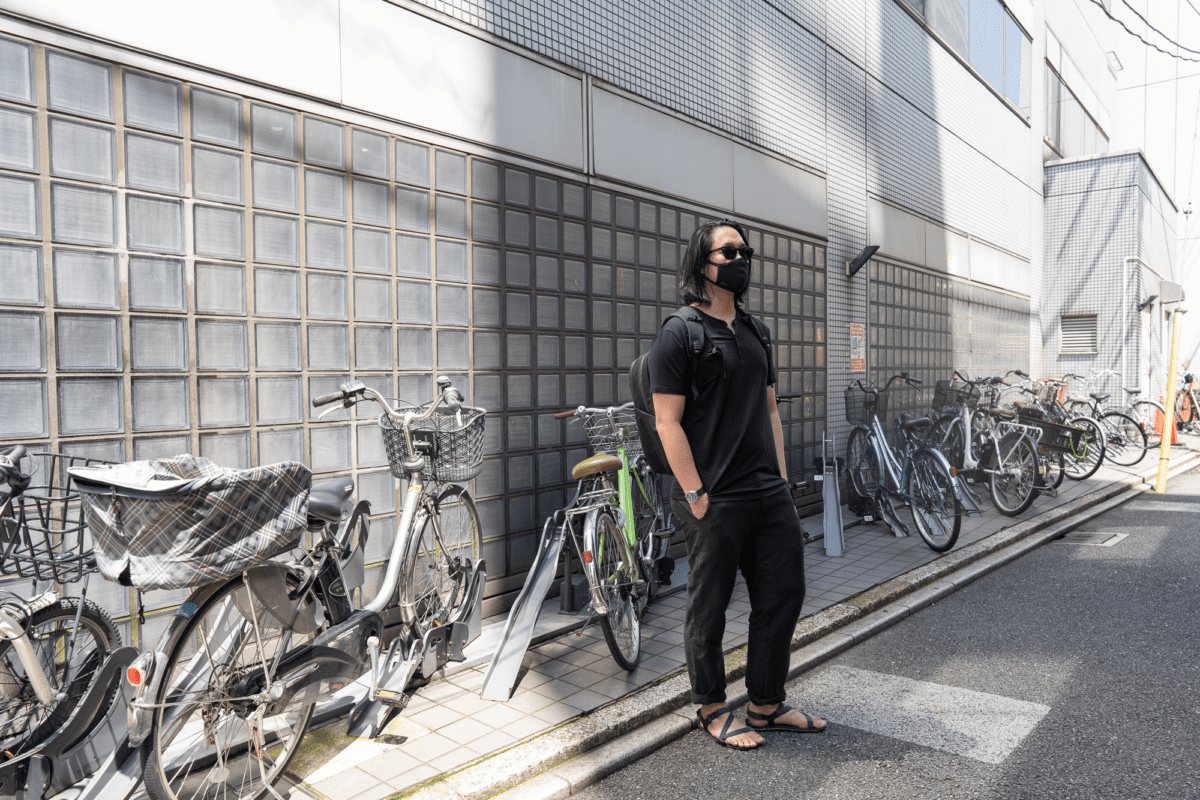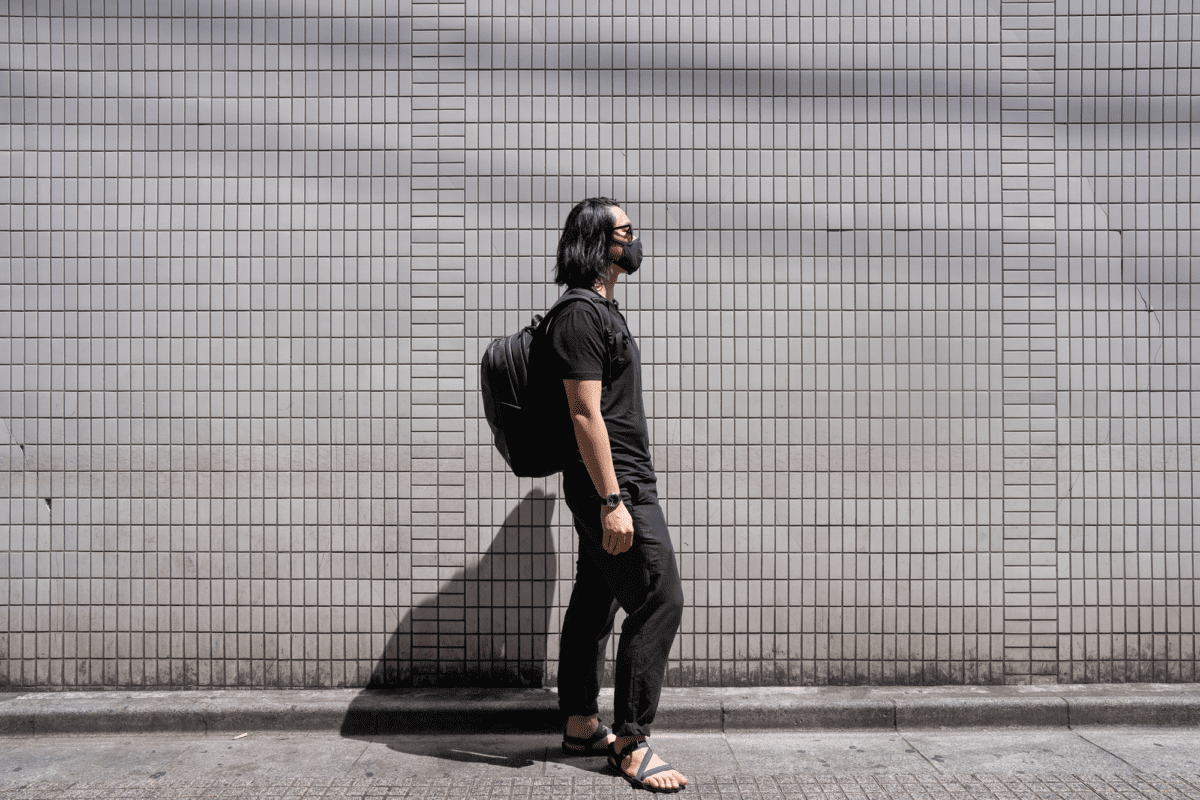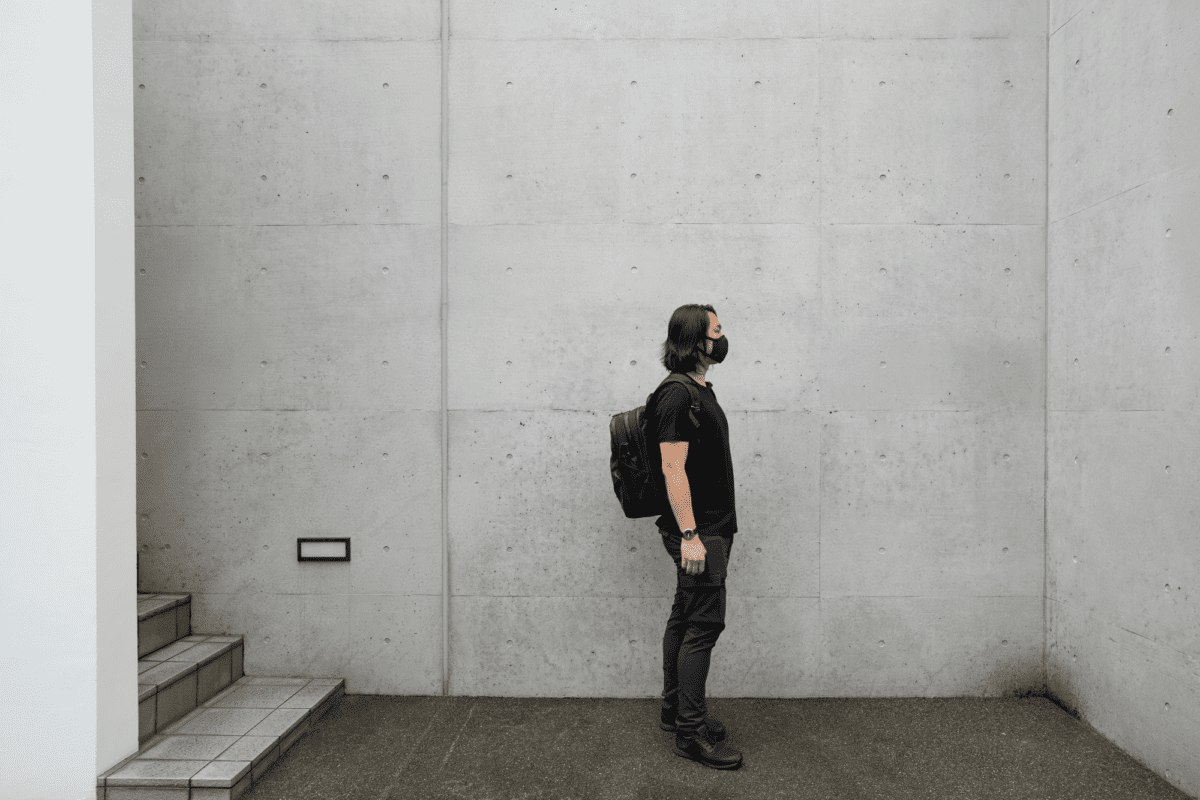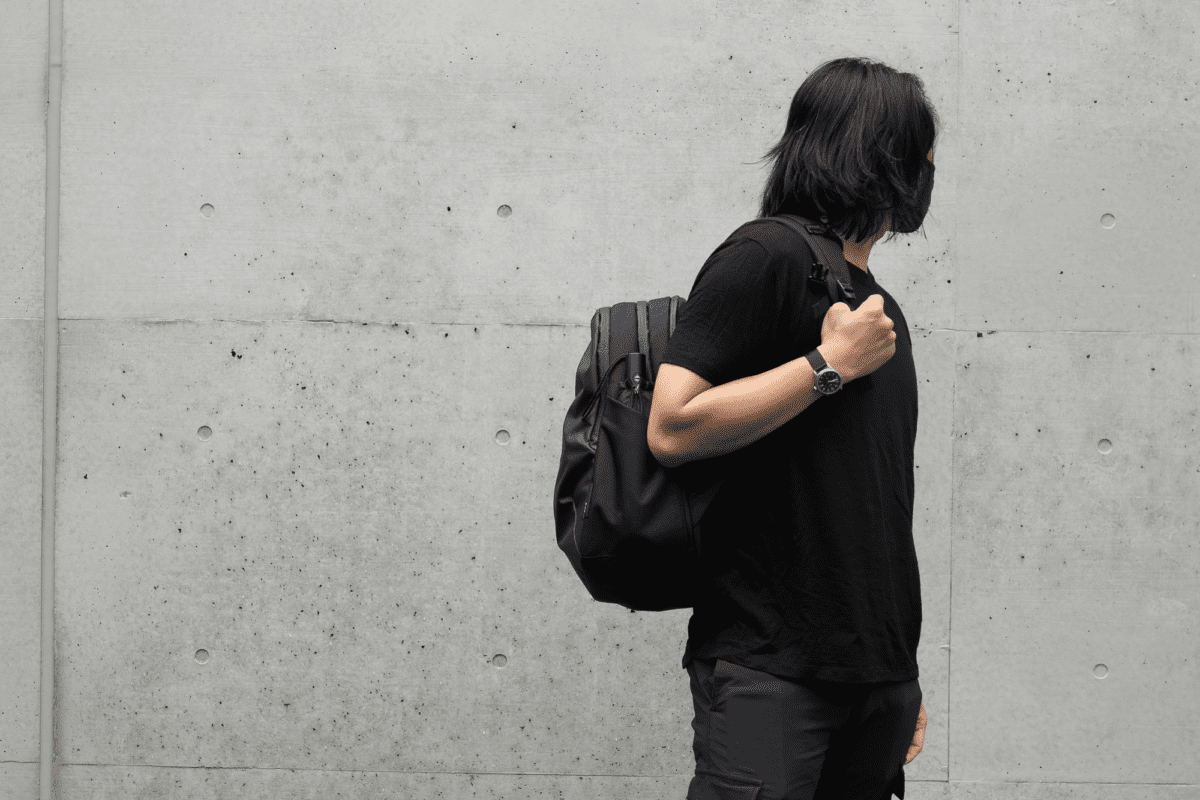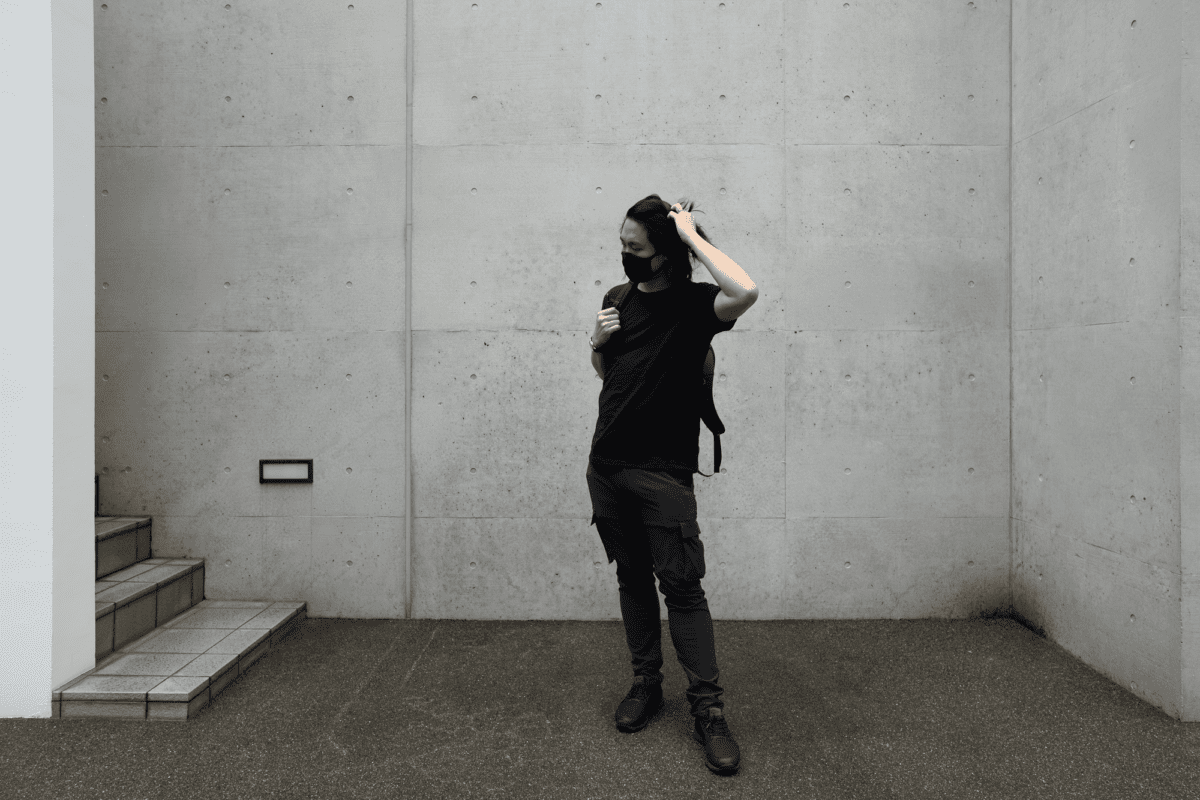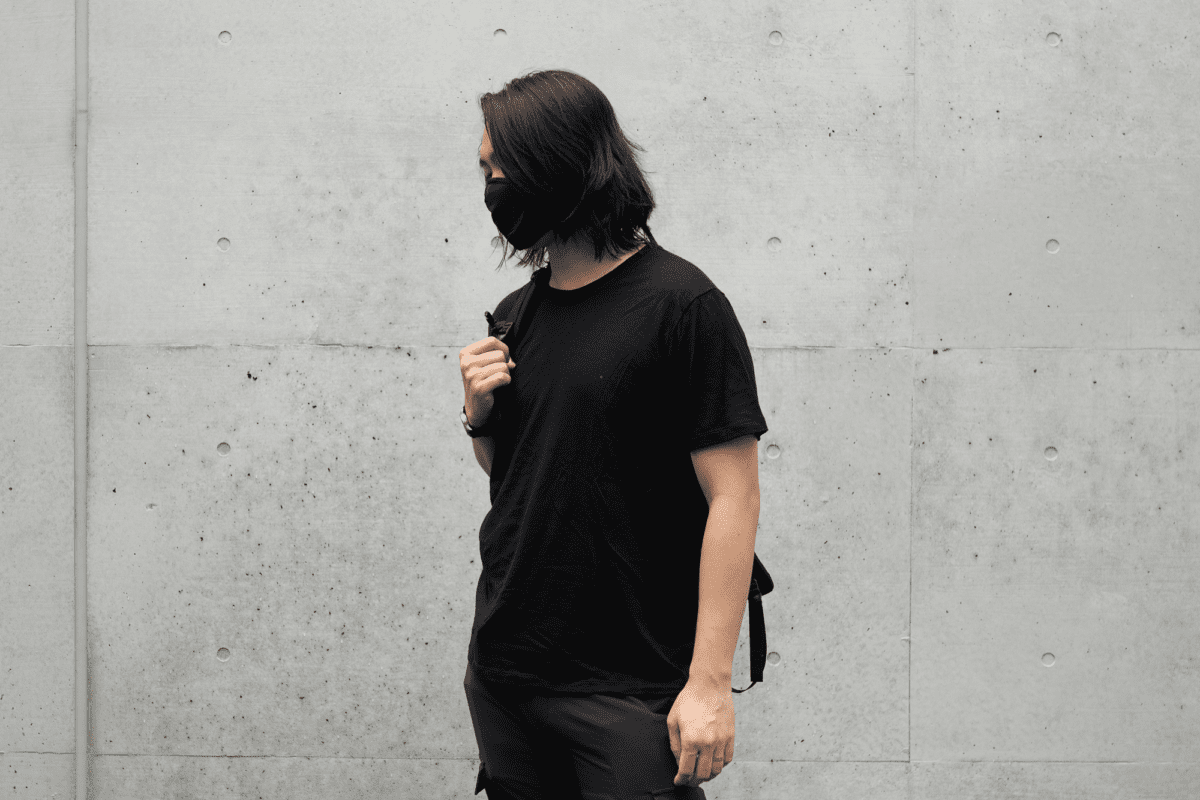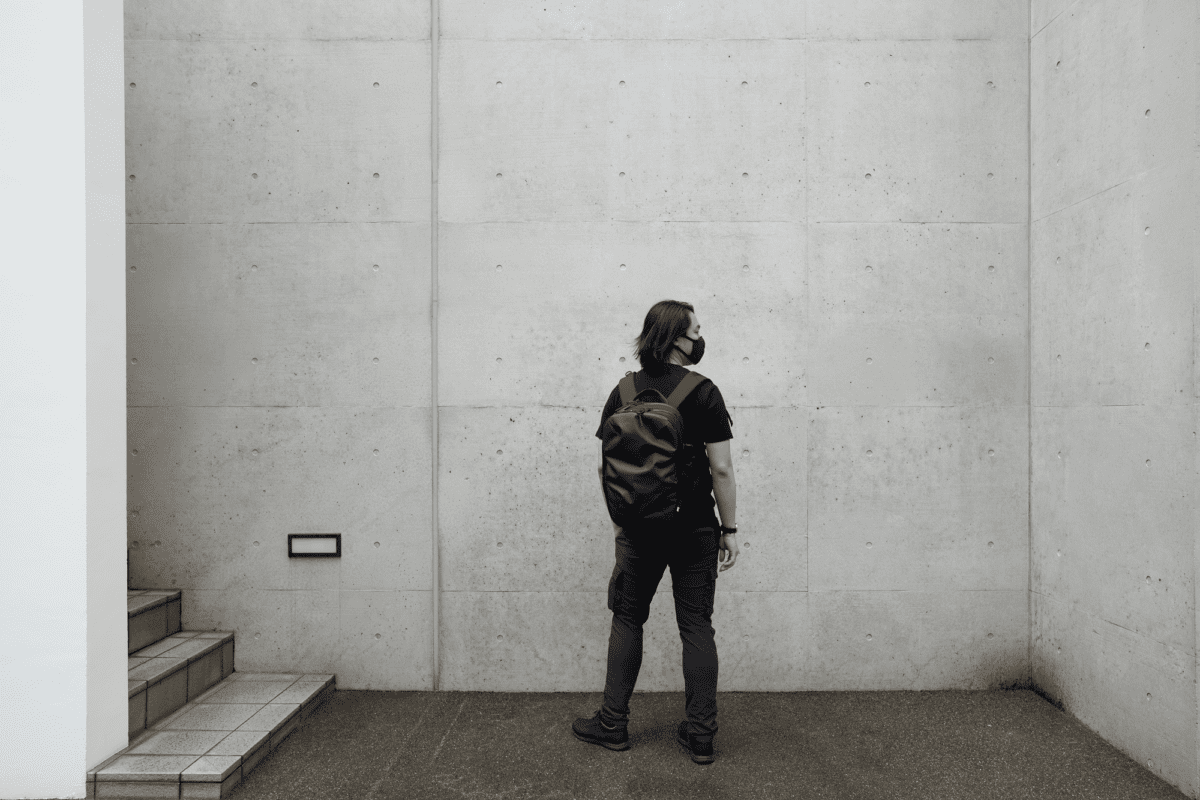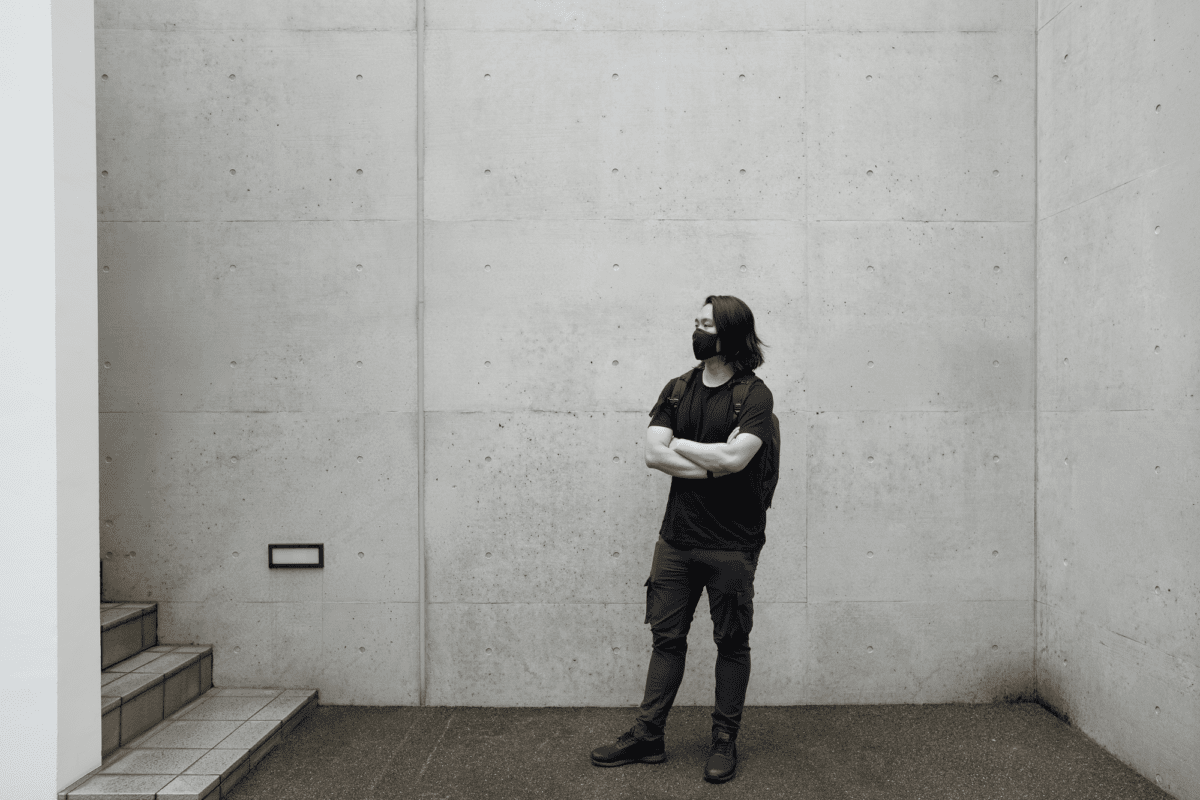 Like this review? See all of my in-depth reviews.
Also, consider supporting me by being a Patreon. Every cent given will go back into improving the content of this website.