This website is made possible by readers. I may earn a small commission when you buy through the links in this article at no extra cost to you. Learn more.
The good old packing list is a key component for people looking to not miss out essential items. But, a quick search for packing lists online, I found generic, impersonal lists without insights that you need when forming a packing checklist.
First of all, you have to understand there isn't a one-size-fits-all packing checklist. What to have on your list, depends heavily on the type of traveler you are and the length you will be traveling. Apart from just what to bring, it's important to know how many of each to bring. This is why I'm offering the rationale behind each item and the amount of each item.
I usually travel with just one bag, or sometimes referred to as one bagging. This means I have all my belongings fit into just one bag. So, the packing checklist I will be recommending is based on this style of travel. For those who like to bring a little more, I've added some optional items for you.
This isn't just a list for the casual packer. But if you searched for this article, then you are probably off to a great start.
TL:DR
In case you are too lazy to understand why this packing list came to be, I formatted them on Google Sheets for your convenience. This includes a maximum packing list which everything you could ever need, and a recommended list.
There are two ways to use the packing lists.
Just go to the link and print
Make sure you are logged into your Google account and choose File > Make a copy to use it digitally.
How should you come up with a packing list?
The two biggest factor I've found is the length of your trip and the climate of the country that you will be visiting. Another factor is the activities you will be carrying out on your trip. This will also be how I am splitting up the lists.
This list will be mostly for men, since that's where I have the most experience with. But women travelers, feel free to reference and adapt accordingly.
Clothes
For clothes, I will be recommending the amount of each item based on my style of packing. Since it might be too minimalistic for some, all you have to do is look at the next longer length for a reference if you want to err on the side of caution. For example, look for the number next to "Mid" even for a short 2-3 days trip.
Short – 2-3 days "weekend trip"
Mid – 2 weeks or less
Long – 2 weeks to indefinite
T–Shirts
Not much explanation is needed for such a versatile piece of clothing. These will be your lifeline.
But no one likes ads, so I got rid of them. If my articles helped you, I ask for your support so I can continue to provide unbiased reviews and recommendations. Every cent donated through Patreon will go into improving the quality of this site.
You want to be going for merino wool t-shirts in solid colors since you want these to be work for almost every situation, like going to the gym or the mountains or the club.
If you are not sure about long sleeve versus short sleeves, I always default to short sleeves when I'm unsure since you can make up for the lack of sleeves with a jacket, but a long sleeve t-shirt would just be unbearable in hot climates even with the sleeves rolled up.
Short 1-2
Excluding the one you wear on the day you leave, you need one or two more. If you own odor-resistant merino t-shirts like the Outlier Ultrafine Merino T-Shirt, you can get away with just one extra.
Mid At least 3
Three t-shirts is the very minimum I would recommend you to bring. This is assuming that you wash it with something like a Scrubba every night, is prepared to buy if something goes wrong. If you own merino wool t-shirts, then three is very possible.
Long At least 5
When you are traveling long term, I would say five is a good number. This will allow you the leeway to do your laundry every week or so.
Socks
Again, you have the choice to go for merino wool socks like my personal favorite, the Darn Tough Tactical 1/4 Socks. If I can only own just one model of socks, these will probably be it.
Short 0-1
Do you even need this? If you aren't doing anything that needs shoes, you can exclude this completely and go open footwear only.
Mid 2-3
For a trip up to two weeks, I would encourage bringing along a shoe so that you can hit trails and work out when you need to. If you are the active type that works out every day, I recommend at least 2-3 pairs so that you don't have to wash them every night.
Long 2-4
Same as a mid-length trip, but if it is a colder country where you'll be in boots most of the time, you might want to bring at least four pairs.
Underwear
Unlike the others, I wouldn't recommend wearing the same underwear for a few days in a row even with merino wool.
But as a rule of thumb, you can decide how often you want to do laundry, and bring one pair for every day you don't do laundry.
Short 2-3
I don't expect any laundry to happen on a trip this short.
Mid 3-6
C'mon, you gotta do laundry at least once.
Long At least 5
Shirts
While some list might encourage you to bring along a dress shirt, casual shirt, basically a shirt for every situation, I'd say you should only bring one shirt.
And, that shirt should also be able to act as an overshirt so that you can possibly do without your jacket. A good example that got me through two weeks in Danang was the Libertad Travel Shirt. The Outlier Hard Shirt is another good option if you are going to experience cooler climates.
Short 0-1
Alright, one shall be allowed Mr. Fancy.
Mid 1
Long 1-2
Alright, two is pushing it but if you must.
Bottoms
Some might split up pants and shorts, but I don't think these are exclusive. You only need either one per day and shorts is dependent on the climate. If you get a versatile short like Outlier New Way Shorts, you can also use it as swimwear and working out.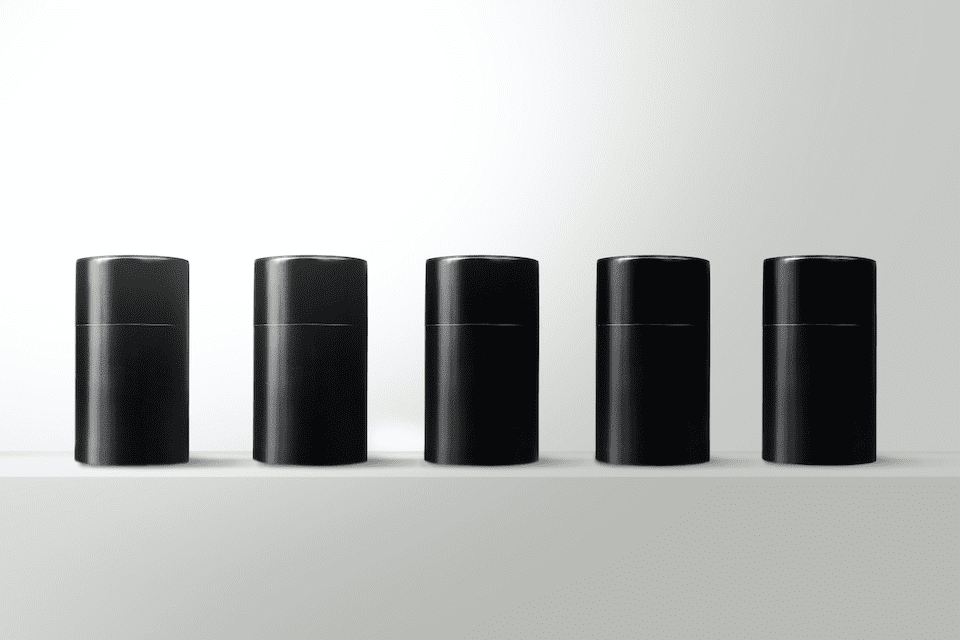 I found a 100 year old company that would create these heirloom quality canisters for me. They are handmade and will keep your tea leaves, coffee beans or anything that you need dry for years to come.
or read review
Short 1
Either a pair of shorts or a pair of pants. In fact, just the one you are wearing will often do. This is with the conditional that you get a pair of pants with technical properties like the Outlier Slim Dungarees or Western Rise Evolution Pants, else a wine spill could be devastating.
Mid 2
I would go for a pair of shorts and a pair of pants. When one is in wash, you can make do with the other. This setup has worked for me every trip so far.
Long At least 2
Once again, just a solid pair of shorts and a pair of pants will do the job.
Jacket
This depends on the climate of your destination, but even in hotter climates, I would suggest bringing at least one jacket for rain or wind or unexpected cases like the notoriously cold malls in Singapore.
You also want a mid-layer like a hoodie or a light down if you are going somewhere cold. I personally use either the Outlier Hard Shirt or Outlier Ecstasy in the Rain.
Short 1
Mid 1
Long 1
Really you just need one good set of mid and outer layer and you are good to go.
Bags
You need the right size of bags for each length of the trip. In my experience, I've found the following works best for me.
You also want a
Packable daypack
Unless you want to lug your huge bag around in the day, you'll probably need one of these. I use the TOM BIHN Daylight Backpack.
Sling bag
I would also suggest a sling bag like the Heimplanet Transit Line for nights out so you don't look like a traveler all the time.
Footwear
Once again, this isn't separated into dress shoes, running shoes, sandals, slippers etc. Because these aren't exclusive. For example, there are sandals that you can run and hike in.
Short 1
It's just a night or two. You can survive with just a pair.
Mid 2
One open footwear and one athletic shoe will handle all the situations you will encounter. In fact, I wore sandals for an entire two-week trip once.
Long 3
For an indefinite trip, you want specialized footwear, so I would recommend one of each kind. One open footwear, one athletic shoe, and one dress shoe or boots.
Optional, but unnecessary
Sleepwear
You don't need it. Just wear clean clothing you are planning to wear the next day. If you are staying in shared accommodation, bring a pair of pants that you can wear out as well, like the ISAORA Training Shorts.
Working Out Gear
If you pick the right t-shirt and shorts, they'll be able to double up as you gym clothes without problems. I especially like the ISAORA Training Shorts which I use as swimwear and to go out.
Belts
While I do own belts like the Klik Belt, I would recommend just getting pants that fit.
Electronics
For electronics, you either need it or don't need it based on the length of the trip.
Short, Mid and Long
Smartphone
Note I used a smartphone and not just a mobile phone. You should be able to use this in place of a tablet or laptop.
Mobile Charger
I don't know how anyone can last without one, traveling or not.
Travel Adapter
Depends on the plug type of your destination, but you'll likely need it. Something compact like the CARD travel adapter might be good.
Earphones
Whether it's for listening to music or watching videos, you'll need one. Especially for digital nomads, I don't see how you can survive without one. I use my Master & Dynamic MW07 PLUS almost every day while traveling.
Mid and Long
Laptop/Tablet
It's either-or. You don't need both. When in doubt, go for the laptop. You can charge your smartphone with your laptop so you can forgo the smartphone charger if needed.
Camera and accessories
I take videos and photos for this website, so I usually have my camera and a tripod. Sometimes a gimbal. A smartphone might be enough for a shorter trip, but there is no reason to bring along your camera for a longer trip.
Toiletries
This depends heavily on your accommodation. You can do without most of these if you stay in a hotel or Airbnb that provides them. I wouldn't be too worried about these as they can be easily bought at along the way.
Soap/shampoo/conditioner
I don't use conditioner and I just use Dr Bronner's Magic Soap as soap and shampoo.
Toothbrush, paste, dental floss
I always bring at least the toothbrush, despite my accommodation type, since I'm a little picky on how my toothbrush feels.
Nail care
Only necessary for long trips.
Shaving goods
I use Dr Bronner's in place of shaving cream, so I only bring a shaver. But to be honest, I just forgo shaving or go to the barber for short or mid-length trips.
Optionals
Once again, you should probably get them when you decide you really need them.
Suntan/block lotion
Insect repellant
Tissue/Wet tissue
Miscellaneous
Short, Mid and Long
Passport
Duh. If there is one thing that I triple check before I leave for the airport, it's this. I always tell myself that if I have my passport with me, there isn't anything that can't be solved with money.
You might also want to protect it with a passport cover like the WAYFINDER Passport Holder.
I would also recommend that you have a digital copy of your passport stored in the cloud. I personally have mine in Evernote.
Credit card/bank card
I use my credit card whenever I can as opposed to exchanging money since the credit card fee will often be lower. I also have a bank card that allows me to withdraw cash from overseas ATM.
Medicine/Vitamins
I bring vitamins in a small MUJI case.
Spork
Depends on the country but I always bring along my Snow Peak Titanium Spork on every trip, short or long.
Optional, but unnecessary
Umbrella
Make sure your jacket is waterproof like the Tilak Vega SD or Outlier Ecstasy in the Rain and you are good to go. You can always buy an umbrella where you go. I don't recommend wasting precious luggage space for one.
Tagged onebag travel packing list