This website is made possible by readers. I may earn a small commission when you buy through the links in this article at no extra cost to you. Learn more.
This TOM BIHN Cafe Bag review will take a look at one of TOM BIHN's purpose-designed bags. If you find yourself in a cafe often, then this review is for you.
Details
Price (on tombihn.com)

Small $70
Medium $75
Large $80 (discontinued)
Overview
As much as I love writing about travel and travel-related gear, this pandemic has made it impossible for me to thoroughly test them out. Even as a fully remote worker, I spend most of working hours these days from home, dreaming of the day I can work somewhere exotic again.
Even though I've set up my home to be pretty conducive, there is a limit to how long I can stay in the same place. So, sometimes I seek solace in the nearby Starbucks.
For those not living in Japan, you might be surprised when you come to Japan and find that the public WIFI situation is pretty shit, despite the misconception of being technologically advanced. Unlike Vietnam or Korea where practically every cafe offers free WiFi, Japan's free WiFi offering is highly limited. Starbucks, as expected of a global coffee chain, is one of the go-to cafe for most looking for high-speed reliable WiFi.
Another unique feature about Starbucks in Japan is its opening time. As a Singaporean who loves breakfast culture, I was dismayed to find that Japan isn't too big on eating out for breakfast with convenience stores being your only option most of the time. Starbucks is one of the few cafes that open early in the morning, letting me head down soon after I wake up.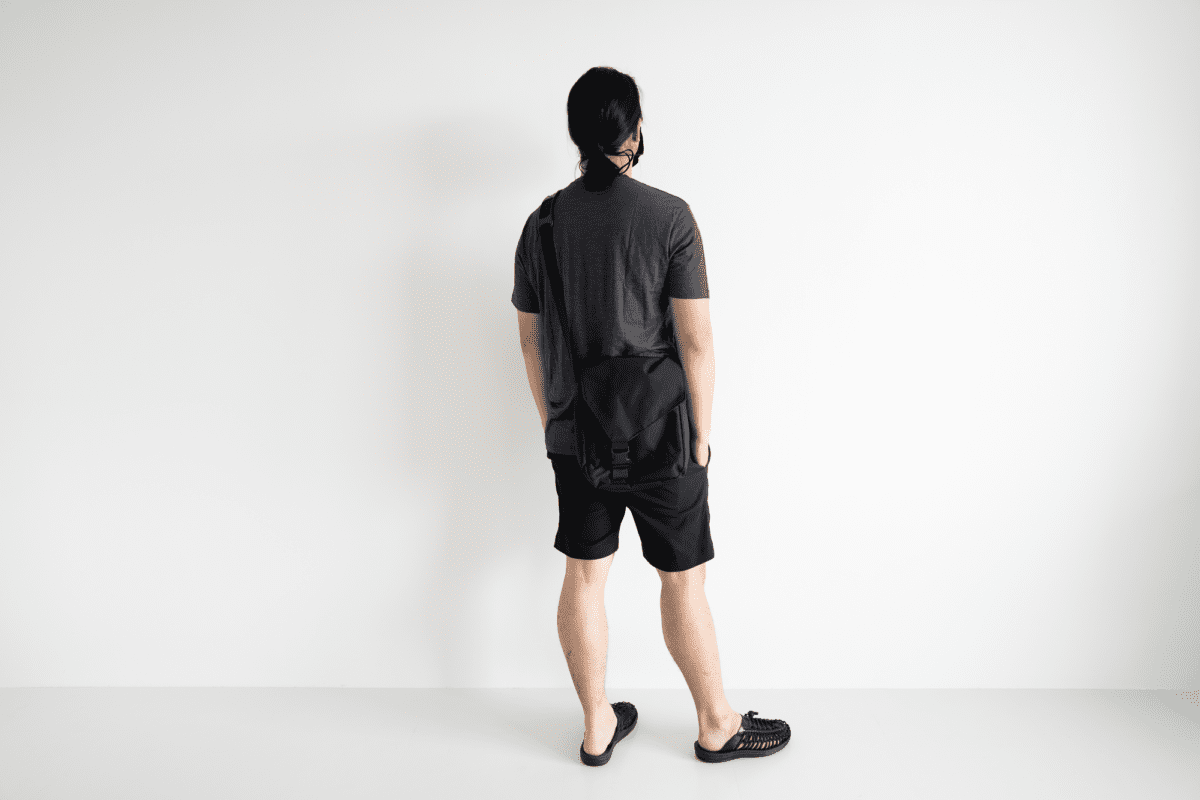 These Starbucks trips are pretty routined. I'll grab a cup of Venti iced coffee and check my to-do lists on TickTick, listen to blinks, and check on my emails. If the trip happens to be on an alternate weekday, after my first cup, I would head to the nearby park for a quick bodyweight workout while listening my favorite podcasts. After which, I'll head back to Starbucks to take advantage of the "One More Coffee" program which lets me get the same cup of coffee for ¥150. And this is the time where I would work on my reviews or day job.
It was on this routine that I tested the TOM BIHN Cafe Bag. It is, after all, a cafe bag.
Style
While the bag comes in a wide variety of color combinations, the ones I have on hand is the one with a Black 525 Ballistic exterior and Cloud 210 Ballistic interior options. I went for the same colorway as my other TOM BIHN bags with an intention to satisfy my obsessive compulsion to keep my collection looking as consistent as possible.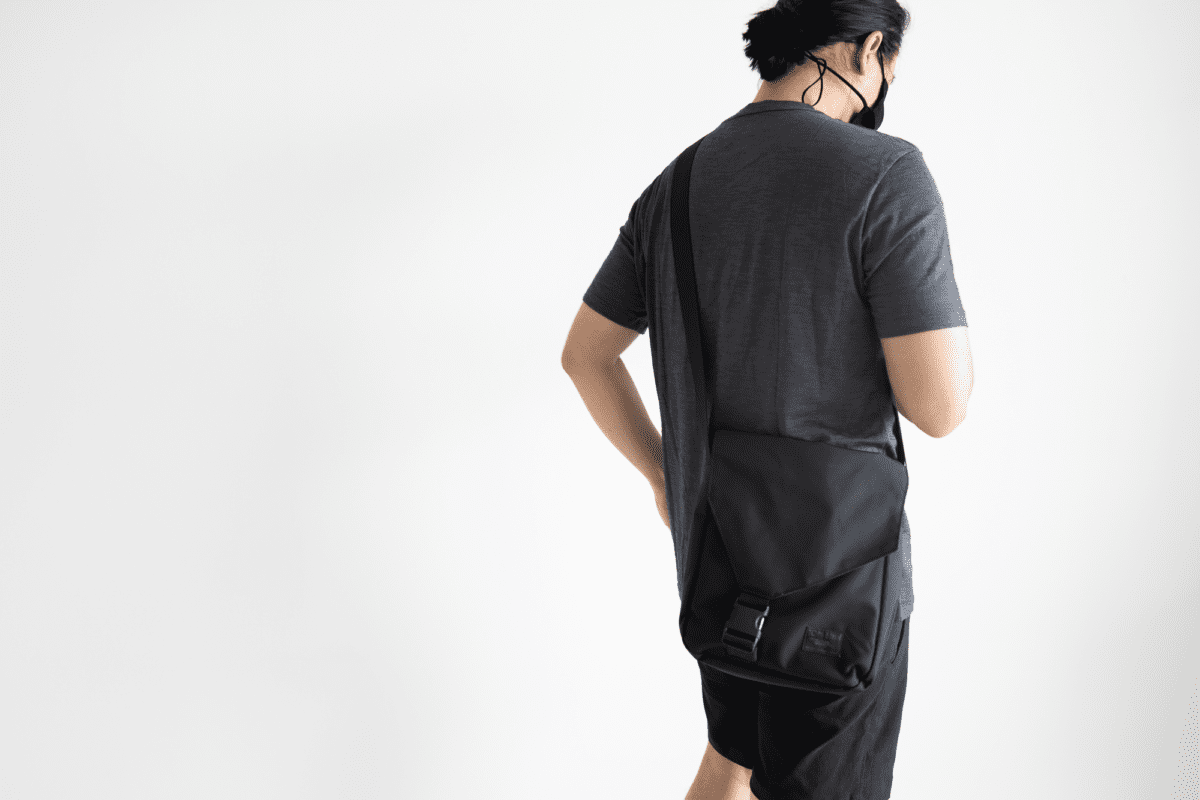 Apart from their regular lineup, TOM BIHN has another line called Design Lab which explores more experimental designs for limited runs. TOM BIHN Design Lab products, like the TOM BIHN Shadow Guide, comes with an all-black brand tag.
While the Cafe Bag is not a Design Lab product, TOM BIHN has taken cues from the stealthy line and implemented an all black brand tag on the Cafe Bag. While it doesn't say "Design Lab" on the tag, it has the same aesthetic with the murdered out logo. Apart from the tag, the only other branding is a while label on the front edge within the main compartment.
But no one likes ads, so I got rid of them. If my articles helped you, I ask for your support so I can continue to provide unbiased reviews and recommendations. Every cent donated through Patreon will go into improving the quality of this site.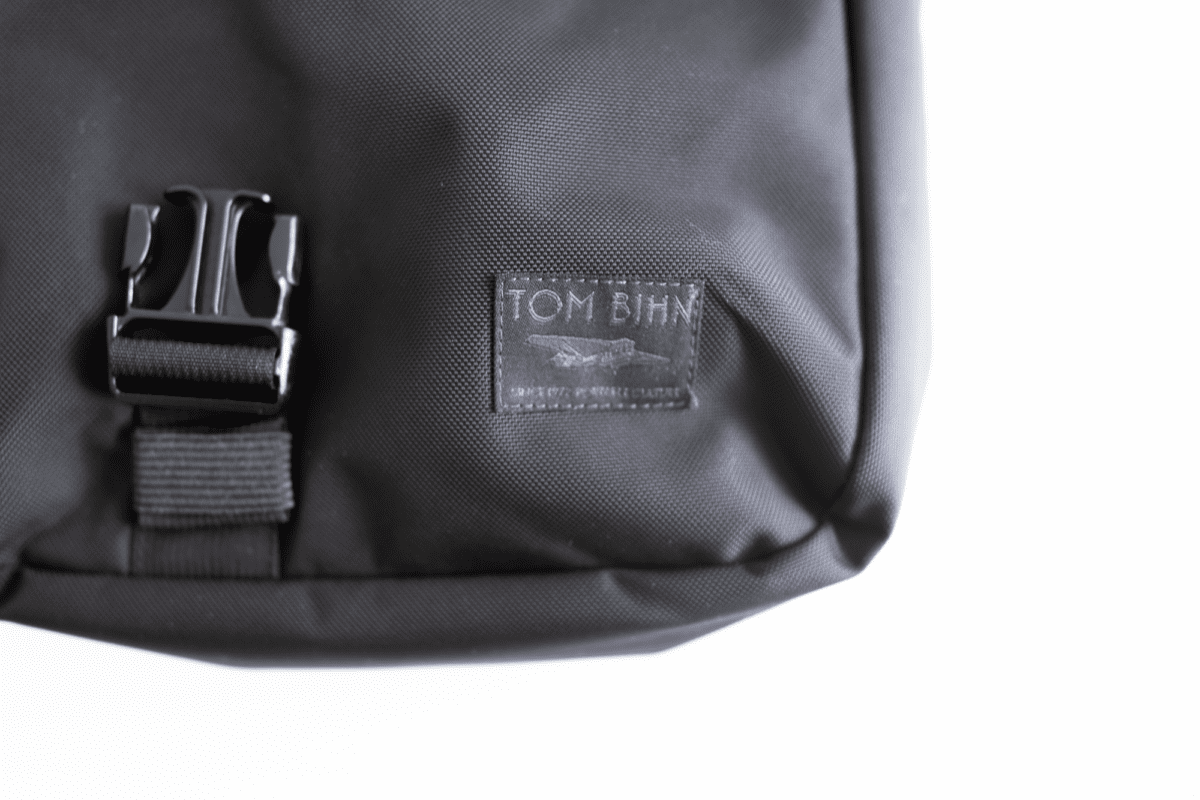 The black colorway has been consistently applied to the entire bag. The only sliver of color you might spot is if you catch a glimpse of the interior fabric color when looking at it from the sides.
The Cafe Bag comes in three sizes. I have the medium and small sizes in hand for this review. Choosing the right size might be the most important decision when you've already decide to buy the bag. You"ll want a size that is large enough to hold everything you need but not too big that it becomes cumbersome to lug around.
The dimensions are as follows (w x h x d)
Large 13.3″ x 12.9″ x 3.3″ / 340 x 330 x 85 mm
Medium 10.6″ x 12.2″ x 3″ / 270 x 310 x 75 mm
Small 8.3″ x 10.6″ x 3″ / 210 x 270 x 75 mm
The large size has been officially been retired but they are apparently offering one last production run at the time of this post.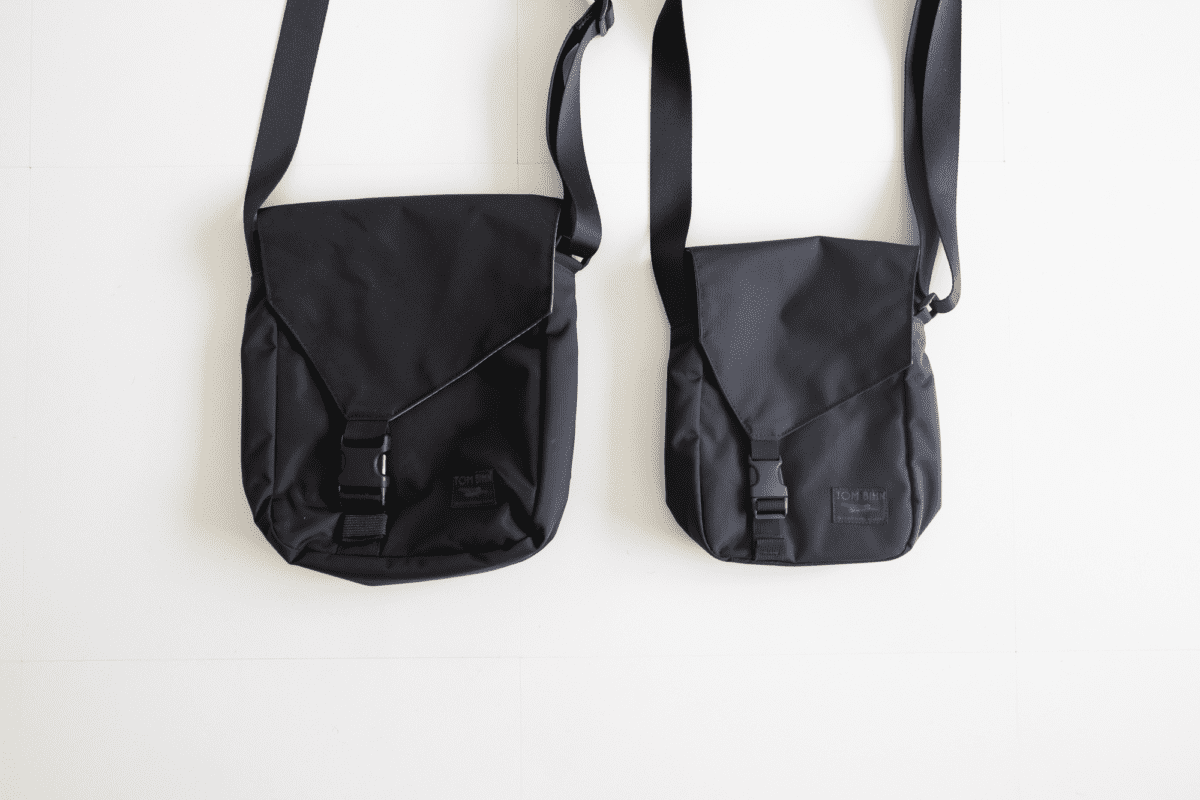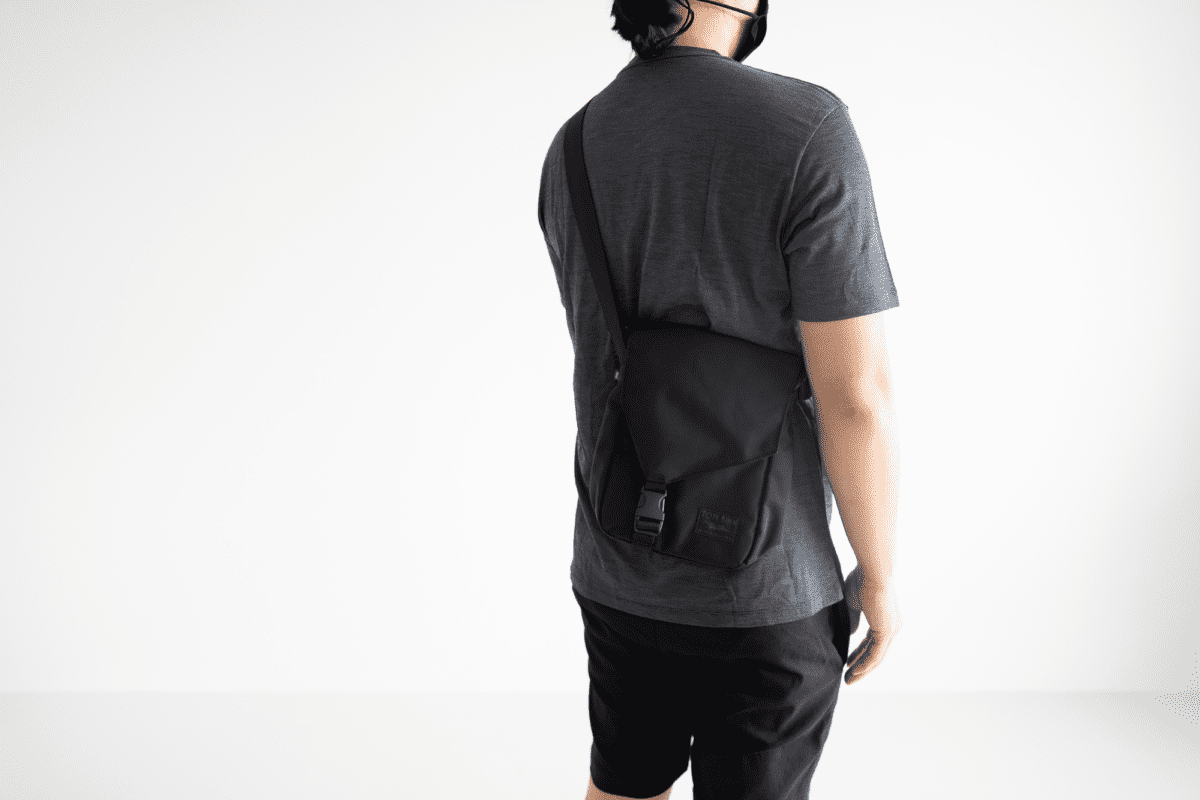 This style of bag, especially the medium size, reminds me of the kind of duotone fanny pack that some Japanese middle-age men wear. There is some cultural nuance involved in this impression so to each their own. But, I would say that this style isn't considered a fashionable look here in Japan. The all black colorway does mitigate this look, but not enough to stop my SO from sighing whenever I carry the bag.
The black version of the Cafe Bag is stealthy with the exception of the sole distinctive feature. The flap is pointed towards where the strap is attached. This design detail is something I could do without as it draws attention, even if just a little bit. However, there is a reason why it is designed this way. More on that in the "Usage" section.
Material
The Cafe Bag comes in a few material combinations:
While the bags I have in hand are the 525d ballistic nylon exterior and 210d ballistic nylon lining version, here are a few differences between the materials.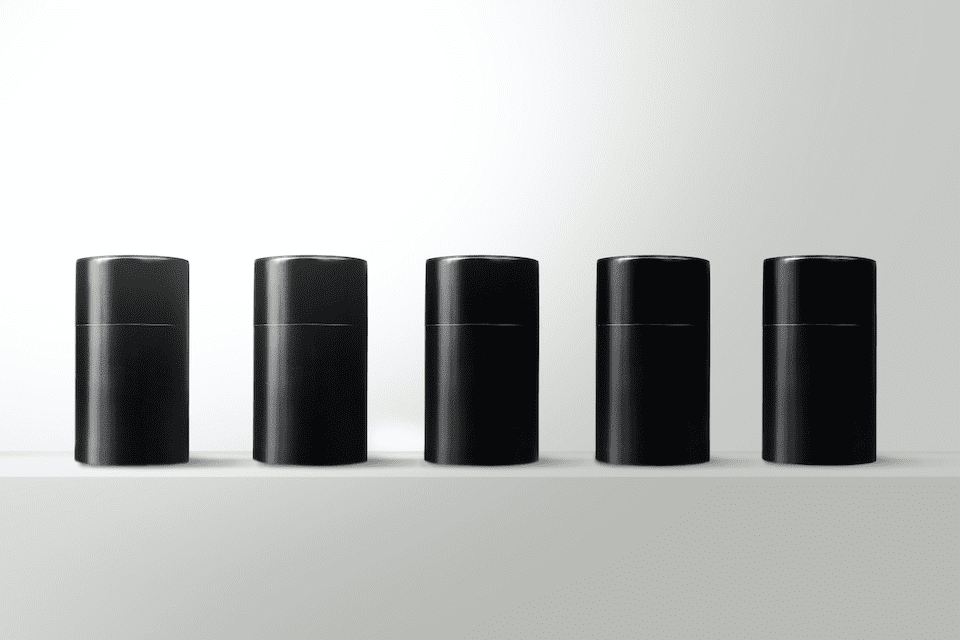 I found a 100 year old company that would create these heirloom quality canisters for me. They are handmade and will keep your tea leaves, coffee beans or anything that you need dry for years to come.
or read review
When comparing the exterior fabric, here are the main features of each that will help you decide.
400d halcyon

Tough
Technical look
Lightweight alternative to the others on the list

1000d Cordura

Famous name in the industry
Collect pet hair and lint easier
Canvas-light feel

525d ballistic nylon

Military origins made to resist ballistics a.k.a badass
Resistant to pet hair and lint
Soft with larger weave and more "synthetic" feel

210d ballistic

Lighter than the 525d but more than durable enough if you are just taking the Cafe Bags to cafes.
Organization
The organization on the Cafe Bag, given its compact size, is straightforward.
There is a slot with a slanted opening on the back, which is great for quick access valuables since it leans against your body. On the medium Cafe Bag, it was a great compartment for my SEAGALE Ultralight Cap. You should note that this slot is relatively flat and is meant for flatter objects so you won't feel a bulge against your body.
However, in many cases, I find myself using this as the main quick access compartment, given how easily accessible it is. I often put my Stanley Travel Mug and wet foldable umbrella in here. Even with the bulge against my body, it wasn't bad at all.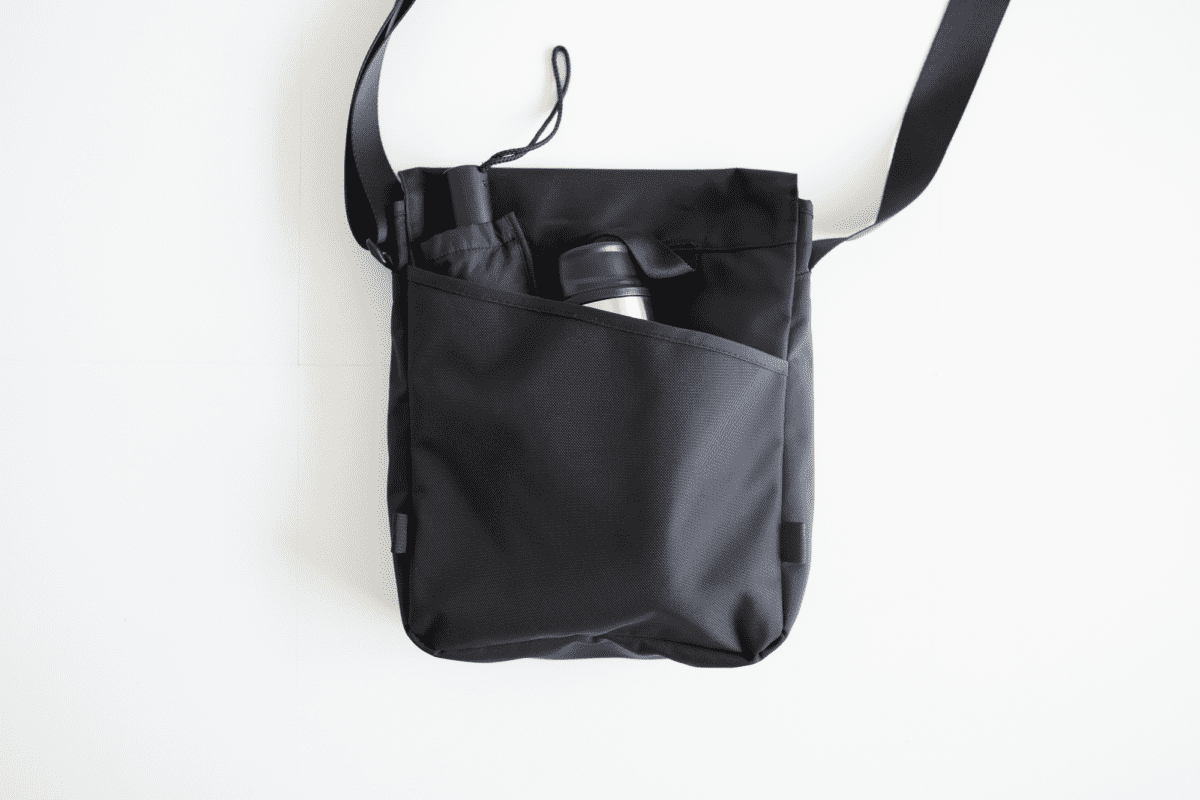 On the front of the bag, there is a zippered pocket with a single zipper pull. This is a straightforward pocket that's great for quick access items that you can't afford to fall out. I keep my Apple AirPods in here.
I would have expected there to be TOM BIHN's usual key loop attached to the front pocket (like on the TOM BIHN Shadow Guide), but instead, it is attached to the main compartment. In the main compartment, there are two o-rings, one on each side of the opening for such attachments. Only on the medium version, there is one more o-ring on the front edge.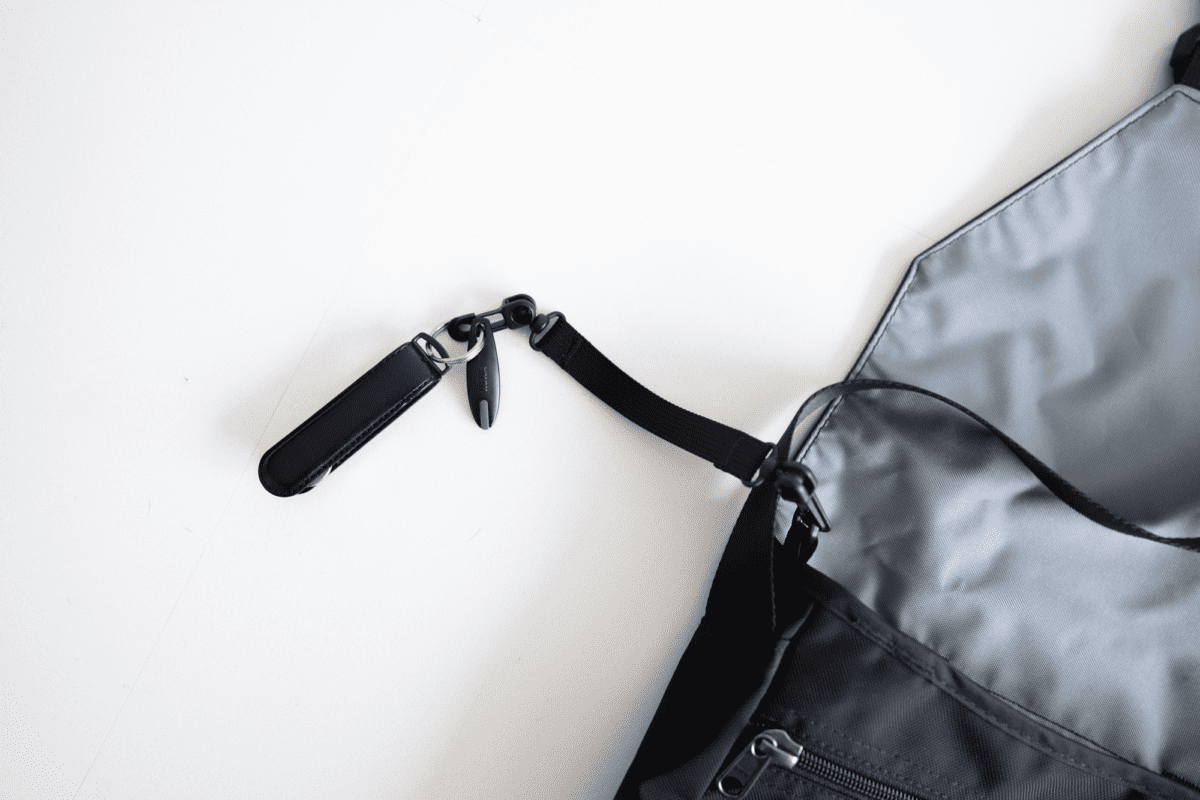 The main compartment is also very straightforward, with the only internal organization being the few slots on the front side of the interior. The internal organization on both sizes of bags are identical, with the exception of these slots:
On the medium, there are two pen slots and two medium-sized slots that are great for your mobile phone or a slim wallet like the NOMAD Shell Cordovan Wallet.
On the small, there are three pen slots and one medium slot.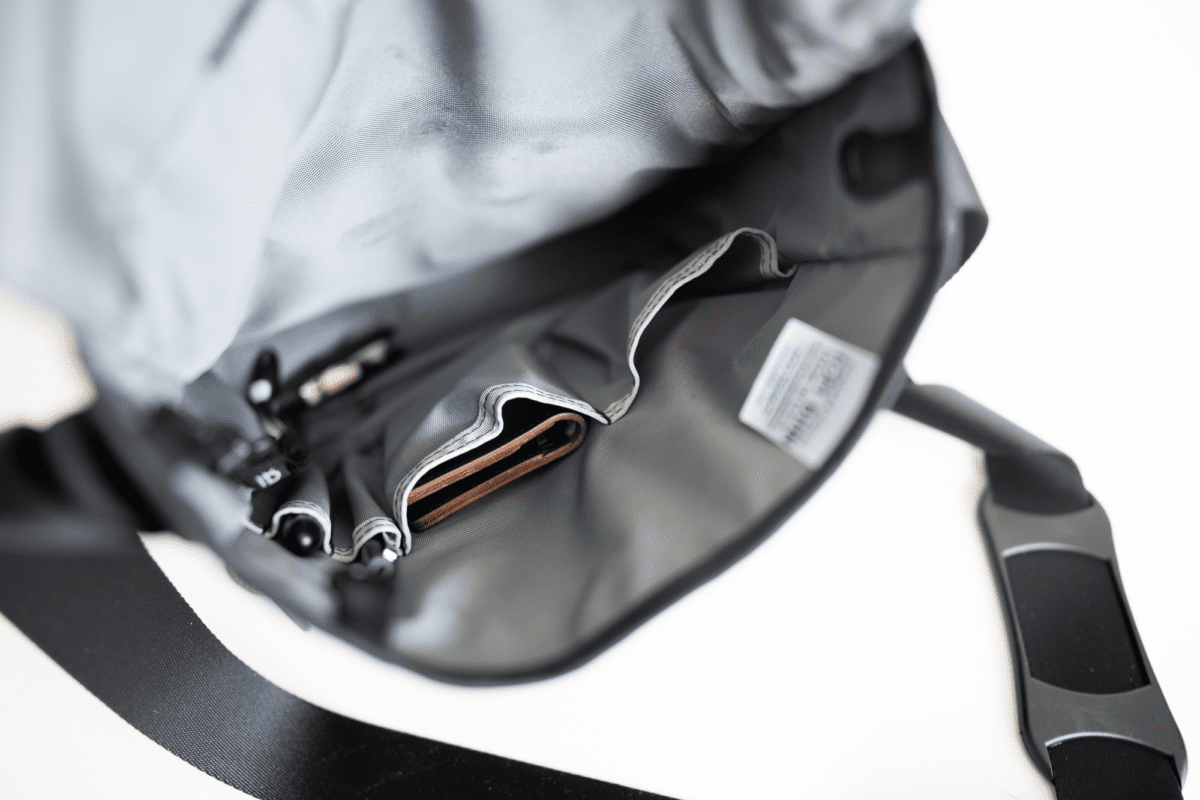 TOM BIHN, when designing this bag, seemed to have imagine a creative soul heading to the cafe with his pens and notebooks, penning ideas or inspirations. In our modern connected world, I have gone completely digital and felt that pen slots are past their time, and would rather they not be included.
Usage
For me, the size and shape of the bag is what makes it unique. The size is perfect for just your "cafe essentials".
Being a cafe-goer who likes to keep things simple, my cafe essentials have been pared down to three key components:
With these, I can work or entertain myself almost endlessly. The Macbook Pro and its M1 chip lets me do without a laptop charger, and best of all, it fits into the medium Cafe Bag perfectly. Even with a laptop in the main compartment, there is still ample space for other accessories like my Stanley Travel Mug, umbrella and a light jacket, my Reigning Champ Team Jacket.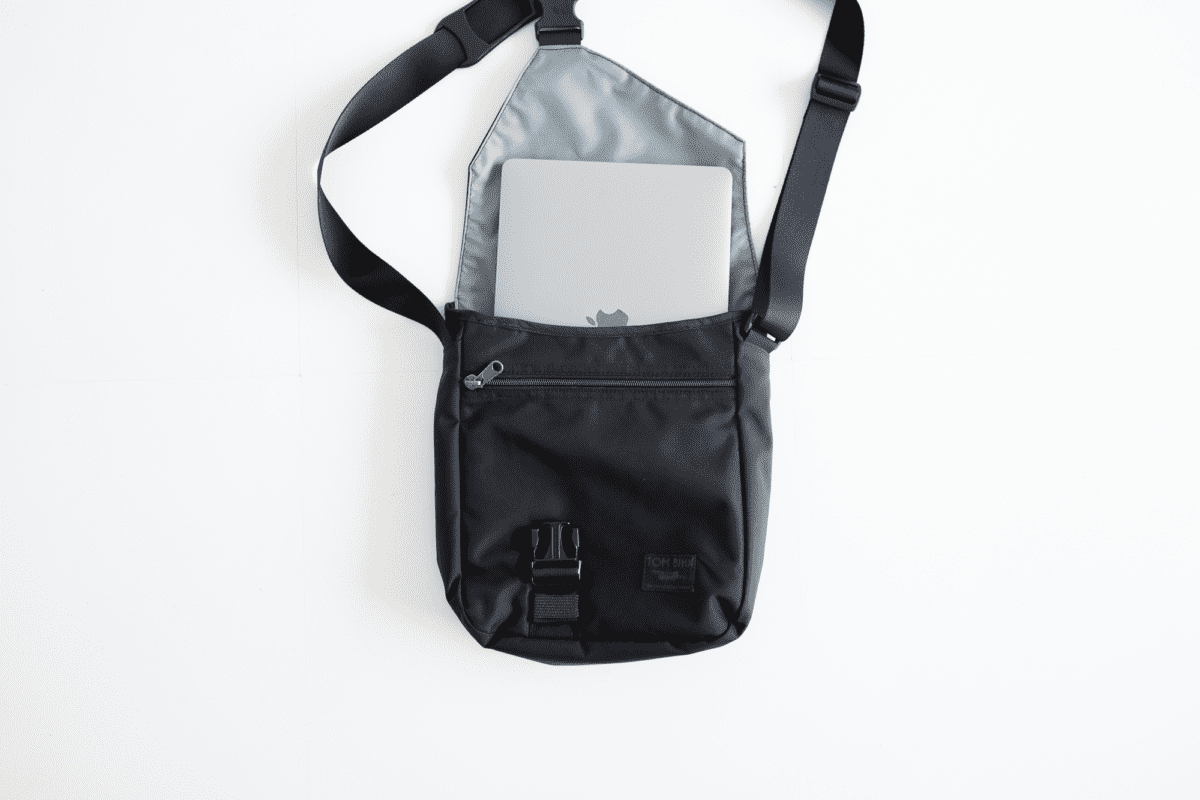 It is also interesting to note that the small Cafe Bag can technically fit a 13-inch laptop, that is, if you don't mind it extending beyond the main compartment and looking forced, that is. I was just barely able to close the flap, with the strap fully extended. While it is possible, I definitely wouldn't recommend it.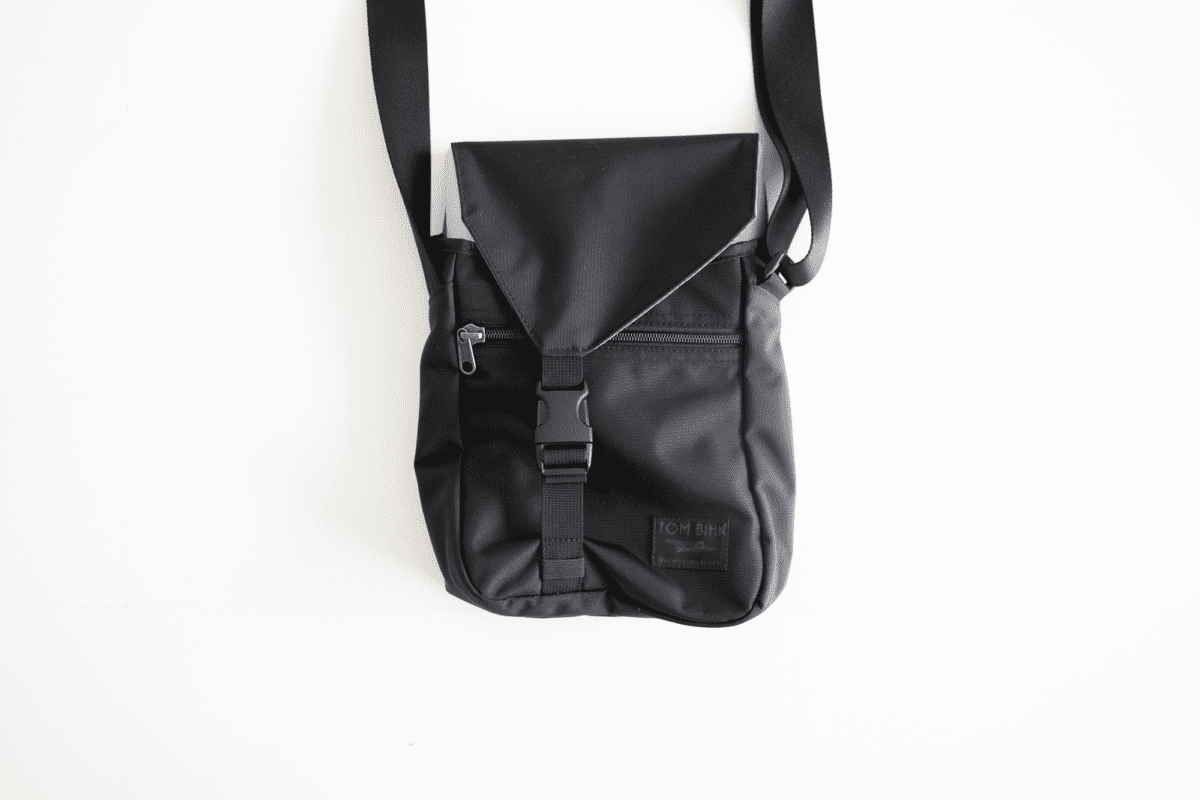 The medium size also fits a 16-inch Macbook Pro, the same way the small fits the 13-inch.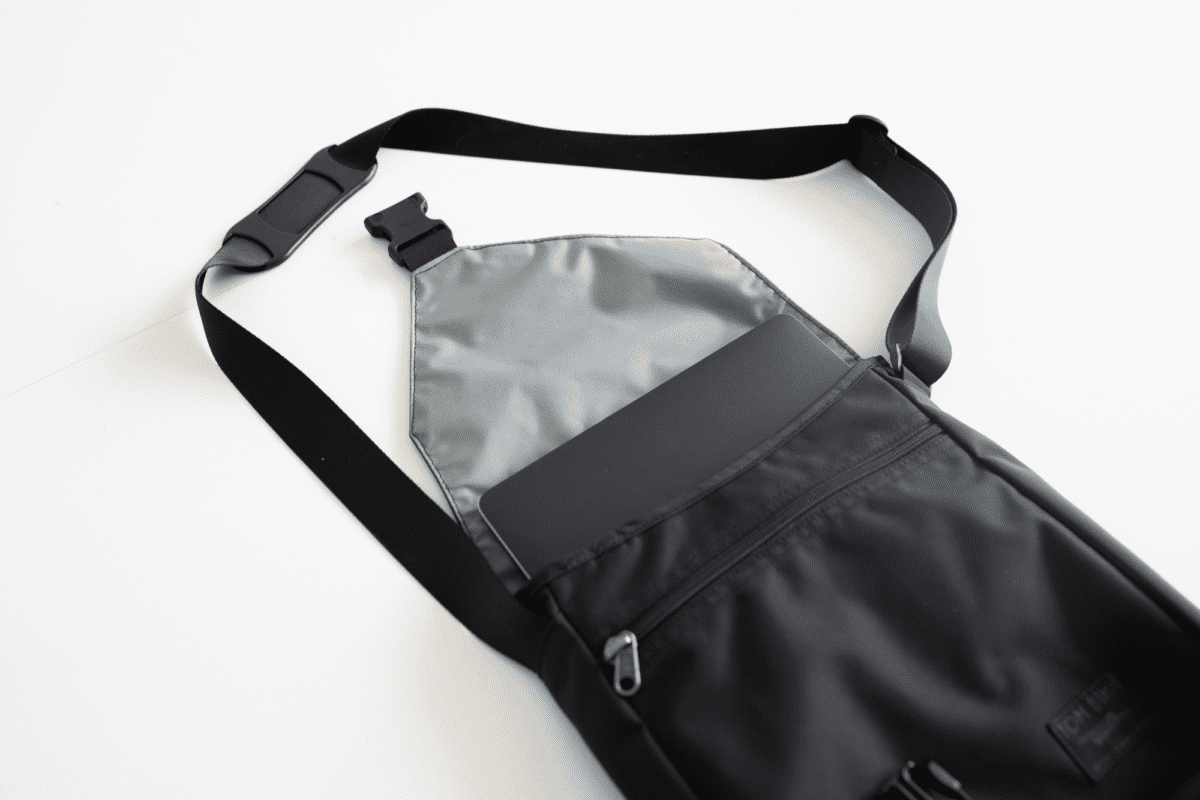 While I didn't like the look of the pointed flap, it allows the user to be able to reach into any of the compartments without release the clip. You can just slide your hand under the flap, which makes any of the compartments relatively quick to access.
The strap of the Cafe Bag come with a non-slip shoulder pad. The underside of the pad, the side that comes in contact with your shoulder, has studs to prevent it from moving around. However, these studs are sharp enough that you'll feel it through your t-shirt which makes for an uncomfortable sensation.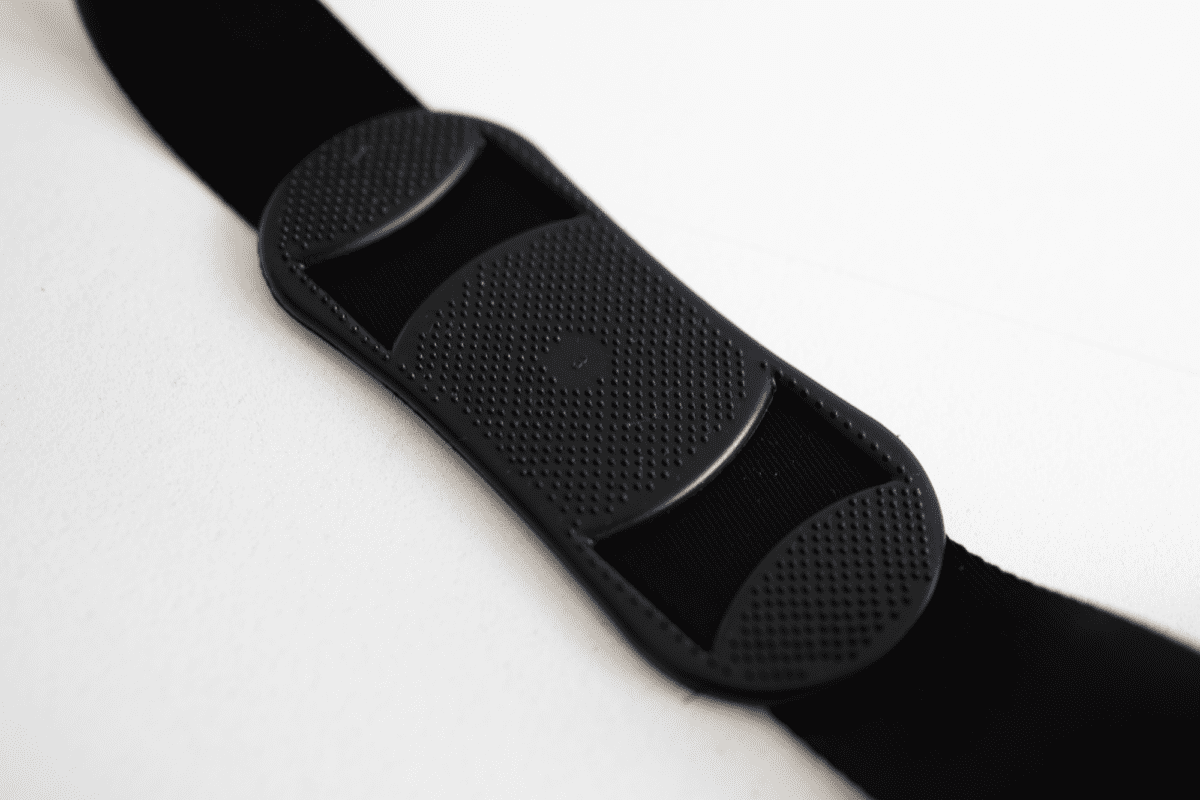 At the same time, the surface area of the pad is too small for my shoulder and doesn't do a good job in staying in place anyway. I thought that a wider shoulder pad with more cushioning might have been better, at least on the medium size where more weight can be expected.
Conclusion
The TOM BIHN Cafe Bag exudes the high quality and solid construction that comes from TOM BIHN's decades of experience and in-house manufacturing capabilities. Unlike more versatile pieces like the TOM BIHN Synik 30, the Cafe Bag is purpose-designed, making it perfect for people who want a bag for that one activity they do all the time.
The Cafe Bag, to say the least, does the job it was designed for. It's an easy bag to throw on on your trip to your favorite cafe. Beyond that, it works well as a bag for your everyday carry, but not the best style-wise especially when compared to the likes of the Aer City Sling.
Additional Images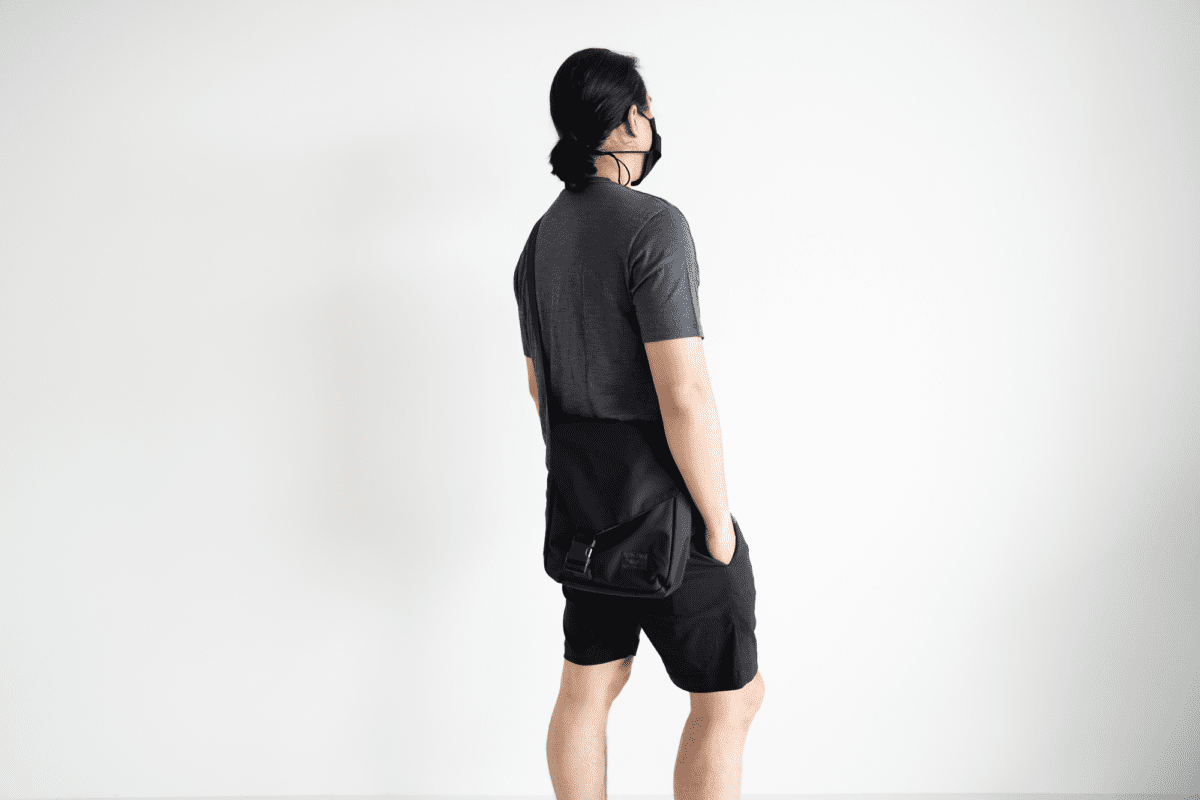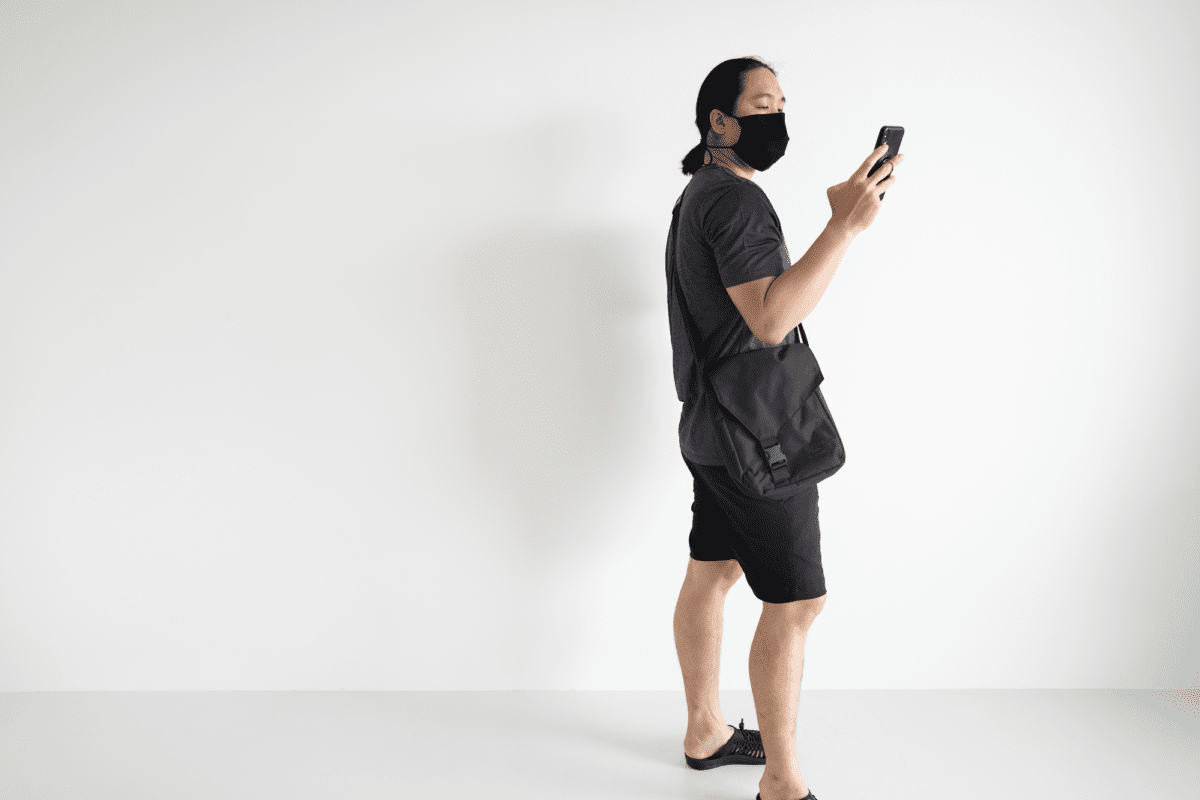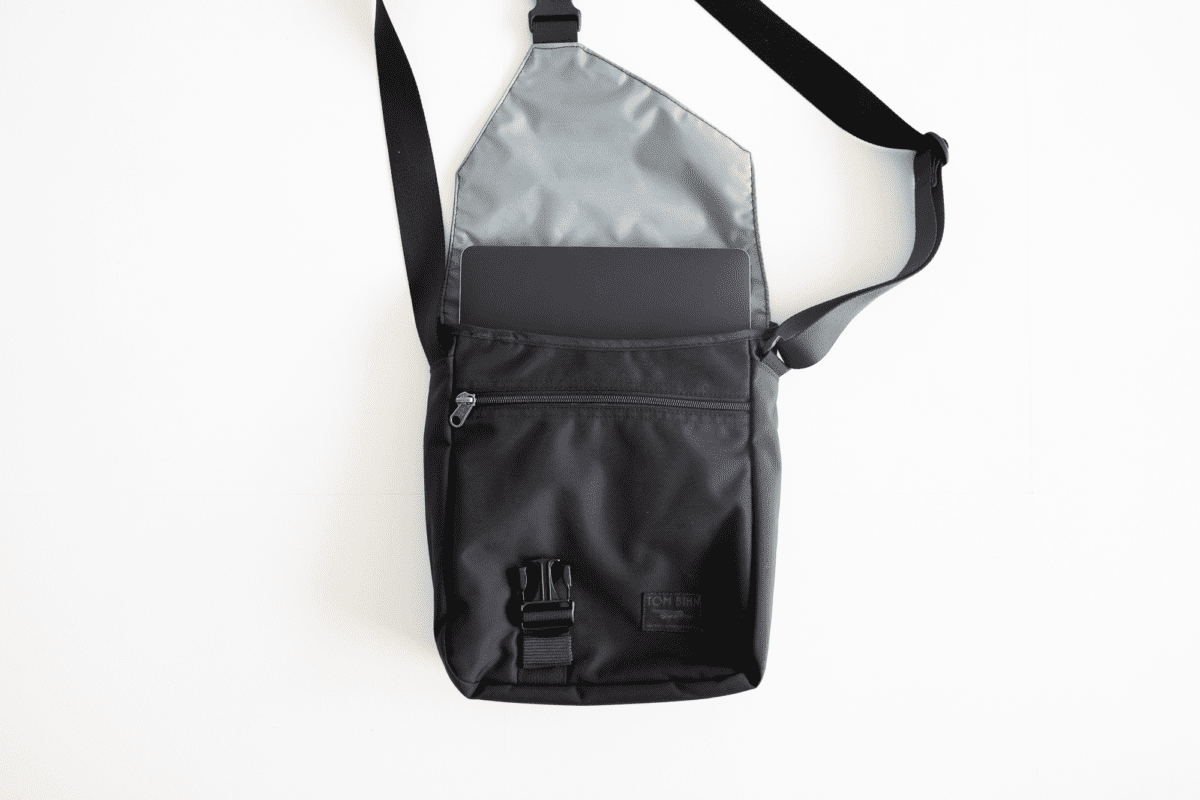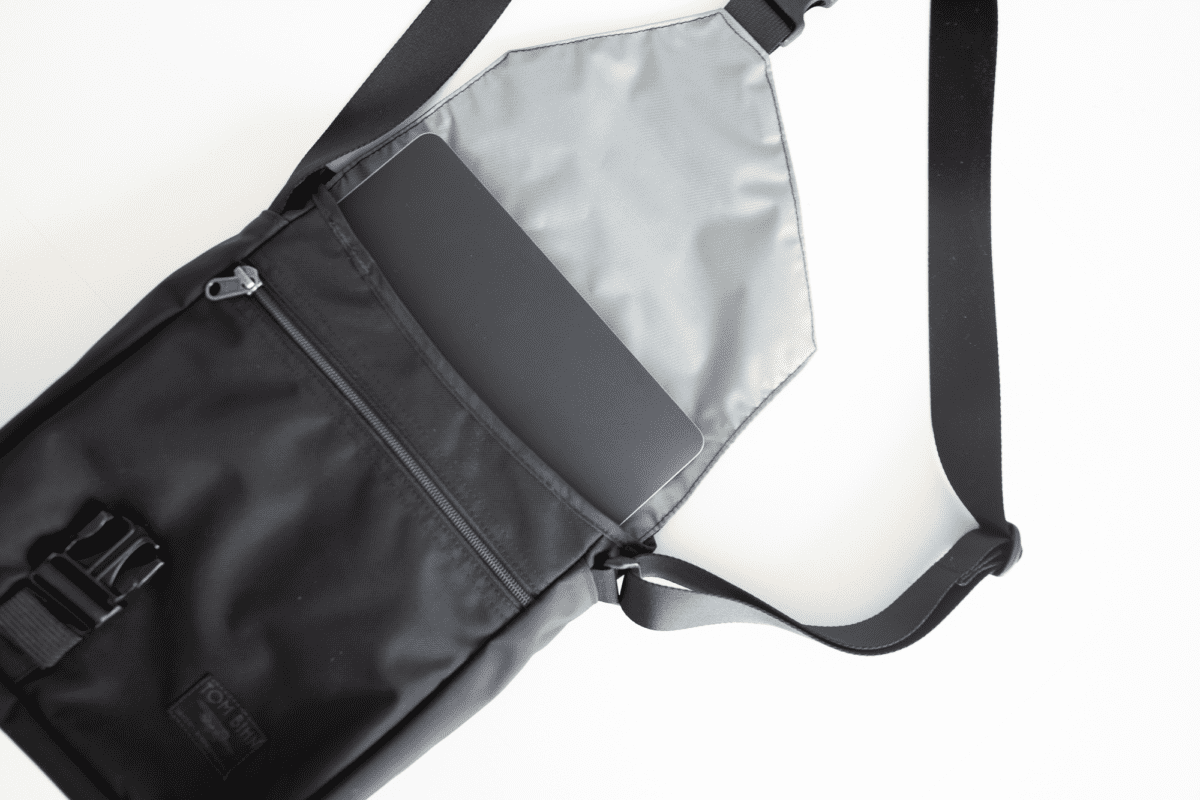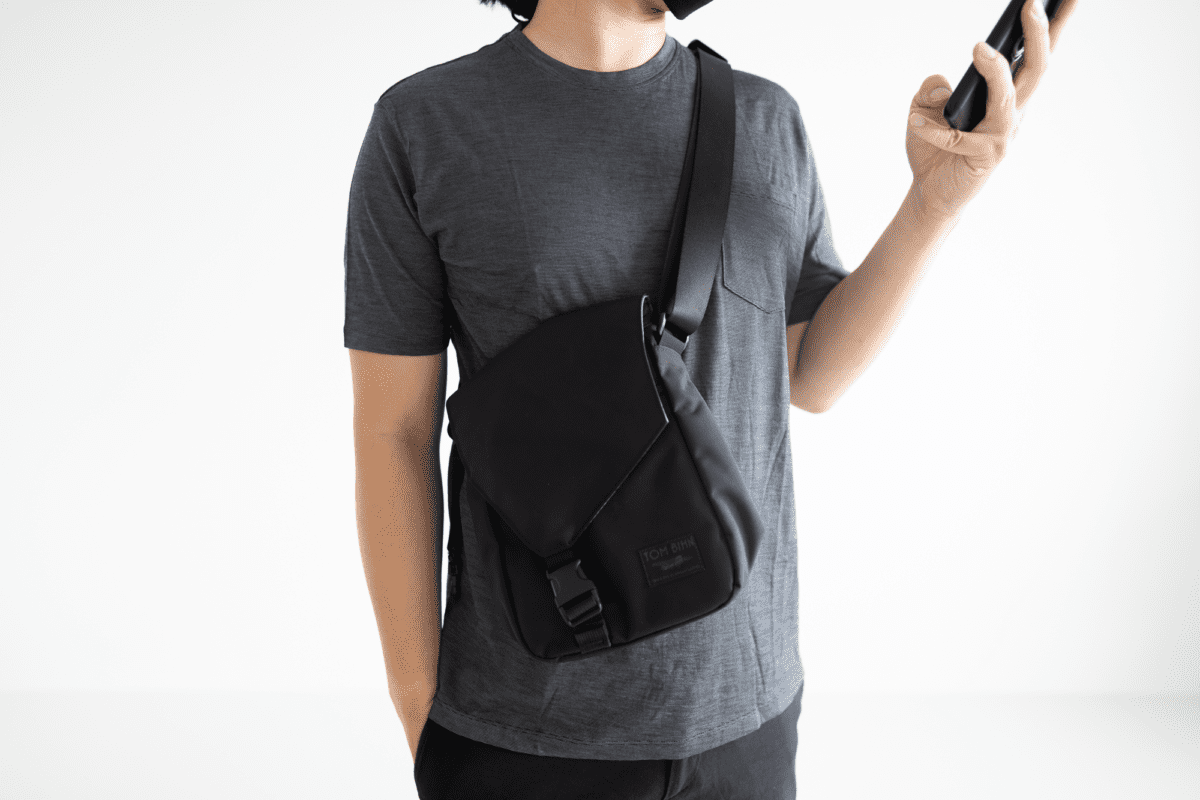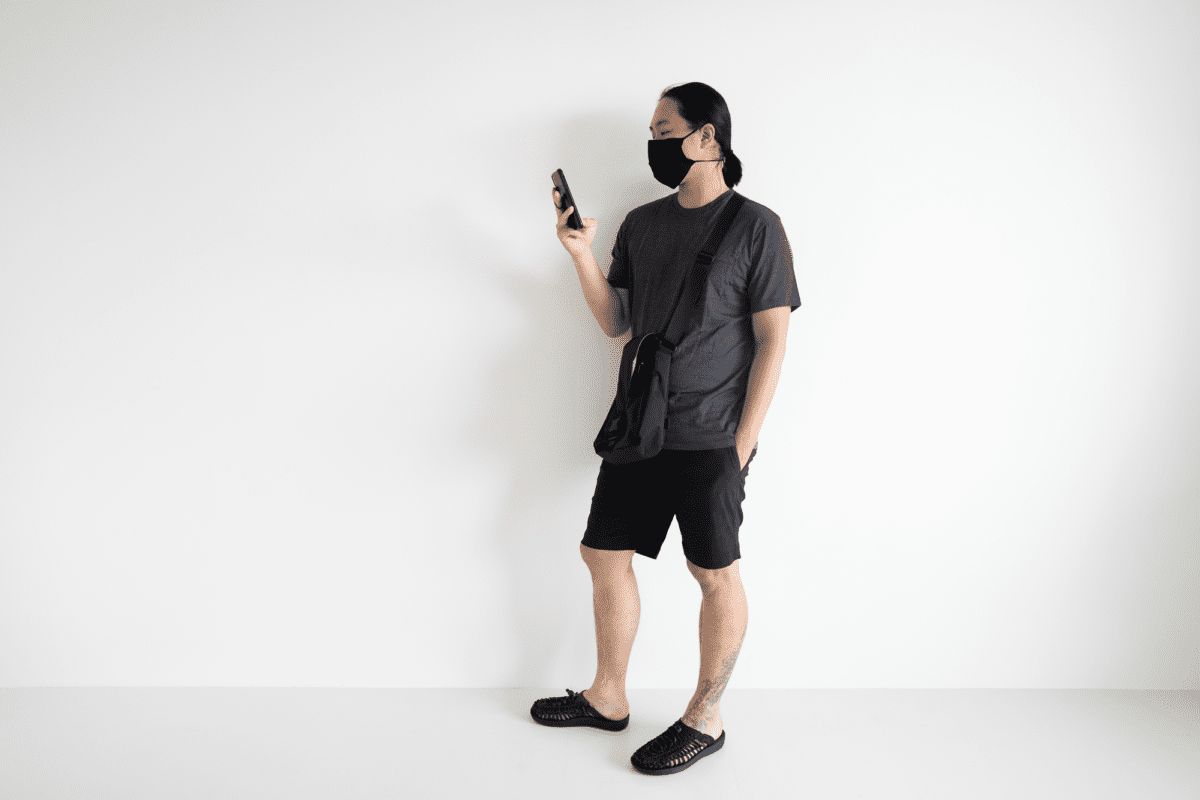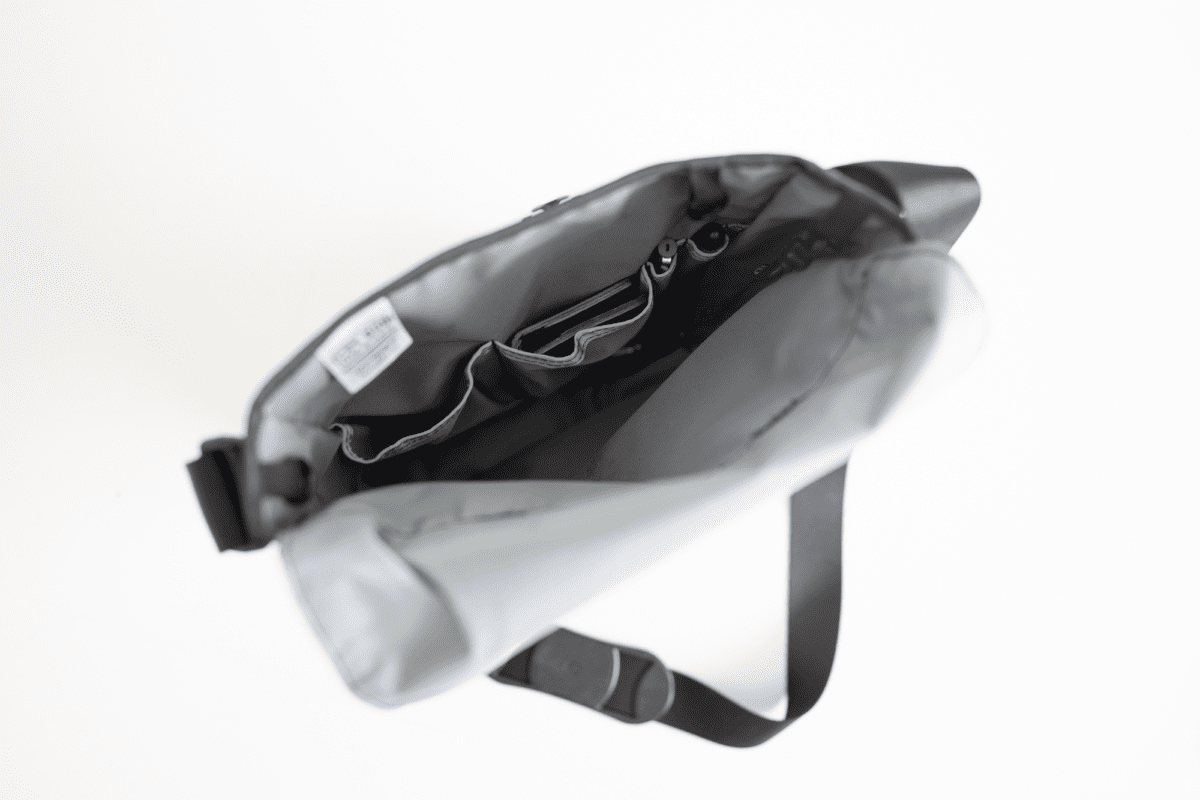 Like this review? See all of my in-depth reviews.
Also, consider supporting me by being a Patreon. Every cent given will go back into improving the content of this website.
Tagged bag ballistic nylon review sling bag tom bihn