This website is made possible by readers. I may earn a small commission when you buy through the links in this article at no extra cost to you. Learn more.
Just how good is Blinkist? Is it worth your money? Or more importantly, is it good for you? All this and more in this extensive Blinkist review.
Details
Price $8.34/month billed yearly or $15.99/month billed monthly on blinkist.com
Exclusive! Enjoy 20% off your first year with this link.
Premium Features

Unlimited access to over 3000 titles with more than 30 titles added each month
Audio for over 85% of the titles
Highlight ideas you love and sync them to Evernote
Send your reads to Kindle or download them to enjoy offline
Contents
In this Blinkist review, I'll be covering the following
What is Blinkist?
Reading an entire book is no longer trendy. Why waste time when you can absorb all the core learnings of a book within a fraction of the time? Welcome to the world of book summaries.
A book summary is, in a reader's own words, the main points of a book and there's a streaming service for it. Blinkist is a collection of over 3000 nonfiction summaries, which helps you understand all the key insights of a book in 15 minutes or less. Over 30 new titles are added by Blinkist every month.
Most of the book summaries, referred to by Blinkist as a title, have accompanying audio. Each title is separated into short 2-3 minute chapters called a blink.
For example, Minimalism: Live a Meaningful Life by the two rather high-profile minimalists have their book summarized down to a 13-minute read. Another of my favorite, Atomic Habits by James Clear has the key points of his books condensed down to 13 minutes.
Are book summaries for me?
If you are an avid (traditional) book reader like me, then transitioning to a book-summaries-only diet has its fair share of goods and bads. And, like any diet, it works for some but might be impossible for others.
While different services offer varying standards of book summary, the following applies to book summaries in general, and not just Blinkist's. While one could argue that this has nothing to do with a Blinkist review, I included it because there are people, like me, that are new to this hyper-productive world of book summaries that might need to know if it's right for them.
What's good?
Only the essentials
Book summaries are the minimalist versions of books. It strips away all the fluff, down to the essential key points. This saves time and energy your mind needs to draw out the main points.
You can read more
It takes about 6-12 hours to finish a book. However, you can complete a book summary in just under 15 minutes. It's like you have some kind of superpower to read ultra fast.
What's bad?
It's not as fun
A good book often uses simple anecdotes to support big ideas. It helps you to connect to the idea and most of all, it's fun to read. While Blinkist's summaries are not completely void of anecdotes, they are kept to the minimum.
It's an interpretation of a book
A book summary is written by someone other than the author. This means that you have to trust that the summary writer does a good job of interpreting the key ideas of the book.
It doesn't stick as well
Learning faster doesn't always mean you are learning better. Context helps build your understanding of the author's ideas. Without it, there is no support to those ideas for you to draw upon when trying to apply or share them.
Is Blinkist Easy to Use?
Blinkist is beautifully designed, with a strong sense of identity. Each title has a simple, hand-selected cover that is consistent in style. The service almost feels like the work of a minimalist. It's clear that the focus of the app is to help you learn; nothing more, nothing less.
In fact, the initial concept of their app consists of 68 screens, which they dramatically reduce to three main screens, Discover, Library, and Reader.
But no one likes ads, so I got rid of them. If my articles helped you, I ask for your support so I can continue to provide unbiased reviews and recommendations. Every cent donated through Patreon will go into improving the quality of this site.
This wouldn't be a thorough Blinkist review, if I, a user experience designer, do not tear the interface a new one. It gives me the delight to spot all the little details that come together for a deceivingly simple user experience.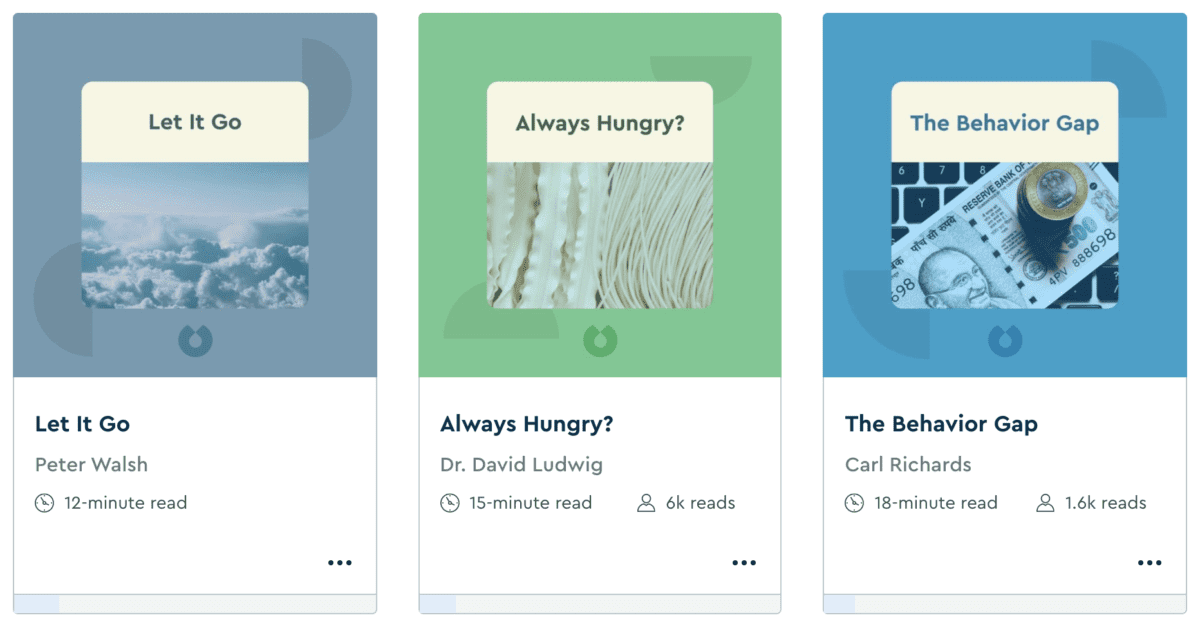 Discover
The Discover screen, no surprises here, lets you find a title to read. Since these titles are based on popular books, you can search for an author or the title if you already have something in mind.
However, if you don't already have a list of books you want to read as I do, you can try to find one via your area of interest. I personally linger around the Personal Development, Productivity, and Mindfulness & Happiness categories most of my time on Blinkist.
You can sort or filter from all titles
Within each category, you can see trending titles, newly-added titles, and featured titles. If nothing catches your eye, then you can look through all the titles within the category. For some reason, there isn't an option to show all titles and sort/filter from there.
Titles are sometimes too cryptic
Each summary is titled very succinctly, almost to a fault. While some titles are straightforward, such as "Minimalism" or "Exploring the World of Lucid Dreaming", others like "Together" or "Losing Eden" are harder to picture. Unfortunately, apart from the number of reads on some titles and length of the read, there isn't any other information to help you decipher more cryptic titles.
Clicking on the title will bring you to a screen that gives you a synopsis, but we can agree that it's not the easiest way to discover.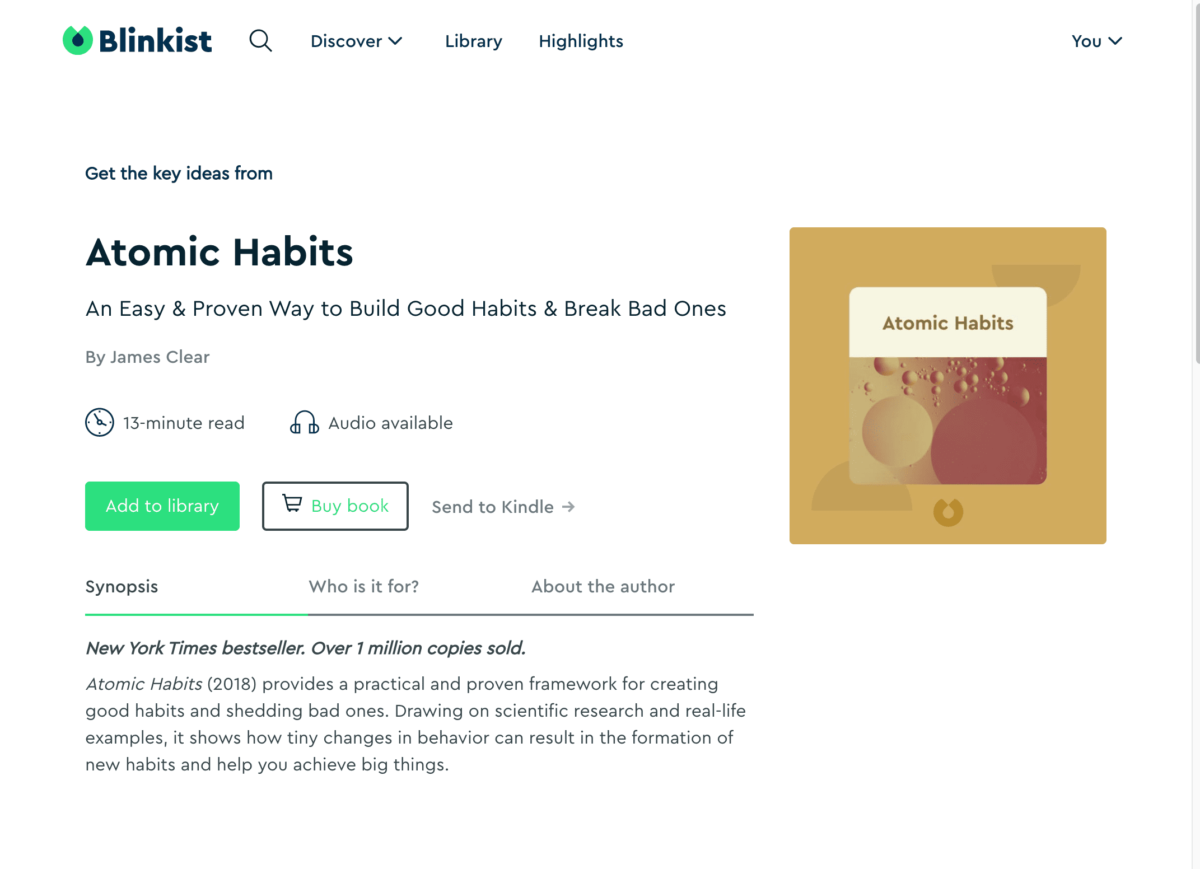 Library
In order to read a title, you have first add it to your library. It's always nice to admire your "collection" like that of a well-chosen home library, except that you aberrantly place each book with the title facing forwards, wasting precious space.
This is what the Blinkist library is like, making your scrolling finger beg for mercy. A list view would be nice. Your library tends to turn into a little of a hoard as there isn't an option to flip through a title without adding it to your library.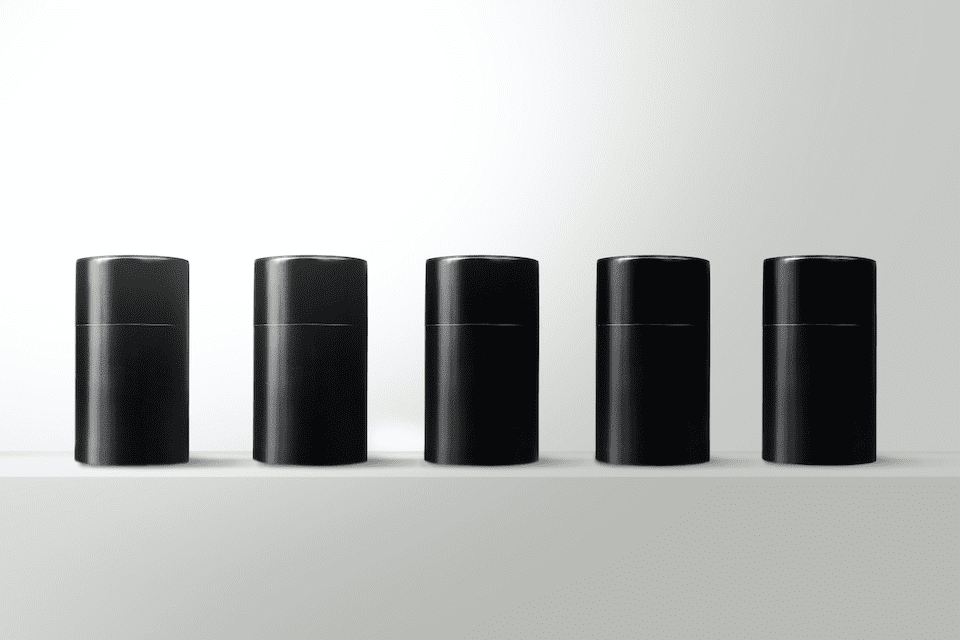 I found a 100 year old company that would create these heirloom quality canisters for me. They are handmade and will keep your tea leaves, coffee beans or anything that you need dry for years to come.
or read review
There is also a "Finished" tab that shows all the titles you finish. If you listen to the audio version, it does not mark it as finished. You have to click on a button on the last blink to do so.
Reader
The reader is free from all distractions allowing you to focus on the content. The experience is not unlike most reading apps like Apple's Books. I did have to get use to the short length of each blink, often doubling back to see if I missed something.
99% of the time, I'm listening to the audio version. Being used to streaming platforms like Netflix, I kinda wish there were more intuitiveness with the audio reader.
First of all, you can't continue listening while you browse for other titles, something that you get used to if you watch a lot of YouTube. This is pretty critical given that you can't really judge if the title is for you without going through it partway.
There also isn't any standard keyboard controls, such as being able to pause or play with the space key.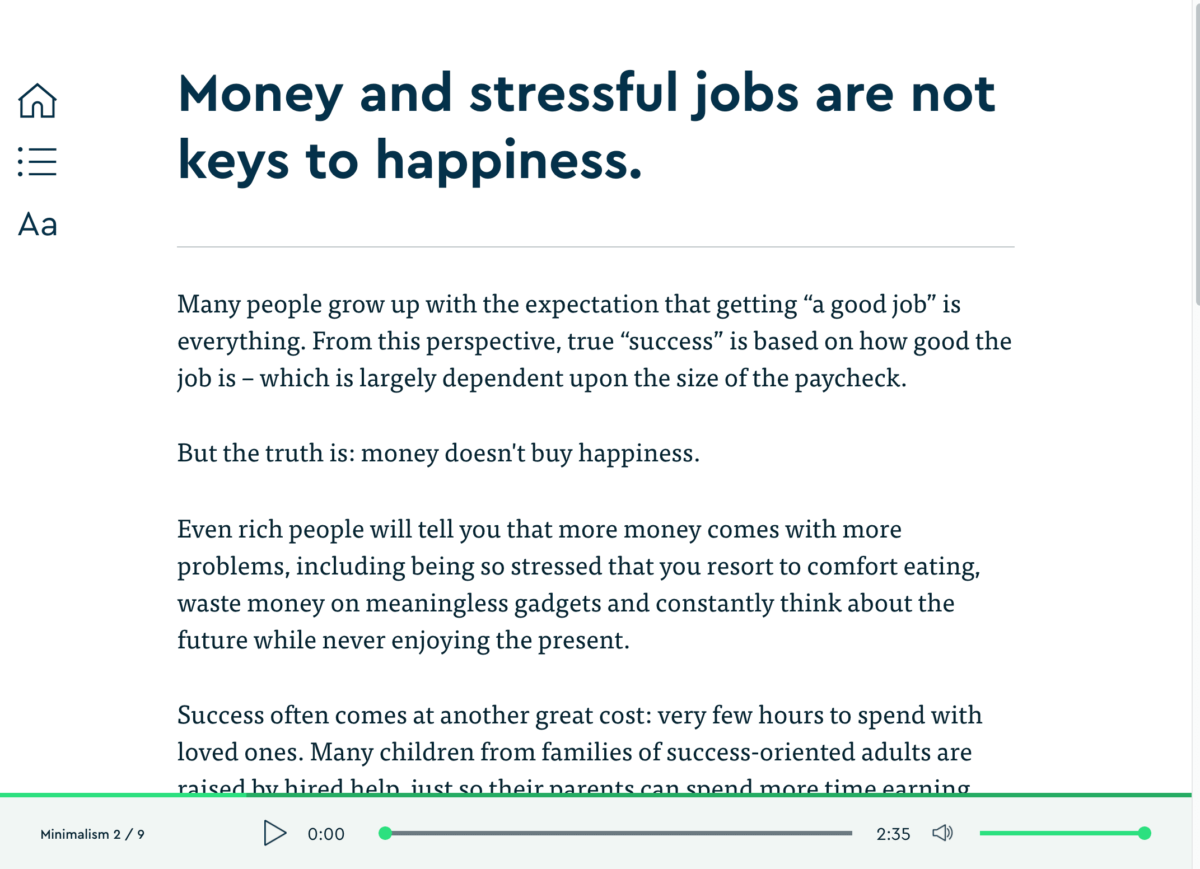 I guess that's because each title is pretty short. In consideration of the length, they didn't think that they needed to provide any "power" controls.
One feature that I really wanted was the ability to read in dark mode. I like reading in bed on my laptop while my SO sleeps. The current white interface is blinding in the dark.
Is Blinkist right for me?
For many, whether to choose Blinkist comes down to one thing; the titles. It's their core offering and what you are paying for. This Blinkist review aims to tell you if you should get it.
Here are some of the good and the bad that I experienced with Blinkist.
Good: Titles are beautifully summarized
Having read full versions of some of the titles on Blinkist, I found the titles beautifully summarized. So much so, that you couldn't even tell that it has been summarized. It sounds complete with all the key ideas and points intact.
Good: Audio experience is perfect for binging
The audio experience plays seamlessly on both WIFI or a mobile network. While you can download the audio ahead of time, I didn't see a need to. The next title also autoplays right after one ends. This little detail makes it perfect for my morning runs.
Bad: Some titles can feel too short
Since Blinkist creates summaries of popular titles, I've actually read many of the books in their full glory. While some summaries feel fulfilling, there are some that just leave you going, "Wait, that's all?"
Bad: Mechanical and factual a.k.a boring
As a frequent audiobook reader, I'm spoiled by the passion of when the original author read their work, emphasizing ideas with vivacity.
While Blinkist uses human readers, they sound somewhat mechanical compared to the vigor of the original author.
The unemotional cadence of the reading also makes it sound repetitive and tires you out after a few in a row.
Conclusion: Blinkist is right for people who already likes book summaries
It's simply the best service out there in terms of content, usability, experience and price. If you are considering to pay for a book summary service, it's more likely than not that Blinkist is the one for you.
What are the best titles on Blinkist?
In the course of this Blinkist review, I've read more than 100 titles and there were ones that left an impact. So, more accurately, the question is what are my favorite titles on Blinkist?
Here are ten of my personal favorites. I've read the full version of most of them, but find myself re-reading them often on Blinkist as a reminder.
How much does Blinkist cost?
I know my Blinkist review has already gotten you ready to throw some cash at it. But just how much cash do you need?
The Blinkist app is free to download and install, which lets you read one title a day; the daily pick. To gain access to the full library of 3000+ titles, you need a premium subscription.
The premium subscription is $8.34 per month billed yearly or $15.99 per month billed monthly. It's almost 50% cheaper if you choose to be billed yearly.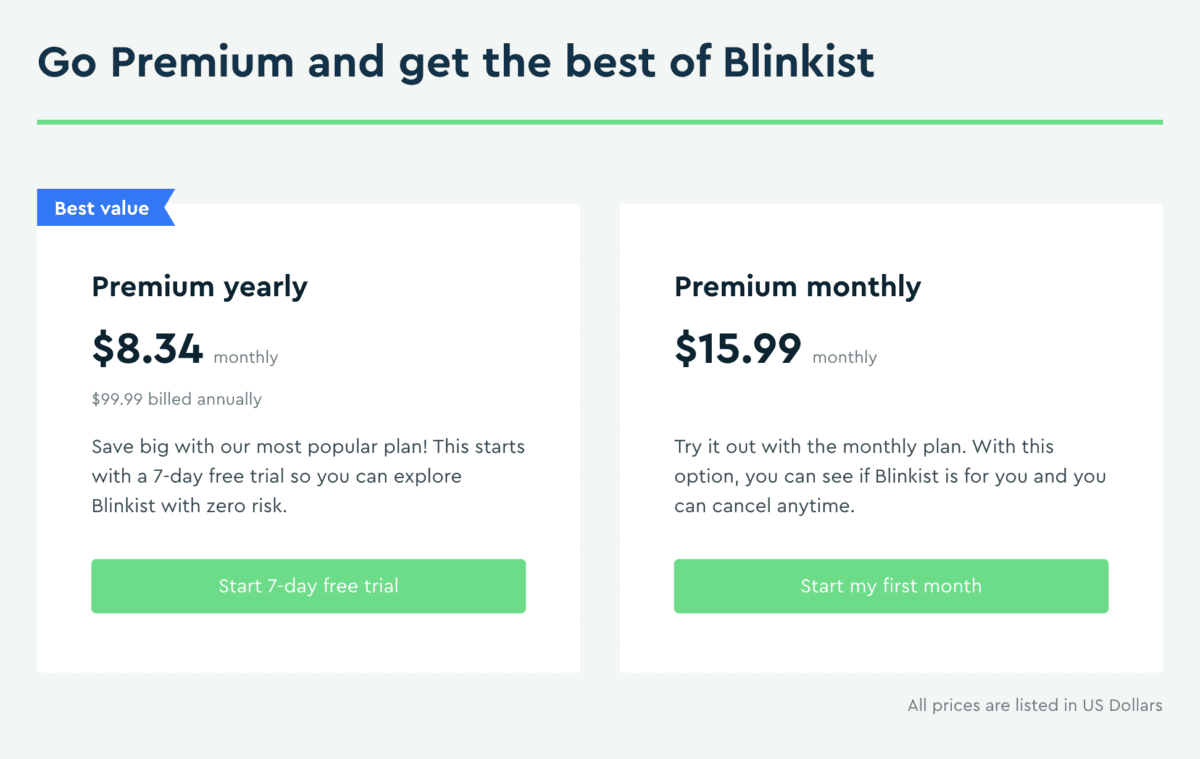 If you choose to be billed yearly, that's about $0.30 a day, which is a steal if you get a lot of value from the titles.
Wait! There's more! (cue infomercial narration) If you use this link to sign up for a trial you can get 20% off your first year. That's a savings of $19.99.
Although the pricing is designed to get you to commit for a longer time, I recommend stepping up instead of going all in. Practically-speaking, you should try the free trial at first. If you are still not sure, get a monthly plan to help you decide. The last thing you want is to be stuck with a service you don't use.
Conclusion
It's still early in my Blinkist journey. But, I will be updating this Blinkist review as I continue to use it.
But, so far, I think my experience with it is overwhelmingly positive, especially as someone who doesn't have the patience for full-length books. It provides regular reinforcements to help build the habits you want.
Are you ready to give Blinkist a try? Use this link to enjoy 20% off your first year.
Like this review? See all of my in-depth reviews.
Also, consider supporting me by being a Patreon. Every cent given will go back into improving the content of this website.