This website is made possible by readers. I may earn a small commission when you buy through the links in this article at no extra cost to you. Learn more.
In this TickTick review, I will be talking about some of my favorite features and comparing it with other popular options.
Details
Price Free (premium costs $2.79 per month or $27.99 per year) on ticktick.com
Platforms iOS, Android and Mac
Overview
As a digital nomad, it's easy to get distracted. Working mainly from home, I get distracted easily by all the comforts of home and the way I get myself back on track is with lists. I create to-do lists for everything I need to do, professional or personal.
I've been using Evernote for managing all my notes and documents and while you can create checklists in Evernote, it doesn't quite meet my expectations since it's too general purpose.
I moved on to Apple's Reminders app and it was alright for a while. The main problem I had with Reminders was that I couldn't format information within each task. For example, when creating a shopping list, I often compare prices want to list them in bullet points within each task.
When I decided that I needed to up my checklist game, I looked at a bunch of apps, like Todoist, Asana, Things 3, Any.do, Omnifocus, and ultimately settled on TickTick.
GUI
As a product designer, using beautiful apps inspires me. TickTick takes a tedious process like project management and expresses it in a simple and intuitive manner.
The user interface is simple with attention to details with spacing, typography and natural visual cues.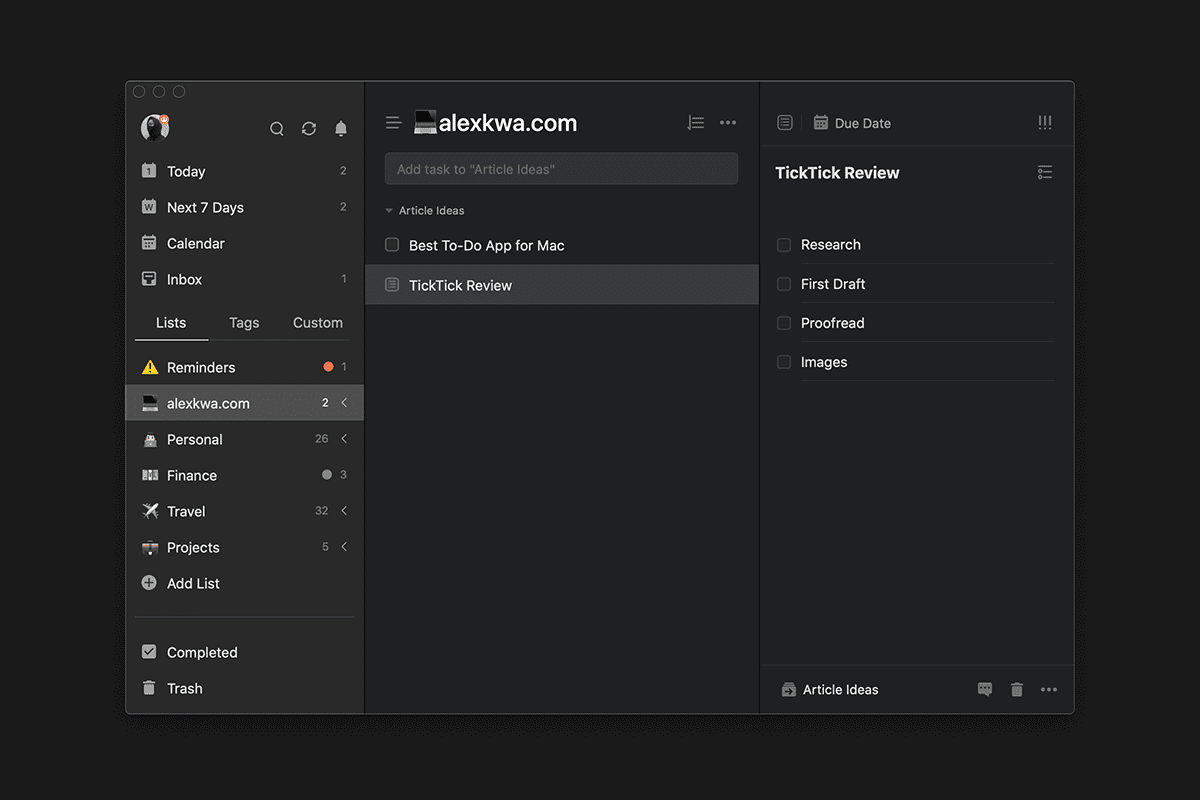 While the premium plan adds access to premium themes, I didn't like any of the themes except for the "dark" theme that comes with the free account. I know I'm obsessed with black, but that wasn't the reason why. Some apps like Slack have beautiful themes with tasteful color combinations. I found most of the TickTick's premium themes (especially those with illustrations) tacky and have poor color combinations for you to process information easily.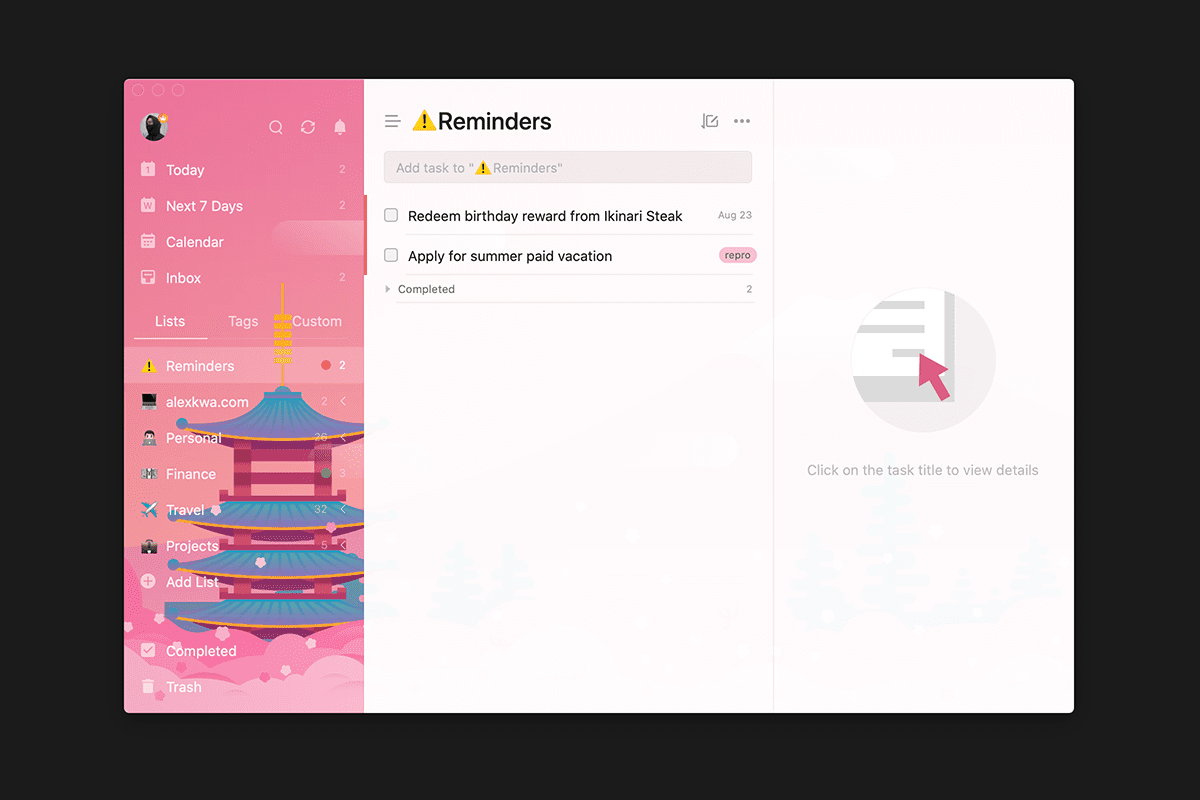 There aren't any options to customize themes so you are pretty limited when it comes to "expressing your color" here.
One underrated "feature" of TickTick is that it gives users the option to turn off in-built features or smart lists they don't need. While I like the Pomo timer and habits tracker, some are simply not interested and can turn it off to prevent a cluttered interface.
But no one likes ads, so I got rid of them. If my articles helped you, I ask for your support so I can continue to provide unbiased reviews and recommendations. Every cent donated through Patreon will go into improving the quality of this site.
Features
In this section, I will be looking at the features that make TickTick stands out. I won't talk about the obvious features, such as creating lists and tasks which are available in every app of the same category.
Smart Lists
Using simple or advanced filters, you can create lists that show tasks according to certain rules. With advanced filters, you can use up to three "AND/OR" filters to create your smart list.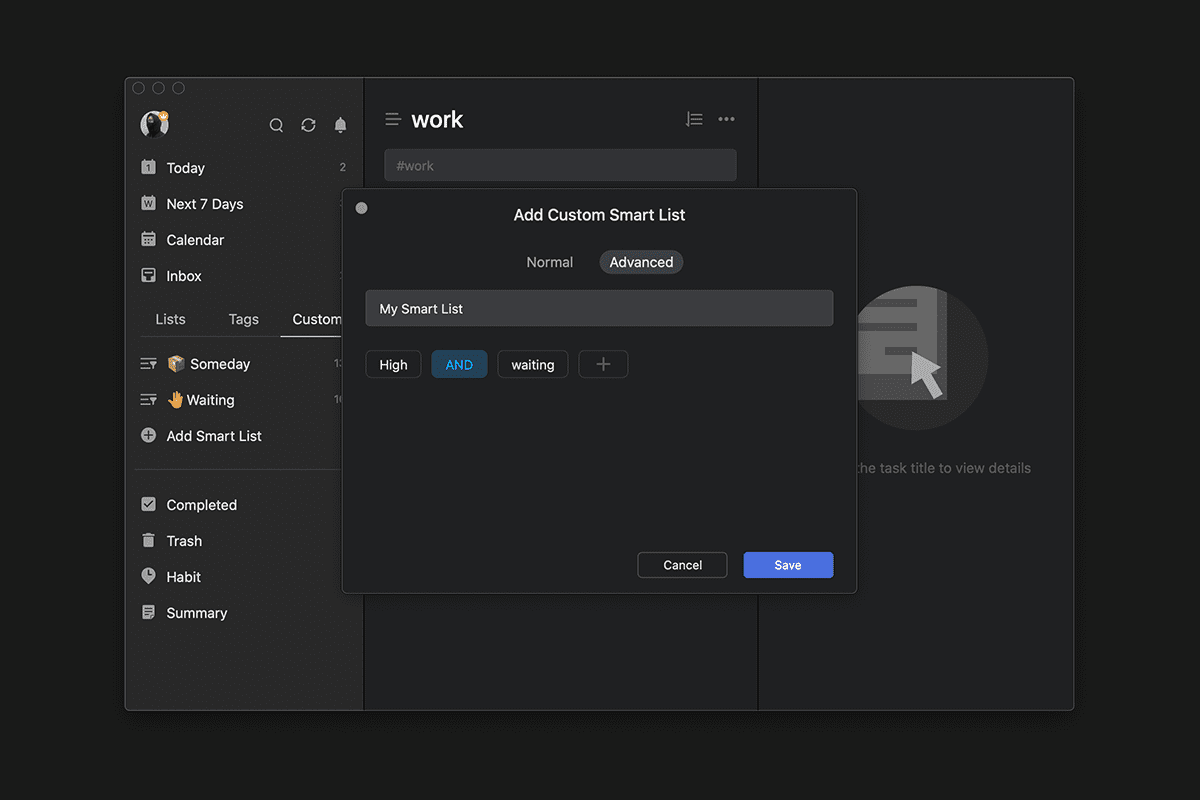 For example, you can create a "Someday" smart list to only show tasks without a due date and exclude lists like a shopping wishlist. While many productivity apps have in-built smart lists, the level of customization with advanced filters truly stands out for me.
What is missing for me with Smart List or really any list is the ability to "favorite" it to have it always showing in the main navigation at all times. At the moment, custom lists are within a tab which makes it troublesome if you access it often.
Kanban View
Kanban is a visual system for managing work as it moves through a process. As a big user of Trello at work, I love the Kanban view and use it to track progress depending on the type of list. For example, I have a shopping list that I separate into Wishlist, Under Consideration, and To Buy columns.
Nested Tags
While this feature wasn't available just awhile ago, nested tags can now be used to offer more organization with your tags. This feature is available in popular apps like Evernote, Bear Notes, and even TickTick's competitor Things 3, so I'm glad that TickTick finally caught up.
Nested tags let you group similar tags together, so if you nest "#apple", "#orange" and "#pear" into "#fruit", searching for #fruit will bring up all tasks tagged with the three child tags.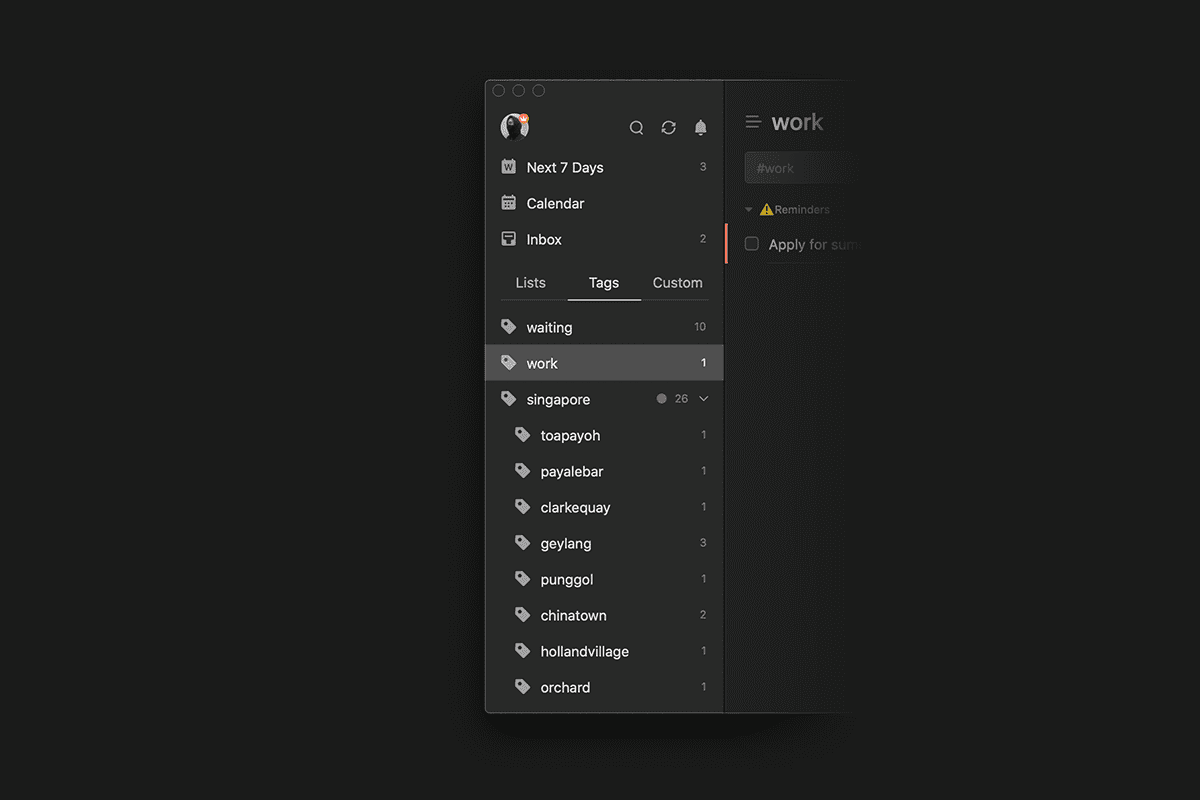 Calendar View
Within the TickTick app, there's a calendar that lets you see all the tasks arranged. You can also subscribe to external calendars and have them showing alongside your TickTick tasks.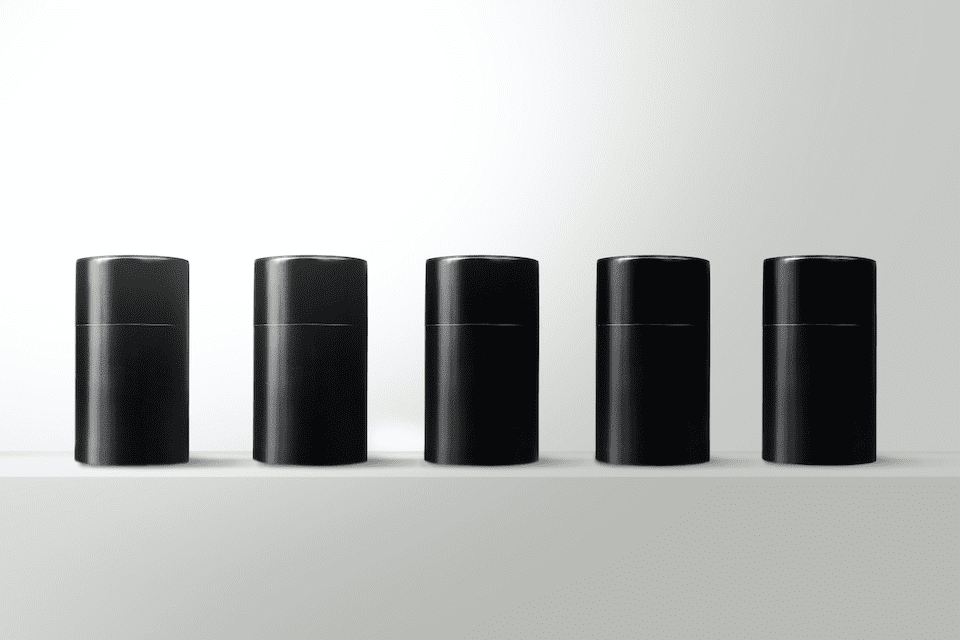 I found a 100 year old company that would create these heirloom quality canisters for me. They are handmade and will keep your tea leaves, coffee beans or anything that you need dry for years to come.
or read review
While you can change your default browser and email client on Mac, there is no way to change your default calendar app. So, instead, I use the default Apple Calendar app and subscribe to TickTick's calendar there.
There are some qualms with the calendar view as there are small details that defer from the usual calendar apps. For example, if you set a task to repeat, you can't delete just a single instance of the task. Deleting a single instance will delete every occurrence of it.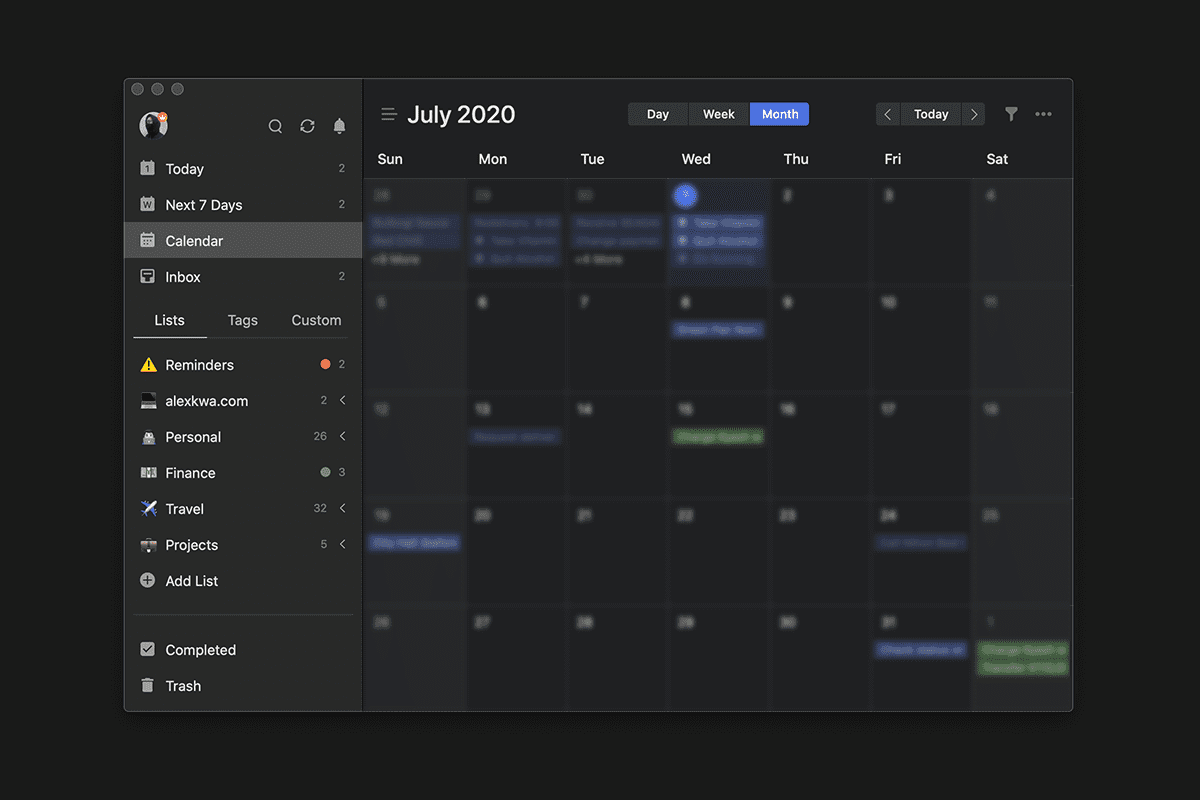 Habits
A key to a successful life is building habits. I loved playing video games when I was younger and I see building habits similar to gaining skills in a game and once you have those skills, you become a more powerful player.
I used to use Habitify to track habits but there's no need to use another app when TickTick has a similar function. TickTick allows you to set up habits and check them off each day you did it.
Most full-on habit trackers offer an in-depth analysis of your habits, so the tracker in TickTick is rudimentary in comparison. But, it does the job for me.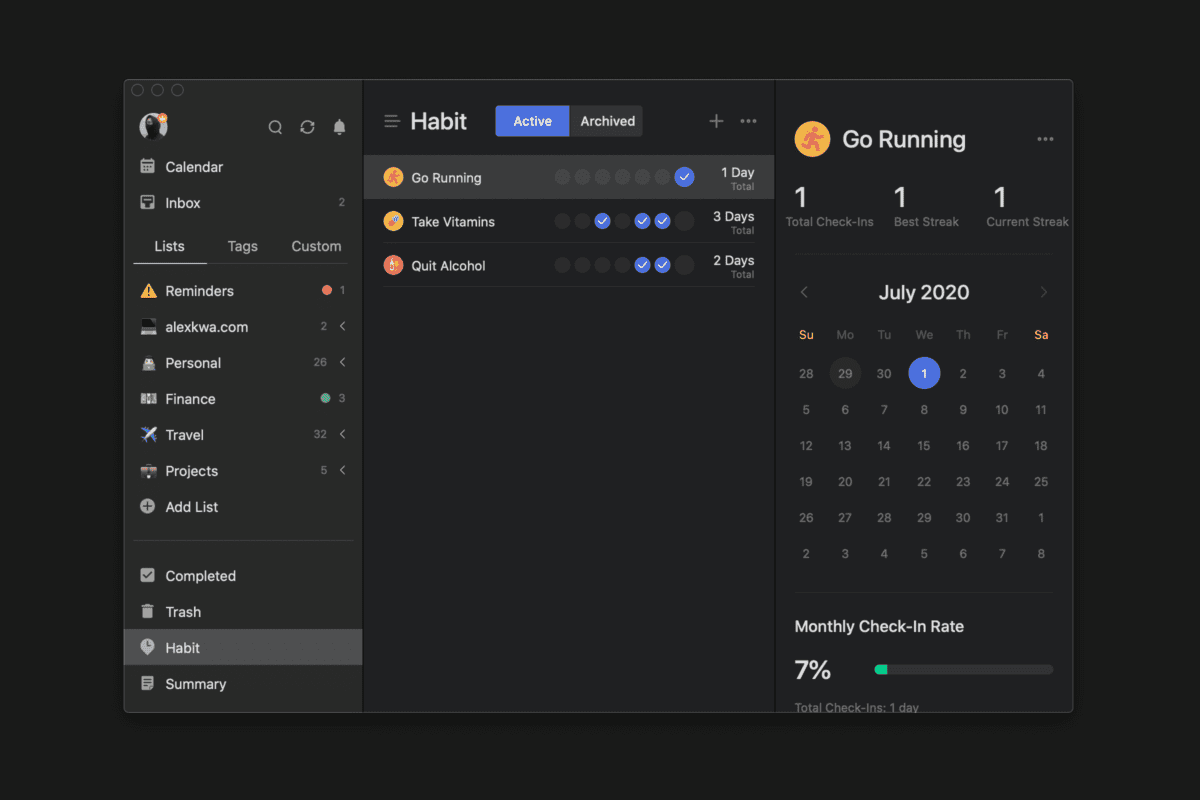 Pomo Timer
Pomo is a time-management technique to breakdown your work into intervals, typically of 25 minutes followed by a 5 minutes break. TickTick offers a timer that shows on your menu bar.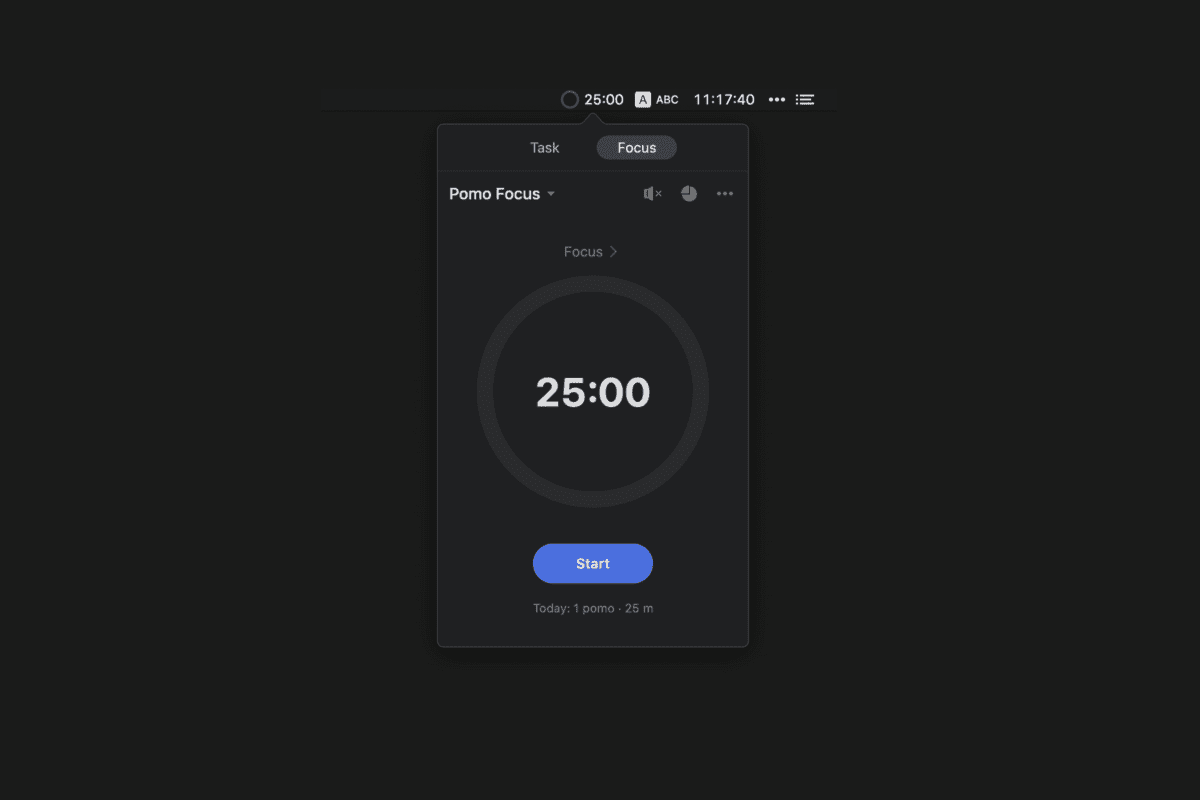 You can even track how much time you spend on each task with the timer.
Siri (and Google Assistant Integration)
This is often an overlooked feature but you can add tasks to TickTick via Siri. This is handy for those who have your hands full when driving.
However, the Siri functionality is not as robust as some power users need it to be. For example, I did notice that you can only add tasks to Inbox and not specific lists. You also cannot change the tasks from Siri after you've added them.
Pricing
TickTick offers a free account and a paid premium account. After using the free account for a few weeks, I upgraded to the premium account. Here are the differences between the two.
Free
First, let's take a look at the features available as a free user (which is, of course, available to premium users).
The app is available on iOS (phone and tablet), Android (phone and tablet), and Mac. There is no app for PC.
As a free user, you can create up to 9 lists with up to 99 tasks per list. Within each task, you can have an additional checklist of up to 19 items. You can set up 2 reminders per task, which means TickTick will send you a notification reminding you to perform that task.
Premium
The biggest reason why anyone would upgrade to premium is the limited number of lists, which is the reason why I did it. When it comes to using to-do lists, it's all in or not at all. It doesn't make sense to have some tasks in to-do lists and some you have to try to recall or spread around other apps.
I have lists for deliveries I expect, article ideas, places I want to go, shopping wishlist, payment due dates, groceries, the list (no pun intended) goes on. You'll find that 9 lists won't last long.
Another feature that I never thought I needed until I tried it was the calendar view. I start each day by looking at my calendar to see everything that I have to do. You can import your current calendars into TickTick or TickTick's calendar into your third party calendar app (I do the latter).
Another feature that I found useful was the ability to set a duration to a task, rather than just a due date. I often decide the duration so I can limit the time I spend on each task.
Rather than considering it as a free account, the free account should be treated as a trial account because it's unfathomable to me that anyone (or at least the power users reading this) can stay with the free account for long.
What I like about TickTick
There are many things that TickTick does well and this section might help you decide why TickTick is for you.
Beautiful
TickTick is a beautiful app, especially with a native dark mode. The clean and minimal design felt modern yet was intuitive enough for me to know how to use it within minutes.
I love that there are small delightful details like how you use an emoticon as a list icon by simply preceding the list title with it.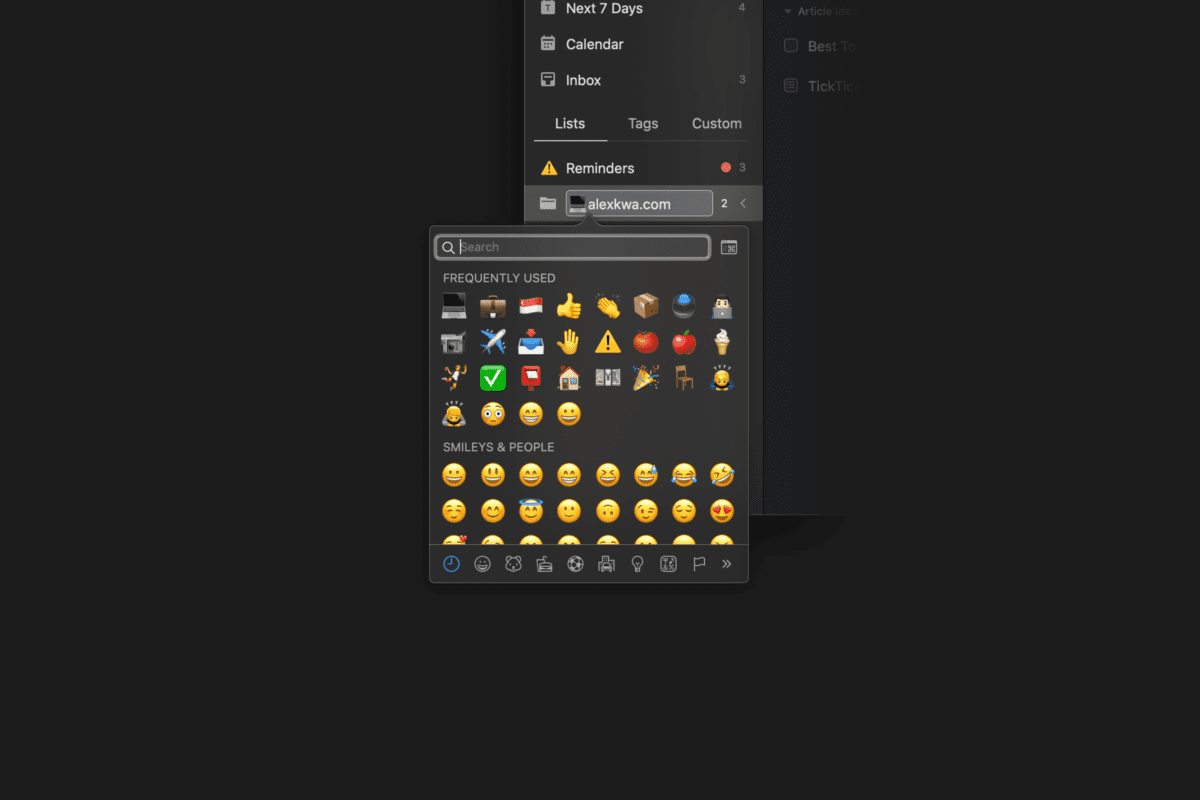 Easy to use
TickTick adopts many features and visual cues that are familiar. I knew how to use the app within minutes. There are a few concepts that require some searching, like what is the best way to use Smart Lists, but it was easy to learn.
I like how there is intuitiveness in many small places. For example, you can create a nested tag by dragging a tag into another. However, there are also some places that I felt were lacking like the fact that you cannot double-click a list title to rename it.
Perfect for the obsessive-compulsive
You can create a folder, lists within them, and even lists within tasks. You can add tags, and also add a priority. There doesn't seem to be anything that can't be done.
Method-driven
With features like a habit tracker, calendar view, Kanban view, and Pomo timer, TickTick is knowledgable about the various productivity methods out there and has made it a breeze to use them with the app. They even have a support ticket on Getting Things Done.
What I didn't like about TickTick
While I think that TickTick is the best option out there, there are a few qualms I have with the service.
The experience between Mac and iOS is not seamless
First of all, there are some functionalities available on Mac but not iOS and vice versa. I understand that with the reduced about of visual real estate, certain iOS screens should be displayed differently, but they are a few key features that I felt should be on both platforms.
At the very least, all features should be available for a platform and reduced accordingly for one. For example, there is no way to view your task in Kanban view for iOS (this has been added in the beta version as I wrote this post).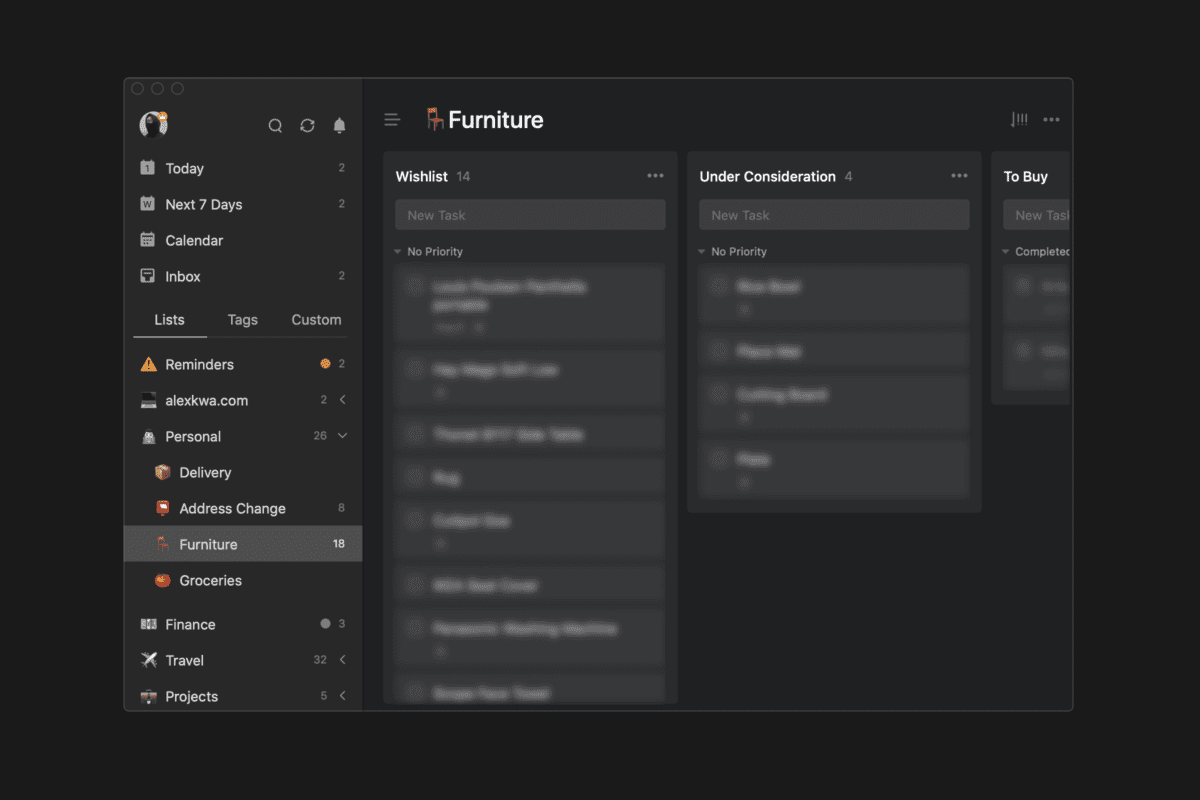 Given that the use of both platforms simultaneously is a given, I felt more care should be given into ensuring the experience should be seamless on both platforms.
Shortcuts are limited
While there are some shortcuts available, I felt they were limited. As someone who uses Trello for work, I want to rename lists when I double click on the name. Another example is when I wanted to delete lists when I press the delete button.
There were a number of shortcuts that I thought any intuitive app should have but were just not available.
Bullet points and checklist cannot be used together within a task
I use bullet points when summarizing information but I have multiple checklist items within a task. There is a function that lets you convert bullets into a checklist and back but you can't use both even as a premium member. You can, however, have both markdown text and a checklist in the same task.
Markdown support is weird
In the description of each task, you can use markdown to format your text. However, the handling of markdown is very inconsistent. For example, bullets will be rendered but text styles will stay in markdown.
In fact, there is no way to preview the markdown in its fully rendered format. The whole point of markdown is for it to look clean when rendered yet be easy to edit with code, but the way it's handled in TickTick misses the point.
Things 3 vs TickTick
Things 3 is one service that I was tempted with. Like TickTick, much emphasis is put on design and user experience, making it a popular choice for the Mac user types.
What I think Things 3 does better is that it is designed around the Getting Things Done framework. TickTick can achieve a similar setup, but it aims to cater to a wider range of productivity methods. Things 3 is more opinionated on how it wants you to use their app, while TickTick offers more options without cluttering up the interface.
Even without analyzing all the features, it's easy to see that TickTick has more features. Smart lists with advanced filters and calendar view are the two big features that I simply cannot do without. Another not so big features are collaboration and attachment support. I always add screenshots and photos to my tasks but there's no way to do it in Things 3. Things 3 also doesn't allow you to delegate tasks to others.
Things 3 offers a better project-based system. For example, you can create projects with due dates and have tasks within them. The TickTick version of this would be creating a list, however, a due date can't be set for the list.
Where TickTick excels is the integration of time management. The calendar view lets you see all the tasks that you need to do each day of the month. If you set a duration, it'll also block out the time on your calendar.
Pricing
Things 3 is also a one-time cost while TickTick uses a subscription model. Things 3 costs $49.99 for Mac, $9.99 for iPhone and Watch, and $19.99 for iPad. Assuming you use all three devices, that would pay for nearly three years of TickTick's premium subscription. While Things 3 is a one-time cost, you would likely have to pay for a Things 4 upgrade when it comes out. Things 2 released in 2012 and Things 3 eight years later, so Things 3 will still cost less if you pay for the upgrade later on.
Conclusion
My choice is obvious seeing as I'm writing a review for TickTick. It was ultimately the rich features that made it a winner for me.
Todoist vs TickTick
Another popular app is Todoist. And the reasons that TickTick rises above isn't too far off when compared with Things 3. It comes to down to additional functionality like Pomo timer and calendar view.
The calendar view is something I personally can't do without so I would likely choose TickTick just for that feature.
Another thing I found that TickTick does better is the handling of sublists. The hierarchy with TickTick is like this;
Top level: Folder > List
Second level: Tasks
Third level: Description (with optional Checklist)
For Todoist, it's
Top level: Project
Second level: Tasks
Third level: Sub-tasks (up to five levels)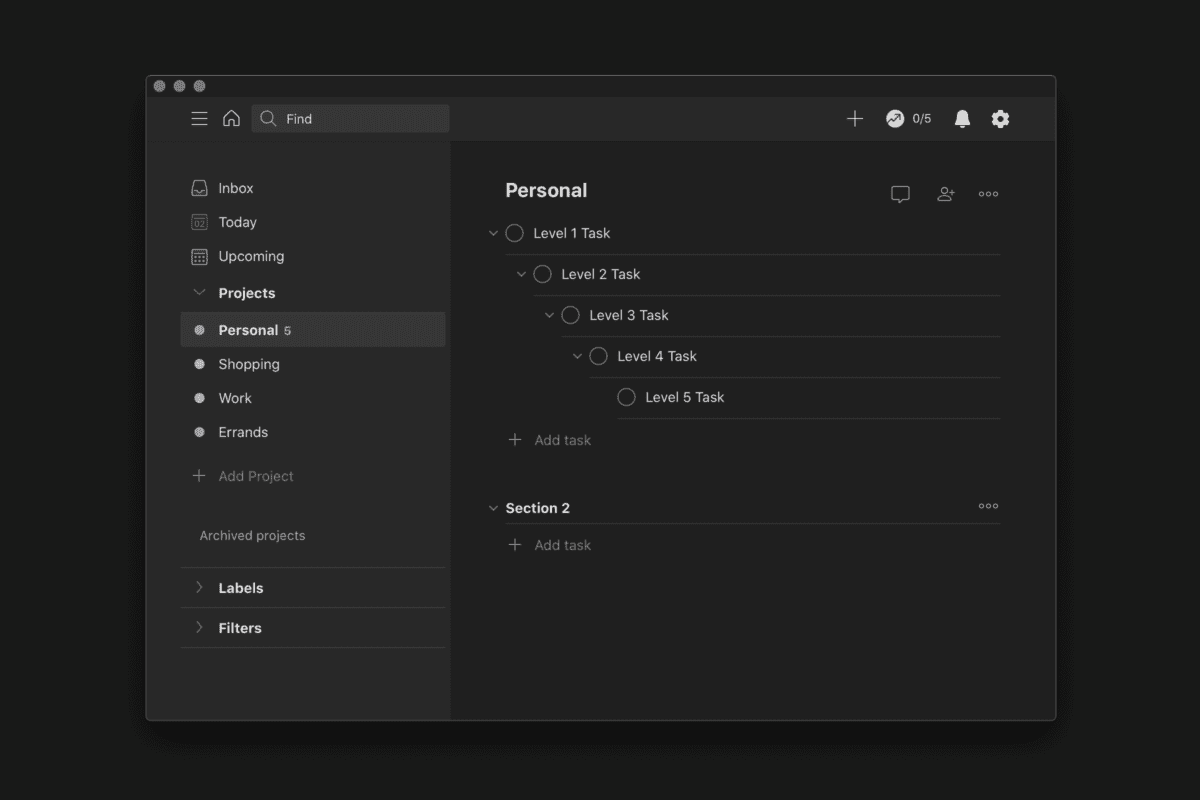 While it's easy to have "the more, the better" mindset, I felt it made it more complicated to use. With lesser hierarchy, TickTick makes better use of the visual space, like having the third level of information inline while Todoist opens a popup.
I might have spoke to soon when I pointed out some lack of intuitiveness with TickTick, but Todoist takes the cake by missing the mark with obvious usability details.
For example, I cannot edit the task title from the list. Clicking on it will open up the task and I have to click on the title to edit it. Pressing the return key will not save it like I expected, and will, in fact, delete any changes. You would have to click on the Save button. It made me feel frustrated even going through such a simple operation.
On TickTick, you can just edit it from the list or within the task details with just a click and save the changes with the return key.
Todoist vs TickTick Pricing: Which is more worth it?
Unlike Things 3, Todoist offers a free plan. They have two paid plan. For the Pro plan, it's $4 monthly or $36 a year. It's more expensive compared to TickTick. They also offer a business plan that come with admin roles, shared team inbox, and team billing.
Unlike TickTick which limits the number of lists to a measly 9 list, Todoist offers 80 projects with the free plan. However, Todoist doesn't offer core functionality like reminders, labels, and filters with the free plan.
When it comes to pricing, I find both TickTick and Todoist unusable with the free plan and TickTick to have the edge simply because it is cheaper.
Todoist vs TickTick Conclusion: Which is a better app?
For me, it's still TickTick largely due to the extra features, usability, design, and clean organization of tasks. The lower cost is the icing on the cake. However, I like the concept of projects that Todoist has and would hope that TickTick will consider implementing it.
Conclusion
TickTick is the best to-do app I've tried. The beautiful design and user-focused features are intuitive for the super organized. I tried many other apps only to come back to TickTick. There's a free version so try it for yourself and decide.
Like this review? See all of my in-depth reviews.
Also, consider supporting me by being a Patreon. Every cent given will go back into improving the content of this website.