This website is made possible by readers. I may earn a small commission when you buy through the links in this article at no extra cost to you. Learn more.
Details
Price $75 on riotdivision.tech
Material Wallet – 500D nylon, Strap – 100% polyester
Size 7.4 x 4.3 inch (19 x 11cm) folded / 7.4 x 8.6 inch (19 x 22 cm) unfolded
Overview
Riot Division has been at the forefront of the techwear movement in recent years, known for its style and modularity. While I wouldn't consider them cheap, they do offer much better value compares to brands like Acronym that comes with a pretty exorbitant price tag. I've gotten a chance to review the Wrapping Parka recently, which really embodies what I know Riot Division for.
The wallet is a new product that seems like it could only come from Riot Division.
This wallet is actually a bundle of two products, the Wallet V2 RD-WV2 and the Modular Strap 01 RD-MODSTRP01. Although at the point of the review, I don't see any of the products on sale individually.
Style
To be honest, when I first got it, I wasn't sure how to feel. It's essentially a small pouch, attached to a heavy-duty strap. If not for Riot Division's magic touch, there is a resemblance to the much-despised fanny pack.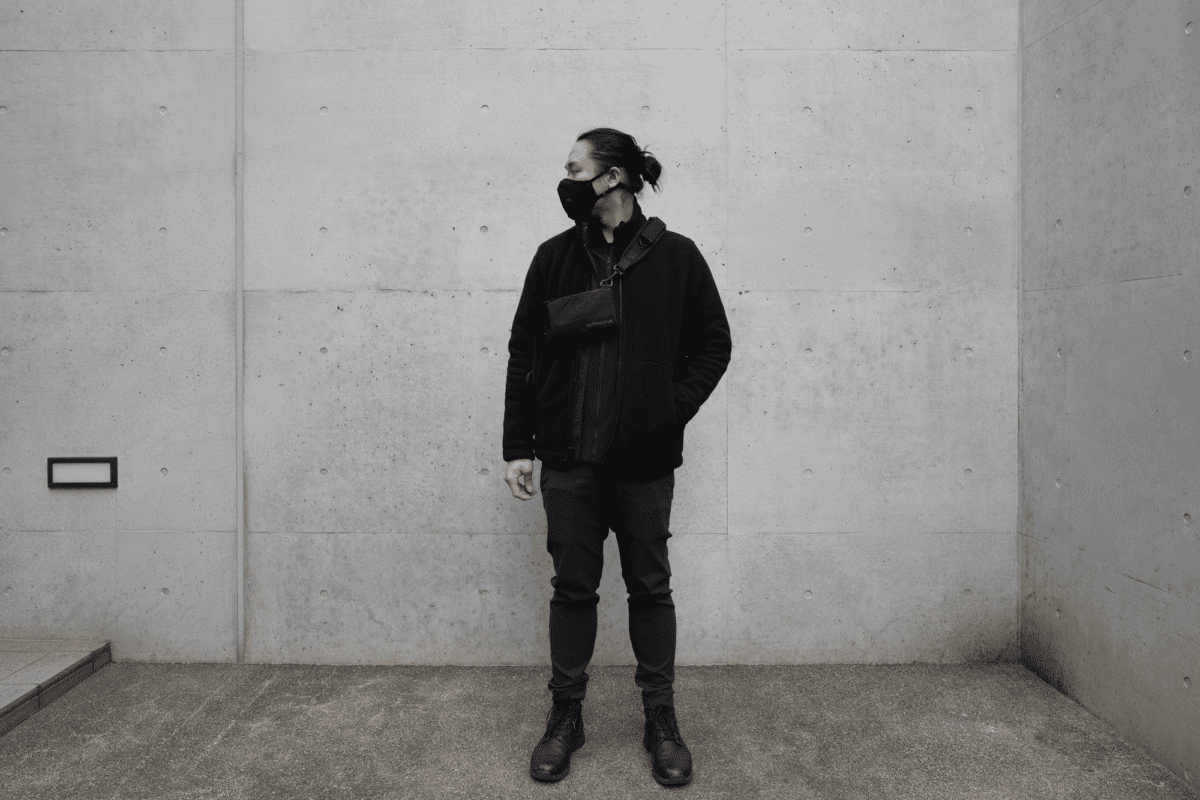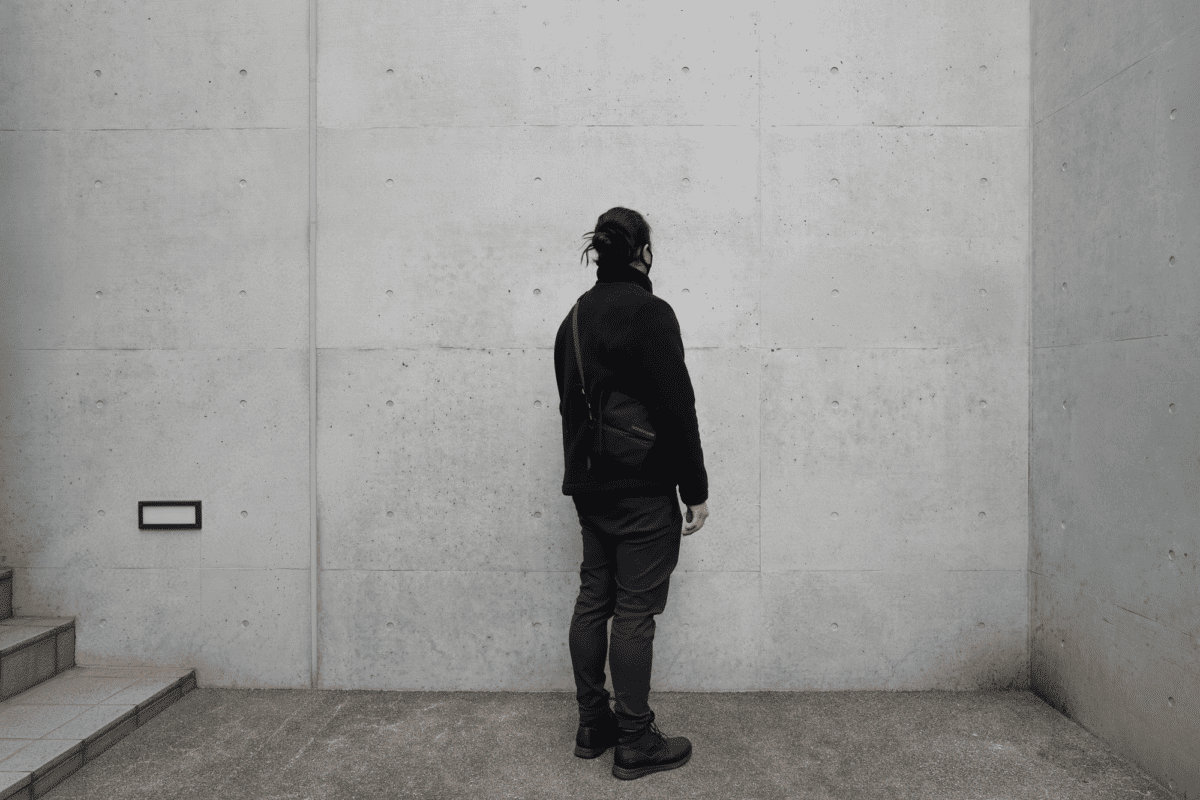 Wallet
The wallet comes in three options, black, sand, and grey. But, for all three versions, the strap is only available in black. Since I have an unhealthy obsession for black products, the color that is reviewed for this article is naturally black.
The wallet looked pretty simple when I first laid eyes on it.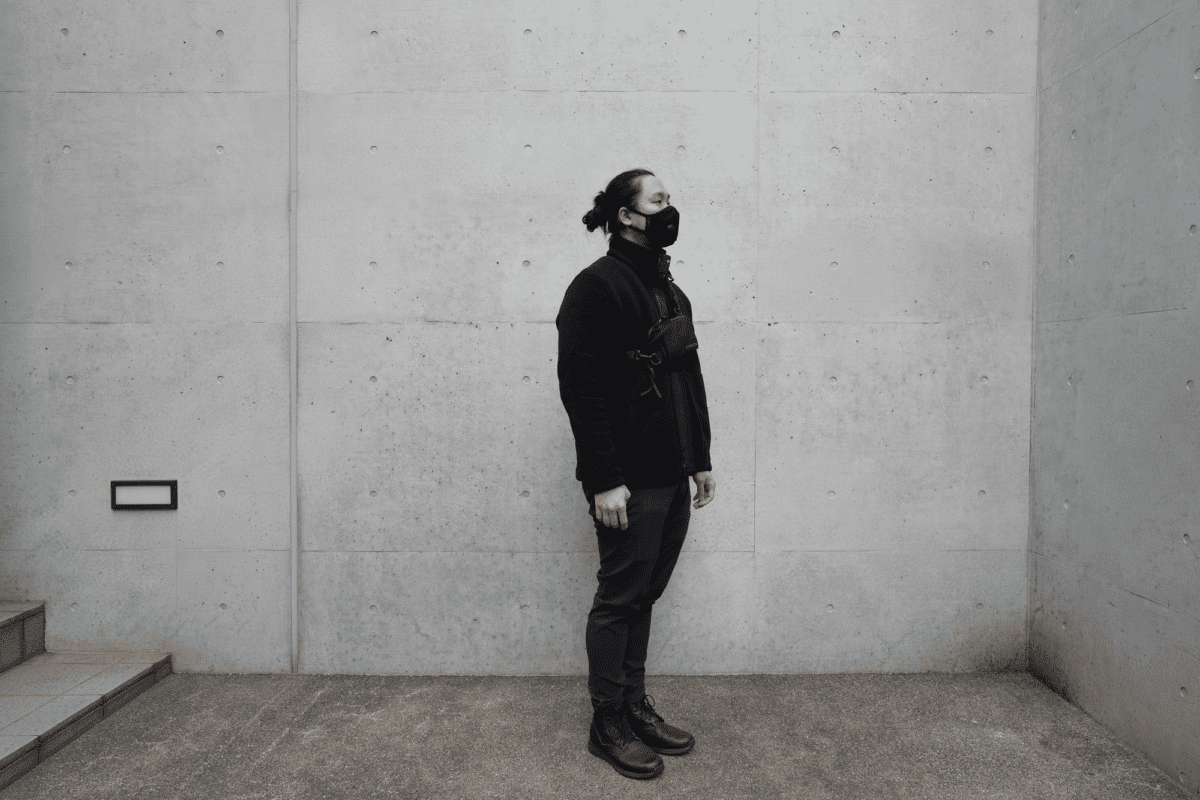 It's a 19cm by 11cm black nylon pouch with a zip on top. The zipper pull is extra-long (32cm), only tied on one end so the zipper pull is technically two pulls. This, and many of the other design decisions on Riot Division's products, is obviously not a functional one but more to make a statement.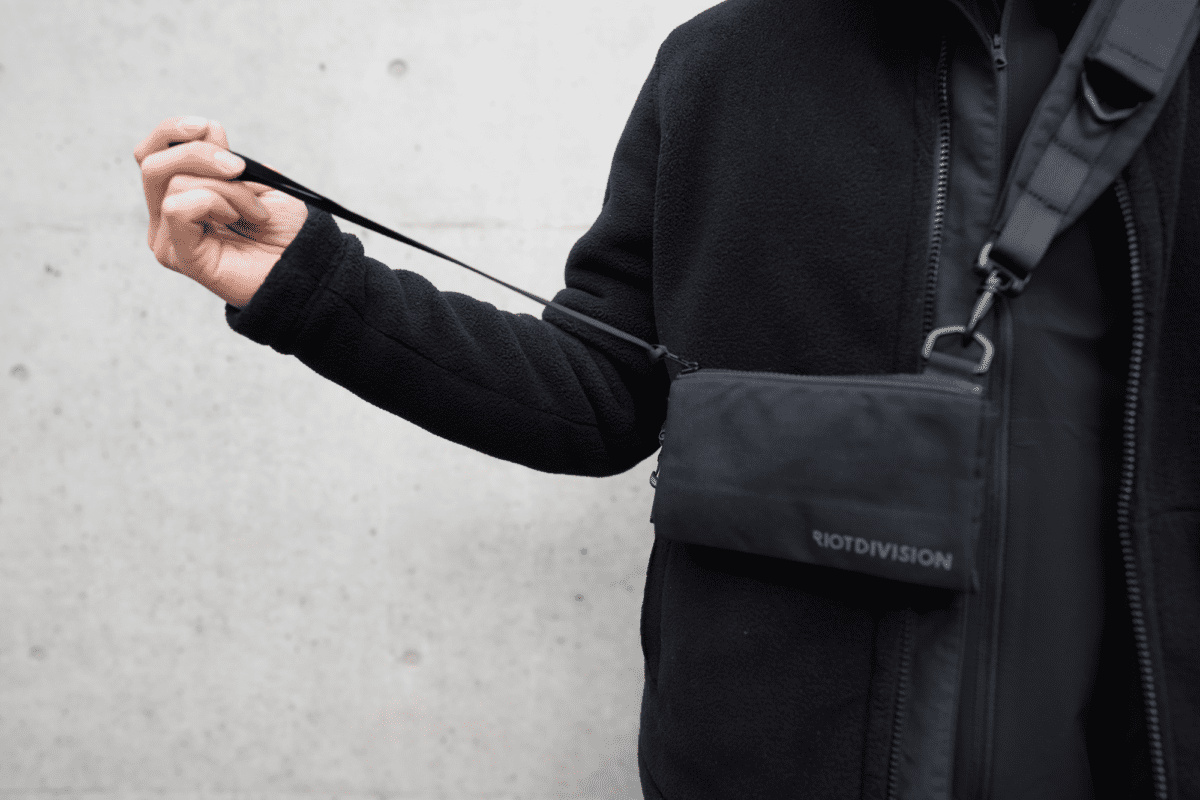 On the face of the wallet is the Riot Division logo.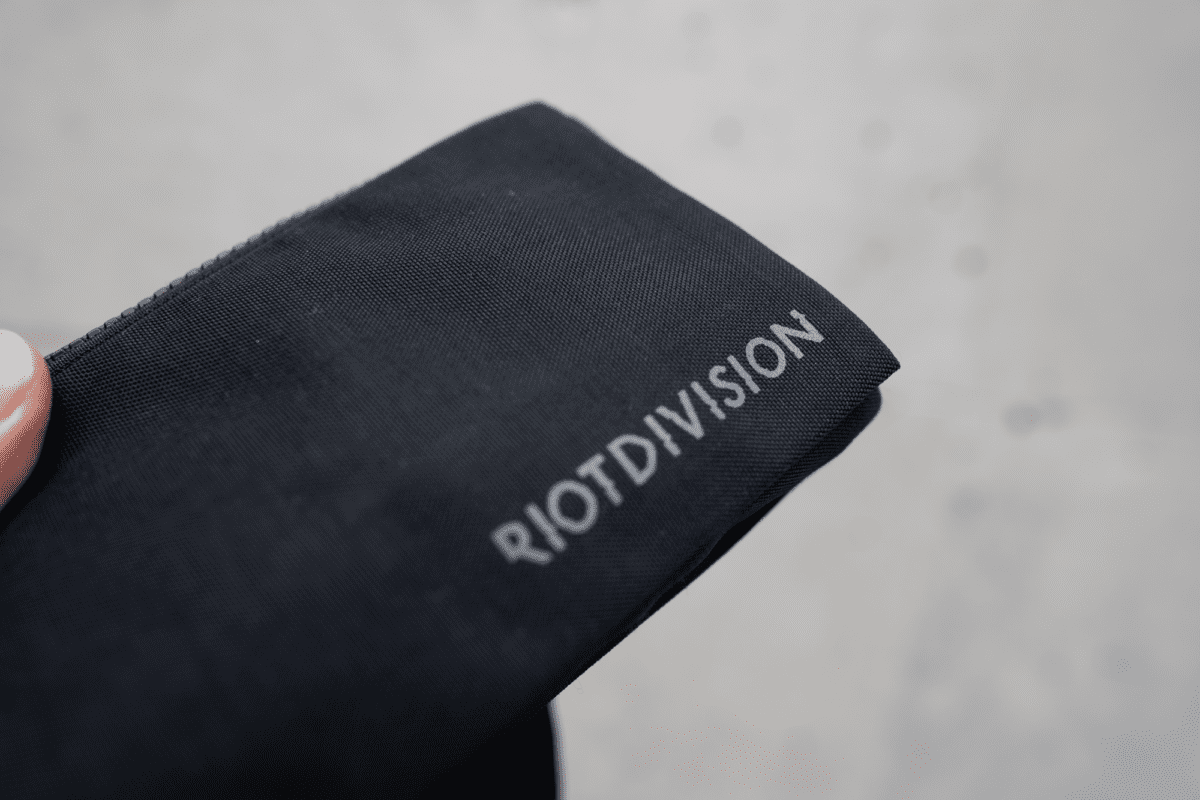 You can undo a velcro to unfold it into twice the size, for a less fanny pack-like shape. When unfolded, the logo, model, material, washing instruction icons can be seen printed on the bottom right of the backside.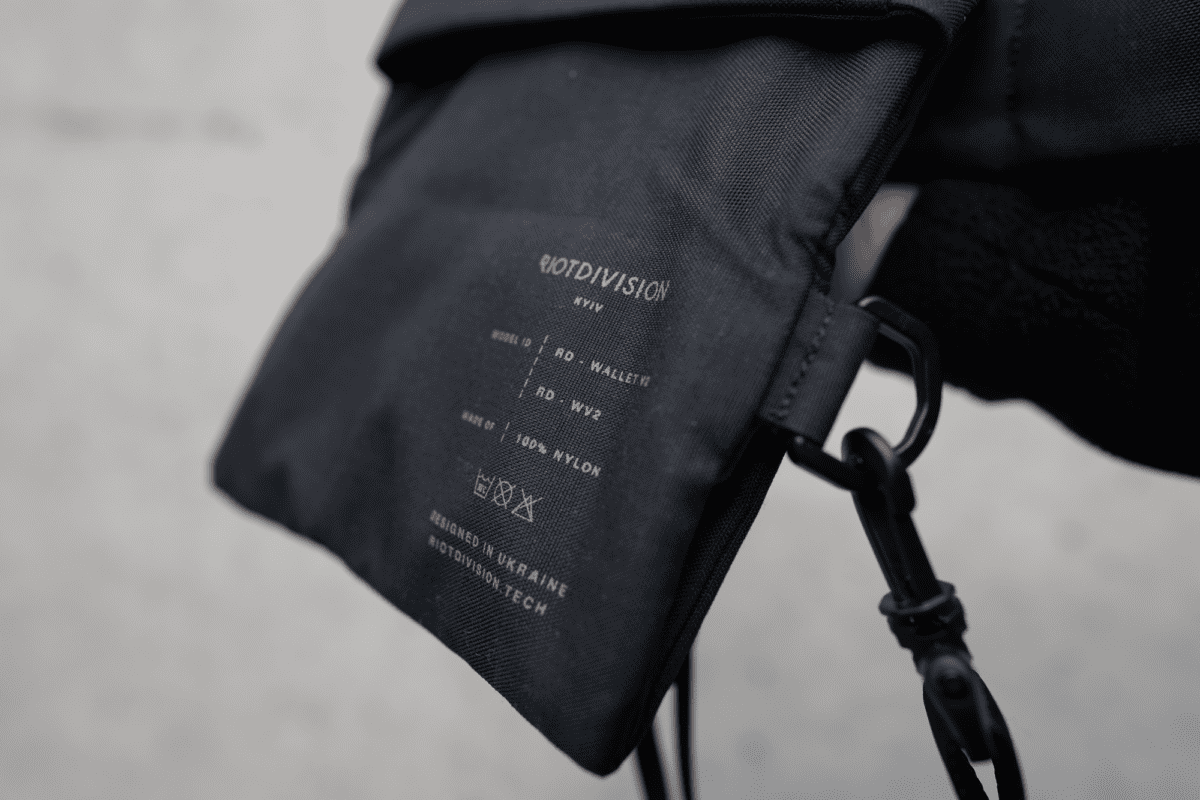 When folded, there are two oversized D-loops on the top right and bottom left of the wallet. I thought this was a pretty good choice of D-loop location for extra stability that works when both folded and unfolded.
But no one likes ads, so I got rid of them. If my articles helped you, I ask for your support so I can continue to provide unbiased reviews and recommendations. Every cent donated through Patreon will go into improving the quality of this site.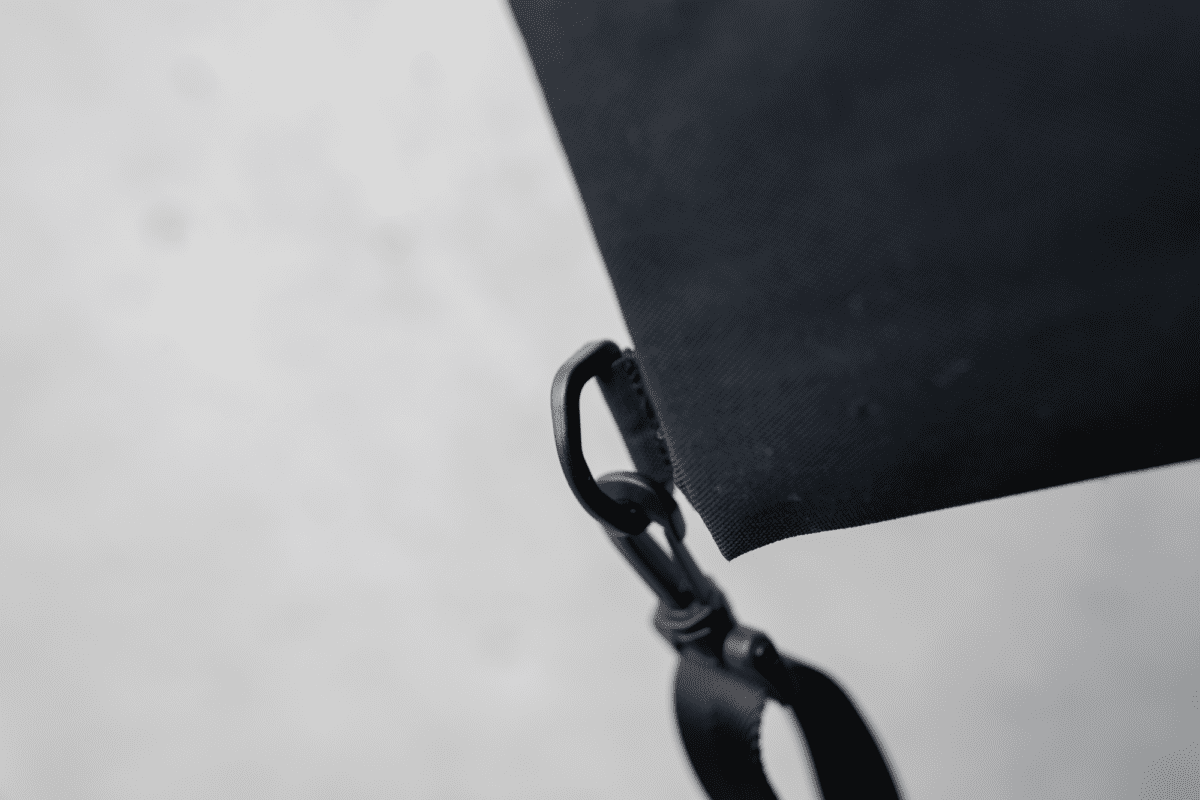 Strap
The strap is arguably the part of the piece the makes it kinda a statement.
The strap is 0.97 inch (2.5 cm) with padding that's 2.55 inch (6.5 cm) wide, which is intentionally disproportionate to the size of the wallet. It's the molle and velcro on the padding part that gives it the "tech" style.
With only a single point of adjustment for the length of the strap, any excess strap will hang out. Together with the extra-long zipper pulls, might be too much strap action for some. For me personally, while I prefer no loose straps, this is still within an acceptable tolerance for me.
Material
Unlike brands like Outlier, Riot Division tends to be pretty light on their description of materials. I don't believe they use any proprietory materials and I don't think people buying Riot Division really care.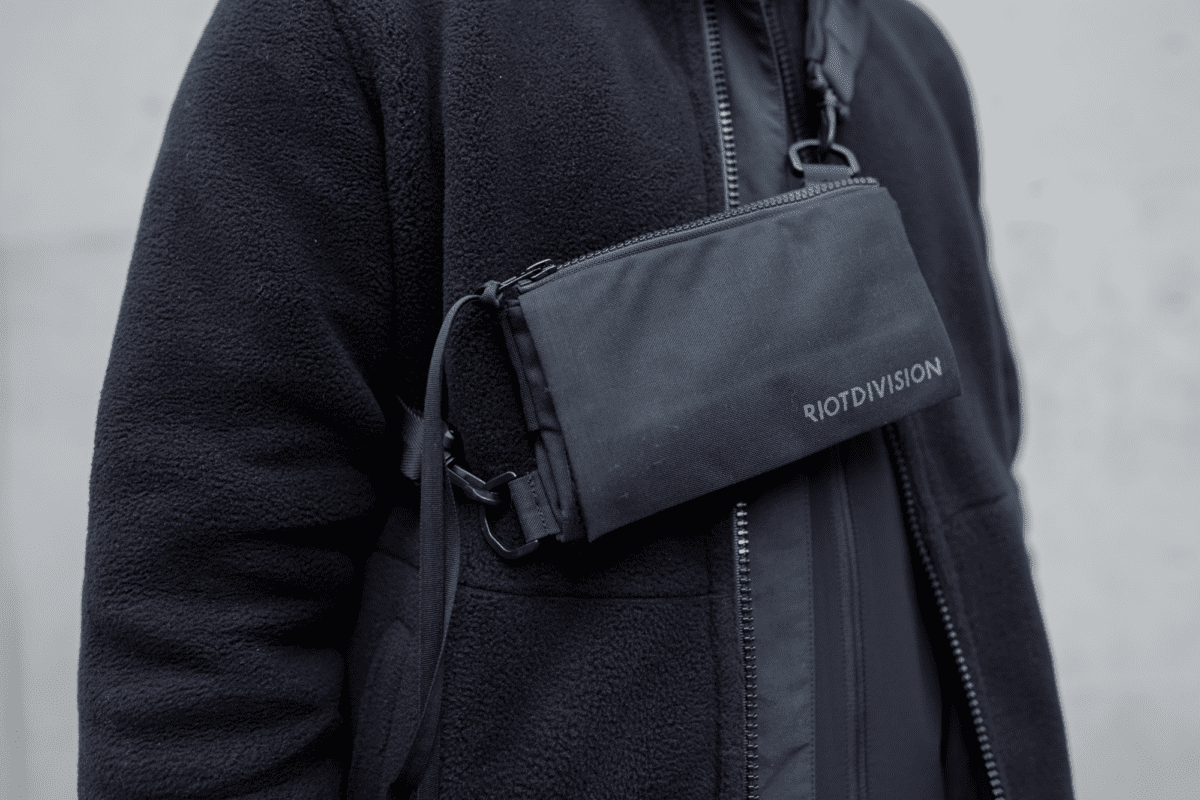 The wallet is made of 100% nylon while the strap is 100% polyester. While they ain't CORDURA or Ballistic Nylon or any of the well-known materials, they look pretty durable and unlikely to wear out given the way they'll be used.
Unlike the zippers on the Wrapping Parka which has SBS zippers, the zipper on the wallet is from YKK.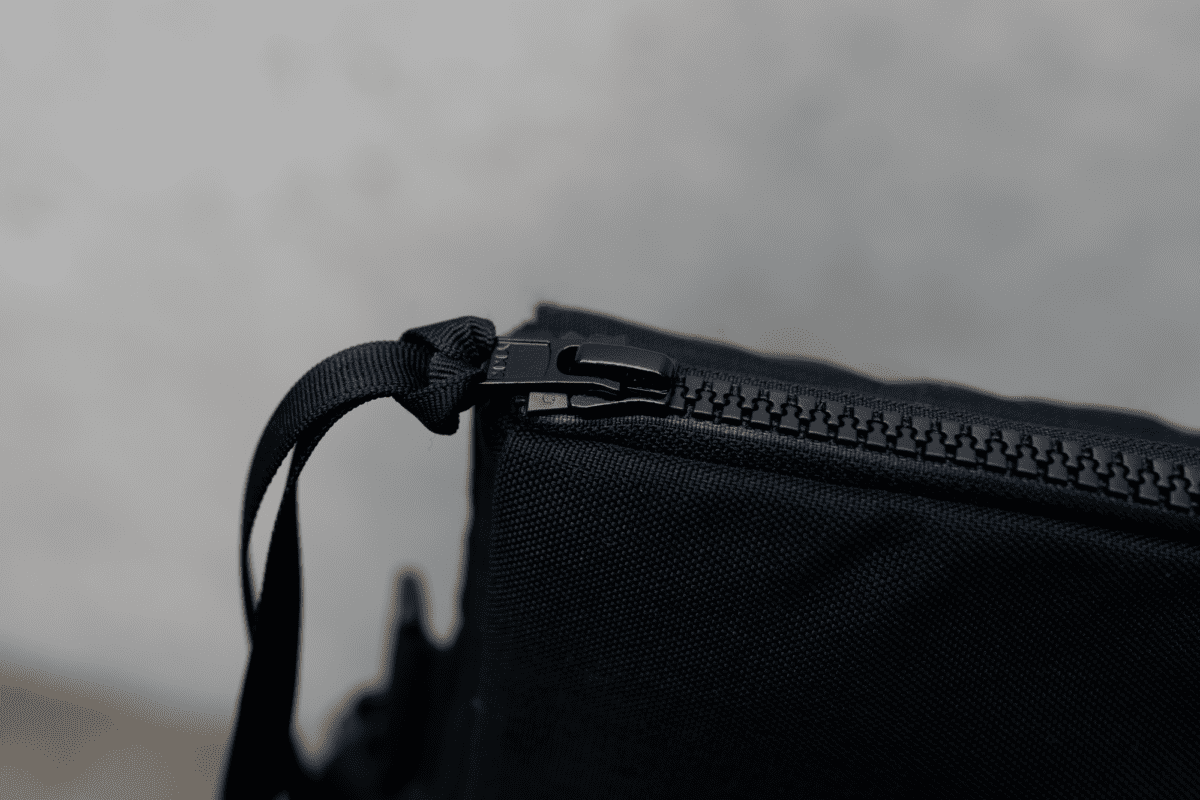 Usage
Consistent with the other products of Riot Division, the wallet, while functional, adds a lot of features just to reflect their strong sense of style.
Wallet
With a wallet that small, I don't think it'll be heavy enough for you to need any padding. But the padding does give a weighty sense of security and prevents the wallet from swinging around too much.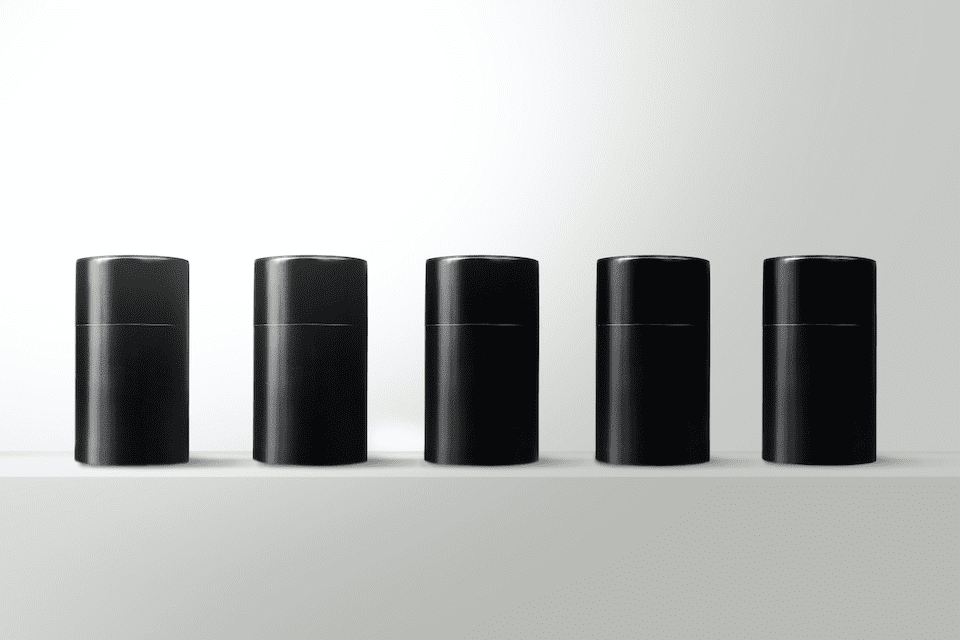 I found a 100 year old company that would create these heirloom quality canisters for me. They are handmade and will keep your tea leaves, coffee beans or anything that you need dry for years to come.
or read review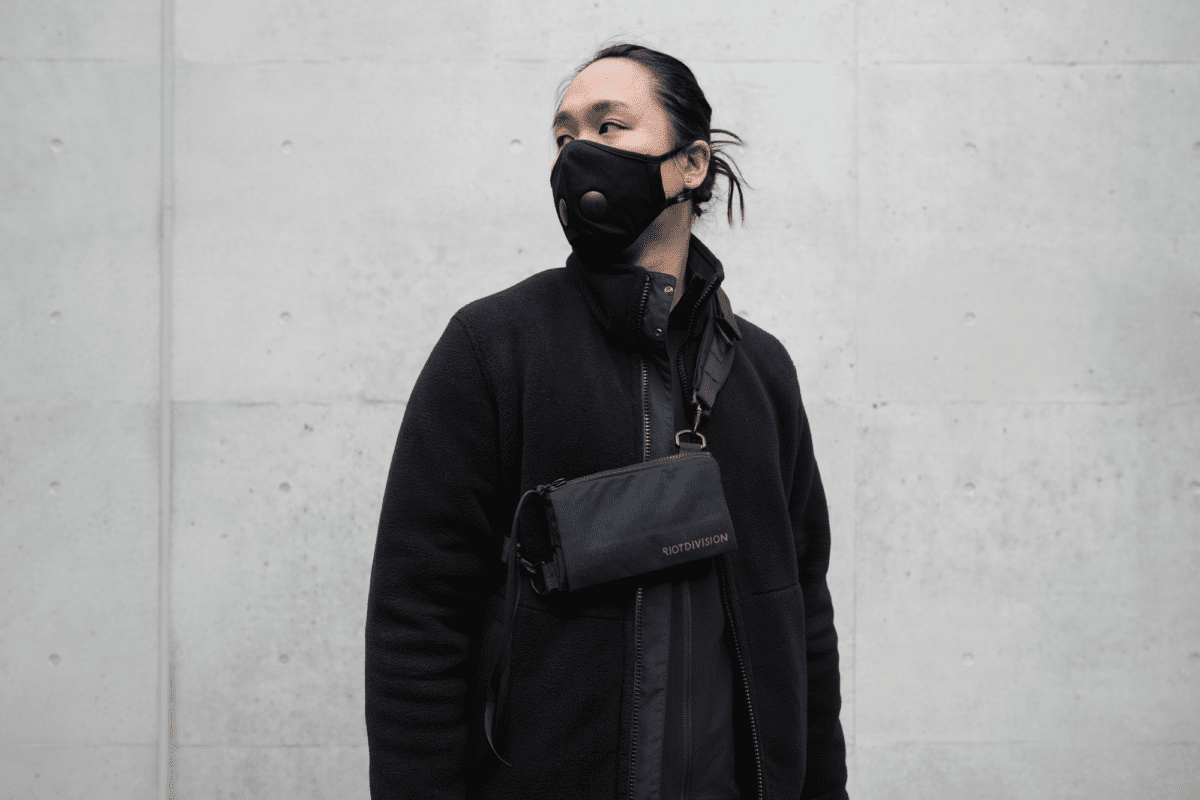 When folded, there are velcro openings on both sides of the wallet. The one in front exposes three evenly-sized slots, while the back has just a large, full-width pocket.
The main compartment, accessed from the zip on top, increases in size when unfolded. When folded, you can't access the lower part of the main compartment. But when unfolded, you can't really naturally access the velcroed pocket on the bottom since it would be facing downwards. So, sometimes it does seem like they are trying to achieve modularity for modularity's sake.
There is a strap used to allow the back velcro to close over to stay folded. On that strap, there are two slots for pens.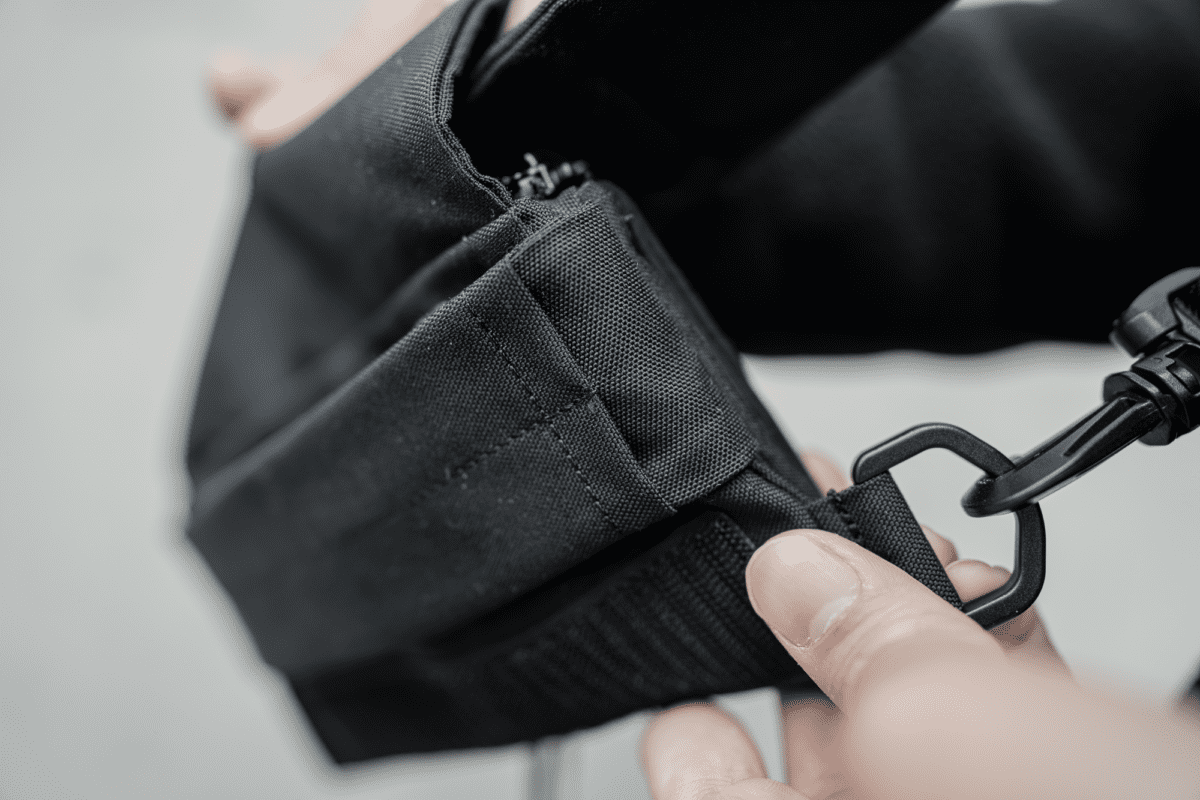 I've found the wallet to be at a little of an odd size. In winter, where most of my jackets come with some pockets, I could do without the wallet since my pockets would probably hold more. In that sense, the wallet would probably see more use in summer where fewer layers mean fewer pockets.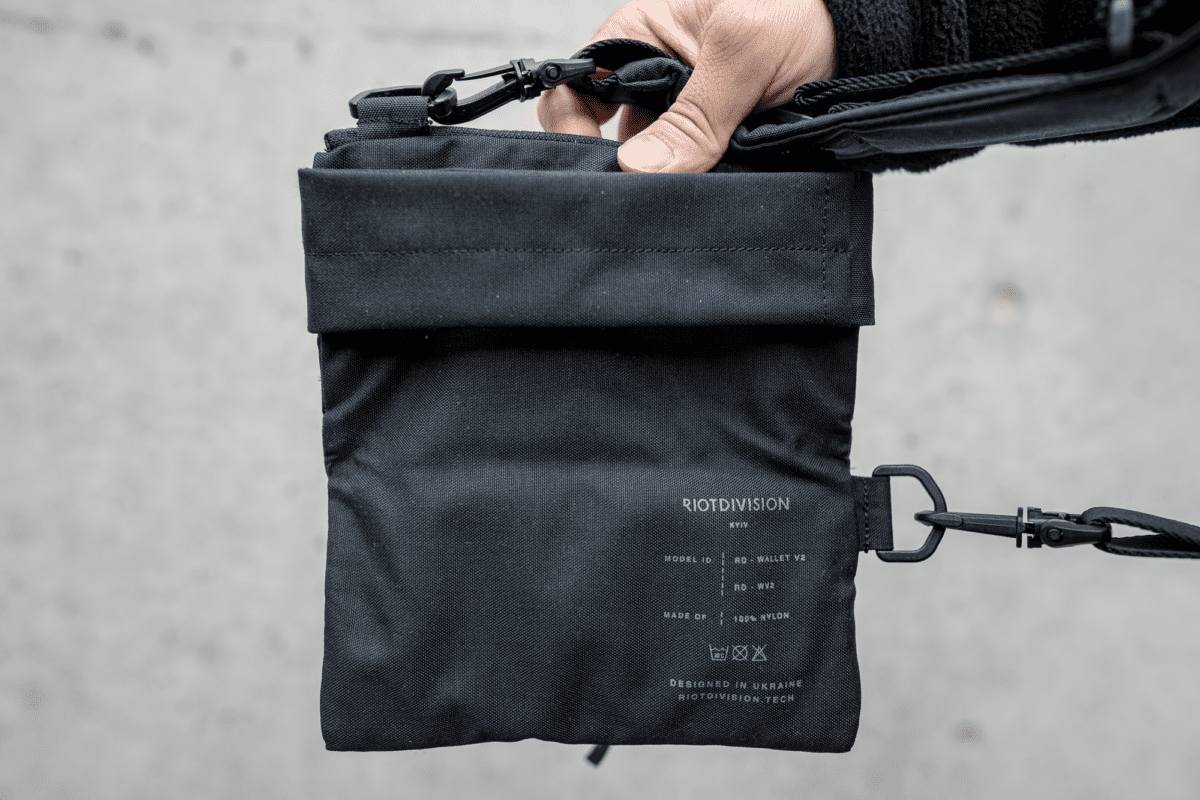 I generally dislike the sound of velcro opening since it reminded me of the wallets we used as kids which usually comes with velcro. I subconsciously avoid putting things into the front three slots under the velcro flap. I wished that magnets or buttons could be used here, or at least velcro that wasn't as thick. I do put my RUGGED & DAPPER Organic Lip Balm in one of the slots. The problem with the three slots is that they are too small for most of my small accessories like my MUJI Case for my pills or the Master & Dynamic MW07 PLUS.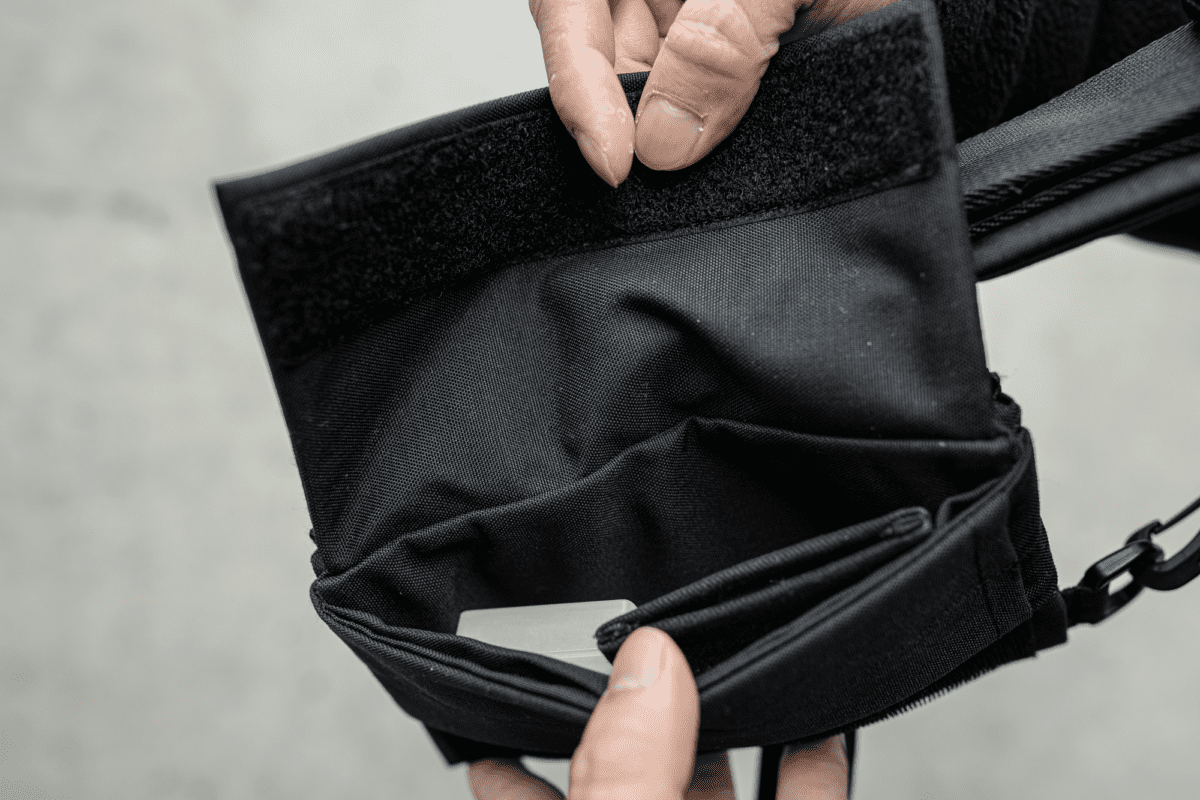 Strap
The padding area on the strap has a total of 9 different attachment points. From left to right, there are three molle loops, one triangular ring, two velcro strap, and three larger flat loops with the middle one cinched.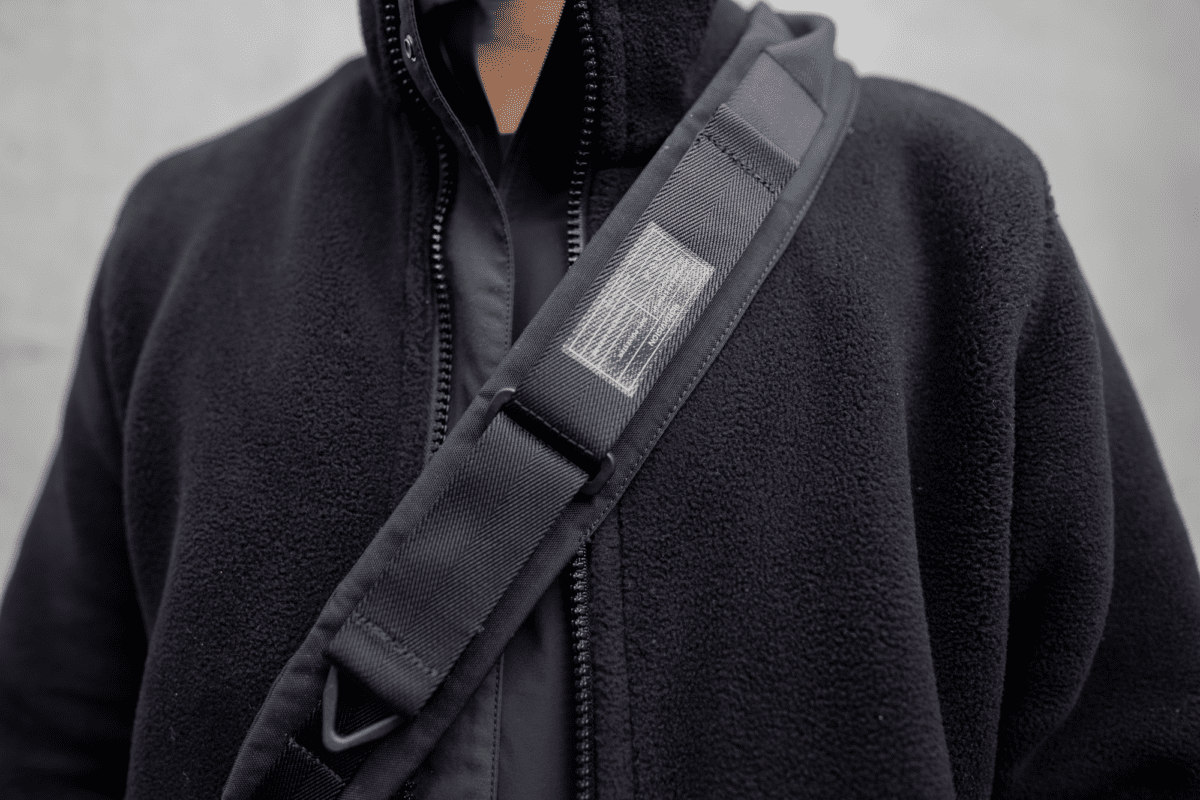 I don't really like strapping anything on my bags since I rotate my bags quite often and having more things to transfer adds to the hassle. Sometimes I do add my Firebiner on one of the loops.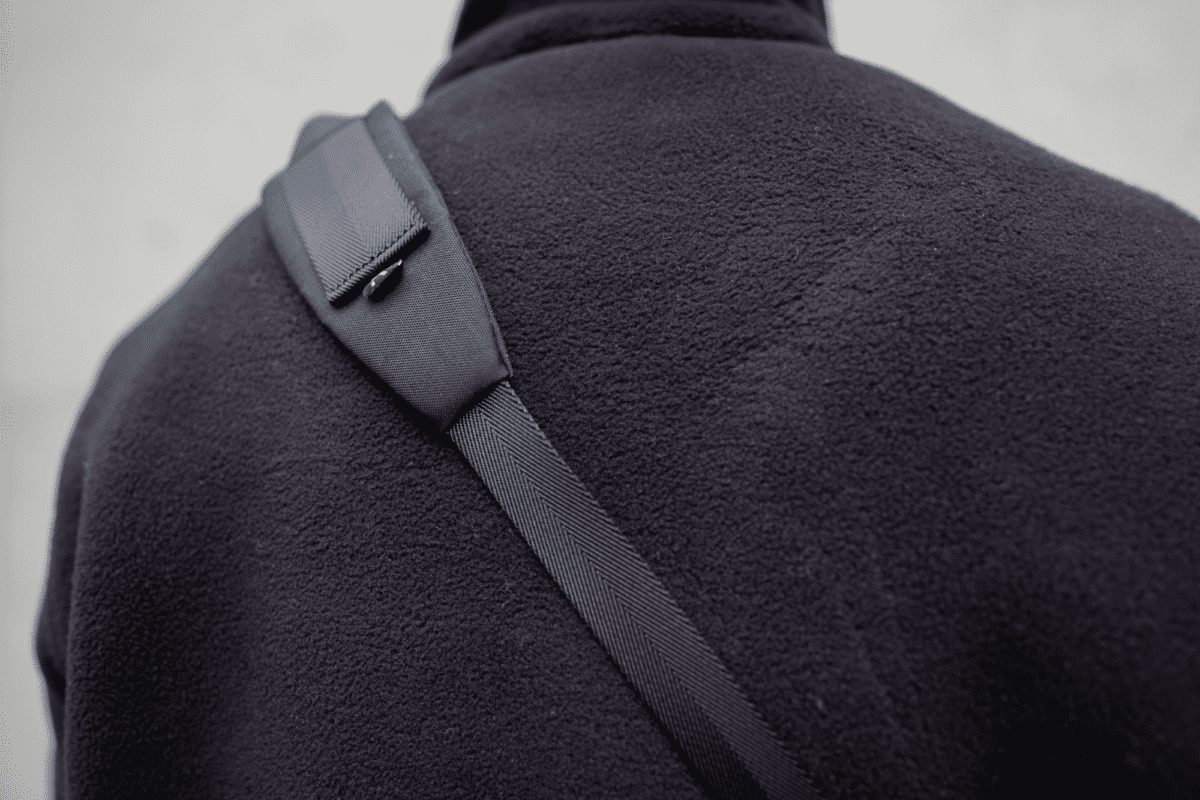 Conclusion
This is an odd piece, but in many ways, befitting of such a uniquely different Ukrainian brand. While not most functionally focused, I would say the style is perhaps one of the most distinct.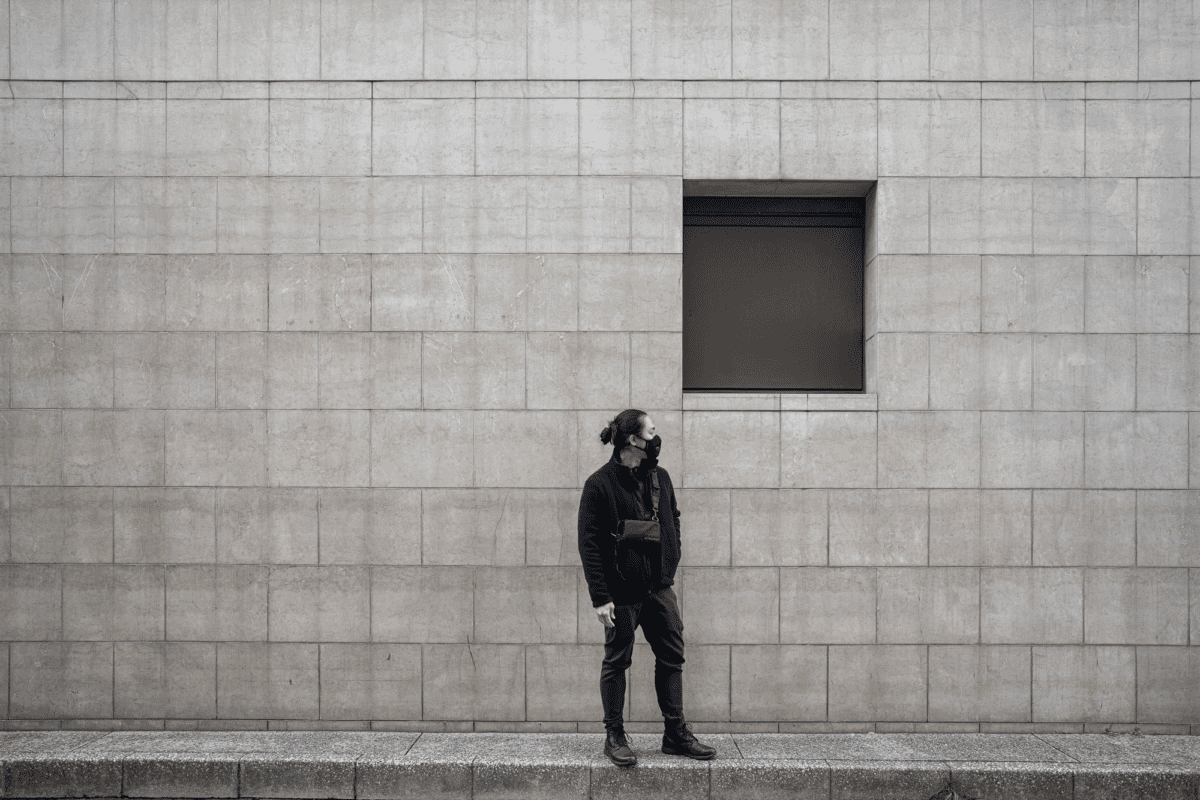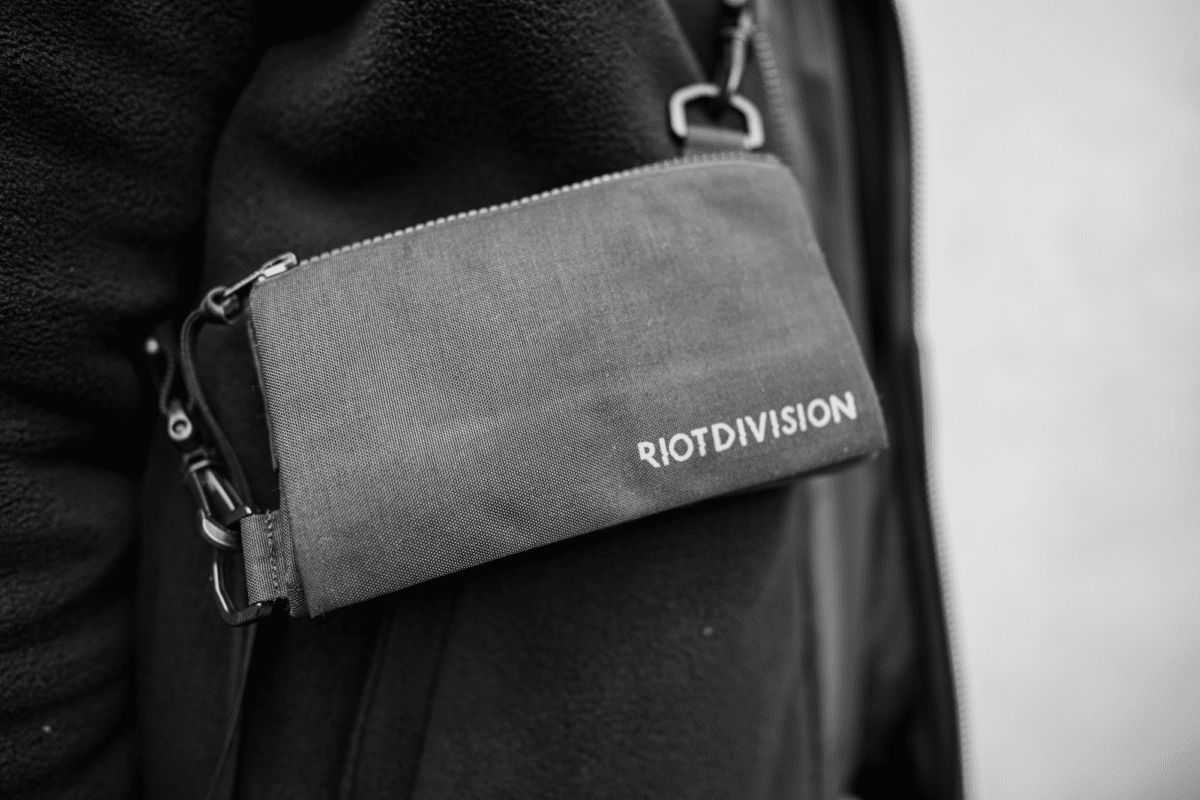 Like this review? See all of my in-depth reviews.
Also, consider supporting me by being a Patreon. Every cent given will go back into improving the content of this website.
Tagged bag review riot division