This website is made possible by readers. I may earn a small commission when you buy through the links in this article at no extra cost to you. Learn more.
Details
Overview
Fisher + Baker came up of nowhere. I've never heard of the brand before this review. My wardrobe is filled with stellar brands like Outlier, Western Rise, and Wool&Prince so for Fisher + Baker to make their way in requires them to have something special. On first impressions, I was skeptical they could do this given how J Crew their catalog looks. Despite their dapper styling, make no mistake, they are a techwear brand.
From what I can tell, they are designed as luxury wear for the modern professional. They create techwear but without the sometimes overly synthetic techwear style. It's all about the fine balance between style and utility.
Style
I've been reviewing black t-shirts for a while now. I consider black t-shirts a core part of my urban uniform.
While there are different cuts like oversized fits, the t-shirts I wear are usually regular or slim-modern fit. I aim to stand out as little as possible.
The Everyday Cashmere T-Shirt is slim and modern with curved side seams that augment the body line to give a slimming effect. It also has a dropped hem, which means that the back hem is longer than the front. The lower hemline helps keep your skin from showing when you bend down too much. While the dropped hem is there when you look for it, it's not immediately noticeable and doesn't take away from the classic, timeless look.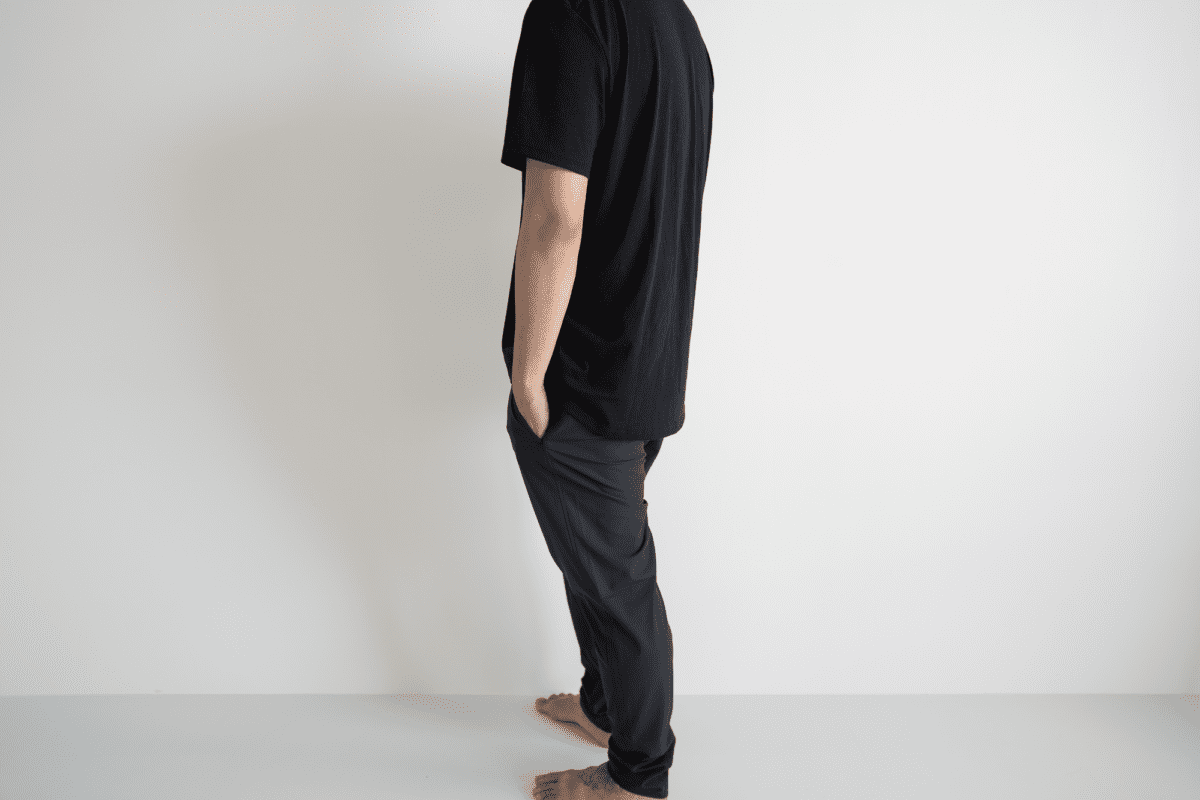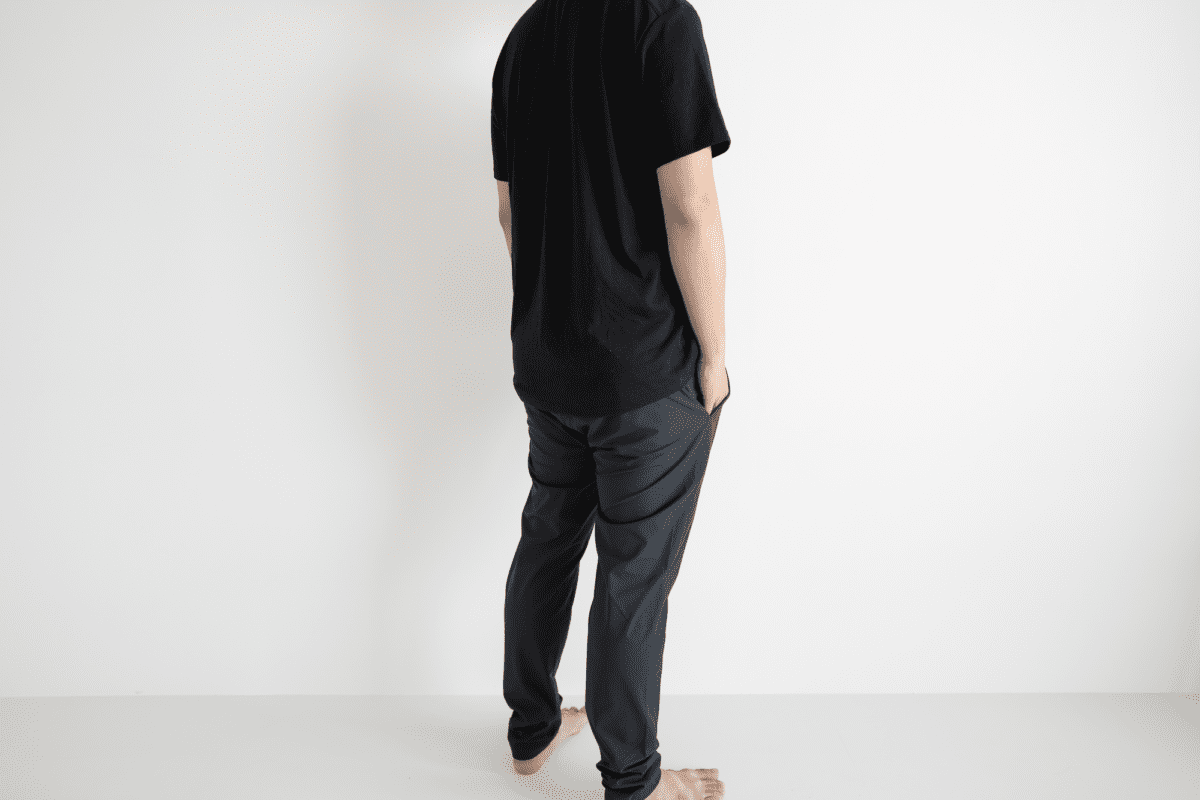 The Everyday Cashmere T-shirt is designed for everyday wear. I was sent a size large and extra-large for this review.
For my 6ft and 205lbs, beer-fueled figure, the large, which is my regular size was the right size. I've found the size consistent with standard American sizes. I would advise you to stay true to size when picking a size. While my usual size was the right fit, the extra-large size wasn't frumpy and looked good with the silhouette kept refined with the curved side seams.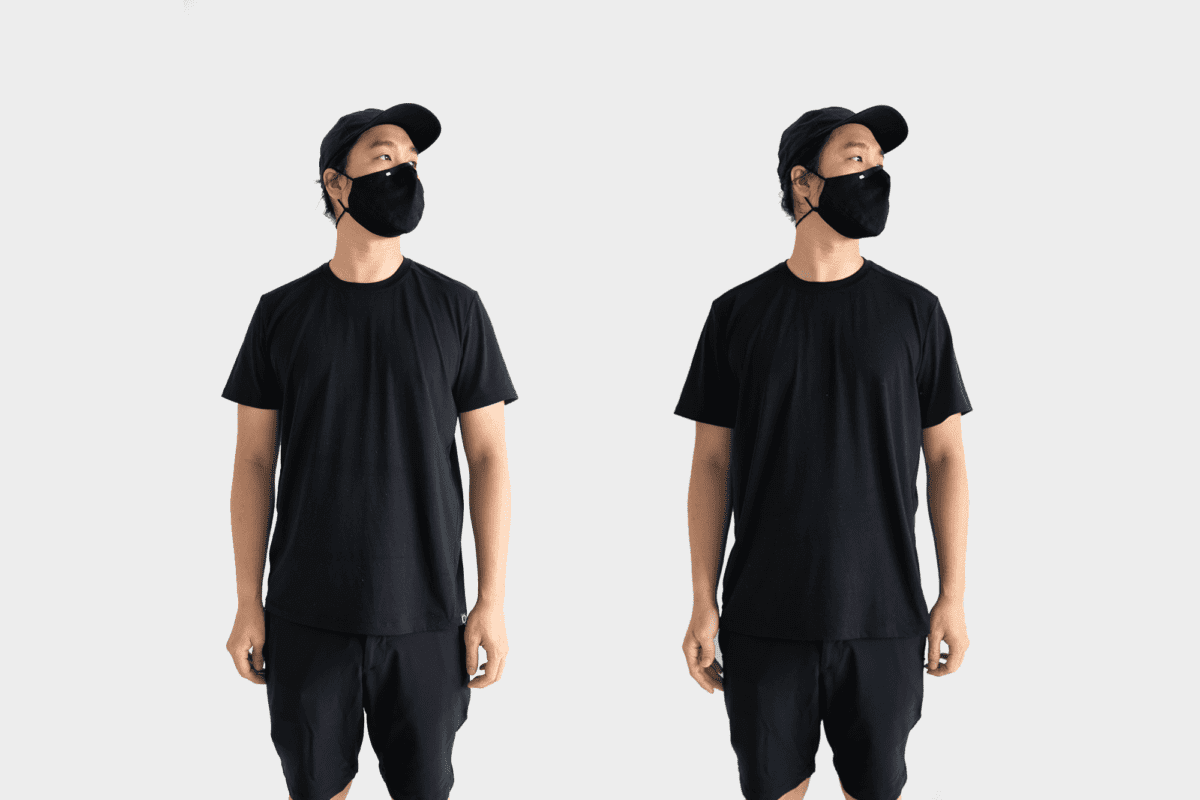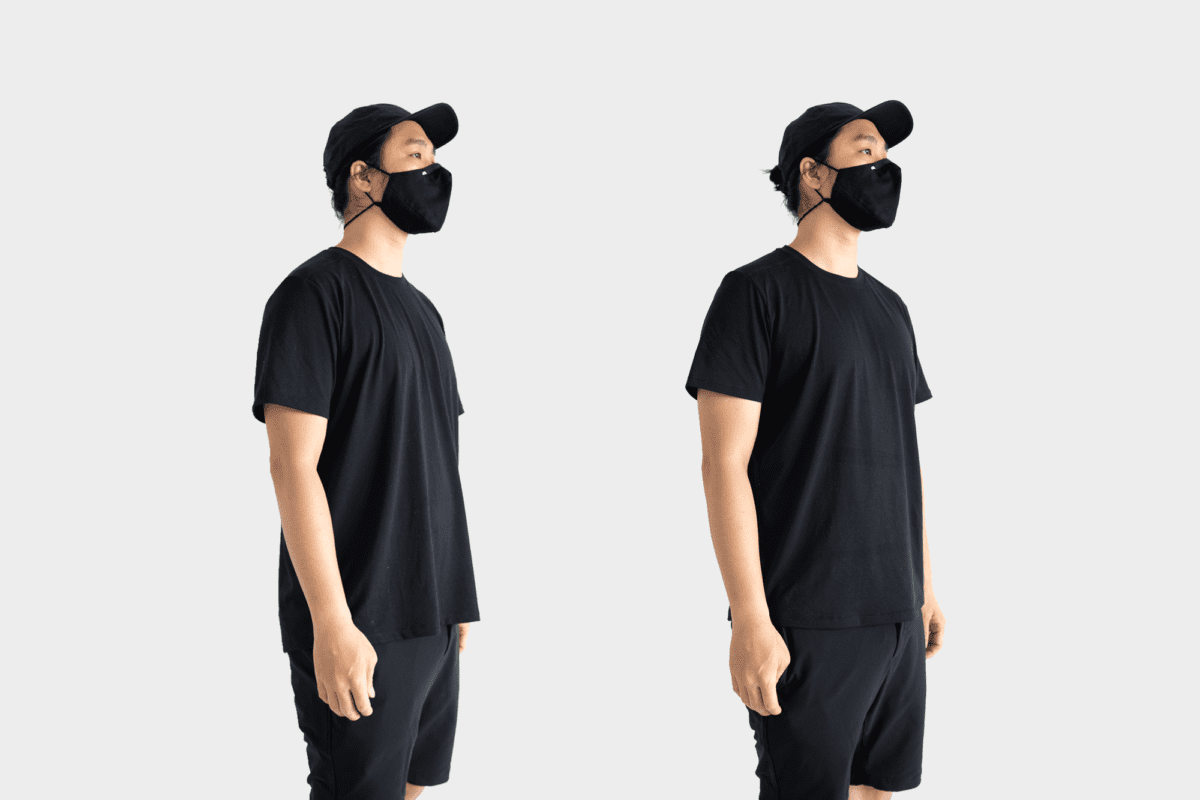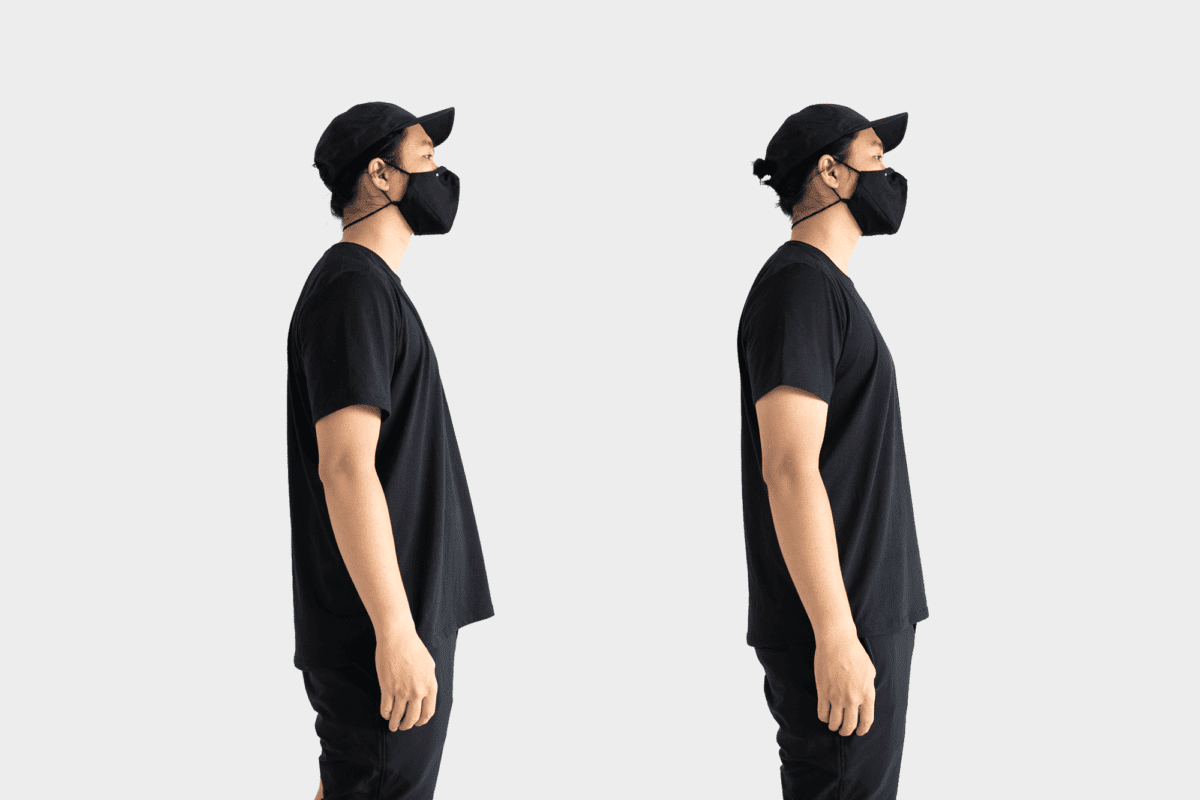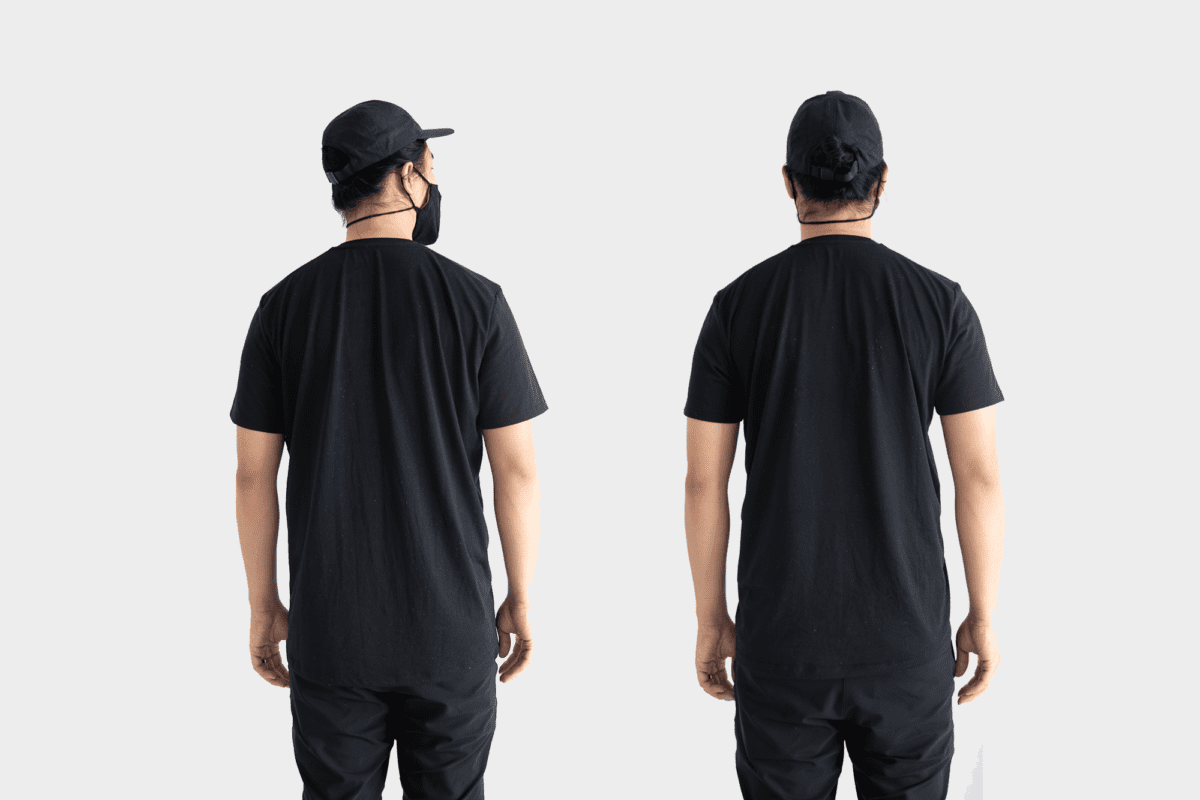 As you can tell, the large is a just fit, looks more drapey, but flares out more towards the end of the sleeves and at the hem. The x-large is just slightly longer which results in less flaring.
The Everyday Cashmere T-Shirt comes in a selection of a whopping 13 different colors, four of which (Heather Grey, Juniper, Clay, and Marina) are limited colors at the time of this article2. As with almost everything reviewed on this website, the black version is one being reviewed.
While the color is consistent throughout the t-shirt, down to the threading, the single ornamental part of the t-shirt comes down to the brand tag on the bottom of the left side.
But no one likes ads, so I got rid of them. If my articles helped you, I ask for your support so I can continue to provide unbiased reviews and recommendations. Every cent donated through Patreon will go into improving the quality of this site.
Another subtle detail is the shoulder line that has been brought forward to reduce friction on the shoulders.
Wearing one every day, I know that not all t-shirts are made equal. The most underrated stylistic feature about the Everyday Cashmere T-Shirt is how premium it looks with just a little amount of cashmere wool. It looks and feels ultrafine, making the t-shirt look premium and professional.
Even with all these details that make it different from your average t-shirt, the Everyday Cashmere T-Shirt is classic in styling and doesn't stand out apart from being obviously a little nicer than the other t-shirts in your wardrobe.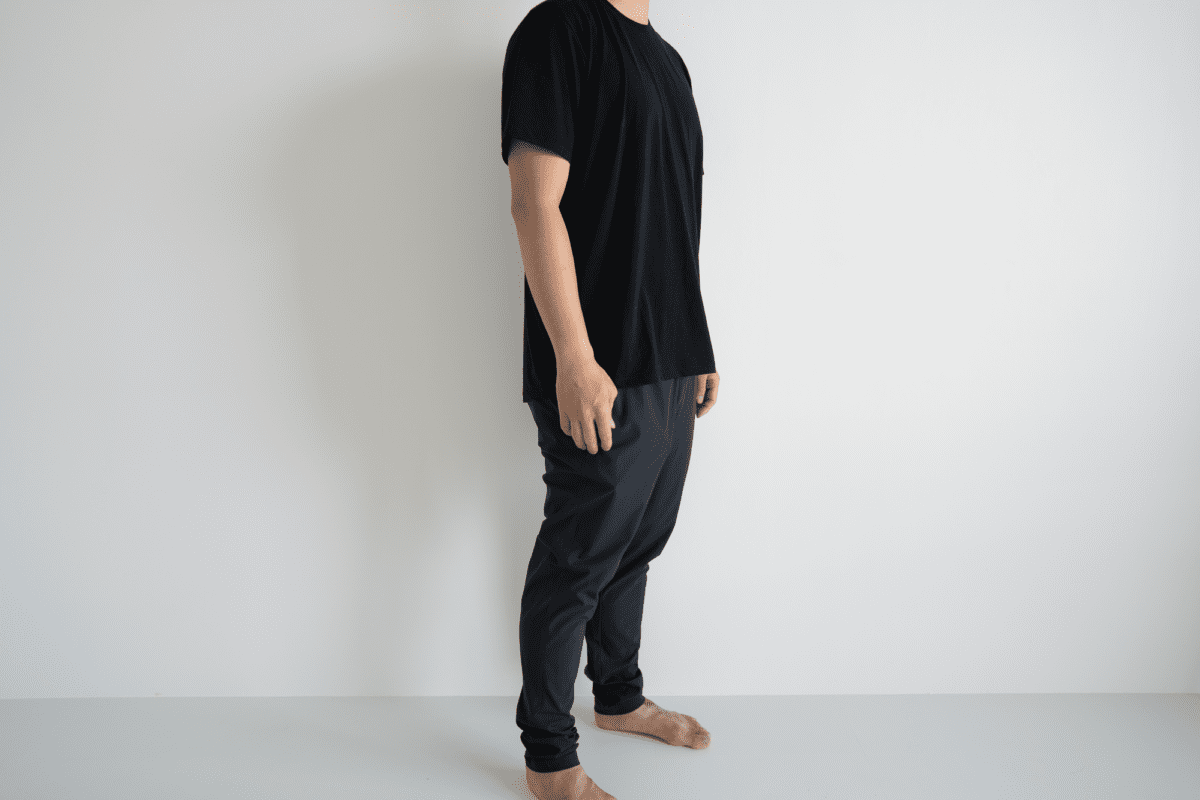 Material
The material used is a 88% drirelease® Polyester and 12% Cashmere Wool.
Drirelease® is Fisher + Baker's proprietary fabric that gives users a cool, dry, fresh, and comfortable feel. The technology does not alter fibers with chemicals and the performance is inherent in the fabric and is therefore permanent.
The fabric has a combination of hydrophobic and hydrophilic fibers (fibers that repel moisture and fibers that don't), which allows moisture to be pulled from the skin, while simultaneously releasing into the air for a dry feeling.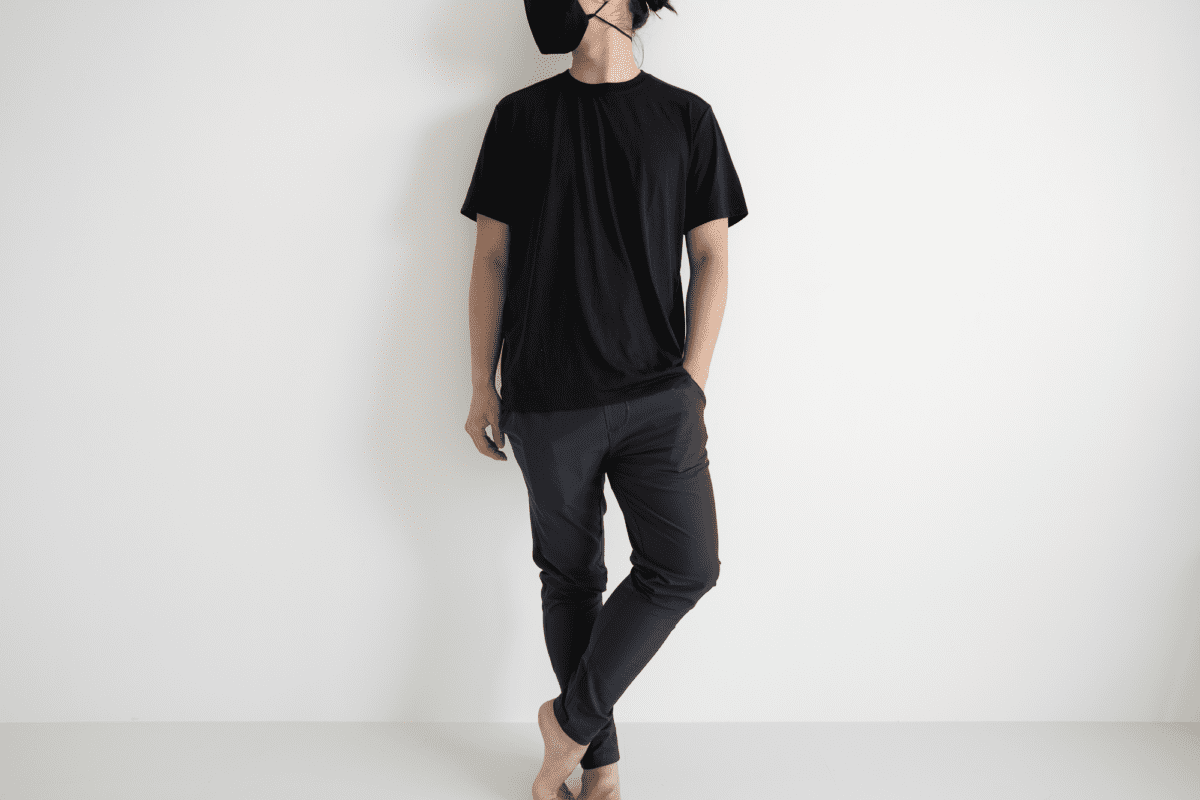 The cashmere included is probably what makes this t-shirt cost close to $100. The complexity of the manufacturing process and the rarity of the raw material are the main contributing factors to the cost. Cashmere is made from the soft fleecy underlayer of a goat's coat and a single goat only provides about 200 g of Cashmere which isn't even enough for one jumper. To put it into perspective, it will take a year's worth of fur of about two or three goats to create a cashmere garment.
Usage
I've been wearing the Fisher + Baker Everyday Cashmere T-Shirt for a few weeks now in the brutal summer of Tokyo. As a Singaporean, I've been living in tropical weather all my life. But this summer has been especially harsh and making me sweat buckets, even just by heading out momentarily.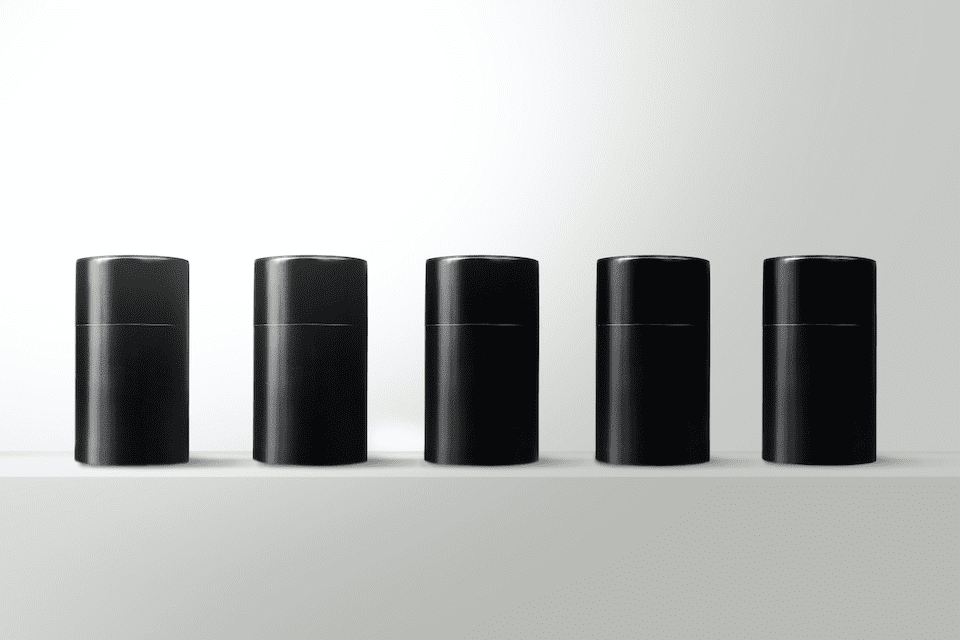 I found a 100 year old company that would create these heirloom quality canisters for me. They are handmade and will keep your tea leaves, coffee beans or anything that you need dry for years to come.
or read review
The Everyday Cashmere T-Shirt is thin and feels almost as light as the Outlier Runweight Merino T-Shirt, which is 195gsm. As expected, the light fabric together with the moisture-wicking ability makes it perfect for sweaty me. I felt comfortable even while sweating consistently.
Compared to something more raw like the Outlier Ramielust T-Shirt, the Fisher + Baker Everyday Cashmere T-Shirt is clearly a "nicer" t-shirt. It also feels more durable than merino wool t-shirts which have me reaching for it almost every day.
Another thing that stands out is how comfortable it is. The cashmere in it feels really soft on your skin, while the fabric weight makes sure it feels light. While I haven't worn it long enough to experience any durability issues, but t-shirts with thinner fabrics tend to wear out quicker, so I will monitoring and updating this review over time.
Conclusion
While this is probably the most luxurious, non-merino wool t-shirt you can buy, for $98, you could get merino wool t-shirts like the Outlier Ultrafine Merino T-Shirt for just $12 more.
There is no question that this is a luxury t-shirt. It looks and feels great, with a price tag to match. As a brand, they do lack a strong point of view, but Fisher + Baker more than make up for it with the quality of their products.
Additional Images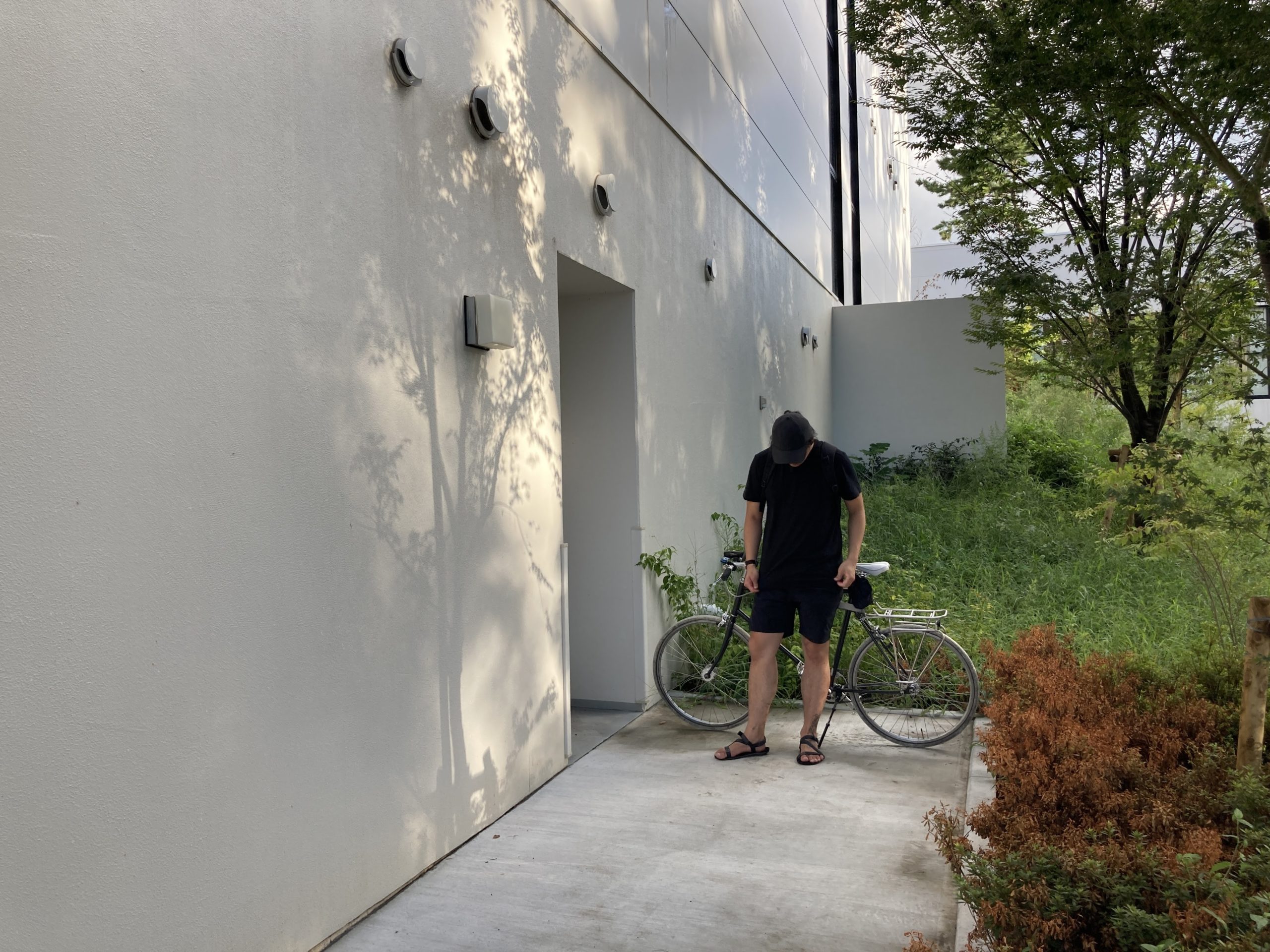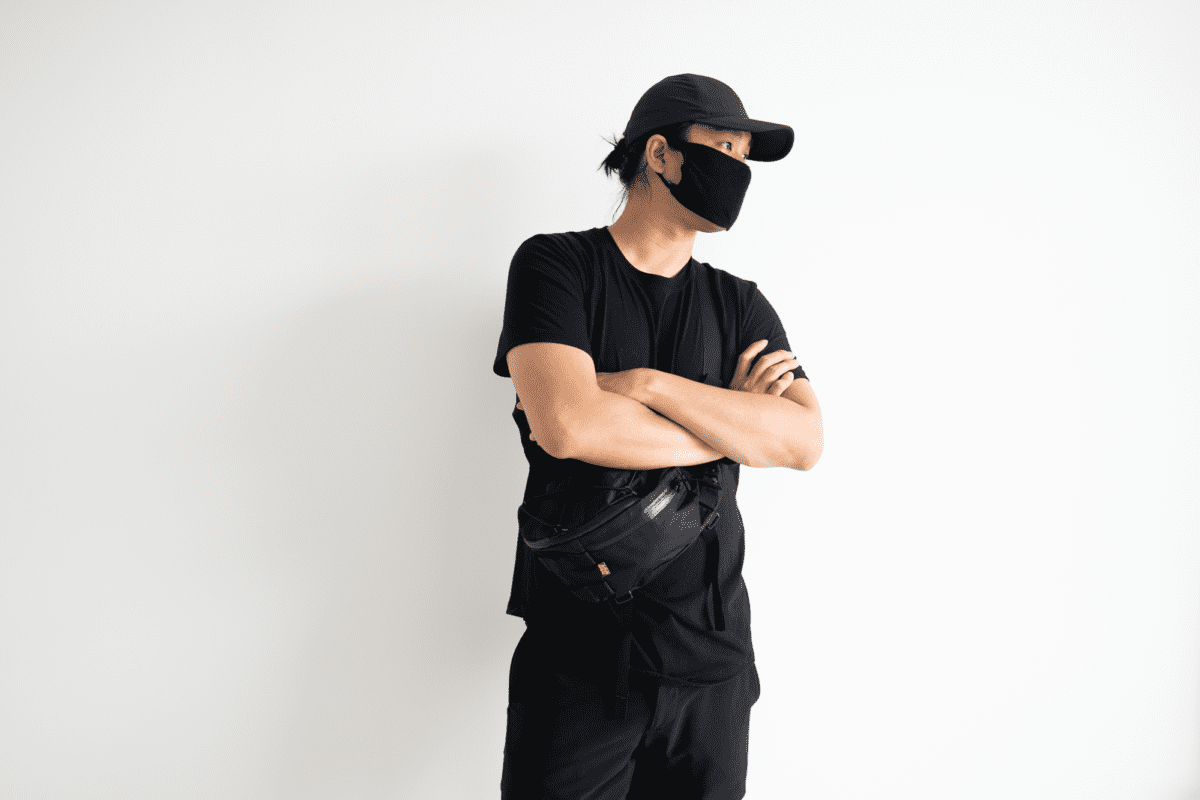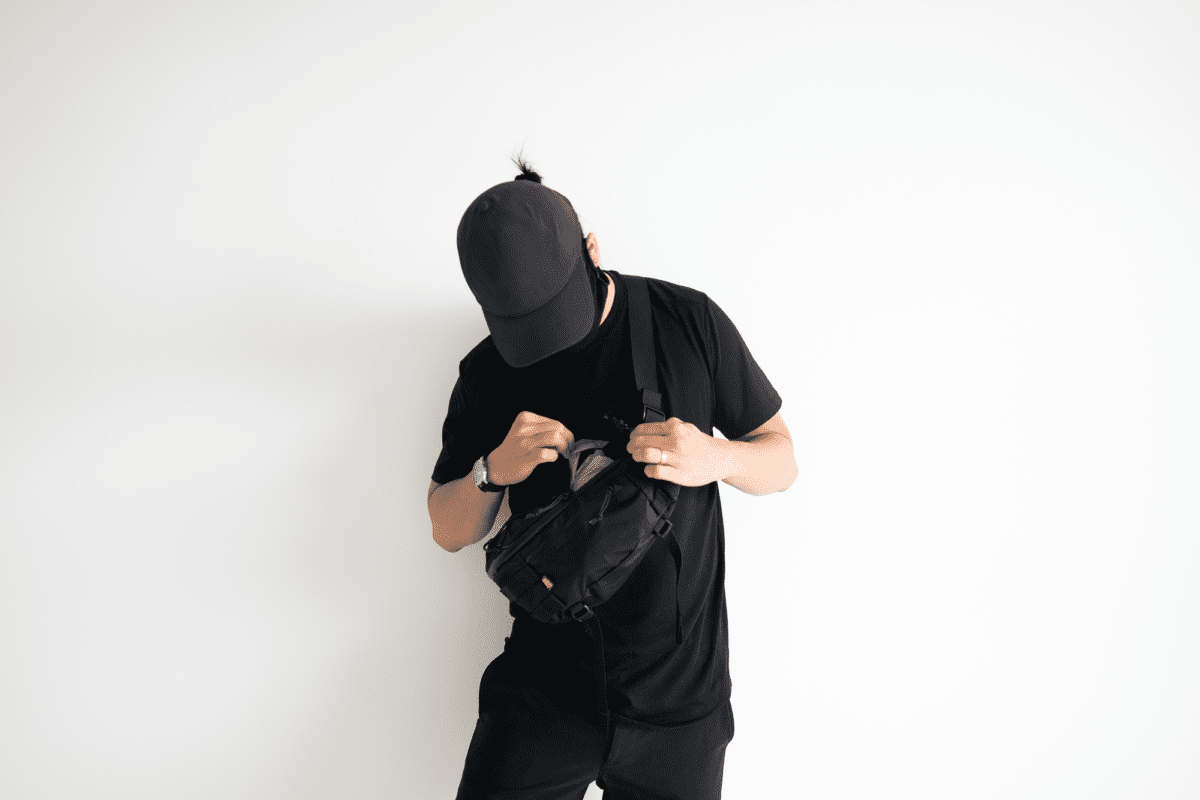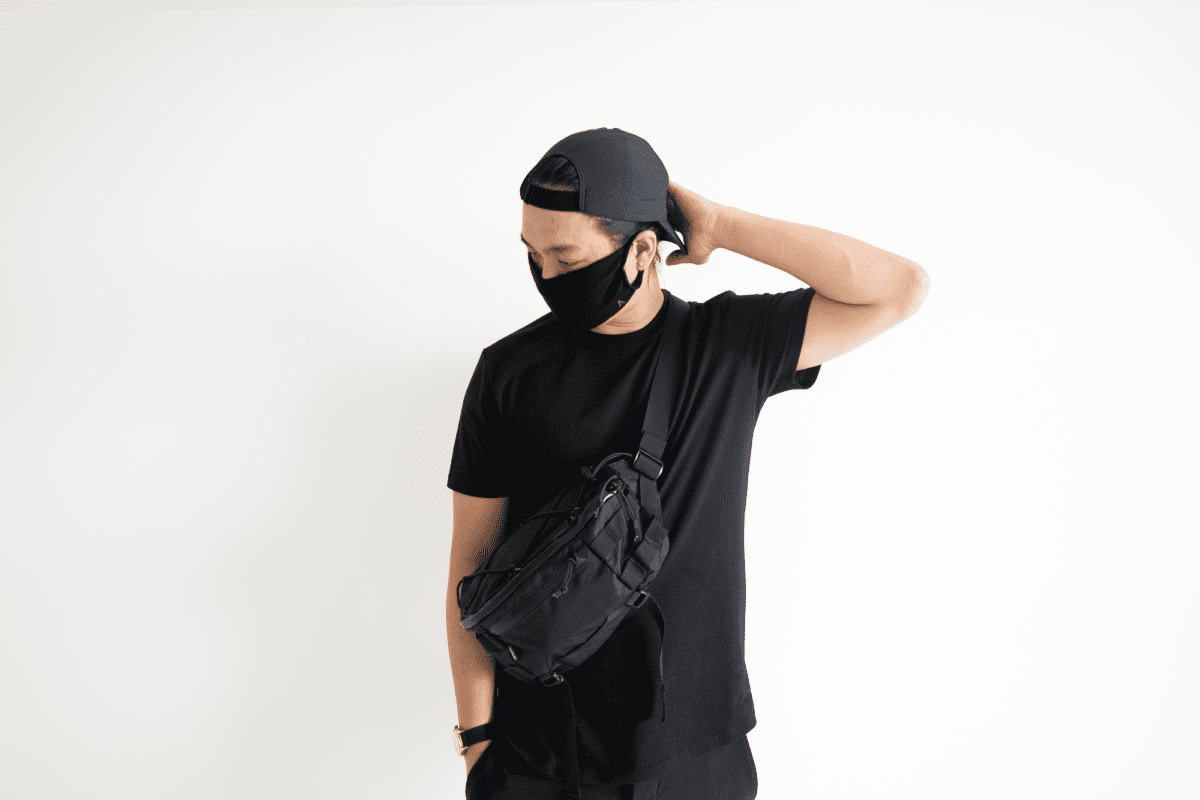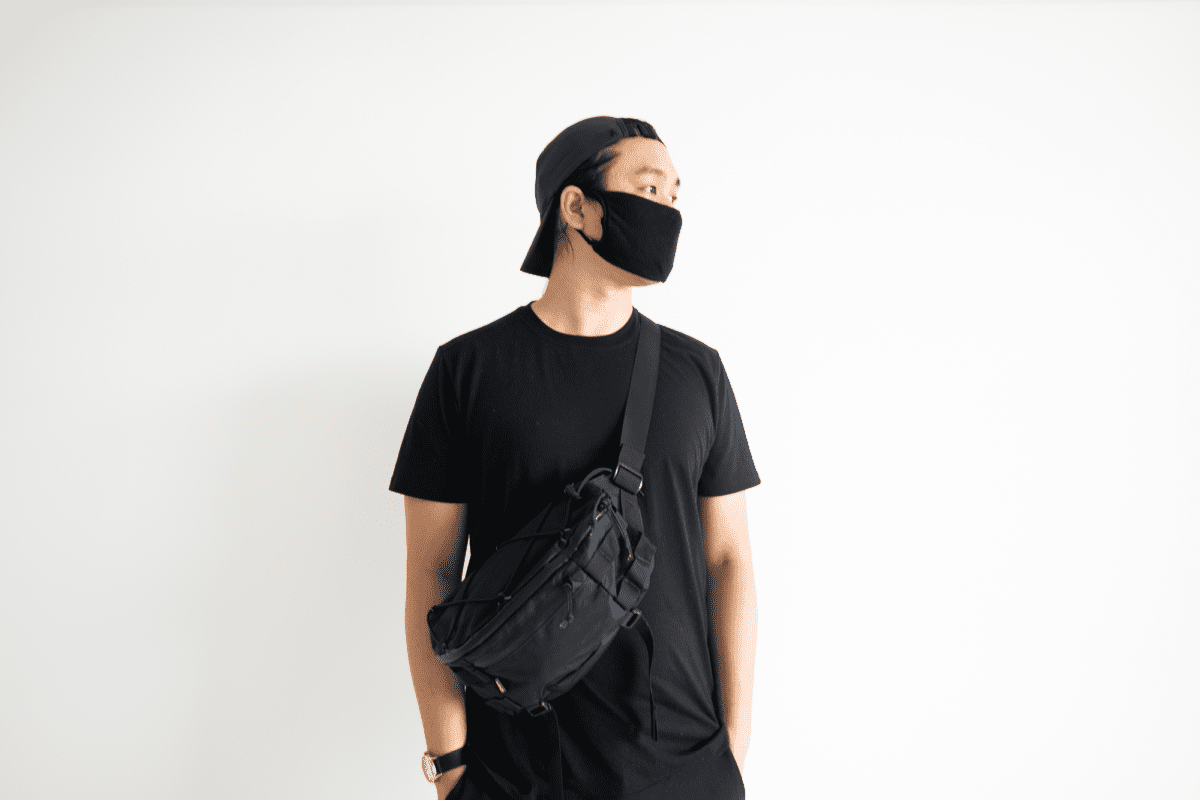 Like this review? See all of my in-depth reviews.
Also, consider supporting me by being a Patreon. Every cent given will go back into improving the content of this website.