This website is made possible by readers. I may earn a small commission when you buy through the links in this article at no extra cost to you. Learn more.
Details
Price $198 on ablecarry.com
Material X-Pac (VX21)
Capacity 21L
Weight 1.2kg / 2.6 lbs
Dimensions 49 (h) x 29 (w) x 19 (d) cm / 19.3 x 11.4 x 7.5"
Overview
It's been a couple years since I reviewed the Able Carry Daily, and I wrote it off as being too puny for a man my size. When Able Carry came out with the Daily Plus, I was intrigued. As my daily carry for three weeks in Bangkok, I figured the ins and outs of the backpack and let me just say, what a bag.
Style
The Daily Plus carries all the good looks that makes Able Carry bags popular. Donned in one of my favorite materials, X-Pac, the backpack is sleek. However, it is not just the material, but the clever design that keeps the pack streamlined even with that many compartments.
Able Carry tends to avoid compartments or pockets that juts out of the bag, maintaining a slim and neat profile. While these has some usage repercussions which I will discuss later, it not only looks, but feels compact.
The Able Carry works brilliantly as a daily carry and a travel bag for overnighters. The low profile and all-black colorway attracts little attention despite the X-Pac exuding such premiumness. The bag comes in three colorways; black, blue and green. But, if you know me, there is only one right color; black!
The face of the pack is almost entirely fabric with two zippers running down along the lines of the backpack. The zippers are faces backwards and are hidden to minimize any disruptions to the silhouette.
While there are some molle on the wearer's left, these are carefully done to keep the color consistent on the black backpack. If you opt for the green or blue, then there will be a color block pattern going on that I find not as minimalist as the all black version.
Able Carry is well-known for their tasteful backpack designs and the Daily Plus, being a variation of the popular Daily backpack, doesn't miss the mark. It's hard to go wrong.
Material
I first encountered the X-Pac on Tortuga Outbreaker, my first ever backpack review. Since then, I've fall in love. Some brands, such as Aer, offers X-Pac as a premium version of their ballistic nylon at a slightly higher cost. X-Pac is a pricier material in most cases and whether the quality warrants the difference is subjective.
The X-Pac used is specifically Dimension Polyant's VX21 (the olive version uses VX42), which is a 4-layer laminate consisting of;
210D nylon with DWR and UV resistant coatings
Black polyester "X-Ply" (Also what gives the criss cross pattern)
0.25 mil (that's 0.001″) PET film
50D polyester taffeta backing
This means it is (almost) completely waterproof, is tough even under stress, and rigid enough to stay in shape. Since rain isn't the only element your bag will be facing, the UV protection quality of the material will also help protect it from the sun.
But no one likes ads, so I got rid of them. If my articles helped you, I ask for your support so I can continue to provide unbiased reviews and recommendations. Every cent donated through Patreon will go into improving the quality of this site.
As someone who probably uses this backpack on travel or on their city adventures, the difference will be negligible. To me, the choice between X-Pac and other materials is down to aesthetics. I personally think that the slight sheen and subtle criss-cross patterns warrants that extra cost, but to each his own.
Usage
The biggest draw of the Able Carry Daily Plus has got to be the organization. I love how thoughtful they are, without being overbearing which some Aer backpacks can get. The Daily Plus is clearly designed for the semi-minimalist with a balance of in-built organization and room to make it your own with cubes and pouches.
Quick access pocket
Starting with the quick-access pocket, it is easily accessible by hanging your pack off your right shoulder and swinging it to the front. Since it is faces one direction, you can't reach it hanging off your left shoulder.
The pocket is deceivingly simple. A vertical, almost-full length zipper exposes a generous pocket, although this pocket "eats into" the space of the main compartment. There are two pockets within this pocket, a zippered one on the top and a open one at the bottom. Both of these pockets uses a stretchable fabric so you can fit quite a bit into them.
In the zippered one, I keep my Sony WF-1000XM4 and an Apple AirTag.
I don't have much of a system for this pocket. I simply dump anything small that'll get lost in the main compartment, such as insect repellent, Raen Sunglasses, key pouch, mobile charger, portable fan, etc. Anything goes.
Stealth water bottle pocket
This has got to be one of my favorite compartments. It separates your waterbottle without adding bulge to the bag. I used this backpack in Bangkok where the air quality can be pretty horrid. Being able to completely cover the bottle is a lifesaver.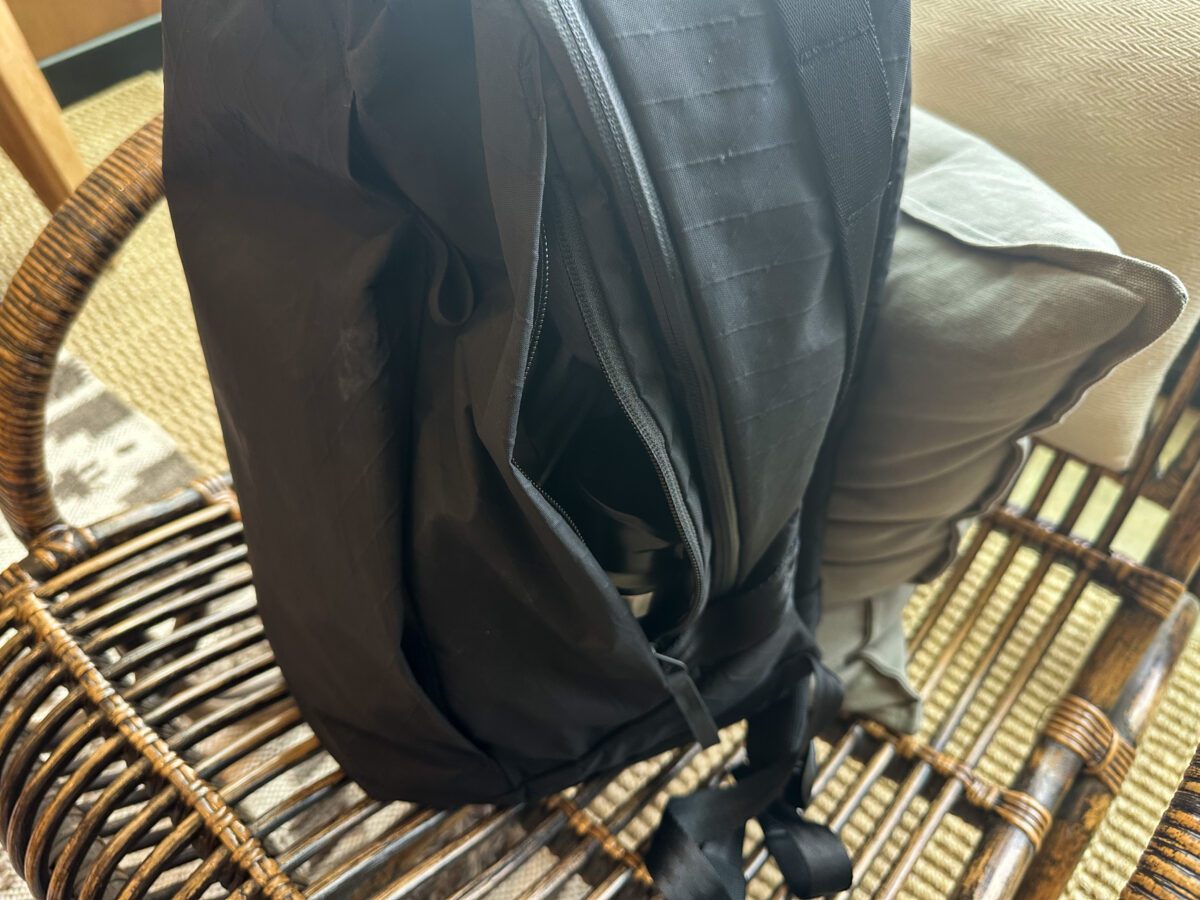 This compartment can fit large water bottles, umbrellas, or even both. Like the quick access pocket, whatever you put into it takes up the space of the main compartment.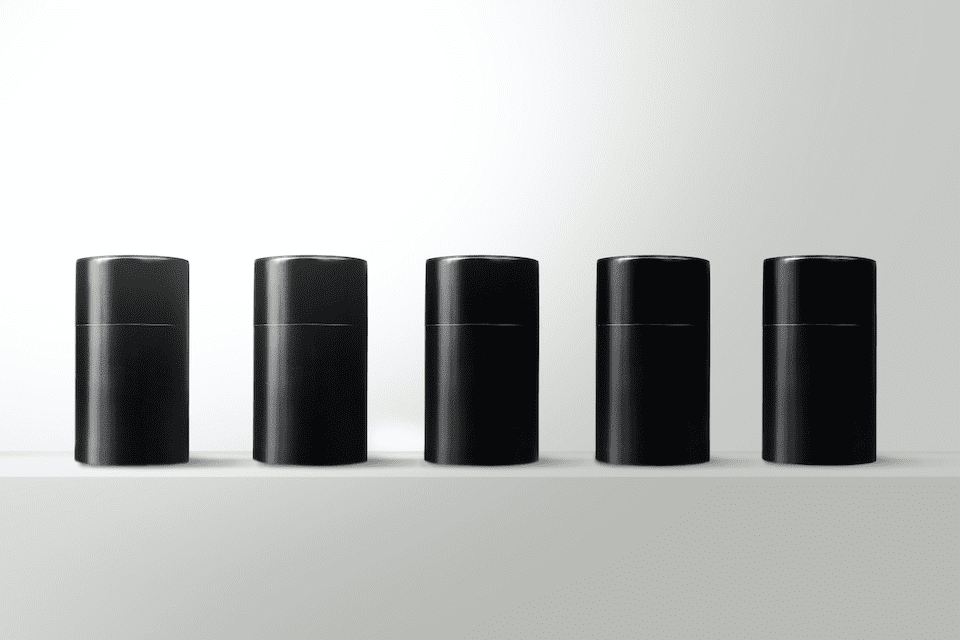 I found a 100 year old company that would create these heirloom quality canisters for me. They are handmade and will keep your tea leaves, coffee beans or anything that you need dry for years to come.
or read review
Similarly, if you have a packed main compartment, it makes the pocket very tight and hard for you to pull the bottle out easily.
Main compartment
The main compartment isn't very big to begin with and with the quick access and water bottle pocket taking up its space, it can get pretty cram in here. In addition to my waterbottle and small accessories in the respective pockets, here is usually what I have in the main compartment
16-inch MacBook Pro
12.9-inch iPad Pro
Charging accessories in a Aer Slim Pouch
Wet tissues
Light jacket (Uniqlo linen shirt for Bangkok)
Packable tote bag from Uniqlo
I wanted to visit the gym before work one day and was able to fit a change of clothes, small towel and my weightlifting belt on top of the above items and that was the limit.
There is a zippered pocket towards the top that I put my packable tote bag into.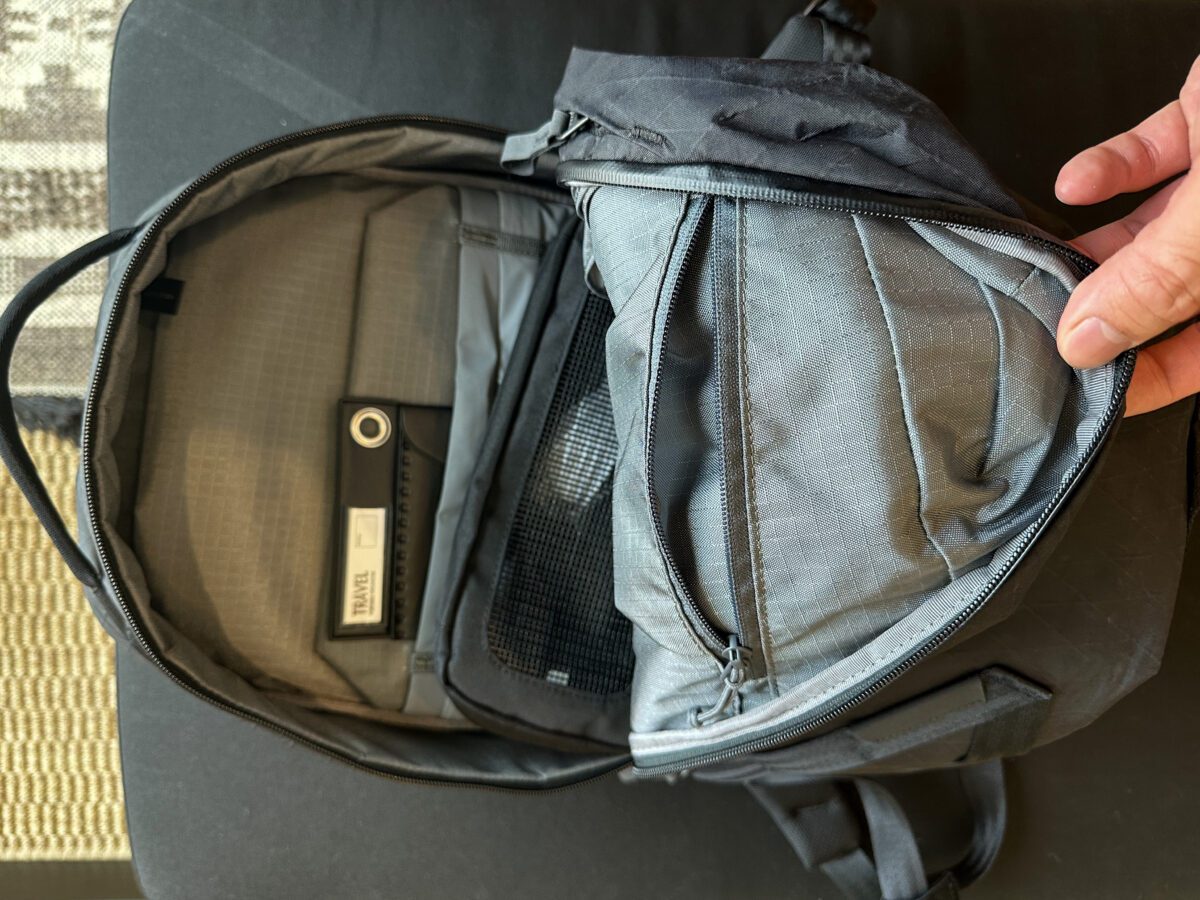 Along the back, there are two slots. The first slot is cushioned and fits my 16-inch MacBook Pro perfectly. The second slot, however, doesn't fit my 12.9-inch iPad Pro. I have a leather sleeve with cash in there instead.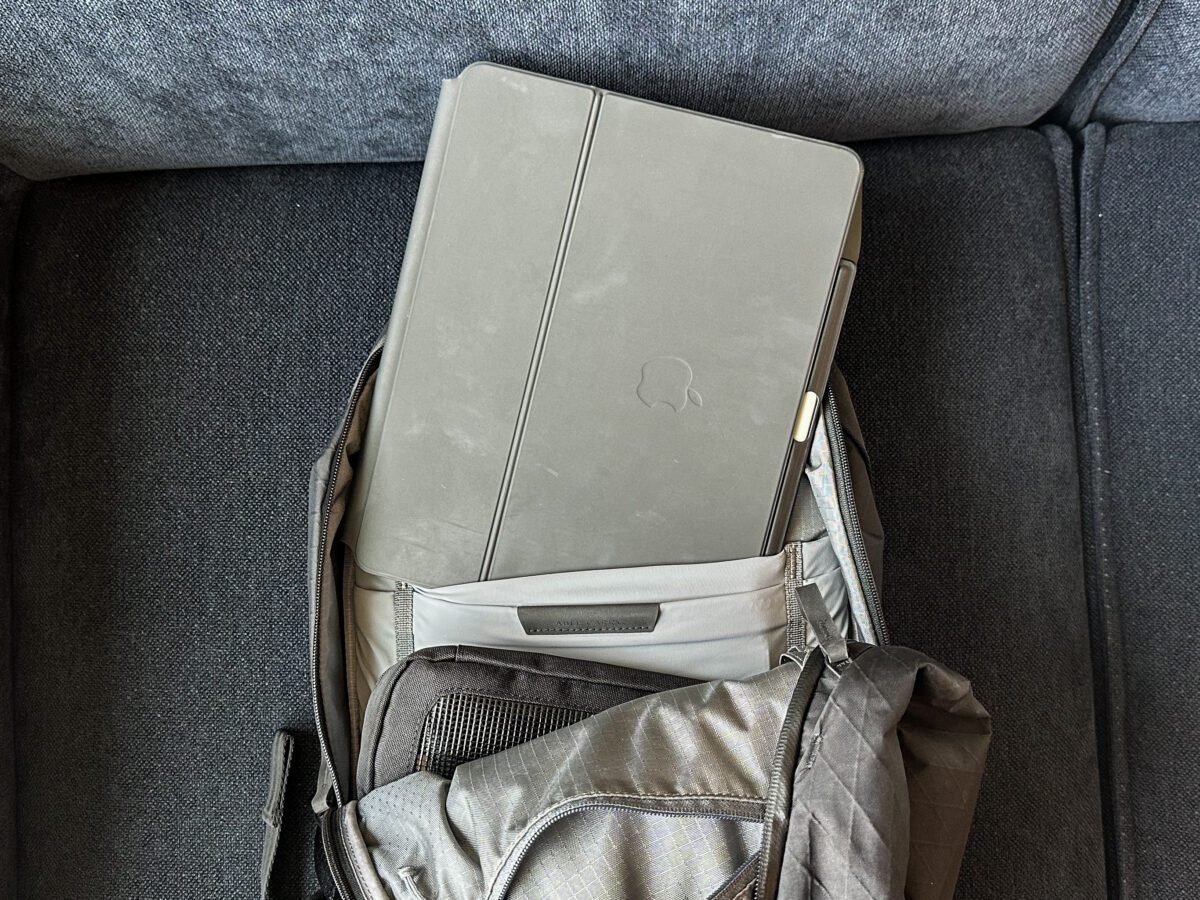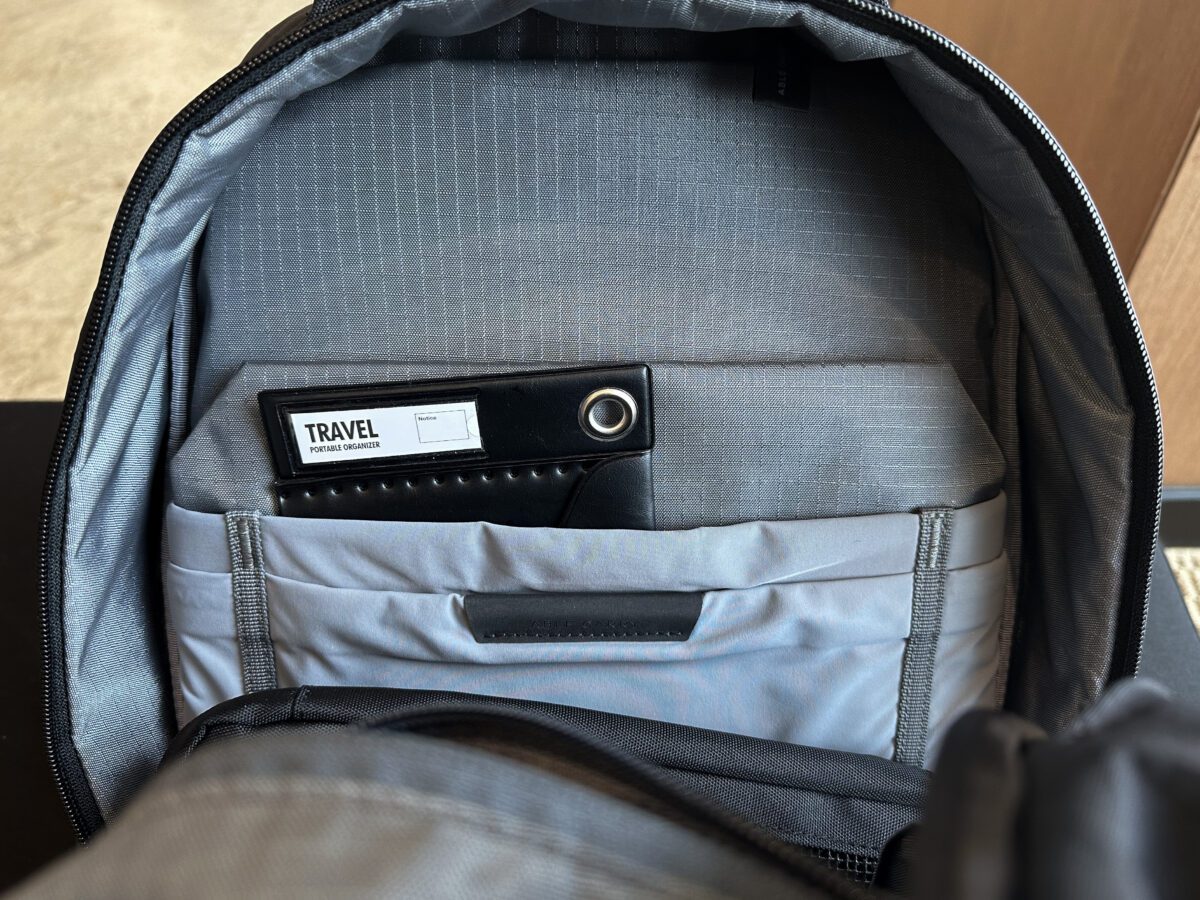 I love how these slots use stretch fabric so won't take up space in the main compartment when you have nothing in them.
In times where I bring along my iPad and MacBook Pro, I would have to put my iPad in the main compartment. It's not a big deal, but it would be nice if that slot could fit a 12.9 inch iPad Pro with a case that holds the Apple Pencil.
EDIT
I didn't even realized it until a commenter pointed out, but there is a zipper behind the laptop slot that you would miss if you weren't looking for it. It lets you remove the frame sheet and within there, there is a secret velcro pocket which is perfect for your Airtag. Thanks Chris E. for the tip.
Secret compartment
Against the top of your back, there is a secret compartment that was perfect for my passport and valuables like cash stack for currency exchange. There is even a flap that goes over the zippers that makes it hard for thieving hands to access it.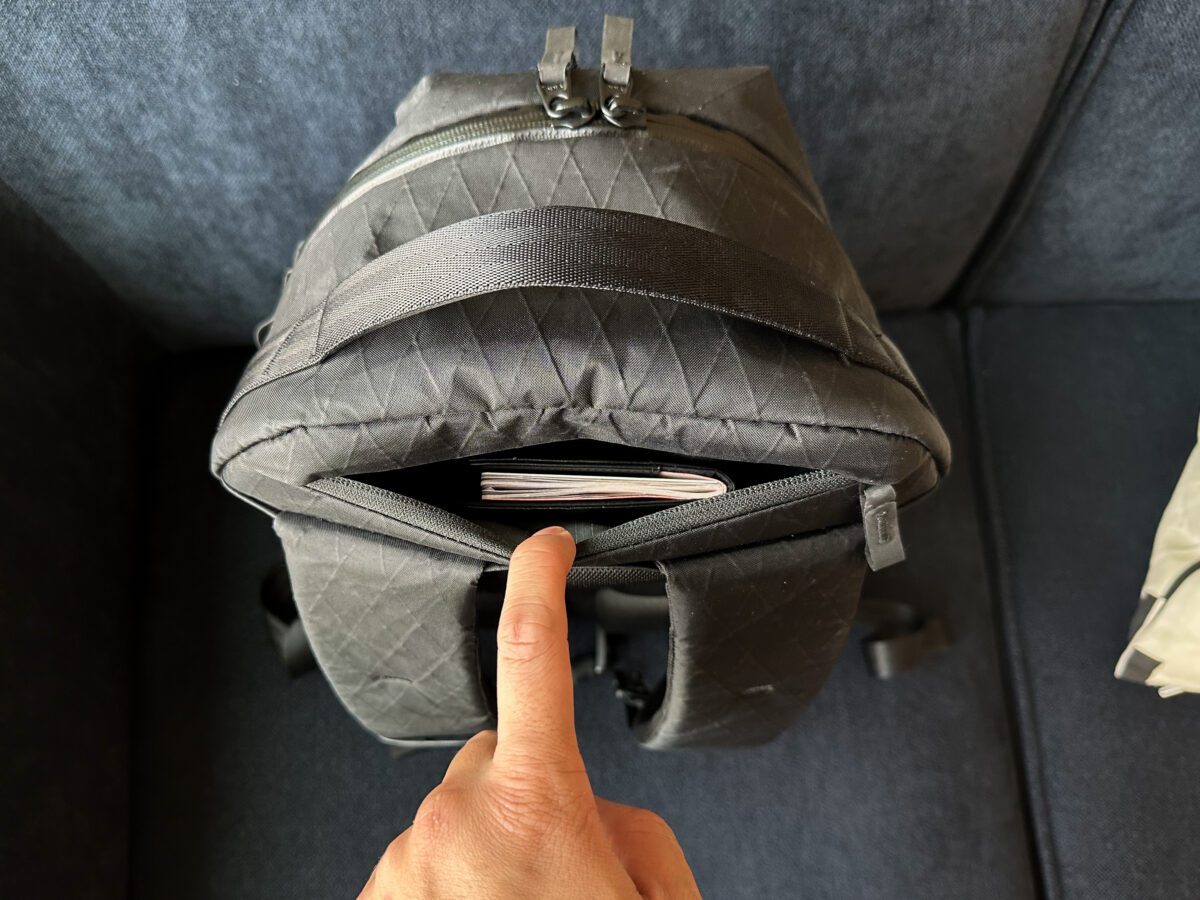 Frame
The bag has an a-frame structure that keeps the bag in shape. I am not sure if it is necessary for a bag this capacity but it certainly looks great. The structure also allows the backpack to stand on its own. This isn't 100% stable as I've had it topple over when placed on a bus seat.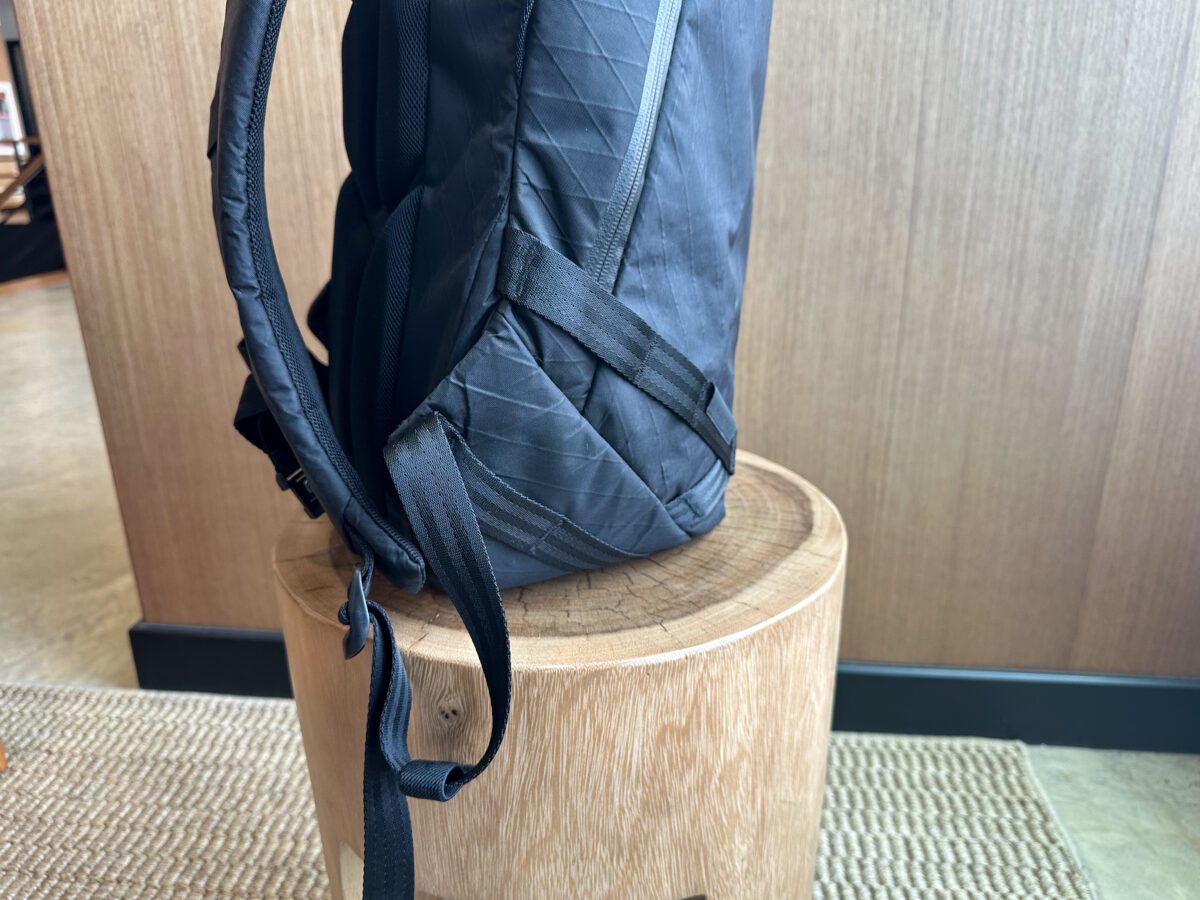 Then again, this is Bangkok where all vehicles are auditioning to be part of Fast & Furious. Your mileage might vary.
Conclusion
If you are fine with the relatively compact 21-liter capacity, then the Daily Plus is a stellar backpack. The organization and simplicity of it blew me away.
While I would not recommend it as your only bag for travel, I was impressed by the organization and durability as an everyday backpack that I brought on travel. I abused it for close to a month of Bangkok madness and it survived better than I did.
Like this review? See all of my in-depth reviews.
Also, consider supporting me by being a Patreon. Every cent given will go back into improving the content of this website.
Tagged able carry bag review water-resistant x-pac