This website is made possible by readers. I may earn a small commission when you buy through the links in this article at no extra cost to you. Learn more.
In this Tortuga Outbreaker backpack review, I'll be covering each features, down to the details and sharing my experience using it for onebag travel.
Details
Overview
Tortuga was the brainchild of Fred and Jeremy, who created the original backpack after being continuously let down by traditional packs. Their mission to create the perfect backpack has now evolved to a highly acclaimed company that truly understands the needs of urban travelers.
Tortuga is a relatively new company, but is often considered as one of the best brands by the onebag travel community. And naturally, they got my attention over time.
This chance for me to review one of their bags got me really excited. Even from photos on their site and comments on social media, I could see that the Tortuga Outbreaker is a beast of a bag, loved all around by the travel community.
I'll be sharing my brutally honest experience of both the good and bad.
The bag comes in a 35l and 45l version. I have the 35l version so my experience and accompanying pictures will reflect that. It is important to know, the two versions are designed alike, except for the 10 liters of volume.
Two Sizes
Here are some of key points between the sizes to help you choose the right size bag
35 liters
45 liters
Size
20.3 x 12.9 x 8.2″
22 x 14 x 9″
Weight
4.6 lbs (2.15 kg)
5.1 lbs (2.3 kg)
Laptop
Up to 15″
Up to 17″
Fit
16-19″ torsos
16-20″ torsos
Carry-on Compliance
Can carryon for all airlines, no questions asked.
Might need some negotiation on checkin.
Might have to check in for stricter airlines like Ryan Air
Best for
Minimalist, ultralight traveler.
Short trips of about a week.
Long term traveler.
If you want to travel indefinitely, get this size.
Product Link
35 liters
45 liters


The destination for the Outbreaker backpack review is the scenic Sri Lanka. While it's not the norm for me, I'll be staying in hotels only on this particular trip. The 45l would be an overkill for this case since I didn't need to bring along towels or bathroom amenities.
I also usually take budget flights, where carry-on restrictions are strictly enforced, so the 35l is the safer choice of the two.
That said, the 45l version is the more popular of the two, with it sold out at the time of this article. For those looking to travel long-term, the 45l might be a better choice as the 35l is more suitable for the ultralight, minimal traveler.
But no one likes ads, so I got rid of them. If my articles helped you, I ask for your support so I can continue to provide unbiased reviews and recommendations. Every cent donated through Patreon will go into improving the quality of this site.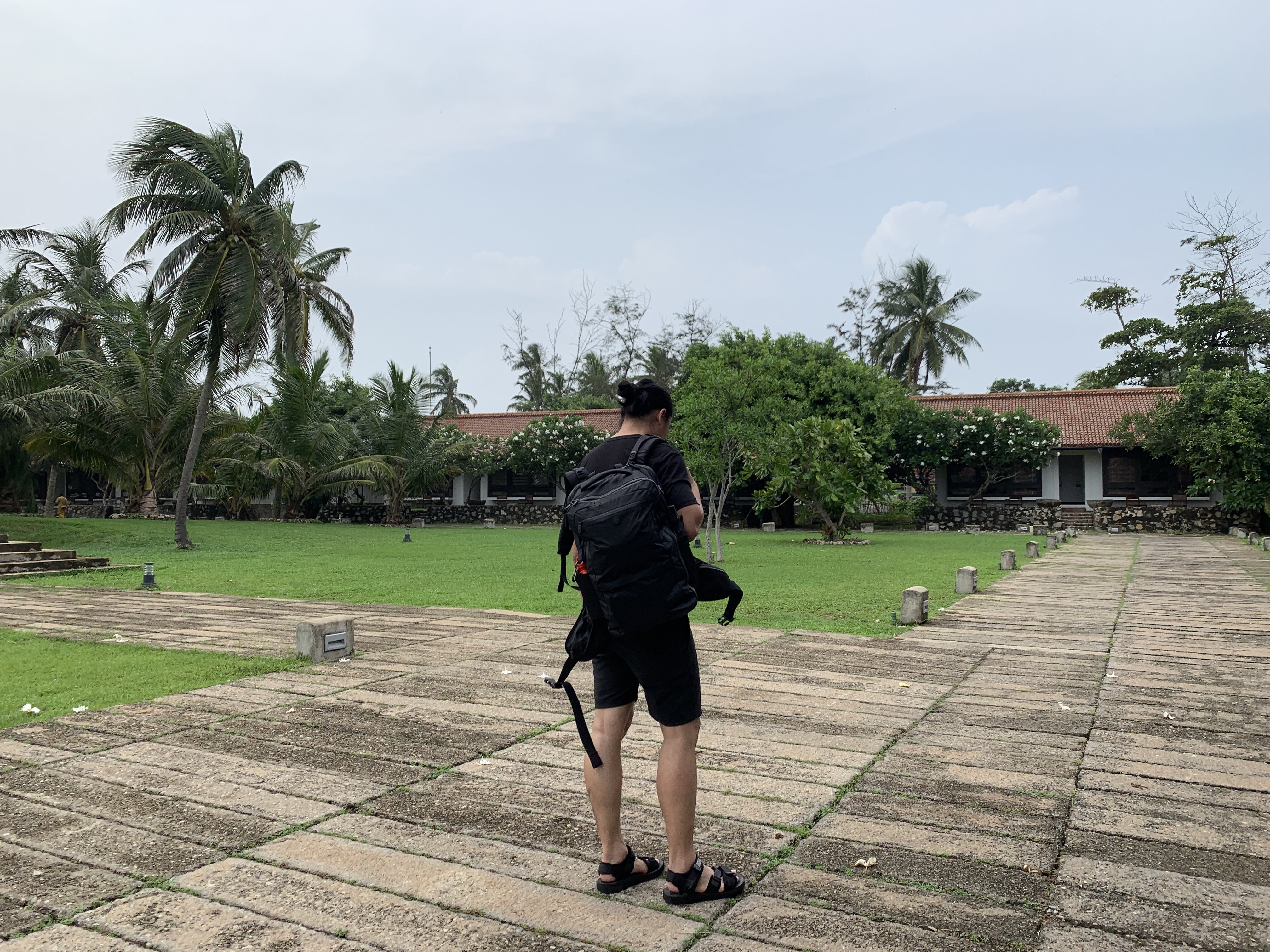 Style
As shallow as it sounds, the look of a bag is often the most important factor for me. As a designer, aesthetics play an important role in the curation of my belongings.
As a bag that you'll be carrying throughout a trip, just being of high quality is not enough in my books. The aesthetics have to look on point to keep you excited using it. Being excited about your gear, to me, is part of the fun leading up to your trip.
The color of Tortuga Outbreaker is right up my alley. In all black, all the way down to the branding, the bag is sure to draw little attention. Unlike the Setout, they don't offer it any other color.
The bag, from the onset, was designed for the urban traveler. So unlike colorful, silly-looking hiking bags, the Outbreaker is designed to make you look good.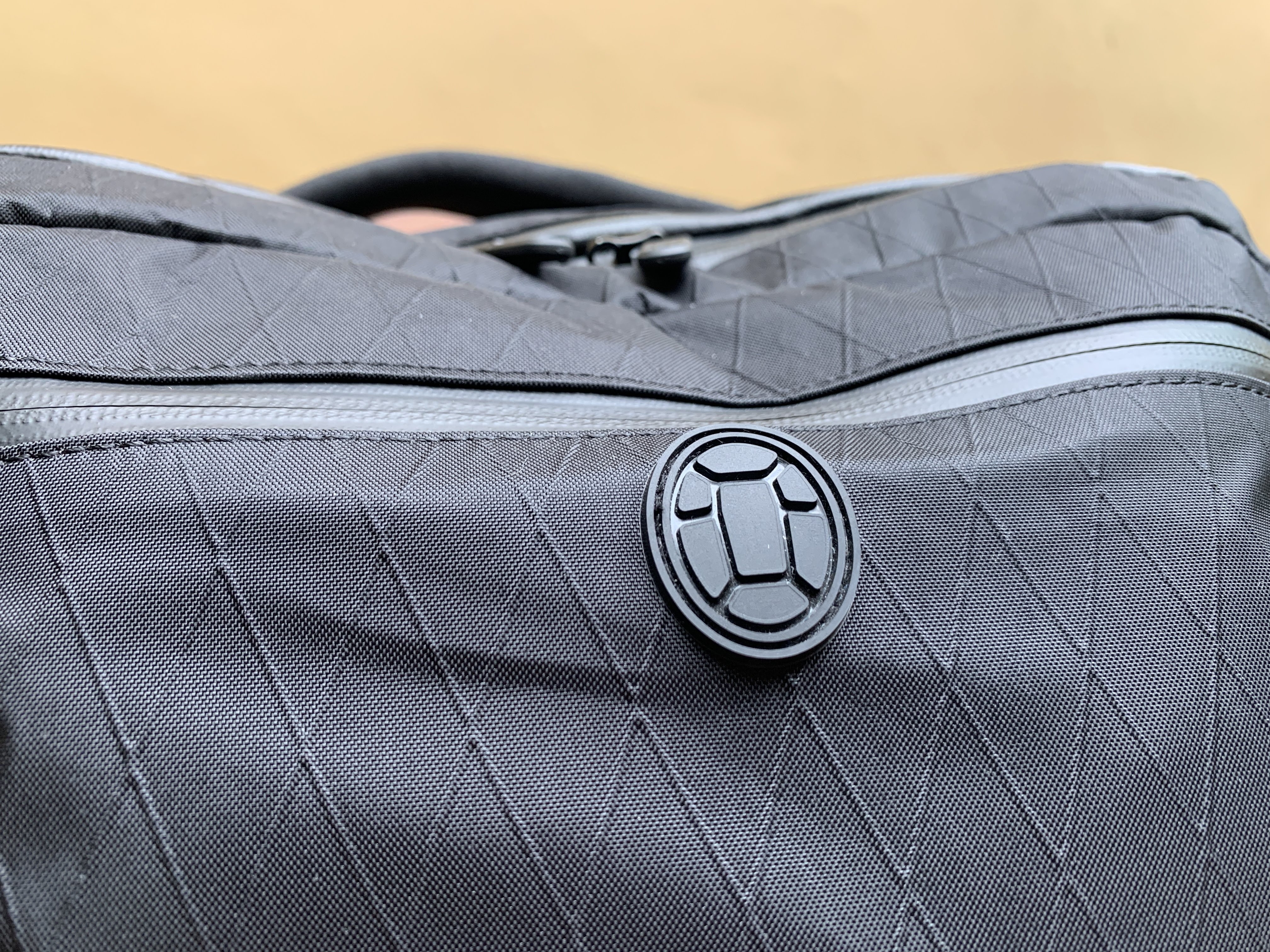 Compared to bags like the GORUCK, it is much more hefty, with more straps on the outside. However, this is not too excessive like some military-style bags.
The padding for this bag is much more deliberate as well, with thick paddings for the lower back and a padded hip belt. The excessive padding does make the bag look bulky, which might make attract more attention.
While the bells and whistles contributes to it looking less minimal on the overall, the black color and the consistent choice of material pulls it all together into a cohesive package.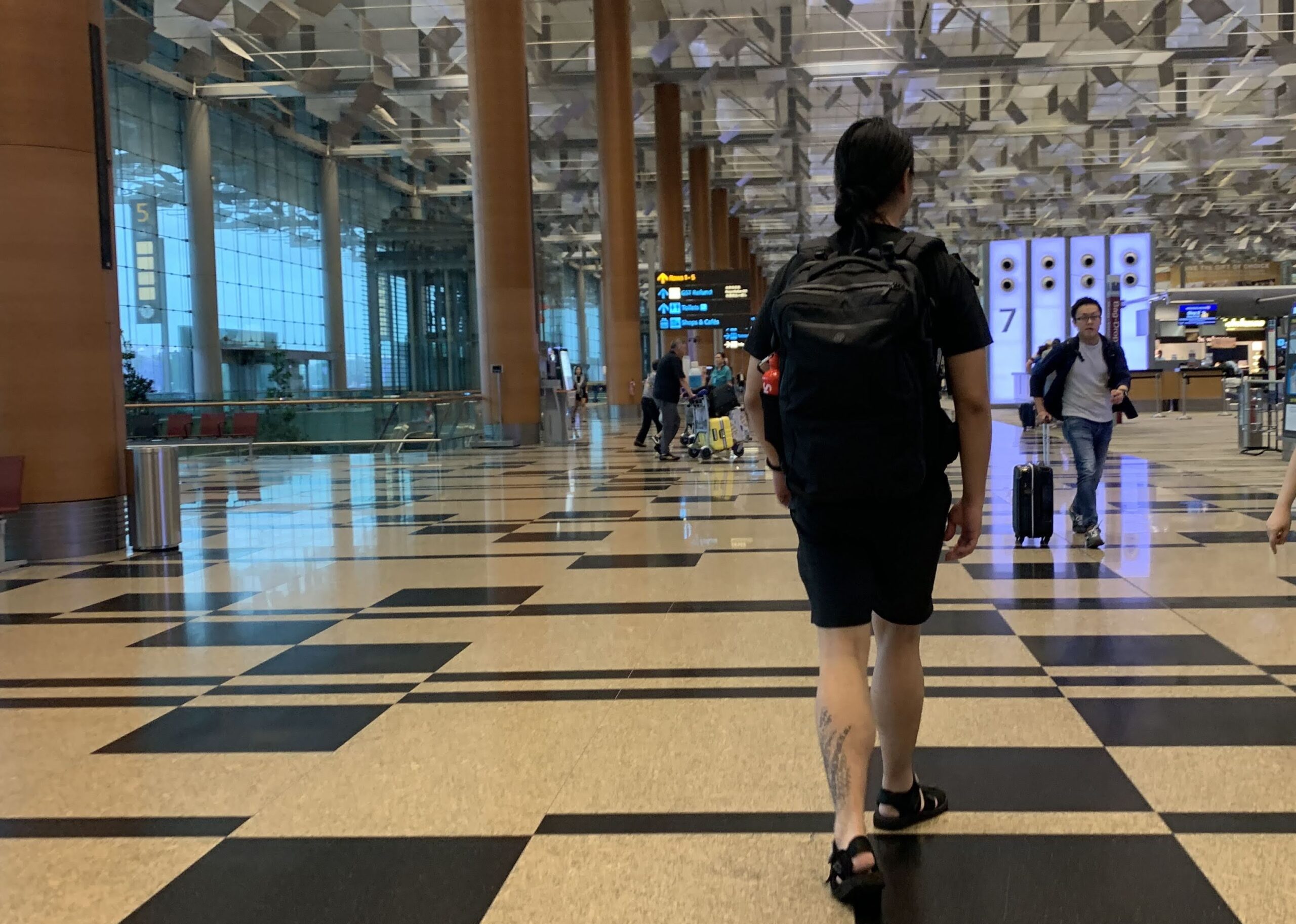 While the bag looks perfect for city travel, the look is not suitable for hiking or similar outdoorsy activities. It looks very modern, and should go well with your merino tees and Outlier pants.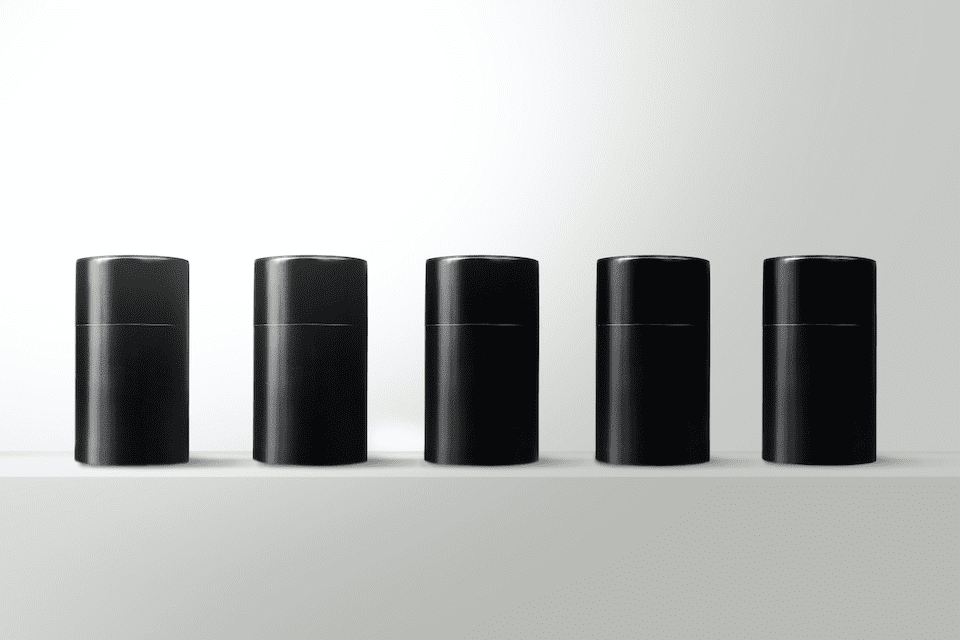 I found a 100 year old company that would create these heirloom quality canisters for me. They are handmade and will keep your tea leaves, coffee beans or anything that you need dry for years to come.
or read review
Materials
Materials are arguably my favorite part to write about. Materials really do make and break a piece of travel gear.
The outer of the bag is made of VX21 waterproof sailcloth. While most bags often go with the usual suspects like CORDURA or Ballistic Nylon, this unconventional choice by Tortuga is based on their mission for extreme quality.
The material is chosen to withstand the heaviest of rains. As most bags' fabrics are made up of threads woven together, rain will still go through those holes no matter how tightly woven they are.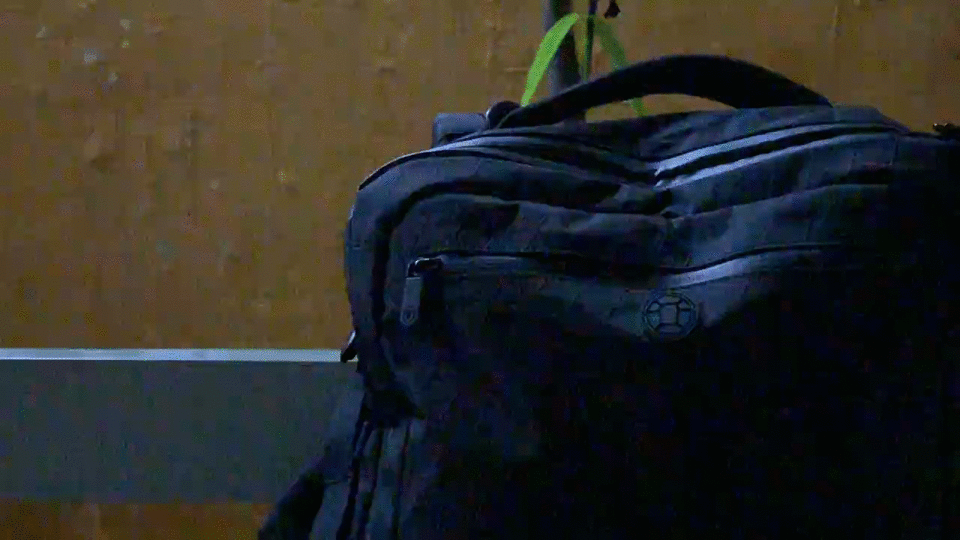 While most brands combat this with some form of DWR protection, this coating wears off over time, and you'll find yourself with the burden of having to reapply it.
Sailcloth was chosen as it has 4 layers of protection and is ultra durable. Rather than a woven fabric with holes, the ultralight PET layer is a film in itself, which means no holes for water to go through.
Outbreaker, specifically, uses the Dimension Polyant's VX21, which is actually not a laminate, but a 4 layer laminate which are;
210D nylon with DWR and UV resistant coatings
Black polyester "X-Ply" (Also what gives the criss cross pattern)
0.25 mil (that's 0.001″) PET film
50D polyester taffeta backing
This means it is (almost) completely waterproof, is tough even under stress, and rigid enough to stay in shape. Since rain isn't the only element your bag will be facing, the UV protection quality of the material will also help protect it from the sun.
Those monster paddings are made of Ariaprene. Made for the sweatiest of travelers, the padding wicks away sweat and doesn't absorb moisture. I tend to carry my bags for long amount of time in tropical countries and the last thing you want is for your bag to absorb enough sweat to stink up your hostel room.
Ariaprene also moves with your body to prevent chafing, so whether it's for a better feel on your skin or to reduce the infamous piling on merino tees, Ariaprene has got you covered.
While YKK zippers are an industry standard, the Outbreaker takes it one step further with lockable, weather resistant YKK zippers. While not completely waterproof (you can't submerge the bag into water), it will resist extreme weather conditions like a rainstorm fairly well.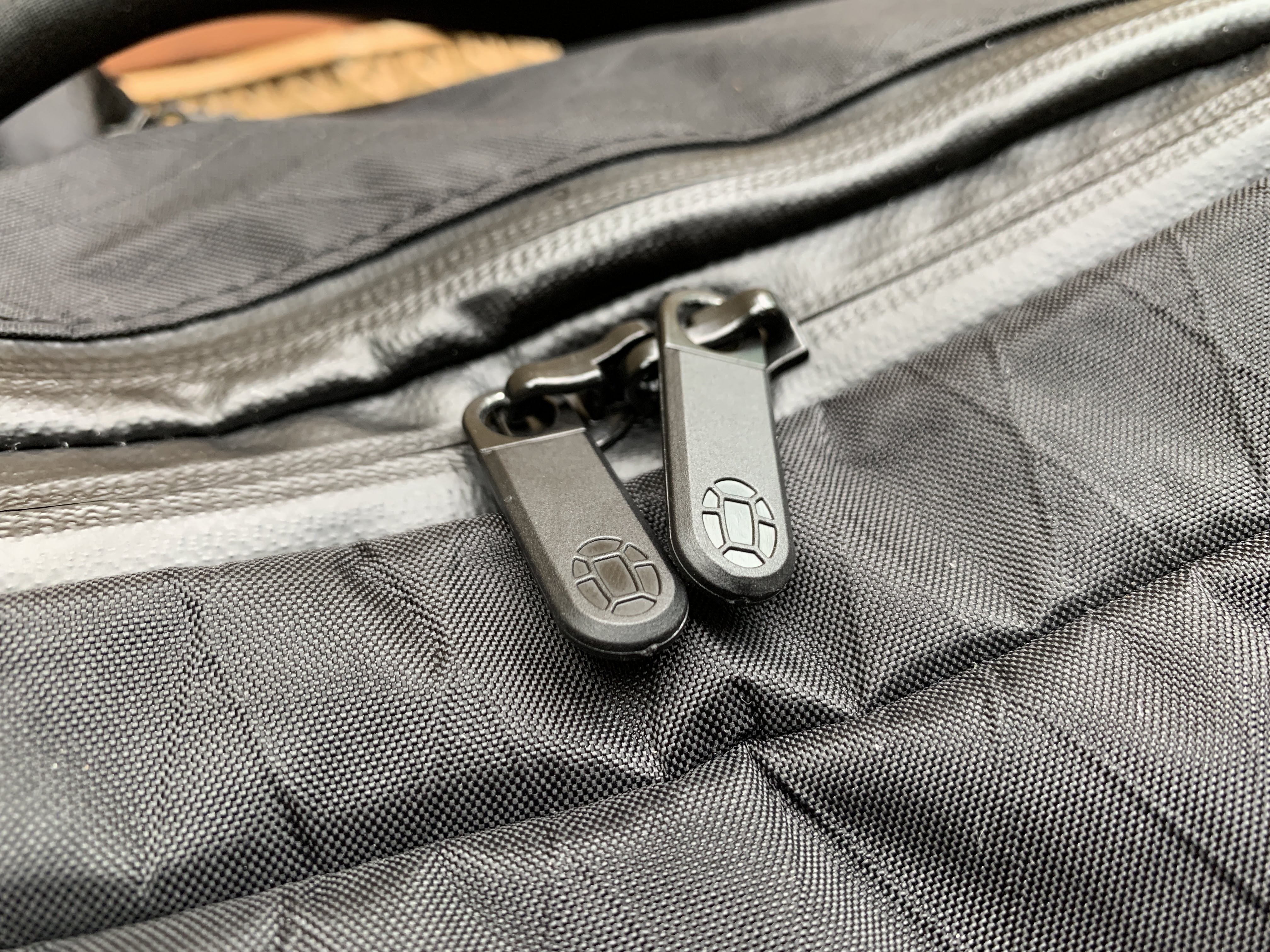 Quality
As with all bags I review and own, the whole point of investing in such bags is that I don't want to worry about them during travel. I shouldn't have to baby these bags. I want to put them on any surface and bring them along in any situation without worrying about getting them scratched or damaged regardless of the situation.
Even before actual use, the Outbreaker already feels extra durable. The confidence you get from handling such a bag sets the stage for the quality you would experience during a trip.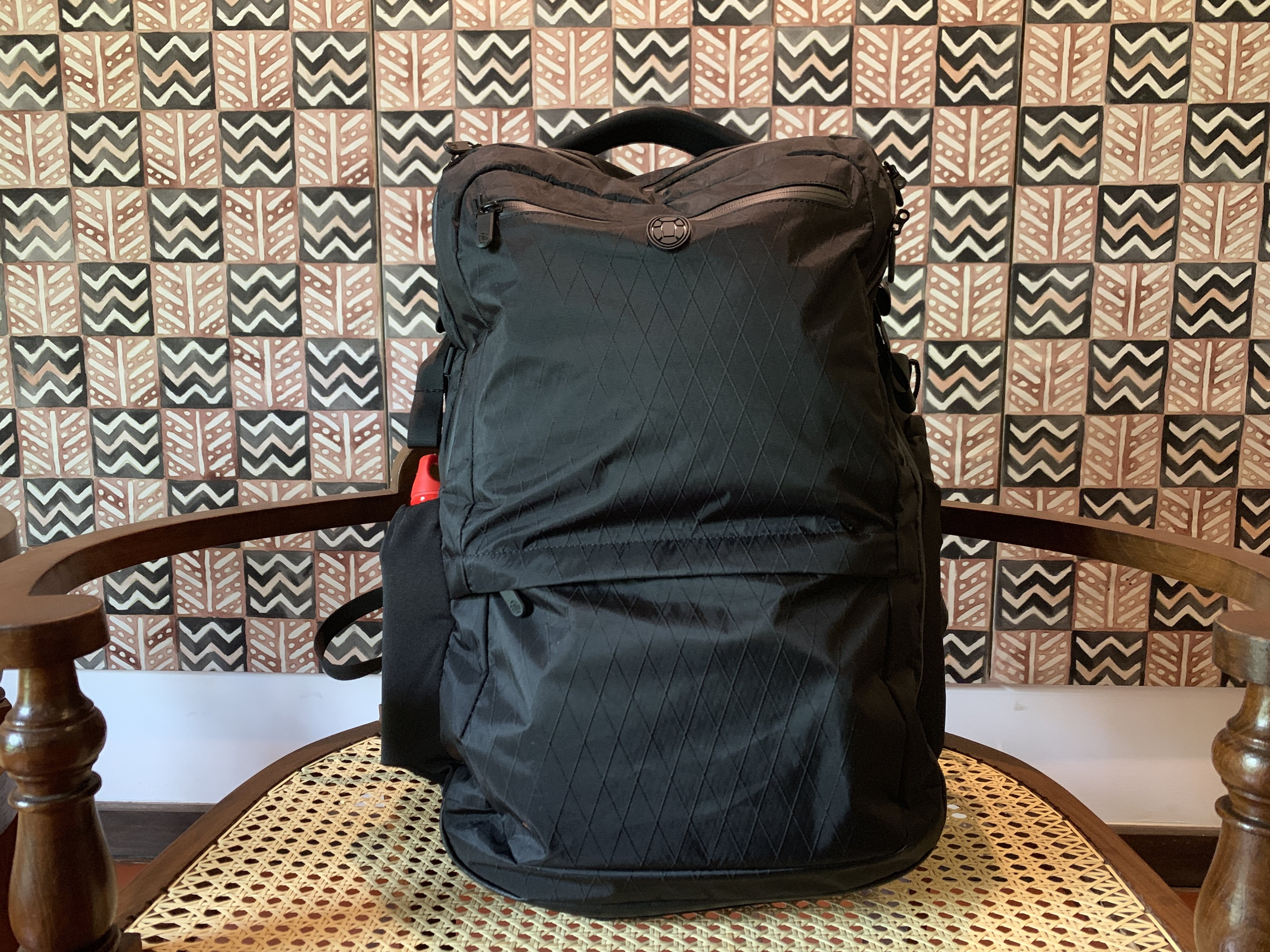 The bag is made in China. While some might associate "made in China" with low quality, this is simply not true in this time and age. Like many modern-thinking companies these days, factories that provide the best production quality are often chosen despite the location. One of my favorite jackets, Outlier's Shelter from the Storm, is made in China and one of the most durable piece of clothing I own.
The company also has a common decency guarantee, which means that if your bag has a problem and it's the fault of Tortuga, they'll fix it for you. If it's your fault or normal wear and tear, they have also partnered with Rainy Pass Repair and Scottish Mountain Gear where you can send for any repairs.
Details
After some serious usage on a trip to Sri Lanka, I feel ready to deep dive into how I used the bag and parts I liked and disliked. Let's start with what to me is the biggest factor of the bag; the organization.
Organization
There is some serious in-bag organization going on with this bag. Coming from a GORUCK with minimal in-bag organization, the Outbreaker allowed me to use the bag in a whole new way.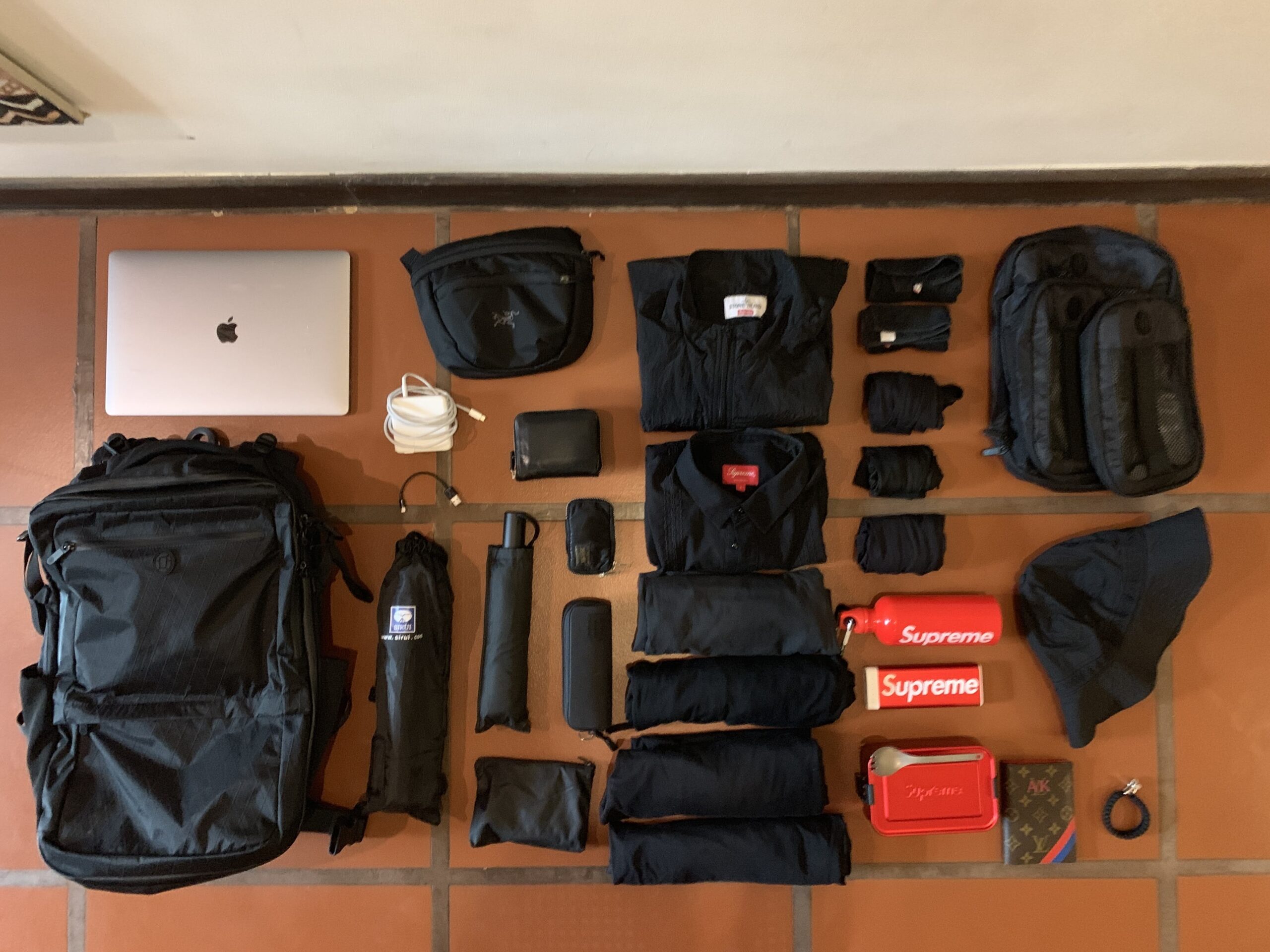 Let's go through the organization from the front to the back.
In the front of the bag, there are two zippered pockets, top and bottom, taking up the full face of the bag.
The bottom pocket is slightly more "3D", with more depth than the flatter top pocket.
The top pocket is great for easy access items. I put my mobile charger and accessories in this compartment. I also tend to dump miscellaneous items into this pocket, like tissue packs or face masks.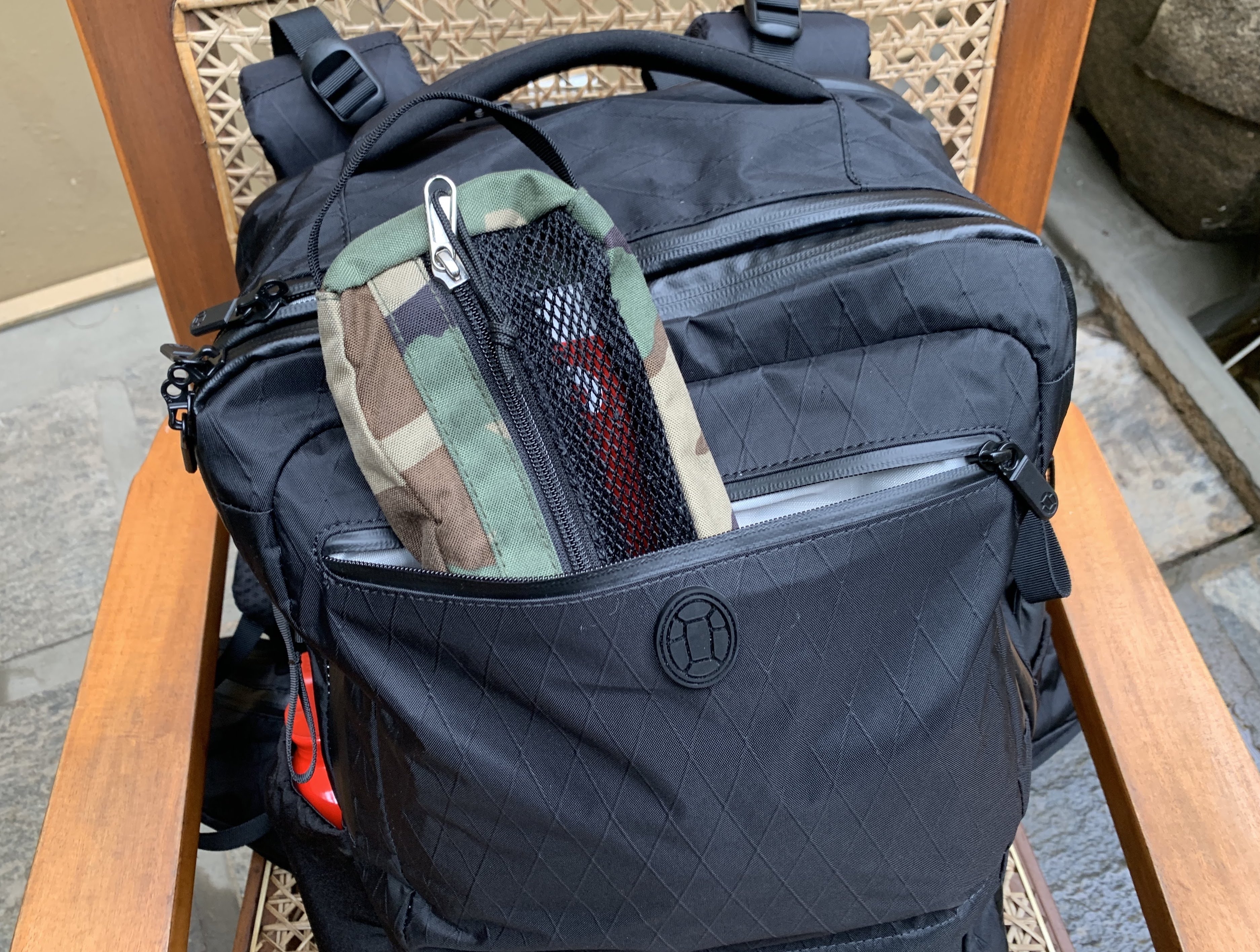 I started carrying around a lunch box from SIGG on my travels to take out leftovers to prevent overeating and food waste. And the bottom pocket was the perfect size for that.
Behind the front top pocket, is the front compartment which can be called obsessive organization. You can unzip the compartment and open the flap completely for easy packing.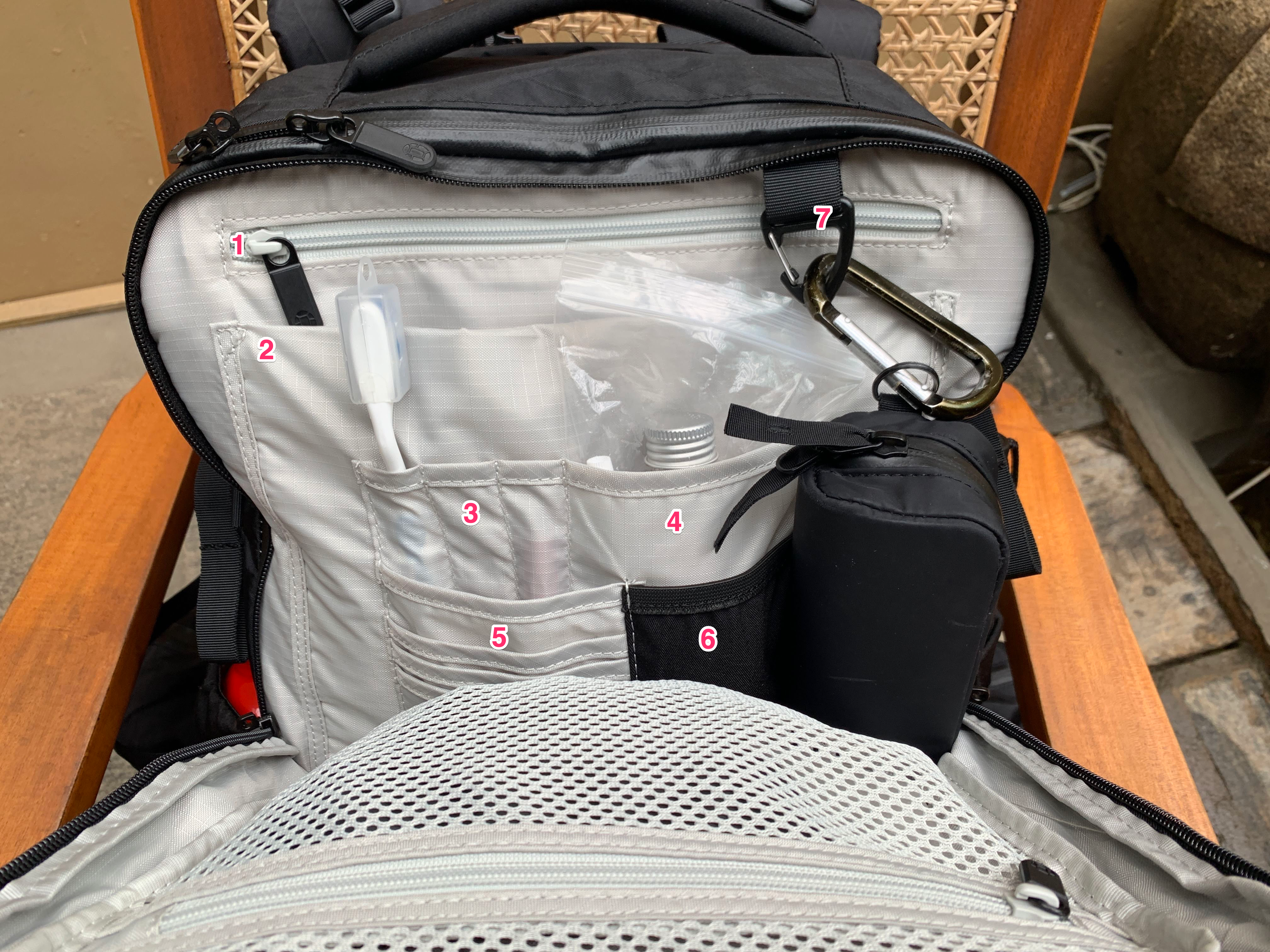 The organization consists of the following
Zippered pocket – I use this for my passport since the zippers provide a little more security but yet still allow easy access.
Tablet slot – I don't own a tablet so I put my bucket hat into this. The insides of this pocket is made of a soft and furry felt-like material so it is nice and soft for your gadgets.
Pen slot x 3 – I have one pen, my Fisher Space Pen Bullet I bring when I travel. Also, I usually have my Snow Peak Spork in my lunch box. But when the lunch box is filled, I put the spork in one of these. I also used one of these for a toothbrush.
Passport slot – I guess this is for the passport, but I prefer putting it in the zippered pocket as mentioned above. I used this to keep a bottle of castile soap instead.
Card-sized slot x 3 – Don't use this personally
Sunglass slot – I don't trust packing in my sunglasses caseless, so I have a sunglass case from Japanese brand, Porter. So, I didn't use this slot during the trip.
Carabiner – I attach my sunglass case to this.
While there are intended use for each of these organizations, the great thing is that you can make it your own given their standard sizes and, as Tortuga says, "live on your own terms".
Another thing I like about this compartment was the fact that you can just dump things in without using any of the above slots, as they are what you call a "3D pocket".
Opposite those slots are a mesh pocket. I stored a small sling bag, an Arteryx Maka 2, to use for daily carry.
The next compartment is the main and largest compartment. I used the Outbreaker packing cubes from Tortuga and packed my clothes into this compartment. There was plenty of space left even after the cubes were packed in.
To maximize the space, there are also longish pockets on both sides of the main compartment. I didn't use those pockets, but I comfortably packed a tripod along the sides.
One thing that needed getting used to was that the compartment, while able to open flat, unzipped on the sides, while the other pockets unzipped on the top. Being used to GORUCK's specifications, I found myself trying to open it on the top at times. I am assuming they are trying to micmic the opening direction of a regular suitcase.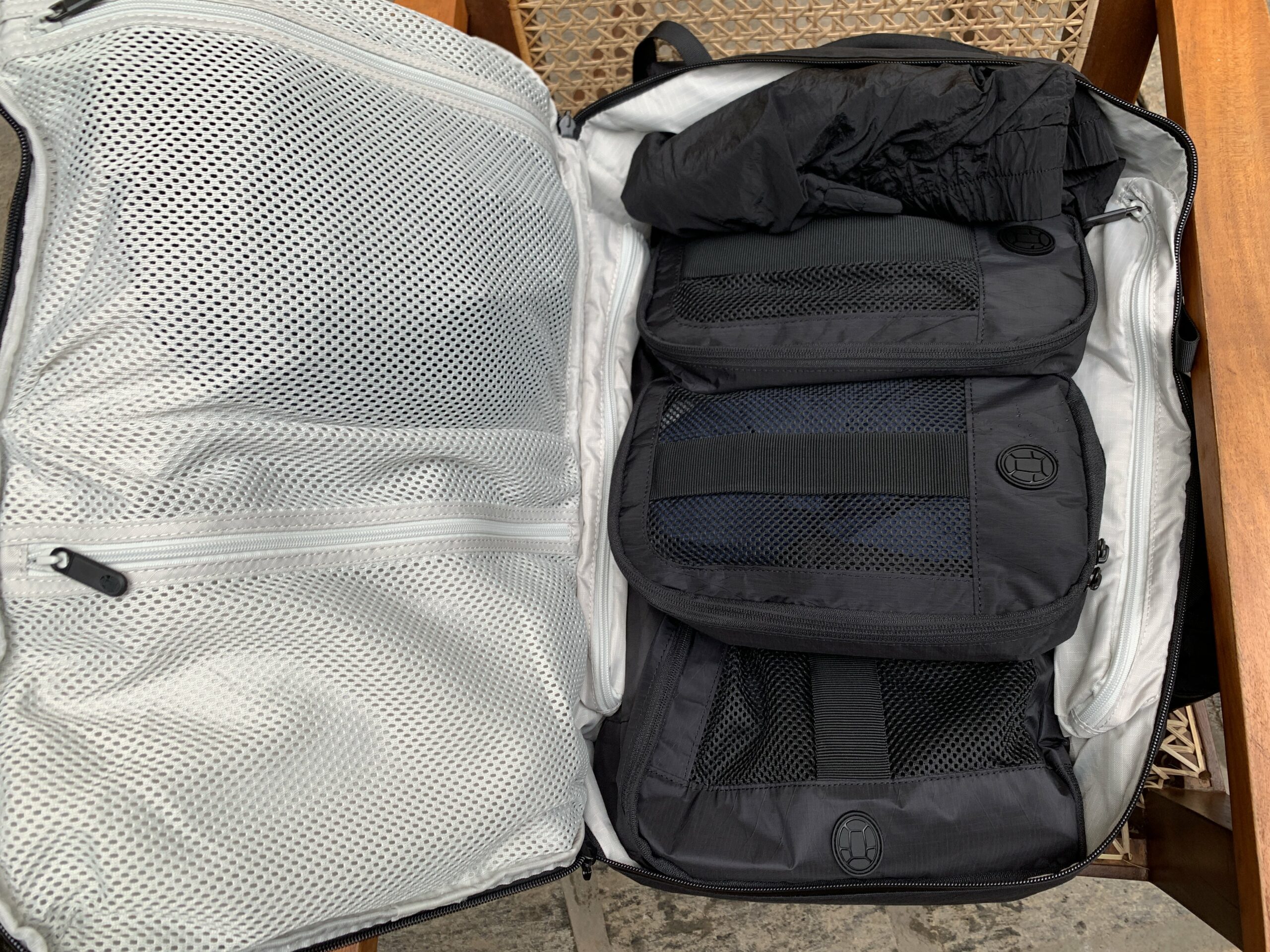 Right to the back, is the laptop compartment. Like the tablet pocket in the front, nice felt-like lining keeps your laptop snug and well protected. It fitted my 15-inch Macbook Pro 2018 well and looked like it would fit up to a 17-inch laptop just fine.
A velcro strap keeps it secure in the pocket, although I found it somewhat unnecessary.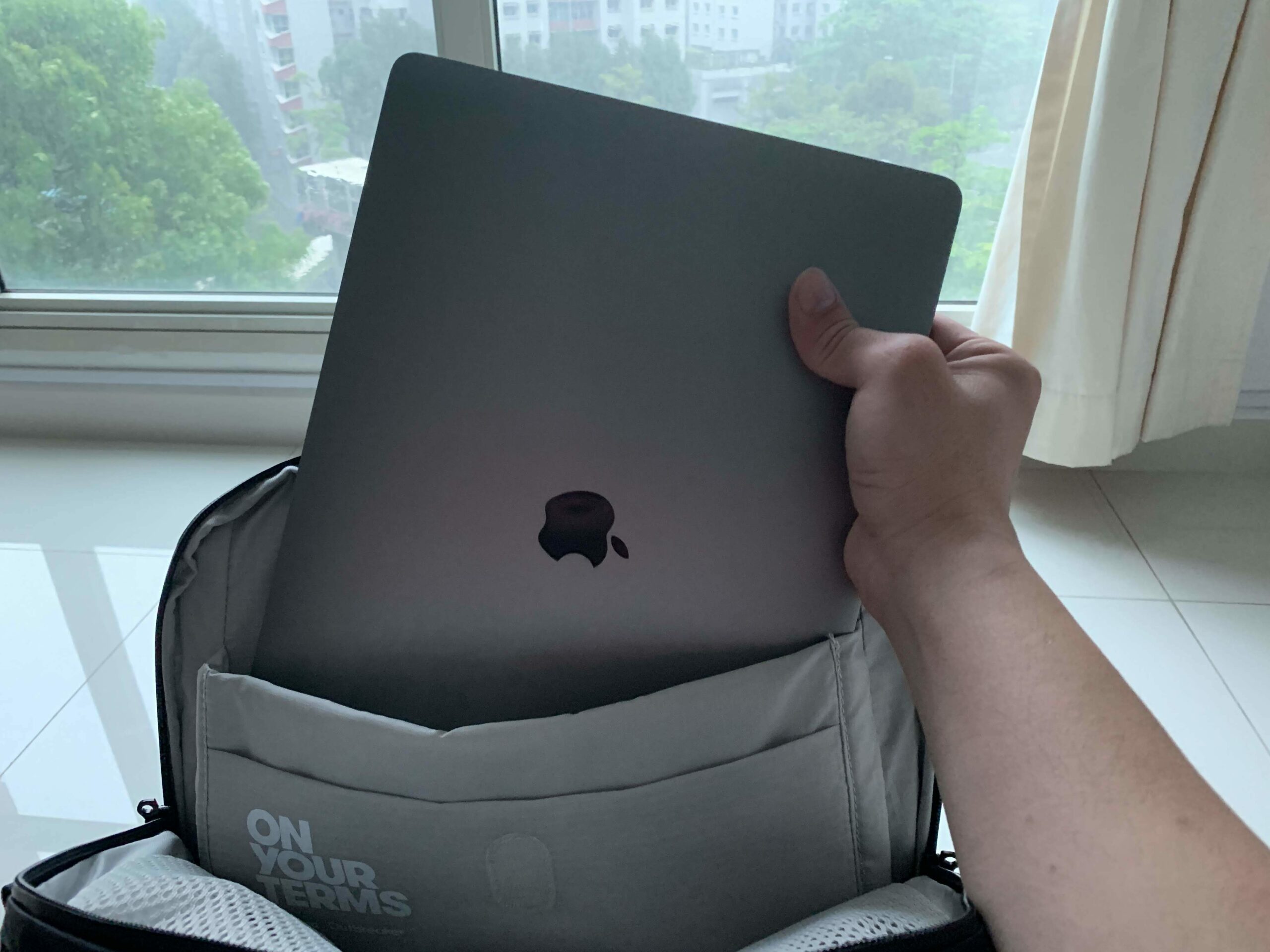 The laptop is easy to access and very well protected. The airport security check-in experience has never been better. Opposite the laptop slots, there are some mesh pockets for your laptop accessories, like mouse or chargers. I love mesh pockets for easy wire management, meaning I just dump them into one of the pockets and declare it managed.
On the sides, there are stretchable fabrics for you to put a water bottle in. Some users have had trouble fitting in larger bottles when the bag is fully packed, though I've no problem fitting my SIGG bottle in. I put an umbrella in the other side.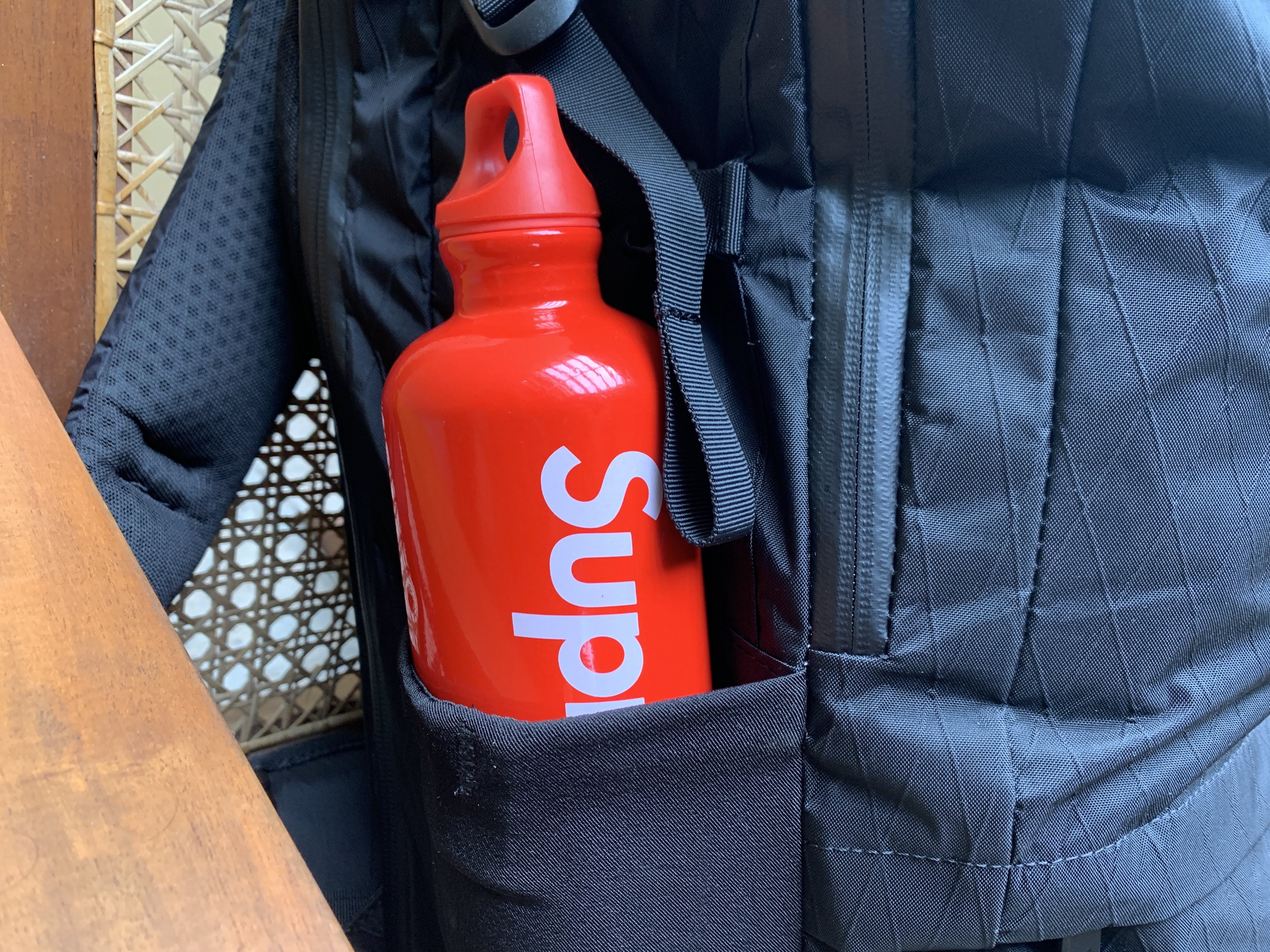 Just note that if you put things in both pockets, it's likely that the bag won't fit under the seat in front of economy seats. They also won't fit into the overhead compartment lying on the sides.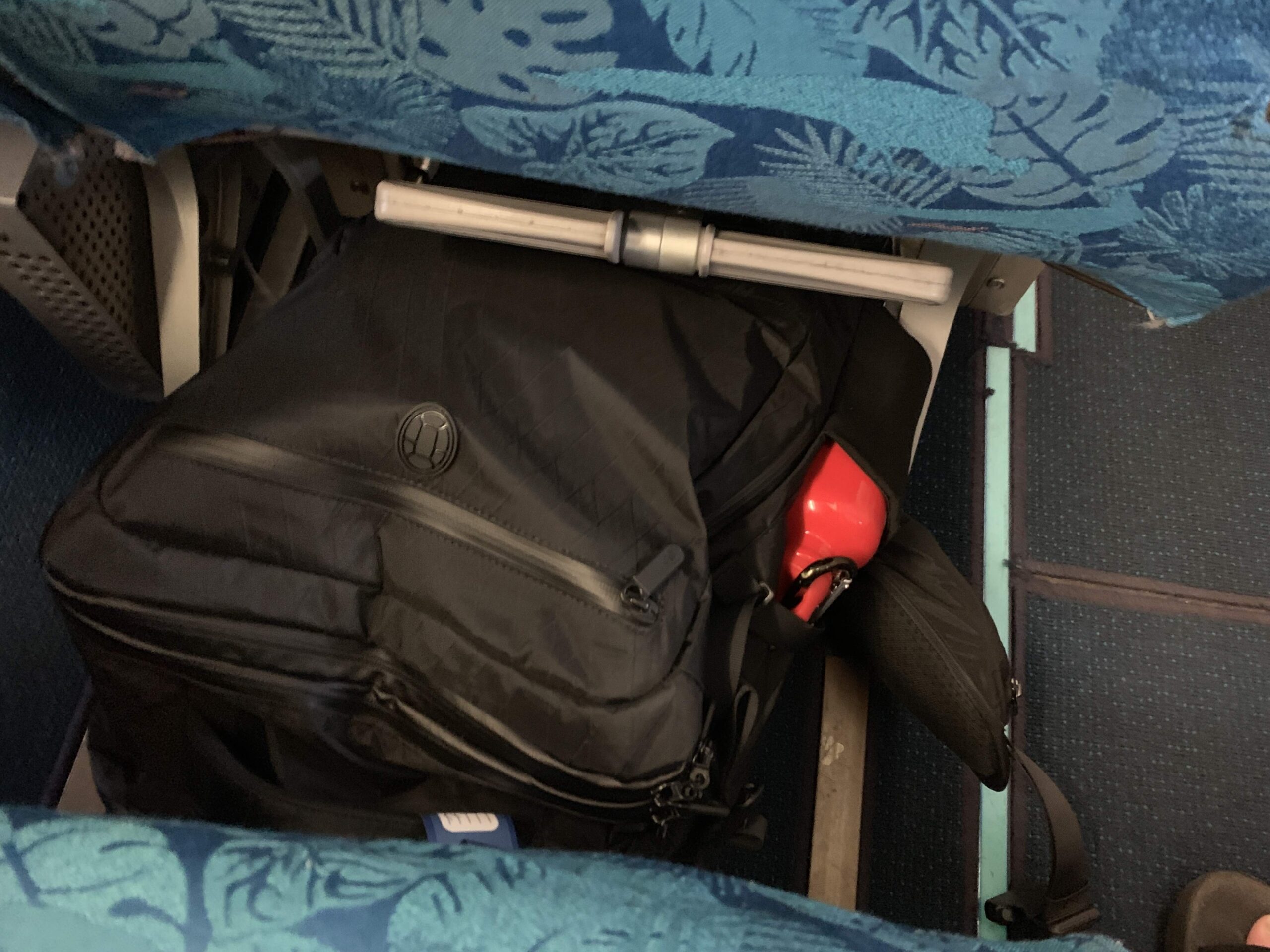 I prefer this style of water bottle storage, compared to something like the internal compartment like the TOM BIHN Synapse 25 offers, as it only takes up space when you need to.
Another part that sparks an internal debate are those hip straps. For one, they are bulky and take up awkward space, especially when you are trying to lay the bag down. They just get in the way unless you adjust them each time.
On the other hand, they give such amazing support, like a lover giving you a never-ending back waist hug. They take away up to 80% of the weight away from your shoulders.
The pockets on them are also the best thing I never knew I needed on a bag. I'm the type that dislike having things in my pants pockets as they make your pockets look bulky and your things easy to lose. So, these pockets are great for my wallet and keys or any other everyday carry I need to reach for often.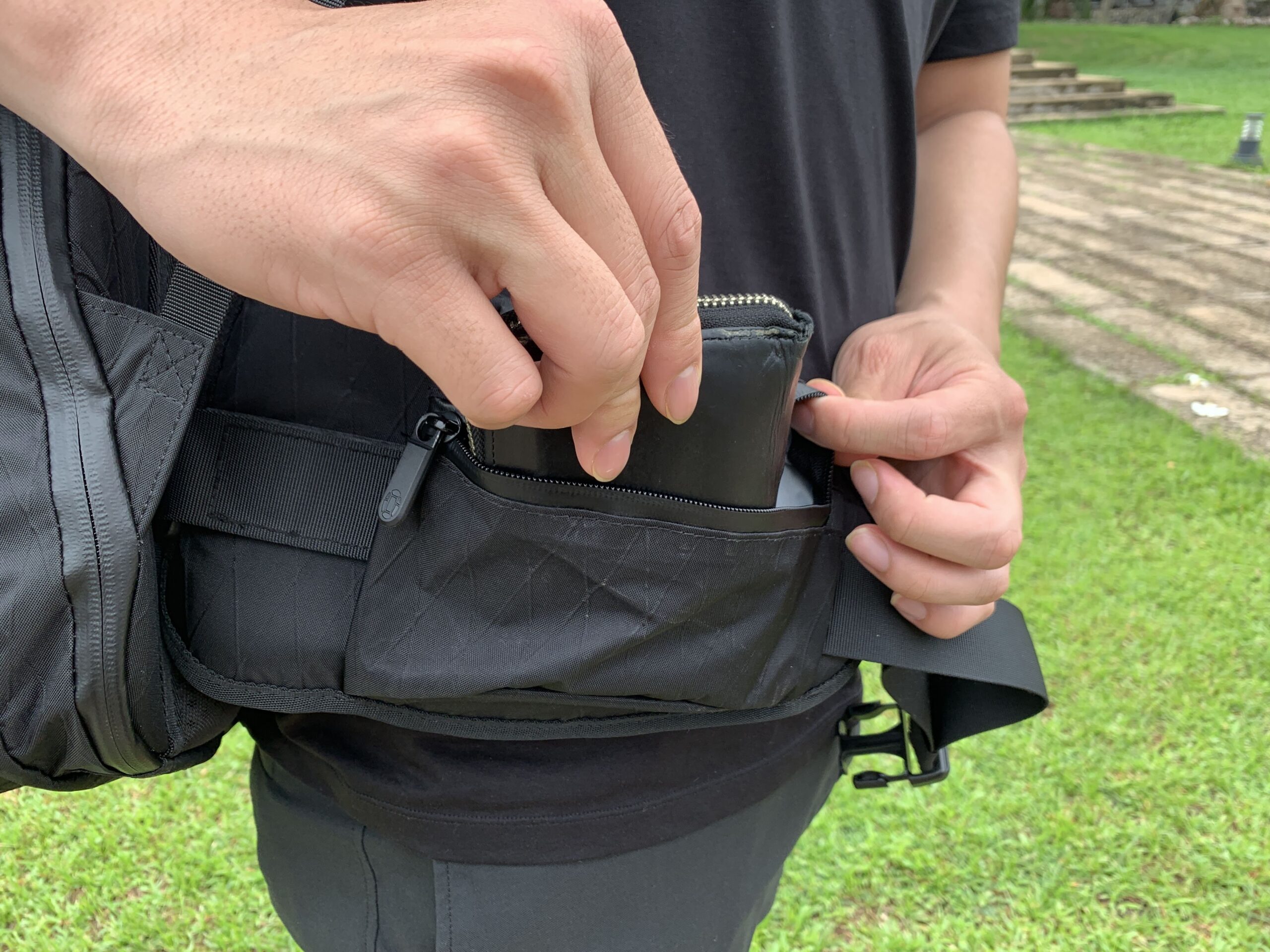 Lucky for the ultra minimalist, they are detachable if you want the bag more streamlined.
Fit
At 6″, the bag was a comfortable size for me. It really is at the "just nice" size for such a trip. Any bigger, I'm gonna look like one of those indefinite traveler.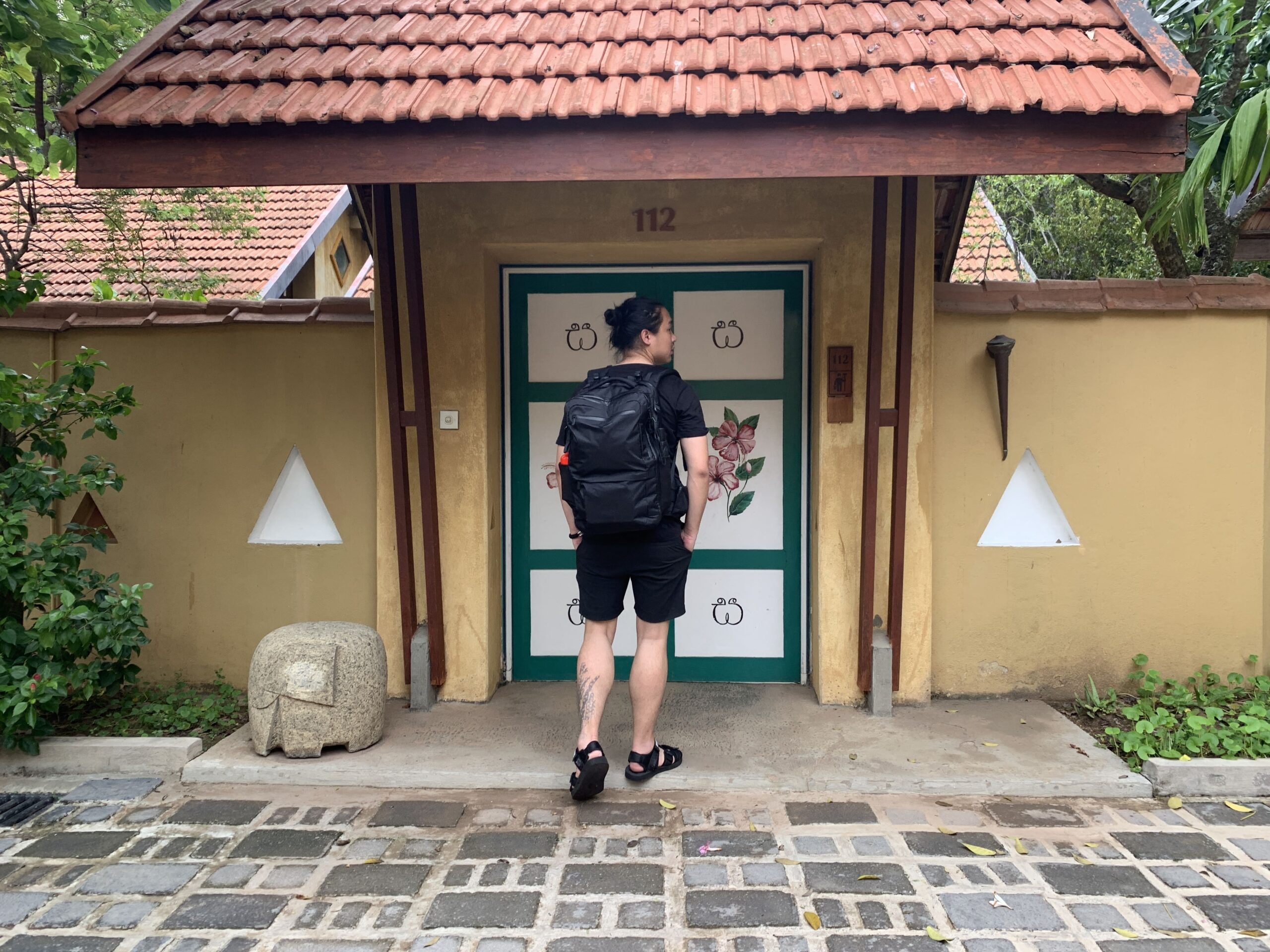 Ease of Use
The back support and straps on this bag is one of the best I've ever had the chance to experience. The padding on the bag, no matter how bulky you think they look, is worth their bulk in comfort.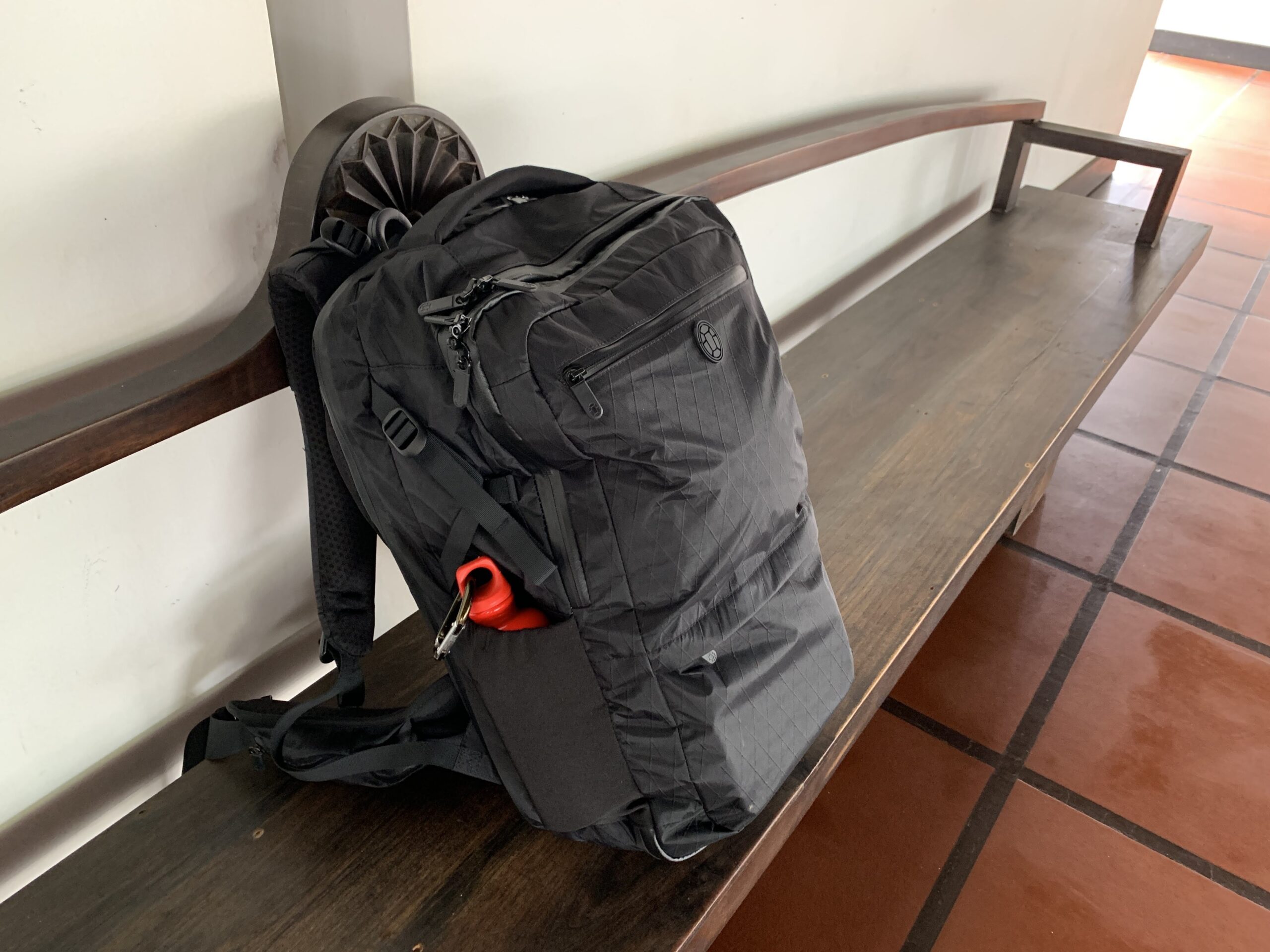 One of the best innovation on this bag is the straps on the shoulders that lets you pull the bag closer to fit your torso like a glove. They can be adjusted over the shoulders with the bag still on, which is unexpectedly one of the small details that made me go, "wow" when I first tried it.
The shoulder straps are also detachable, allowing you to adjust the position of the bag to match your back.
There are also 2 handles on top of the bag. One sturdier one closer towards the back for hanging the bag on hooks and one padded one in the middle for optimal weight distribution.
Neat
One other small detail that delighted me was that how even though there is quite a bit of strap action going on with this bag, there is always deliberate space for you to tuck the loose straps into, to keep it looking neat.
Conclusion
This bag grew on me as I used it more. The sturdiness and stellar back and shoulder support really sets it apart from the rest. This is an extremely well-thought out bag, from organization to materials to design. I'm most impressed with the product design, to say the least.
For those who are obsessive about their organization, this bag stands out from the rest and would be a prefect choice. Do you have different experiences with the Outbreaker? Let me know in the comments below.
Like this review? See all of my in-depth reviews.
Also, consider supporting me by being a Patreon. Every cent given will go back into improving the content of this website.
Tagged backpack bag onebag organization review sri lanka travel water-resistant ykk