This website is made possible by readers. I may earn a small commission when you buy through the links in this article at no extra cost to you. Learn more.
Details
Price $50 from tombihn.com
Capacity 25L (large) and 15L (small)
Overview
As WFH becomes the norm across the globe, my days have felt increasingly mundane staying at home all day, every day. When I intentionally geared my career path towards fully remote roles, I was looking forward to traveling and working, influenced by the digital nomad lifestyle.
Now that I'm fully remote, the pandemic has blasted my dreams to oblivion and left me with clipped wings. While I try to stay home as much as possible, saving up for when travel opens back up, I started a depressing sense of repetition. To curb this, I would head out for a walk to the nearby park or mall almost every day to beat this feeling.
For these purposes, a light backpack like the Tortuga Daypack or TOM BIHN Luminary would work. But, for short trips, I want to dump my essentials in and go instead of trying to be ultra-prepared like I usually would be.
It's times like this when I reach for tote bags, like the recently-reviewed Aer Gym Tote. While I would never consider tote bags for travel, but I'm convinced these are superior to backpacks for quick runs.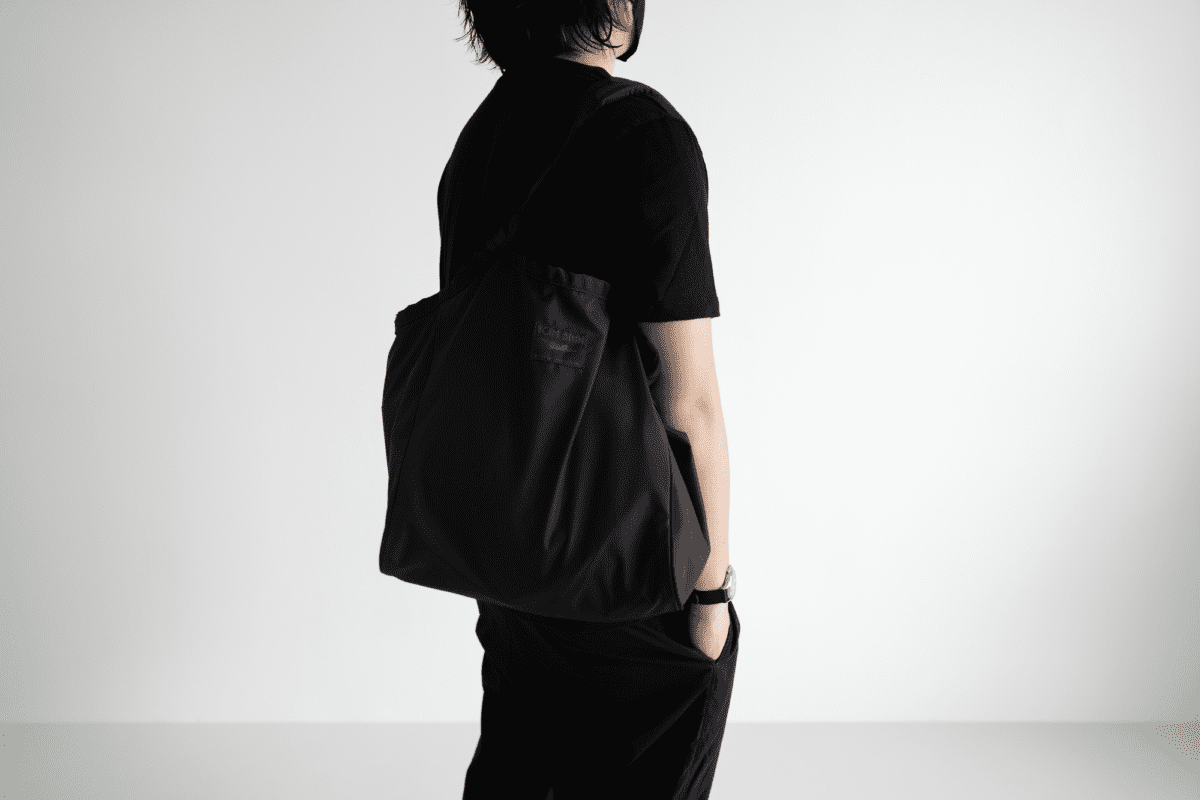 Tote bags are indispensable for heading to the supermarket, especially after Japan started imposing a charge for single-use plastic bags that my stingy ass refuses to pay. Savings aside, tote bags have the capacity and versatility that a backpack doesn't, making it my choice every time for the supermarket.
Have you ever tried placing a supermarket bento in a backpack? Your meticulously arranged Japanese bento lunch will look like Singapore's economic rice (chai peng) by the time you get home, a.k.a a hot mess.
The Shop Bag isn't the first tote I've reviewed from TOM BIHN. I had previously written about the TOM BIHN The Truck almost two years ago. Since then, TOM BIHN has undergone a bit of a design awakening. From a renewed website design to stealthy all-black colorways for almost all their new releases; the fresh eyes of Tom's prodigy, Nik, have made a clear impact.
This makes me excited as the effect is apparent in what seems like a simple tote bag, the TOM BIHN Shop Bag. For this review, I have the large and small Shop Bag in black 210d ballistic nylon.
Style
When I started this website, I was resolute in being brutally honest, no matter how much I like a brand. I don't think TOM BIHN makes ugly bags. At the same time, I cannot consider most of their bags sleek, especially when up against brands like Aer, Code of Bell, or 1733. A memorable comment I've had was someone saying it's the first time they've seen someone in TOM BIHN and Outlier in the same outfit.
However, I also think that this is part of their charm. It's certainly an acquired look.
But no one likes ads, so I got rid of them. If my articles helped you, I ask for your support so I can continue to provide unbiased reviews and recommendations. Every cent donated through Patreon will go into improving the quality of this site.
This charm shows in the Shop Bag. If anything, the Shop Bag is TOM BIHN in TOM BIHN's simplest form. Without features to make up for aesthetics, the Shop Bag represents that raw, distilled style perfectly.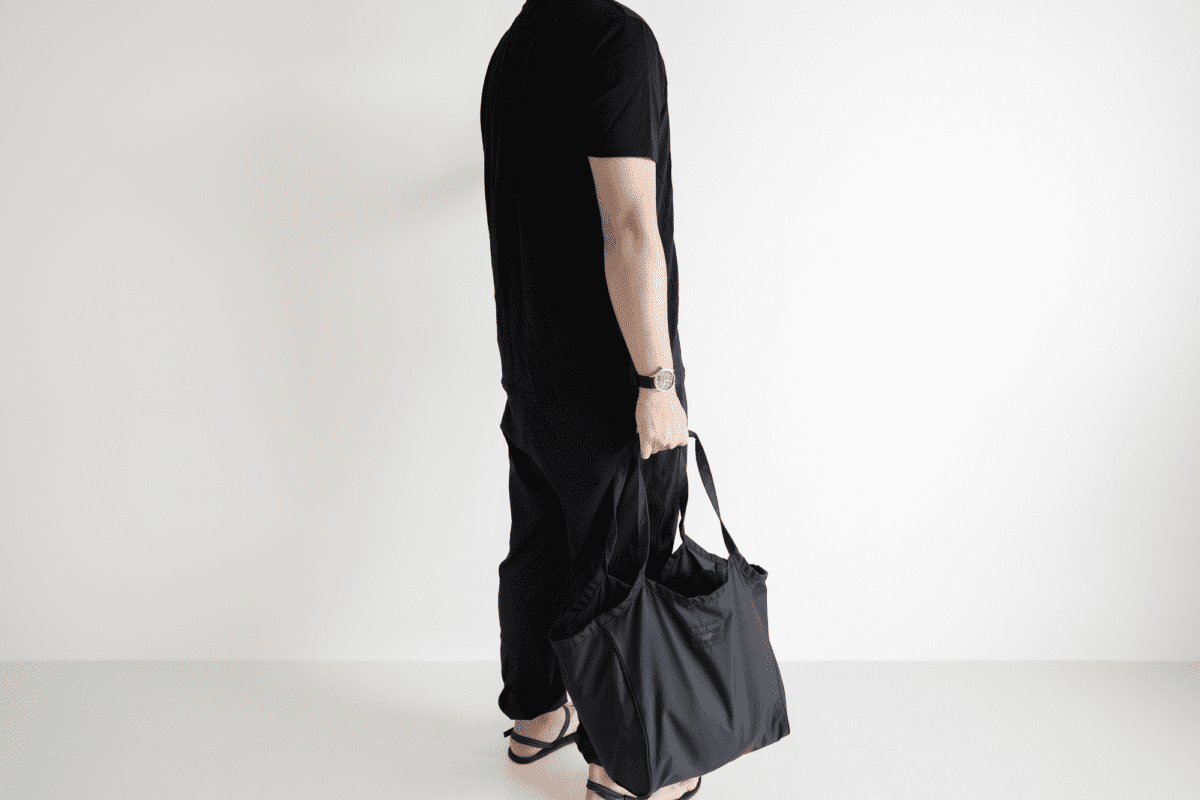 At first glance, it doesn't look too much different from The Truck. But if you compare the two side-by-side, the differences become obvious. The shape of the two is the most obvious difference; the silhouette of The Truck is denoted by the side compartments that give it a wider base. While there are two pockets in the Shop Bag, they do not have a base to give it the capacity it can call its own. The sides of the Shop Bag slopes inwards, creating a non-conventional shape for a tote bag.
As mentioned, the Shop Bag is not a sleek-looking tote. It looks casual, in a good way. I live in the suburbs of Tokyo, and there is no real need for me to look like I'm heading to fashion week. In fact, the Shop Bag helps me blend in, which I much prefer.
The Shop Bag comes in various colors, but I went for the black colorway as always. Unlike the product photography on the website that shows a grey, gridded halcyon inner, the one I have isn't lined and is just black on the insides.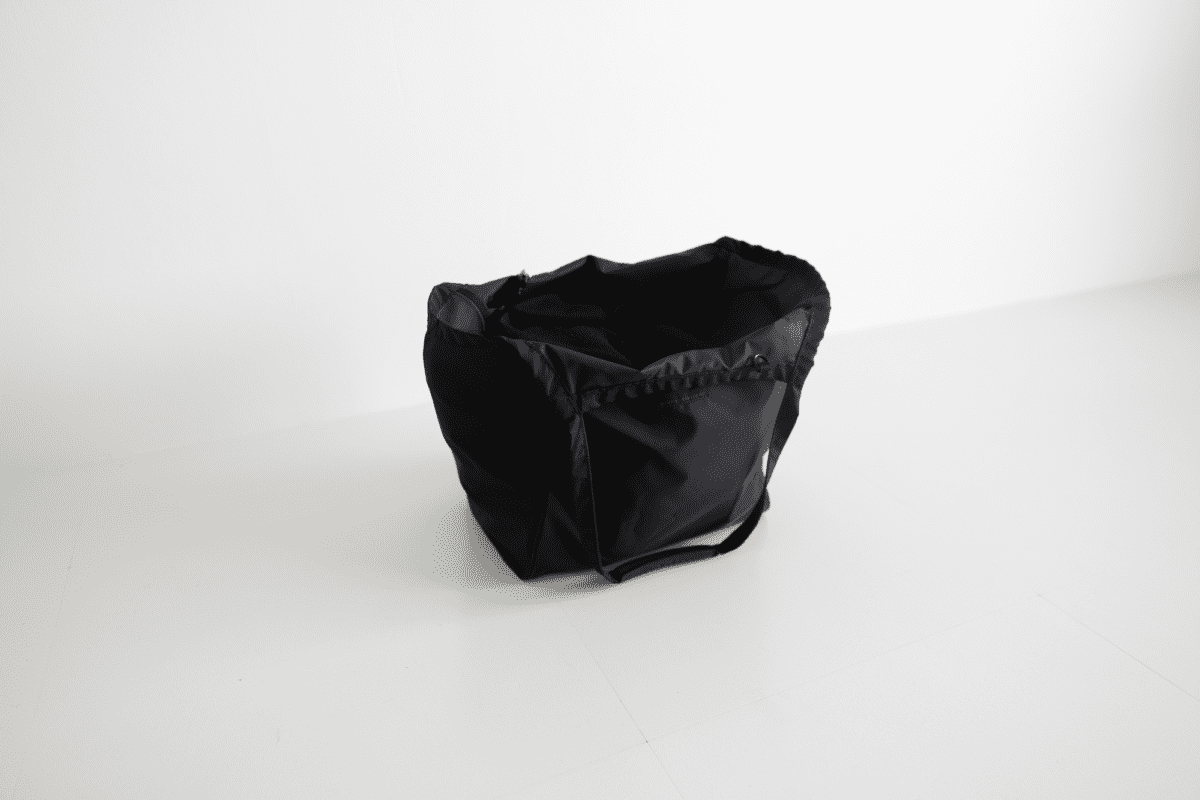 Aligned with the all-black exterior, the brand tag is also all black. The all-black tag is not to be confused with the Design Lab tag, which is also all-black. However, in following the footsteps of Design Lab productions, TOM BIHN started offering products with a black tag.
As someone who reviews minimalist, black products, I can not be any happier. Back in the day, I actually considered cutting out the brand tags from my TOM BIHN bags because they distract the otherwise clean exterior.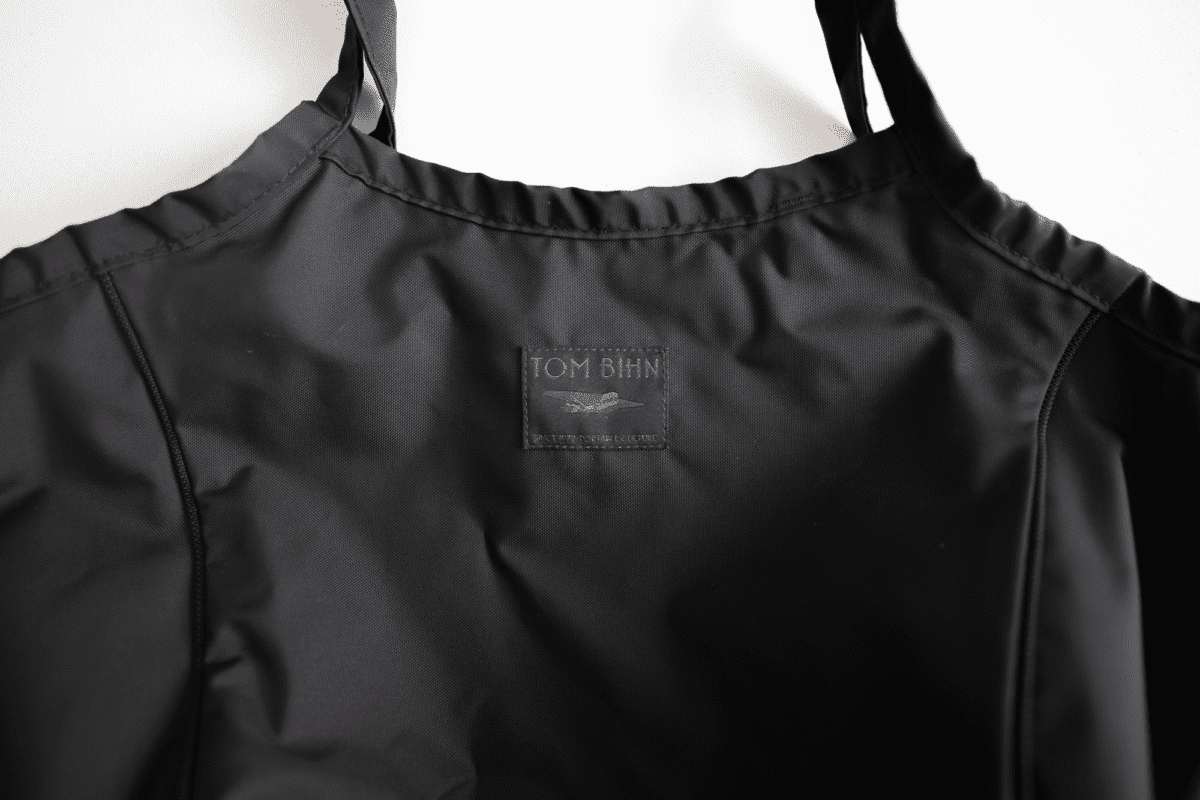 The large Shop Bag looks well proportioned at my frame of 6 ft 205 lbs, but the small one is tiny. The only small bag that looks right for someone of my size is a sling, like the Aer City Sling. Backpacks or too small totes make me look like an ogre and not a look that I would recommend.
The TOM BIHN Shop Bag is distinctively TOM BIHN, even in such a simple design. To me, the shape of the bag, along with the ballistic nylon exterior, are the main features that make it uniquely TOM BIHN.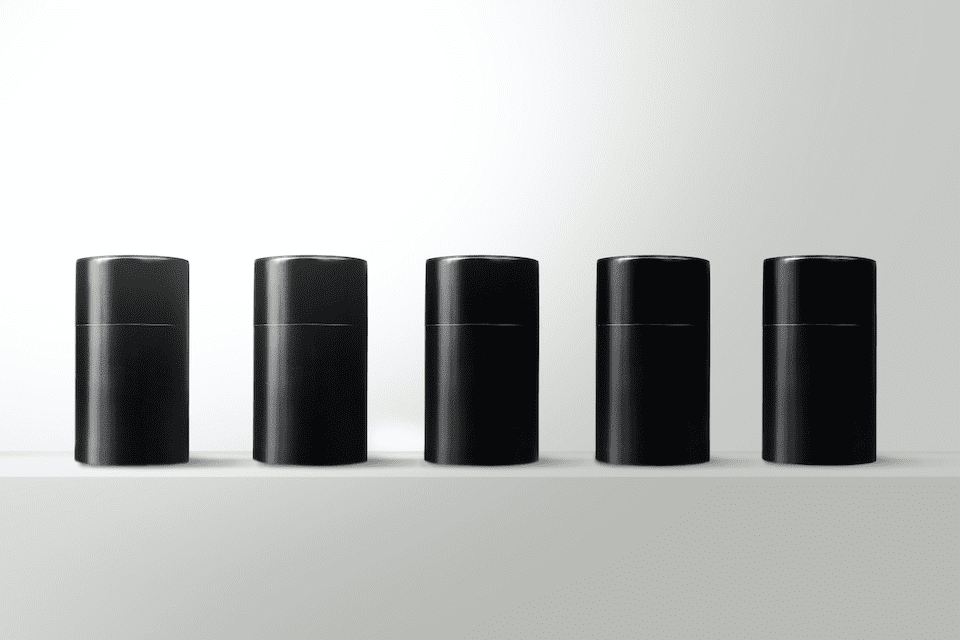 I found a 100 year old company that would create these heirloom quality canisters for me. They are handmade and will keep your tea leaves, coffee beans or anything that you need dry for years to come.
or read review
Material
The exterior material on the Shop Bag is the 210d ballistic nylon. The denier count is noticeably lower compared to 525d like on the TOM BIHN Synik. The higher the denier count, the thicker the yarn used. While not all the time, the denier count can be a good indicator of abrasion resistance and durability.
For something like the Shop Bag and its intended use, you are not going to need more than 210d denier count. For those who do, the Shop Bag comes in 1000d canvas or Cordura option, which will naturally translate to more weight. The 210d is the lightest of the three material options.
You can read this unnecessarily detailed guide to learn more about ballistic nylon that I wrote because I have too much time.
Usage
The Shop Bag is a straightforward product. It is a tote bag with two compartments towards the side. These compartments take up the main compartment space but are designed so that you can opt not to use them to maximize the main compartment's capacity.
The Shop Bag comes pre-attached with a TOM BIHN Key Strap that can be used on one of the two o-rings.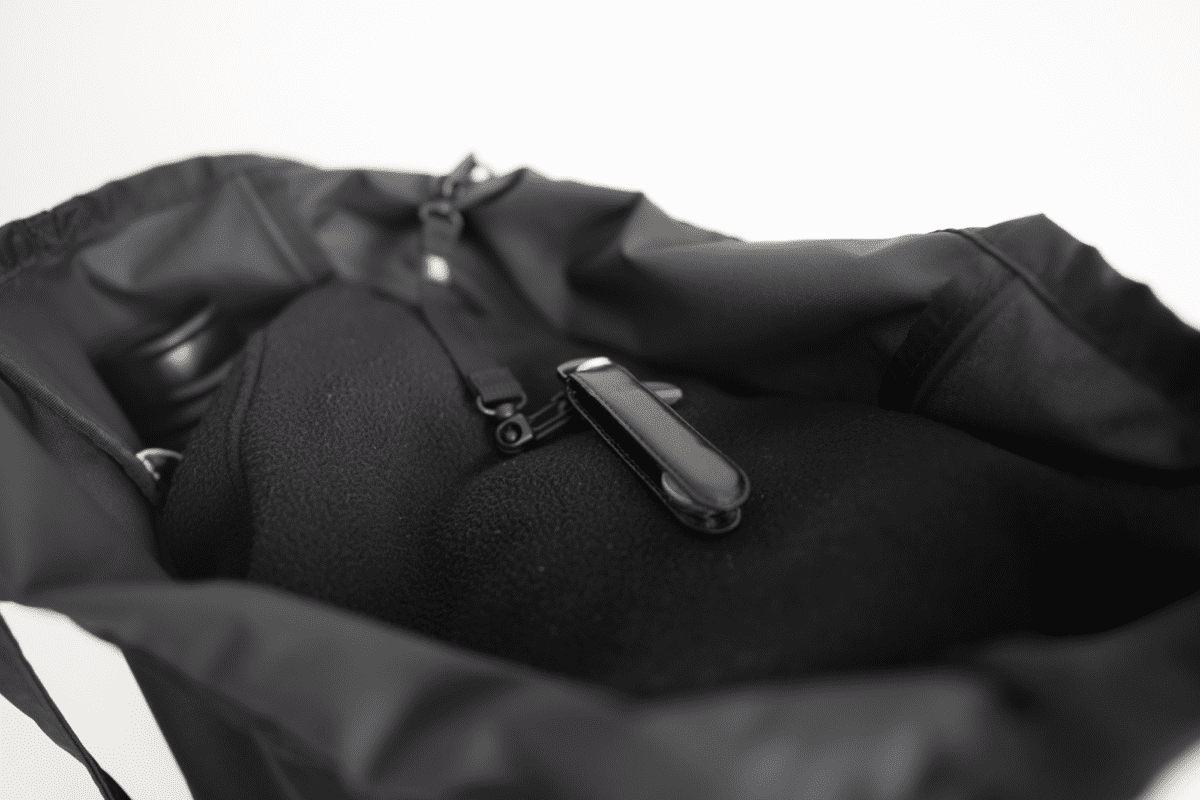 The straps are relatively thin but have padding. If you fill up the large Shop Bag with heavy items, you'll find that strap isn't enough for long periods of carrying. Rather than the amount of padding, I would prefer if the strap had more width.
The great thing about the straps is the length. They are long enough for your arms to go through comfortably, yet not too long that the bag touches the ground when you grab it by the handle (I'm 6 ft for reference).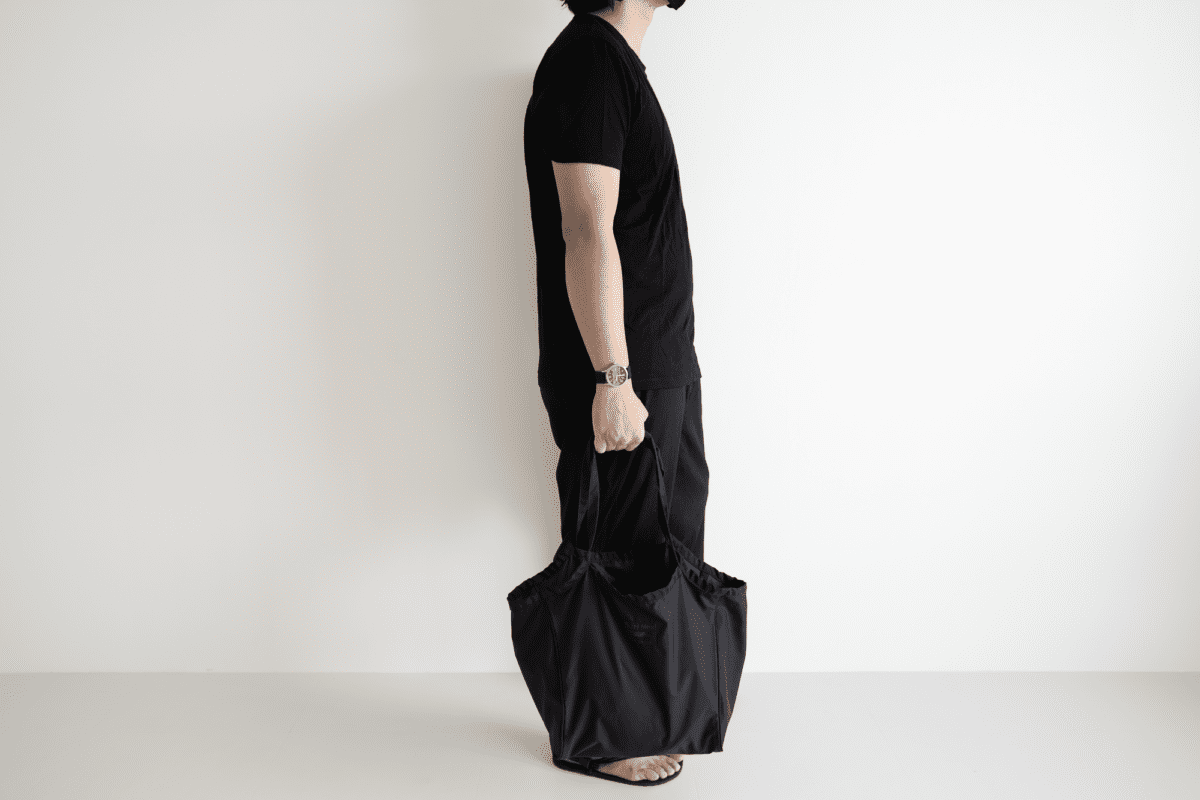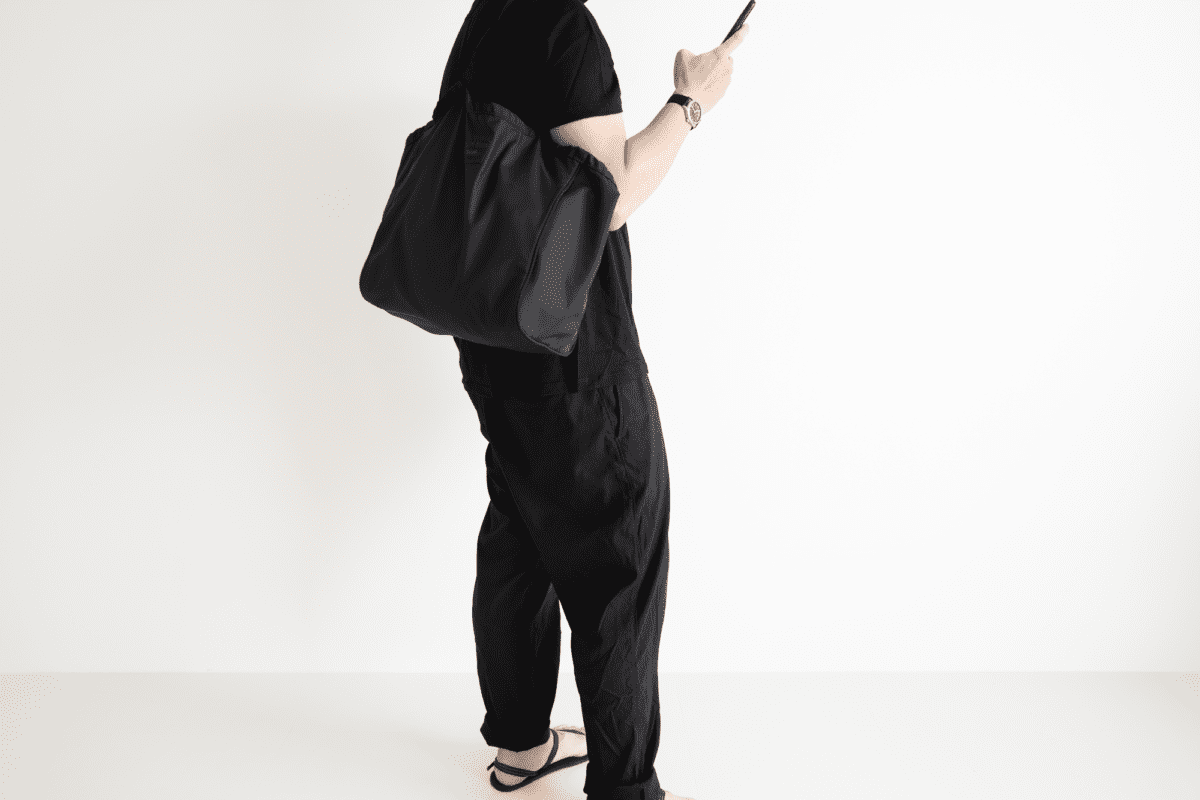 Choosing between the large and small tote is easy; go for the large. I honestly can't find a use for the small. It's just so small and awkward at that size that it looks like I'm carrying a purse. Females with smaller frames might want to consider the small if you know what you need to carry will fit.
It sounds like TOM BIHN agrees since they announced some time back that the small version is to be retired and this is the last production run. So grab yours while stocks last.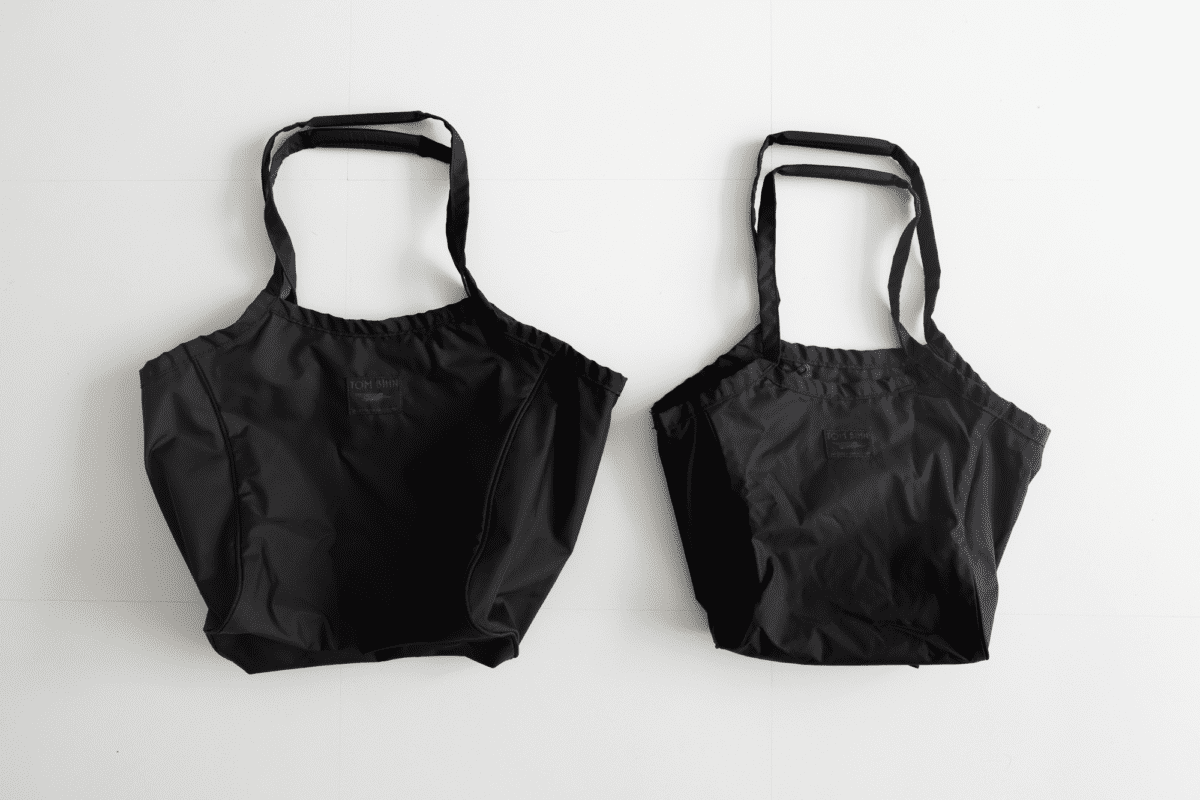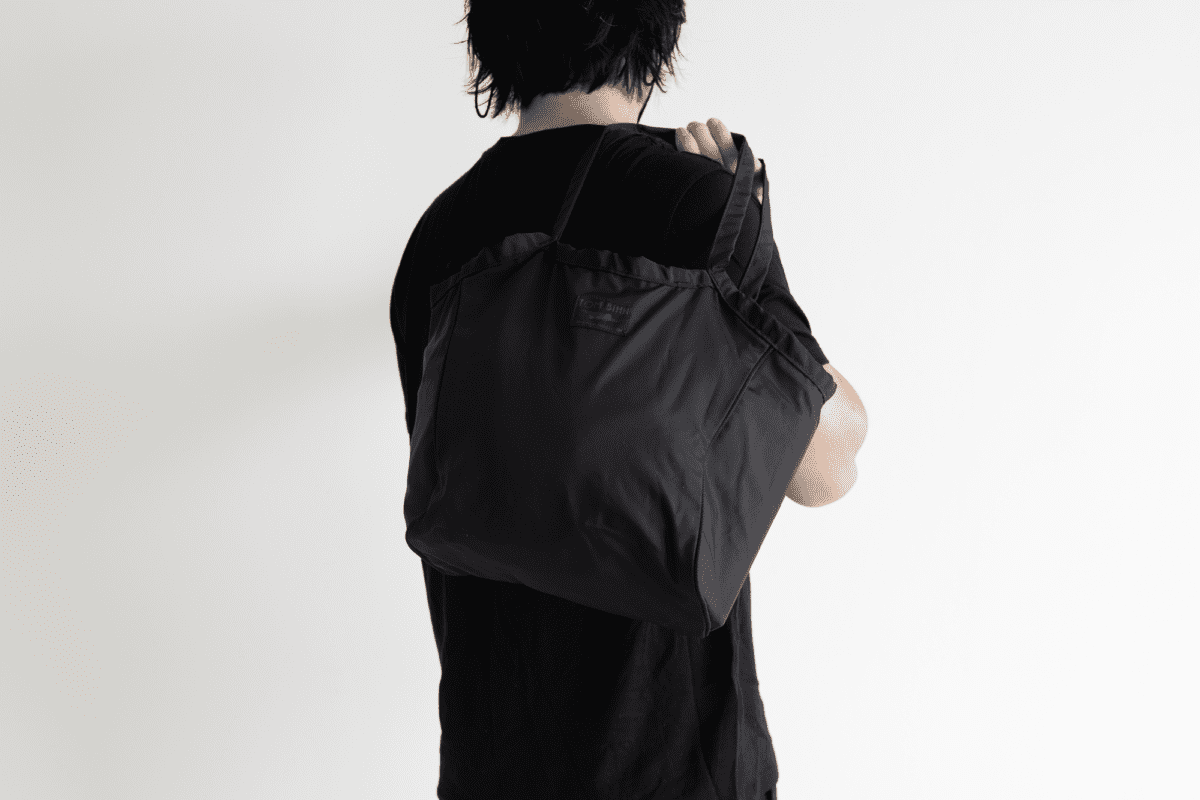 Conclusion
The Shop Bag is straightforward but distinctively TOM BIHN. High-quality material and construction make it an overkill of a bag for the supermarket, but one that I find a joy to use nonetheless.
Additional Images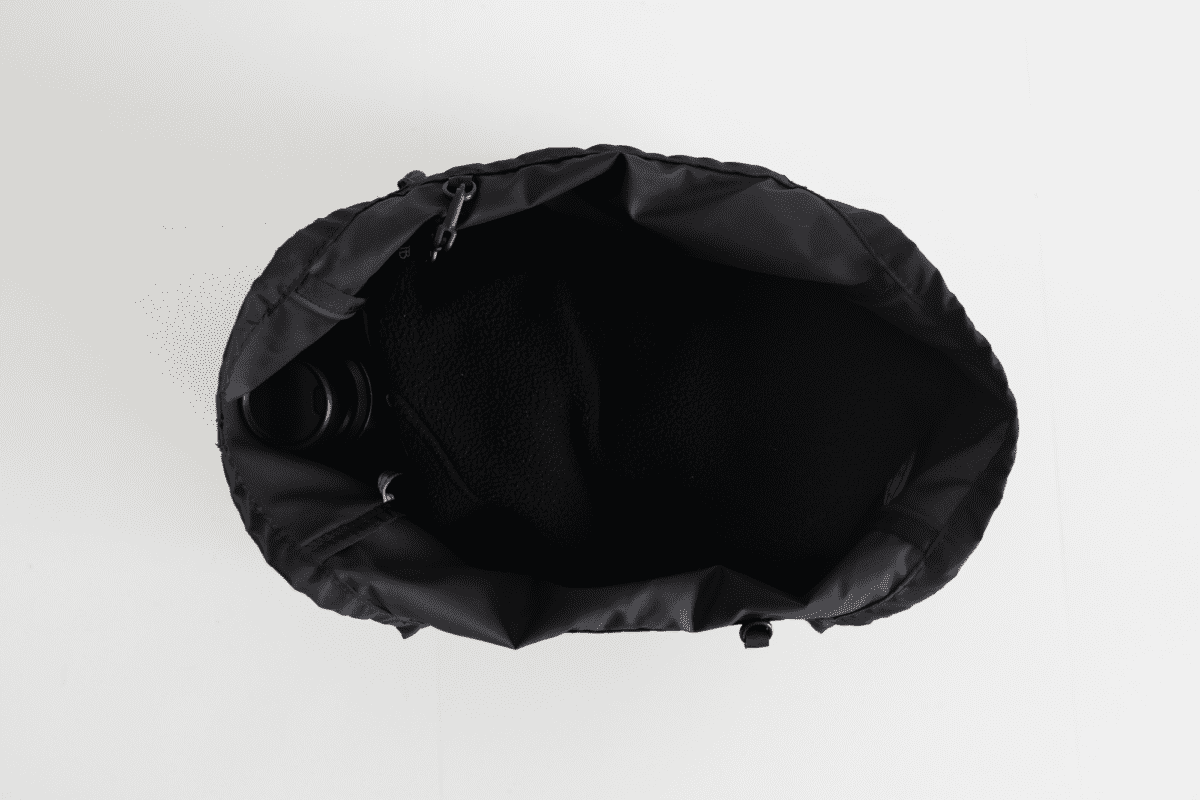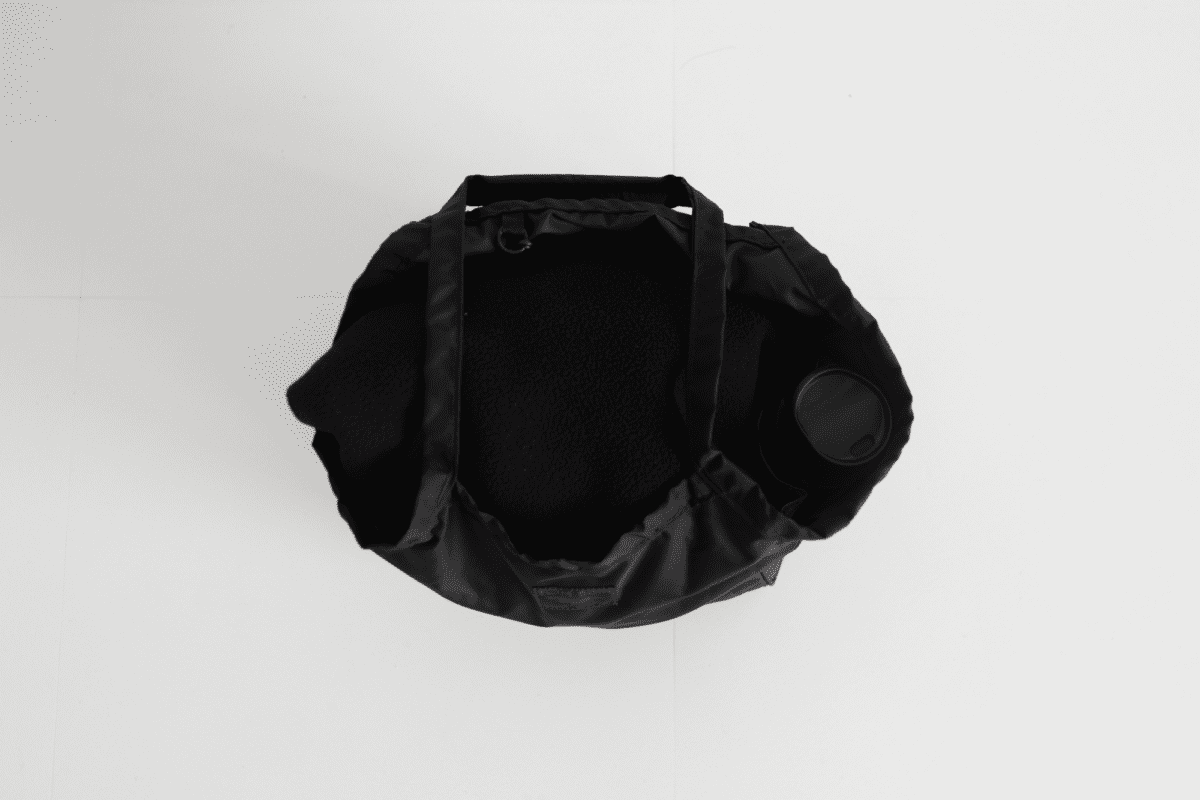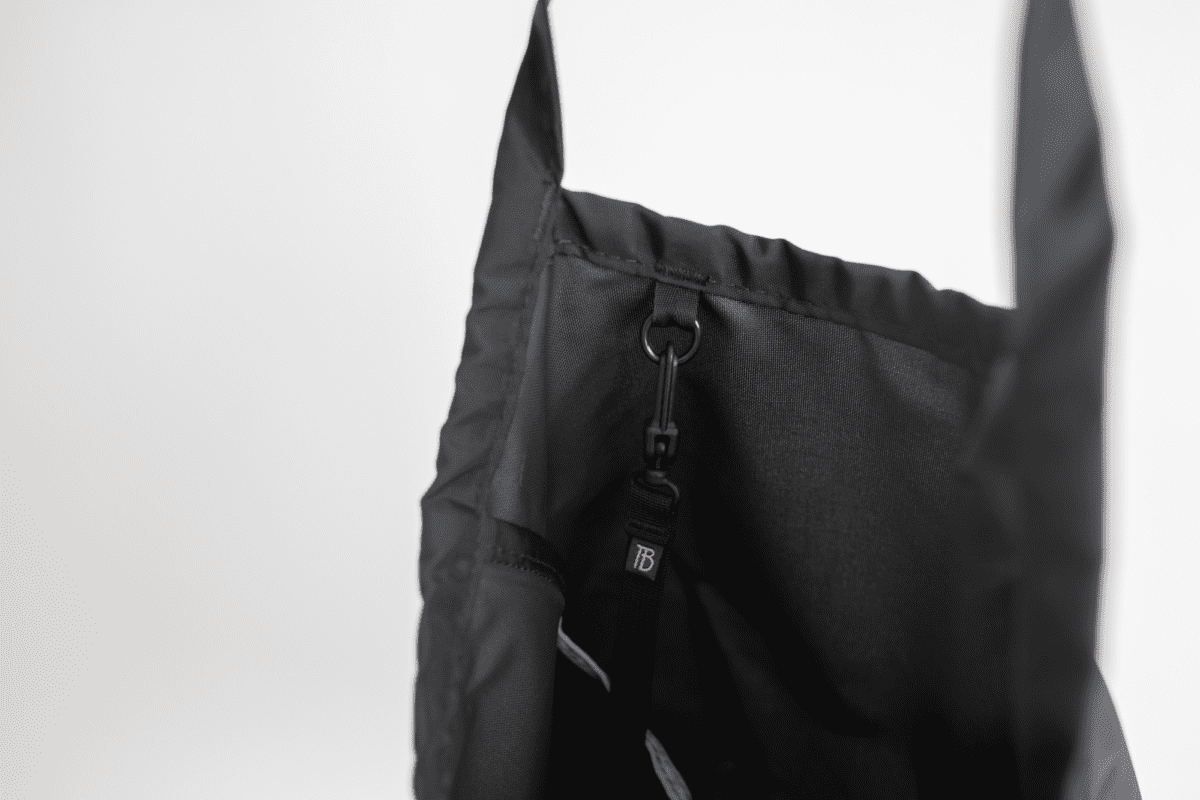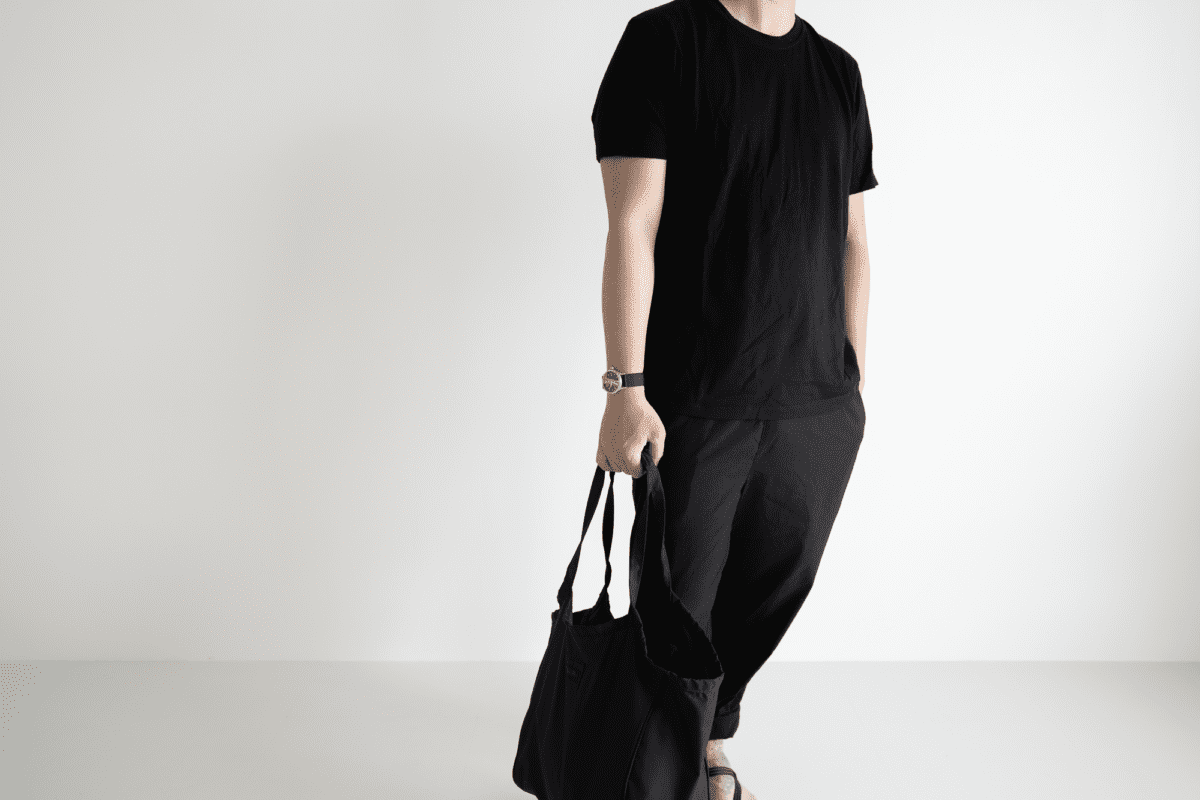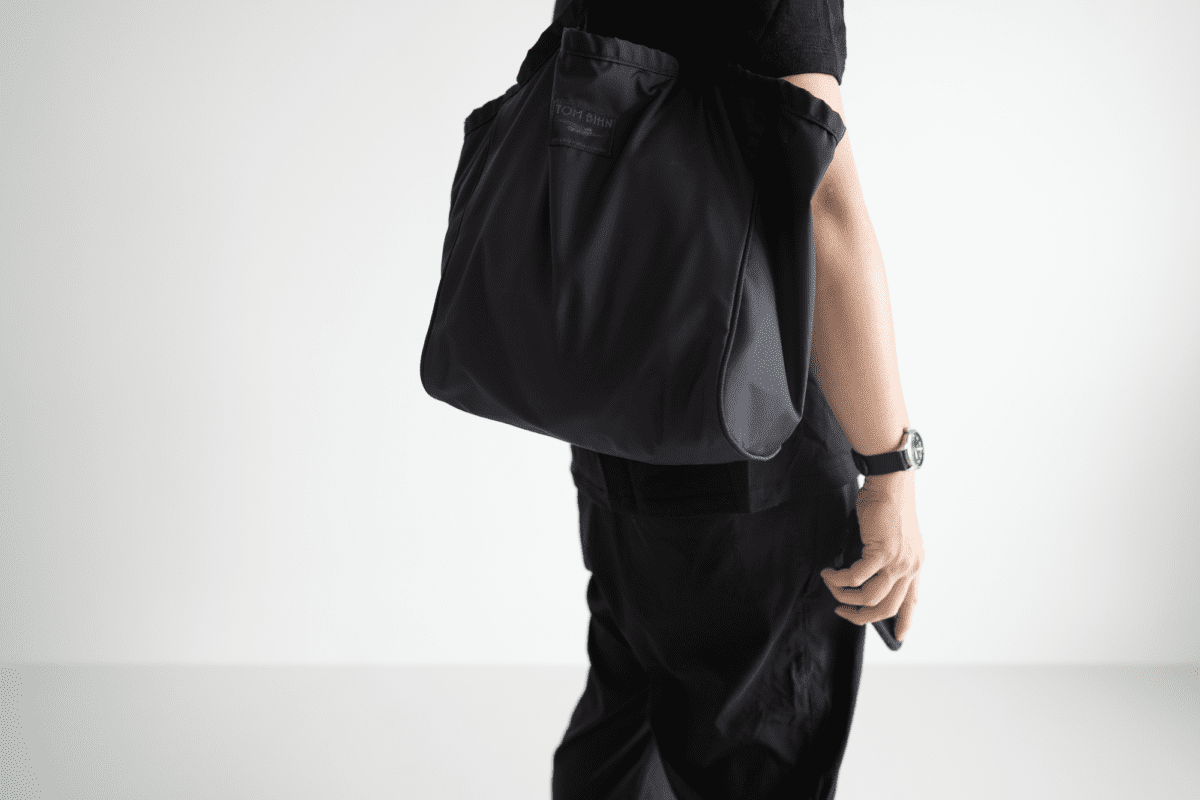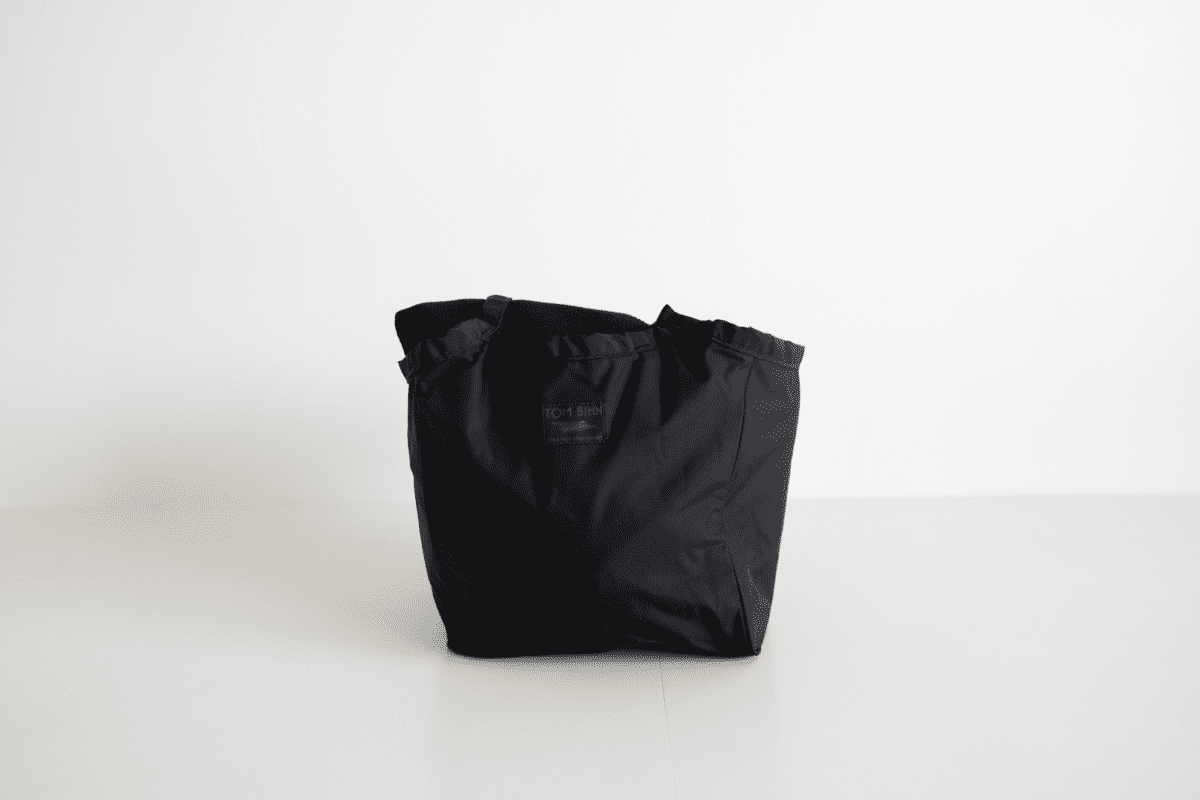 Like this review? See all of my in-depth reviews.
Also, consider supporting me by being a Patreon. Every cent given will go back into improving the content of this website.
Tagged ballistic nylon review tom bihn tote bag