This website is made possible by readers. I may earn a small commission when you buy through the links in this article at no extra cost to you. Learn more.
Details
Price $75 on aersf.com
Material 1680D Cordura® ballistic nylon exterior
Weight 1.0 lbs / 453 g
Dimensions

13-inch 10″ (h) x 14″ (w) x 1.5″ (d) / 25 (h) x 36 (w) x 4 (d) cm
16-inch 11″ (h) x 15.5″ (w) x 1.5″ (d) / 28 (h) x 40 (w) x 4 (d) cm
Overview
With more backpacks taking laptop protection seriously these days, I've found lesser use for my TOM BIHN Cache. Like the Tortuga Outbreaker and TOM BIHN Techonaut, most high-quality backpacks have made sure that the dedicated laptop compartment offers sufficient padding to protect your laptop from just about any situation.
However, as long as bags without a dedicated laptop compartment exist, a laptop cover still has its place. I use tote bags like the Aer Gym Tote or TOM BIHN The Truck, or packable backpacks like TOM BIHN Daylight Backpack or Tortuga Outbreaker Daypack. I don't feel at ease without additional laptop protection.
This is where the Aer Tech Folio comes in.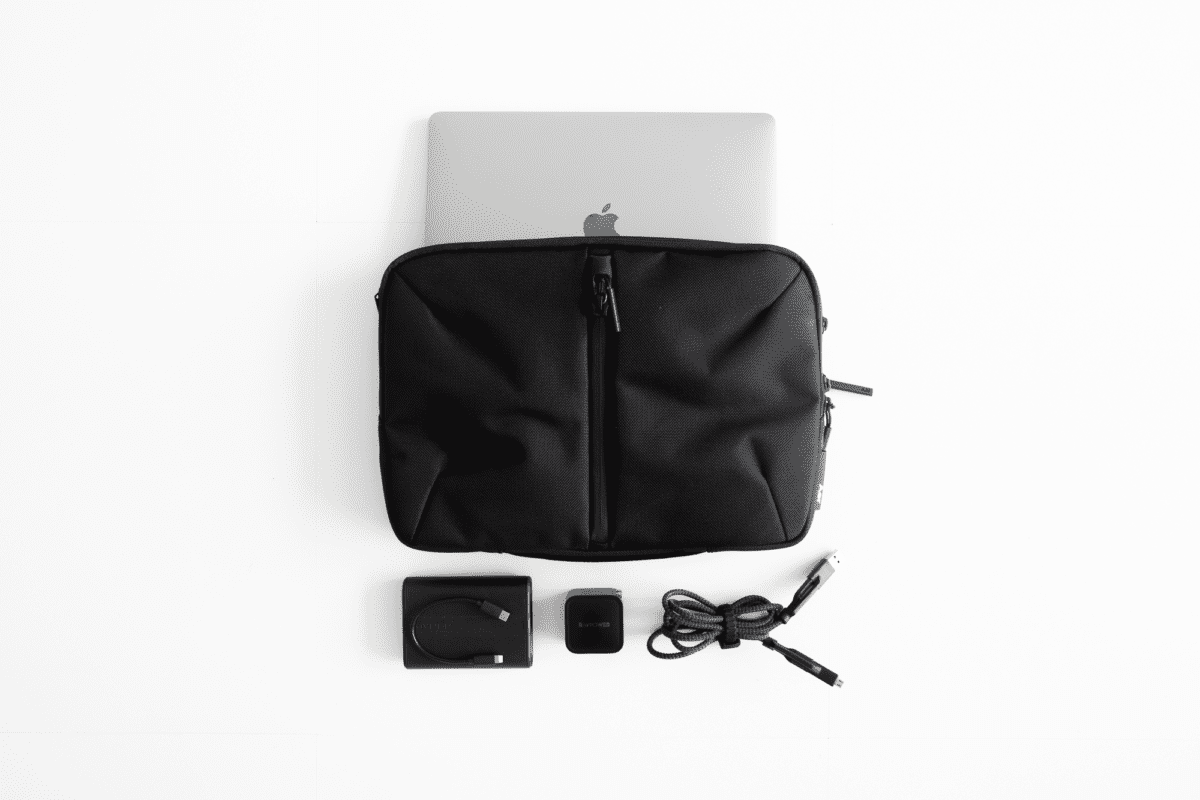 Aer and its products need no introduction. I've reviewed many of Aer's products and never experienced a product that I didn't think was good. The San Francisco design powerhouse has perfected the secret formula that brings thoughtful organization, solid materials, and timeless style into premium products that most would love.
I have two laptops; one for work and one for personal use. My work laptop, which I carry out with me most of the time, is a 13-inch M1 MacBook Pro, while my personal laptop is a 16-inch Intel MacBook Pro. These will be the two laptops I'll be testing the Tech Folio with.
I might be biased reviewing the Tech Folio with all the good experiences I've had with Aer's products, but here goes.
Style
Like many of Aer's products, the design of the Tech Folio is timeless and classy. Many popular backpack brands have product designs that express their identity; GORUCK's military roots and TOM BIHN's OG 80's style are examples. Aer is no different.
Although, unlike the two examples, Aer's style is timeless and universal. As such, it's much more versatile and less of an "acquired" style. Aer's look is an uptown, minimalist aesthetic with hints of techwear, largely drawn from its materials and hardware selection.
On the Tech Folio, the hard, techwear look is somewhat softened by the round corners. There are cinches on the four corners to give the front compartment more volume.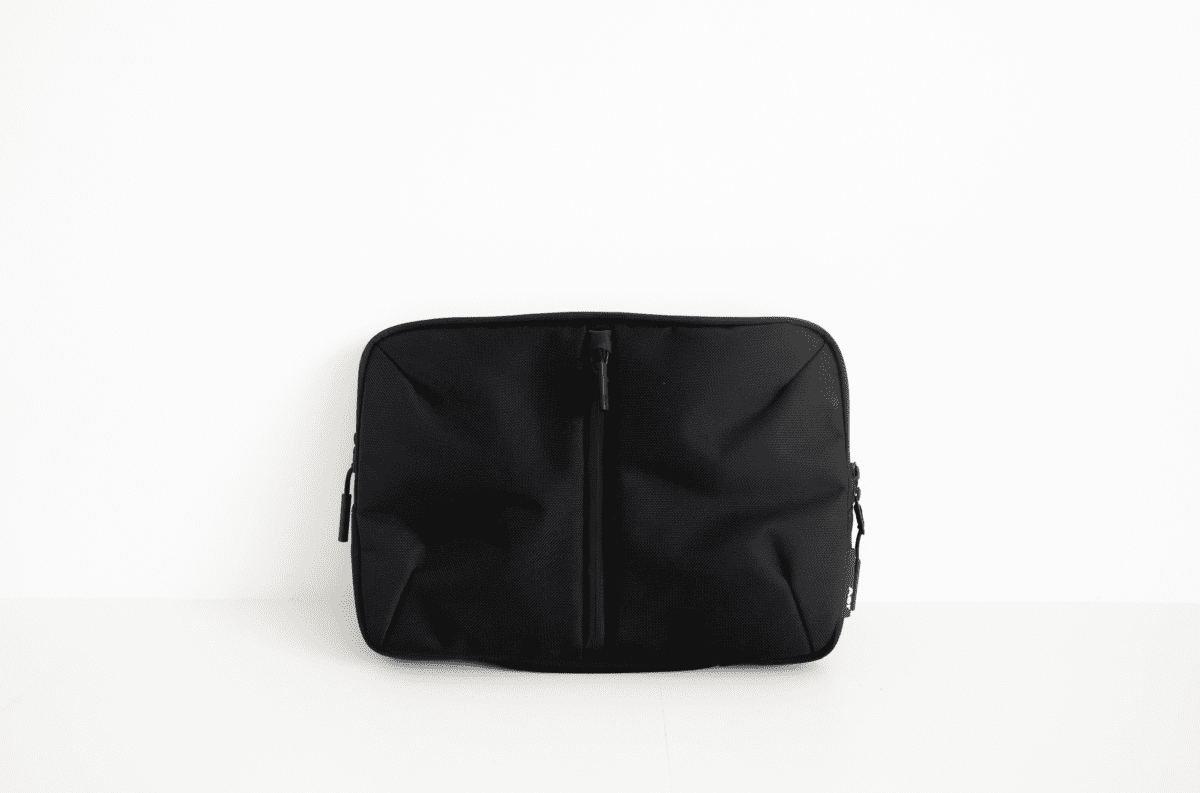 Across the front of the Tech Folio is a singular zip that goes vertically across the center of the folio. You can find this one-zip-across-the-front design on many of Aer's products, like the Travel Pack or Gym Tote. It gives the otherwise generic-looking product a distinct Aer look.
But no one likes ads, so I got rid of them. If my articles helped you, I ask for your support so I can continue to provide unbiased reviews and recommendations. Every cent donated through Patreon will go into improving the quality of this site.
On the bottom right, the Aer brand tag sits along the side. I like how they made this brand tag flat, instead of sticking out, like on some of their products. It keeps the silhouette streamlined and sleek.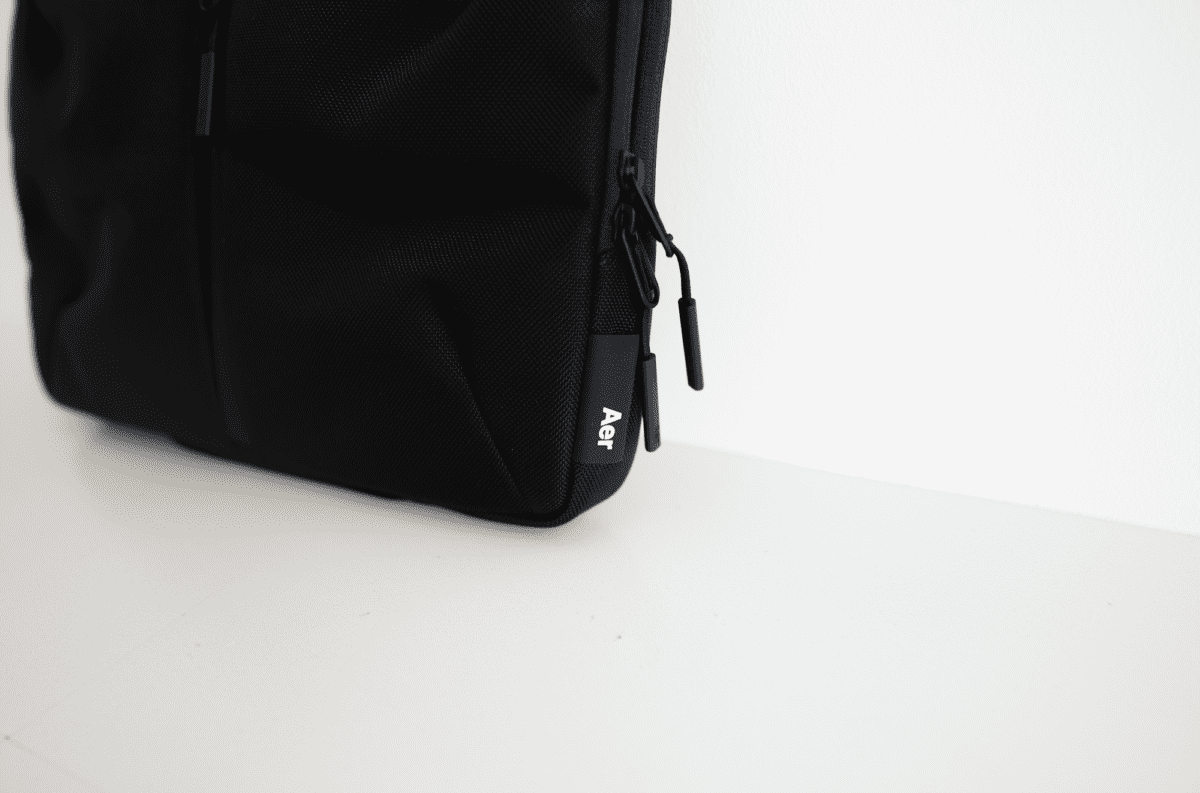 Material
Like many of Aer's products, 1680D ballistic nylon is used.
While a larger denier count might sound like it's a better fabric, 1680d is woven from a large single yarn rather than two plies of 1050d. This gives the appearance of a two-ply fabric but actually ages poorer and fuzzes out at abrasion points. The main reason it's chosen is probably to bring down the price since 1680d is mostly made in Asia at half the cost of the 1050d.
Of course, this is compared to 1050d, which is gross overkill for how most of us use our backpacks. I've used Aer's 1680d ballistic nylon backpacks for many years now and have never had any problems with abrasion or quality. 1680d is an excellent choice for travel backpacks, let alone a Tech Folio that sits in your backpack.
I wrote an entire guide on ballistic nylon here if you are really interested.
Like most backpack companies in this range, YKK zippers from Japan are used. It's unsurprising, seeing as these are the industry standard. It is, however, worth noting that they did not use water-resistant models, which tells me that Aer does not intend for you to head out with just the folio and nothing else. It's meant to sit in your backpack.
Organization
Unlike a regular cover like the TOM BIHN Cache, where its sole purpose is to protect the laptop, the Tech Folio tries to double as an organization for your laptop accessories.
Despite the difference in size, the 13-inch and 16-inch Tech Folio offers the same number of organizations.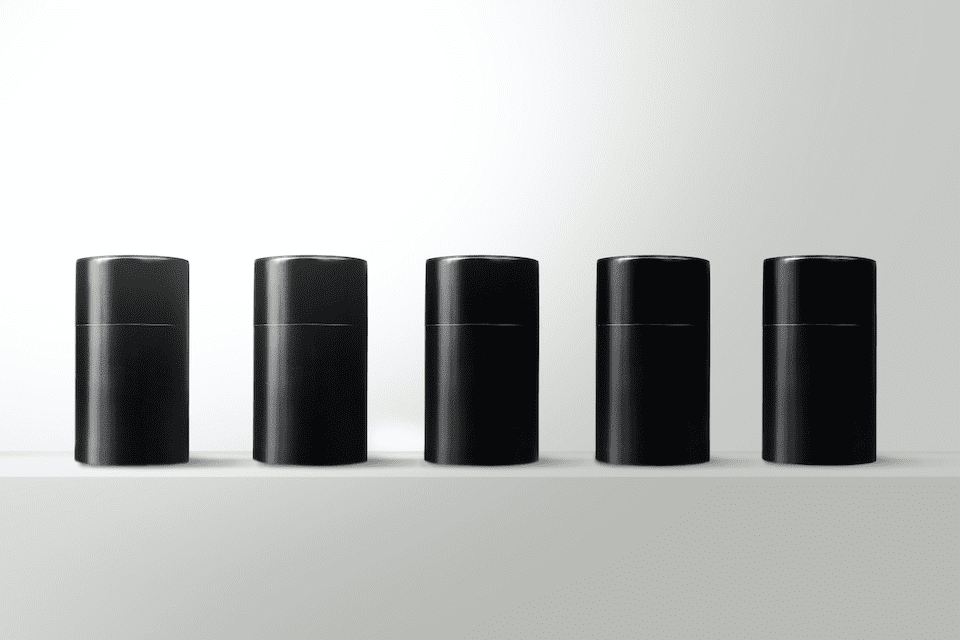 I found a 100 year old company that would create these heirloom quality canisters for me. They are handmade and will keep your tea leaves, coffee beans or anything that you need dry for years to come.
or read review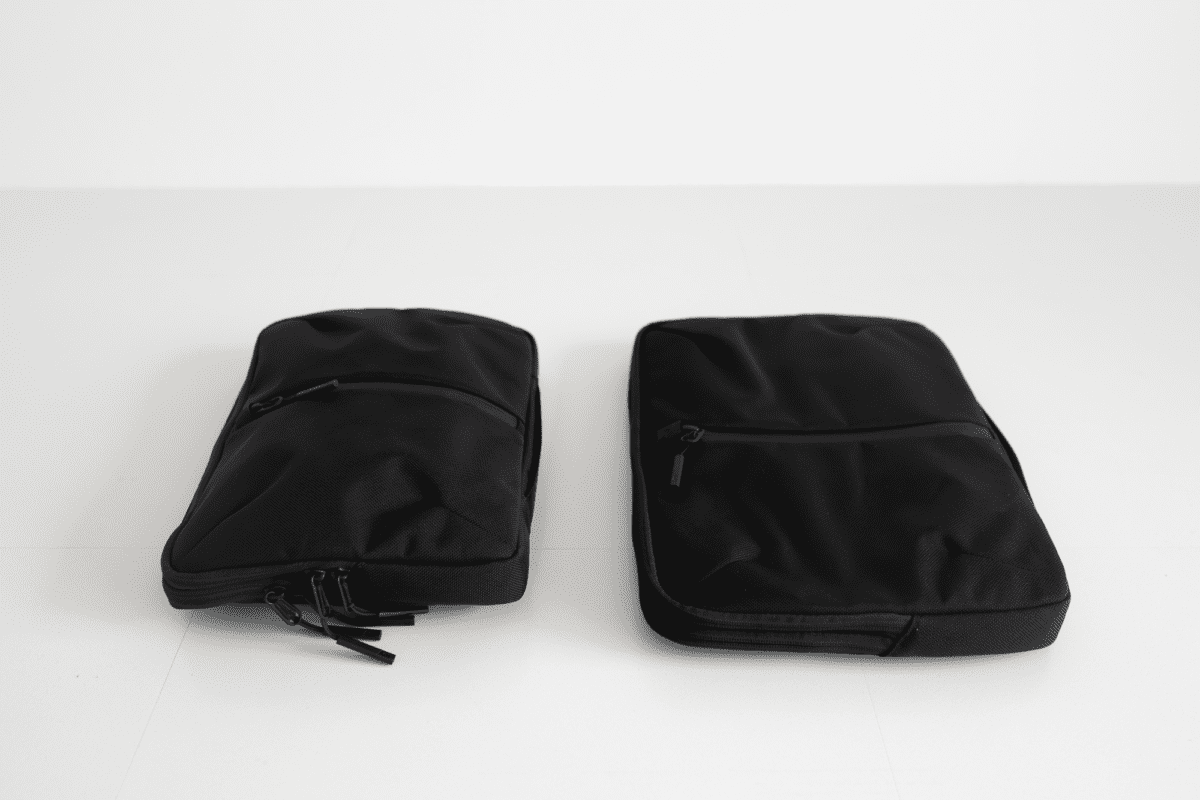 Right in front, accessible from the zip that goes vertically across the center of the Tech Folio, is a quick access pocket. The position of the zipper can be misleading since this pocket only takes up the right half of the folio.
From the top, there is a slot that goes across the width of the compartment. It looks like a great slot for documents or a magazine. In front of that slot, there is an array of slots divided down the middle.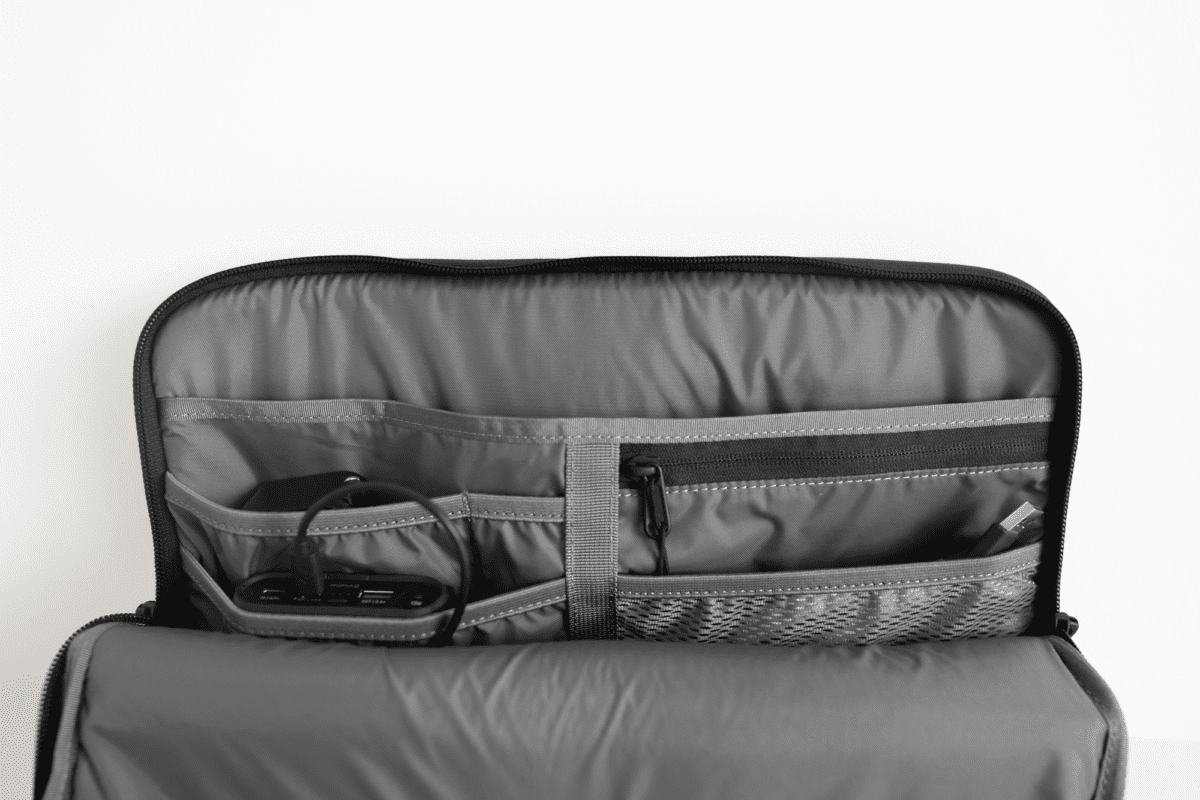 On the left side, there are three slots. A slot that takes up the entire width of the left half. Above it are two slots with one sized for a pen. I put my Ravpower 61W Charger on the top slot and my NOMAD PowerPack on the bottom. These are flat slots, so the width of the slots can be misleading to judge what you can really fit in them.
On the right, there's a zippered pocket and a mesh slot below it. I have my NOMAD Universal Cable USB-C in the mesh pocket.
I like that they didn't divide each slot up too much, which can be irritating when you can't fit in the things you need. Each of the slots in the Tech Folio is large enough that you can stuff any charger or cable in, but not too large that they fall out easily. If you use ultra-short cables as I do, you can always use the zippered pocket on the right.
Usage
While the Tech Folio allows you to consolidate your laptop with its accessories into a single organizer, this is not something most backpacks would have considered. Most backpacks with a dedicated laptop compartment are sized to be a just-fit, so your laptop doesn't move around excessively within the compartment.
While some allowances exist for laptop cover, It won't apply to something like a fully-packed Tech Folio.
If I really stuff it in, it barely fits into the Synik 30's laptop compartment. It is, however, way too bothersome to do it each time.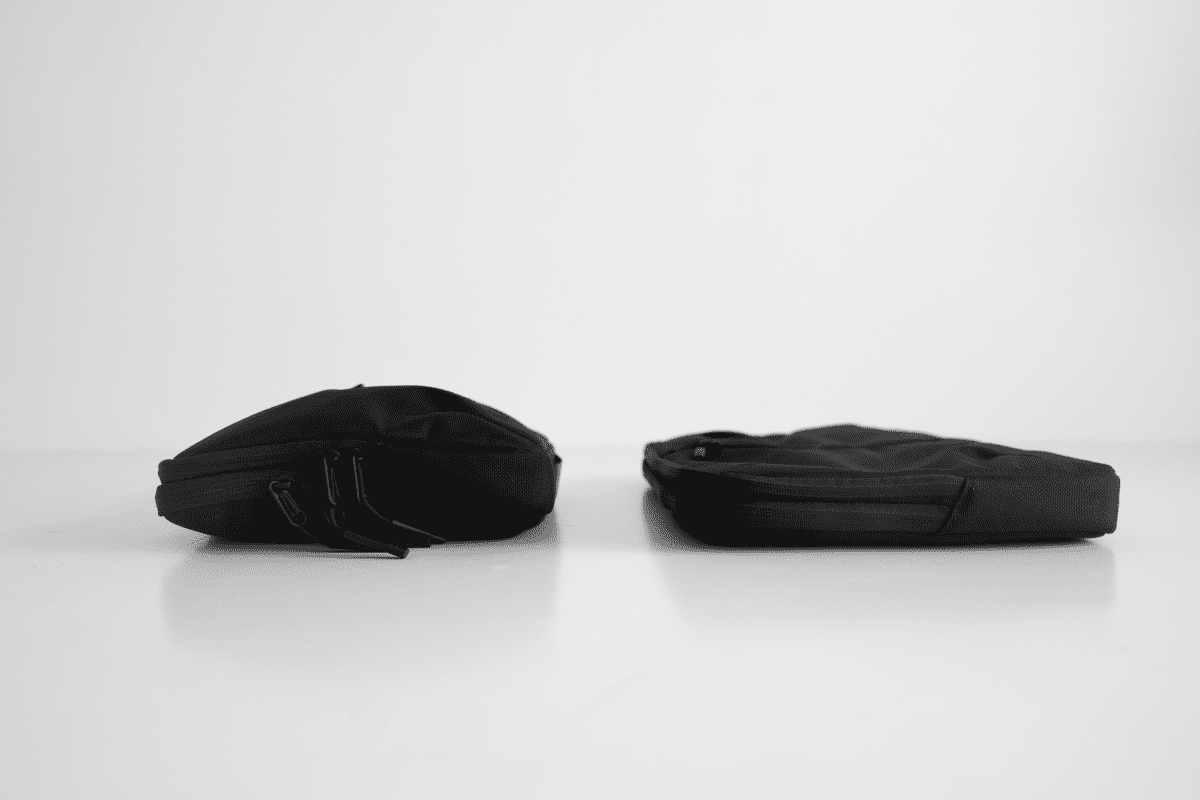 Some might think this isn't a big problem since the Tech Folio provides sufficient protection for your laptop and you can simply have it in the main compartment. For me, a laptop compartment not only protects my laptop but also provides compartmentalization from other stuff in my bag. I hate digging through stuff and pulling my laptop out through them.
While I use the Tech Folio with backpacks with a dedicated laptop compartment, I feel better using it with backpacks with minimal organization, like the Able Carry Daybreaker. Most of these backpacks without a dedicated compartment would usually have a mesh slot along the back for laptops which is the perfect place for the Tech Folio.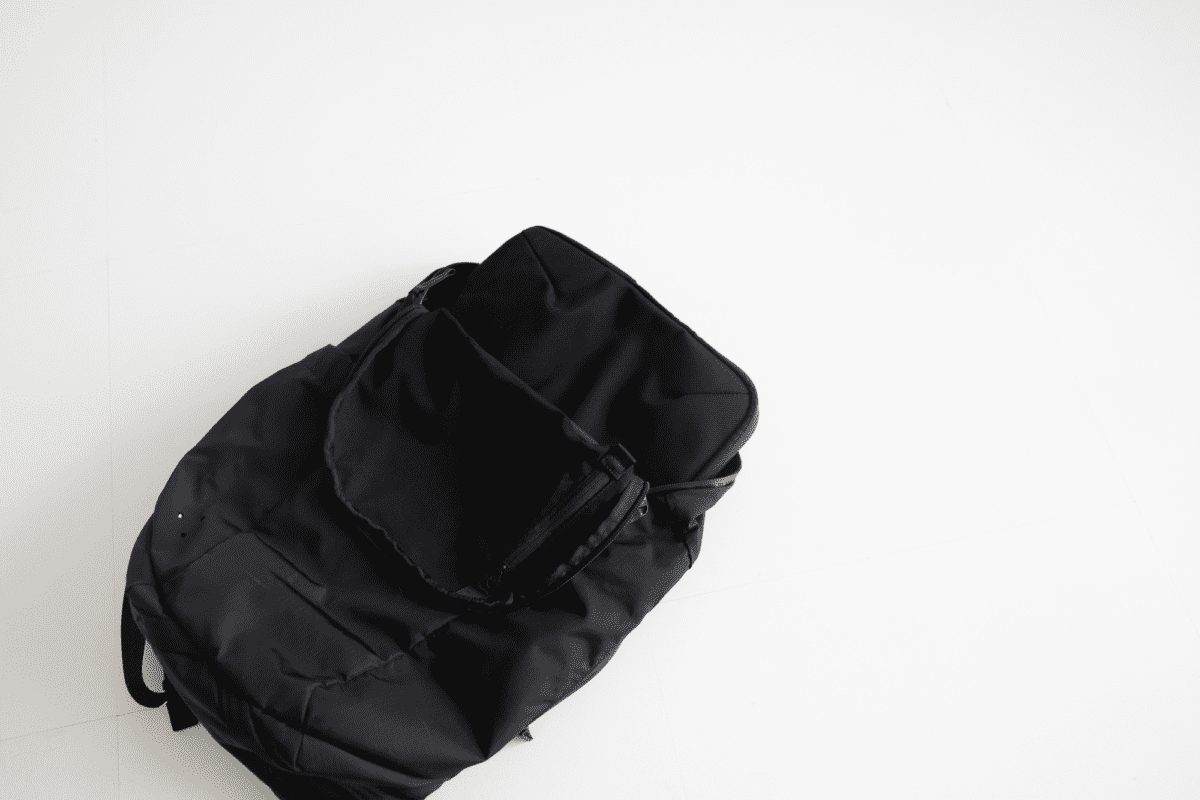 I've previously complained that the Aer City Pack's laptop slot was too spacious, causing laptops to flop forward. I suspect that they've designed it in anticipation of the Tech Folio. A fully-packed Tech Folio fits perfectly into the slot.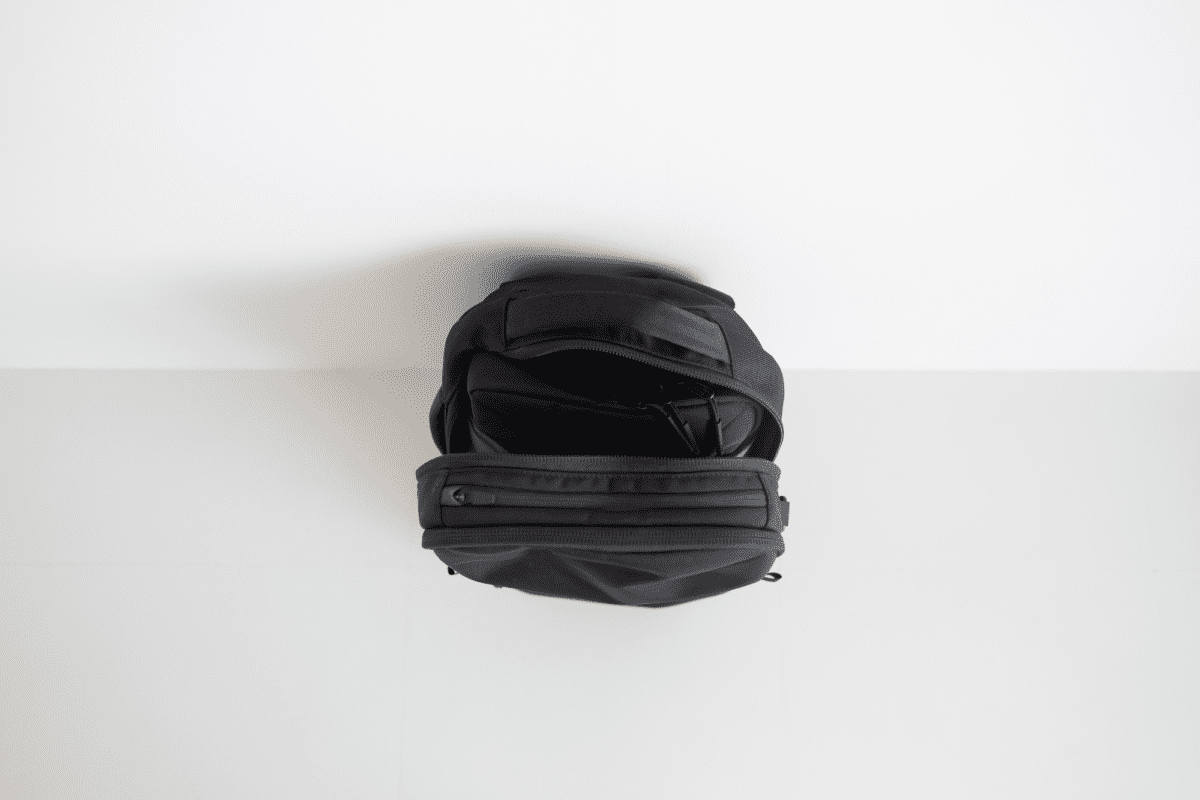 The problem comes when using backpacks where the zipper doesn't allow straight-down access to the back of the main compartment where the Tech Folio would sit. For example, the TOM BIHN Techonaut is accessed from the front, so I have to bulldoze through all my stuff to get to the Tech Folio and rip it out. It can get pretty messy.
The Tech Folio comes with two handles, a padded one on the top and a non-padded one on the bottom. I assume that the intent here is that you would carry it around with the padded one. For something this size and weight, I often grab the body of the Tech Folio out of convenience.
The handle at the bottom seemed excessive at first, but it happens to be perfect for the TOM BIHN Synik 30, which has a side-access laptop compartment. It allows me to pull the folio out with the handle rather than a "two-point turn" to get it out.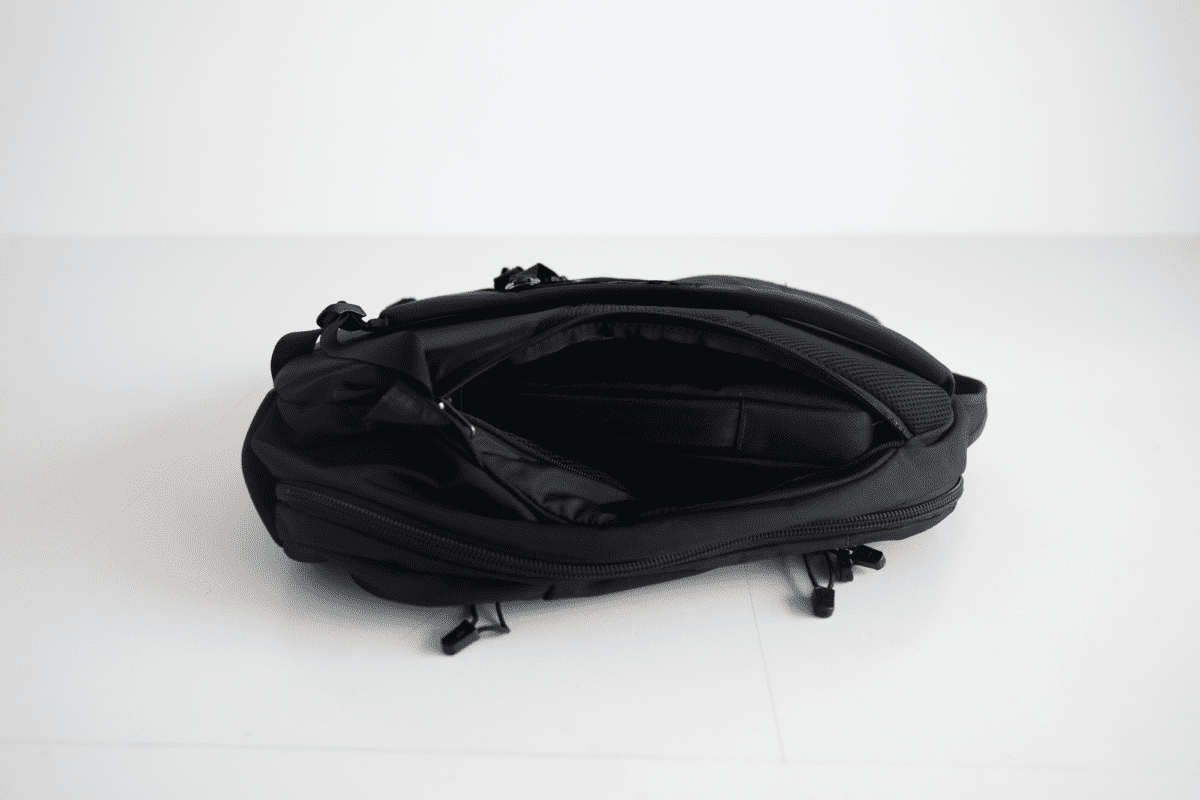 Update June 2022
Really wish it has a handle on one of the short sides. I brought it to Seoul with two laptops, work and personal, and it was a tight fit in the Aer Travel Pack 3. Pulling it out without a handle was bearable but not the best experience.
Conclusion
The Tech Folio is a great product but especially suitable for those who use bags without a dedicated laptop compartment or adequate laptop protection. With all the sleek Aer design, the Tech Folio will upgrade any digital nomad's setup.
Combining laptop protection and organization for its accessories is innovative but almost too innovative, as most travel backpacks are ready for it. This is why my favorite bags to use it with are the Aer Gym Tote and the Able Carry Daybreaker, which have spacious main compartments for you to dump it into.
Additional Images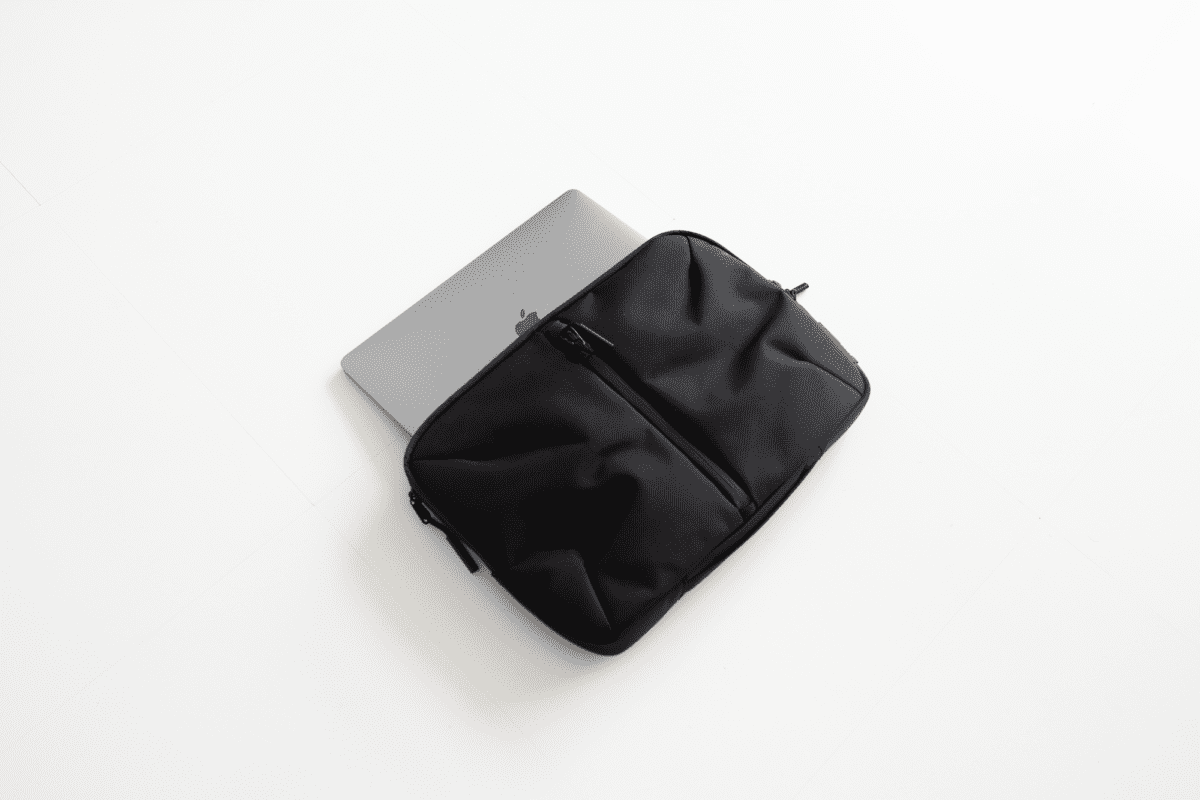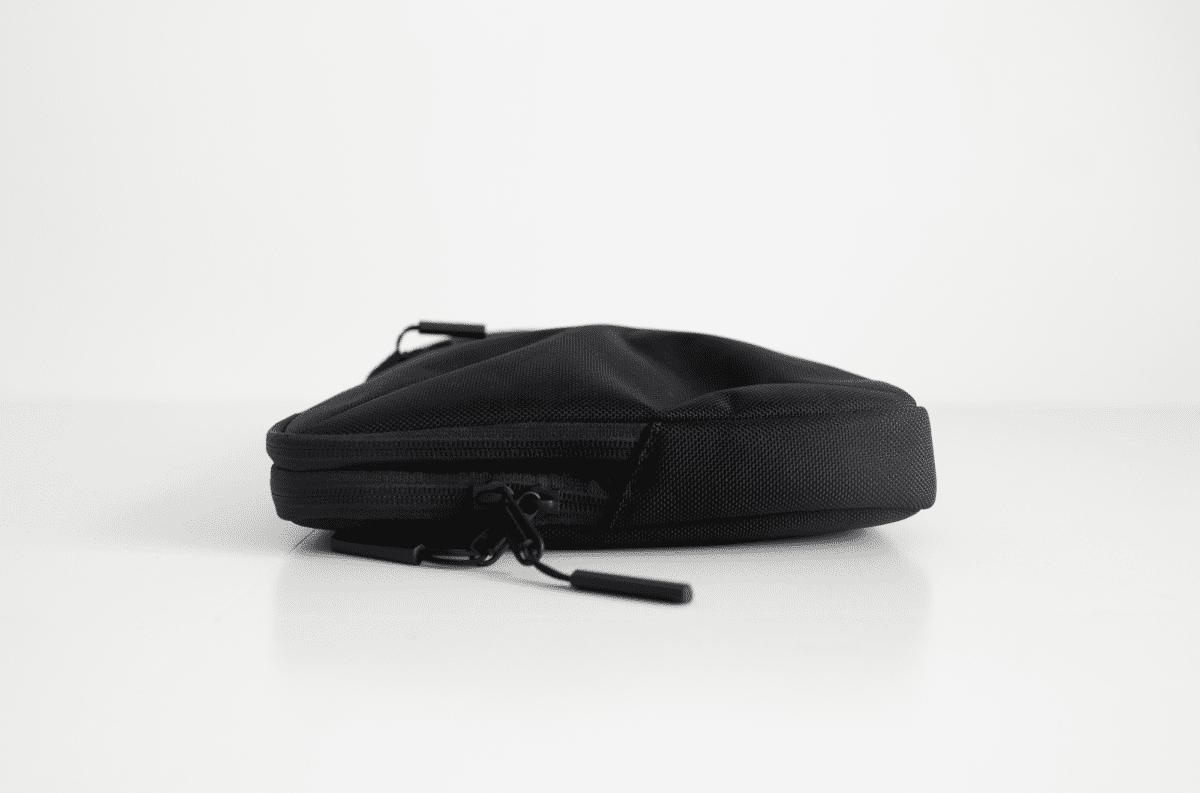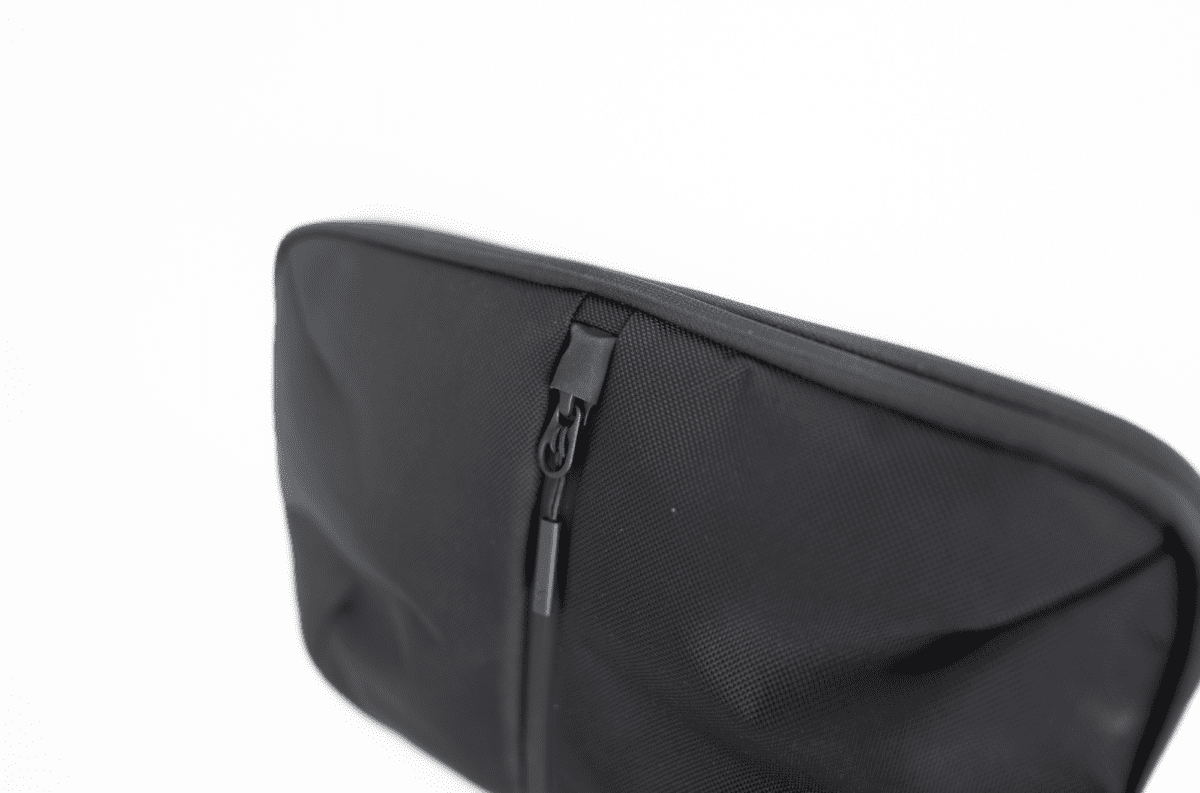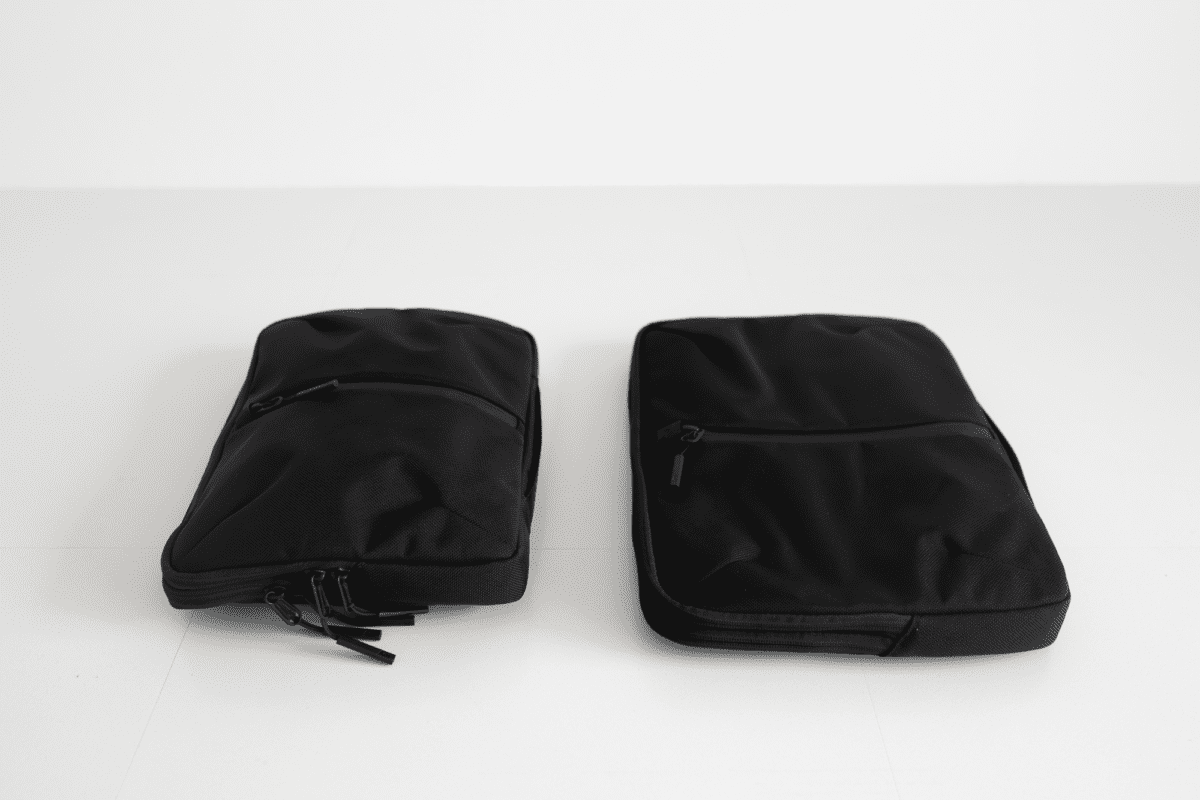 Like this review? See all of my in-depth reviews.
Also, consider supporting me by being a Patreon. Every cent given will go back into improving the content of this website.