This website is made possible by readers. I may earn a small commission when you buy through the links in this article at no extra cost to you. Learn more.
Details
Price $59.95 ($79.95 with Tile Tracking) on nomadgoods.com
Dimensions W7.6 x L10.2 x H1.4cm
Overview
Over the years, I progressed through a series of wallets which, in some ways, represented phases of my life. When I was into streetwear, I splurged on a Porter X KAWS wallet on my first trip to Japan. Then, I moved on to a Supreme X Comme Des Garcon wallet, marking the peak of my Supreme obsession.
When I got into onebag travel, the TOM BIHN Nik's Minimalist Wallet was the first I took to, but I ultimately settled on the Aer Cardholder. After a good run, I'm ready to move on to the NOMAD Slim Wallet.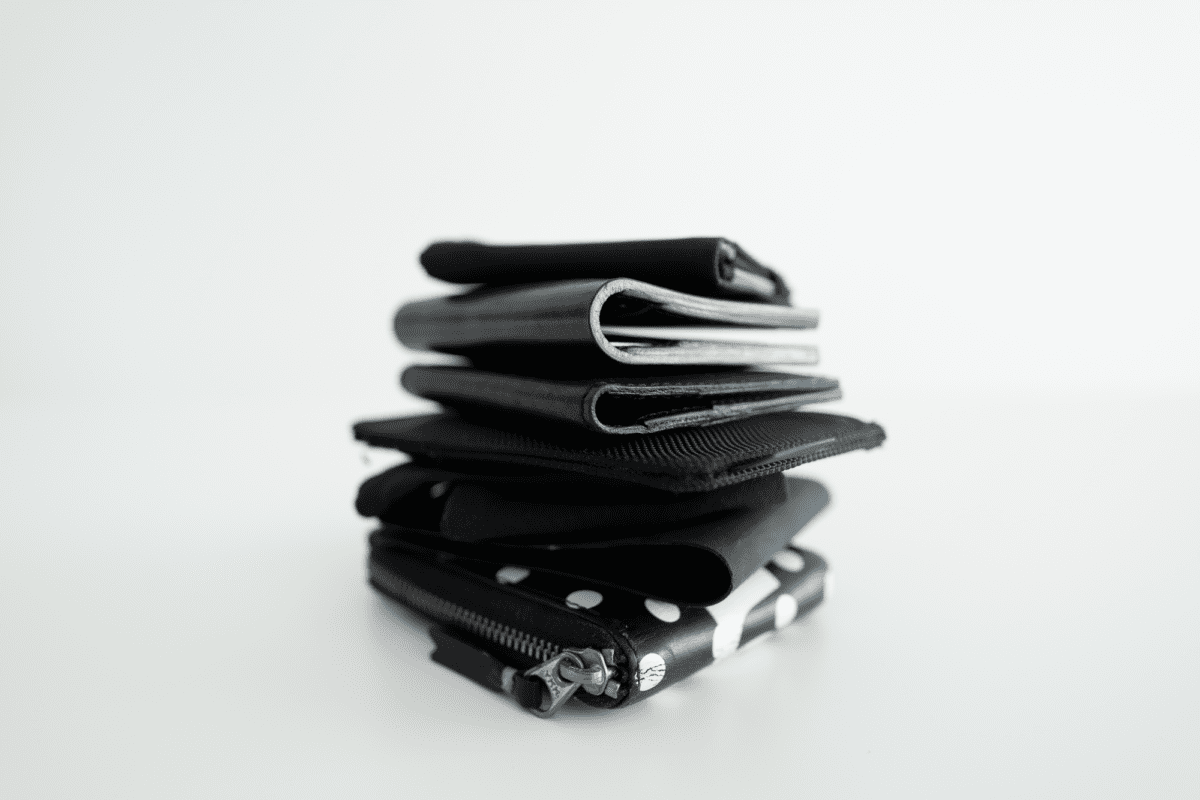 There are so many so-called travel or slim wallets out there, but whether they work for you comes down to the balance between form and function. The ultimate goal is to elevate (or at least, not distract from) your everyday and travel experiences.
So, you probably don't need this wallet for those who feel that they are fully enjoying your experiences right now. But, for those who, like me, have too much time on their hands willing to go through every single slim wallet on the market to find the perfect one, this review is for you.
The truth is that there isn't such a thing as a perfect wallet for everyone. It comes down to what you are looking for in a wallet.
Here are a few factors I usually consider when looking for a wallet:
Aesthetics
Mobile payments are all the rave in Japan right now, but defiant cash-only places are still rampant, and you can't say no if you still want to enjoy a steaming bowl of ramen. As something that I interact with daily, I want my wallet to look good.
Don't get me wrong. I couldn't care less about what the guy next to me thinks when he sees my wallet. It has to look good to me. How I feel when I see the objects around me is what matters. Therefore, it's only natural that I want to surround myself with only the most beautiful objects I can find.
Capacity
I think it's a minimum requirement for most to expect a wallet to hold what they need it to hold.
Over the years, I've leaned heavily into mobile payments, thereby reducing the number of cards I need to carry. At the time of this review, here are the permanent contents of my wallet:
But no one likes ads, so I got rid of them. If my articles helped you, I ask for your support so I can continue to provide unbiased reviews and recommendations. Every cent donated through Patreon will go into improving the quality of this site.
Credit card
ATM card
Driver's license
Notes
These are the cards and currency that have a permanent fixture in my wallet. There are also some things that come and go.
For example, while I usually dump any loose change I get during the day into a 100-yen-shop coin case by the entrance of my home, I still need to hold on to them during the day.
For receipts, I scan them with an app and toss them on the spot. But sometimes, I need to hold on to them, like the receipt from Starbucks that lets me redeem another coffee for 150 yen.
This setup might be too minimal for some, but it has been working for me for the past few years, and I've never run into situations where I felt that it was lacking.
Organization
While most slim wallets can hold what I need them to, the organization has also made sense for me to adopt it.
Some cards are used more than others; therefore, being able to access them easily is important. In my case, it's my credit card.
Personally, I prefer wallets that have an external slot to access my credit card without opening my wallet up quickly.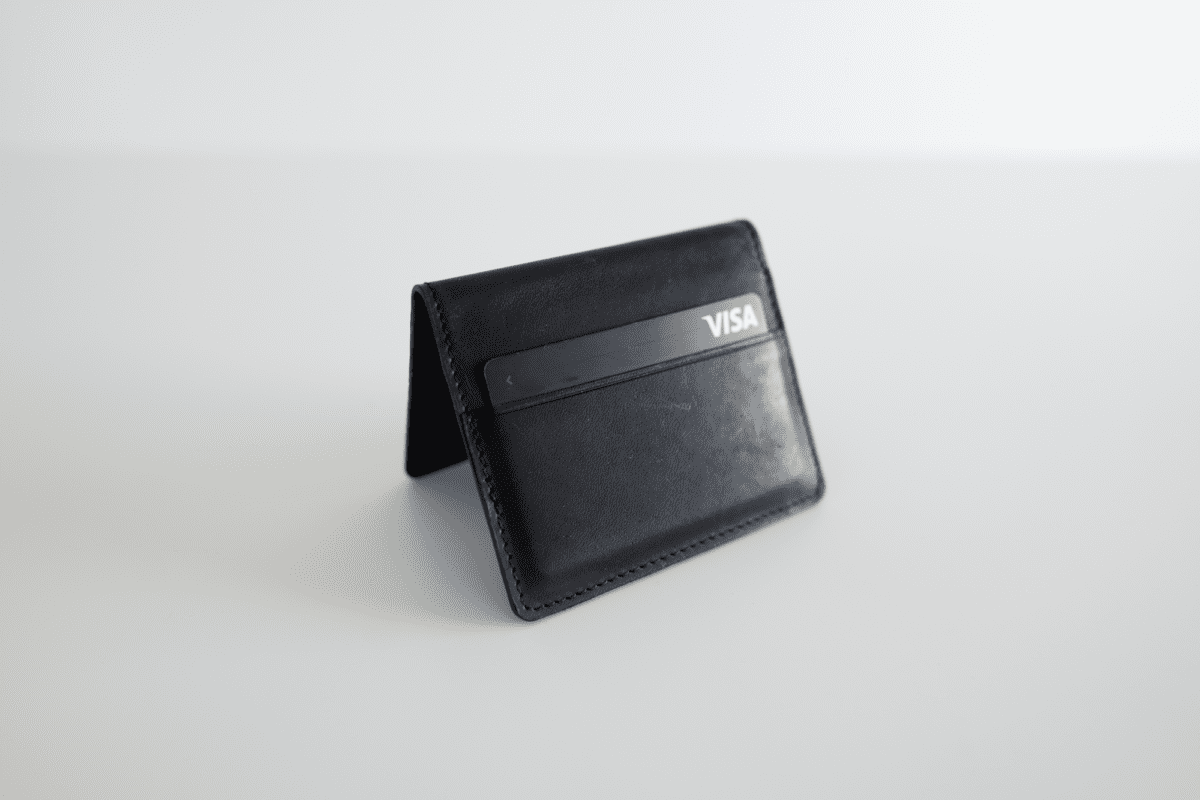 Many slim wallets in the market now do not cater to coins. No matter how savvy you are with digital payments, coins are bound to find their way into your wallet sneakily.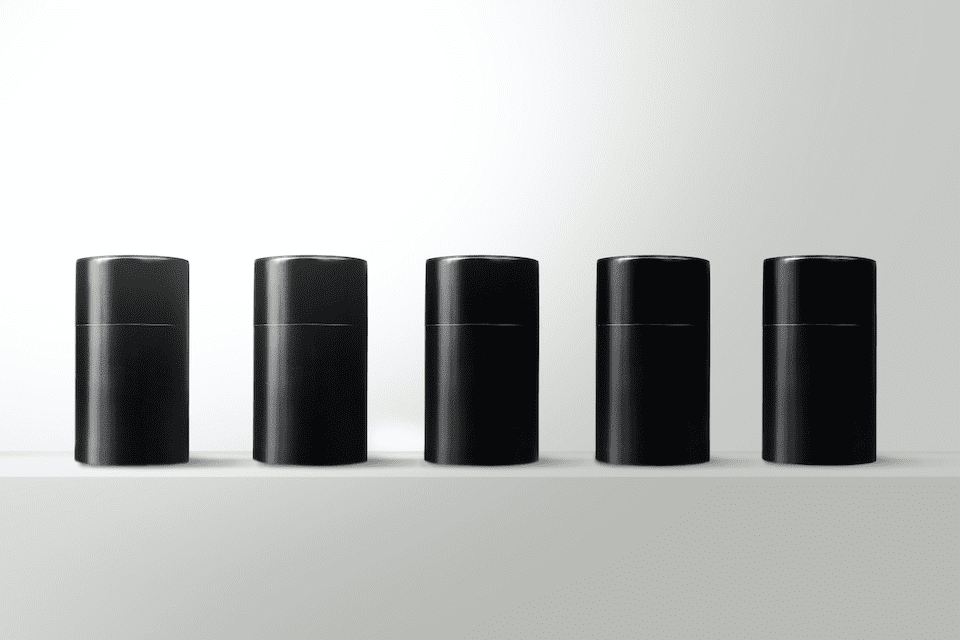 I found a 100 year old company that would create these heirloom quality canisters for me. They are handmade and will keep your tea leaves, coffee beans or anything that you need dry for years to come.
or read review
Wallets, no matter how minimal the design aims to be, need to hold coins. Period. It would be much less minimal if you have to bring along another coin pouch to hold loose change.
Durability
The desire for this quality obviously isn't limited to wallets.
As someone who wishes to experience travel without babying my belongings, I abuse my travel gear in various ways.
The last thing I want is to worry that something will break down mid-travel, especially since you'll be unlikely to bring along a replacement wallet.
Style
NOMAD's lineup carries some really stylish products. I've got a few of NOMAD's products, like the NOMAD Powerpack, and to me, they managed to achieve the sleekness of brands like Aer but always topped off with their own flair of ruggedness.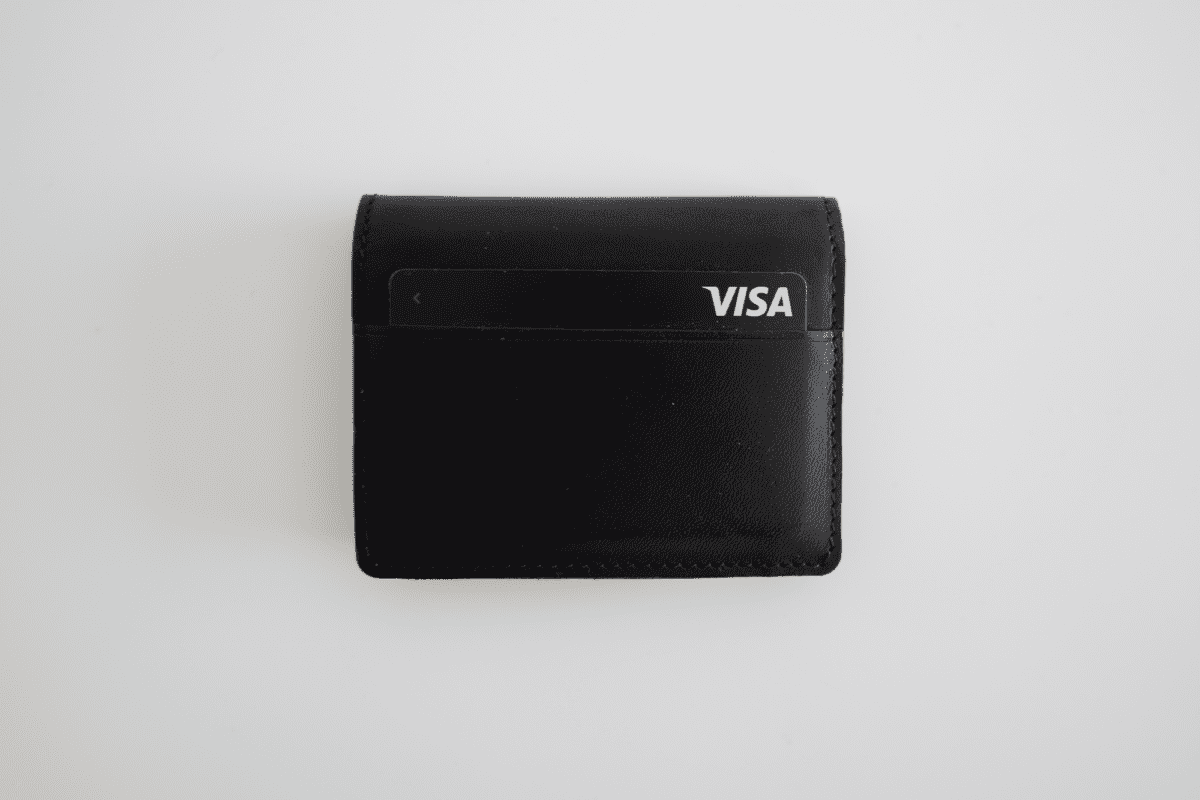 The NOMAD Slim Wallet is no exception. The design is contemporary and simple, but the leather character is really what adds that bit of ruggedness that I love NOMAD for. And that ruggedness will only develop more character with age.
Being a leather wallet, the NOMAD Slim Wallet will not be anything new if you've had any experience with leather products. Leather ages beautifully, and the patina of a leather product is the main appeal to many.
The NOMAD Slim Wallet comes in a black and rustic brown color option. Out of the two, the rustic brown will age better simply because the patina will be more obvious.
As someone who has an obsessive tendency to keep everything in his wardrobe black, I went for the black version. Even in black, the leather has a strong character peeking from the grainy texture.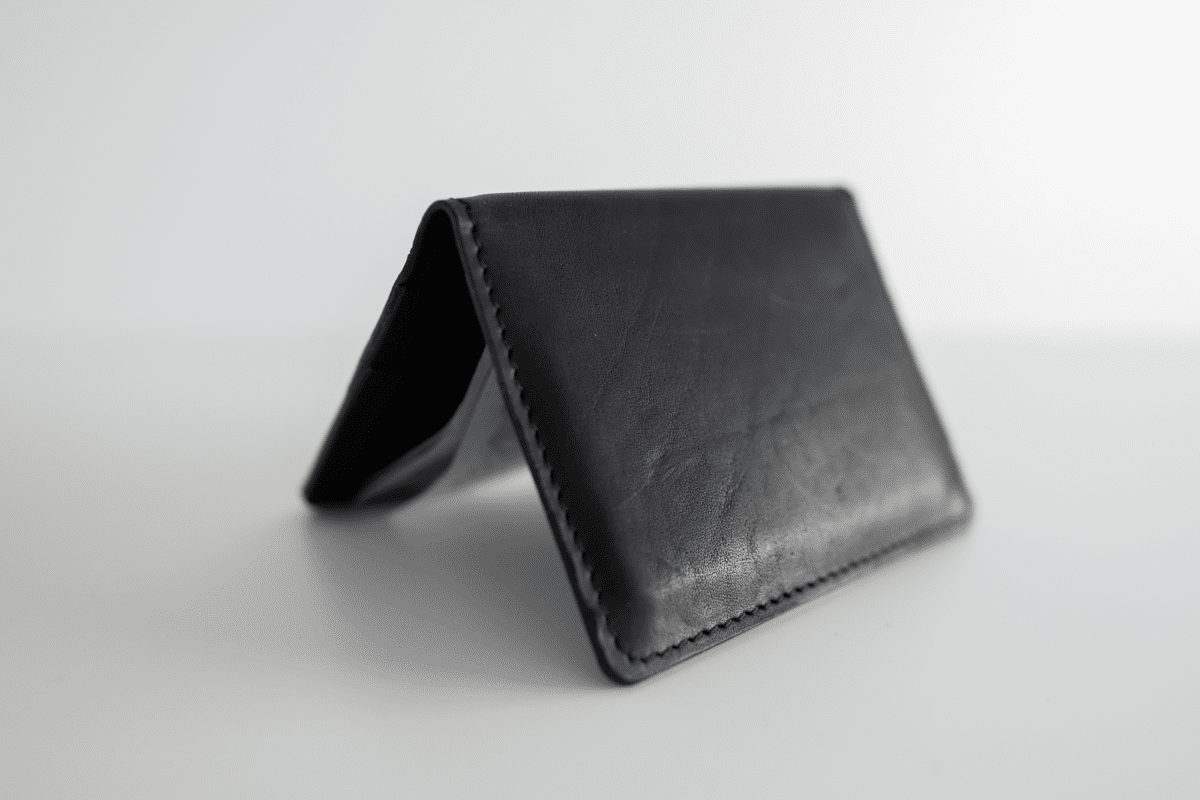 While aging isn't as obvious on the black version, marks and scratches are still visible upon close inspection. While NOMAD Slim Wallets will all look the same coming out of the factory, it's after all that skin oils, suntan, and water splashing on it that slowly changes it into something that you can call your own.
When it comes to branding, there is none on the exterior but an imprint on the inside that says
"NOMAD
Horween Leather Co.
Chicago est. 1905″
The imprint is just a deboss into the leather, thus has no color. While it looks subtle, I thought it was unnecessary, though understandable.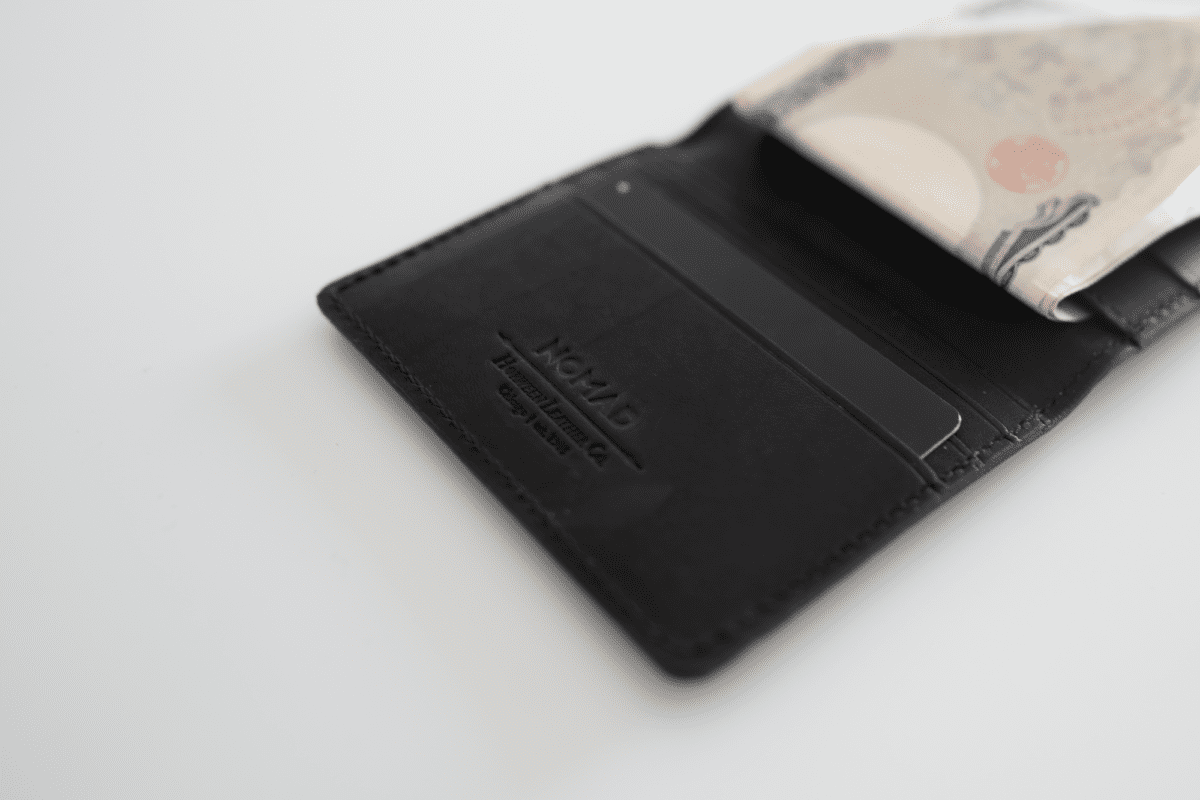 Material
The leather of the NOMAD Slim Wallet is from a leather factory called HORWEEN.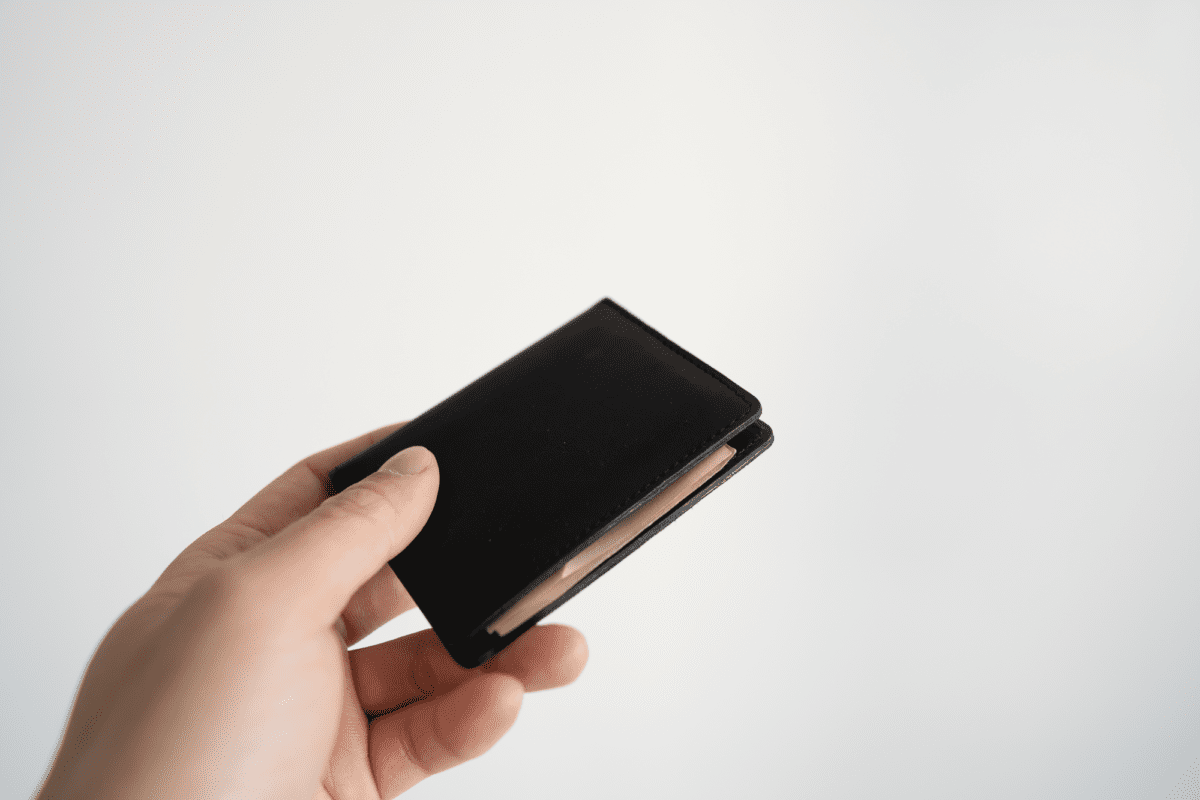 HORWEEN, founded in 1905, is one of the oldest running tanneries in America. If you know anything about the leather world, HORWEEN is the name to drop for leather products, similar to brands like GORETEX, Cordura, or YKK. Simply using materials from HORWEEN, in itself, is a selling point.
Usage
The NOMAD Slim Wallet is a relatively straightforward wallet with some pleasant details.
As the name suggests, the NOMAD Slim Wallet is very slim. I had no problems putting it in the side pockets of borderline-skinny pants like the Western Rise Diversion Pant. They felt comfortable and didn't feel like they were jutting into my body.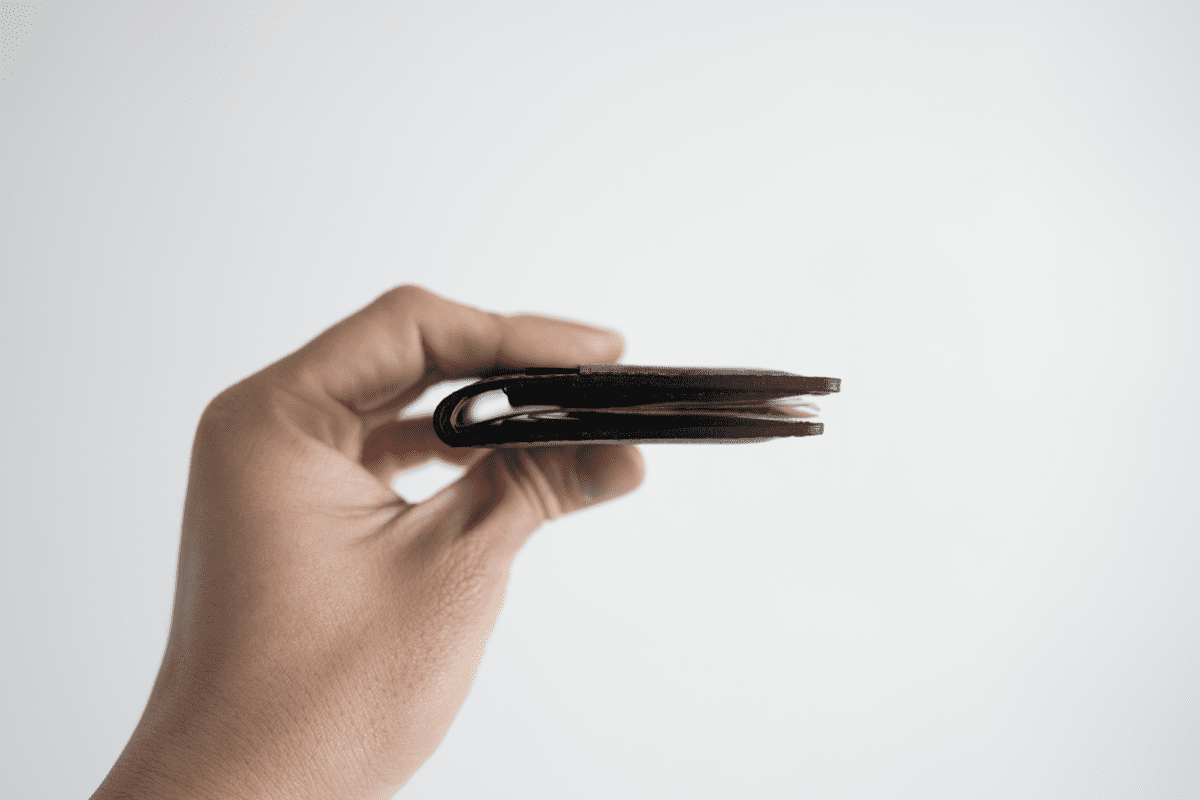 Organization
On the exterior of the wallet, there is a single "easy access" card slot. I use this for my credit card since it's the one I access most frequently.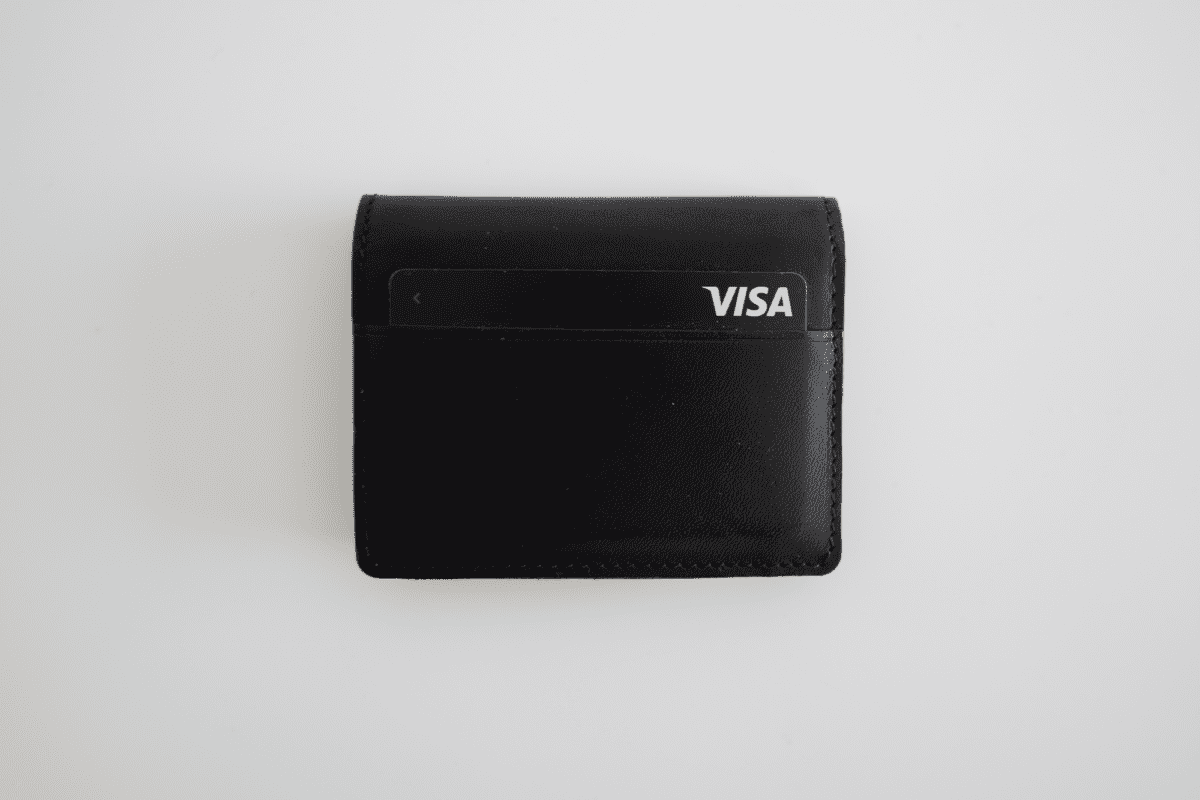 Opening it up, there are four slots on one side. Of the four slots, only three of them will reveal the top part of your cards. The last slot covers your card fully. This slot was perfect for my driver's license to protect my private information from prying eyes.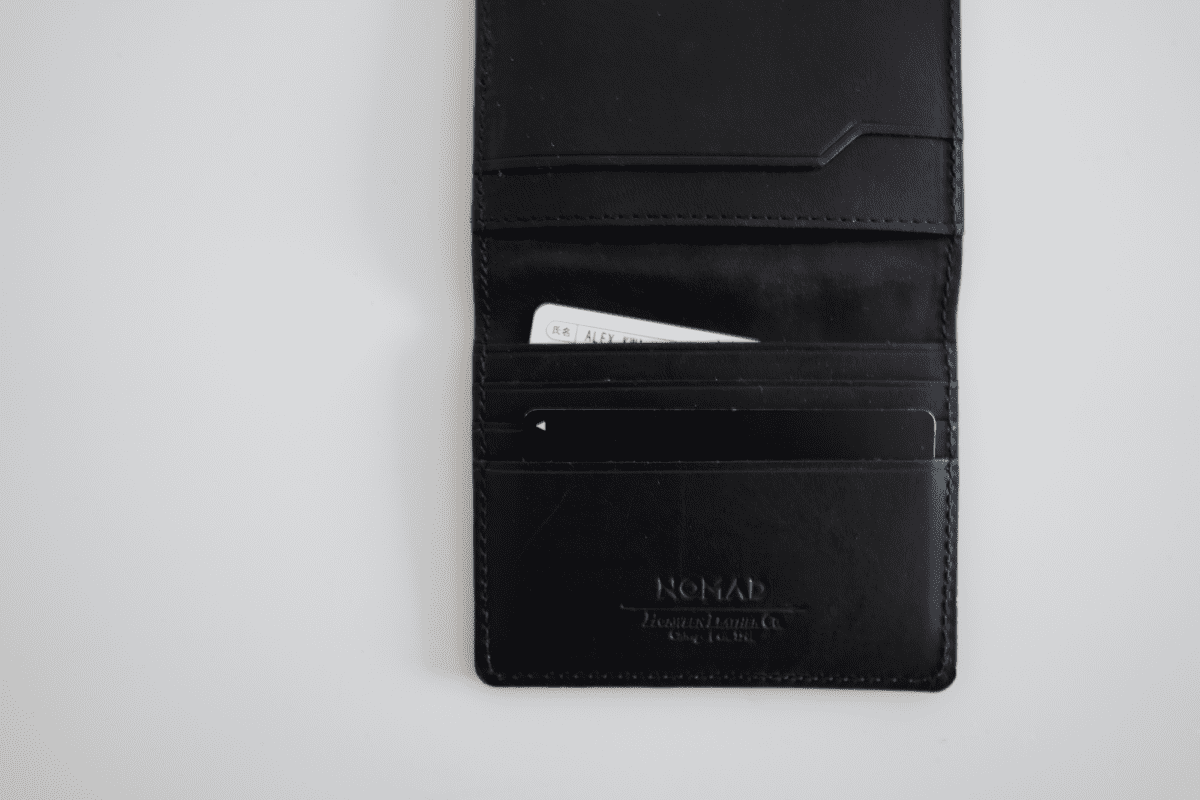 On the other side, there are just two slots. One slot covers your card fully, and within it, there is an elastic band to hold the Tile tracking device. The elastic band also prevents coins from falling out easily.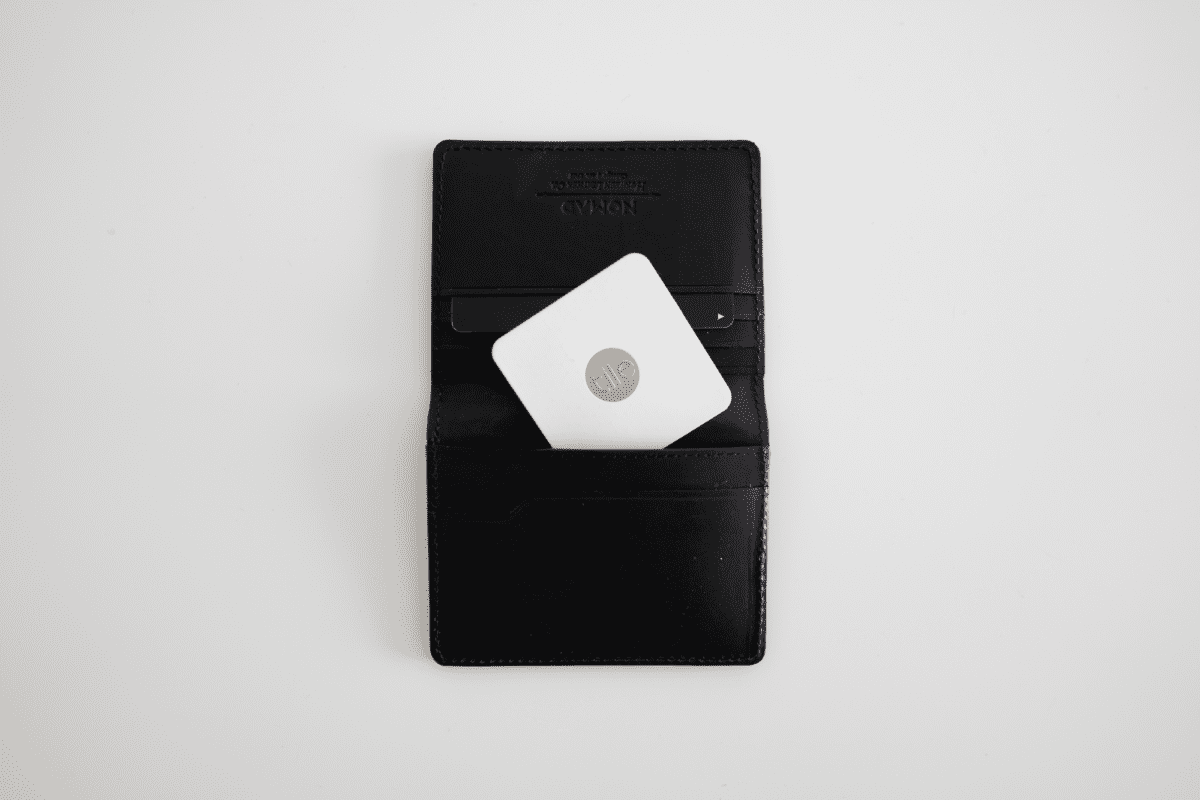 I like to put my notes, unfolded, here to see and pull out the note I want easily. The tension of this slot was tight enough to hold even just one note. However, anything longer than a 1000-yen note (15cm), you would be able to see a glimpse of it when the wallet is closed.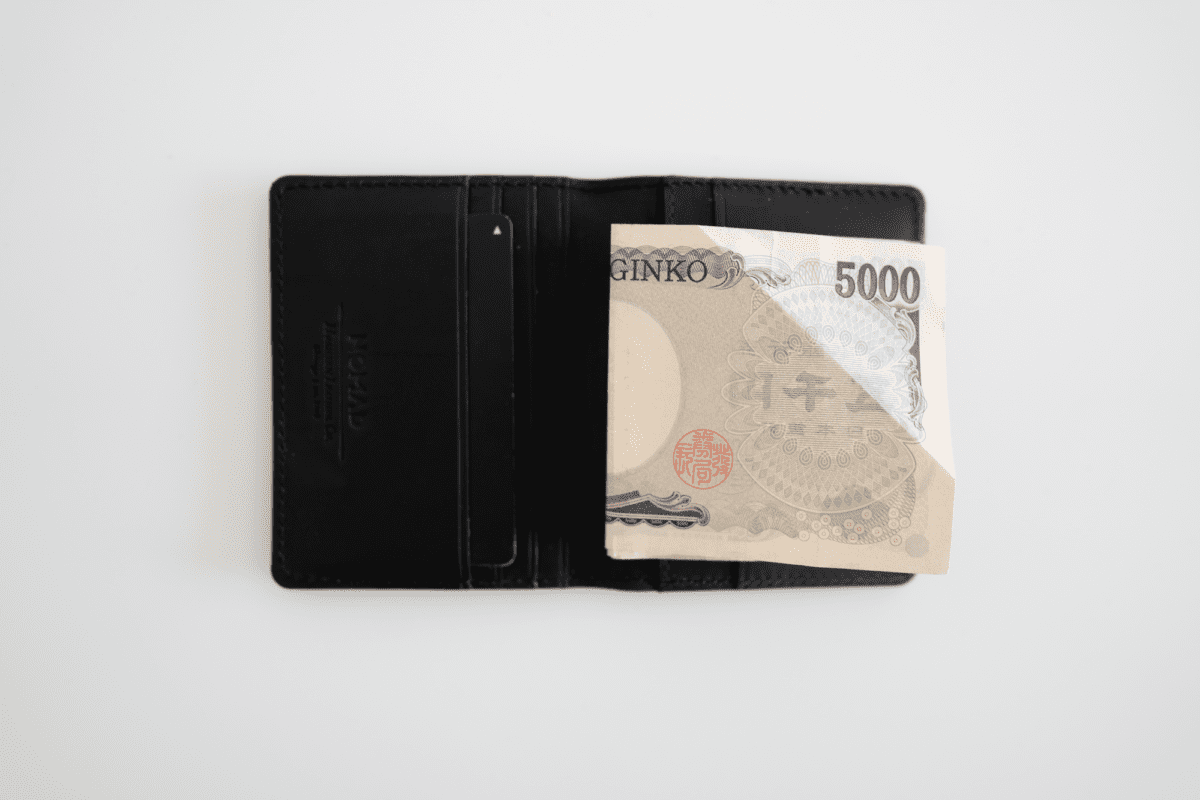 In front of that slot is another slot, but with a cut-out at the corner to allow you to pull out the card easily. While the corner cutout was meant for easy access, it's ironic that this slot was a tight fit because of the extra elastic cutout in the slot behind it. It is harder to pull your card out of this slot than the other slots.
Durability
Even though NOMAD is known to release some of the most rugged products, you will not find any difference in durability compared to other leather products.
Like any leather product, marks and scratches will appear, and keeping it cleaned and conditioned is key to using it for a long time.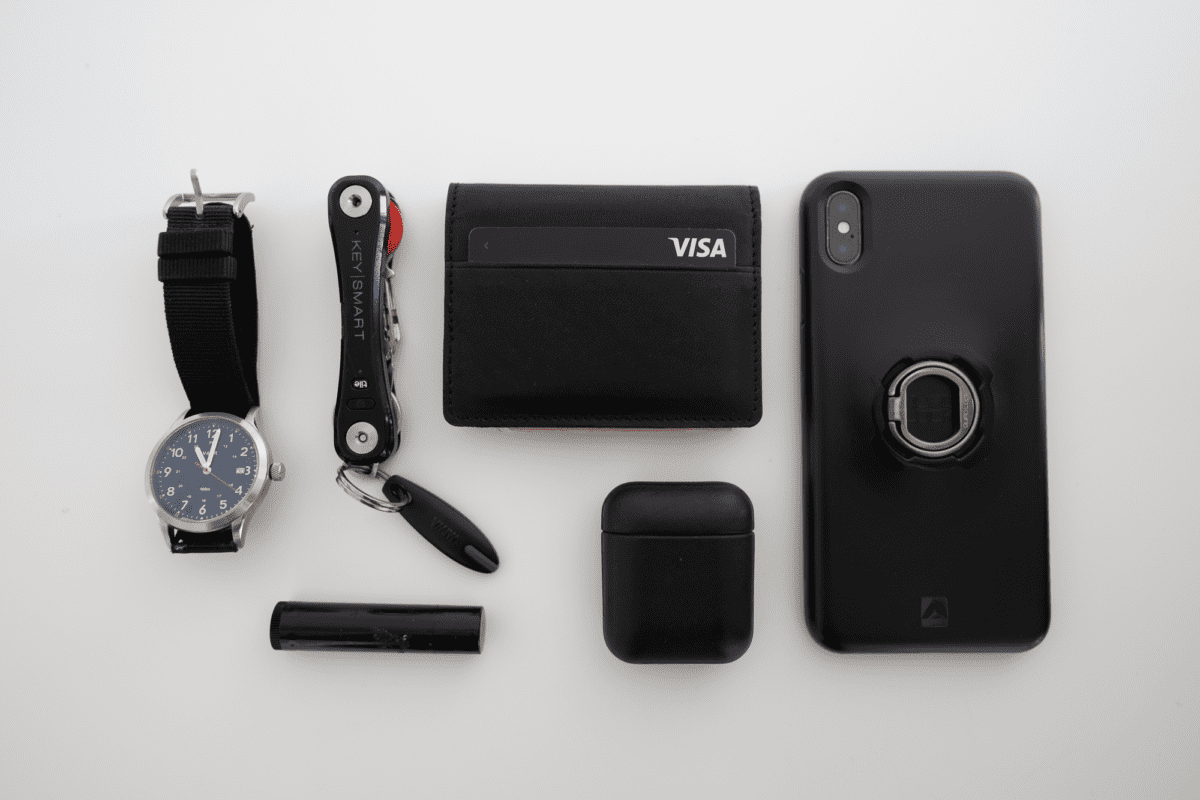 Tile Tracking
You'll notice that the Slim Wallet comes in two versions. A regular version and a version with Tile Tracking that costs $20 more. Tile is a service that lets you find your things from your phone and vice versa.
If you've enabled Find My iPhone, it's a similar concept but limited to Bluetooth's range.
Basically, within the Slim Wallet is a tile, which is a Bluetooth-enabled tracking device. You set it up with your phone, and when that's done, you can make the wallet produce a sound from the Tile app on your phone.
You can also sound your phone by double-tapping the "tile spot" on the wallet.
Now, I've tried Tile on products like NOMAD Powerpack and Keysmart Pro, and the experience is, at best, hit and miss. When it works, it's pretty cool, but sometimes when you activate it, it just doesn't sound.
While the NOMAD Powerpack can be registered on the Tile app as a device (meaning you can select Nomad Powerpack from a list), the tile on the NOMAD Slim Wallet is just a Tile Slim. You can easily take out and replace the Tile device from the wallet, which is good since the built-in battery lasts only three years.
A Tile Slim actually costs $29.99, so the $20 extra to get the Tile Tracking version is a steal. Whether you need it depends on how often you need to find your phone or wallet. I don't usually misplace my wallet, so I found it unnecessary. I assume most are the same since Nomad sold out the regular version at the time of this review and not the Tile Tracking version.
Slim Wallet vs Shell Cordovan Wallet
Update The Shell Cordovan Wallet was only available for a limited run and is no longer available. It was a great wallet, so tough luck.
The leather used on the Slim Wallet is vegetable-tanned, but you'll notice that NOMAD also offers a limited-edition Shell Cordovan Wallet.
It's a different material.
Shell cordovan is leather made from the fibrous flat connective tissue (or shell) beneath the hide on the horse's rump.
Compared to regular leather, shell cordovan is smoother and exceptionally durable. It's a difference in quality that you can feel. Shell cordovan is widely regarded as the apex of leather grades, often used in high-end bespoke leather shoes. HORWEEN is the most renowned producer of it. So, HORWEEN shell cordovan is simply the best of the best, which also explains the price.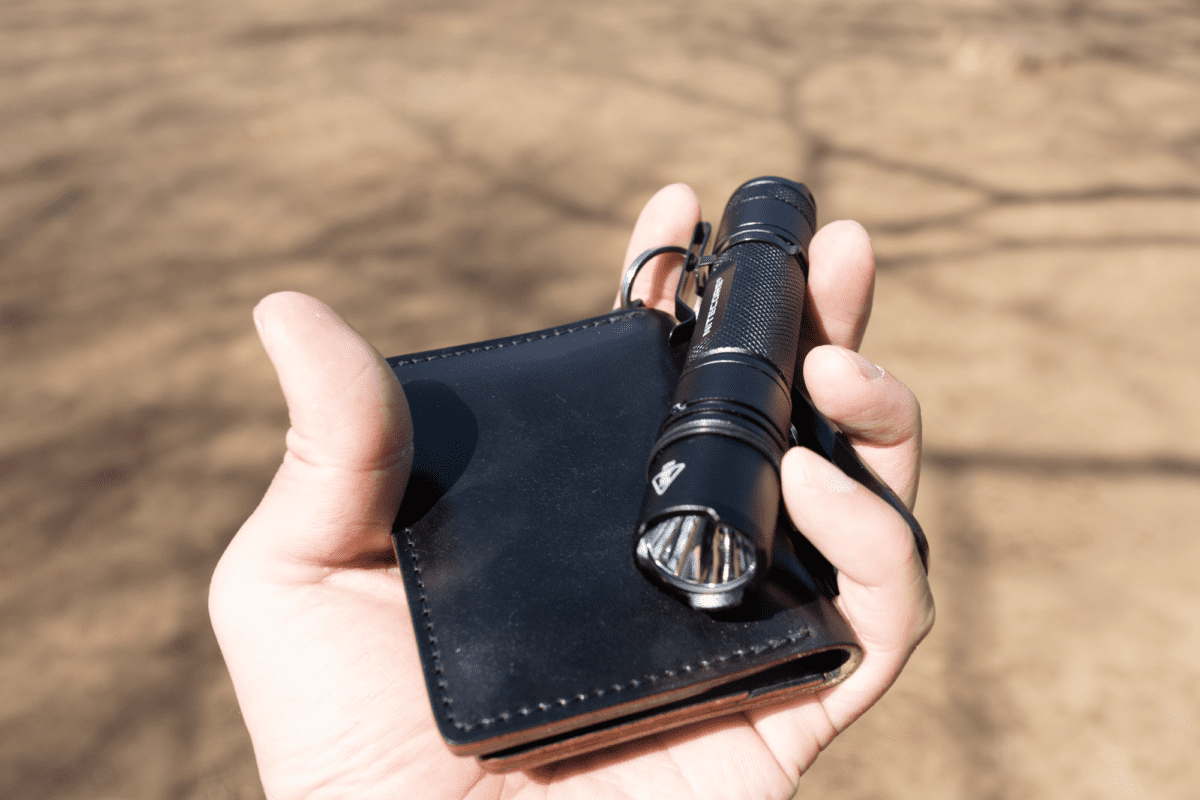 While regular leather can be made from most parts of a horse, each horse can only produce a small amount of shell cordovan. The tanning process for shell cordovan also takes up to six months and takes significantly more skill. This is why the material fetches a premium and is widely considered a "holy grail" material in shoemaking.
Functional differences
There are also some easy-to-miss functional differences between the two.
First of all, there isn't a Tile Tracking version for the Shell Cordovan Wallet. The reason is probably that shell cordovan is not as soft as regular leather, and it will be a tight fit trying to have it contain a Tile device.
The organization is also significantly more minimal on the shell cordovan version. There are two slots on each side on the interior and no external slot. That's four slots compared to a total of seven on the Slim Wallet.
Despite lesser organization, the Shell Cordovan Wallet is much thicker than the NOMAD Slim Wallet. That's because each layer of shell cordovan is about twice the thickness of the regular leather used on the Slim Wallet.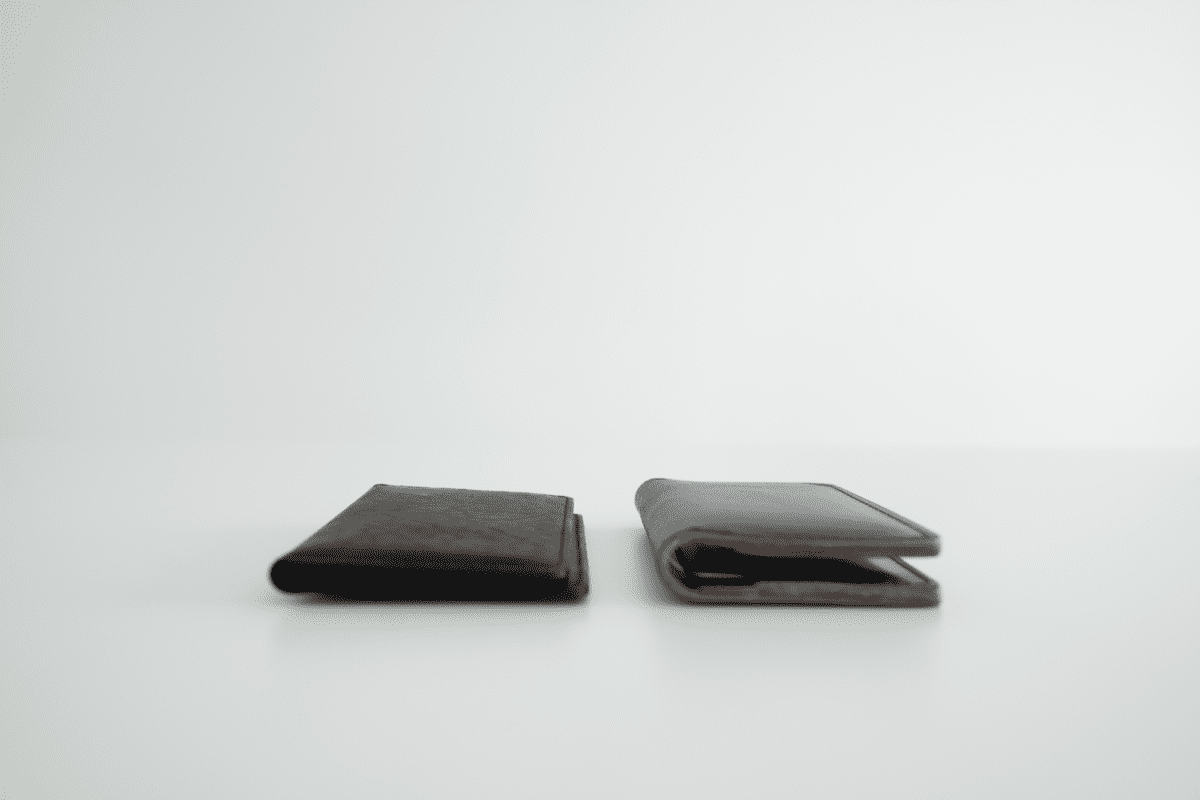 So much so that, even though the same amount of material is used for both, the Shell Cordovan Wallet appears to be smaller because it doesn't bend as much at the fold.
Because of the rigidness of the shell cordovan, it's also harder to get cards and notes in and out of the slots. You also couldn't get them as deep into the slots as the Slim Wallet. Because of this, I could not have the notes unfolded as I did on the Slim Wallet, as too much of it would stick out when the wallet is closed.
Shell cordovan is more durable
The real advantage of shell cordovan is its durability. The smaller pores are what makes it have a smoother finish and a more brilliant luster. The functional advantage to the smaller pores is that they are more water-resistant.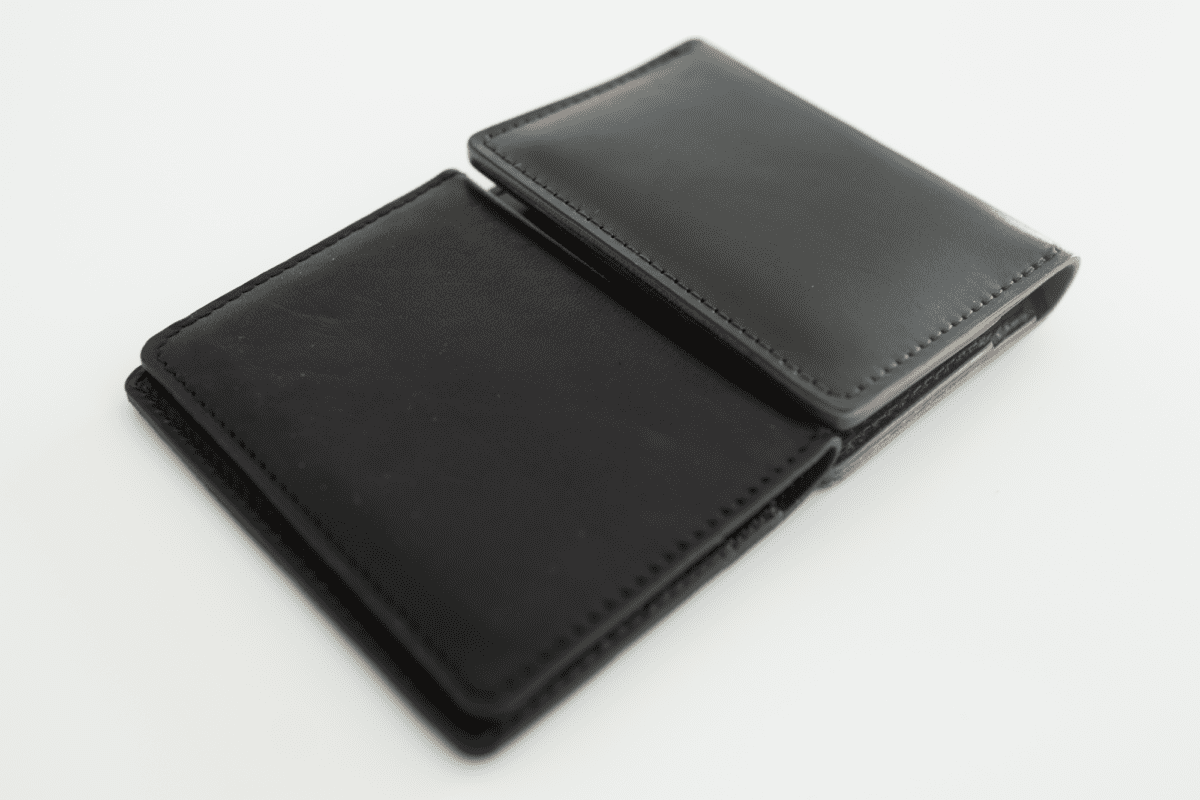 While regular leather will crack and rip over time, shell cordovan tends to "ripple" rather than crease, which helps it maintain its pristine condition for a longer time.
Design differences
The edges of the Shell Cordovan Wallet are not in black like the Slim Wallet. Since shell cordovan is a beautiful material, I guess NOMAD wanted to show off the rawness with natural edges. On the inside, the untreated underside of the leather is visible across the middle, where the material for the slots is not covering.
Which to get?
Functionally speaking, the NOMAD Slim Wallet is a better choice with more organization and the leather being easier to handle. It's also easier to maintain as shell cordovan usually needs specialized products to keep in tip-top shape.
You will be essentially paying $90 more for the most premium leather out there. In fact, you can get two Slim Wallets for the price of one Shell Cordovan Wallet.
Unless you are a leather aficionado that truly appreciates the beauty and longevity of shell cordovan and has extra cash lying around, the Slim Wallet would be the reasonable choice for most.
Conclusion
The NOMAD Slim Wallet is another product befitting of NOMAD's style and quality if It's not that much more special than slim leather wallets out there, especially if you aren't going for tile tracking or shell cordovan version.
On its own, it's a solid piece of leather craftsmanship that won't disappoint.
Additional Images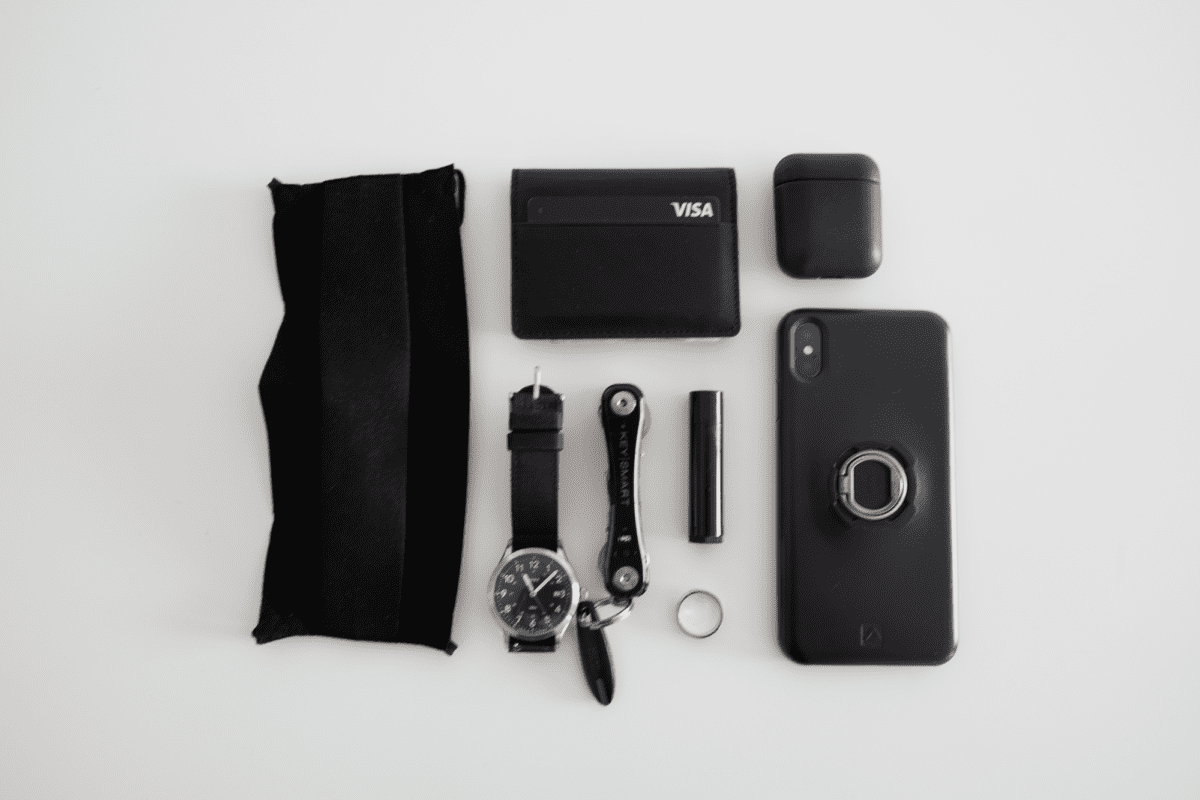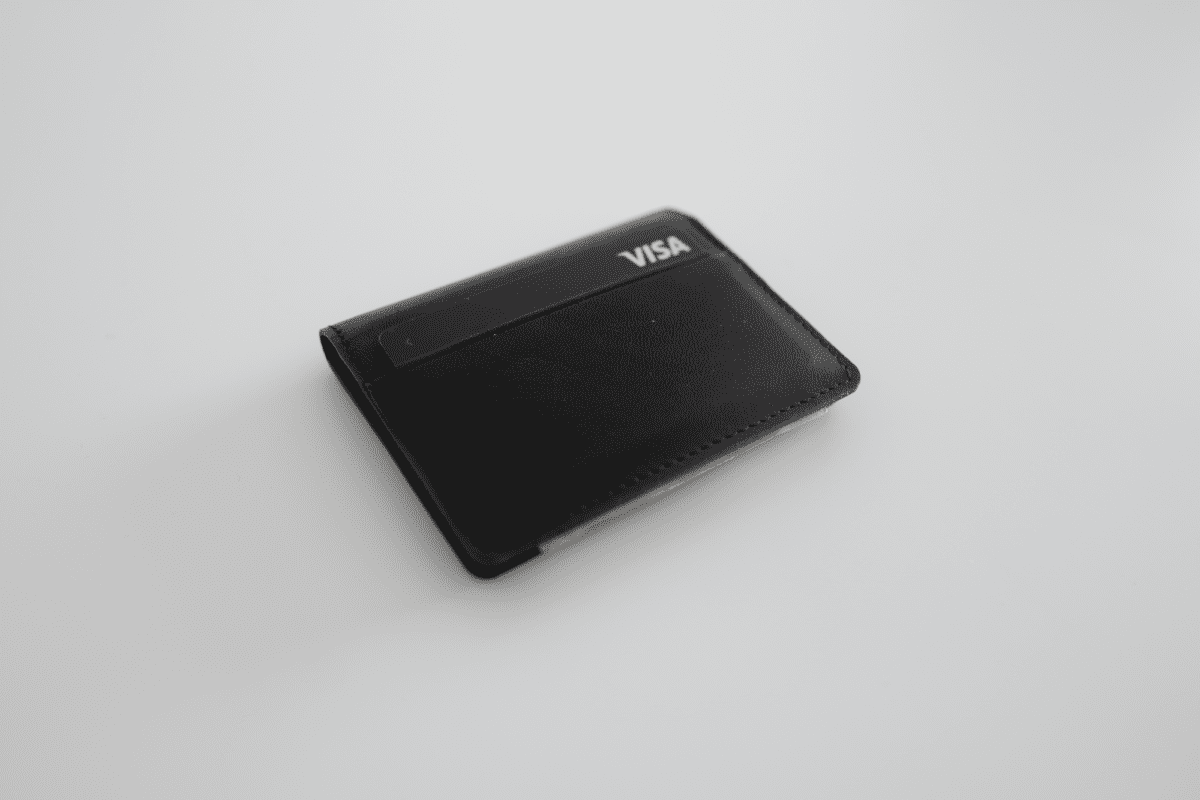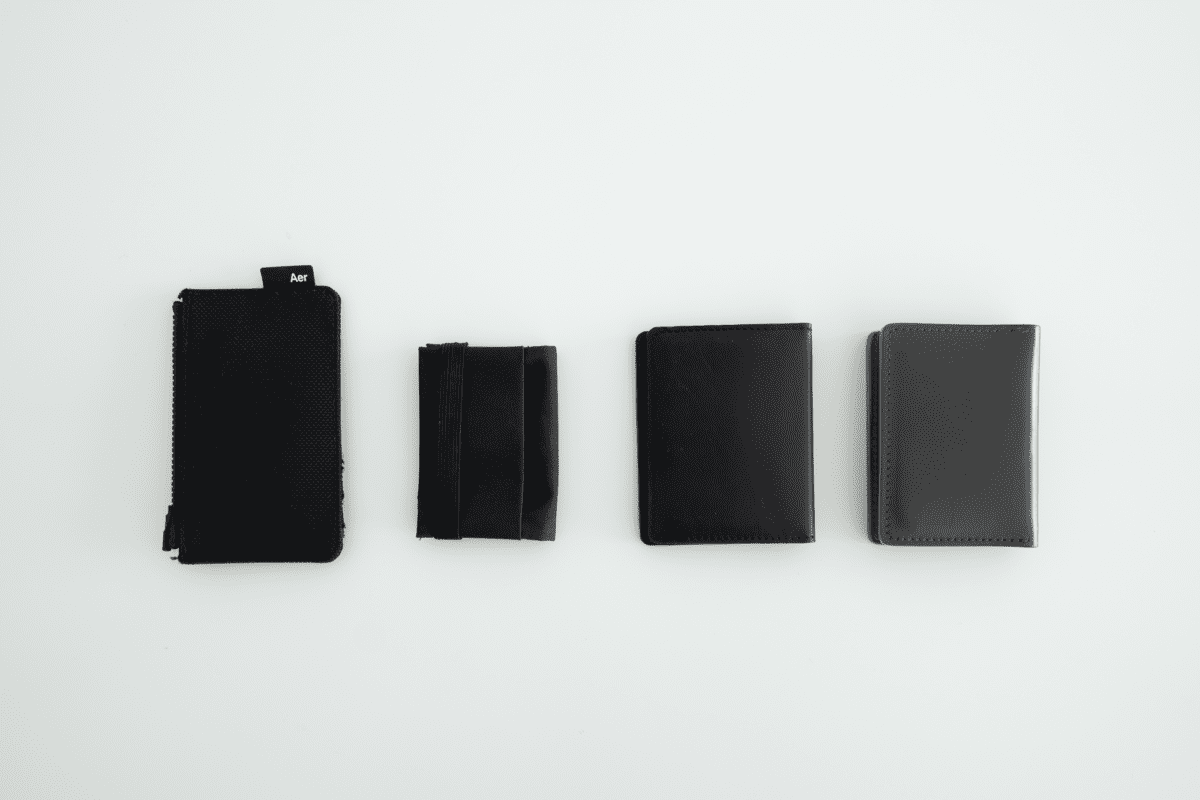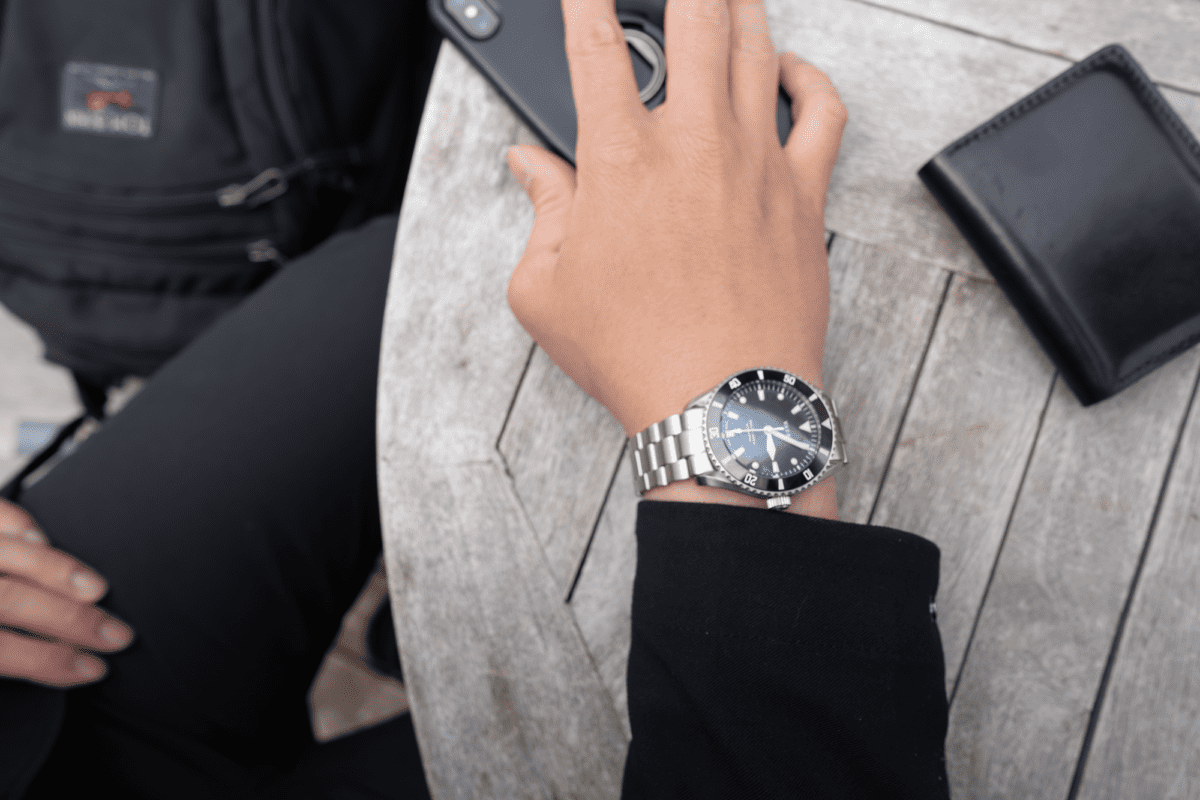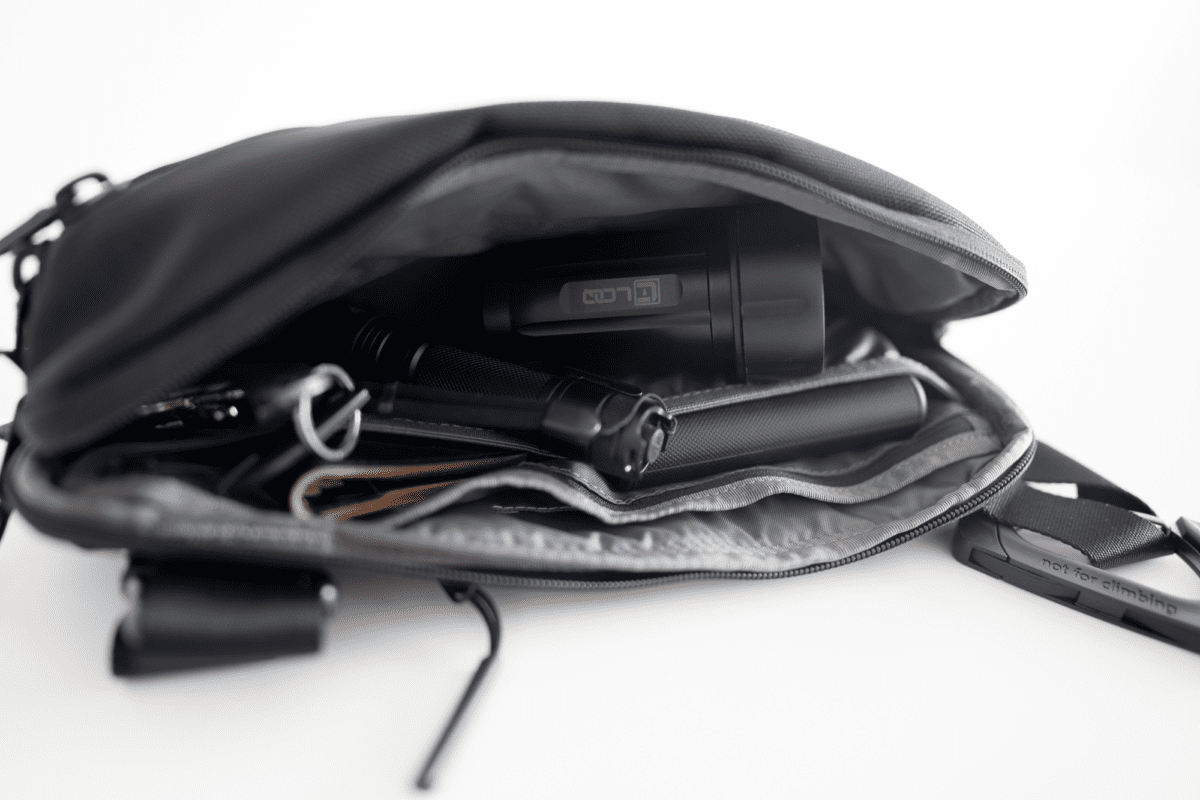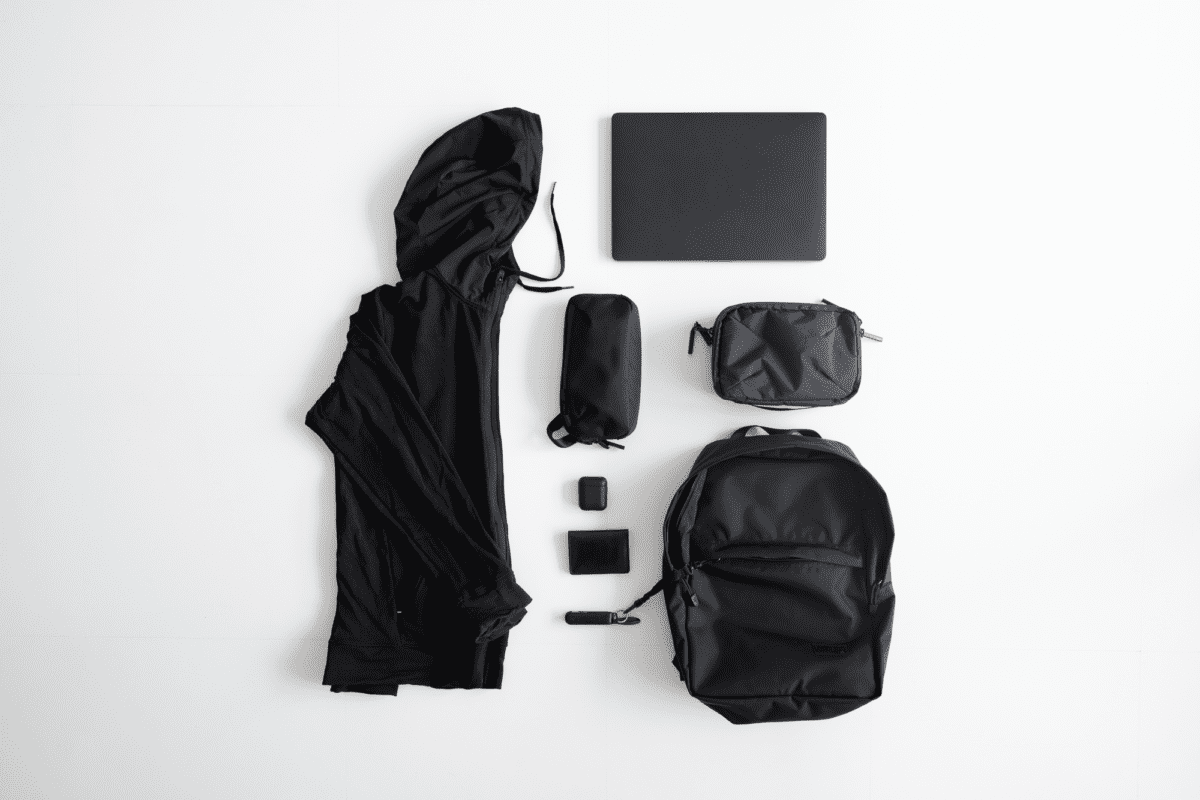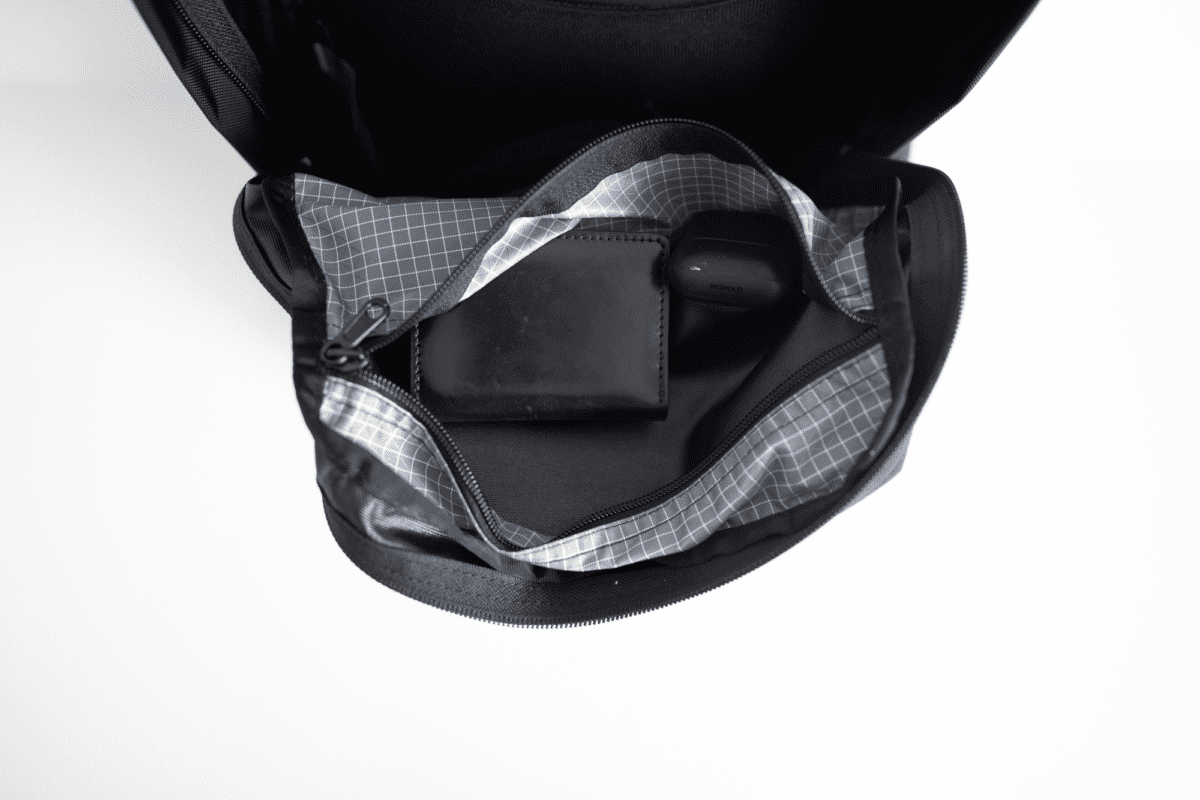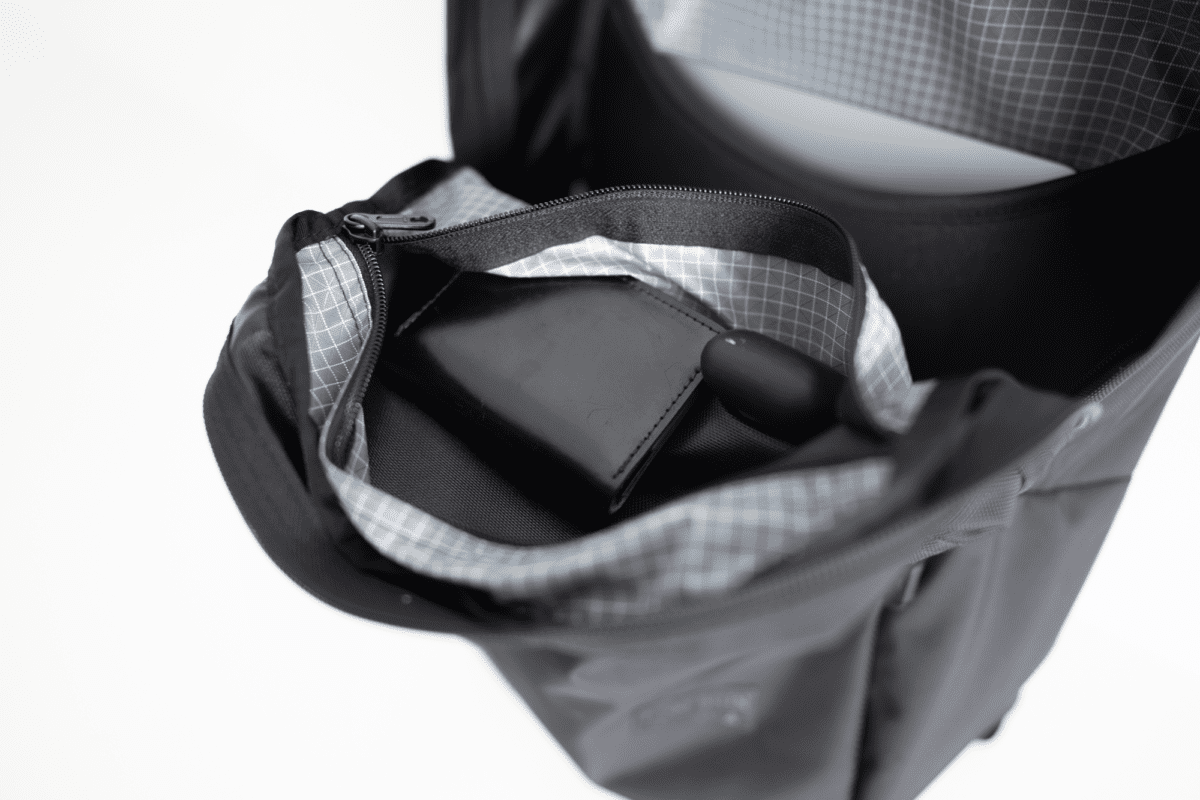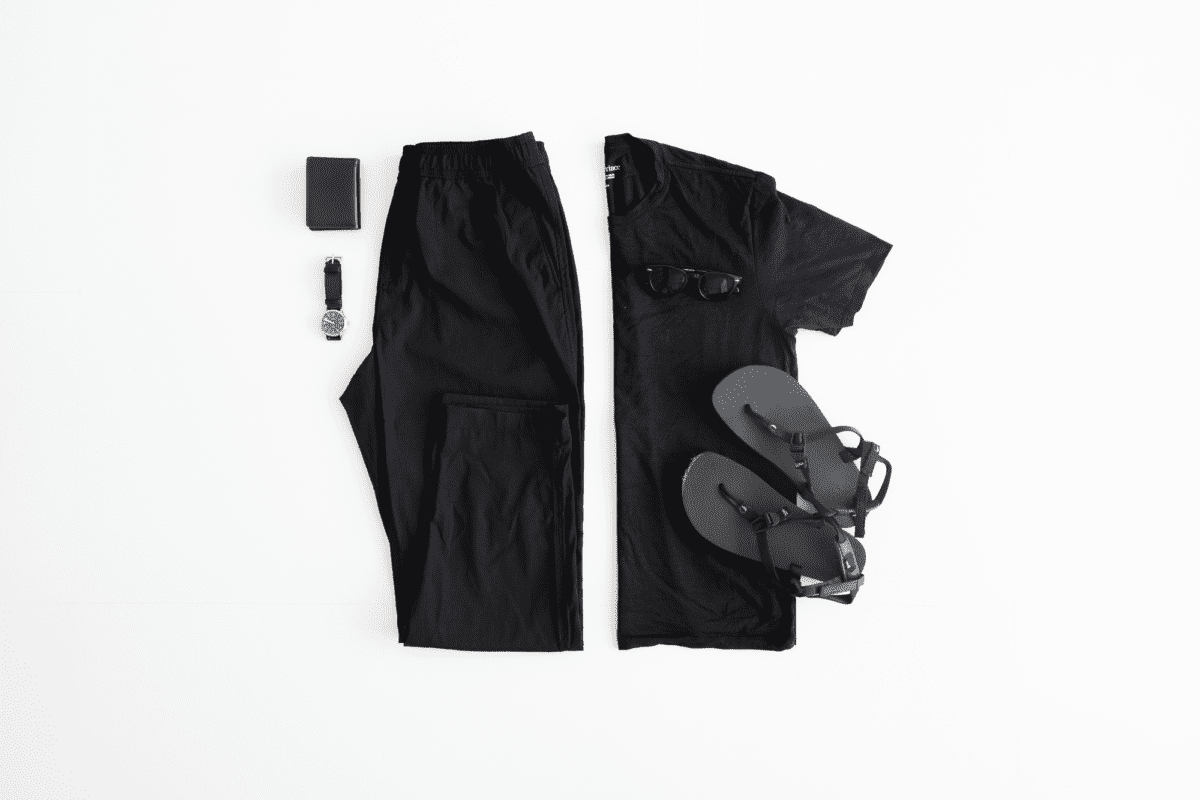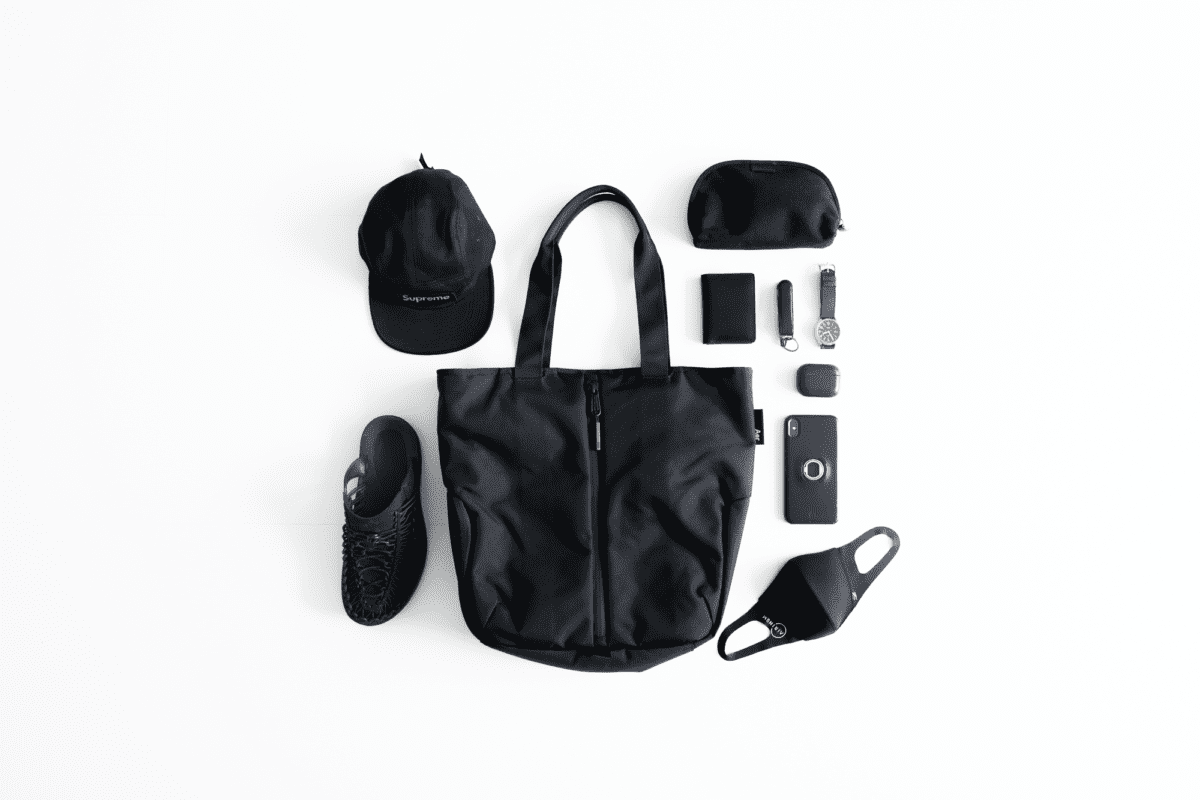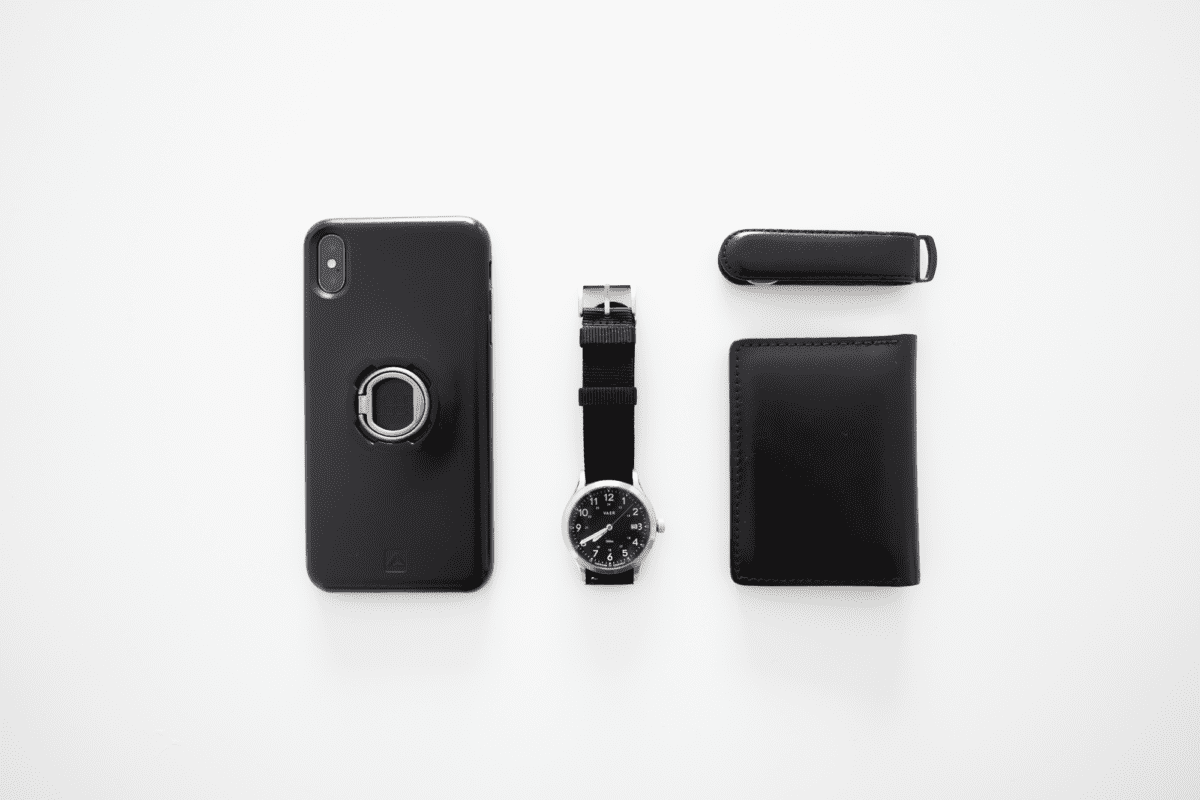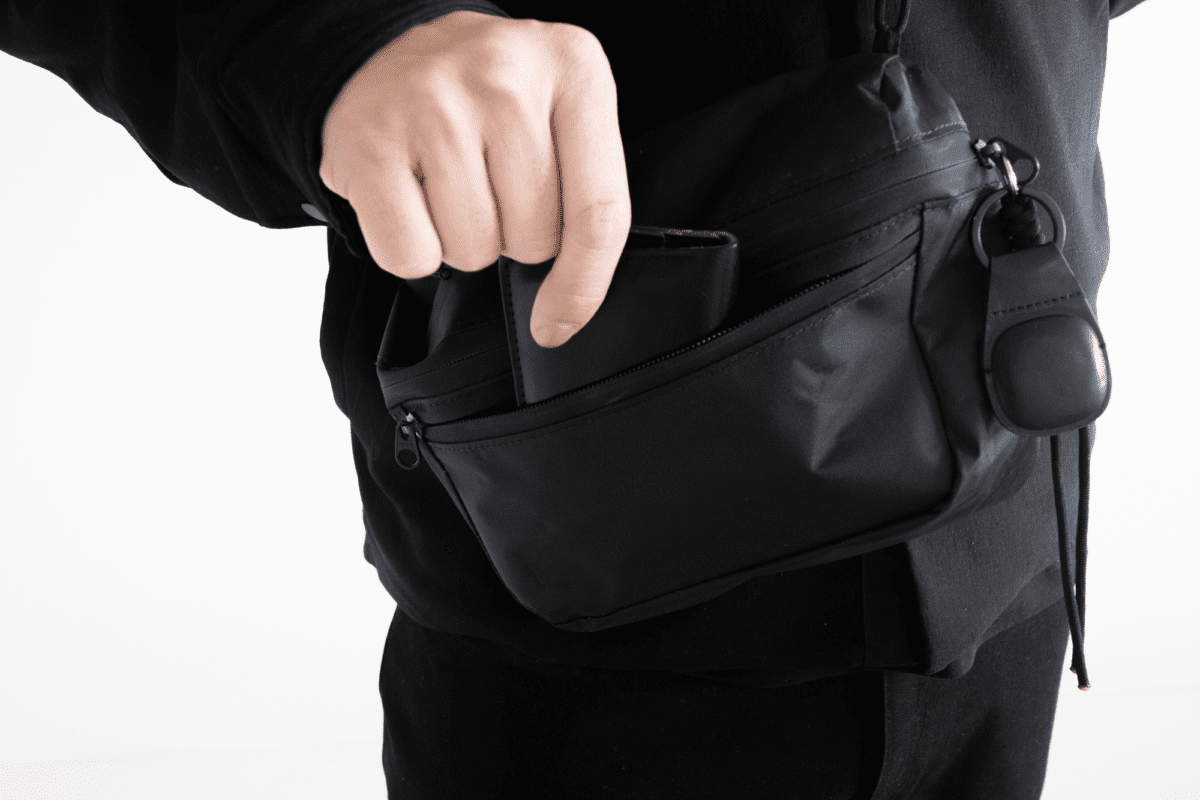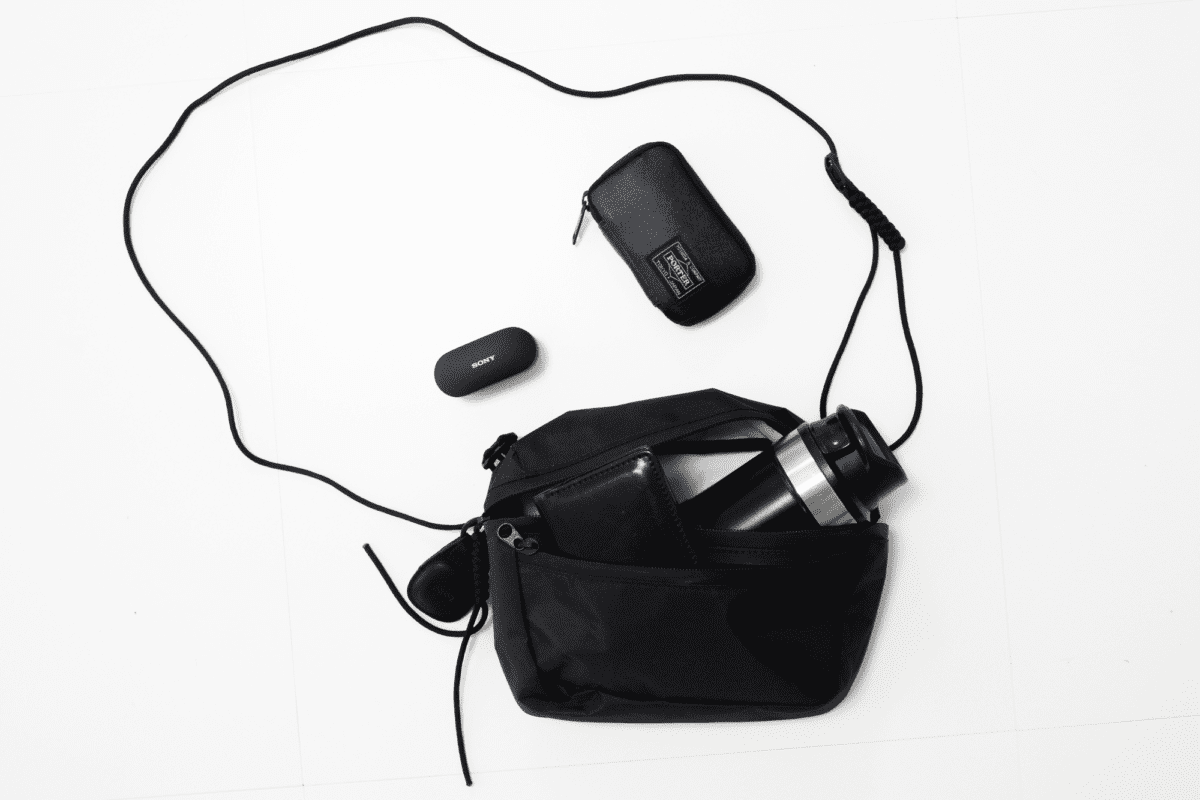 Like this review? See all of my in-depth reviews.
Also, consider supporting me by being a Patreon. Every cent given will go back into improving the content of this website.