Whether you've been in Japan for 10 years or just coming for a 10 day holiday, I wrote this guide to help you maximize your Starbucks Japan experience. Like McDonalds, it's pretty comforting to see a familiar brand name when you are abroad, especially a place as foreign as Japan.
Before I came to Japan, I've always thought those independent cafes (like the one in one of my favorite games, Persona 5) were what most Japanese people go to. But, I was mistaken.
Starbucks is clearly one of, if not, the most popular cafes in Japan. The sheer number of branches and the customer occupancy rate are clear proof of their success. New drinks, such as the infamous Chocolate Banana drink that sparked a national craze, often get sold out.
They also regularly collaborate with Japanese streetwear legend, Fragment Design, on limited-edition merchandise, which adds quite a bit of brownie points for an ex-Hypebeast like me.
As a remote worker, Starbucks has been my lifeline. I visit the cafe a few times a week. In fact, I'm writing this very article from the Starbucks nearby. With countless visits under my belt, I'll be sharing all the information I can to maximize your Starbucks Japan experience.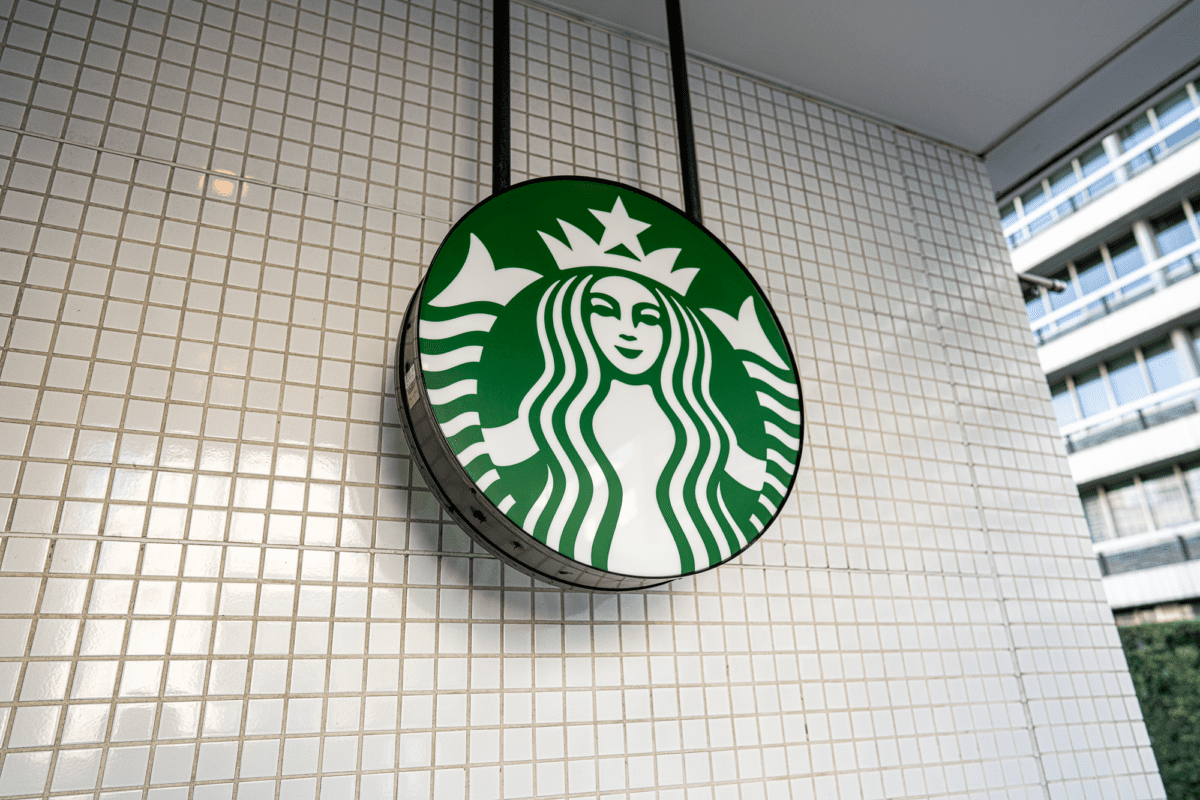 How to Order from Starbucks Japan
Let's start with the basics. How to order? When I first came to Japan, I get pretty anxious even doing the simplest task like ordering food. Luckily, many of the staff at Starbucks, especially in more touristy areas, understand and speak basic English. Just go slow.
1. First, decide the drink you want
Luckily for non-Japanese speakers, most Starbucks have English alongside the Japanese text on the menu. So simply look at which one you want. I recommend going for the seasonal drinks. These are usually not on the menu, but drawn on a chalkboard or on a poster.
2. Choose your size
In Japan, there are four sizes
Short 8 oz or 240 ml
Tall 12 oz or 350 ml
Grande 16 oz or 470 ml
Venti 20 oz or 590 ml
There are a few things to note here. Certain drinks, especially the seasonal ones, only come in certain sizes. For example, at the time of this article, the Chocolate with Almond Praline Frappuccino, was only available in Tall size.
Another thing to note is that there isn't Trenta (30 oz) size in Japan. So trying to order it will likely get you the crossed arms "no" sign.
But no one likes ads, so I got rid of them. If my articles helped you, I ask for your support so I can continue to provide unbiased reviews and recommendations. Every cent donated through Patreon will go into improving the quality of this site.
3. Iced or Hot
Choose if you want your drink iced or hot. Simply saying "ice" or "hot" will be understood by most baristas. But if you like, you can try it with a Japanese intonation with "ai-ee-su" or "ho-to".
4. Customize your drink
I don't normally customize my drink but there are a host of customization options you can choose from for those who like to do so. Some are free, while others cost a nominal fee.
Add whipped cream ¥50
You can add a small, regular or large amount at the same price.
Add chocolate moose ¥50
This was a limited period option at the time of this article.
Add syrup ¥50
Flavors include

Caramel
Vanilla
Almond Toffee
Chocolate
White Mocha
Tazo Chai

Change to ristretto shot Free
Add shot

1 shot – ¥50
2 shot – ¥100
3 shot – ¥150

Change to decaf ¥50
For some drinks, it might take an extra 5 to 10 minutes to prepare the order.
Change volume of foam milk Free
The default is a regular amount and you can choose less, more or none at no extra cost.
Use a TOGO bag Free
If you order takeout, they'll usually just pass you the cup. You can request a takeout bag at no extra cost.
Add sauce Free

Caramel Sauce
Chocolate Sauce

Change milk

Low fat – Free
No fat soy – Free
Soy – ¥50
Breve – ¥50
5. Pay
If you are a tourist, you'll likely be paying with cash or a credit card. You can even use Apple Pay if you prefer mobile payments.
If you are going to be here for a while, you might choose to get a Starbucks card. It lets you pay for your order with your phone as well as get rewards.
For mobile payment enthusiasts, you might be happy to know that you can also pay with LINE Pay at Starbucks Japan.
Starbucks Japan Rewards Program
For those who are going to be here for a while, you might want to get a Starbucks card. A Starbucks card lets you store value and collect rewards as you spend money.
Here are some details about the Starbucks card and how to get it
You can get the Starbucks card from any Starbucks outlet.
The Starbucks card is free of charge, but you have to charge it a minimum of ¥1000 when you get it.
You can only charge the card value in ¥1000 increments.
You cannot use a Starbucks card that isn't issued by Starbucks Japan.
You can enable auto-charge and your card will be automatically charged by a registered credit card when it falls below a certain amount.
Here are some specifics of the reward program: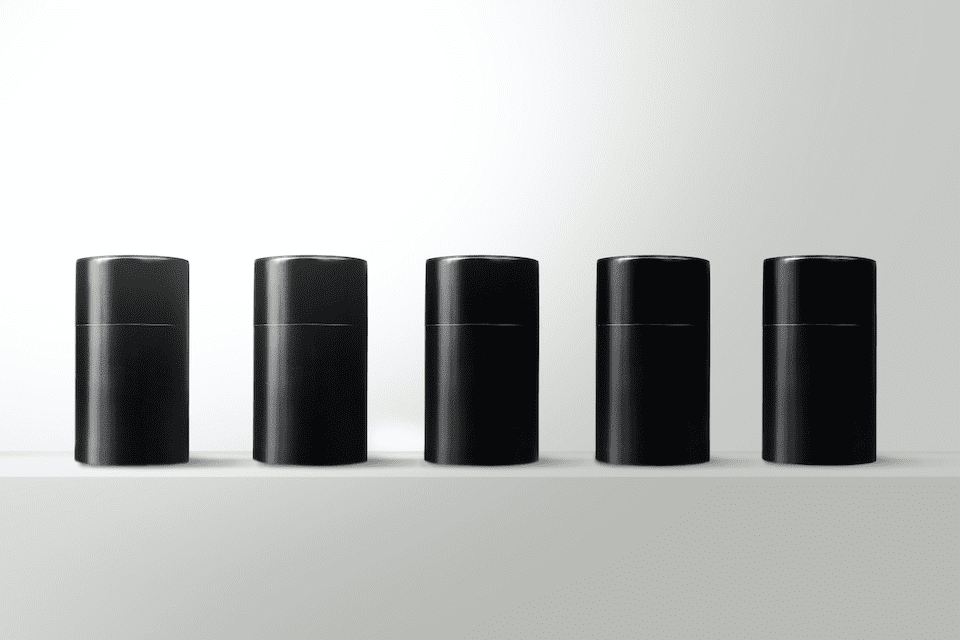 I found a 100 year old company that would create these heirloom quality canisters for me. They are handmade and will keep your tea leaves, coffee beans or anything that you need dry for years to come.
or read review
You get 1 star for every ¥54 spent (including tax).
Once you get 250 stars, you become a gold member.
As a member, for every 150 Gold Stars, you get a reward in the form of an eTicket in your app.
The eTicket doesn't expire until you issue it within the Starbucks app, then, it expires in 30 days.
Each eTicket can be exchanged for any single menu item, including drinks with customizations, coffee beans or food up to a value of ¥700. It can't be used for goods such as tumblers, coffee seminar or to top up your Starbucks card.
So, you actually need to spend ¥21,600 to get your first drink which is why I think it's pretty pointless for tourists to get this.
If you register your Starbucks card into the Starbucks Japan app (available iOS and Android), you can buy and get rewards without the physical card. This is highly recommended for minimalists who like a clutter-free wallet.
Does Starbucks Japan have free WIFI?
The answer is yes. Compared to places like Korea or Vietnam, many Japanese cafes are notoriously backward when it comes to the availability of free WIFI. In fact, this is the reason why many Japanese people and I spend their day at Starbucks.
How to connect to WIFI in Starbucks Japan
Connecting to WIFI in Starbucks Japan is very easy. There isn't any registration neccessary. The speed is usually fast and reliable and works with your laptop or mobile devices.
Look for the network "at_STARBUCKS_Wi2" and connect to it. The SSID is the same at every Starbucks outlet.
A browser popup should appear. Click on the green "Connect" button and then the "Accept" button in the terms and conditions page. Now, you're connected.
The network will disconnect every hour, and you have to go through step 2 to use for another hour.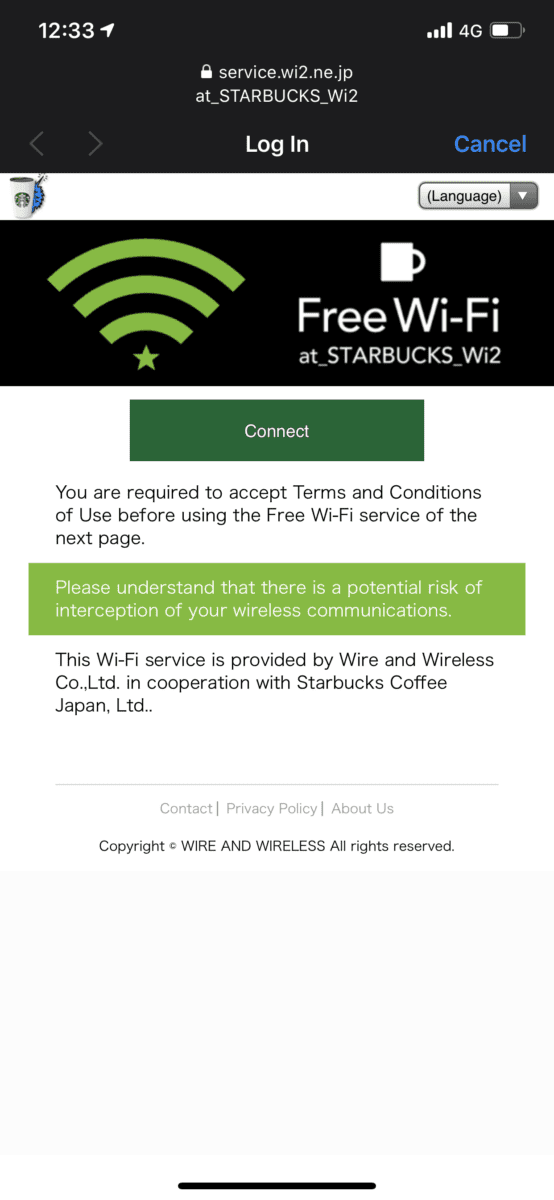 Step 1 – Tap on Connect. Change the language from the top right dropdown if it's in Japanese.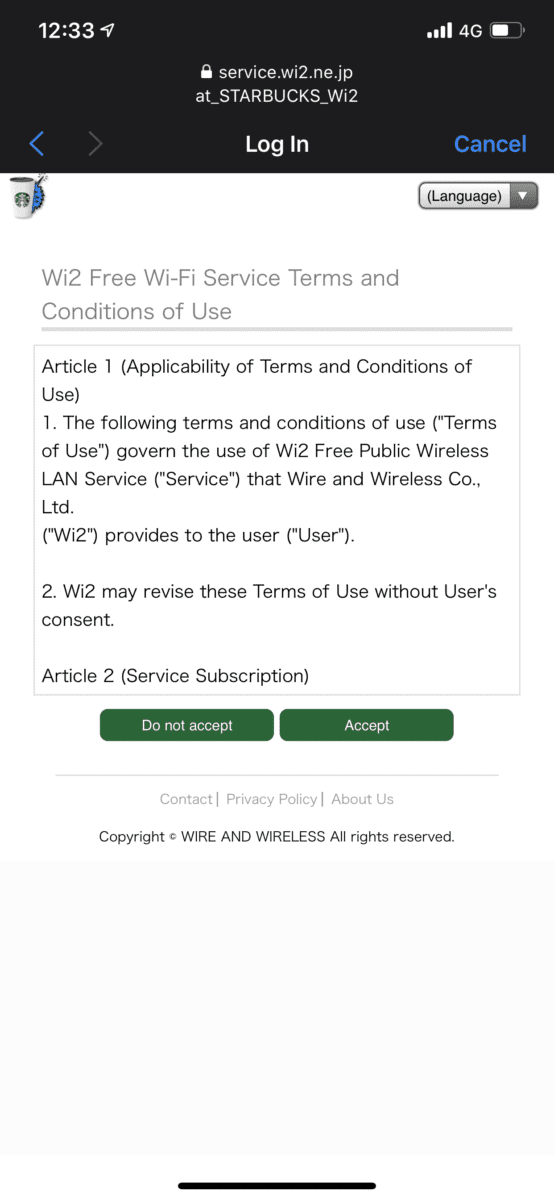 Step 2 – Accept the terms by tapping on Accept.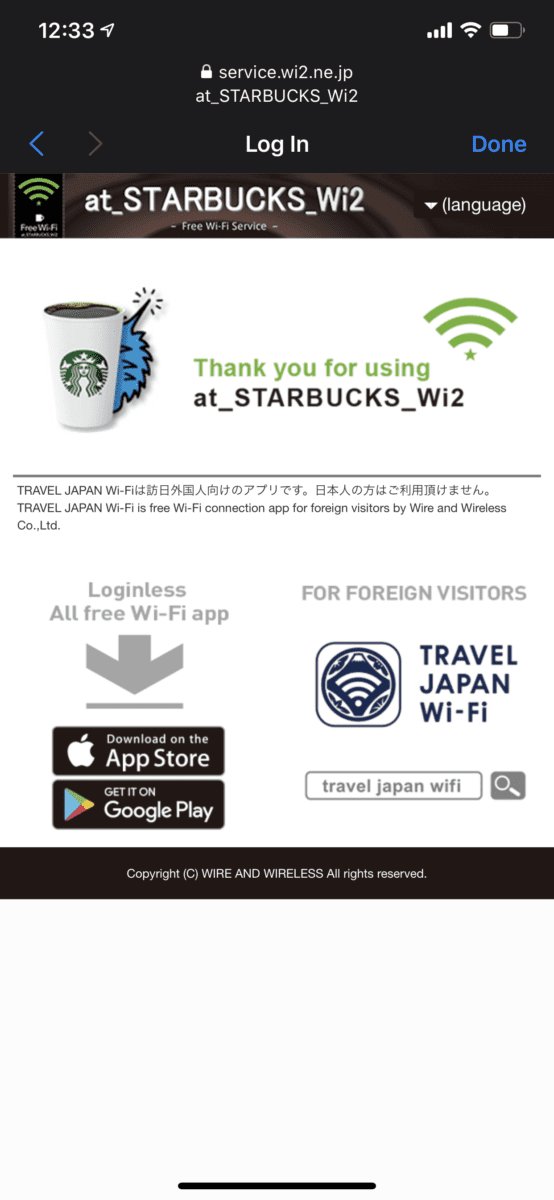 Step 3 – You are connected. Tap in Done to close the window and start surfing.
Technically, you have to buy a drink to use the WIFI here, but because Starbucks is usually so busy, you might be able to use their WIFI for a bit if you are in a pinch.
Are there power outlets in Starbucks Japan?
You'll be also glad to know that there are power outlets available in Starbucks Japan. But there are a few things to note before going down
Not every table has a power socket. Power sockets are usually only available at the window side counters that usually sits solo customers.
The outlets are usually between seats, so if someone is using an oversized adapter, you might not be able to fit your charger in. This is why I use the RAVPOWER 61W Charger which comes in a compact package using GAN technology.
If you are in a busy area like Shinjuku or Shibuya, chances are that it would be hard to get a seat with a power outlet. So, do check before buying a drink.
Tips, Tricks and Hacks
Alright, so now that you got the basics down, here are some ways to power level your Starbucks Japan experience.
One More Coffee
If you order a non-fancy drink like the Drip Coffee or Cafe Misto, your receipt will come with a "One More Drink" ticket.
You can use the coupon on the same day to get a cup of drip coffee at the same size for just ¥108. You can choose between hot or iced, but the size will be the same as the drink you previously ordered.
To get the second cup, just bring your receipt to the counter and say "one more coffee" and then choose between hot or iced. Note that you won't be able to get the discount if you lose your receipt.
If you are going to Starbucks Japan with a friend, you could technically get a coffee and use the One More Coffee ticket for the second cup and just split the total price with your friend.
I don't think there's any condition that says the same person has to also drink the second cup and that would be impossible to track anyway. But I try not to make it too obvious by not ordering the second cup immediately.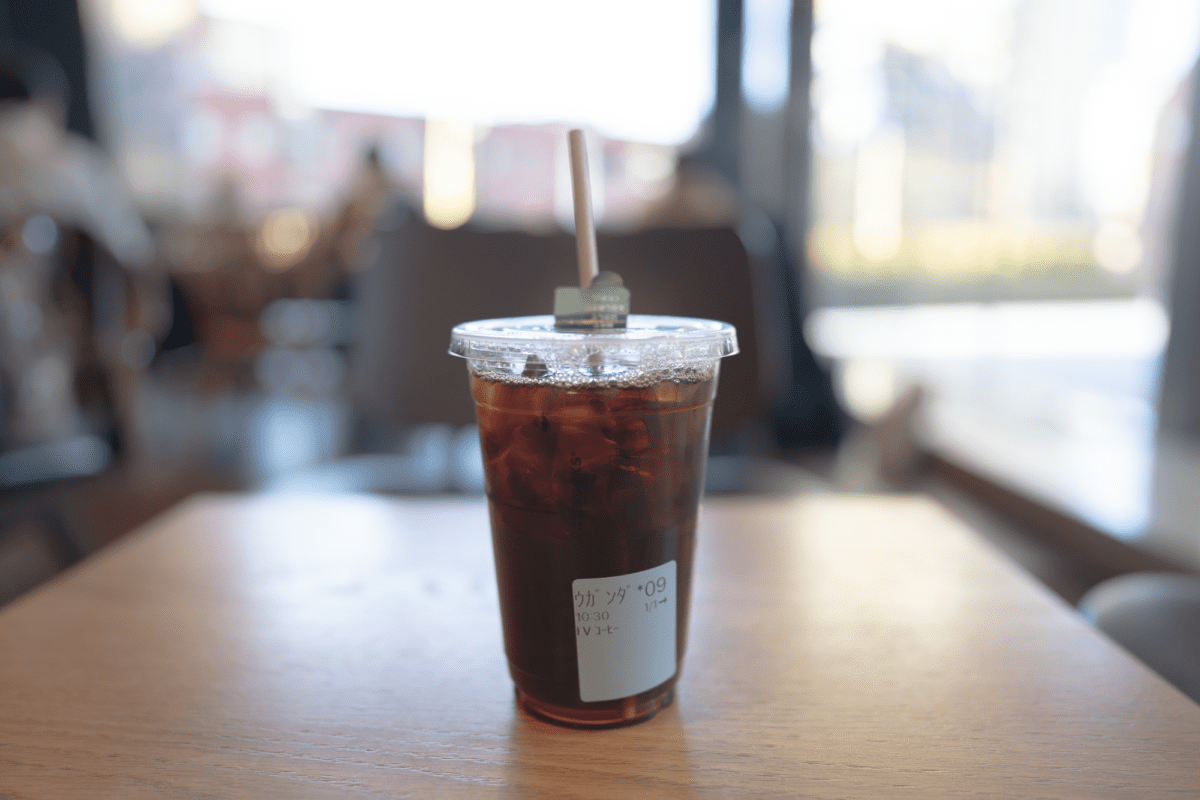 Mobile Order
With the Starbucks App, you can order via mobile if you have a Starbucks card with value registered. This means you don't have to ever queue and some Starbucks outlet have pretty long queues. This is now my default way of ordering.
You can order anything on the menu, even the seasonal drinks. The only limitation is the food. Since the food at each outlet changes day to day and are based on availability, little to no food items are available for mobile order.
Ordering on mobile is pretty easy. While the interface is in Japanese, it should be hard to figure out as it's pretty graphical.
Make sure you have the Starbucks app and have registered your Starbucks card before ordering.
Open the app and tap on the mobile order button
Select the store. A map will appear and just choose the store you are headed to or are at.
Choose if you want to take out or have your order in-store.
Choose your drink. You can even add customizable options.
Press order. The payment method can only be the Starbucks card.
Within a few minutes, the barista will place your order on a black mat reserved for mobile orders. This is at the pick-up counter where the regular pick-ups happen.
The barista won't call for you or anything like that, so just pick it up and be on your way. Your order number will be printed on a sticker on the cup. Based on my experience, this isn't really widely used as of now, and my mobile order is usually the only one at the counter each time.
I'm especially impressed that they manage to implement this mobile order process that you can achieve almost everything you do in a regular order. You can even get the "One More Coffee" eTicket. The only thing is that you can't claim the One More Coffee eTicket via the mobile order, and have to go to the counter to order the second cup.
Take out for a cheaper price
As of October 1st, 2019, the consumption tax in Japan increased from 8% to 10%. But amidst the increase, there were quite a bit of gray areas and poorly thought-through rules.
One of them is the tax for restaurants. If you buy food to go, the tax would be 8%, but if you choose to eat it, it will be 10%.
So, if you choose to take out your coffee, you can get your coffee at 2% cheaper than regular price.
You can buy it as a takeout and then proceed to have your coffee in-store. While this is technically tax fraud and I wouldn't recommend it, it's not something that will or can be enforced in any way.
On the other hand, if you choose to eat in and ultimately decide to take away, you won't be able to ask for a refund of 2%.
Use a tumbler for ¥20 off
Use a tumbler and get ¥20 off your coffee as an appreciation for your environmental friendliness. It doesn't have to be a Starbucks-branded tumbler, but just make sure that the size of coffee you are ordering can fit into your tumbler.
Note that they usually won't wash your tumbler for you before pouring your drink in. If there is some other drink in the tumbler, the most they will do is pour it out and rinse it once before pouring the ordered drink in.
Conclusion
That's it. This is the most comprehensive guide that I can muster up. If you have any questions, please write a comment below so I can improve this guide by adding the answers to them.
Tagged japan life starbucks