This website is made possible by readers. I may earn a small commission when you buy through the links in this article at no extra cost to you. Learn more.
Details
Price $84.95 on nitecorestore.com
Max Output 1000 Lumens
Max Beam Distance 64 m
Max Beam Intensity 1020 cd
Max Runtime

High 1000 lumens / 1hr 15min
Mid 280 lumens / 6h
Low 55 lumens / 28h
Ultralow 1 lumen / 520h

LED CREE XP-L HI V3
Battery 1x 18650 or 2x CR123A
Beam Color White
Overview
Looking for a rechargeable flashlight for your travels? Or wondering if you really need one? Well, I wonder about the same thing.
How many times have you felt the need for lights on your travels? The few times I could think of is when I was trying to get something from my backpack in a shared hostel room after lights out or perhaps, when I dropped something at night and have to search for it in the dark.
Since most of my stuff brought on trips are black, stuffed in black backpacks, finding what I want can sometimes be a challenge without extra help.
As an aspiring minimalist, most of those cases I would default to my iPhone XS Max flashlight and more recently, the Nitecore TINI SS has been a dedicated source of light because of its size.
The MH12GT is nothing like the TINI SS. This is a full-on rechargeable flashlight, which not only means more power, but it also means that you can't make excuses that it isn't an additional item to add to your packing list.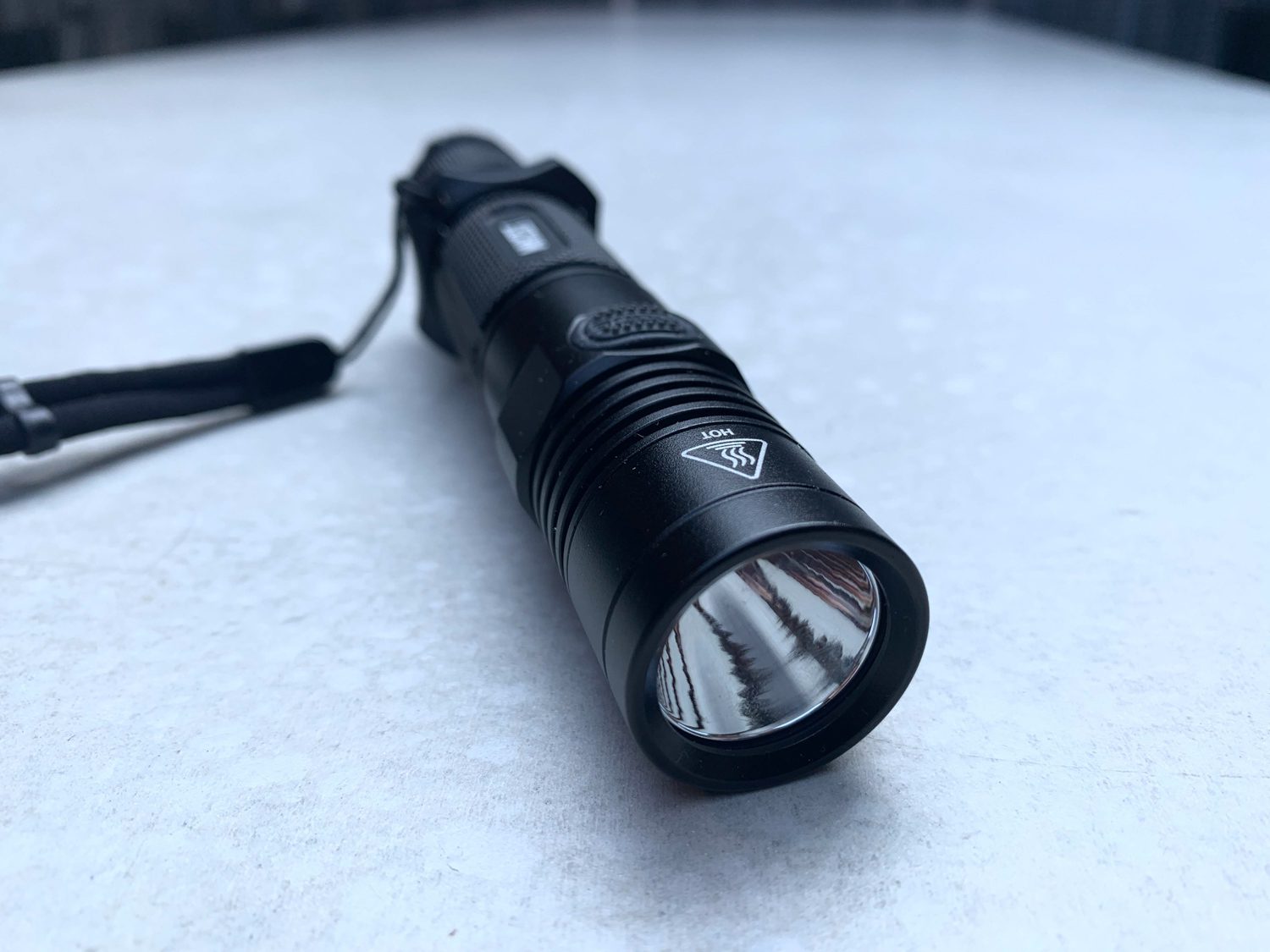 Style
A tactical rechargeable flashlight that goes with just about anything.
The MH12GT comes in just one color, and thankfully, it's the only color I'll write about, black. The black is the perfect color for something so tactical looking. The aluminum alloy body, complete with crisscrossed grip areas makes it look like exactly what the SWAT team would use.
Despite the overall tacticool look, Nitecore, like on the TINI SS, couldn't resist having labels and icons around the flashlight. This spoils the look a little for me.
At the head, there's a "hot" icon as well as CE and RoHS compliance marks and a crossed-out "wheelie-bin" symbol, which means that the product should not be disposed of with your other household waste.
On the center of the body, the model number is also shown. These white marks are kept to a minimum, but I felt that they could have excluded them to add to the stealthy look.
Apart from those details, the choice of materials and sectioned look makes it look ultra-cool.
But no one likes ads, so I got rid of them. If my articles helped you, I ask for your support so I can continue to provide unbiased reviews and recommendations. Every cent donated through Patreon will go into improving the quality of this site.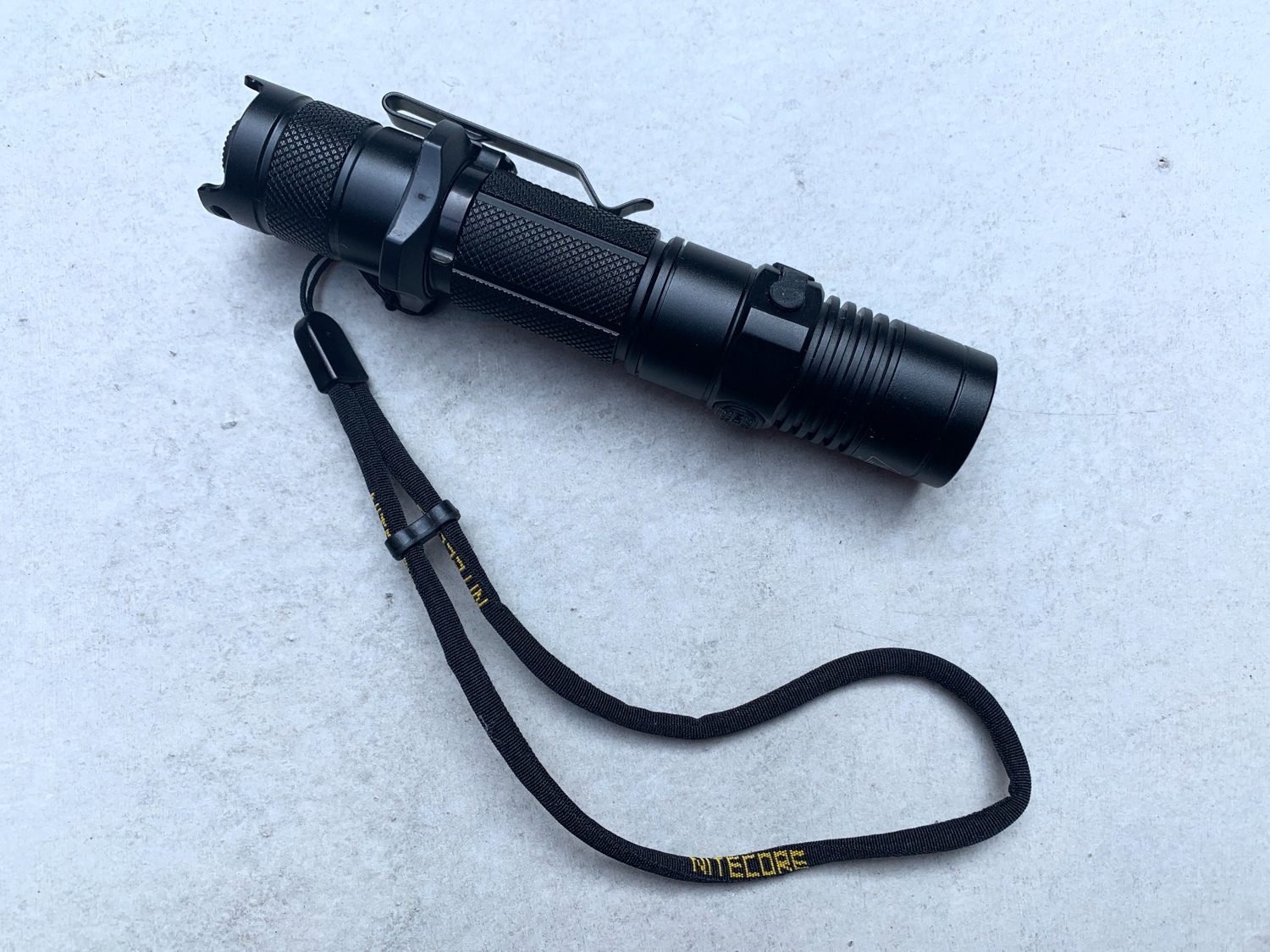 On top of the flashlight, accessories are included with it. Specifically, a flashlight case, a lanyard, a ring for the lanyard to connect to, a clip, a spare rubber stopper for the charging connector and cover for the tail cap button. There were also a few rubber O-rings to assist with internal waterproofing. While I didn't really need any of these, I put them on for your reference in this article.
Compared to many compact rechargeable flashlights, the MH12GT is on the longish side, but is still compact enough to qualify a spot in most's everyday carry.
Material
Packed in a comfortable size that fits your hand nicely, the MH12GT packs a punch with a max of 1000 lumens. It uses the CREE XP-L HI V3 for its LED.
The material of the body is aero grade aluminum alloy with HAIII military grade hard-anodized finish. For flashlights, HAIII is pretty much the top-of-the-line finish you are going to get. While it doesn't mean that it won't get scratched, it'll look pristine for longer compared to flashlights covered only with paint.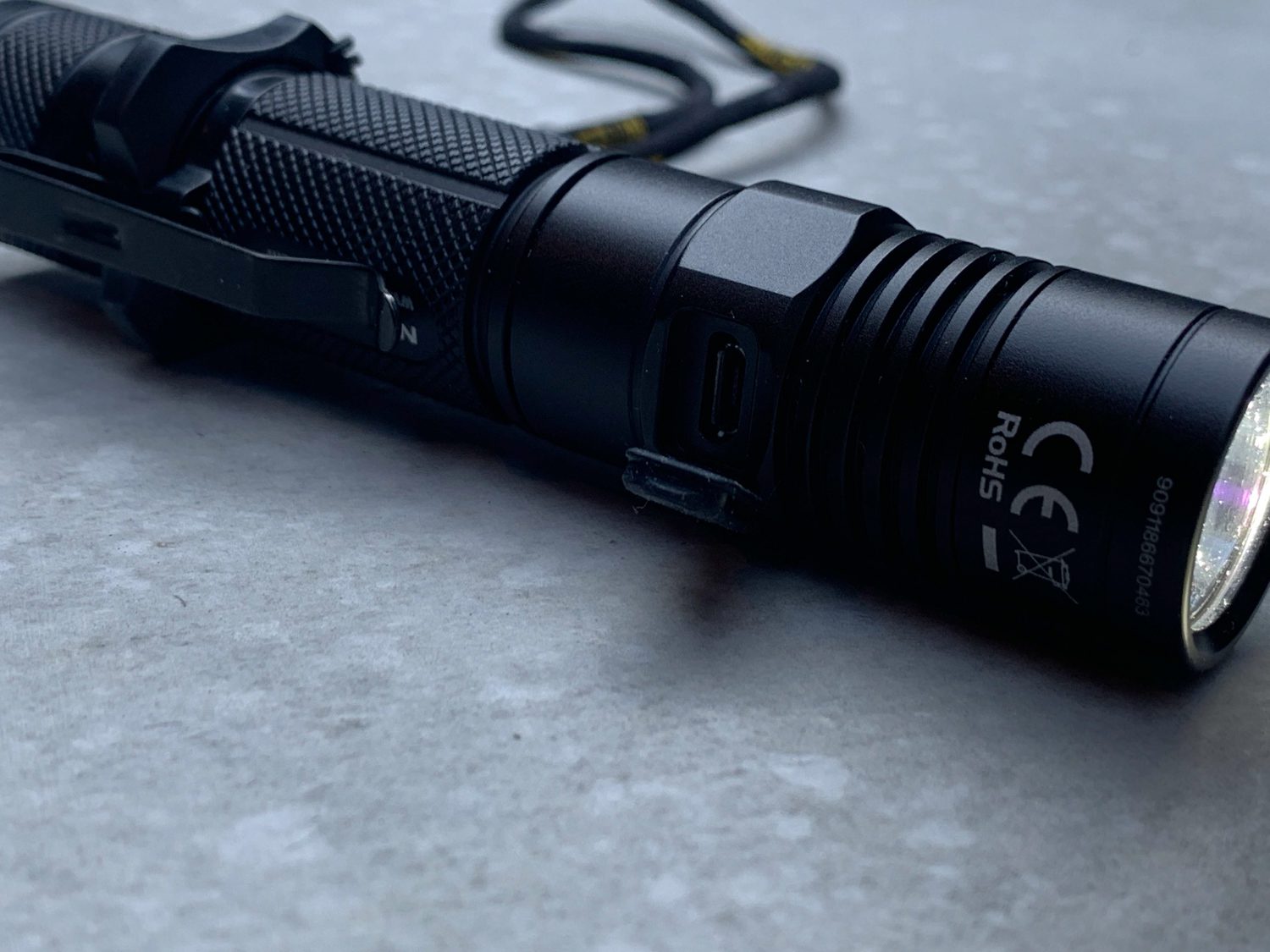 In fact, the finish will up the Rockwell hardness factor of the product to about 65.
This rechargeable flashlight comes with a Nitecore 18650 battery (NL1834 3400mAh) included and you can charge the battery with the built-in charging module. It lets you charge via the micro USB port. Charging a fully-depleted 18650 battery will take approximately 6 hours.
Usage
Does this rechargeable flashlight work as well as it looks?
The rechargeable flashlight can be opened up into three parts. Opening either the tail or head would allow you to access the battery. I used the rubber O-rings provided to try to create better closure, but even the difference of one O-ring caused a loss of connection with the battery. In this case, the charging indicator will flash rapidly when plugged in.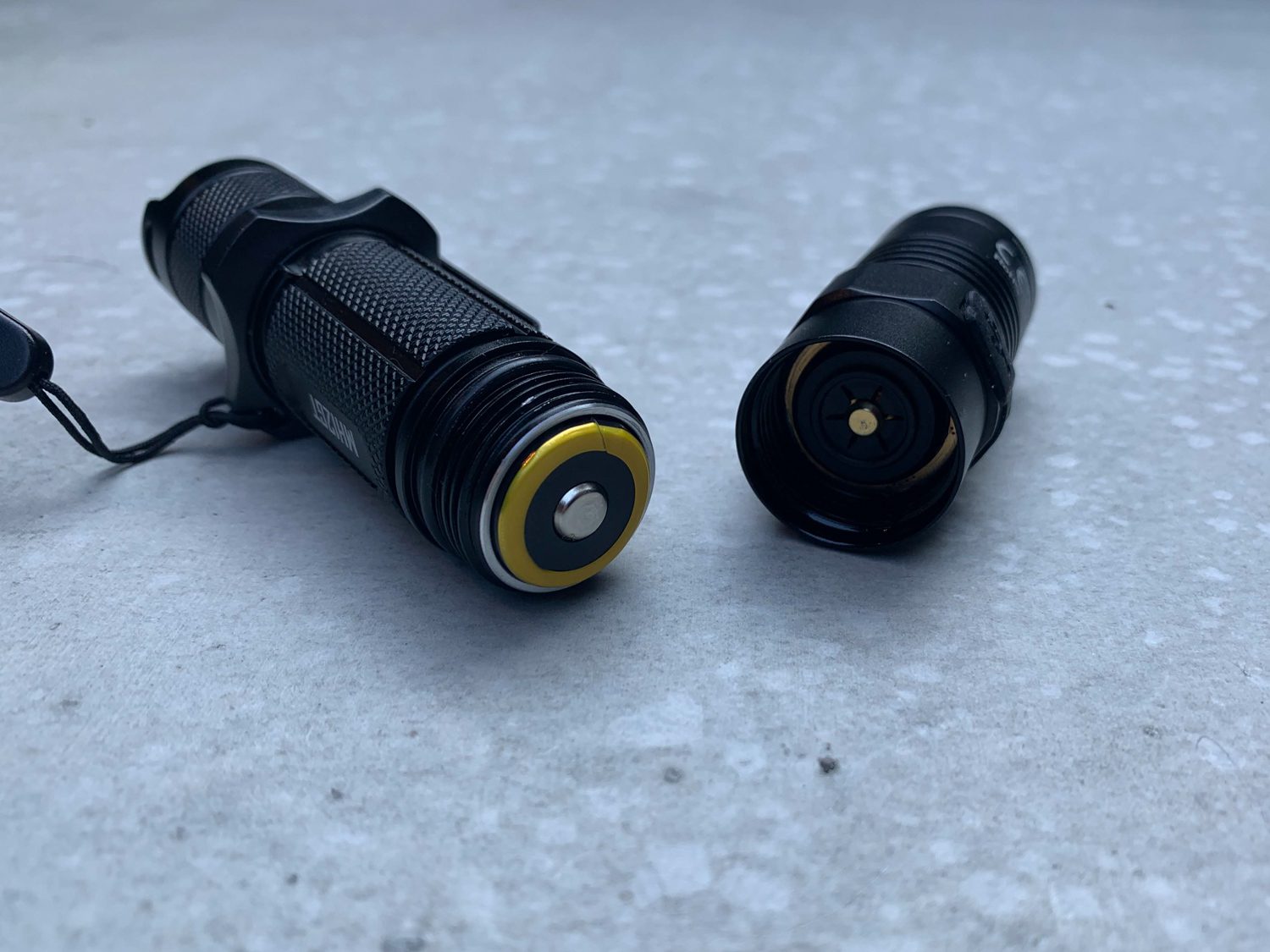 Charging is pretty user-friendly. The charging indicator will blink when charging and stay on when charging has completed. Straightforward.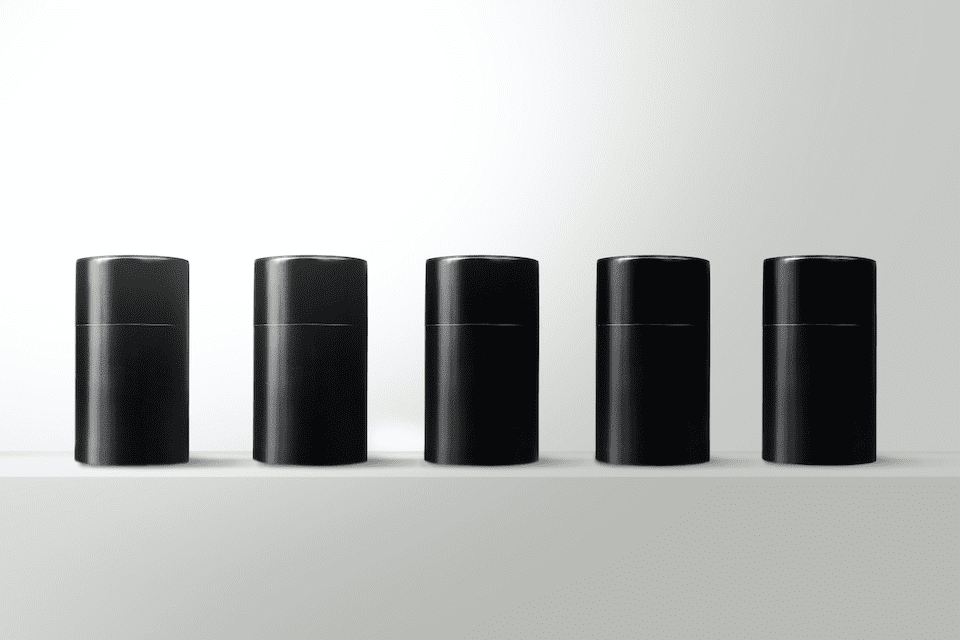 I found a 100 year old company that would create these heirloom quality canisters for me. They are handmade and will keep your tea leaves, coffee beans or anything that you need dry for years to come.
or read review
One thing not too friendly was that the flashlight has to be on to charge. If you happen to have it in ultralow mode, it might be hard to tell if it's on or off.
If you didn't turn on the flashlight before plugging it in, the charging light indicator will flash rapidly, which is also what it will do if you have a battery issue. This makes it hard to immediately determine the cause of the problem.
To turn on the flashlight, simply press the tail button until a click can be heard. You can half-press this button to turn the light on momentarily. At times, it might be hard to get the right amount to press for the momentary light to come on.
While the light is on, press the mode button to cycle between the four modes. The four modes are ultralow (1 lumens), low (55 lumens), mid (280 lumens) and high (1000 lumens).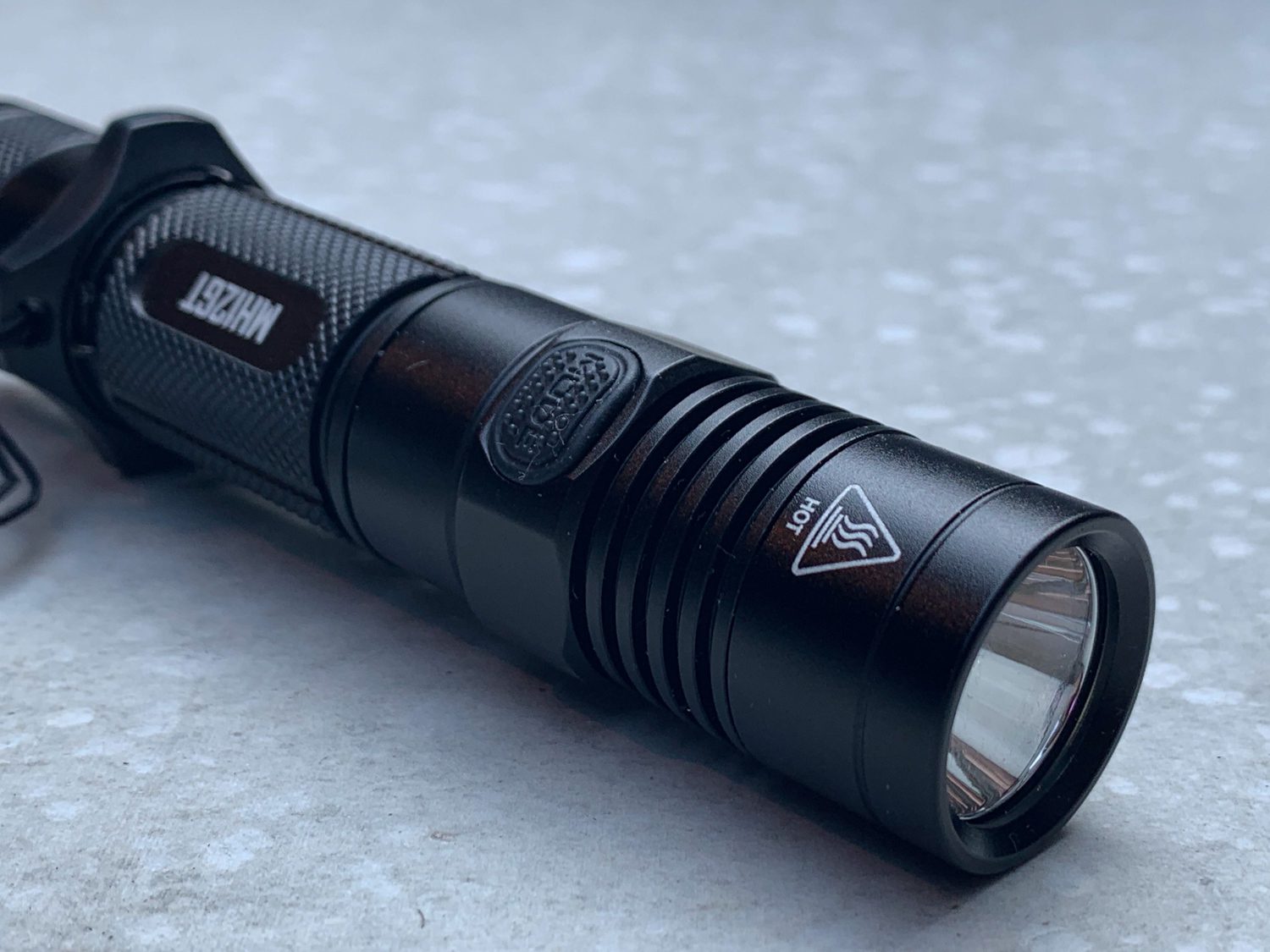 If you long-press (more than 1 second) the mode button, you'll be able to activate strobe mode. In this mode, long-press will let you switch between SOS, location beacon and strobe mode. Pressing the mode button will allow you to return to regular mode. There's an intelligent memory function, so you'll be able to return to the last used light intensity.
I tend to default to the mid mode. The high mode, at 1000 lumens, is crazy bright. I don't go on frequent search and rescue missions so I rarely need that kind of power. The high mode is actually so bright that it hurts your eyes even if you aren't looking at it directly.
At first, I was a little apprehensive with what the ultralow mode is for, since it looks almost off if you turn it on in the day. Turning it on in a pitch dark hostel room, I then realized that this is the perfect amount of light you need to find something in a dark room. This has got to be my most used setting, despite the MH12GT offering up to 1000 times the lumens that.
Comparing the four modes with potato-quality iPhone camera.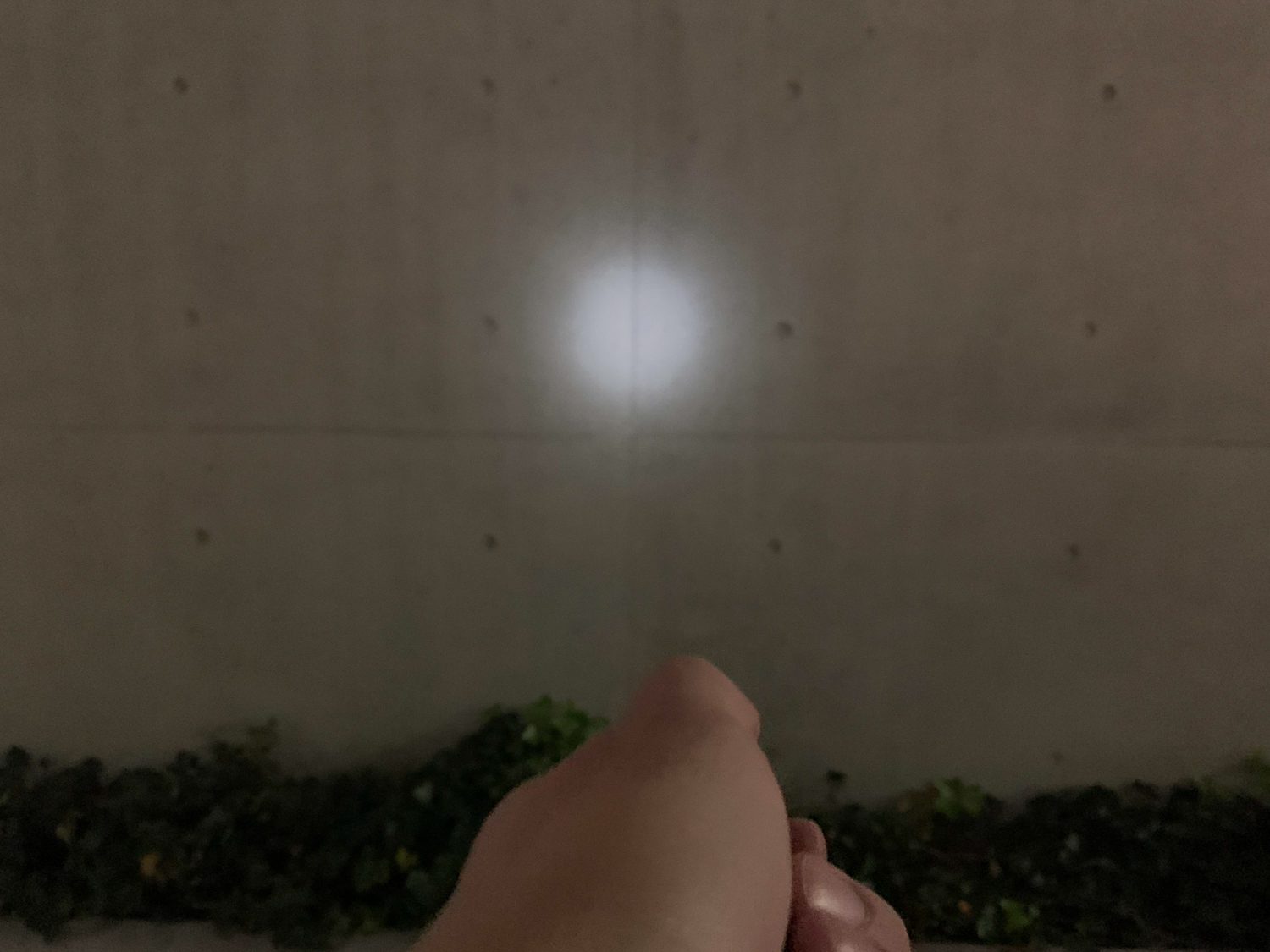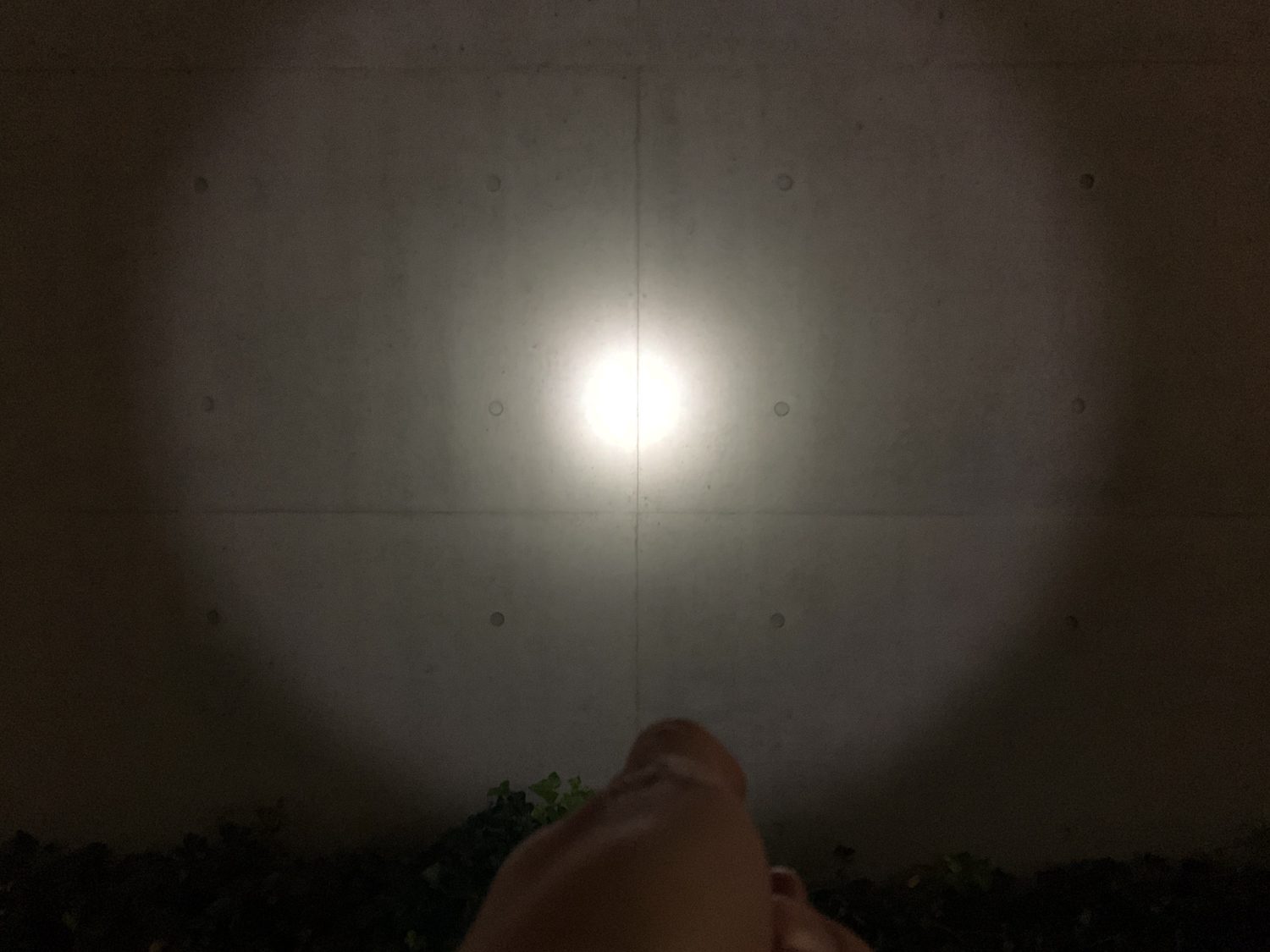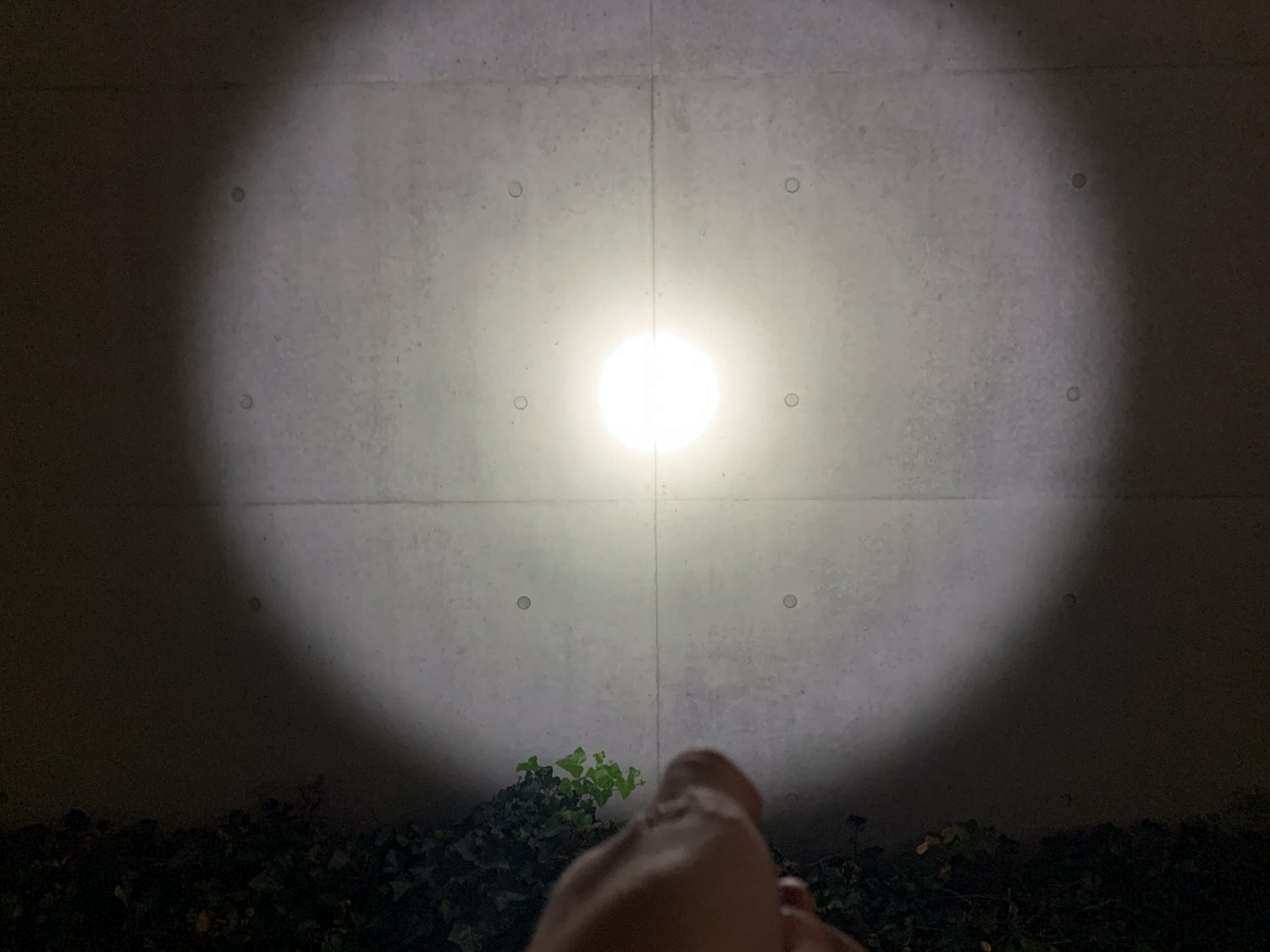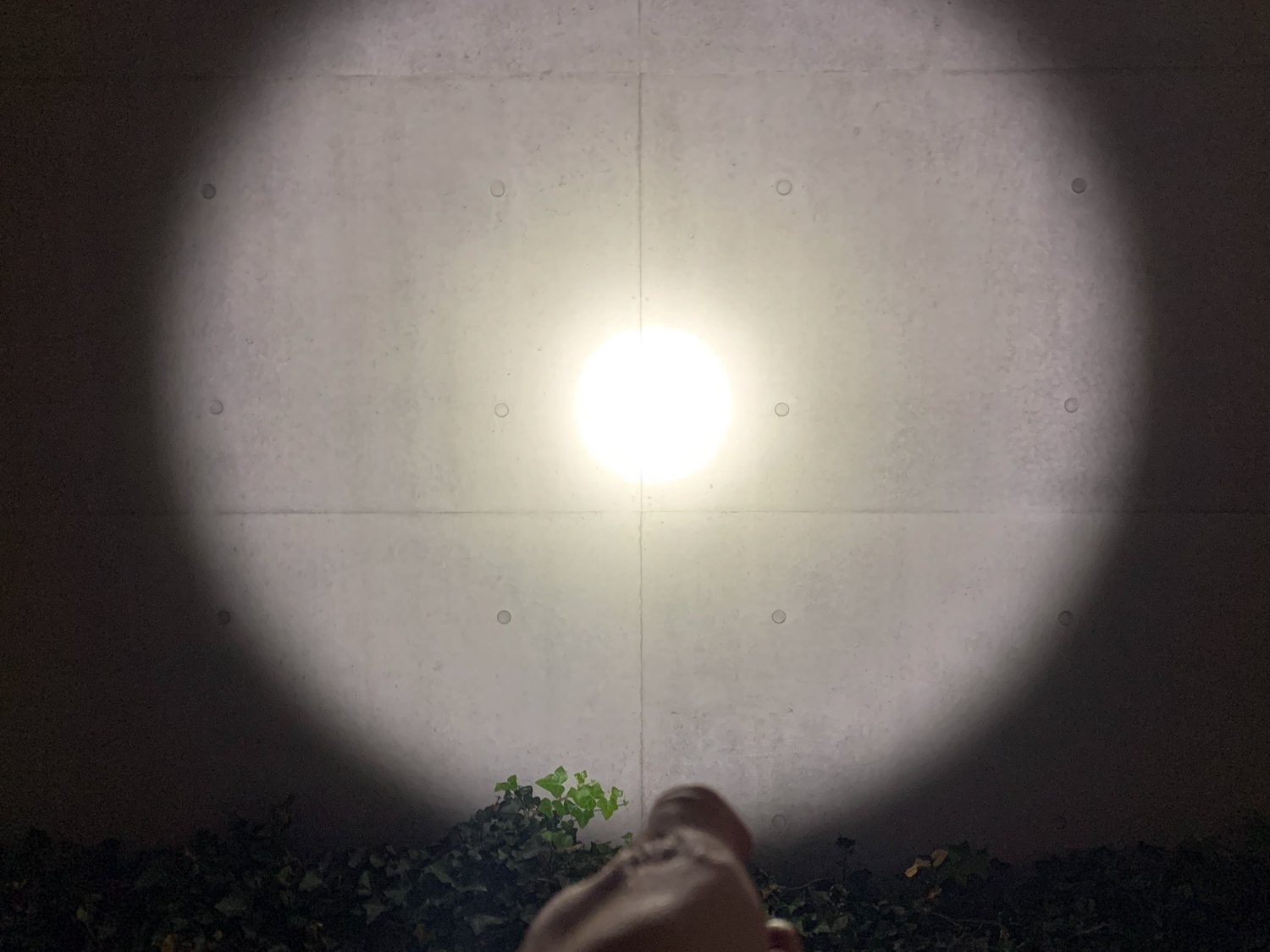 The beam pattern is as beautiful as the flashlight itself, with a defined, clean hot spot with even spill.
Conclusion
Is this rechargeable flashlight for you?
This is a badass flashlight. It looks badass and works great.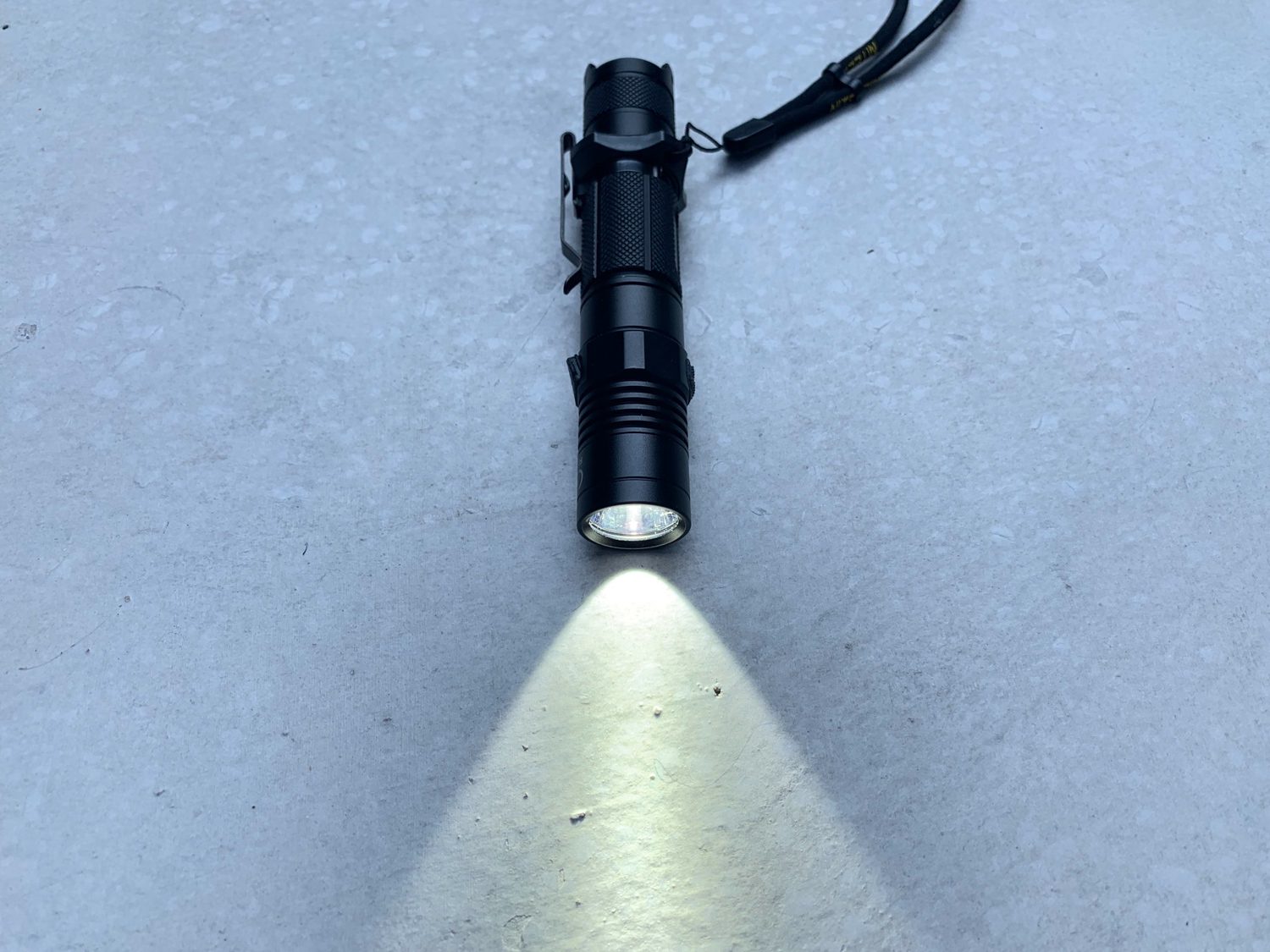 It offers modes for every situation you can possibly need. The fact that you can charge battery without anything extra makes it easy to bring along for travel.
If you can afford the space and weight, then this rechargeable flashlight is definitely recommended. If not, you might want to consider the TINI SS.
Like this review? See all of my in-depth reviews.
Also, consider supporting me by being a Patreon. Every cent given will go back into improving the content of this website.
Tagged flashlight nitecore review tech