This website is made possible by readers. I may earn a small commission when you buy through the links in this article at no extra cost to you. Learn more.
Details
Price $140 from 1733.com
Materials VX21 / 400D packcloth nylon lining / nylon webbing / YKK Aquaguard zippers / plastic hardware
Dimensions 31cm x 17cm x 15cm (12.2in x 7.7in x 5.9in)
Volume 7L (429 cubic in) capacity
Weight 317g (11.7oz)
Overview
The best thing about starting a website like this is that I am able to give myself a chance to try products that I normally wouldn't try. There are so many great brands producing so many amazing products, I don't think I would be able to try them all even if I wasn't into minimalism.
Like some of the brands that I've been trying out recently, Reigning Champ being one of them, I like brands that fly slightly under the radar but have sort of a cult following (someone say Outlier?).
1733 is as intriguing as it gets. It's a relatively new brand which designs, produces and manufactures all their products in Chicago's Humboldt Park neighborhood.
Before you dive into this review, you might want to check out this video to see how the original Side Pack is made.
From what I can see, it's a one-man operation, handcrafting a bag from start to finish. However, since recently, the Side Packs are no longer made in-house. In fact, the one I am reviewing is the first batch of Side Packs that are not made in house.
They are, instead, using a family-owned cut-and-sew factory that is nearly 100 years old and located just a mile from the 1733 studio to control quality better. So, did the quality go up or down? Since I don't have the in-house version, I won't be able to compare. But as always, I'm going to abuse it as much as I can to see if it lives up to my standards.
Style
In case you haven't noticed, most of the products I review and wear are black, usually pretty minimal and subdued in style. But they usually have that little magic detail that makes it stand out, even if it's only to me.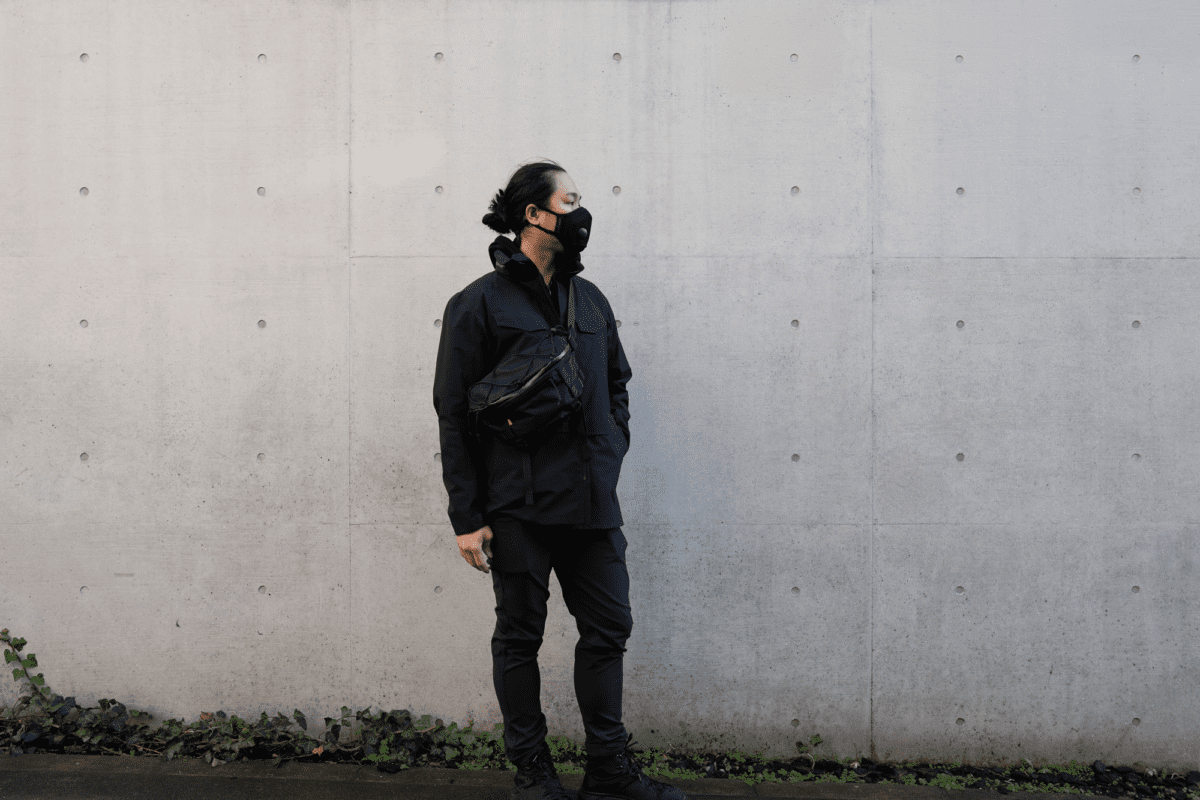 I would say that the 1733 Side Pack is along those lines in terms of style. It's a little like the less full-on version of the CODEOFBELL X-PAK.
While it has molle, straps, webbings, attachment points all around the pack, it does a good job in bringing the entire aesthetics together. This is mostly done via a consistent color.
The entire exterior of the Side Pack, with the exception of the brand tag and a subtle stripe pattern on the loops on top that the shock cord threads through, is the same tone of black from zippers to hardware.
But no one likes ads, so I got rid of them. If my articles helped you, I ask for your support so I can continue to provide unbiased reviews and recommendations. Every cent donated through Patreon will go into improving the quality of this site.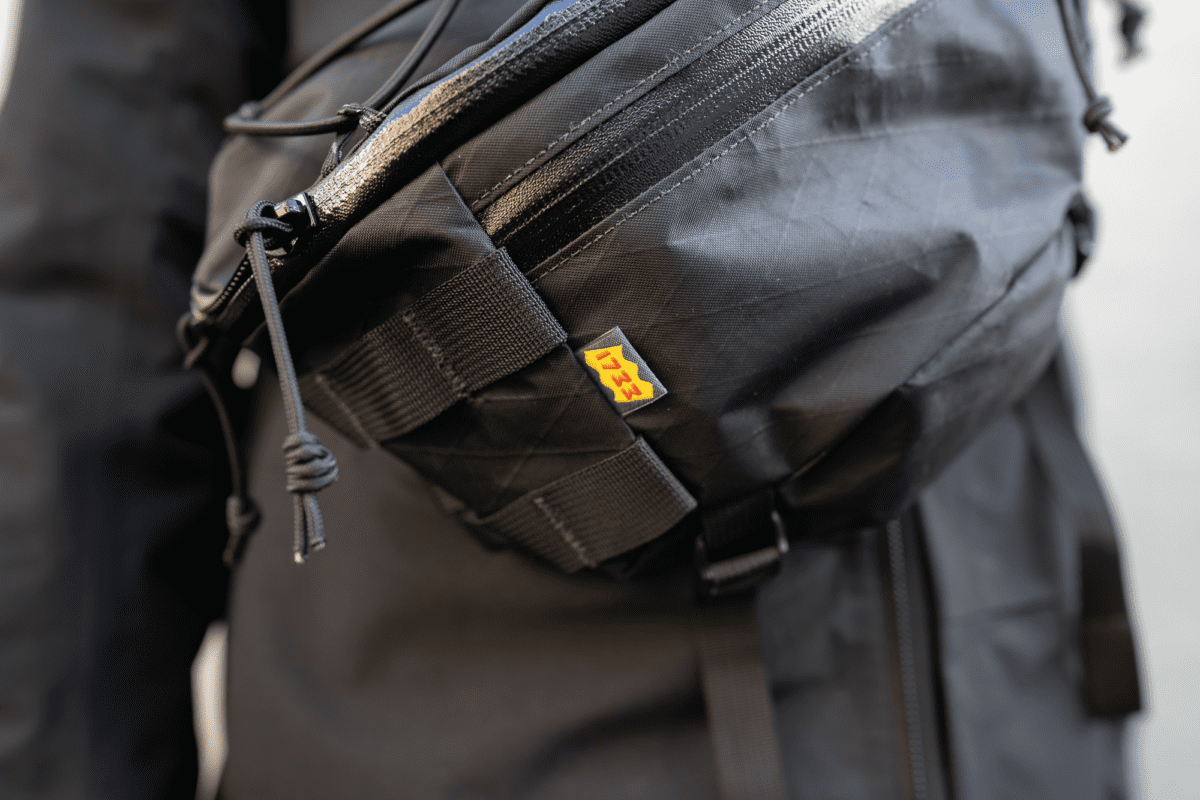 The color consistency is only available on the black model. For the olive and blue version, everything besides the base fabric is in black. This means you'll get a bit of color contrast you don't get with the black.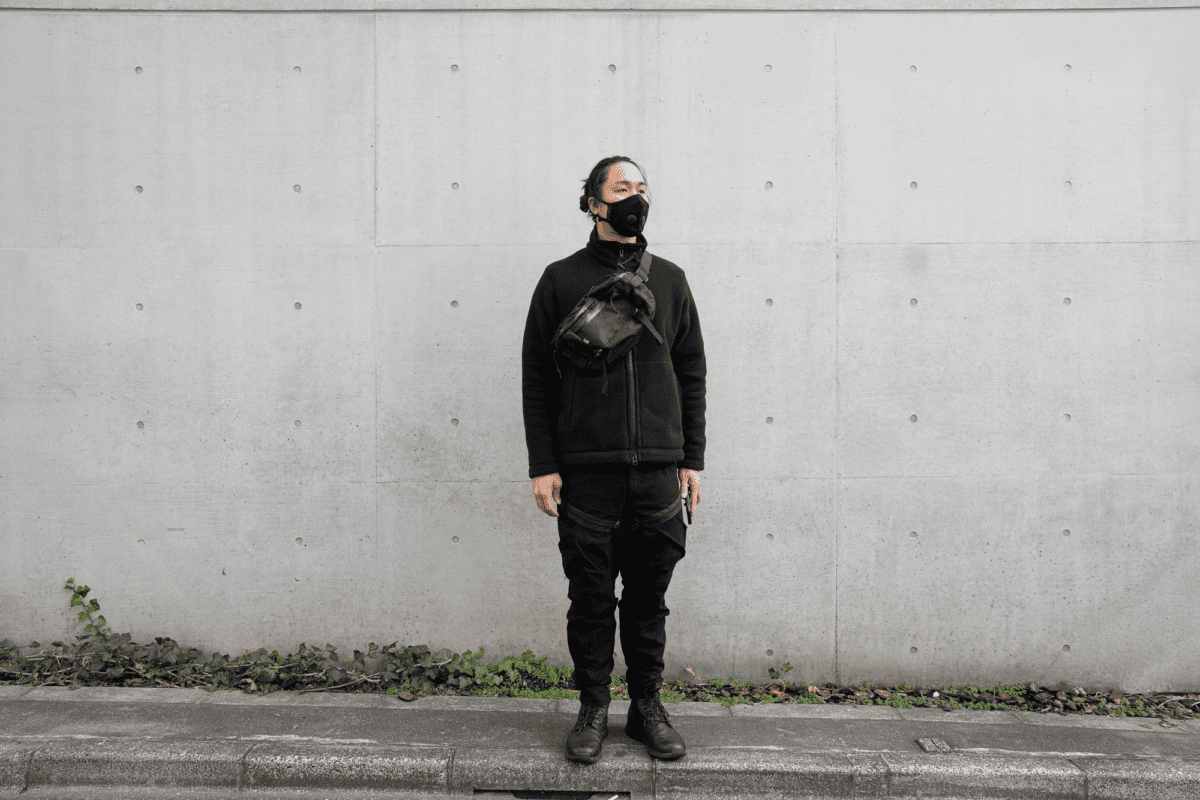 The inner of the bag is not black, but is instead just color of the underside of the fabric (light grey). The organizational slots are olive with black seams.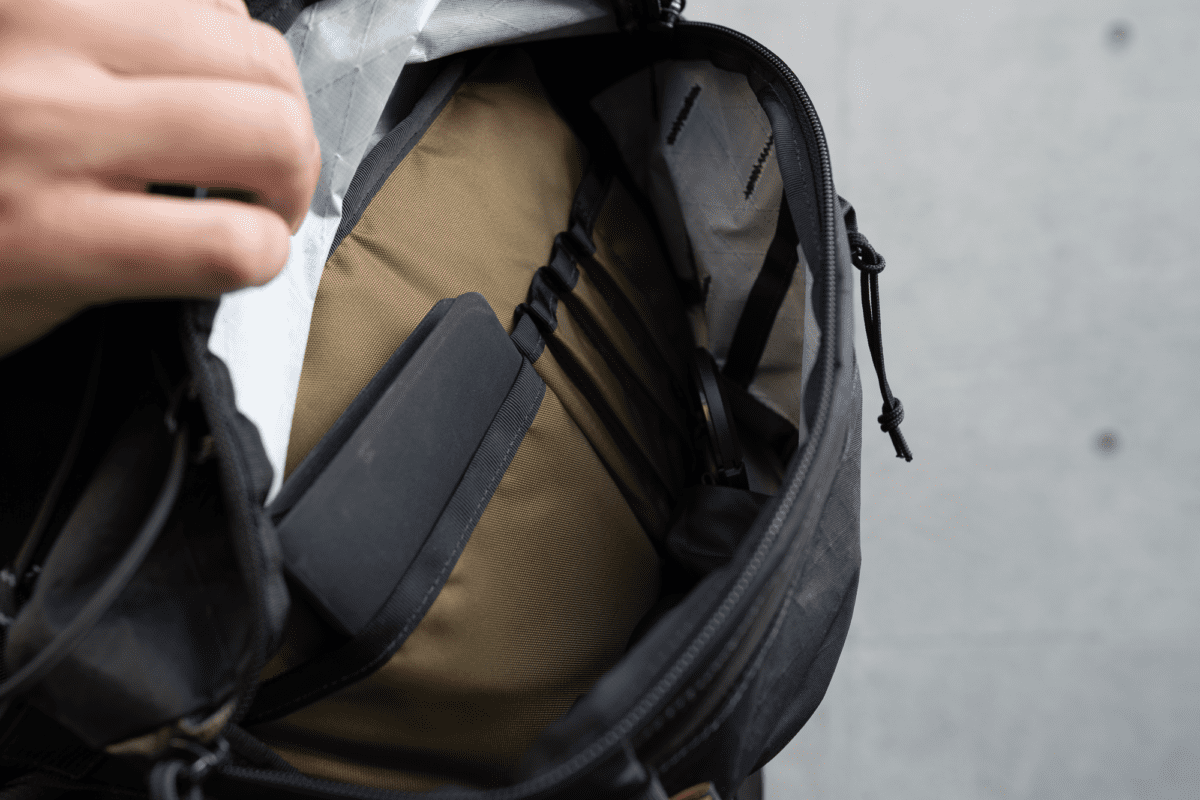 The Side Pack is on the large side for this category of bags. The next largest bag I have is a 3-liter Arc'teryx Maka II. Given its size, it's pretty eye-catching and will definitely make (or break) your fit.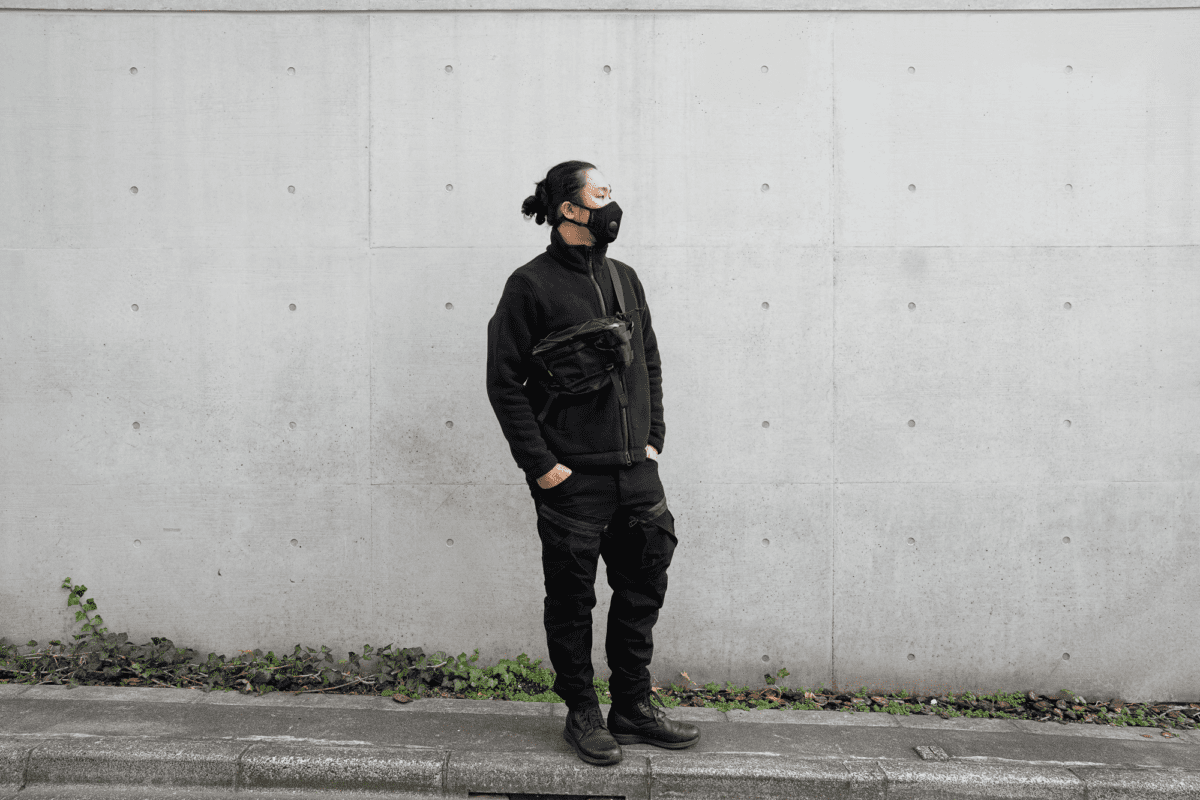 Material
I'm glad that 1733 is one of the brands that take their material selection seriously, because I know a fair bit of us pick our gear, material first.
First of all, the main material is X-PAC, a material which I've seen being used more and more recently, like on the CODEOFBELL X-PAK or the Able Carry Daily Backpack.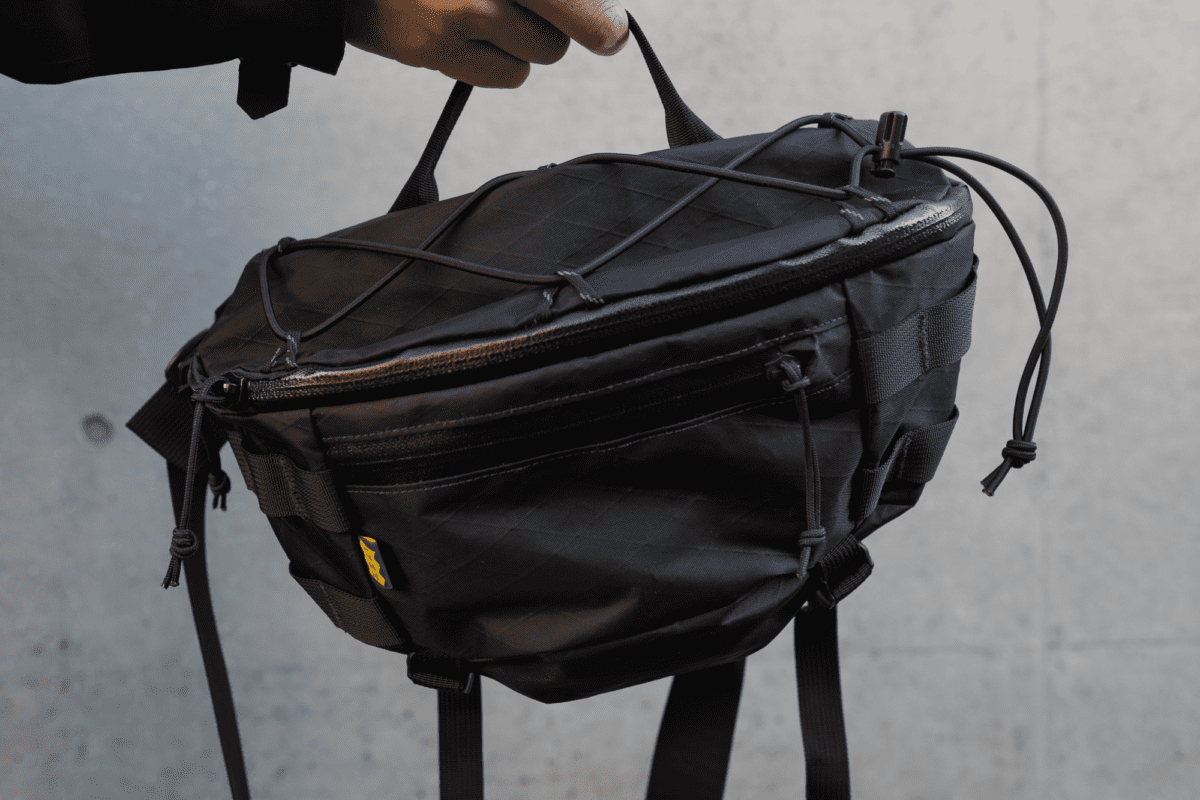 The X-PAC specifically used on the Side Pack is the Dimension Polyant's VX21, which is actually the exact one the Tortuga Outbreaker uses. The material, which is actually not a single-layer fabric, but a 4 layer laminate which are;
210D nylon with DWR and UV resistant coatings
Black polyester "X-Ply" (Also what gives the criss-cross pattern)
0.25 mil (that's 0.001″) PET film
50D polyester taffeta backing
This means it is (almost) completely waterproof, is tough even under stress, and rigid enough to stay in shape.
Most bags' fabrics are made up of threads woven together, rain will still go through those holes no matter how tightly woven they are. While most brands combat this with some form of DWR protection, this coating wears off over time, and you'll find yourself with the burden of having to reapply it with some Nikwax Waterproofing.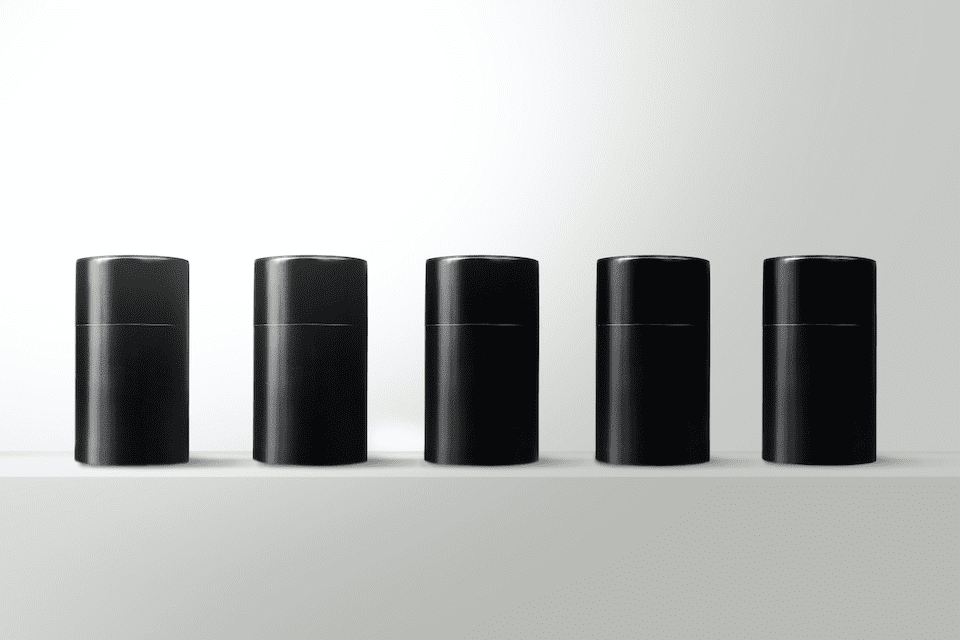 I found a 100 year old company that would create these heirloom quality canisters for me. They are handmade and will keep your tea leaves, coffee beans or anything that you need dry for years to come.
or read review
The VX21 doesn't rely on solely waterproof treatment, but instead, the 4-layer laminate is what keeps almost all the water out for a long time.
To take the waterproofing of the pack even further, the zippers aren't just the already premium YKK, but the waterproof model, YKK Aquaguard zippers.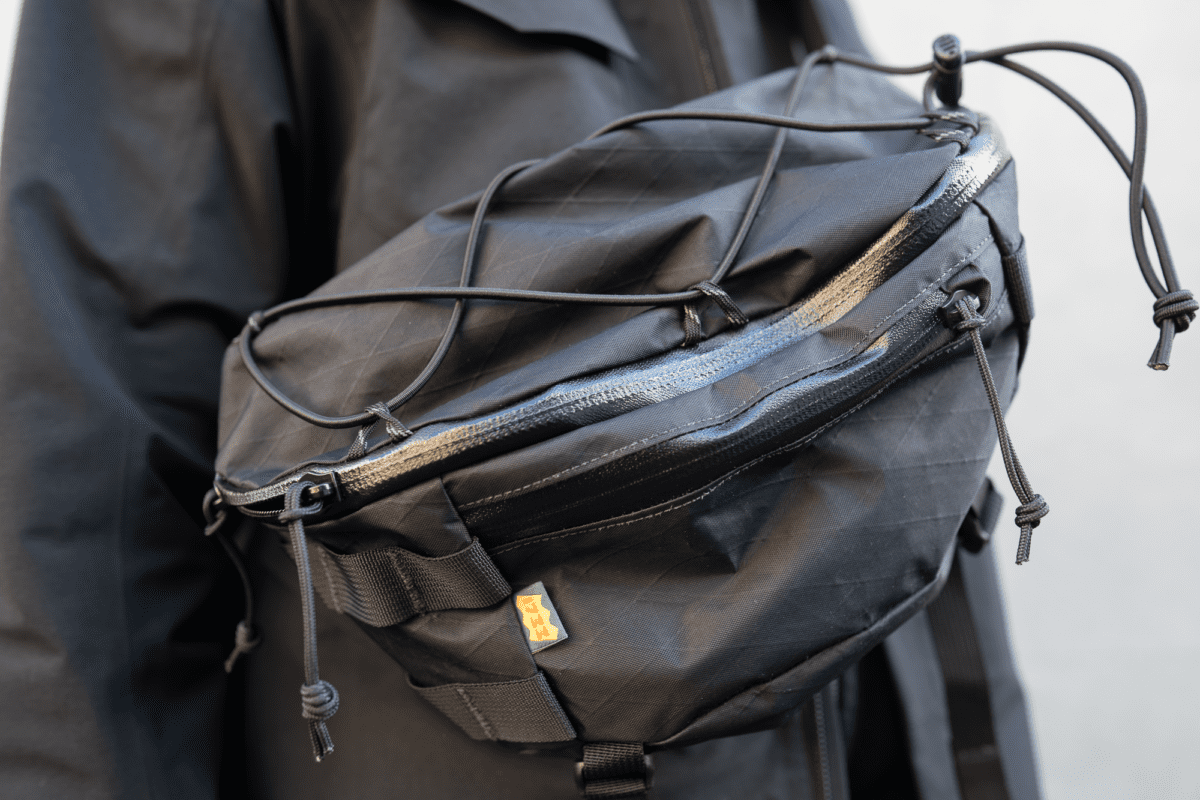 While I don't really see a reason for padding on fanny packs, the size of this one warrants some foam padding, which the Side Pack has two panels of.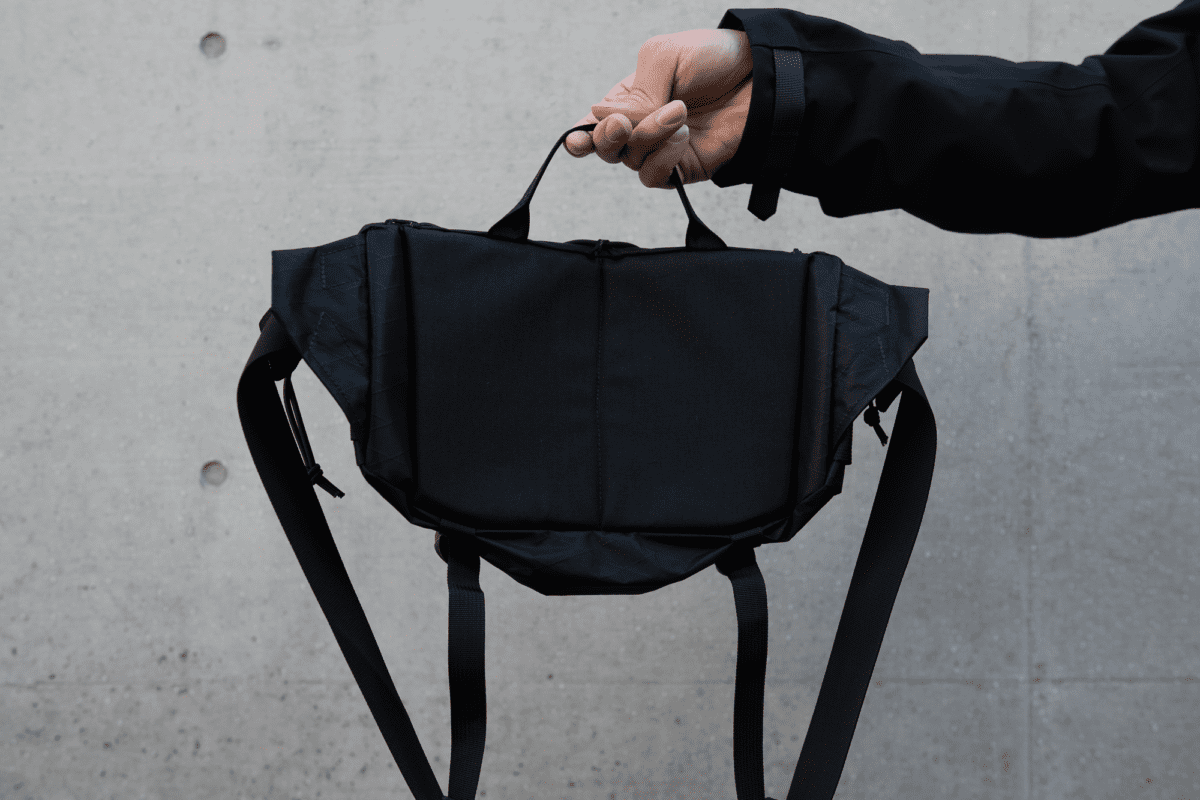 As far as I can tell, all the materials chosen by 1733 are top of the line and, in fact, pretty overkill for an bag this size. I don't think you need to worry about getting its contents wet or wearing out the fabric anytime soon.
Usage
While this is clearly an oversized fanny pack, I grew to quite like the size. I can actually fit my entire mirrorless camera attached to a lens into it. I didn't think it felt bulky at all.
But since it's so big, there are straps at the bottom and a shock cord on top that allows you to compress the bag if you don't have much to carry. I was able to compress it to a pretty tight package as seen in the image below.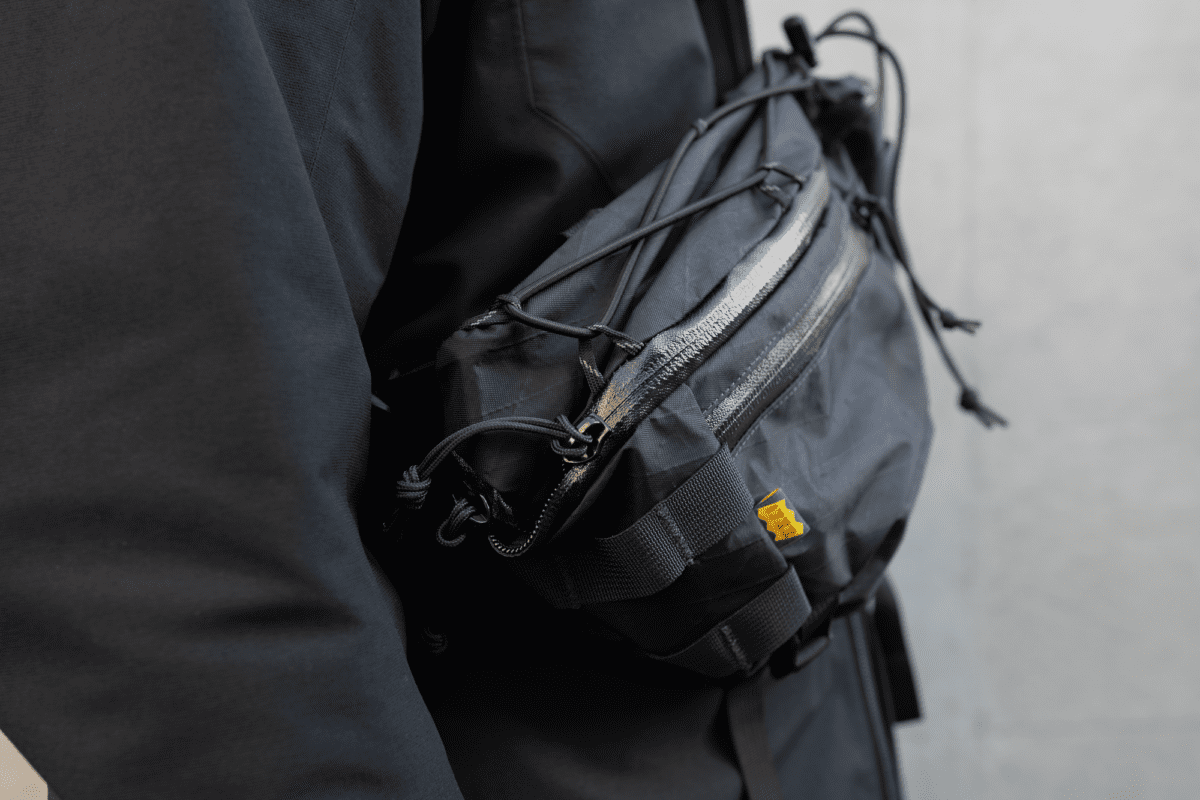 I think it's a great feature since it prevents excessive movement within your bag that might cause unnecessary wear on its contents. But the only thing is that if you tighten it too much, the excess straps and shock cord hangs out. The shock cord is also removable if you prefer to have less details around your bag.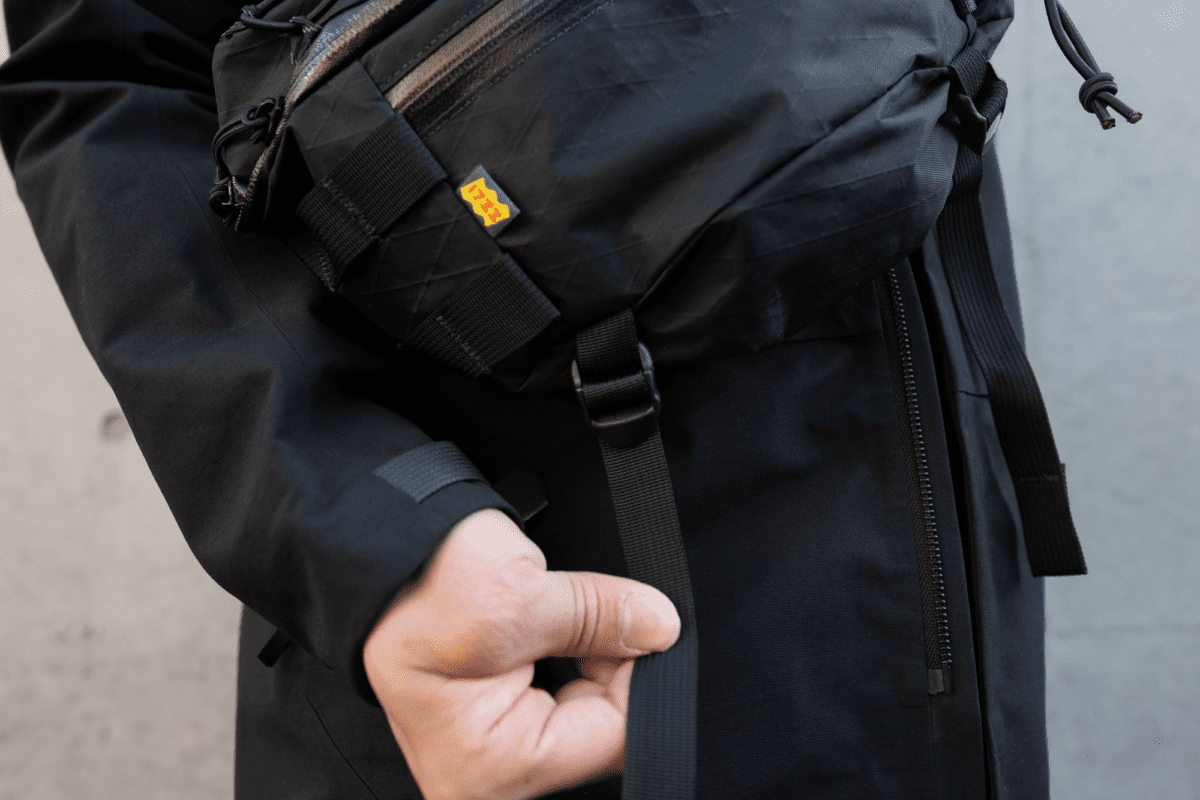 While there aren't any in-built way to organize these loose straps. The main strap (that goes around your body) does come with clips to prevent the excess strap from hanging.
The bag also comes with a top carry handle. I usually don't think handles are neccessary with bags this size. You should be fine carrying it by the main straps instead.
I'm not still too sure about the organization and pockets on the bag. There are just two pockets. One in the front and the main compartment.
The front pocket is smaller than it looks. I was only able to fit my Keysmart Pro into here.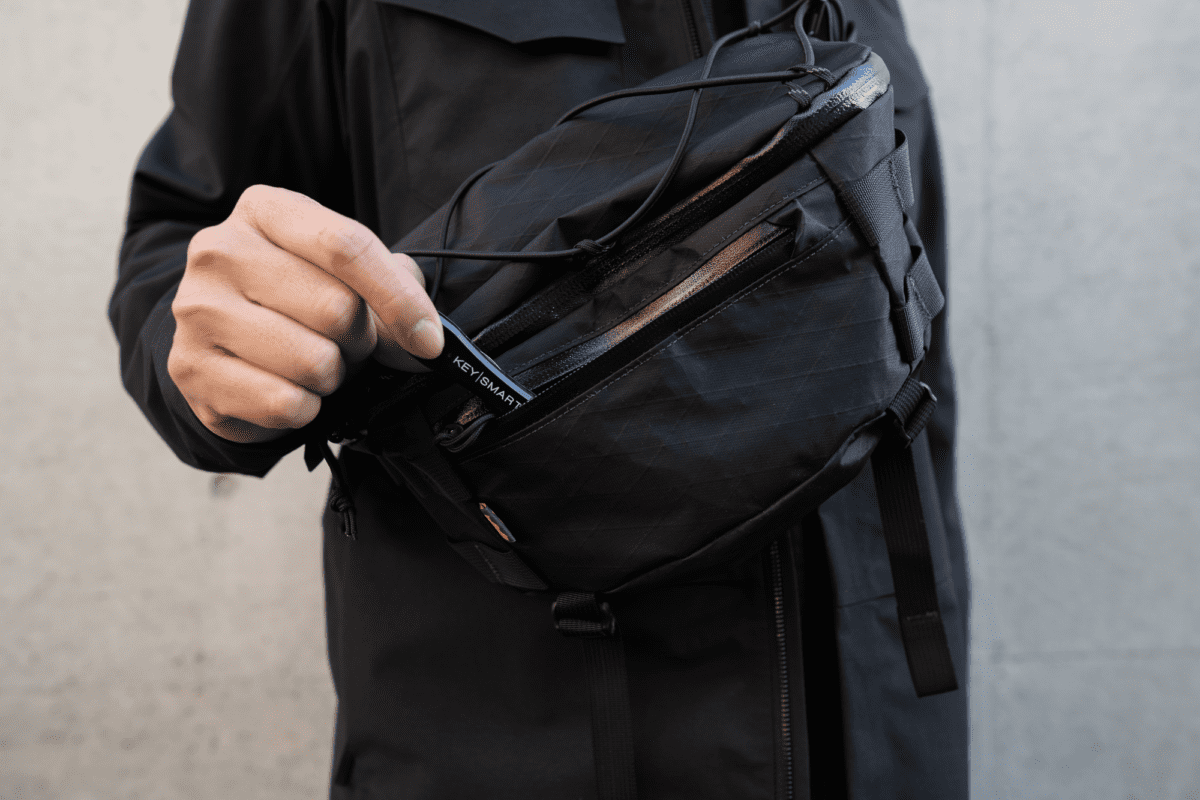 Unfortunately, it wouldn't fit my Master & Dynamic MW07 PLUS. I wish this could have a tad more space to at least fit a wider range of small accessories.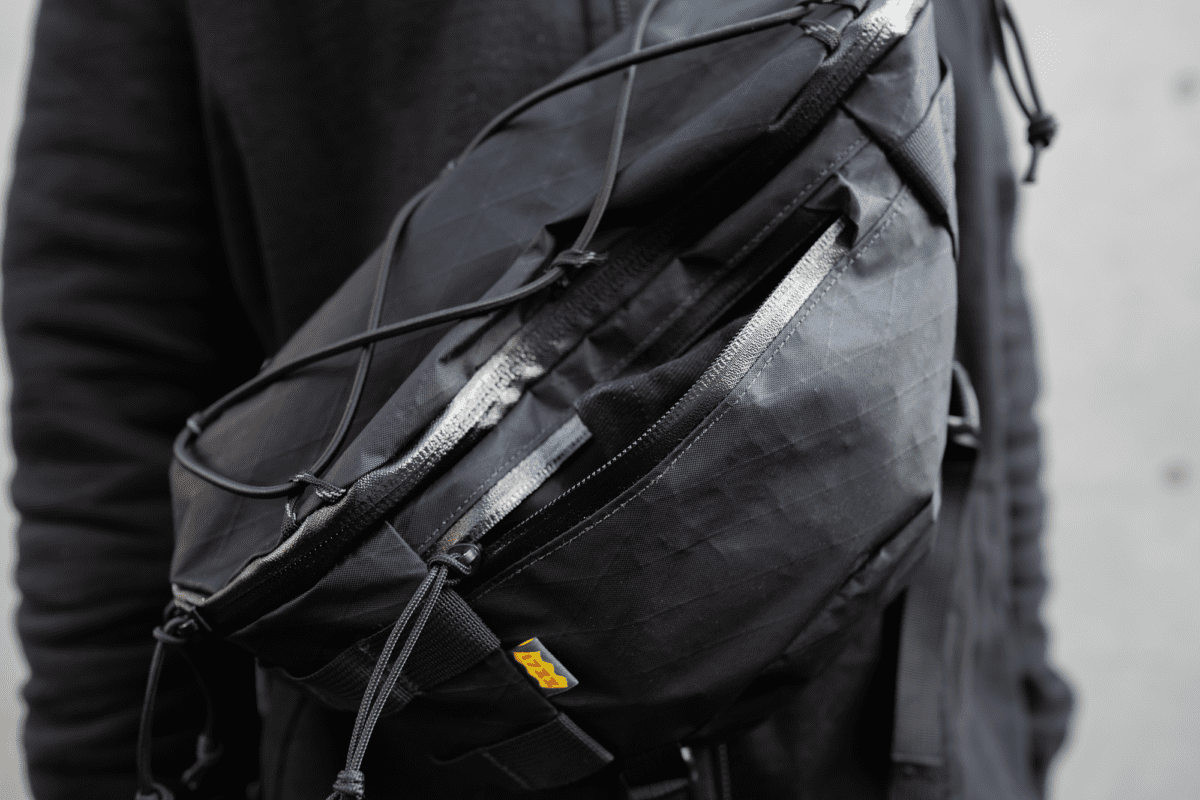 The main compartment is big and spacious. There are some organizations against the back wall of the pouch. From left, there is a large slot, following by four pen slots and then a knife slot, that about twice as big as the pen slot.
The large slot is the perfect size to fit my passport in its WAYFINDER BORDERLESS Passport Cover.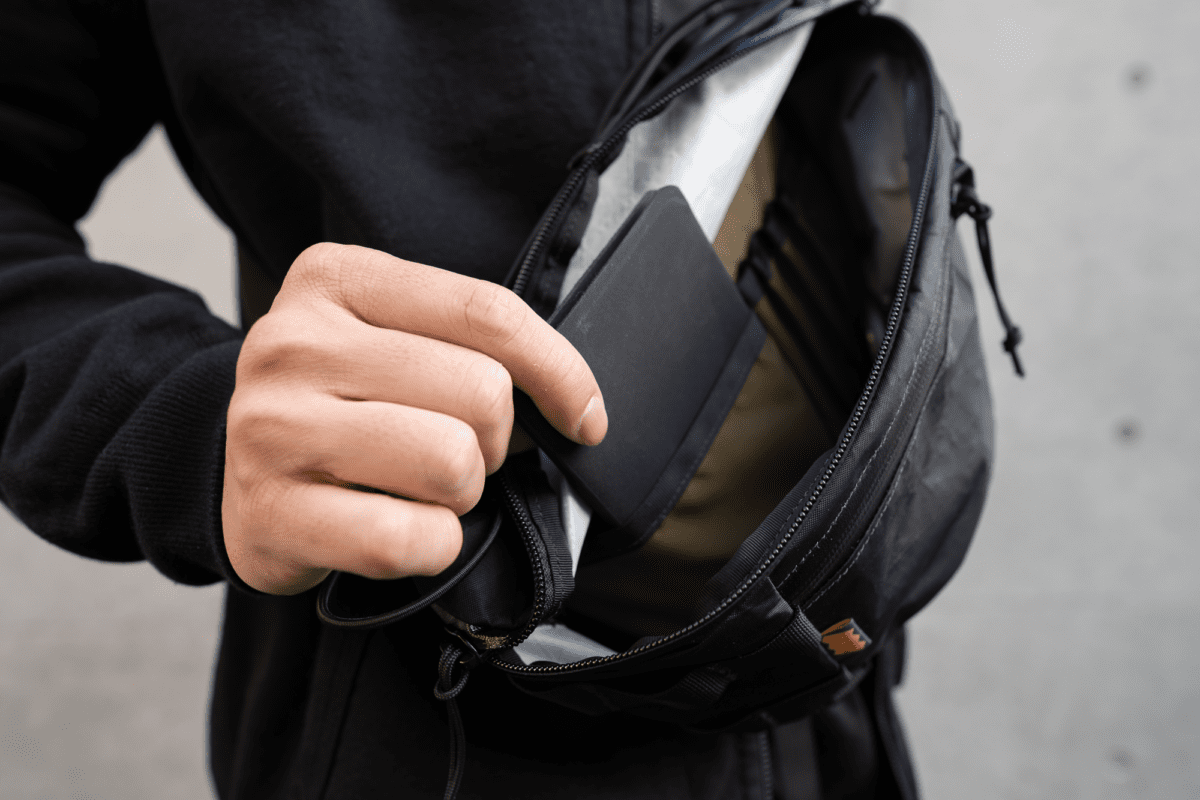 I'm not quite sure why it needs to have four pen slots. The slots doesn't fit things like my Keysmart Pro or RUGGED & DAPPER Organic Lip Balm. I did put my Fisher Space Pen Bullet into one of those slots.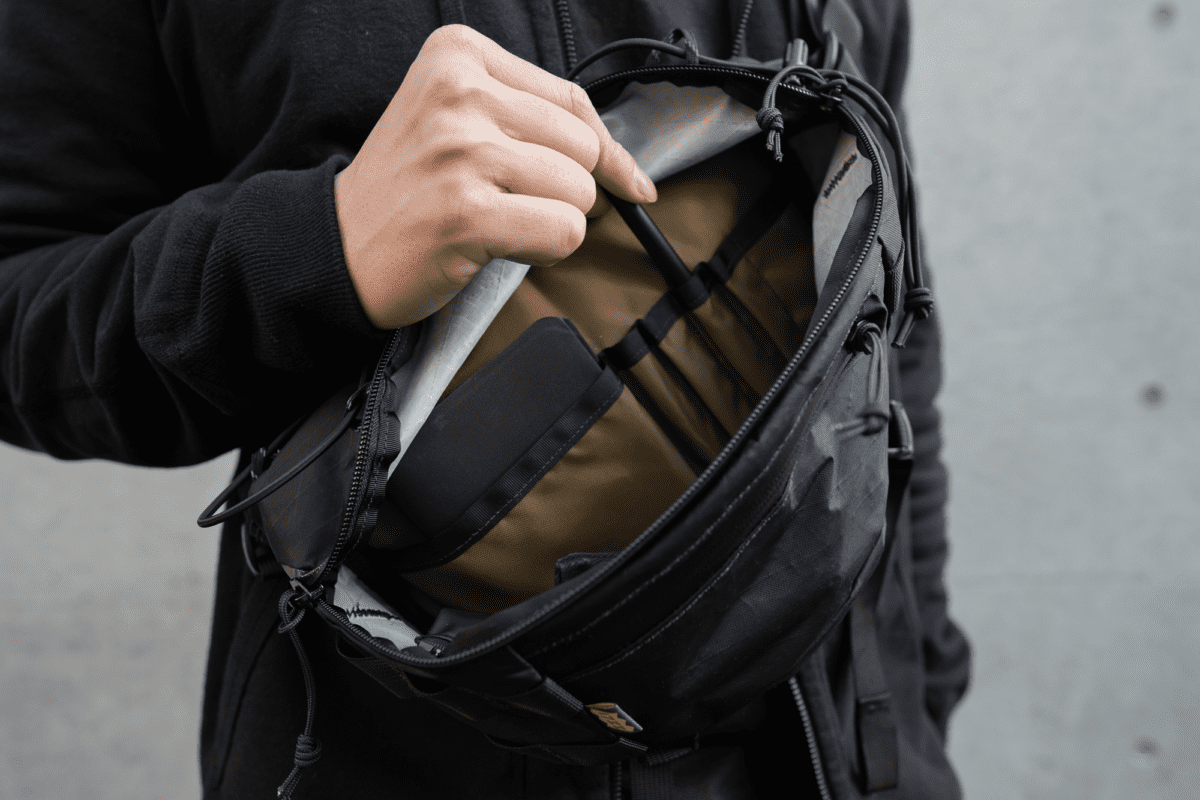 There are two hidden slots behind the foam pads at the back. Since the slots face outwards, I would recommend putting anything too valuable in here since there is a chance they might fall out.
The elastic loops on the top are an underrated feature. They are great for holding a cap. I often fold up my Outlier Supermarine Cap and stuff it here when I head indoors.
Conclusion
I actually think that the Side Pack might do pretty well as a carry-on item. The only thing is that it'll definitely attract a little attraction with its distinct style.
Apart from that, the materials and craftsmanship is right up there with the other bags I've been all over.
Additional Images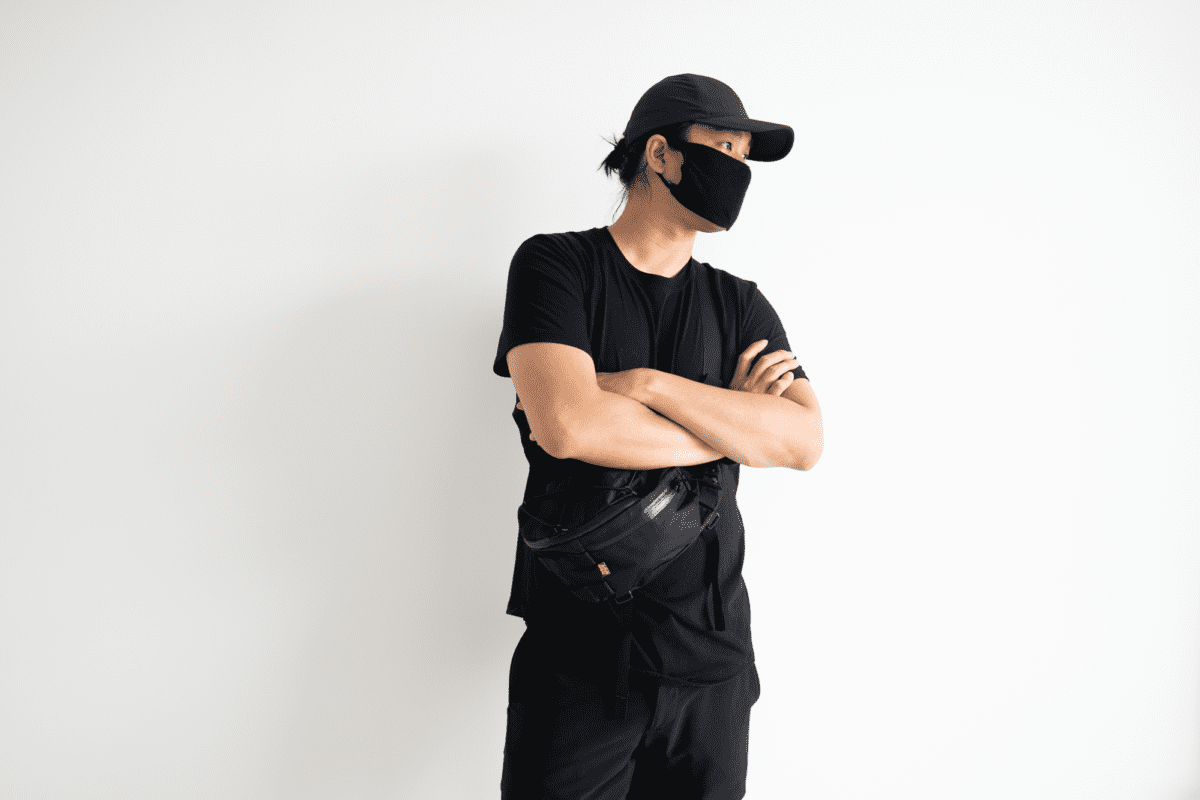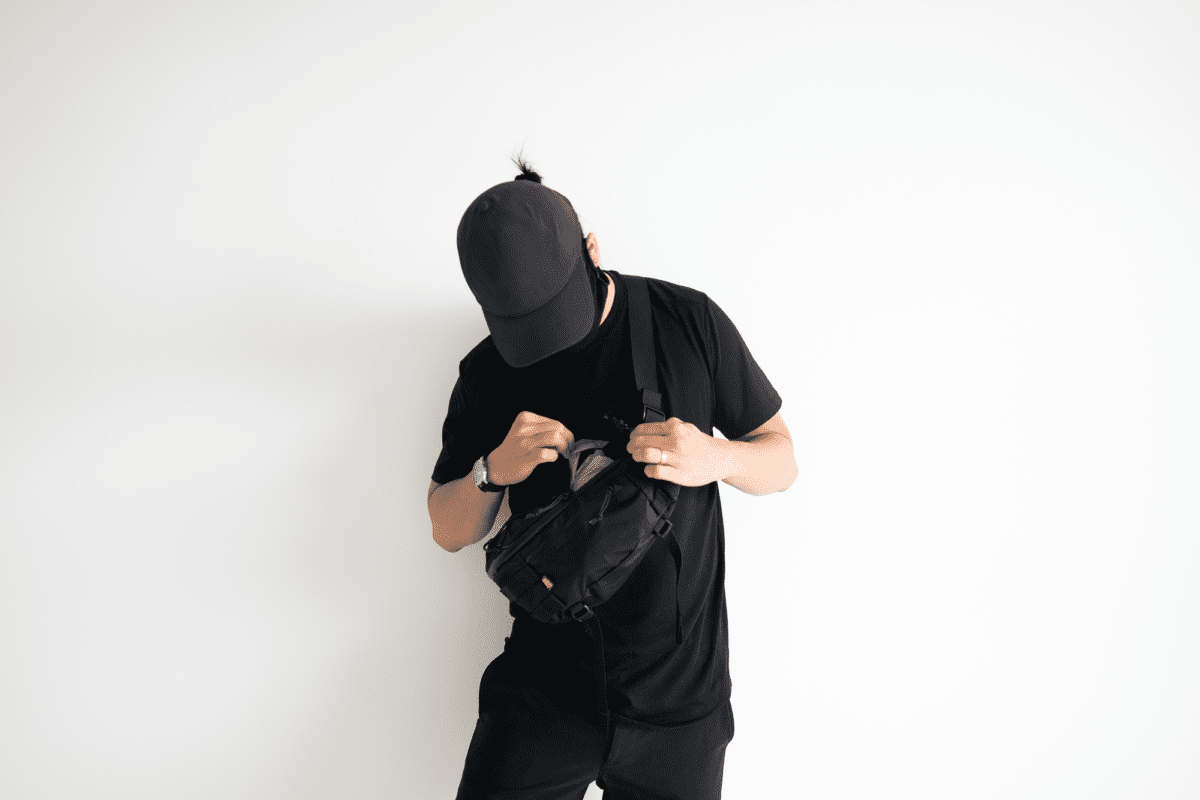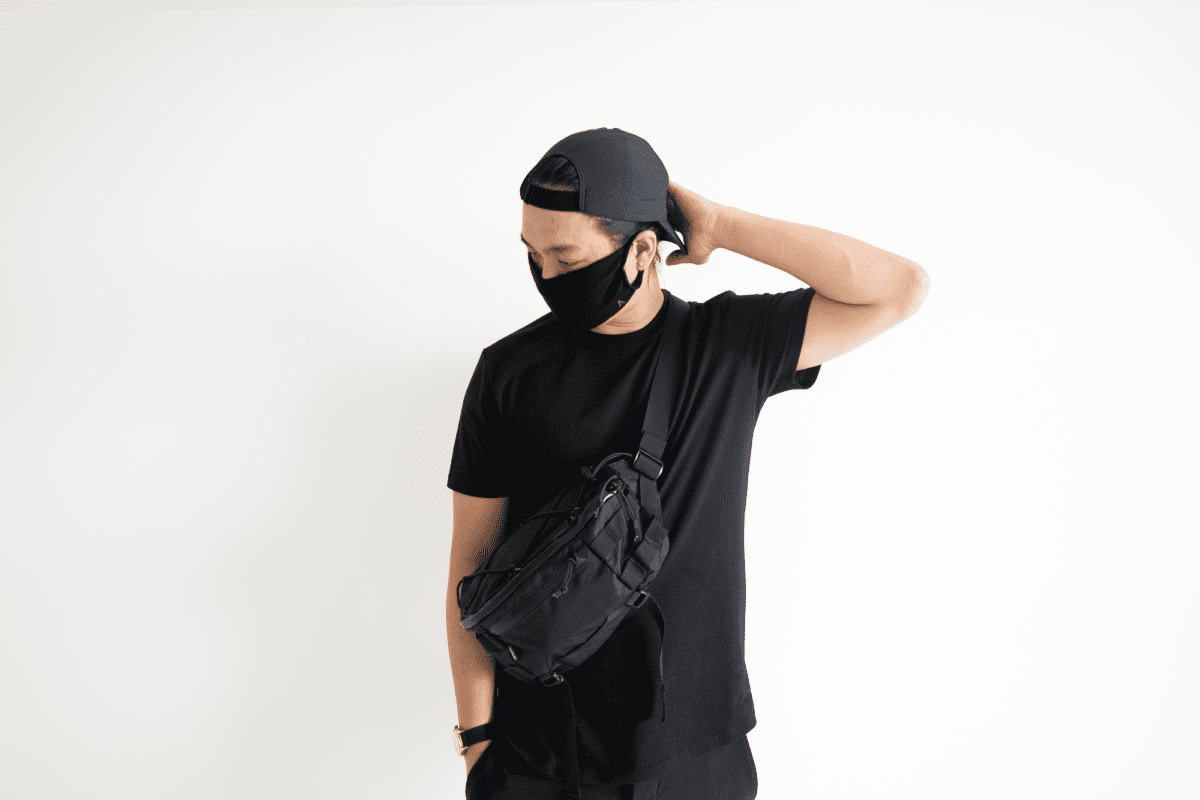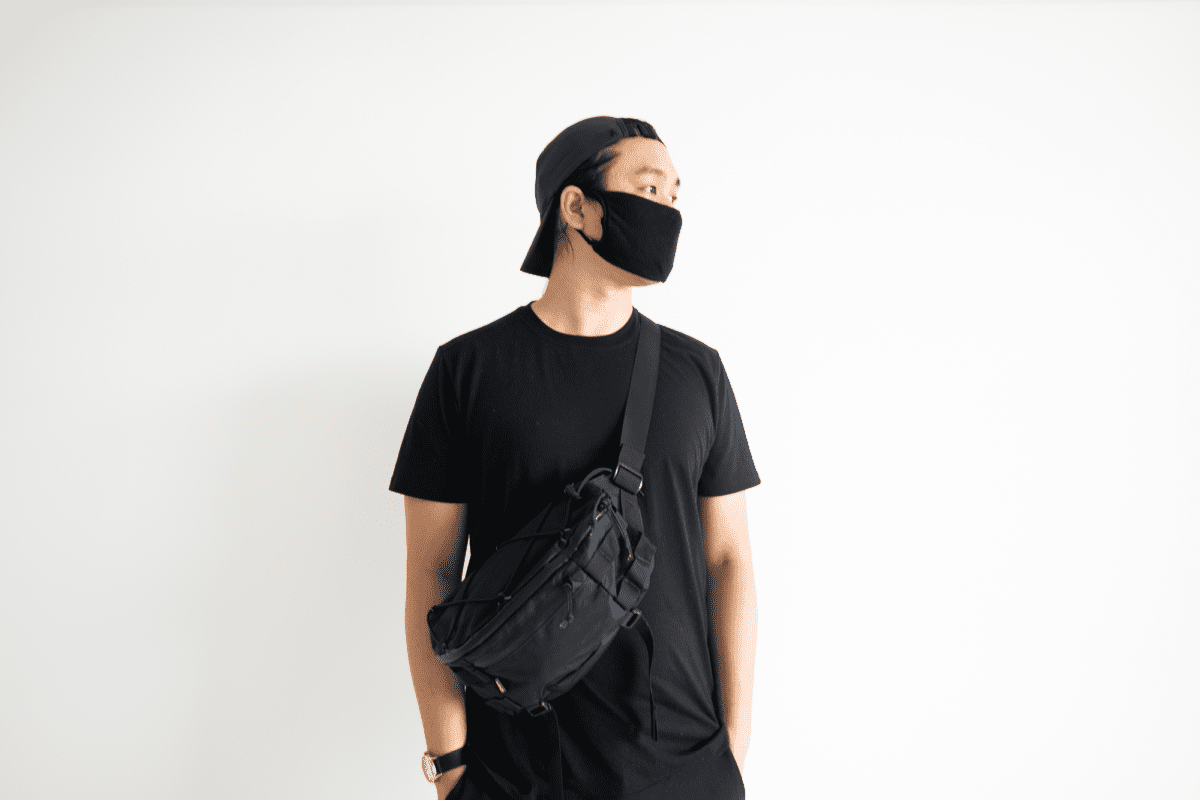 Like this review? See all of my in-depth reviews.
Also, consider supporting me by being a Patreon. Every cent given will go back into improving the content of this website.