This website is made possible by readers. I may earn a small commission when you buy through the links in this article at no extra cost to you. Learn more.
Details
Price £219.00 on harberlondon.com
Dimensions 8.2″ (h) x 6.1″ (w) x 0.9″ (d) / 210 (h) x 155 (w) x 25 (d) mm
Overview
As a fully remote worker, I've been a staunch pouch-user for my digital accessories. I've tried many before finally settling on the Aer Slim Pouch. Yet, I've never tried something quite like the Harber London Nomad Organiser Mini.
Harber London hails from London (duh) and has been family-run since 2012.
At first glance, their products aren't quite like the ones that I am used to. In the world of backpack brands leveraging the most advanced materials trying to craft the perfect "tech" pouch, these products from Harber London bring a touch of class. These are "nice" organizers that are perfect as an anniversary gift.
This actually brings me back to a period when I was really into leather products. I was intrigued by the craftsmanship and the patina that develops according to your lifestyle.
Will Harber London Nomad Organiser Mini make me reconsider leather products? Let's find out.
Style
While organizers like these are usually in my backpack, how it looks is still important. Not because I want to impress the ojisan (middle-aged man in Japanese) sitting next to me at a Komeda (a cafe chain in Japan I frequent) but because I want to feel good using and owning it.
This organizer definitely looks good.
The full-grain leather makes for a classic aesthetic, one associated with men with class. There are few details on the exterior. The brand mark is imprinted on the top and a stitch goes across the middle.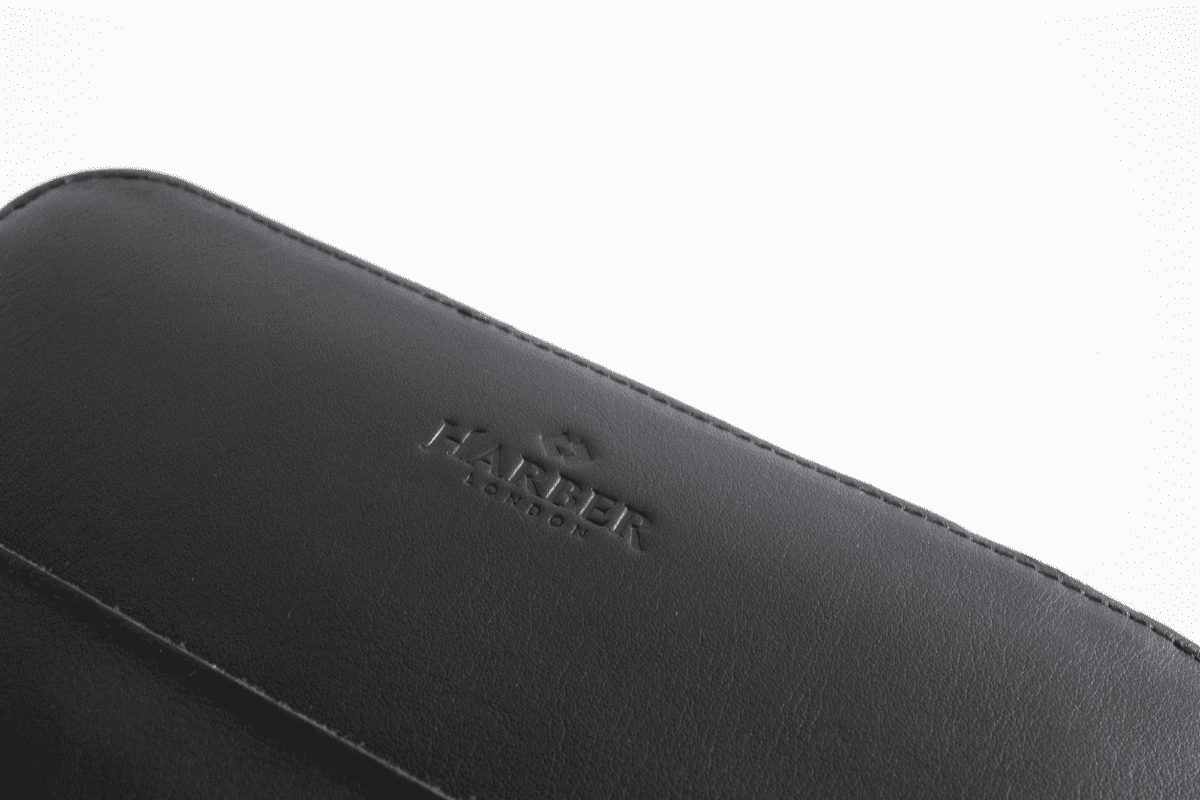 The zipper is silver, a treatment I prefer over bronze or gold, although black is preferred.
A handle sits on the opposite end of the brand mark, secured by two silver studs.
But no one likes ads, so I got rid of them. If my articles helped you, I ask for your support so I can continue to provide unbiased reviews and recommendations. Every cent donated through Patreon will go into improving the quality of this site.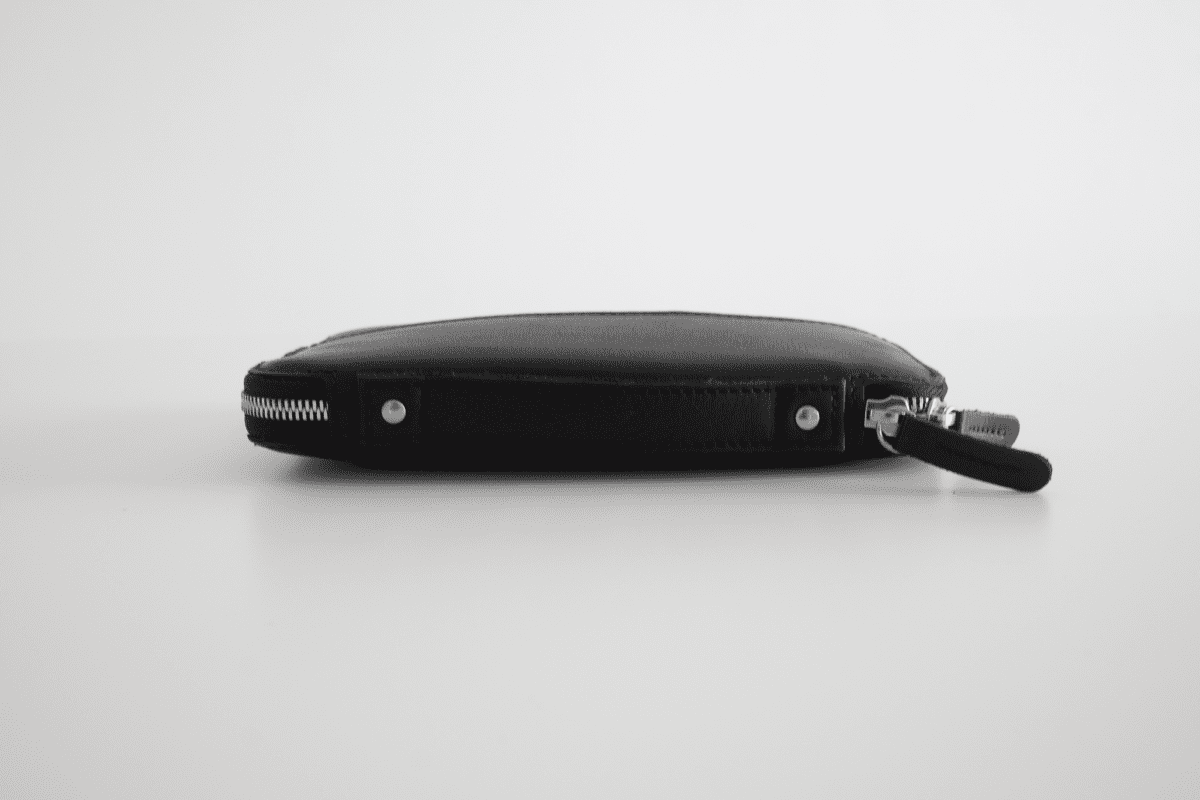 The organizer comes in four colors and choosing the tan colorway will probably make way for the most beautiful patina, but you know that black has been chosen. Out of the box, the leather already gives a rustic vibe that will only be accentuated through years of use. I look forward to seeing it age beautifully.
Material
Most Harber London products use premium full-grain leather.
Shell cordovan is often regarded as the best type of leather that will make a product cost 5x more. But for regular leather, there are three main grades; bonded leather, split-grain leather, and top-grain leather, with top-grain the best of the three.
Top-grain, which includes full-grain and corrected-grain leather, is often regarded as the best place to start if you want heirloom quality leather products.
Full-grain gets its name because a side of the leather has its grain completely intact, with no alterations except the removal of hair. Corrected grain leather, on the other hand, is altered by tanneries to remove imperfections.
This means full-grain leather includes natural markings that the animal would have. Some might think of these as defects, but in the leather world, these are considered proof of natural origin and the signature of fine leather goods.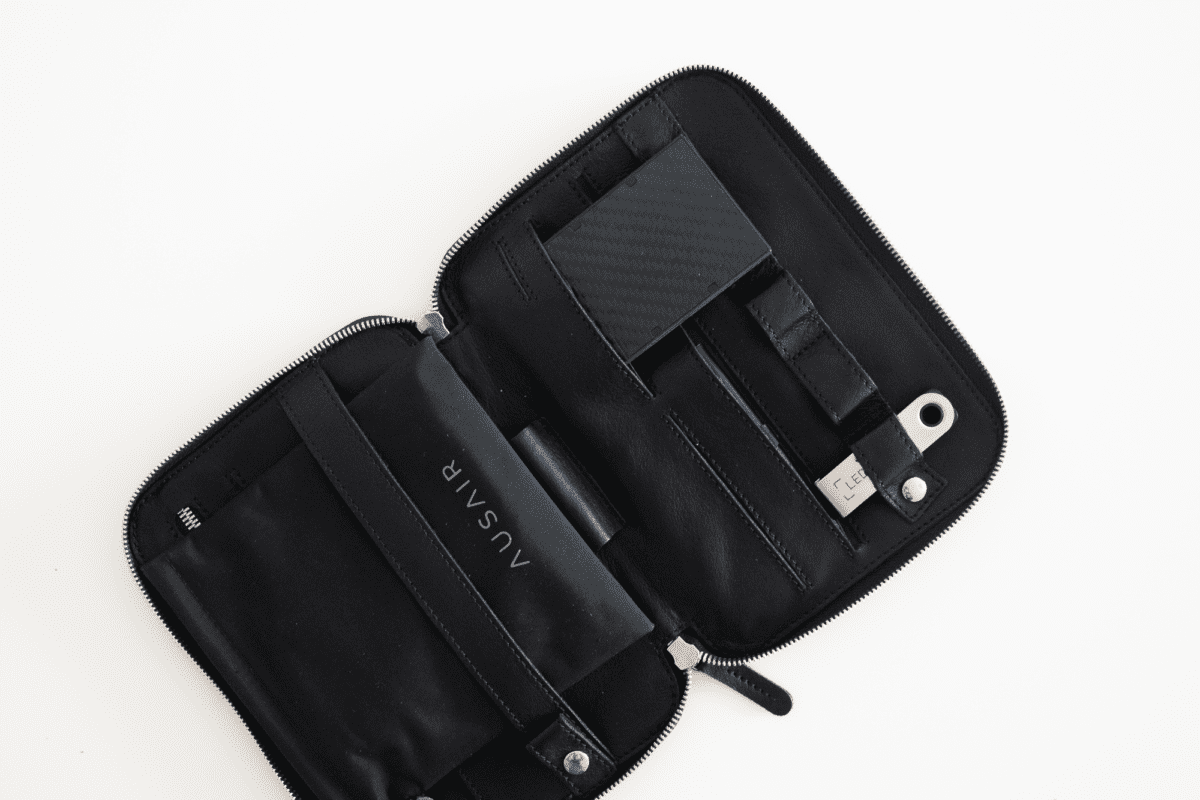 The intact grain has functional advantages as well, as it breathes and absorbs moisture and oil over time, allowing a beautiful patina to develop over time. The grain's fibers also make it more durable.
For the above reasons, while full-grain and corrected-grain come from the same top grain, most leather makers often regard full-grain as the superior choice.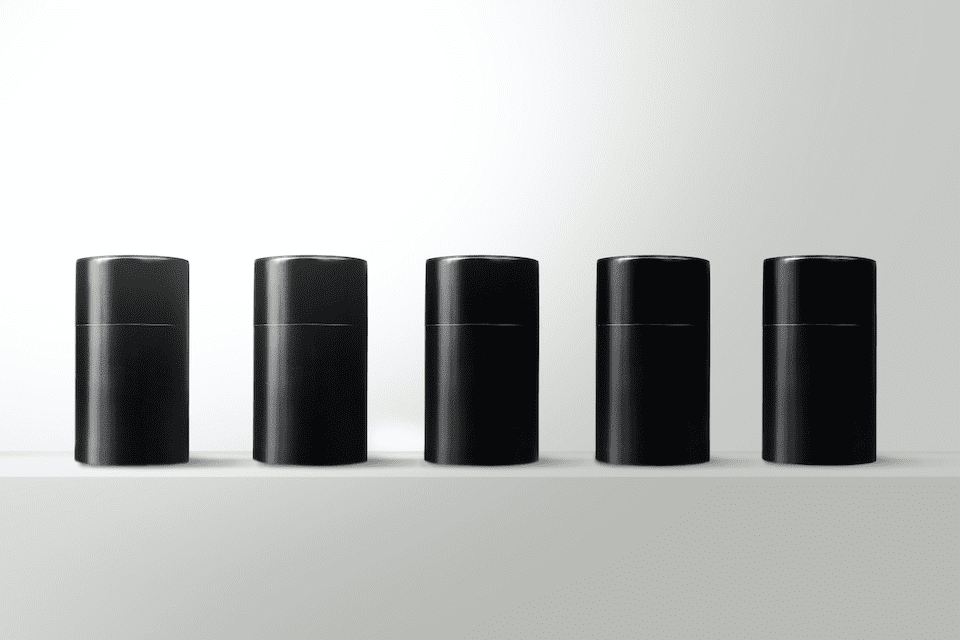 I found a 100 year old company that would create these heirloom quality canisters for me. They are handmade and will keep your tea leaves, coffee beans or anything that you need dry for years to come.
or read review
Many brands use Horween leather, manufactured by the famous Horween Leather Co., such as on the NOMAD Bifold Wallet. It appears Harber London does not go this route and uses its own undisclosed supplier. I have no problems with this since the quality would speak for itself.
Usage
This is where the fangs come out.
Perhaps I have been conditioned by pouches built for digital nomads, I have had trouble figuring out how to use the Organizer Mini well.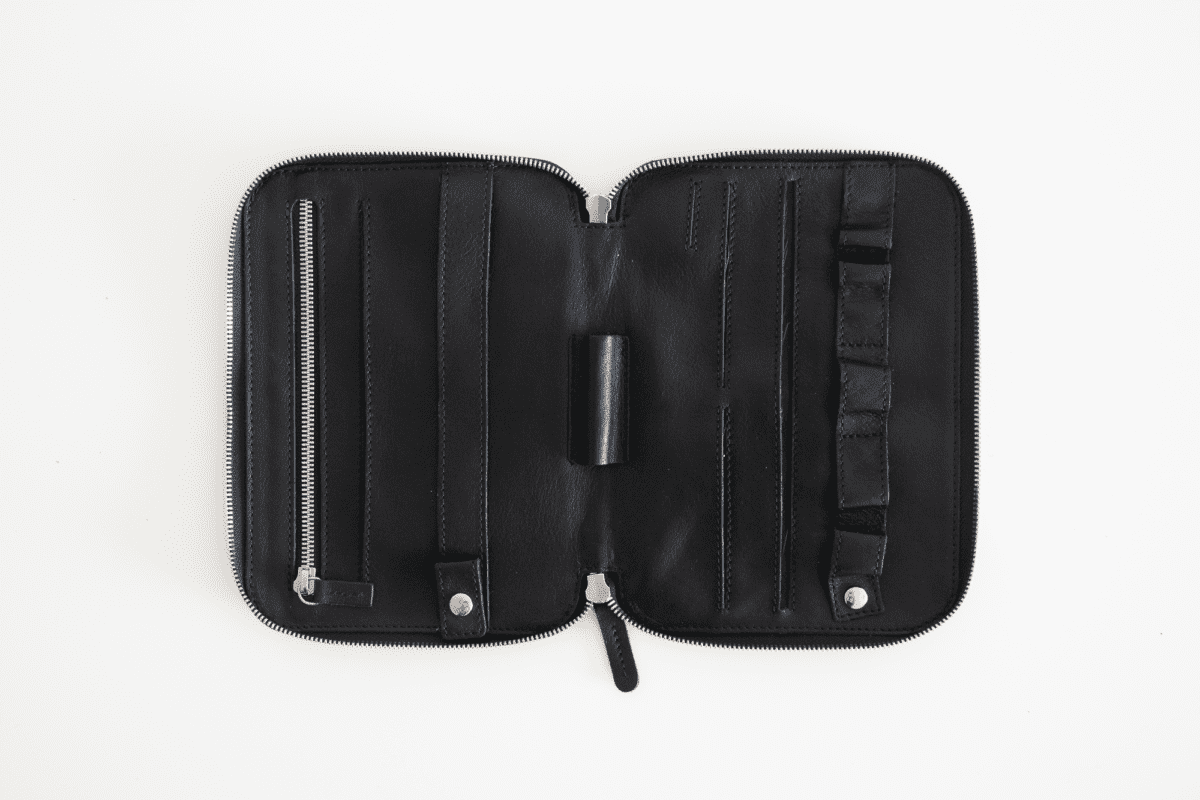 On one side, the organization consists of five loops with the last one a little smaller than the other four due to it being secured by a stud.
These were designed for cables, but they were too small for my NOMAD Universal Cable USB-C. They look like they were designed for thinner cables like the Apple's iPhone charging cable.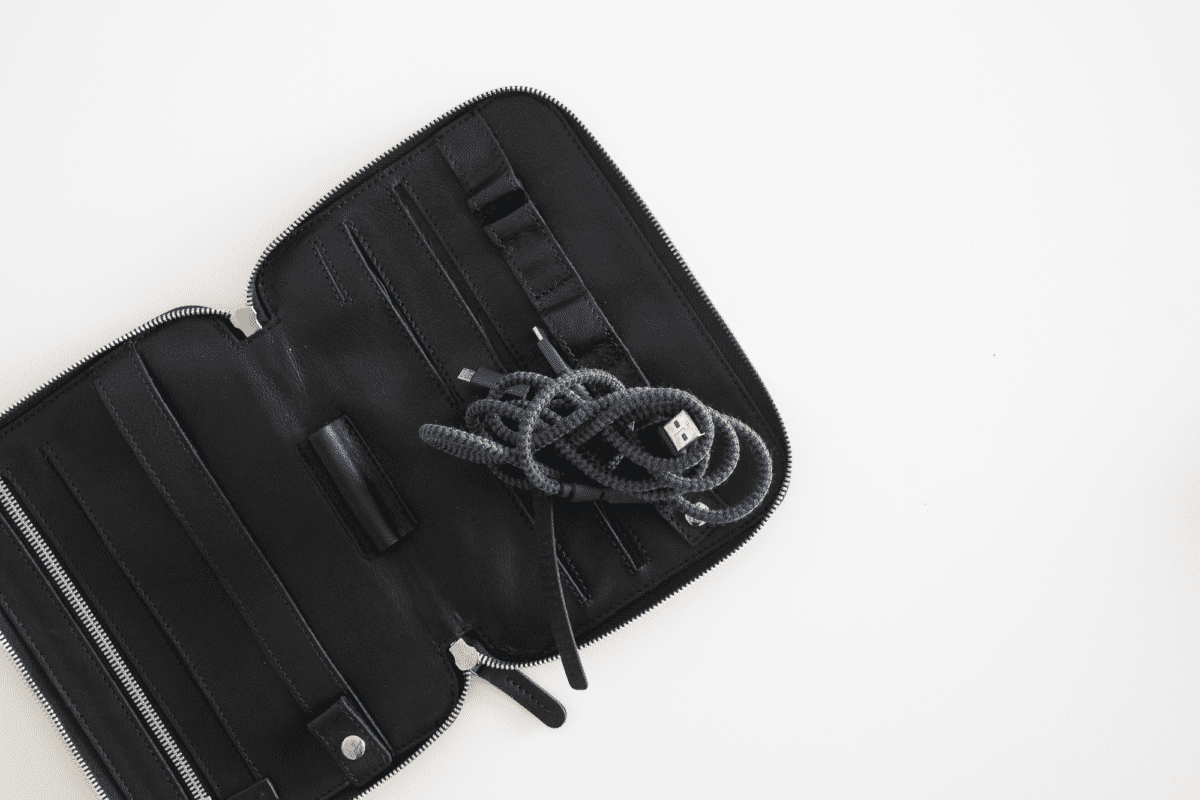 Below the loops are four slots; one that goes across the entire width, two equally-sized ones below it, and one tiny one that looks to be for a SIM card.
These are flat slots so you won't be able to put any kind of chargers in them. They are also very slim so I don't think these are usable by a digital nomad unless it is in addition to another pouch.
The top full-width slots look good for a passport or notebook. I did notice the edge of the inner lining fraying right out of the box.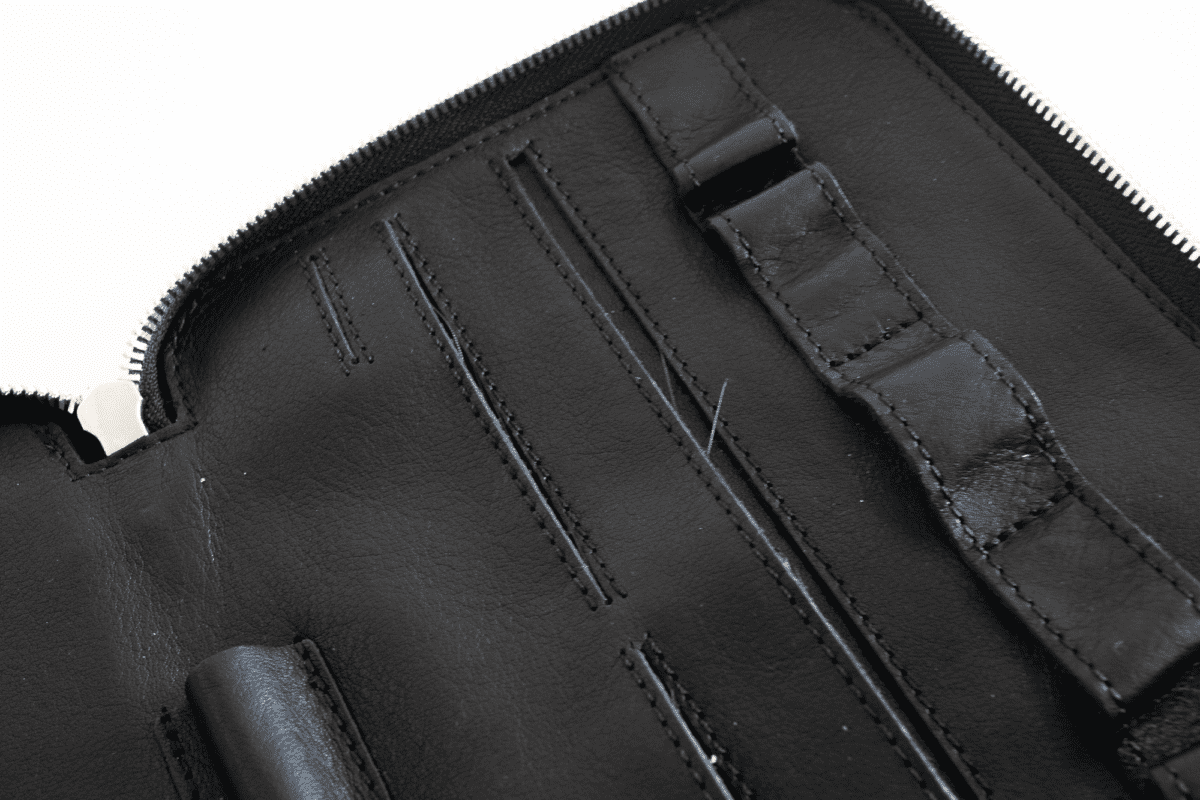 While the two slots are the exact width for name cards, you won't be able to put a name card case in them.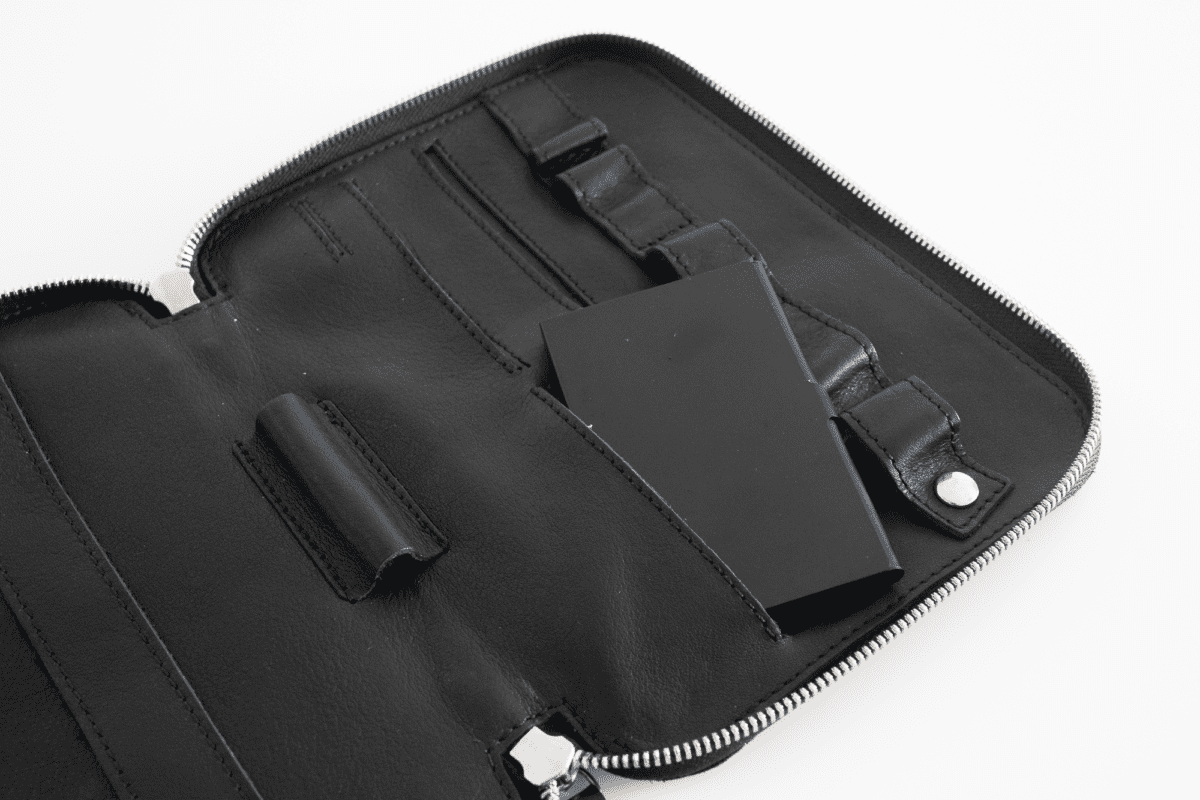 These open slots are so flat and shallow and I didn't have any cards that I wanted in them. Instead, I put my ultra-thin Nitecore NB10000 in them.
More and more countries offer eSim options so you don't have to take your SIM card out, so the tiny slot might get redundant in the next few years. But for now, you could still find a use for it in some less advanced countries.
A pen slot separates the two sides.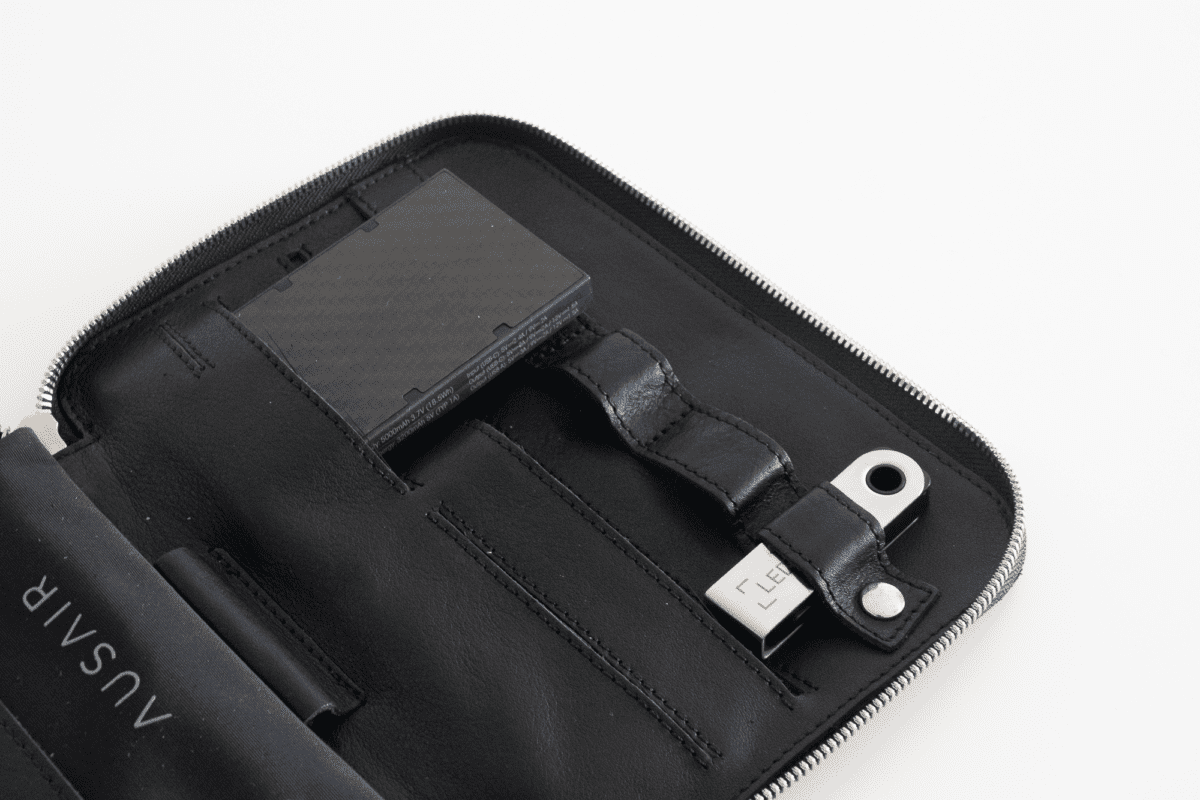 The other side is a little simpler; a full-width zippered pocket, a full-width open slot, and a full-width loop.
The zippered pocket seems great to keep your passport secure. It fits the bulkiest of passport covers, like the Aer Travel Wallet.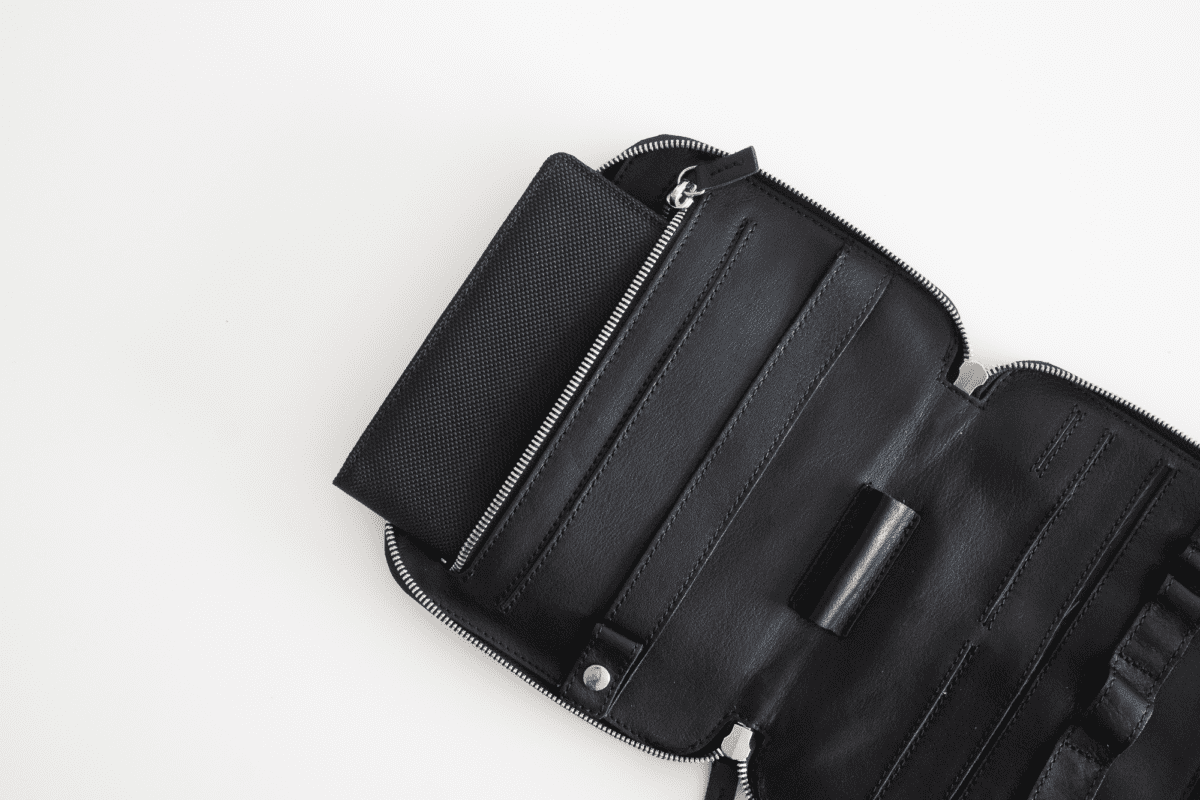 The open slot below it looks similar to the other slot at a glance but it is deeper and has no gap in the opening. It is the perfect size to store receipts.
I have the AusAir Airweave Merino Mask in the long, single loop. I guess one could also use it for a small tablet. While the mask fits perfectly, sometimes the zipper would catch onto its corner and require some work to close it smoothly.
Conclusion
While this is the most sophisticated pouch that I own, the compartment design is the most limiting. It seems like you have to curate your accessories according to them instead of the other way around. That said, there are a few other organizers in the same collection that I think might cover most use cases if the Mini is too limited.
I won't recommend this unless you can already envision the exact stuff that will go into each of those pockets, something I hope this review can help with.
Like this review? See all of my in-depth reviews.
Also, consider supporting me by being a Patreon. Every cent given will go back into improving the content of this website.
Tagged accessory digital nomad leather pouch review