This website is made possible by readers. I may earn a small commission when you buy through the links in this article at no extra cost to you. Learn more.
The TOM BIHN Le Grand Derriere (LGD) takes a much-loved classic into the 21st century, without losing any of the old-school cool.
Details
Price $130 on tombihn.com
Dimensions (w x h x d) 12.6″ (32 cm) x 8.2″ (21 cm) x 6.2″ (16 cm)
Weight 15.2 oz / 430 g
Capacity 8 L
Overview
If you are reading this review, you must have heard of TOM BIHN. Otherwise, I can only assume that you've been hiding in a hole for decades. There are few brands that have gained legendary status in the one bag travel community. TOM BIHN is one of those brands.
TOM BIHN's bags are reflective of the decades of experience in bag crafting and technical knowledge. I should know—I have traveled and abused TOM BIHN's bags, like the Synapse and Synik, extensively over the years.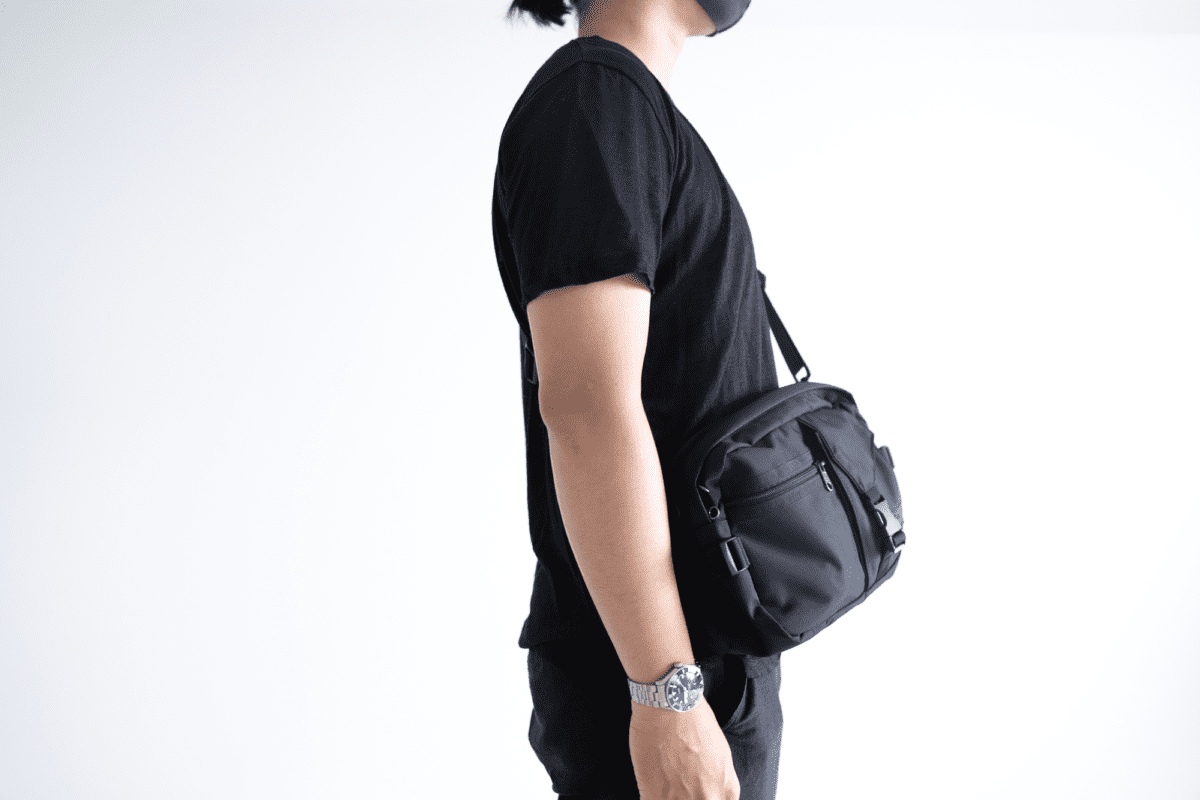 Being around for such a long time, TOM BIHN is a company that's proud of its history, often drawing inspiration from early designs. For example, the sleek and modern Shadow Guide is based on one of Tom's earliest designs, the Guide's Pack. In the same way, the Le Grand Derriere (LGD for short) is a vintage reissue of an early 1990s design of Tom's.
The bag was originally designed for Tom's closest friends and customers in the mid-1990s when "Lumbar" packs were all the rage. Lumbar packs were mainly used as an everyday bag around town. Tom, however, wasn't into the look of the lumbar pack so the LGD was his spin on it.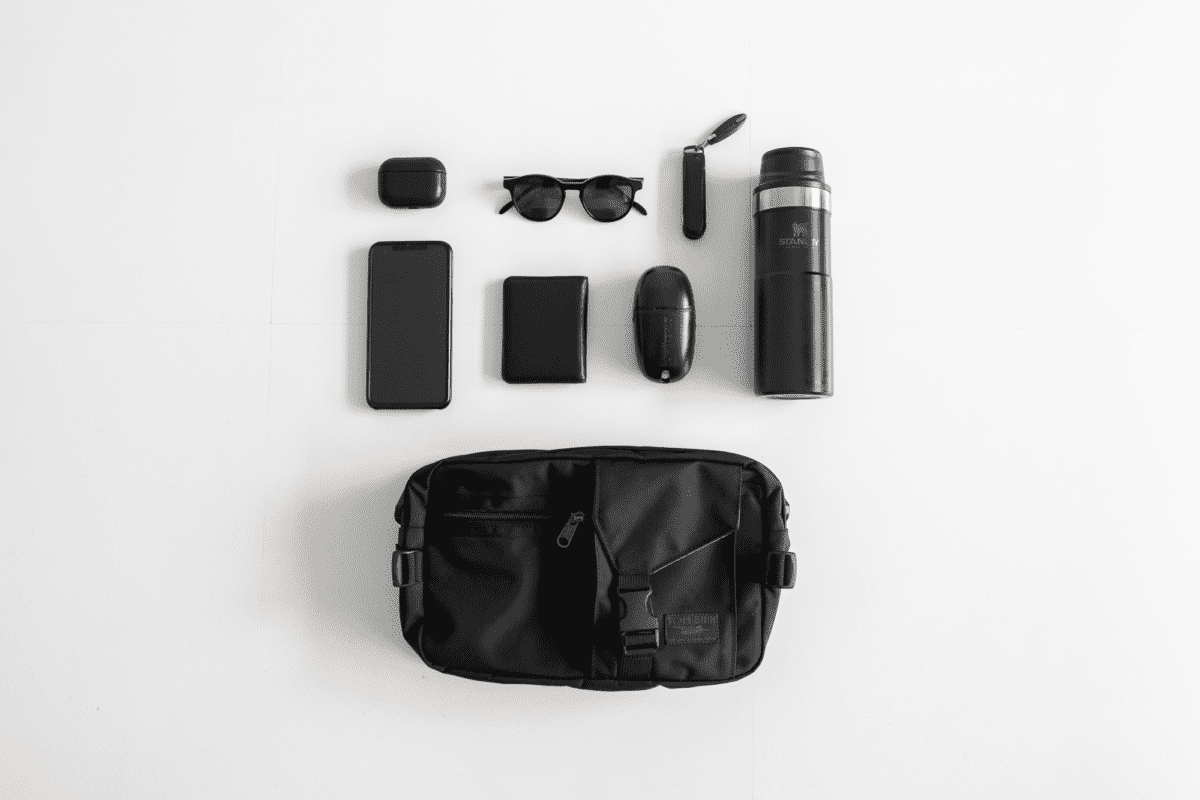 For a pack this size, one can be for forgiving if features aren't updated. You probably don't need edgeless shoulder straps or a laptop compartment. But, TOM BIHN did, in fact, add some upgrades to it when he brought it back. Namely, he added a grab handle on the top/back and a redesigned hip belt to allow you to tuck it away.
I love how he kept it more or less true to the original. This review will see how such a simple design can be adored by many for such a long time.
Style
The Le Grand Derriere is based on a vintage design and is a great testimony to how timeless TOM BIHN's designs are. The bag looks sleek in this day and age, right up there will all the cool kids, like the Aer City Sling. At the same time, the vintage styling isn't lost, with the asymmetrical buckle pocket contributing largely to the look.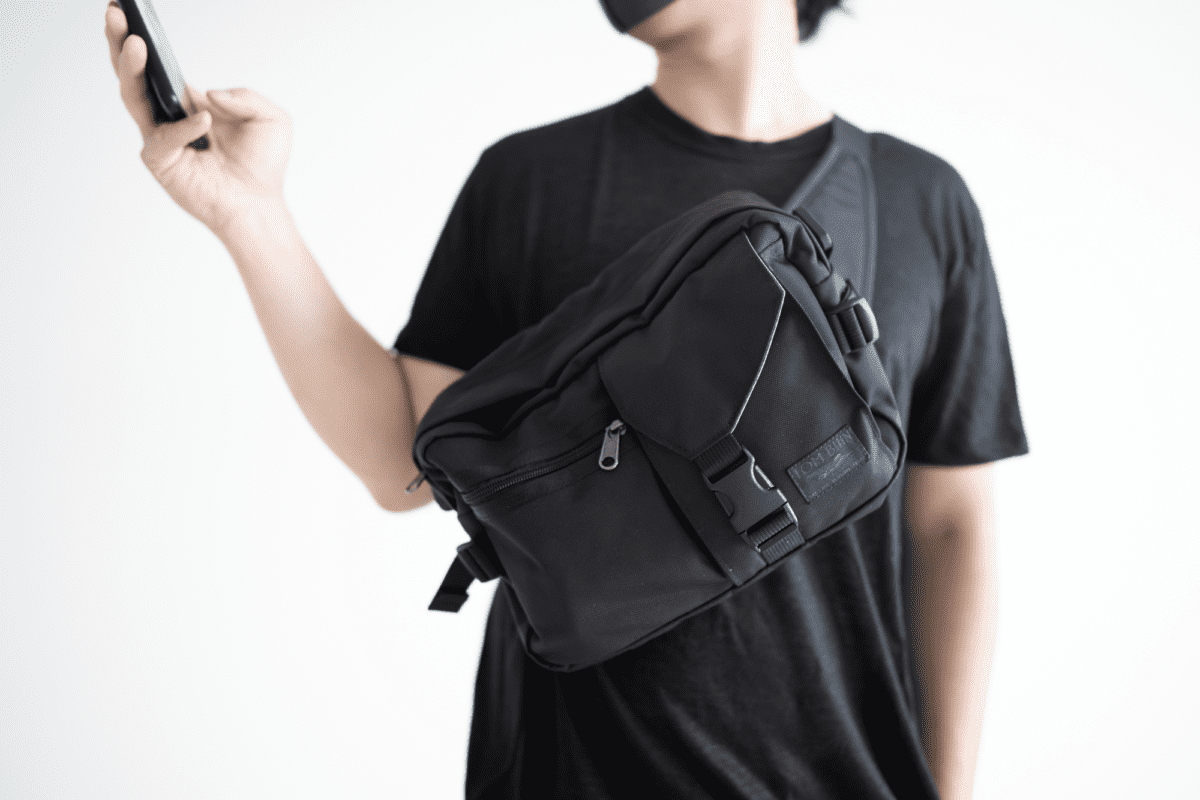 This vintage aesthetic is further accentuated if you pick one of the colorways that have a contrasting color for the zipper in the front.
I, as always, went for the all-black version, specifically, the Black 525 Ballistic/Cloud 210 Ballistic one. This colorway is entirely black, down to the brand tag. The only hint of color you can see is the cloud-colored lining of the flap peeking out when the bag is viewed from certain angles.
But no one likes ads, so I got rid of them. If my articles helped you, I ask for your support so I can continue to provide unbiased reviews and recommendations. Every cent donated through Patreon will go into improving the quality of this site.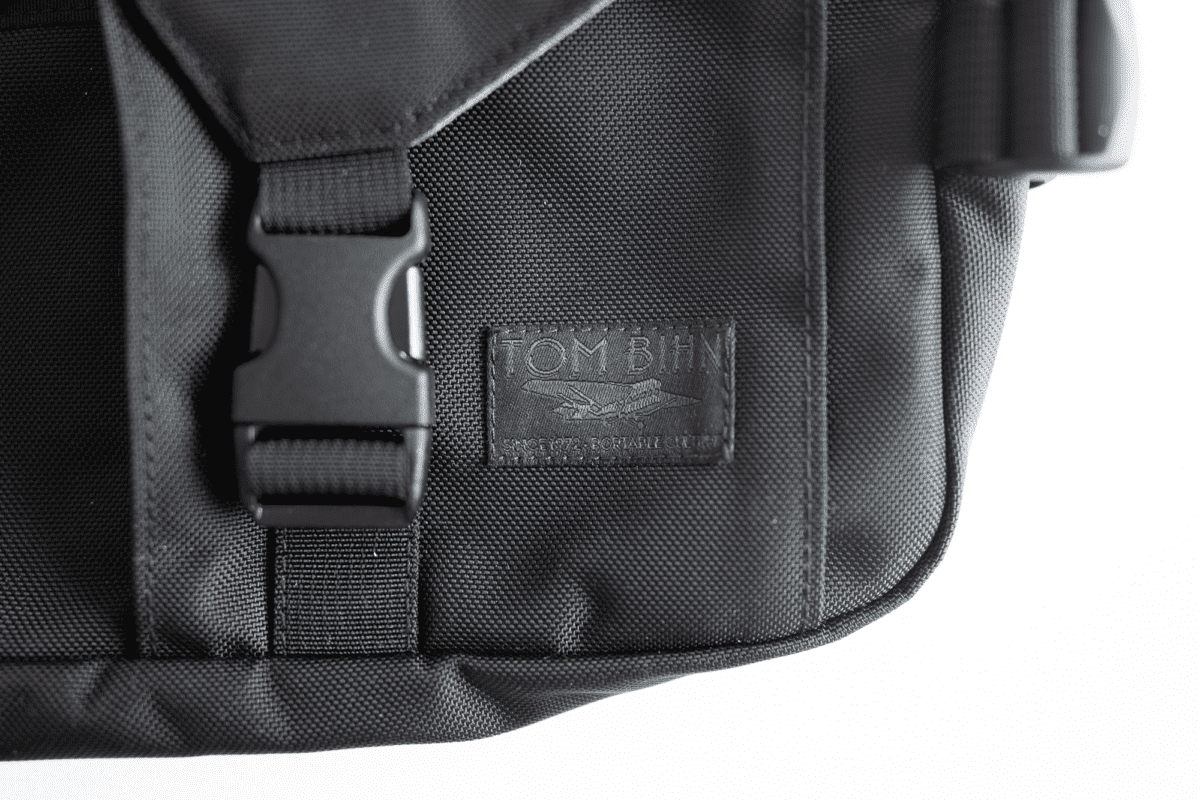 From the front of the bag, you can see two pockets, one on each half of the bag. One half is a zippered pocket that goes horizontally across, while the other half is a buckled pocket with a slanted flap. If you've seen the TOM BIHN Cafe Bag, you'll find this slanted flap familiar, albeit on a smaller scale.
While the aesthetic of the bag is simple, the compression straps do flow out on the sides, making the silhouette not as clean as it can be. Another nitpick I have is how the bottom of the bag is seldom flat. It protrudes outwards, making it look like it lacks structure.
The Le Grand Derriere is designed mainly as a waist pack. In Japan, wearing a pack on your waist is not a good look. Unless you are a middle-aged man on a weekend hike. Even in other parts of the world, the fanny pack is generally frowned upon by fashion enthusiasts. It's a little better if you have it to your back and style your outfit accordingly.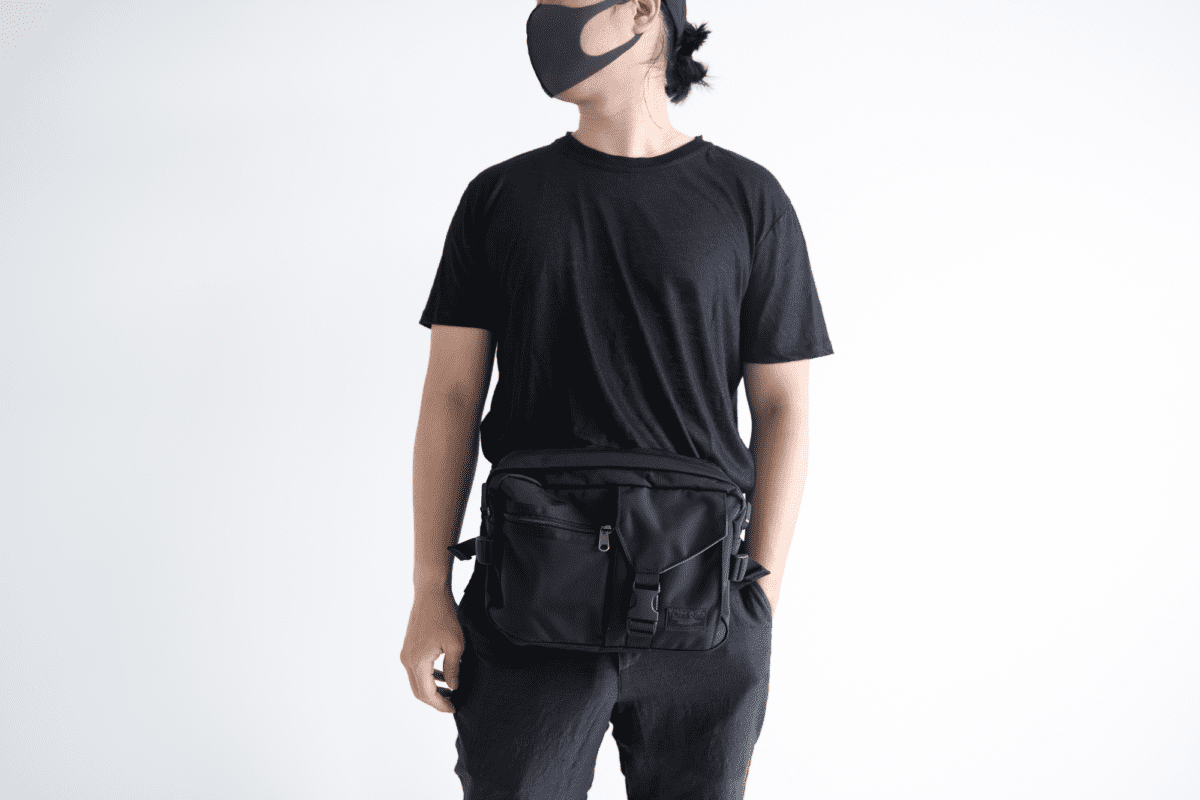 The good news is that that's not the only way you can wear the Le Grand Derriere. The Le Grand Derriere looks great as a sling. TOM BIHN thinks it looks best as a back-carry. I concur. The bag name does stand for "The Great Behind" in French.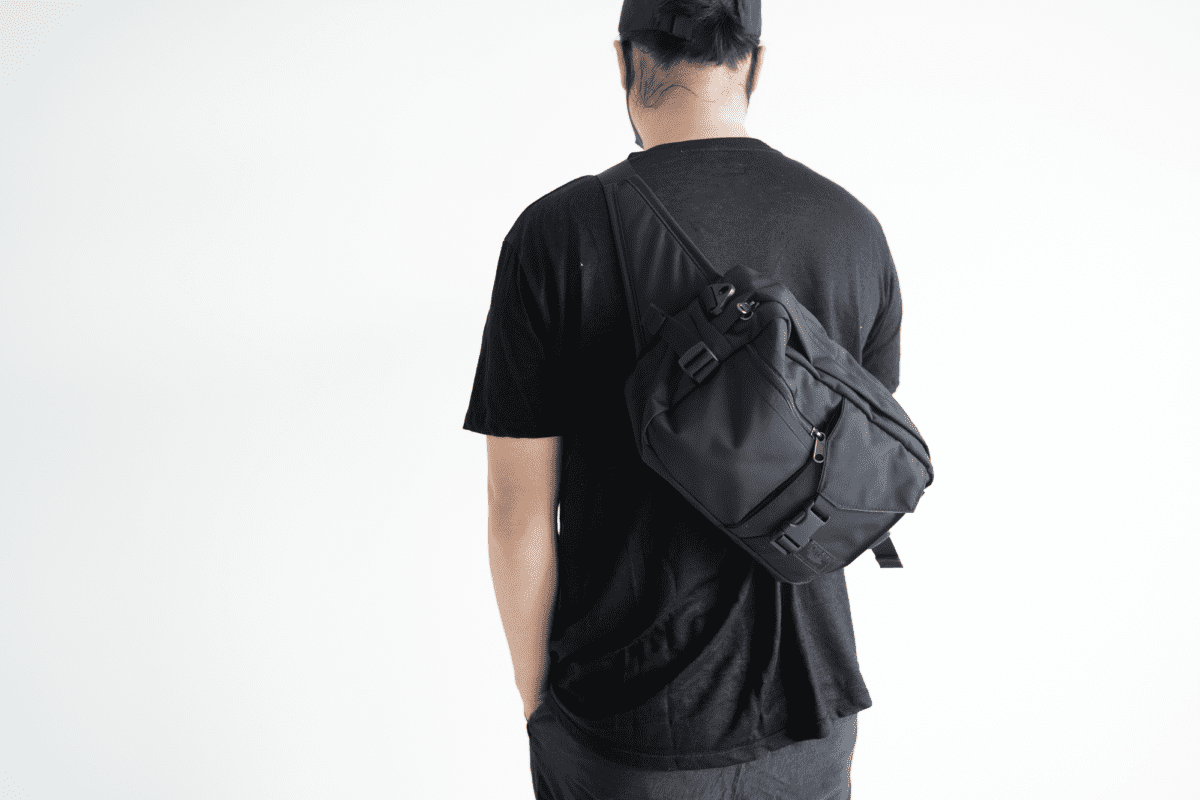 For most packs like this, I personally prefer to sling it to the front. Slinging it to the back leaves it vulnerable to thieving hands, which is why I always carry sling-type bags to the front. It is also much easier to access your stuff this way.
However, the main reason why TOM BIHN encourages back-carry is due to the size. Compared to other sling bags on the market, the Le Grand Derriere is unapologetically huge. It's almost like the size of a child's backpack. I have a relatively large frame at 6ft and 205lbs, and even then, the pack looks huge when slung to the front. But, I can imagine it will look massive on someone with a smaller frame.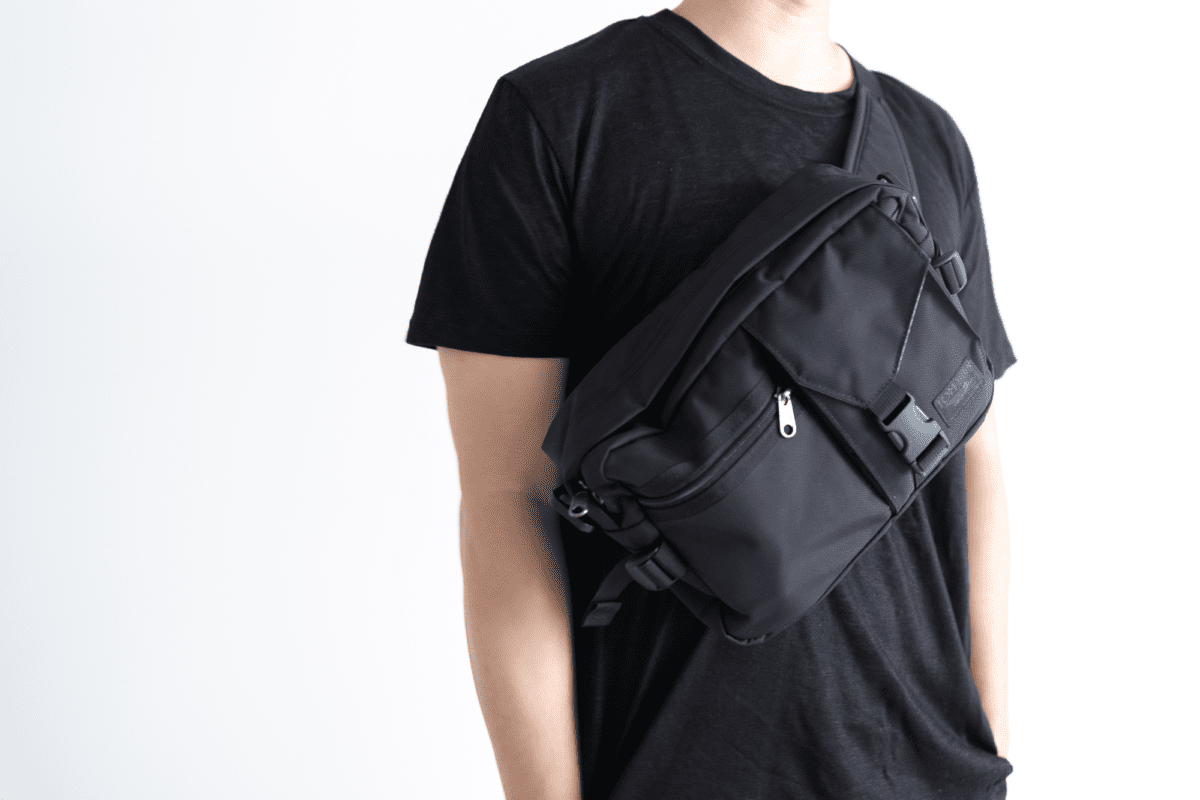 My favorite way of wearing the Le Grand Derriere is when paired with one of TOM BIHN's shoulder straps. In my case, I have the TOM BIHN Absolute Shoulder Strap that I use with my TOM BIHN Aeronaut. I am glad that Tom decided to add that back panel that allows tucking in of the hip straps because the LGD just looks best as a sling bag in my opinion.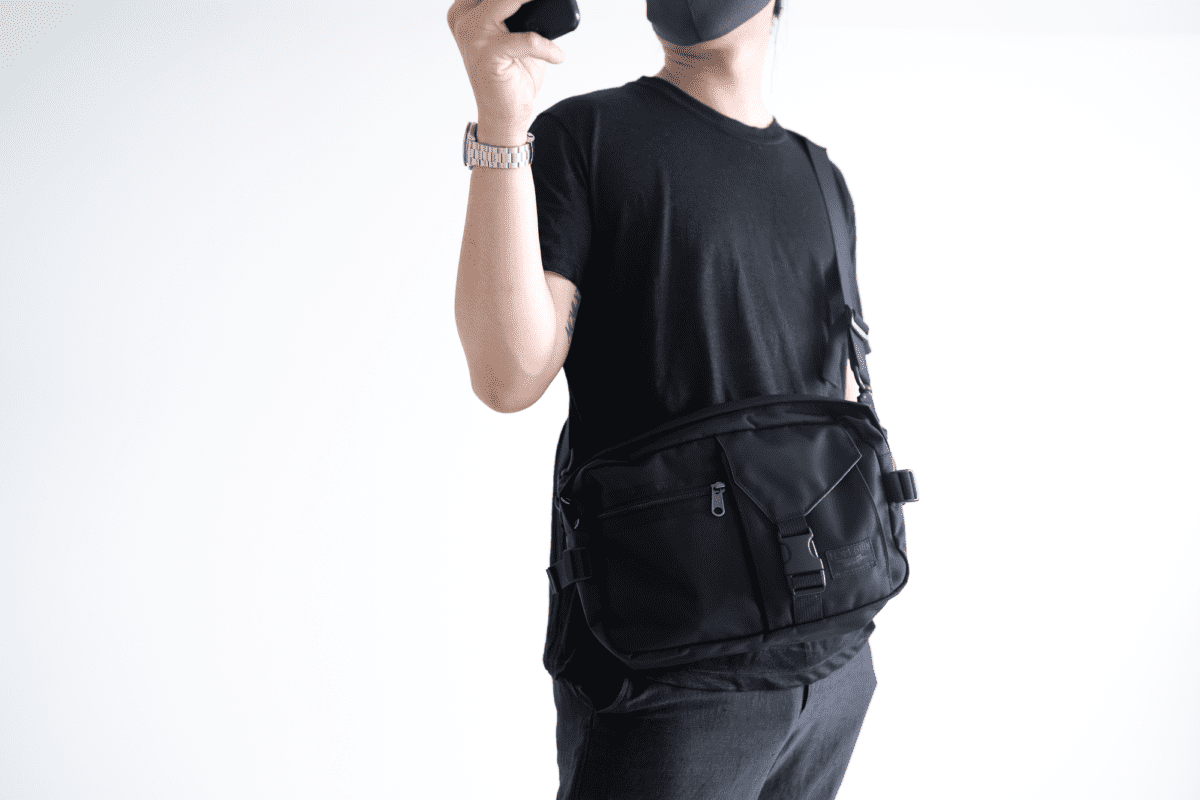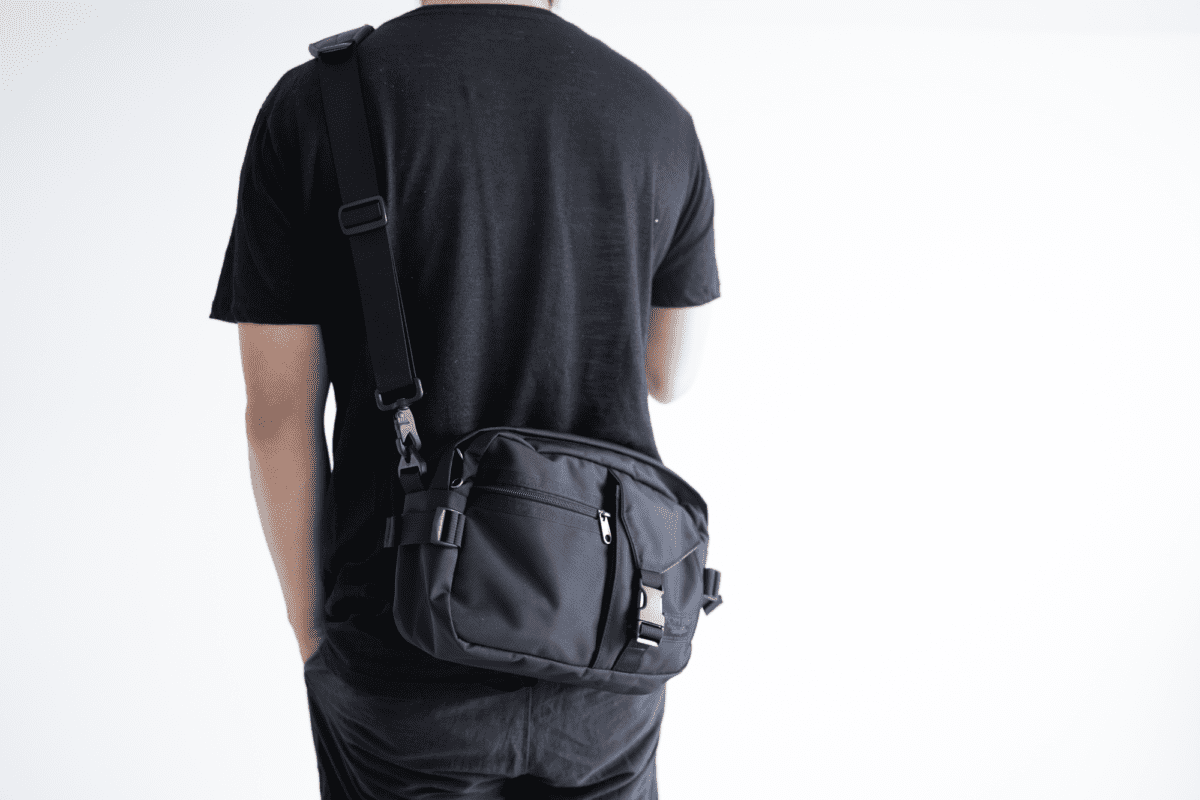 The LGD isn't the sleekest or most modern-looking sling/hip bag you can find. But there is something about the quasi-vintage design that appeals to me. It retains the vintage aesthetics without looking outdated or stuffy, making it suitable for this day and age.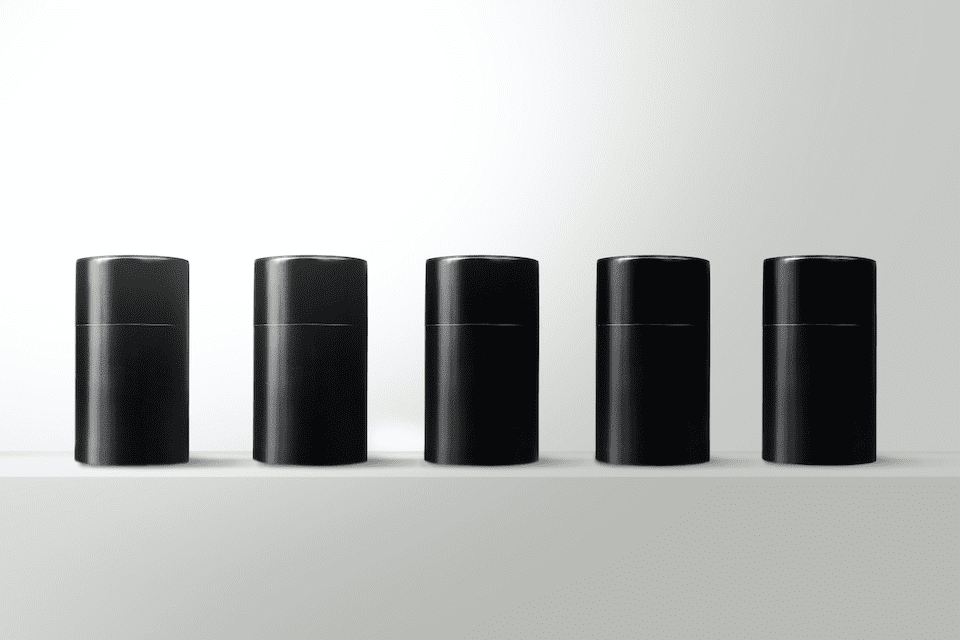 I found a 100 year old company that would create these heirloom quality canisters for me. They are handmade and will keep your tea leaves, coffee beans or anything that you need dry for years to come.
or read review
Material
You have a choice of three exterior materials with the LGD, the 1000d Cordura®, 525d ballistic nylon, and 630d 50% recycled nylon. On all models of the bag, regardless of your choice of exterior material, the padded back panel uses 525d ballistic nylon to minimize abrasion against your clothes. For the interior material, only 210d ballistic nylon is available.
1000d Cordura is well-loved in the one bagging community, used in legendary bags like the GORUCK GR1. The main difference compared to the other two materials is the texture. It's rough and canvas-like, which makes it susceptible to lint and pet hair.
525d ballistic nylon, on the other hand, is smooth and soft which makes it harder for lint and pet hair to catch on to it. Despite 525d sounding like nearly half the denier count as 1000d Cordura, these yarns are weaved tighter since they are smaller. This is to achieve virtually the same abrasion rating as the 1050d ballistic nylon while being only 70% of the weight. It is approximately the same weight as 1000d Cordura.
630d 50% recycled nylon is there for all you environmentalists who want something recycled, yet no less durable than its counterparts.
While these are fundamentally different materials, all of them are durable enough to withstand anything an average user can throw at it. The durability and abrasion-resistance differences between the three are moot points. More likely than not, the deciding factor for most would be the texture and availability of colors.
Not all colors are available for each material. For example, if you want the all-black LGD as I did, it is only available in 525d ballistic. Ignoring the material altogether and choosing the color you want will probably be the best way to choose for most.
Organization & Features
The organization of the TOM BIHN Le Grand Derriere is relatively simple. But simple is good, especially for a bag this size.
The front offers two organizational pockets. On the front is a zippered pocket, perfect for wallets like the NOMAD Slim Wallet or TOM BIHN's own Nik's Minimalist Wallet.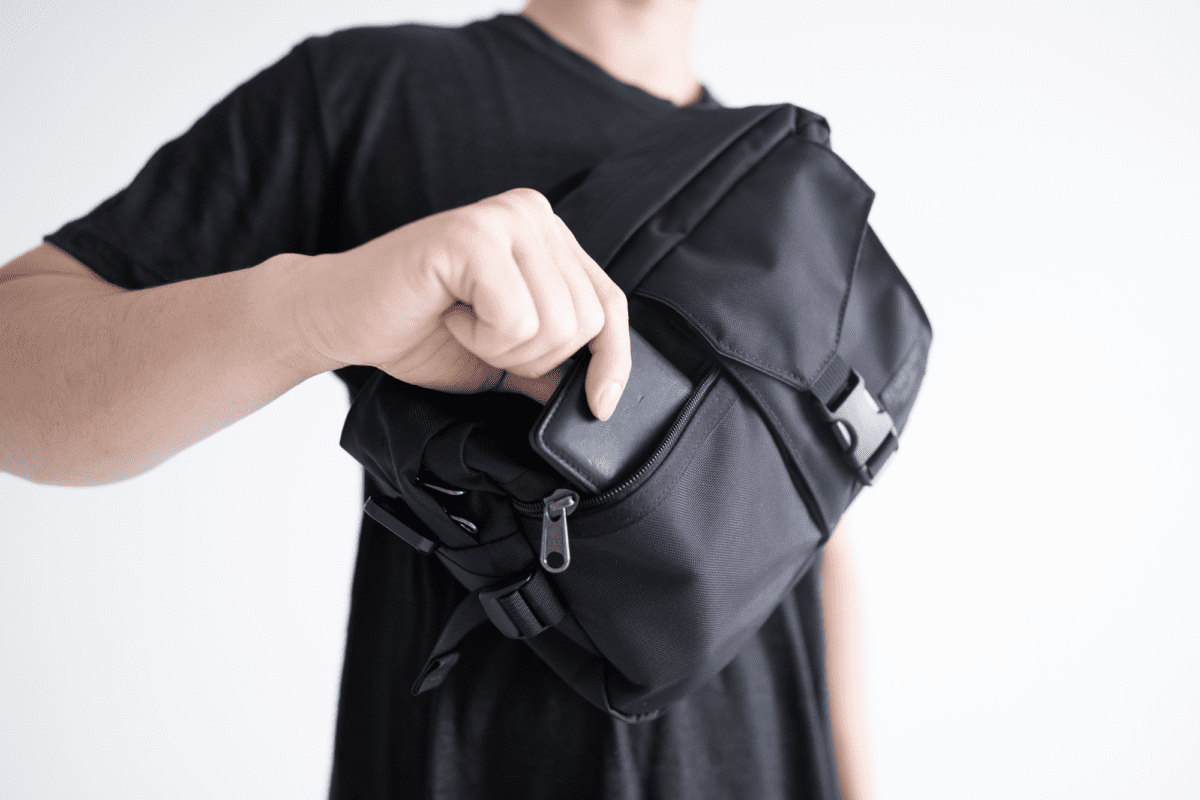 Next to it, is a buckle pocket that's perfect for your mobile phone. Given that the pocket is a "3D" pocket, it is spacious enough that I could fit my phone, NOMAD Card Wallet Plus, and Jibbon Key Organizer in the same pocket.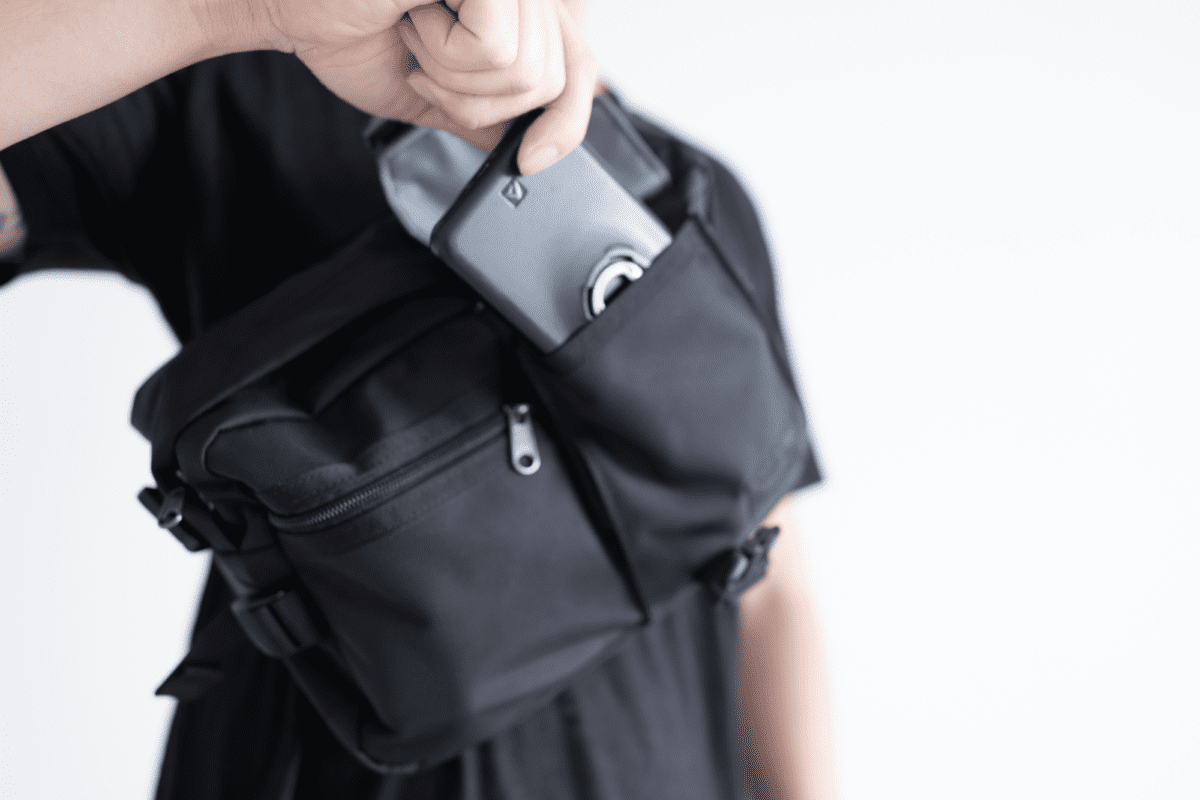 You'll also find an O-ring in there, which makes it a great pocket for my Jibbon Key Organizer as well.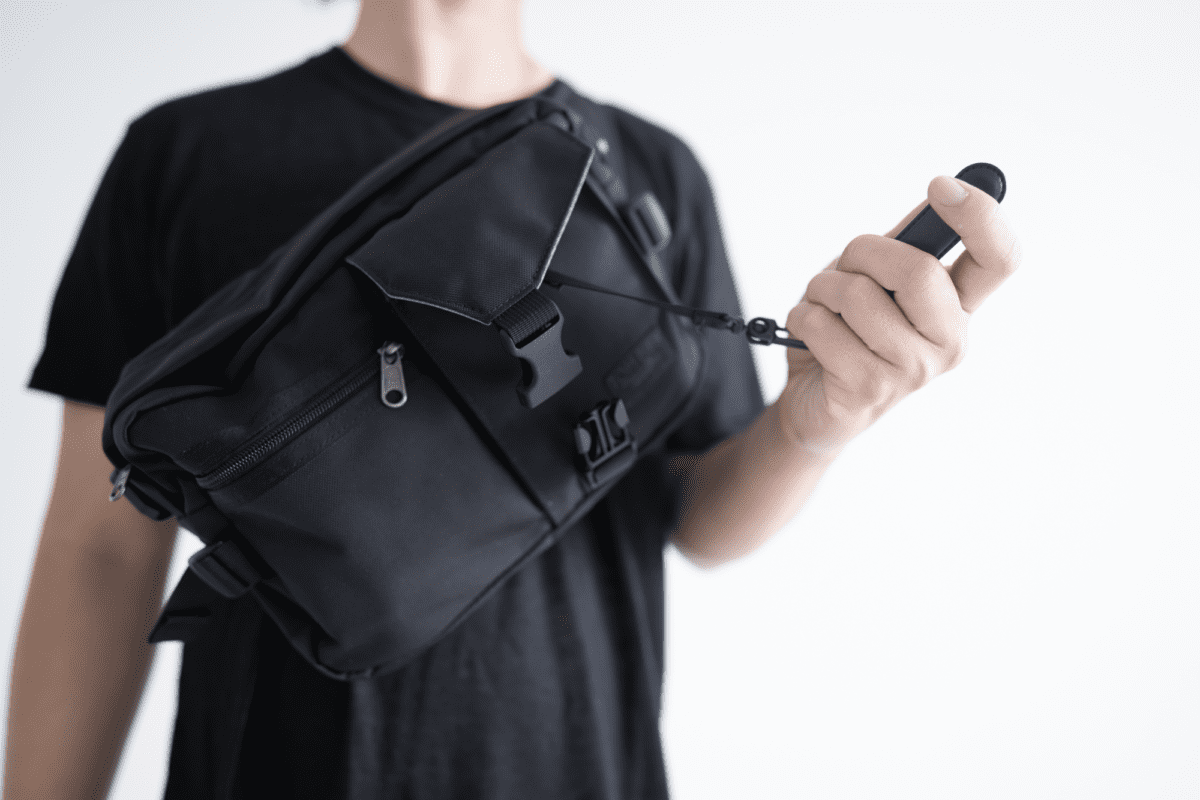 The main compartment is accessed from a concealed zipper on the top of the bag. The flap concealing the zipper serves to protect it from the elements.
Within the main compartment, there's an open-top pocket along the back panel. You'll be able to fit an 11″ iPad Pro, iPad mini, Kindle, or similarly-sized smaller tablet.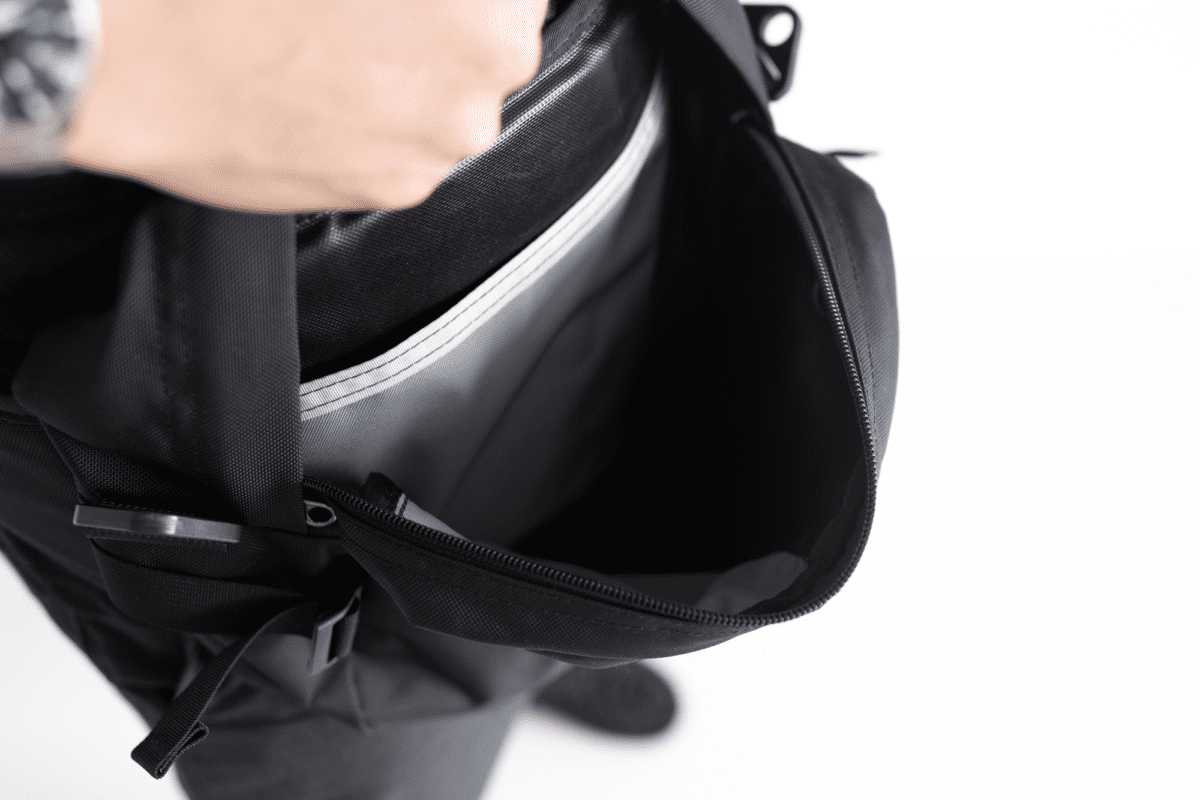 Notebooks or a paperback fits well too if you are trying to practice digital minimalism. Interestingly, there aren't any of the usual pen slots that would help compliment this.
There are a generous four O-rings in this compartment; two against the front and two against the back panel.
Given that it's a relatively large pack, there are compression straps to minimize the side profile for when you just don't need to bring along that many things.
In the back of the bag, there's a padded panel where you can tuck the waist belt should you want to use it as a shoulder bag. In that case, there are D-rings on the sides that you can attach TOM BIHN's 1" Shoulder Strap, Simple Shoulder Strap, or Absolute Shoulder Strap.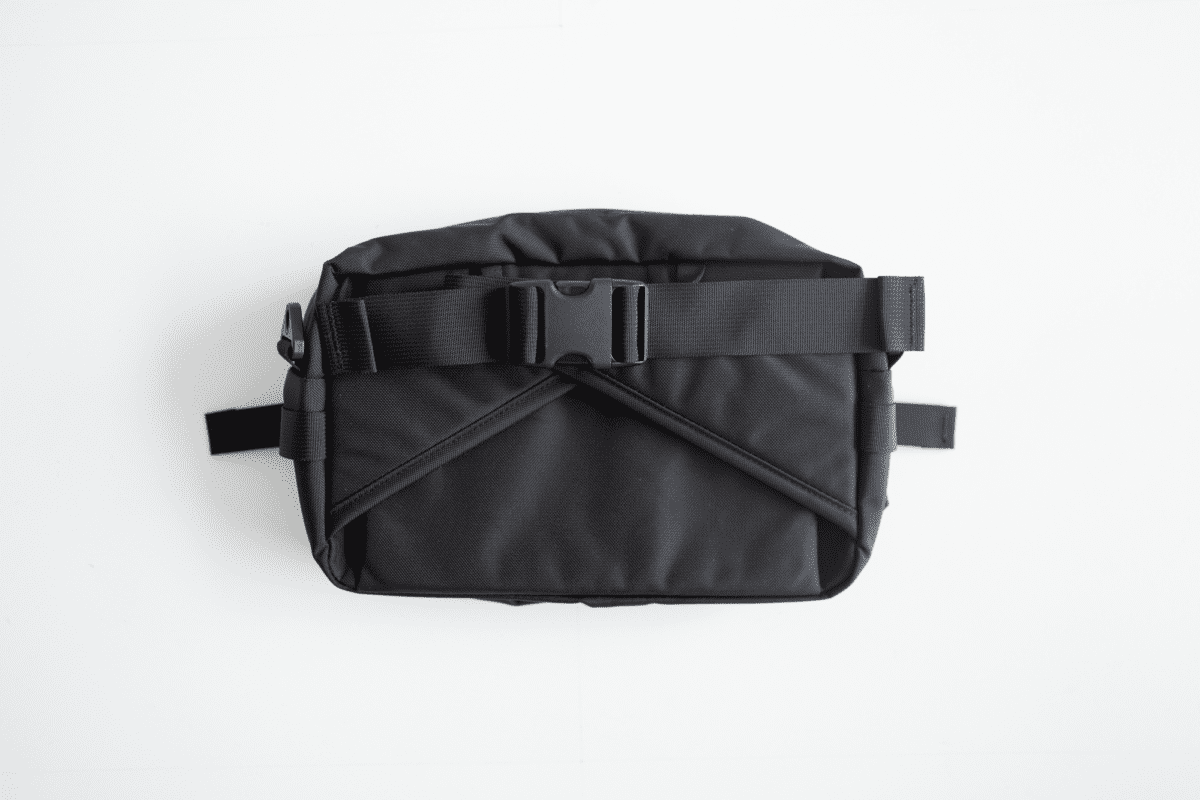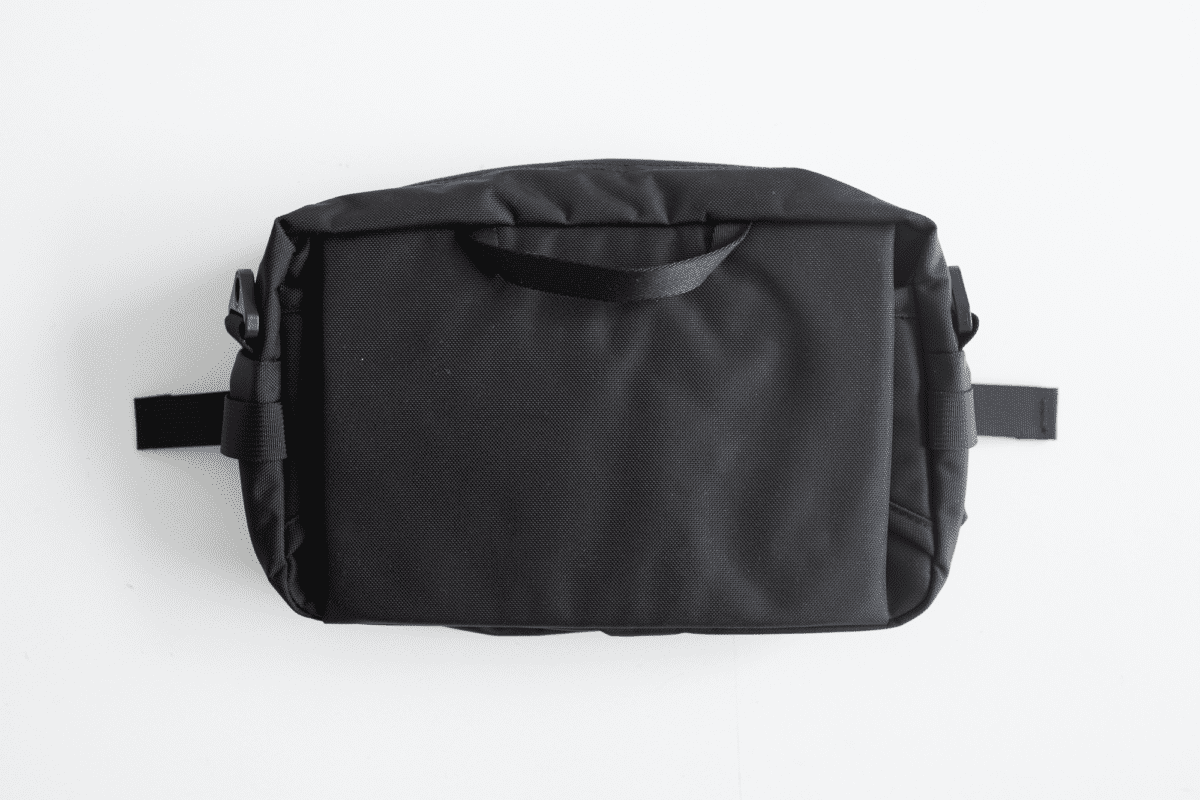 And last but not least, there is a non-padded handle on the back. I've always maintained that such handles are unnecessary for bags this size, but given that you can tuck away the hip straps, it might be necessary in this case.
Usage
This is a straightforward bag with just the right amount of organization for most setups of everyday carry.
For those looking to use this as a front carry, the size is a little too big. In addition to that, the straps are too short such that even at the longest setting, the large pack is sitting high on your torso, making it look and feel a little awkward. It sits just under my armpits at the longest strap setting.
The large size is not without its benefits. It's hard to find an everyday carry setup that won't fit into this pack. More often than not, you'll find that you'll have too much empty space in the pack, which is where the compression straps come in. Although, there are times that I thought that TOM BIHN should have made it just a little big larger such that a 13-inch MacBook Pro would fit since it almost does.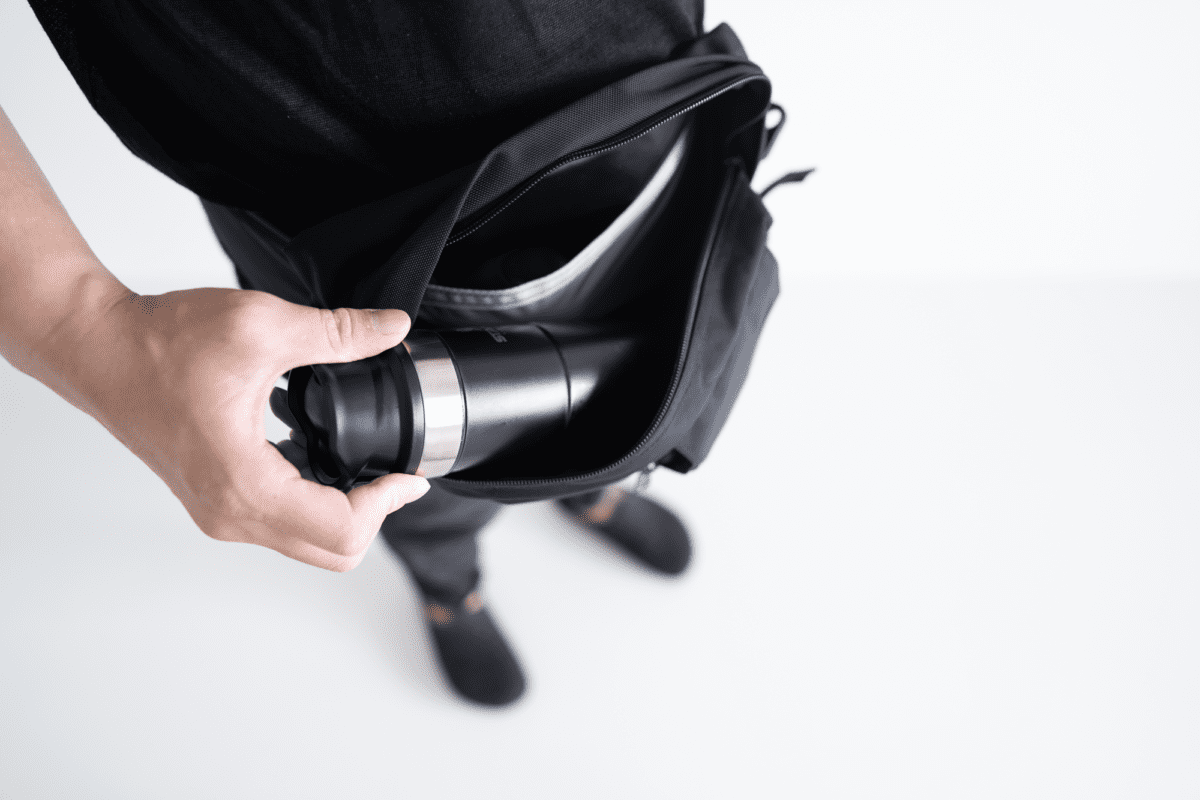 As mentioned, the straps are short such that it sits pretty high up your torso. I think the reason for this is because there isn't any sort of organization for the extra length of straps. Keeping it short reduces the amount of flapping that happens with loose straps.
Tucking away the hip straps into the back panel is easy as pie. Just unclip and stuff it in. The back panel is padded for comfortable all-day wear. With the padded hip straps tucked in, the amount of padding is doubled making for even more comfortable wear. The size of the pack is not too large that the padding will generate too much heat against your body.
TOM BIHN Le Grand Derriere vs TOM BIHN Le Petit Derriere
Months after the Le Grand Derriere (or LGD), TOM BIHN released a smaller version, the Le Petit Derriere (LPD). The LGD and LPD are very similar bags, so a whole different review will be a desperate SEO view-grab.
Instead, I would like to highlight the differences here.
Le Grand Derriere
Le Petit Derriere
Height
8.2″ (21 cm)
6.9″ (17.5 cm)
Depth
6.2″ (16 cm)
4.7″ (12.0 cm)
Width
12.6″ (32 cm)
11″ (28.0 cm)
Weight
400d Halcyon: 13.1 oz (370 g)
630d Recycled: 13.9 oz (395 g)
1000d Cordura: 14.8 oz (420 g)
525d Ballistic: 15.3 oz (434 g)
400d Halcyon: 12.0 oz (340 g)
630d Recycled: 12.7 oz (360 g)
1000d Cordura: 13.6 oz (385 g)
525d Ballistic: 13.8 oz (390 g)
Capacity
8 L
4.6 L
While the capacity has nearly been halved, the proportions didn't look half. Sure enough, the dimensions (and the product description) confirm this. It is 80% the length but 60% the capacity.
People choosing the Le Petit Derriere would be the ones who find the LGD too big. However, they end up losing a disproportionate amount of capacity without a large reduction in the size of the pack. On your body, I would say the difference is minimal (unless you have a really small frame).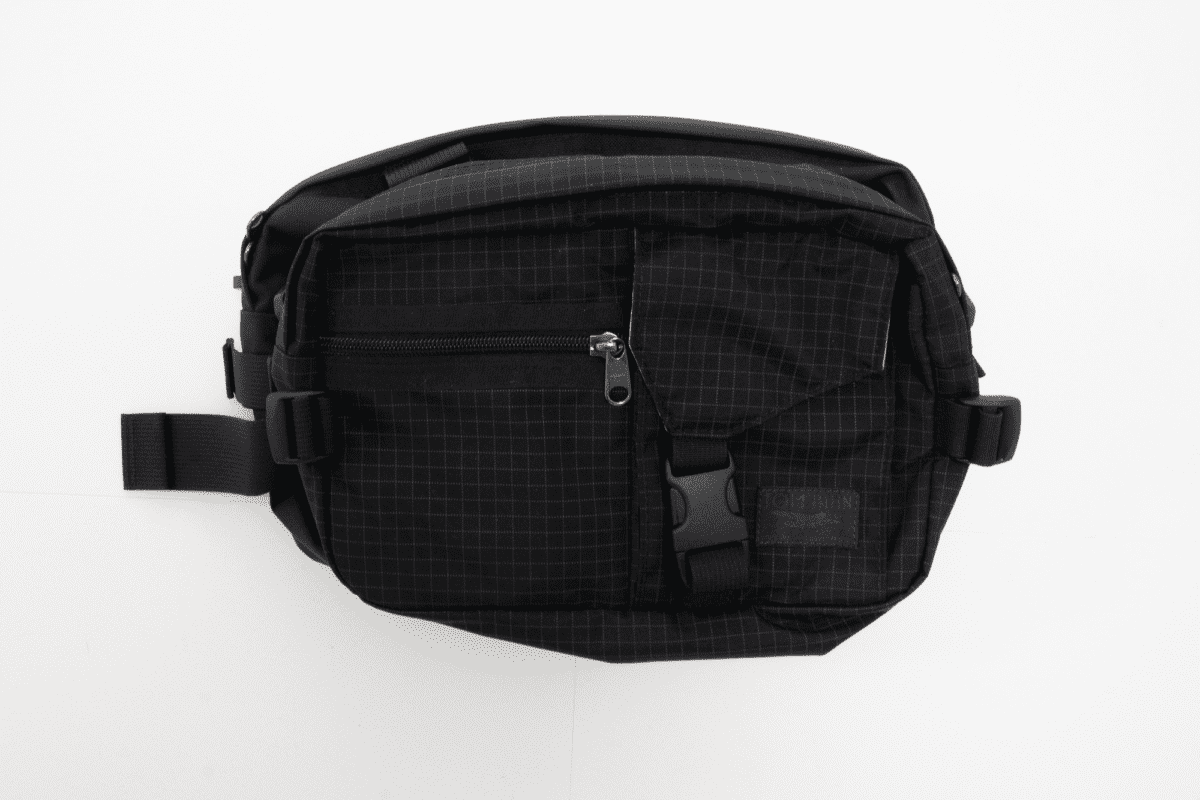 Additionally, the LPD is only $10 cheaper than the LGD.
The challenge that TOM BIHN was taking on was to make the LPD as small as possible without losing any features, squeezing all the pockets down to their minimum functional size. I am glad to report that they succeeded.
All my items in the respective pockets of the LGD fit perfectly into the LPD. It even fits my DSLR and lens in the Matador Camera Base Layer.
One breaking difference between the two for larger-sized fellows is the length of the strap has been reduced. Even when extended to the max, I felt it was a little too short.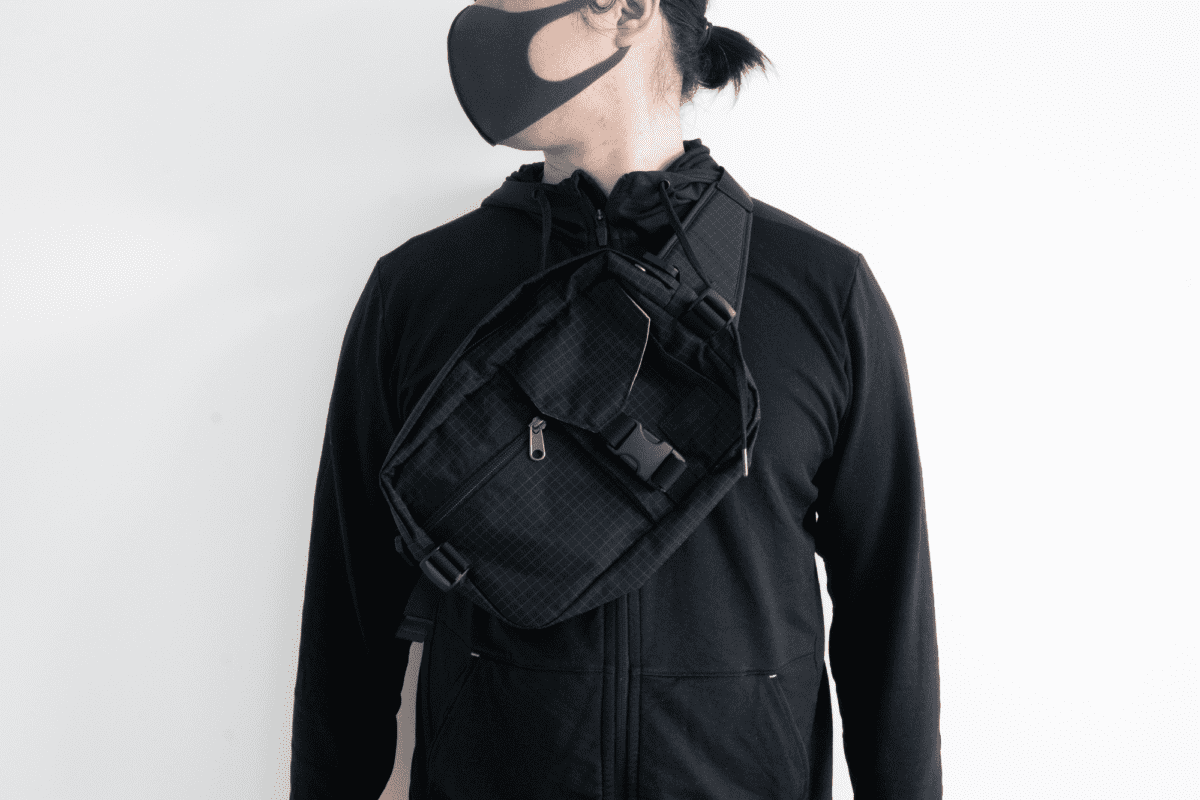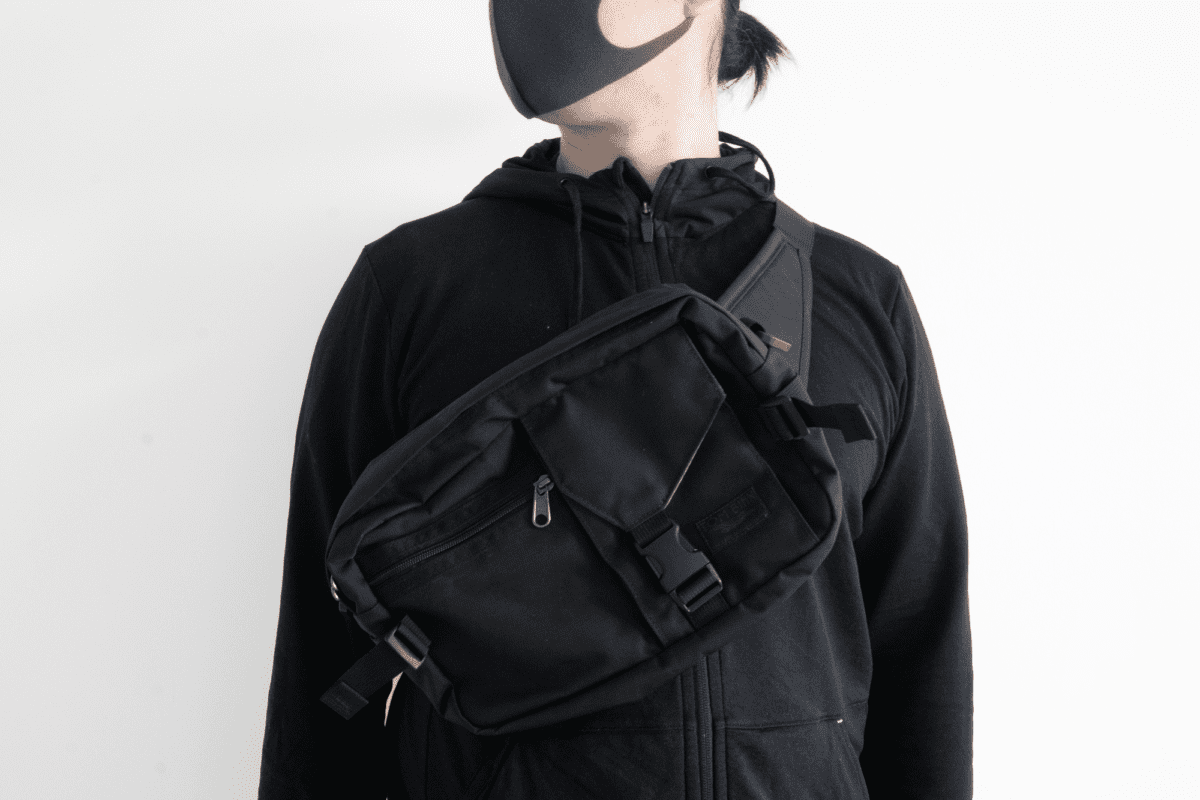 If you really cannot deal with the size of the LGD but still want a sling bag from TOM BIHN, then perhaps the LPD is for you. Otherwise, I would recommend getting the LGD. More space means more versatility and configurations.
I sometimes think that TOM BIHN could probably just sell an in-between size and reduce their inventory, but then again, knowing TOM BIHN and their in-house manufacturing, they will (and have the ability to) produce a bag for every use case possible.
Conclusion
With TOM BIHN's level of quality, you can probably expect the bag to last a lifetime or two.
The main consideration here is what style and how much you are going to carry. If you are thinking of carrying it across the front of your torso, it will likely be too big for most. The capacity is also likely too much but is perfect if you are traveling or hiking or any activity that required that much more gear.
If you need an everyday carry that will accommodate your ever-changing setup, then the TOM BIHN Le Grand Derriere will likely do the job.
Additional Images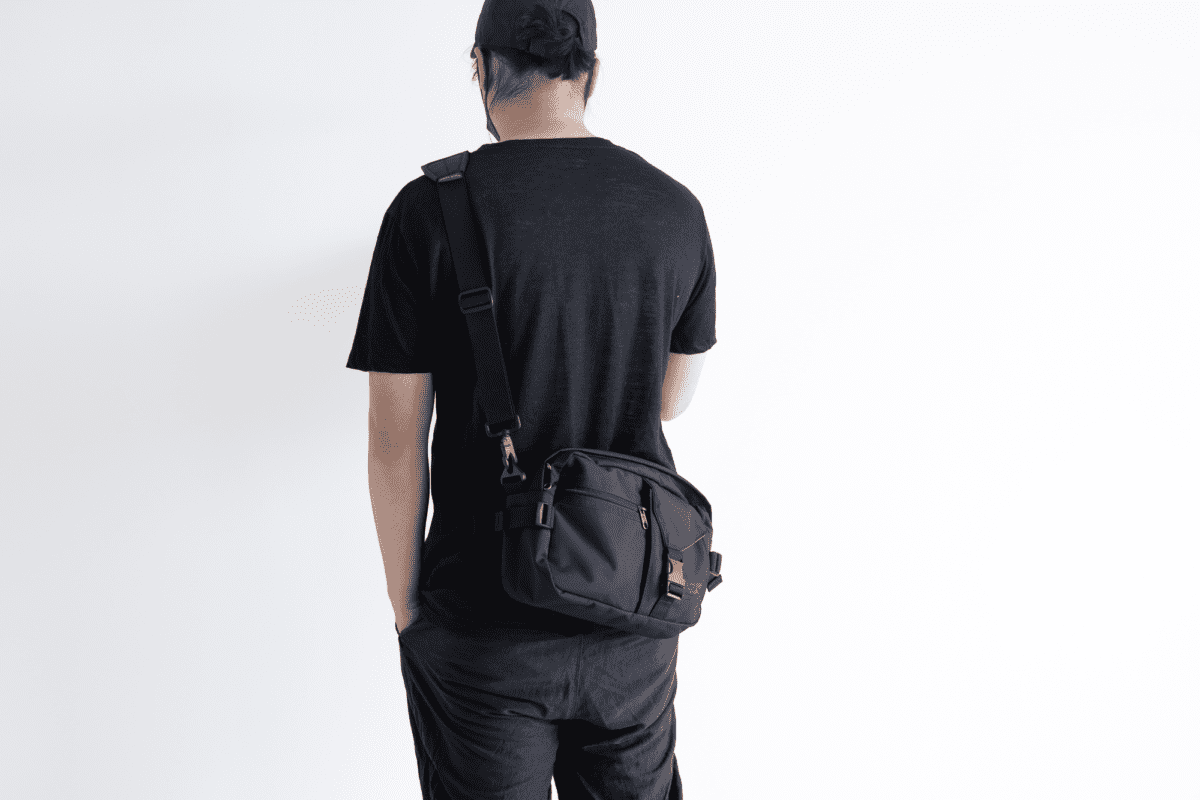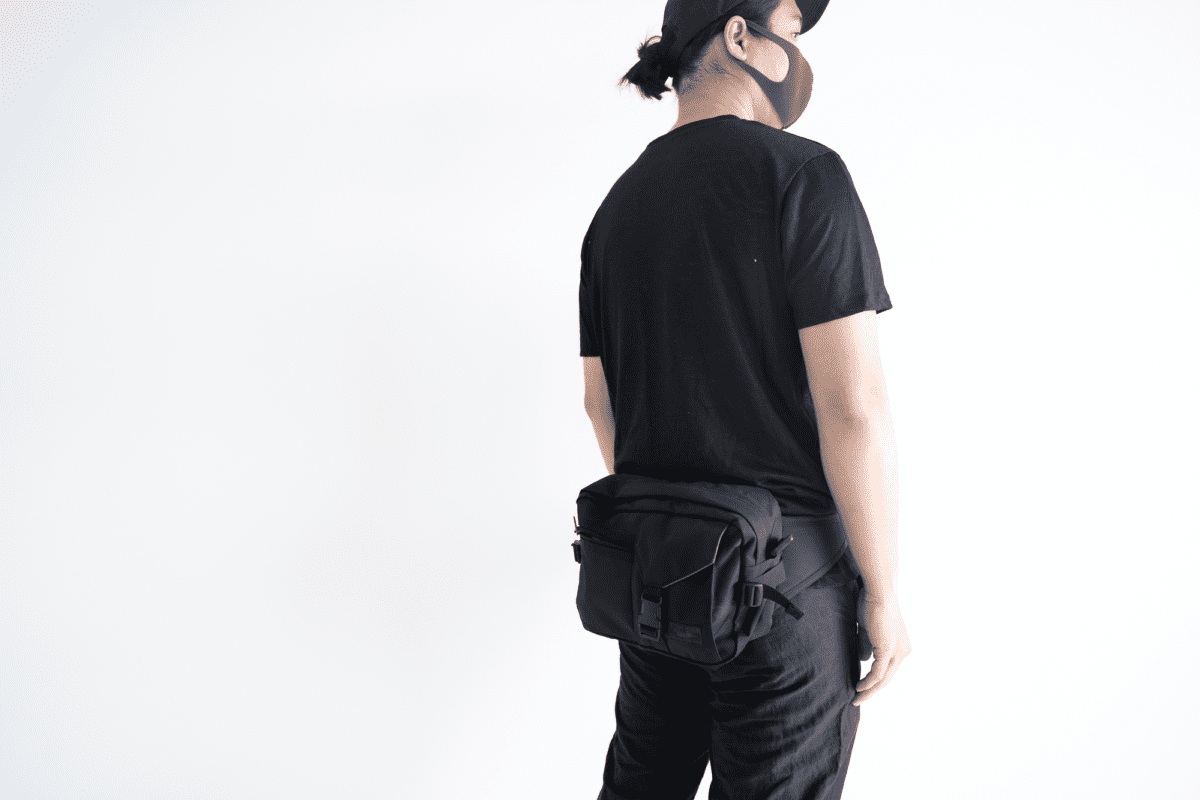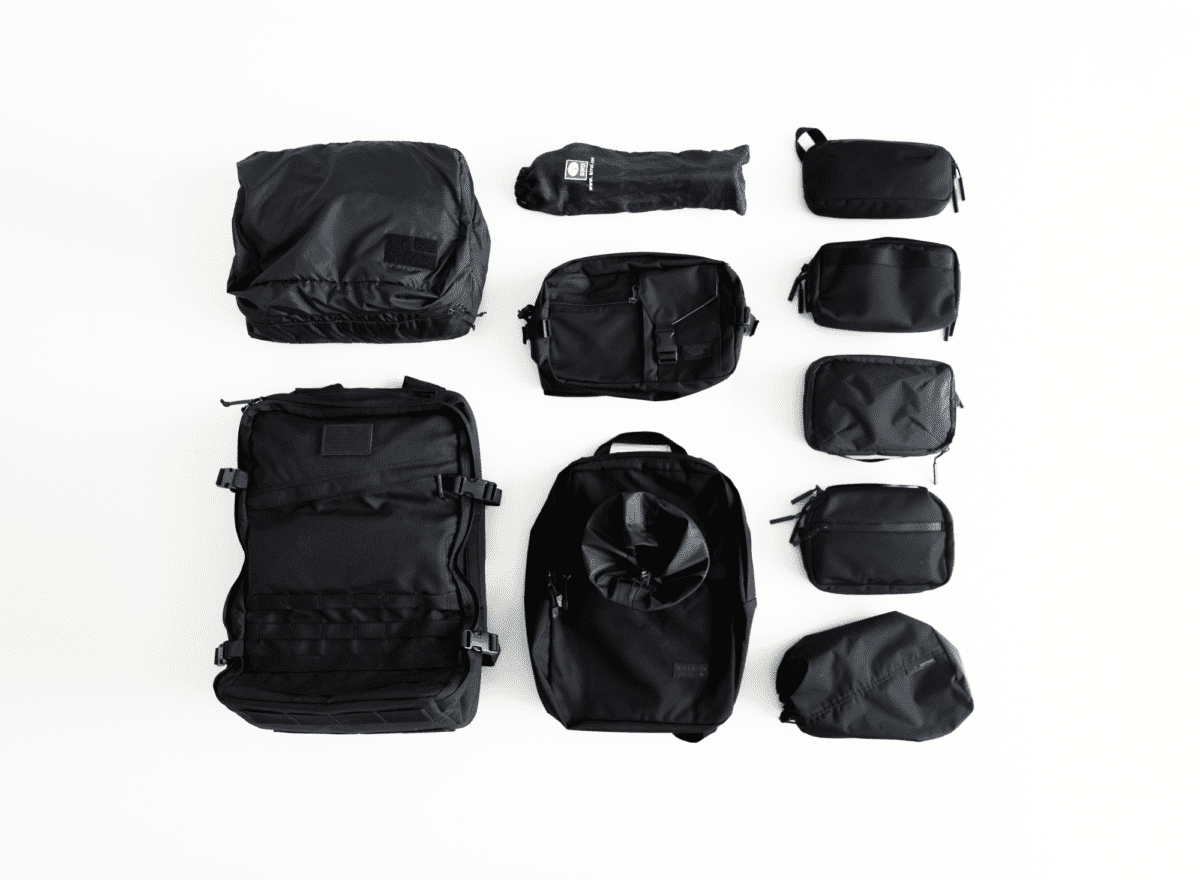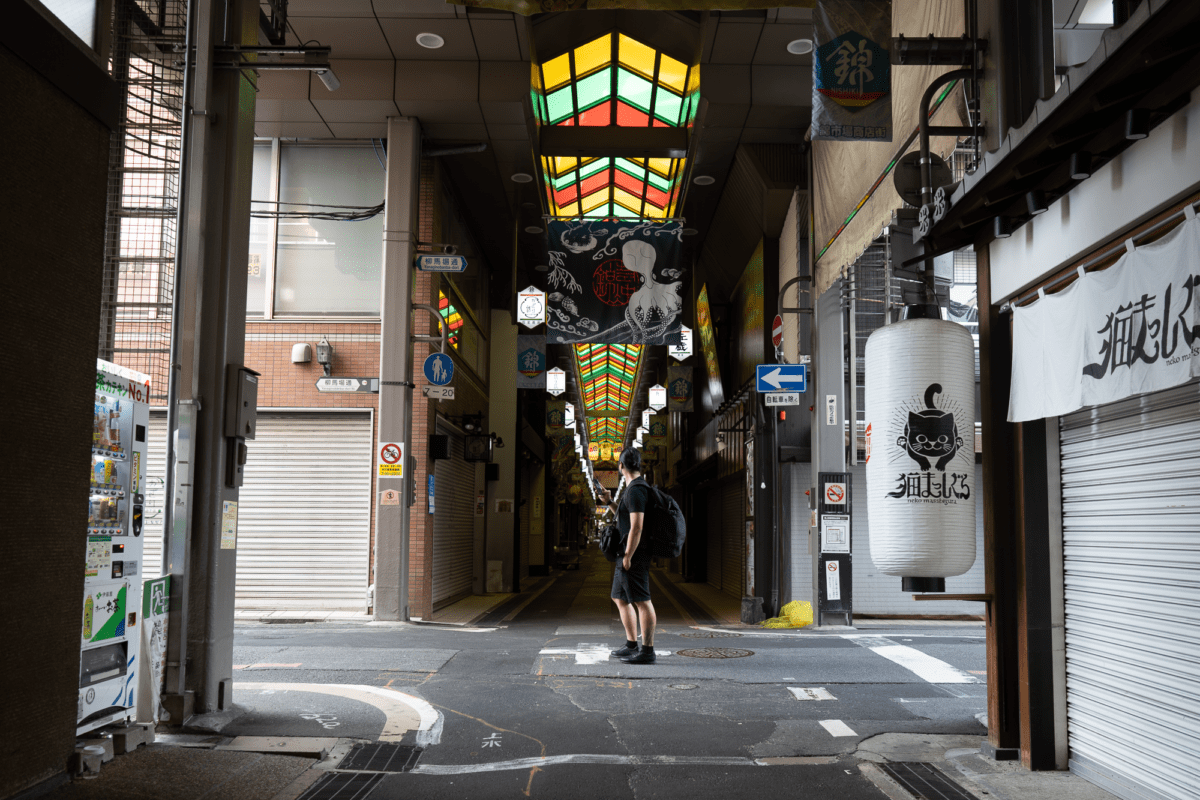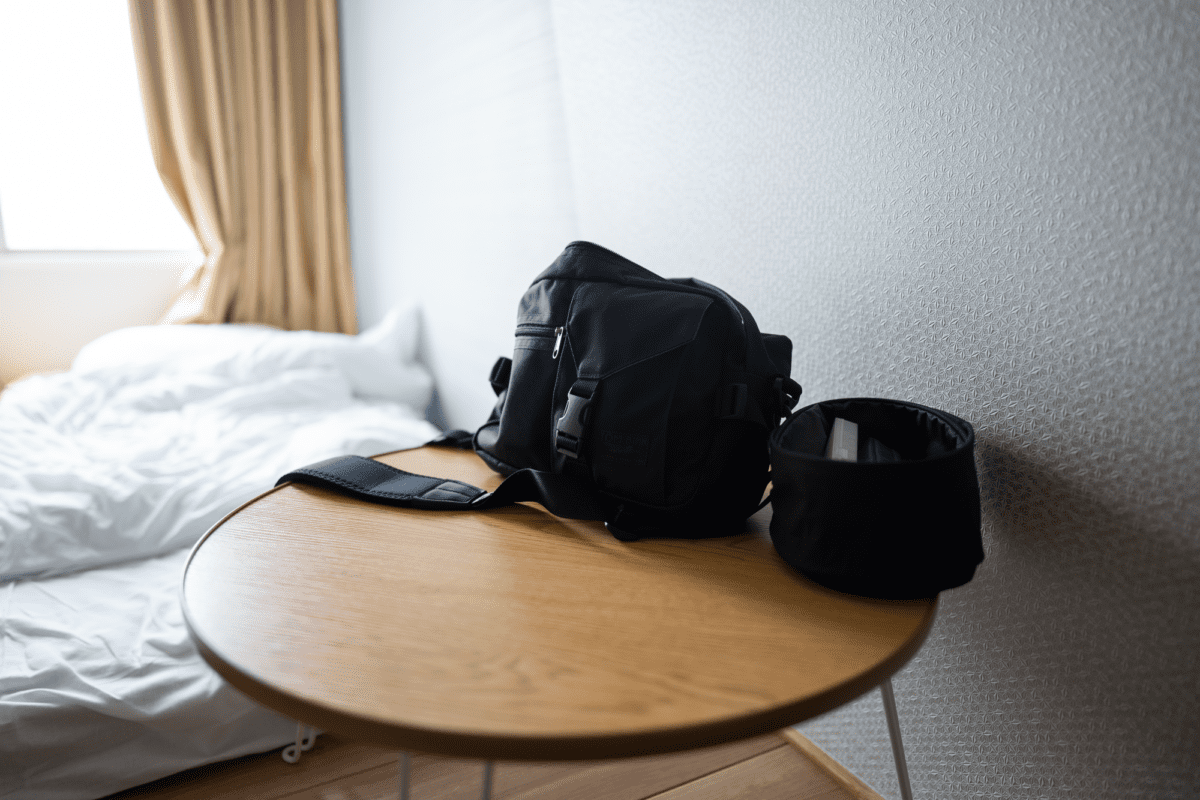 Like this review? See all of my in-depth reviews.
Also, consider supporting me by being a Patreon. Every cent given will go back into improving the content of this website.
Tagged bag review sling bag tom bihn waist pack